The day the Beatles hooked me
Jean-Pierre Allard casts his mind back four decades to the afternoon
his friends introduced him to the Fab Four
Jean-Pierre Allard, Citizen Special, February 9, 2003
Last time I checked, us baby boomers weren't supposed to remember much about the past, let alone things that happened some 40 years ago, unless we're talking JFK or your very first kiss. How is it, then, that I remember precisely that it was Saturday morning, Feb. 15, 1964, when I first heard the Beatles?
There must have been about seven or eight of us crammed into our coach's car as we were coming back to Eastview, after one of our pee-wee hockey games at the old Auditorium on Argyle, where the Cradle League played its games. The "Old Aud" was also where Elvis Presley stormed the city's Hoola-hoop-and-Brylcreem crowd with his breathtaking, pelvic-thrusting concert back in 1957.
Just over the St. Patrick's Bridge, on Beechwood Avenue with the old Linden Theatre on the left, this kid Larose, cousin of then Montreal Canadiens right-wing Claude Larose, started singing this song. Everybody followed suit, except me.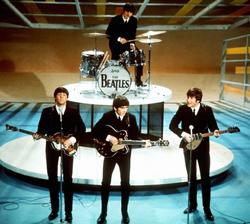 Photo: The Associated Press. The Show Jean-Pierre Missed: Paul, George,
John and Ringo on the Ed Sullivan Show in New York, Feb. 9, 1964.
I was likely reminiscing about the previous summer's countless Saturday matinees spent at the Linden, when we pretended to watch the Bowery Boys or the Three Stooges with our prissy, would-be girlfriends, even if the stern old matron would never allow us to get very far with them, always so quick that she was to blind us with her darn flashlight.
Or perhaps I was simply being reminded, with every bump from the tramway tracks, of those innocent mid-1950s summer days, riding the streetcars westward down Byron Avenue, feverishly anticipating the sight of Britannia Beach and its majestic boardwalk that seemed to stretch on endlessly, all the while thinking how great it would be if it was like this all the time -- the very words later immortalized in Van Morrison's poignant Coney Island.
As they kept singing, I realized I didn't know the words -- it sure didn't sound like the Beau-Marks' Clap Your Hands -- and when I finally amassed enough courage to ask what the tune was, they all looked at me incredulously and shouted, "Why, it's THE BEATLES, dummy! EVERYBODY saw them on the Ed Sullivan show last week!" Except me, apparently.
The song turned out to be the effervescent I Want To Hold Your Hand and, instantly, I became hooked on the Mop Tops' music.
It wasn't until I was in my mid-40s, when I stumbled upon a library book containing the Fab Four's concert chronology, that I found out why I missed their TV show. You see, my dad passed away on Saturday, Jan. 25, 1964 -- things only happened on Saturdays back then -- and when the Beatles first appeared on that show, it was Feb. 9, 1964, only two weeks after he died. While we religiously watched the Ed Sullivan show every Sunday night, our old black-and-white television set with its unreliable rabbit ears was not turned on that night. Presumably, we were still in mourning.
Mom made up for it soon after when she surprised me with the Beatlemania album and then, for my 12th birthday, allowed me to go see A Hard Day's Night -- not once, but twice. I still recall running back to Eastview from the old Rideau Theatre, clearly not realizing how fortunate I was to have seen it not only twice, but to have been allowed to go alone, no less, on the second occasion -- imagine a 12-year-old doing that today, the majority being so encumbered by over-protective parents intent on putting their kids through a zillion structured activities -- but so anxious to get home so I could imitate drummer Ringo on our old pots and pans. Move over Gene Krupa and Sandy Nelson.
Having strategically waited for my older sisters to be away at camp, I soon coerced my mother into buying me a set of drums, despite her life insurance money running out as fast as a brand new Beatle single shooting up to number one on the Billboard charts. Somehow, I don't think my older sisters ever forgave me for that. Or perhaps it was more for my other coup two years later, when I persuaded Mom that we really needed a pool table for our unfinished basement.
Just a few years ago, I rekindled my interest in playing drums, with all insincere apologies to my immediate neighbors. That, coupled with my fascination with those four young Liverpudlians who, some 40 years ago, made the world a much better place to live in, explains why my wonderful wife of 20 years thought it appropriate to get a vanity plate for our wheels that says it all: BEAT4U.
And that is the glue that makes it seem like it was just yesterday. Perhaps that is why I'll always believe in the gentle, soothing powers of music.
Jean-Pierre Allard is a published freelance writer living in Orléans, Ontario who still has not forgiven anyone that watched the Fab Four's first appearance on the Ed Sullivan Show. Some of his sports work appears at www.sportsfaculty.com.
---
Ottawa Beatles Site