Harrison's finest moment gets new life 30 years later
by Mike Blanchfield, Music Reporter for The Ottawa Citizen
ALL THINGS MUST PASS **** -- George Harrison (Apple Records)
Life hasn't been easy these few years for George Harrison. He has survived attacks from throat cancer and a bizarre knife-wielding intruder who broke into his British castle.
But his biggest trial, at least one that has perpetually hung over him like a dark cloud, has always been coping with his status as the Third Beatle. Harrison resented playing third-string songwriter in a supergroup behind John Lennon and Paul McCartney. The famous songwriting team allowed him his requisite two compositions per Beatle album. When one looks at Harrison's contribution to the last Beatles album, Abbey Road, you have to question the creative straightjacket he was forced to wear. Here Comes The Sun and Something are two of the strongest tracks on the album, easily eclipsing McCartney's contributions.
A year later, in 1971, Harrison unleashed all this pent-up energy on his solo debut, the triple vinyl collection All Things Must Pass. On its 30th anniversary, it has been reissued with the requisite bonus tracks, some new artwork and a few notes from Harrison himself. The only unreleased track, I Live For You, is vintage Harrison, and would have strengthened any of his subsequent solo albums. This is the album that contained My Sweet Lord, the first No. 1 hit by an ex-Beatle, and was co-produced with Wall of Sound maestro Phil Spector. The album shot to the top of the charts, making Harrison the first ex-Beatle to earn that distinction.
Three decades later, in all its digitally remastered glory, All Things Must Pass makes for lush and entertaining listening. In one creative burst, Harrison managed to deliver an album he has been unable to surpass.
To make the record, Harrison was assisted in the studio by an all-star cast that included, at its core, Eric Clapton, Ringo Starr and Billy Preston. Now the roster has been fleshed out to acknowledge players whose contributions were not widely known at the time, or uncredited altogether. They included guitarist Dave Mason (of Traffic), and keyboardists Gary Brooker (of Procol Harum) and Gary Wright (who gave us the song Dreamweaver). Things get pretty nutty with Harrison's nod to Phil Collins for "allegedly playing congas" on The Art of Dying.
Harrison has some fun with the packaging as well -- something that will no doubt spark debate among Beatlemaniacs. He has added gaudy colouring tothe original black and white cover photo that depicted him sitting on a stool in a park surrounded by elves. To the background of the various versions of the photo contained in this package, he's added a cement overpass, burning smokestacks and ugly high-rise apartment buildings.
"If you haven't already noticed, our planet has been conreted over at an alarming rate and let's hope in another 30 years we don't have to add Planet Earth to the R.I.P's," George writes in the liner notes. (Thanks for that, George. John would have been proud.)
Musically, the album contains Harrison's finest moments as a singer, guitarist and songwriter. I'd Have You Anytime, co-written with Bob Dylan, heralds their collaboration in another supergroup, the Travelling Wilburys, years later. My Sweet Lord (despite the fact Harrison was found by the courts to have subconsciously plagiarized it from the Chiffon's He's So Fine, What Is Life?, Isn't It A Pity and Beware of Darkness can stand proudly with anything Lennon or McCartney churned out after the Beatles breakup.
But even committed Beatlemaniacs (you know who you are) realize this album also contains Harrison's worst excesses, such as the overblown Spectorism and his preachy Krishna dogma, all of which are showcased on Awaiting On You All. (Even Harrison acknowledges here that some of the production seems "a bit over the top," although he makes no apologies for his spiritual beliefs.)
Harrison remakes My Sweet Lord with his son Dhani on guitar and Sam Brown on vocals. It's a clunker that should never have made the cut. It also features a raspy, clipped and decidedly Dylanesque vocal by Harrison.
Harrison is said to be working on new material for the first time since the late 1980s. But his post-surgery singing performance on My Sweet Lord 2000, coupled with the retrospective nature of this release, make you wonder just how much creative juice the 57-year-old songwriter has left.
That, as much as anything, makes you savour this tastefully repackaged show-case of The Third Beatle's finest moment in the spotlight.
Copyright by The Ottawa Citizen, February 10, 2001. Special thanks to The Ottawa Citizen for use of this article.
E-published on the Ottawa Beatles Site on April 14, 2001.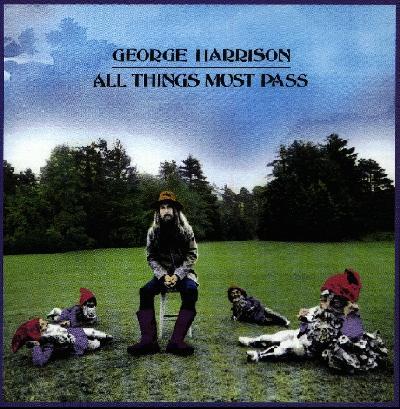 ---
Ottawa Beatles Site