Rajonvision
The Beatles, A long and Winding Road
2003. One & One & One is Three. (1958 - 1960)

By Tony Copple

Strictly for those interested in the early history, this is a cheaply produced series of interviews and related topical footage representing a snapshot of the band from 1958 - 60. Caution: there are other Beatles-related DVDs with identical or similar titles.

Those interviewed include Bill Harry, founder of Merseybeat, Victor Bockris, rock writer, Rod Davis of the Quarrymen, Rod Murray, roomate of Lennon and Stuart Sutcliffe, Tony Sheridan and Allan Williams.

The packaging of this DVD and the opening credits on the disk suggests that A Long and Winding Road is episode II in a series, but I can find no evidence of an episode I. There is frustratingly little information on the packaging about the content; the names of the contributors are not mentioned. On the disk credits at the end, Victor Bockris is listed as Brockis. Rajonvision is a division of Australian corporation Rajon Music Group. The copy I viewed was made in UK in PAL format. The DVD may not be easily obtainable.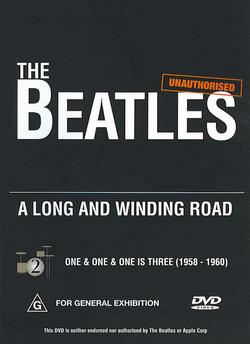 Bill Harry and Allan Williams are the main speakers interviewed. Bill certainly has a story to tell. As the founder of Merseybeat, he was the primary press source of information on the Liverpool music scene in those days. Bill claims that he brought the Beatles (and Cilla Black) to the attention of Brian Epstein, which contradicts Epstein's story in "A Cellarfull of Noise." Cilla Black was originally Cilla White, and it was Bill Harry's error in the name in a Merseybeat article that led to her keeping it - she preferred it. Epstein had claimed it was his idea. Bill assets that Pete Best was far the most popular Beatle, and admits that in the first Merseybeat article about them, was the only one referred to by name.
Victor Bockris talks about the fertile environment of the art college scene in Liverpool which gave them freedom to experiment. Bockris has written histories of Andy Warhol and a number of rock musicians.
Allan Williams, owner of the Blue Angel where many of the groups played, was the Beatles' first manager and contributes the history of how thay came to play in Hamburg, and their experiences there. Their first initiation into the night club scene was backing a stripper in a Liverpool club. Williams scouted out Hamburg having heard there was a demand for talent, but came home empty handed. Some time later coincidence played a part when the German club owner he had met went looking for the Beatles in London, and found them with Williams in the Two Is coffee bar. Tony Sheridan comes in to the story at this point. The upshot is that the Beatles and Sheridan were offered residences in a Hamburg club.