Official Beatles Jukebox 45's
by John Whelan, Collector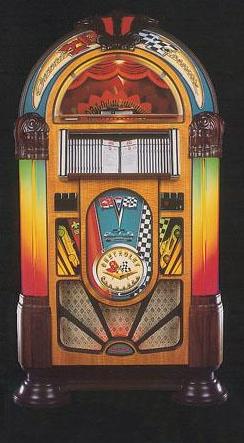 Capitol released special coloured jukebox 45's through their "CEMA Special Marketing Products" division. Each "Beatle single" was released on a "purple label" and only available for jukeboxes from May 1994 to January 1996. These records are no longer in print and are rapidly becoming collectors items (you still can find some being auctioned off on Ebay or at Musicmachine on the web). I have provided the actual prefix and vinyl colours used by CEMA when they manufactured these beautiful jukeboxes records.
There is a little historical significance to some of the 45's released in the series by CEMA: a manufacturing error was made during a run-off of "Love Me Do." The record plant technicians accidentally manufactured approximately 300 - 1,200 copies in red vinyl single before they realized it was a mistake. It ended up being eventually circulated and these ones are worth, as of today, between $30-40 American at record conventions. What they were suppose to manufacture was a "black vinyl" pressing of Love Me Do which they did. Both singles have the same prefix numbers: S7-5685-A. The same mistake was made on "Birthday/Taxman," only this time a black vinyl run-off occurred by mistake when it should have been a standard "green vinyl" print. Only a very small quantity of these black vinyls were released. In the case of "Norwegian Wood," two types of vinyl schemes were deliberately marketed by CEMA: a "black vinyl" (the standard one used for the Jukebox collection) and the rarer "green vinyl" Jukebox was specially printed as a bonus disc for a Beatles LP collection. There are other oddities to be found in the Jukebox series.
CEMA released a series of solo singles which belong, in effect, to the collection as well. Included was Ringo Starr's "In My Car" and "Wrack My Brain" and unlike the "purple labels" used by CEMA, they decided on using a "creamy white" label. Found on the center top of this label, is a stamped circle which contains the wor ds "The Right Stuff" within the circular perimeter. This creamy white label may give the appearance of it being a bootleg at first glance, but it is not. This is the way CEMA designed these two singles while the remainder of solo vinyls were pressed using the purple label.
To finally cap it all off, two other oddities are found within the collection of solo releases: for some marketing reason, CEMA decided to release Badfinger's "Baby Blue" b/w "Day After Day" using blue vinyl and they also decided on releasing a Beach Boy jukebox single, printed in green vinyl. The title songs selected for the Beach Boy record are: "Merry Christmas Baby" b/w "Santa's Beard." Both singles are valued between $6.00 and $10.00. The total count of Jukebox records, including single variations, solo releases, the Badfinger and Beach Boy singles, comes to an amazing 45 singles issued by CEMA!
The following list is presented not in order by their prefix issues, but rather, I have ranked them as closely as possible to the relevant historical time line of the recordings based on albums and single releases -- albeit a few CEMA "A" and "B - sides" don't quite always match up properly when ranking them. If you look closely at the list below, you'll find that George Harrison gets his own double-sided 45 r.p.m.! There are a few other surprises that pop up in this list...take a good look!
PREFIX No.

TITLE / SOLO ARTIST

VINYL COLOUR
S7-56785-A

Give Peace A Chance / Remember Love
John Lennon

BLACK
S7-17688-A

Imagine / It's So Hard
John Lennon

BLACK
S7-17699-A

Happy Xmas / Listen The Snow Is Falling
John Lennon

GREEN
S7-17689-A

Wonderful Christmastime / Rudolf The Red-Nosed Reggae
Paul McCartney

RED
S7-17690-A

Wrack my Brain / Private Property
Ringo Starr

RED
S7-17692-A

Biker Like an Icon / Things We Said Today
Paul McCartney

WHITE
S7-17691-A

Hope of Deliverance / Long Leather Coat
Paul McCartney

BLACK
S7-18889-A

Off the Ground / Cosmically Conscious
Paul McCartney

WHITE
S7-18901-A

C'Mon People / Down to the River
Paul McCartney

WHITE
S7-18179-A

In My Car / She's About A Mover
Ringo Starr

GREEN
S7-17487-A

Baby Blue / Day After Day
Badfinger

BLUE
S7-18205-A

Merry Christmas Baby / Santa's Beard
The Beach Boys

GREEN
Since the date of this first publication on the Jukebox series, there have been new solo releases issued on colored vinyl. They are: (Just Like) Starting Over, by John Lennon; My Sweet Lord 2000, by George Harrison; Try Not To Cry by Paul McCartney; Woman by John Lennon. Plans are currently under way to release Paul McCartney's "Freedom" on the purple label series. The new releases means the revised figures (including the forthcoming "Freedom" by Paul McCartney) for colored vinyl will stand at 50 jukebox singles.
Compiled and researched by J. Whelan,
July 20th, 1999.
Updated on September 22, 2002.
---