Wednesday, May 28, 1969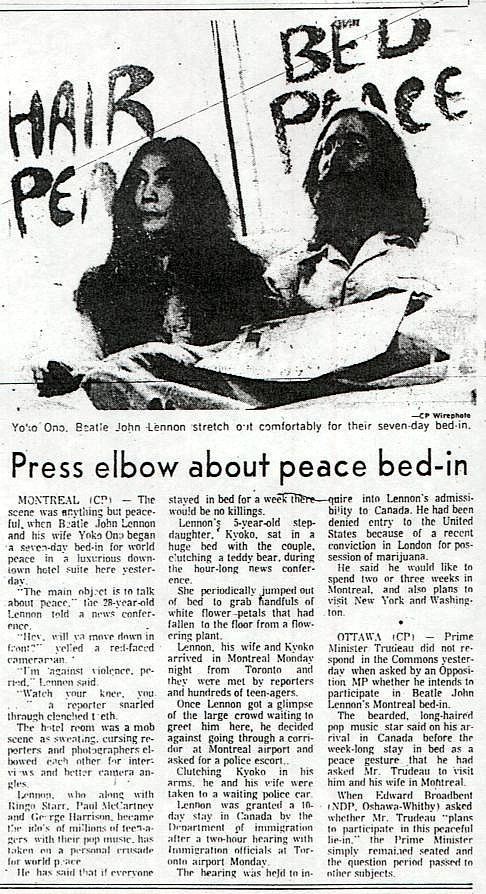 Here is a cleaner typed-out transcript from the above...
Press elbow about peace bed-in
MONTREAL (CP) -- The scene was anything but peaceful when Beatle John Lennon and his wife Yoko Ono began a seven-day bed-in for world peace in a luxurious downtown hotel suite here yesterday.
"The main object is to talk about peace," the 28-year-old Lennon told a news conference.
"Hey, will ya move down in front?" yelled a red-faced cameraman.
"I'm against violence, period." Lennon said.
"Watch your knee, you..." a reporter snarled through clenched teeth.
The hotel room was a mob scene as sweating, cursing reporters and photographers elbowed each other for interviews and better camera angles.
Lennon, who along with Ringo Starr, Paul McCartney and George Harrison, became the idols of millions of teen-agers with their pop music, has taken on a personal crusade for world peace.
He said that if everyone stayed in bed for a week there would be no killings.
Lennon's 5-year-old stepdaughter, Kyoko, sat in a huge bed with the couple, clutching a teddy bear, during the hour-long news conference.
She periodically jumped out of bed to grab handfuls of white flower petals that had fallen to the floor from a flowering plant.
Lennon, his wife and Kyoko arrived in Montreal Monday night from Toronto and they were met by reporters and hundreds of teen-agers.
Once Lennon got a glimpse of the large crowd waiting to greet him here, he decided against going through a corridor at Montreal airport and asked for a police escort.
Clutching Kyoko in his arms, he and his wife were taken to a waiting police car.
Lennon was granted a 10-day stay in Canada by the Department of immigration after a two-hour hearing with Immigration officials at Toronto airport Monday.
The hearing was held to inquire into Lennon's admissibility to Canada. He had been denied entry to the United States because of a recent conviction in London for possession of marijuana.
He said he would like to spend two or three weeks in Montreal, and also plans to visit New York and Washington.
**********
OTTAWA (CP) -- Prime Minister Trudeau did not respond in the Commons yesterday when asked by an Opposition MP whether he intends to participate in Beatle John Lennon's Montreal bed-in.
The bearded, long-haired pop music star said on his arrival in Canada before the week-long stay in bed as a peace gesture that he had asked Mr. Trudeau to visit him and his wife in Montreal.
When Edward Broadbent (NDP, Oshawa-Whitby) asked whether Mr. Trudeau "plans to participate in this peaceful lie-in," the Prime Minister simply remained seated and the question period passed to other subjects.
Copyright by the Canadian Press, May 28, 1969. All rights reserved.
---
Ottawa Beatles Site