Brief introduction: Scholastic Magazines published a book on British pop music back in 1966. The authors intended writing style was geared mainly towards the young adult reader who would be just ripe for fresh young minds interested in rock and roll. That said, this report by Caroline Silver does contain many candid remarks from Cilla Black regarding Liverpool's early beat scene as well as her rise to fame. The Ottawa
- John Whelan, Chief Researcher for the Ottawa Beatles Site, July 13, 2002.
Starting Out: Cilla Black
written by Caroline Silver,
published in December, 1966
by Scholastic Magazines, Inc.

In October 1962 a new hat-check girl started work at the Cavern. She was seventeen years old, a slim five-feet-five-inches, with bright red hair and dark blue eyes. Her name was Priscilla Maria Veronica White, Cilla to her friends. She was a beat fan.

Cilla was born in Liverpool on May 27, 1945. She went to school at St. Anthony's Secondary Modern, where she became interested in acting. When she was nine she made her first appearance onstage in a school production of Little Red Riding Hood. Three years later she was in Julius Caesar, and end-of-term play.

In England, boys and girls usually go to separate schools. St. Anthony's was an all-girl school. On week-ends, boys and girls would get together to go to the beach or have a party. At a party in Liverpool, everybody must do a "turn" -- sing a number, recite a poem, do a tap dance -- even if he is not very good at it. Cilla's turn was always a song.

In 1958 she left school and took a secretarial course, then got a job as a typist with a cable manufacturing company in Liverpool. In the evenings she went the rounds to the beat clubs with her school friends, listening to many of the newly formed groups. All the Liverpool groups who were later to become famous -- among them the Beatles, Gerry and the Pacemakers, Billy J. Kramer and the Dakotas -- were playing in the Liverpool clubs in the late 1950's. Cilla knew many of them by sight, as they had gone to her local boys' school. Later, she got to know them all.

"In all these clubs you made a point of making friends with everybody," she says. "It was rather like a glorified YMCA. I used to collect a lot of autographs and watch a lot of performers because I was very much interested in show business. Deep down in my heart I knew I was going to be a singer."

By October 1962 Cilla was working at the Cavern in her lunch hours, hanging up coats for five shillings (60 cents) an hour. "That way I could listen to the music and get paid for it," she says. She was particularly friendly with a group called Rory Storm and the Hurricanes. "We were part of a clique, a gang. We all used to go to the beach on Sundays. Ringo Starr was the drummer for them at the time."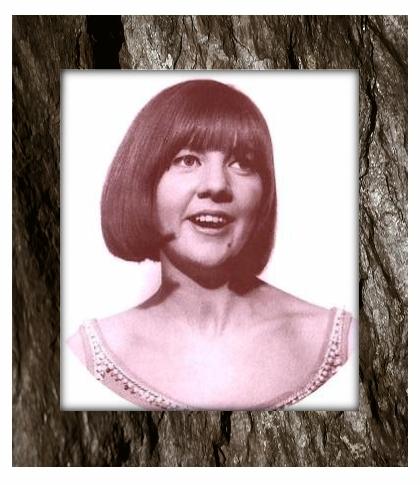 Brian Epstein once described Cilla Black's arrival on the pop music scene as "Britain's most exciting new beat songstress. The gal with the bright red hair and the jet black voice". How true his words were...Cilla had a string of many hits: "Alfie", "Love of the Loved" "Anyone Who Had A Heart" and "Step Inside Love".

One day when Rory Storm was playing at the Cavern he handed the microphone to Cilla. "He asked me, for giggles, to get up on the stage and sing with them. They thought: 'Oh, Cilla's a bit of a case -- she'll do anything for a laugh.' And probably the lead singer wanted to have a rest anyway."

So Cilla got up on the stage and took up the lyric of "Fever" where Rory Storm left off, belting it out in her strong voice. Then they made her sing "Always" and some R-&-B numbers. Word of Cilla's performance quickly spread among the Liverpool groups, because at that time there were no girl singers in the city, so she was a novelty. In the weeks following, every time she went to a club she would be pointed out by somebody and would be made to get up and sing.

Soon a group called the Big Three suggested that, instead of Cilla's singing with everybody and not earning anything, she should sing with them only, and for pay. Shortly after this, and advertisement appeared in the local newspapers: "Come and see Swinging Priscilla at the Zodiac tonight."

"I've always been called Cilla," she says, "so it never occurred to me that the Priscilla in the advertisement might be me. After work, I couldn't wait to wash my face and put new makeup on to go down to the Zodiac and see who this 'Swinging Priscilla' was. When I got to the door -- it was marvelous. These clubs, because you'd go down to the cellar and it'd have a little trap, sort of an eye, like a cat door only about five feet up the door, and you'd knock three times and a piece of wood would slide back and they'd say, 'Who is it? -- and that night I said, 'It's me.' And they said, 'Oh, good. Glad you came tonight because we couldn't think how to get hold of you, and you're on in a half hour!' And I said, 'On?' I beg your pardon!' And they said, 'You're singing with the Big Three.' And I said, 'Oh no, I'm not!'

"They blackmailed me, actually. They said if I didn't sing with the Big Three I would be barred from the Zodiac. And to be barred from this particular club, which was at the height of its popularity, was the worst thing that could ever happen to me. Without this club there was no other place to go, because although the other clubs were still going they weren't 'in' at the time; the Zodiac was the 'in' club of the moment. So I just had to do it.

"I went off to a chemist's and got a lot of cough sweets because I thought they'd make my voice better. And I got terribly temperamental -- a thing which I'd never done in my life -- because I was going to sing. And I remember my tongue was black with all these black cough sweets when I was singing. But it was very successful night. I enjoyed it."

She sang for about twenty minutes. At the end of the session, to her great astonishment, the leader of the Big Three slipped three ten-shilling notes ($4.20) into her pocket. Cilla had become a paid performer.

So Cilla began with the Big Three as "Swinging Cilla," and became well-known among the Liverpool groups. Although officially a group member, she still used to sing with other groups. So did everyone else. Group members were always ready to split up and play with other groups for fun at clubs. Jam sessions were held in the evenings at the Iron Door, the Cavern, the Mardi Gras, the Black Cat, the Peppermint Lounge, and at many other Liverpool clubs, as well as the Zodiac. Cilla's favorite clubs were the Iron Door and the Cavern, but she always remained particularly fond of the Zodiac because it was the first club at which she sang regularly.

Then a local pop-music newspaper called Merseybeat wrote an article about Cilla and got her name mixed up. "They knew my name was a color of some sort, but they didn't know whether it was Black or White. So they printed it Black." The Beatles soon told their manager, Brian Epstein, that Cilla was a promising young singer, and Epstein became interested in managing her. He, too, thought her name was Cilla Black, and wrote it so in the contract he eventually signed with her. "When I told Brian my real name was Cilla White, he didn't like it much," she says. "Because by now everyone was so used to calling me Cilla Black that they couldn't imagine me Cilla White, so we kept it Cilla Black."

The color mix-up was characteristic also of Cilla's life at that point. Cilla White went on working during the day as a typist. At night, Cilla Black sang in the clubs, looking forward to making a record when Epstein had time to arrange it. The Beatles were becoming very popular in the summer of 1963, so their manager had his hands full and Cilla had to wait.

Her turn came in August, when she took her annual two weeks' holiday from her typing job. She went to London with Brian Epstein and was introduced to recording manager George Martin, who had already heard and liked tapes she made with Gerry and the Pacemakers. Cilla enjoyed it all; Epstein showed her off as his new talent, and this, plus the fact that she is naturally outgoing and friendly, made her not in the least frightened. By the end of the week she had got to know a lot of people in the recording world and was feeling sufficiently relaxed to go into a recording studio and make a record. "I was a bit nervous at first," she says, "because all the musicians in the studio were strangers, and so far I'd only sung with people I knew. But once I got started there was no turning back."

The song Cilla recorded was "Love of the Loved" by Lennon and McCartney. Those involved in the recording were so pleased with the result that Cilla no longer had any doubts about where she was going next. She went home and handed in her notice to her Liverpool boss. Two weeks later she began to call herself a professional singer.

"Love of the Loved" shot up the British pop music charts, and Cilla went off on a concert tour with Gerry and the Pacemakers. She returned to London in time to appear in the Beatles' Christmas Show at Finsbury Park, Astoria, London. Early in 1964, her second record made number one on the British Hit Parade; so did her third, which was released while Cilla was appearing in Star-time at the London Palladium.

Cilla played the Palladium from May to December 1964, and was chosen (as Palladian resident performers always are) to sing before the Queen in that year's Royal Variety Performance. Since then, she has made many more records, has toured Australia and New Zealand, has appeared in America on The Ed Sullivan Show and on Shindig, and has often been on British television. She has done cabaret performances in different parts of the world, including a three-week season in New York at the Plaza Hotel's Persian Room. And during the winter of 1965-66 she played Little Red Riding Hood on a London stage (which, she says, was nothing like her nine-year-old school performance).

Cilla is a splendid example of the amateur-made-good spirit typical of British pop in the early 1960s. "I've never had any training," she says. "Nobody told me how to sing, or what to do at a certain point of a song, how to introduce songs. Not even Brian Epstein, because Brian didn't know -- he was just as much an amateur as we were!"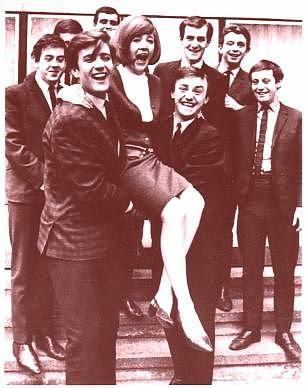 Cilla Black in an off-beat moment with Gerry and the Pacemakers and the Dakotas.


---
Ottawa Beatles Site