After 34 years, The Concert For Bangladesh Just Keeps on Giving
By Francis C. Assisi
28 October 2005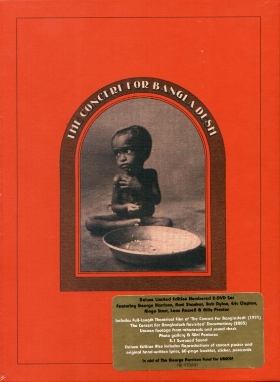 For those old enough to remember, it was the mother of all concerts - - a gem of a musical event that bore witness to the agonizing birth-pangs of Bangladesh. The historic event marked the first time that music became an ideal vehicle for bringing people together and rallying support in tough times.
That was 34 years ago in Madison Square Garden. On stage were three Indian musical luminaries: Ustad Ali Akbar Khan, Pandit Ravi Shankar and Ustad Alla Rakha. Also featured were an amazing array of talent -- Bob Dylan, George Harrison, Eric Clapton, Leon Russell, Ringo Starr and others. And by most accounts, some of the best performances in the careers of the artists involved were witnessed during the concert.
The Concert For Bangladesh was actually two concerts held on the afternoon and evening of August 1, 1971, playing to a total of 40,000 people and raising $243,418 which went for the refugees of war-torn, famine-stricken Bangladesh. That amount may seem modest in an age of megabenefits, but its estimated that continuing donations since 1971, in the form of artist royalties from the movie and album, are at about $15 million.
Today, The Concert For Bangladesh keeps on giving. That's because it was re-released this week as a two-disc DVD with bonus footage and a remastered two-CD set with a previously unreleased Dylan performance -- a timely reminder of how Harrison's achievement became the model for three decades of relief efforts by musicians, including Live Aid in 1985 and recent benefits for victims of Hurricane Katrina.
I can recall that summer of 1971, when "My Sweet Lord" the song which featured exquisite slide guitar work by Clapton, and lyrics that read "I really want to see you/I really want to be with you/I really want to see you Lord, but it takes so long, my Lord," was all over the airwaves in California. My son Shashi, a two-year old toddler, was joyfully revelling in the recently released Ravi Shankar-Ali Akbar Khan duet "Joi Bangla."
Meanwhile, half a world away, Bangladesh lay tattered. A recent cyclone had killed 300,000 people. Flooding and war left survivors starving and homeless. An estimated one million people were killed by Pakistan in the civil war. Ten million from East Pakistan sought refuge in India.
It was a holocaust in every sense of the word.
Pandit Ravi Shankar, whose ancestors hailed from the area when it was a part of India known as East Bengal, was so pained by the suffering that he sought his friend George Harrison's help.
"He saw my anguish," Shankar, 85, recalls, "and he was very sympathetic." Harrison quickly cut a new song, "Bangladesh," to bring attention to the crisis, then called on rock-star friends such as ex-Beatle Ringo Starr, Eric Clapton and Bob Dylan to sign up for a charity show to aid the beleaguered country. The event was organised within five weeks. "It was magical," marvels Shankar, "within hours of the show, Bangladesh was known all over the world."
Ravi Shankar describes the personal importance he places on this concert: "Again and again I am asked which concerts stand out in my memory, and it is very difficult to remember all the prominent ones as my career spans over seventy-five years of performances; but the Concert for Bangladesh was very significant to me as the conception of the idea came from me and the people needing aid were very close to my heart; some of them, of course, being distantly related to me. Ali Akbar Khan and Alla Rakha joined me on stage for the first half and George Harrison played the second half, joined by other eminent musicians including Bob Dylan and Eric Clapton. George closed the concert with "Bangla Desh," the special song he wrote for the occasion."
During an informal interview held two days after the August 1st concerts, Ravi Shankar explained: "To me the whole feeling of Bangla Desh has been quite a personal one, because I happen to be a Bengali. This whole issue since last March is something of such a different nature and my feelings as it happened, apart from the sympathy I have because I am a Bengali, apart from being directly involved because such huge numbers of people were migrating into India . . . they were running for their lives and so many were killed, including my distant relatives, many friends, including Muslim friends, and even people from the family of my Guru; their homes burned, completely destroyed.
"So for me there was great anguish and suffering for a number of months since March and it came to such an emotional pitch. This was a period near the end of June when George came to California to help in making an album from the soundtrack of the film RAGA. I was very disturbed and wanted to do something for the people of Bangla Desh. I talked with people from many different organizations in the United States and in Europe who wanted me to give a benefit performance. But I thought of doing something on a very large scale that might bring in a lot of money and also, you know, awareness. So I though I would ask George, even if he could not take part himself, if he could advise me, ask other artists about it, write or talk about it - something. Then maybe we could do a big function where we could raise 25 or 50 thousand dollars. So, when I talked with him, he was impressed by my sincerity, and I gave him lots to read and explained the situation. And it was not only what I said, as an Indian, a Bengali. When he read so many things from so many countries; France, Germany, England, Norway, and the American press, which was giving such good coverage of what was happening to millions of people, suffering so much - he was very deeply moved and said he would be glad to help in the planning - even to participate.
"Things started moving very fast. George called Ringo in Spain where he was working in a film, and he talked to Leon Russell and all of these wonderful musicians from the west coast and east coast who came to play. And he contacted Mr. Klein, who has taken care of the business and administration. Everyone has shown such deep concern. And, of course, Bob Dylan, as luck would have it, was so wonderful to take part in this cause. In a period of only four or five weeks all of this was done. To conceive, plan and execute in such short time must be setting a record in the history of world entertainment - thanks to all of these participants.
"And now I feel a great joy. With George's single, "Bangla Desh," my single, the film that has been made of the concert, the album coming out and whatever the gate monies from this concert . . . it will all add up to a substantial amount. Though, when you think of the amount being spent on almost eight million refugees, and so many of them children, of course it is like a drop in the ocean. Maybe it will take care of them for only two or three days. But that is not the point. The main issue - beyond the sum of money we can raise - is that we feel that all the young people who came to the concerts (maybe 40 or 50 thousand of them) they were made aware of something very few of them felt or knew clearly -about Bangla Desh and what has happened to cause such distress.
"It is like trying to ignite - to pass on the responsibilities as much as possible to everyone else. I think this aim has been achieved."
In the process, Harrison had also invented the superstar benefit concert, a milestone immortalized in the documentary filmed that day and its Grammy-winning soundtrack.
Harrison, who died in 2001, is reported to have been so nervous about his solo concert that he had doubts about even filming the Bangladesh shows. And Dylan, who was to be Harrison's special closing-guest gift, almost didn't play. Like Harrison, Dylan had not toured since '66. He was so jittery backstage during the afternoon show that Apple Records promotion manager Pete Bennett, who was sitting with Dylan, took action. "I sent Saul a note," Bennett says, "to give to George: 'Put Dylan on now, instead of last, because he wants to leave.'"
But the evening show that made up most of the Bangladesh movie was the celebration of camaraderie and generosity that Harrison intended. Highlights include Preston's spontaneous gospel-spirit dance in "That's the Way God Planned It" and the smiles exchanged by Harrison and Clapton as they trade solos in "While My Guitar Gently Weeps." In a previously unseen rehearsal of Dylan and Harrison doing "If Not for You," they spend the entire song looking at each other, as if they're singing about their own relationship.
The event was chronicled the following year on a triple-LP set and a feature film.
This week's reissued DVD restores the original 99-minute movie in 5.1 sound and tacks on a wealth of extras, including a rehearsal performance of 'If Not for You' with Harrison and Dylan and a soundcheck take on 'Come on in My Kitchen' with Harrison, Clapton and Russell, plus Dylan performing 'Love Minus Zero/No Limit,' an outtake from the theatrical release. The DVD will also include a 45-minute documentary, 'The Concert for Bangladesh Revisited 2005,' which features interviews with Bob Geldof and United Nations Secretary General Kofi Annan.
Artist royalties from the sale of the 'Bangladesh' DVD will be donated to UNICEF.
It must be recognized that, aside from being the first all-star rock benefit, the Concert for Bangladesh contains some truly wonderful music. The film and album of the event are a testament to that. For those of an earlier generation, The Concert for Bangladesh stands as one of the finest performances of its time. It took place at a time when the musicians were all still young and at the height of their creativity; when idealism had not yet been tempered with cynicism, and when it still seemed possible for the power of good music to make magic happen.
For many in attendance that night, just seeing world class musicians such as Ravi Shankar and Ali Akbar Khan or George Harrison and Eric Clapton playing together at the height of their powers was thrilling enough, and now, thirty four years later, the sight of the musicians playing off each other takes on added poignancy.
For American concert goers the fact that Dylan pulled through for Harrison, after being almost completely absent from the concert circuit for five years, made the event truly memorable. Those were the days when Dylan was still seen by many of his generation as an almost prophetic figure, his mere presence adding a weight and a cultural importance to an already momentous concert.
As Rolling Stone magazine put it, The Concert for Bangladesh was rock arriving at its manhood. For the first time in history a group of musical luminaries under the leadership of George Harrison reached out, recognized in a deliberate prposeful and professional way that they have responsibilities to a a wider world; and went about confronting it, head on.
"My friend came to me/with sadness in his eyes/He told me that he wanted help/Before his country died./ Although I couldn,t feel the pain/ I know I'd have to try/ Now I am asking all of you/to help us save some lives."
Heard at the end of the album, during the single greatest performance at the concert by all concerned, the lyrics reach out for a simple, direct, and overwhelming statement.
That cry was heard and is still being heard.
francisassisi@hotmail.com
---
Francis C. Assisi first reviewed The Concert for Bangladesh album in the February 17, 1972 issue of The Canadian India Times.
This article first appeared at INDOlink.com and is e-published here at the Ottawa Beatle Site with permission of the author. Copyright © Francis C. Assisi and INDOlink.com, October 28, 2005, all rights reserved.