Ottawa Beatles Site review of "Egypt Station" by John Whelan
Published on September 24, 2018
"Egypt Station" will become one of Paul's most enduring solo albums and ranks right up there with "Ram," "Tug of War" and "Flaming Pie."
The album was herald in through the use of pre-online promotion techniques by using Youtube videos and an appearance by Paul on the James Corden "Late Late Show" in a carpool karaoke. He also appeared on The Tonight Show with Jimmy Fallon and performed a concert in the Grand Central Station in New York City. The pre-advertising piqued my interest and so when it was officially released, I went out and bought two copies: the 180 gram double album and the CD with bonus tracks. And in case you hadn't noticed the back cover art work is different from each other - the packaging is slightly different! The 180 gram double album is presented in a concertina sleeve and is officially a one-time pressing. It comes with a limited time digital download pass for 16 songs in MP3 format. The CD format contains all of the great songs from the vinyl release but with additional bonus tracks: "Get Started" and "Nothing for Free." The original CD release did not contain the bonus tracks so make sure you examine which CD version you want to get as both versions are still floating around out there in record stores as of this writing.
A historic first for Paul, the album debuted at the No. #1 position on the Billboard charts as a solo artist. The underpinnings for this success is that every singular compositions on "Egypt Station" are genuinely brilliant, truly a beautiful effort from the legendary pop icon. Paul used Greg Kurstin to produce the vast majority of the tracks while Ryan Todder and Zach Skelton produced "Fuh You" and "Nothing For Free." It should be noted that Paul is credited for co-producing the entire album.
In the RollingStone.com review they headline the new release as "Paul McCartney's Awesomely Eccentric 'Egypt Station'" along with "His first LP in five years is structured like a ride on the cosmic train, complete with silly sex songs and a plea for peace. The result is classic Paul." He certainly has pushed the boundaries to the max by trying out new musical rhythm patterns, i.e. "Back In Brazil" and "Nothing For Free." Past proven techniques are applied on some of the songs such as the feedback at the beginning of "Who Cares" (remember the feedback on the Beatles "I Feel Fine" intro?) or the medley of "Hunt You Down/Naked/C-Link" where the songs are craftily woven together (remember the Beatles "Mean Mr. Mustard/Polythene Pam/Golden Slumbers" from "Abbey Road?") The tracks "Hunt You Down" and "Naked" are brisk rockers but Paul slows the medley down with "C-Link," a slow instrumental blues number where the chords bend to make it sound like a heavy Pink Floyd ending. It is fantastic!
"Egypt Station" is a back-to-your-roots rock album. It has been such a very long haul waiting for the music industry to get back to the roots of creating great "pop music" as opposed to the annoying rap music that most music executives and music companies push into the public mainstream. The high quality of music that Paul has created is comparable to two other great pop artists: George Harrison's "All Things Must Pass" (triple album) and Elton John's "Goodbye Yellow Brick Road" (double album). In both cases their music just shines through on every song for their fans. "Egypt Station" is no different. What is surprising is that Paul, at age 76, still has the magic to compose beautiful pop songs. He hit this one right out of the ball park! I suspect that if Sir George Martin were alive today, this would be one album that he would enjoy producing with Paul.
All of the tracks are great but I give a slight edge to "Back In Brazil" as my favourite. In keeping with producing a Latin influenced song, Paul recorded the song in São Paulo, Brazil at KLB Studios. The result is something entirely different which would have fitted nicely on "Ram" if it were composed back then. The songs that really rock on "Egypt Station" are: "Come On To Me", "Fuh You", "Caesar Rock", "Despite Repeated Warnings", and "Hunt You Down/Naked/C-Link." Paul even takes a stab at techno rock with "Nothing For Free" which was composed by Paul and Ryan Todder. "Who Cares" sounds definitely like a Wings number that rocks steady.
Then there are the more gentler songs such as "Happy With You" which could have easily been on the "Flaming Pie" album. It is a masterful ballad embellished by a beautiful acoustic guitar artistry that fits perfectly to Paul's vocal work. Flutes and drumming are found on the song! Other notable tracks are: "People Want Peace", "Hand In Hand", "Dominoes", "Do It Now." Then there is "Confidante", a love song about Paul's "Martin" acoustic guitar where he proves he can still be a clever lyricist:
[Chorus]
You used to be my confidante
My underneath-the-staircase friend
But I fell out of love with you
And brought our romance to an end
I played with you throughout the day
And told you every secret thought
Unlike my other so-called friends
You stood beside me as I fought

[Verse 1]
In your reflected glory, I
Could dream of shining far off lands
Where serpents turn to bits of string
And played like kittens in my hand

[Verse 2]
In our imaginary world
Where butterflies wear army boots
And stomp around the forest
Chanting long lost anthems
Long lost anthems

[Chorus]
You used to be my confidante
My underneath-the-staircase friend
But I fell out of love with you
And brought our romance to an end
I played with you throughout the day
And told you every secret thought
Unlike my other so-called friends
You stood beside me as I fought
You stood beside me as I fought

[Outro]
You used to be my confidante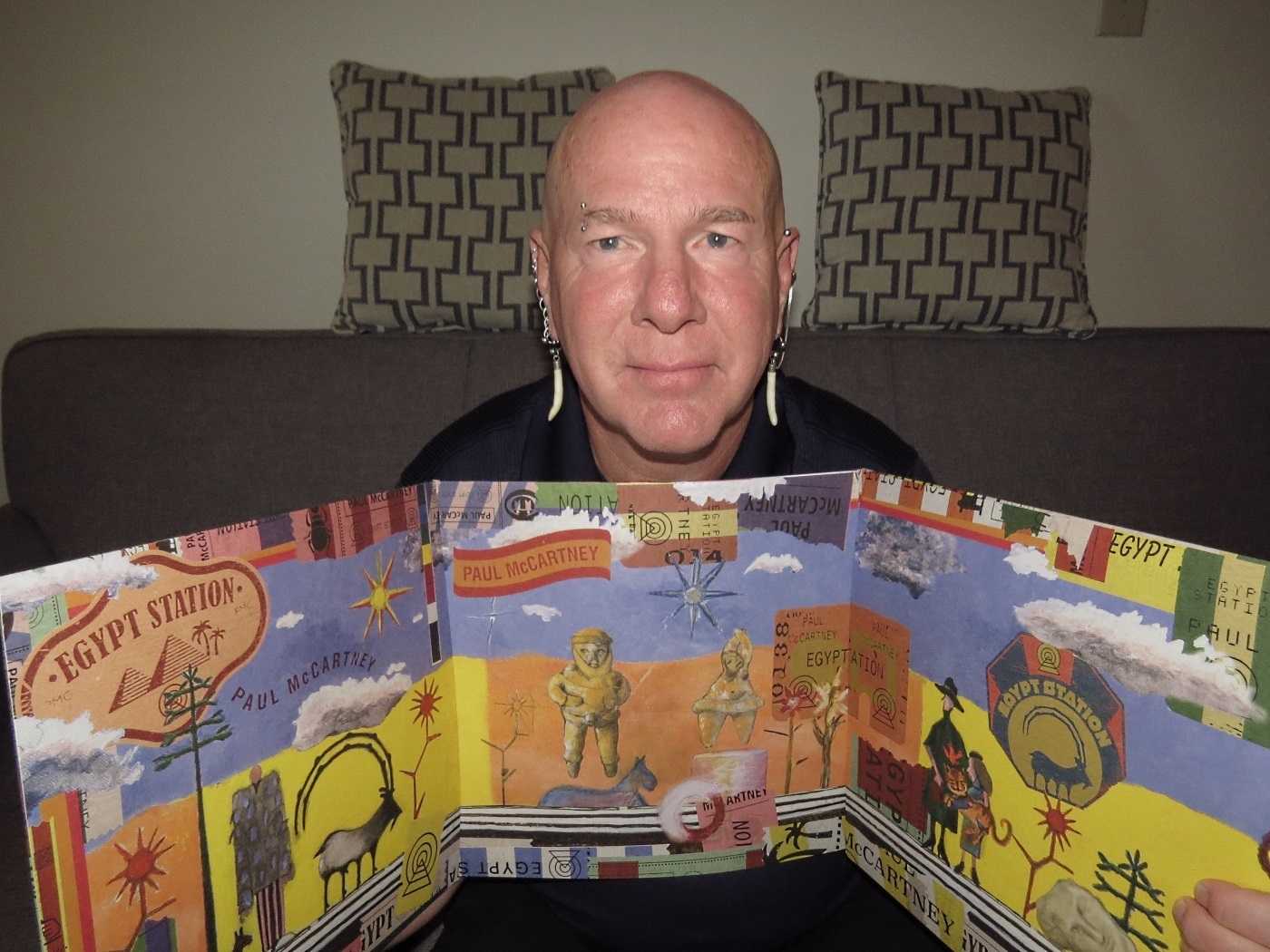 Ottawa Beatles Site researcher John Whelan with his 180 gram double vinyl set of "Egypt Station." The brilliant art work with splashy bright colours was painted
by Paul McCartney. Thank you Paul for this new album and all of the wonderful music you have made since the heyday of the Beatles. Much love from all of your Canadian fans.

"Egypt Station" takes square aim at President Trump's neglect over climate change with "Despite Repeated Warnings." I am all on board with Paul or any other celebrity who can warn leaders about getting their act together to save the planet. And it's a good message to the general climate change deniers: a call for them to wake-up! Said Paul: "People who deny climate change....I just think it's the most stupid thing ever. So I just wanted to make a song that would talk about that and basically say, 'Occasionally, we've got a mad captain sailing this boat we're all on and he just going to take us to the iceberg [despite] being warned it's not a cool idea.' Obviously it's Trump but there's plenty of them about. He's not the only one." The song has interesting tempo changes that are reminiscent to "Live and Let Die" with a brass section on it that really rocks.
"I Don't Know" sounds like a song that was pulled from the "Chaos and Creation in the Backyard" era. It is a melancholy song that uses metaphors to describe feelings. Said Paul in an interview with New Music Express: "I got crooooows at my window, my mama left me. It's that kind of thing, you know. So I just thought that was a good way to start: crows at the window, dogs barking at the door, it's like a Swedish film, kind of a black and white...all of life's piling in on me. Music is often a really good thing, if you're feeling a bit pissed off. Sometimes you'll take to a drumkit and thrash it, sometimes you go to the piano and start hammering the feelings into a song." The song would become the first single released from "Egypt Station." Paul chose "Come On To Me" which turned the single into a double A-sided hit. It was released on June 20, 2018 on Capitol Records.
"Get Started" has beautiful harmonies backing up Paul's vocals. An acoustic guitar is used smoothly throughout on the song but breaks into madness as it ends up into a "Helter Skelter" type-of-romp complete with heavy metal guitars and drumming. "Get Started" has a certain freshness to it that illustrates Paul's innate ability to write superb pop songs and thereby remaining above the status quo of other pop groups and composers.
With "People Want Peace" Paul reinforces the optimistic ideals of the late 60's peace movement, i.e., "All You Need Is Love" by the Beatles or "Give Peace A Chance" by John Lennon. The arrangement here is interesting as Paul uses drum fills on the track that sound similar in style to the hit song "Let 'Em In" from the "Wings At The Speed of Sound" album. A harpsichord, cello, piano are added along with a Gospel-like choir which begs us all to solve world tensions if we only would sing in our hearts: "People Want Peace." We'll let Paul McCartney have the final word about that in this review:
EGYPT STATION TRACK LISTING:
1. Opening Station
10. Dominoes
2. I Don't Know
11. Back In Brazil
3. Come On To Me
12. Do It Now
4. Happy With You
13. Ceasar Rock
5. Who Cares
14. Despite Repeated Warnings
6. Fuh You
15. Station II
7. Confidante
16. Hunt You Down/Naked/C-Link
8. People Want Peace
17. Get Started*
9. Hand In Hand
18. Nothing For Free*
* Denotes bonus CD tracks
Ottawa Beatles Site Rating for "Egypt Station" *****/5
Bibliography:
Review: Paul McCartney's Awesomely Eccentric 'Egypt Station' - by Rob Sheffiled, Rolling Stone, September 5, 2018
Paul McCartney reveals how Taylor Swift and 'mad captain' Donald Trump inspired new album - by Nick Reilly, New Music Express, September 13, 2018

Paul McCartney: Fuh the Win - by Dan Stubbs, New Music Express, September 12, 2018