A Brief History of EMI
In 1897 the Gramophone Company began trading in London, intending to establish a European market for the gramophone and its flat disc records which Emile Berliner had invented and patented in the USA some ten years earlier. Initially the Company's catalogue consisted mainly of songs by music hall artists, brass band recordings and other popular material, but in 1902 a rising young opera star, Enrico Caruso, recorded ten arias in a hotel room in Milan, and thereby helped to establish the gramophone as a serious medium for classical music. The Gramophone Company flourished, selling both classical and popular recordings throughout the whole of Europe as well as Australia, India and other parts of the old British Empire.
Meanwhile, the Columbia Graphophone Company was also establishing itself in Europe, initially selling the cylinder records and phonographs invented by Thomas Edison, but quickly switching to flat discs. Columbia was soon the main competitor of the Gramophone Company, which had become known as HMV because of its use of the "His Master's Voice" painting as its main trademark. By 1929 record sales were booming as never before, with dance band recordings selling literally millions of copies, but then the Great Depression hit, and sales slumped dramatically. To avoid bankruptcy, the Gramophone Company and its arch-rival the Columbia Graphophone Company merged in April 1931 to form Electric and Musical Industries (EMI).
In November 1931 EMI opened the world's first purpose-built recording studio complex in North London at 3 Abbey Road, which remains to this day the centre of EMI's recording and post-production work. Throughout the 1930s the record business gradually picked up, with classical artists like violinist Yehudi Menuhin and tenor Beniamino Gigli giving significant support to EMI's recovery. After a further major setback caused by the Second World War, the Company revived its classical catalogue with major new stars like Herbert von Karajan and Maria Callas, and hired a number of talented producers, including George Martin, to strengthen the pop recording programme.
The 1950s saw the arrival of rock 'n' roll and the beginning of the pop culture that resulted in a massive sales explosion, aided by the arrival of the 45 rpm single and the 33 1/3 rpm long-playing record. In 1955, to replace the loss of its long-established licensing arrangements with RCA-Victor and CBS, EMI entered the important American market by acquiring Capitol Records, whose artists included Frank Sinatra, Nat "King" Cole and, later, The Beach Boys. EMI was in the forefront of the development of the British pop scene that reached its initial peak with The Beatles in the early 1960s, and subsequently produced many successful groups such as Pink Floyd, Queen, Deep Purple and Iron Maiden.
In recent years EMI has further strengthened its position in the world record market by acquiring a number of other important record companies, including Chrysalis and Virgin, as well as developing its own roster of outstanding acts. Today EMI is unrivaled both for the richness of its past heritage and for the strength of its current catalogue featuring many of the world's most successful pop and classical artists.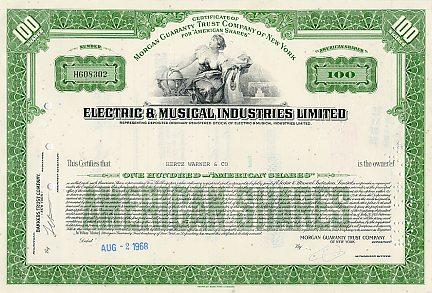 An authentic "Stock Certificate" issued by EMI in 1969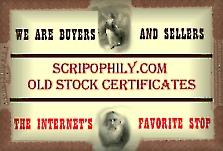 History on EMI was researched by Bob and Susana Kerstein, proprietors of Scripophily.com, the Internet's #1 Buyer and Seller of Old Stock Certificates and was e-published here with their kind permission, June 7, 2000. -- J.W.
---
Ottawa Beatles Site