An Authentic "Dick James Demo" copy of The Beatles'
"Day Tripper" & "We Can Work It Out"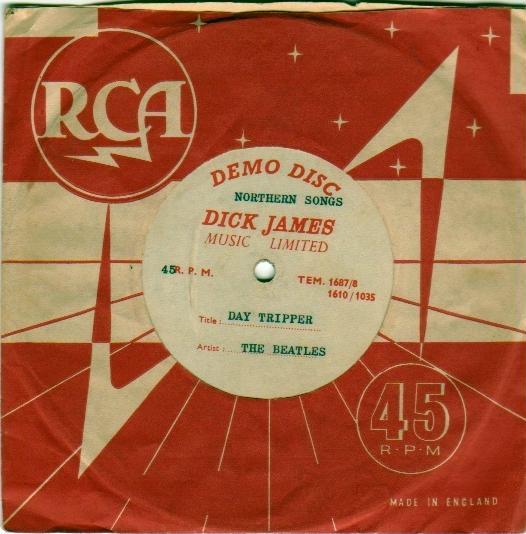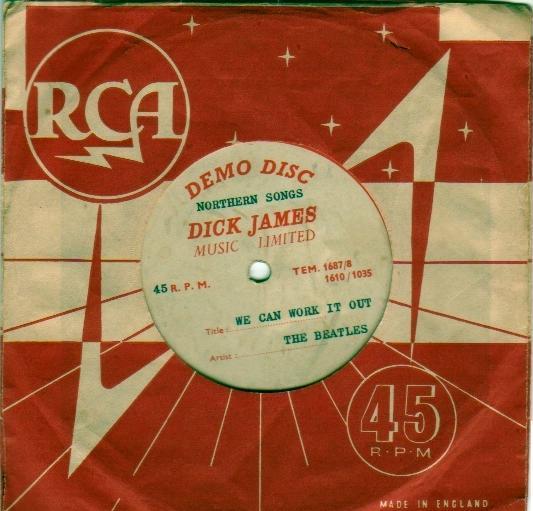 Approximate appraised value for a Dick James Demo disc (in very good condition) of The Beatles "Day Tripper / We Can Work It Out" would be between $250 - 400.00 American currency.
Sometimes Beatle collectors can get really lucky once in a while in where they find rare collectors items by the FABS. For instance, my Quebec friend Daniel Goudreault (webmaster of "Repros and Counterfeits") once told me how he found the now hard to find Canadian album "Beatles Very Together" (the album was issued by Polydor shortly after The Beatles released "Abbey Road"). Daniel found a reasonably good pristine copy at, would you believe, a local garage sale! Today we have another Beatle fan who found something in a somewhat similar way but his find is even more unique (and rarer!) than the "Beatles Very Together". Our correspondent Steve from Australia recently came across a rare demo copy of the Beatles "Day Tripper / We Can Work It Out" issued by Dick James Music.
Steve writes:
"As for where I bought it - we have a small local shopping mall near my home, most of the stores are closed on Sundays so once each month they hold an arts & crafts / flea market in the centre. Last weekend amongst the stalls was a lady selling a few books, odds & ends and a couple of 45s. I looked at the records out of curiosity - I knew what a demo was and figured a Beatles demo has to be reasonably rare. I bought it thinking I might have found a bit of British music history in my local mall - a not inconsiderable achievement when you realise my local mall is in North Queensland, Australia!"
NOTE: A similar copy of another Dick James Demo but with a different title "I'll Be On My Way" is listed with two different links at Lasse Bengtsson's "Dakotas / Beatles" web pages:
http://home.swipnet.se/~w-29168/ (look towards the right of the main home page)
http://home.swipnet.se/~w-29168/bomb.html
COPYRIGHT NOTICE:
The photos of the Dick James Music demo of the Beatles "Day Tripper" and "We Can Work It Out" were scanned by Steve and may not be electronically reproduced by any means in whole or in part and are exclusive property of the Ottawa Beatle Site, November 27, 2000. All rights reserved.
---
Ottawa Beatles Site