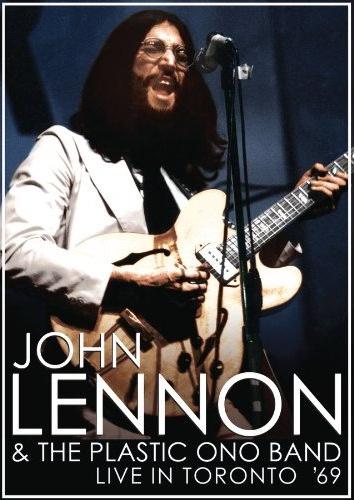 Saturday, September 13, 1969...a concert date that would seal the fate of the Beatles and introduce the first live performance of The Plastic Ono Band to a massive audience of 27,000. It was held at Varsity Stadium in Toronto at a gig billed as the "Rock 'n Roll Revival" that was organized by Kenneth Walker and John Brower. The second concert that the Plastic Ono Band performed was at a pop concert in aid of UNICEF at the Lyceum Ballroom, in London, on December 15, 1969. But it would be the first Plastic Ono Band concert that both John and Yoko are long remembered for.

All concert performances of the Plastic Ono Band at the Toronto event were captured on film by D.A. Pennebaker and his camera crew. While an LP called "Live Peace In Toronto 1969" was issued rather quickly, legal entanglements would excised the filmed segments of the Plastic Ono Band which the public would not see until 1989. According to Beatle historian Mark Lewisohn, when the general public finally did see the filmed Plastic Ono Band performances, it was either on television or through home video of that year.

The year 2009, of course, marks the 40th anniversary of Live Peace In Toronto and it is fitting then that major distributors have re-branded this famous historic concert in DVD format.

There is a lovely interview that Yoko Ono did sometime in 1988 where she explains the ideas that were pulled in when they came up with name for "The Plastic Ono Band." Yoko's comments are quite honest and sincere which creates a visualization of how ideas had been discussed between herself and John. This welcomed vignette starts at the beginning of this new DVD release and cues up the viewer the concert performances.

What better way for a send off than to get John Lennon and Yoko Ono in the right frame of mind for their appearance at the concert by having them escorted by a series of motor bikers all the way to Varsity Stadium. It's a great opening sequence to Pennebaker's film while you listen to Bo Diddley's rocking performance of "Bo Diddley." Two other legendary rocker's are featured on this film: Jerry Lee Lewis and Little Richard. Shown briefly on this DVD, but whose concert performance was not included, Chuck Berry. The legends of 50's rock might well have been part of the drawing power that made Lennon decide to come over and do the concert. After all, these were the rocker's that Lennon admired. The other part of the drawing power came from John Brower, a rock promoter, who made the suggestion to Lennon to come and perform at the Rock 'n Roll Revival.

The legends of 50's pop, Bo Diddley, Jerry Lee Lewis, and in particular Little Richard, put in polished performances. But it is the Plastic Ono Band, a group that was hastily thrown together by Lennon, put in gritty performances. The song selection comprised of old rock and roll standards and some new material. The rock and roll chestnuts were songs that Lennon was familiar with when he was a teenager: "Blue Suede Shoes", "Money" and "Dizzy Miss Lizzy". Visually, these performances are stunning to watch as Lennon himself had not been on the public stage since 1966. The crowd was treated to solid performance of "Yer Blues", a track that originally appeared on the Beatles "White Album."

"Cold Turkey", Lennon's newest composition up to that point in time, was met with a less than lukewarm response when it concluded. But the crowd came alive once again when the Plastic Ono Band sung "Give Peace A Chance." It was a song that Lennon originally recorded months earlier at the Queen Elizabeth Hotel in Montreal when both John and Yoko were holding their famous "bed-in" for peace. Some 40 years later, "Give Peace A Chance" still remains, internationally, as the song of choice at peace rallies or demonstrations. It is the singular moment in history of all of the recordings done by The Plastic Ono Band that will be best remember for.

The second half of the Plastic Ono Band presentation featured two numbers from Yoko Ono: "Don't Worry Kyoko (Mummy's only looking for her hand in the snow)" and "John, John (Let's hope for peace.)" The fan reaction is what you would expect, much of it negative when reported in the media. Looking back on it now some 40 years later, the audience at Varsity Stadium grew up listening to pop music that made the top 10 charts -- not abstract sounds of guitar feedback and vocal screeches that would have delighted the likes of Karl Stockhausen and his followers. Most of the fans at Varsity Stadium were not that sophisticated to appreciate what was being offered to them. After all, this was suppose to be a Rock 'n' Roll Revival concert and not an Electronic Sounds festival. But its all there on video, Yoko being as passionate in her presentation as she possibly can be. Her newer music would be later refined in the studio and offered up material that is actually enjoyable to listen to on "Some Time In New York City", "Double Fantasy", and "Milk and Honey." Yoko's own remake of "Give Peace A Chance" where it makes reference to the 9/11 tragedy is excellent work.

With the concert over and on the plane flight back home to England, it was during the flight that Lennon decided he was leaving the Beatles. It would be on September 20, 1969, that Lennon made the announcement to the other three Beatles.

Running time: 56 minutes.

Musicians: John Lennon, Yoko Ono, Eric Clapton, Klaus Voorman (bass) and Alan White (drums.)
Performances:
Bo Diddley – Bo Diddley
Hound Dog –Jerry Lee Lewis
Lucille – Little Richard
Blue Suede Shoes – John Lennon
Money – John Lennon
Dizzy Miss Lizzy – John Lennon
Yer Blues – John Lennon
Cold Turkey – John Lennon
Give Peace A Chance – John Lennon
Don't Worry Kyoko (Mummy's Only Looking For Her Hand In The Snow) – Yoko Ono
John, John (Let's Hope For Peace) – Yoko Ono
BONUS - Interview with Yoko Ono (1988) Yoko Ono


British distributor: Wienerworld, release date 20 July 2009 (note: the British release from Winnerworld is PAL Region 0 (code free) and will play on the newer Region 2 DVD players. It worked on mine.)

United States distributor: Shout! Factory, release date 23 June 2009.


DVD rating: ****/5 stars

Related link: Several years ago I cobbled together the best comments by the artists themselves including press and personal attendant reaction from that concert. The end result reads like a short story in their own words. Their reaction puts into perspective the historic concert featured on this excellent DVD release. Click here to read: Live Peace In Toronto
— 1969.