Local couple recall meeting not-so-fab Beatles
By Patrick Maloney
Free Press Reporter
After their U.S. TV debut 40 years ago, the Beatles became millionaires, music legends and international icons.
But to one London couple, they're remembered as a bunch of young, penniless performers inside a tiny Liverpool bar.
"To us the Beatles were just another band. It's as simple as that," says Merton Kaufman, who moved from England to London with his wife, Barbara, in 1964 -- the same year the Fab Four hopped the pond and started driving North American music fans wild.
Millions of North Americans will pause Monday to mark the 40th anniversary of the day they were introduced by U.S. TV show host Ed Sullivan on his program to what would become arguably the world's greatest rock band.
Barbara Kaufman, however, remembers a far-less glamorous introduction to band stars John Lennon and Paul McCartney in about 1961.
The Beatles were just a struggling band in Liverpool. They played during intermissions at shows featuring Kaufman's band, The Saints Jazzband, at the now-legendary Cavern Club.
Kaufman, a young bride, was waiting backstage at the Cavern Club, while her husband performed when the Beatles walked in. When she saw them, Barbara says she was anything but impressed.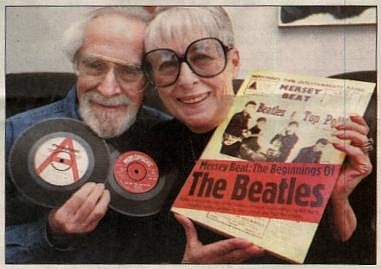 Photo credit: Dave Chidley, The London Free Press
Memories: Merton and Barbara Kaufman, now of London, met
John Lennon and Paul McCartney in about 1961 at Liverpool's legendary Cavern Club - before the Beatles became stars.
"These greasy, leather-clad guys came in and and I tried to ignore them. They sat on either side of me and said, 'I'm John' and 'I'm Paul,' she recalls. "These were the dirtiest guys (who) looked like they needed a bath.
"They thought my husband's band was really something."
Merton has a book full of concert posters from 1960s Liverpool, several of which feature his band's name in bold with the Beatles in fine print underneath. He also owned three local record stores and when the Beatles' record She Loves You was released, Merton says he didn't order any copies.
"I didn't buy any because I thought, 'I know these guys, they're not going anywhere.'"
After her parents died, Barbara and Merton moved to Canada, settling in London. Not long after they came, the little band they knew in Liverpool in a televised performance now considered a watershed in rock'n'roll history.
Ed Sullivan, the legendary variety show host, introduced "these youngsters from Liverpool who call themselves the Beatles." The crowd roared, a legendary career was launched, but the Kaufmans, watching in their London home, could only laugh.
"We sat watching that, laughing. I couldn't get over how grungy they (once) were."
Copyright by The London Free Press, Saturday, February 7, 2004.
---
Londoners mourn 'the quiet Beatle'
By James Reaney
Free Press Arts & Entertainment Reporter
No Londoner is mourning George Harrison, "the quiet Beatle," with any more feeling than Barbara Kaufman.
The 65-year-old met Harrison and the other Beatles at Liverpool's legendary Cavern club when her husband was playing drums in a Manchester, England, "trad" (New Orleans style) jazz band.
"It brings sadness, the fact that we knew him and he was so young," Kaufman said yesterday of Harrison's death. "He was in the back, but what he did came to the front."
Pete Best was still playing drums with the Beatles when the Kaufmans came to know them about 40 years ago. Ringo Starr hadn't yet joined the band.
The Beatles would often chat with her after their sets. Her husband, Merton, now 71, played drums for the Saints, who had the headline spot.
"George was the only one who didn't come on to me," she said. "He just sat back and smiled (partly out of irritation with his bandmates' teasing advances)."
The late John Lennon did ask her for a date, she said. Barbara Kaufman, jokingly agreed if only her husband could join them.
She also tried to correct Lennon' spelling of the "Beatles." Told the spelling with an "a" was the band's gimmick, she was still unimpressed.
"John, when you're good, you don't need a gimmick," she told the future superstar.
Merton Kaufman wasn't too impressed by the Beatles' prospects either. Based on hearing them at Liverpool, he didn't order many of their first records to sell at the record stores he ran in Manchester.
The crowds lining up to buy the group's hits when Beatlemania swept Britain soon had him ordering more. The Kaufmans moved to Canada in 1964, the year the Beatles became stars in North America.
Copyright by the London Free Press, Saturday, December 1, 2001.
Acknowledgement: The Ottawa Beatles Site wishes to give special thanks to Merton and Barbara Kaufman for forwarding their interviews that the London Free Press did with them.