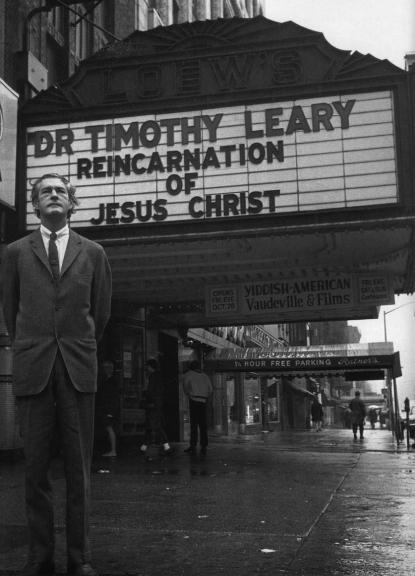 Timothy Leary's dead.

No, no, no, no,
He's outside looking in.

Timothy Leary's dead.

No, no, no, no,
He's outside looking in.

He'll fly his astral plane,
Takes you trips around the bay,
Brings you back the same day,
Timothy Leary.
Timothy Leary.

-- From The Moody Blues album:
"In Search of the Lost Chord"


This photo of Dr. Timothy Leary in October 1966,
at the Village Theater in New York City.

Introduction

Not much has been documented by way of an actual interview with Dr. Timothy Leary during his attendance with John Lennon and Yoko Ono during the May - June period of 1969. Certainly most Beatle books merely acknowledges his presence and his participation in the recording of "Give Peace A Chance". However, The Montreal Gazette, being the traditional newspaper of high reporting excellence that it's been known for, decided to interview Dr. Timothy Leary (they also interviewed Derek Taylor, Rabbi Feinberg and Tom Smothers, all central figures at the "bed-in" and those reports appear here at the Ottawa Beatles Site). While it can be correctly stated that Dr. Timothy Leary came out and gave John and Yoko his support for their peace initiative, curiously absent in this interview was any acknowledgement from the "high drug priest" himself regarding his support to John and Yoko's peace campaign. Clearly, as the reader will note, Dr. Leary instead discussed his own central platforms important to him at the time: his own utopian vision on drugs and his bid to run for office in California.

The following article appeared in The Montreal Gazette, dated May 31, 1969, located on page 4 of their newspaper edition.

Leary leaks a unique recipe to 'turn on' California voters

Dr. Timothy Leary, the high priest of the LSD cult, yesterday dropped hints of one of the strangest political platforms in history during a brief trip here.

The former Harvard Professor, who recently announced he is running for the governorship of California, flew into Montreal to visit Beatle John Lennon.

"I'm going to win the next election in 1970 because people are tired of conventional politics," Leary told The Gazette.

Revealing part of his guber-natorial platform for the first time, Leary pledged solutions to California's 10 major political problems.

He leaked out only a few of those solutions, but what did emerge was unique -- to say the least.

"I'm going to legalize marijuana and charge a $1,000 a year permit fee for those who want to make it," he said.

"Given the size of California population, that will generate a huge amount of additional revenue each year.

"Then I'll turn that money over to the police and the forces of the right wing to keep them happy and off people's backs," Leary explained.

Wouldn't that be discriminating against the poor who can't afford $1,000 a year for the privilege of turning on? he was asked.

"That's not really a problem," he explained, "because it's only a short-term situation -- in five years I'll eliminate all money from Californian society and return to a barter system."

He may also have to remodel the governor's mansion a bit: for the past six months, he and his wife have been living in a teepee, and he says it's his favorite form of accommodation.

Copyright by The Montreal Gazette, May 31, 1969. All rights reserved.
---
Ottawa Beatles Site