New Beatles record offers surprising remixes of classic songs
Cassandra Szklarski, Canadian Press
Published: Wednesday, November 15, 2006
TORONTO (CP) - A remixed Beatles album that patches together studio banter, song snippets and sound effects offers a fresh take on the Fab Four while keeping true to their original spirit, insists producer Giles Martin, son of legendary Beatles producer George Martin.

The intent behind the heavily layered "Love" album was simply to augment Abbey Road master recordings - something that in the end, was "very Beatles," says Martin.

"They cross-referenced themselves the whole time," Martin says during a recent stop in Toronto to discuss the new release, set to arrive in stores Tuesday.

"If you look at (the 1967 song) 'All You Need is Love,' John Lennon sings 'She loves you, yeah, yeah, yeah' at the end. They like the idea of that, of nicking their own ideas and putting them together."

Whether ardent Beatles fans feel the same way, is another matter.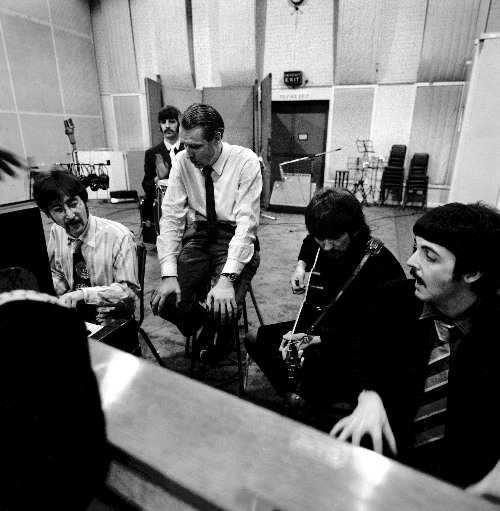 © Apple Records, 1967
While the innovative project has the endorsement of surviving band members Paul McCartney, Ringo Starr and widows Yoko Ono and Olivia Harrison, Martin says it's the impassioned reaction of fans that he fears.

"Both myself and my dad really expect to get flayed alive for this," says Martin, whose father George is sometimes referred to as "the fifth Beatle" due to his involvement in nearly every Beatle record.

The Beatles themselves were surprisingly enthusiastic when their now-80-year-old producer presented them with a 20-minute mash-up demo in 2004.

"Ringo was like: Go further, go further. And Paul was the same," says the younger Martin, 37.

"They really enjoyed listening to it and I didn't expect that at all."

McCartney has called the new soundscape "magical" while Ringo has lauded it as "powerful".

A recent listening session in Toronto drew applause and praise for the disc, crafted as a soundtrack to a celebrated Cirque du Soleil show in Las Vegas.

The 26-track collection is packed with odd mash-ups and interjections to keep music fans pushing repeat on their disc player to decipher the quirky references.

It opens with an a cappella version of "Because" adorned with birdsong and then slams into the urgent rooftop performance of "Get Back" - fans can listen underneath for the drums of "Sgt. Pepper Lonely Hearts Club Band (Reprise)" and the crowd from the Hollywood Bowl.

Later, McCartney's melancholy "Eleanor Rigby" unexpectedly morphs into Lennon's "I Am the Walrus" while the moody, circus-like "Being for the Benefit of Mr. Kite" leaps into "I Want You (She's So Heavy)", with backing vocals from "Helter Skelter."

A home recording of "Strawberry Fields Forever" provided by Ono evolves into an ever-more polished track drawing elements from "In My Life" and "Piggies."

"I think the record has depth because of that, as opposed to a novelty factor," Martin says of the patchwork mix. "It makes you go deeper into it.... It makes you listen."

Those who listen closely will only find original material, insists Martin.

The only new music was a string arrangement the elder Martin put together for George Harrison's "While my Guitar Gently Weeps" - the original featured only Harrison on acoustic guitar and vocals and Lennon on organ.

The song was one of the requests Cirque had made for their show, notes Martin.

"Like any collaboration, we fought tooth and nail on certain things," he says of the relationship with the Quebec troupe.

"But we could always win because we could (refuse to) give them any music," Martin jokes.

Scouring through the piles of original recordings didn't reveal any hidden gems, Martin says, but it did uncover some lighter moments in the studio when the young musicians would horse around between takes.

"They'd be doing the backing vocals and be talking about making a video and laughing about who would dress up as 'Lady Madonna'," says Martin, who shares Lennon's birthday but never got the chance to meet him.

In the end, Martin considers the album a groundbreaking project, because for "the first time a band has been able to sample their own catalogue."

"It's just like a mad gig," Martin says.

"The Beatles had ambitious concepts to their songs, they didn't mess about.... and so we just tried to take that a bit more and move it a bit further."

© The Canadian Press 2006