Dear Sir or Madame, would you read my book? It took me years to write, will you take a look?
The vast majority of these write-ups are culled from the back covers of the publishers and authors themselves. Some of these books have been used in my research here at the Ottawa Beatles Site. Therefore, it is with great pleasure that I take in recommending the reading material below, worthy for inclusion in your own personal library of Beatle books...
- John Whelan, June 6, 2002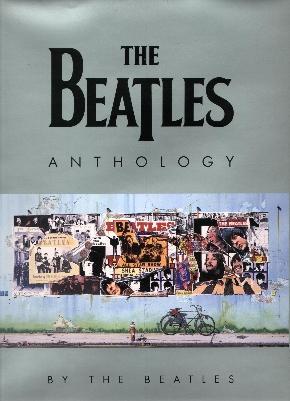 What a book The Beatles Anthology is! Each page is brimming with personal stories and rare and vintage images. Snapshots from their family collections take us back to the days when John Lennon, Paul McCartney, George Harrison and Richard Starkey were just boys growing up in Liverpool. They talk in turn about those early years and how they came to join the band that would make them known around the world as John, Paul, George and Ringo. Then weaving back and forth, they tell the astonishing story of life as The Beatles: the first rough gigs, the phenomenon of their rise to fame, the musical and social change of their heyday, all the way through to their breakup. From the time Ringo tried to take his drum kit home on the bus to their eagerly anticipated meeting with Elvis, from the making of Sgt. Pepper album to their lat photo session together at John's house. The Beatles Anthology is a once-in-a-lifetime collection of The Beatles' own memories.
Interwoven with these are the recollections of such associates as road manager Neil Aspinall, producer George Martin and spokesperson Derek Taylor. And included in the vast array of photographs are materials from both Apple and EMI, who also open their archives for this project. This, indeed, is the inside story, providing a wealth of previously unpublished material in both word and image.
Created in their full cooperation, The Beatles Anthology is, in effect, The Beatles' autobiography. Like their music, which has been a part of so many of our lives, it's warm, frank, funny, poignant and bold. At last, here is The Beatles' own story.
Published by Chronicle Books, 2000.
ISBN: 0-8118-2684-8
---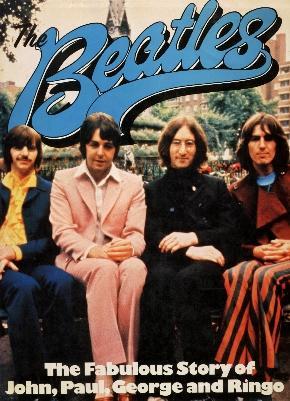 A beautiful book, lavished with many color photos with information chronicling the history of the band including their very early solo careers.
Published by Octopus in association with Phoebus,1975.
ISBN: 0-7064-0446-7
---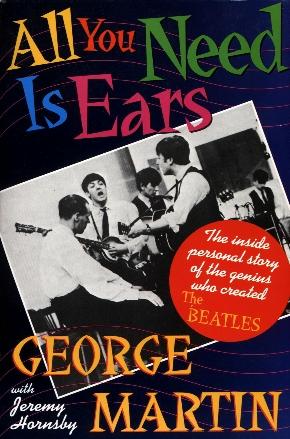 All You Need Is Ears is the story of George Martin, the man who spotted the Beatles' talent, who recorded and produced them from the start, and who brought their musical ideas to life. In this witty and charming autobiography, he describes exactly what it was like to work in the studio with the Beatles -- from the first audition (and his decision to scrap Pete Best on drums) to the wild experimentation of Sgt. Pepper (complete with sound effects, animal noises, and full orchestras in evening dress at the direct request of Paul McCartney). This is a singular look at the most important musical group of all time, and how they made the music that changed the world: No other book can provide George Martin's inside look at their creative process, at the play of genius and practical improvisation that gave them their sound; it is an indispensable read for Beatle lovers and anyone interested in the music world.
Published by St. Martin's Press, N.Y., 1979.
ISBN: 0-312-11482-6
---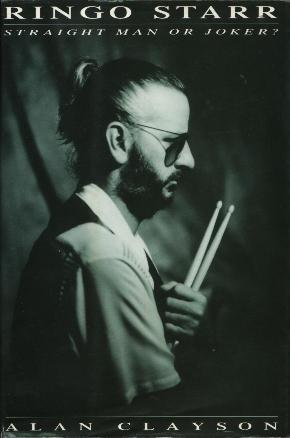 Alan Clayson follows Ringo through his entire life, tracing the ups and downs of his career as a musician and actor. Clayson also details Ringo's romantic liaisons, his health problems, and his battle and ultimate triumph over alcoholism.
Impeccably researched and highly entertaining to read, this biography is the first to detail the not always rock-steady life and times of the man who anchored the world-famous Merseybeat.
Published by Paragon House, N.Y., 1992.
ISBN: 1-55778-575-9
---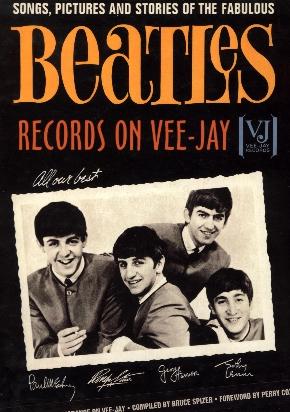 Author Bruce Spizer covers the complete story of their records on Vee-Jay--
How creative marketing turned 16 Beatle songs into a comprehensive catalog of multiple 45, EP and album releases that, taken together, are worth more today than all other American Beatles records combined.
How the Beatles ended up on Vee-Jay, a Chicago-based independent label that specialized in R&B and Gospel recordings.
Court records and Vinyl records Capitol Records, Inc. vs. Vee-Jay Records, Inc. Beechwood Music, Inc. vs. Vee-Jay Records Inc. The Beatles vs. The Four Seasons
The stories behind the ad back and Jolly What!
The legal battle over Songs, Pictures and Stories.
When the records were pressed, Where the records were pressed, How many copies were sold, and Why some records are so much rarer than others.
How to tell the difference between counterfeit Vee-Jay records and the real thing.
How Vee-Jay lost, reclaimed and lost the Beatles.
Hundreds of color pictures, including all known variations of album covers, picture sleeves and record labels, Billboard and Cash Box trade ads, royalty statements and checks issued to Capitol Records, promotional mailers, catalogs, posters and other cool stuff!
"Well researched and masterfully complied, this colorful book is a must have for Beatles record collectors and historians, as well as anyone having any interest in the group. No matter how much you think you know about the Beatles and their records, you'll know so much more after reading this entertaining and informative book!" -- Perry Cox
Published by 498 Productions, Louisiana, 1998.
ISBN: 0-9662649-0-8
---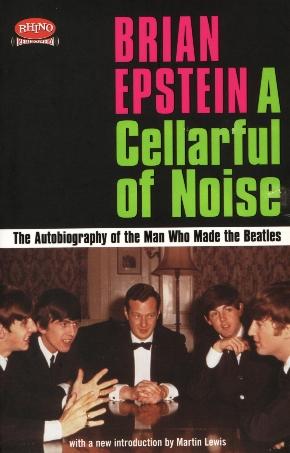 From the first encounter with the struggling group in 1961, through their meteoric rise, to his tragic, untimely death in 1967, Brian Epstein was in many ways the heart and soul of the Beatles. Much more than simply their manager, confidant, and group guru, Epstein helped create a once-in-a-lifetime phenomenon.
A Cellarful of Noise, Epstein's long out-of print autobiography, gives the readers the inside story of his discovery and management of the world's most famous rock 'n' roll band. From their initial struggles to their wild rocket ride to the pinnacle of success, this true story includes:
● why Ringo Starr replaced the original Beatle drummer;
● how Paul McCartney was nearly blinded by a fan;
and hundreds of other fascinating little-known facts of Epstein's life with the Beatles, Gerry and the Pacemakers, and other top stars.
This new edition of A Cellarful of Noise features an introduction by world-renowned Beatles expert Martin Lewis, which, along with Epstein's own words, creates a compelling, insightful exploration of a gifted man who had an ear for genius.
---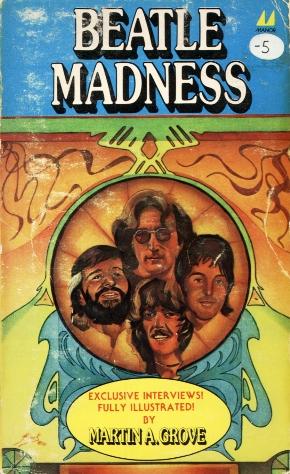 Are the Beatles back? Hell, they never went away.
Beatle Madness is the complete, ultimate book about the world's most famous -- and successful -- singing group. Bestselling author Martin A. Grove, a Beatles expert from the time the Liverpool group first took the musical world by storm, has separated the truth from the rumors about the Beatles. His brilliant research and EXCLUSIVE interviews with 'Murray the K' and others close to the Beatles reveal the fabled four-some as they have never been seen before. A must book for every Beatles fan. All the singles! All the albums! All the films!
Published by Manor Books, Inc., N.Y., 1978.
ISBN: 0-5322-19179-X
---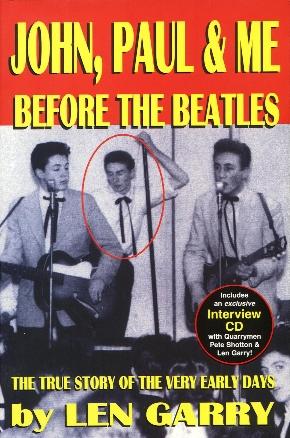 If ever there was a seminal moment in modern music it must surely have been on a sunny afternoon in 1957. As so often happens important moments in history take place away from the light of public scrutiny and often are left to the speculations of latter day scholars.
Fortunately for music fans and historians alike Len Garry was there. Not seeing it through the eyes of a jaded critic but with the perspective of optimistic youth. More than a casual observer, Len Garry was a significant participant at the birth of a phenomenon.
At the age of fourteen he was to witness the first stirrings of this centuries greatest songwriting team. As "Tea-chest bass" player in the "Quarrymen" Len was an enthusiastic accomplice in events which so many others have speculated about. He was there sharing the same stage with John Lennon and Paul McCartney when they gave their first concert together. He was in the same small backstage dressing room when Lennon and McCartney were first introduced and Paul showed John how to play guitar chords.
Through a boisterous couple of years Len shared everything with the young John Lennon from cigarettes to musical ideas, from teenage school pranks to girlfriends.
Relating the years before the legends were born, John Paul and Me is a highly personal documentary, a crystal-clear trip back through time when John Lennon, Paul McCartney, Len Garry and their friends were nothing more than a group of optimistic teenagers with ambition in their eyes and music in their hearts.
Printed by Collector's Guide Publishers, 1997.
ISBN: 0-9695736-8-5
---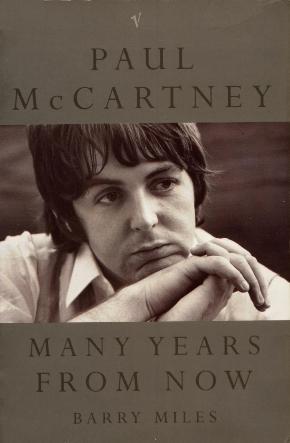 "Undoubtedly one of the great Beatle books." -- The Times
"A fascinating account of the 1960's London in the throes of massive social and cultural change as it evolves from residual 50s austerity and deference through the inauguration of 'Swinging London' to the development of an intoxicatingly rich and dazzling varied counterculture." -- Charles Shaar Murray, Observer
"Miles has offered us a treasure." -- Sunday Times
"Excellent...the author's intimate knowledge of the scene and the collaboration with McCartney give the reader a first hand view of the extraordinary Lennon/McCartney song-writing partnership." -- The Irish Independent
"An excellent and essential Beatle book." --Time Out
Published by Vintage, U.K., 1998.
ISBN: 0-7493-8658-4
---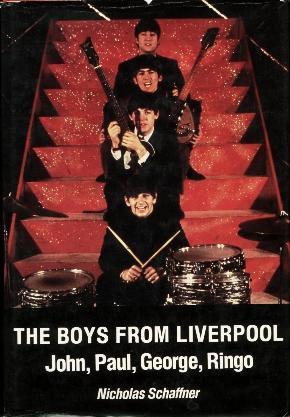 Though marriages, movies, blitz tours, awards...from rock to folk-rock, from electric guitars to electronic sound effects, to sitars and Indian music, to classical music...here is the chronicle of the lives and the music of the four musicians who have transformed popular music -- and the style and attitudes of young people everywhere.
From their first Number One hit in Britain, "Please Please Me" in 1963, the meteoric rise of the Beatles never stopped gaining momentum. They charmed everybody in Britain including the Queen Mother and classical music critics. In 1964 they conquered America -- and Beatlemania ran rampant.
Throughout, the four never stopped growing both as performers and as highly different individuals with strongly contrasting lifestyles. This fascinating story brings them and their music right up to the present. It has been written specifically for the thousands of young people who think of John, Paul, George and Ringo as heroes of their own age.
Illustrated with 49 photographs.
Published by Methun, N.Y., 1980.
ISBN: 0-416-30661-6
---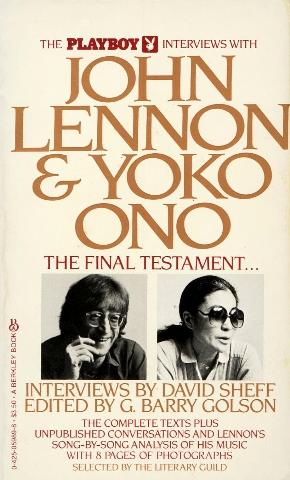 "The fecundity of the Beatles is a phenomenon unmatched in the history of popular culture. That Mr. Sheff and Mr. Golson were able to induce John Lennon to shed some light on that phenomenon makes this a valuable piece of work." -- The New York Times Book Review
"It's fascinating reading, but don't be surprised if you finished it with a lump in your throat." -- The Atlanta Journal
"...interviewer David Sheff and editor G. Barry Golson take the Lennons over a lot of territory, much of it heretofore uncharted." -- Baltimore Evening Sun
"Sheff touches the man, the Beatles, the househusband, the father, and the rock idol in his brief collection of Lennon's final days...contains insights into Lennon's music and he and Sheff painstakingly catalog the moods and the imagery that pervade the Beatles' and Lennon's music." -- San Antonio Light
"The Playboy interviews with John Lennon and Yoko Ono contains even more material than the voluminous pieces that appeared in the magazine." --San Francisco Examiner & Chronicle
Published by Playboy Press, 1981.
ISBN: 0-425-05989-8
---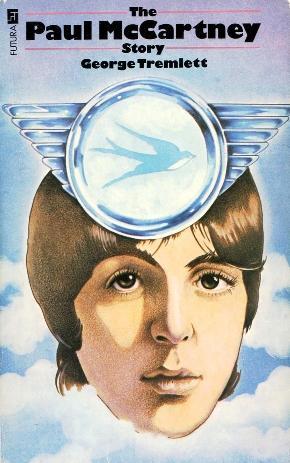 Paul McCartney is known all over the world as one of the four giants of pop -- The Beatles
And although they have disbanded, to many people a Beatle he will always be. But recently Paul and his wife Linda have worked with their own group Wings, touring most countries in Europe, producing their own TV specials and a series of bestselling albums, notably, "Band on the Run" and "Red Rose Speedway."
This is the story of how Paul became a Beatle, of his life then, how he married, how his career changed and of his life today. It is The Paul McCartney Story.
Published by Futura books, Great Britain, 1975.
ISBN: 0-8600-7200-2
---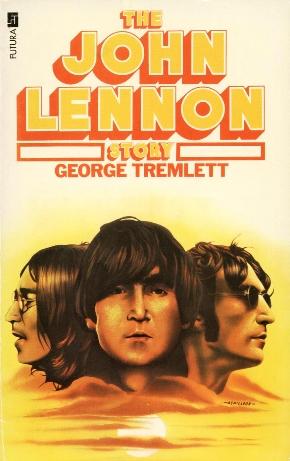 "I'm a survivor. I came through everything...Beatlemania...the Maharishi...Therapy...American immigration...I put it down to experience."
The words of John Lennon, ex-Beatle.
To a whole generation John Lennon is much more than just a singer, writer, or performer, he is part of a legend, a symbol of peace, love and to some, genius.
What has made John Lennon the person he is today?
How has he survived being one of the most famous people in the world?
Here George Tremlett answers these questions and relates Lennon's life from his fatherless childhood to his role within The Beatles including his relationship with Paul McCartney, the influence Yoko Ono has had up on his work and his plans for the future. It is the John Lennon Story.
Published by Futura books, Great Britain, 1976.
ISBN: 0-8600-7294-0
---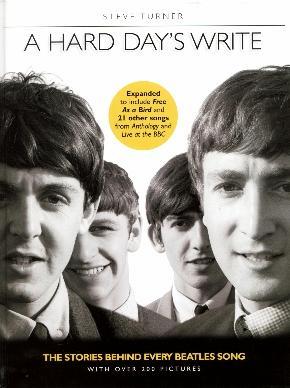 Who was "just seventeen" and made Paul's heart go "boom"? Was there really an Eleanor Rigby? Where's Penny Lane? In A Hard Day's Write, music journalist Steve Turner shatters many well-known myths and adds a new dimension to the Fab Four's rich legacy by investigating for the first time the ordinary people and events immortalized in the Beatles' music and now occupying a special niche in popular culture's collective imagination.
Arranged chronologically by album, the book breaks new ground by exploring how private incidents influenced the group's writing and how their music evolved. Turner reveals that 'Lucy in the Sky with Diamonds' was really a drawing by Julian Lennon of his childhood friend; 'Bungalow Bill' was an all-American tiger hunter; 'Doctor Robert' was a New York "speed doctor"; and much more. A longtime Beatles admirer, Turner tracked down and interviewed the real-life subjects of the songs, probed public records and newspaper archives, and spoke in depth to the people closest to the Beatles to unearth tales that have never before been made public. The result is a book that chronicles an untold story of the Beatles themselves.
Illustrated with over 200 photographs, A Hard Day's Write is a visually alluring and highly entertaining journey to the land stretching just beneath your conscious mind, mapped out with strawberry fields, fool-topped hills, and long and winding roads.
Published by Carlton Books Limited, 1994.
ISBN: 1-55267-337-5
---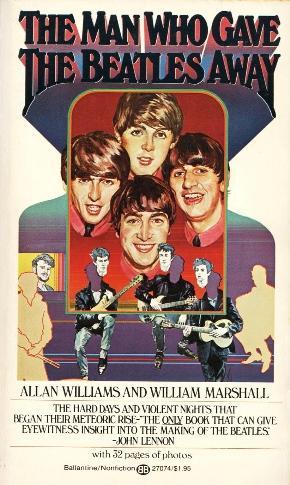 HELTER SKELTER...
Through the gang-ruled streets of Liverpool, at concerts so violent the cops stayed home.
In the strip joints of Britain's toughest town.
In the brothels of Hamburg's red light district.
On a diet of cornflakes, milk and beer,
bolstered by pills,
exploding with talent...
THE BEATLES!
Finally -- the true story behind their rise to fame, by the only man who's qualified to tell it:
THE MAN WHO GAVE THE BEATLES AWAY
"UNEQUALED!...Insights which came as powerfully after reading the book as they do in the process of savoring them the first time around." --Record World
Published by Ballantine Books, N.Y., 1975.
ISBN: 0-345-27074-6
---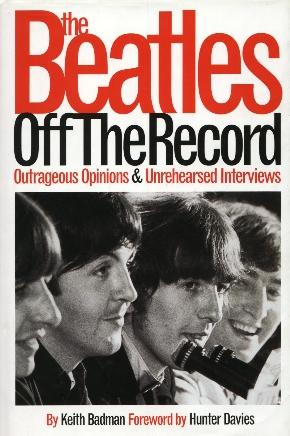 A revealing portrait of the Beatles -- much nearer the truth.
In the Sixties, before the legend was fully formed, The Beatles were sometimes unguarded and often indiscreet in their comments. Members of their entourage would express frank opinions that in later years they sometimes softened or denied altogether.
Now these original raw remarks have been unearthed and reassembled in a valid new verbal documentary shot through with the authentic flavor of The Beatles in their heyday and the Sixties musical scene they dominated.
"Compared with some of the Beatles' later selective and polished or faulty and fading memories, this is much nearer the truth..." -- Hunter Davies, The Beatles official biographer
Contains 32 pages of specially selected photographs.
Published by Omnibus Press, 2000.
ISBN: 0-7119-7985-5
---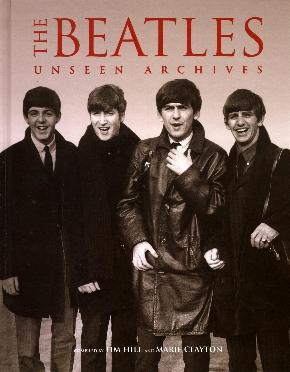 With 600 fabulous photographs selected from the archives of the Daily Mail, The Beatles: Unseen Archives, comprehensively chronicles the heady years in which the group bestrode the world like a Colossus. The collection includes over 200 photographs from negatives never previously printed and they are published here for the first time.
Published by Parragon Publishing, U.K., 2001.
ISBN: 0-75254-074-2
---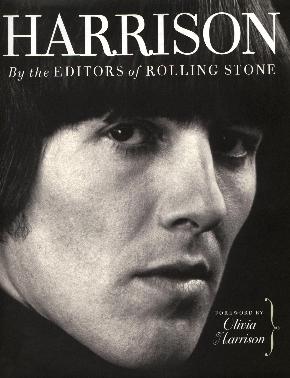 Complied by the editors of Rolling Stone, Harrison chronicles the guitarist's life before, during and after the Beatles. Contributing editor Mikal Gilmore offers an expansive, thoughtful new essay, "The Mystery Inside George." ASCAP-Deems Taylor Award winner and Rolling Stone senior editor David Fricke tells the stories behind Harrison's best-known songs, and offers a guide to twenty-five essential Harrison recordings. Harrsion also features new stories and interviews with the guitarist from throughout Rolling Stone's history -- from his first Q&A with the magazine, in 1968, to his last, a 1987 interview with Rolling Stone contributing editor Anthony DeCurtis.
Harrison also collects more than one hundred photographs -- from intimate, never-before-seen family photos to iconic images of Harrison as a member of the world's most photographed band. The work of nine renowned photographers is featured in a stunning sixty-page gallery.
Published by Simon and Schuster, 2002.
ISBN: 0-7432-3581-9
---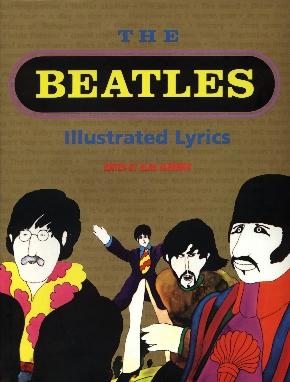 The Beatles Illustrated Lyrics is the only major collection of illustrated Beatles lyrics available. Originally published in 1969, this book has become a symbol of an era, a must-have for Beatles fans and a brilliant tribute to the band that changed a generation.
Quotes from John, Paul, George and Ringo provide candid, witty, insightful commentary on the songs and their origins. Clarification of controversial lyrics is offered by the only true authorities, the Beatles themselves. All the famous songs are included -- from Can't Buy Me Love and A Hard Day's Night to Rocky Raccoon, Revolver and Yellow Submarine.
Lavish full-color illustrations by internationally famous artists and specially commissioned photographs reflect the psychedelic world the Beatles lived in and the whole generation and pop culture they influenced.
First published by Macdonald Unit 75, 1969. Re-issued in 1990 by Macdonald & Co. (Publishers) Ltd., London.
ISBN: 0-57912-058-X
---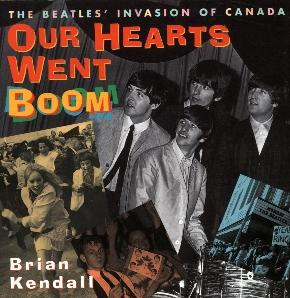 Besotted Canadian youngsters lined up for as long as seventy-three hours in the cold and rain for tickets to the Beatles' concerts in Vancouver, Toronto and Montreal. The countdown to B-Day, the date the Fab Four would finally land in Canada, continued with mounting urgency all that spring and summer of 1964. Rock 'n' roll radio stations across the country played almost nothing but their music.
No act in entertainment history had ever equaled the impact of the Beatles -- not Frank Sinatra, not even Elvis Presley when he exploded onto the scene several years before.
Even Canada's famed media guru, Marshall McLuhan told a Progressive Conservative conference in Fredericton, New Brunswick, that they could learn a great deal from the Beatles. They "tell us they want to 'hold our hand' and in expressing this wish they may appear to come close to the popular image of the politician," McLuhan told the conference. "There is something about them, however, something that is new and radical. They really do speak with the authority of the electronic age."
Our Hearts Went Boom tells the story of the Beatles' invasion of Canada in a lively anecdotal narrative and through an evocative selection of memorabilia and photographs culled from archives across the country.
Included are the reminiscences of Trudy Medcalf, the president of Canada's largest Beatles fan club; Paul White, the Capitol Canada record executive who had the foresight to sign the group months before his counterparts in the United States; Red Robinson, the Vancouver radio personality who hosted the show at Empire Stadium; Michele Finney, the CBC starlet who interviewed the Beatles backstage in Toronto; and, of course, many of the now middle-aged fans who saw the concerts and who will never forget their adventures -- and often misadventures -- in pursuing their passion for the Liverpool lads.
Recaptured in these pages is an unforgettable period in Canada's cultural history -- a time when young hearts across the country went boom for the fabulous Beatles.
Published by Penguin Books Canada Limited, 1997.
ISBN: 0-670-87689-5
---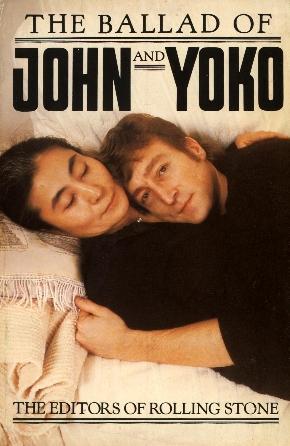 John Lennon and Yoko Ono shared an extraordinary romance which was reflected in their life and work. In these pages, the writers and editors who report on, critiqued and supported John and Yoko from 1967 until 1980 take a long, loving look back at their childhoods in Liverpool and Tokyo, their complex personalities, their music and their art. More than a powerful biography, The Ballad of John and Yoko is a tribute and an homage to two of the most remarkable artists of our time. Their days and dreams together are remembered and represented here by many of the same hands and hearts that gave testimony to their beginnings.
Published by Dolphin Books Doubleday & Company, Inc., N.Y., 1982.
ISBN: 0-385-17734-8
---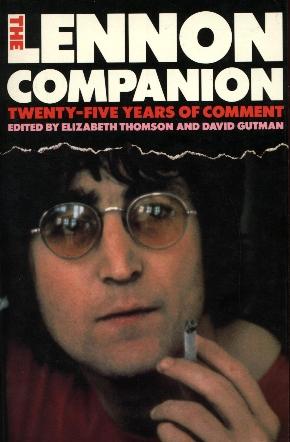 Here is the spirit of a generation -- in a fascinating collection of comments, reports, interviews, reflections, and memories of John Lennon and the Beatles. Their music, films, politics, lifestyles, and the culture they shaped are all here, in a never-before-available record of some 20 years of pop history. Ranging from the critical to the celebratory, the preposterous to the prophetic, these essays bring into sharper focus who John Lennon was and what his art was all about, written by commentators as diverse as Martin Amis, Luciano Berio, Robert Christgau, Noel Coward, Lukas Frost, Pauline Kael, John Lahr, Philip Larkin, Bernard Levin, Wilfred Mellers, John Rockwell, Ned Rorem, Andrew Sarris, Gloria Steinem, Kenneth Tynan, and Tom Wolfe.
In this portrait of time so new and so much in change, Lennon emerges as a complex, difficult genius. Often dismissed as frequently as he was over praised, Lennon has become, for many, a transcendent figure. Former British Cabinet Minister Richard Crossman summed up why in a 1969 diary entry: "In his strange fashion, looking through those spectacles...he was, I must admit, the only person in all these programs with a gospel, a hope of belief."
"The Lennon Companion" gives a much fuller sense of why John Lennon matters, of what all the fuss was about....It gives an excitingly evocative sense of the times that shaped him, and that he in turned shaped...." -- Mark Feeney, The Boston Globe
"...an excellent compilation of pieces about the late Beatle....Editors Thomson and Gutman have organized them into a seamless, flowing volume...." -- Gary Graft, Detroit Free Press
Published by Schirmer Books, A Division of Macmillan, Inc., New York, 1987.
ISBN: 0-02-872591-3
---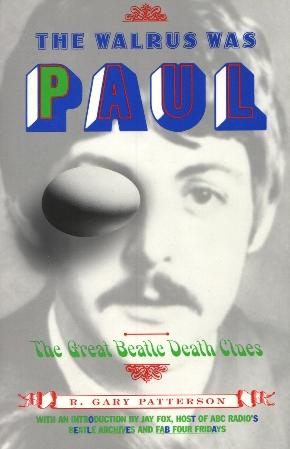 "A must read for any fan of the Fab Four." -- Jay Fox, ABC Fab Four Fridays
It was the late 1960s, the Beatles hadn't toured since 1966, and some truly bizarre indications began appearing, pointing to the unthinkable: Paul McCartney had been killed in a car accident and replaced by a look-alike. The Walrus Was Paul unearths every single clue from one of the rock 'n' roll's most enduring puzzles and takes you on a magical mystery tour of baffling, yet fascinating, hints of solving this mystery.
"The Walrus Was Paul is loaded...[with] mind-blowing stuff....The best Beatle book yet!"
Published by Fireside, N.Y., 1996.
ISBN: 0-684-850-62-1
---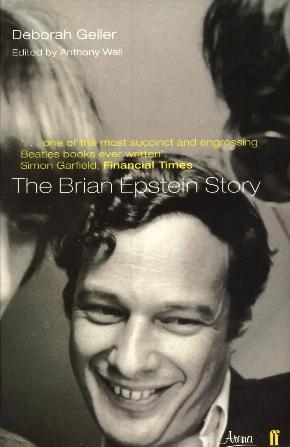 "If anyone was the fifth Beatle it was Brian." Paul McCartney.
Without the determination, magnetism, vision, good manners, respectable clothes and financial security of Brian Epstein no one would ever have heard of John, Paul, Ringo and George. In Liverpool, in December 1961, Brian Epstein met the Beatles in his small office and signed a management deal. The rest may be history, but it's a history that Epstein created, along with a blueprint for all pop groups ever since.
This book tells the story of Epstein's complicated life through the reminiscences of his friends and family. It is based on dozens of interviews -- with Paul McCartney, George Martin and Marianne Faithful, among others, plus many of Epstein's personal diaries.
'The sense you get from Geller's book, a companion work to Anthony Wall's astonishing television documentary of the same name, is that Epstein had to change the world to find a place in it -- and that the Beatles' story, all on the side roads, back alleys and dead end streets along with its great highway, remains the best story pop music has to tell.' -- Greil Marcus, Interview Magazine
Published by Faber and Faber, London, 1999.
ISBN: 0-571-20156-3
---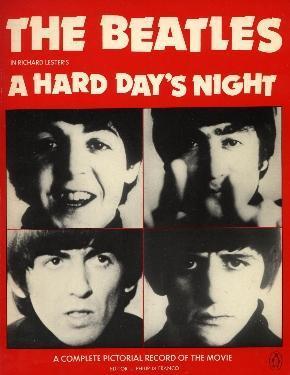 As the cover suggests, this book is "a complete pictorial record of the movie" that includes an interview with Richard Lester. There is also a commentary from Walter Shenson explaining how the movie came together.
Published by Penguin Books Ltd, England, 1977.
ISBN: 0-14-00-4786-7
---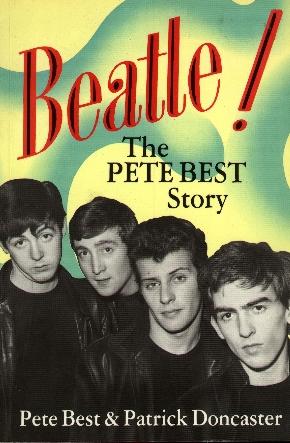 In Beatle! The Pete Best Story, Pete Best has broken a twenty year silence and becomes the first Beatle to tell the full story of his experiences in those early years. Pete met John, Paul and George in the late fifties when every teenage boy on Merseyside was trying to form a group. When, as the Silver Beatles, the three boys landed a residency in Hamburg, they invited Pete to join them and he became a part of the team.
Pete Best's career with the Beatles ended when he was replaced by Ringo Starr in that fateful summer of 1963. In this first autobiography by any member of the Beatles, Pete describes in candid detail those early hectic years, the first taste of fame, the bombshell of his dismissal, the depression that followed his attempted suicide and his losing battle to maintain a place in the music business. Using his personal collection of memorabilia to illustrate the story, Beatle! The Pete Best Story is not only a unique insight into the formative years of the world's greatest pop group, but also a poignant and unusually frank account of one young man's struggle with success and failure.
Published by Plexus Publishing Limited, London, 1985.
ISBN: 0-85965-088-X
---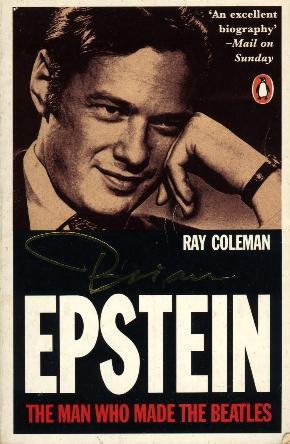 When Brian Epstein became the Beatles' manager he single-handedly changed the face of pop music. To millions the Beatles were an overnight sensation, but behind the scenes Epstein had battled furiously against constant resistance from record companies to find them recognition. As his empire expanded, his name became synonymous with the Swinging Sixties. He seemed invincible.
Epstein's ostensible success, however, concealed a tragic, lonely figure. Beneath the fašade of a flamboyant tycoon was an isolated man, a Jewish homosexual, for whom the pressures, the merchandising failures and the business demands proved too much. Within three years of his death the Beatles, the group he had fought so hard to keep together, had split up.
"Ray Coleman has written an excellent biography of Brian Epstein, the lonely, gifted man whose artistic faith and bond with the Beatles has never wavered -- and whose recognition of genius created a cultural era, even though it destroyed him." -- Mail on Sunday
"What Coleman has done is to use the life of Brian as way of anatomizing British pop music." -- Sunday Telegraph
Published by Viking Books in 1989, then published again by Penguin Books in 1990, N.Y. and U.K. respectively.
ISBN: 0-14-009740-6
---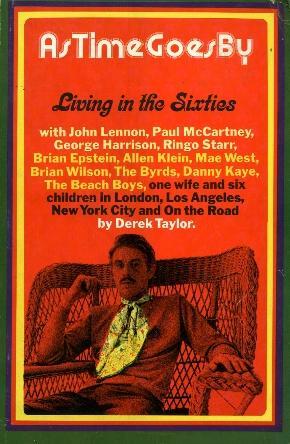 "Derek Taylor was where all the razz-ma-tazz and class sprang from; the Beatles were just charming, rich young men." -- Eve Babitz
Derek covers his life and times as Publicist in the music industry including interesting facts about his association with Beatles. Simply a joy to read!
Published by Straight Arrow Books, USA, 1973.
ISBN: 0-87932-068-0
---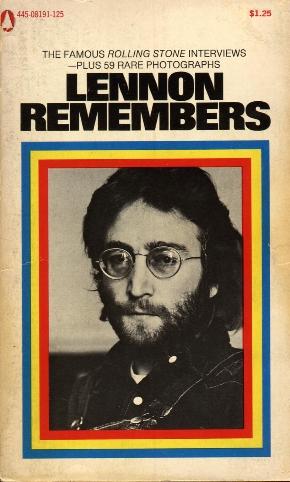 The Popular Library edition of Lennon Remembers by Jann Wenner.
Published by Straight Arrow Books, USA, 1971.
Library of Congress Catalog Card Number: 79-158521
---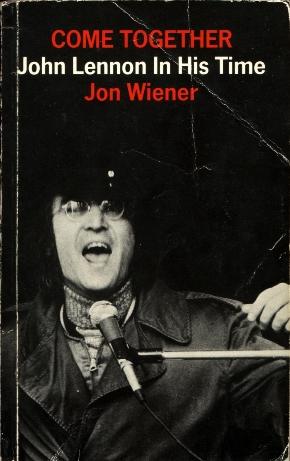 In the summer of 1972, John Lennon planned a concert tour to rouse the youth of America to vote against the Vietnam war, against Richard Nixon. The Nixon administration was scared -- scared that John Lennon, the ex-Beatle, the controversial superstar, just might pull it off, just might interfere with Nixon's re-election plans. He had to be stopped.
Did Nixon really have something to fear? How had John Lennon become a political force to be reckoned with by the same people who perpetrated the Watergate crimes? Why does the FBI still claim that parts of the Lennon file must be kept secret for reasons of 'national defence or foreign policy'?
Come Together is the first book to examine seriously Lennon's deeply held radical beliefs. It is also a powerful political biography, capturing his humor, warmth and passion.
"Just when you might have thought there was nothing new to say about the late John Lennon, the ex-Beatle, and Richard Nixon, the ex-President, comes a new story...about both." -- CBS Evening News
"By placing John Lennon in his time, Wiener probes the relationships between political vision and artistic sensibility, between pop and politics, between individual artistic creativity and the moral demands of a community." -- Newsday
Published by Random House, USA, 1984.
ISBN: 0-571-13581-1
---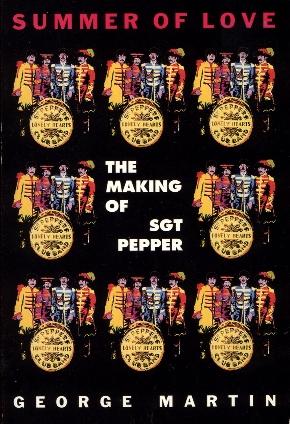 It was the summer to end all summers. London was swinging and Love and Peace were going to change the world. On 1 June 1967 came the summer's main event: a long-awaited album from the Beatles. Six months in the making, Sgt. Pepper's Lonely Hearts Club Band revolutionized the world of pop music.
In Summer of Love George Martin takes us down to the magical fantasy land that is Pepper, and inside the inspired creative process of his work with the Beatles. Song by song, track by track, 'Lucy in the Sky with Diamonds', 'She's Leaving Home', 'A Day in the Life,' 'Within You, Without You', the album comes alive.
Affectionate, funny and often moving, Summer of Love gives us a whole new take on George Martin's extraordinary relationship with the world's best ever band.
Published by Macmillan, 1994 and published again by Pan 1995.
ISBN: 0-330-34210-X
---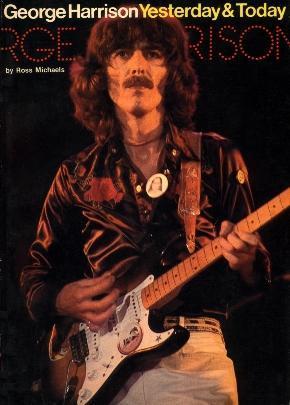 A lovely book by Ross Michaels on George Harrison.
Published by Flash Books, 1977.
ISBN: 0-8256-3913-1
---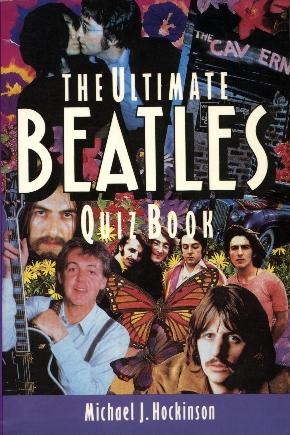 "Imagine an entire season of 'Jeopardy' devoted to the Beatles and you've got [this book]" -- Variety.
"Page after page of fun and frustration....digs into the deepest depth of Beatledom to come up with hundreds of Q's and A's that are sure to stump even the most diehard Beatles trivia nuts...One of the most enjoyable Beatles-related books to find its way into print in some time." -- Goldmine
"[A] Beatles bluff's delight." -- Dallas Morning News
Published by St. Martin's Press, N.Y., 1990.
ISBN: 0-312-07104-3
---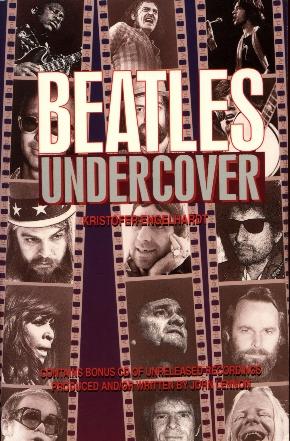 Kristofer Engelhardt's The Beatles Undercover (session work for others).
"Kris Engelhardt knows more about us than we do!" -- Levon Helm (The Band).
"This book stands alone as the last word on The Beatles' work for other artists. The research and attention to detail are astounding." -- Roy Cicala (John Lennon's recording engineer)
"I love Kris' book so much it makes me want to come back in the next life as one of the surfing Beatles." -- Bruce Johnston (The Beach Boys)
"Kris' book shows that a less-publicized part of The Beatles' greatness was their ability to influence and inspire (and assist) other artists with their professional careers." -- Tony Sheridan
"This history of The Beatles' musical contribution to other artists' recordings is my guidebook for the All-Star Band Concept." -- David Fishof (producer for Ringo Starr's All Star Band Tours)
Published by Collector's Guide Publishing Inc., Canada, 1998.
ISBN: 1-896522-43-2
---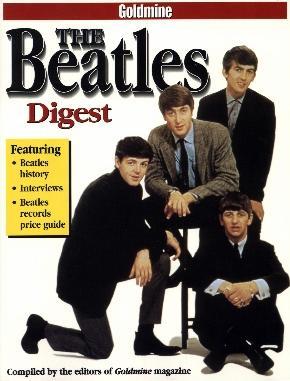 Since its inception in 1974, Goldmine magazine has been covering The Beatles -- the world's most collectible band. The editors have combed through their Goldmine archives to compile this compelling compendium of the Fab Four stories, ranging from their early days in Hamburg, right up to the present day.
If you're a Beatles fan or want to know more about the Fab Four, then the Beatles Digest is a welcome addition to your music library. Beatles 4-ever!
Published by Krause Publications, USA, 2000.
ISBN: 0-87341-948-0
---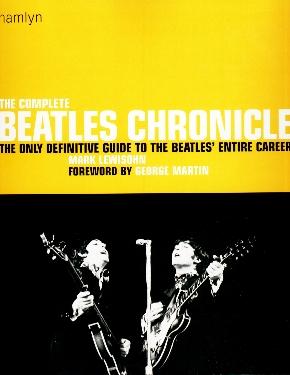 Mark Lewisohn's highly acclaimed The Complete Beatles Chronicle...
"Of all the chroniclers who have studied the lives of John, Paul, George and Ringo, Mark Lewisohn stands supreme. His dedication in getting all the true facts and cataloguing them, coupled with a style of writing that is most readable, leaves him with no rival. Time and again he has proven that he knows far more about what we did and when we did it than any of us. His book on the Beatles' recording sessions is an authoritative journal that I find invaluable. So many other books have been written about the lives of the Beatles that are less than truthful and a great deal of misinformed rubbish have been avidly devoured. We are fortunate to have Mark's scholarship. We need have no fears about his latest work, The Complete Beatles Chronicle; it will be as accurate as it is detailed." -- Sir George Martin.
Published by Pyramid Books, 1992. Re-printed by Hamlyn, 2000.
ISBN: 0600-60033-5
---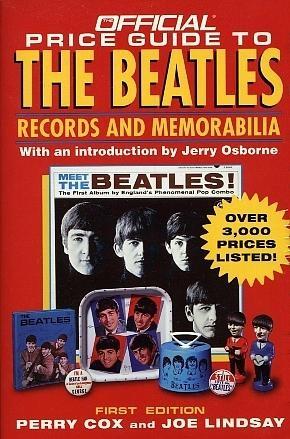 When the Beatles landed on American soil in 1964, Beatlemania quickly swept across the nation. In the wake of this dazzling phenomenon -- decades later -- records, album covers, and countless other memorabilia have become hot commodities. Now devoted fans and serious collectors have an invaluable sourcebook to take them on a magical mystery tour back to an extraordinary time that will forever appreciate in value, both real and emotional.
COMPREHENSIVE. The Official Price Guide to The Beatles: Records and Memorabilia has it all, including CD and record listings (the singles, EPs, LPs various artist compilations), bubble gum cards, lunch boxes, key chains, movie posters, toys, underwear, and much more!
WRITTEN BY EXPERTS. Perry Cox is recognized as the leading authority on Beatles record collecting and has coauthored five different books on the subject since 1981. In addition, he is one of the world's top dealers in Beatles collectables. Joe Lindsay is the author of The Record Label Guide, Picture Discs of the World Price Guide, and other Beatles price guides and has been a dealer of rock and roll memorabilia for more than two decades.
SPECIAL FEATURES. Invaluable information on pricing and grading records and memorabilia. What to expect when selling your records to a dealer.
BUYERS-SELLERS DIRECTORY. Want to find an out-of-print record or sell a particular classic? Here are the addresses and phone numbers of people to contact.
FULLY ILLUSTRATED, including an 8-page color insert.
Published by House of Collectibles, N.Y., 1995.
ISBN: 0-876-37940-4
---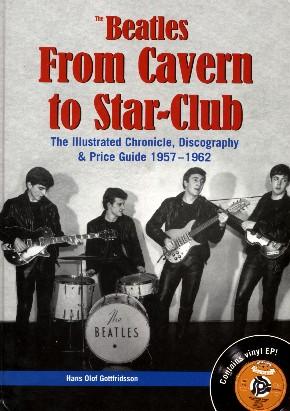 The Beatles -- From Cavern to Star-Club is a meticulously researched chronology and discography of The Beatles' recordings from 1957 and up until 1962.
Hans Olof Gottfridsson has mapped out from unreleased tapes, documents and interviews with key persons this legendary period of The Beatles' early career. For the first time ever all significant dates and recordings are covered, from the moment when John and Paul met at the Woolton Garden Fete in 1957 to the last Star-Club recordings in Hamburg during December 1962.
The book contains a complete review of all German, English, French, Swedish and American releases of songs which were recorded during this period and released up until 1970. All singles, EP's and LP's are depicted. Every release has been priced according rarity and collector's item status.
The author has succeeded in tracing -- previously believed to be lost forever -- the original protocols from the Polydor recordings, which show beyond any doubt that The Beatles did record Swanee River. The book features the first complete facsimile reproduction of Polydor recording sheets, contracts and much more. Once and for all it is now made clear which of the Tony Sheridan releases The Beatles actually took part in and played on.
The book comprises more than 400 illustrations, including lots of photos of rare records and acetates.
This is the most comprehensive book available on the subject and it reveals new information about early Beatles history. An essential sourcebook both for seasoned collectors and for those just starting out.
Written contributions from Tony Sheridan, John Duff Lowe (The Quarry Men) and Bill Harry (founder of legendary music paper Mersey Beat).
Interviews with amongst others the original Quarry Men members Rod Davis, Len Garry, Colin Hanton and John Duff Lowe, plus Johnny "Guitar" Byrne (Rory Storm and The Hurricanes) and Roy Young (who played piano on some of the recordings The Beatles and Tony Sheridan made together in Hamburg), as well as Karl Hinze and Gunther Sorensen, two former sound engineers at Polydor in Hamburg who recorded The Beatles.
Forward by Professor Toru Mitsui, Kanazawa University, Japan.
Printed by Premium Publishing, 1997.
ISBN: 9197189947-2
---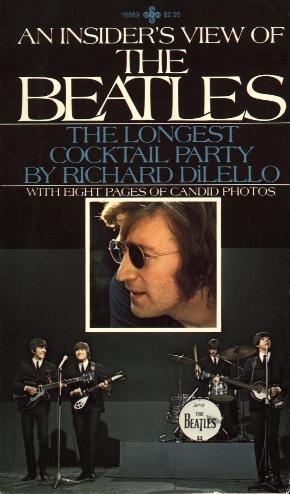 Richard DiLello wrote The Longest Cocktail Party in London during the winter of 1971. An insiders view on everything from Beatles to Apple!
Published by Playboy Paperbacks, 1974, 1981.
ISBN: 0-872-16889-1
---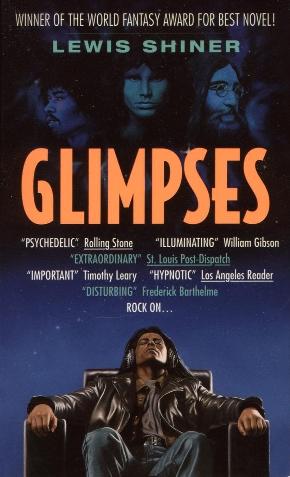 This is a sci-fi book, something totally different in this collection of books but is a great read...
"Disarmingly effective...a true fan's rock 'n' roll novel." -- Austin Chronicle
There's no time like the present...to fix the past.
Ray Shackelford has a passion his wife doesn't understand, a purpose his father will never live to acknowledge, and a future that is falling pitifully short of what was promised in the 1960s. But Ray also has a talent he never imagined -- the ability to call forth music that never was, pop masterpieces rumored but never realized by the legends of a bygone era. And now he is going back to the heyday of Morrison, Hendrix and the Beatles to relive a rock-and-roll history that wasn't but should have been. For Ray Shackleford has discovered the awesome power to rescue and inspire, to experience firsthand the hypnotic, destructive narcotic of fame...and to change his own life, note by note.
"A nostalgic tumble down memory's dead-end streets...a pop music fairy tale linking the Beatles to Bruno Bettelheim." -- Village Voice Literary Supplement
"Strong stuff...his best work...has the quality of the beginning guitar riff in Hendrix's The Wind Cries Mary...Lewis Shiner writes with enough heart for three chests." -- Jonathan Carroll, author of After Silence
"Highly recommended -- one of the few novels that successfully addresses the issue of why music is important in our lives." -- Paul Williams, Crawdaddy!
Published by Avon Books, 1993.
ISBN: 0-380-72364-6
---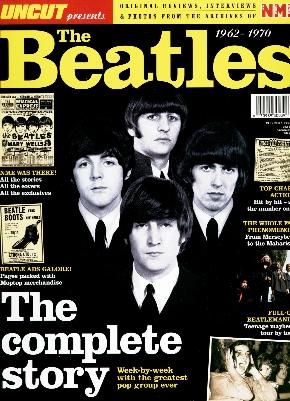 UNCUT magazine: "The Beatles - The Complete Story"
This magazine edition contains reproductions of the original New Musical Express articles in their entirety -- from the early rise to fame to the band's eventual demise. This special collectors edition is highly recommended.
Published: 2002.
---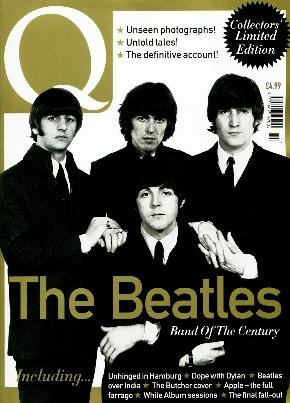 Q magazine: "The Beatles Band of the Century"
An excellent magazine publication listing all the important dates of the Beatles career with antidotal quotes from those who knew the Beatles and of course, quotes from the band members as well. This collectors limited edition is highly recommended.
Published: 2000.
---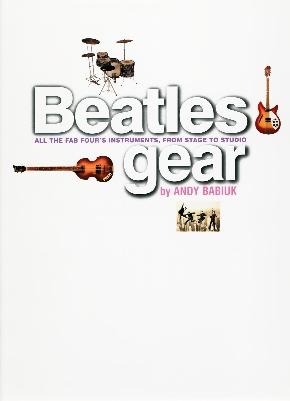 Just how did the Beatles get those fantastic sounds? Now it can be told: Here at last is the story of all the instruments and gear that the Fab Four used from their earliest days to the group's break-up. With a forward by acclaimed Beatle author Mark Lewisohn, this book tells it like it was. Beatles Gear is highly recommended reading!
Published by Backbeat Books, San Francisco, 2001.
ISBN: 0-87930-662-9
---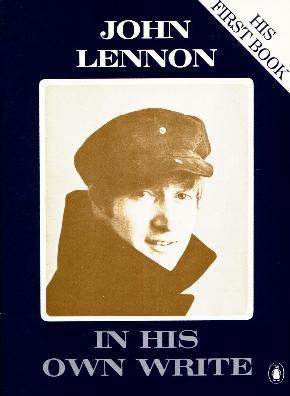 "This correction of short writty is the most wonderful larf I've ever ready." -- John Lennon quoting on his jabberwocky style of writing found in his first humorous book.
First published by Jonathan Cape, 1965. Published by Penguin Books in The Penguin John Lennon 1966. Penguin Books published In His Own Write as a separate volume in 1980.
ISBN: 0-14-00-5928-8
---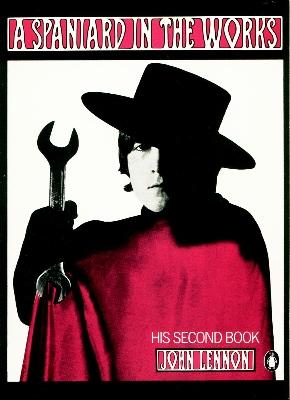 John Lennon's second book...his further adventures in literature and art.
First published by Jonathan Cape, 1965. Published by Penguin Books in The Penguin John Lennon 1966. Penguin Books published A Spaniard In the Works as a separate volume in 1980.
ISBN: 0-14-00-5929-6



Counter started June 9, 2002