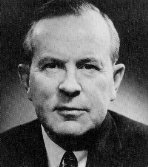 The Right-Honourable Lester B. Pearson, Prime Minister
HISTORICAL PRELUDE: Lester Pearson was born on April 23, 1897, in Newtonbrook, near Toronto. He attended the University of Toronto until 1915 and then entered The First World War and served in the Canadian Army Medical Corps and Royal Flying Corps. When the war was over, he continued his education at Oxford University. His academic achievements provided him in 1923 with the opportunity to take on the position of "lecturer in history" at the University of Toronto. He held on to that position until 1928 and left for a new career as "First Secretary" for the "Canadian Department of External Affairs". Pearson, from 1935 to 1941, served as "First Secretary to the Canadian High Commission" in London, England. In 1942, he began working as "Second in command for Canadian Legation" in Washington. By 1945, he became Canada's first ambassador to Washington for one year only. In 1946, he returned to Canada and became "under-secretary of State for External Affairs." By 1948, he ran as a Liberal in a federal election and won a seat in Algoma East. From 1951 to 1952, he served as Chairman of the NATO Council and then from 1952 to 1953, Lester Pearson became President of the United Nations General Assembly.
Pearson became Canada's fourteenth Prime Minister in 1963 for the Liberal Party of Canada. During his tenure as Prime Minister, he was responsible for passing many unique pieces of legislation in Canada's Parliament which profoundly impacted on the lives of Canadians: He had the Canadian flag adopted in 1965, thereby replacing the British "Union Jack" (Note: According to The Ottawa Citizen and The Ottawa Journal press reports, there was stiff opposition from old war veterans who still pledged support to the "Union Jack" and who were very dismayed by the prospect of Canada having its own unique flag for its country. Although they publicly protested the idea, Canada soon adopted the "Maple Leaf" with two solid red bars for its national flag). Prime Minister Pearson took a "left-wing plank" from the New Democratic Party and introduced "Medicare", a health program of "universality" whereby all Canadians would be treated equally no matter what class structure you belonged to. Another favorite Liberal platform of his that he introduced 1965 was the "Canada Pension Plan". He also introduced the "Royal Commission for bilingualism and biculturalism" in Canada from 1963 to 1967.
Perhaps Mr. Pearson's biggest achievement occurred before he became Prime Minister of Canada. In 1957, he was awarded the Nobel Peace Prize for his diplomatic achievement: the proposal of sending United Nations peacekeeping force to the Suez Canal area.
Pearson's Nobel acceptance speech
December 24, 1969...