SGT. PEPPER'S LONELY HEARTS CLUB BAND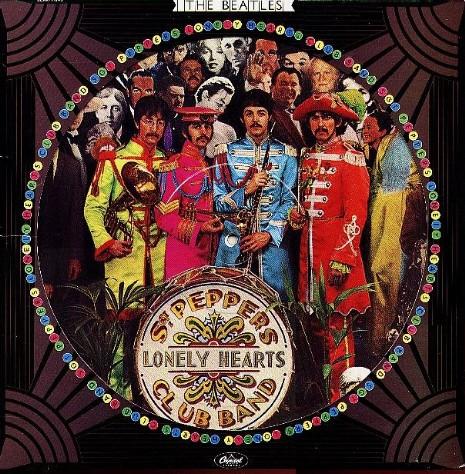 Special Limited Picture Edition on vinyl. Prefix SEAX-11840. Released in 1978.
I paid $40.00 for it back then. - J.W.
A MESSAGE FROM DEREK TAYLOR:
"Many of the songs for Sgt. Pepper were written on the run, during sessions at Paul's house very close to the studios, or out at Weybridge and Esher. John sat at his piano painted by The Fool, taking his ideas from the day-to-day items around him: the famous circus poster of Mr Kite, the Daily Mail column of small news items which talked of four thousand holes being found in the road in Blackburn, Lancashire. Ringo's great and famous vocal on 'With a Little Help from My Friends' was put together by John and Paul, on guitar and piano respectively, at Paul's house. 'A Day in the Life', famously, is the combination of two songs, one by John and one by Paul. 'Good Morning' was later dismissed by its composer, John, but stands, with George Martin's sound effects, as a very smart little item on the completed album. Neil Aspinall's recollection of them working throughout that winter without any anxiety that they might run out of material is revealing. The group was obviously hot to trot. There was nothing they couldn't do or get in that last great year of unity, harmony and collective happiness.
Paul's leadership stance on the album went unchallenged. Each of the other three had plenty to do, instrumentally or vocally. Ringo's 'voice' as drummer is notably good, and his vocal on 'With a Little Help from My Friends' has a presence and charm quite as fetching and musical as anything else on the album. George Martin has said there had to be some corner of each album that was forever Ringo. In Sgt. Pepper he was wonderfully provided for with 'A Little Help', the last song to be written and recorded. In keeping with the album's stance of being by someone other than the Beatles, their correct instinct was to have 'Sgt. Pepper' announce the appearance of a friendly little chap, Billy Shears, whom everyone had known for years. It was a made-up name, apt, apposite and absolutely right for Ringo. It was also a very Liverpool name. The city had a lot of Billys in popular lore, in soccer, in humour or whatever, and Billy was a cosy name to suit a cosy man. The song, often sung and recorded by the others, has never been rendered with greater openness, charm and wit than by Ringo.
Sgt. Pepper was first-rate stage for each individual to strut his stuff. Be it merely modesty and diligence, overt musical-hall rhythm, Indian-based nouveau rock or lyrical fantasy, Pepper would accommodate it. They could all sit comfortably side by side in this concert/concept. The programming was adroit and unmatched even by the Abbey Road album, which had some marvelous segues.
There was a wonderful absence of disputes in the making of Pepper. Paul was left comfortably to organise, John to explode into lyrical bliss with his tangerine trees and marmalade skies, George to respond to what he describes as the 'All You Need Is Love Consciousness' after the LSD period, and Ringo to change rock drumming for ever. It's been said there isn't a 'love-song' on the album, but that there is love in every groove is undeniable. Its unity is a reminder that the group effort need not be dissected and credit apportioned exactly. As if that were possible anyway! That everyone was into their own thing for the common good rings out from the first tuning sounds at the album's opening to the final crashing chord and its fade away at the end of the record.

HOW THE ALBUM COVER WAS CONCEIVED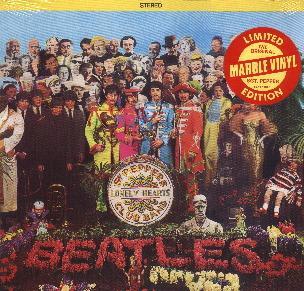 Sgt. Pepper Canadian Limited Gray Splash Marble Vinyl, still in shrink wrap!
Capitol Prefix: SEAV-11840
Scan provided Scott Sechman.

PETER BLAKE: A cover for Sgt. Pepper designed by The Fool already existed and was very psychedelic -- swirly orange and green and purple -- there were a lot of others like it. Robert thought it would be interesting to have the first cover done by a fine artist as opposed to a record-cover designer. A certain amount had already been established: the concept of their being a band within a band, for instance. They'd had their uniforms made already. I think my contribution was to talk a great deal to them about the concept and try to add something visual to it. Paul explained that it was like a band you might see in a park. So the cover shot could be a photograph of them as though they were a town band finishing a concert in a park, playing on a bandstand with a municipal flowerbed next to it, with a crowd of people around them. I think my main contribution was to decide that if we made the crowd a certain way the people in it could be anybody. I think that was the thing I would claim actually changed the direction of it: making a life-size collage incorporating real people, waxworks, photographs and artwork. I kind of directed it and asked the Beatles and Robert (and maybe other people, but I think it was mainly the six of us) to make a list of characters they would like in a kind of magical ideal film, and what came out of this exercise was six different sets of people. Robert Frazer chose artists, and I chose Johnny Weissmuller, people like Bobby Breen who was a child star, and Shirley Temple. And then we went to Madame Tussaud's where I heard Sonny Liston would probably be melted down soon. He was no longer world champion, and so I got him and I still have him."

THE "SGT. PEPPER REPRISE" -- WHO CAME UP WITH THE IDEA?
DEREK TAYLOR: Neil Aspinall, first and senior road manager of the Beatles, school friend, and still working with the surviving ex-Beatles and Big Brother, their holding company Apple, retains detailed memories of the Sgt. Pepper days as of all other minutiae of their lives as musicians, artists, stars, colleagues and fellow-travellers through this vale of tears and laughter. Uninterviewed until now, and even now only in brief and guarded bursts, Neil Aspinall is loath to claim any credit for any ever, but it is uncommon knowledge that he put to Paul the suggestion that Sgt. Pepper song should be reprised, in part, as the penultimate song on the album, to the dismay of his close friend and fellow road manager Mal Evans, who always liked complete songs. As suggested by Neil the reprise would only be a part-song leading into what became 'A Day in the Life'. Neil remembers John (told of the suggestion by Paul) saying to him later with a wicked smile: 'Nobody likes a smart-ass.' That was in February, as the world waited and 'Strawberry Fields Forever' and 'Penny Lane' were prepared for release. Neil doesn't see the removing of those songs for a single as a loss to 'the concept' of the album.

AUDIBLE DIFFERENCES FOUND ON THE ORIGINAL MONO
SGT. PEPPER NOT FOUND ON 1967 STEREO VERSIONS: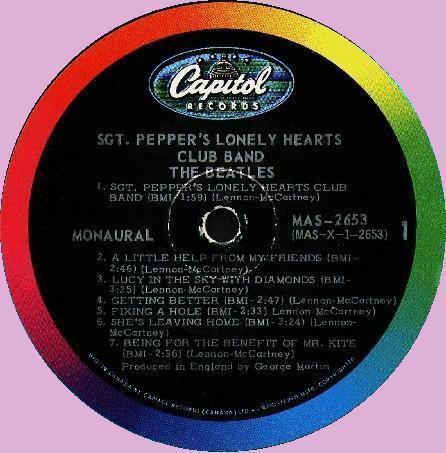 The original 1967 Capitol label for Sgt. Pepper. Monaural copies in near mint
condition can go for $250. If you know a good second-hand record store and
get to know the dealer well, sometimes you can buy them for much less.
I paid $20 for my copy and is in VG+ condition. - J.W.

The following information regarding the sonic differences found between a MONO verses STEREO copies of Sgt. Pepper were compiled by Mike Dahl (you know him on Rec.music.beatles as "DAHLDUDE"), special correspondent to OBS.
The funky backwards guitar part at the end of the opening song just before

The flangey/ADT effect on Ringo's voice during some chorus of "With A Little Help From My Friends."

The tripped out flangey vocals from the second verse out on "Lucy In The Sky With Diamonds."

The slightly longer end of "Fixing A Hole" where McCartney is wailing up high.

The change in tone in "She's leaving home" in the mono version - due to being sped up, not so dreary and long as in the stereo version.

The timing on the effects of "Mr. Kite."

The extended louder laughter on "Within You Without You."

The louder backing "oo-oo's" on "When I'm 64".

The "bleed edit" found at the beginning of the "Sgt. Pepper Reprise"; you can hear the machine flutter as it comes out of pause.

The low volume mumbo jumbo during the extended bass drum raps at the beginning of the "Sgt. Pepper Reprise".

The timing of the audiences are different on the "Reprise" section.

Paul McCartney ad libbing at the end. Paul sound like he is saying "Thank you very much good night now..." or "bye bye now".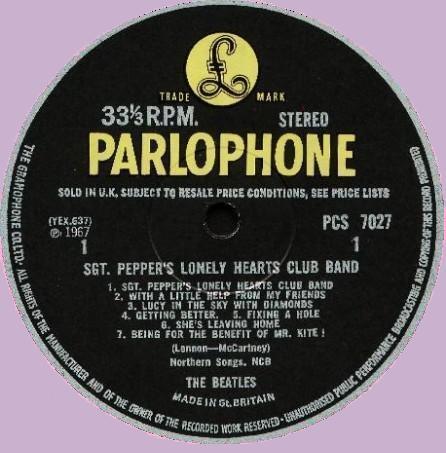 The original 1967 British Parlophone label for Sgt. Pepper. Original pressings
have yellow letter head on the label with black background. Later label pressings
on Parlophone had silver letter head set against a black background.
This copy is from my collection and is in minus mint condition. - J.W.
Research material: "It Was Twenty Years Ago Today" (Subtitlted as "An Anniversary Celebration of 1967") by Derek Taylor. A "Fireside Book" published by Simon & Schuster, 1987.
Article researched and written by John Whelan
Ottawa Beatles Site Chief Researcher.
December 2000