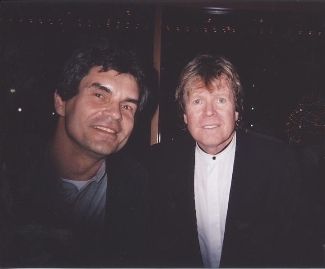 Mark Drobnick with Peter Noone ("Herman")
Photo: courtesy of Mark and Loida Drobnick
Herman's Hermits
Peter Noone (PN) regaled us with abundant: jokes & banter, personalities, songs (not unexpected), spontaneity, charisma, extra attention at the finale, generosity; and, he was educational! Here are the details.
Combo consists of: lead singer Herman (PN), guitarist Vance, bass player, drummer, and keyboard man. Vance is a Bill Wyman-look alike, all others time-warped in as 60's rockers too, except for the bass player, who looks more like 80's New Wave/ techno. Then there's "Herman", who has not changed a bit.
O.K., here's the anecdote I heard way back when, to explain their name. Think cartoons: consider Rocky the flying squirrel and Bullwinkle moose. They have a guest-slot every show featuring learned, bespectacled Professor Poindexter (a canine), his invention the "way-back" (time travel) machine, and his faithful assistant, a pre-pubescent boy, "Sherman", who looks all of eleven years old. Herman has told it that some influential friends saw a facial resemblance between himself and said Sherman, that he picked up on it, inadvertently dropped the "S", started calling himself Herman, plus was added something alliterative and "60's-genre/style rockers", like "Hermits" for his mates (from its precursor, "Heartbeats"), hence, were they christened. Go figure.
I don't remember the first "heckle", nor do I know if it originated from the audience or the band and/or was contrived, but with the second, PN retorted, "The sailors are here!", and off we went! Scarcely more unplanned surprises transpired, if that indeed is what they were. I do recall a female fan, near the front standing up, somehow commandeering PN's microphone, and giving testimonial that her dad had seen the Hermits and the Who, with the latter being warm-up, once, way back when, and that the fans on that historic evening couldn't wait for the Who to finish so that they could get to see the Hermits perform. Reacted PN: "Yes, and that was a very nice and memorable concert that my grandmother brought me to." He's younger than you think, you see; I started believing that he's younger than me!
What a hoot when Peter described the band's finding its way up to Waukegan from Chicago's airports. They stopped at a "7-Eleven" and, PN imitating the clerk's thick, heavy, (what else?) Indian accent, "Master, we have no idea where it is. Have never heard of it! Maybe take 294 north, then stop for more directions." Hah!!!
PN was magnanimous in gifting some two or three dozen band memorabilia during the course of the event: one T-shirt which "sturdy" guitarist (editorial license here, grin!) Vance was called on to hurl up into the balcony, plus more T-shirts, cassettes, and C.D.'s, which PN routinely gifted to those more near the stage. Although we came up empty-handed, Peter! But, there's more.
During all this, Peter couldn't avoid noticing the beautiful female, dressed for success as a European-style lady, standing against stage-right. She was not caring much for the speakers that set a short distance from in front of her ears, which sounded explosive, beyond high volume. Still, she continued to stand patiently while waiting for the chivalrous gentleman to shake her hand. Finally, he took her hand and kissed it gently, when she was able to slip to him a "mystery note". Author's discretion militates against disclosure of too many details, but, her name is, "Loida."
Other genealogical tid-bits (per PN): there's a familial relationship between Welsh Tom Jones and Monkee Davy!; Mick Jagger is Peter's dad (well, he is older, could it be true?)!! Also, there was an intercalated anecdote about PN's mom's milk bath, she being asked if it needed to be "past-your-eyes"; no, specifically, somewhere lower, and, "the joke's innocuous, remember, it's my mom we're talking about".
Johnny Cash (JC): yes, I did say baritone (near bass) J.C.! Astounding. Baby-voiced Herman quite capably mimicked JC's "Folsom Prison Blues"; you just can't believe what you're hearing, seeing, and witnessing! He has got formidable range, then; chops, if you will. The nasal alto is just for the Hermits' numbers. And, PN critiqued the recent movie, commenting: "I look even more like Johnny than the performer who was cast as him. What was the name? 'Reese'"!
Nights In White Satin: "Sounds better than my songs!," mock-pouts PN. And, probably this was the only time all evening that we got to hear 15 or 20 bars of triple meter.
Also covered were: "Love Potion #9", Freddy & the Dreamers' "I'm Telling You Now", "Daydream Believer", and "It's Not Unusual". Yes, in fact, he does do a very authoritative Tom Jones.
Hermits' songs performed Friday included: Ray Davies' "Dandy", "Listen People" (from MGM's Connie Francis movie, "When the Boys Meet the Girls"), and "Henry the Eighth" with full fan participation and battle-of-the-bands type competition amongst factions of the audience. Played too were: "I'm into Something Good"; "Mrs. Brown (you've got a lovely daughter)"; "Silhouettes"; "Wonderful World"; and, "No Milk Today". Plus, they rendered their own interpretations of more than a half dozen other 60's British anthems.
He recited to us the Genesee's acts list: [verbatim, from its flyer], "Moody Blues, Led Zeppelin, John Prine, etc. Get a season's subscription, people. These are all very good acts." He seemed genuinely impressed. How perfectly charming!
PN alluded to Tony Robbins (doing the 7-footer's voice!). Then he corrected himself; no, this night he was at Ray Bradbury's place of origin. At another point, Peter shocked and astonished everyone including himself, when, guitar in tow, he let rip a power chord. (Intro): "The singer is going to play guitar now too, at the same time as he is singing" (speaking of himself in the third person). Then, shocking, thunderous, reverberating, tumultuous, earth quaking consonance from his guitar, acutely erupted. "Good God," (looking back to the band), "was that me?!!" [Oh yeahhh, was you boss.]
A couple of times, PN did a shtick for the Catholics in the audience, utilizing his mic and its cord, as a priest would with corresponding and appropriate utensils, for dispersing incense. So, PN "incensed" us too, but in a most agreeable manner. To me it brought back memories of showman Jimmy Page, blessing us with a violin bow, after having innovatively evoked from his Les Paul with it, other worldly intonations.
Herman's Hermits (HH): "[They were] the number three group in the British Invasion." I have no doubt that this was the fact of the matter during some segments of the 60's decade. (By the way, the Union Jack was displayed as background during their entire performance, Friday.) Others who arrived on this wave included: The Who, Cream, Troggs, Dave Clark Five (the Chicago Tribune actually entertained a serious debate in one of its editions back then, as to whether DCF surpassed the Beatles), Rolling Stones, Hollies, Kinks, Peter & Gordon, and Donovan, among others.
Herman: hardest working man in show business (move over, James Brown). PN quipped: "As long as the Stones still continue to tour, that means we have at least 20 years more of touring left in us!" "Notice, this is real and live. We are not a tape. I threw in mistakes on purpose, just to see if you were all paying attention.!" Amen. Adelante!
PN & Mick Jagger each have acknowledged the other's work, although it would seem that Peter, much to his credit, has done so discernibly more graciously. Imitation is the sincerest form of flattery. Peter's parody of Mick at Friday night's performance, doing "Honky Tonk Women", strutting, the mouth, discarding clothes, had us all in stitches. The real, over-the-top send-up that most definitely sounded and looked quite authentic, with the affectation and mannerisms, was a scream.
Mick, on the other hand, once referred to the Hermits' work, unfortunately, pejoratively; in essence, that it was not at all to his liking and tastes. Giving this artiste the benefit of the doubt as to warmth of character, and, rationalizing his attitude, I shall venture that the criticism was made during their early days, when nascent Jagger/Richard was struggling to establish itself as an accepted songwriting team, trying to resist, having foisted upon its band's repertoire and knuckling under to, the "Tin Pan Alley" production factory type pabulum that the Hermits & later the Monkees --although with this latter, the symbiosis probably was more of a mutualism -- came to incorporate and rely upon, to keep the hits steadily coming.
By the way, Mick & Keith would do well to give a listen to the 45-r.p.m. single's "B" side of "Dandy". "Exile's" "All Down the Line" has nothing over the Hermits', "My Reservation's Been Confirmed" (complete with bluesy singing and Honky-tonk piano). It's similar subject matter, was created first, has better treatment than the Stones' mobile unit, and is a marked departure from the Hermits' usual, post-prom-type image.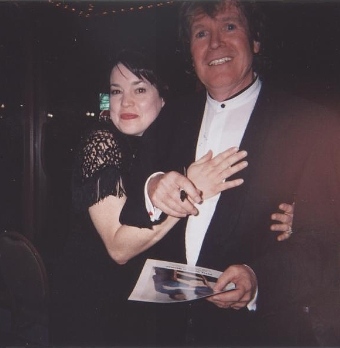 Loida Drobnick with Peter Noone ("Herman")
Photo: courtesy of Mark and Loida Drobnick

There was a lady in line with five HH LP's, suitable for autographing, standing next to us to greet Peter after the show. She had ample company. Many more fans had dredged out their original, collector's-item LP's and 45's for PN's seal. We got his signature upon our tix, his C.D.'s, and publicity photo. I noticed, from the T-shirts on display, where some of the various stops on this tour were: Paris, Sydney, also ourselves at Waukegan, Illinois, next Merrillville, Indiana, many others, and "Cebu". Ask your family and friends about that one. How many know it's in the Philippines?

In any event, Herman's Hermits, as a concept, has survived, endured, and come a long way from the days when Mickie Most produced them. Their same leader, Peter Noone, exhibits remarkable energy onstage. His self-effacing comments, that at times he is mistaken for Paul Williams or Nick Nolte, are humorous, to be sure. We had no inkling that we were in for a night of interspersed comedy nor did we need cues in the way of "rim shots" from the drummer to know when we had been amused. That took care of itself. Peter's breadth of experience as an entertainer manifestly shines through. His performance is nothing short of being marvelous.

Peter Noone & Herman's Hermits: they demonstrate that when you've got your song, you sing it smoothly, forthrightly, lively, and proudly; they are a very tight band which works together perfectly, uniformly and throughout the concert's entirety, just like the mechanism of a finely-crafted clock. Their show is highly recommended. It was excellent. All will find it most enjoyable.

Buckinghams

The combo consists of two original members, lead singer & bass player: namely, 1. Carl Giammarese and 2. Nick Fortuna. Plus, there's a horn section: 3. trombone, 4. trumpet, & 5. saxophone musicians; with the traditional, 6. drummer, Tom Scheckel, 7. keyboardist, Bruce Soboroff, & 8. guitarist, Bob Abrams.

From the 60's, a couple of their songs got publicity and are well-known from performances on "Ed Sullivan Show" and "Smothers Brothers Show", the pieces "Susan" and "Hey Baby (They're Playing Our Song)", respectively. These were both performed Friday. Also included were: "Kind of A Drag", "Expressway (to your heart)" (on which Carl played 5-string bass), Rascals' "Good Lovin'", and a Buckinghams' movie theme which never was sufficiently promoted by its studio, from Peter Sellers' The Guru.

"Foreign Policy" has to be the darnedest title there ever was for a rock tune. Thankfully, it was omitted from this performance. Likewise happened at their recent, presidential gig? Some of the Buckinghams' avant-garde tendencies, at that time, are manifested in this work, as is true with another "45's" "B" side of theirs, "And Our Love" (also passed over Friday). In the latter, Blood Sweat & Tears, and Chicago sounds can be heard, perhaps foreshadowing that original keyboardist Marty Grebb would eventually be incorporated into the Chicago band. The first piece mentioned, is avanti and more: dissonance, studio gimmicks of reverse taping, and national, political leader oratory obtain! It's not obtuse, nor even abstruse, but is definitely cumbersome, unwieldy, and ponderous.

The stage act was perfectly charming as to Carl's rapport with the female fans, a la Elvis and "El Puma", catering to the entourage who "pilgrimmed" in from Kenosha, other gals, and one in particular who had to fan herself after his embrace with her, to regain equilibrium. At other times, there was a rough give-and-take, tug-of-war, where Carl, Nick, and Bob seemed not to be on the same page.

Something piqued Nick at one point, he blustered to the audience, "How many of you have a hit record?" (Suggested follow-up question: "How many will be returning to receive more entertainment at the hands of feisty, combative performers?")

Then there was Bob with his twisted, not obscure enough---c'mon, there were kids there after all--- Dick Biondi reference, and, recalcitrant, delinquent teenager persona. Next, Carl's verbal legerdemain to rehabilitate Bob's remark fell short. Perhaps some time-outs and a dressing-down could retrieve the dissident from A.W.O.L.

Overall, the band played very well together and put on a good performance. When they can pick up the compas of the show a bit more and eliminate some of the lulls, they'll almost be home free.

Grass Roots

Lead singer (bass)—Rob Grill: reminds one of Mick Jagger while onstage, at least in appearance. He possesses a definite presence while up there, and was the band's focal point. The quartet consists also of guitar, keyboards, and drums.

Performed were very serviceable versions of "Temptation Eyes" (reprised, due to popular demand), "Midnight Confession", "Where Were You When I Needed You", "I'd Wait a Million Years", "Sooner or Later", and "Two Divided by Love".

Rob referred to a live album as one of their most recent efforts, with an audience of ten or twenty thousand applauding, similar to the instant venue with us, very much alike in magnitude and quantity (oh, really?). Then Rob sagely elucidated, "I see what I want to see."

The mix could have had more emphasis on lead voice. Hopefully, that can be tweaked into correction for the future. Mr. Grill was available at the lobby afterwards, somewhat somber, for autographs and business.

(In General)

Kudos to the Genesee Theatre [are merited] for making it possible for fans to meet the performers after the sets. Face it; the fans raised them to where they are. Hopefully, this "perq" will become routine and the norm. Otherwise, attending a live performance is reduced, in a sense, to being just about as hollow as having seen it only on T.V.

Author's Bio: Resides in Waukegan, IL with wife and three children; former Puerto Rico resident; fluent in English and Spanish; practices as real estate broker from Lake Forest; former Waukegan municipal, political candidate; graduate of Carthage College & University of Illinois; enjoys motorcycling & scuba; accomplished at applied piano & guitar; married with the versatile, attractive & irresistible, Refine Modeling School (Puerto Nuevo, Puerto Rico) grad, Loida Maria Jordan, who's also actress, teacher, housewife & mom! "Some call the pair, 'Ken and Barbie'!"

E-mail: (author), mark_h_drobnick@yahoo.com

(better half), Loida_estrelladeorion@msn.com

Ph. (847) 782 - 1168

Reviewed on: (01-30-06)

For more Drobnick reviews, please see:

Ringo Starr and the Roundheads with guest Colin Hay, at Genesee Theatre, Waukegan, Illinois, June 24th, 2005

1964 The Tribute + Stockwood at the Genesee Theatre

© by the Ottawa Beatles Site, May 28, 2006, with our sincere thanks to Mark and Loida Drobnick.