In late 1962 I joined a band in Ottawa called The Pharaohs. Not sure who picked that name, but it wasn't me. Actually they were already together when I showed up to audition as drummer and got the job. Pretty cool considering I hadn't ever played drums with a band before, but I remember we all just clicked. We were auditioning in the piano player's basement and after we played his father yelled down,"now you have a band!".
It felt good to a sixteen year old.
I loved drums. I'd played them in some way since I had been born. To be in a band that actually played in front of people was a dream.
They were cool guys.The band was made up of three Ridgemont High School students, David "Charlie" Brown, Bob Borrowman (bass), Fred Knight (guitar) and Andy Holdham(keyboards). I was the outsider due to the fact I attended Glebe Collegiate. Actually our first gig was at their school. We played at a sock hop or whatever it was called. It took place at 5pm in the school gym and had to race over from my school which was not really close by and set up my drums on the floor. They didn't fit on the small stage where the rest of the guys were. It was pretty loose and at one point during a song my large crash cymbal, somewhat unsteady from the quick set up, fell over. Very embarrassing, but we played on.
This was in 1962. We didn't play together for much more than a year, but we did accomplish one very important benchmark in music. We were the first band in North America to play songs live by The Beatles. Nope, we can't absolutely prove it but check out the facts.
In late 1962 The Beatles had the number one record in England. The early stages of Beatlemania were under way but nobody in the U.S. had ever heard of them...yet.
At some point, while they had the number one slot in the UK, our bass players' girlfriend's dad went there on business. He had to bring his daughter something so he went in to a store and, not evidently caring what it was, asked for a copy of the number one record at the time. He brought home The Beatles' first album, "Please Please Me", which had not come out in North America yet.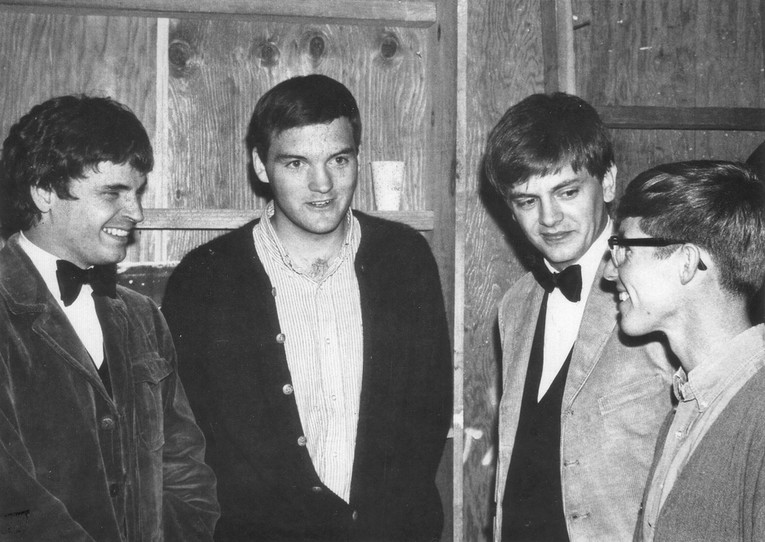 "I am in the center and the fellow with the glasses is David "Charlie" Brown from The Pharoahs. He still lives in Ottawa and teaches and builds guitars. The other two guys are, of course, Don and Phil Everly. This shot was taken in San Leandro, Ca. around 1967." - Mike Gormley
We heard it. We loved it and started playing "Twist and Shout", "All My Loving", "I Saw Her Standing There", " A Taste of Honey" and "Please Please Me". We played them a lot.
In the U.S., most of the songs on Please Please Me were first issued on Vee-Jay Records' in 1963. The Beatles recorded 'Love Me Do' in September 1962 and the single hovered in the twenties of the English charts from November to January. The Beatles' next single was 'Please Please Me'. When it hit #2 in the UK in early February, Vee Jay Records out of Chicago and the home of the then very successful Four Seasons, decided to release the single in the US, which they did on 25 February 1963. (EMI, the British record company with ties to the U.S. Capitol label, approached Vee Jay after Capitol had used their right of first refusal to turn down a couple of artists EMI had offered. The Beatles at that time had yet to record 'Love Me Do', which was their first real British hit, and the decision to pass them up was made on the strength of several German recordings where they backed up Tony Sheridan on 'Ain't She Sweet' and 'My Bonnie'.)
The group was such an unknown that their name was misspelled "Beattles" on the record label. The single slipped into obscurity soon after its release. This 45 however, was the first true Beatles single to be released in the U.S. ....March, 1963.
The Pharaohs were already playing the music from Please Please Me.*
Ok, next fact. The first Beatles tune to enter the national Top 100 US singles charts was........by Del Shannon. July 1, 1963. Del Shannon's version of The Beatles' "From Me to You," which he'd learned while touring with them in England, reached #77. That makes Del the second artist in North America to perform a Beatles tune, although he got to record his and there is nothing stating he had played it live.
In early 1964 The Beatles came to the US and played the Ed Sullivan show. They had the world at their feet. But they were only the second band to play Beatles music live in North America.
The Pharaohs played their songs first.
* Ottawa Beatle Site editorial: The Beatles UK release of their "Please Please Me" album was March, 22, 1963.