Ringo Starr at Casino Rama,
near Orillia, Ontario Review by John Whelan
Friday, August 10, 2001.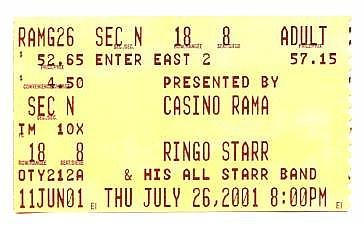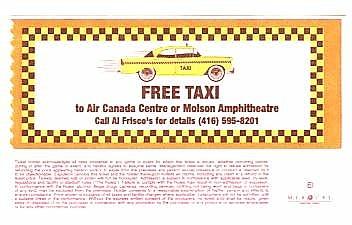 What a night, July 26, 2001. My first chance to see a real ex-Beatle perform! I must say, overall the concert was great! Ringo looked amazingly slim and trim for his age (at one point during the show, Ringo demonstrated "jumping jacks" while performing one of his numbers to the audience just to prove how great a condition he was in!). His vocal and drumming ability has remained intact after all these years. The performer has not lost his edge!
The opening number was "Photograph" followed by "Act Naturally." Since Rama, Ontario, is located on an Indian Reservation (hence, the management's choice of location for a casino because under Canadian law, Indian reservations get tax-exempted on certain things...a wind fall for the Casino!) surrounded by farm land, one of Ringo's earliest comments to the audience was "Are there any cowboys in the audience?" And of course, he would follow this up with a country song, "Act Naturally."
Ringo's choice of supporting musicians may be the best he has assembled yet for his "All Starr Band" tours. For the most part, there was a definite cohesiveness, unity and fun in this band which attempted to bring out the very best. Everyone seemed to have fun performing their numbers. The only part of the show that seemed to drag was when Howard Jones did two of his three numbers. Jones opened and presented very well with "No One's To Blame" but his later spots in the show seemed to slow down the momentum when he performed "Things Can Only Get Better" and "Lasting Love". While his last two sets may not have been his personal best effort, his brilliant keyboarding throughout the night more than made up for his lackluster performance.
You would think that by now "Beatlemania" would have died down. Apparently not! The audience seemed well behaved for the most part until nearing the approach of the half-way mark in the show. Ringo made a bit of a speech for his introduction to an old rock'n'roll chestnut, "You're Sixteen". One very young female fan decided to break ranks with the well behaved crowd (who up until that point had remained seated) by running down stage and handing Ringo a bouquet of roses.
But the dam was burst when Ringo sang "Yellow Submarine"! All hell broke loose and close to 50 or more women rushed down the isle; most of them older, some younger. My best mate and old high school friend Dave, though happily married, noted the older blonde lady who was around our age running down the isle just to see Ringo up close! She was quite tall, as I recall. She stood out from the pack. What I found astonishing was that some of these ladies brought down their Beatle albums, waving them at the pop star, perhaps hoping that Ringo would stop at one point during the performance and sign autographs for them!
They never left after that, and it caused Ringo to temporarily mix up his lines during the second half of "Yellow Submarine". Ringo explained to the audience afterward that he had got so excited, just by being up on stage, performing, that he forgot his lines. But he covered up his mistake pretty quickly during the song, just like a pro!
When Ringo began the introduction of his next song, I thought by the sound of it that it was going to be a George Harrison composition. He introduced the song as written by a dear friend of his who was "a really kind, gentle soul" and jumped into "I'm The Greatest". Wow! Performed just like the hit version off the Ringo album done in 1973. One of the timeless qualities about Ringo is that his voice hasn't changed for wear nor tear over the years (his vocal of "Boys", earlier, was note perfect). In fact every Ringo number performed sounded just like the original recording done back in the early '60s, and up to the present.
"Back Off Boogaloo" was great. Another Ringo classic, sounding very close to the live performance heard on "Storytellers": lots of heavy drumming and strident guitar work. This song always seems to sound better live than the actual hit version.
Regarding material performed by the other artists, Sheila E. was a complete sensation on both numbers she performed. One track in particular, "The Glamorous Life" provided the right occasion for her to showcase just how brilliant a female drummer she is! Sheila E. created a synergy that bounced back and forth between herself and the audience (at one point I just rolled my eyes... while she was standing before her drum kit near centre stage, she took the right drum stick and pounded the drum underneath her right leg while her left hand was holding the other stick in a normal drumming position, pounding out the rhythms. She didn't miss a beat!) When the song was done, she sensed the audience wanted more, and I think this next bit wasn't planned but Sheila E. then proceeded to do about a 90 second encore drum performance...she was now in super fast mode, even beats being thrown in perfect synchronization! The crowd stood on their feet, a standing ovation for a performance well done. Even Ringo Starr gave Sheila E. his personal acknowledgment by tossing his own set of drum sticks straight up into the air as if to say: "Now how am I going to top that?"
Ian Hunter put in a gusty performance with "Cleveland Rocks" but by about midway he was changing the words to the song by saying "Blue Jays Suck!" and "Orillia Rocks!" Eh? Orillia Rocks? Somehow the words didn't ring home with the crowd, otherwise it was a rousing number performed with lots of energy and fun! Ian's best number of the night was "All The Young Dudes."
Greg Lake's choices for the show were good ones with "Court of the Crimson King" from King Crimson; his performance was note perfect! "Lucky Man" was truly phenomenal as well as "Karn Evil 9" which has the line "Welcome back my friends/to a show that never ends."
Supertramp's Roger Hodgson put in excellent performances on all three of his numbers, "Logical Song"; "Give A Little Bit" and "Take The Long Way Home". Though Roger may have aged, his vocal abilities are as fresh as the day the songs were recorded with Supertramp. The band really came together for a poignant rendition of "Take The Long Way Home." Mark Rivera provided excellent clarinet work on this version, identical to the hit version. He also supported the various acts throughout the night by either playing a flute, saxophone, or sometimes guitar when required. Though Mark did not sing on the show, his contributions for the night contributed to the show's overall success.
Ringo began closing the night with "It Don't Come Easy", giving himself the spotlight while Sheila E. played drums. The band's version sounded very close to the original hit. After the number was over, Ringo stepped off to his left-side of the stage but then reappeared for an encore with "Don't Go Where The Roads Don't Go" and "With A Little Help From My Friends."
Then the show was officially over.
My friend Dave and I decided to go to the restaurant and wait out the traffic by buying a few drinks and then walk around the Casino afterwards for a tour. We waited for about well over an hour, and then made the decision to head out to my car and drive back to Toronto. Odd thing was, when we left through the exit doors of the Casino, we found ourselves on the wrong side of the parking lot! We noticed three very long white limousines parked about 40 yards from the Casino's front Hall entrance. I turned to Dave and said, "Well, I think we can guess who these limousines are for," to which Dave said, (playing along), "Ah, geez now, I don't know...for Ringo?" We walked around trying to get our bearings straight so that we could get back to my car. I suggested that we should walk towards the left side of the building and walk around the complex to get to the other side. As we began our walk towards the left side of the Casino Rama building, we made an interesting discovery! About 10 fans were waiting near a small garage entrance for Ringo's departure. Just to be sure, I looked at what the fans were holding in their hands, one with a photograph of The Beatles, another with pad and pen ready to jump at the first moment to get an autograph from Ringo. We waited around for approximately 10 - 12 minutes with only two Casino security guards and now a group of 12 Apple Scruffs patiently waiting for something to happen. Then, at the last moment when I was about to pack it in and move on searching for my car, a small white van started to slowly roll out! Sure enough, the van had all the band members inside. My friend Dave immediately spotted Roger Hodgson in the van sitting on the right side with the window rolled down, who waved back to us, not only once, but twice as he was leaving. One girl rushed right up towards the van's window and saw Ringo! She quickly snapped a photograph with her camera... how it will turn out from a photo taken late at night, I don't know, but I wish good luck to her! Another fan rushed towards the van with pen and paper, I suppose expecting to somehow to get herself that autograph. She didn't get it. I stood back and watched as it all unfolded before me. I certainly wasn't going to throw myself towards the van and get myself injured (though it wasn't traveling very fast, a normal speed anyone would do in a parking lot). I simply waved at Ringo and his entourage as they drove off.
The night was music and fun and something I'll always remember for the rest of my life. Thanks Ringo!

Ringo's All-Starr Band line-up...Left to right: Sheila E., Roger Hodgson, Ian Hunter, Greg Lake, Howard Jones and Mark Rivera

Set Listing for the Ringo concert, July 26, 2001, at Casino Rama in Rama, Ontario, Canada:
1) Photograph, Ringo Starr
2) Act Naturally, Ringo Starr
3) Court of the Crimson King, by Greg Lake
4) Logical Song, Roger Hodgson
5) No One's To Blame, Howard Jones
6) Cleveland Rocks, Ian Hunter
7) Love Bizaar, Sheila E.
8) Boys, Ringo Starr
9) Give A Little Bit, Roger Hodgson
10) You're Sixteen, Ringo Starr
11) Yellow Submarine, Ringo Starr
12) Karn Evil 9, Greg Lake
13) I'm The Greatest, Ringo Starr
14) No, No Song, Ringo Starr
15) Back Off Boogaloo, Ringo Starr
16) Things Can Only Get Better, Howard Jones
17) I Still Love Rock'n Roll, Ian Hunter
18) The Glamorous Life, Sheila E.
19) I Wanna Be Your Man, Ringo Starr
20) Lucky Man, Greg Lake
21) Lasting Love, Howard Jones
22) Take The Long Way Home, Roger Hodgson
23) All The Young Dudes, Ian Hunter
24) It Don't Come Easy, Ringo Starr

Encore set:

25) Don't Go Where The Roads Don't Go, Ringo Starr
26) With A Little Help From My Friends, Ringo Starr

Wear your T-shirt with pride, John!
Photo: Tony Copple

2003 UPDATE:

EMI of Canada, distributor for King Biscuit Flower Hour Records, has issued a "live performance" of Ringo's 2001 tour. The concert tracks on this CD were recorded at the Rosemount Theatre, Chicago, Illinois on the 22nd of August. Also, a DVD of the same concert is now available.

---