GRIEVING McCARTNEY SHOWS HIS ROCK'N' ROLL HEART
- by Mike Blanchfield, the Ottawa Citizen,
October 13, 1999.
Death of wife Linda inspires classic collection of early rock.
RUN DEVIL RUN ****.5 (four and one-half star rating out of possible five)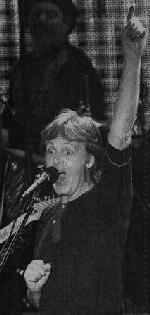 Paul McCartney has spoken eloquently about the pain of losing his wife, Linda, last year to cancer. We've heard the story of how they slept in the same bed together every night for 30 years, except for one, and how that night apart was oh so difficult. And while Linda was alive, when it was still fashionable to take critical jabs at Paul, many a critic assailed Macca for his silly love songs.

Lord knows, there were a few too many of those and Paul probably deserved most of the knocks.

Now there's an understandable inclination to cut him a little more critical slack since his wife has gone. People may be skeptical about the praise that will probably be heaped on him for his latest effort -- a collection songs that pays tribute to the late 50's style of rock'n roll that first inspired him.

That's too bad because McCartney's latest album, Run Devil Run, is a terrific romp that captures the pure joy -- and heartbreak -- of early rock'n roll.

It works because McCartney was there and lived and learned it; it was bred in his bones. Most of all, it works for the same reason that many were so critical of his silly love songs -- if nothing else, it's honest.
He recorded it quickly in a handful of sessions at The Beatles' old Abbey Road studios, 15 songs, 12 of them old covers, that barely clock in at 40 minutes. He used a small band: guitarists David Gilmour and Mick Green, drummer Ian Paice, piano player Pete Wingfield, and himself playing his legendary Hofner Violin Bass. (A note on Gilmour's playing: there's no trace of his plodding Pink Floyd days, just an impressive ability to boogie.)
McCartney sounds a lot like Elvis on the opening track, Gene Vincent's "Blue Jean Bop", and a lot like Paul McCartney having loads of fun remaking Elvis on a crunching version of "All Shook Up" (not as crunchy, thank God, as the Jeff Back Band's thundering late 60's take).
He tackles Elvis a couple of more times with the brilliant success. On "I Got Stung", he delivers on the brag he makes in the disc's liner notes -- that it's not his favorite Elvis song, but he wanted to do it a little more raucous than The King. Few have the credentials to even attempt that, fewer still have the ability to pull it off (Paul does). "Party," another obscure Presley tune, is equally raucous, and makes Presley's version from the film "Loving You" sound almost tepid.
It's a vibe he carries through on two of the three original compositions here. "Run Devil Run" is pure four-on-the-floor boogie, with a Chuck Berry riff and some hammering Jerry Lee Lewis-style piano from Wingfield. "What It Is" is an unlikely tribute to Linda, a bluesy romp, that proudly declares: "You are what it is, that makes the world go round for me." He put it on the album because Linda heard him playing it one day and like it. Good enough reason.
On the other hand, "Try Not To Cry" is not particularly memorable and could have worked on almost anything McCartney has recorded in the last four decades.
On a couple of unlikely songs McCartney's voice soars, betraying the true nature of his loss, and showcasing his ability to sing soulfully. On "No Other Baby", an obscure track from the late 50's group called The Vipers, it's pretty obvious why he can deliver the line, "I don't want no other baby but you," with such conviction. And his version of Ricky Nelson's pop idol weeper, "Lonesome Town," transforms Nelson's adolescent sentiments into something purely adult without being the least bit overbearing.
There are numerous other standouts along the way. An old Carl Perkins tune, "Movie Magg", is straight flat-picking country, two fun minutes of joyous drawl. The touch of accordion on Chuck Berry's "Brown Eyed Handsome Man" is a nice surprise. And he does the piano doo wop thing soulfully well on the Fat's Domino B-side, "Coquette," and on Little Richard's "Shake A Hand". Both feature Wingfield's stellar work on the ivories, authentically capturing the spirit of the two legendary pianists.
The most exhilarating moment comes on Big Joe Turner's "Honey Hush." Paul always tired to live down the knock of being the teen idol balladeer of The Beatles (the silly love songs didn't help either), while John was touted as the real rock'n roll rebel. It's something he always has to answer for.
Listening to him growl, "hi ho, Silver away," says it better than Paul ever could in any interview: He's got a rock'n roll heart through and through. It's too bad it had to be broken for him to show it off in such blazing glory.
Copyright 1999 by the Ottawa Citizen; used with permission.
---
Ottawa Beatles Site