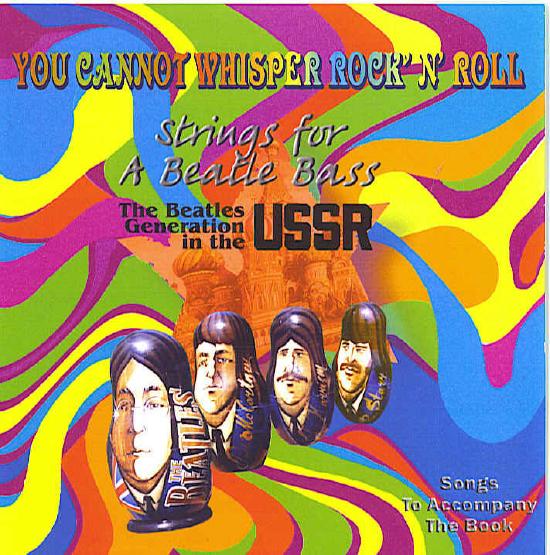 Strings For A Beatle Bass: The Beatles Generation In The USSR
1. YOU CANNOT WHISPER ROCK'N'ROLL        3:19
(Pelyushonok-Sansom-Jastremski ©2005)
2. STRINGS FOR A BEATLE BASS        1:37
(Findlay © 2003)
There was a time in the USSR when strings for a bass guitar couldn't be found anywhere. Apparently,
the authorities had come up with this formula: no strings = no rock'n'roll = no problem.
3. ROCK'N'ROLL ON BONES        1:20 (Pelyushonok-Sansom ©2003)
This song is a humorous recollection of the time when vinyl production in the USSR was strictly controlled. The material of choice for the underground record business was used X-ray films, earning these discs the popular nickname of Rock'n'Roll on Bones.
4. THE MOO-MOO ROCK        2:20
(Pelyushonok-Sansom ©2003)
This song was originally conceived and written in the USSR in the late 70's and an English-language
version was recorded in 2003.
4. TOUCH THE SKY        2:20 (Findlay © 2004)
5. THE SECRET AIRFIELD        1:44 (Findlay © 2003)
Every Russian city has its own version of a story that tells of the Beatles landing there on their way to Japan. If the tale is questioned, the residents will invariably quote the lyrics from the Beatles song "Back in the USSR".
7. THE LAND WHERE ROCK WAS BANNED        3:03 (Pelyushonok-Sansom, ©1975-2003)
8. THE GOLDEN RECORD        2:45 (Findlay ©2005)
During the late 80s Paul McCartney released an album exclusively for the USSR. Soviet sailors used to bring copies of the LP abroad and exchange them for hard currency.
9. THE YEAH-YEAH VIRUS (demo)        1:40 (Pelyushonok-Sansom ©2000)
Printed in Canada