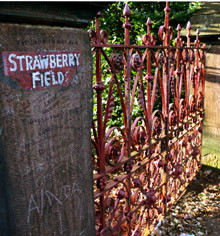 Strawberry Fields
(John Lennon/Paul McCartney)
Let me take you down, 'cos I'm going to Strawberry Fields
Nothing is real, and nothing to get hung about
Strawberry Fields forever
Living is easy with eyes closed, misunderstanding all you see
It's getting hard to be someone but it all works out, it doesn't matter much to me
Let me take you down, 'cos I'm going to Strawberry Fields
Nothing is real, and nothing to get hung about
Strawberry Fields forever
No one I think is in my tree, I mean it must be high or low
That is you can't you know tune in but it's all right, that is I think it's not too bad
Let me take you down, 'cos I'm going to Strawberry Fields
Nothing is real, and nothing to get hung about
Strawberry Fields forever
Always, no sometimes, think it's me, but you know I know when it's a dream
I think I know I mean a "Yes" but it's all wrong, that is I think I disagree
Let me take you down, 'cos I'm going to Strawberry Fields
Nothing is real, and nothing to get hung about
Strawberry Fields forever
Strawberry Fields forever
Strawberry Fields forever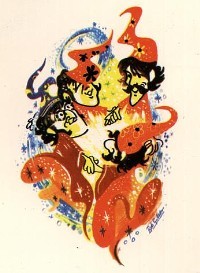 The song Strawberry Fields Forever appears on the Magical Mystery Tour album.
On May 31, 2005, Strawberry Field, the Liverpool orphanage that John Lennon immortalized into a hit song, officially closed it's doors for the last time. After 69 years of it's existence the decision to close the orphanage was made by the Salvation Army this past January. The three remaining children who were living at Strawberry Field had been placed foster homes or under the control of Liverpool's social services.

The reason for the closure stems from a major policy shift by Liverpool's City Council which has seen a larger number of children placed in foster homes as opposed to institutions (foster care families actually doubled for the 2003-04 period thereby decreasing the demand for children being placed into orphanages.)

"It's a Salvation Army home that was near the house I lived in with my auntie in the suburbs," said John Lennon in a September 1980 interview with David Sheff for Playboy when describing Strawberry Field. "There were two famous houses there. One was owned by Gladstone, which was a reformatory for boys, which I could see out my window. And Strawberry Fields was just around the corner from that. It was an old Victorian house converted for the Salvation Army orphans, as a kid I used to go to their garden parties with my friends Ivan, Nigel and Pete. We'd all go up there and hang out and sell lemonade for a penny and we always had fun at Strawberry Fields.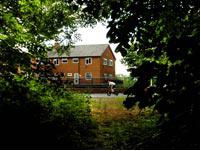 Strawberry Field orphanage is located on 15 acres of ground on Beaconsfield Road, Woolton. It was donated to the Salvation Army in 1936.
"Apparently, it used to be farm that made strawberries or whatever. I don't know. But I just took the name," exclaimed Lennon, "it had nothing to do with the Salvation Army. As an image -- Strawberry Fields forever."
"I remember John Lennon sneaking into our garden parties from the back gate," said former 63-year-old resident Pat Fitt of Wavertree. "The children who played around always wanted to know about the home." On the closing of Strawberry Field, Ms. Fitt lamented: "It was a wonderful place and I made great friends there." According to Kate Mansey of the Liverpool Daily Post, "Ms. Fitt arrived at Strawberry Field as a three-year-old in 1944" and that "she worked at the home until 1991."
The final day saw staff "working this morning to move everything out" of the Strawberry Field. Said Assistant Manager Peter Burns: "It is a very sad day for all the staff as it is the last day the children will cease to be a working children's home.
"It has been a very emotional time for all the children and staff. I can't praise the staff enough. They have been 100% committed to the children and the home over the years - so much so that it has become like another family for them."
Of the 26 staff members who ran Strawberry Field, only a few staff members will stay behind until August to clear up the remaining administrative tasks. And as to the fate of the building itself, no decision has been yet made but Sheila Powell, 69, who was one of the first who was taken into care at the orphanage pines: "It is wrong for them to close Strawberry Fields. The Salvation Army were my only parents and now I hope that the building is put to good use - as a holiday home for children for example."
During its lifetime, the charity orphanage at one point went through a financial hardship and it looked as though it might close down. However, Strawberry Field was rescued in 1984 when "Lennon's widow Yoko Ono donated more than $70,000 US to keep Strawberry Field open," wrote the Canadian Broadcast Corporation. Apparently Lennon left money in his will for the orphanage to use.
Strawberry Fields was written in Carboneras, Spain, where Lennon was being filmed for Richard Lester's "How I Won The War" sometime between September 19 - November 6, 1966. The song, Strawberry Fields, was recorded in the final months of 1966 along with Penny Lane and When I'm 64.
"When John first brought me Strawberry Fields, it was a very gentle song and he sang it beautifully. It was gorgeous," said George Martin, the Beatles music producer. "I loved the word imagery, I loved the harmonic changes, and I loved the tune. I thought it was terrific." He went on to say that Strawberry Fields "broke fresh ground, and without wanting to sound too pretentious, I think it was a new kind of art form."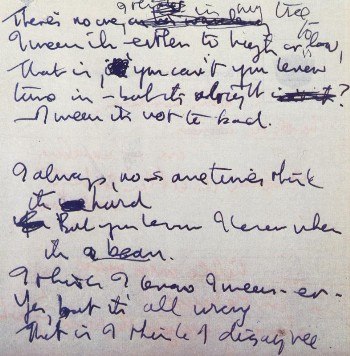 John Lennon's hand-written lyrics to Strawberry Fields
Strawberry Fields has indeed been acknowledged as the first full-blown psychedelic (pop art) Beatles song. Music historian Mark Lewisohn has remarked that Strawberry Fields imagery was based on the summer fêtes that took place at the Salvation Army home. Lennon "evokes those childhood memories through a dreamy, hallucinogenic haze. It was, and still is, one of the greatest pop songs of all time," said Lewisohn.
The song was released as single in February 1967. It made number #1 in the United States but only peaked at number #2 in the British charts that was prevented by Engelbert Humperdinck's Release Me which scored 6 weeks at the number #1 spot.