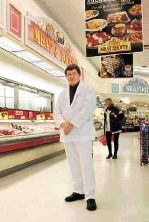 Photograph by Jeff Vinnick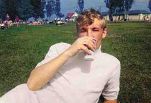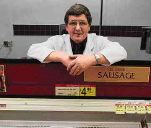 Photograph by Jeff Vinnick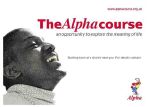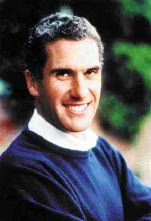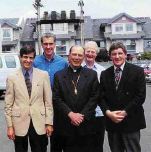 On a damp spring Friday evening in suburban Vancouver, a 55-year-old Safeway meat cutter stands in the basement of St. Francis de Sales Roman Catholic Church -- which is perfumed with the air of a thousand bake sales -- and stares down three dozen parishioners and their priest. "I think it's an absolute load of rubbish," says the man in the feisty burr of his native Scotland. "This Jesus stuff, man, you've got to be kidding me!"
The parishioners squirm, but say nothing, and Vernon Robertson, former heathen, gambler, fond of the drink -- though you wouldn't guess this from looking at him -- turns up the volume. "I cannot believe God, who created this universe, would ever want to become a man in this mess and go through all this stuff and die on the cross. I don't buy it! It's nonsense!"
Once upon a time, anyone who dared march into a Catholic church and throw down such a heretical gauntlet would find himself aflame in the town square, but not here, not now. Vernon Robertson's audience, devout Catholics all, drink up his words. And Vernon Robertson has a lot of words, for he is the Archdiocese of Vancouver's go-to guy when it comes to doing something the Catholic Church hasn't done in any serious way for a century or so: evangelizing the unchurched, the lapsed and the unrepentantly atheist.
Robertson's heretical challenge to the St. Francis de Sales crowd is rhetorical; of all the words he eloquently strings together, those questioning the godhead of Jesus are ones he doesn't believe for a second. But that is part of his appeal -- he says what the people before him are thinking. It works. "We don't have an office of evangelization like other dioceses do -- we have Vernon," says the affable Monsignor Gregory Smith, Chancellor of the Archdiocese of Vancouver. "It's quite astonishing. At no point in our history has a lay person without a theology degree given courses in evangelization."
Which might be called monsignorial modesty, for Vernon Robertson makes those with theology degrees look like pikers, if you can imagine a theologian carving up fatted calves at Safeway.
Bespectacled, slight, with the soft hands of a scholar and the self-containment of a monk, Robertson looks more like a priest in mufti than a moonlighting meat cutter, let alone a Catholic action hero. He believes that divine purpose has tapped him to ignite people's hearts with the flame of evangelization, and after watching him expertly work the crowd, it's not difficult to see why the archdiocese is happy to let Robertson loose on both Catholic and infidel alike. He speaks in energetic, lucid paragraphs, quoting scripture and analyzing papal encyclicals with the ease of a cardinal, challenging the punters with provocative rhetoric and humour. He's the kind of speaker many Catholics would love to find in their pulpit come Sunday morning.
But Robertson is in church on a Friday night instead of in front of his TV, watching hockey, because of a revolution in the Christian theological world, one called Alpha, that he says has become the "perfect tool" for teaching Catholics how to bring the word of the Lord to godless Vancouverites. Indeed, for Robertson, Alpha is nothing less than a gift "God has given to Christendom."
- - -
The Alpha movement began in England in 1979 as a course for new or lapsed Christians at the Anglican parish of London's Holy Trinity Brompton, a church within easy staggering distance of Harrods under a full load of shopping. At first, it was a quiet affair for the wealthy parishioners of HTB (as it's known in the Alpha world). But it was soon recast into a populist Christianity 101 for "atheists, agnostics and those who've never been to church in their life," says its prime mover, The Rev. Nicky Gumbel.
Gumbel arrived at Holy Trinity Brompton in 1991. By 1993, under the dynamic ministry of the lean 48-year-old, who has the chiselled glam of a Hollywood player and the poise of the Cambridge-educated barrister he once was, Alpha had moved beyond the swanky church's walls. Alpha indirectly got its big break in Toronto, where on January 20, 1994, 80% of the congregation of a Christian Fellowship church near Pearson International Airport suddenly dropped to the floor and, writhing in convulsions, began to speak in tongues.
Though the Torontonians were not Alpha-ites, their experience, which became known worldwide as the "Toronto Blessing" (the blessing being a visitation from the Holy Spirit, who gives, among other graces, the "gift" of speaking in tongues, or "glossolalia"), quickly intersected with the world of Alpha, which also invites glossolalia. Gumbel flew to Toronto to see if it was hysteria or the Holy Spirit. "It is very controversial," he says, "but the Toronto Blessing was a wonderful, wonderful thing."
Wonderful because it fuelled an international interest in Christian fundamentalism, which is exactly what Alpha was offering the world. And controversial because speaking in tongues is something polite Christian society associates with Southern Gothic caricatures who appear to have been conceived during the love scene in Deliverance.
With the attractive Gumbel at the helm, offering a self-deprecating, non-threatening introduction to the basics of Christianity, speaking in tongues suddenly didn't sound so strange, but rather just a kind of chat with the Holy Spirit. The Holy Spirit's own gifts of communication were helped by a £1-million ad campaign in London, designed by the city's top ad agencies, though it was word of mouth through the churches that gave Alpha its global reach, currently 116 countries around the world. The word is that Nicky Gumbel is now more powerful than the Archbishop of Canterbury. And while the humble Vernon Robertson would never dream of thinking of himself in terms of power, he has a similar kind of influence within the Catholic contingent of Alpha here in Canada.
- - -
Vernon Robertson came late to this career. In his youth, he was what's known in his Scottish vernacular as "a bit of a lad." He was profane, he liked a few drinks -- especially Bacardi and Coke -- and his church was the racetrack. "I used to gamble big money," he says, not as a boast, but as a fact. "When I was 17, in Scotland, I was very good. I studied horses, and there was races at Goodwood in England, the Steward's Cup, and there's 28 runners, and I picked three of the first four."
Robertson was making £5 a week as an apprentice butcher, but pulling in enough dosh playing the ponies that he bought his mother a £120 chesterfield, something of which he's still proud. "I was making so much money, the bookie came up to me and says, 'Don't come back,' " Robertson grins. "I came home one night, it was a Saturday, and I had money in every pocket. I was on the floor, on my knees, and the money was all over the living room and my brother came in and he thought I'd robbed a place. But I won over a year's wages."
Ironically, Robertson says, his progress as a rake was one of the reasons he came to Canada at age 19. "I thought, 'You can't live like this. I mean, this is not life, no matter how much you can win or what you can do with it.' And I knew that early, and I says, there's got to be more than this."
"More" came in the shape of Maureen, a comely 17-year-old Catholic lass with lively blue eyes whom Robertson met on a blind date in Toronto in 1968, one set up by his friend -- "who's now a multi-millionaire," Maureen says, with a laugh, "so maybe I went with the wrong one." Though the couple will celebrate their 33rd anniversary this September (along with their three children and five grandchildren), religion almost rent them asunder.
"One day, just as a throwaway line, she says, 'If there's any reason we couldn't get married in the Church, we can't get married,' " says Robertson. "And I just thought, 'Ah, there's something more important than me in the scheme of things.' "
So Robertson became a Catholic to get the girl, though he says he always had a spiritual hunger. Back home in Aberdeen, his very first schoolteacher, Miss Freeman, would read stories from the Bible to five-year-old Vernon, "and this sense of well-being and a warm goodness overcame me. I can remember running up the stairs saying, 'I wonder what she's going to tell us today.' "
That inquisitive spirit followed Robertson to Vancouver in 1976, although, he recalls, "The only difference in my life was, I was going to Mass. But I was still profane, I still could have problems with alcohol, given the right or wrong situations, I loved to gamble, in binges."
Then, one Monday night in 1978, at a Charismatic Catholic prayer group (a late 1960s offshoot of Protestant Pentecostal fervour, where people also speak in tongues), Vernon Robertson "really experienced the power of God -- the power in such a way that my body just turned to Jell-O." In the middle of a prayer meeting, while a woman was praying aloud, Robertson found himself literally floored. "I'm lying on the ground, I don't know what this is," he says. "So then I hear the woman say, 'We're now going to close with the Our Father,' and I heard myself say, 'There's no way I'm lying down here,' so I tried to get up, and I'm on my knees, and I can't get up."
The other supplicants hoisted Robertson to his feet, and he joined in the Our Father. But his mind was drag racing his heart as he scrambled to understand what had just happened. "I stand there knowing there's something else. God's doing something to me. When this woman spoke, which I would say was charismatically, her words were like nails, physically, into my heart: 'I love you with an everlasting love to your heart. I will never leave you nor forsake you.' I had plunged into a love of God."
Vancouver turned out to be his road to Damascus: He soon began his evangelizing ministry in earnest, travelling the world and eventually winding up at the Alpha course in 1997. "I thought it was good," he says, "but I didn't know how to work it." So he did what he always does: had a word with God. In 1999 he got the archdiocese interested in the Alpha program, and set out to find a way to make it work for Catholics. Robertson picked a small team to launch Alpha programs in three Greater Vancouver parishes, their methods identical to those used by early disciples of Christ. "At the same time we trained them, we would invite surrounding parishes to come and see what we were doing and, if they were interested in running Alpha, we'd go back to their parishes and help them." It was easy, cheap and effective.
- - -
If you want to get people to believe they can speak in tongues and evangelize the world, then Nicky Gumbel's Alpha is a stroke of genius. Its interdenominational appeal comes from its hip, non-judgmental soft sell of Christianity's basics. The method is so simple that the Prince of Darkness is probably making crib notes: Invite an "unchurched" (read heathen) friend to a lavish, Church-sponsored meal, where you don't talk religion at the table, then follow it up with Gumbel's amusing 30-minute introductory video, "Christianity: Untrue, Irrelevant, and Boring?" Then, over the next 10 weeks, repeat the procedure, with slight variations.
Taking a page from Christ's ministry, each Alpha meeting begins with a communal meal. "Your food team is probably one of the most important aspects of the whole course," says Robertson. "If you do food well, it is amazing how it breaks down the barriers." The butcher in him can't resist adding, "And don't get into cheapo stuff like ground beef."
After coffee and dessert, Alpha participants in English-speaking countries watch Gumbel's witty video homilies on everything from "Who is Jesus?" to "How Can I Resist Evil?" (The French might soon have to bump Jerry Lewis for the jocose Gumbel, who's started to dub his tapes en français.) Afterward, participants gather in small discussion groups, where a group leader facilitates open-ended dialogue, of the kind that Vernon Robertson was illustrating via his atheist screed to the squirming parishioners of St. Francis de Sales. In Alpha's world, you don't argue back with non-believers. "You turn it back on him and ask him to think through his own question," says Robertson. "And finally, they'll get frustrated and they'll say, 'We don't care what everybody else thinks -- what do you think!?' and then you tell them. You're not going to start preaching at them. It's just to let people talk, and think about what they're hearing."
You get the gist of just how many people are hearing the message when The Rev. Nicky Gumbel rattles off the stats to me. Sixteen thousand churches in places from Kazakhstan to Singapore now offer Alpha programs. In Canada, Alpha's national administrator, Sally Start, says that more than 400,000 people have participated in an Alpha course in Canada over the past four years, with Ontario and B.C. accounting for two-thirds of the total, and Anglicans leading the way.
Even more remarkably, Alpha's message transcends sectarian squabbles, lodging itself in the bosoms of Anglicans, Baptists, Catholics and so on, all the way down the Christian alphabet. Gumbel is pleased to note, "In Ireland, it's wonderful to see Catholics and Protestants running the same course, getting to get together to pray."
Not only is Alpha popular, it's rich. HTB alone rakes in nearly $12-million annually from its parishioners in the collection, while participating Alpha parishes kick in $500 from their own funds to buy the videos and manuals when they run the course (the videos and instruction manuals are a one-time expense, while the participant manuals vary from church to church). When you do the math, at the moment, Alpha has made at least $8-million from the 16,000 courses -- and then some, when churches and individuals and corporations make donations. Nicky Gumbel's huge staff at HTB and his slick yet sincere international marketing campaign of videos, newsletters and conferences reveal an organization that knows what it's doing, and has the means with which to do it.
- - -
Cold hard cash has never met a religion it didn't like, but money is not the thing that has earned Alpha criticism: It's the speaking in tongues, which, to some, seems more fanatical than fundamental. And the movement's tendency, as some Christian observers note, to make the Christian message too simplistic, with God and Christ as camp counsellors. Or worse, letting the Roman Catholics play, too -- since many Christian fundamentalists, in more generous moments, regard Catholics as being in league with Jews, Muslims, and worshippers of Apollo.
Vernon Robertson thinks that has changed as more Catholic parishes have been hosting Alpha programs and conferences. "I think the Protestants have accepted us. I've seen more Protestants impressed when they start discovering what Catholics are really about. For instance, a youth pastor's comment at an Alpha conference held in Vancouver was, "I never realized Catholics were so in love with the Holy Spirit."
Despite Alpha's success in Canada, the Roman Catholics came late to the party. Vancouver's Roman Catholic Archbishop Adam Exner says the delay comes less from Catholic suspicion of some Protestant plot than from due diligence. "Alpha was initiated in the Anglican Church," says Archbishop Exner, "and it was only after a while that the Catholic diocese realized, 'Hey, this may be a tool that may be helpful to us.' It had to mature and it had to make its way in and prove that it was a good program, and gradually it began to spread."
That spread, says Robertson, now covers 27 Catholic parishes from "Chilliwack to UBC," with thousands of lapsed and non-Catholics coming to see what it's about. That's why the Vancouver Archdiocese, historically one of the country's most conservative (not surprising, given the city's British, anti-Catholic sensibility until Expo '86, when the rest of the world started to move in), loves Vernon Robertson. "I don't know if the Church chose him," says Archbishop Exner. "He just emerged, and I saw what he was doing, and I was impressed. He was instrumental in bringing Alpha, and he did that with my blessing, and he has also been organizing sessions for training lay people to evangelize and make converts."
At an Alpha evening at St. John the Apostle, a Catholic church in Vancouver's affluent Kerrisdale neighbourhood, 40 people -- white, Asian, young, old -- have foregone their G&T's at the tennis club to eat chicken, Caesar salad, and chocolate cake before listening to Gumbel speak on the video about "Why and How Do I Pray?" Gumbel uses humour to set up his thesis, as he often does, telling a joke about a man who's fallen off a cliff, the only thing between him and doom being the tuft of grass to which he clings. Suddenly, God's voice comes from above, saying, "Trust me and let go." The man looks down into the abyss, thinks about this, then asks, "Is anyone else up there?"
The St. John the Apostle crowd, led by Robertson, laughs along with the 800 souls in the video, who are Gumbel's audience at HTB. The London parishioners are a well-heeled and attractive lot, which the video camera is fond of pointing out as it lingers on yet another well-to-do English rose gazing admiringly at Gumbel.
Jolinda McGarvey and Dean Linden, at the St. John the Apostle Alpha meeting, could easily be part of that young, telegenic crowd, radiating as they do prosperity and well-being. "Our desire to get married in the Catholic Church led us to the marriage prep courses, which sort of led us to Alpha," says Linden, 33, a bio-tech executive, and the older brother of Vancouver Canucks centre Trevor Linden, who also married a Catholic. "Looking at religion seriously came from Jolinda's dad," says Dean Linden, "who was so disappointed that I wasn't Irish and that I wasn't Catholic. I can do something about the Catholic thing, but I can't do anything about the Irish thing, unfortunately."
McGarvey, 33, was national vice-president of a U.S.-based golf sales company before moving to Vancouver as Linden's fiancée. She's typical of one of the target groups Alpha is looking to land: those who have lapsed. "I'm baptized Catholic, but that's about where my religion has stopped -- not my religion, my practise," she qualifies, "so my goal with Alpha is to get some understanding, and then to build on that."
Both Linden and McGarvey are the type of people Robertson wants to attract. "For the Catholic world, the word 'evangelization' has been a forgotten word. In Vatican I, the word was hardly mentioned in the documents; in Vatican II, it's mentioned, I think, 154 times. So, in this century, there's been a fundamental shift in the Catholic Church. And the shift has been from a maintenance model to an evangelization missionary model."
Getting Catholics to knock on the doors of strangers to proclaim the Good News is as easy as getting Jehovah's Witnesses to stop. Even though the Pope has been calling on Catholics to get out of the pews and into the streets, the arrival of Alpha means a would-be soul-saver no longer has to quit civilization to take up some position as a missionary with a tribe still living in the Stone Age. Robertson, for his part, continues to work at the Safeway, and relies on the Alpha model, where you just flip through your Rolodex of "unchurched" and invite one of them to dinner and a video and let the Holy Spirit do the rest.
"If we look at our roots in the Book of Acts, we see how the early church [spread the word]," Robertson tells one group of parishioners, at St. Francis de Sales church. "They raised dead people, they cast out demons, they healed sick people, they proclaimed the Gospel, and that's why we're here tonight, because of their witness that's been passed down for 2,000 years." Robertson means that people here and now, although they may have Palm Pilots and SUVs, are directly linked to all the Christians who have passed before and, to keep the link alive, must go out there and bear witness. It's not something Catholics like to do, but these ones look like they'd follow Robertson into, well, Hell.
Robertson loves Alpha for many reasons, not least of all its "do-ability" factor. The Alpha course is free, though if anyone wants to contribute to the weekly dinner, a collection bowl can be found loitering on the dessert table and no one will stop you from dropping in a twenty. But the reigning corporate ethos is "God will provide," or as Robertson puts it to much laughter at St. Francis de Sales, "God's got lots of money -- it's just in somebody else's pocket."
Robertson is quick to stress that people who decide Alpha is not for them will not be hounded into misery by some reclamation committee. "We will not phone you, we will not chase you up. This is a very low key, non-threatening approach." Of course, the end-game of all this is to get people back solidly into the Christian fold, and despite the easygoing methods, the message is as it ever was: sex outside of marriage, homosexuality, and not believing in Christ are express tickets to Hell. Despite the relaxed, inquisitive nature of Alpha, it is still proclaiming a belief system, and the only things that ultimately are negotiable are free will and faith.
"I can't save anybody," says Robertson, with vigour. "I can't even save myself. I need to co-operate with God's graces and, through my co-operation and response, I can receive the Saviour. But I can't save myself, and neither can you. In the past, training people to share their faith was like fishing with a rod. With Alpha, what we're doing is training people to fish with a net."