December 28
THE BEATLES TO BE FEATURED ON ROYAL MAIL STAMPS
The Royal Mail, the national postal service of the UK, is issuing a specially produced set of stamps to celebrate the cultural contribution and impact of the Beatles' music.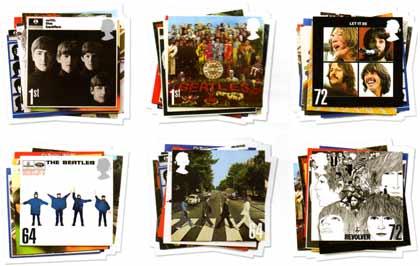 The first day of issue is 9 January 2007. First day envelopes and other related products can be ordered on line here:

First day envelopes will appreciate in value. Yet the price is very reasonable and there is no additional cost for mailing abroad from UK.

------------------------


December 23, 2006:

Dear Ottawa Beatles Site readers:

We will be taking a break over the next few weeks to enjoy the festive holiday season. That said, both Tony Copple and myself would like to extend to you and yours a very Merry Christmas and a Happy New Year. Please click on the Christmas tree to your left and follow the instructions for our very special Christmas wish to you!

This year, we saw the release of The Beatles Love soundtrack which proved to be another big winner both for Beatles and their fans as the album went gold in the United States. It is currently the number 1 seller on the European Top 100 Albums. This year four more Beatles CD's were released from "The Beatles - The Capitol Albums Vol. 2" series which is so essential to North American baby boomers who grew up listening to those Beatle LP's on Capitol Records. Capitol albums had a unique sound and feel to them unlike the original U.K. releases which is why it makes them so collectable.

Will there be a third Capitol boxed set in that series? We don't know, but if there is, fans would like to have "The Beatles at the Hollywood Bowl" for inclusion since this is the only official "live" recorded Beatles material on an LP that has yet to make onto CD format. While the petition was sent in several months ago to Capitol Records executives in North America and to Neil Aspinall at Apple in England, we urge fans to continue and keep up the pressure and sign the petition to get the Hollywood Bowl released onto official CD format. The Hollywood Bowl performances is what "Beatlemania" was all about and recorded at a time when the Beatles were at their very best as a rock and roll combo.

We also hope that in 2007, Apple Corps offers up the Beatles "Let It Be" DVD. Fans have waited long enough for this one, so lets make it happen.

Both the Beatles "Hollywood Bowl" CD and "Let It Be" DVD are two projects well worth considering of things to release in the new year.

John Whelan
Ottawa Beatles Site

Year end wrap on Beatle news

Two pieces of news to report:

The BBC will broadcast "IMAGINE...The Beatles In LOVE" on December 27, 2006, at 10:30 p.m. on BBC One. This will be an in-depth documentary about the creation of LOVE - the music and show. The program is expected to air in other countries next year, according to Apple records.

The second news item regard's Lou Harrison's signed copy of "Meet the Beatles" with all four signatures on it. It was sold to an unidentified buyer for $115,228.82. Bidding began at $25,000. The album was sold yesterday (December 22) through "ItsOnlyRockNRoll.com" online auction company.

------------------------

December 21, 2006
A new Beatles video: "Within You Without You / Tomorrow Never Knows"

Hi John–

Thought you might be interested in The Beatles video for "Tomorrow Never Knows."

Thanks!

Sara Israel,
Special Ops Media, New York
The Beatles new video: WITHIN YOU WITHOUT YOU / TOMORROW NEVER KNOWS

Legend:

v100.ram + V100.asx + v100.mov = dial-in streaming
v300.ram + v300.asx + v300.mov = hi-speed streaming

Click on the appropriate "ON AIR" image below for the new Beatles video "Within You Without You / Tomorrow Never Knows"

RealPlayer

Windows Media
QuickTime

v100.ram

v100.asx

v100.mov

v300.ram

v300.asx

v300.mov

Video: © APPLE RECORDS, 2006
Beatles spend Christmas at the top of European Top 100
By Paul Sexton
The Beatles 'Love' (Apple) will spend Christmas at No. 1 on European Top 100 Albums, after starting a fourth week atop the composite sales chart. It stands at No. 1 in just one individual market, Greece, but 'Love' also climbs back from 7 to 5 in France, from 10 to 9 in Spain and holds at No. 6 in the United Kingdom. In that territory, the album impressively posts a
sales tally of 106,000 units, up 17 percent from the previous week. Its four-week U.K. total is up to 466,000, according to charts compiler to Official U.K. Charts Company.
© 2006 by VNU eMedia. All Rights Reserved
------------------------
December 20
Quick News Picks:
FBI forks over secret Lennon files -- from CBC news; and then this related link which illustrates (before and after) the 10 new Lennon documents" at Jon Wiener's website, John Lennon - FBI files. Full coverage from the American Civil Liberties Union: After 25 years, FBI Finally Releases Last 10 Documents in John Lennon FBI File.
------------------------
December 18
New Beatles "Love" soundtrack achieves Gold Record status!
The Beatles have earned themselves another Gold Record. The soundtrack "Love" has sold 569,605 units in the United States marketplace. Total USA sales figures (to date) are calculated from various news sources over a three week period: 271,605 units (30- Nov-06, from the Associated Press); 146,000 units (08-Dec-06, from USA Today); and 152,000 units (15-Dec-06, from Monster and Critics press).
Quick News Picks:
Paul McCartney regrets not finishing third Beatles reunion song - by The Rock Radio; Denis Payton of the Dave Clark Five dies - by Reuters; Immigration Warrant for Yoko Driver - by Metro.co.uk.
------------------------
December 16
10 reasons why Ringo should be knighted - by Daniel Finkelstein, TimesOnLine
1.
The Beatles are not just another pop group they changed popular culture.
2.
Ringo has an MBE. Tom Jones has a knighthood.
3.
The Beatles are a symbol of this country's creativity that is recognised in every part of the globe.
4.
Ringo has an MBE. Cliff Richard has a knighthood.
5.
Have you heard the drumming on Abbey Road?
6.
Ringo has an MBE. Errol Brown of Hot Chocolate has an MBE.
7.
Before Ringo joined the Beatles they were nothing.
8.
Ringo has an MBE. Gerry Marsden of Gerry and the Pacemakers has an MBE.
9.
Have you seen Help?
10.
Ringo has an MBE. Jeffrey Archer has a peerage.
Daniel Finkelstein, a journalist for the TimesOnLine, has started up an on-line petition at the 10 Downing Street website which reads as follows:

"We the undersigned petition the Prime Minister to recommend to the Queen to confer a knighthood on Ringo Starr (Richard Starkey MBE)." The petition is open only to British citizens or residents and will continue until February 13, 2007. The petition was recently started and has 136 signatures thus far. To view and sign the petition, click here.

Related links: Knight Ringo? published by Canada's "National Post"; Arise, Sir Ringo - a letter submitted to "The Guardian"; and The Sun in the U.K. has also backed the petition: Arise, Sir Ringo, you are a Starr.

------------------------

December 15

Beatles Signed LP Could Set World Record at ItsOnlyRockNRoll.com Auction Dec. 16

Huntington, NY, December 14, 2006 --(PR.COM)-- George Harrison sister's "Meet The Beatles" signed LP is heading for a world record for a set of Beatles Autographs as the one and only copy belonging to Louise Harrison with photo documentation and eye-witness authentication sells Dec. 16 at ItsOnlyRockNRoll.com Catalog Online Auction.

On February 11, 1964, just two days after the Beatles historic first appearance on the Ed Sullivan show in New York, the band boarded a train en route to Washington, D.C., where they played their first U.S. concert before a paying audience at the Washington Coliseum.

On the train with the Beatles were reporters, as well as members of the Beatles entourage including Louise Harrison, George's sister. Midway through the trip, Beatle road manager Neil Aspinall presented Louise with a promotionally stamped copy of the groups' first US release on Capitol records, "Meet The Beatles."

A short while later, right there on the spot, all four band members signed the reverse of the LP cover in black ballpoint pen as follows; John wrote "To Lou many love from John Lennon X"; Paul wrote "To Louise with love from your older brother !! Paul McCartney XXX."; George wrote "To Lou with Love from "Brother" !! George Harrison"; Ringo wrote "To Lou Lots of Love Ringo Starr XXX."

All four signatures are excellent and complete examples from this historic time period. This cover has been personally consigned by Louise herself, who has treasured this keepsake from the day it was signed. The cover was recently on display at the Clinton Museum.

Louise was interviewed with the album on the Larry King show and a clip is included with this lot. This first issue cover comes with the original accompanying vinyl in VG+ condition. The LP cover itself has some seam splitting and has small front tear at the letter E. On John's signature, the pen has skipped slightly on the letter "h" and also on the first letter "n" in his last name, however the entire signature can be seen. On the tail end of the signature John took the time to go over the final letters and redo the "X".

Such a well documented and personally connected set of Beatles autographs has rarely been offered for sale. The fact that it is on one of the most desirable record jackets to have signed by the band makes this perhaps the ultimate signed Beatles LP. In the history of the hobby, this is only the 9th authentic signed American LP cover to surface according to all the experts and historians, based on documented history of past auctions worldwide and all known private sales. With such impeccable provenance this very well could be the 'Holy Grail' of signed Beatles LP covers. Comes with LOA from Frank Caiazzo.

ItsOnlyRocknRoll.com is the leader in sales of authentic rare Rock n Roll memorabilia, with bi-annual catalog auctions setting world records in Beatles memorabilia and autographs, rock n roll and live concert posters, celebrity personal effects and awards.

The auction will feature investment grade, museum quality artifacts, writings and autographs of The Beatles besides George Harrison's sister, Louise's, personal copy of the LP "Meet The Beatles" album hand signed at the time by all four Beatles and given to her on the train to their first US concert in Washington D.C. It is expected to fetch in excess of $100,000. It is one of fewer than ten US signed Beatles albums known to exist. It is the rarest and most desirable example of an autographed Beatles album ever offered for sale, with unparalleled authenticity from Louise Harrison.

There are signed contracts, letters, checks, program concert books, both group and solo autographs, all authenticated by Frank Caiazzo, the world recognized leading expert on Beatles autographs and handwriting. There are sets representing the various line-ups as The Beatles employed other drummer's in the course of their career including drummer Pete Best, who preceded Ringo, and fill-in drummer Jimmy Nicol. John Lennon's actual signature and instructions that was used for the cover of his LP "Walls & Bridges" estimated at $9,000-$12,000. A check signed by both John Lennon and Paul McCartney that is estimated at $7,000-$10,000.

ItsOnlyRocknRoll.com owner Marc Zakarin says "Rock n roll memorabilia and especially Beatles autographs and concert posters have never been hotter or more in demand and this auction will offer the cream of the crop in these fields and beyond."
Other autographs and writings include Mick Jagger handwritten lyrics, Bob & Sara Dylan signed agreements, a Jimi Hendrix contract as well as autographs from Otis Redding, The Rolling Stones and many others.

ItsOnlyRocknRoll.com offers the opportunity to purchase a very rare, full color, live concert film of The Beatles in Detroit, a never before heard interview with John & Yoko by Howard Smith and a backstage impromptu performance at The Fillmore East, both offered with copyright. Another audio highlight of the auction is Bob Dylan's earliest recordings from 1961.

The Joe Hilton Beatles Promotional Poster and Display Collection featuring the scarce holy grail of promotional displays, an in store motorized display for their Capitol Records debut "Meet The Beatles" is expected to bring $25,000-$35,000.

There is a Dove ornament obtained from fabled musician Ronnie Hawkins that John Lennon was photographed holding on the famous Rolling Stone magazine cover. Plus Dee Dee Ramone's 1992 unpublished Autobiography Manuscript with handwritten notes, and a group of autographed Ramones concert posters.

Concert Posters offered include The Beatles Xmas show at the Odeon in the UK, an oversized cardboard boxing style Otis Redding at Boston Garden, the rarest Grateful Dead poster for a concert in Hawaii that was cancelled in 1969 known as Hawaiian Aoxomoxoa by Rick Griffin, the rarest poster from Bill Graham's series advertising a 1967 Toronto Grateful Dead concert, A 1955 Elvis Presley concert poster, a 1956 Bill Haley and Chuck Berry "Biggest Show" boxing style concert poster, an extensive collection of posters from concerts in the Boston area and the original art from concert posters by Rick Griffin and Stanley Mouse for concerts by The Doors, Bob Dylan and Grateful Dead.

Rare vinyl includes "Sgt. Pepper" acetates from the UK which belonged to Magic Alex with alternate material, and a serial #6 Beatles UK WHITE Album, both of which are valued at up to $25,000. "The Screw," a 45 record that Phil Spector put out to finish up his contract and the complete set of Elvis Presley Sun records singles valued at over $15,000 round out the record material.

Guitars include Robbie MacIntosh's guitars used on stage with Paul McCartney, Dweezil Zappa's guitar, a Traveling Wilbury's guitar signed by George Harrison, Tom Petty and Jeff Lynne, blues legend Roy Buchanan's guitar and guitars signed by Pearl Jam, Elvis Costello, Black Sabbath and many others.

Mick Jagger's Stage Worn Top Hat with photo identification (a key aspect to authenticating memorabilia), a scarf worn by Mick at the premiere of the film "Ladies & Gentlemen The Rolling Stones," Jerry Garcia's black T-shirt and harmonica, a Michael Jackson personally owned, worn and signed Fedora, John Lennon's shirt, worn on the 1966 International tour with superb documentation and photo identification, John owned and worn French Blue Jeans, Elton John outfits, and Cab Calloway's hat.

For more information contact:
Marc or Deb Zakarin
631-385-1306

© 2006 by PR.com. All Rights Reserved

Stella McCartney has second child

Stella McCartney gave birth to a daughter named Bailey Linda Olwyn Willis. The baby was born in a London hospital on December 8 and weighed 7 lbs., 14 oz. "Everyone's doing well - they're delighted", said Stella's spokesperson Stephane Jaspar. Bailey is Stella's second child with her husband Alasdhhair Willis. Their first child, Miller, will turn two on February 25.

The birth of Bailey marks the fourth grandchild for Sir Paul McCartney. The other grandchildren are Arthur, seven, and Elliot, four, is from his daughter Mary, 37.

Stella McCartney, who has established herself as a fashion designer, received the VH1/Vogue Designer of the Year award in 2000. Her current plans will see the launching of an organic skin-care line.

A Very Special Thought for Stella McCartney from the Ottawa Beatles Site web team:

"Babies are bits of stardust blown from the hand of God. Lucky the woman who knows the pangs of birth, for she has held a star."

- Larry Barretto

------------------------

December 13
Quick News Pick:

Obituary: Drummer, Freddie Marsden of Gerry and the Pacemakers dies, Southport Lancashire 9 December 2006 - by Spencer Leigh, Independent;

------------------------

December 8
OUR VIEW: All he was saying


By The Patriot Ledger

For a guy who's been gone for 26 years now, former Beatle John Lennon remains a remarkably familiar presence.

A recently released movie recounts Lennon's outspokenness against the Vietnam War and his subsequent persecution by the Nixon administration. The film, ''The U.S. vs. John Lennon,'' depicts Lennon's struggles against a paranoid and secretive administration in the early 1970s.

The modern-day parallels to the Iraq war and the in-denial Bush administration are obvious. So, to, with Lennon's ubiquitous holiday classic, ''Happy Xmas (War Is Over)'' - another example of Lennon's brand of sometimes naive but enduring optimism, and once again an anthem for wishful thinkers.

Lennon and his old band mates are back on the charts, thanks to a Cirque du Soleil music-meets-acrobatics performance and soundtrack that uses remixed versions and collages of Beatles songs. The album, ''Love,'' debuted on the Billboard album charts two weeks ago at No. 4.

No wonder Lennon made the top 10 this year in Forbes magazine's somewhat macabre annual list of the top-earning dead celebrities.

Lennon's widow, meanwhile, is in the news calling for today's anniversary of his violent death to become a day of worldwide healing. Yoko Ono is urging Lennon's worldwide fans and admirers to mark the anniversary with a day of healing for those who have suffered because of violence and war.

''Know that the physical and mental abuse you have endured will have a lingering effect on our society,'' Ono wrote in an open letter printed in the New York Times. ''Know that the burden is ours.''

Lennon would have been the first to second that thought. Shot in the back by a deranged fan on a cold American night, Lennon didn't get to live past 40. But his work, and his message, sure did.

© 2006 by The Patriot Ledger. All Rights Reserved

Related link: Yoko Ono's letter in the New York Times.

George Harrison's widow credits son for Beatles rarity being revamped
by the Rock Radio.com

George Harrison's widow Olivia Harrison credits their son Dhani with urging her to allow a rare arrangement of the Beatles' "While My Guitar Gently Weeps" to be included in The Beatles LOVE extravaganza now running in Las Vegas. For the show, and now the hit soundtrack album which is at Number Five on this week's charts, Harrison allowed the Beatles' producer George Martin to orchestrate an early bare-bones recording of the song for the show, which is the only such occurrence in the entire production.

Olivia explained to The Toronto Sun that, "I think (Martin's arrangements) were just completely appropriate and respectful and genius. Luckily, George had approved that (version) for The Beatles Anthology. I like to follow his instruction, and when they came to me with that demo, I actually didn't want them to use it, for the very reason they wanted to use it, (because) it was so intimate... I wasn't sure it would sustain in a big theatre throughout the whole number and also it was a demo. And then Dhani heard it, and he said, 'No, you have to let them use it, it's brilliant mom, you have to.' 'Cause I sort of defer to Dhani, he makes a lot of the musical decisions."

She added that she knows that George, who prior to his 2001 death was a player factor in teaming the Beatles with Cirque du Soleil for the LOVE production, would be proud of the show: "I think I can put my hand on my heart and say, 'Yes, he would have been thrilled.'"

© 2006 by Rock Radio. All Rights Reserved

The Beatles "Love" ranks #1 in global sales

United World Chart reports that The Beatles "Love" soundtrack is in its 2nd week at the #1 slot of having sold 436,000 units around the world. The strong demand for "Love" has beat out the debut entry of "Secret" by recording artists Ayumi Hamasaki which has sold 386,000 units, followed next with "Siempre" by Il Divo, 339,000 units and "18 Singles" by the Irish rock band U2 which has sold 330,000 globally.

United World Chart compiles the figures based on global sales data and national album-charts which include: IFPI, Nielsen Sound Scan (USA, Canada), Oricon & Sound Scan (Japan), Official UK Charts Company (United Kingdom), SNEP/IFOP (France), Media Control (Germany, Austria, Switzerland), Aria (Austalia), Afyve & Media Control (Spain), Fimi / AC Nielsen (Italy), ABPD (Brazil), Amprofon (Mexico), Mega Charts BV (Netherlands), GLF (Sweden), Verdens Gang (Norway), AC Nielsen (Denmark, Belgium), YLE (Finland), AFP (Portugal), Zpav (Poland), Rianz (New Zealand), RIM (Malaysia), Capif (Argentina), and other. Compilations are not eligible.

------------------------

December 6
A brand new Beatles book: "The Beatles In Cleveland: Memories, Facts & Photos About The Notorious 1964 & 1966 Concerts"

Hi Tony,

I just ran across your Beatles website. Very nice! I thought you might be interested in the following information - and perhaps want to exchange links...

I have just finished my new book, "The Beatles In Cleveland: Memories, Facts & Photos About The Notorious 1964 & 1966 Concerts," (North Shore Publishing). The Foreword was written by Bill Harry, (Mersey Beat), and the back cover endorsement by Ken Mansfield, (Former US Manager, Apple Records). It also includes never before published photos and video stills, (both back stage and on stage).

Description, contributors, table of contest and excerpts are at www.BeatlesInCleveland.com. The book release date is April 2007, but we are making advance copies of the first printing available on the site by the end of this month, (December).

I am also the author of the books "How To Be A Working Comic" and "Comedy FAQs And Answers." Both listed on major online booksellers if you'd like to check out my background, etc...

Thanks for your time and I look forward to hearing from you!

Sincerely,
Dave Schwensen
www.BeatlesInCleveland.

------------------------

December 5
"La France et les Beatles", Volume 3 is now available!
1. Petula Clark: "Please, Please Me"
12. Patrick Logelin: "I'm Happy Just to Dance with You"
2. Claude François: "From Me To You"
13. Les Loinceuax: "Tell Me Why"
3. Les Missiles: "Bad To Me"
14. Les Faux Freres: "You Like Me Too Much"
4. Les Arvern's: "She Loves You"
15. Michele Arnaud: "Yesterday"
5. Les Chats Sauvages: "She Loves You"
16. Richard Anthony: "We Can Work It Out"
6. Les Champions: "Love of the Loved"
17. Les Diamants: "Eleanor Rigby"
7. Les Loinceaux: "It Won't Be Long"
18. Oliver Despax: "Here, There and Everywhere"
8. Les Gam's: "All My Loving"
19. Les Diamants: "Yellow Submarine"
9. Frank Nichols: "I Want To Hold Your Hand"
20. Gerard St. Paul: "Get Back"
10. Martin: "This Boy"
21. Gerard St. Paul: "Come Together"
11. Frank Alamo: "A Hard Day's Night"

Dear John,

I am particularly glad to send you the third volume of the 5 CD series La France et les Beatles, collecting French covers of Beatles songs only published in France between 1963 and 1971.

Several years of research have been necessary to gather these covers and bring them to light through Martial Martinay's famous French reissue label, Magic Records.

All five CDs will finally represent an astounding total of more than 100 tracks, one third of which is absolutely new to CD! And it also constitutes the most complete collection of this kind ever published until now.

It will not only appeal to the general public, already familiar with the names of some artists, but also to collectors seeking for real rarities.

Every track has been carefully selected from the best possible sources and remastered in 24 bits.

I thank you very much for your help in promoting this CD and will, of course, send you the last 2 volumes as soon as they are available at the beginning of 2007.

Yours sincerely,

Laurent Giacomelli

Click on the above "Magic Records" logo for more information on the
"La France et les Beatles Vol. 3"

Note: Magic Records compilation series is done in association with Universal Music France, EMI Music France, and Sony BMG Music France.
------------------------

December 4
McCartney lyrics auctioned for $192,000
By Jonathan Oatis

NEW YORK (Reuters) - A Texas bookstore owner bought a rare page of working lyrics for Beatle Paul McCartney's song "Maxwell's Silver Hammer" for $192,000 at an auction of rock and pop memorabilia at Christie's on Monday.

Bill Butler also won the bidding for one of rock legend Jimi Hendrix's electric guitars -- a 1968 Fender Stratocaster -- for $168,000, the guitar's strap for $10,800 and a photograph of Hendrix and band members Noel Redding and Mitch Mitchell framed by two topless blondes for $5,400.

"I'm worried about getting it all home," Butler, wearing a tan baseball cap emblazoned with the Texas state flag and the words "Vote Kinky Friedman," joked with reporters after the auction.

Butler retired from the telecommunications industry before opening his rare and used book shop in Rosenberg, Texas, just outside Houston. He said he would display the guitar at his bookstore but would store the 1968 McCartney lyrics in a fireproof file cabinet.

© 2006 Reuters. All Rights Reserved


------------------------

December 3
Beatles find 'love' from fans on the Euro charts


By Paul Sexton

The Beatles return to the European Top 100 Albums summit as 'Love' (Apple/Parlophone) makes a bestselling start in France and a total of nine other top five starts around the region. It's No. 2 in Germany; No. 3 in the United Kingdom, Denmark, Ireland and Switzerland; No. 4 in Holland, Austria and Spain; and No. 5 in Portugal and Finland.

In the United Kingdom, opening sales are a robust 173,000, a notable total for a No. 3 entry. This is more than three times the initial performance of the augmented 'Let It Be Naked' album in 2003 and compares with a first-week U.K. tally of 319,000 for the '1' compilation in November 2000.

"It's hugely gratifying to see the Beatles at No. 1 across Europe in such a competitive week where new releases are concerned," says Mike Allen, senior vice president of international marketing, EMI Music U.K. and Ireland. "Compared with '1,' 'Love' has been a relatively complex and potentially controversial proposition to communicate. But now it's out there to be heard in full, we're full of confidence that it will only get stronger from here to year-end, as word of mouth takes hold along with the marketing effort."

That highly competitive market saw 'Love' overcome new releases by U2, Rammstein, Westlife and Oasis, all of which also debut in the pan-European top ten. 'U218 Singles' (Mercury) arrives at No. 2 overall, with one pole position, in Switzerland. The retrospective is No. 2 in Spain, Austria, Portugal and Ireland; No. 3 in Holland; No. 4 in Italy and the United Kingdom, the latter on sales of 101,000; and No. 5 in Germany.

© 2006 VNU eMedia. All Rights Reserved

------------------------

November 30
Beatles "Love" debuts this week in the Billboard Top 10 Albums!

Here is the Beatles chart action in the United States...

1. JAY-Z - Kingdom Come - 680,052
2. DAUGHTRY - Daughtry - 303,677
3. VARIOUS ARTISTS - Now, Volume 23 - 289,022
4. THE BEATLES - Love - 271,605
5. SNOOP DOGG - Tha Blue Carpet Treatment - 264,171
6. BEYONCE - B-Day - 173,264
7. SOUNDTRACK - Hannah Montana - 167,168
8. AKON - Konvicted - 163,709
9. 2PAC - Pac's Life - 159,316
10. KEITH URBAN - Love, Pain & The Whole Crazy Thing - 156,728

© 2006 Associated Press. All Rights Reserved

------------------------

November 29
The Beatles hit No. 1 on the Canadian charts

By JOHN WILLIAMS
Senior Editor, JAM! Showbiz

It seems Beatlemania is still alive and well in Canada, as the Fab Four's latest compilation "LOVE" hit the top spot in the land this week.

"LOVE," which remixes and remasters 26 of the group's songs, debuted at No. 1 on sales of 34,000 copies, according to figures compiled by Nielsen SoundScan.

It marks the second first-place debut for the Liverpool legends in the SoundScan era. The compilation "Beatles 1" checked in at No. 1 back in November of 2000 with sales of 54,000.

The group's achievement is even more impressive when you consider that the week's album chart includes six other debuts in the Canadian top 10 -- including four new entries landing in the first four chart positions.

© by Jam!showbiz, 2006

- For the complete article, please click here.

Paul McCartney's "The Space Within US" Ecard

Hi John,

The Paul McCartney: The Space Within US Ecard can now be found on at:

http://ecard.newvideo.com/paulmccartney

If you successfully complete the quiz – the Ecard unlocks bonus footage from the DVD!!! This is a great Ecard for fans and friends alike. Feel free to post!!!

Greg Eckelman
SpecialOpsMedia, New York

------------------------

November 22
Love Album Track By Track notes by George and Giles Martin

George and Giles Martin examine their work on the exciting new Beatles Love album. Click here for the official Press Version of their comments that was issued by Apple Records.

Also, the Beatles "Love" Wallpaper and Screensaver is now available: please click: Capitol Records.

------------------------

November 20
"Love" stage show by the Cirque du Soleil continues to sell 2,000 tickets a night

Excerpt from today's Times On Line:

"The Love stage show is selling 2,000 tickets a night at the Mirage Hotel in Las Vegas, even with prices of up to $150 (£80). Discussions about a global tour are continuing. A London staging could become one of the West End's success stories if a suitable venue were found.

Sir George [Martin] said: "They spent $100 million building a theatre specially for the show in Vegas. If you could take over the Royal Albert Hall and convert it that would be fine. But it's very difficult to transfer.""

To read the article, please click: "Beatles remixed for the 21st century"

------------------------

November 17
"The Beatles Love" has achieved No. 1 pre-sale status on Amazon.com

Excerpt from today's Billboard:

"Initial shipments ahead of the Monday (Nov. 20) international release are "great," and the recording has achieved No. 1 pre-sale status on Amazon.com, EMI Music U.K. & Ireland chairman/CEO Tony Wadsworth tells Billboard.com."

To read the article, please click: "Beatles' 'Love' Looming As Christmas Hit"

------------------------

November 15
TV Alert: Tonight on the Jay Leno show, Cirque du Soleil to perform to a medley of songs from The Beatles Love

This just in from Sara Israel of Special Ops Media:

Be sure to catch members of Cirque du Soleil performing a medley of songs from THE BEATLES LOVE on The Tonight Show with Jay Leno tonight! The Tonight Show airs nightly on NBC at 11:35 pm. Click here for more information:
http://www.nbc.com/The_Tonight_Show_with_Jay_Leno/

Sara Israel

------------------------

November 14

FOR IMMEDIATE RELEASE

APPLE CORPS LTD/CAPITOL RECORDS TO RELEASE THE BEATLES "LOVE" ALBUM IN STEREO AND 5.1
ON NOVEMBER 21, 2006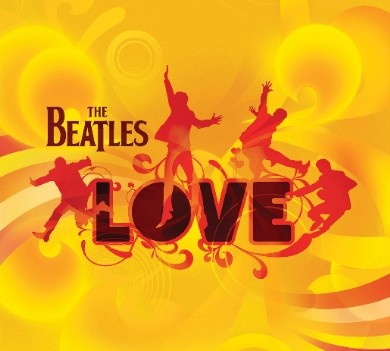 Apple Corps Ltd/Capitol Records are to release the Beatles LOVE album in stereo and 5.1 November 21st. This will be the first Beatles album available in 5.1

The stereo CD will contain 78 minutes of music. The DVD surround sound version on DVD disc album will be a slightly extended version with 81 minutes of music.

After being asked by the remaining Beatles, Ringo and Paul, along with Yoko Ono Lennon and Olivia Harrison, to make experimental mixes from their master tapes for a collaboration with Cirque du Soleil, Sir George Martin, The Beatles legendary producer, and his son Giles Martin have been working with the entire archive of Beatles recordings to create LOVE. The result is an unprecedented approach to the music. Using the master tapes at Abbey Road Studios, Sir George and Giles have created a unique soundscape. The release of this album, which is also featured in the Cirque du Soleil/Apple Corps collaborative production of the same name at The Mirage in Las Vegas, has been much anticipated.

"This album puts the Beatles back together again, because suddenly there's John and George with me and Ringo," said Paul McCartney. "It's kind of magical."

"George and Giles did such a great job combining these tracks. It's really powerful for me and I even heard things I'd forgotten we'd recorded." commented Ringo Starr.

"The album has the feeling of love and that's why the title is Beatles LOVE," added Yoko Ono Lennon, "They have let everything that is beautiful and daring come out."

"The music is stunning. I think the most amazing thing about it is that you can pull it apart and find that all the elements carry with it the essence of the entire song," said Olivia Harrison.

Andrew Slater, President & CEO Capitol Records said, "The Beatles and George Martin invented everything we love about modern recorded rock music. It is only fitting that they now shake things up and create the new blueprint for rediscovering and falling in love again with the soundtracks to our lives."

The 5.1 disc is a DVD-Audio/DVD-Video hybrid. The audio is presented in high-resolution 96/24 5.1 surround on the DVD-Audio part of the disc. The DVD-Video part carries 5.1 surround in DTS and Dolby Digital as well as a PCM stereo mix. This DVD album is designed to be played on DVD video equipment but will carry no video component.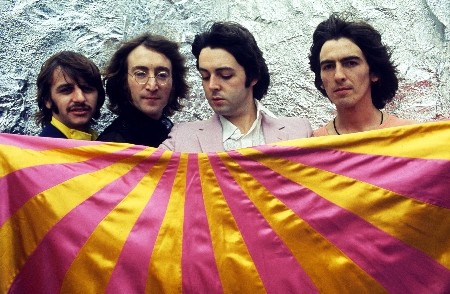 Photo: © Apple Records, 1968.
"The Beatles - Love"
Song List

1.
Because
14:
Within You Without You/Tomorrow Never Knows
2:
Get Back
15:
Lucy In The Sky with Diamonds
3:
Glass Onion
16:
Octopus's Garden
4:
Eleanor Rigby - Julia (Transition)
17:
Lady Madonna
5:
I Am The Walrus
18:
Here Comes The Sun - The Inner Light (Transition)
6:
I Want To Hold Your Hand
19:
Come Together/Dear Prudence - Cry Baby Cry (Transition)
7:
Drive My Car/The Word/What You're Doing
20:
Revolution
8:
Gnik Nus
21:
Back In The U.S.S.R.
9:
Something - Blue Jay Way (Transition)
22:
While My Guitar Gently Weeps
10:
Being For The Benefit of Mr. Kite!/I Want You (She's So Heavy)/Helter Skelter
23:
A Day In The Life
11:
Help!
24:
Hey Jude
12:
Blackbird/Yesterday
25:
Sgt. Pepper's Lonely Hearts Club Band (Reprise)
13:
Strawberry Fields Forever
26:
All You Need Is Love
A likely lament: 'You can't do that to The Beatles'
By Edna Gundersen, USA TODAY

HOLLYWOOD — George and Giles Martin are causing a magical mystery stir in The Beatles world, a realm encompassing anyone who has turned on a radio since 1962.

The father-and-son production team have not only disturbed a sacred cow, they've drawn and quartered it, dissected it, then regenerated it into LOVE, a seamless, experimental mix of Beatles sounds drawn from the most conservatively controlled master tapes in pop history.

The disc, due Nov. 21 in stereo CD and 5.1 surround-sound DVD (with no video content), is the soundtrack for the same-named Cirque du Soleil production, a fanciful audiovisual Beatles homage (featuring slightly longer track fade-outs) that opened in June at the Mirage in Las Vegas. Fans will decide whether it's a tastefully prepared fresh course or marketing mincemeat.

So far, the word is love.

"I was marveling at the art of it," says Beatles historian Matt Hurwitz, one of few invited to private, pre-release listening sessions. "It's still what people expect from a Beatles album. It's not an editing job. It's a work of art. It'll never be one of the original albums, but it's such a refreshing take, I'd call it the master's degree in the Beatles catalog.

"Fans don't want anyone messing with their beloved tracks, but the holy-tablets talk will die out once people hear it. The Martins have done such a masterfully creative job that my guess is word-of-mouth will quickly overrule any complaints."

LOVE is a many-splendored swing through Beatles history with 37 named songs on 26 tracks and snatches of dozens more deftly inserted here, there and everywhere. Get Back gets backup by Sgt. Pepper (Reprise) drums, an orchestral swell from A Day in the Life and guitars from Hard Day's Night and The End. Hey Bulldog punctuates Lady Madonna. The bass and drums from Tomorrow Never Knows underlie Within You Without You. And Good Night's strings sneak into Octopus's Garden with bits of Lovely Rita, Helter Skelter and Yellow Submarine. Good luck spotting shreds of Fixing a Hole and Penny Lane. The credits provide no blueprint.

Every note on the vanguard CD was previously on record except George Martin's new string arrangement for While My Guitar Gently Weeps and John Lennon's long-buried acoustic vocal opening Strawberry Fields Forever.

Despite splitting 36 years ago, The Beatles continue to shape trends in pop music and may steer a new course with this unprecedented self-sampling of an iconic catalog. The Beatles 1 set of chart-toppers (10.7 million copies sold since 2002) spawned Elvis 30 #1 Hits. Likewise, The Beatles Anthology inspired the new U2 by U2 band autobiography. LOVE could be the latest catalyst for copycats.

"It's never been done, but I'm certain other bands will do this, perhaps Led Zeppelin or the Beach Boys," says George Martin.

LOVE's template might prove tricky, because few acts have the stature or consistency for such an elaborate self-homage collage.

"The Beatles had a wheelhouse for certain rhythms and chord progressions, so that a lot of these songs are easy to mix together," says Daily Variety associate editor Phil Gallo. "They had similar keys, meters and schemes, the way the verse and chorus related. It's like Gershwin.

"It would be difficult with The Who or Led Zeppelin, where the drums were all over the place," he says. "The one band that could work is The Doors. Their uptempo songs had a certain groove."

Regardless of the suitability of given archives, LOVE knockoffs may be inevitable.

"This is the first time a group has sampled itself this way, but probably not the last," Hurwitz says. "That's the way it's always been with The Beatles."

Cirque founder Guy Laliberté, a friend of the late George Harrison, won approval for the project from surviving Beatles Paul McCartney and Ringo Starr and widows Olivia Harrison and Yoko Ono.

The move was surprising, considering Apple's fastidious guardianship of the Beatles catalog, issued on CD only once and still unavailable online (compared with multiple repackagings by other boomer giants).

Martins got green light

George Martin, who produced every Beatles album except Let It Be, was enlisted to fashion LOVE with his son Giles, who wrote jingles in college before producing Kula Shaker, INXS and Hayley Westenra's Pure, the fastest-selling classical album in U.K. history.

The pair spent three years crafting the audacious mixes at Abbey Road Studios and enjoyed unfettered access to the full archive (the bulk of LOVE is post-Revolver).

Encircled by speakers in a Capitol Records studio, they sample LOVE tracks with mad-scientist glee.

"That's the closest to a mash-up," Giles says of Within You, the maiden effort that wowed the Beatles camp. "It unlocked the door to everything else. Once it was established that this wouldn't be a Mamma Mia-type experience, The Beatles decided, 'OK, we'll do it.'

"The thought was to get as much Beatles music in a confined space without sounding like Stars on 45, those horrible medleys in the '80s. It should be artistic, not a novelty. That would be really irritating."

Though given free rein, George, 80, was surprised that the Fab forum instantly embraced the14-minute demo.

"We did go a bit wild, and I thought they might pull us back a bit," he says. "On the contrary. Their brief to me was, 'Use anything you like in whatever fashion you like that you've recorded with The Beatles since 1962.' Nobody wanted a 'best of' The Beatles or a chronological thing."

Giles, 37, who was born two years after Sgt. Pepper's Lonely Hearts Club Band, spent his childhood only vaguely aware of Beatles music or his father's role in it. Consequently, he faced a steep learning curve but also approached LOVE without proprietary zeal.

"The pressure was to change things," he says. "The last thing anyone wanted was for people to spend money on a CD they already heard. I'm not interested in sepia history. For me, this isn't the good old days. It doesn't sound old, and there's no reason it should. We didn't make it sound contemporary. They're captured as 20-year-olds."

Dad isn't exactly pining for the past, either.

"Of course it takes me back," says George Martin, now hard-of-hearing and declaring LOVE his swan song. "Ringo is now a pensioner, and Paul was 19 when I met him. But I've never been terribly nostalgic. We regarded this as a new project."

Even the most familiar tunes undergo startling mutations. Strawberry Fields, the most ambitious and technically challenging track, opens with Lennon's spare demo, segues into an early version and builds to a roaring crescendo that incorporates In My Life's piano solo and Piggies' harpsichord.

"The song gets bigger and bigger until it just goes mad," says Giles, who struggled to smoothly link Lennon's home tape to six other vocal takes. "Cirque wanted to demonstrate the creativity and growth of a song in the studio by chopping something into a jam session, which by its nature is off the cuff. You can't do it."

Instead, they used the Strawberry demo Yoko discovered to illustrate a song's origins.

"It's one of the earliest things John did," George says. "It was the second verse as we know it. He hadn't yet written 'Living is easy with eyes closed.' It began the process of creation."

The painstaking potpourris might have been more tortuous if not for The Beatles' simple recording methods and a compositional symmetry that enabled tunes to dovetail. On one medley, the rhythm tracks of Drive My Car and The Word overlap as chunks of Taxman and Helter Skelter drop in.

"I'm not spinning that many plates," Giles says, noting Car's original four-track construction. "It just sounds like it because the recordings are so good, and there's such depth to them."

Credibility is pedigree

Some efforts flopped. Giles quickly abandoned a plan to calibrate the drums in Get Back, "which slows down as the song goes on," he says. "It's human. I put it in time, and it sounded robotic. From that moment, I realized it's important to not have me, with the magic power of a mouse, controlling what they're doing."

George chimes in: "The essential thing was to keep the integrity of The Beatles and not to distort any of the recordings. It's exactly as they played it."

Giles also scrapped attempts to pin Glass Onion strings to Octopus ("too creepy") and fuse The Word to Abbey Road's "love you" coda.

Giles: "It nearly worked."

George: "But not nearly good enough."

The result sounded too much like a modern mash-up, Giles says, and adds: "Mash-ups are fun because they're quirky. We wanted a sustainable, organic Beatles album that people would listen to again and again. The Beatles could have gone down the route of getting Danger Mouse or Jay-Z to do beats, but I think it would have aged fast. We spent a long time comparing this to the originals and asking, 'Are we removing the soul out of it?' We didn't."

Giles alludes to LOVE's illicit precursor, The Grey Album, DJ Danger Mouse's 2004 mash-up of The Beatles' "White Album" and rapper Jay-Z's The Black Album. (An earlier prototype may be Harry Nilsson's 1967 cover of You Can't Do That, a hyperactive medley compressing scraps of 20 Fab Four tunes.)

LOVE's credibility likely rests on its pedigree, says Gallo.

"If it had been done by an outside force, like DJ Shadow, I'd have my doubts," he says. "But George Martin talks to Paul and Ringo. He's a real musician who gave The Beatles a lot of ideas. What he and Giles did is daring, risky and, when it works, brilliant and mind-bending.

"Even though the recordings are old, some songs sound modern, and that might attract a younger audience that has no objection to music being manipulated this way," Gallo says, projecting sales in line with Anthology 3 based on the surplus of post-1966 material. "They could have a No. 1 record."

Not everyone will fall under LOVE's spell.

"A certain element considers all these songs sacrosanct, and this does to some degree violate them." Gallo says. "Anyone who grew up with the music knows where every note belongs. Some will say this is inventive; some will say you can't do that to The Beatles."

George is braced for a backlash from purists.

"We were walking a tightrope of taste," he says. "There are going to be Beatle nuts out there who say I should not have done this. But not many. We have The Beatles' seal of approval. I have never worried what people might think. I didn't when the BBC banned A Day in the Life. If you worry about that, you never do anything adventurous.

"We've taken this Lego building apart and built it again. If people like it, great. If not, they've still got the old one. I wanted this album to show The Beatles as a live, existing force. They're not museum pieces."
© by USA Today, 2006
Related links:
Official Site
MySpace Page
http://www.myspace.com/thebeatles
------------------------
November 13
An exclusive interview with Giles Martin on the making of the new "Love" CD from the Beatles!
Hi Tony and John,
My name is Michael Kurtz and I work with a bunch of cool indie record stores in the U.S. I also have been a big Beatle fan for the past 40 years. I recently attended a "Love" play back session with Giles Martin and he talked about the making of the new album. I filmed about 6 very interesting minutes of Giles talking about what it was like working with his Dad (George Martin) and we've placed it on our www.monitorthis.com site so that Beatle fans can view it. As a long time fan of the Beatles I want to help and get the word out about just how amazing this new album is. It's really important as I think a lot of Beatle fans aren't really gong to know what to think of it since it's such a different concept. I think this interview really helps get across how amazing the record is.
I'm writing to you in hopes that you will consider telling your readers about the availability of this video so they can see the passion Giles has for what he and his Dad have done.
Best,
Michael Kurtz
President, Music Monitor Network
Beatle Fans: To link directly to the interview filmed by Michael Kurtz, please click here (uses You Tube technology.)
Special thanks to Michael Kurtz for notifying us of this terrific interview with Giles Martin! Michael tells us that the play back interview was conducted at "Magno Studio, Studio C, on 7th Avenue, in New York City".
And this just in from Apple Records...
SEND LOVE TO A FRIEND
We have launched a set of e-cards so you can send LOVE to a friend!
Just pick an image and a track, add your message, and click to send....
To send a card, go to the homepage of TheBeatles.com and follow the instructions.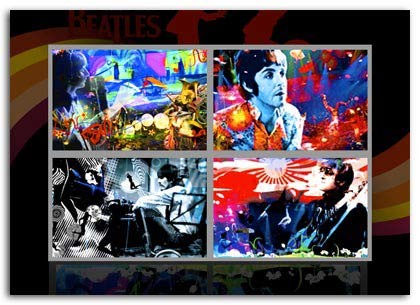 Many thanks.
FOR IMMEDIATE RELEASE
'PAUL McCARTNEY: THE SPACE WITHIN US'
TO PRESENT RECORD-BREAKING, CRITICALLY HAILED 2005 'US' TOUR IN CONCERT SPECIAL MADE FOR DVD AND TELEVISION
Never Before Released Concert and Behind The Scenes Footage Featured In October 28th A&E Network Television Special And On A&E Home Video DVD Release To Hit Stores November 14th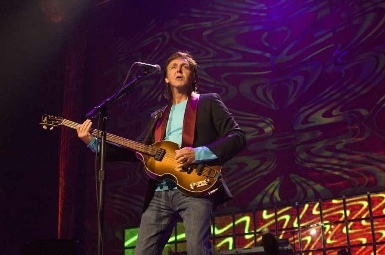 On Friday, September 16th, 2005, Miami's American Airlines Arena played host to Paul McCartney. It marked the opening of an all-new, totally sold-out, concert tour that highlighted yet more Beatles, Wings and solo music. It didn't take long for the 11-week, 34 show 'US' Tour to became the hottest concert ticket in America. As a matter of fact, by the time the tour hit the road there wasn't a seat available to the public. Those who were lucky enough to get a ticket heard Wings classics like "Too Many People," "Maybe I'm Amazed" and "Live And Let Die," Beatles classics "Magical Mystery Tour," "Good Day Sunshine," "Fixing A Hole," and "Helter Skelter" and music from Paul's solo career including "Fine Line," and "Jenny Wren." The 'US' Tour set list contained songs that had either never been performed on American soil before and others that hadn't been played live in nearly 15 years.
"Paul McCartney: The Space Within US"
Song List

1: Magical Mystery Tour
15: Hey Jude
2: Flaming Pie
16: Fixing a Hole
3: Let Me Roll It
17: Penny Lane
4: Drive My Car
18: Too Many People
5: Till There Was You
19: Let It Be
6: I'll Get You
20: English Tea
7: Eleanor Rigby
21: I've Got a Feeling
8: Maybe I'm Amazed
22: Follow Me
9: Got To Get You Into My Life
23: Jenny Wren
10: Fine Line
24: Helter Skelter
11: I Will
25: Yesterday
12: I'll Follow The Sun
26: Get Back
13: Good Day Sunshine
27: Please Please Me
14: For No One
On Tuesday, November 14th Paul McCartney: The Space Within US will be released on DVD. The release, which will coincide with a one-hour A&E television special to air on Saturday, October 28th, will not only give those who missed US a better than front row seat to the concert, but will also bring those who were in the audience for the groundbreaking concert tour, behind the scenes.
Paul McCartney: The Space Within US DVD harnesses the power of more than 25 HD cameras and the thunder of 5.1 digital surround sound, for a two-hour epic concert experience of never-before released performance footage. The out-of-this world, feature-length concert film delivers live performances of more than two dozen Beatles, Wings and McCartney solo classics spanning four decades. It includes footage from Paul's personal wake-up call to the astronauts aboard the international space station, as well as 35 minutes of exclusive bonus material and featurettes including new interviews with McCartney and his band, the pre-concert film, soundcheck songs, and more. Among the musicians, celebrities, dignitaries and fans interviewed for the film; President Clinton, Tony Bennett, Herbie Hancock, Eddie Vedder, Alec Baldwin and many more.
Liner notes for the DVD were written by acclaimed film director and screenwriter, Cameron Crowe (Almost Famous, Jerry Maguire). This eagerly-anticipated DVD follows last year's acclaimed, Emmy® Award-winning and platinum-selling Paul McCartney in Red Square, which showcased the musical icon in his history-making Russian concert before an audience of 100,000.
Paul McCartney: The Space Within US premiered on A&E® Network on October 27th. Delia Fine is the A&E executive producer and Ryan Harrington is the A&E Managing Producer. The film was directed and produced by Mark Haefeli of MHP, and produced by MPL Communications Ltd. in association with A&E Network.
PAUL McCARTNEY: THE SPACE WITHIN US
------------------------
November 05
Linda McCartney exhibit offers visceral view of rock icons
By Ryan Hickman
The Huntsville Times Arts Writer
Linda McCartney had uncanny timing. None better than that June afternoon in 1966 when she showed up to a press reception for the Rolling Stones in New York City along the Hudson River.

Gaggles of photographers were there to snap pictures of the British bad boys. McCartney (Linda Eastman then) was still green with a camera and had stumbled across the invitation during clerical work at the magazine Town and Country.

When Mick, Keith and the boys headed out onto the river on a yacht, all of the press photographers were relegated to squeezing down their shutters from shore.

"For some reason, even though I had my camera hanging around my neck, I was ushered onto the boat by Betsy Doster who worked for the Stones management," McCartney said in her book "The Sixties - Portrait of an Era," "and I was allowed to be the lone photographer."

McCartney captured intimate and unassuming stills that afternoon of one of the biggest rock 'n' roll bands on the planet, a style she would come to be known for as she progressed into an acclaimed pop-culture photographer, not only during the 1960s but through the next few decades.

Today "Linda McCartney's Sixties: Portrait of an Era" opens at the Huntsville Museum of Art. The exhibit is a 51-photo anthology of the visceral and private photos that McCartney amassed of many of the mammoths of rock music following that boat trip with the Stones.

As house photographer for the New York City music auditorium Fillmore East and a regularly commissioned photographer for then-fledgling magazine Rolling Stone, McCartney was behind the lens when Jimi Hendrix was hanging out in a studio in London, Janis Joplin had just taken a long pull from her cigarette, Grateful Dead members were clowning around at their communal Haight-Ashbury home in San Francisco, and mere feet from the Beatles at a concert in London when she met her eventual husband Paul McCartney.

Unfortunately, the photographer McCartney was plagued throughout her career with the misconception that because her maiden name was Eastman, she was an heir to the Eastman Kodak film company, which she wasn't, and that she was allowed unmatched access to many of the musical icons of the time simply due to her last name.

"Most of them were taken before she met Paul McCartney," Gabriele Abbott, the exhibit's guest curator, said about McCartney's photos from the 1960s.

And even though she ended up an arm's length from many of her famous subjects, McCartney's predominately black-and-white photos found something profound each moment she was there, proving that her photography was more than just being there.

"Linda's idea of a photograph was that it captured the soul of a subject," Abbott said. "They look worried, happy, sad - emotions in these pictures that are different than the shots that you might see in glamour magazines of the time."

Abbott, who has overseen the exhibit since its debut in 1999 at the Bruce Museum in Greenwich, Conn., has attempted to employ the same thoughtfulness into the show that McCartney put into her photos by attaching passages from McCartney's autobiographical "The Sixties - Portrait of an Era" to each picture's caption.

"It's a bit like Linda McCartney is standing over their shoulder and saying, 'See that picture of Aretha Franklin' and tells the story about how it came to be," Abbott said.

The exhibit is accompanied by a pair of video offerings surrounding McCartney's career: a 49-minute BBC documentary "Linda McCartney: Behind the Lens" made six years before her death from breast cancer on April 17, 1998, and a nine-minute art film put together by Paul McCartney, generally known as "Grateful Dead," that consolidates his former wife's limited number of pictures with the 1960s jam band.

"It supplements the photographs," Abbott said, "and gets you transported into that period like it was yesterday."
© by The Huntsville Times, 2006
Related link: Linda's Legacy: Photos from Linda McCartney Sixties
------------------------
November 4
Quick Beatle news picks
Revolution in the head (a review by Hunter Davies on the new "The US versus John Lennon" movie.); Yoko Ono visited Japan for Dream Power John Lennon Super Live concert which will be held on November 4th 2006; Final Beatles book by Bruce Spizer to be published March, 2007
------------------------
November 1
Upcoming movie documents the Beatles' trip to India
by The Rock Radio.com
The Beatles' famous 1968 trip to study transcendental meditation in Rishikesh, India is the focus of an upcoming movie. The still-untitled film, which will blend archival footage with newly shot scenes and interviews, is being directed by Mira Nair, who is best known for her 2004 film Vanity Fair.

The film promises to cast new light on the group's time spent in the foothills of the Himalayas under the tutelage of the Maharishi Mahesh Yogi. Nair told The Times Of India that, "Some of the best loved Beatles numbers, including ones from The White Album and Abbey Road, were inspired by the time they spent in India and the experiences they had. The idea is to explore and examine, through these fascinating musicians, the broader theme of artistic inspiration and how it comes about."

The group's 1968 double-record set The Beatles (commonly known as "The White Album"), featured many songs written while the group was studying in Rishikesh, including "Back In The U.S.S.R.," "Yer Blues," "I Will," "The Continuing Story Of Bungalow Bill," "Rocky Raccoon," "I'm So Tired," "Ob-La-Di Ob-La-Da," "Dear Prudence," "Mother Nature's Son," and several songs which turned up on later solo albums, such as "Junk" which Paul McCartney released on his 1970 solo debut McCartney, and "Child Of Nature" which John Lennon rewrote as "Jealous Guy" for his 1971 album Imagine.

There has been no release date set for the film.

Filmmaker Paul Saltzman documented his time in Rishikesh studying transcendental meditation with the group in his photo book The Beatles In India, and told us that they were always friendly and approachable: "John looked up at me, and he was two feet away from me, and I said, 'May I join you?' and John said, 'Sure mate, pull up a chair.' And Paul said, 'Come and sit here' -- he pulled next to him and I sat down. At that moment John turns to me, 'cause they had finished their conversation, and he says, 'So you're American then?,' in his sort of teasing way. And I said, 'No, Canadian,' and he turns to the group and says, 'Ah, he's from one of the colonies!' And everyone breaks up (in laughter)."

In other Beatles-related news:

Wings co-founder Denny Laine's former wife, singer Jo-Jo Laine, died on Monday (October 30th) after falling down a flight of stairs, at age 53. The Daily Mail reported that Jo-Jo, who met Denny backstage at an early '70s Wings show, was in a week-long coma after the fall, and had also been battling liver cancer.
© by The Rock Radio.com, 2006