July 29
Madison Square Garden to Commemorate 35th Anniversary of the Concert for Bangladesh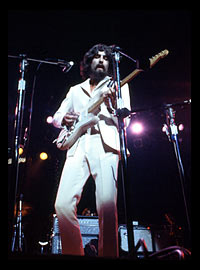 Tuesday, August 1st, 2006 marks the 35th Anniversary of George Harrison and Ravi Shankar's Concert For Bangladesh. The event took place on August 1st 1971 at New York City's Madison Square Garden, and featured performances by George, Ravi Shankar, Bob Dylan, Eric Clapton, Ringo Starr, Leon Russell and Billy Preston.

Madison Square Garden will celebrate the 35th Anniversary by installing a plaque permanently in its "Walk of Fame" to commemorate this historic event. At 2pm on Tuesday, the plaque will be presented to Olivia, who said, "I know George would be happy that 35 years later the impact of his efforts are still felt and appreciated."

The plaque will be set alongside music legends such as The Rolling Stones, The Grateful Dead and fellow Beatle Paul McCartney. This presentation will mark the first time in Madison Square Garden history that a concert or event is honoured on the "Walk of Fame".

The concert alerted the world to the plight of the Bangladeshi people. "UNICEF is honoured to have been a part of this Concert and proud that 35 years later we are celebrating the humanitarian work of George Harrison," said Chip Lyons, President of UNICEF. "Childrens' lives, in Bangladesh and beyond, have been saved and improved thanks to the funds raised by The Concert for Bangladesh."

The film of the concert, released on DVD and CD last autumn, was recently certified 3 times platinum by the RIAA. All artists' royalties from the sales of the DVD and the CD continue to go to UNICEF. In commemoration, Ringo Starr and Ravi Shankar were presented with plaques, in New York and Los Angeles respectively.

Thank you,
www.georgeharrison.com

For additional information please visit:
http://www.theconcertforbangladesh.com
http://www.georgeharrisonfundforunicef.com
http://www.georgeharrison.com
------------------------
July 27
Unreleased Lennon Cuts Enrich Documentary Sountrack
by Jill Menze, N.Y., Billboard magazine
The soundtrack to the upcoming documentary "The U.S. vs. John Lennon" will be released on CD and digitally Sept. 26 via Capitol/EMI. The album will feature 19 original Lennon songs including "Imagine," "Instant Karma (We All Shine On)" and "Happy Xmas (War is Over)," as well as two previously unreleased tracks: "Attica State," recorded live at the John Sinclair Freedom Rally in Ann Arbor, Mich., in 1971, and the film's instrumental version of "How Do You Sleep."

Additionally, the CD and digital packaging will include liner notes written exclusively for the release by Lennon's widow, Yoko Ono.

The controversial documentary explores the government's attempts at silencing Lennon as a proponent of humanitarian and anti-war causes, which included FBI surveillance, wiretapping and deportation proceedings. The story is told through archival film clips as well as Lennon's original music.

"We were allowed to 'strip' lead vocals from Lennon's original recordings, so that we could use his own instrumental work as the score for the movie," says David Leaf, who co-wrote, directed and produced the film along with John Scheinfeld. "I think it's the first time that John's solo catalog can be heard in this way."

"The U.S. vs. John Lennon," distributed by Lions Gate Films, will be released in New York and Los Angeles on Sept. 15, with a wide release scheduled for the end of the month.
© Copyright by Billboard magazine, all rights reserved.
------------------------
July 19
Beatles producers says "Love" soundtrack includes secret code
Legendary Beatles producer George Martin promises a prize to fans who can crack a "code" found in the upcoming soundtrack to The Beatles LOVE, which is now playing at the Mirage Hotel in Las Vegas. Martin and his son Giles used various snippets of Beatles tunes for the mosaic-like soundtrack to the show created in conjunction with Cirque du Soleil. Martin revealed to Britain's The Express On Sunday that he and Giles incorporated a total of 130 Beatles songs within their 90-minute soundtrack.

No release date for the official soundtrack for The Beatles LOVE has been announced by the Beatles' company Apple -- nor for that matter, has anyone announced what the prize for the "code" crackers may be.
© by the The Rock Radio.com all rights reserved.
------------------------
July 16
The US vs John Lennon

As President Nixon geared up for re-election, his administration enlisted the FBI, immigration and police to get the ex-Beatle deported. Now a new film by the team behind 'Fahrenheit 9/11' reveals the full extent of the plotting.
By Anthony Barnes
Published: 16 July 2006
John Lennon outraged ordinary Americans with his remark that the Beatles were bigger than Jesus. He angered the American authorities almost as much after he set himself up in New York and openly criticised the war in Vietnam.

Only now, however, is it being fully revealed how the authorities in Washington spent years amassing a dossier of evidence against the most outspoken Beatle with the sole aim of ejecting him from the United States for good. The evidence is to be exposed in a new film by the team behind Fahrenheit 9/11, Michael Moore's documentary opposing George Bush's "war on terror".

The Lennon movie, which opens in US cinemas in September, will embarrass the agencies which unsuccessfully tried to block his stay. Not only does it portray the full extent of the plotting against him, it also exposes the amateurish incompetence with which it was conducted. At one stage, secret FBI files compiled to demonstrate the threat he represented did not even record his correct address, despite the claim that he had been under "constant surveillance".

The film-makers say the movie, The US vs John Lennon, "will also show that this was not just an isolated episode in American history, but that the issues and struggles of that era remain relevant today".

Lennon had long been outspoken during his days with the Beatles, but never a radical. His views about peace and pacifism developed after he met Yoko Ono in 1968, and he became a focus for dissent as he held his "bed-ins" and recorded anthems such as "Give Peace a Chance".

When he set up home in New York in 1971 after entering the country on a visitor's visa, President Nixon's administration began to eye him nervously as he rubbed shoulders with activists and left-wingers.

The film, backed by Lion's Gate, which proved with Fahrenheit 9/11 that documentaries had blockbuster potential, is based on 281 pages of FBI files compiled from 1972 onwards. The documents show how police, immigration officials and the FBI worked together to gather any evidence which could help to strengthen the case for deportation after his visa expired.

One page stated that Lennon was allowed to enter the country "despite clear ineligibility" for a visa, because of a 1968 drug conviction in London. This was seen as his Achilles heel, and became the focus for the efforts to pin something on him.

Another entry says: "NYCPD [New York City Police Department] Narcotics Division is aware of subject's recent use of narcotics and are attempting to obtain enough info to arrest both subject and wife Yoko based on PD investigation."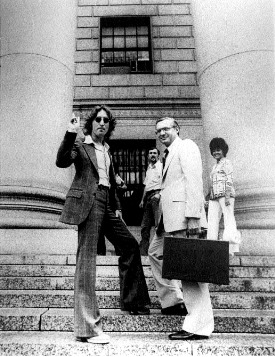 John Lennon represented by Leon Wildes to obtain permanent residency in the United States.
The documents claim Lennon came to the FBI's attention in February 1972 after he donated $75,000 to an organisation called the Election Year Strategy Information Centre, whose purpose was to "disrupt the Republican National Convention". At the time he had been privately developing plans for a US tour that year which would culminate near the convention, at which Nixon was to get backing for a second presidential term.

The plans were a worry to the authorities, according to the FBI files: "In view of successful delaying tactics to date, there exists real possibility that subject will not be deported from US in near future and possibly prior to Republican National Convention. Subject's activities being closely followed and any information developed indicating violation of federal laws will be immediately furnished to pertinent agencies in effort to neutralise any disruptive activities of subject." The tour was eventually abandoned.

Surveillance of Lennon finally ended in 1976, when he won his battle with the Immigration and Naturalisation Service for the right to remain in the US. By the time he gained his green card, he had already entered his "house husband" period following the birth of his son, Sean. This phase ended when he began making recordings again in 1980, but a few months after he emerged he was murdered by Mark Chapman outside the Dakota, the apartment building overlooking Central Park where he lived.

The US vs John Lennon is due to be released in Britain around Christmas.
© by the Independent, all rights reserved.
Related links: The John Lennon FBI files website by Jon Wiener + Not Just Any Immigration Case by Professor Leon Wildes.
------------------------
July 15
Man who tried to sell 'lost' Beatles tapes escapes jail
LONDON: A British man has escaped jail after a jury found that he tried to sell apparently "lost" tapes of the Beatles final recording sessions for about $460,000.
Nigel Oliver, 55, from Slough, west of London, faced two charges of handling stolen goods for attempting to sell 504 tapes of the historic Get Back sessions for the legendary group's final album Let It Be, released in 1970.
A jury at Southwark Crown Court, south London, on Thursday found that Oliver committed the acts as charged. He had previously been found unfit to enter formal "guilty" or "not guilty" pleas.
Sentencing him at the same court yesterday, judge Jeremy McMullen said that if Oliver had not been suffering from a mental impairment for many years and had been convicted at trial, he would have been sentenced to four years in prison.
Instead, he ordered him to be subject to be supervised in the care of mental health practitioners for two years.
Oliver, who worked for the Beatles nearly 37 years ago, was caught in 2003 in an international undercover sting operation set up by the International Federation of the Phonographic Industry to recover the tapes.
He was said to be the "middle man" in the operation, organising the sale of the tapes from two unknown men in Amsterdam to undercover officers Sammy and Billy.
Police arrested him in a forest near Windsor Park, Slough, on January 10, 2003 while he was waiting for his payment. His cut was thought to be about 150,000 pounds.
© by APR and DNA India, all rights reserved.
Beatles 'house' is a bit of all White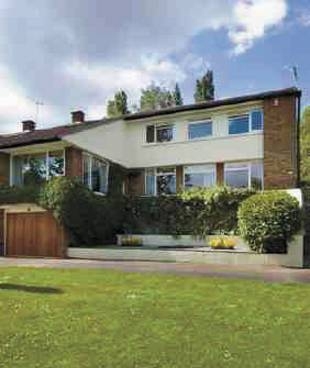 Crouch End house where cover of Beatles' White Album was created: yours for £1.4million
A RARE opportunity to acquire the ultimate trophy among dedicated Beatles fans has surfaced, nestling in the heart of Crouch End.
But prospective purchasers will also need to be well-heeled to acquire the house where artwork for The Beatles' feted White Album was created, on the market for the first time in 25 years for a cool £1.4million.
The 1950s three-bedroom house, in Hurst Avenue, Crouch End, was the site for brainstorming sessions between Paul McCartney and the home's designer, pop art maestro Richard Hamilton, in 1968-69.
The studio at the bottom of the garden, where the collaboration took place, covers almost 450 square feet and has air conditioning, its own kitchen and toilet.
Richard Evans, of estate agent at Benham & Reeves in Highgate, who is selling the property, said: "We are beginning to get a few people come along to see the house. We are picking up some response because of the Hamilton and McCartney aspect as well.
"There are only four of these 1952 houses on that street. They are very chalet-style houses, almost pyramid-like and narrower at the top."
The house and studio are both mentioned in the McCartney biography Many Years From Now.
© by Tottenham, Wood Green and Edmonton Journal, all rights reserved. Article first appeared on July 6, 2006.
------------------------
July 14
Man Found Guilty On Stolen Beatles Recordings Charges
A British man was convicted at London's Southwark Crown Court yesterday (13JUL06) of trying to sell stolen BEATLES recordings. Nigel Oliver, 55, faced charges of handling stolen goods and seeking to obtain £250,000 ($450,000) for the tapes dating back to 1969, when the Strawberry Fields Forever icons laid down tracks for their Let It Be album.
The 504 tapes make up 80 hours of material, including more than 200 cover versions, and were in the possession of two unknown Amsterdam, Netherlands, men before a 2003 Dutch police raid recovered them. Oliver acted as a middle man in the deal they were brokering.
Neil Aspinall, who manages The Beatles' Apple Corps label, told the court, "These tapes have a huge commercial value. There's lots of very unknown stuff and music they wouldn't have recorded in a normal session.
"For example, they covered over 200 songs on these tapes. Songs of the day, such as Bob Dylan." Oliver, who was found unfit to enter a plea, will return to court for sentencing.
© by PR Inside, World Entertainment News, all rights reserved.
See also: Beatles' final sessions stolen from the BBC news services.
------------------------
July 10
Boyd signs million dollar book deal
Eric Clapton's ex-wife Patti Boyd is following the legendary guitarist into writing after signing a lucrative $1.7 million (GBP 950,000) book deal for her memoirs. The 1960's style icon married Clapton in 1979 after her relationship with former Beatle George Harrison broke down, and inspired his classic hit Layla. Now her amazing life story will be traced with the help of British royal Prince Charles' biographer Penny Junior, as part of a deal with publishers Hodder Headline. Clapton announced his book deal last autumn.
© by Contactmusic.com, all rights reserved.
------------------------
July 9
Beatle's first guitar to be auctioned
Sir Paul McCartney's first guitar is going up for sale later this month.
The Rex acoustic guitar is expected to fetch more than £100,000 at Cooper Owen's Music Legends auction at Abbey Road Studios in London on 28 July.

Sir Paul learned his first chords on the instrument, which was owned by his best school friend in Liverpool, Ian James.

Mr James, 64, who lives in Ormskirk, Lancashire, is selling the guitar to help fund his retirement.

The instrument is accompanied by a letter of authenticity from the former Beatle which says: "The above guitar belonging to my old school pal Ian James was the first guitar I ever held.
"It was also the guitar on which I learned my first chords in his house at 43 Elswich Street, Liverpool 8."

Sir Paul mentioned Mr James in "The Beatles", a biography by Hunter Davies.

In the book, he described playing the guitar for a 16-year-old John Lennon at a fete in St Peter's Church Hall in Woolton, Liverpool, in July 1957.

Lennon was playing there with his band, The Quarrymen, and McCartney played some songs for them - convincing Lennon to let him join the band.

McCartney said: "I showed him a few more chords he didn't know.

"Ian James had taught me them, really. Then I left. I felt I'd made a good impression, shown them how good I was."

Mr James, 64, is a retired father-of-three living in Ormskirk, Lancashire.

He is selling the guitar to help fund his retirement.

The lot also contains a photo taken by Sir Paul of a young Mr James playing the guitar in 1957 and a photo of the former Beatle playing the guitar in his office earlier this year.

© 2006 by the BBC News, all rights reserved.
------------------------
July 7
Ringo Starr turns 66!
Happy Birthday Ringo! And may you have many more them! From Tony Copple and John Whelan, the Ottawa Beatles Site web team. But we wonder though, just how many of your personal interests have changed since this short biography that was done in 1964. We know you've turned vegetarian -- but do you still dislike Donald Duck and motor bikes?
"Ringo Starr, born July 7, 1940, in Liverpool, is 5'8" tall, has blue eyes and brown hair. Likes the colour black, steak and chips, Ray Charles and Dinah Washington, sleek suits and ties. He lists girls, drums and cars as hobbies. He dislikes onions, tomatoes, Chinese food, motor bikes and Donald Duck, and likes fast cars. His ambition is to own a string of hairdressing salons." - Sourced from the Canadian "Twist and Shout - The Beatles" LP, February, 1964.
------------------------
July 4
Replay to perform at Winnipeg's McPhillips Street Station Casino, August 25th & 26th
Venue times: 10:00 p.m. Admission: FREE!!
OBS: So what has been the reaction of the band members about pushing out West for two performances?
JOHN ORIETTAS: "We all think it's really exciting, especially to perform in a wonderful venue like that. It's a gorgeous showroom that normally accomodates some major headliners. Replay is being preceded the week before by Glass Tiger, and a few days later by sixties greats the Zombies! We think that's pretty neat! We hope this will open up doors for performances in more casino's across Canada."
OBS: Are the fans out there going to be treated to any thing extra that you folks don't normally cover in your show?
JOHN ORIETTAS: "Well first of all we are doing the show as one 80 minute set non-stop, with a costume change "on the fly", as opposed to our normal show which is 2 X 45 minute sets with an intermission.
"Also...

"We are going to be providing a cool DVD multi-media slideshow with awesome photos and collages as a "backdrop" to each song. And we are adding some songs to the show that we don't always do at every show -- i.e. Paperback Writer, Hide Your Love Away, All You Need Is Love, Lucy in the Sky, Getting Better...maybe some others."
OBS: Also, how are you travelling to get there? By plane?
JOHN ORIETTAS: "Yes we are flying there and back."
OBS: Best of luck, John!
Links: McPhillips Street Station Casino
Replay the Beatles - one of Canada's best Beatles tribute bands direct from Québec!!
------------------------

July 3
Beatles producer Martin mixes it up for 'Love'

By Jill Serjeant

LAS VEGAS (Reuters) - Legendary Beatles producer Sir George Martin knew he was walking on hallowed ground when he decided to take some of the Fab Four's greatest hits apart and throw them back together for the first Beatles-approved live stage show.

The Cirque du Soleil show "Love," which opened in Las Vegas on Friday, was born of a friendship between the late George Harrison and the acrobatic troupe's French-Canadian founder Guy Laliberte.

"I knew it was going to be quite tricky. I was planning an early retirement and then this came out of the blue and I thought 'don't go into your casket just yet,'" said Martin, 80, the man behind every Beatles album bar one.

"This is the first time that the Beatles have agreed to use their songs and voices in a live theater show," he told Reuters. "It was a question of trust."

No one wanted to make just another tribute show to the band that changed the face of pop music 40 years ago, so when Martin, the self-effacing so-called "Fifth Beatle," and his record producer son Giles Martin were appointed musical directors, they decided to mix it up a bit.

"It was a dangerous thing to do, but the Beatles themselves were always pushing the envelope," George Martin said.

More than two years later what they produced is less a twiddle and a tweak and more of a 90-minute medley of original Beatles music created by remixing favorite songs, playing drum solos backward and blending riffs from one tune with another.

Surprisingly, they got the backing of Paul McCartney and Ringo Starr and the support of Apple -- the company the Beatles started in 1967 and which has so fiercely guarded their legacy that previous requests for their use in film and on stage have been turned down.

BEATLES WERE FRIENDLY

"I thought the big problem was going to be the Beatles themselves but they were great from the word go. They all just wanted things to be as good as possible," said Giles Martin, who was born in 1969, a year before the band broke up.

The Martins worked from the original master tapes from the Abbey Road studios to produce a clarity so startling that one can almost hear McCartney's fingers squeaking along the neck of his guitar on "Yesterday."

"Strawberry Fields" begins with John Lennon's original demo tape, and Harrison's "Within You Without You" is played to the drum-track of "Tomorrow Never Knows."

Giles Martin was apprehensive when he showed Starr their version of "Octopus's Garden."

"It has strings of 'Good Night,' drums from 'Rita Meter Maid,' percussion section from 'Polythene Pam' then into 'Helter Skelter' and then goes into 'Sun King,'" said Giles Martin.

"Meanwhile there's 'Baby I'm a Rich Man' percussion going on in the middle lane. Really the kitchen sink is thrown at that one," he said. "It absolutely floored him (Ringo)."

Digital technology allowed the Martins to experiment in a way undreamt of in the 1960s when Martin had a four-track tape recorder and "used to edit with razor blades."

Martin said the only track in the show that he wished he had 40 years ago was his son's treatment of "Within You Without You" which "I think is fantastic and it should have been on the original Pepper. But Giles wasn't born at the time."

The Martins are now working on the "Love" soundtrack album which is likely to bring the Beatles music to yet another new generation of fans.

"I respect them way more now, having been so close to their music, than I did before," said Giles Martin.

"And your grandchildren," he told his father fondly "have suddenly realized you're cool."
© 2006 by Reuters, all rights reserved.
------------------------
July 2
The man behind 'Love'

by Lark Borden
Gannett News Service

Guy Laliberte, who hatched the idea for "Love" with George Harrison, and developed it after Harrison's death in 2001, says one of the most touching stories in its development was related to him by Yoko Ono, John Lennon's widow.

"She said forget what all the tabloids said about breaking up. These people together brought a whole generation of love and hope and people should ask themselves if they think that in '69 when 'Abbey Road' happened, this is the sound of fighting. 'Abbey Road' was their last project and if you listen to it, how can you believe there was anything but love between all of them. It was their last project, born out of love between them."

He says it's that "love" that drives everything in the show. There are 27 songs and 130 Beatles' bits, samples and sounds.

© 2006 by the Gannett News Service, all rights reserved.
------------------------

July 1
Beatles' Legacy Revived With 'Love' Show

By Ryan Nakashima
The Associated Press

LAS VEGAS -- The Beatles are back, not in the USSR, not on "The Ed Sullivan Show" or even at Shea Stadium -- but on the Las Vegas Strip as the focus of international theater troupe Cirque du Soleil's surrealistic portrayal of the Fab Four's career.

Friday's grand opening performance of "Love" featured red carpet arrivals at the at The Mirage hotel by Ringo Starr, Paul McCartney and the widows of John Lennon and George Harrison, Yoko Ono and Olivia Harrison.

"It was emotional because two of us aren't there," Starr said after the show. "So it really comes home when you're watching this."

McCartney avoided reporters but emerged onstage after the performance. "This is for John and George!" he yelled.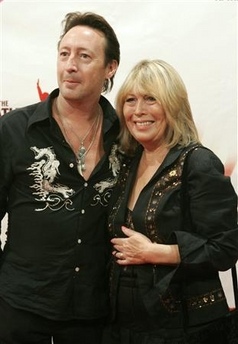 Julian and Cynthia Lennon were also in attendance.
The deconstructed musical trip through the Beatles' past is filled with characters from their songs -- the walrus, Lady Madonna, Sgt. Pepper -- parts of songs, outtakes and fragments that are sure to please fans and at the same time leave them full of questions.
"John? Who knows about John," said George Martin, the Beatles' longtime producer about John Lennon, who was shot and killed Dec. 8, 1980.
"If he saw the show, he'd probably say, 'Yeah, but it could be better,'" said Martin, who worked with son, Giles Martin, to create the 90-minute show's soundscape. "John was never satisfied with anything that he ever did in his life. In his mind, he had a dream world which could not be realized."
In "Love," the Beatles' dream world does appear onstage.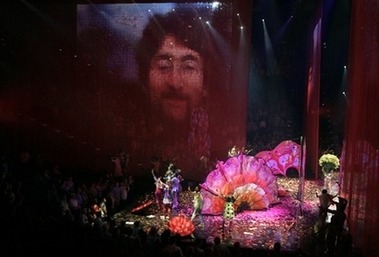 The performance explodes early at the hotel-casino's $130 million, 2,013-seat theater in the round with "Get Back," the band's 1969 hit, as dancers and acrobats jump and twirl in the air.
Set to blended, reversed and enhanced parts of 130 songs and unpublished outtakes, the acrobatic and dance spectacle takes the audience through World War II, the 1960s era of "Beatlemania," the band's reclusive studio years and a psychedelic time that produced songs such as "Strawberry Fields Forever" and "Lucy in the Sky with Diamonds."
Some moments allude to real-life events, according to creator Dominic Champagne. Hooded figures throwing knives at a cross hint at threats made by the Ku Klux Klan against the Beatles after Lennon famously proclaimed in 1966 that the band was "more popular than Jesus."
Also dramatized to "A Day in the Life" is Julia, Lennon's mother, whose death in a traffic accident early in his life is thought to have created a bond between Lennon and McCartney, whose own mother died when he was young.
"I tried to get inspired by the lyrics, but also the moments and the motion of their careers," Champagne said. "We tried to be spiritual and physical without trying to be too didactic. I didn't want to do the live version of 'The Anthology.' We're not here to teach the Beatles story to people."
What emerged is a multitude of symbols and metaphors that will have dedicated fans dusting off their LPs and looking through lyric books.
A South African tap dance in yellow gumboots to "Lady Madonna" evokes the "children at your feet" line from the song. A lonely looking "Eleanor Rigby" drags her belongings like a bag lady behind her on stage, while "Doctor Robert," who allegedly gave the band LSD in their tea, merrily carries teapot in hand.
It was Harrison's desire to do more with the Beatles' legacy and his personal friendship with Cirque founder Guy Laliberte that sparked development of the project. The Beatles' company, Apple Corps Ltd., then signed off on "Love."
The production is the first major theatrical partnership for Apple Corps, which has earned a feisty reputation for having sued companies from Apple Computer Inc. to record label EMI to protect the band's legacy. It also marks the company's most significant endeavor since 2000 when it released "1," a CD collection of 27 No. 1 singles that has sold more than 24 million copies.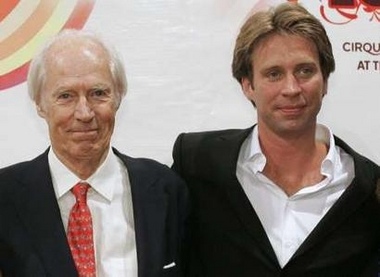 Sir George Martin, Beatles musical producer with his son Giles Martin.
Giles Martin likened the long hiatus to the quiet time from 1966 to 1967 that his father spent in the studio with the Beatles to create their seminal album, "Sgt. Pepper's Lonely Hearts Club Band."
"'Sgt. Pepper' was done because the Beatles stopped touring," he said. "And this was done because the Beatles aren't here."
© 2006 by the Associated Press, all rights reserved.
------------------------
June 30
Beatles' extravaganza is a magical mystery tour you'll never forget
by the Daily Mail
The Cirque du Soleil's £75million extravaganza set to the songs of the Beatles has met with rave reviews from critics today ahead of its gala premiere tonight.
The circus spectacular called LOVE, which premieres tonight at the Mirage Hotel in Las Vegas, will be attended by remaining Beatles Sir Paul McCartney, Ringo Starr, George Harrison's widow Olivia and also Yoko Ono.
It is, astonishingly, the first time the Beatles have allowed their music - including some previously unheard tracks - to be performed in a show.
And critics worldwide have showered the extravaganza with plaudits.
The Daily Telegraph's Charles Spencer described the show as "ravishing and almost indecently spectacular."
"Cirque du Soleil is also overpoweringly moving. For it achieves the apparently impossible, allowing you to hear the Beatles with fresh ears.
"At times you seem to be listening to the music of your childhood and youth as if for the first time," he wrote enthusiastically.
"The sound is like a dream come true."
The Toronto Star's critic Richard Ouzounian described it as "sheer bliss" and a "magical mystery tour you'll never forget."
Ouzounian added: "It is undoubtedly the most unabashedly joyous show in this organisation's history.
"LOVE is not only a satisfying artistic and original piece of entertainment in its own right, but it honours the musical integrity of the Fab Four in a way that few other shows ever have."
The show, which was born out of a friendship between the late George Harrison and Guy Laliberte, founder of the Canadian acrobatic troupe, takes its audience on a part-chronological, part-fantasy journey through the life and times of the four young men from Liverpool who inspired Beatlemania.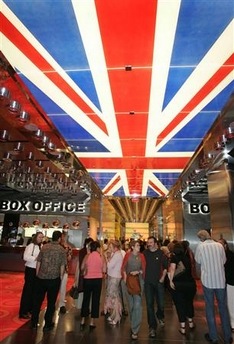 Entrance to the Mirage Hotel in Las Vegas for "Love".

Performed in a custom-built, 2,000-seat theatre, the audience is treated to high-wire acrobats, break dancers, trampoline artists and skaters whom bring life to characters such as Sgt. Pepper, Lady Madonna and the sea world of Octopus's Garden in a visual feast of colour, light and adventure.

Some of the wondrous scenes include Lucy swooping on a trapeze across a sky twinkling with diamonds, Mr Kite presiding over a psychedelic circus of stiltwalkers and acrobats, and there is also the unmistakable voices of John, Paul, George and Ringo filling the surround sound-equipped arena.

For avid Beatles fans, the real star of the show is the music - some 130 songs re-mixed, mashed up and born again with a clarity never heard before.

Sir George Martin, who helped produce the show said: "We wanted to make sure there are enough good, solid hit songs in the show but we didn't want it to be a catalog of 'best ofs'. We also wanted to put in some interesting and not well-known Beatles music and use fragments of songs."

Martin, who worked on every Beatles album except Let It Be, and his son Giles Martin spent two years working from the original master tapes of The Beatles sessions to produce a 90-minute soundtrack that is played through six speakers in the back of each seat as well as a panoramic sound system.

The sound is so clear, McCartney's Yesterday feels so close you can hear the strings of his acoustic guitar snapping on the neck.

Meanwhile, well-known songs like Revolution and Come Together are remixed with snippets from other Beatles hits while tracks like Get Back and Within You, Without You are intermingled.

"The last thing we wanted to create was a retrospective or a tribute show," Giles Martin added.

McCartney and Ringo Starr, who have already seen the show in preview, were closely involved in the project as were Olivia Harrison and Yoko Ono.

The idea of teaming up with Cirque du Soleil first came from Harrison before his death in 2001.

It was pursued by his widow and got the go-ahead from Apple Corps Ltd, the English company that administers The Beatles' interests, in 2002.

© 2006 by the Daily Mail, all rights reserved.

------------------------

16 Feb 2008
A fan's comment on the show 19 month's later, by which time "Love" was acknowledged at the hottest show in Vegas.

------------------------

June 28
Events slated to mark anniversary of the Beatles' 1966 visit to Tokyo

By HOTAKA TAZAWA
Kyodo News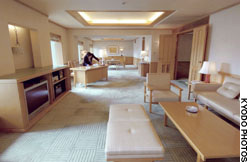 Capitol Tokyu Hotel in Chiyoda Ward, Tokyo, will offer its presidential suite, where the Beatles stayed 40 years ago, at a reduced rate of 115,000 yen per night in August.
The Beatles visited Japan in June and July 1966 and gave memorable performances at the Nippon Budokan hall in Tokyo.
This year various commemorative events are scheduled in Tokyo to mark the 40th anniversary of the legendary band's visit.
Capitol Tokyu Hotel in Chiyoda Ward, which was the Tokyo Hilton when the Fab Four stayed there, is planning some events, including a "Beatlemania" stay in which guests can book the presidential suite, the band's room 40 years ago, at about 115,000 yen per night, a quarter of the regular charge, in August.

The suite's furniture, including tables and lights, are almost the same as before, according to the hotel.
"We would like to offer a last chance for fans to stay in the suite before the hotel is torn down," said spokesman Takanori Yasuoka.

The hotel will close Nov. 31 and be rebuilt.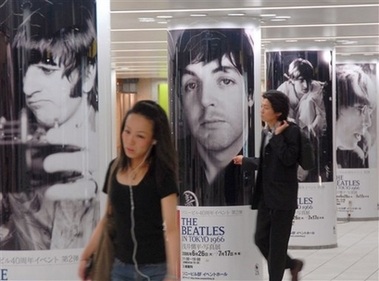 Commemorating the 40th anniversary of the Beatles arrival to Tokyo, images of the band are displayed in the concourse of Tokyo's subway.

In addition, the Return, a Beatles cover band from the U.S., will stage a dinner show Friday at the hotel's Pearl Room, where the Beatles held news conferences.

"There are many cover bands across the world, but we have chosen the Return because its members resemble the Beatles members, with the mushroom haircut. The person playing the role of Paul McCartney is also left-handed," Yasuoka said.

The Sony building in Chuo Ward on Monday started an exhibition titled "The Beatles in Tokyo," featuring pictures taken by Shimpei Asada, the only official photographer for the band's Tokyo visit. The free exhibit runs until July 17.

But what dedicated Japanese fans will no doubt be most interested in will be the Cirque du Soleil show "The Beatles-

Love," supervised by George Martin, the Beatles producer, in Las Vegas this summer. Beatle George Harrison, who died in 2001, conceived the idea of the show.

© 2006 by the Kyodo News, all rights reserved.

------------------------

June 20
George Harrison's Living In The Material World to be Reissued in CD and Deluxe Limited Edition CD/DVD Packages by Capitol/EMI

Remastered CD Adds Two Bonus Tracks; Deluxe Edition's DVD Features Previously Unreleased and Rare Archival Film and Audio Clips

HOLLYWOOD, Calif., June 20 /PRNewswire/ -- Capitol/EMI Music Catalog Marketing is proud to announce the reissue of George Harrison's Living In The Material World album on September 26, 2006.

The CD will be issued in two formats. Both packages will contain the album, which has been re-mastered at Abbey Road Studios from the original analog tapes. The new version also includes two additional tracks, "Deep Blue" (originally a B-side from 1971) and "Miss O'Dell" (the B-side to "Give Me Love (Give Me Peace On Earth)").

The single-disc package's jewel case will contain a 12-page booklet with lyrics and extra photographs. The special limited edition package will house the CD and a companion DVD with an expanded 40-page booklet. The set's exclusive DVD features:

* Rare footage of George performing "Give Me Love (Give Me Peace On Earth)" from his 1991 Japanese tour with Eric Clapton.
* A mini-feature edited from film commissioned by George in 1973 of the album's production in Britain and America.
* Previously unreleased versions of "Miss O'Dell" and "Sue Me, Sue You Blues" set to visuals of unseen archival material.

Historical Notes -- Kevin Howlett

Living In The Material World was George's second solo album of new songs following the Beatles' break-up in 1970 and its lyrical focus revealed his continuing mission to explore spiritual themes. Many people would hear his message. Five weeks after its release in May 1973, the LP and its single 'Give Me Love (Give Me Peace On Earth)' simultaneously occupied the number one positions on the US albums and singles charts.

The success of the album continued a winning streak that had begun with the release of All Things Must Pass. Featuring the worldwide number one 'My Sweet Lord', the triple LP set had topped the US album chart at the beginning of 1971. Later that year, George masterminded two remarkable concerts at Madison Square Garden in New York to help raise awareness and money for the starving refugees from Bangladesh. The commercial success of the Concert For Bangladesh live album was emphatic and unprecedented -- another triple LP box set that was a best seller around the world -- and it won an 'Album of the Year' Grammy Award.

For Living In The Material World, George assembled a core group in the Apple Studio in London consisting of Nicky Hopkins and Gary Wright on keyboards, Klaus Voormann on bass and Jim Keltner on drums. They recorded backing tracks which received varying degrees of enhancement through subsequent overdubs. The most complex musical arrangement on the album is heard on the title track. Having played together at the Concert For Bangladesh, Ringo Starr and Jim Keltner perform their 'double drums' on 'Living In The Material World' and the brass parts were played by Jim Horn with help from Klaus Voormann on tenor saxophone. The gentler sections of the song feature tabla virtuoso Zakir Hussein and Jim Horn on flute and recorders.

The slide guitar playing heard throughout All Things Must Pass had quickly become associated with the George Harrison 'solo' sound and it is equally prominent on Living In The Material World. The exquisite dual harmony slide guitar parts on 'Give Me Love' were integral to that track's gentle power and on 'Sue Me, Sue You Blues', George revealed a bluesy side to his playing -- more bottleneck than Hawaiian in its style.

The four gentle ballads -- 'Be Here Now', 'The Day The World Gets Round', 'The Light That Has Lighted The World' and 'Who Can See It' -- are heartfelt reflections on how to live a spiritual life in the turmoil of the material world -- 'where there's so little chance to experience soul'. The joyous 'Don't Let Me Wait Too Long' picks up on the 'really want to see you' theme of 'My Sweet Lord'. The spiritual nature of these songs is mirrored in the artwork on the gatefold LP sleeve, which featured an illustration from the Bhagavad-Gita.

At the foundation of Living In The Material World are George's unwavering sincerity and integrity. These are rare qualities in mainstream popular music and should be treasured and nurtured wherever they are discovered. This is a welcome and timely re-issue.

For more details, please visit George Harrison's official website: www.georgeharrison.com

------------------------

June 19
Mark Drobnick reviews the Ringo Starr concert at the Rosemont Theatre

To read Mark's report, please click here.

------------------------

June 18
Paul turns 64!

Happy Birthday, Paul!! And may you have many more of them!

- From Tony Copple and John Whelan, the Ottawa Beatles Site team!

A Saturnian Musical Celebration to Honor Paul McCartney

On the occasion of Paul McCartney's landmark 64th birthday, the Cassini Imaging Central Laboratory for Operations (CICLOPS) is releasing today an 8-minute movie as a birthday gift to the former Beatle. Sixty-four of the most dramatic and spectacular images taken by NASA's Cassini spacecraft, including one mosaic from the European-built Huygens probe of the surface of Titan, are composed together in a cinematic voyage through the Saturn system and put to the music of the Beatles.

"In their creation of new musical forms and directions, and in their expansive vision of the art of popular music, the Beatles reached heights of achievement in their brief time together that nobody has been able to surpass", said Carolyn Porco, Cassini imaging team leader and the producer/director of the movie. "And being a major element in that incredible story makes Paul McCartney, in my mind, one of planet Earth's brightest stars. It makes me very happy to be able to celebrate him in this way. I hope he likes our movie."

The movie 'Sixty-four Sights from Saturn' is available today on the home page of http://ciclops.org. High resolution versions may be obtained by emailing cpcomments@ciclops.org.

The Cassini imaging operations center (CICLOPS) is based at the Space Science Institute in Boulder, Colo.

Report written by: Space Science Institute

------------------------

June 15
Live Review: Ringo Starr at the Casino Rama
By Jane Stevenson, Toronto Sun

RAMA, Ont. -- Overall, it wasn't the smoothest of North American tour launches for Ringo Starr's All-Starr Band last night at Casino Rama.

But what the 65-year-old former Beatles drummer and his ninth All-Starr lineup -- three-time member Sheila E, Rod Argent (The Zombies), Richard Marx, Billy Squier, Hamish Stuart (Average White Band) and Edgar Winter -- lacked in polish, they made up for in spirit, good humour and some truly outstanding musicianship.

Particularly noteworthy was Sheila E., whose powerhouse talent on both percussion and drums on her hits Love Bizarre and Glamourous Life was awe-inspiring.

"In one of her solos, she hits the drums more than I have all my life," quipped Starr, who was all smiles whenever she took centre stage.

Lending a funky, strong hand to the rhythm section was the enthusiastic and accomplished Stuart, who often jumped over to hover near Starr's drum kit, and has previously toured with fellow Beatle Paul McCartney.

Speaking of Macca, lead guitarist Squier -- also worth a mention for the tight rendering of his hits Everybody Wants You and Rock Me Tonight, and solo guitar turns throughout the night -- got a good dig in at Starr early in show that clocked in at just over two hours.

"Thank you Paul," said Squier after being introduced by Starr, who opened the night with a mix of solo and Beatles hits -- It Don't Come Easy, What Goes On and Honey Don't.

But the best line of the night went to Marx, who had to follow Winter during one of two solo spots, and whose own schmaltzy music added little to the mix.

"I'd rather follow a live birth," said Marx, at 42, the youngest player on stage.

Sadly, the weakest link proved to be Argent, who celebrated his 65th birthday last night and still wowed on organ but struggled vocally through both The Zombies' She's Not There and Argent's Hold Your Head Up.

In fact, Argent had to restart She's Not There after a false start which found him singing wildly off-key due to out-of-wack keyboards.

"You know it's our first night," Starr reminded the crowd afterwards.

The drummer and his fellow musicians have been rehearsing at Casino Rama for just over the last week and I suspect they'll be doing more as their month-long tour progresses. Their second show at Rama is tonight before they move on to Detroit on Friday.

Otherwise, the evening's sentimental favourite proved to be Winter with his hits Free Ride and Frankenstein, the latter which saw him play strap-on keyboards, saxophone and drums, sometimes two instruments at the same time.

Still, Winter was also the oddest presence on stage with his lumbering stance, Nordic looks and long, white mullet straight out of a Lord Of The Rings casting call, and his inability to not shriek every word he said to the crowd.

For his part, Starr was the night's charming and affable host, whether at the front of the stage or banging away behind his trademark Ludwig drums.

His standout songs were the Beatles songs Boys, Yellow Submarine, I Wanna Be Your Man and A Little Help From My Friends, and his own Photograph and the George Harrison tribute Never Without You.

Starr is presumably touring in support of his latest record, 2005's Choose Love -- the title track of which he performed -- but he pulled no punches in terms of its commercial failure.

"It sold 10 copies in Canada," he joked.

© 2006 by The Toronto Sun, all rights reserved.

McCartney to preview Beatles musical

SIR PAUL McCARTNEY is jetting from New York City to Las Vegas, Nevada, today (15JUN06) for a preview of the forthcoming Cirque du Soleil production inspired by The Beatles' music.

The veteran singer, who turns 64 on Sunday (18JUN06), is currently on a brief business trip to the United States, but hopes to return to England this week to celebrate his birthday with his four children.

McCartney will be enjoying an exclusive sneak peak of the show, which is set to premiere at The Mirage hotel and resort on 30 June (06).

The Let It Be hitmaker will join former Beatles bandmate Ringo Starr at the opening night, as well as the widows of late bandmates George Harrison and John Lennon - Olivia and Yoko Ono respectively.

© 2006 by World Entertainment News Network, all rights reserved.

------------------------

June 14
Paul McCartney teams up with Tony Bennett

Paul McCartney will perform a duet with Tony Bennett on an album commemorating Bennett's 80th birthday.

Tony Bennett: Duets will also feature Bono, Michael Buble, Elvis Costello, Dixie Chicks, Juanes, Billy Joel, Diana Krall, k.d. lang, John Legend, George Michael, Sting, Barbra Streisand, James Taylor and Stevie Wonder.

Paul will perform "The Very Thought Of You" with Bennett on the CD, which will be released in September 2006. All the tracks will be "recorded live in the studio," according to RPM Records.

© 2006 by Archer and 99.5 FM The Mountain in Colorado, all rights reserved.

Fifth Beatle 'was a good friend'
By JANE STEVENSON, Toronto Sun

RAMA, Ont. -- Last week's death of keyboardist Billy Preston -- sometimes known as The Fifth Beatle -- hit Ringo Starr hard.

But at least he had a chance to say goodbye.

Preston, who died at age 59, had battled chronic kidney failure and been in a coma since November.

"Billy, I saw a couple of days before he fell down into the coma," Starr told the Sun.

"I went to see him, spoke to him, and we were sitting outside in the sun in L.A. Then all hell broke loose and he never came to.

"But as a musician, there was no finer musician, and as a friend, he was a good friend. It teaches you to live a day at a time. And live in today, not in the future. Make that phone call. Go see that Auntie you don't want to see or whatever, because you never know."

Starr told a press conference earlier that he and the other Beatles met Preston in 1962 in Germany, "when he was 16 and we were 20.

"So we've known each other since then and we'd bump into each other; he's been in two All-Starr bands."

Preston backed up The Beatles on Let It Be, Abbey Road and the White Album, appeared in films with the group and toured with them individually after they had split up.

Starr's own health has been good although he did have surgery on both shoulders for bone spurs in January and August 2004 before recording his latest album, 2005's Choose Love.

He didn't think it was drumming-related and has healed nicely.

"My shoulders are better than they were," he told.

Ringo Starr also slams the Canadian Seal Hunt!

Starr was on side with McCartney's stance against Canada's seal hunt, which brought McCartney to eastern Canada earlier this year with Mills when they were still a couple.

"Yeah, s--t, why are you bashing those poor baby seals on the head for someone to wear a fur coat?" said Starr. "Give me a break. I'm a vegetarian too, so it's easy for me."

In other Beatles-related news, Starr will be at the June 30 opening of Love, the Cirque du Soleil Fab Four show at the Mirage with songs chosen by longtime Beatles producer George Martin. Starr wasn't sure if McCartney would also attend.

"I don't know if we'll both be at the opening, I can only speak for myself," Starr told the Sun. "I'll be at the opening because when we planned this tour, the night before I'm in San Diego, then I have a day off so I can do the Cirque opening and then the next day, I actually play Vegas at the Mandalay Bay.

"Hopefully, I'm just going to see it," he said when asked if he might be brought on stage that night. "I've not seen any of the act around the music but I've always loved Cirque du Soleil."

© 2006 by The Toronto Sun, all rights reserved.

------------------------

June 13
In Association with Liverpool's International Beatles Week, August 19 - 31, 2006!

Dear Fellow Beatles Fan:
Roll Up Roll Up for the Mystery Tour, step right this way…
for information on the one and only original Magical History Tour!
"It's getting better all the time! "

In 2003 we celebrated our TWENTIETH anniversary presenting tours to Liverpool, the only company in the world that has brought thousands of satisfied fans from the U.S. and Canada to Liverpool on a regular basis for so many years. We were twice officially recognized by the Lord Mayor of Liverpool for our efforts in bringing fans to the Beatles' city! We are very honored by this distinction, and we are proud to be the longest-running and most respected tour for Beatles fans anywhere! But mostly we are proud of the level of satisfaction among all our past travelers who all had the time of their lives. We can provide numerous references upon request.

On certain years, along with Liverpool & London, we added Hamburg, Amsterdam, and even Scotland to the MMTour. By popular demand, for 2006 we once again added the option of Amsterdam, so fans can experience the Beatle landmarks in that city along with Liverpool and London, including a recreation of the Bed-In for Peace in John & Yoko's actual honeymoon suite at the Amsterdam Hilton. The tour is 13 Beatle-ful days, from August 19-31, but we can customize tours throughout the year, or modify this one to include shorter stays. You could join us for London & Liverpool only if you don't wish to add the Amsterdam option, or you could opt for Liverpool only.

In Liverpool, we will visit every imaginable site as we do every year, plus enjoy all the exclusive events our group is privy to. No other tour goes to all the places we go to, gets inside the places we have access to, and has as much fun! In London we will be have our now-annual "Twist & Shout" Beatles party at The Hard Rock Café, where we'll eat, drink, dance, and visit the rarest memorabilia in "The Vault" with special celebrity guests. For activities in London and Liverpool, please refer to the past tour reports on our website, and know that we'll be adding new surprises. Kindly check out http://www.liverpooltour.com/2002TourReport.htm for a review of some of what we did last time we were in Amsterdam.

Special guests in the past included Pete Best, Cynthia Lennon, Mike McCartney, Gerry Marsden, John Lennon's sister Julia, George's sister Louise Harrison, former Apple recording artist Jackie Lomax, former Wings members Danny Siewell-Denny Laine-Laurence Juber-Steve Holly-Hamish Stuart, Paul's guitarist Rusty Anderson, Beatles first manager Allan Williams, Billy J. Kramer, Sid Bernstein, May Pang, author Mark Lewisohn and others no longer with us such as Beatles chauffeur Alf Bicknell, Cavern DJ Bob Wooler, Ringo's step-dad Harry, John's Uncle Charlie Lennon and former Apple general manager (and Beatles buddy) Alistair Taylor. They were just a few of the celebrities we meet while on our vacations.

Oh yes, did we mention that on past tours and promotions we have had close encounters with Paul McCartney, George Harrison, Ringo Starr, Julian Lennon and George Martin?! Expect to meet a whole host of Beatles notables on our tour. Among the special guests you will get to see this year are Pete Best, the Beatles' original drummer, Joey Molland (Badfinger) and Donovan, to name a few. We will also be joined by the tribute band "BRITISHMANIA" and "Guitar Charlie," both of whom will be performing for us along the way. No other tour brings along a band, no other tour generates as much fun, no other tour is affiliated with Beatles Week, and no other tour is recognized by the city of Liverpool.

Our "Magical History Tour" has been written about in national newspapers, in Beatles magazines, it's been talked about on radio stations worldwide, and has even been featured on television, most notably on the Travel Channel!

The response to MMTour 2006 has been great. Please note that 4 of the past 5 tours completely sold out. Don't miss out on what is the definitive fan tour celebration in all of Beatledom for over 20 years. We still have space for you! If you would like further info, detailed prices, reservation form, itinerary and other specifics, kindly email us your full name and address, and we will rush you printed materials on what promises to be the greatest tour ever. Join us and be part of history; you'll have the time of your life! Reserve your space today.

Thank you & Cheers,
Charles F. Rosenay!!!, Danny Levine and JodieLynn

"Magical History Tour"
Liverpool Productions' "MMTour 2006" -- International Tours and Events
315 Derby Avenue, Orange, CT 06477

Phone: (203) 795-4737 Fax: (203) 891-8433 Email: LiverpoolTour@aol.com

MMTour: 1983-2006
The longest-running and greatest tour FOR Beatles fans,
organized and hosted BY Beatles fans!

Flashback: Beatles score final Number 1

It was on June 13th, 36 years ago, that the Beatles' "The Long And Winding Road" became the group's 20th and final Number One hit. The song, which was recorded in January 1969 during the sessions for the group's album and film Let It Be, was written by Paul McCartney in late 1968, inspired by the long drive up to his Scottish farm. McCartney talked about the tune in his 1997 authorized biography Many Years From Now, saying, "It's a rather sad song. I like writing sad songs because you can actually acknowledge some deeper feelings of your own and put them in."

The song was recorded on January 31st, 1969, the day after the group's legendary final performance on the roof of their Apple headquarters. It featured Macca on piano and vocals, John Lennon on bass, George Harrison on guitar, Ringo Starr on drums, and the late Billy Preston on organ.

Although not released as a single in the UK, "The Long And Winding Road" became the Beatles' last official single, topping the charts for two weeks, just two months after McCartney announced the group's split on April 10th, 1970.

Macca was reportedly horrified when legendary "Wall Of Sound" producer Phil Spector, brought in by Lennon and Harrison to polish up the Let It Be tapes, added a 30-piece orchestra and female choir to the original sparse-sounding track. The group's original stripped-down recording can be found on the Beatles' 1996 Anthology 3 and 2003's Let It Be... Naked. The song has been a mainstay of Macca's live shows since 1975.

© The Rock Radio.com

------------------------

June 12
Yoko Ono Awarded International Prize

Valladolid, Spain, 12 Jun (Prensa Latina) John Lennon's widow, Yoko Ono, was awarded the 2006 International Fine Arts Prize Monday, for her more than 50 years work and contribution to experimental, aesthetic and conceptual language.

Sponsored by the Cristobal Gabarron Foundation, the award consists of an original golden sculpture by the Spanish artist, for whom the recognition has been named.

Arguing its decision, the jury highlighted Ono´s innovative capacity, evidenced in diverse genres and manifestations of the visual arts since the decade of the 50s, and recalled her performances, installations, multimedia and music.

Closely related to vanguard trends since her arrival in New York in 1953, Yoko Ono participated in different projects in defense of peace together with Lennon. She will receive the important recognition in an official ceremony to be held on October 6.

© Prensa Latina News Agency, June 12, 2006

------------------------

June 9
Ringo back on the road with All-Starr Band

By Ray Waddell Fri Jun 9, 6:48 PM ET

NASHVILLE (Billboard) - Ringo Starr is a band man. And while he is best-known for his time spent in a certain other band from Liverpool, the world's most famous drummer is most interested in talking about his current outfit.

Starr is in rehearsals for his ninth All-Starr Band tour, which begins June 14 in Toronto. This year's version will feature Rod Argent, Mark Hudson, Richard Marx, Billy Squier, Edgar Winter and Sheila E. They'll be out for six weeks this summer, with a setlist ranging from Squier's "The Stroke" to Argent's "Hold Your Head Up" to Starr's own "It Don't Come Easy."

Keyboardist Argent, an original member of '60s British Invasion band the Zombies, says Starr's drumming was an influence on "She's Not There" and other early Zombies hits.

"I've always loved Ringo's drumming," Argent says. "His sense of groove, and the way that he introduced patterns into verses of songs had a big impact on me when the Beatles first came out in England around 1962. So the idea of playing with him after all these years is just fantastic."

Even as Argent and the other All-Starrs gear up, Starr's former band is in the news. Apple Corps., which represents the Beatles' business interests, has cut a deal with Cirque du Soleil and the MGM Mirage for a new $30 million show incorporating Beatles music. "Love" will debut in June at a new 2,000-seat theater at the Mirage in Las Vegas.

Additionally, Starr is recording a new album to be released next year. There are also increased signs that the Beatles catalog will finally make its digital debut. Interviewed by phone from London, Starr was polite in discussing his rock'n'roll past, but it is clear his focus is on the future.

Q: WHAT DO YOU ENJOY MOST ABOUT YOUR ALL-STARR BAND TOURS?

A: The playing. Onstage time is just the best place for me, I love it.

Q: HOW DO YOU GO ABOUT PUTTING THE BAND TOGETHER?

A: It started in 1989 when I just looked in my phone book. (The 1989 lineup included Nils Lofgren, Joe Walsh, Billy Preston, Jim Keltner, Clarence Clemons, Levon Helm and Rick Danko.) And I'd run out of numbers by 1995. Managers submit people they'd like to be in the All-Starrs; sometimes the artists themselves let us know they'd like to be in one. Then I sit with a load of CDs and just feel this would be a good lineup.

Q: THEN YOU JUST START REHEARSALS AND WORK UP A SETLIST?

A: (The band members) have to have had hits in the '60s, '70s, '80s or '90s, now. I've certainly got the hits from the '60s and the '70s, actually. I always say it's like the best "1-800-Band" in the world. You get a chance to see the artists doing their hits, but with this different combination of musicians. And for me, rather than have six bands onstage doing 20 minutes each, it's great to have all the artists. We've got piano, organs, bass guitar, drums, and we all have to learn everybody's songs. The joy is, I support them 100%, and so far, most of the All-Starrs have supported me 100%.

Q: IS TOURING STILL FUN FOR YOU?

A: I've never heard anyone say touring is fun. The playing is what's fun. You have to get on the plane, get in the van, get in these strange hotels to do what I do. I am a musician, I am a drummer, I started playing a long time ago, and I'm still getting this chance, so it's great.

Q: DID YOU MISS IT WHEN THE BEATLES STOPPED TOURING?

A: I didn't miss it when the Beatles stopped touring because we all realized the reason we did stop in those days -- and we were all like 25 -- was that we did a couple or three years and, in all honesty, nobody listened. And that was part of our gig. So we decided to spend more time in the studio. I felt as a musician at the end of the Beatles' touring I was not playing as good as I could because of the noise. You have to remember, we didn't have all the volume we have now. We had those small amps and the house PA wherever we played, including Shea (Stadium in New York).

Q: AND NO IN-EAR MONITORS.

A: None of that. Maybe there would have been a different attitude if we'd have had that at that time.

Q: HOW INVOLVED HAVE YOU BEEN IN THE CIRQUE DU SOLEIL SHOW?

A: George Harrison met (Cirque founder) Guy Laliberte five years ago and he presented the idea to George. And we met with Guy and we had several meetings on our own and we finally came to the decision. I love the Cirque shows anyway, and we did it with our music, and George Martin is now remixing and actually even going a little further than just remixing. He's using other takes on certain stuff. They are the actual (Beatles) recordings, but it could be "take nine." We've all followed the music from day one -- as soon as George got a couple of tracks done, we went to listen to it. And over the last couple of years we keep going to EMI to make sure we love what we're hearing.

George and Giles, his son, have done a great job. I think everyone will be absolutely amazed when they hear what George and Giles have done with the music. I love the music, so that's all I'm involved with. I'm not involved with hiring the acrobats.

Q: AND YOU'RE NOT GOING TO DO ANY ACROBATICS YOURSELF, I PRESUME?

A: (Laughs) I will not be doing any acrobatics myself, no.

Q: WHAT CAN YOU TELL US ABOUT YOUR WORK ON THE NEW ALBUM?

A: Right now I'm just finishing up recording so I can have a break before I start rehearsing myself, of course, in my studio to get to know Rod Argent and Billy Squier's numbers. I'm just finishing the album, it probably won't be out this year because of the tour and then I'll want a break. I'll probably finish it 'round about November. That's the plan. It's a CD in the works.

Q: IT SEEMS YOU ENJOY THE BAND MENTALITY AND WORKING OFF THE OTHER PLAYERS.

A: I do, I love bands. I love when we make the records, I like hanging out with the other members. We write the songs and then we get into the studio and play them and work them out, get them down. I've always said I am a band member, I love being in the band. I've always been in bands. From Rory Storm before the Beatles and the Darktown Skiffle Group. It's just something I really enjoy, hanging out with writers and musicians.

Q: HOW WERE YOU AFFECTED BY BUCK OWENS' RECENT DEATH?

A: Buck was great, he was a huge influence in the late '50s and early '60s in country music. As you know, I loved him and I also covered his version of "Act Naturally," and in the '90s we did a duet on it together and put that out. I didn't have a lot of time hanging out with Buck, but for me he was a huge country influence.

Q: THERE IS A LOT OF SPECULATION ABOUT THE BEATLES' MUSIC BECOMING AVAILABLE SOON FOR DIGITAL DOWNLOADING. ANY COMMENT ON THAT?

A: My big comment is, "Yes, the Beatles' music will one day be downloading."

Q: CAN YOU BE A LITTLE MORE VAGUE ABOUT THAT?

A: I can be really vague if you want me to. This is all very exciting, but what we're doing here is plugging the All-Starr Band.

Q: ANY ADVICE YOU'D LIKE TO GIVE TO UP-AND-COMING MUSICIANS?

A: Keep playing. That's all we can do, we keep playing. For me, if you're a musician you're playing for the music, not to be famous, and that's how it works.

© Billboard 2006. All Rights Reserved

------------------------

June 6
"Fifth Beatle" Billy Preston dead at 59

By Dean Goodman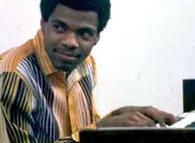 LOS ANGELES (Reuters) - Keyboardist Billy Preston, a so-called "fifth Beatle" who also played with the Rolling Stones and enjoyed solo success in his own right, died in Arizona on Tuesday after a long illness. He was 59.

Preston had been in a coma at Scottsdale Healthcare Shea in Scottsdale, Arizona, since last November after suffering kidney failure and related illnesses, the legacy of a longtime battle with drugs that landed him in prison in the late 1990s.

His sister, Lettie Preston, told Reuters his condition worsened over the weekend. An autopsy will be performed, and his funeral will take place in Los Angeles, she said.

A young keyboards prodigy, the Houston, Texas, native spent most of his life in the entertainment business. While still a teenager, he played with the likes of Mahalia Jackson, Little Richard and Ray Charles. With his large Afro hairstyle, ever-present gap-toothed smile and funky clothing style, he was a popular on-stage presence.

He entered the Beatles' orbit in 1969, as the band was on the verge of breaking up, and helped to soothe some of the tension. He performed on both sides of the "Get Back"/"Don't Let Me Down" single, which was credited to "The Beatles with Billy Preston" -- the first time the band had shared the spotlight with a sideman. He also accompanied them during their last concert
that year, the famous rooftop gig in London.

In the early 1970s, he topped the charts as a solo act with the Grammy-winning instrumental "Outa Space," "Will It Go Round in Circles" and "Nothing From Nothing." He also wrote Joe Cocker's 1974 hit "You Are So Beautiful."

At the same time, he was becoming a fixture with the Rolling Stones, recording such tracks as "Can't You Hear Me Knocking" and "Heartbreaker," and playing on several tours.

"He's just such a great player, singer and songwriter and has spiced up so many recordings with his keyboard prowess," said current Rolling Stones tour keyboardist Chuck Leavell. "He's one of my true heroes."

Preston's private life was darker. In 1997, a California judge sentenced him to three years in prison for violating the terms of his probation for a cocaine possession conviction handed out earlier that year.

Born William Everett Preston on September 9, 1946, he moved with his family to Los Angeles when he was 2. He appeared in the 1958 film "St. Louis Blues," which starred Nat King Cole as bluesman W.C. Handy. Preston played Handy as a child. Gospel legend Mahalia Jackson was also in the film, and he would go on to play organ on some of her best-known recordings, including "In the Upper Room."

WITH THE BEATLES

In 1962, Little Richard hired Preston to join his backing band for a European tour. He met the Beatles during their residency at the Star Club in Hamburg, Germany, and also Sam Cooke, who signed him to his SAR label. But Cooke was killed two years later, and Preston signed with Vee Jay records, one-time American home of the Beatles, through which he released an
instrumental gospel record.

After a stint playing in the house band for the TV show "Shindig," he joined Ray Charles' band. Beatles guitarist George Harrison renewed their friendship, and brought him into the tense Apple Studios in January 1969 where the Fab Four were barely speaking to each other while working on the "Let It Be" film and recording projects.

His organ handiwork can also be heard on such Beatle songs as "Let It Be," "I Want You (She's So Heavy)" and "Something."

Harrison signed him to Apple Records and co-produced Preston's two albums for the label, "That's the Way God Planned It" and "Encouraging Words."

Preston also contributed to many Beatle solo albums, including Harrison's "All Things Must Pass," John Lennon's "Sometime in New York City" and Ringo Starr's "Sentimental Journey." He won a Grammy as a performer on the Harrison-orchestrated 1973 album of the year "The Concert for Bangladesh."

His credits with the Rolling Stones included the albums "Sticky Fingers" and "Black and Blue." He was a favourite of Mick Jagger, who danced seductively with Preston in the video clip for "Hey Negrita." Not only did he tour with the Stones, but he also opened for them.

© Reuters 2006. All Rights Reserved