Paul McCartney with his wife Linda at the 43rd Grammy Awards.
The couple picked the Grammy Award for "Best Film Score" for "Let It Be" on behalf of the Beatles.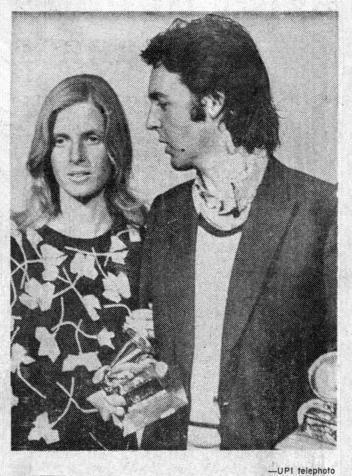 The following is an excerpt from the "Variety" book entitled "The Grammy's" by Thomas O'Neil. As most fans recall from the 1970 Grammy Awards, the folk duo team of Simon and Garfunkel were nominated for seven Grammys and won six of them. Thus when the author referred to "Bridge Over Trouble Water" in his write-up, he eventually shortened it to "Bridge" as referenced a few times in his Beatles coverage...
"Bridge [may have] swept the top honours", wrote the L.A. Times, "but it was ex-Beatle Paul McCartney, in a rare public appearance, who created the most excitement" at the ceremony. "Though the event was strictly black tie, McCartney strolled in wearing a blue suit, red flower shirt and open at the neck, and white tennis shoes."
Like Simon & Garfunkel, the Beatles broke up in 1970 but still had a bounty of nominations (six) for their farewell LP, Let It Be. They won only one award -- for Best Original Score written for a Motion Picture or TV Special - after losing Record and Song of the Year nods (in a close contest, according to the Washington Post) to "Bridge." But "there were shrieks of surprise" from the audience when the winner of the best film score was announced, the Times reported. "With Linda at his side, McCartney raced up to the podium to accept the award from actor John Wayne, saying only, 'Thank you.'"
Variety columnist Army Archerd added, "Paul McCartney kept his word, returned to the press tent after the awards -- and, as expected, had to plough his way thru a mob to reach his car with (expectant) wife Linda. McCartney, informally attired (would you believe sneakers?), admitted, 'I didn't know whether they'd let me in.'"
John Lennon once said about Let It Be: "This is us with our trousers off." The album was from the Beatles film that documented the group's breakup and included such hit singles as "Get Back." The movie ended with their last public concert -- held on the rooftop of their Apple Records headquarters in London (the neighbors called the cops to break it up) -- and with Lennon's parting words, "I'd like to say thank you very much on behalf of the group and myself, and I hope we passed the audition."
Research Material:
1) "The Grammys" by Thomas O'Neil, published by Perigee Books, 1993.
2) UPI photo of Paul and Linda, 1970.