July 22, 2008
Sir George Martin's latest project: "On Record: The Soundtrack of Our Lives"
by Jordan Riefe
"At last week's TCA press tour in Los Angeles, Sir George Martin sat down at the PBS panel to talk with the press about his latest project, On Record: The Soundtrack of Our Lives, a story about ... how the most universal mass medium of the 20th century marked the emergence of pop culture worldwide; how the competition between the urban middle class and the rural working class came to define popular music and in so doing, made possible the breakthrough of minority cultures into mainstream consciousness. Hosted by Martin and narrated by Kevin Spacey, On Record: The Soundtrack of Our Live traces several of music's most influential moments featuring interviews with a variety of notable names in music. Although The Soundtrack of Our Lives doesn't debut on PBS until 2010, Sir George Martin was more than happy to talk about the upcoming series, his legacy with The Beatles, and the bands that impress him in today's music world."
To read the interview with Sir George Martin, please click on the following link: TCA 2008: Sir George Martin's On Record: The Soundtrack of Our Lives

July 21, 2008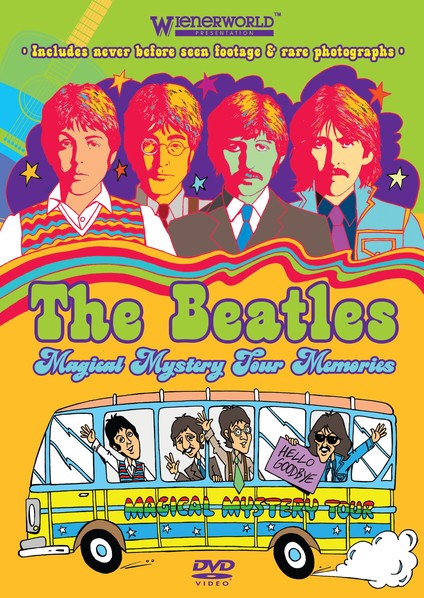 New Release on DVD

Title: The Beatles – Magical Mystery Tour Memories
Release Date: 25 August 2008
Running Time: 60 minutes plus 30 minutes bonus features

Synopsis:

The Magical Mystery Tour was the first Beatles film project following the death of Manager Brian Epstein in August 1967. The film was unscripted as various 'ordinary' people travelled on a charabanc bus, having 'magical' adventures en route. The movie soundtrack was released in the UK in December 1967 and in 1968 received a Grammy Award for the best album reaching the coveted #1 slot in the US for eight weeks.

The Beatles - Magical Mystery Tour Memories is an upbeat rockumentary film featuring the vivid memories of those who witnessed the making of the cult Beatle movie, The Magical Mystery Tour, in 1967 and features a celebrity cast along with anecdotal stories and unseen 8mm home movie footage, as well as eye-witness accounts from fans, on-lookers and the cast of the movie.

Featuring Tony Barrow (Beatles press officer), Mike McCartney (Paul McCartney's brother), Miranda Ward (journalist and friend of the Fab Four), Spencer Davis (Spencer Davis Group), Tony Bramwell (Beatles road manager and close friend of Sir Paul McCartney), Neil Innes (Bonzo Dog Do Da Band), Freda Kelly (principal secretary to the Beatles Fan Club), Dame Peggy Spencer (choreographer), and Victor Spinetti (actor and close friend of John Lennon), sharing their memories with Victor supplying a fascinating commentary to the film.

"This is a happy, upbeat film" comments David Lambert, producer and director of Arthouse Pictures, who produced the movie. "Probably the last time the Fab Four were all still getting along." Keith Badman (author and Beatles expert) said "I have seen the rough cut screener and can't wait to see the finished programme. It is fantastic."

This film is a must have for all Beatles fans worldwide and an opportunity to look back fondly at the heady days of the swinging 60s.

Bonus Features: Beatles related stories from Mike McCartney, Freda Kelly, Spencer Davis, Victor Spinetti, Tony Bramwell and Miranda Ward.

Dealer Price £8.84 • Retail Price £12.99 • Duration 90 minutes
Catalogue No. WNRD2449 • Barcode 5018755244919

For further information please contact:
Claire Thornton, Press & PR, Wienerworld, Unit 7 Freetrade House, Lowther Road,
Stanmore HA7 1EP - Tel: 020 8206 1177 E-mail: claire@wienerworld.com

July 20, 2008
Excited crowd
Paul McCartney's Quebec show draws thousands
by Kevin Dougherty, The Gazette

QUEBEC - McCartney fans sang along to the 1960s Beatles hit Baby you can drive my car during the sound check as thousands converged on the site of Paul McCartney's free concert to celebrate Quebec City's 400th anniversary.

Serge Bélisle, of the Quebec City police, said about 200,000 or more spectators were expected.

"It's a North American happening," Bélisle said. "Everything is going well."

McCartney sang Hey Jude, The long and winding road, Honey don't, as well as Wings hits and singalong songs.

As helicopters flew overhead, spectators could hear McCartney say the bass sounded a bit off in the sound-check session.

Traffic was diverted away from the site and extra buses were added.

Many walked to the site while others used bicycles.

Bélisle said only between 80,000 and 100,000 would be able to actually see McCartney. The remainder of the crowd would have to see him on giant TV screens erected on and off site.

Montrealer Jean-Pierre Lapalme camped out in his van from Thursday night.

"He is the biggest star in the world," Lapalme said. "The best! The best! The best!"

And he added, referring to Quebec artists and others opposed to McCartney's presence in Quebec City at the time of its 400th birthday: "F__k you Normand Braithwaite!"

Anne Lepape, from France, credited The Beatles with giving her the incentive to learn English.

Fiona George of Ottawa, originally from England, said her father used to tell the story that he met The Beatles in a Liverpool pub before they were famous.

George said she was here "because of Quebec's 400th anniversary and it's the atmosphere."

© Montreal Gazette, July 20, 2008
The Latest Ottawa Beatle Site Reviews
Our researcher, John Whelan, critiques the new CD release from The Oz called "Punk Opera Che Lennon" (The Oz hails from Russia) and he also reviews the DVD release of "John, Paul, Tom and Ringo" from the Tomorrow Show with Tom Snyder.

July 19, 2008
Welcome home, Paul McCartney
by the National Post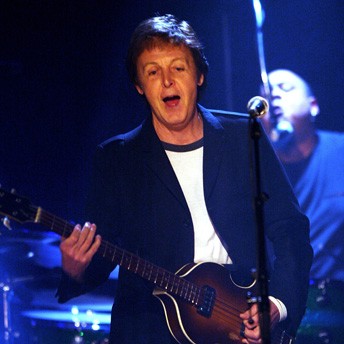 If everybody's quite finished laughing at the Quebec sovereigntists who are denouncing their visitor Paul McCartney as an "Anglo-Saxon idol" bent on replaying the battle of the Plains of Abraham in concert form, we have a modest point to make about the subject.

Let it be said, if it needs to be, that there is obviously no question about McCartney's status as a cultural figure who transcends boundaries of nationhood and ethnicity. To state things as conservatively as possible, he and his late writing partner John Lennon have been to the popular music of our era what Sousa was to the march and Strauss was to the waltz. One can travel literally anywhere, from the Siberian oil patch to the smallest African village, and find that a few bars of Yesterday or Hey Jude will be met with instant recognition. For that matter, it might even work with Band on the Run.

By any reasonable standard, one offers no insult to the people of Quebec in saying that McCartney's presence at the 400th-anniversary celebrations for Quebec City does as much honour to the place as to the performer. And in their more lucid moments, even rabid Quebec nationalists would have to admit that the search for a pop or rock performer from France who could inspire as much legitimate excitement as the offensively English McCartney would be doomed to come up empty. Of course, the French heritage has a special status in Quebec City, but would, say, Johnny Hallyday or Air really suit the importance that the critics themselves wish to ascribe to the occasion?

It is worth adding, as an aside, that Paul McCartney is still surprisingly capable, at 66, of rocking the hell out of an audience. It helps to come armed with the greatest song catalogue any singer-songwriter has ever amassed, but attendees at Sunday's show may find that McCartney's gentlemanly energy, feeling for the beat and joy in playing shame many younger dinosaurs who are more renowned for live performance.

Still, for all that the nationalist rhetoric and petitions against McCartney are clearly exaggerated and ridiculous, some people may have a nagging sense that the ex-Beatle really is sort of a strange choice to help celebrate the anniversary of Quebec, a city he has never before visited. A trifle such as the Beatles' Michelle does not seem to make for much of a spiritual connection with French Canada, and in defending the McCartney concert, Action democratique du Quebec spokesman Sylvain Legare could do no better than to say that Quebeckers wanted "international stars" and that "The English are part of our past, deal with it."

What no one's pointed out in defence of the booking, at least in English Canada, is that McCartney is as powerfully associated with a particular home city as any great artist in history --and that city, Liverpool, is historically bound to Quebec City with bonds as strong as iron. (Which explains why, when the 400th was still in the planning stages, Quebec actually sent representatives to Liverpool to seek opportunities for collaboration.)

In the ages of steam and sail, the Liverpool-Quebec sea link was one of the world's most important, and throughout the 19th century one of Liverpool's chief economic preoccupations was turning timber into commercial ships that would ply the Atlantic. Such ships would eventually leave the St. Lawrence groaning with raw materials bound for Europe's busiest port, and (after the demise of the "triangle trade") return still more swollen with suffering immigrants to the New World, riding at a discount as human ballast.

And many of those immigrants, let us not forget, had Irish surnames -- as does the "English" McCartney. An estimated 30%-40% of Quebeckers have some Irish in their family tree -- whether they're descended from a Johnson sticking out like a sore thumb in a sea of French names, or a Bourque whose great-great-grandfather might just have lived in Tipperary and gone by Burke.

McCartney is not just a big star who happened to be available at the right time: He is, in fact, arguably the perfect performer for the occasion, a literal cousin to thousands of Quebeckers who hails from one of Quebec's great cultural wellsprings. He should be, and almost certainly will be, greeted as an honorary son of the Celtic-tinged "French-Canadian" nation.
Copyright © by the National Post, all rights reserved.
Related link: "Sir Paul to 'Quebeckians': 'smoke the pipes of peace'" from the Globe and Mail

July 19, 2008
All we are saying is give Paul a chance
The Montreal Gazette
It can be safely predicted even now that a British knight will take Quebec City by storm on Sunday. That's when Sir Paul McCartney will unleash what promises to be the rockingest show the storied Plains of Abraham have seen since the one staged at the same venue by generals named Wolfe and Montcalm.

That's a joke, OK? But it seems some people take the McCartney-Wolfe connection very seriously indeed.

By some people we mean the few dozen separatists, including two Parti Québécois front- benchers, Pierre Curzi and Daniel Turp, who have worked themselves into a froth of indignation over the former Beatle's big show.

These zealots even cranked up a petition alleging that Quebec's 400th-anniversary celebration, of which the McCartney show is a towering highlight, is being blighted by the prominence being accorded to what they call an "Anglo-Saxon idol."

"We can never erase that we were conquered by the British," said sculptor Luc Archambault, the petition instigator. So much, we guess, for Paul's old bandmate's sentiment, "Give peace a chance."

The protest certainly hasn't put McCartney and his band on the run, nor do we suspect it's likely to discourage many of the expected crowd of up to 200,000.

Paul's mission, he said in a Radio-Canada interview, is strictly friendly. "I want to give those people the best night of their lives."

As for General Wolfe, McCartney claimed to have remembered him from history-exam questions, but said still hasn't quite figured out exactly who he was. And Sir Paul assured the interviewer that of course he would speak some French. (He would not, however, promise to sing Michelle (ma belle). Still, it wouldn't surprise us if he did.

Even more reassuring was the overwhelming ridicule heaped on this stillborn protest in francophone quarters. "Would they ban Shakespeare because he's English?" wondered leading Quebec songwriter (and avowed sovereignist) Stéphane Venne. He went on to lecture the petition people, noting that McCartney is an artist whose appeal and influence transcend borders and ethnic lines. Venne added that he and many prominent Quebec musicians have drawn inspiration from him.

Philippe Navarro, a former PQ political staffer and now a full-time musician, pointed out that what really decided the fate of Quebec was not the Battle of the Plains in 1759, but France's decision four years later to give up Quebec in a trade for Guadeloupe - an outcome that would probably have been the same had Montcalm won the battle.

The only thing being tarnished here is the image of the PQ and the sovereignist movement when prominent figures in its ranks indulge in such ludicrous displays of nationalist pique. Curzi and Turp really should know better than to stoop to this. They're making it bad, mostly for themselves.
Copyright © by the Montreal Gazette, all rights reserved.

July 12, 2008
Bigger than Jesus? - the Beatles were "a Christian band." - long lost interview from the "Bed-in."
Story: Daily Telegraph

July 7, 2008
"They'll be worth something one day." - Lennon, in bed, 1969
Montrealer auctions "Give Peace a Chance" lyrics
Story: Ottawa Citizen.
At the same auction, The bass drum used on the cover of The Beatles' landmark album 'Sgt Pepper's Lonely Hearts Club Band' was for £54,1250 - way more than $1 million, and the "Give Peace a Chance" lyrics fetched $800,000!

June 19, 2008
Ringo Starr rocks Fallsview Casino Resort, Niagara Falls, Ontario

Concert Review: Ringo Starr

By JANE STEVENSON - Sun Media

NIAGARA FALLS, Ont. - Ringo Starr is more than getting by with a little help from his friends judging by the fun and lively launch of his latest All-Starr Band tour on Thursday night with the first of two back-to-back shows at Fallsview Casino Resort's Avalon Ballroom.

Like every other All-Starr trek - he's been doing this since 1989 and launched at Casino Rama in Orillia, Ont., three times previously before making the switch to Fallsview this time out - the former Beatles drummer entertained a sold-out crowd of 1,500 with both his solo material and Fab Four hits.

Meanwhile, returning bandmates Colin Hay (Men at Work), Edgar Winter, Hamish Stuart (Average White Band), and Billy Squier, along with newcomer Gary Wright, performed their individual chart-toppers.

But punching up the energy this time out - other than Starr himself who was a bouncing, boyish bubble of enthusiasm - was Stuart, whose funky AWB's hits like Pick Up The Pieces and Work To Do really sounded remarkable in a live setting, and the multi-talented Winters on sax, synthsizers and drums, sometimes just during on one song like Frankenstein.

Wright's Dream Weaver (whose title was inspired by the writings of an Indian mystic recommended by George Harrison, whose first solo album, All Things Must Pass, he worked on) and My Love Is Alive also proved to be crowd favourites along with Hay's Land Down Under and Who Can It Be Now, Winter's Free Ride and Squier's The Stroke.

But it was the 67-year-old Starr who was the main attraction given his musical legacy that was touched upon several times during the two-hour-and-15-minute show with such Beatles classics as Boys, Yellow Submarine, I Wanna Be Your Man, and With A Little Help From My Friends, his own Harrison tribute Never Without You and the show ending cover of John Lennon's Give Peace A Chance.

After a snippet of With A Little Help From My Friends, Starr began the evening in earnest with his solo hit, It Don't Come Easy, before beginning what would prove to be a long night of amusing stage banter.

"I'm a Canadian and I'm okay," said Starr, riffing on Monty Python's I'm A Lumberjack And I'm Okay.

Squier was the hardest rocking of the bunch with the plugged-in Lonely Is The Night faring better than an acoustic solo version of In The Dark, which didn't really work.

Hay was the most naturally engaging performer as he provoked an enthusiastic male audience member in the front row to do some mighty dance moves during Land Down Under - "I want what you're on!" he said - and got the audience to chime in with a spirited singalong during his solo acoustic version of his new song, Are You Looking At Me?

"You know what is happening now - you're a failure if the guy doesn't dance during your song," lamented Starr after the first mad display of dancing.

"I don't care how drunk you are, you aren't coming up here," he added later.

Still, Starr himself got caught up in the excitement of his own tour launch and made the band restart the beginning of Liverpool 8, the title track from his latest album, when he missed the cue.

"I'm too excited," he admitted.

And after a particularly joyous version of Yellow Submarine, Starr left the stage for three songs saying:

"I have to go have a lie down now. I don't know, (the energy) comes from some place."

It was also fun to watch newcomer and second drummer Gregg Bissonette get such a kick out of playing alongside Starr, who finally drew the audience to the front of the stage by the end of the night.

Concert set list:

1. With A Little Help From My Friends Introduction (Ringo vocal)
2. It Don't Come Easy (Ringo vocal)
3. What Goes On (Ringo vocal)
4. Memphis in My Mind (Ringo vocal)
5. Lonely is the Night (Billy Squier vocal)
6. Free Ride (Edgar Winter vocal)
7. Down Under (Colin Hay vocal)
8. Dream Weaver (Gary Wright vocal)
9. Boys (Ringo vocal/drums)
10. Pick Up the Pieces (Hamish Stuart vocal/guitar)
11. Liverpool 8 (Ringo vocal)
12. Act Naturally (Ringo vocal)
13. Yellow Submarine (Ringo vocal)
14. Are You Lookin' At Me? (Colin vocal/solo acoustic)
15. In the Dark (Billy vocal/solo acoustic)
16. Frankenstein (Edgar keyboards/alto sax/drums)
17. Never Without You (Ringo vocal)
18. Choose Love (Ringo vocal/drums)
19. The Stroke (Billy vocal)
20. Work to Do (Hamish vocal/acoustic guitar)
21. I Wanna Be Your Man (Ringo vocal/drums)
22. Love is Alive (Gary vocal)
23. Who Can it Be Now (Colin vocal)
24. Photograph (Ringo vocal)
25. Oh, My My (Ringo vocal) (Performance Debut)
26. With A Little Help From My Friends (Ringo vocal)
27. Give Peace a Chance (Everyone vocal)

Related links:

Simply Starr-struck - The Guy Who Put the Beat in the Beatles by John Law, Niagara Falls Review; Ringo and his friends offer All-Starr performance by Lou Michel of the Buffalo News

June 16, 2008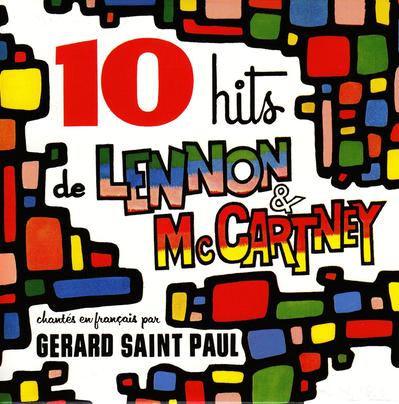 Dear John,

I am particularly glad to send the latest production from the French reissue label Magic Records (www.magic-records.com) presenting French covers of Beatles songs.

This new CD offers Gérard Saint Paul's album recorded at the end of 1970 and published in February 1971. Entitled: "10 hits de Lennon & McCartney et chantés en français par Gérard Saint Paul."

It's a vinyl replica type CD with original cover art and label, as well as all initial 10 titles from this mythical album which is now a very sought after collector. Eight titles were already issued on the famous 5 CD series called La France et les Beatles produced in 2006 and 2007 by Magic Records.

The last two titles, Instant Karma and Teddy Boy, make here their very first appearance on CD. But that's not all: a bonus title is also completing this new product. It's a live version of Obladi Oblada recorded in English by The Dauphins (Gérard Saint Paul's former group) and published on a single in 1969.

Laurent Giacomelli
Villabe, France

Click on the above "Magic Records" logo for more information
"10 hits de Lennon & McCartney -- chantés en français par Gérard Saint Paul"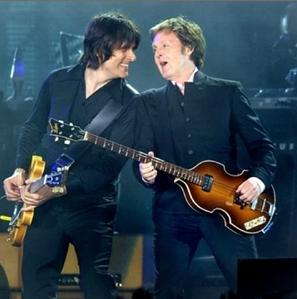 Paul McCartney Back In The (Former) USSR
June 16, 2008 10:06 AM
By Suzanne Kayian
LiveDaily Contributor
Paul McCartney [ tickets ]'s June 14 free concert in Ukraine's capital, Kiev, was the biggest ever in the post-Soviet republic, British newspaper The Guardian reported.

The historic gig at Kiev's Independence Square was shown on giant screens in five cities across the country--reportedly in an attempt to promote unity in the bitterly divided region; the deep political divisions between the orthodox pro-Russian east and the Catholic pro-European West were further inflamed due to Ukraine's recent application to join NATO.

McCartney took the stage in the midst of torrential rain, lighting and thunder, beginning his set with The Beatles' "Drive My Car," followed by a series of Beatles' songs, inevitably including "Back in the USSR." According to The Guardian, McCartney told the crowd, "I've been waiting a long time to say that."
Copyright © by LiveDaily, all rights reserved.

June 7, 2008
From Penny Lane to Strawberry Fields
Ottawa Citizen Travel Section with a nice Beatle story by Michele Sponagle.

May 25, 2008 Yale University, New Haven, Ct. USA
Now it's Dr. Sir Paul McCartney
The band played "Hey Jude" as ex-Beatle Paul McCartney stepped on stage Monday to accept an honorary Doctor of Music degree from Yale University.
Courant.com

May 23, 2008 Liverpool
Lennon complete artworks on display
Liverpool will celebrate being awarded European Capital of Culture this year with an exhibition featuring the Complete Collection of John Lennon's artwork for the first time in their entirety in Liverpool. The exhibition runs at the Liverpool Daily Post and Echo building from 23 May until 2 June, before embarking on a museum tour of Germany.
Imagine Peace news release

May 10, 2008
"Classic Albums Live" in Ottawa with Abbey Road
Tonight the incredible musicians on the Classic Albums Live circuit played a note-for-note track-by-track rendition of The Beatles' Abbey Road at Ottawa's Centrepoint Theatre. After Abbey Road, as a bonus, they gave us quite a slice of the White Album, and ended with Hey Jude, and Twist and Shout as an encore, which had many of the the "mature" sell-out audience on their feet and twisting.

May 1, 2008
Security guard from Lennon's Montreal 'bed-in' shares memories

TORONTO — George Urquhart remembers it "like it was yesterday."
The retired security guard says he was the one on duty when John Lennon and Yoko Ono staged their "bed-in for peace" at Montreal's Queen Elizabeth Hotel from May 26 to June 1, 1969.
Urquhart says he was asked to sit outside suite 1742, where the "bed-in" and the recording of Lennon's hit "Give Peace a Chance" took place, because he was the only fluently bilingual security guard at the hotel.
"I figured, 'My God, 12 hours, what a boring day that's going to be, for a full week,' but it was anything but, anything but," he recalled in a telephone interview from Calgary, where he now lives.
Urquhart grew nostalgic for the occasion after hearing earlier this week that a Montreal-raised TV writer is putting up Lennon's handwritten lyrics for "Give Peace a Chance" on the auction block in July.
Gail Renard obtained the piece of cardboard with the lyrics when she and a friend, CJAD Montreal radio talk show host Tommy Schnurmacher, crashed the "bed-in" as teens.
The two had to sneak into the hotel through back entrances and a fire escape. Once on the floor of the suite, they waited until Urquhart went to the bathroom before knocking on the door of the suite - but the security guard came back.
"I remember it clearly," recalled Urquhart, 73.
"(Schnurmacher) walked by and I grabbed him by the scruff of the neck and asked him where he thought he was going. It was a funny deal, I'll tell ya."
Ono told Urquhart to allow the teens into the suite and they were able to stay for the full week-long festivities that were meant to draw attention to the war in Vietnam.
An eclectic blend of people visited the suite that week, including comedian Tommy Smothers, drug guru Timothy Leary, American cartoonist Al Capp and a group of Hare Krishnas, all of whom can be heard chanting on "Give Peace a Chance."
"Al Capp ... he just about started his own war in that room," said Urquhart.
"He had told John, 'If you really want to do something to end the Vietnam War, pick up a gun and go fight over there,' and boy, I'll tell ya, that rocked a few things."
Urquhart took some photos of the "bed-in," provided clapping for the song recording and had Lennon autograph his Beatles record, which he still has to this day.
"It says 'To George, Thank You, Peace - John Lennon, Yoko Ono,"' said Urquhart.
Christie's in London says Renard could get up to $600,000 when she auctions off the Lennon lyrics on July 10, but Urquhart says he has no plans to put his autographed record under the hammer.
"A lot people say, 'Why don't you sell it?' but I don't know what it is about the attachment of that thing, it's hard to explain," he said.
Urquhart worked at the hotel for 32 years, becoming the director of security and meeting numerous stars and dignitaries.
The "bed-in" is among his fondest memories, he said.
"I've walked with kings, queens, heads of state," he said.
"But this was the week that remains the epic of the whole 32 years that I was there and he was a good man. ... He was terrific. Yoko was more an introvert. John was, my God, he was dancing around that room like you wouldn't believe."
© the Canadian Press

The teenager who gatecrashed the singer's Bed-In will auction his lyrics, writes Mark Brown.

Almost twenty-eight years after his death John Lennon is to make good a promise he made to a star-struck Canadian teenager: that he would always look after her.

In one of the most keenly anticipated sales of rock memorabilia for years, Gail Renard, a TV comedy writer, is to auction Lennon's handwritten lyrics for Give Peace A Chance, which have hung in her study for years.

The lyrics - "Everybodies [sic] talking bout /Bagism, Shagism, Dragism, Madism, Ragism, Tagism, This-ism, That-ism" etc - will be auctioned by Christie's in London on July 10. They are expected to sell for $US400,000 ($430,000) to $US600,000.

The auction has brought to light the story of how Renard was given the lyrics nearly 40 years ago.

In 1969 Lennon and Yoko Ono were in Montreal for their Bed-In, a week of staying in bed as a way to campaign for peace, capped off by a recording of Give Peace A Chance sung by Lennon and 50 or so others, including Petula Clark and the beat poet Allen Ginsberg, in the hotel suite.

With them for most of the week was Renard who, with a friend, got into the hotel via a fire escape with a present for Yoko's five-year-old daughter, Kyoko, waited for security on Lennon's floor to change and then knocked on the door. "It's incredible the things you'd do when you're young that you wouldn't do now," she says.

Renard and Lennon bonded. The self-described "hyperventilating teenager" was allowed to stay until the media circus ended. Then Lennon refused to be interviewed by the DJ Roger Scott for the city's radio station and asked Renard to do it: "Can you imagine? A 16-year-old."

Renard says she had an amazing week and remembers in particular watching A Hard Day's Night on television with Lennon. "My mother spoke to him and made it quite clear what the rules were - 'You keep my daughter away from sex and drugs or you answer to me' - and he did. He got me home for bedtime each night, although that's probably when the drugs came out."

Lennon gave Renard several mementoes, saying they would be worth something one day. He also kick-started her writing career by telling the editor of Beatles Monthly to publish her review of the Bed-In. He promised he would always take care of her and gave her a "magic" phone number to call any time.

Renard subsequently carved out a successful career as a comedy writer in Britain and won a BAFTA in 2001 for the drama Custer's Last Stand Up.

The lyrics have hung in her study for years. When her roof leaked she thought it was time to let them go.

Helen Hall, the head of popular culture at Christie's, expects the lyrics to beat the $US450,000 paid at Christie's in 2003 for the handwritten lyrics of the Beatles' Nowhere Man. Photographs from the Bed-In will also be sold.

Months after the Bed-In, half a million anti-Vietnam War protesters sang Give Peace A Chance outside the White House. Lennon called it "one of the biggest moments of my life".

© the Guardian News & Media

April 27, 2008
Quick Beatle news picks:
Paul McCartney is writing coffee table book about late wife Linda -- from showbizspy.com; Yoko Ono sues film-maker -- from the Liverpool Echo; First Ever Beatles Day to be held in Liverpool (on July 10th) -- from NME; Beatles: Inside exclusive on the city's Fab Four (a new 90-minute DVD release contains unseen video footage of the Beatles!) -- article from the Liverpool Echo; In My Life - a Beatles appreciation by the Ottawa Citizen's Robert Sibley...including some interesting data on the "most famous chord in rock'n'roll."

April 16, 2008
Feature-Length Documentary Chronicles The Making Of The Beatles' 'LOVE' by Cirque du Soleil

LONDON, April 16 /PRNewswire/ -- On June 24, 2008 Apple Corps Ltd./Cirque du Soleil will release the feature-length documentary 'All Together Now' on DVD, which will be marketed and distributed worldwide by EMI Music. The film details the story behind the unique partnership between The Beatles and Cirque du Soleil that resulted in the creation and launch of "LOVE," the stage production still wowing audiences at The Mirage in Las Vegas, and the double Grammy-winning album of the same name. The film is dedicated to the memory of Neil Aspinall, an Executive Producer of the DVD.

The DVD's total running time is 122 minutes, including the 84-minute documentary film and bonus features. The film and extras are presented in DTS & Dolby Digital 5.1 Surround and Dolby Digital Stereo.

'All Together Now' faithfully recounts how the "LOVE" project came into being, borne from the personal friendship between George Harrison and Cirque du Soleil founder Guy Laliberte. George saw how the twin talents of Cirque's artistry and The Beatles' music could be fused into something new and totally original.

The director, Adrian Wills, records early meetings between the Cirque & Apple Corps Ltd. creative teams, as well as contributions from Sir Paul McCartney, Ringo Starr, Yoko Ono Lennon and Olivia Harrison discussing how The Beatles' music can be used in a different way. We hear about the decision to utilize the combined talents of Sir George Martin and his son Giles Martin to produce what became a 90-minute soundscape created from The Beatles' multi-track recordings and how this new audio adventure was being quietly worked on in the famous Abbey Road Studios in London, England whilst the first creative ideas for the show were being formulated in Montreal, Canada.

These early stages of the project were all filmed, as were the first rehearsals at the Mirage Hotel theatre in Las Vegas, which was completely rebuilt with a one-of-a-kind sound system and complex round staging to house the "LOVE" show. George and Giles Martin, the show's Musical Directors, were involved every step of the way with the remarkable Cirque du Soleil creative team, performers and backroom staff.

It wasn't all "plain-sailing" and there has been no attempt to disguise some of the disagreements that took place along the way regarding how some of the songs would be portrayed visually. These creative differences, a necessary part of the overall process of bringing "LOVE" to its most vibrant life, illustrate the participants' love and respect for the music and vision of The Beatles.

In addition to their roles within the main feature, George and Giles Martin, along with engineer Paul Hicks, also pop up in another piece titled "Changing The Music" which reveals in fascinating depth how the music was created and the challenges they faced. They explain how they sourced some of the individual instruments and effects and how they were encouraged to experiment.

The 'All Together Now' documentary and bonus features provide a fascinating insight into the creative skills and passion that went into making this project a groundbreaking critical and commercial success.

DVD contents
'All Together Now' documentary (84:00)

Bonus Features:

-- "Changing The Music" (22:00): A behind-the scenes look at the
decision-making process for the "LOVE" concept and music production.

-- "Music In The Theatre" (07:00): A look at the process of creating the
"LOVE" show's unique audio design.

-- "Making 'LOVE'" (09:00): A backstage pass to explore the design of
"LOVE," including the art direction, costumes, props, screen imagery
and the use of The Beatles' voices in the "LOVE" stage production and
its soundtrack.

DVD technical details
1 x DVD-9
PAL and NTSC
All regions

April 10, 2008
Cdn documentary shows Beatles input into Cirque du Soleil show 'Love'

TORONTO — Montreal producer Martin Bolduc was in Las Vegas in June 2006 when got a phone call from Paul McCartney's publicist, telling him the former Beatle was available for an interview.

It was an opportunity that Bolduc and Montreal director Adrian Wills had been praying for during the shooting of "All Together Now," a documentary on the making of Cirque du Soleil's celebrated Beatles-inspired Las Vegas show "Love."

The filmmakers were in different cities, they weren't expecting the interview and they had little time to prepare. But as Bolduc puts it - if an ex-Beatle says go, "you've got to be ready."

"The PR agent ... for Paul McCartney called me up to say, 'Hey, you want an interview with Paul McCartney? It's tomorrow morning, 10 o'clock,' or something like that, and I'm in Vegas ... Adrian is in Montreal, so I called him up, I said, 'You're on a red-eye flight tonight, you're coming to Vegas,"' Bolduc said Wednesday in an interview ahead of the Hot Docs documentary festival, where the film is having its world premiere.

"It was literally, (Wills) got off the plane, got in a taxi, went to the Mirage Hotel, in the room, set up the interview and guess what? We forgot to put the tape in the machine! So we were running all over the place to get the tape but that was that kind of adventure that happened with McCartney."

Things worked out and Wills was able to sit down for an intimate chat with McCartney for an hour. He also scored interviews with Ringo Starr, Beatles producer Sir George Martin (sometimes referred to as "the fifth Beatle") and his son, Giles, as well as Beatles widows Olivia Harrison and Yoko Ono.

In addition to those interviews, the film - a co-production of the Beatles company Apple Corps Ltd. and Cirque du Soleil Images - also includes a behind-the-scenes look at the making of "Love," as well as a glimpse at the process of remastering Beatles songs for the show.

"I still have shivers every time I see it," said Bolduc, who works for Cirque du Soleil Images. "It brings back this kind of memory, like, having the privilege to be there."

The film shows the input McCartney, Starr, Ono and Harrison had in the Cirque production, and the reactions they and their family had at the opening night of "Love" at the Mirage Hotel in July 2006.

Also highlighted is the struggle the "Love" creators - including director Dominic Champagne and Cirque du Soleil founder Guy Laliberte - faced in trying to transform the Beatles' career into an acrobatic show while satisfying the interests of all parties. Yoko Ono and Olivia Harrison weren't shy in expressing their opinions during rehearsals - at one point Ono calls the "Come Together" sequence "sleazy" - and McCartney needed assurances that the show was going to be good.

Wills says they didn't feel such pressure while making the film, though.

"With a project like this, you'd think that the doors would've been open to us and we would've gone in and been sort of heralded - that didn't happen. And then you would think that they'd be constantly checking our material to see what we'd been getting - that didn't happen either because the doors weren't open to us," he said.

"We presented (the film) to Apple and said, 'This is what we think it is, these are the themes, this is the film' ... and they were happy ... for a company that big and that known for control, they were really quite accepting of us and didn't censor us."

Wills got the green light to direct the piece in December 2005. He was initially asked to do a one-hour TV show on the making of "Love," but after capturing so much raw emotion between the Fab Four's family members and their interactions with the cast, it was clear it needed to be made into a feature-length documentary.

"The father and son theme and the theme of family, I really think that plays through a lot because you've got that with George Harrison's son, Dhani coming, and you can see that feeling that he has towards his father," said Wills, who has directed a variety of film and TV pieces.

"We knew it was going to be an interesting story. I don't know if we knew it was going to be as raw and emotional as it became."

© by the Canadian Press, April 10, 2008

23 March 2008
Neil Aspinall, schoolfriend of Paul and George, dead at 66

One of the more deserving claimants to the title "5th Beatle" played a major role in the inner circle for 40 years.

Yoko wrote: "Neil was an important member of the Beatles' family. John loved him. I continued to treasure his wisdom and support in the years after John's passing. My love and deepest sympathy go to Neil's wife Suzy, and to his children.
With love, Yoko Ono Lennon"

News link: Washington Observer-Reporter


21 March 2008

'THE TOMORROW SHOW WITH TOM SNYDER:
JOHN, PAUL, TOM & RINGO'

JOHN LENNON'S LAST TELEVISED INTERVIEW
FINALLY AVAILABLE ON DVD FROM SHOUT! FACTORY,
AS WELL AS INTERVIEWS WITH RINGO STARR, AND PAUL AND LINDA McCARTNEY

Click here for details along with a video trailer.