A white billboard above a bronze sculpture of John Lennon sitting on a park bench proclaimed "You may say I'm a dreamer, but I'm not the only one," from his 1971 song Imagine.
Cuban singer-song-writer Silvio Rodriguez sang about the confusion and violence sown in the world by the Sept. 11 attacks that destroyed New York's Twin Towers.
"I have to rethink where I am, does humanity exist or not, has it been seen somewhere today," he sang to the crowd.
Castro, 77, looked tired as he listened to musicians play songs by the Beatles, whose music his government banned in the '60s and '70s.
Cuba's National Choir closed singing Imagine in English.
As the Cubans left the park, speakers blared out "Give peace a chance," the song Lennon wrote in minutes during a one-week bed-in for peace at Montreal's Queen Elizabeth Hotel in 1969 at a time of mass protests against the U.S. war in Vietnam.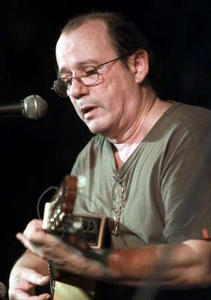 Silvio Rodriguez,
late November 5, 2003.