JOHN LENNON: "Well, it was late, about 11 o'clock one Friday night, I was in my office at Apple, when we got a phone call from this guy saying, 'Come to Toronto'. They really were inviting us as King and Queen to preside over the concert and not to play. But I didn't hear that part and I said, 'OK. OK. Just give me time to get a band together.' So, I thought, 'Who could I get to come and play with me?' So it all happened like. We left the next morning."

RITCHIE YORKE: "John was sick from nerves most of the way across the Atlantic. 'Nerves?' I asked. 'Hell yes,' Lennon replied. 'My God, I haven't performed before a large audience for four years. I mean, I did the Rolling Stones' Circus film with a small audience, and I did the Cambridge '69 gig; but they didn't even know I was coming. So we didn't sleep at all on Friday night, and I was nervous all the way across.'"

THE GLOBE AND MAIL: "The Lennons flew in from England with Eric Clapton, Klaus Voormann, Alan White and Nick Knowlands. Their black limousine crept through the backstage area at about 10 p.m., while Cat Mother and the All Night Newsboys were singing Good Old Rock 'n' Roll to an audience of about 20,000. Flashbulbs popped, the kids scrambled over fences, as the Lennons, protected by police, made their way down a long blue canopy to the musicians' dressing room under the stands. They stayed there until performance time."

KLAUS VOORMANN: "I wasn't really nervous because it didn't matter whether we were good or bad. John was nervous, but I wasn't."

JOHN LENNON: "I threw up for hours until I went on."

ERIC CLAPTON: "John just stood in the dressing room, which was admittedly rather tatty, beforehand saying, 'What am I doing here? I could have gone to Brighton!' After all, it was a long way to go for just one concert."

MOJO MAGAZINE: "John and Yoko stayed locked in their dressing room for three hours before their performance -- and Yoko wasn't impressed with the surroundings. 'I came from the avant-garde world, which is kind of like the classical world,' she says. 'They have lovely reception rooms, they treat you really well. We arrived in this dressing room, and it is a concrete locker room, it's dirty, it's ugly. I looked a John and he laughed and said, 'Welcome to rock 'n' roll.'"

MAL EVANS: "Finally, at midnight, the compare, Kim Fowley, who is a well-known singer, producer and songwriter in his own right, went on stage to announce the Plastic Ono Band. He did a really great thing. He had all the lights in the stadium turned right down and then asked everyone to strike a match. It was a really unbelievable sight when thousands of little flickering lights suddenly shone all over the huge arena."

JOHN LENNON: "It was fantastic. It was just getting dark. The lights were just going down. This was the first time I ever heard about this -- I'd never seen it anywhere else -- I think it was the first time it happened -- they all lit candles, or lights..."

THE GLOBE AND MAIL: "Wearing a white tropical suit and a black T-shirt, Lennon performed alone first. Yoko was hidden inside a white sack. John paid his tribute to the history of rock 'n' roll, singing an Elvis Presley song, then Yoko came out of her sack, stood beside him holding pages of music, adding her own voice to his every once in a while."

JOHN LENNON: "I can't remember when I had such a good time. Yoko was holding a piece of paper with the words to the songs in front of me. But then she suddenly disappeared into her bag in the middle of the performance and I had to make them up because it's so long since I sang them that I've forgotten most of them. It didn't seem to matter."

ERIC CLAPTON: "It was really refreshing to do these songs because they are very simple and uncomplicated. John and I really love that music. That's the kind of music that turned John on initially and it's the same for me. In fact, I could go on playing Money and Dizzy Miss Lizzy for the rest of my life."

JOHN LENNON: "The ridiculous thing was that I didn't know any of the lyrics. When we did Money and Dizzy, I just made up the words as I went along. The band was bashing it out like hell behind me. Yoko came on stage with us, but she wasn't going to do her bit until we'd done our five songs....Then after Money there was a stop, and I turned to Eric and said, 'What's next?' He didn't know either, so I just screamed out 'C'mon!' and started into something else."

MAL EVANS: "It was a fantastic show right from the first number, Blue Suede Shoes which took me straight back six years after Shoes they roared into Money, Dizzy Miss Lizzie and Yer Blues."

JOHN LENNON: "Yoko whipped off the stage and got some lyrics out of her little white bag. That was really cool. We did Yer Blues, because I'd done that with Eric. That blew our minds."

MAL EVANS: "All the vocals, of course, were handled by John and when Yer Blues faded away he stuck his face close to the mike again and said before they began their next number 'Never done this number before-best of luck' and then they launched into Cold Turkey."

THE GLOBE AND MAIL: "Then he sang a new song, Cold Turkey, reading from the pages held by Yoko. The audience seemed almost too stunned to applaud at seeing the two of them on stage together."

JOHN LENNON: "We also did a number called Cold Turkey. We had never done this before....Nobody's recorded it yet. It was the first performance. The way that we got it together was like we'd all been playing together for years.

"Then, Give Peace A Chance, which was just unbelievable."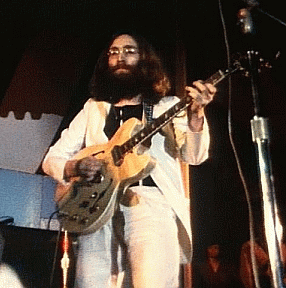 THE GLOBE AND MAIL: "John said; 'This is what we really came here for,' and he and Yoko sang Give Peace A Chance, written during their bed-in in Montreal. Lennon sang, the audience sang, Yoko made peace signs with both hands."
MAL EVANS: "Finally, came John's last number Give Peace A Chance. I think every one of the 20,000 people there must have joined in. It was a wonderful sight because they all thrust their arms above their heads and swayed in time to the music."
THE GLOBE AND MAIL: "Then he said, 'Now Yoko is going to do her thing -- all over you.' Yoko took to the mike, and started singing in a high warbly Oriental voice. The words were, 'Don't Worry, don't worry, John. Let's hope for peace.' Her singing, which lasted for about ten minutes, sounded like the cridu cooeur of a woman in intense anxiety.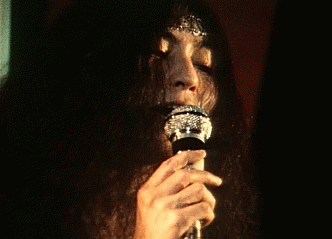 JOHN LENNON: "Yoko's first number had a bit of rhythm but the second number was completely freaky. It was sort of the thing she did at Cambridge '69, but it was more like Toronto 1984."
MOJO MAGAZINE: "Larry Leblanc was in the pit between stage and audience. 'People were polite. They were bewildered, but everybody knew she was an artist, she'd taken photographs of bums and things like that. We figured whatever she was doing, eventually it would end. But it didn't fuckin' end.'"
LITTLE RICHARD: "I remember the show that people were throwing bottles at Yoko Ono. They were throwing everything at her. Finally she had to run off the stage. Oh, boy, it was very bad."
THE GLOBE AND MAIL: "Yoko appeared to lose much of the audience with her singing. It was hard to know what she was doing. One girl said afterwards, 'It sounded as if she was crying, like a child, in fear.' Another girl said, 'It was better listening to her than going to war. War kills the heart. I like her.' Yoko's singing was the universal voice of a frightened woman."
RONNIE HAWKINS: "The Lennons' appearance on stage did not cause 'a near-riot in the stadium' as several books have remarked. For one thing the unrehearsed performance of Cold Turkey and a number of oldies like Blue Suede Shoes was not a great blast of Beatles magic everyone was waiting for. For yet another, there was Yoko, stepping out from a canvas bag, to wail her very own microtonal ululation. As hip as everyone there tried to be, Yoko was too much. 'Get the fuck off the stage,' people started to scream. John tried to comfort her immediately."
BRIAN SIMMONS (stagehand at the concert): "I remembered they booed the Lennons, especially Yoko. John helped her off the stage with his arm around her. He was saying, 'Don't worry, baby, I'll make it up to you.'"
JOHN LENNON: "Yoko did a number, which was half rock and half madness, and it really freaked them out. We finished with Yoko's number, because you can't go anywhere after you've reached that sort of pitch. You can't go 'Ji-jing' like The Beatles and bow at the end of screaming and fifty watts of feedback. So, after Yoko had been on for about a quarter of an hour, we all left our amps on going like the clappers and had a smoke on the stage. Then, when they stopped, the whole crowd was chanting 'Give Peace A Chance'. It looks like this is going to be The Plastic Ono Band in the future."
MAL EVANS: "At the end of Oh John all the boys placed their guitars against the speakers of their amps and walked to the back of the stage. Because they had already started the feed-back process, the sound continued while John, Klaus, Alan and Eric grouped together and lit ciggies. Then I went on and led them off-stage. Finally I walked on again and switched off their amps one by one."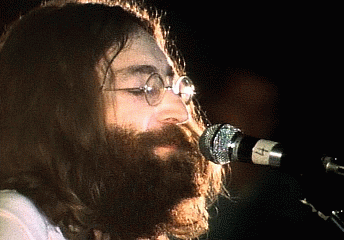 JOHN LENNON: "All I can say is that there were maybe 25,000 people there and maybe 15 didn't like it. I didn't hear any booing. It's always the man from the daily paper who does!"
MAL EVANS: "I think the whole show was really remarkable, particularly as I said before, because the boys had never played together before. I loved every minute of it. I always remember turning round during the band's performance on stage and finding Gene Vincent next to me with tears rolling down his cheeks. He was saying, 'It's marvelous; It's fantastic, man.'"
JOHN LENNON: "We did all the old things like Blue Suede Shoes. Things from the Cavern days in Liverpool. Gene Vincent was standing on the side of the stage crying when we did our number. Backstage he came up to me and said: 'John, remember Hamburg, remember all that scene?'
"It gave me a great feeling, a feeling I haven't had for a long time. It convinced me to do more appearances, either with or without the rest of the Beatles. Everything went down so well."
LIVE PEACE IN TORONTO - THE LP!
JOHN LENNON: "And we tried to put it out on Capitol, and Capitol didn't want to put it out. They said, 'This is garbage; we're not going to put it out with her screaming on one side and you doing this sort of live stuff. And they just refused to put it out. But we finally persuaded them that, you know, people might buy this. Of course it went gold the next day."
USA LP RELEASE DATE: December 12, 1969 and was certified gold on March 17, 1970.
LIVE PEACE IN TORONTO - CONCERT FACTS!

- Rock promoter John Brower with John and Yoko drive in a limousine from Toronto's airport and arrive at Varsity Stadium with the help of an 80-motorcycle escort by the Toronto Vagabonds. They also escorted The Doors to the stadium.
- Ritchie Yorke wrote in the Globe and Mail that rock promoter John Brower was responsible in obtaining the necessary Canadian Immigration clearance for John and Yoko.
- John Lennon and the band members first rehearsal was aboard a plane making its way to from England to Canada but Lennon said rehearsing "was impossible! We couldn't hear a thing because we didn't have any amps..." Lennon's claims are backed up by Eric Clapton: "...you couldn't hear because we had nowhere to plug in, and, of course, Alan didn't have his drums on the plane with him."
- Concert tickets were $6.00
- Brower and Walker spent $100,000 on talent.
- $11,000 was spent for the best sound system.
- Total revenues from the show was $150,000.
- The 13-hour pop show ended at 1:45 a.m., Sunday, September 14.
- Beatles' Monthly states: "The performance was recorded - as indeed all were John and Yoko's live shows. It appeared two months after the show as 'The Plastic Ono Band Live Peace In Toronto 1969,' housed in a beautiful blue cover. A film crew was also present, making a documentary of the festival, and John and Yoko's performance was included in the original cut of the film titled, 'Sweet Toronto'. Unfortunately, adverse audience reaction to Yoko's performance led the film's director to cut the Lennons from the movie, which was then reissued as 'Keep On Rocking.'"
- After the concert, John and Yoko stayed at the estate of Mr. Eaton, whom at the time was a wealthy Canadian businessman. Said Mal Evans: "When it was over we all piled into four big cars and drove for two hours to a huge estate owned by a Mr. Eaton, who is one of the richest men in Canada. His son had actually picked us up after the show so that we could stay overnight at his house." [Note: Mr. Eaton was the owner of the "Eaton" department chain which were similar in concept to "Sears" here in Canada and the United States. Eaton's had established itself in 1856 by Timothy Eaton along with his brother who opened up the first store in St. Mary's, near Stratford, Ontario. The family business was highly successful right up until the last 6 months of 1999, when Eaton's, with 64 stores in Canada, got court permission to liquidate assets after declaring bankruptcy.]
- Ritchie Yorke, pop reporter for Toronto's Globe and Mail wrote several days later in the press that John and Yoko spent a total of 36 hours in Canada before flying back to England.
- Ringo Starr states the Live Peace In Toronto concert became the turning point in John Lennon's mind to leave the Beatles.
Bibliography:
The Lennons and a plea for Peace - The Globe and Mail, Monday, September 15, 1969.
The Lennon Tapes - by Andy Peebles, Methuen Publications, Canada, December 6, 1980.
The Beatles Off The Record - by Keith Badman, Omnibus Press publishers, 2000.
The Beatles - 10 Years That Shook The World, Mojo Magazine, DK publishers, 2004.
Lennon Remembers - by Jann Wenner, Popular Library publishers, 1971.
Ronnie Hawkins Last of the Good Boys - by Ronnie Hawkins and Peter Goddard, Stoddart Publishing Co. Ltd., 1989.
The Beatles - Band of the Century - by Q Magazine, 1999.
Live Peace In Toronto (Mal Evans interview) - by Johnny Dean, editor for Beat Publications, November, 1969.
The Beatles An Oral History - by David Pritchard and Alan Lysaght, Stoddart Publishing Co. Ltd., 1998.
Status-Seekers at the Love-Feast - by Melinda McCraken for the Globe and Mail, Saturday, September 20, 1969.
The Lennons and the rock 'n' roll revival - by Ritchie Yorke for the Globe and Mail, Saturday, September 20, 1969.
John's Solo Concerts - by Peter Doggett, The Beatles' Monthly, February 1988.
Live Peace In Toronto photographs are used with permission from Petr Milata's web site.
Counter started on March 13/05