An Ottawa Beatles Site Exclusive!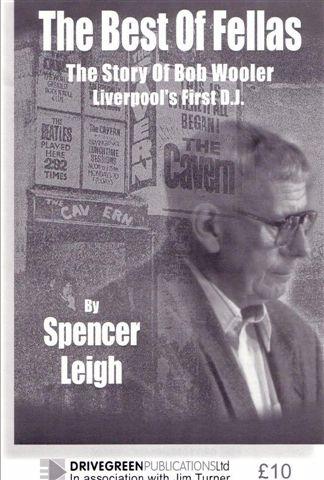 Bob Wooler - Cavern DJ: Merely Spinning Discs And Nearly Spilling The Beans.
"As Beatles fans around the world eagerly await the publication of BBC Music Journalist Spencer Leigh's Book 'The Best Of Fellas. The Story of Bob Wooler – Liverpool's First DJ' : here is an article which gives us an insight into the former Cavern DJ's take on all things Beatle related.
Spencer's book is out in the shops on November 7th 2002; - and as a taster of things to come, Liverpool writer and Beatles fan and aficionado Joe Robinson recalls his own encounters at the home of Bob Wooler. In a fascinating mixture of witty repartee and inner strife, Bob struggled to tell his life story by giving vent to his feelings, whilst trying to keeping both his reputation and his sanity intact."
I first met former Cavern DJ Bob Wooler in 1993 in Liverpool, on the way to an evening concert at the Royal Court Theatre, performed in recognition of Bob and Allan Williams' joint contribution to Mersey Beat. (See photograph of Allan and Bob relaxing together beforehand in the Shakespeare Public House in Williamson Square. There's also another of Allan, the Beatles first promoter/manager, at the after show get-together in the Royal Court Theatre bar. I'm the one standing to Allan's right, - with the long hair and grey shirt). Typically, at an evening thrown in his honour, Bob Wooler, the father of Mersey Beat and the only man to introduce the (pre) Fab Four live on stage over 400 times, had already slipped away almost unnoticed, before this group photograph was taken.
His health was already quite poor, though he had lost none of his proverbial wit and charm, - and I remember the banter which both Bob and Allan were so famous for, flowed along with the beer and spirits that night. However, Bob could be quite curmudgeonly and reticent when it came to reciting his anecdotes in public, preferring mostly to listen and react, with a mixture of comic disbelief and dry witted exasperation, - at Allan's melodramatic, sometimes inaccurate, but always entertaining take on all things Beatle related.
I bumped into Bob and Allan again on August bank holiday 1994, as they sat outside at a table sipping what appeared to be white wine spritzers, chatting happily with the assembled crowds and fans at the Mathew Street Festival. However, I did not speak to him again until he phoned me at home in the Spring of 1997.
He had toyed with the idea of writing his memoirs for some time, and had written various short articles for books such as Phil Thompson's The Best Of Cellars, given interviews to magazines such as Record Collector, - as well as to the likes of the much respected BBC music journalist and radio presenter Spencer Leigh. Therefore, in view of his worsening health, the time seemed ripe for him to pen a more expansive piece whilst he still could. Having drafted up the beginnings of a foreword to a book about the many Mersey Beat groups on the 60's scene, by the Hamburg based writer Manfred Koeman, - Bob then phoned to ask would I help him amend and finish the piece.
This initial contact had been arranged by John Seddon, a family friend of mine and a loyal and trusted friend of Bob Wooler. John himself had produced records in the mid 1960's, and had been an associate of Teddy Taylor, from the Liverpool group Kingsize Taylor and the Dominoes. He was also a past associate of Ringo Starr, and was known to both George Harrison and Paul McCartney, so when John suggested me to Bob as someone who might be able to help him in this way, the former Cavern DJ tentatively listened.
Bob had always been very wary of professional journalists' attempts to get him to 'spill the beans', and perhaps my rather naive attempts to get him to do a bit of the same, seemed perverse enough to persuade him to give me a chance. I had written a poem called 'Some Think Of Peace', - a tribute to John Lennon, which Bob liked, and which had been published in The Liverpool Echo Lennon Memorial edition, a week after John's death, so maybe that swung it.
Bob was no mean writer himself, and his memory, despite his age and his failing health, was impeccable. He was however prone to bouts of insomnia, and he regularly tuned into the early morning BBC Radio 2 60's music programme hosted by DJ Brian Matthew, where he could listen to some of the same discs he'd spun at The Cavern. It was also interesting to note that he sometimes spoke passionately about bygone events as if they had only happened yesterday. When he did this his eyes seemed to mist over, his gaze slackened, and he was back amongst the 'jive hive' promoters and venues which he had to a large extent, dominated like some semi-benevolent godfather.
Anyway, my non-professional status as an adult education tutor and cultural historian who writes about popular and working peoples' culture, seemed far enough removed from the realm of professional music 'hack'. He told me that he had turned down requests from such famous and infamous Beatle authors as Geoffrey Guiliano and Albert Goldman. Now this chance to actually talk to him in his own home about his role in the 60's music scene in Liverpool, was one I was not going to miss.
It was John Seddon himself who took me down in his car to Bob's small and cluttered apartment, in the rather bohemian district of wine bars and bistros in Lark Lane, Liverpool. He reintroduced me to Bob, and at one point both John and I went round to Bob's old flat to gather up the last of his possessions, since he had not long moved into the new place. However, my first impression of this new place was of brown cardboard boxes piled high to the ceiling in Bob's back room. There were only two rooms in total, and one of these was packed with boxes seemingly full of all sorts of potentially interesting items, books and memorabilia, and what can only be described as piles of newspaper cuttings and junk!
However, I was excited, and a little awed, since even a well-respected and knowledgeable Music Journalist such as Spencer Leigh himself, was pointedly never invited into Bob's private domain. Yet here I was, chatting to him over a cup of tea about Messrs. Lennon and McCartney! Once we had settled down, John Seddon left, and I had an opportunity to discuss and review Bob's hand-written manuscript. We started by sorting through some of his memorabilia, - and I listened as he began to recount a few of his wealth of anecdotes and often controversial but knowledgeable opinions.
Firstly, Bob seemed at pains to stress that this Mersey Beat based foreword was not primarily to be about The Beatles, and this was a thread that ran through our various conversations together. In spite of this, his talk was full of references to the Fab Four, especially John and Paul. Secondly, though I had rather optimistically brought a tape-recorder, I very quickly realised that if he wouldn't allow Spencer Leigh that kind of free reign, then my chances of taping our conversation were non-existent. This was despite John Seddon's previous pleas that the use of either a cassette recorder or a typed transcript of the conversation was a necessary evil. Bob, undaunted by his friend's request, stubbornly continued to discount both options.
Before turning to the manuscript itself, which was largely hand-written on pieces of lined A4 size paper, and carefully sellotaped together like some semi-sacred scroll; - Bob opened a large journal cum diary. He had kept this on a daily basis for some years. 'I take down notes on everyone I meet, what was said and what happened.' he remarked, 'then when other people tell me what they thought happened, I can give them the definitive version.'
This was typical of Bob, a stickler for the truth as he saw it, 'warts and all.' Since both his recollection of events and his avid documentation of other peoples' words and behaviour were both accurate and concise, I for one was not going to argue with him at this point. Moreover, his exasperation with Allan William's often loose tongued and colourful tales about 'Mythew St' as Bob called it, sometimes hid his own exasperation with himself.
The real truth of the matter after all was said and done, was that Bob Wooler could not always bring himself to face up to the truth about his own views on The Beatles, or the growth and demise of the Mersey Beat Sound. Perhaps this explains his otherwise puzzling reluctance to share these views with others. 'Never mind about spilling the beans.' He quipped. 'There'll be some blood spilt on the carpet after I've finished… And if this ever gets published, they'll run me out of town!' Not usually one to use hyperbole where the mere truth would simply do, Bob still seemed to leave his interviewees with a sense that what he hadn't said was just as important as what he had.
Turning to his foreword for the Mersey Beat manuscript, he remarked that Manfred Koeman's book was 'well researched, though a little dull in places. - It needs spicing up a bit.' He added, despite the fact that he thought that the 'spice' in his own tale would not curry favour with either his Liverpool based contemporaries, or some of those pop personalities who lived further afield. Stuck between the devil sitting on his shoulder urging him to publish and be damned, and the deep blue sea which urged a cool head and circumspect caution, Bob continued to 'umm and ah', a bit like a frightened rabbit caught in the headlights of a fast approaching motor car.
Nevertheless, in the privacy of his own home, he opened up a bit more, and by now he was showing me his superb collection of original black and white photographs of many of the Mersey Beat groups. He wasn't sure which of these to use for the foreword, and as it was, he was spoilt for choice. The city authorities responsible for the maintenance of The Cavern Quarter in Mathew Street, recently got together with Cavern City Tours to produce 'The Cavern Wall Of Fame'. Much of the information they gleaned about the groups who had actually played at The Cavern, was taken directly from Bob Wooler himself.
I really hope that these photos, along with all his other memorabilia, are given the respect they deserve. They should be archived properly by the likes of Dr. Sara Cohen and her colleagues at The Liverpool University Institute of Popular Music. It was a piece of historical research by Dr. Cohen herself, which led Bob Wooler to believe that the 60's scene on Merseyside might not have been quite as 'special' as it often seems in retrospect. It was this ability not to look at the past through rose tinted glasses, which both interested and troubled him. For someone whose frame of mind was to hold onto and retain vast remnants of the past, this was quite a feat.
In Dr. Cohen's case, academic research had shown that the number of beat groups on Merseyside during the 1960's was actually less than the number of local bands who performed here during later decades. Consequently, Bob was very sceptical about those who claimed that the Mersey Beat scene was anymore dynamic or prolific than any other period. However, he was the first to admit that 'If it hadn't been for The Beatles, no-one would be interested in talking to me or anybody else about the music scene in Liverpool, then or now.'
Bob was also quite adamant that the beat scenes in Newcastle, Manchester, Birmingham and London were just as vibrant as Liverpool. He didn't wholly buy into the 'seaport-returning sailors-cunard yanks-chirpy, comical scouse' argument which stated that Liverpool, and Liverpool alone, was responsible for this explosion of youth led, British based popular culture.
This tendency to underplay some of the popular myths that surrounded The Beatles and their musical peers in Liverpool, also led Bob to put forward his alternative to the 'Hamburg made The Beatles' hypothesis churned out by all and sundry concerned. These included Bill Harry, Tony Sheridan, Allan Williams, and many others, - and even The Beatles themselves.
Bob's reasoning included the fact that he had heard The Beatles play in Liverpool before their Teutonic escapades. In his opinion, all the major ingredients for success were already there. By plying their trade in a tough, northern seaport to audiences that could be as demanding and as cynical as any. These young beat musicians were fashioning a sound which was uniquely English and Liverpudlian in tone, albeit derived from their r'n' b and rock and roll heroes across the Atlantic.
All one can say is that Bob certainly did not have a 'tin' ear. His vast experience of listening to literally hundreds of local groups, along with his detailed knowledge of many of the other great song-writers of the 20th Century, surely makes his opinion more valid than most.
He was also of the opinion that general interest in The Beatles was slightly on the wane just prior to the death of John Lennon, though he never fully explained why he thought this was true. I argued that continued record sales told a different story, that rumours of a Fab Four reunion were rife in the late 70's, and that interest in John Lennon's comeback was global before he died. Bob wasn't convinced. 'Death' he concluded, like some latter day Sherlock Holmes, ' has a curious way of boosting an artists career.'
Though the logic of his argument stood up, I think The Beatles may have been the exception that proved the rule. Anyway, John's death certainly galvanised the City Of Liverpool, since the eternal and Lennonesque truth 'that everybody loves you when you're six foot underground' was as true of Merseyside as anywhere else.
Another of the 'bees in his bonnet' concerned debunking the myth of Pete Best's sacking. Since we all know the 'official' version of events, Bob seemed pretty sure that it wasn't Best's drumming but his looks which finally led to his dismissal from the group. As Pete was the most popular with the girl fans, 'A Jeff Chandler look-alike.' according to Bob, it suited both John and Paul to have him turfed out by Brian Epstein on the grounds of his poor playing. Bob's logic followed familiar lines, since even Ringo wasn't allowed to drum on their first single 'Love Me Do', and his drumming at this stage in The Beatles career, surely couldn't have been that much better.
Turning to The Beatles music itself. I know he thought 'She Loves You' was the perfect 'Pop' single, with it's brevity, directness and driving beat. However, as Spencer Leigh later confirmed in his very dignified but witty eulogy at Bob Wooler's funeral in Liverpool earlier this year, Bob wasn't enthused with everything that adorned the Lennon and McCartney catalogue. He much preferred the crafted, well-structured almost neo-classical offerings of Jerome Kern, Irving Berlin, George Gershwin, Cole Porter, Rogers and Hart, Oscar Hammerstein and the Brill Building songwriters.
In addition, anyone who casually browsed through Bob's collection of books, would have immediately become aware of his intense interest in the idioms of Tin Pan Alley and their ilk. As songs, I think there can be little doubt their offerings generally owed much more to a creative process that stays within the rules of metre and conventional balladic sentiment.
However, all four Beatles were writing and re-writing the rules of the recording process itself, and I think this is reflected in many of their innovative pieces, where the excitement of experimentation is obvious in the sublime optimism of the harmonies and subtle but unconventional chord changes. Bob was surely aware of all this, though he never said so to me.
He did like Paul's 'Here, There And Everywhere', and this was played at his funeral. He was also a great admirer of the Lennon song 'Girl'. Yet, John's 'I Am The Walrus' puzzled him with its pseudo-psychedelic stream of consciousness. 'I don't get it, Joe!' he complained, when he asked me for my own favourite Fab Four song and I responded with 'Walrus'. Even one of Paul's ballads came in for a pasting. 'The Long And Winding Road?' He exclaimed almost painfully. 'Now what's that all about? It certainly doesn't go anywhere.' God knows what he thought of 'Free As A Bird' and 'Real Love', - I didn't dare ask!
As for The Beatles involvement with illegal substances. Bob had been aware of this very early on in their career. He recounted to me the time shortly after they had become stars in Britain, when Andrew 'Loog' Oldham, then manager of The Rolling Stones, shared a Liverpool taxi cab with Bob on the way to The Cavern, and also offered to share 'a reefer as big as a smoking chimney stack.' Bob apparently refused this act of kindness. As he did one day in the Grapes Pub in Mathew Street when John Lennon slid ' a tube of uppers' across the table. Again, the Cavern DJ demurred, and John might well have forgotten the incident altogether, had Bob not bumped into him a day or two later. 'Travelling by tube today are we John?' Bob asked. He never told me whether John Lennon replied.
Since Bob's move from railway clerk to full time DJ was first prompted by an offer of work by local impresario Allan Williams, you might have thought that Bob would have been eternally grateful to Allan. Not a bit of it! A week after he took up his new position, the club burnt down. Bob Wooler remained convinced that various clubs which mysteriously self-combusted around the same period, were just 'Molatov cocktails' waiting to happen.
In the weeks and months that followed my first visit to Bob Wooler's house, I visited him on another three occasions, staying chatting for hours on end, and occasionally breaking off for a bacon-roll and pot of tea at a nearby café. He also continued to phone me at home, sometimes reciting his latest writings to me and asking my opinion. Sometimes, just phoning up for a chat.
It was during one of these calls that he asked me to draft up an article myself about the work we were doing together, though he wanted me to send it to him first for proof reading and approval, before giving it to the press. His idea was to gauge what the potential media interest and reaction might be to a book of his own. He also asked me to bring down my word-processor, and at one point we really seemed to be moving forward with his foreword, if you'll pardon the pun.
However, as Spencer Leigh was soon to find out for himself in the year that followed, working with Bob at close quarters could be a time consuming and frustrating experience. He chopped and changed, adapted and amended his still hand-written manuscript so many times, it all got too much for him. In the end, he'd screw up his eyes and peer at the manuscript as if it was some ancient and indecipherable Egyptian hieroglyphic. Then he'd put it down on the table, hold his head in despair and curse under his breath. When things were going well, he'd chuckle and his eyes would light up. 'It'll be drinks all round in Lark Lane when we finish this…I'll have to give Manfred a call and get him over to celebrate.'
During one of my chats, Bob received a personal visit from Pete Best's brother Roag. On another occasion, our talk was interrupted by a phone-call from Joe Riley, Arts Editor of The Liverpool Echo, who was an ally and a friend. Bob was well used to requests for interviews. He rarely took them up. A few weeks after my last visit, with the subject of the foreword to Manfred Koeman's book still unresolved, and his own book hardly started, I received a letter from Bob Wooler which simply read:
' Tuesday 19 August 1997. Dear Joe: First, thank you very much for the letters you kindly sent me. My apologies for not having been in touch with you much earlier. The Manfred project is once again on ice, due to a number of factors. When you've been in this business as long as I have, these developments and disappointments come as no surprise, believe me. Always beware of those who glibly portray things. It is very seldom like that, as John will confirm to you, from his own experience. So Joe, we're back to square one. We'll just have to see how things turn out. Many thanks for your help, especially in bringing your WP. Perhaps with John's kind help you can take possession of it. I will phone you to co-ordinate things. Sincerely: Bob. ' ( See photograph).
I do not regret for one minute having spent time helping Bob Wooler . He was a polite host, keeping us both supplied with tea and biscuits, as we struggled to pour over his handwritten notes. In terms of Mersey Beat and it's somewhat checkered history, he was, as he said himself, 'The keeper of the flame'. A more reliable witness to the events that took place then you could not find.
Consequently, I urge all readers of this article to buy the new Spencer Leigh book about Bob Wooler. It is a must for Beatles fans. (See Publicity flyer for 'The Best Of Fellas. The Story of Bob Wooler – Liverpool's First DJ'. Published by Drivegreen Publications Ltd in association with Jim Turner. Available in the shops on November 7th 2002, or by advance postal order. See also the publicity flyer and press release on how to get hold of your own personal, signed copy from the Beatles Shop in Mathew Street.).
It will be full of Bob's first hand accounts. Brimming with his Woolerisms, always acute, and often very funny observations on the early days of Mersey Beat. It will also include his views on the Liverpool world of The Beatles, The Searchers, The Merseybeats, and Gerry And The Pacemakers, to name but a few of the literally hundreds of beat groups Liverpool spawned in those heady days.
And finally. At Bob Wooler's funeral, both Spencer Leigh and others reminisced about a few of the many memories Bob left behind. Spencer also admitted that there was one more thing he would have liked Bob to have left behind. This was a letter revealing exactly what was said and done during Bob's infamous and violent bust up with John Lennon at Paul McCartney's 21st birthday party.
Well, what can I say? Bob did hint at what happened to me, but the full details are available in Spencer Leigh's book. Suffice to say that the recent TV film biopic 'The John Lennon Story', though featuring the incident, does not adequately explain just what did happen. Surely, another reason to buy Spencer's book.
After the incident, John Lennon and Bob Wooler remained on friendly terms. Moreover, Bob recalled the time in the late 60's when John invited him down to London to attend one of his and Yoko's strange transcendental 'happenings'. According to Bob, though John welcomed him like a friend from the old days, Ms. Ono completely blanked him. 'Just take no notice Bob.' The Beatle reassured him. 'She's like that with everyone.' Bob was neither impressed nor upset by the seemingly inscrutable Yoko. However, it must be said that Ms. Ono-Lennon has more than made up for it to the City of Liverpool since.

I am currently working on a book of my own about the Fab Four. Not another book about those loveable Liverpool Moptops, I can hear you say! Well, it's been in the pipeline for some time. My own love of The Beatles and my background as a student of popular culture has almost forced me to write it.
It will be available next year, with the provisional title of 'Fabulosity: The Beatles As A Key To All Mythologies.' Look out for it. I'll keep you all posted. Here's looking forward to 'The Carnival Of Light' by somebody or other, I wonder who? Anyway, according to those who've actually already heard it, it might have been recorded by just about anybody, but hey, who cares! It's by The Beatles…Now I wonder just what Bob Wooler would have made of that? Heaven knows! R.I.P. Bob. God knows you deserve it.
Joe Robinson.
Liverpool. September 22nd 2002.
Copyright 2002. Joe Robinson. (Text and Photographs). No unauthorised reproduction.
This article may only be reproduced in full.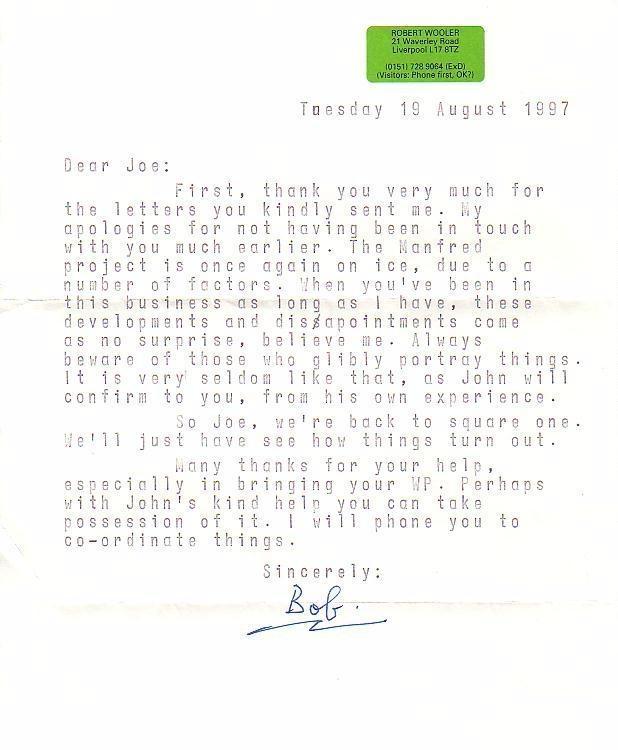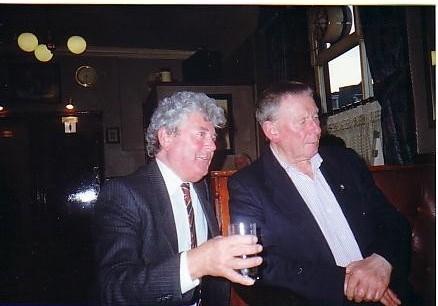 The Beatles first manager, Allan Williams with Cavern DJ Bob Wooler.
Photo credit: Joe Robinson, copyright, 2002. All rights reserved. Unauthorized publication of photo is prohibited unless permitted by the owner. Used with permission from Joe Robinson for the Ottawa Beatles Site, 2002.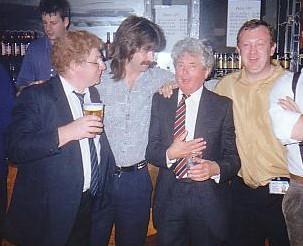 Joe Robinson and Allan Williams.
Photo credit: Joe Robinson, copyright, 2002. All rights reserved. Unauthorized publication of photo is prohibited unless permitted by the owner. Used with permission from Joe Robinson for the Ottawa Beatles Site, 2002.
Those wishing to purchase the book can do so by writing to "The Beatle Shop" (see the order form below) or by visiting their web site at: http://www.thebeatleshop.co.uk/frame.htm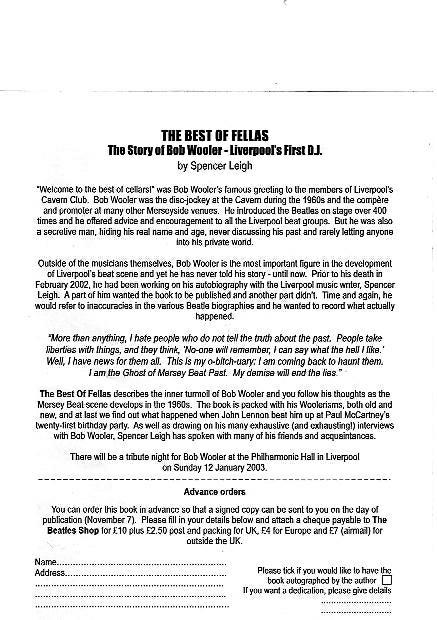 Mailing Address:
The Beatles Shop, 31 Mathew Street
Liverpool, L2 6RE. England
This exclusive, first e-published by the Ottawa Beatles Site, September 23, 2002. Many thanks to Joe Robinson for sharing his memorabilia and personal reminiscences of meeting Bob Wooler and Allan Williams.
Thanks, Joe!
See also: I AM THE DJ:
AN INTERVIEW WITH THE CAVERN'S BOB WOOLER by Gillian G. Gaar of Goldmine Magazine
plus: PORTRAIT CAPTURES THE WIT AND WISDOM OF A CAVERN LEGEND, a review of Spencer Leigh's new book by Philip Key of the Daily Post