September 24
"You Gotta Love Those Beatles" tribute song now available as a free download

Hi John

Following up on the recording I sent you earlier this year, having returned from Beatle Week 06 and still living off the glow.

This year I was able to give away about 140 copies to fans attending Beatle Week. But the single outstanding highlight was having the song played on BBC Merseyside Radio on Saturday, August 26, (On The Beat, presented by Spencer Leigh) and having a chance to talk about it on the air.

Vistiors to your site can hear the song can download it for free from the following websites, which promote the songwriting partnership of Alan Millen and Iain Duncan. Please note, however, that the Beatles tribute song is a solo composition on my part.

www.mp3.com/swampdogs .

http://homepage.hispeed.ch/Swampdogs/Alan.html (the lyrics are printed on this site)

For more on the Beatlemaniacs: www.beatlemaniacsonline.com.

Thanks in advance for helping to publicise this song in any way you can.

Yours sincerely,

Alan Millen
e-mail: amillen@bluewin.ch
-----------------------
September 20
Yoko Ono to hold two events promoting world peace on John Lennon's birthday Oct. 9
From Richard Joly and Onovox:
NEW YORK, September 9, 2006 - Legendary artist, musician and peace advocate, Yoko Ono, announced today she will be holding two events in Iceland on October 9th to promote peace throughout the world. On this highly anticipated date, which is the birthday of her late husband John Lennon, she will award the LennonOno Grant for Peace and will initiate the ceremony for the dedicated site of the IMAGINE PEACE Tower.
The LennonOno Grant For Peace, will be awarded during a private ceremony at the historic Höfdi House, in the city of Reykjavík. The two $50,000 grants will be given to the international medical humanitarian organization, Médecins Sans Frontičres/Doctors Without Borders (MSF) and the non-profit legal and educational organization, Center for Constitutional Rights for their global commitment to peace, truth and human rights.
In recognition of this year's grant recipients Ms Ono states, "These two groups look beyond today's conflicts and destruction and envision a positive future for our society, while working selflessly and tirelessly towards establishing a more peaceful environment for our planet. They are strong representatives of the many groups who are working in the same direction, today. They need and deserve all of our support and respect."
The IMAGINE PEACE Tower, which was envisioned by Ms Ono over 40 years ago, has plans to be constructed in Reykjavík. Through the collective efforts of the Reykjavík Art Museum and the City of Reykjavík the dedication of the site for this tower will be held on the picturesque Icelandic island of Videy. The base of the IMAGINE PEACE Tower will be filled with prayers and wishes from people of all nations and will serve as a beacon of light for all people who dream of world peace.
"Each one of us was born at this time, not by chance, but to fulfill a mission. Our work is not yet done. I know that John's spirit will be joining us on that day, October 9th, in Reykjavík and I look forward to seeing you there to celebrate this exciting day. WAR IS OVER, if you want it. I love you."
- yoko ono
-----------------------
September 19
Official Web Site of the Casbah Coffee Club
The history of the members of the Beatles as they began their music careers and the transformation into the Beatles at the Casbah Coffee Club established by Pete Best's mother in her own home. Now a heritage building with the "club" largely unchanged from the early 1960's.

"I think it's a good idea to let people know about the Casbah. They know about the Cavern, they know about some of those things, but the Casbah was the place where all that started. We helped paint it and stuff. We looked upon it as our personal club." Sir Paul McCartney

Casbah Coffee Club http://www.casbahcoffeeclub.com/
-----------------------
September 16
Beatles fans of all ages flock to inaugural Toronto Beatles convention
By: NOOR JAVED

TORONTO (CP) - It was Yesterday all over again. Kids wearing Beatles T-shirts, teenagers holding vintage records, and longtime fans sporting John Lennon-style tinted glasses were singing and dancing to Fab Four's classics Saturday on the opening day of the first-ever Beatles Celebration.

A first of its kind in Canada, the weekend convention marked the 40th anniversary of the last Beatles' concert in Toronto, staged at Maple Leaf Gardens.

Four decades years later, the fan following of the band in Canada still holds strong.

Peter Miniaci, one of the organizers, said he felt compelled to hold the event based on the Beatles' "huge fan base in the country."

He should know. Miniaci has run Toronto's downtown Beatlemania Shoppe for 11 years and says Canada has "per capita, the third-biggest Beatles market in the world, next to Japan and America."

"Toronto loves the Beatles and the Beatles Love Toronto," referring to the Beatles' tour stops in Toronto in '64, '65 and '66, where the band played six shows during that time.

Susan Peters, 54, attended one of those concerts. She went to the concert of '64 when she was 12 years old, and says that was the moment she became a fan,

"I totally remember it, but there are no words to explain the spirit and the excitement of that event, it stayed with me my whole life," said Peters.

"I have been a fan for more than 40 years."

Greg Gordovitz, 55, also attended the '64 hometown concert as a teenager. He said he first fell in love with the Beatles watching them on the Ed Sullivan show, but the concert remains one of his most poignant childhood memories.

"I slept in line overnight to get tickets to the show, and their sound system was horrible," said Gordovitz. "But I am so lucky that I got to be a part of the first generation fans of the Beatles."

Back then, the top ticket price was a mere $5.50 for a floor seat.

In contrast, fans paid $20 just to attend the convention.

That didn't deter hundreds of fans - many of them with families in tow.

"I introduced the Beatles to my kids the day they came home from the hospital," said Duane Day, who brought his 12-year-old son Dylan to the convention. "I wanted my kids to know the great music of the Beatles," said Day.

Buying two more Beatles T-shirts to add to his collection, 16-year-old Paul English said he's even more of a fan than his dad.

"I was introduced to the Beatles by my dad, but I am now the biggest fan," said English. "My dad played the Beatles song "Birthday" to me when I was six, and ever since then, I have been hooked."

Fans from as far away as Florida and Massachusetts were at the convention, which featured sing-alongs, memorabilia sales, and original costumes the Beatles wore during their performances.

Russ Lease came from Cape Cod, Mass., to display his personal Beatles artifacts collection, which he has been building for more than 20 years.

He calls his collection one of the "weirdest" in North America, citing memorabilia like hair samples from all four Beatles, a straw fedora Paul McCartney wore in Bermuda, a part of Lennon's bath towel, and drumsticks used by Ringo Starr.

Highlights of the weekend also included a meet-and-greet with original drummer Pete Best and Lennon's onetime companion May Pang.

The two surviving Beatles, McCartney and Starr, did not attend.

Lennon was shot to death by a crazed fan outside his New York apartment in 1980 while George Harrison died of cancer in 2001.

Vendors from as far and England and Mexico - selling records, books and psychedelic posters - were busy tending to diehard fans hungry to get their hands on Beatles collectibles.

But for some, being at the conference was just a way to remember the peace-and-love flavour of the 1960s.

"The whole era of the Beatles was magic," said Gary Cloutcier, from Ottawa, as his wife Patti bought Union Jack-tinted glasses from one of the booths.

"There was so much unity, so much love, so much peace and so much positivity, this event gives us a chance to remember that."
© The Canadian Press 2006
-----------------------
September 14
"Recording The Beatles" - a new book by Kevin Ryan and Brian Kehew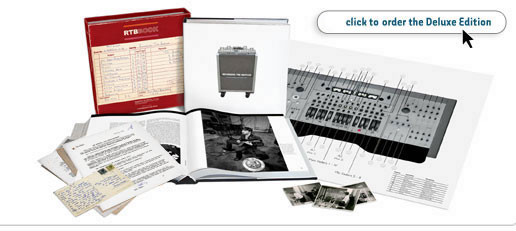 Never before has there been such an absolutely thorough and definitive look at how the Beatles' albums were recorded. Years of research and extensive interviews with the group's former engineers and technicians shed new light on those classic sessions. With a detailed look at every piece of studio gear used, full explanations of effects and recording processes, and an inside look at how specific songs were recorded, Recording The Beatles is a must-have for any Beatles fan or recording engineer. Hardcover, 11" x 11", 540 pages, over 500 photos and illustrations, color and black and white, available September 2006, ISBN:0-9785200-0-9
"A fascinating and impeccably researched work about the the engineers, studios and equipment that contributed to the 'recording revolution' that was The Beatles. An essential Beatles recording bible."
-Alan Parsons, engineer/producer (The Beatles, Pink Floyd, Wings, The Alan Parsons Project)
Click on the above image on how to order this new book!
-----------------------
September 7
Beatles Secret Weapon in EMI dispute
by Contactmusic.com
THE BEATLES have a secret weapon that could be vital in their bid to sue record label EMI - a top secret document showing how the label distributes its income. The band have filed a GBP10.5 million ($19 million) lawsuit in Britain for alleged lost earnings and are planning to sue the company in the US courts also. The Beatles' legal team are believed to have access to a document that details how EMI and its sister companies distribute worldwide income between each other. The Inter-company matrix agreement (MEA) will reveal how the band's revenues are distributed and the profits are shared. It will play a vital part of The Beatles' case, as the legendary group claim a recent audit showed that EMI reneged on its deal to grant increased royalty rates in 1989. According to the band, EMI and Capitol falsely classified many copies of Beatles recordings as destroyed or damaged, before selling them in secret. The dispute around the audit relates to the period 1994 to 1999, a time that would have been particularly lucrative to both parties because it included the CD release of Greatest Hits albums 1962-1966 and 1967-1970 and the release of the three double ANTHOLOGY albums. The Beatles and company Apple Corps are also now suing - in the US court - for the return of their master recordings. The record company will file its defence, providing there is no appeal, before the end of the year (06) in the US action, while the legal process in Britain has already begun, with an amended defence to be lodged on 3 November (06).
-----------------------
September 3
DVD: Paul McCartney - "The Space Within US"
Release Date: November 7th, 2006

Product Description (from amazon.com):
"In 2005, rock legend Paul McCartney crossed America with his record-breaking, sold out U.S. tour. Now, harnessing the power of more than 25 hi-definition cameras and the thunder of 5.1 digital surround sound, PAUL McCARTNEY: THE SPACE WITHIN US captures this epic experience on DVD. Better than a front row seat, this feature-length concert film takes viewers onto the stage and beyond, capturing Paul's out of this world performance--which was beamed to the astronauts aboard the Mir space station who wake up to some "English Tea" with Paul and the band through a live feed from the tour.

PAUL McCARTNEY: THE SPACE WITHIN US FEATURES LIVE PERFORMANCES OF NEARLY 30 HITS INCLUDING:
Magical Mystery Tour / Flaming Pie / Maybe I'm Amazed / Eleanor Rigby / Let Me Roll It / Drive My Car / Got To Get You Into My Life / Till There Was You / I Will / Fine Line / Good Day Sunshine / Fixing a Hole / Hey Jude / Too Many People / Penny Lane / English Tea / I've Got a Feeling / Follow Me / Jenny Wren / Helter Skelter / Yesterday / Get Back.

DVD Features: "Paul's World" Featurette; Meet the Band Interviews; Song Selections; Liner Notes Introduction by Cameron Crowe."
Carl Perkins & Friends - A Rockabilly Session
CD Release Date: June 6, 2006. Distributed by Snapper Classics U.K.
You really have to see the video of this wonderful show to fully appreciate it, but an album version of this concert has been long overdue for years since this is some of the hottest rockabilly ever performed in one setting. Carl Perkins, George Harrison, Eric Clapton, Ringo Starr, Dave Edmonds, and Rosanne Cash have rarely sounded better than they did in this totally infectious 1985 rockabilly session taped in England.

The top-notch backing band led by Dave Edmonds does a great job of recreating Carl Perkins' classic songs in their original arrangements while making them rock like never before! There is a great, driving version of "Matchbox" with Perkins, Clapton, and Ringo all singing verses of the song. Another highlight is a rockin' version of Roy Orbison's "Mean Woman Blues" that features Clapton wailing away on a scorching guitar solo!

The powerhouse performance of Perkins' masterpiece "Blue Suede Shoes" is reason enough to buy this CD. Anybody who still associates this song with Elvis needs to hear Carl tear into it with his heart and soul in this performance. This is simply the greatest version of this rock n' roll classic ever performed by anyone!

Get a copy of this CD, but most importantly, be sure to get the video of this superb show if you've never seen it. This is as good as rock n' roll ever gets! (Reviewed by: Cory B. at Amazon.com).
1. Boppin' The Blues - Carl Perkins
2. Put Your Cat Clothes On - Carl Perkins
3. Honey Don't - Ringo Starr
4. Matchbox - Eric Clapton
5. Mean Woman Blues - Eric Clapton
6. Turn Around - Carl Perkins
7. Going To Jackson - Carl Perkins
8. What Kind Of Girl - Rosanne Cash
9. Everybody's Trying To Be My Baby - George Harrison
10. Your True Love - George Harrison
11. The World Is Waiting For The Sunrise - Carl Perkins
12. Medley: That's Alright Mama/Blue Moon Of Kentucky/Night Train To Memphis - Eric Clapton
13. Glad All Over - George Harrison
14. Whole Lotta Shakin' Goin' On - Eric Clapton
15. Gone Gone Gone - Carl Perkins
16. Blue Suede Shoes - Carl Perkins
17. Blue Suede Shoes (Encore) - George Harrison
18. Gone Gone Gone (Encore)

August 31
Quick Beatle news picks
Beatles, Apple Corps free to sue EMI, Capitol in royalties suit (from the C.B.C.); The man who turned on the Beatles finally revealed (from "What Goes On" website); Lennon doc could be Oscar nom (from Hollywood Reporter); Ex-Beatles drummer still on the beat (from the Seattle Times). Update: added from September 1: Lennon FBI Files Put California Professor on Long, Winding Road (from Bloomberg.com).
-----------------------
August 30
Magic Records releases original French covers of Beatles songs, circa 1963-1971
Dear John,
I am particularly glad to send the CD La France et les Beatles, first volume in a series of five collecting French covers of Beatles songs only published in France between 1963 and 1971.
Several years of research have been necessary to gather these covers and bring them to light through Martial Martinay's famous French reissue label, Magic Records.
All five CDs represent an amazing total of 107 tracks, one third of which is absolutely new to CD! And it also constitutes the most complete collection of this kind ever published until now.
It will not only appeal to the general public, already familiar with the names of some artists, but also to the collectors seeking for real rarities. For instance, the Blue Notes (Ręve), I Trovatori (Tu perds ton temps) or Monique Lyrac (Dis-moi) have never been mentioned in any article or book before being published on this very first volume.
Every track has been carefully selected from the best possible sources and remastered in 24-bits.
I thank you very much for your help in promoting this CD and will, of course, send you the next volumes as soon as they reach the stores.
Feel free to ask for any further information.
Yours sincerely,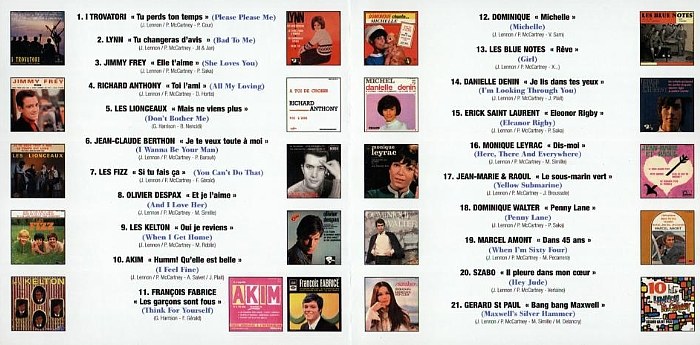 Click on the above "Magic Records" logo for more information on the
"La France et les Beatles Vol. 1"

-----------------------

August 20
Spencer Leigh to broadcast "You Gotta Love The Beatles" tribute song

Hello John

I'm not sure if this worthy of mention on your Ottawa Beatles Website, but the fact that I'm a Canadian Beatle fan (although living in Europe) might interest your readers.

I have been invited to appear on BBC Radio Merseyside on Saturday, August 26, to play and talk about the song You Gotta Love The Beatles, my thank-you note in musical form to the fab four and the people who put on Beatle Week every year. It was recorded last year by The Beatlemaniacs: www.beatlemaniacsonline.com

The radio show is hosted by Spencer Leigh, who has written numerous books about pop music and is the MC at the Sunday convention. In my past visits I have seen him interview a range of people with Beatle connections such as Sid Bernstein, Tony Sheridan, author Philip Norman and John Lennon's half-sister Julia Baird. I sent him a copy of the song about a month ago with the faint hope that he might give it a spin on his show during Beatle Week.

Here's a link to his profile: http://www.bbc.co.uk/liverpool/content/articles/2006/06/29/radiomerseyside_pres_spencerleigh_feature.shtml

Don't think I quite foresaw a moment like when I bought my first ever single -- She Loves You -- at Fletcher's Appliances on Commercial Street in Nanaimo, B.C. back in early 1964. When I wrote You Gotta Love The Beatles after attending the Strawberry Field Garden Party at Beatle Week in 1998, I hoped that one day I would be able to share it with fans in some way. Looks like this is the perfect opportunity, eh? (or to quote a certain songwriter ... "one sweet dream came true today".)

Anyway, just wanted to share this someone who would appreciate the significance.

All the best in the meantime...

Alan Millen

Note: The Ottawa Beatles Site had the pleasure of receiving a copy of "You Gotta Love The Beatles" from Alan several months ago. It is a catchy pop tune sure to delight BBC Radio Merseyside listeners who tune in on August 26 to the Spencer Leigh show. To his credit, not only has Alan composed a tribute song about The Beatles, but he also wrote a lovely article on his last pilgrimage to Liverpool entitled "The Hendersons Will Dance Sing" which appears at this web site.

------------------------

August 19
Access Hollywood to broadcast in-depth look at the Cirque production of "Love"

Exclusive Interviews with Paul McCartney, Ringo Starr, Yoko Ono, & Olivia Harrison Featured

New York - August 7, 2006 -- Access Hollywood takes an exclusive in-depth look at the The Beatles LOVE, the highly acclaimed latest Cirque du Soleil production, in a one-hour program hosted by anchors Nancy O'Dell and Billy Bush. The special airs August 19 from 9 - 10 p.m. EST/PST and 8 - 9 p.m. CST exclusively on the NBC Owned and Operated television stations. KXAS, NBC's Owned station in Dallas will air the show on August 20 at noon. LOVE will be rebroadcast on September 2 & 3 on Access Hollywood affiliate stations nationwide in Access Hollywood's regularly scheduled time periods. (excerpt sourced from Access Hollywood News.)

Addendum: Tony Copple, proprietor of the Ottawa Beatle Site had a friend who recently saw the Cirque de Soleil production of "Love." The friend gave Tony a souvenir copy of the MGM Mirage promo magazine of "Love" who then gave it to me (thank you Tony!) The M lifestyle magazine is 66 pages long, but is crowded with advertising with the net result being 3 pages dedicated to an actual write-up on the Cirque production with one full-page "Love" advert found earlier in the magazine. The 3-page write-up is pretty much what you've all read before in the press so there is nothing really new here to read. But what I think is really cool is the front cover art work of the magazine which I've scanned as a larger JPG along with the report:

http://beatles.ncf.ca/thebeatles_mgm_cirquedesoleil_love_p1.html

Note: for "dial-in" users, the downloading time will take about 50 seconds so hang in there! Hi speed modem users should have no problem with the download.

Regards,

John Whelan
The Ottawa Beatles Site
http://beatles.ncf.ca/

------------------------

August 16
Paul McCartney Thanks Toronto Beatles Celebration

TORONTO, Aug. 16 /CNW/ - Sir Paul McCartney has sent written greetings and thanks to Beatles fans in Toronto and to the organizers of the Toronto Beatles Celebration. The Celebration will be held at the Queen Elizabeth Hall and Theatre at Exhibition Place in Toronto on September 16-17, 2006. It features Beatle experts, educators, exhibitors, and performers, including the world's best Beatles tribute band - 1964 The Tribute - as well as the largest collection of museum-quality Beatles memorabilia ever assembled in Canada.

In a letter addressed, "Dear Beatles Fans," the former Beatle writes: "I would like to welcome you to the inaugural Toronto Beatles Celebration, celebrating the 40th anniversary of our last Beatles concert in Toronto. I wish I could be there celebrating the legacy of the Beatles with you. Thank you for all your love and support." The final Toronto Beatles concert was held forty years ago tomorrow, on August 17, 1966.

Goodwill Ambassador for the Adopt-A-Minefield Campaign to rid the world of landmines, Mr. McCartney is a passionate supporter of the cause, and appreciative of the selection of Adopt-A-Minefield and the Canadian Landmine Foundation as the charity of the Celebration.

"We were stunned and touched by Paul's wonderful letter," said Celebration spokesperson David Goyette. "To the best of our knowledge, this is the first time that Mr. McCartney has publicly recognized a Beatle convention. It is also the first time that a convention like ours has decided to help raise and donate funds to the landmines cause."

Said Scott Fairweather, President and CEO of the Canadian Landmine Foundation, "We rely on local efforts from Canadians to play our part in creating a world free of the suffering caused by landmines. This is the kind of commitment in action that truly makes a difference."

The letter can be viewed at www.torontobeatlescelebration.com.

For further information: David Goyette, Toronto Beatles Celebration, (416) 484-8564, davidgoyette@bellnet.ca, www.torontobeatlescelebration.com; Scott Fairweather, Canadian Landmine Foundation, (416) 365-9461 ext. 22, scott@canadianlandmine.org

© 2006 CNW Group Ltd.

------------------------

August 11, 2006
It was 40 years ago today: Fans remember Fab Four's final stop in Toronto
by Cassandra Szklarski, Canadian Press

TORONTO (CP) - The year was 1966, Edith Manea had just turned 17 and the greatest band in the world - the Beatles, of course - were about to play their last concert ever in Canada.

Short of cash, but desperate to see her heroes, Edith and her twin sister marched themselves down to Maple Leaf Gardens, turned on the waterworks and unleashed a sob story at the box office involving lost tickets.

It worked. Moments later, they stood mere metres from the Fab Four, screaming along with thousands of other young fans.

"I was not about to be left out," states Manea, now a 56-year-old mother of two grown sons who goes by her married name, Ippolito.

"We waited until people in the front were fainting and being carted off and we just took a seat and we sat in the very front. I took photographs right up beside Paul McCartney singing Yesterday. I have photos of that," she recalls proudly on the eve of the concert's 40th anniversary - Aug. 17.

At the time, no one knew that the performance would be the Beatles' farewell to Canada. John, Paul, George and Ringo would play their last concert ever as a group in San Francisco on Aug. 29, 1966, and announce thereafter that they would focus solely on studio recordings.

A two-day convention to commemorate the final tour takes place next month in Toronto. Original drummer Pete Best and John Lennon's onetime companion May Pang are expected to attend, and a never-before-heard Toronto bootleg from that '66 show will be on display.

Incredibly, Beatles expert Peter Miniaci says neither the matinee nor evening concerts sold out that day, the only Canadian stop on the tour. Amid controversy and waning fan frenzy, the Gardens sold just 15,000 of its 18,000 tickets for the matinee and 17,000 tickets for the evening show.

Miniaci, who runs Toronto's Beatlemania Shoppe, blames the leftover seats on Beatles fatigue, which by Revolver and Rubber Soul had settled even in Brit-pop crazy Toronto.

"It was the third time that they came to Toronto," says Miniaci, noting the band had also visited in 1964 and 1965.

"People in '66 thought OK, we saw them in '65, they've been here, they're gonna come again, right? Little did they realize that that was the last time. I'm sure there's a bunch of people now reflecting, 'I should have went to that '66 show. I could kick myself.' "

Those who did go to the show paid a mere $5.50 for a floor seat or $4 for a seat in the rafters.

Inside, it was bedlam.

Just like every other Beatles show, the audience was packed with screaming teenage girls, all clamouring for a glimpse of their mop-topped idols, says Ippolito.

A row of uniformed security officers ringed the stage, arms linked. In addition, 200 police officers had reportedly been assigned to escort the boys, and hundreds more were on standby.

The bare-bones stage was littered with white pieces of paper, presumably love notes tossed in desperate adulation, recalls fan Stephen Long, who was in the third row.

The stage set-up, meanwhile, was "laughable" says Ippolito.

"Nowadays they have these huge speakers. Then, they just had these little wee box speakers and little regular mikes. There was nothing fancy about their set-up."

Throughout it all, there was screaming.

Long, who brought along a handheld tape recorder to the show, is thought to have made the only full Beatles bootleg from a 1966 concert. It will be played publicly for the first time at the Toronto Beatles Celebration on Sept. 16 and 17, says convention organizer David Goyette, but he warns "it's mostly screaming."

Ippolito concurs.

"It was about 25 minutes of total screaming," she says, adding that the musicianship left a lot to be desired.

"I didn't think they were hitting the notes, they didn't remember the lyrics, it was so noisy. (But) they were fantastic."

She says Lennon especially put on a lacklustre performance, a comment that doesn't surprise Paul White, head of A&R for Capitol Canada at the time.

"I would never say they went through the motions but (the 1966 show) was a bit of a letdown from previous years," says White, the man credited with launching Beatlemania in North America when he released Love Me Do in Canada in February 1963.

"I think that was when the group was starting to run down and become four individuals, more than a group called the Beatles."

The real fun was had backstage, says the now-73-year-old White.

"Well, that was a bigger madhouse than the actual show because you had all the people in town that they knew from the record label and then musicians that they'd met along the way," says White, who recalls Ronnie Hawkins and most of his band, the Hawks, as "always around."

"And there were groupies, of course, but that's enough said about that."

Despite the Beatles' phenomenal following and unprecedented celebrity, a look at their four-page 1966 concert rider is a study in modesty by today's outlandish standards.

The contract, signed by then-promoter Bob Eubanks (later host of the Newlywed Game), simply asks for adequate police security and a spartan stage set-up.

Among the requests are "four (4) floor stand Hi-Fi microphones," "a first-class sound engineer" and "not less than two (2) super trouper follow spotlights."

Backstage, the minimal demands include "four cots, mirrors, an ice cooler, portable TV set and clean towels and two (2) cases of soft drinks."

Miniaci laughs when he considers how times have changed for today's rock gods.

"Here they are, they walk in, the four of them plus three other guys. And then you see some of these celebrities and actresses and singers, they get like, 50 people, and it's just an interview at Much(Music)," says Miniaci.
Most interesting, the rider stipulates that "artists will not be required to perform before a segregated audience" - a real possibility in the racially turbulent times of the United States.

Politics and controversy definitely had a way of following the lads from Liverpool.

In the weeks leading up to the Toronto concert, a firestorm erupted after a U.S. magazine published quotes in which Lennon said the Beatles were more popular than Jesus. On the day of the Toronto show, Lennon stated his support for Americans who fled to Canada to escape the Vietnam draft.

While Ippolito says ongoing controversy didn't seem to diminish fan ardour at the show, White says times had definitely changed for the Beatles by 1966.

"I remember that it was sort of the end of an era because, not that Beatlemania ever really died away, but sort of the fever from the early shows was not quite there this time 'round," says White, adding he wasn't surprised that they announced an end to touring soon afterwards.

"So many other things had come along to replace them and they were going in different directions themselves."

"We suspected that things were going to have to end sometime."

Miniaci suggests the Beatles put an end to live performances in part due to the frustrations of touring.

"A lot of people think it was a combination that they were losing their popularity, they were going really weird and psychedelic, they were letting their hair grow long in '66 and then John came out with some controversial statements and stuff," he says.

But technological limitations also kept them from playing their increasingly challenging songs, he says, noting the '66 tours featured material from '64 and '65.

"They couldn't do any of the psychedelic songs (on Revolver), like Tomorrow Never Knows and She Said She Said," he explains.

"It was very primitive back then. They were getting frustrated and they should have just hung in there, because a year or two later you had all these great bands like the Who and the Yardbirds and (Jimi) Hendrix touring with much better equipment and stuff."

Toronto was one of five cities that the Beatles visited on each of their three North American tours. The others were Los Angeles, San Francisco, Chicago and New York.

To this day, Ippolito says nothing compares to the experience of Beatlemania in Toronto.

"There hasn't been anything like it, that I can recall, in terms of excitement in the city, except for the World Series," says Ippolito, a devoted fan who once snuck into the Beatles' Toronto hotel room in 1964, absconding with a spoon, a cereal box, a linen napkin and several cigarette butts.

"When the Beatles came, the whole city was buzzing. It was in papers all the time, CHUM (radio) was talking about it all the time, it was just huge."
I'm so glad, I'm lucky I was a part of it."

The Beatles played their last Toronto show almost 40 years ago on Aug. 17, 1966.

The set list for the gig at Maple Leaf Gardens:
- Rock And Roll Music
- She's A Woman
- If I Needed Someone
- Day Tripper
- Baby's In Black
- I Feel Fine
- Yesterday
- I Wanna Be Your Man
- Nowhere Man
- Paperback Writer
- I'm Down
On the Web: www.torontobeatlescelebration.com
© The Canadian Press 2006
------------------------
August 1
Macca branches out
Ex-Beatle to release choral, orchestral work in English and Latin
Paul McCartney has made his share of classic music: Now the ex-Beatle is releasing a classical album, the Associated Press reports.
Ecce Cor Meum, which means "Behold My Heart," is a choral and orchestral work in both English and Latin, due out this fall. Britain's Magdalen College Oxford commissioned McCartney to create the music more than eight years ago in celebration of a new concert hall.
Though McCartney has released three other classically oriented albums, he acknowledged that writing Ecce Cor Meum was a difficult task that took revisions and public performances before he finally got it right.
"Eventually I made it all come together through correcting some misapprehensions," McCartney said in a statement released to the Associated Press yesterday. "If it had been a Beatles song I would have known how to do it. But this was a completely different ball game."
Ecce Cor Meum is to be released on Sept. 26.
Meanwhile, the guitar on which McCartney learned his first chords has sold for Ł330,000 (about $697,000) at an auction at London's Abbey Road Studios, BBC News Online reports.
The instrument, which fetched more than three times its estimate, was sold by McCartney's school friend Ian James, who will use the money for his retirement.
The Rex acoustic guitar helped McCartney persuade John Lennon to let him join his band, The Quarrymen, in 1957.
He impressed Lennon by playing songs and chords on it at a Liverpool fete.
McCartney has provided a letter of authenticity that will be given to American buyer Craig Jackson, a spokesman for the Cooper Owen's Music Legends auction said.
"The above guitar, belonging to my old school pal Ian James, was the first guitar I ever held," McCartney wrote.
"It is also the guitar on which I learned my first chords in his house at 43 Elswich Street, Liverpool 8."
McCartney remembered James, a father of three from Ormskirk, Lancashire, in a Beatles biography written by Hunter Davies.
At the fete, he showed Lennon "a few more chords he didn't know," he told the author.
"Ian James had taught me them, really. Then I left. I felt I'd made a good impression, shown them how good I was."
The guitar Lennon was playing on the day -- an acoustic Gallotone Champion -- was auctioned for Ł294,000 (about $621,000) at auction in New York.
The Rex guitar also features in two photographs included in the sale. In one, McCartney is seen playing the guitar in his office earlier this year.
The other was taken by McCartney 49 years ago, showing a young James with the instrument.
The guitar's buyer, Craig Jackson, himself the president of an auction company, said: "This is such an important piece of rock history and I am an extremely happy man tonight."
"Without this guitar, The Beatles may never have existed and it is a fantastic acquisition."
© Copyright by Metro Ottawa News Services, all rights reserved.