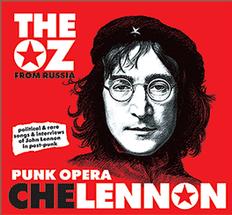 "Punk Opera: CheLennon" by The Oz.
This full-length experimental "punk opera" project includes 13 unique post-punk versions of John Lennon revolutionary and rare songs mixed with 6 reprises of politically intense interviews with him. This brilliant work was created by The OZ -- a post-punk group located in the very heart of the true underground of St. Petersburg -- Russia's cultural and revolutionary capitol!
Click here to read a review of the new CD by Ottawa Beatle Site researcher John Whelan.
For ordering information, please visit the InnerLights Explosion