How the Beatles Rocked the Kremlin
2009 Documentary by Leslie Woodhead, who had filmed them at the Cavern in August 1962.
By Tony Copple, 7 September 2009

In production since August 2007, this important historical work which authoritatively links the fall of communism in the USSR with the influence of the Beatles on that country's repressed youth (who are today its leaders) was shown on BBC Four on 6 and 7 September 2009, as part of the 09/09/09 Beatles Week celebration, when 14 remastered Beatles albums were released. US transmission is scheduled for Nov 9 on PBS, distributed through WNET.ORG. This day was chosen as it is the 20th Anniversary of the fall of the Berlin Wall.

This film meets the Soviet Beatles generation and hears stories about how the Fab Four changed their lives. Leslie Woodhead - visioner, writer, producer, narrator - shows how the effect the Beatles continue to have in Russia way transcends their influence even in their native England. The passion - the love - freely expressed by individuals translated into a desire for free expression that could only be consumated by major political change. Yet had the initial wave come just two years earlier, or later, the resonance might have fizzled. Readers of Malcolm Gladwell's Outliers will understand the signficance of this. They will also know the Beatles differentiating secret over all other bands.

The reason I can testify to the birth of this enterprise was that it happened in Yury Pelyushonok's back yard in Ottawa on 1 August 2007. I was there to witness Leslie's film crew as they captured Yury's band for his "Strings for a Beatle Bass" book / CD project singing "The Yeah Yeah Virus" with Al Findlay and John Jastremski belting out the succinct lyric. The song, with several tasty visuals, is placed right near the start of the film, following the historic 2-minute clip Leslie filmed in the Cavern. These days, Al manages the Silver City cinema complex in Ottawa (hint!) I peeked that day as Yury was interviewed at length on film. Later he was to travel back to "mother Russia" for additional footage. His role in the movie is pivotal to its message. For much more of his memories, read "Strings for a Beatle Bass" if you can get hold of a copy.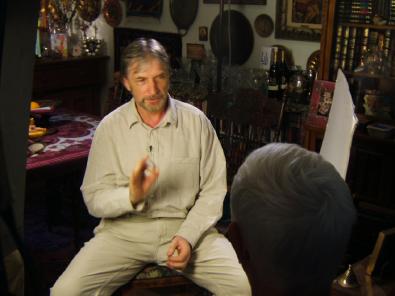 St Petersburg Beatles Superfan Kolya Vasin is an engaging character in the movie, as we taste his reverence for John Lennon. Today, Kolya can organize Beatles events without fear, but in the sixties young Russians risked severe penalties for listening to their idols. They also learned English from Beatles lyrics. The role of tape recorders was crucial in spreading the music around the fans, who also would listen on disks made from X-Ray film. Frank Zappa once said that really great music sounds good even on a crappy record player. (However, I for one am looking forward to hearing the songs that Russian kids strove so hard for, in pristine sound quality. Just 2 days to go!) This is a story that needs to be heard. It is perfect to be taught in history class, and sociology class. Maybe the film should be shown in war-strategy schools. It has been known for some time that the desire of ordinary people for consumer comforts such as MacDonalds, jeans, and rock'n'roll can in the end outweigh the power of bombs and tanks. In his book "The World is Flat," Thomas L. Friedman postulates that there has never been a major war between countries where supply chains such as MacDonalds are established, since people recognized the benefits of prosperity over ideology and territory. It's even hard to imagine two countries going to war where their leaders and people love the Beatles as the Russians do. Let's fire rock'n'roll at Burma and North Korea, and kudos to Paul McCartney for his playing in Israel, Russia, Ukraine. Yes, and let's remember none of this would have happened without Paul and Ringo, George and John - and Leslie.
Watch the film (some countries only)