"Joe Massot, the director, asked me would I do the music for his film...I decided to do it as a mini-anthology of Indian music because I wanted to help turn the public on to Indian music."
Excerpt from Apple's Deluxe "The Beatles Get Back" book describes atmosphere on the roof: "With the wind sweeping the roof and blowing through the Beatles' hair, it seemed as if the roof concert were occurring on ship deck, Paul stomping the wooden planks, middle aged men and women on an adjoining roof waiting for the boat to arrive, boys and girls on nearby buildings lying against the roof slopes and waving, the Beatles smiling and singing to each other in the wind: 'You can syndicate any boat you row.'" The Beatles performance ran about 40 minutes before the police arrived to stop the noisy noon disturbance.
February 3
Allen Klein appointed to look after the Beatles' affairs by John, George and Ringo. Paul McCartney rejects the appointment, preferring Lee Eastman, Linda Eastman's father.
March 12
Birth of the APPLE SCRUFFS. Female fans stalk 3 Savile Row, Abbey Road, Trident and Olympic recording studios and the Beatles homesteads waiting for an appearance of a Beatle. Recalls Apple Scruff Wendy: "We only wanted to know them as people really, it was never a groupie kind of thing. We didn't know what sex was all about....I thought these are my Beatles and one day I'll be in the right place at the right time and it'll be wedding bells."
George & Pattie Harrison's home is raided and they are charged with possession of cannabis.
Paul McCartney marries Linda Eastman at St. John's Wood Church in London. Reverend Noel Perry-Gore presides.
March 20
John & Yoko married in Gibraltar by Cecil Wheeler in the British Consulate building
March 25 - 31
John & Yoko hold "Bed-in" in room 902 at Amsterdam Hilton
John Lennon: "Our life is our art. That's what the bed-ins were. When we got married, we knew our honeymoon was going to be public anyway, so we decided to make a statement. We sat in bed and talked to reporters for seven days. It was hilarious."
March 31
George & Pattie Harrison fined in court for possession of cannabis
April 1
John & Yoko appear in "a bag" while in Vienna
Playboy (1980 interview): "What about the reports of you making love in a bag?"
Yoko Ono: "We never made love in a bag. People probably imagined we were making love. It was just, all of us are in a bag, you know. The point was the outline of the bag, the movement of the bag: how much we see of a person. Inside there might be a lot going on. Or maybe nothing's going on." See Bagism.
April 3
Billy Preston, brilliant keyboardist signs on with Apple
George Harrison would later produce his first two albums on Apple: "That's The Way God Planned It" and "Encouraging Words". Billy would be used on the LET IT BE and ABBEY ROAD albums. George Martin would later acknowledge that Billy's musical contribution to those albums would act as "emollient" to buffer the on-going friction between band members.
George Harrison: "It's interesting to see how people behave nicely when you bring a guest in because they don't really want anybody to know that they are so bitchy...and told him [Billy] to come into Savile Row which he did. Straight away it just became 100 percent improvement in the vibe in the room."
Billy Preston (reflecting on how it all happened): "I was with Ray Charles in London and George was in the audience and he recognized me and called me the next day and invited me over to see the guys. When I went over, they were in the studio, you know, recording and filming and they asked me to sit in with them. It was a thrill enough just being there and playing with them. And I really didn't know about the label credit until the record was out," said Billy. "The record was a big surprise. I was at the Beatles' office, and John said, 'Look, Willy,' and he showed me the record. I looked, and it was great. Wow! It was really something to do that for me."
May 5
GET BACK / DON'T LET ME DOWN - featuring Billy Preston, (single) is released (Apple Records).
May 25
John & Yoko arrive in Toronto and are temporarily detained by Canadian Immigration authorities for over two and a half hours because of Lennon's previous drug conviction. Canadian Immigration decides to grant Lennon a 10-day stay in the country. While in Canada, the couples activities spans from May 25 to June 5 and are headlined in major newspapers, television media and radio.
May 26
John & Yoko hold "Bed-in" at Hotel La Reine Elizabeth, room 1742, in Montreal
ELECTRONIC MUSIC (lp) is released by George Harrison (Zapple Records)
UNFINISHED MUSIC NO. 2 - LIFE WITH THE LIONS (lp) is released by John & Yoko (Zapple Records)
June 1
John & Yoko record "Give Peace A Chance" which would become John's first solo record but still credited as a "Lennon/McCartney" song.
See: Rabbi Feinberg joins Beatle in song.
June 3
The Lennons visit Ottawa
At about 5:30 p.m., John and Yoko convenes for a peace seminar at the Ottawa University Arts Building organized by Allan Rock, who today is now an Ambassador to the United Nations (previously he held several Canadian cabinet positions including Minister of Health, Minister of Justice and Minister of Industry.) A lively discussion on peace was held including panelist Prof. Colin Wells, vice-dean of the university of arts faculty along with Canadian actor Bruno Gerussi and Martin Loney, president of the Canadian Union of Students.
See details of their visit to Ottawa with 15 rare exclusive photographs,
and follow in John's and Yoko's footsteps on a tour of Ottawa in 2001.
John and Yoko's visit to the city would only last several hours. The couple boards a train at 11:30 p.m. on this evening at the Ottawa Train station. They arrive the next morning at 6:30 a.m. at the Union Station in Toronto where the couple stayed at the Windsor Arms Hotel.
John is seen here carrying Yoko's 5-year old daughter Kyoko.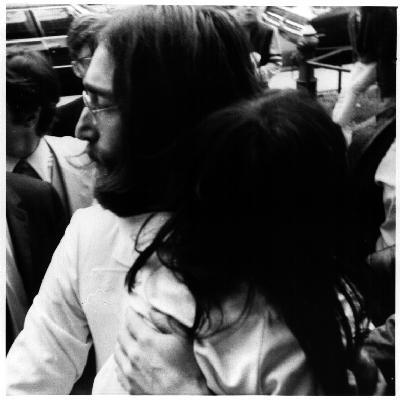 Photo: Jim Huber Click the pic for story

June 4
BALLAD OF JOHN & YOKO / OLD BROWN SHOE (single) is released (Apple Records)

June 5
John and Yoko leaves Canada

On this date, John Lennon and Yoko Ono check out of the Windsor Arms Hotel in Toronto to catch a 9 p.m. flight to London, via Frankfurt. "We are very happy with the results of our visit and the Montreal bed-in," said John Lennon to reporter Ritichie Yorke for the Globe and Mail. "You can't change things overnight, but I believe we've made a lot of people think about peace. We're going to keep plugging away."

Yesterday's activities saw the Lennons head down to Niagara Falls to do a "film documentary footage on his visit to North America," wrote Yorke. Meanwhile, Allan Klein reported that The Ballad of John and Yoko had already sold 900,000 copies in the United States and was Number 10 on the English charts in one week.

July 1
Beatles begin recording Abbey Road album

July 7
GIVE PEACE A CHANCE / REMEMBER LOVE (single) is released by the Plastic Ono Band (Apple Records)
John Lennon: "We all have Hitler in us, but we also have love and peace. So why not give peace a chance?"

August 20
The last time all four Beatles would record together in studio.
According to author Barry Miles in his book "Many Years From Now", the last track recorded by the band as a unit was "I Want You (She's So Heavy)"

August 22
Last photographic session of the Beatles together.

September 5

Allen Klein successfully re-negotiates contracts with EMI for Canada, Mexico, and the USA. The band would now earn 58 cents per album up until 1972 and then it would jump to 72 cents after that. Part of the new EMI contractual agreement required the Beatles to release at least two albums per year until 1976. Prior to this re-negotiated agreement, the Beatles 1966 contract with EMI had them earning 39 cents per album and when the Beatles first signed up with EMI, they only made 6 cents per album.

September 13
CONCERT: "LIVE PEACE IN TORONTO"

John & Yoko's second visit to Canada. At the Varsity Stadium in Toronto, the couple perform live with Eric Clapton, Klaus Voorman, and Alan White. Together, at this performance, the band records an Apple album later released as "The Plastic Ono Band -- Live Peace in Toronto 1969"

Mal Evans, the Beatles roadie recalls the event in an interview with Beat Publications in 1969: "It was the first show I had roadied for three years and I was really loving every minute of plugging the amps in and setting them up on stage, making sure that everything was right. Everyone wanted the show to go particularly well because Allan Klein, who had flown over, had organised for the whole of John's performance to be filmed. This was on top of it being video-taped by Dan Richter.

"Finally, at midnight, the compare, Kim Fowley, who is a well-known singer, producer and songwriter in his own right, went on stage to announce the Plastic Ono Band. He did a really great thing. He had all the lights in the stadium turned right down and then asked everyone to strike a match. It was a really unbelievable sight when thousands of little flickering lights suddenly shone all over the huge arena, " said Evens.

"Then John, Yoko, Eric, Allan and Klaus were on stage, and lined up just like the old Beatles set-up. Bass on the left, lead guitar next, then John on the right with the drummer behind. Each guitarist had two big speakers, one on either side of the stage, and the sound was really fantastic right from the moment they began. But just before they launched into their first number, John said quickly into the mike "We're just goin' to do numbers we know, as we've never played together before". That was all. Just a brief word to put everyone in the picture.

"The whole show was recorded for a special album...and you will hear all this on the LP. After that, the boys gave a ten minute Press conference."

Mal Evans noted in the interview to Beat Publications that after they left Varsity stadium, the band piled into four cars and drove two hours until they reached the estate of Mr. Eaton, a wealthy Canadian businessman whose son had picked the band up after the show. The next day, for fun they got into golf-carts exploring the huge landscape that surrounded the estate. Ritchie Yorke, pop reporter for Toronto's Globe and Mail later wrote that John and Yoko spent a total of 36 hours in Canada before flying back to England.

September 17
"Paul Is Dead Hoax" starts up in America

Originating from Des Moines Iowa when Tim Harper, a college editor, writes an article for the schools "Drake Times-Delphic" entitled: "Is Beatle Paul McCartney Dead?" On October 12, WKNR-FM picks up on the story from a phone caller revealing "hidden clues" in Beatle songs. The Chicago Sun-Times later covers the story on October 21. Paul would later appear on the front cover of LIFE Magazine (November 7) with an interview by John Neary entitled "The Case of the 'Missing Beatle': Paul is still with us."

September 20
John Lennon announces to the others that he is leaving the band

Author Barry Miles in his book "The Beatles: A Diary" explains that as Paul attempted to discuss Beatle matters, John Lennon kept saying "No, no, no" to everything Paul suggested. Paul asked John what he meant by "no". John replied: "I mean the group is over. I'm leaving. Allen was saying don't tell. He didn't want me to tell Paul even. So I said 'It's out.' I couldn't stop it, it came out. Paul and Allen both said that they were glad that I wasn't going to announce it, that I wasn't going to make an event out of it." Lennon's announcement never made it to the press because of their newly negotiated royalty contract they signed with EMI.

October 1
ABBEY ROAD (lp) is released (Apple Records)

October 6
SOMETHING / COME TOGETHER (single) is released (Apple Records)

Contrary to the popular belief that Something was released as a money-maker, the real reason for giving George Harrison his first A-side to this single was to inspire him on as a composer. For in 1990, Beatle historian Mark Lewisohn received a letter from Allen Klein which reads as follows: "It was done on purpose, not to make money but to help the guy," wrote Klein. "Lennon wanted to help him. He knew that for all intents and purposes for a period of time they weren't going to be working together anymore. Something was a great song. But to make money? Not a chance. It was really to point out George as a writer, and give him courage to go in and do his own LP. Which he did."

October 20
WEDDING ALBUM (lp) is released by John & Yoko (Apple Records)
COLD TURKEY / DON'T WORRY KYOKO (single) is released by the Plastic Ono Band (Apple Records)

November 26
John Lennon returns his M.B.E. to the Queen. He does this as a political protest against Britain's involvement in Biafra and also because his solo single, "Cold Turkey" was quickly slipping down the music charts

December 12
The Plastic Ono Band: LIVE PEACE IN TORONTO 1969 (lp) is released by John & Yoko (Apple Records)

December 16
John and Yoko arrive in Canada at Toronto's International Airport. The Lennons third visit to Canada was brokered by Ritchie Yorke. In his book, "Axes, Chops & Hot Licks - The Canadian Rock Music Scene" that was published in 1971, he recalled how the arrangement came about: "In London, in December 1969, I found myself in the office of John and Yoko Lennon discussing their forthcoming peace campaign in Canada. The Lennons needed somewhere to stay during their visit to Toronto, and I suggested the Hawkins estate. Lennon needed a quiet spot, well away from the never ending assaults of the press; he enjoyed the company of rock 'n' rollers; and it appeared that the visit might provide the attention needed to get Hawkins' career back into the orbit internationally."

For the next 6 days, John and Yoko become houseguests with pop rock star Ronnie Hawkins. "Ah'm friends with the people promoting this peace festival," said Hawkins in his Arkansas accent. "And John and Yoko don't like hotels, so they phoned me from London an' asked if they could stay here while it was being organized. They were wonderful, great. Ah was very honored."

Hawkins would refer here to the proposed Mosport Peace Festival that was to be held from July 3-5. The event was being organized by rock promoter John Brower, the same person who had John and Yoko perform at Varsity Stadium in Toronto.

Also on this date, John Lennon and Yoko Ono decide to put up on eleven billboards in major cities from around the world, the following slogan: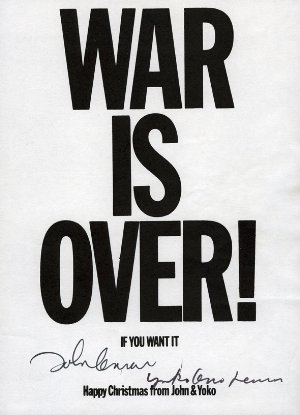 Click on the above image for a larger picture. Used with permission from Michael McLuhan.
Pop journalist Ritchie Yorke lamented on the historical importance of the peace campaign: "John totally believed that love could save us. He thought that if one person really stood up, things could be changed. I've never seen anyone so committed to a cause, regardless of the cost. If he thought his actions would serve a purpose, he didn't give a damn if they cost a lot of money or if they offended anyone's sensibilities. The guy was amazingly open-minded; we used to sit around thinking of things to do in the peace campaign, and he never ruled out anything. At one point, somebody decided that the way dates were broken up into B.C. and A.D. was ridiculous, that we should start all over with YEAR ONE A.P., which was AFTER PEACE. John didn't think that was too far fetched; he threw himself into the campaign."
Click here for a photo of John and Yoko.
December 19
"BEATLES SEVENTH CHRISTMAS RECORD" is issued to fans club members

December 22
John Lennon and Yoko Ono arrive by train and arrive in Montreal "just to say hello". A press conference is held at Chateau Champlain Hotel. There it is revealed that the Lennon spent $72,000 anti-war billboards and that he would "send the bill for his ads and posters to U.S. President Richard Nixon," wrote the Canadian Press.

And although not known to the Montreal press at the time, probably the real reason for John and Yoko arriving in Montreal was to

hold talks with two representatives from the Le Dain Commission of Inquiry into the Non-Medical Use of Drugs: Ian L. Campbell and Dr. Heinz Lehmann.

The Le Dain Commission of Inquiry was the Canadian government's response to the concern over the use of illicit drugs and the need to obtain more information about some of them, in particular cannabus, LSD, and prescription drugs such as tranquillizers and amphetamines. The inquiry was officially announced in the House of Commons on May 1, 1969, by John Munro, Minister for Health and Welfare. (see also: January 19 and May 17, 2003, entry in this timeline for John Lennon's official testimony.)

December 23
John & Yoko meet with Canadian Prime Minister Pierre Trudeau which lasted 50 minutes. John declares to the Canadian press about his pro-active peace movement: "Peace is no violence, no frustration, no fear," John Lennon said in a C.B.C. interview, "If I smile at you, you're liable to smile back. We're smiling at the world."

Both John and Yoko on this date would later fly back to Toronto from Ottawa and while on board the plane, they accidentally meet Lester B. Pearson, a former Canadian Prime Minister and Nobel Peace Prize recipient for his diplomatic achievement: the proposal of sending United Nations peacekeeping force to the Suez Canal area. Shortly after arriving in Toronto, the couple head back to England by plane.

GRAMMY AWARD (1969):
Best Engineered (Non-Classical Recording) - The Beatles "Abbey Road", Geoff Emerick, engineer.

**1970**

February 11
THE MAGIC CHRISTIAN (movie) featuring Ringo Starr and Peter Sellers premieres in New York.

February 20
John Ono Lennon with The Plastic Ono Band: INSTANT KARMA (WE ALL SHINE ON) / WHO HAS SEEN THE WIND (single) is released (Apple Records)

February 25
Mosport Peace Festival Canceled

"After an argument over whether or not a charge should be made for admission, John and Yoko disassociate themselves from the planned Toronto Peace Festival, due to take place 3-5 July. It doesn't," wrote Mark Lewisohn in his book "The Beatles Day by Day."

Interestingly enough, printed on March 25 for newsstand sales until April 16, 1970, RollingStone Magazine gives John Lennon's response about the cancellation after a query was made to him from the publisher. "In the early stages we weren't sure whether the show would be free or not," said Lennon. "There was a lot of talk about the Stones' disaster and we were swayed into thinking maybe if it's free, people would have less respect or some such bullshit. However, Brower and Yorke persuaded us to come to Canada and 'announce the peace festival,' which we did in our usual way.

"Later, when we were in retreat in Denmark, we began thinking, 'Why shouldn't it all be free? Surely they can hustle some big firms or something to put up the money," exclaimed Lennon. "And anyway, it looked like the national and local government were interested. Wouldn't it be a great plug for 'Young Canada' -- and the tourist trade?"

However, promoter John Brower on at least on particular point disagrees about the two levels of government cooperating together for the Mosport Peace Festival: "We had tremendous problems with the Ontario government at the time," he said to William Ruhlmann of Goldmine Magazine, "which was a Conservative [Party] government, as opposed to the federal government, which was Liberal [Party]. And since the prime minister of Canada was Liberal and had met with Lennon, therefore the Conservative government was against the festival, because they felt that if it was staged in Ontario it would make the Liberal prime minister look good, and they didn't want to do that."

Brower also went on to say that Lennon "gave us every opportunity to 'Get it together, man,' so to speak, and when we were not able to get a site together and we were not able to consummate financing that would allow us to put the festival on in a way that John felt was most appropriate, he walked away from it."

February 26
HEY JUDE (THE BEATLES AGAIN) (lp) is released (Apple Records)

March 1
"Ed Sullivan Show" - From the Let It Be movie, two film clips are presented to the viewing audience: "TWO OF US" and "LET IT BE"

March 11
LET IT BE / YOU KNOW MY NAME (LOOK UP THE NUMBER) (single) is released (Apple Records)

April 10
Paul McCartney publicly announces he has left the Beatles because of "..personal, business and musical differences"

April 20
McCARTNEY (lp) is released by Paul McCartney (Apple Records)

April 24
SENTIMENTAL JOURNEY (lp) is released by Ringo Starr (Apple Records)

May 4
IN THE BEGINNING (Circa 1960) (lp) is released (Polydor Records)

May 11
THE LONG AND WINDING ROAD / FOR YOU BLUE (single) is released (Apple Records)

The orchestral score for "The Long and Winding Road" was conducted and arranged by Richard Hewson and not scored by Phil Spector as some Beatle fans would assume. Hewson also did the orchestral score for Mary Hopkin's "Those Were The Days", "Goodbye" and her album "Postcard". He would later do the same for McCartney's "Thrillington" album.

"The Long and Winding Road" single sells 1,200,000 copies within two days.

May 18
LET IT BE (lp) is released (Apple Records) (before its release, the album had 3,700,000 advance orders)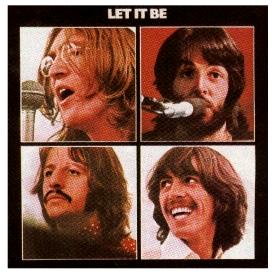 May 20
MOTION PICTURE: "Let It Be" is released (running time: 80 minutes).
An Apple production released through United Artists
Produced by: Neil Aspinall
Directed by: Michael Lindsay-Hogg, Yoko Ono, Linda Eastman
Photography: Tony Richmond, Les Parrott and Paul Bond
Edited by: Tony Lenny and Graham Gilding
Sound Technicians: Peter Sutton, Roy Mingaye and Ken Reynolds
Sound Engineers: Glyn Johns, Malcolm Evans
Filmed in 16mm and blown up to 35mm for commercial distribution
Filmed in Technicolor
MPAA rating: G
Cast: John Lennon, Paul McCartney, George Harrison, Ringo Starr, Billy Preston and Yoko Ono
The Beatles comment on how the band had broken up:
John Lennon (interview with David Wigg, PBR Records): "The Beatles were disintegrating slowly after Brian Epstein died - and it was a slow death. It was happening: it was evident on "Let It Be"...it was evident in India when George and I stayed there and Paul and Ringo left. And it was evident on the "White Album, you know..."
YOKO ONO: "Sean cried. He also said, "Now Daddy is part of God. I guess when you die you become bigger, a part of everything." "John loved and prayed for the human race. Please do the same for him."
CHUCK BERRY: "He had a white face but a black man's soul".
George Harrison: "It's difficult when four people are telling a story 'cause it's...it's actually four different stories. I mean, you must realize it's got to be somewhat of a compromise when four people are involved. But we're trying to just say how felt to us."
In making his announcement, Roberts spoke of a full-page dedication on Liverpool's musical success story that is listed in the new Guinness Book of Hit Singles. He explain the rational for the full-page entry this way: "There are 17 number ones from The Beatles, but there is a real diversity of talent out of Liverpool, which has stretched from Lita Roza in 1953 right through to Atomic Kitten.
"And of course since last year, when we announced Liverpool as the Capital of Pop, there have been two more number ones, a second from Atomic Kitten and George Harrison's My Sweet Lord."
The Daily Post, who filed the report, added that The Lord Mayor, Jack Spriggs, is to be presented with several copies of "new Guinness pop bible to be distributed to the city's libraries."
Beaming with pride, The Lord Mayor proclaimed: "It was fantastic to get a world record last year and now to think that people all over the planet will be reading about us in this new book is very exciting. We really are a music city."
Reuters news services files a report indicating that the EMI Group saw year-end profits slump by "40% in adjusted pre-tax profit." News of the post-results meeting with investors saw EMI stock fall by 7 percent casting doubts as to whether or not "substantial improvements" for EMI would likely occur by the end of this year.
Martin Dobson, head dealer at Natwest Securities in London, provided Reuters with an explanation for EMI's poor profit woes: "(EMI) faces so much of a struggle with piracy and they need to find a way to protect themselves. Sales are falling and there are a number of factors to take into consideration, such as the HMV float not going well."
In an effort to boost profitability, EMI had announced a restructuring plan last March that would see 1,800 job cuts along with 400 artists scrapped from its roster. Said EMI's CEO Alain Levy in a news report last month with USA Today: "Not having star power tends to take the margins out of the music commodity. We've cut the artist roster a lot, but it was still pretty bloated." Later, Alain Levy would do just a little bit of an about-turn on his comment: Levy now "wanted to find five stars topping five million global sales in the next three years", he told Reuters, "and two or three topping 10 million" to help increase EMI's profit margins.
EMI's restructuring plan has come at a cost -- 240 million pounds, for savings 98.5 million pounds. While the total restructuring of job cuts won't fully impact until September of this year, Alain Levy hopes to improve EMI's profit margins from the 5.1% expected this year to 13% percent in three years.
Some interesting facts about EMI:

• EMI is the third-biggest music group with its financial statement in 2002 boasting of some 70 different labels.
• EMI is the No. 5 record company in the USA with 9.3% of album sales so far in 2002.
• EMI has not had a hit album to rival their 2000 release of Beatles "1" which sold 22 million units worldwide.
• On February 6, 1967, EMI reported that the Beatles combined world-wide record sales when converted into single units (i.e.: an LP being the equivalent to six singles and EP to two) was now in excess of 188,000,000 units.
May 30
THE LIVERPOOL LENNONS
On this date, Julian Lennon announces at Joe Johnsons' on-line Beatle Brunch, that the Official Website of the Liverpool Lennons has been launched. The site traces the history of the Liverpool Lennons from the 1800's and right up to the present. This excellent site by Julian Lennon boasts of some never-before seen family memorabilia. Said Julian: "...items like the 'Sgt Pepper' gold disc and Dad's afghan coat from 'Magical Mystery Tour'. And much more." The site is well researched and very user-friendly...definitely a-must-see!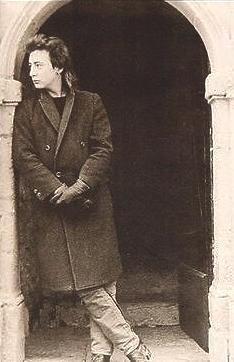 Click on the photo and link to the Official Website of the Liverpool Lennons!
June 3
ROCK ROYALTY AT QUEEN'S JUBILEE
Marking Elizabeth II's 50 year reign as queen from 1952 to 2002, the BBC production of Party at the Palace highlighted a special celebration of popular music with performances from: Sir Paul McCartney, Sir Cliff Richard, Eric Clapton, Phil Colins, Roger Daltry, Rod Stewart, Bryan Adams, Ricky Martin, Tom Jones, Shirley Bassey, Ozzy Osbourne, Aretha Franklin, Emma Bunton, Steve Winwood, Atomic Kitten, Mis-Teeq, Queen, Joe Cocker, Brian Wilson and Sir Elton John (who was pre-recorded on video tape.)
An estimated 1 million people had lined up in Trafalgar Square, the Mall, and parks to watch the performances from huge video screens while 12,000 lucky ticket-holders converged at the queen's back garden. There, pop/rock royalty showcased their numbers before a swaying crowd.
Sir Paul McCartney sang homage to Elizabeth II by selecting compositions from the Beatles' musical cannon: Her Majesty; Blackbird; All You Need Is Love; The End; Hey Jude; and a vocal duet with Eric Clapton on While My Guitar Gently Weeps
In an interview the night before the gala event, Sir Paul explained his rational for choosing All You Need Is Love: "I still believe that love is all you need," said Sir Paul. "I don't know a better message than that."
June 11
PAUL McCARTNEY MARRIES HEATHER MILLS
A very special day in the lives of Heather Mills and Paul McCartney: the couple marry in St. Salvator's church in County Monaghan, Ireland. The church was built in the 17th century and is located on Castle Leslie's 1,000-acre estate. The wedding commenced at around 4 p.m. (11 a.m. EDT) and was conducted by the Venerable Cecil Pringle, Archdeacon of Clogher. The service was finished when the church bells rang out at 5:20 p.m. (12:20 p.m. EDT).
According to a report filed by USA Today: "McCartney's brother, Mike, who was best man when Paul married Linda Eastman in 1969, was best man again Tuesday. John Eastman, Linda's brother, along with Paul's children, Stella, James, Mary and stepdaughter Heather, were on hand, but not part of the ceremony." Mike's 19-year-old son Joshua was in charge of the box of rings at the wedding.
Mike McCartney, recounting later in an exclusive interview with The Sun said of his brothers marriage: "Over there I was just feet away from two people who love each other - that's all you want in life. If you're lucky and you both love each other, that is all anybody needs."
Mike said that Paul, 59, felt lucky before the wedding because he had spotted a bright double rainbow the previous day.

And for extra luck he wore a "magic buttonhole" to marry former model Heather, 34.

"Not only did he have a pink McCartney rose but he had a sprig from Dad's lavender bush and Mum's favourite flowers - two buttercups - in his lapel.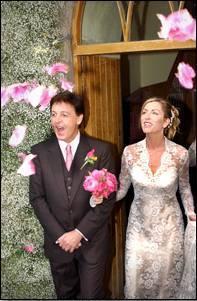 TO PAUL AND HEATHER,
OUR OTTAWA BEATLES SITE SPECIAL THOUGHT TO YOU:
"Of all the music that reached farthest into heaven, it is the beating of a loving heart." -- Henry Ward Beecher
"That lavender bush came from our family home in Forthlin Road, Liverpool. All our lives we had lavender around us.
"Mum would put it in little sachets and leave it in drawers and Dad would burn it in his ashtray."
Heather's bridal dress was made of ecru lace, designed by Heather but with assistance from London fashion house Avis & Brown. Her hair was styled by Amanda Amos from Brighton and her make-up was by Mathew Alexander of Michael John.
Paul McCartney's publicist, Geoff Baker, described the ceremony as "joyful and moving. Heather captured the hearts of the congregation when, overcome by the emotion of the occasion, she briefly faltered and wept tears of joy whilst making her vows." Heather was given away by her sister Fiona Mills. While traditional hymns were used at the service, "Praise My Soul," "The King of Heaven" and "Lord of All Hopefulness", the couple also selected "Heather", a song written recently by Paul and was used as Mills entered the St. Salvator's church while carrying a bouquet of 11 pink McCartney roses. As Heather and Paul made their way back down the church aisle, an organist played the "Wedding March" which Paul had wrote in 1966 for the hit movie "The Family Way."
Apart from the immediate family members in attendance, an estimated 300 guests were also invited to Paul and Heather's wedding. Some of the famous notables present were: ex-Beatle Ringo Starr, the band's producer Sir George Martin, Pink Floyd's front-man David Gilmour, Jools Holland, 60's pop model Twiggy, Chrissie Hynde, and actor Steve Buscemi.
On Thursday, June 13, the newly weds flew to the Seychelles from Belfast to honeymoon on one of the Indian Ocean archipelago's private islands.
After the honeymoon is over, the couples future plans will include co-hosting the "Adopt-A-Minefield Second Annual Dinner" to be held on September 18 at the Century Plaza Hotel in Los Angeles. It is expected that Paul McCartney will perform with other musicians while Jay Leno emcee's the event.
June 14
PETER BLAKE RECEIVES KNIGHTHOOD IN QUEEN'S BIRTHDAY HONOURS LIST
Peter Blake, responsible for the Beatles' Sgt. Pepper's Lonely Hearts Club Band album cover, receives a knighthood in the Queen's Birthday Honours list. Sir Peter Blake was the first fine artist as opposed to a record-cover designer to transcended himself into the art world...Sgt. Pepper's Lonely Hearts Club Band became the pride in the homes of millions of record-buyers during the Summer of Love in 1967 -- remembered not only for its groundbreaking music, but also for its exceptional art work and cover design. This was the first time in the history of pop where both music and art combined together and became one.
Said Sir Peter Blake: "It's a wonderful time to get this, as I celebrate my 70th birthday next week.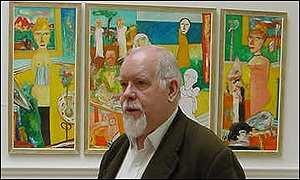 "I started at the Royal College of Art the year of the Queen's coronation in 1953.
"And it's funny to be getting a knighthood at the same time as Mick Jagger - we lived 50 yards away from each other. It's nice that two Dartford boys are getting honours simultaneously."
Some interesting facts about the Sgt. Pepper album:

• In Britain, the album sold 250,000 units within a week of its release and 500,000 units within a month.
• In the United States, the album had advance sales of 1 million units and within three months sold 2.5 million units.
• By mid-1987, the album's twentieth anniversary, Sgt. Pepper had sold 15 million copies.
• Sgt. Pepper's Lonely Hearts Club Band was the first pop record to contain the lyrics on the back of an album cover.
June 24
BEATLES EARN £34.2M
The Beatles "accrued a stunning £34.2M fortune after selling 11M copies of '1', their singles compilation, in the US last year. Significant revenue from publishing earned a substantial income for Apple Corps, the group's American holding company", reports the Daily Post.
The article also mentions Sir Paul earning "at least £8M from his recent American tour" with "tickets for the show fetching up to £1,000 each on the black market."
June 28
RINGO STARR HELPS RAISE MONEY FOR THE DAVID SHEPHERD WILDLIFE FOUNDATION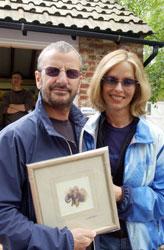 In an effort to both raise money and the profile of critically endangered mammals in Africa and Asia, Ringo Starr and his wife Barbara Bach turned up before a large crowd in their hometown of Cranleigh, England, to lend support to The David Shepherd Wildlife Foundation. Ringo Starr encouraged the crowd to buy David Shepherd's special sketches and prints, each one being autographed by the artist himself. The charity event saw £6,000 raised on opening day. The former Beatle is expected to show up with celebrities the following day for the "Cranleigh Carnival and Fun Day".
July 4
HARRISON'S ATTACKER RELEASED ON CONDITIONAL DISCHARGE
In a statement from the Mersey Care National Health Service Trust which oversees the Scott Clinic in Rainhill, Merseyside, George Harrison's attacker "has been given a conditional discharge today by a mental health review tribunal." The attacker who suffers from schizophrenia, received fortnightly injections under the direct care of the Scott Clinic to control his illness. While the conditions of the patient's release were to "remain confidential" to "ensure the safety of the public", both Olivia and her son Dhani Harrison were not notified of his release by officials. As news quickly travelled to the Harrison family concerning the attacker's release, Olivia and Dhani provided an interview July 5th with the BBC and said: "We can never forget how brutally close [he] came to killing dear George and myself, nor the trauma inflicted on our son and family." The Harrisons declared the "vicious" attack on George, who died of cancer last November, had robbed him of the vital energy he needed to maintain his health.
Then, on July 9, a report emerged in Hello! magazine indicating that Olivia Harrison has decided that she will "sell Friar Park". The 120-room mansion is located in Oxfordshire and was purchased by George Harrison on January 14, 1970. In December of 1999, it was here that Olivia Harrison fought off a knife-wielding intruder who tried to kill her husband. Olivia's decision to sell the £20M property was based on the new information about the attacker's release back into the community. Said a family friend: "[His] release just reinforces her decision to sell. Olivia and Dhani didn't want to hold on to a property that, among some very good memories, also held some pretty dreadful ones."
July 11
FUTURE DVD RELEASE OF THE CANADIAN BROADCASTING CORPORATION'S PRODUCTION
OF "JOHN AND YOKO'S YEAR OF PEACE" PLANNED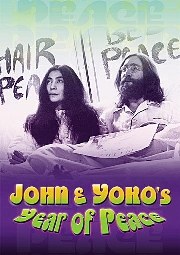 John and Yoko's Year of Peace, which originally aired in Canada to commemorate Lennon's 60th birthday on C.B.C. television, will be released in DVD format in the United States on September 17, 2002. In a report from the Music News Industry Network claims that Image Entertainment will distribute the DVD.
When they were producing the special, the C.B.C. made extensive use of its own archival film from 1969. Interestingly, Yoko Ono also contributed to show not only by way of providing exclusive interviews, but donated photographs and rare film footage which resulted the show being praised by The Globe and Mail as "a brilliant documentary". It also also won a finalist certificate at the New York Festivals. Doug Thompson, the brainchild behind the program enlisted Paul McGrath as the producer and Alan Lysaght as the programs director for the show. Both gentlemen were responsible for chronicling the Lennons three visits to Canada in the special. Definitely an excellent program worth picking up a copy for yourself!
July 25
QUEEN VISITS LIVERPOOL FOR BEATLE TOUR

On this date, Queen Elizabeth II attends two very special functions in Liverpool: The Queen is present for the official 10:50 a.m. opening of a new airport terminal recently built and renamed as the "Liverpool John Lennon Airport". There, the Queen unveiled a special plaque with Yoko Ono present. The second function saw the Queen leave at 11:20 a.m. to visit the city's Walker Art Gallery which is currently displaying Paul McCartney's art work.
Paul McCartney, who gave Queen Elizabeth a tour of his paintings, noted: "I think she liked them. She said they were very colourful and I took that as a great compliment."
Commenting on the ceremonies at the airport, Yoko Ono said this about the Queen: "It is such an honour to meet the Queen. John would have been very proud and honoured." Yoko later watched a cultural parade from the balcony of the Liverpool Town Hall. The Queen also had a chance to meet with Tom Murphy, the sculptor of the statue of Lennon that is found in the check-in hall at the airport.
September 9
GEORGE HARRISON'S "BRAINWASHED" LP SET FOR RELEASE!

EMI announces that the last material recorded by George Harrison will be released on November 18. The album, whose provisional working title was "Portrait of a Leg End" is now to be called "Brainwashed". According to Billboard writer Jonathan Cohen, there are "11 Harrison originals and an as-yet-unannounced cover."

The tracks were produced by George Harrison along with his son, Dhani. Overseeing the final production aspects of the album is George's long-time musician friend and record producer of Electric Light Orchestra fame, Jeff Lynne.

The album will be released on Dark Horse records and distributed through EMI. David Munns, vice chairmain of EMI Recorded Music told the Daily News that "EMI is thrilled to have this new affiliation with Dark Horse.

"George Harrison is an absolutely legendary artist and this is an extraordinary record and a testament to his genius. We are proud to offer this album to the world."

It is anticipated that "Brainwashed" could give George a posthumous number one album on the first anniversary of his death.

September 10
FOR THE FIRST ANNIVERSARY OF THE 9/11 TRAGEDY, YOKO ONO PLEADS "GIVE PEACE A CHANCE"

Marking the first anniversary of the September 11 attacks, Yoko Ono releases a new re-mixed version of "Give Peace A Chance" that includes lyrical references to the tragedy. Accompanying the re-mix is a short film that was released on MTV music to promote the idea of peace and not war. Said Yoko in a statement: "Let's create peace, unity and light. I think John's words are needed just as much now as when they were written -- 'Imagine all the people living in peace' and 'Give Peace A Chance'. Like all of us, I'd like to see the human race survive, living in health and in love with each other."

"Give Peace A Chance 2002"
was available as a free download from Mindtrain Records.
September 14
PAUL McCARTNEY PLANS TO RELEASE UNPUBLISHED BEATLE TRACK: "CARNIVAL OF LIGHT"

Predating John Lennon's Revolution 9, the Beatles recorded Carnival of Light on January 5, 1967, during the Sgt. Pepper period and will be heard for the first time in 35 years. The 14-minute track, according to their record producer Sir George Martin, is "...one of those weird things. It was a kind of uncomposed, free-for-all melange of sound that went on." According to press reports, Carnival of Light will be used as a "soundtrack to a film montage of his late wife Linda's photographs."

Music historians consider Carnival of Light as the first avant-guard piece of recorded material done by the Beatles and was the mastermind of Paul McCartney. This is confirmed later in an interview held on September 26 with Professor Glenn Gass who teaches a course on Beatles music at the Indiana University. He is interviewed by David Pencek of Norwich who is covering Paul's latest tour across the U.S.A. Here is what Professor Glenn Gass had to say: "He [Paul McCartney] was the most eager to experiment. He was more avant-garde than he gets credit for. People see Paul as sentimental and John as cutting edge. That's not fair, and Paul gets a bit defensive about it."

Carnival of Light had last been played at a London avant-garde festival in 1967.

September 23
"THE BEST OF FELLAS - THE BOB WOOLER STORY"

In an exclusive to the Ottawa Beatles Site, Joe Robinson shares his personal reminiscences of Bob Wooler. Joe had the unique opportunity of having met Bob Wooler in person on several occasions. This enabled Joe to personally assist Bob Wooler in developing his memoirs regarding his days as the DJ in the most famous of all beat cellars: "The Cavern".

Joe Robinson's excellent write-up provides readers with "a taster of things to come" with the pending release of Spencer Leigh's new book: "The Best of Fellas - The Bob Wooler Story" which is to be published on November 7, 2002, by Drivegreen Publications. The book will be full of Bob's first hand accounts taken from his personal memoirs.

Click on the link with exclusive photos of Bob Wooler along with a personal letter Bob had sent to Joe...

http://beatles.ncf.ca/robinson.html

A HARD DAY'S NIGHT DVD COLLECTORS EDITION IS RELEASED

Miramax releases in 1.66:1 anamorphic widescreen, A Hard Day's Night, the DVD Collectors Edition. The DVD sound quality is remastered in Dolby Digital 5.1, similar to the theatrical re-release from a few years ago.

DVD Talk critic Aaron Beierle claims the quality of the film is "a remarkably clean presentation, considering the age of the film. Obviously, considerable work has been done....No major wear & tear is seen at all." He also had praise for the soundtrack: "...the new 5.1 soundtrack hits the ears wonderfully from the opening moments with the title music. The music sounds terrific throughout the picture, with a warmth and clarity that impressed me."

The Hard Day's Night DVD Collector's Edition also an extra bonus: The DVD boasts up to 30 different people interviewed who were directly involved in the making of the movie. Beatle historian Martin Lewis interviewed 29 of those 30 people which included Richard Lester and George Martin. Unfortunately, about the only thing that is missing is an on-camera commentary from the Beatles themselves, otherwise, the DVD should prove to be a another winner for Beatle fans and for the money coffers at Apple.

October 2
SIR GEORGE MARTIN RELEASES HIS NEW BOOK: "PLAYBACK"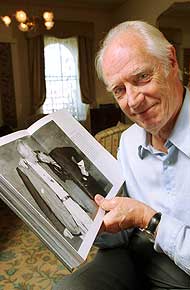 Premiering his book at the Hard Rock Cafe in Melbourne, Australia, Sir George Martin announces his limited edition autobiography entitled Playback. The book, which has a run of 2000 copies are each individually autographed by Sir George Martin and contains a CD. While the autobiography comes with a hefty price tag of $880.00, it does contain previously unseen documents, diaries and recording notes that Sir George Martin made at EMI studios while he worked with John, Paul, George and Ringo. Playback also lists his favourite Beatle albums, in order: Abbey Road, Revolver, Sgt Pepper's Lonely Hearts Club Band, and Rubber Soul.

In an interview with Simon Plant of Herald Sun, Sir George Martin had this to say about choosing favourite albums: "I love them all, really. It's a bit like asking, 'Who's your favourite child?' "

Four decades later, the great importance of the Lennon-McCartney partnership is not lost in Sir George Martin's mind as to their writing abilities of Beatles songs: "[W]hen they worked together they produced something a little bit bigger than the sum of the individual parts. It wasn't just a collaboration, it was a rivalry as well. I don't think either of them really achieved the heights they did as Beatles in their solo careers. They needed each other," he told The Age press. "I'm sure Paul misses John very much. And George."

And what of the Lennon-McCartney legacy? Well, Sir George Martin feels pretty confident that John and Paul's musical collaboration is indeed secured in the history books: "I'm not saying it's as good as Ravel or Beethoven -- though it might be -- but there is no other form of musical art in the late 20th century that is any better," he told the Herald Sun.

Sir George Martin has won five Grammy awards and holds the British record for producing 30 number 1 hit singles. Playback is being published by Hedley Australia.

November 3
Lonnie Donegan, "King of Skiffle" Music, Dies

Lonnie Donegan, who has been acknowledged by The Beatles as a major influence on their early musical careers, died in Peterborough, England, at the age of 71. Lonnie, whose real name is Anthony James Donegan, introduced "skiffle music" to England in the 1950's. He is best remembered for his hit song "Rock Island Line" which lasted 22 weeks on the British charts. It was that song that inspired both George Harrison and John Lennon to pick up a guitar. Said George Harrison in his autobiography, I, Me, Mine: "Lonnie Donegan was a much bigger influence on rock than he was ever given credit for. He was a big hero of mine."

Pre-dating rock 'n' roll, Donegan's "skiffle music" comprised of the following musical instruments: a guitar, a washboard, jugs, a snare drum, and a stand-up bass with a broom handle attached to an empty tea chest - and two chords that created a gritty mixture of folk, jazz, gospel and blues. According to Hunter Davies, author of "The Quarrymen", states that by 1957, an estimated "5,000 skiffle groups" existed in Britain (in 1956, London alone had 1,000 skiffle groups!) The music was joyous and yet simple enough to create that caused John Lennon to form his own skiffle group, the Quarrymen, around the time when Lonnie Donegan was at his peak.

Lonnie Donegan's other notable hit songs were: Does Your Chewing Gum Lose Its Flavor (on the Bedpost Overnight); My Old Man's a Dustman and Puttin' on the Style. His accomplishments over the years eventually led him in receiving a lifetime achievement award: the Ivor Novello in 1997. Lonnie was also made a Member of the Order of the British Empire in 2000.

November 19
George Harrison's final album "Brainwashed" is released!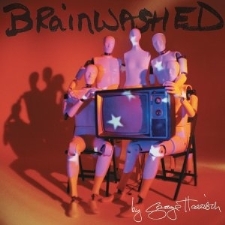 "There's nothing magic about this," said George Harrison. "It's acoustic guitars played by musicians into a microphone that leads to a tape recorder." George, in a video, was referring to the demo tapes he made that would be used in the making of his new album, "Brainwashed".

Full credit should be given to George's son, Dhani, for encouraging his father to record as much of the material as possible: "He used to say, 'Oh, you're going to have to finish all these songs.' I'd be like, 'Well, not if you do it first -- get off your arse and finish them!' " Dhani laughs.

It was no secret to friends and musicians who were closest to George that when he re-mastered and recorded bonus tracks for "All Things Must Pass", it became the catalyst for George to write and record new songs which ultimately appeared on George's final album. Jeff Lynne, who co-produced and finished up the tracks with Dhani, said in an interview with the Toronto Star: "It wasn't the first time I'd heard these songs. George had played them all for me live on his ukulele. I knew he'd been working on them in the studio, and we'd been talking about producing them together when we found the time. I had no idea how much work George had actually done in the studio until I opened the tape boxes four months after he died," he says. "The album was more or less complete, though it was in demo form."

In a tribute to George's final songs, Capitol Records general manager, Mark DiDia, threw a "listening party" for Harrison's "Brainwashed" album and had this to say: "These aren't songs that were left behind on the cutting-room floor -- these are from his heart and soul." And, interestingly enough, Geoff Emerick who had been working in an adjacent studio where Capitol Records were throwing the "listening party", expressed some of his fond memories he had about George: "People don't realize it, but George had a great sense of humour. He was also such a gifted musician. On "Taxman," from the Revolver album, I can remember him writing the guitar parts backwards to get the effect. He could do anything. At first, John and Paul didn't realize how well he could write songs. But then they saw what he could do."

Advance press reviews of "Brainwashed" had Fox News heralding the album as a "bona-fide success" while Colorado's Rocky Mountain News in their write-up described it as an album that "echoes the sonic trademark of his classic work, Brainwashed doesn't sound dated; it sounds timeless."

The album features some very respected musicians in the pop music industry: Jim Keltner and Ray Cooper on drums; Mike Moran and Marc Mann on keyboards; Jools Holland on piano; Herbie Flowers, bass and tuba; Joe Brown, acoustic rhythm guitar. The album's co-producer, Jeff Lynne, plays bass, piano, guitar, keyboards and supplies backing vocals while Dhani Harrison plays electric and acoustic guitars, Wurlitzer and contributes backing vocals.

Said Jeff Lynne on Dhani's performance for this album: "Dhani's a great guitar player, and he matched his dad perfectly," says Lynne. "He's an incredibly talented young man, a musician, a painter, charming and knowledgeable. He's in no rush to become a pop star. He's very quiet and wise, much like his father."

U.S. retailers predict that "Brainwashed" might debut in the top-10. Said Dave Alder, vice president of marketing and promotion for Virigin Megastores: "It's a perfect time for George's album. We'll be featuring the album at the front of all of our stores," he told RollingStone.com. "There's a curiosity among Beatles fans about George's last album."

COST CUTTING MEASURES RETURNS EMI TO PROFIT LEVELS

After a massive program of job cuts and a reduction of poorly performing singers from their repertoire, the BBC reports that EMI "is back in the black." The company saw "£174.8m" return to profit during the first half of this year. Apart from job cuts and reduction of musical artists from its organization, EMI also sold off their stake with Viva Media and part of their stake with the HMV record chain which aided in the recovery. The report, which was announced by EMI Group Chairman Eric Nicoli, added that the company is still tackling concerns affecting profit margins: the decline of album sales and musical piracy in Latin America, South Asia and in Southern Europe as well as digital piracy. That part of Nicoli's announcement sent negative ripples into marketplace as "EMI's shares fell from 10% to 165 pence shortly after the London stock market opened", the BBC reported. However, Nicoli was confident that EMI's financial ledgers will improve "at all levels of profitability" as they continue to sell off their remaining interests in HMV. Also, he anticipates that with newly acquired pop superstar, Robbie Williams, should increase EMI's record sales thereby improving the company's profit margins: "We not only profit from album sales," said Nicoli, "but also participate in revenue generated through other music-related activities such as touring and merchandise." EMI is anticipating that all of the combined measures outlined will help the media giant maintain their strong financial position well into 2003.
November 27
Year One: A.P. (After Peace)
With 15 new photos of John and Yoko's visit to Ottawa and Montreal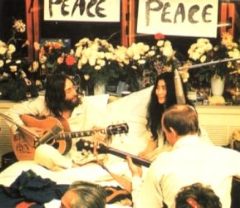 By special arrangement with the Montreal Gazette and the National Archives of Canada, the Ottawa Beatle Site proudly presents a special photo essay on John and Yoko's visit to Canada. The feature includes an exclusive interview from Timothy Porteous, Prime Minister Trudeau's Executive Assistant who was present during the historic 50-minute meeting when the Lennons met with Canada's Prime Minister on December 23, 1969. Also included on the same page is an exclusive interview with André Perry who produced "Give Peace A Chance" and "Remember Love" for the Lennons. The interview was conducted by Andrew Croft, publisher of the highly acclaimed Beatlology Magazine. Click on the above image to gain access to both of these excellent interviews and the photo collection.
November 29
"Concert for George at the Royal Albert Hall"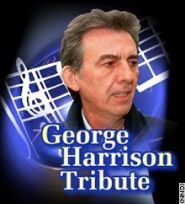 Marking the first anniversary of George's death, Paul McCartney, Ringo Starr, Eric Clapton, Billy Preston and other close friends who knew and performed with the ex-Beatle, showcased a memorial concert in his honour at London's Royal Albert Hall. The concert, which was described by Ringo Starr as "a reflection and celebration", was organized by Olivia Harrison with Eric Clapton as musical director.

Ravi Shankar, who opened the show with a combination of Indian and Western musical influences, presented a prayerful introduction which included "The Inner Light", told the audience: "I strongly feel that George is here tonight. I mean how can he not be here when all of us who loved him so much have assembled all together to sing for him and play music for him." And Eric Clapton, whom George regarded as one of the finest guitar players in the pop music industry, had this to say about the concert: "It's a beautiful occasion for me because I can share my love of George with you, his wife Olivia and son Dhani can experience and witness how much we loved him through his music."

The sell-out crowd of 5,000 -- which included Sir George Martin -- saw performances from the two surviving Beatles: Ringo Starr and Paul McCartney. Ringo paid tribute by performing "Photograph", a song that he and George had written together in 1973. For this number, Ringo was accompanied on guitar by George's son, Dhani. The ex-Beatle also did "Honey Don't" which was an old Beatles' cover version the band recorded on October 26, 1964. Fans most familiar with the number will readily attest that some very fine guitar picking by George Harrison can be heard on that recording -- so raucous was the session that an overjoyed Ringo Starr shouted on the track: "Ah, rock on George, one time for me!" Perhaps it was the fun-filled memories of that recording session that made Ringo choose "Honey Don't" -- and it certainly brought back lots of memories for George's fans!

For Paul's tribute, he chose three of George's songs: the classic "For You Blue" which was one of the big highlights from the "Let It Be" album and "Something" from the Abbey Road album. Paul also did a duet with Jeff Lynne on "All Things Must Pass", the title track from Harrison's first solo album since leaving the Beatles. Of all the three songs that caught the most media attention, was "Something." The Independent news reported that McCartney's "solo ukulele version of 'Something' glided beautifully into Clapton's reliably note-perfect guitar solo" which caused the "song's symphonic grandeur" to shine "brightly." On stage, Paul made mention that his heartfelt performances were "a tribute to a beautiful friend."

The memorial concert also saw fervent appearances from Jools Holland; Gary Brooker; Tom Petty; Sam Brown; Dhani Harrison and Joe Brown on "Here Comes the Sun". Billy Preston performed "My Sweet Lord" and did a duet with Eric Clapton on "Isn't It A Pity."

Proceeds from the concert will go to the "Material World Charitable Foundation, funded by Mr. Harrison since 1973, to support the arts, music, education and people with special needs," reported the Daily Telegraph.

December 8
Beatles '1' -- Fastest Selling Album Ever!

On this date, This is London reports the following: "The compilation album of the Beatles' number one hits - '1' - was the fastest selling in history." This fact is also acknowledged by Guinness World Records when they declared " '1', [which was] released on November 13, 2000, sold 13.5 million copies around the world in the first month, making it the fastest selling album." Sales of Beatles '1' continue to prove to be quite lucrative for its shareholders when accounts filed by Apple saw the company's "pre-tax profits for the year [2002] to last January soared to £18.4m", wrote This is London. Sir Paul McCartney, Ringo Starr, George Harrison's widow Olivia, and John Lennon's widow Yoko Ono also made £7.5m each for "promotional services charged to the company as well as payments for the use of their name and likenesses".

Special Note of Interest: Guinness World Records also states that "The Beatles have amassed the greatest sales for any group. All-time sales have been estimated by EMI at over one billion discs and tapes to date."

With usage rights from Yoko Ono, Amnesty International will re-record John Lennon's legendary anthem 'Imagine' featuring an international children's choir. The recording is to be produced by Academy Award winning composer, Hans Zimmer and will be used over the next two years by Amnesty International as a campaign "to reach out across generations to rally support for human rights," wrote the U.S. Newswire services.

In a statement from Yoko Ono: "The 'Imagine' campaign is such a beautiful campaign. I'm just enthralled by it. Bringing this 'Imagine' campaign all over the world, and by asking children of different countries to sing the song, it's a way of getting children -- and adults -- to come together. It will mean so much to today's world for children to sing this song."

The campaign includes a CD to be released in the Spring of 2003, a music video, television ads, print and radio as way to get their message out. Advertising for the 'Imagine' campaign had already commenced in a December 8th edition of the New York Times and a "a four-page insert" will be included "in the December 23 issue of The New Yorker" according to the press report. Amnesty International USA (AIUSA) has also commenced with an interactive on-line website with a special interview from Yoko Ono: http://www.amnestyusa.org/imagine

Curt Goering, senior deputy executive director for AIUSA, explained why the organization chose 'Imagine' for their crusade: "John Lennon's vision was of a world in which the needs and rights of every single person were respected and people everywhere lived in peace and harmony. His lyrics challenged people to imagine and act -- the same challenge Amnesty International has issued for 40 years. With ongoing and impending conflicts around the globe, Amnesty International calls on people everywhere to join us not only in imagining a better world, but also in working to protect human rights and create a more secure and just world."

Since its founding in 1961, Amnesty International has freed more than 45,000 prisoners.

"Sir Paul McCartney has sealed his move from rock star to pillar of the Establishment with a coat of arms to go with his knighthood. The arms - with a guitar and a Liver Bird symbolising his music career and Liverpool roots - use a formula that dates back to the 15th century," wrote Mark Ludlow of The Sunday Times. "The shield features two black flaunches, or curved emblems. Each is divided in two and the resulting four shapes, resembling beetles' backs, symbolise McCartney and his fellow Beatles John Lennon, George Harrison and Ringo
Starr. Two circles refer to records and CDs, and guitar strings pass over them." At the bottom of the coat of arms contains the motto: "Ecce Cor Meum" and is Latin for "Behold My Heart" which is the title of an oratorio he composed.

Queen Elizabeth II gave Paul the title of nobility on December 30, 1996. He then applied for the coat of arms but the design and approval was delayed when Linda McCartney, Paul's first wife, died from cancer in 1998. The shield was finally granted by the College of Arms (part of the royal household) and was "delivered to McCartney after payment of a £3,500 fee," wrote The Sunday Times.

Only two other pop stars have their own coat of arms: Sir Cliff Richard and Sir Elton John.

**2003**

At the peak of success, sales of The Beatles Book Monthly in the U.K. alone was in excess of 330,000 copies while at the same time overseas distribution figures ran well into the "hundreds of thousands", wrote the Daily Post. But several factors were cited (including from its founding editor) for the demise of the publication: 1) Recent sales of the publication have dwindled to about 10,000; 2) "The number of things the former Beatles are doing gets less and less as the years go on", exclaimed Sean O'Mahony. But perhaps the most significant point was summarized best by David Charters of the Daily Post when he wrote: "...the Beatles Book Monthly is to cease to publication, simply because it has said all that need be said."

Each issue of the Beatles Book Monthly ran 48 pages long with a retail value of £3 and contained news, merchandise and articles on the Beatles. Beatle song titles such as "Junk", "The Void", "Not Guilty", and "What's The New Mary Jane" first surfaced in The Beatles Book Monthly magazine via articles and reports from those who worked very closely inside the Beatles inner circle, i.e. Tony Barrow, the Beatles PR Officer from 1962 to 1968. Tony Barrow had ghosted many articles for Mal Evans and Neil Aspinall.

Led by the International Federation of Phonographic Industry (IFPI), London and Dutch detectives have recovered 500 reel-to-reel tapes of the famous "Get Back" sessions which eventually became the creation of the "Let It Be" album. The anti-piracy swoop ended a 30-year disappearance of the recordings (most Beatle fans never knew that the tapes were stolen in the first place.) According to New York Times reporter Allan Kozinn, the tapes "are monaural recordings made on a pair of Nagra tape recorders for reference purposes by a film crew that was documenting the sessions for a proposed television documentary" and each tape runs about 16 minutes each. The investigation included London and Dutch detectives which led to the arrest of five suspects, two in West London and three in an undisclosed location South of Amsterdam. The scam was exposed when the West London pair, a man and woman who are suspected of being "employed in the Beatles' Abbey Road studios at the time" of the "alleged theft in the early 1970s", attempted to sell the tapes to an undercover detective posing as a representative from EMI. The amount the suspects were demanding from EMI was $672,000. Part of the money was shown to the West London pair by the undercover detective while the other three suspects in South Amsterdam were shown the rest of the money at the same time by "undercover officers from the Netherlands police," the Daily Telegraph reports. "When the man in London and the Dutch people agreed by cell phone to complete the sale, police moved in. Three people were arrested in Holland. No money was paid out."

Michael Ellis, head of the IFPI's western European unit, could not over-emphasize enough the importance of the these recordings: "We were always interested in finding these tapes. The tapes were made in 1969 and they represent a significant part of the heritage of the British music industry. It was like a priceless painting being stolen."

Liverpool's Joe Robinson, who attended "The Best of Fellas -- A Tribute to Bob Wooler", salutes the legendary Cavern compère through his personal reminiscences of the various musicians and friends who participated at the festive occasion. Joe's exclusive photography that he took that night at Philharmonic Hall is presented in his tribute. And, published for the first-time ever, Joe provides us with the complete track listing of songs that were performed in honour of Bob Wooler.

The "The Best of Fellas" tribute night was used as an opportunity for the "Roy Castle Lung Foundation" to raise money -- a charity which Bob Wooler had been a long supporter of. Proceeds of ticket sales went directly to the charity. During the program, Mark Scragg, son of Roy Scragg from the Denisons, presented a cheque of £1,800 which topped-up the ticket sales. Cheryl and Norman Williams of "The Roy Castle Lung Foundation" had organized the event.

Geoff Emerick, the Beatles recording engineer who has received Grammy Awards for Revolver, Sgt. Pepper and Abbey Road, will be adding another to his prestigious list: "The Technical Grammy Award". The Grammy "is presented to individuals and/or companies who have made contributions of outstanding technical significance to the recording field," reported Business Wire.com. The award will also be presented to Shure Incorporated who has been world leader in audio electronics since 1925 (the company invented the first practical stereo phono cartridge!)

"The creative fearlessness of Geoff Emerick and the immeasurable contribution that Shure Incorporated has made to the world of audio are the achievements of true visionaries," said Producer & Engineers Wing Director Leslie Lewis. "Emerick's groundbreaking and skilful techniques continue to inspire generations and Shure's audio equipment consistently sets the standard for excellence. The world would have sounded very different without the contributions of our honourees."

The Grammy Awards are to be presented on February 23rd at New York's Madison Square Gardens between 8 -11:30 p.m. (PST/EST) on CBS Television.

When questioned about his LSD usage, John Lennon once told Jann Wenner in 1971 in the book, "Lennon Remembers", that "It went on for years. I must have had a thousand trips." Wenner asks Lennon, "Literally a thousand trips or a couple of hundred?" to which Lennon responds back with: "Lots. I used to just eat it all the time." That was the very public John Lennon talking with much bravado for the Rolling Stone interview. But then there is the very private John Lennon who, only two years before, was certainly not bragging about his LSD usage. For in December 1969, John Lennon and Yoko Ono testified at the "Le Dain Commission of Inquiry Into the Non-Medical Use of Drugs" where John declared his reasons for stopping his LSD consumption: "I think it probably does burn your head off, because -- I stopped using it because it did burn my head off, and, of course, now there's bad drugs going 'round. You can't even trust the drugs that come because people are selling acid that has got God knows what in it, you know."

And on December 1, 2013, the Toronto Star quoted Lennon from his testimony to the Le Dain Commission in an articled entitled "Why Canada banned pot (science had nothing to do with it)" written by Kate Allen. She explains how the evolution of the laws on pot happened over the past 90 years in Canada, worth reading for the wealth of research on the subject.


"Though recordings by The Beatles were banned during the Soviet era, the band's music made it through the Iron Curtain in small doses, giving many here their first taste of rock 'n' roll." -- Ira Iosebashvili, journalist, Moscow Times, October 3, 2003.

On this date, the Arts and Entertainment network airs a documentary exploring how Russian Beatle fans were deprived from witnessing firsthand, Beatlemania while under the control of the communist ideology. The documentary featured special interviews with President Vladimir Putin, former President Mikhail Gorbachev, Russian Defence Minister Sergie Ivanov, and many other Russian nationals whose lives were changed as result of experiencing Beatles music. It also featured some of Paul McCartney's finest musical works both as a Beatle and solo artist.

Many of the Russian testimonies given on the program confirmed that Beatles music meant more to them than perhaps to the Western generation because of the covert ways they had to listen to the music. Andre Makarevich, founder of the Soviet pop group, "Time Machine", declared on the program: "The Beatles [meant] more [to us] than the Beatles for any other country because in any other country, people could feel that they're not far from them. One day they come to their town and play their show and you can go to the shop and buy a new record. We understood that we lived on a separate planet and they will never come here -- never see the albums in the shop. That's why it was much more important for us."

How did official Beatles albums and official Beatle singles end up being banned in the 60s in Russia? It started under the leadership of President Nikita Khrushchev who was one of the strongest supporters of communism. He publicly made it known through the Russian media that he viewed rock 'n' roll music as decadent Western culture and that it was subversive and a corruptive influence on Russian youth which might lead to the hollowing out of communism. To that end, Russia's "Ideological Department of the Central Committee" - a bureaucratic department who supported "pure thought" on communism, reviewed all arts, languages and national upheavals -- those big scale things that would impact negatively on communism. The review on the arts included rock 'n' roll music from the West and the music of the Beatles. As each and every new Beatle album and single was being released either by Parlophone or by Apple records in Britain at that time, Russia's "Ideological Department of the Central Committee" decided to ban the "official" British releases, denying The Beatles an entry into the Russian marketplace. However, the first Beatle track that did appear in Russia, occurred under the most oddest set of circumstances: According to Reuters news services "Beatles tracks began to appear anonymously on Soviet anthology LP's. The song Girl turned up as early as 1967 on an disc called "Stars of Foreign Variety" and that the groups name remained unidentified on the disc and simply credited as a "Vocal-Instrumental Ensemble (England)". When I recently spoke with Dr. Yury Pelyushonok, author of "Strings for a Beatle Bass - The Beatles Generation in the U.S.S.R.", he confirmed the Reuters report is correct and that Girl sounded very much like a Russian "folk-song" as opposed to "decadent rock 'n' roll", a musical piece that the Russian people just "melted over" which is why it became the only Beatle track allowed into the Soviet Union during the 1960's.

But the ban on the Beatles, as a musical ensemble and their "official" British releases, continued on until sometime into 1973 when a series of Beatle EP's were released in Russia on the Melodiya label. While the songs of themselves were credited as "J. Lennon-P. McCartney", once again the group's name remained "unidentified" on the discs and simply credited as a "Vocal-Instrumental Group." It wasn't until 1975 when Melodiya finally decided to include the group's name, "BEATLES", on an EP. Said Reuters news agency in 1975: "...it is the first time that Beatles' authorship has been acknowledged on the record label. The latest pressing from the state Melodiya record factory has 'Beatles' - or 'Bitlz' as it is spelled in Russian - emphatically printed on its pink label. The seven-inch disc contains three Beatles numbers - Let It Be, Across the Universe and I, Me, Mine."

As already mentioned in this Beatles Timeline, the first official album release of the Beatles occurred in March 1986 on the Melodiya label. But in between these EP

releases and album releases, the Beatles music was illicitly distributed throughout Russia's black market. One form of distribution was known as "disc on bones". Artemy Troitsky, who appeared on the program and who is a published author of "Rock and the Rest of the World" explained in his book how out of necessity that music was transferred onto X-ray film: "Records and tape recorders were in catastrophically short supply. This led to the birth of a legendary phenomenon -- the memorable records 'on ribs'. These were actual X-ray plates -- chest cavities, spinal cords, broken bones -- rounded at the edges with scissors, with a small hole in the centre and grooves that were barely visible on the surface.... People bought them by the hundreds from hospitals and clinics for kopeks, after which grooves were cut with the help of special machines (made, they say, from old phonographs by skilled conspiratorial hands.)" I asked Dr. Yury Pelyushonok what kind of shelf life did those X-ray sheets have after they transferred Beatle music onto them. From what he revealed is that they could play "disc on bones" up to 200 times on a record player before it would diminish and become useless. In terms of sound quality, they would hear some sort of background "hiss" normally associated when using this type of X-ray film, but, he said, the sound quality of the music itself was always good, at least good enough for the listener to get the feel for what was being played back through the record player.

The documentary also heard first-hand testimony that the title track from Paul's album, "Band on the Run" had been banned and the program also suggested that a Russian urban legend sprung from their passionate interest in the Beatles music: that the Beatles allegedly performed a concert at a Russian airport in 1966!

Beatle fans can look forward to a possible DVD release of the program next year. Earlier in the day, during a MSN web chat, Paul McCartney said: "Because it's going to be on TV first I'm holding off on putting together the DVD as I would like it to be a major TV event around the world. However once we've done that, I would love to take up some of the offers we've already had to make a DVD out of the show. This will also mean that we can take some time to put together all of the exciting extras you can get on DVD. So I would estimate sometime next year."

We're all looking forward to the documentary DVD release, Paul!

For more information on Russian "censorship" and the impact of the Beatles music on Russian culture, please read "You Say You Want a Velvet Revolution? John Lennon and the Fall of the Soviet Union" which is a "Grad Paper" written by Dave LaFontana of Harvard University.

See also: Confessions of a Soviet Moptop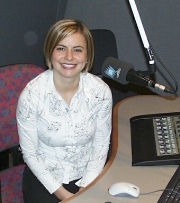 SBS Radio-Australia journalist Natasha Cuculovski
On this date Beatles Manager Brian Epstein was posthumously inducted into the Rock and Roll Hall of Fame at the Barclays Center in Brooklyn, New York. The formal title of the award is the Ahmet Ertegun Lifetime Achievement Award.
Along with Epstein, Rolling Stone manager Andrew Loog Oldham was inducted as well. Peter Asher of "Peter and Gordon" duo fame from the sixties generation had the honour of making the official announcement.
**2016**
March 8
Legendary musical producer Sir George Martin passes away
June 29
In honour of their musical producer Sir George Martin, The Beatles publish on Youtube the making of "While My Guitar Gently Weeps" (LOVE version)
"The depth of the Beatles song writing, or of John & Paul's contribution to the Beatles, in the late Sixties was more pronounced; it had a more mature, more intellectual -- what ever you want to call it -- approach. We were different. We were older. We knew each other on all kinds of levels that we didn't when we were teenagers. The early stuff -- the "Hard Day's Night" period -- was the sexual equivalent of the beginning hysteria of a relationship. And the "Sgt. Pepper - Abbey Road" period was the mature part of the relationship. And maybe, had we gone on together, maybe something interesting would have come of it."

-- Excerpt quoted directly from a Playboy interview: "John Lennon & Yoko Ono - the Final Testament" , August 1981, by G. Barry Golson, published by Berkley Publishers.
"I think we gave hope to the Beatle fans. We gave them a positive feeling that there was a sunny day ahead and there was a good time to be had and that you are your own person and that the government does not own you. There were those kind of messages in a lot of our songs.

"The bottom line is, as John (Lennon) said, it was only a little rock 'n' roll band. It did a lot and it meant a lot to a lot of people but, you know, it really didn't matter that much."

Excerpt quoted directly from the Ottawa Citizen: "His Guitar Gently Weeps", by Bruce Ward, published in the Citizen's "Saturday Observer Section" on December 1, 2001.
I'll Follow the Sun
(John Lennon-Paul McCartney)
One day, you'll look to see I've gone -
For tomorrow may rain, so I'll follow the sun.
One day, you'll know I was the one -
But tomorrow may rain, so I'll follow the sun.
And now the time has come and so my love I must go...
And though I lose a friend, in the end you will know.
Oh, one day, you'll find that I have gone -
But tomorrow may rain, so I'll follow the sun.
Yet tomorrow may rain, so I'll follow the sun.
© Copyright by Northern Songs, Ltd., 1964
Acknowledgements
Research material used for the Timeline:
"Beatle: The Pete Best Story," Pete Best & Patrick Doncaster, published by Plexus Publishing, 1985
"Beatles '95," Canada Post Corporation & Blockbuster Video (radio broadcast), 1995
"John, Paul & Me Before the Beatles", by Len Garry, published by CG Publishing, 1997
"The Brian Epstein Story," (televised BBC2 broadcast), 1998
"The Beatles Forever," by Nicolas Schaffner, published by McGraw-Hill Book Company, 1978
"The Beatles & Some Other Guy: Rock Family Trees of the Early Sixties" by Pete Frame, published by Omnibus Press, 1997
"The Ottawa Citizen & Canadian Broadcasting Corporation" news articles, 1969
"Revolution in the Head" by Ian MacDonald, published by Pimlico, 1994
"Yeah! Yeah! Yeah! Music's Gold Bugs: The Beatles" article by Alfred G. Arnowitiz, published by the Saturday Evening Post, 1964
"Time Magazine" article on Sgt. Pepper, 1967
"ABC News Services", 1998
* Louise Harrison, sister of George Harrison, guest speaker during "question and answer session" at the 2nd Annual Ottawa Beatles Convention, 1996
"John Lennon" by Ray Coleman, published by Futura, 1985
"John Lennon & Yoko Ono - The Final Testament" Playboy Interviews, Berkley publishers, August, 1981
"The Making of Sgt. Pepper", TV Special, 1992
"Ringo Starr - Straight Man or Joker?" by Alan Clayson, published by Paragon House, 1992
"The Pet Sounds Sessions - The Beach Boys" pamphlet insert, released by Capitol Records, 1996
"John Lennon - All You Need Is Love", special magazine edition published by Mar-Jam Publishing, 1980
"The Ottawa Sun Newspaper" and "Associated Press", 1999
"Yellow Submarine Resurfaces" by Roger Catlin, Los Angeles Times, 1999
"And In the End...The Beatles," Mojo Magazine, October, 1996
"Apple to the Core" by Peter McCabe & Robert D. Schonfeld, published by Sphere Books Limited, 1973
"Shout! The True Story of the Beatles" by Philip Norman, published by Elm Tree Books, 1981
"The First Golden Beatles Album" by Charles Hanson publication, 1965
"The Beatles - In Richard Lester's A Hard Day's Night" by J. Philip Di Franco, published by Penguin Books, 1978
"The Fabulous Story of John, Paul, George and Ringo" published by Octopus in association with Phoebus, 1975
"The Paul McCartney Story" by George Tremlett, published by Futura Publications Limited, 1975
"The John Lennon Story" by George Tremlett, published by Futura Publications Limited, 1976
"Strawberry Fields Forever: John Lennon Remembered" by Vic Garbarni, Brian Cullman with Barbara Graustark, published by Delilah Books and Bantam Books, 1980
"Anthology Video #8," Mallo Film Video / Apple
"Wonderwall" sleeve insert from CD, George Harrison, Apple Records, 1992
"Canada Music Week" interview with George Martin, 1998 (interview was held at "The Weston Harbor Castle" in Toronto)
"Much Music of Canada" interview with George Harrison
"The case of the Missing Beatle: Paul is still with us" - LIFE Magazine, November 7, 1969
"Lennon: A Memory" publisher, ARDA, Incorporated, 1980
"Rolling Stone Magazine", January 22, 1981
"Many Years From Now", Barry Miles, published by Vintage, 1998
"The Beatles Get Back", by Apple Publishing, printed by Garrod and Lofthouse International Limited, 1969
"The Beatles Tapes from the Dave Wigg Interviews," PBR International, 1978
"McCartney Interview as recorded for Musician: Player & Listener", CBS Records, 1980
"John Lennon, The Life & Legend - Some Days In the Life," by Mark Lewisohn, published by The Sunday Times, 1980
Interview with Alistair Taylor, The Independent, November 16, 1999
"The Official Price Guide To The Beatles - Records & Memorabilia," by Perry Cox and Joe Lindsay, published by House of Collectibles, 1995
"Fifth Beatle Has His Swan Song Covered," Toronto Sun interview with Sir George Martin, by Jane Stevenson, October 16, 1998
"Summer of Love," by George Martin and William Pearson, published by Pan Books, 1995
"Beatles at the Hollywood Bowl," Liner Album Notes, Capitol Records, 1977
"A Hard Day's Write," by Steve Turner, Carlton Books, 1994
www.vakart.co.uk/everettweb/ "Kenny Everrett" web site
www.tvclassics.com/mkbio.htm/ TVClasics.com, "Murray the K"
http://user.tninet.se/~elp720i/ The Unofficial Beatles Lyric Archive, by Stephan Augustsson
www.rarebeatles.com/mainmenu.htm/ Songs, Pictures, & Stories of the Beatles, by Mitch McGeary
www.martinlewis.com/mbe/ Official Brian Epstein Web Site, by Martin Lewis and Dave Haber
"The Beatles - A Diary: An Intimate Day By Day History" by Barry Miles, published by Omnibus Press, 1998
"The Beatles" by Hunter Davies, published by Norton paperback, 1968
"The Beatles A To Z" by Goldie Friede, Robin Titone, and Sue Weiner, published by Methuen, 1980
"The Beatles, A Day In the Life" by Tom Schultheiss, published by Quick Fox, 1981
"The Pianist Who Turned Down The Beatles", John Goddard, published by The Ottawa Citizen, May 16, 1998
"With A Little Help From My Friends" - header found on "original fax transmission" by Kristopher K. Engelhardt received by the Canadian Abuse Prevention Foundation, "Re: Roy Frederick Young", dated November 21, 1996
"Beatles Undercover", by Kristopher Engelhardt, published by Collectors Guide Publishing Incorporated, 1998
"Harrison Attack Deliberate", BBC News, December 30, 1999
"George Stabbed Within Inch Of His Life" by Ikimulisa Sockwell, Kieran Crowley and Tracy Connor, NY Post.com, 1999
"Former Beatle, wife, fight off knife-wielding intruder", by Joanna Bale and Daniel McGrory, The Ottawa Citizen, December 31, 1999
"Summary of Events" by Diana (Amaranth56@aol.com), published on Rec.music.beatles, December 30, 1999
"Sir Paul: Thank God they're OK", BBC News, December 31, 1999
"Harrison Leaves Hospital", BBC News, January 2, 2000
"George Harrison Discharged From Hospital - Alleged Attacker Remains in Psychiatric Custody", APB Celebrity News, Jan. 2, 2000
"Beatles anthem is millennium song", BBC News, December 18, 1999
"Sir Paul Donates Million Dollars In Memory of Linda", published by Excite U.K., January 5, 2000
"The Beatles After The Breakup: 1970-1980" by Keith Badman, published by Omnibus Press, 1999
"The Fab Four Stand Firm as Highest Certified Artists" by Christina Saraceno, published by Rolling Stone.com, August 1, 2000
"For $60, a ticket to read" by Edna Gundersen, USA Today website, dated October 5, 2000
"Beatles Anthology Tops Bestseller List" by Andrew Dansby, RollingStone.com, October 14, 2000
"George Harrison Attacker Acquitted" by the Associated Press news agency, published by the Las Vegas Sun, November 15, 2000
"The Beatles Revolution", ABC television broadcast, aired on November 17, 2000
"Beatles helped bring down communism in Russia", published by Ananova Ltd, November 17, 2000
"New Beatles release, 1, fastest-selling album in Britain" by Reuters news agency and appeared in the Ottawa Citizen, Nov. 22, 2000
"Beatles' 1 Shoots Straight To No. 1" by Jonathan Cohen, Billboard.com, published November 22, 2000
"Industry surprised by "1" sales", Reuters News Agency, dated November 23, 2000
"Beatles' 1 tops charts in 19 countries", Reuters news agency; copy of the article made its appearance on Rec.Music.Beatles, November 29, 2000
"1" Fastest Seller Ever; may become biggest", from The Sun in the United Kingdom; copy of article made its appearance on Rec.Music.Beatles dated December 6, 2000
"Beatles Fans Anger At Stage Sell off", from the BBC News, April 13, 2001
"Church Plan to Axe Beatles Stage", from the Daily Post, June 18 2001
"Liverpool Airport to Honour Lennon", from CNN.com, June 30, 2001
"Ex-Beatle Treated for Cancer", from the BBC News Services, May 3, 2001
"Beatles at Harrison's bedside", from Australia's "News.com.au", dated November 21, 2001
"Circus Plans To Relaunch Beatles' Yellow Submarine", from the Sunday Times, November 25, 2001
"Fading Star", from ABC News.com, November 26, 2001
"Stage is Set to for Beatle Fans", from the Liverpool Echo, November 27, 2001
"The Beatles' 'Yellow Submarine' to become Cirque du Soleil?", by Launch.com, November 27, 2001
"Former Beatle George Harrison Dies", from the Los Angeles Times, November 30, 2001
"George Loses Cancer Battle", from the Liverpool Echo, dated November 30, 2001
"'Devastated' McCartney leads tributes", from CNN News, November 30, 2001
"Sir Paul Leads Tributes As World Mourns George", from the Liverpool Echo, dated November 30 2001
"Liverpool Sends Sympathy to Harrison's Family", from Ananova.com, November 30, 2001
"Beatles' Circle Mourns Harrison", from the BBC News, dated November 30, 2001
"Tributes Pour in for Harrison", BBC News, November 30, 2001
"Jeff Lynne's Official Comments", Courtesy the ELO Showdown Mailing List, dated November 30, 2001
"World Mourns George Harrison", from Billboard, November 30, 2001
"Harrison Mourned Around the World", from the BBC News, dated December 1, 2001
"Hope He's Jamming with John", Toronto Star, December 1, 2001
"Quotes About George Harrison's Death", from Associated Press, November 30, 2001
"The Love You Make", from ABC News, November 30, 2001
"George Harrison 1943-2001: He Left This World As He Lived In It -- Conscious of God, Fearless of Death and at Peace...Surrounded by His Family and Friends - Gavin de Becker", from the Daily Record, December 1, 2001
Bob Dylan's remarks about George Harrison dated December 1, 2001, culled directly from Bob Dylan's Official Web Site http://www.bobdylan.com/
Cynthia and Julian Lennon comment on the passing of George, quotes culled directly from Julian Lennon's Official Web Site: http://www.julianlennon.com
Pete Townshend comments on the passing of George, quotes culled directly from Pete Townshend's Official Web Site: http://www.petetownshend.co.uk/
"Denny Laine, Others Honor Harrison", AP news via "Excite News", dated December 1, 2001
"George Harrison, 'Quiet Beatle' and Lead Guitarist, Dies at 58", New York Times, dated December 1, 2001
"Bangladesh Mourns George Harrison", AP news via "Yahoo News", dated December 1, 2001
"He Was My Brother", from Mega Star news, dated December 1, 2001
"Canucks Mourn 'Quiet Beatle'", The Ottawa Sun, dated December 1, 2001
"World Mourns 'Our Sweet George'", from the Ottawa Citizen, dated December 1, 2001
"'Quiet' Beatle Dead at 58", from the Toronto Sun, dated December 1, 2001
"Friends, Fans Remember", from the Globe and Mail, December 1, 2001
"His Guitar Gently Weeps", from the Ottawa Citizen, December 1, 2001
"The World weeps for Harrison", from the Times of India, December 1, 2001
"'Minute of Meditation' Plea for Harrison", from Ananova.com, dated December 2, 2001
"Harrison's Widow, Son to Scatter Ashes in India", from the Ottawa Citizen, December 2, 2001
"Harrison Secretly Recorded Final CD", from the Ottawa Citizen, December 2, 2001
"Harrison's Ashes to be Spread in India", from Fox News services, December 3, 2001
"The Complete Beatles Chronicle", by Mark Lewisohn, published by Hamlyn, 2000
"EMI History", by Bob and Susana Kerstein, proprietors of Scripophily.com, published at the Ottawa Beatle Site, June 7, 2000
"McCartney has new love", from the South African Financial Gazette, Reuters news report dated October 26, 2000
"Faith in Lennon -- George Michael Buys Lennon Piano", from ABC News, Wire Reports published October 18, 2000
"Cavern Club Compere Succumbs To Long Illness", by Archer and Valerie's Beatles Pages, published February 8, 2002
"Obituary - Bob Wooler", London Times, published February 9, 2002
"Royal Line-up Confirmed", by Dotmusic.com, published February 26, 2002
"McCartney names the day", from the Daily Post, published March 4, 2002
"Beatles Photographer Herbert Dies Age 89", from the Liverpool Echo, March 4, 2002
"Yoko buys John Lennon's childhood home", by the CBC News Arts Now, published March 14, 2002
"Lennon airport statue unveiled" by CNN.com, published March 15, 2002
"Let it be Liverpool John Lennon airport - Yoko", published by Reuters press, March 15, 2002
"EMI Back In Fashion", by Phil Gallo of Variety in Hollywood, published on March 21, 2002
"Ex-Beatle Paul McCartney speaks about personal grief and Canadian connections", by Mike Oliveira, reporter for the Canadian Press, published April 13, 2002
"EU Says Christie's, Sotheyby's Fixed Prices", by Reuters press reporter David Lawsky, published April 19, 2002
"Sir Paul's discourse on life, death, music, marriage and...a princely affair?", by John Soeder, Plain Dealer Pop Music Critic, published on April 26, 2002
"Liverpool Beatles museum opens exhibit on band's Quarrymen days", published by This is...Pop!, 2002
"Harrison" - The Editors of Rolling Stone, published by Simon and Schuster, published in 2002
"Beatles' 'Hey Jude' Lyrics Barred From Auction", from Reuters press, published April 29, 2002
"Sir Paul Stops Hey Jude Lyrics Auction", from the BBC news services, published April 29, 2002
"Macca-L set list info on Driving USA Tour" http://www.macca-central.com/macca-events/tour/2002/setlist.asp, published 2002
"Paul McCartney plans cheeky song for the Queen", from Ananova.com, published May 17, 2002
"EMI to close CD manufacturing Plant in Swindon, England and Open Facility in Netherlands", from AP news services, March 8, 2002
"EMI cuts mean 400 artists may be singing the blue", by David Lieberman, USA Today, dated March 21, 2002
"EMI to chart progress of music revamp", by Reuters news services, May 19, 2002
"Glum Music Industry Outlook Plagues EMI", by Reuters, dated May 22, 2002
"Liverpool still the number one hit city", by the Daily Post, dated May 29, 2002
"HMV's £600m flotation offers exit route to EMI -- Stock market waits on biggest offering since July", The Guardian, April 12, 2002
"TV Schedule for the Queen's Jubilee celebrations", the Ottawa Citizen, news feed from the Canadian Press, June 1, 2002
"McCartney Wings Into The Palace", by SkyNews, June 2, 2002
"McCartney tops concert bill", by SkyNews, June 3, 2002
"McCartney, Clapton at Queen's Jubilee", Yahoo Headline News, news feed by Associated Press, June 3, 2002
"On the Queen's Jubilee, Rocking at the Palace", by the New York Times, June 3, 2002
"Osbourne rocks at royal Jubilee -- Pop concert to honor queen attracts up to 1 million watchers", MSNBC, news feed from Associated Press services, June 3, 2002
"Party At The Palace", by SkyNews, June 3, 2002
"Queen to set the nation singing", Yahoo Headline News from U.K. and Ireland, June 3, 2002
"Mystery surrounds Macca wedding", from This Is London, June 5, 2002
"Who's Who of Rock in Ireland for McCartney Wedding", by Reuters, June 10, 2002
"Rock royalty readies for McCartney wedding", Yahoo Headline News from U.K. and Ireland, June 11, 2002
"Wedding day for McCartney", MSNBC news services, June 11, 2002
"Star fly in for McCartney wedding", Yahoo News Headlines, U.K. and Ireland, June 11, 2002
"Macca to tie the knot today", by SkyNews, June 11, 2002
"Paul McCartney and Heather Mills marry before family, rock stars and Irish castle," Associated Press, June 11, 2002
"McCartney, Mills get hitched", by Olivia Barker and Ann Oldenburg, reporters for USA Today, dated June 11, 2002
"All You Need Is Love", CBC news services, June 11, 2002
"Fireworks, friends and frayed nerves", from CNN, June 11, 2002
"Paul and Heather To Host Adopt-A-Minefield Dinner", by Archer and Valerie, proprietors of The Beatles Pages, June 12, 2002
"Starr comes out for McCartney's big day", IC Liverpool Echo, June 12, 2002
"Sir Paul ties the knot in £2m love me do", by Sarah Hall of the Guardian, June 12, 2002
"A Very Beatle Wedding", E-Online, June 12, 2002
"Paul McCartney and Heather Mills marry before family, rock stars at Irish castle", from New Jersey On-line, AP news service feed, dated June 12, 2002
"Sir Paul and Heather on honeymoon", from This Is London, Associated Newspapers Ltd., June 12, 2002
"Paul McCartney and new bride in Seychelles for their honeymoon", Associated Press, June 14, 2002
"It's great Macca's happy", by Charles Yates, reporter for the The Sun, dated June 16, 2002
"Blake: Leading light of pop art", BBC news services, June 14, 2002
"It Was Twenty Years Ago Today" (Subtitlted as "An Anniversary Celebration of 1967") by Derek Taylor. A Fireside Book, published by Simon & Schuster, 1987
"Arise, Sir Peter, creator of Sgt Pepper album cover", by IC Liverpool Echo, dated June15, 2002
"Records - General Sales", by Greg Sandell, proprietor of Beatle Money, 2002
"The Walrus Was Paul" by R. Gary Patterson, published by Fireside, 1998
"Sleep tight in The Hard Day's Night", from the BBC, published August 24, 2001
"Beatles Themed Hotel", by SteveMcGriskin, Marketing Director of the Hard Days Night Hotel , published August 24, 2001
"Beatles earn £34.2M", from the Daily Post, published June 24, 2002
"A Starr turn for charity", from the Surrey Advertiser, June 28, 2002
"Man Who Stabbed Ex-Beatle Harrison Discharged", from Reuters via web report from ABC News, dated July 4, 2002
"Insulting release of Harrison knifeman", from This Is London, published July 5, 2002
"George Harrison's widow to sell their U.K. mansion", from Hello! magazine, published July 9, 2002
"Image Entertainment Gives Peace Another Chance With John Yoko's Year Of Peace Documentary On DVD And VHS", from Music Industry News Network, published July 11, 2002
"Queen gets Mystery Tour", by IC Liverpool, published July 24, 2002
Queen on Beatle Tour", by the BBC news services, published July 25, 2002
"Final George Harrison Album Due In November", by Jonathan Cohen, Billboard Magazine, September 9, 2002
"Yoko Ono Pleads 'Give Peace a Chance' on 9/11" - Reuters news services, September 10, 2002
"Harrison album could hit No. 1", from the Daily Post, via IC Liverpool, September 10, 2002
"McCartney to Release Lost Beatle Track", Reuters services, September 14, 2002
"Bob Wooler - Cavern DJ: Merely Spinning Discs and Nearly Spilling the Beans" - by Joe Robinson, published by the Ottawa Beatles Site, September 23, 2002
"The Beatles Recording Sessions", by Mark Lewisohn, published by Prospero Books, 2000
"A Hard Day's Night: Collectors Edition", by Aaron Beierle, published by DVD Talk, September 23, 2002
"A Hard Day's Night DVD supplemented by countless interviews", by Bruce Dancie, Sacramento Bee, September 24, 2002
"The cute one: Paul McCartney keeps the music of the Beatles alive", by David Pencek, Norwich Bulletin, September 29, 2002
"A Quiet Audience with Sir George", published by The Age in Australia, October 2, 2002
"Honorary Beatle recalls Yesterday", published by The Herald Sun, by Simon Plant, October 2, 2002
"Skiffle King who inspired rock generation dies", AP news, published by the Canadian Press, November 4, 2002
"King of Skiffle Lonnie Donegan Dies at 71", by Paul Majendie, Reuters, published at Reuters.com, November 4, 2002
"King of Skiffle Dead", by Colin Devenish, published by RollingStone.com, November 4, 2002
"The Quarrymen" by Hunter Davies, published by Omnibus Press, 2001
" 'Skiffle king' Donegan dies", by the BBC news, November 4, 2002
"Lonnie Donegan Dies; His 'Skiffle' Music Inspired a Generation', AP news published by the Washington Post Company, Nov. 5, 2002
"Harrison's guitar gently weeps again," Toronto Star, November 9, 2002
"Harrison's last album is stunning" by David Bauder, AP news, November 12, 2002
"Exclusive: George Harrison's New Album", by Roger Friedman, Fox News, November 14, 2002
"Behind George's Brainwashed - Harrison called the shots on his final album", by Jenny Eliscu, Rollingstone.com, November 14, 2002
"Harrison bids us a warm goodbye" by Mark Brown, Denver Colorado Rocky Mountain News, November 15, 2002
"George and son, Harrison's last album is also his child's loving tribute", by Phil Sutcliffe, Los Angeles Times, November 18, 2002
"EMI warns over music sales", by the BBC news services, November 19, 2002
"Surviving Beatles honor memory of George Harrison in music," by Jane Wardell, Associated Press, November 29, 2002
"Beatle Celebration", by Sky News, November 29, 2002
"Paul and Ringo reunited for Harrison tribute", by Ananova.com, November 29, 2002
"George Harrison Tribute, Royal Albert Hall, London," by Gavin Martin, the Independent, November 30, 2002
"Harrison leaves all to wife and son", by David Sapsted and Hugh Davies, The Daily Telegraph, November 30, 2002
"Remaining Beatles lead Harrison tribute concert", by the Australian Broadcasting Corporation, November 30, 2002
"Paul and Ringo's heartfelt Harrison tribute", by CNN Europe, November 30, 2002
quot;Stars and friends remember Harrison", by the BBC News, November 30, 2002
"£18m boost from Beatles top seller" by Jon Rees and Martin Tomkinson, This is London, December 8, 2002
"Biggest All-Times Sales for a Band", Guinness World Records, 2002
"John Lennon's 'Imagine' Given New Voice As Centerpiece Of New Amnesty International Campaign For Human Rights", by U.S. Newswire, December 10, 2002
"Ex-Beatle granted coat of arms" by the BBC, December 22, 2002
"McCartney gets guitar coat of arms" by Mark Ludlow, The Sunday Times, U.K., December 22, 2002
"People In The News: McCartney gets coat of arms", AP article, published by Amarillo Globe-News, December 23, 2002
"Shield for Macca" by The Sun Newspaper, U.K., December 29, 2002
"Don't Keep Me Waiting Here: The battle to release Beatles studio outtakes", by John Winn, originally posted in Rec.Music.Beatles.Moderated, May, 1998
"After a 40-year run, the Beatles' first fanzine folds", by David Charters, Daily Post, January 7, 2003
"Raids Recover Original Beatles Tapes", by AP news services, January 10, 2003
"Lost Beatles Tapes Found?", RollingStone.com, January 10, 2003
"Lost Beatles tapes get back to where they once belonged", by John Steel, The Daily Telegraph, January 11, 2003
"The Best of Farewells" by Lew Baxter, Daily Post, January 13, 2003
"Seized Beatle Tapes are a trove, If Familiar", by Allan Kozinn, New York Times, January 13, 2003
"Geoff Emerick and Shure to Receive 2003 Technical GRAMMY Awards", by Business Wire.com, January 15, 2003
"Le Dain Commission of Inquiry. The Private Hearing of John Lennon", by Health Canada, December 23, 1969
"Lennon Remembers", by Jann Wenner, published by Popular Library, 1971
"Ringo's Stars" by NME.com, January 31, 2003
"Ringo's Tribute", by Jane Stevenson, the Toronto Sun, March 17, 2003
"Yoko Ono Opens Lennon's Childhood Liverpool Home", by Reuters news services, March 27, 2003
"Let It Be at John's house", by Bill Mouland of the Daily Mail, published in This Is London,March 28, 2003
"And there are places I remember", by Catherine Jones, published by IC Liverpool, March 28, 2003
"Mendips Opens To Public", Archer and Valerie of The Beatles Pages, March 28, 2003
"Beat Goes on in Lennon's childhood home", by the British On Line Times, March 28, 2003
"There are places I remember", by The Observer, March 30, 2003
"At Last 'The Beatles Anthology' on DVD by PR Newswire, February 18, 2003
"3 Beatles in secret reunion" by Derek Brown, The On-line Sun, February 18, 2003
"Anthology': Let It Be Even Longer", by Allan Kozinn, the New York Times, March 30, 2003
"Beatle Fans Get A New Fix", by Bernard Perusse, the Montreal Gazette, April 1, 2003
"The Beatles Anthology", by Michael Clark, the Gwinnett Daily Post, April 4, 2003
"Carl Perkins - We'll Always Remember - A Rock Obituary Web Site", by Joh Lang, (publication date not indicated on web site)
"McCartney Buys Rights to Carl Perkins' Catalogue", by Reuters, April 4, 2003
"The Beatles Anthology DVD Debuts at Number 1", by PRNewswire, April 11, 2003
"Beatle Madness", by Martin A. Grove, published by Manor Books, 1978
"Motorway drama for Pete Best", by Nicky Tabarn, Liverpool Echo, April 15, 2003
"The Beatles off the Record", by Keith Badman, Ombunis Press, 2000
"A Twist of Lennon", by Cynthia Lennon, A Star Book publication, 1978
"McCartney to Play Open-Air Gig in Moscow", by the Associated Press, March 19, 2003
"LDPR member wants McCartney concert on Red Square cancelled", by Interfax, April 15, 2003
"McCartney to teach Music Seminar in Russia", by Launch Yahoo.com, April 17, 2003
"Tickets for McCartney's concert in Moscow already available", by Interfax, May 1, 2003
" Official Album Releases" Paul McCartney by Christian Henriksson, December, 1998
"Choba b -- Russian vs. American release", by Alexander Gusakov, Rec.music.beatles, April 5, 1995
"Sir Paul Plays Historic Colosseum Show", by the BBC, May 11, 2003
"Half a million fans in Rome blow Sir Paul away", Daily Post, May 13, 2003
"Duma deputies opposed to McCartney concert Red Square", Interfax, May 13, 2003
"McCartney Becomes Professor of St. Petersburg Conservatory", by Pravda news agency, May 22, 2003
"McCartney becomes honorary doctor of St. Petersburg Conservatory", by Interfax, May 22, 2003
"Ex-Beatle McCartney Gets Russian Diploma", by Reuters, May 22, 2003
"McCartney in Russia: 'my dream come true'", by AP news and appeared on Russia's Journal Daily, May 23, 2003
"Russia is mad for Macca" - Sky News media, May 24, 2003
"Back in the (ex)-USSR: thousands on Red Square for McCartney", by AFP, May 24, 2003
"Ex-Beatle Paul McCartney Rocks Red Square", by AP news, May 24, 2003
"McCartney Serenades Putin, Rocks Red Square, Reuters, May 24,2003
"39 Years ago, Newsman Had Frontrow Seat to Beatles History", by Rick Nathanson, Albuquerque Journal, August 22, 2003
"Strings for a Beatle Bass - The Beatles Generation in the USSR", by Yury Pelyushonok, PLY publisher, 1996, 1998
"Paul McCartney MSN webchat" September 18, 2003
"Rock and the Rest of the World", by Artemy Troitsky, Faber and Faber, 1988
"It's Only Rock and Roll" by Ed Quillen, the Denver Post, 1991
"Paul McCartney in Red Square", by the Arts and Entertainment network, Sept 18, 2003
"A Conversation with Dr. Yury Pelyushonok at his Ottawa residence" interviewed by John Whelan, Sept 24, 2003
"John Lennon DVD Extravaganza Due Before The Holidays" by Manuela Spizzirri of Chartattack.com, Sept. 25, 2003
"The Lennons and the rock'n'roll revival" by Ritchie Yorke for the Globe and Mail, September 20, 1969
"Paul And Ringo At Premiere of George Harrison Film" by Launch Radio Networks, Sept. 26, 2003
"It's not mania but...'Bitlz' finally make it in Soviet Union" by Reuters news in Moscow, June 17, 1975.
"Beatles Remembered in Anniversary Show" by Ira Iosebashvili, Moscow Times, October 3, 2003
"George Martin: "In My Life" - interview with Pamella Wallin" C.B.C. Newsworld, March 5, 1998
"Brian Epstein - The Man Who Made the Beatles" by Ray Coleman, published by Viking, 1989
"The Beatles Band of the Century" by Q Magazine, 1999
"Songs, Pictures and Stories of the Fabulous Beatles Records on Vee-Jay", by Bruce Spizer, published by 498 Productions, 1998
"Back-to-basics Beatle music proving a big hit with new generation", by The Daily Post, October 6, 2003
EMI Japan website: Official Track Listing for "Let It Be...Naked", October, 2003
"The Beatles, Let It Be...Naked", by John Harris, published by The Guardian, October 19, 2003
"Ticket To Ride", by Larry Kane, published by Running Press Book Publishers, 2003
"Our Hearts Went Boom - The Beatles Invasion of Canada", by Brian Kendall, published by Viking, 1997
"The Beatles Fact and Fiction 1960-1962" [English summary manuscript accompanied with book], by Eric Krasker, published by Atlantica-Sequier, 2003
"Helping Hand - She Triggered Beatlemania in 1963 But Prefers Her Role to Be Unsung", by Richard Harrington, The Washington Post, January 26, 2004
"How the US met the Beatles", by Billboard, January 30, 2004
"It Was 40 Years Ago Today: Beatles Win Grammy for Decades of Inspiration", Beatles Press Release on Grammy Win, Feb. 9, 2004
"The Boys From Liverpool - John, Paul, George, Ringo", by Nicholas Schaffner, Methuen Inc., 1980
"The Beatles and in the end", by Mojo Magazine, October 2000
"The Ultimate Beatles Quiz Book II" by Michael J. Hockinson, St. Martin's Press, 2000
"The Beatles - The Ultimate Recording Guide" by Allen J. Wiener, Bob Adams Inc., 1986
"Preston happy to get back to the world of the Beatles", by John Grochowski, Chicago Sun-Times, August 20, 2004
"He Helped Create the Beatles - Producer George Martin speaks today in Lexington", by Walter Tunis, Lexington Herald, Sept 25, 2004
"The Beatles - 10 Years That Shook the World", a book by Mojo magazine, contributing writers: Johnny Black; Mark Lewisohn, published by Darling Kindersley, 2004
"The Beatles As Musicians: The Quarry Men through Rubber Soul", by Walter Everett, published by Oxford University Press, 2001
"Capitol Albums Finally Coming Out on CD", by Bruce Spizer, published at AbbeyRd Beatles Pages, 2004
"A Quiet Day in the Lennon's life," by Ritchie Yorke for the Globe and Mail, June 5, 1969
"Lennon Passes Up Visa - Flies Home," by Ritchie Yorke for the Globe and Mail, June 6, 1969
"Lennon and Ono bring message for youth to Canada," by Ritchie Yorke for the Globe and Mail, May 27, 1969
"Live Peace In Toronto" by editor Johnny Dean, Beat Publications, November, 1969
"The Beatles Day by Day. A chronology, 1962-1989" by Mark Lewisohn, Harmony Books, 1990
"The Beatles Digest" by Goldmine magazine, published by Krause Publications, 2000

"The Ballad of John and Yoko," by the editors of Rolling Stone, published by Rolling Stone Press, 1982
"Axes, Chops & Hot Licks - The Canadian Rock Music Scene," by Ritchie Yorke, M.G. Hurtig Ltd, Publishers, 1971
"The Best Man: Only Three People Alive Can Say They Were Beatles. Pete Best Was One of Them," by Wallace Baine, Stanta Cruze Sentinel, August 11, 2005
"Before He Was Fab - George Harrison's First American Visit," a book review by Ladyjean of AbsoluteElsewhere.net, 2002
"Hard Day's Nite: Bed and Breakfast, Beatles mini-museum up for sale," by Andrea Hann, The Southern, June 19, 2005
"Nobody's Child: The Tony Sheridan Story" - manuscript written by Joe Sunseri
"Tony Sheridan/The Beatles" by the Encyclopedia of Popular Music, published by Muze UK Ltd. 1989 - 2004
"Cunard Yanks," e-mail correspondence to John Whelan from Bill Harry, December, 2005
"Saturday Club (a Title and Air Dates Guide)," by John Lavallie, August 14, 2005
"The Best of Fellas - The Story of Bob Wooler," by Spencer Leigh, Drivegreen Publications Ltd., 2002
SPECIAL TECHNICAL ASSISTANCE:
Brad Howard, past publisher of the World Beatles Forum who provided the American movie release dates to all Beatle movies.
Diana (Amaranth56@aol.com, your friendly, cheerful "Apple Scruff" at Rec.music.beatles) who researched and provided clarification as to whether the 1965 Ed Sullivan Broadcast was "live" or a "pre-recorded" performance. She also provided for me the closest possible date on Sir George Martin's knighthood, as well as research material for when John Lennon announced he was leaving the band. Visit Diana's Hari Scruffs George Harrison Fansite (www.hariscruffs.com).
Judy (namariee@excite.com) and webmaster of the Hey Jude Beatle web site who helped clarify the actual date for Ringo's tonsil operation.
Marcus (marcus1950@webtv.net) for providing research material concerning the only film clip that was presented in the Jack Paar show and for the date on when it was filmed (Marcus actually remembers seeing the Jack Paar show when he was thirteen and got hooked on the Beatles from that point forward). He also suggested that I highlight the Beatles performance of August 15, 1965 (Shea Stadium) into the Timeline since it was the largest crowd ever to attend a Beatle concert. Believe it or not, Marcus was actually at that concert.
Chris Wilson (chriswil@camtech.net.au) from Adelaide who provided additional background research for the June 12, 1964 tour date. Chris also provided some interesting information in his e-mail to me on how the Adelaide date finally made into the Beatles tour schedule: "The original tour did not include Adelaide, but after a huge petition was organized by a local radio station, Adelaide was included to have 4 performances at Centennial Hall, capacity 3000. Then it was off to Melbourne to join Ringo and the rest of the Australia/New Zealand tour."
Tom Bowers who provided the correct release date for the Tony Sheridan "My Bonnie" album.
Special thanks to Bruce Spizer for the "heads-up" on the Vee-Jay discography.
Special thanks to Marc Catone for graciously providing the Shea Stadium ticket stub.
A sincere thanks to Pat Mancuso, former President of the Official George Harrison Fan Club for providing information on the precise time when George Harrison was born. Pat tells me the information was culled directly from George's mother herself and that contrary to some reports, George never had a middle name.
Thank you Brad, Diana, Judy, Marcus, Tom, Chris, Bruce, Marc and Pat. Your assistance was deeply appreciated!
Finally, to my buddy and pal, Dave (and his wonderful wife Lucy) in Toronto, who both double-checked and did the proof-reading for this Timeline. Dave and myself date back to our high school days where we use to slag off every weekend, singing and playing Beatles records together. Our close relationship remains intact to this very day because of the Beatles music, so thank you John, Paul, George and Ringo for those wonderful times!! Top of page
---
PAUL McCARTNEY'S CLASSIC SOLO RECORDINGS McCARTNEY AND McCARTNEY II GET DELUXE TREATMENT JUNE 14th, 2011

McCartney's Seminal Solo Albums Will Be Available In Multiple Configurations Featuring Remastered Rare And Unreleased Audio & Video Content With Special Exclusive Packaging.
Copyright 2000 - 2018
by John Whelan.
All rights reserved.

Other web sites
by the author:

The Beatles Timeline was launched on January 1, 2000