September 13, 2019
"Hey Grandude" is a children's book by Paul McCartney that will "Zing, bang, sizzle" when you read it to your kids at bedtime
From the man who wrote the catchy tune "Yellow Submarine" by the Beatles, Paul McCartney now takes us on a different voyage in his second children's book called "Hey Grandude." Grandude has four grandchildren called "Chillers" who go on fun adventures. For those wanting a hint of the storyline the back cover "Postcard" states: "See the compass needle spin, let the magic fun begin!"
The book is illustrated by Kathryn Durst, a Canadian whose works include animation and children book publishers. Said Kathryn: "I am thrilled to be able to create the illustrations for "Hey Grandude" because I just love adventure stories with a touch of magic! This story especially resonated with me because I have wonderful childhood memories of my dad taking my siblings and me on exciting adventures, just like Grandude does in the book," she told Tim Peacock for uDiscoverMusic.
This is a beautiful book by Paul. It is one book I wish was around when I was reading bedtime stories to my own daughter (kids and bedtime stories are priceless!). "Hey Grandude" is published by Random House. His first children's book is called "High In The Clouds" in collaboration from Geoff Dunbar and Philip Ardagh that was published in 2005.
- John Whelan, Ottawa Beatles Site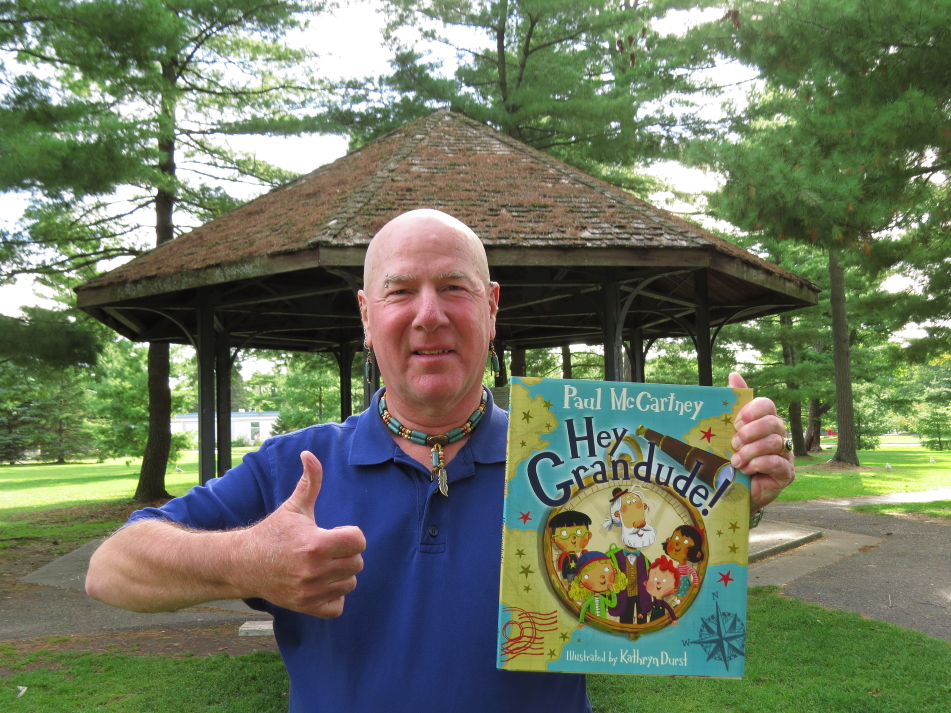 Photography by John Whelan
Ringo Starr to release a new album called "What's My Name" on October 25, 2019
Ringo Starr will feature the Lennon-penned song "Grow Old With Me" featuring Paul McCartney on it. "Paul came over and he played bass and sings a little bit on this with me...It's not a publicity stunt," states Ringo. "This is just what I wanted. And the strings that Jack [Douglas] arranged for this track, if you really listen, they do one line from (George Harrison song) Here Comes The Sun, so in a way, it's just the four of us."
There will be a total of ten songs on the album that will feature cameo appearances from Joe Walsh, Edgar Winter and Dave Stewart. Track listing:
1. "Gotta Get Up to Get Down"
2. "It's Not Love That You Want"
3. "Grow Old With Me"
4. "Magic"
5. "Money (That's What I Want)"
6. "Better Days"
7. "Life Is Good"
8. "Thank God for Music"
9. "Send Love Spread Peace"
10. "What's My Name"
1. "Gotta Get Up to Get Down"
2. "Its Not Love That You Want"
3. "Grow Old With Me"
4. "Magic"
5. "Money (That's What I Want)"
6. "Better Days"
7. "Life Is Good"
8. "Thank God for Music"
9. "Send Love Spread Peace"
10. "What's My Name"


Read More: Ringo Starr's New Album Features a Very Special Beatles Moment | https://ultimateclassicrock.com/ringo-starr-whats-my-name/?utm_source=tsmclip&utm_medium=referral
From RollingStone: Ringo Starr's New Album Features Paul McCartney, John Lennon-Penned Song "Grow Old With Me."

September 11, 2019 September 11, 2019
Mark Lewisohn discovers new audio: Beatles tinkered with idea of recording a new album and single after they finished "Abbey Road"
Richard Williams of The Guardian writes: "What they talk about is the plan to make another album - and perhaps a single release in time for Christmas, a commercial strategy going back to the earliest days of Beatlemania. "It's a revelation," Lewisohn says. "The books have always told us that they knew Abbey Road was their last album and they wanted to go out on an artistic high. But no - they're discussing the next album. And you think that John is the one who wanted to break them up but, when you hear this, he isn't. Doesn't that rewrite pretty much everything we thought we knew?"
"Lewisohn turns the tape back on, and we hear John suggesting that each of them should bring in songs as candidates for the single. He also proposes a new formula for assembling their next album: four songs apiece from Paul, George and himself, and two from Ringo - "If he wants them." John refers to "the Lennon-and-McCartney myth", clearly indicating that the authorship of their songs, hitherto presented to the public as a sacrosanct partnership, should at last be individually credited."
For the complete article, please click: "This Tape Rewrites Everything We Knew About The Beatles"

September 10, 2019
Remembering "Abbey Road" 50 years ago with John Lennon
Today we take a look back through John Lennon's recollections of The Beatles "Abbey Road" album. Lennon was interviewed by Tony McArthur of Radio Luxembourg during September 1969 and does a track-by-track analysis of the album. It is an honest accounting from Lennon along with some banter talk about the Plastic Ono Band, hot off the heals of the "Rock and Roll Revival" concert that he did in Toronto.
To commemorate further the 50th Anniversary Release, Apple has released the new audio mix of the Beatles "Oh! Darling."

September 4, 2019
Ottawa band to perform songs from the 50th anniversary release of Abbey Road


For the past 5 years, The GreyTones from Ottawa have been performing concerts at various local venues that coincided with the release date of the newly remastered Beatle albums. It has been Paul's way along with his fellow musicians to pay tribute to the greatest rock and roll act in pop music: THE BEATLES.

The GreyTones plan to do one final concert performance from that series. Said Paul Johanis: "Hello Tony and John. I wanted to let you know that we will be putting on our final 50th anniversary album concert, this one for Abbey Road, on September 28. It will be at the Rainbow Bistro, where it all started."

Paul plans on doing a short video documentary from the various concerts they performed that includes some videos that I took early on in the project. We will present that here when it becomes available. becomes available.

In the meantime, treat yourself to a night out on the town by attending this concert at the Rainbow Bistro - it's one pop gig that you will long remember in years to come.

- John Whelan, Ottawa Beatles Site


September 1, 2019
"John & Yoko: Above Us Only Sky" DVD on the making of the "Imagine" album will be released on September 13th
The following article is written by Best Classic Bands
The John Lennon and Yoko Ono feature length documentary, Above Us Only Sky, is being released on DVD and Blu-Ray. The widely acclaimed film, which premiered earlier this year in the U.S. on the A&E Network, arrives for home release on September 13. The film "traces the untold story of the making of John Lennon's 1971 album Imagine, and recounts a story of hope for a world divided yet still desperately in need of peace, justice, empathy and love. The album, and its iconic title track, exemplify the extraordinary genius behind the music that defined a movement and marked an era."
"John said: 'Is it any good?'
"I said it's a #1 record. 'He said: 'Are you really sure?"
Utilizing never-before-seen footage of Lennon and Ono from their private archive, the special, says the announcement, "delves into the depth of the creative collaboration between the couple and explores how the art, politics and music of the pair are intrinsically entwined. Ultimately, the documentary draws parallels from the past to the present using the couple's underlying message of radical engagement."
From the July 30 announcement: The film includes a new and exclusive interview with Yoko Ono, plus new interviews with those closest to the couple at the time, including John Lennon's son Julian, photographer David Bailey who famously captured the couple in a 1971 photograph that graced the cover of Vogue, gallerist John Dunbar who set up Yoko's first London art show and introduced the couple, Dan Richter, a neighbor of Yoko's who became their personal assistant, pioneering studio designer Eddie Veale who built Ascot Sound Studios at their home in Tittenhurst Park, as well as Klaus Voormann, Alan White and Jim Keltner - musicians who all played on the Imagine album.
These influential figures provide open and unprecedented insight to the Imagine narrative, alongside previously-unseen footage, photographs and audio recordings.
John and Yoko: Above Us Only Sky was directed by Michael Epstein and produced in association with A&E Network by Eagle Rock Films with Peter Worsley as producer and Geoff Kempin and Terry Shand serving as executive producers.

Aug 22, 2019
Sneak Preview: Beatles 'Abbey Road' 50th Anniversary Edition Features Dazzling Sound, Unreleased Outtakes
- The following text is an excerpt review by Variety: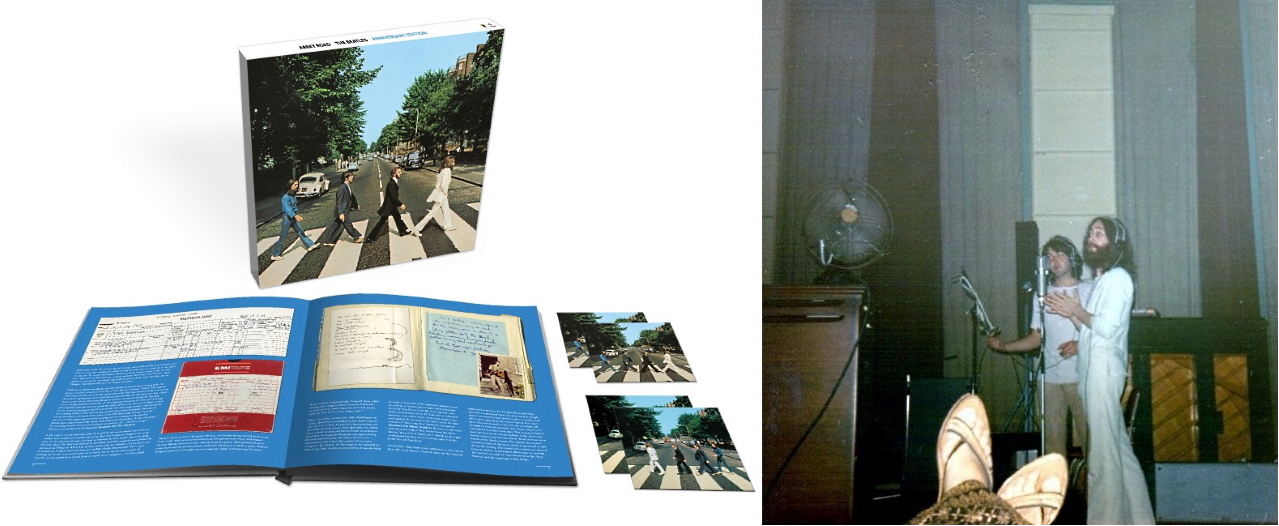 "Abbey Road" is arguably the most cleanly produced and arranged Beatles album, and the new remix places it in dramatic relief: The vocals on "Because" and the sweeping strings on "Something" (the latter of which were played in isolation during this session) have never sounded so full and pristine.
Far-right photo by Yoko Ono of Paul & John at Abbey Road studios.

Aug 16, 2019
On this day in 1969..."Birthday" by the Underground Sunshine remains on the top of the charts at #1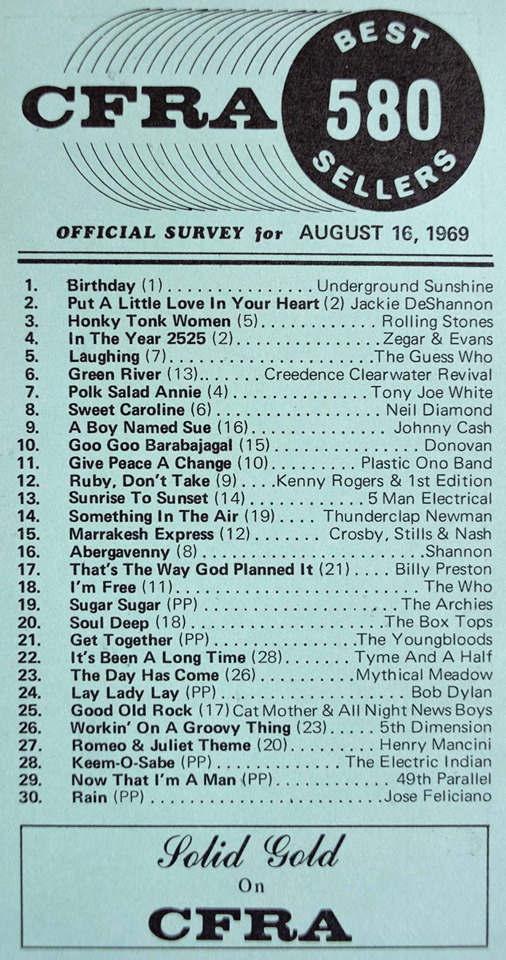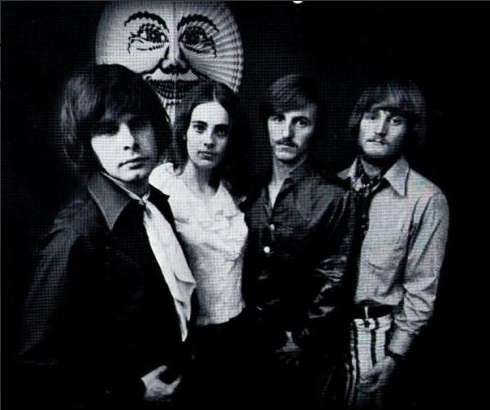 Ringo Starr on his love of touring, what New York means to him and the 50th anniversary of 'Abbey Road'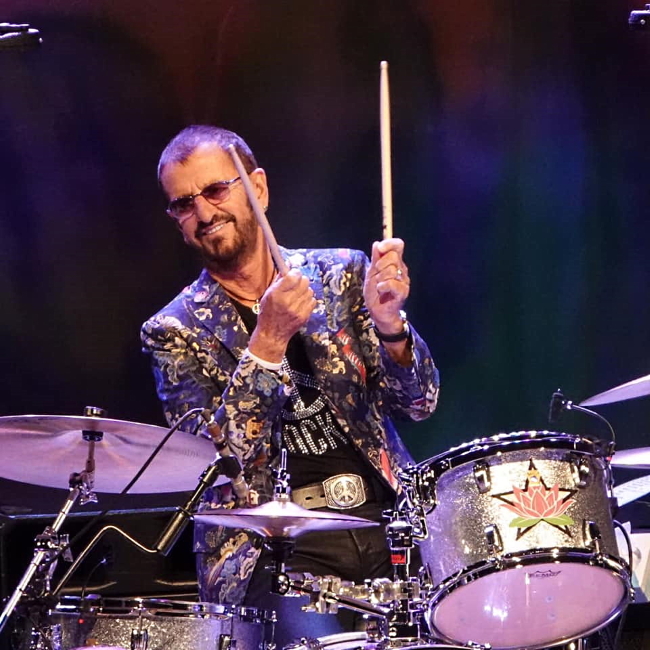 "Starr is in the midst of a year of milestones ─ it's also the 50th birthday of the beloved Beatles album "Abbey Road" on Sept. 26," writes Peter quot; writes Peter Sblendorio for the New York Daily News.
Said Ringo Starr: "I just love Side Two. ...'Bathroom Window' and 'Polythene Pam' are all like short bits because they hadn't finished the songs, really. The other thing I'm really always proud of is there was a bit of tension. Not all the time, not as much as people like to think, but if you counted it in, everybody gave their all. Nobody said, 'Oh, well, not my song.' Nobody held back. You did your best every take."

Aug 9, 2019
What the Beatles did after the Abbey Road cover shoot
- article by Martin Kielty for UCR
The diary of Beatles roadie Mal Evans reveals what the band members did when they found themselves with three hours to spare after shooting the cover for Abbey Road.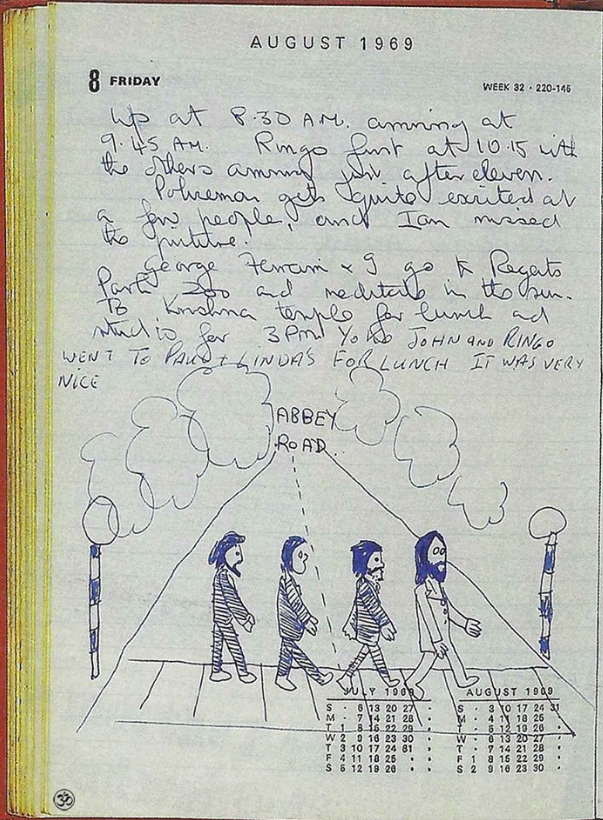 The iconic image was one of only six frames shot by photographer Iain Macmillan while a police officer held up traffic on the London street on Aug. 8, 1969. John Lennon, Paul McCartney, George Harrison and Ringo Starr were joined by just a handful of assistants - "No managers, no stylists," as Beatles Podcast presented Jason Carty tweeted. "They were finished so quickly they had 2-3 hours to kill before their recording session started."
Carty followed that with a picture of the page from "roadie/fixer/pal" Evans' diary entry to the day that reads, "Up at 8.30AM arriving at 9.45AM. Ringo first at 10:13 with the others arriving just after 11. Policeman gets quite excited at a few people, and Ian missed the picture. George ... and I go to Regents Park Zoo and meditate in the sun. To Krishna Temple for lunch and studio for 3PM"

Added in capital letters was the line, "Yoko [Ono], John and Ringo went to Paul and Linda's for lunch it was very nice". There was also a pen sketch of the Abbey Road scene.

"The original working title for Abbey Road was Everest, and the legendary cover was never in the plan at all," an anniversary post on the Abbey Road website explained. "Engineer Geoff Emerick was smoking Everest cigarettes in the studio, and the band eventually took a liking to the stark image of their silhouettes against a white mountain. Everest became the working title of their then-unnamed 11th album. ... Once the group decided that Nepal was out of the question, Paul McCartney then came up with the idea to take a photograph outside of EMI Studios on a break from recording."

The article added that the image "satisfied the Beatles' desire for the world to see them walking away from the studios they had spent so much of the last seven years inside."



Aug 8, 2019
The Beatles 50th Anniversary Abbey Road Editions to be released on September 27, 2019
Beatles.com writes: "Abbey Road Presented with New Mixes in Stereo, 5.1 Surround, and Dolby Atmos; Expanded with Previously Unreleased Session Recordings and Demos.....[T]he album's 17 tracks are newly mixed by producer Giles Martin and mix engineer Sam Okell in stereo."
"The Beatles recording journey had gone through many twists and turns, learning curves and thrilling rides. Here we were ─ still wondering at the magic of it all," McCartney recalls in his written foreword for Abbey Road's anniversary edition packages.
"The magic comes from the hands playing the instruments, the blend of The Beatles' voices, the beauty of the arrangements," Giles Martin explains in his written introduction for the new edition. "Our quest is simply to ensure everything sounds as fresh and hits you as hard as it would have on the day it was recorded."
For complete details about this anniversary release, please click: Oh Yeah, Alright! Abbey Road Anniversary Editions to be Released

Aug 2, 2019
Ringo and his All-Starrs shine bright at Caesars Windsor

"Thirty years and 15 All-Starr Band lineups later, Ringo Starr is still getting by with a little help from his friends. And still doing it in fine fashion," writes Gary Graff for the Royal Oak Tribune.
"The Beatles drummer and his latest crew of All-Starrs kicked off the latest North American leg of his 30th anniversary celebration Thursday night, Aug. 1, at the Colosseum in Caesars Windsor, doing exactly what Starr and his pals have done the past three decades -- delivering a flesh-and-blood jukebox of classic rock hits from the 60s, 70s and 80s, and having as much fun doing it on stage as the audience was having in the seats," noted Graff.
The report went on to say: "This All-Starr Band planted its flag in both the present and the recent past, with longtime members Steve Lukather (Toto) and Greg Rolie (Santana, Journey), each with seven year's service, joined by Men At Work's Colin Hay, who signed on last year, and Average White Band and Paul McCartney alumnus Hamish Stuart, returning for the first time since 2008. They surrounded Starr's own combination of Beatles and solo favorites with their own during the 24-song, show, making sure the night never went too long without something the crowd knew and loved."
Click here for the full Royal Oak Tribune article by Gary Graff.
Paul McCartney Contributes To Henry McCullough Tribute Single
Paul McCartney has contributed to a new Henry McCullough tribute single.
The highly experienced Irish musician passed away in 2016, following a lengthy career that included a vital contribution to Wings.
A tribute single has been arranged to salute his memory, and it features an all-star cast of musicians.
Co-written by Henry himself alongside Don Mescall, "Live Long Rock 'n' Roll" was pieced together by a cast that includes Procal Harum's Gary Brooker, Pink Floyd drummer Nick Mason, legendary guitarist Albert Lee, and more.
Given his Wings association, the team working on the single reached out to Paul McCartney for a bass line - and he happily obliged.
Don Mescall told Hot Press magazine: "Everyone told me I was crazy and I'd never get him. But a week or two later, word got back to m from Macca that he loved the song and he really wanted to play on it."
"There are still sometimes when I'm on my own in the studio when I'll listen to Paul McCartney's bass on the track and think, 'If anyone brought magic to this track - it was Sir Paul McCartney.' I have to hand it to him. This wasn't a rushed job. He put heart and soul into the bass line on the track. It's absolutely incredible."
'Live Long Rock 'n' Roll' will be released on August 16th.
The above article is written by Robin Murray for Clash.

July 30, 2019
"Punk Opera Che Lennon" by The Oz from Russia (the full CD version)
Long before Russian President Vladimir Putin blocked the internet to the outside world from the Russians, The Oz made contact with the Ottawa Beatles Site. I did a CD review for the band in July 2008. They would later connect and perform in Leslie Woodhead's film documentary called "How the Beatles Rocked The Kremlin." In spite of attempts of censorship from Putin to the outside world, I am presenting here for the first time on the internet "Punk Opera Che Lennon" (the full CD version) as performed by The Oz. The songs are cover versions of John Lennon's solo material. Hopefully, one day, the band will resurface again but under new Russian leadership and moves Russia away from a totalitarian regime to a more open and democratic society.
For individual track source referencing, click on the link to the Youtube video.
Long live The Oz.
- John Whelan, Ottawa Beatles Site

July 26, 2019
Beatle Fan Club secretary Freda Kelly to guest speak at Calgary's National Music Centre
"To countless music fans around the world, John, Paul, George and Ringo are The Beatles or the Fab Four, but for Freda Kelly, they will always simply be the lads," writes Louis Hobson for the Calgary Herald.
Hobson noted: "Contacted at her home in Liverpool where she still works three days a week as a legal secretary, Kelly is amused that almost 50 years after the Beatles disbanded people still want to hear her stories."
"The lads were something different and something special and those of us who returned afternoon after afternoon or night after night to the Cavern Club knew they were going to be big one day. We just didn't know how big. No one could have known," says Kelly, who estimates she saw close to 200 of the band's 294 appearance at the Cavern Club."
Beatle fans in Calgary will have the opportunity to hear Freda Kelly reminisce about her close association to John, Paul, George and Ringo at the National Music Centre on July 31 at 5:30 p.m.
For the Calgary Herald article, click here.
See also: Beatles Official Fan Club Memorabilia

July 25, 2019
Paul McCartney Talks Hits And History With Al Roker for the TODAY Show

July 24, 2019
Paul McCartney hints that a new album release of outtakes may be on the way
"Sir Paul McCartney has hinted that he may release an album of outtakes in the future after amassing "millions" of them during studio recordings," writes Elizabeth Aubrey for New Music Express.
"Describing the outtakes as a "treasure trove" in an interview on his website, the 77-year-old said the material comes from various ab-libbed sound checks and rehearsals," states Aubrey.
Said McCartney: "Thankfully our stuff is captured because these days you can record just about anything that moves! It's a little treasure trove...And one day we will have to put together an album, or something, with a selection of these songs that we've gathered. Because they are from all around the world!"
Elders react to the 50th Anniversary of Sgt. Pepper's Lonely Hearts Club Band album

July 16, 2019
A statue of John Lennon is heading to St George's Hall this summer to encourage peace
The following article with images originates from the Liverpool Echo and is reported by Elle May Rice: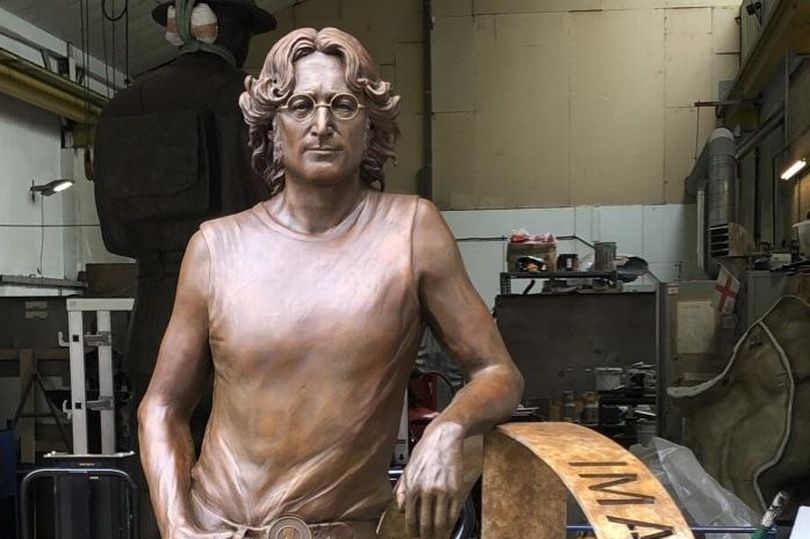 A bronze statue of John Lennon is heading to Liverpool this summer all in the name of peace.
St George's Hall will welcome the John Lennon Peace Statue on August 1 until the end of September following its time at Glastonbury Festival.
The artwork, which is 180cm high, was created by Laura Lian and cast by the Castle Foundry.
Laura said: "I made the statue to help inspire a new generation to reinforce John and Yoko's message of Peace.
"We are really excited to have the statue at this beautiful historical Hall in Liverpool."
Alan Smith, general manager of St George's Hall, said: "We're delighted to host this statue showcasing one of Liverpool's most-loved sons.
"In the month of August and September the city celebrates International Beatle Week and it's fitting that we welcome this new addition.
"It's sure to be a hit and will become a must-visit selfie and Instagram spot".
Along with the statue, the Postcard Exhibition also heads to St George's Hall this summer, which invites the public to donate postcard-sized designs depicting the theme of peace.
The postcards will be displayed at the throughout August before being put up for silent auctions in September ahead of International Peace Day.

The statue was previously on show at Glastonbury Festival.

July 14, 2019
Ringo Starr joins Paul McCartney on stage during the last concert performance of Paul's "Freshen Up" world tour in Los Angeles
"We've got a surprise for us, a surprise for you, a surprise for everyone: Ladies and gentlemen, the one and only, Ringo Starr," McCartney said emphatically as his former bandmate strutted out on stage.
The duo hugged and exchanged a brief "I love you, man" as Ringo made his way to the drums. Together, they performed two Beatles classics: "Sgt. Pepper's Lonely Hearts Club Band (Reprise)" and the White Album cut "Helter Skelter."
- The above excerpt is from Rob Arcand's article from Spin entitled: "Watch Paul McCartney Bring Out Ringo Starr to Play Beatles Classics in L.A."

July 7, 2019
What a class act Sir Paul McCartney is!
Eskasoni teen gets shout out from Paul McCartney at Vancouver concert
VANCOUVER, B.C. ─ VANCOUVER – Emma Stevens' viral hit version of Paul McCartney's song Blackbird prompted the award-winning musician to invite her to his concert in Vancouver on July 6. As his guest, Stevens met McCartney backstage and received a shout out praising her for her version which is sung in Mi'kmaq.
"I told her, her version is so beautiful, I hope I can sing it as well," he told the crowd of cheering fans.
Stevens' Mi'kmaq version of Blackbird was recorded and filmed at Allison Bernard Memorial High School, for International Year of Indigenous Languages (a United Nations observance for 2019 which focuses on raising awareness about Native languages).
Video of McCartney's shout out to Stevens is from Allison Bernard Memorial High School's Youtube channel and was filmed by Adam Chiasson.
The above article is from the Cape Breton Post, July 7, 2019
Bonus feature: Emma Stevens sings "My Unama'ki (My Cape Breton)"
Happy Birthday Ringo!
Ringo turns 79! For details please read CBS news Almanac: Ringo Starr's Birthday which includes a video.

July 3, 2019
What makes the Beatles the most influential band of all time?
"Sir Paul McCartney plays B.C. Place this week and the legacy of his former band — as well as his solo career — lives on well past most of his original musical peers," writes Stuart Derdeyn for the Vancouver Sun. "What it is that makes the man and his music matter more than most is the subject of countless books, papers and bottomless barroom banter. How four teenagers from the Northwest of England turned rock 'n' roll on its head is now contemporary cultural history played out in song." Click here to read the full report.

July 2, 2019
Taking a look at George Harrison's Rosewood Telecaster Guitar
"Fifty years back, on January 30, 1969, George Harrison stepped on to the roof of his group's Apple headquarters in London and plugged in a Fender Telecaster," writes Tony Bacon for Gear History. "Famously, it would be The Beatles' last ever public performance. Not quite so famously, his guitar was an unusual model, a new Rosewood Telecaster that he's recently received from Fender." To learn more on the history of this guitar, please read: "The Story Behind George Harrison's Rosewood Telecaster."

July 1, 2019
The Ottawa Beatles website receives an honorable mention in a new Beatle book
"And In The End: The Last Days of The Beatles"

by Ken McNab i

s a meticulously researched and a well balanced accounting of how the Beatles were defining their own individual identities and how they were no longer the closely knit band they once were in the early days of their music career.

The book is divided into twelve chapters, each one representing a certain month during 1969. Throughout each of those chapters, McNab interviewed people who have crossed their paths either before or during their halcyon days of success. Because of this, there is never a dull moment as it cohesively pulls the book together.

Ken McNab explores the confluence of factors that led to the bands demise: from business dealings with manager Allen Klein; Sir Joseph Lockwood, chairman of EMI. Then there was Yoko Ono and Linda Eastman who became wives to each of their respective husbands. The Apple empire, largely Paul McCartney's brainchild, was spinning into financial chaos and near bankruptcy. Drugs played another factor in the demise and in particular John Lennon's heroin addiction is closely examined and how it affected his musical creativity and on his relationship with Paul.

In making sure that every aspect of history is documented the way it unfolded, the author examines John Lennon's three trips to Canada which included a special visit with Prime Minister Pierre Elliot Trudeau in December. Also documented in the book in the same month was John Lennon and Yoko Ono's testimony to "Le Dain Commission of Inquiry into the Non-Medical Use of Drugs." It is at this point in the book where the Ottawa Beatles Site and researcher receives a special acknowledgement for unearthing the testimony that laid in government archives for many decades.

Let me say by concluding this: Sure, while there may be lots of Beatle books out there, "The End: The Last Days of the Beatles" reveals new historical bits of information that was never known before. McNab's book ranks high on a scholarly level to that of Mark Lewisohn's research.

The book is not available yet in North America but Beatle fans can obtain a copy through Amazon.uk. Ken McNab's first book publication on the Beatles is called "The Beatles In Scottland" and was published on both sides of the Atlantic in 2008.

- John Whelan, Ottawa Beatles Site

June 29, 2019
Sir Paul McCartney on his late wife Linda's photography ahead of Glasgow exhibition
Lots of rekindled memories as Paul McCartney talks about the Mull of Kintyre that Linda and he had spent together which became part of the healing process from the Beatles breakup. In the same interview, Paul discusses Linda's passion for photography and what her pictures meant to him. This excellent interview and lengthy report is done by Susan Swarbrick, Columnist and Senior Features Writer for The Herald Magazine. Click here for her report.

June 23, 2019
Blackbird songstress Emma Stevens performs live at the Ottawa Summer Solstice Indigenous Festival and Competition Pow Wow
An Ottawa Beatles Site exclusive: a live performance of Paul McCartney's classic song "Blackbird" by Emma Stevens. We also have a very short interview in the video from Emma, so Paul, if you are watching, this one is for you. It is my way of giving you thanks for your great contribution to music and to humanity around the world. Know that fans love and appreciate what you have done musically throughout your entire lifetime.
This is my fifth consecutive attendance at the Ottawa Summer Solstice Indigenous Festival. Each festival I have enjoyed, I have learned something new about the Indigenous culture, but having Emma Stevens perform on Saturday, June 22, was something extra special this year. I had fallen in love with Emma's original YouTube cover version of "Blackbird" which is also available on this news page.
The photos below are of Emma Stevens and her music teacher Carter Chiasson. Emma states the song was translated in a few days by Katani Julian and Katani's father Albert "Golydada" Julian. A few months later it was recorded at Allison Bernard High School in Eskasoni, Nova Scotia, that just took one hour to make.
One final note: this very talented Indigenous young woman is from the Eskasoni First Nation in Nova Scotia. The video also features an original song about "Cape Breton" that is sung by Emma.
- John Whelan, Ottawa Beatles Site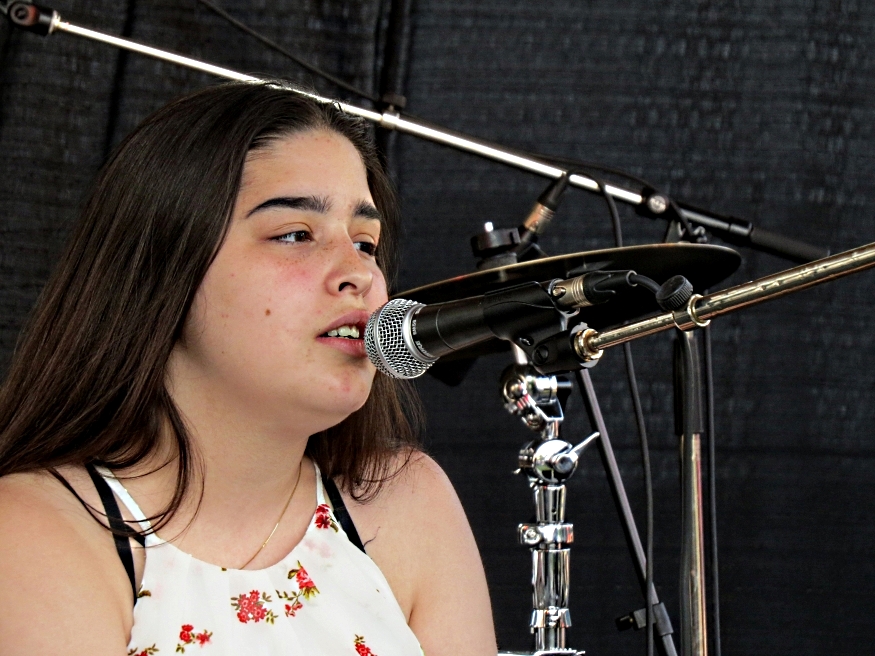 Photography by John Whelan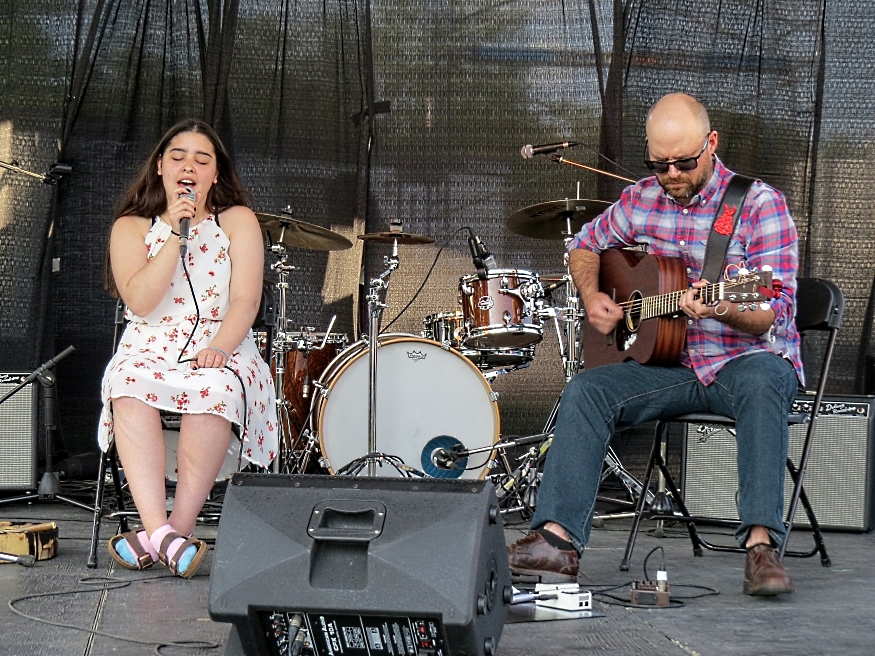 Photography by John Whelan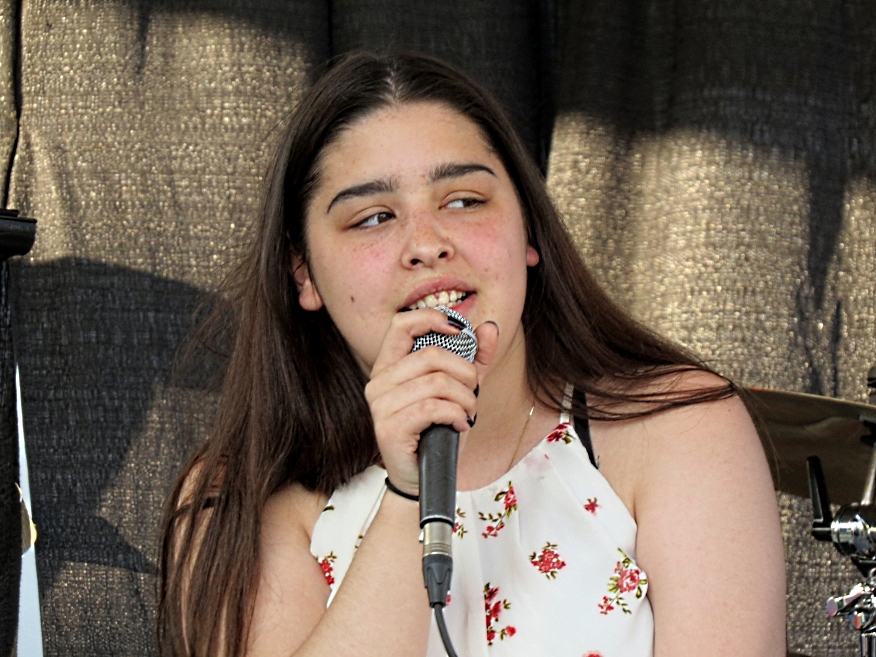 Photography by John Whelan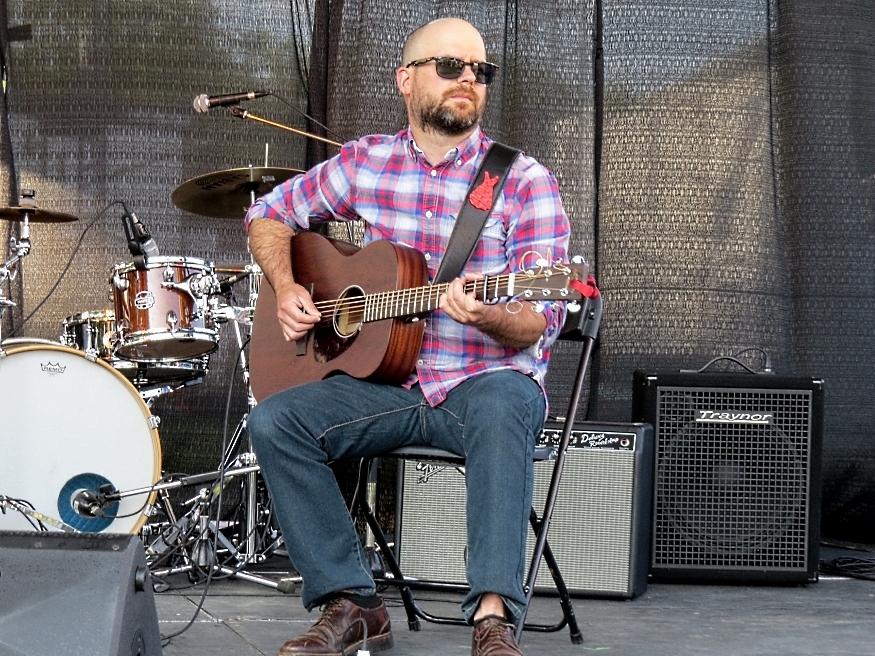 Photography by John Whelan

June 20, 2019
Ringo Starr talks with NBC's Al Roker

June 16, 2019
A groovy flashback: Paul McCartney performs on "My Dark Hour" by The Steve Miller Band
Wikipedia writes: The track "My Dark Hour" featured Paul McCartney (credited as "Paul Ramon") on backing vocals, drums, guitar and bass guitar, and he performed additional backing vocals on "Celebration Song". "My Dark Hour" was recorded in a late-night session on May 9, 1969 after an acrimonious argument between McCartney, John Lennon, George Harrison and Ringo Starr over signing a contract appointing Allen Klein as The Beatles' financial manager. Lennon, Harrison and Starr walked out, while McCartney remained at Olympic Studios. Miller was the only member of the band to attend the session, and the song emerged from him and McCartney jamming.

June 14, 2019
Sotherby to auction off Management Contract between Brian Epstein and The Beatles
"The agreement with their manager was signed on January 24, 1962, a date that airs 14 months before The Beatles released their debut album, Please Please Me," writes Far Out Magazine. It went on to say that: "With the signing taking place in the kitchen of Best's home, auctioneers are expecting to fetch in excess of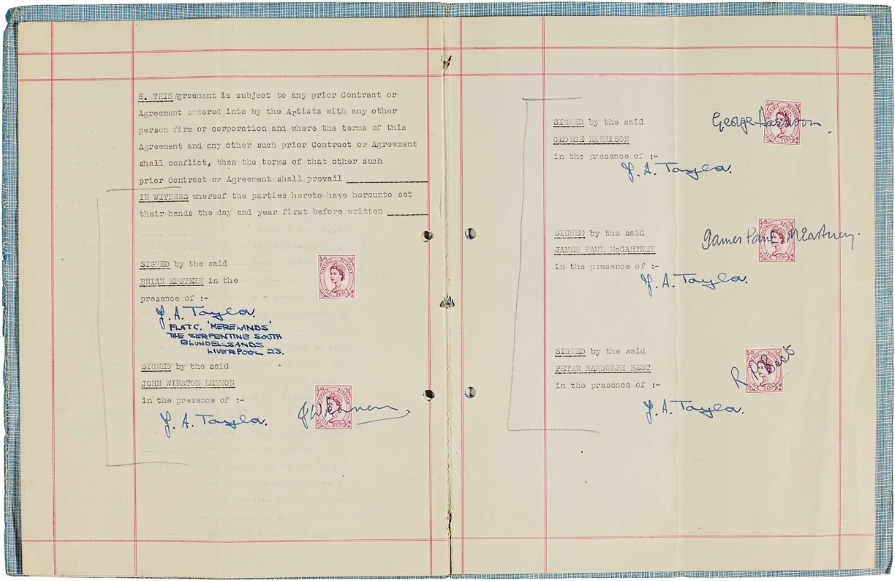 June 5, 2019
Mi'kmaq singer covers "Blackbird" and receives a big shoutout from Paul McCartney
Cape Breton teenager Emma Stevens received special acknowledgement from Paul McCartney during his concert in Lexington Kentucky, for her cover version of Blackbird. "There's an incredible version done by a Canadian girl. You see it on YouTube. It's in her native language," said Paul. "It's really cool, check it out."
The 16-year-old stated she and her music teacher found out about the shoutout from McCartney while they were in Nairobi as guests of the United Nations for the inaugural UN-Habitat Assembly: "I didn't want to believe until I saw it with my own eyes," she told CBC radio "q."
"Then, when I realized it was actually real, I got so excited that it almost made me cry. I grew up listening to the Beatles everyday, my dad is a super fan. To have someone like Paul recognize what we did, and why, is a true honour. This is every special for all of us."
The students of Allison Bernard Memorial High School in Eskasoni, Nova Scotia, were led by their music teacher Carter Chiasson when they recorded it. The recording of the song had two underpinnings: It is to promote "widespread awareness of preserving indigenous language and culture, and the United Nations International Year of Indigenous Languages movement," said Carter Chiasson in a CBC report.
High praise didn't just come from the composer Paul McCartney, but also Prime Minister Trudeau of Canada responded to Emma Stevens cover: "Have you heard a version of this song in Mi'kmaq? Listen to her."


Photography by John Whelan, June 2, 2019, National Arts Centre of Canada.

Here are the Mi'kmaq Blackbird lyrics in full:


Pu'tliskiej – Kime'sk


Pu'tliskiej wapinintoq
Kina'masi telayja'timk
tel pitawsin

eskimatimu'sipnek nike' mnja'sin


Pu'tliskiej wapinintoq
Ewlapin nike' nmiteke
tel pkitawsin

eskimatimu'sipnek nike' seya'sin


Pu'tliskiej…layja'si
ta'n wasatek poqnitpa'qiktuk


Pu'tliskiej…layja'si
ta'n wasatek poqnitpa'qiktuk


Pu'tliskiej wapinintoq
Kina'masi telayja'timk
tel pitawsin


eskimatimu'sipnek nike' mnja'sin
eskimatimu'sipnek nike' mnja'sin
eskimatimu'sipnek nike' mnja'sin


Boo-dull-ees-kee-edge wobbin-in-toq
Kee-na-ma-see dell-I-jaw-dimk
dell-bit-ow-sin
ess-gum-mud-dum-oo-sup-neg nike' mn-jaw-sin


Boo-dull-ees-kee-edge wobbin-in-toq
ew-la-bin nike' num-mid-deh-geh
dell-bit-ow-sin
ess-gum-mud-dum-oo-sup-neg say-ya-sin


Boo-dull-ees-kee-edge, lie-jaw-see
don wassa-deg poq-nit-ba'q-ik-tuk


Boo-dull-ees-kee-edge, lie-jaw-see
don wassa-deg poq-nit-ba'q-ik-tuk


Boo-dull-ees-kee-edge wobbin-in-toq
Kee-na-ma-see dell-I-jaw-dimk
dell-bit-ow-sin


ess-gum-mud-dum-oo-sup-neg nike' mn-jaw-sin
ess-gum-mud-dum-oo-sup-neg nike' mn-jaw-sin
ess-gum-mud-dum-oo-sup-neg nike' mn-jaw-sin

June 3, 2019
50th Anniversary of John and Yoko's visit at the University of Ottawa

You Can Say I'm A Dreamer - by Allan Rock (edit version)
Those of us who came of age with the Beatles knew that the magic came from the Lennon-McCartney combination, with its sometimes odd mix of opposites. While McCartney generated the ingeniously durable tunes, it was Lennon who added the sharp counterpoint to lift the music beyond melody to message. Lennon was the Beatle with edge, and it showed not just in the studio, but in his politics.
To be sure, there was an element of naiveté to his childlike insistence that peace could exist if only we willed it. But while his philosophy may have been simplistic, we never doubted his good heart and his belief each of us could help bring an end to war.
His political power derived from his fame, and he lent it freely to the cause, opposing the war in Vietnam and drawing the world's media into hotel bedrooms in Europe and in Canada during his "Bed-In for Peace."
It was that effort that brought him to the Queen Elizabeth Hotel in Montreal in June of 1969. That summer, I was president of the students' council at the University of Ottawa, looking for a way to fill the quiet months until September. We resolved to get John and Yoko to the campus and invented a "World Conference on Peace" as our pretext. I drove to Montreal, talked my way into Lennon's suite, and suggested that if he appeared, our New Age and progressive Prime Minister, Pierre Elliott Trudeau, might also participate. Lennon agreed to come, and the campus was pandemonium when he arrived for what turned into a noisy and extended press conference. (The Prime Minister had declined to take part.)
I spent the day with Lennon, watching as he managed the incessant demands of megafame, a starstruck 21-year-old making dinner plans with an almost mythical figure who for five years had held my generation transfixed. He was calm at the centre of a constant, frantic happening, ignoring the kooks and crazies drawn by his raucous road show, and polite and patient with those of us trying to plan some sense into his schedule. In early evening, he told me that he wanted to see something of the city. He and Yoko Ono sat in the rear of my Volkswagen fastback as I drove them around the capital, with John at one point singing along to the Beatles' Get Back on the radio ("Turn it up!" he yelled from the back). Disappointed that the Prime Minister had not joined us at the "Peace Conference," Lennon agreed when I suggested we visit 24 Sussex to see if Trudeau was home. In his absence, Lennon left a hand-written note, which led to a return visit in December of that year, when the two met on Parliament Hill.
Within six months of his June visit, the Beatles had broken up, and, for the remaining years of his life, John Lennon carried on his very public quest for self-discovery and for a better world. But he had left one young Canadian student with indelible memories of a remarkable episode, and warm feelings toward a superstar who was unfailingly courteous, refreshingly down to earth and who showed not a hint of the arrogance or willfulness that are sometimes associated with rock 'n' roll stardom. If anything, my deep impression was of a gentleness that hinted enough at vulnerability to make me feel a slight pang of guilt at the transparent ruse we had employed to persuade him to come to Ottawa. The Beatle with the edge was, after all, a believer and a gentle soul.
The summer of 1969, much like today, was a time of challenge and great promise. It honours the memory of John Lennon to remember his commitment and optimism, and to say, like him, "Imagine!" Allan Rock was the federal Minister of Health. Full Globe and Mail article: "You Can Say I'm A Dreamer." See also with photographs from the event: "The Ballad of John and Yoko in Ottawa."
John & Yoko's Montreal Bed-in for Peace: Royal Canadian Mint issues 50th anniversary coin!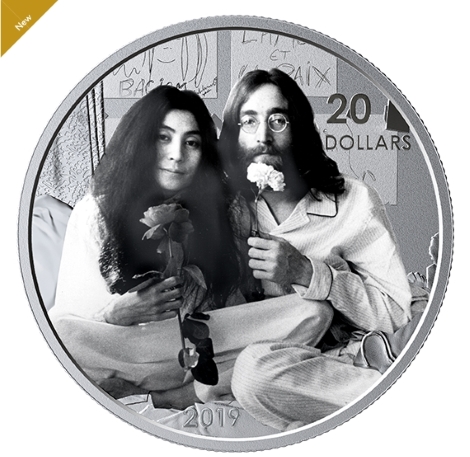 From May 26 to June 2, 1969, John and Yoko held their famous bed-in for Peace. It was a very significant event for the couple here in Canada and internationally. Fifty years later the "Give Peace A Chance" that was recorded on June 1, 1969 at the Queen Elizabeth Hotel, still remains today a popular anti-war anthem.
To commemorate the anniversary, the Royal Canadian Mint has issued a 1 ounce silver coin with a mintage of 9,999. As of this writing 76% has been sold and will be shipped out on June 17 in Canada and the USA only.
Highlights: "Your coin features Ivor Sharp's famous 1969 photo of John Lennon and Yoko Ono during their 8-day Bed-in for Peace in Montréal's Queen Elizabeth Hotel," writes the Royal Canadian Mint. It went on to say that: "Sharp captured John and Yoko in an all-white setting surrounded by handwritten messages of peace ─ including one in French. The design portrays John and Yoko in black and white on an engraved coin. The obverse features the effigy of Her Majesty Queen Elizabeth II by Susanna Blunt."
I have ordered mine! Get yours soon before they're gone! - John Whelan, Ottawa Beatles Site
Link: The Royal Canadian Mint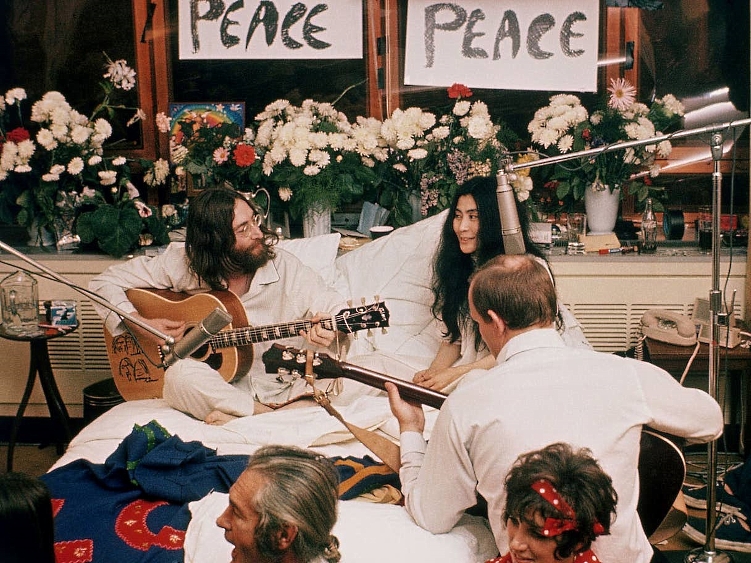 May 27, 2019
Schnurmacher: Meeting John, Yoko (and Kyoko) and how it cost me a friend
A really interesting story about how Tommy Schnurmacher and his classmate Gail made their way into John Lennon and Yoko Ono's Bed-in at the Queen Elizabeth Hotel in Montreal. Click here for the Montreal Gazette report by Tommy Schnurmacher.

May 25, 2019
The Montreal bed-in at 50: Peace, love and chance
The fascinating and thrilling historical accounting of John Lennon and Yoko Ono's famous bed at the Queen Elizabeth Hotel in Montreal. "...one is struck by the array of fortuitous circumstances that led so many regular Montrealers into the orbit of John and Yoko, and led the happy hippie couple to set up camp in Room 1742 (and adjoining Rooms 1738, 1740 and 1744) of the Queen Elizabeth, from May 26 to June 2, 1969," writes T'Cha Dunlevy of the Montreal Gazette.
To read the entire Montreal Gazette article, please click: "The Montreal bed-in at 50: Peace, love and chance."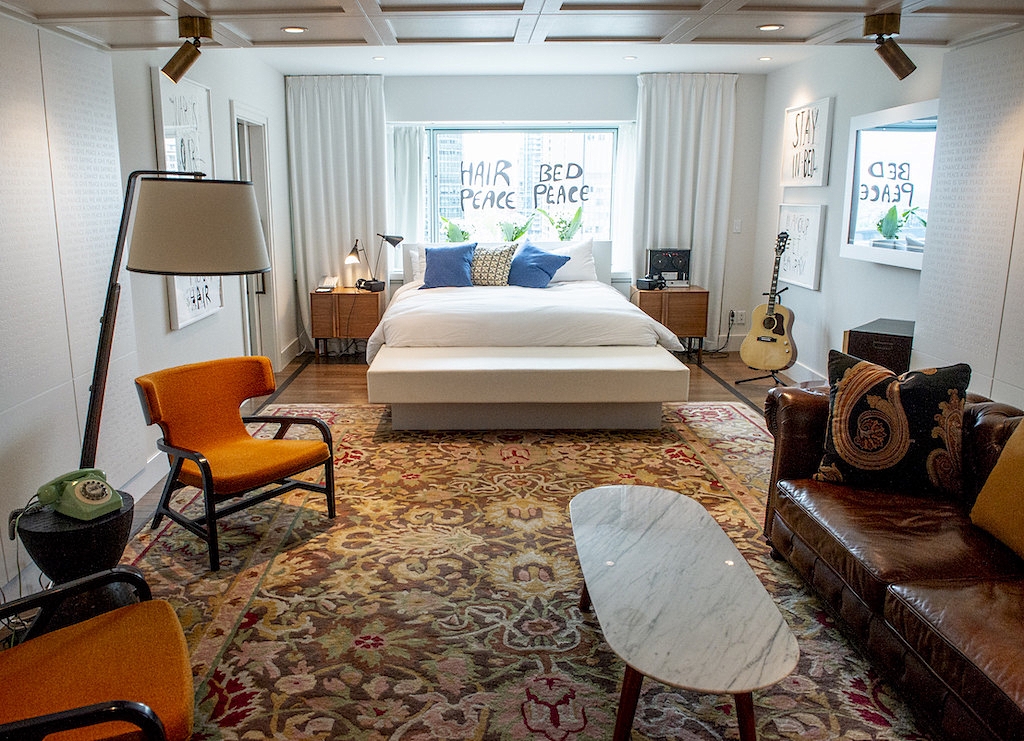 Photo credit: (AFP/Sebastien St-Jean)
50 years later, Montreal celebrates Lennon-Ono 'bed-in' for peace
"John Lennon and Yoko Ono spent a week in pajamas in 1969 at The Queen Elizabeth hotel in Montreal, welcoming journalists and recording "Give Peace a Chance" as the Vietnam War raged," writes Eric Thomas for Agence France-Presse (AFP).
"Fifty years later, the hotel is celebrating their fabled experiment in pacifism with a series of special events including guided tours of the couple's room," writes Thomas.
"'We're still talking about it 50 years later, but at the time we had no idea the impact that it would have,' Joanne Papineau, spokeswoman for the hotel, told AFP."
To continue reading the article, please click on this link.

May 20, 2019
British guitarist analyses The Beatles early live performance in 1963!
Paul McCartney releases Egypt Station bonus tracks
Paul has been making the most from his Egypt Station project. Many variations have been presented which now include "Egypt Station - Traveler's Edition" which includes a suitcase filled with a map, postcards, passport, his hand-written lyrics and even a USB card with the songs from the album. The Traveler's edition has a limited run of 3,000 units and it is shipped in a large protective cardboard box.
The other is called "Egypt Station - Explorer's Edition" where you have all of the songs from the original vinyl release but you also get the bonus LP which includes two new compositions from Paul: "Frank Sinatra's Party" and "Sixty Second Street" (see video below.) The rest of the bonus LP contains studio and live performance versions that were not previously issued.
Here is the list of bonus songs for Egypt Station II:
1) Get Started
2) Nothing For Free
3) Frank Sinatra's Party
4) Sixty Second Street
5) Who Cares [Full Length]
6) Get Enough
7) Come On To Me [Live At Abbey Road Studios]
8) Fuh You [Live At The Cavern]
9) Confidant [Live At LIPA]
10) Who Cares [Live At Grand Central Station]

May 19, 2019
James Taylor: The first non-British act signed to Apple
American folk singer James Taylor moved to England in 1967. At the age of 20 years with the help of Peter Asher who was A&R head for Apple Records, landed a recording contract in 1968. On his official website, Taylor recalls: "When I went to London looking for opportunities, I landed an audition with them, or more precisely with McCartney and Harrison. I sang them my song "Something in the way she moves," which was inspired by their work, and they not only liked it, Harrison took those lines for the classic he composed later. I felt very honored by that." Paul McCartney's initial reaction was: "I just heard his voice and his guitar and I thought he was great...and he came and played live, so it was just like, 'Wow, he's great," writes Wikipedia.
One of the songs that Taylor wrote was "Carolina In My Mind" where Paul McCartney played bass. Taylor feels the lyrics in his song makes a connection back to the Beatles. He told the Telegraph: "[My] song Carolina in My Mind says, "With a holy host of others standing round me," and that's how I thought of the Beatles. Everybody did, and for them to actually say, "Sure, we'll record you," and then to go on to Trident Studios, where they were making the White Album, and be a fly on the wall listening back to all of those songs - it was just an amazing thing."
Taylor has claimed that George Harrison provided backing vocals on the track but one Beatle historian, Kristofer Englehardt, doubts that it ever happened. In his book, "Beatles Undercover" which has been meticulously researched, writes the following: "Taylor has stated in interviews that George Harrison sings backing vocals on the song. Asher, who produced and sings backing vocals on Carolina In My Mind, stated, "No, I have read that too, but it's not true. I'm certain." Richard Hewson, who was string arranger and conductor for the song, also does not remember Harrison being present."
The self-titled album "James Taylor" (produced by Peter Asher) was released on Apple records on December 6, 1968. It would be his only album released by the record company since the company itself and the Beatles were slowly going into disarray. By 1970 he released "Sweet Baby James" album (again, produced by Peter Asher) was released on Warner Brothers Records. His single from the album, "Fire and Rain", charted at #3 on the Billboard hit parade. "Taylor wrote this in 1968 at three different times," writes Songfacts. "He started it in London, where he auditioned for The Beatles' Apple Records. He later worked on it in a Manhattan Hospital, and finished it in drug rehab at The Austin Riggs Center in Massachusetts. In a 1972 Rolling Stone interview, Taylor explained: "The first verse is about my reactions to the death of a friend. The second verse is about my arrival in this country with a monkey on my back, and there Jesus is an expression of my desperation in trying to get through the time when my body was aching and the time was at hand when I had to do it. And the third verse of that song refers to my recuperation in Austin Riggs which lasted five months."
James Taylor's music career continued with great success when he recorded Carole King's "You've Got A Friend" and Jimmy Jones/Otis Blackwell's "Handy Man" (Both songs won in the Grammy Award category of "Best Pop Vocal Performance," circa 1971 and 1977 respectively.) In total, Taylor has won 5 Grammy Awards in his lifetime and has been inducted into the Rock & Roll Hall of Fame.

May 15, 2019
George Harrison's Mercedes-Benz 500SEL AMG went up for auction
Mercedes-Benz 500SEL AMG once owned by George Harrison and used in The Beatles "Real Love" video went up for auction. For the complete story, click here.

May 12, 2019
Canadian Rocker Randy Bachman does new George Harrison covers
"By George - By Bachman" is Randy Bachman's new release that provides an edgy sound to classic George Harrison compositions. Fused with a rock, blues and jazz makes for a truly enjoyable listening experience. Randy does something else to the songs: he starts them off in different riffs, or slightly altering the melodic structure to make them fit into the style of Randy Bachman that only Randy can do.
Randy's experience with top Canadian bands, The Guess Who and B.T.O. (Bachman-Turner Overdrive) along with a highly successful solo career has improved his skills as a masterful guitar player and composer. He is recognized as one of Canada's top legendary rockers and was decorated with the Order of Canada by the Governor General for his contribution to music. He is also a Juno Award Winner with Bachman-Turner Overdrive II that was released on Mercury Records in 1973.
There is anThere is an interesting review about the new album from Aaron Badgley for Spill Magazine. To read the review, click on the following: Randy Bachman - By George By Bachman.
You can also listen to the album on Spotify.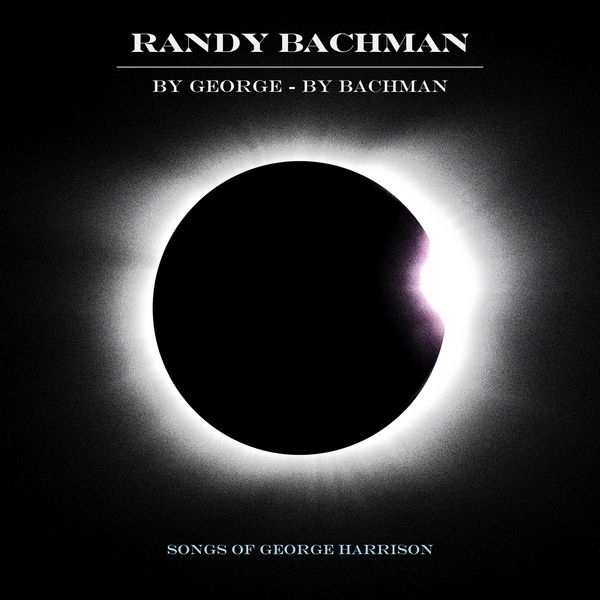 May 1, 2019
George Harrison with Delaney & Bonnie and Friends
In the above video, George Harrison performs "Comin' Home" with Delaney and Bonnie Bramlett at Falkoner Teatret, Copenhagen, Denmark on December 10th, 1969. It is a Danish TV recording. "He appeared in Bristol, Birmingham, Sheffield, Liverpool and Croydon. He didn't perform at the Newcastle shows on 5 December, instead briefly leaving the tour to visit his unwell mother," writes Glide Magazine. Musicologist reporter Todd Totale for Glorious Noise best described the couple as "Memphis blue-eyed soul with a tinge of gospel harmonics."
Eric Clapton, who performed on stage with Delaney and Bonnie, recalled in his autobiography: "Their band was made up of all these great Southern musicians, who had such a strong sound and performed with absolute confidence ... Needless to say it wasn't long before I dropped all my responsibilities as being part of Blind Faith and started to hang out with them."
Eric also added: "There is something infectious about their approach to music. They would have their guitars on the bus and would play songs all day. I took to travelling and playing with them. The truth is I was the man in the hallway, who has come out one door, only to find it has closed behind him while another one is opening. Through that door were Delaney and Bonnie, and I was irresistibly drawn towards it."
Daleney's own style of guitar playing "influenced Harrison to learn slide guitar, significantly influencing his later music," writes Brian Goode for WebDJ.co website. It was at the Copenhagen concert that Harrison began writing "My Sweet Lord" with the gospel like chorus of "halleujah."
Glide magazine states: "Harrison had met the pair in Los Angeles in 1968. Delaney & Bonnie had recorded an album with a host of other musicians including Leon Russell, Bobby Keys, Jim Price, Bobby Whitlock and Rita Coolidge called The Original Delaney & Bonnie - Accept No Substitute. Impressed, Harrison tried to release the album on Apple early 1969, but the deal fell through." Delaney & Bonnie were already on contract with Elecktra Records when Harrison made the offer.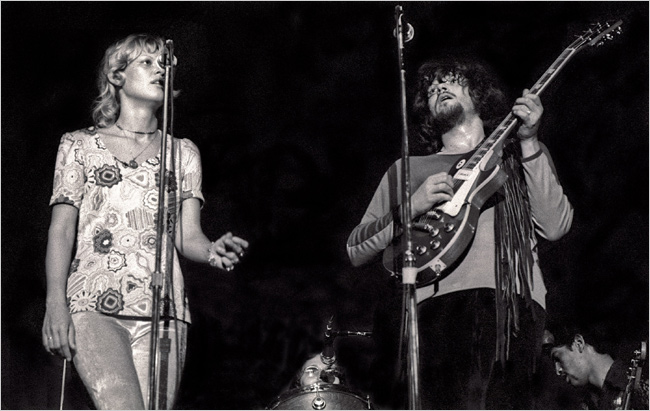 Russ Gibb, promoter who gave MC5, Nugent, Iggy their start, dies
In the article, Russ Gibb is remembered by Professor M.L. Liebler of Wayne State University. Russ Gibb who in October 1969 advanced the idea that Paul McCartney was really dead on WKNR radio.

April 28, 2019
White Trash: pop music wannabes from Glasgow, Scotland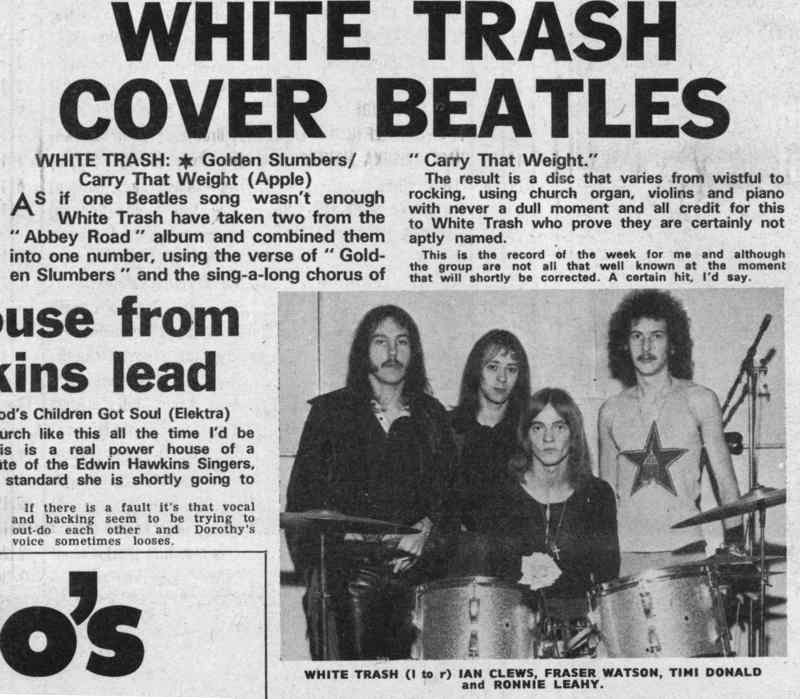 Apple liaison officer and "House Hippie" Richard DiLello named the group "White Trash." After their first single release, their name was shortened to "Trash." This is due to the fact that in Britain the phrase "White Trash" was deemed offensive (the negative push likely came from radio and retailers.) Another reason why the name was shortened is because the name "White Trash" was already being used in the U.S.A. by Edgar Winter and Johnny Winter.
In 1969, the musical lineup for "White Trash" were ex-members of The Pathfinders and The Poets. Here then is the list of "White Trash" musicians and what they played when they signed onto Apple records:
Ian Crawford Clews, vocalist
Fraser Watson, lead guitar
Timi Donald, percussion
Ronnie Leahy, organ
Colin Hunter-Morrison, bass guitar
White Trash had recorded together in 1969 and only released two singles that were produced by Tony Meehan on the Apple label. Their first one, "Road To Nowhere," was written by Gerry Goffin & Carole King. The release had modest success but "something was amiss as no chart placing was forthcoming. It did, however, break into the top twenty in Holland, and the group appeared on the Dutch Top Of The Pops equivalent 'Doobi-Doo,'" writes Poetsadmin. White Trash's second single was "Golden Slumbers/Carry That Weight." That particular recording had mixed reactions from the Beatles. When Paul McCartney heard the cover version, he was furious! "I asked for a demo and I'm handed a finished master of a full production with strings on it and the lot!" Everyone thought the record was dead, but press officer Derek Taylor grabbed the record and took it to John. When it was over Lennon pointed to one of the speakers and declared, "That's a good imitation of us! It's going out!" writes Richard DiLello in his book "The Longest Cocktail Party." It should be noted that Paul even resisted the idea of having to spend any more money on the band but nonetheless it was released as a 45 r.p.m. Interestingly, White Trash's cover was issued before The Beatles iconic "Abbey Road" album.
There is another interesting angle to the story: Music producer Tony Meehan (who sneaked into Apple records) was the same person who worked as music producer for Decca Records. He, along with Dick Rowe and Mike Smith are the ones who famously turned down the Beatles. But a more recent idea has emerged from Mark Lewisohn ─ apparently Decca Records was going to charge Epstein for the vinyl pressings of The Beatles. Epstein didn't like the idea so he went to EMI records who signed the group.
In any event, for Tony Meehan this was surely a "full-circle moment" in his music career. At Apple records he was music producer for all White Trash music and also on "Give Peace A Chance" by The Hot Chocolate Band. John Lennon was flattered by the cover version of his song done in the style of Jamaican reggae. It too was released as a single.
"Golden Slumbers/Carry That Weight" was issued with prefix number 1811 on Apple. The flip side of the single is called "Trash Can" written by Trash-Tennent. It was released on September 26, 1969 in the UK and October 15, 1969 in the U.S.A.
Derek Taylor's official press release appeared in the May 1970 "Hit Parader" who wrote this about the band:
WHITE TRASH
Maybe Not So White
In the days when there were four Beatles and no apples, Lennon and McCartney wrote songs for other people: Billy J. Kramer and Cilla Black. Once in a while they'd record these same songs themselves. And then, as the Beatles became *the* pop group, artists would rush to the recording studios with freshly opened copies of the latest Beatles' album. They'd get a cover version of a Beatle song out so fast it'd make you wonder.
With White Trash, who were just called Trash for a while in Apple press releases, the process seems to have combined. Here is an Apple/Beatles act who are covering a Beatles song from a Beatles album, "Carry That Weight." And again, the question arises, what is it all for, why Apple? And like the Iveys, what are Fraser Watson, Ronald Leahy, Timi Donald, Ian Clews thinking about when they answer questions about their music. Their first Apple single, "Road To Nowhere," had world wide sales of twenty thousand but failed to make the charts anywhere. But a flop here and a setback there doesn't break a rock and roll band like White Trash. They just keep burning through the splendour of three hundred watt amplification as only they can.
In 1971 the group disbanded with having only recorded a total of four songs to their credit on Apple Records. Much later "Golden Slumbers/Carry That Weight" appeared on a CD deluxe box set called: "Fresh From Apple Records" in Europe on October 25, 2010. It featured all of the artists that signed up with Apple.

April 26, 2019, 2019
Johnny Hutchinson: Merseybeat drummer who turned down The Beatles has died
Reported yesterday by the Independent, John Howard Hutchinson, drummer, singer and builder, born 18 July 1939, died 12 April 2019. For the historical analysis of his music career, please click here.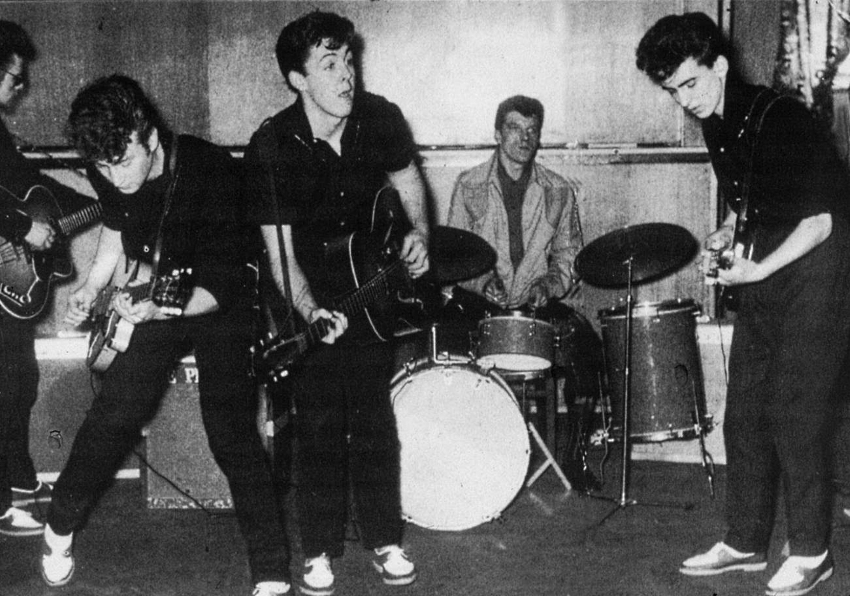 Drummer Johnny Hutchinson filling for the Beatles

April 25, 2019
"Gonna Get My Baby Back" - by Apple artist Doris Troy
Not many people know this but "Gonna Get My Baby Back" was composed by George Harrison, Richard Starkey, Doris Troy and Stephen Stills. The list of musicians who recorded on it are Doris Troy: lead vocals; Billy Preston: keyboards; Klaus Voormann: bass; Carl Radle: bass; Jim Price: horns; Bobby Keys: saxophone; Ringo Starr: drums; George Harrison: guitar; Peter Frampton: guitar; Stephen Stills: guitar. The song was issued September 11, 1970 in the U.S.A. on an Apple album simply entitled "Doris Troy."
Well respected in the music industry as an American R&B singer, she had a major hit song "Just One Look" in May of 1963 on Atlantic records which was later covered by The Hollies and Linda Ronstadt.
She moved to London in 1969 and during that summer and American soul singer Madeline Bell recruited her to attend "the overdub sessions for Billy Preston's first album on Apple Records, That's The Way God Planned It," writes Wikipedia. It went on to say that "On meeting Preston's producer, George Harrison, Troy was surprised to learn that he was a fan of her work, and following the sessions, Harrison offered her a recording contract with Apple."
Doris Troy's unique backing vocals can be heard on the Rolling Stones "You Can't Always Get What You Want" and is one of four female singers on the Pink Floyds "Dark Side Of The Moon." She also can be heard on Carly Simon's "Your So Vain" and many other noteworthy recording artists. In 1974 Doris Troy moved back to the U.S.A. where she performed at night clubs and casinos.
The female gospel singer was born Doris Elaine Higginsen on January 6, 1937. After watching the movie "Helen of Troy" she decided her stage name would be "Doris Troy." At the age of 67, Doris Troy passed away from emphysema at her home in Las Vegas, Nevada on February 16, 2004.

April 20, 2019
Sir Paul McCartney has revealed that he 'pinches' himself over Beatles success

"MODEST Sir Paul McCartney has admitted that he still has to pinch himself whenever he looks back on his career. Sir Paul, 76, said he was proud the he and John Lennon always came up with a hit whenever they sat down to write," reports James Desborough for the Express.
Click here to read the entire article with comments from Sir Paul McCartney.
Jim Irsay buys piano John Lennon used to compose 'Sgt. Pepper's Lonely Hearts Club Band' songs
Colts owner Jim Irsay states: "I'm elated to now be the steward of John's "Sgt. Pepper" upright piano. It's a responsibility I take seriously, with future generations in mind." Click here to read the report.

April 19, 2019
Ex-Beatles release four solo single records in the U.K. during the week of April 11 - 17, 1971
The following songs were released that week: John Lennon's "Power To The People;" Paul McCartney's "Another Day;" George Harrison's "My Sweet Lord" (which became the biggest selling single in the U.K. that year) and Ringo Starr's "It Don't Come Easy."

April 18, 2019
Co-Author of Controversial Beatles Book Wants Unheard Interview Tapes Released
60 to 80 hours of interview tapes that were utilized to write the 1983 book "The Love You Make" by Peter Brown and Steven Gaines might make its way into the public domain. The interviews comprised of Ringo Starr, George Harrison, Paul McCartney, Yoko Ono, Maureen Starkey, Pattie Boyd, Derek Taylor, Neil Aspinall and many more. Billboard musicologist contributor Steve Marinucci writes: "Gaines says he really like something to happen with the tapes. "I'm going to be 73," he says. "What's going to happen to these things?"

April 17, 2019
Busker who appeared in the Beatles "Hey Jude" video with flowers around his forehead is Bill Davis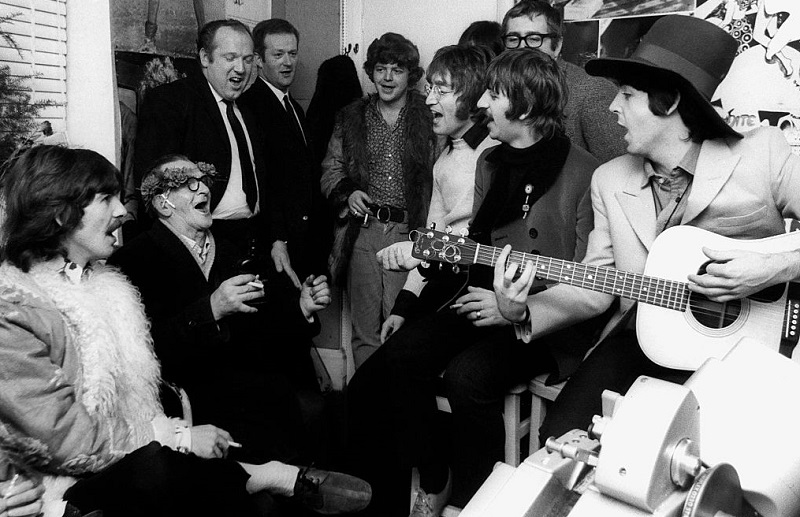 1968: The Beatles in the Old Compton Street, Soho with street busker Bill Davis. Left is George Harrison with Paul McCartney sitting next to Ringo Starr and John Lennon.

April 15, 2019
The Beatles' final live performance remembered with blue plaque in London
The Beatles' final live performance has been marked with a blue plaque, 50 years on.

David Rosen, 60, has spent 18 months working to get it installed. He said he wanted to commemorate the momentous occasion when "the worlds greatest band performed together for the very last time".

With "a little help from his friends", he wrote to Westminster council and, on April 5, he was joined by Bill Nighy and Dylan Jones to watch the plaque being installed on 3 Savile Row.

It was once the home of the band's company Apple Records.

On January 30, 1969 they took over the roof to perform an impromptu gig.

They got through 42 minutes — about 5 songs — before the police arrived and asked them to keep it down.

Article retrieved from Go London. Writers: Prudence Ivey, Jonathan Prynn















April 14, 2019
That's The Way God Planned It: Billy Preston and his mother Robbie Lee Williams sing live (see video below)
Born as William Everett Preston on September 2, 1946 in Houston Texas, one year later his parents divorced. His mother Robbie Lee Williams moved to south central Los Angeles where she started working as a funeral home secretary.
Both Billy and his mother attended 'Victory Baptist Church' where she would play the organ. The family had a piano and on his mothers lap by the age of three, Billy started to learn to play the keyboard. He also had further tutoring away from the home environment. Billy recalls: "I had a teacher once who taught me classical pieces, but I didn't study very long, because my ear was so good. He would play the exercise for me once and I could memorize it without practicing" he told Keyboard. Because of this unique talent Billy Preston was deemed to be a child prodigy. By the age of ten he started performing "onstage playing piano for many gospel vocalist like Andraé Crouch, James Cleveland and Mahalia Jackson," writes The Famous People website.
Billy Preston starred in two major motion pictures: "St. Louis Blues" in 1958 and "Sgt. Pepper's Lonely Hearts Club" in 1978 (the latter was a Robert Stigwood production which had Billy Preston as "Sgt. Pepper" who performed "Get Back".) In "St. Louis Blues" he was only ten years of age. His name is credited in the IMBb database with legendary greats Nat "King" Cole, Ella Fitzgerald, Eartha Kitt, Barney Bigard and gospel singer Mahalia Jackson and actress Ruby Dee. "St. Louis Blues" was more like a documentary movie based on the life of W.C. Hardy. Billy Preston played the part of Will Handy as a boy.
His musical success continued in spades: "He became an organist of the band of Little Richard in 1962 and the following year he contributed as pianist on 'Night Beat', an album by Sam Cooke. That year saw the release of his first album, '16 Yr Old Soul'", states The Famous People. He recalled that specific period with fondness: "When I did a tour in 1962 with Little Richard ─ we kicked off in England doing shows with Sam Cooke ─ that was the first time I'd played rock 'n' roll. Up to then, I'd been playing only gospel music, and Richard thought it was to be a gospel tour. But everyone wanted the old rock 'n' roll bit and so we played it."
And as fate would have it, while touring with Little Richard in 1962 he first met the Beatles at a club in Hamburg. Both Little Richard and the Beatles appeared on some bills together. The Beatles were still an unknown act at the time. "Harrison, the youngest of the Beatles and only 18 at the time, bonded with the 15-year-old Preston, and they remained life-long friends," wrote the Rock & Roll Hall of Fame.
In 1967 "he joined Ray Charles's band, gaining exposure that heightened demand for Preston as a studio musician," writes Biography. During touring concerts Ray Charles would introduce Billy Preston as being "The young man that anytime I leave this business I want him to take over what I started." He utilized Billy Preston's skills on singles like "Let's Go Get Stoned," "In the Heat of the Night," and on the LP "Cryin Time." When Billy Preston was asked who his greatest influence was he replied: "Probably Ray Charles. I was really a fanatic for him. His style was more gospel—I could related to it, since I was in church all the time," he told to Bob Doerschuk in an interview for Keyboard.
With the Beatles White album and circa 1968 now behind them, the band was in free fall from boredom, despair, anger and being fed-up with each other. Ringo Starr was the first to walk out but came back in time for the recording of "Yer Blues." Next it was George Harrison's turn: on January 10, 1969, George Harrison walked out. He was eventually coaxed back but George had a few conditions to make that happen: one involved the band moving out of the dreary Twickenham Film Studios and record at the Apple studios on 3 Savile Row. The other was to invite Billy Preston to help work on the sessions. And so on January 22, 1969, Billy Preston "was literally grabbed by George Harrison and cajoled into joining the Beatles basement sessions," writes Mark Lewisohn. This likely occurred when George Harrison went to see "a Ray Charles show in London, where Preston was playing as a sideman." And so he worked on the remainder of the "Get Back" project. Recalled George Harrison: "He got on the electric piano. And straight away there was 100 percent improvement in the vibe in the room. Having a fifth person was just enough to cut through the ice that we'd created among ourselves [...] Everybody was happier to have somebody else playing, and it made what we were doing more enjoyable," writes Dave Lifton for UCR.
When the Beatles released "Get Back" as a single, Billy Preston received special mention on the label as contributing musician to the hit song. He later performed on two other Beatle tracks: "Something" and "I Want You (She's So Heavy.)" George Harrison would produce Billy Preston's first Apple album "That's The Way God Planned It" released in 1969. "The title track of the album when released as a single became a hit in Britian," writes The Famous People.
Billy Preston was once asked: "Do you play rock mainly for commercial reasons?" (as opposed to gospel music which was for free.)
His answer was: "Yeah. But I also enjoy playing rock. I don't think it makes me a sinner. Some people don't like you to mix it up, but it doesn't bother me, because I find God in all music."
Billy Preston appearing on the Nat "King" Cole show, November 5, 1957

April 10, 2019
Badfinger remembered: The hottest selling Apple artist after the Beatles
Excerpts from Russell Hall's report from Classic Bands:
Sessions for Straight Up got underway in January 1971 at Abbey Road Studios, with Beatles engineer Geoff Emerick assisting Ham and Evans with production. Under pressure to work quickly—a two-month spring tour in America loomed—the group completed 12 tracks by March. Powers-that-be at Apple rejected the recordings as "too crude," however, and George Harrison was brought in to oversee a new round of sessions beginning in late May.
Harrison, an avid Badfinger fan, had already worked extensively with the group, enlisting all four members a year earlier as part of his ensemble on the 1970 opus, All Things Must Pass. "[Of all the Beatles], he was definitely closest to the band," Molland later told Vintage Rock. Harrison's overarching plan for Straight Up was to come up with something "more sophisticated."
"George wanted to smooth things out," Molland recalled. "He wanted to make more of an Abbey Road-style album. He took our original version of Straight Up, went through the songs and lyrics, and arranged them very much as he did his own music. And then he had us play those arrangements. It turned out great, although to this day I think some of the original versions are closer to what the band was about."
All told, Badfinger completed five songs with Harrison—"I'd Die Babe," "Sweet Tuesday Morning," "Suitcase," "Name of the Game" and "Day After Day." Other personnel involved in the Harrison sessions included Leon Russell, whose piano work figures prominently in "Day After Day," and Klaus Voormann, who contributed electric piano to "Suitcase." Russell added guitar parts to the latter song as well.

April 9, 2019
Those Were The Days: Apple protégés Jackie Lomax and Mary Hopkin sung on the Beatles "Hey Jude"
Piecing it all together from 1968 and 1969, two of Apple's brightest recording stars provided background harmonies on various Beatle songs that were released. Both Jackie Lomax and Mary Hopkin sung on "Hey Jude." "Lomax, who knew the Beatles from their days at Liverpool's Cavern Club, sang backup on "Hey Jude" [the "na-na-na" part of the song Lomax once said in an audio interview that I heard] and "Dear Prudence," writes Psychedelic Sight. For Hopkin "she contributed backing vocals to "Hey Jude" and "Let It Be," writes Peter Robinson for the Express.
Both Lomax and Hopkin would launch their first singles on the Apple label. "Sour Milk Sea", a George Harrison composition that was first intended for The Beatles "White Album", featured Eric Clapton, George Harrison, Ringo Starr, Paul McCartney and Lomax's recording of the song. The song would be eclipsed by Hopkin's brilliant version of "Those Were The Days." That song along with the Beatles "Hey Jude" would the first two international hits on the Apple label.
An interesting side story to "Those Were The Days" was that: "McCartney produced her debut single...which had to compete with Sandie Shaw's version of the same song," wrote Peter Robinson. Hopkin in that same report recalled: "Apparently there'd been a copy lying around Apple, where people wandered in and out all day and someone took a copy to Sandie and told her they wanted it to be out on the same day as mine. I said 'That's the end of my career!' But it backfired on Sandie because people thought it was a horrible thing to do."
Peter Robinson noted that: "Shaw's version failed to chart and Mary got a global No1." Hopkin stated that "Many years later, for a Top Of The Pops anniversary show, I met Sandie. She gave me a big hug and said: 'All's fair in love and war.'"
─ Researched by John Whelan, Ottawa Beatles Site

April 5, 2019
George Harrison Sent Nixon an Angry Telegram After 1973 Immigration Troubles
New documents released under the "Freedom of Information Act" talks about how President Richard Nixon denied an extension on George Harrison's American VISA in 1973. George was irate that when he left by the end of June and after arriving in England, he sent a nasty telegram to Richard Nixon.
To read the full report by musicologist Steve Marinucci for Billboard, click here.

April 3, 2019
"Live In New York City" -The last concert of John Lennon and Yoko Ono together on stage
On August 30, 1972 at the Madison Square Gardens in New York City, John Lennon and Yoko Ono did a concert together "to help improve the living conditions of the mentally handicapped children," said Yoko Ono. "Starting with the Toronto Peace Festival in 1969, John and I did a series of rock concerts as our statement of Peace and Love, and to spotlight various social issues effectively. All proceeds were given to the needy," wrote Yoko Ono in the sleeve notes from "John Lennon - Live In New York City." She added that: "This concert was our effort in Grassroots Politics. It embodied what John and I strongly believed in - "Rock for Peace and Enlightenment." The band members were called the "Plastic Ono Elephants Memory Band" (that would be John & Yoko with musicians from Elephants Memory Band.)
In 1986 Capitol Records released the concert on vinyl. It has remained as one of the most cherished John Lennon solo albums in my record collection. So, the other day I decided to remaster the concert from the vinyl release. The results are amazing: the listener will have more "intimate experience" with John Lennon as the sound quality is more fuller and rich in its presentation. As with any live recording (and this one was supervised by Phil Spector) certain instruments drop a bit in audio quality but in the remastering process I was able to pull up the guitars, keyboards, drums, bass and saxophone. John Lennon's own vocal prowess comes through much clearer on the majority of tracks.
As an aging 60's "babyboomer", it is with great fondness to pay tribute to one of the greatest rock and roll icons of all time who shaped music, culture, art and the feminist movement. That man can no other be than the late John Lennon.
I hope you will enjoy his concert from 1972.
- John Whelan, Ottawa Beatles Site

April 1, 2019
This Week in Billboard Chart History: In 1964, The Beatles Held the Entire Top Five on the Hot 100
(Article retrieved from Billboard. Writer: Gary Trust)
"April 4, 1964
55 years ago: The Fab Four's fab five: songs by The Beatles infused the Billboard Hot 100's entire top five, the only week that an act has monopolized the chart's top five positions. "Can't Buy Me Love" zoomed 27-1, followed by "Twist and Shout" (3-2), "She Loves You" (1-3), "I Want to Hold Your Hand" (2-4) and "Please Please Me" (4-5). The headline on page 1 of Billboard that week: "Chart Crawls With Beatles."
The closest anyone has come to matching the feat? Ariana Grande became the only act other than The Beatles to claim the top three in a week, when "7 Rings," "Break Up With Your Girlfriend, I'm Bored" and "Thank U, Next" ranked at Nos. 1, 2 and 3, respectively, on the Hot 100 dated Feb. 23."

March 28, 2019
Joe Flannery, the 'Secret Beatle,' Dies
"Joe Flannery, who served as the booking manager for the Beatles from 1962-3, has died in his home in the Liverpool suburb of Aigburth. The man known as the "Secret Beatle" was 87," writes Dave Lifton for UCR. Full report, click here.

March 26, 2019
Photo Journalism: "Ringo Starr and His All-Starr Band at Harrah's Resort SoCal"
A collection of splendid photographs taken recently at a Ringo Starr concert by Alex Matthews for NBC in San Diego. Click here to see concert photos.

March 25, 2019
John Lennon and Yoko Ono's 'Bed-In' remembered at 50
Toby Sterling from Reuters news on John and Yoko's Amsterdam Bed-In for peace. Click here for the report.
The Beatles & Muhammad Ali: The Story Behind the Iconic Photos of Their 1964 Meeting

March 24, 2019
Happy 70th birthday to the 7-inch vinyl
Alan Cross for Global News in Canada writes a very interesting historical accounting about 7-inch vinyl and why it stood the test of time. Click here for the report.

March 22, 2019
Legendary folk singer Shawn Phillips gave George Harrison his first two sitar lessons
Being a fan of Shawn Phillips music, I came across an interesting video where he is playing and discussing his music career. A couple of facts were revealed from Shawn: He played the sitar and bowed guitar on Donovan's song "Sunshine Superman." It became "the quintessential bright summer sing along" of 1966.
In the same video, Shawn talks about how the sitar is played and the fact that he gave George Harrison his first two sitar lessons. The reveal of this conversation starts at the 6:50 mark of the video. Just click on the video and it will start to play from that point.

March 16, 2019
How John Lennon's Rolls-Royce Phantom V became a controversial custom classic
A Rolls-Royce fit for a Beatle, if not for the Sixties establishment
An entertaining article by Chris Rowlands with photographs of the car for GQ magazine.

March 15, 2019
Encouraging to see a whole new generation of youth embracing the Beatles Music

March 13, 2019
Rare Beatles demo worth £15,000 ($20,000) given to charity shop for free (retrieved from Vinyl Factory Limited)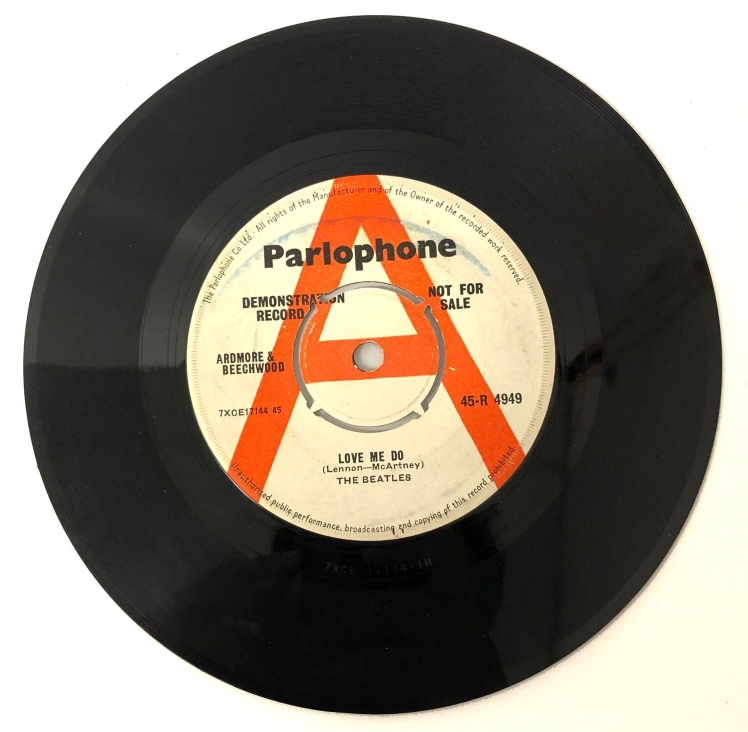 A super rare 7″ of The Beatles' 'Love Me Do' was unwittingly handed to a charity shop in West Sussex, who have now put the record up for auction on eBay.
One of around 25 records donated to the British Heart Foundation in the small town of Midhurst by the mystery individual, the record is thought to be one of just 250 copies that were pressed by Parlophone and sent to the BBC for radio play in 1962.
It carries the words 'Demonstration Record' and 'Not For Sale' on the centre label, where Paul McCartney's name is also famously misspelled, credited on the track as 'Lennon–McArtney'.
Having been unable to locate the owner, the British Heart Foundation have put the record up for sale on eBay, where, at time of writing, it is going for £5,500. A mint edition of the sought after 45 sold for close to £15,000 in 2017.

March 6, 2019
How Harry Nilsson Made the Beatles' Catalog Into His Own Russian Doll, Creating Rock's First Great Mashup
"Exquisitely arranged by virtue of Nilsson's melodic and vocal brilliance, his 1967 recording of "You Can't Do That" isn't the straight cover song that the title suggests, but rather squeezes somewhere between 15 and 20 already-classic Beatles songs into a single, melodic consumable whole, while somehow clocking in at less than two and half minutes. More than a medley and well beyond a megamix, this customized counterpoint homage must be considered the first great original mashup," writes Mitch Meyers for Variety. For the full article, click here.

March 2, 2019
New Beatles book "And In The End: The Last Days Of The Beatles" by Ken McNab
"Lennon's heroin habit. A hare-brain plan to play on an ocean liner. And a road trip from hell with Yoko. A new book about The Beatles' final days reveals the REAL reasons they split up."
"And In The End: The Last Days Of The Beatles" is published by Polygon on March 20, 2019. Click here for excerpts from the book.

The first public gig by John Lennon and Yoko Ono is being celebrated 50 years after it took place (retrieved from the BBC News)
Ono was booked as part of a jazz performance at Cambridge University's Lady Mitchell Hall on 2 March 1969 and Lennon came along as "her band".

A plaque which reads "Yoko Ono John Lennon Cambridge 1969" has been unveiled in the hall to mark the event.

It comes ahead of a six-month exhibition of Ono's work showing at a number of venues in the city.

The couple's appearance as part of an experimental jazz concert elicited just a few lines in the local and student press at the time, where it was reported that Lennon sat with his back to the small audience for much of the 26-minute set.
Ono on vocals began with a "fearsome siren note" and ended the performance with "a long series of screams".
"Lennon was squatting at her feet, back to the audience, holding, shaking, swinging electronic guitars right up against a large speaker," the Cambridge News reported at the time.
Speaking to the BBC in 1980 about the Cambridge concert, Lennon said: "The audience were very weird, because they were all these sort of intellectual artsy-fartsies from Cambridge."
However, he added: "They were totally solid."
Gabriella Daris, an art historian and curator of the forthcoming Ono exhibition which will be on show from June, said: "There's very little to commemorate this other than a press report, word of mouth and the actual recording."
The commemorative plaque was unveiled on the 50th anniversary of the Ono/Lennon gig as their set from the time - called Cambridge 1969 - was played at full blast in the hall's foyer.
It was given as a gift to Cambridge University by Ms Daris.
"The Cambridge concert was the first time ever that Ono and Lennon performed in public in the world," she said.
The exhibition, called "Yoko Ono: Looking For….", will feature more than 90 early, recent and new works by Ono and will run at various venues across the city until the end of the year.

March 1, 2019
The Beatles, "Yer Blues" from the White Album (1968): Deep Beatles
Pop reporter Kit O'Toole carefully examines how John Lennon recorded one of the most introspective songs from the Beatles canon: "Yer Blues" from The White Album. Click here for her excellent write-up.
Decca to re-open lost recording studio in London for 90th Anniversary (the following article is from South Wales Argus)
Record label Decca will celebrate its 90th anniversary by re-opening its lost London recording studio and releasing a series of rare David Bowie videos.
The label, which has been home to musicians including Dame Vera Lynn, Bing Crosby, The Rolling Stones and Bowie, was founded in 1929.
It will mark its landmark birthday by opening its old West Hampstead studio, the site where The Beatles unsuccessfully auditioned for the label, in July for one-off performances and exhibitions.
The space is now a rehearsal location for the English National Opera.
Clips of Bowie will also be restored to mark the anniversary while the first Friday of every month for the rest of the year will see the label reissue physical and digital releases that are seen to embrace its spirit.
It has already been announced that Ron Howard will direct a feature length documentary about Decca star Luciano Pavarotti and there will also be a lavishly illustrated book detailing the label's history, entitled The Supreme Record Company: The Story Of Decca Records 1929-2019.
The anniversary will also be marked with two programmes on BBC Radio 2 that chart 20 of the label's most famous recordings and a one-day event at London's V&A museum on May 5.
Rebecca Allen, president of the label, said: "Decca Records has been the soundtrack to many historical and cultural moments, a truly unique brand with a truly unique identity.
"Even now, as we celebrate our 90th anniversary, we continue to push the boundaries; to seek out artists who are distinctive, who stand out from the crowd, artists that will continue to define our label for the next nine decades."


February 26, 2019
Ringo Starr and Santana will play Woodstock Festival
"A Season of Song and Celebration will take place Aug. 15-18 at Bethel Woods Center for the Arts, which is located at the site of the original festival....Bethel Woods has announced that its event will be headline by Ringo Starr and Santana. Other acts scheduled to perform so far include the Doobie Brothers and Edgar Winter Band," writes Kate Streit for simplemost.



February 24, 2019
Beat Brother Roy Young plays his Beatles tribute in a beautiful pop song

Although Roy Young is no longer with us, Roy recorded some original material for his album called "Now and Then." The album is like a diamond in the rough that also showcased some old rock and roll standards that featured his remarkable boogie-woogie piano playing. With a copy of "Now and Then" given to Ottawa Beatles Site proprietor Tony Copple, it became part of the centerpiece for an exclusive interview we did with Roy. During that interview it becomes apparent his true affection for the Beatles. He paid a special tribute to John Lennon in a ballad called "Beautiful Man" and he put his Beatle memories together in a song called "Now and Then."

We hope you will enjoy his doo-wop approach to "Now and Then."







February 21, 2019
Beatles 'White Album' Certified 24x Platinum

"More than 50 years after its 1968 release, the Recording Industry Association of America (RIAA) has announced that The BEATLES has now been certified 24x Platinum, earning the spot as the fourth top-certified album of all time....The White Album now trails only Eagles - Their Greatest Hits 1971-1975 (38 million), Michael Jackson's Thriller (33 million) and Eagles Hotel California (26 million). It's just ahead of other classic rock albums: Billy Joel's Greatest Hits Volume I and Volume II (23 million), Led Zeppelin IV (23 million), Pink Floyd's The Wall (23 million) and AC/DC's Back in Black (22 million)." - Source: Best Classic Bands





February 11, 2019
Meet Brian Epstein, the Man Who Discovered The Beatles

"Brian Epstein took The Beatles from underground Liverpool clubs to being the biggest musical act in the world," writes Colin Bertram for A&E Television Networks "Biography."





February 8, 2019
Great video interview with Ringo Starr

Click here for "The First Time: Ringo Starr" by RollingStone reporter Angie Martoccio.





February 7, 2019
How Peter Jackson's new version of 'Let It Be' will shatter your view of The Beatles

An article from New Music Express that hints of the unseen material from the Let It Be movie sessions that might be used for the new documentary movie to be completed in about a years time. Click on this active link to read the report.




February 6, 2019
Ouch!!! That's gotta hurt Paul!

Paul McCartney bumps his Hofner bass into the ceiling - backstage 2009







January 28, 2019
What Makes Ringo a Great Drummer - Tribute by Sina







January 25, 2019
Paul McCartney to rock in Vancouver this coming summer!

What will be the only Canadian concert this year by Sir Paul McCartney, the legendary rocker will perform at BC Place in Vancouver as part of his Freshen Up tour. Here are the quick details from the media announcement:



When: July 6, 2019

Time: 8 pm

Where: BC Place






January 13, 2019
Flashback to John and Yoko on Tuesday, December 23, 1969

A photo discovery from the internet reveals John Lennon and Yoko Ono chatting it up with John Munro, Minister of Health and Welfare and who introduced the study on the "Le Dain Commission of Inquiry Into the Non-Medical Use of Drugs."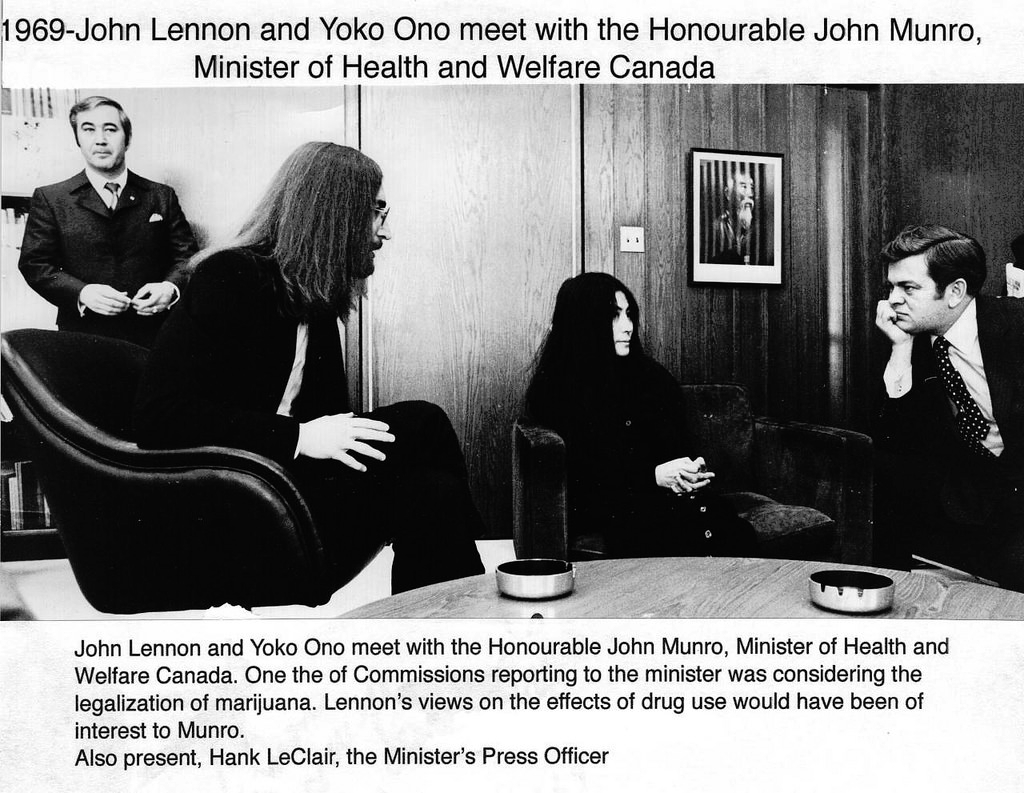 January 11, 2019
Inside John Lennon's 'Imagine' with Klaus Voorman, Jim Keltner and Joey Molland

A very interesting reveal here from the key musicians who recorded on John Lennon's '"Imagine" album. The article is written by pop reporter Ken Sharp for Rock Classic. Click here for the interview.





January 10, 2019
Paul McCartney's "Bruce McMouse Show" Film Heading To Theaters

"Never-before-seen project blends Wings concert footage with story of animated mouse family" writes Jon Blistein for RollingStone.com. You can read the full article by clicking on this link.







November 28, 2018
50 years ago Cornwall brought the Beatles White Album to Canada

A report by Todd Hambleton of the Cornwall Standard Freeholder explains how 200,000 copies of the White Album were distributed across Canada in just six months. Hambleton report is based on expert testimony from Piers Hemmingsen at the Care Centre in Cornwall. Click on this link to read the article.

See also: "Yesterday...Cornwall learned more about the Beatles" by Shawna O'Neill of the Seaway News.





November 27, 2018
Beatle expert Piers Hemmingsen to discuss on how the White Album was distributed in Canada through RCA and Compo Records

Venue Date: November 27, 2018
Location: Cornwall, Ontario
Venue: Care Centre, 510 Second St. East
Time: 7:00 - 8:30 p.m.

For further information: "Beatles expert visiting Cornwall, speaking at Care Centre" by Todd Hambleton for the Standard-Freeholder.





November 24, 2018
John Lennon's "Revolution 9" proves to be the most experimental song from the entire Beatles canon!

From Billboard: "In Defence of 'Revolution 9' at 50: Why the Beatles' Most Daring Track Is Still Underrated"





November 22, 2018
Dissecting John Lennon's "Yer Blues"

A fascinating report on "Yer Blues" that would become the template for "John Lennon/Plastic Ono Band" that was released in 1970. The write-up is done by Colin Fleming of the Daily Beast: "The Beatles's 'Yer Blues': How John Lennon's Trolling of Eric Clapton Birthed a Rock-and-Roll Classic."





November 18, 2018
OBS Quick News Picks

From Forbes: "Untold Beatle Stories Emerge as White Album climbs charts" by Mark Beech

From Ultimate Classic Rock: "Ringo Starr Glad To Be Heard Better On Beatles's White Album Re-issue" by Martin Kielty

From Best Classic Bands: "The Beatles' 'White Album' 50th Reissue is #1-Seller" - "That didn't take long. One day after the November 9 release of the eagerly awaited 50th Anniversary expanded editions of The BEATLES (White Album), via Apple Corps Ltd./Capitol/UMe, the 7-disc Super Deluxe edition vaulted to the #1 spot on Amazon in the U.S.

In addition, the modestly priced 3-CD edition was at #1 in the U.K. and #3 in the U.S. A 4-LP edition was at #11 in the U.S."

From Best Classic Bands: "Ringo Starr Announces 2019 Tour, New Book" (Ringo's tour dates are included in the article)



● Running Time: 2:16
● Record Date: March 1990
● Record Location: Rumbo Recorders, Canoga Park, California, USA
● Written By: John Lennon & Paul McCartney
● Produced By: Jeff Lynne
● Engineered By: Unknown
● Performed By: Ringo Starr (vocals, drums), Jeff Lynne (electric guitar, backing vocals), Tom Petty (bass, backing vocals),
Jim Keltner (woodblock) and Joe Walsh (lead guitar), other artists and instruments unknown





November 12, 2018
The Beatles White Album Media Reviews courtesy of "The Beatles" on Facebook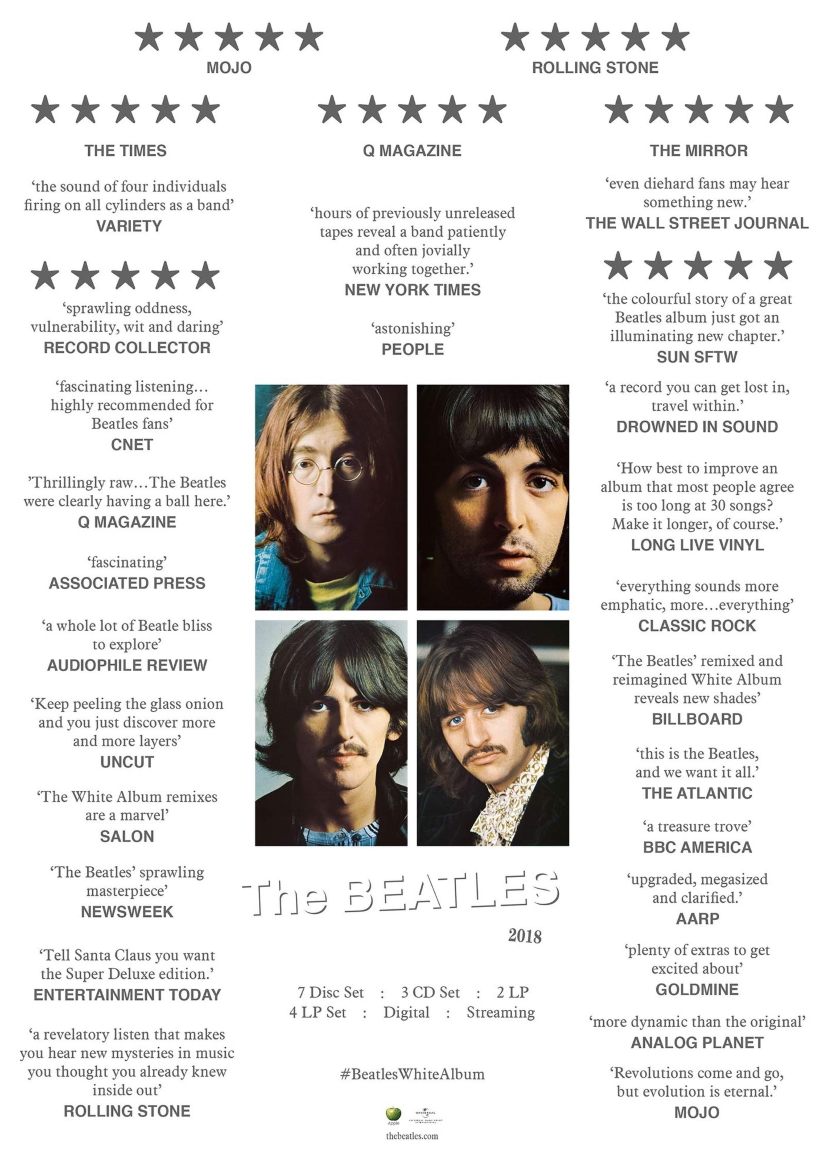 November 9, 2018
The Beatles White Album Super Deluxe Has It All In Spades

Beatle fans will have the opportunity to hear the best treasure trove of the Beatles White Album and Esher Demos which is available in music stores. Please read Ultimate Classic Rock review of the White Album Super Deluxe release.





October 31, 2018
OBS Quick News Picks

From Billboard: "Paul McCartney Advocates for 'Sensible Gun Control Laws' Ahead of Midterm Elections"

From Japan Today: "Paul McCartney arrives in Japan for four concerts"

From CGTN: "Don't let me down: Japan superfans lose fight for Beatles footage"


From Public Radio International (with audio): "Klaus Voormann's long history with The Beatles"






October 29, 2018
Ringo Starr's limited deluxe edition photo book "Another Day In The Life" sells out quickly!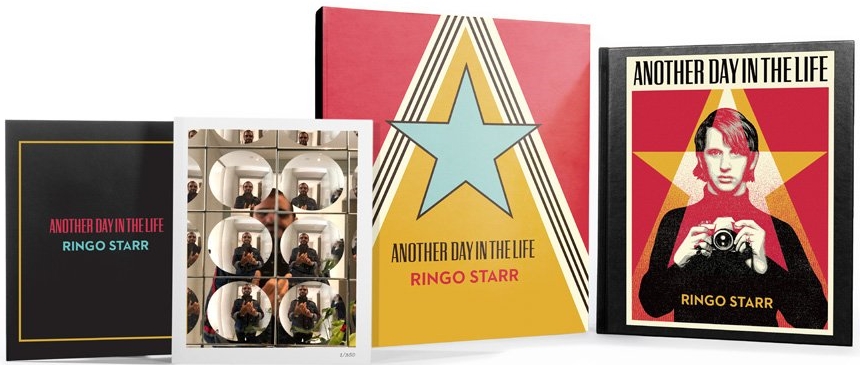 "Another Day In The Life" is Ringo Starr's third book and is published by Genesis Publications. The first 350 copies of the Deluxe edtion (see above photo) is signed by Ringo. The Collector edition is also signed by Ringo and is specially numbered from 351 to 2,000.

"I love taking photos of random things, and seeing how they all fit together," said Ringo. "Whether it is at home or on the road, certain things catch my eye ─ and when I see something that interests me, that's the emotion of it, and I want to capture it. I am a photographer as well as a musician. I love working with Genesis and had so much fun putting together this collection of images: photos taken by me and a few picked up along the way. I hope you enjoy it too."

For more information, click here.

The Studio Version of "Revolution 9" done classical by "Alarm Will Sound"

Have a listen Beatle fans...could you ever imagine a classical cover version of Revolution 9? Well here it is!









October 26, 2018
New Pinball Game May Be Most Expensive Ever



News article from Hypebot.com

An limited edition of an official Beatles pinball machine is for sale on the Beatles Store and it may be the most expensive pinball machines of all time.

Pinball manufacturer Stern was at the Pinball Expo 2018 in Chicago this past weekend, but didn't unveil a new machine, according to geek-tastic gamer website ArcadeHeroes.com. What the company did do, however, was quietly drop the Beatles pinball machine online a few days later.

"As you can see from the video below, this game has been designed with a classic look and feel to it, following a similar pattern used in games before they had ramps, toys and other fancy things," ArcadeHeroes writes. "Thanks to Sean M. for pointing out that this is a re-skin & update of Stern's 1980 release Seawitch. It features four flippers, a playfield spinning disc with a magnet, eleven drop targets, the full color LCD screen and a classic bell sound for a vertical spinner.

Stern is apparently only making 1964 units, using musical terminology like the Gold, Platinum and Diamonds Editions.

Pricing is unknown but "I received a couple of messages from different people 'in the know' suggesting that the Diamond Edition could be the most expensive pinball machine of all time, with the Gold Edition falling into a pricing category similar to Batman 66. CelebrityAccess super-sleuths did some in-depth research and a premium Stern Batman 66 pinball machine (with shaker motor) goes on eBay for about $7,000.

The Beatles White Album overview with Giles Martin

Here is a fantastic article about the upcoming release of The Beatles White album by Simon Cosyns for the Sun. It has excellent commentary and insight from Giles Martin Click here for the report.





October 21, 2018
The MonaLisa Twins release their cover version of the Beatles classic "I'll Following the Sun"







October 17, 2018
Cannabis is now legal in Canada - Could the legalization of Cannabis in Canada (2nd to Uruguay) have been influenced by the late John Lennon?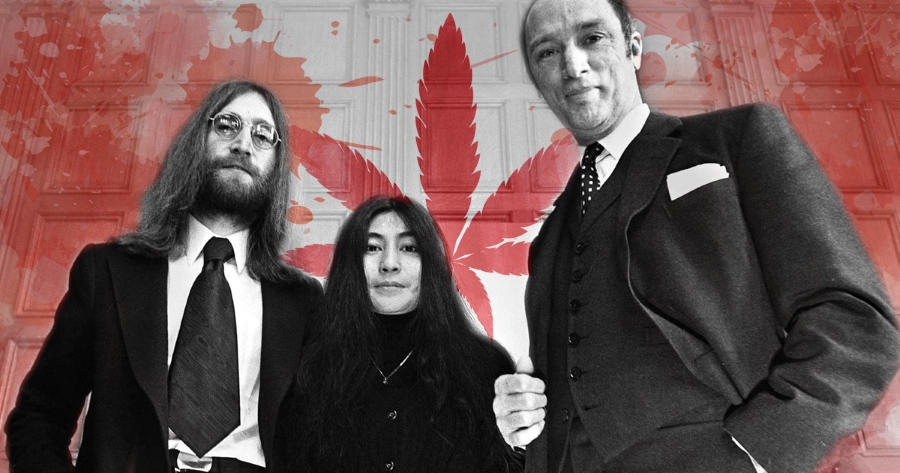 John Lennon provided his experience and insight to the "Le Dain Commission of Inquiry Into the Non-Medical Use of Drugs," December 22, 1969, on a Rapido train in Montréal. John Lennon's testimony was important to the Commission and he is listed as a consultant in the Final Report of that study. The late Ian Campbell, one of the commissioners from that study once stated to the Ottawa Beatles Site: "We met in his private railway car in the CNR Station in Montréal. We held a great many private hearings. In some cases, such as the meeting with Mr. Lennon, a tape recording was made of the conversation and this was later transcribed. But many of the meetings were not recorded. For instance, I met with The Grateful Dead, The Led Zeppelin, Grace Slick and no tape was made. We met with all manner of people who wanted to tell about their experiences or offer their opinions. Often during the four year life of the Commission I would have two or three evenings a week filled with meetings with individuals or small groups. We seemed to gain the trust of a very large number of people. For instance, some drug dealers spoke to us very frankly about their operations. It was all a fascinating exercise."

In spite of good intentions, a government study of this magnitude can sometimes end up on a shelf and never goes anywhere with its recommended reforms. Luckily the Ottawa Citizen and the Toronto Star put the report back into the spotlight. As Commissioner Marie-Andrée Bertrand noted: "Well, it's not so very much, is it? I would have thought that, after all this time, at least for marijuana, the measures would have been much more liberal," i.e. the decriminalization of the drug. Her comments comes from a report that Norman Provencher wrote for the Ottawa Citizen, May 17, 2003 entitled: "Lennon On Drugs Revealed: The Beatle's secret testimony on marijuana in Canada." Then the Toronto Star did their report on December 1, 2013 by Kate Allen entitled "Why Canada banned pot (science had nothing to do with it.)" Canada had some of the toughest laws on the books regarding cannabis. She notes: "Suddenly, there were lots more pot smokers to prosecute and a whole lot of law to do it with: penalties had crept up, until in 1961 trafficking marijuana became punishable with life imprisonment....These harsh penalties had no discernible deterrent effect. In 1967, there were 431 convictions for cannabis possession across Canada. In 1971, there were 8,389."

John Lennon was not an advocate of hard drugs even though he had used LSD. He was in fact in favour of legalizing soft drugs like marijuana. Kate Allen quoted from John Lennon's testimony: "'We are one example of people who have experienced marijuana,' Lennon said, 'Are we sitting in the mud? Are we sitting at home just smoking pot in a den of iniquity?' He told them he quit LSD because 'it did burn my head off,' but that marijuana was a catalyst for peace."

Today, Canadians now have that choice whether to use or pass on the idea with regards to marijuana. It means no fear of legal prosecution for smoking or growing the soft drug. This step forward now frees up police resources where they can go after the more harder drugs like Cocaine, LSD, Peyote, Meth, etc.






October 12, 2018
How the Beatles got their famous logo

"The path to the iconic Beatles logo was a long and winding road in which everything came together, with a little help from some friends" by Jesus Diaz for Fast Company.

University of California to teach a course called "The Reel Beatles"

Beginning in January, a new UCLA course will tell the story of the Beatles through the prism of film. To read the report by Adrian Bicho, UCLA, please click: "New course on Beatles comes together."





October 10, 2018
Everything you wanted to know about the Beatles through Billy J. Kramer, Beatles fan club president Freda Kelly, Peter Asher and Vince Calandra associate producer of the Ed Sullivan Show from 1964, hosted by Beatle historian Martin Lewis







October 9, 2018
"Imagine John Yoko" - a book review by Allan Kozinn

From the Washington Post, "Revisiting 'Imagine,' in John Lennon's own words and pictures"


Yoko Ono does her own cover version of "Imagine"







October 8, 2018
Special vinyl picture disc to be released for George Harrison's "Traveling Wilburys's 'Vol. 1'"

From Rolling Stone: Traveling Wilburys' 'Vol. 1' Prepped for Picture Disc Vinyle Reissue - Limited edition disc marks 30th anniversary of debut LP from supergroup featuring George Harrison, Bob Dylan, Tom Petty, Jeff Lynne, Roy Orbinson





October 5, 2018
In concert Paul McCartney pays tribute to Geoff Emerick

On this date, Paul McCartney performed at the Austin City Music Festival in Austin, Texas. During the concert he gave special acknowledgement about the passing of the Beatles recording engineer Geoff Emerick. The announcement was made just before he was about to play "Being For The Benefit of Mr. Kite." Said Paul: "So, the next song here is off of our album Sgt. Pepper. Yeah. I like to take the chance here to dedicate this to one of our fallen heroes, the great engineer - a buddy of mine: the great Geoff Emerick. God bless you Geoff."

The Austin City Music Festival was broadcasted live through Paul McCartney's official Youtube channel with thousands of viewers watching the event on-line.


Michael Seth Starr writes passionate historical book on Ringo Starr

Ringo: With a Little Help is the first in-depth biography of Beatles drummer Ringo Starr, who kept the beat for an entire generation and who remains a rock icon more than fifty years after The Beatles took the world by storm. This book traces the entire arc of Starr's childhood to his life as The World's Most Famous Drummer - and his triumphs, addictions, and emotional battles following the breakup of The Beatles as he came to terms with his legacy.

Thoroughly researched and thoughtfully written, featuring interviews with childhood friends, industry colleagues, and Beatles insiders, and including reflections from drumming greats Phil Collins, Kenny Aronoff, Max Weinberg, and John Densmore, here is the long-overdue story of Ringo Starr.

Publisher: Backbeat Books



October 3, 2018
It is with profound sadness to announce that Geoff Emerick has died from a heart attack

From the Guardian: "Beatles recording engineer Geoff Emerick dies at age 72 - Grammy-winning engineer worked on records such as Revolver, Sgt Pepper's Lonely Hearts Club Band, Abbey Road and various Paul McCartney solo albums"

From Rolling Stone: "How Geoff Emerick Helped the Beatles Reinvent Music"

Paul McCartney's official commentary on Geoff Emerick: "Paul pays tribute to Geoff Emerick"