May 17, 2022
How Ottawa Reported On The Beatles Split


The following article is from the Ottawa Citizen and it is from my personal scrap book on music. I have
cleaned up the image from glue bleeding through the newsprint the best I can. When I pasted it into my
scrap book, I did not include the
publication date. Suffice to say, it was probably published shortly after
April 10, 1970, the generally acknowledged date when Paul McCartney officially announced the break-up
of The Beatles to the media.
John Whelan,
Ottawa Beatles Site



On this day in 1967, The Beatles begin recording sessions for
"You Know My Name (Look Up The Number)"


Culled from Facebook





May 16, 2022
Is The Beatles '1' Their GREATEST Greatest Hits Album?

by Parlogram Auctions
In this video, we look at the evolution of The Beatles UK compilation albums from 'Oldies' in 1966 to '1' in
2000 and find out which one is the best.

George Harrison Said It Would Be Very Selfish if The Beatles Didn't Record Together Again After
They Split

by Hannah Wigandt for Showbiz Cheat Sheet
George Harrison had some surprising thoughts after The Beatles split in 1970. Out of the group, George was
the least suited for fame. By 1969, George was getting frustrated with John Lennon and Paul McCartney for
putting him on the back burner. He was sick of being a glorified session man and briefly quit during the
Let It
Be
Sessions.
So, when The Beatles split, George should've been the most relieved. However, he wasn't, not entirely.
George hoped for a day when The Beatles made music together again. He assumed that he and his
bandmates only needed some time apart to get recording solo out of their systems.
George said it was good that The Beatles split up because then they didn't have to compromise on
anything


The Beatles had deep-rooted problems when they broke up. It all collectively reached boiling point.
George was free. Suddenly, he could release his stockpile of songs he'd kept locked away, waiting. He could
be a solo artist if he wanted and didn't have to compromise on anything. So, for George, leaving The Beatles
wasn't all bad.
"Paul and John and myself have got just so many songs, I think this is a good way, you know, if we do our
own albums," George told WABC-FM New York's Howard Smith (per
Beatles Interviews
). "That way we don't
have to compromise. I mean, we lose whatever we get from each other — we sacrifice that in order to do a
total sort of thing.
"Because in a way, Paul wants to do his songs his way. He doesn't want to do his songs my way. And I don't
wanna do my songs their way, really."
Despite it being a tense time, George looked at the positives of The Beatles' split and hoped for the best. He
wanted out of the band before the rest. However, he assumed that all The Beatles needed was some time
apart to explore solo careers.
"I'm sure that after we've all completed an album or even two albums each, then that novelty will have worn
off," George said.
George hoped The Beatles recorded together again because it would've been selfish if they didn't


After The Beatles went their separate ways, it's unclear what George thought would've happened. Would
The Beatles reunite after the novelty wore off? George didn't know; he only knew that he was open to future
collaborations. Interestingly, he also said it would be selfish of The Beatles if they didn't record together.
"I'll certainly try my best to do something with them again," he said. "I mean, it's only a matter of accepting
that the situation is a compromise. In a way it's a compromise, and it's a sacrifice, you know, because we all
have to sacrifice a little in order to gain something really big.
"And there is a big gain by recording together — I think musically, and financially, and also spiritually. And for
the rest of the world, I think that Beatle music is such a big sort of scene — that I think it's the least we
could do is to sacrifice three months of the year at least, you know, just to do an album or two. I think it's
very selfish if the Beatles don't record together.
"You know, it's no more gloomy than it's been for the last ten years. It really isn't any worse. It's just that
now over the last year — what with John, and lately with Paul– everything that they've thought or said has
come out, you know, to the public. It's been printed.
"But the main thing is, like in anybody's life, they have slight problems. And it's just that our problems are
always blown up, shown to everybody. But it's not really… it's not a problem. It's only a problem if you think
about it."
George had high hopes after The Beatles disbanded. Unfortunately, it didn't go as he wanted.
Nine years later, he had no desire to join the band again
Somewhere along the way, something changed. George's sentiments on The Beatles' split altered, and his
hope that they'd record again once they churned out some solo albums went out the window.
In 1979, George told
Rolling Stone
that he would never become a Beatle again. "Not in this life or any other
life," he said. "I mean, a lot of the time it was fantastic, but when it really got into the mania it was a
question of either stop or end up dead. We almost got killed in a number of situations – planes catching on
fire, people trying to shoot the plane down and riots everywhere we went. It was aging me.
"But we had a great time. I think fondly of it all, especially as we've been through all the aftermath of Apple.
Everybody's sued each other to their hearts' content, and now we're all good friends."
Eventually, The Beatles reunited in the 1990s to record "Free As A Bird" and "Real Love," although John didn't
get to be there. George wrestled with his Beatle days long after they split. There were positives and
negatives in the aftermath. Being a Beatle didn't harm his solo career, but it also put him in a box where the
world could constantly look at him under a microscope.

May 15, 2022
The Beatles "You Know My Name (Look Up The Number) Slaggers inspired Tote Bag"
If you thought that Yellow Submarine merchandise was pretty nifty, well then take a look at this! It's called
the "You Know My Name (Look Up The Number) Slaggers inspired Tote Bag" which is available on
Etsy
.
Particulars: "These bags are printed front and back with the same design and have a sturdy handle -
perfect for carrying all of your bits and bobs! This bag is 15" x 15" and the maximum weight is 44lbs
(20kg)."
And since I am highlighting the Slaggers Tote Bag, let me also plug the Beatles cabaret song "You Know My
Name (Look Up The Number)."
It was the b-side to the "Let It Be" single.



Ms Nobody: The rehabilitation of Yoko Ono
Wife, muse, villain, visionary: Yoko Ono is finally getting her due.

by Ruth Jones for the Toronto Star
Once, in the early days of her relationship with John Lennon, someone told Yoko Ono how to be happy. She should stick to the background, and not talk too much. Maybe give up her work — the art career she had, by that point, spent almost a decade building. In the background she might have been a more perfect muse. "The artist absorbs an element from their muse that has nothing to do with words," Pattie Boyd, who was married to George Harrison when Ono met Lennon, told Taylor Swift in 2018, "just the purity of their essence." Boyd would know — ranker.com puts her first in its list of "The All Time Greatest Muses in the Music World." Ono only manages eleventh.
Ono tells the story of how she was supposed to be happy in a spoken intro to a live version of "Coffin Car," a song on her 1973 album "Feeling the Space." She describes the feeling of those first years with Lennon, when a whole society called her ugly (she'd always thought of herself as an attractive woman), hurled racist insults at her and told her that they wanted her to die. She developed a stutter. "She likes to ride a coffin car," Ono sings on the track. "People throwing kisses for the first time / Showering flowers, ringing bells / Telling each other, how nice she is." Under her voice, the piano bounces along. Maybe this is what they meant by background. Everyone loves you after you're dead.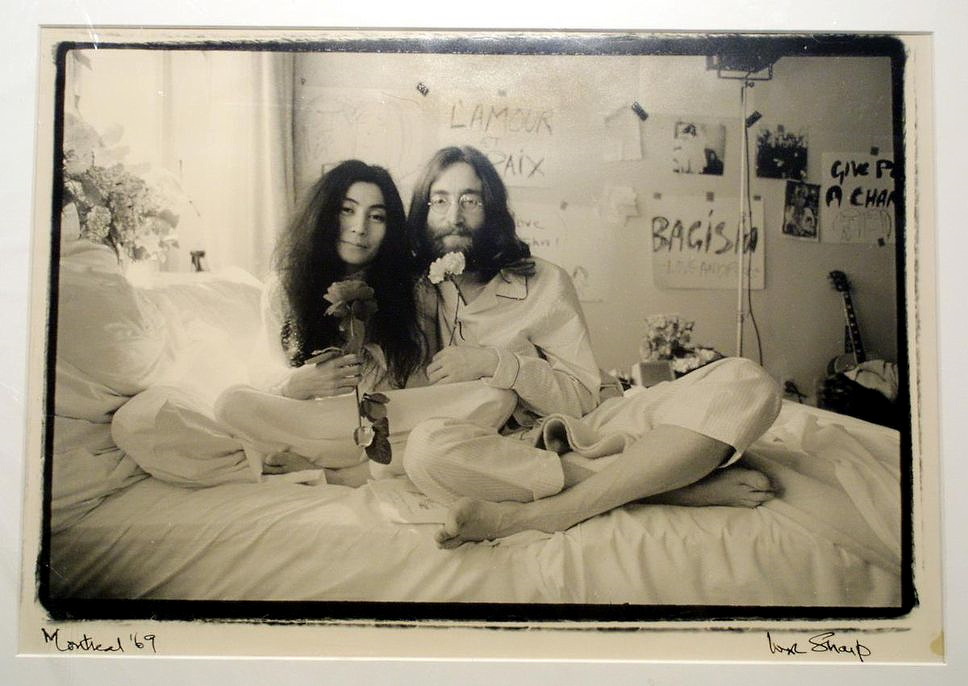 "Who is Yoko Ono?" the critic and journalist Donald Brackett asks. For a long time, the answer seemed clear: She was the girlfriend who broke up the Beatles, the celebrity-by-marriage who dabbled in art and music. Brackett's biography of the conceptual artist, songwriter and activist, "Yoko Ono: An Artful Life," tries to weave together a more comprehensive answer from narrative threads that form a dense knot of life. Is she a neglected society child, shuttled between Japan and San Francisco, seeing her father only by appointment? A rebellious art student teaching calligraphy to pay the rent and setting fire to her paintings in a downtown loft? An avant-garde outsider, a mother, a lover, earnest or ironic, one half of the most famous couple in the world? "Why is it such a perennial youthful rite of passage to misunderstand, to underestimate, even to hate her?" Lindsay Zoladz wanted to know in a 2015 essay for Vulture.
Brackett's book is part of a rehabilitation of Yoko Ono's public image that has been taking place in recent years. There is Zoladz's piece, which came out the same year Ono was the subject of an exhibition at New York's Museum of Modern Art of 125 works from her early career. There is the MoMA catalogue and many more like it, from smaller galleries (her first North American retrospective toured to the AGO in 2002). There are interviews and profiles from the same magazines that had at one time viciously mocked her and accused her, over and over, of ruining John Lennon and breaking up the Beatles (Yoko Ono did neither of these things). There is a book, "Reaching Out with No Hands: Reconsidering Yoko Ono" by the post-punk musical and performance artist Lisa Crystal Carver, and writings by Ono herself, including numerous reprints and translations of her 1964 book of instructions, "Grapefruit."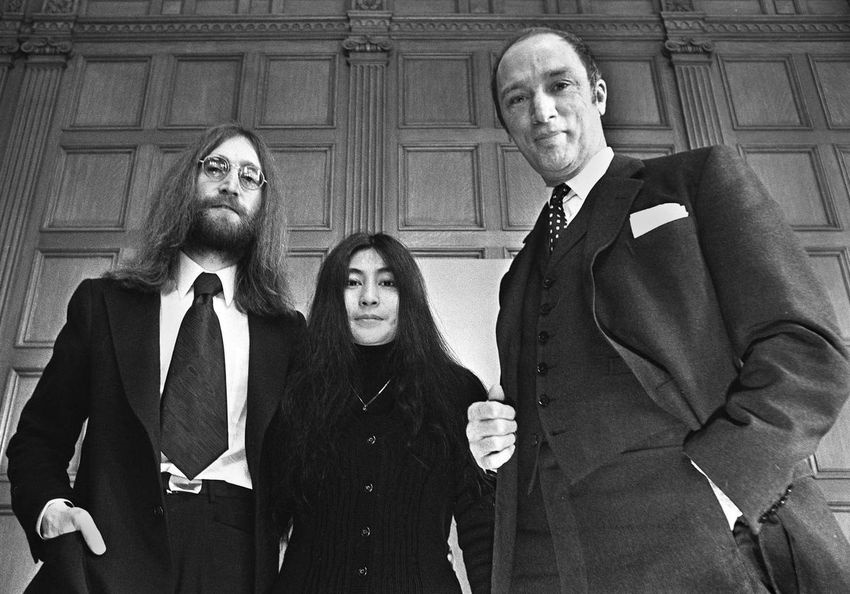 The American artist David Horvitz recently produced a T-shirt edition that proclaims, in finely lined caps, JOHN LENNON BROKE UP FLUXUS. Ono and Lennon show up regularly on fashion and bridal blog posts with headings such as "Great Outfits in Fashion History." A 2014 Huffington post piece about Ono having a well-documented good time listening to Daft Punk perform "Get Lucky" ran with the headline "Sorry Taylor, Yoko Ono's the Grammys Real Dancing Queen." Ono had already written the perfect song to go with it — 2013's "Bad Dancer." "Place your bet, watch your step," she tells us. "I'm a bad dancer with no regrets."
We live in a cultural moment that is interested in wives and muses, in the women not heard from, the people cropped out of the picture. We marvel at the enigma and ingenuity of Véra Nabokov and admire Lee Miller for her experiments with Man Ray and her own groundbreaking photography. Yet Ono challenges us. Even when we adore her we struggle to see her.
Yoko Ono is, Brackett argues in his prologue, as much a brand as a person — "an esthetic phenomenon — admired, vilified, and profoundly misunderstood in each role." She emerges and retreats behind a public persona not fully within her control. Is she a witch, as her album title proclaims? Her early life has elements of a fairy tale. Child Yoko was a princess in a gilded cage, surrounded by servants and starved for attention. She watched the city in which she was born bombed to near oblivion. She bartered for food on a country road, conjuring ice cream dinners from summer clouds. She is, Brackett says, "a global apostle of wonderment." When she met Lennon, lost and disillusioned in his life as a Beatle, she became not simply his lover or even his collaborator but the agent of his re-enchantment.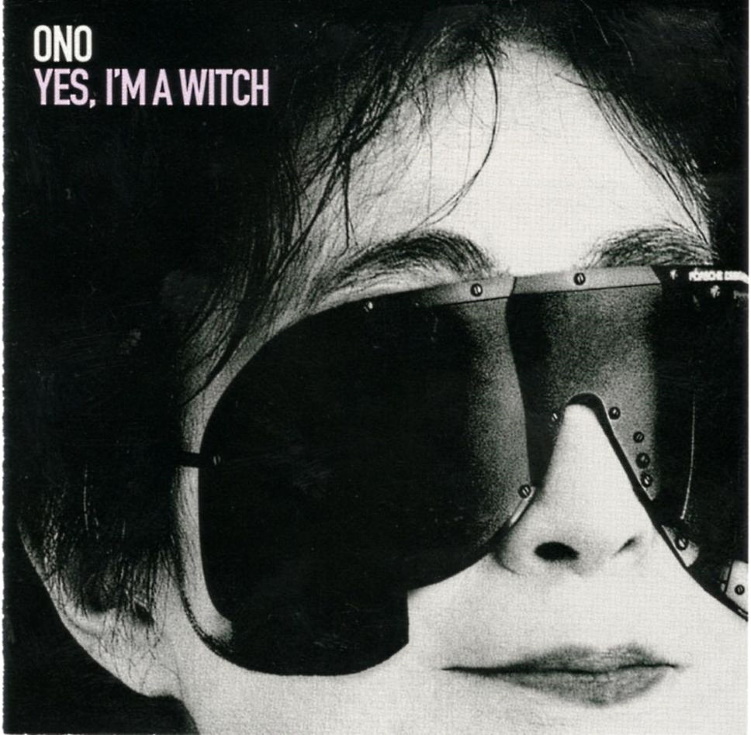 The central argument of Brackett's book is that Ono is not a malevolent force, or a muse with an art career on the side. Instead she is a profound source of influence: for Lennon as a songwriter and human being, for a generation of shrieking, wailing, punk singers, and for the Fluxus scene that grew around her early loft parties.
To see her influence, we need to understand what she's influencing, the raw material she finds. We need to witness the warring egos of the Beatles' last days, Lennon's destructive streak, and the alchemical potential of his need meeting hers. To those who still insist on seeing in Yoko the death of the Beatles and all that was good, Brackett offers a portrait of Ono as "mentor and inspiration," Lennon's "actual reason for living, or at least surviving."
The narrative oscillates between foreground and background, Yoko and everyone around her. The longest of its three sections is the one in the middle, which charts Ono's relationship with Lennon from their first encounter in a London gallery to his murder in 1980. But the consequence of this focus on Lennon, necessary as it may be to make Brackett's point, is that Ono's story recedes into the background as she becomes the reflection of her husband's world.
It's hard at times not to think of one of Ono's instructions from her 1964 book "Grapefruit": Don't watch Rock Hudson. Only watch Doris Day. When the two briefly separate in 1971, just before their move to New York, Brackett quotes a moment of ambivalence from Ono about the relationship that defined her life. "Suddenly my brain, which had always tried to make myself so small in this relationship, opened up."
Why is it so hard to see the full force of Ono's influence? It was there from the beginning, in her relationship with Lennon most of all. Even when she was making herself small, even when she was stuttering. "Imagine," Lennon's biggest solo hit, is all her. In the music video it says "This is not here" over the door to the couple's house. That's Ono. The all-white living room is Ono, too, and the cover art, and the quote on the back of the album ("Cloud Piece," from "Grapefruit"). "Imagine was inspired by Yoko's 'Grapefruit,'" Lennon later recounted. "But I was selfish and unaware enough to take her contribution without acknowledging it."
As her notoriety grows, Brackett gives us Ono as an artist exerting her influence, stretching the limits of her voice on the albums she records, with John and without him. "I was dying to scream," Ono tells us. "I wanted to throw blood." Brackett connects her vocal experiments and signature scream to the techniques she learned studying kabuki and opera as a high school student in Tokyo after the war. He argues — successfully, and with no shortage of examples — for her importance as a precursor to punk and as an enduring favourite of DJs, remixes of her songs hitting No. 1 on the dance charts in the 21st century. He reminds us that the New York Times said in 2016 that she sounded like the future and that Lennon told an interviewer, unequivocally and with an expletive to make it clear, "She's taught me everything I f--ing know."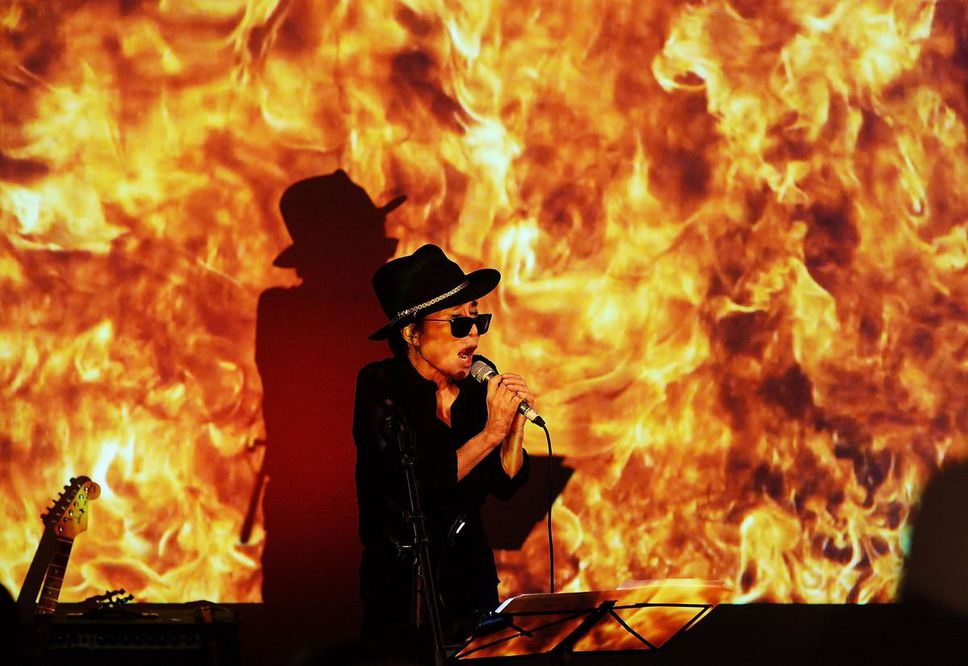 Did we come around to Yoko only after John died? Was his the coffin car that set her free? She hasn't escaped criticism as a widow, even from those who love her. "How could she sell John Lennon socks and ties with Kmart," Carver wants to know. How can she be both profoundly open-hearted (to the world at large) and plain mean to people in it (Lennon's ex, Cynthia, and his son Julian after John died?) She surely has her reasons, but she hasn't given them to us. She is, she told the Guardian in 2016, still careful about what she says. "Oh Yoko Ono," writes Carver, "you trouble me so."
"Is Ono's art any less subversive when we're living in a world that loves her?" Zoladz wants to know. Is the prospect of a dozen celebrities earnestly singing "Imagine" more cringy or less when it's a Yoko Ono song (she received an official writing credit in 2017)? On YouTube, the video for her performance of "Voice Piece for Soprano" at her MoMA show has 1.7 million views and 4.3K likes, but the comments are turned off. What might people have said that was so awful?
Ono, for her part, has always followed a different impulse. Visitors coming to the piece at MoMA encountered only the microphone and speakers that Ono uses in her video clip, and three simple instructions: "Scream 1. against the wind 2. against the wall 3. against the sky." Ono, in her version, screams like the virtuoso she is. You can try your version anywhere you'd like. Go ahead, take a breath. Scream into the wind, the wall, the sky. Yoko Ono would love to hear you.

May 14, 2022




The Beatles Discovering the Moog on Abbey Road

by The Music Aficionado
August 8, 1969 was a productive day for the Beatles. In the morning they posed for the front cover
photograph of their forthcoming album Abbey Road. That photograph became one of the most recognizable
album covers in music history (
read more about it here
). In the afternoon they convened at the recording
studio for one of the last touches on that album, the three glorious minutes that conclude the first side of
the LP and feature a musical instrument brand new to the famed studio. This is the story of how the Beatles
used the Moog synthesizer on Abbey Road.
George Harrison first set eyes on a Moog while he was in Los Angeles in November 1968 to produce the album
Is This What You Want? for the Apple label artist Jackie Lomax. He was at the famed Sound Recorders
studio, working on tracks with members of the legendary Wrecking Crew musicians including Hal Blaine, Larry
Knechtel and Joe Osborne. On the last day of recording a mammoth electronic instrument was brought in by
Bernie Krause, who acted as sales representative for R.A. Moog, Inc. This was the modular Moog 3.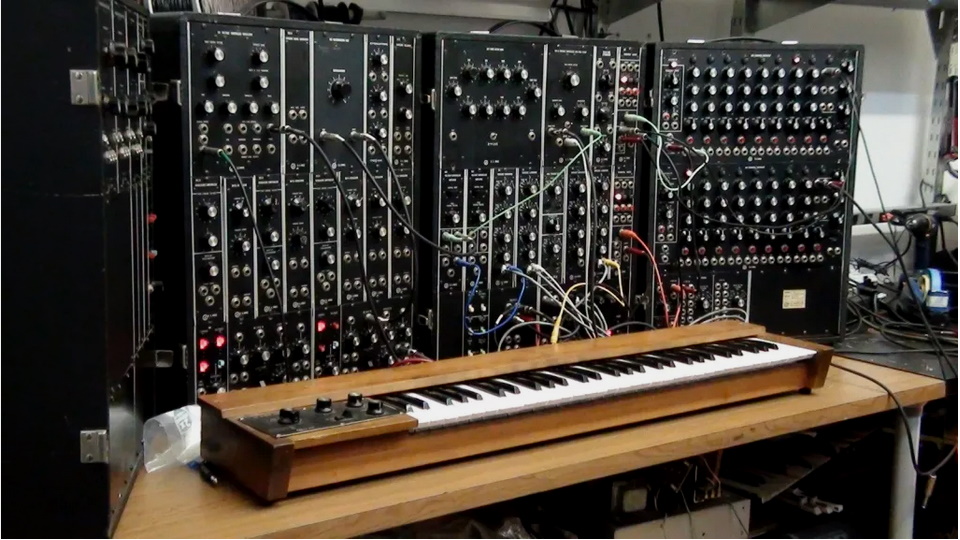 Moog Modular
Bernie Krause was one half of the partnership Beaver & Krause, who started selling and renting Moog
synthesizers in 1967. Their efforts yielded dismal results to boot, but saw a substantial boost when they
setup a demonstration booth at the Monterey Pop Festival. Showcasing a $15,000 worth of equipment (over
$100,000 today) to pop and rock royalty, they were able to sell a number of synths to musicians including
Roger McGuinn and Micky Dolenz.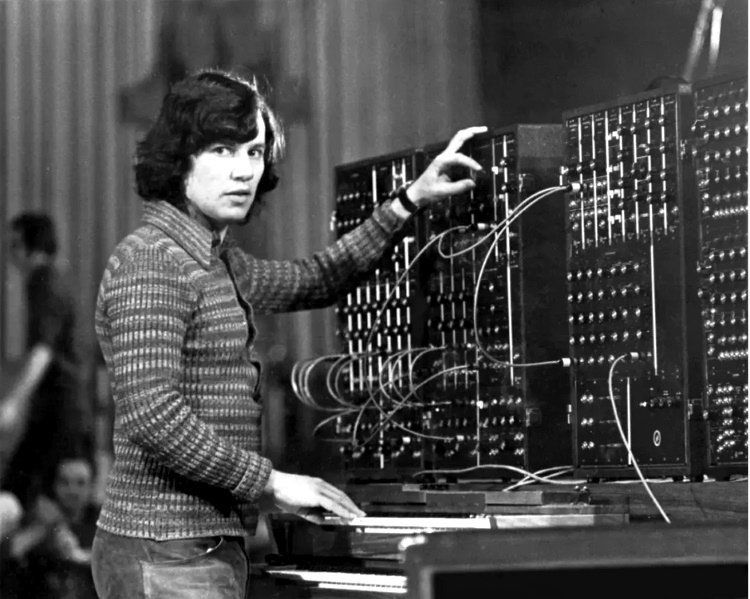 Bernie Krause, 1971
During the Jackie Lomax session Bernie Krause was overdubbing strange sounds while fussing with his electronic machinery. Harrison, ever on the lookout for new sounds, was mesmerized. He asked Krause to stay after the session and play the instrument for him. He also instructed the sound engineer to keep the tape rolling, Krause unaware of that detail. Pieces from that recording found their way into the track No Time or Space from Harrison's early 1969 album Electronic Sounds on the Zapple label, an offshoot of Apple geared towards Avant-garde and experimental music. If 25 minutes of what amounts to a synth sound effects demo is your thing, here it is:
A more interesting musical outcome of the meeting between Harrison and Krause was an actual purchase of a
Moog by Harrison. The model he ordered included two five-octave keyboards with portamento control, a
ribbon controller, ten oscillators, a white noise generator, three ADSR envelope generators, voltage-
controlled filters and amplifiers, a spring reverberation unit and a four-channel mixer. It was shipped overseas
to his house in Esher outside London, where he completed the Electronic Sounds album and then moved the
electronic beast to Abbey Road in August 1969 during the final stages of recordings for the album bearing the
studio name. Landing in Room 43, it was ceremoniously installed with the help of Mike Vickers of the band
Manfred Mann.
The first song to benefit from the Moog in a Beatles recording session was John Lennon's Beethoven-inspired
Because, overdubbed on August 5
th
with George Harrison playing a quick bridge at 1:30 and again with a
different sound at 2:12 to the end of the song. Other instruments on the track include an electric
harpsichord by George Martin, Electric guitar by John Lennon and electric bass by Paul McCartney. And of
course, those wonderful harmonies.
The next day McCartney took the helm playing the Moog with overdubs for his song Maxwell's Silver Hammer.
The song was written almost a year earlier during the recording of the White Album but was left unrecorded.
It was rehearsed again early in 1969 during the filming of the recordings at Twickenham Film Studios of what
would become the Let It Be album, but still remained unrecorded, although rehearsals for the song did make it
into the movie. Finally in July of that year the Beatles did it justice, but not without much acrimony within
the band. Lennon dismissed is as "more of Paul's granny music", and Harrison was frustrated with
McCartney's perfectionism in the studio: "We had to play it over and over again until Paul liked it. It was a
real drag." This attention to detail went into such length as renting a real blacksmith's anvil for the hammer
sound effect. But we are here to discuss the Moog, so listen to the bridge between the verses and the
Theremin-like sound in the second verse, and some more weird sounds sprinkled throughout, five different
parts in all.
Alan Parsons, who was assistant engineer on some of the Abbey Road recordings, remembers the Moog:
"Everybody was fascinated by it. We were all crowding around to have a look. Paul used the Moog for the
solo in Maxwell's Silver Hammer but the notes were not from the keyboard. He did that with a continuous
ribbon-slide thing, just moving his finger up and down on an endless ribbon. It's very difficult to find the right
notes, rather like a violin, but Paul picked it up straight away. He can pick up anything musical in a couple of
days."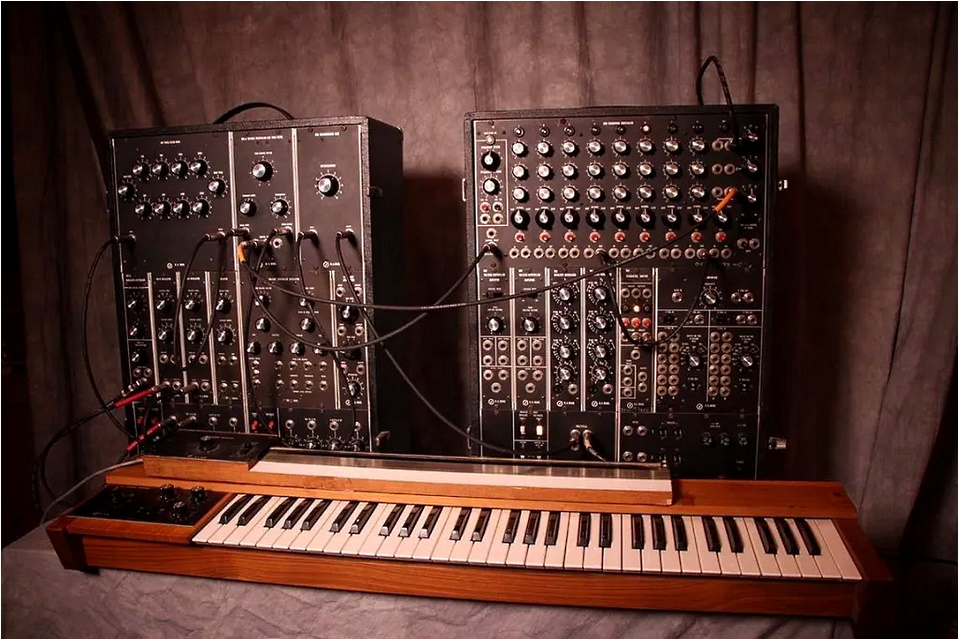 Moog Modular with Ribbon Controller
Another fine appearance of the Moog is on George Harrison's Here Comes the Sun, a song he wrote at Eric
Clapton's house when taking a break from the tiresome business meetings surrounding Apple Records, a
company in shambles at that point: "Here Comes The Sun was written at the time when Apple was getting
like school, where we had to go and be businessmen: 'Sign this' and 'Sign that'. Anyway, it seems as if winter
in England goes on forever; by the time spring comes you really deserve it. So one day I decided I was going
to sag off Apple and I went over to Eric Clapton's house. The relief of not having to go and see all those
dopey accountants was wonderful, and I walked around the garden with one of Eric's acoustic guitars and
wrote Here Comes the Sun."
One of the finest songs on the album, Here Comes the Sun includes a number of parts played on a Moog,
most of them subtle to the point where many folks do not realize the instrument is played on this song.
Listen carefully – if it is not guitar/bass/drums or a string orchestra, it's a Moog. Actually I take it back – the
hand claps are also real.
Contrary to Harrison who blended the Moog in a somewhat muted manner, Lennon took it to the other
extreme on the heaviest song on the album, I Want You (She's So Heavy). Closing the first side of the LP, it
is the longest track in The Beatles' recorded history, if we ignore the sound collage Revolution 9 from the
White Album. It is also one of my favorite songs the Beatles ever made, featuring an interesting structure,
great guitar work, Billy Preston's Hammond organ, a wrenching vocal, 14 different words and a sound effect
from hell, courtesy of the Moog. The song was a primal love song to Yoko Ono, which John described: "When
you're drowning you don't say 'I would be incredibly pleased if someone would have the foresight to notice
me drowning and come and help me,' you just scream."
On the afternoon of that August day that started with the cross walk photo shoot, Lennon used only one component from the array of modules that comprised the Moog Modular 3. It was the white noise generator, starting at 5:15 into 'I Want You' and building up, with George Harrison controlling the knobs, for two and a half minutes to the end of the song and then, poof. Nothing. End of side 1.
That poof materialized almost two weeks later on August 20, a date that holds significance in Beatles history: it marks the last time all four were in the studio at the same time. Lennon remembered how that abrupt ending to the song came about in his less-than-scientific description: "It's pretty heavy at the ending, you know, because we used the Moog synthesizer on it, and the range of the sound is from minus whatever to way over…Well, you can't hear it. That instrument, the Moog synthesizer, can do all the sounds, you know, all ranges of sounds, and we did that on the end. If you're a dog, you can hear a lot more."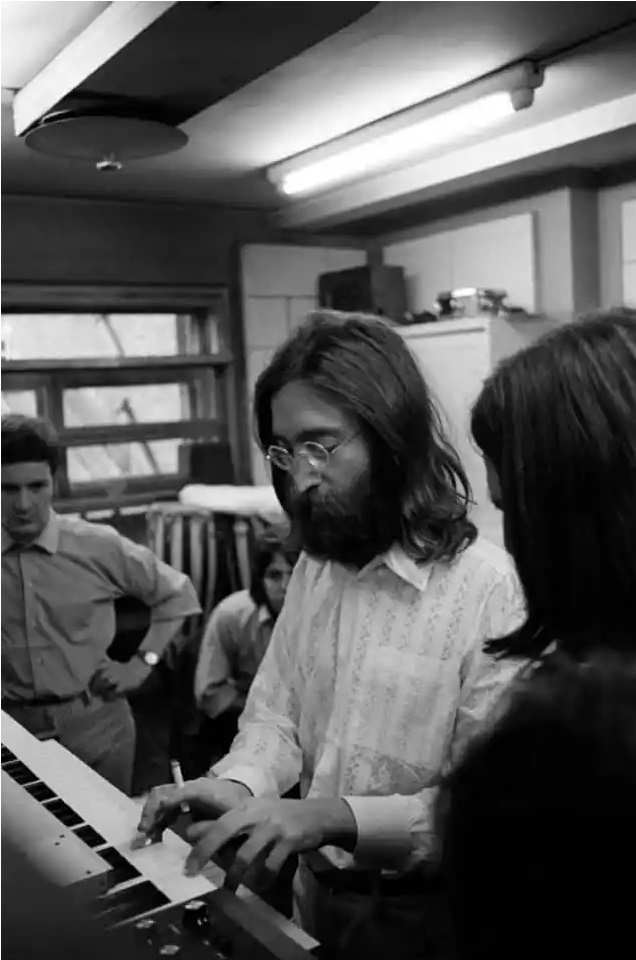 As usual, the most accurate account is by sound engineer extraordinaire Geoff Emerick: "And then there was the matter of how the song would end. When they recorded the backing track, The Beatles had just played on and on, with no definitive conclusion, so I assumed I would be doing a fade-out. John had other ideas, though. He let the tape play until just twenty seconds or so before the take broke down, and then all of a sudden he barked out an order: 'Cut the tape here.'"
"'Cut the tape?' I asked, astonished. We had never ended a song that way, and an abrupt ending like that didn't make any sense unless the track was going to run directly into another one. But that wasn't the case here, because it had already been decided that 'I Want You' would close side one of the album. My protestations had no impact on John: his decision was absolute. 'You heard what I said, Geoff; cut the tape.' I glanced over at George Martin, who simply shrugged his shoulders, so I got out the scissors and sliced the tape at precisely the point John indicated…and that's the way side one of 'Abbey Road' ends. At the time, I thought he was out of his mind, but due to the shock factor it ended up being incredibly effective, a Lennon concept that really worked."
Here is the song in all its white noise glory:

May 13, 2022
"Isn't It A Pity" Video Becomes A Two-Time CLIO Awards Winner
From George Harrison's Official Facebook Pages



May 12, 2022
'Electronic Sound': George Harrison's Epic Musical Exploration


'
Electronic Sound' is a musical marker, one that George Harrison laid down during a period of intense inventiveness
in a world where anything was possible.
by Richard Havers for Udiscover Music
In his introduction to the George Harrison: The Apple Years 1968-1975 box set, Tom Rowlands of The Chemical Brothers says that Electronic Sound "hangs on the wall of my studio, just next to my own Moog modular, beaming inspiration straight to my brain." Rowlands had bought a second-hand copy of the LP from a Japanese record shop in the mid-90s and was amazed by what he heard.
Released on May 9, 1969, George Harrison's Electronic Sound was the second – and final record released on The Beatles' Apple Records subsidiary, Zapple Records, and was yet more proof that George was ahead of his time and, in many respects, the most musically inquisitive of the four Beatles.
Avant Garde exploration
Electronic Sound is made up of two long pieces of music, originally one on each side of the LP, that are performed on the Moog Synthesizer IIIP, purchased by George from its inventor, Robert Moog. The record was made against a background of musical exploration that characterized London and Los Angeles in 1968. Avant-garde ideas were everywhere.
Side Two of the album, titled "No Time Or Space," was the first to be recorded and was done in Los Angeles in November 1968. George had finished work on The Beatles (aka "The White Album") and had flown to America's West Coast to produce Jackie Lomax's Apple album, Is This What You Want?, at Sound Recorders Studio in Hollywood.
Lomax's album featured a Moog that had been brought to the studio by Bernie Krause, who, along with musical partner Paul Beaver, had recorded The Nonesuch Guide To Electronic Music earlier in 1968, and was acting as something of a salesman for Robert Moog's invention. It was following work on the Lomax album that George, with Krause's help, recorded the 25-minute piece.
Side One of the LP, "Under The Mersey Wall," is an 18-minute piece that references the river on which Liverpool is built, and it was recorded at Kinfauns, George's home in Esher, Surrey, in February 1969. The title also refers to a weekly column in The Liverpool Echo, written by another George Harrison (no relation), entitled "Over The Mersey Wall." In 1970, white noise from this track was used on "I Remember Jeep," one of the jams included on Harrison's monumental solo album All Things Must Pass.
The cover art's origins
The album's cover was a painting by George. Many years later, his son Dhani asked his father if he could have the painting, which had been left leaning against a wall, somewhat neglected, at home in Henley, to hang in his bedroom. A few years later, George explained to Dhani what the painting was all about: "That's Derek [Taylor] holding on to all of Apple's aggravation and problems that are looming over everyone.
That's Neil [Aspinall] frowning and Mal [Evans] smiling with him in the chair. That's Eric [Clapton] on the right there and the green guy on the front is Bernie [Krause], with his bow tie and pocket square, patching everything through the board. That's me making the tea [small blue face smiling] and that's the cat, Jostick, the small green demon-like figure on the front cover."
The album, and George's Moog itself, play an important part in The Beatles' story, as it was taken to Abbey Road studios in the summer of 1969 and used in the recording of The Beatles' Abbey Road album. As George later recalled, "The Moog synthesizer was enormous, with hundreds of jack plugs and two keyboards. But it was one thing having one, it was another thing making it work. When you listen to the sounds on songs like "Here Comes The Sun," it does some good things, but they're all very kind of infant sounds."
Electronic Sound is a musical marker, one that George Harrison laid down during a period of intense inventiveness in a world where everything and anything were possible.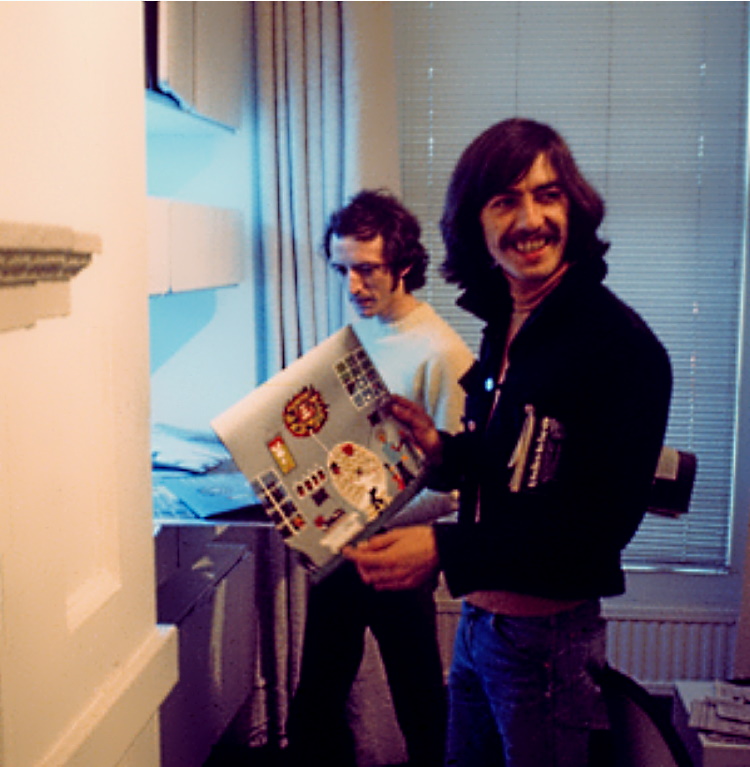 George's painting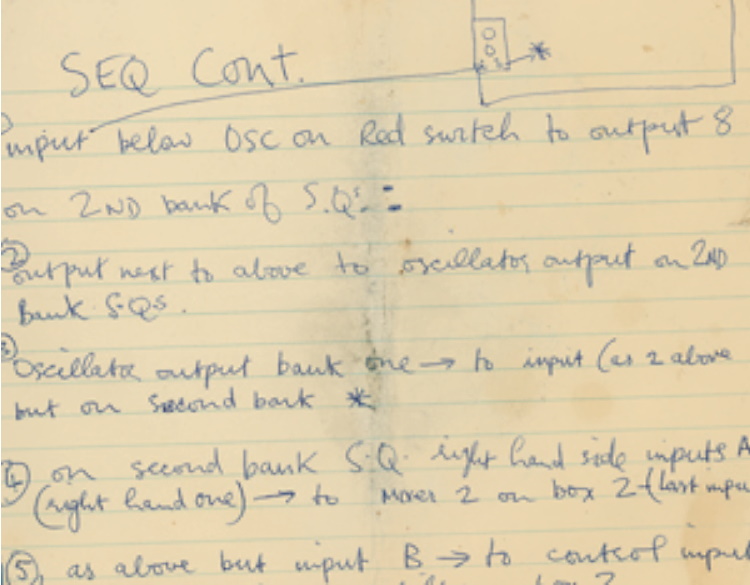 Electronic Sound notes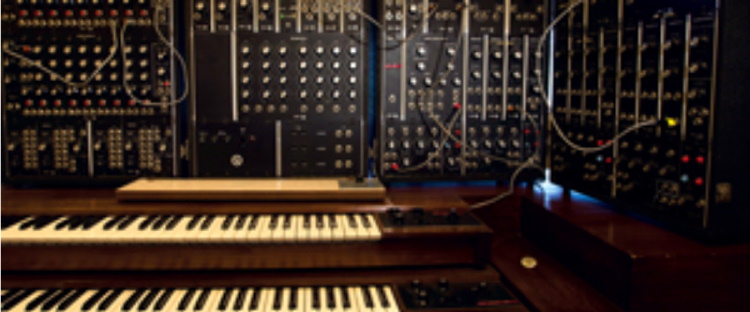 The Moog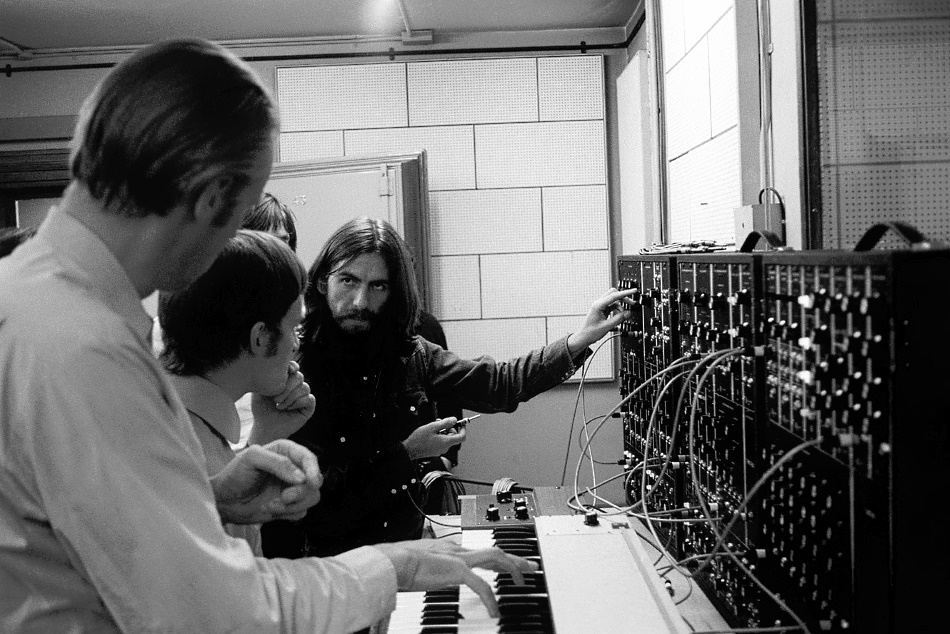 OBS footnote: Photo culled from the Official George Harrison Facebook pages



May 11, 2022

Marmalade - Ob La Di, Ob La Da (1968)

write-up by Beat Club
Marmalade are a Scottish pop rock band originating from the east end of Glasgow, originally formed in 1961
as The Gaylords, and then later billed as Dean Ford and The Gaylords, recording four singles for Columbia
(EMI). In 1966 they changed the band's name to The Marmalade, and were credited as such on all of their
subsequent recorded releases with CBS Records and Decca Records until 1972. Their greatest chart success
was between 1968 and 1972, placing ten songs on the UK Singles Chart, and many overseas territories,
including international hits "Reflections of My Life", which reached #10 on the US Billboard Hot 100 Chart and
#3 on the UK Chart in January 1970, and "Ob-La-Di, Ob-La-Da", which topped the UK chart in January 1969,
the group becoming the first ever Scottish group to top that chart.
The original members began to drift away in the early 1970s, resulting in the band departing Decca in 1972.
In 1973 the first evolved line up of the band rejoined EMI Records and with their first record release became
known simply as Marmalade. All subsequent record releases are credited similarly.
Graham Knight (an ongoing member from the pre-Marmalade "Dean Ford and The Gaylords" lineup) remained
until September 2010. The band still exists, with many additional further evolved lineups including vocalist
SSandy Newman, a member since 1975, touring the nostalgia circuit.


Paul McCartney brought an old Beatles bandmate back to life at Oakland concert

by Silas Valentino,
The title of his latest tour may be "Got Back" but Paul McCartney was in a mood to give back at Oakland Arena on Sunday night.
The former Beatle paid tribute to two of his former bandmates (sorry Ringo, no mentioning of the drummer) as well as to Jimi Hendrix, civil rights, George Martin, his wife Nancy Shevell and the citizens of Ukraine, as well as people who "have birthdays this year."
And since it was Mother's Day after all, McCartney dedicated the song "Women and Wives" from his 2020 album "McCartney III" to "all the mothers in the world."
At the age of 79, McCartney was spry in a pair of blue jeans and an iridescent clouds-in-the-sky collared shirt tucked behind a posh black vest. Between numbers, he'd shimmy a bit, charmingly gesture towards the crowd with whimsical pantomimes. McCartney appeared just as excited to see us as we were to see him.
Shuffling into the Oakland Arena before the show, folks of various ages exchanged glee in their Beatles hats or Wings shirts. The pre-show soundtrack that played over the public address system featured a swath of Beatles or solo songs which suggested McCartney is perhaps the only artist who can play his own recorded music before the show and — just like his mullet haircut — successfully pull it off.
The two-hour-forty-five minute set kicked off with a bombastic rendition of "Can't Buy Me Love" before McCartney addressed the crowd and said to expect "old songs, new songs and between songs."
He also noted that his backing band had their official debut 20 years ago nearly to the month when they played Oakland Arena in April 2002. Flanking McCartney on each side were Rusty Anderson (guitar), Abe Laboriel Jr., (drums) Brian Ray (bass) and Wix Wickens (keyboards and musical director).
The second date in Oakland, following a Friday performance, featured a set list that did not veer far from other dates on this tour but McCartney has a knack for refreshing old tunes or stories into genuine performances. He'll drop amazing anecdotes about songs or other musical legends with a kind of sly wink, as though he's revealing this story for the first time.
After ripping into the iconic guitar riff for "Let Me Roll It" with his left-handed Gibson Les Paul, McCartney and his band morphed into an fiery instrumental cover of "Fox Lady." McCartney told the crowd how Jimi Hendrix was a "humble guy" who impressed McCartney by learning to play "Sgt. Pepper's Lonely Hearts Club Band" just days after the song was released.
"We released 'Sgt. Pepper' on a Friday and he learned it by Sunday," McCartney said. "Everyone was buzzing about the album — Jimi was too."
Later, when he swapped his Hofner bass for a petite ukulele, McCartney commemorated George Harrison by beginning "Something" with sparse strums, then the band joined in for a dazzling finish. McCartney spoke to how George was a great player of the ukulele and it seemed like he was divulging unheard details; however, he apparently said the exact same comment 20 years ago.
McCartney conveyed vulnerability elsewhere by admitting how he was so nervous to sing on the early Beatles track "Love Me Do" that he can still hear his voice quivering in the recording. And he concluded the piano ballad "My Valentine" by making a heart-shaped sign with his hands directed to his wife Nancy Shevell who was somewhere in the sea of faces.
In one of the more unique stage moments of the show, McCartney stood alone towards the front of the stage and took a cue from his one-time collaborator Kanye West. The stage gradually elevated some 15 feet into the air and he presided over the crowd. Acoustic guitar in hand, he played "Blackbird" with precision atop digital projections of birds soaring into the galaxy.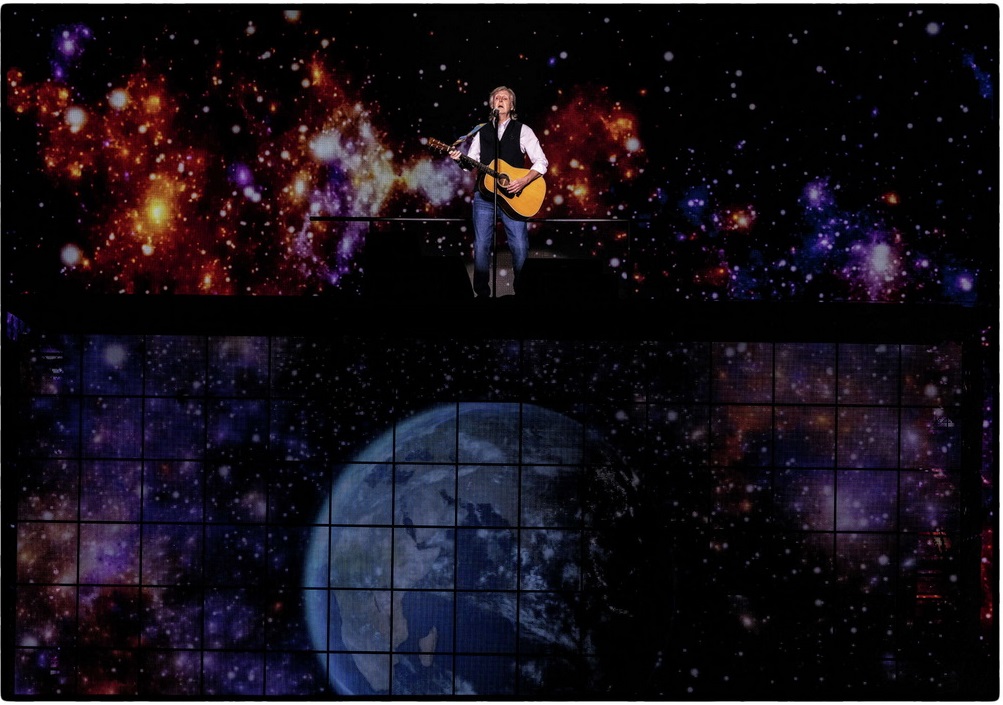 He spoke to how he wrote the timeless tune after seeing footage of civil rights demonstrations in Arkansas and Alabama during the mid-1960s. "To us, America was the land of the free," McCartney said. "And here was this stuff. I wanted to give them hope."
Even though later-career cuts like "Queenie Eye" and "Dance Tonight" stand tall among his global hits, McCartney couldn't help teasing his fans for how they react during his shows. He said when he plays a Beatles song, phones immediately appear to create "a galaxy of stars" but when he plays the newer tunes, it has him feeling as though he's peering into "a black hole."
His crowd work was dialed in with the mastery of someone who's been performing for over five decades. He paused between songs at one point to give the fans who brought in signs a chance to shine in the limelight (the person whose sign said they were 1,000 days sober received two cool thumbs up from McCartney) and he took a moment to have the women in the arena scream as though it was 1966 at Candlestick Park.
During the cathartic "na na na" section of "Hey Jude" when the entire arena sang along, McCartney asked to split the vocals between men and women, and gave a somewhat sordid expression for how he likes it best when he hears the feminine delivery.
A brief break led into an encore where McCartney and his band reappeared by waving flags, including the British, rainbow and Ukrainian banners, which McCartney personally swung.
The encore began with a new trick that's been deployed across the tour. McCartney said that the director Peter Jackson digitally separated John Lennon's vocals during "I've Got a Feeling" while producing the "Get Back" documentary, and offered the recording to McCartney.

During the song's bridge, a crystal clear clip of Lennon singing the lyrics "everybody had a hard year, everybody had a good time" appeared on screen and McCartney continued to duet with his long-deceased copartner.
It was an impressive feat of musical technology, but oddly surreal at the same time. Akin to Tupac's infamous hologram appearance at Coachella ten years ago, playing with a person's legacy is a devilish delight that no mortal has true authority to do.
But to others, this was a moment of honor, between musician and musician, played out in a song, the best way McCartney knows how to express himself.
We'll never know what Lennon thinks of this musical grave robbing, but perhaps an answer lies in "Here Today," McCartney's 1982 elegiac song for his lost bandmate: "You'd probably laugh, and say that we were worlds apart."



May 10, 2022
Legendary artist and producer Peter Asher on The Beatles, James Taylor, Linda Ronstadt and more

Asher bringing multimedia show to City Winery Boston May 11 and United Theatre in Westerly May 12
by Ken Abrams for What's Up News
A real-life music legend who witnessed the birth of the British Invasion is coming to town.
Artist/Producer/Music Executive Peter Asher has one of the greatest resumes in rock and roll. He's bringing his songs and stories to Boston's City Winery Wednesday, May 11, and the United Theatre in Westerly, RI Thursday, May 12.
Asher first hit the music scene as a chart-topping artist in 1964 with the #1 song "World Without Love," (a song written by Paul McCartney), as one-half of the duo Peter & Gordon. He went on to work for The Beatles and later produce over 100 albums, from the likes of James Taylor, Linda Ronstadt, Neil Diamond, 10,000 Maniacs, and Cher.
I recently spoke to the two-time Grammy winner about his show, "Peter Asher: A Musical Memoir of the 60s and Beyond" which brings a multimedia experience to the stage. Asher shared memories of the Beatles, especially those around McCartney, who spent time living in Asher's parent's home in the early 1960s. McCartney even dated Asher's sister for several years.
One of the greatest stories in rock and roll history centers around how McCartney informally auditioned an early Beatles song in front of Asher in 1964. The Fab Four's first #1 hit, "I Want to Hand Your Hand" was tested out in Asher's basement.
"We were sharing the top floor of the house at the time," explained Asher. "There was a small room in the basement… my mother used to teach piano lessons there and told Paul he could use the piano, a very small upright piano which is now in the Rock and Roll Hall of Fame."
"One day John Lennon came over and the two of them were down there for a couple of hours. As I recall, I was alone in the house, everyone else was out, and Paul called up the stairs to me after a couple of hours and asked if I wanted to come down and hear the song they had just finished," he continued.
"So I went downstairs to the basement and sat in this little room on a small two-person sofa. They sat side by side on the piano bench, no guitars. They hammered out this version of a brand new song they had just finished called "I Want to Hold Your Hand" and asked me what I thought… I told them I thought it was very good. I was in the right place at the right time."
Asher later joined The Beatles as an executive when their label Apple Records was founded. He recalls how well the band worked together.
"In my role as Head of A&R at Apple, we used to have weekly meetings, and as many of them as were around would come and take part. What was noticeable and what shows up in the documentary, Get Back, was that their collaboration far exceeded whatever arguments ensued. Whereas previously we had a somewhat reversed picture of that," he explained.
"They would let each other have their own projects, follow through on their own wishes and intentions. They collaborated very well but they also let each other have the freedom to pursue other projects. In terms of Apple, Paul was the general leader as it appeared in the documentary, but they were generous toward each other – whether John wanted to do a Yoko project or whatever it was. You get the impression that the Apple years were more argument than anything else, but they were generally a very collaborative and generous group to each other," said Asher.
You'll hear stories like this one at the show. Asher tours with a band and plays his originals and some covers. "It's a combination, a multimedia thing with some songs some stories, some video clips, and photos, all kinds of stuff," he said.
As The Beatles were breaking up, Asher "discovered" a rising singer-songwriter. I asked him what he found so compelling about James Taylor.
"Well, actually everything." he responded. "His voice itself is impressive enough, warm almost like Bing Crosby, a beautiful, comfortable kind of folky voice. But the phrasing he was using wasn't folky at all, it was more Ray Charles, Sam Cooke. Clearly, he had learned his phrasing from the masters of soul."
"His guitar playing, which included elements of classical guitar, was amazing in and of itself, and then, of course, his songwriting," he continued. "What was so extraordinary was that in each of those separate areas, I clearly thought he was quite exceptional, I thought it was some of the best stuff I had ever heard and it was on that basis when Apple was folding, we decided, James and I, that I would bet my career on his, and moved to America."
The rest is history. Asher produced several of Taylor's groundbreaking albums in the 1970's including Sweet Baby James, One Man Dog and JT, for which he won a Grammy Award for "Producer of the Year."
"I'm not saying I knew at the time how big he'd become, cover of Time magazine, and presidential awards and everything that's happened over the years. I certainly thought he's so good there's no way people will be able to ignore him."
Another major star whose career accelerated under Asher was Linda Ronstadt. She had some modest success before Asher arrived to manage her. "I was in New York and someone said you should go hear this girl who is singing at The Bitter End. She's got an amazing voice, she sings barefoot in these short shorts, amazing looking … so I went. And it was all true, she had a voice like I had never heard before, with incredibly accurate pitch, and great singing. And she was beautiful and charming at the same time."
"When I got to know her, I discovered she was one of the smartest women I had ever met, incredibly well-read, thoughtful, and articulate," he explained. "She's the best straightforward singer I've ever been able to work with."
Asher won Grammy Awards for Producer of the Year for Ronstadt's Simple Dreams, and Cry Like a Rainstorm, Howl Like the Wind. He later went on to produce top-selling albums from artists as diverse as Cher, Steve Martin, Dianna Ross, and Morrissey.
Asher is still making music almost 60 years since "A World Without Love" was released.
"I'm finishing an album with Susanna Hoffs who I've always been a big fan of, since the Bangles days," he shared. "She's in the process of finishing up an album which will be out in late summer. We've done a bunch of tracks it's great, she sounds amazing."
Asher swings through the region later this week. "City Winery in Boston is great, we're certainly looking forward to it … and we'll see you in Rhode Island too!



May 9, 2022
From The Beatles Official Facebook Pages: "Ringo Starr Receives Honorary Doctorate from
Berklee College of Music"


"My soul is that of a drummer…. I didn't do it to become rich and famous. I did it because it was the
love of my life." ~ Ringo Starr


What's it like to cross the famous Beatles Zebra Crossing at Abbey Road Studios?

A video filmed by Gimbal Walk TV



May 8, 2022
The Story of The Beatles White Album Cover Serial Numbers

by Parlogram Auctions
In this video, we look at how EMI took Richard Hamilton's groundbreaking concept of a mass limited edition
and made it into a reality. We find out exactly how many numbered copies there were and which numbers
were allocated to which format. We also track down the earliest numbers and give you their values and
uncover a duplicate of one of the first four copies.

In My Life: George Martin, Beatles Mentor and Producer, In 20 Quotes

A tribute to the producer of almost the entire recorded catalog of The Beatles and a hugely accomplished
writer, arranger and musician with countless other achievements to his name
by Paul Sexton for Udiscovermusic
Sir George Martin, producer of almost the entire awe-inspiring recorded catalogue of The Beatles and a hugely accomplished writer, arranger and musician with countless other achievements to his name, was born in Highbury, north London, on January 3, 1926.
What follows is a selection of comments from the unabridged version of an extensive interview by this writer with Sir George, who passed away in March 2016, two months after his 90th birthday. An edited account of the meeting, which took place at AIR Studios in London in 1998, appeared in Billboard magazine at the time, when Martin was releasing his final album project, the all-star In My Life album.
This came the year after he had produced Elton John's "Candle In The Wind 1997," now recognised as the best-selling single worldwide in recording history and Martin's 30th UK No.1 single. We hope these quotes give an entertaining insight into one of the most remarkable careers in pop music.
"My parents weren't musical, but they were very creative. My sister was three and a half years older than me, and she had piano lessons. I used to copy what she did when I was about four or five, and I wanted to have piano lessons too. But we couldn't afford that, so I just made up my own music as I went along."
"I just went on my own sweet way and found I could make music on the piano, and by the time I was 15 I was running a dance band. I went into the services because the war was still on, still keeping up my music. I met quite a few interesting characters, good musical people, who advised me to take up music."
"I had a fairy godfather in the shape of Sidney Harrison, a wonderful man who was a very good pianist and educationalist. He urged me very strongly to take up music, and he helped me because he arranged for me to have an audition with the Principal of the Guildhall School of Music."
"When you're young, you're not only confident, but damned arrogant. I was full of myself and thought I was terrific. I didn't realise how inadequate I was."
"There were about a dozen record producers in the country. But then they weren't called record producers, they were called 'Artist and Repertoire Managers.' They didn't really shape events in the studio; their job, rather like the A&R men of today, was to recruit talent, put them in the studio and give them an opportunity to be recorded, rather like a broadcast."
"As I was running a label [Parlophone] by 1955 and I was responsible for the work on that label, I had to choose not only the artists but what they were doing, and make sure they were going to make a record that was going to sell."
"In the 50s, stereo was reserved for classical recordings. You didn't do any overdubbing or editing. When I first went into Abbey Road Studios in 1950, we didn't use tape, we went directly to wax, because it was so much better quality."
"I've written 15 films. The first experience was a nightmare, because I didn't know anything the techniques of film writing and I just muddled my way through it. But I learned fast, and became fairly accomplished at doing what was necessary."
"I had a hit with Ron Goodwin called 'Skiffling Strings' in the era of hit instrumentals. In America it was issued as 'Swinging Sweethearts', and it entered the charts. So Ron had to go and promote it, and I went with him. I went to many studios including Capitol of course, and to a Frank Sinatra session. I was enormously impressed. They were so much better than we were."
"I was 36 when I first met The Beatles, and I was an old man to them. But perceptions have changed. They were on an average 16 years younger than me, so I was a kind of big brother rather than a father."
"When The Beatles came along, there wasn't much rock'n'roll music in [the UK]. Tommy Steele was about the most extreme one we had, and Cliff Richard. So there was no yardstick to judge it from. Having made all these comedy records, there was an advantage there, because The Beatles were great Goon fans, and they loved the Peter Sellers recordings and they knew that I'd made them."
"I didn't know them from Adam, they didn't mean anything to me. So it was a bit one-sided when we first met, but they had that idiotic sense of humor that I love too, and that made me want to be with them. If you haven't got a good sense of humor, life's not worth living."
"Because there wasn't a rock'n'roll precedent, The Beatles when they came turned everything upside down and made a revolution, which I didn't foresee."
"When I was recording them in the early days, I was looking for a hit song, and I knew they didn't have it. But when 'Please Please Me' came along in the form that it did, it was a different matter."
"Eventually the flood gates opened in America in 1964 with 'I Want To Hold Your Hand,' and from that point on it was mayhem. But you see, I didn't spend all that much time with them because they were on tour all the time. Recording time was issued out to me very sparingly."
"They did flower, they blossomed, and they astonished me with their ideas. Each song they brought to me was a gem, and I said to myself, 'It can't last.' I'd say to them, 'That's great, now give me a better one.' And they did. I was so thrilled with what they gave me."
"I've got quite a few favorite Beatles albums. I like Revolver very much and I like Rubber Soul very much, but I'm very fond of Abbey Road. Probably because it's the last album we made, and we kind of knew that."
"I was privileged that Elton asked me to work with him on ['Candle In The Wind 1997']. It became my last No. 1, and probably my last single. It's not a bad one to go out on."
"The funny thing about getting old is you don't basically feel any different. Every time I get up in the morning and look in the mirror, I look at my dad. I say, 'Morning, dad,' and I go on to shave."
"I've had a bloody good innings. I can't imagine anyone who's been luckier than I have with the kind of artists I've been able to record."

May 7, 2022
Pattie Boyd thinks young people are 'over-sensitive'
by Celebretainment
Pattie Boyd has warned "freedom has been taken away" because young people are so "over-sensitive".
The 78-year-old former model - who was previously married to late Beatles legend George Harrrison and Eric Clapton and is now wed to Rod Weston - misses the carefree days of the 1960s because she thinks modern society has become very restricted in a bid to not cause offence to anyone.
She is quoted by the Daily Mail newspaper's Eden Confidential column as saying: "Everybody's so different, particularly young people now. You know, they're woke and over-sensitive about everything. And I thought, 'How odd'.
"I feel that there's been a huge cycle, because in the 1960s we broke away. We wanted freedom, we fought for it, and we wore outrageous clothes and short dresses. Artists painted outrageous things, filmmakers started being totally free. Here was a freedom suddenly.
"I feel that cycle is now coming to an end. The freedom has been taken away. It's the opposite of the 1960s, when we were brave and we could say and do anything."
The photographer recently admitted she found it "draining" to write her 2007 autobiography, 'Wonderful Today', but she's "glad" she did it.
She said: "I found it quite draining. Venturing back to areas of your life that are not very comfortable was difficult to talk about as well. I know people say it's cathartic, but I hate that word because I don't quite know what it means.
"But it's good. It's quite good, because you are made to go back and reassess and see how you feel about it now, which of course can be quite different. It was a good thing to do, I'm glad I did it.
Pattie went on to reveal that she is now working on a new book which is to be a compilation of her photography work embellished with "lots of little anecdotes."
She said: "I'm working now on a new book, which is just going to be photographs. Photographs of me and by me, and I'm just writing lots of little anecdotes. Some to go with photos and some because I've just remembered something hilarious or something dramatic."



May 6, 2022
"It Was Really My First Voyage Into Feedback": Paul McCartney on His "Taxman" Beatles Guitar Solo

by Rod Brakes, Tom Mulhern for Guitar Player
Macca reveals his inspiration behind the Beatles' riotous 'Revolver' opener.
There are many great guitar moments within the Beatles catalog. We all have our favorites. But as far as Paul McCartney is concerned, one of those highlights happens to be the song "Taxman."
And for good reason.
In addition to laying down his unforgettable Motown-style bass hooks on the track McCartney contributed a wild electric guitar solo that would make anyone proud.
Penned by George Harrison and appearing as the opener on the Beatles' 1966 studio album Revolver, "Taxman" was significant in further establishing Harrison as a songwriter and was the Beatles' first overt political statement (British politicians Harold Wilson and Edward Heath are both named.)
It also showcased McCartney's prowess as a bold, imaginative lead guitarist.
"I liked 'Taxman' just because of what it was... It was really my first voyage into feedback," he told Guitar Player during a 1990 interview, having been asked about favorite Beatles guitar parts that he played.
"I got the guitar and was playing around in the studio with the feedback and stuff, and I said to George, 'Maybe you could play it like this.' I can't quite remember how it happened that I played it, but it was probably one of those times when somebody says, 'Well, why don't you do it then?'"
In the same interview, McCartney reveals a source of inspiration for his guitar playing on "Taxman."
As has often been pointed out, Eric Clapton's edgy blues-rock style was pivotal in the evolution of electric guitar technique and tone during the mid-'60s, as evidenced on 1966's Blues Breakers with Eric Clapton album.
Indeed, it appears Paul McCartney and the Beatles were no exception.
"I had this friend in London, John Mayall of the Bluesbreakers, who used to play me a lot of records late at night," recalled McCartney. "He was a kind of DJ-type guy. You'd go back to his place, and he'd sit you down, give you a drink, and say, 'Just check this out.'
"He'd go over to his deck, and for hours he'd blast you with B.B. King, Eric Clapton – he was sort of showing me where all of Eric's stuff was from, you know. He gave me a little evening's education in that.
"I was turned on after that and I went and bought an Epiphone. So then I could wind up with the Vox amp and get some nice feedback. It was just before George was into that. In fact, I don't think George did get too heavily into that kind of thing.
"George was generally a little more restrained in his guitar playing. He wasn't into heavy feedback… When people say, "Great solo on 'Taxman'," I don't think he's too pleased to have to say, "Well, that was Paul, actually."



May 5, 2022
How George Harrison made the album that banished The Beatles

by Ken Sharp for Louder Classic Rock
In 1970, George Harrison brought together a Who's Who of rock to record his masterpiece, All Things Must
Pass. This is the story, told by those who were there.
"So go away away, leave me alone, don't bother me…"
Those words, from Don't Bother Me, a glum kiss-off to an lover, which appeared on The Beatles' 1963 album With The Beatles, mark George Harrison's first recorded entry as a songwriter. It wasn't of any significant artistic weight that would rattle the axis of the golden Lennon/ McCartney team, nor would it hint at the glory and sophistication that would be his masterpiece solo record.
Flash forward more than half a century later, and Harrison's landmark All Things Must Pass album is not only considered perhaps the greatest solo record by a Beatle, but is also routinely selected in the music press as among the most important rock albums of all time.
Relegated to second fiddle status with The Beatles, initially content with his role of laying down inventive guitar lines and vocal harmonies and contributing the occasional song, as the years rolled by Harrison's confidence grew and his craft sharpened; songs like I Need You, Taxman, I Want To Tell You, Within You, Without You and It's All Too Much displayed a unique artistic flair and singular musical personality.
From there his continued growth as a songwriter bore rich fruit; witness White Album jewels While My Guitar Gently Weeps, Savoy Truffle and Piggies, B-sides The Inner Light and Old Brown Shoe, and his stellar contributions to Abbey Road: Something and Here Comes The Sun, arguably the best songs on The Beatles' swansong album.
In the shadow of the Beatles' breakup, Harrison's songwriting was blossoming. Having been limited to one or two songs per album, he began stockpiling them during the latter years of The Beatles' career, with a few auditioned during the Let It Be sessions (namely All Things Must Pass, Let It Down, Isn't It A Pity and Wah-Wah).
"I was probably trying to get them recorded in amongst all the usual John [Lennon] and Paul [McCartney] stuff," Harrison recalled in a 2000 interview with Billboard. "For me, that was the great thing about splitting up: to be able to go off and make my own record and record all these songs that I'd been stockpiling. And also to be able to record with all these new people, which was like a breath of fresh air, really.
"Imagine if the Beatles had gone on and on. Well, the songs on All Things Must Pass, maybe some of them I would probably only just got around to do now, you know, with my quota that I was allowed [laughs]. Isn't It A Pity would just have been a Beatles song, wouldn't it? And now that could be said for each one of us. Imagine would have been a Beatles song, but it was with John's songs. It just happened that The Beatles finished."
Released in late November 1970, All Things Must Pass was co-produced by Harrison and Phil Spector. "Phil Spector was probably the greatest producer from the sixties, and it was good to work with him because I needed some assistance in the control box," Harrison explain in a 2001 interview with Yahoo.
The album featured a Who's Who of the music world – guitarists Eric Clapton, Peter Frampton, Dave Mason and members of Badfinger, keyboard players Gary Wright, Billy Preston and Bobby Whitlock, bassists Klaus Voormann and Carl Radle, drummers Ringo Starr, Jim Gordon, Alan White and Ginger Baker, and a host of others.
George Harrison (interview with Howard Smith, 1970): I'd much rather play with other people because… united we stand, divided we fall. I think musically it can sound much more together if you have a bass player, a drummer and, you know, a few friends. A little help from your friends. I really want to use as much instrumentation as I think the songs need.
Bobby Whitlock (keyboards): I was fortunate to hear a lot of George's songs earmarked for the album before we recorded it, things like My Sweet Lord, Awaiting On You All and Run Of The Mill. Jim Gordon, Carl Radle, Eric Clapton and myself, we had played together before [as Derek & The Dominos], so we were already dialled in with each other as musicians.
So when it came to us being the core band on All Things Must Pass, you couldn't have asked for better support, because we were already linked up together in a special musical way. We didn't have to think about our role or our place in whatever we were playing, because that came real naturally, right down to Eric and me singing some background parts.
Grandiose and ambitious, spiritual and heartfelt, All Things Must Pass was a tour de force. The album's lyrical themes of spirituality, death, redemption and angst resonated strongly, while its sound was huge and expansive.
Harrison (interview with DJ Chris Carter, 2001): In those days it was like the reverb was kind of used a bit more than what I would do now. But at the time I did the record with Phil Spector, and we did it like Phil Spector would do it. It's hard to go back to anything thirty years later and expect it to be how you would want it now. That's the only thing about the production, it was done in cinemascope and it had a lot of reverb on it, but that's how it was and at that time I really liked it.
Whitlock: Some of that heavy reverb went down on the tape while we were cutting, so it was difficult for George to take it off. But for me it gives it that signature 'Wall of Sound'. I don't have any problem with it; I love it the way the original sounds.
I mean, when you have all those musicians playing at once it creates a 'wall of sound', and all Spector had to do was add some hall echo and reverb. That gave it Spector's signature sound. I don't think George regretted it until everybody got to talking about it, and by then it made him think there might have been too much reverb, but it's too late.
Opening with the gentle I'd Have You Anytime, a co-write with Bob Dylan, the record spins through a dazzling array of styles: rock (Wah Wah), gospel (Awaiting On You All, Hear Me Lord), R&B (What Is Life), country (Behind That Locked Door) and pastoral folk.
The album's first single, My Sweet Lord, was a No.1 smash around the world, setting the stage for Harrison's arrival as a solo artist, both critically and commercially.
"I was at our kitchen table when George wrote My Sweet Lord, recalled his then wife Patti Boyd. "I remember it very, very clearly. It's a beautiful song and he was so proud of it. It was absolutely stunning. I know he wrote it; he didn't copy it from The Chiffons. It was deeply upsetting and really hurtful when he was called into court in America for supposedly plagiarising one of The Chiffons' songs.
"That song became a bit tainted when we were told he'd have to go to court and defend himself with his guitar. George stopped listening to the radio after that so he wouldn't be influenced by any music. There was no possibility of anything else influencing him when he wrote songs."
Harrison (interview, 1971): As far as I'm concerned, My Sweet Lord was a hit because of the sound and its simplicity. The sound of that record, it sounds like one huge guitar. The way Phil Spector and I put that down was we had two drummers, a bass player, two pianos and about five acoustic guitars, a tambourine player, and we sequenced it in order.
Everybody plays live in the studio. I spend a lot of time with the other rhythm guitar players to get them all to play exactly the same rhythm so it just sounded perfectly in sync. I overdubbed the voices, which I sang all the backup parts as well, and overdub the slide guitar, but everything else on it was live.
There's Ringo and a drummer called Jim Gordon. Harrison's slide playing lights up My Sweet Lord, but it was Dave Mason who unwittingly helped open the doors to slide guitar, a technique Harrison would master and which would become a trademark of his solo career.
Dave Mason (guitar): Delaney & Bonnie went to Europe to tour. We did a show at Fairfield Hall in Croydon and Eric [Clapton] and George came to the show. We were all backstage and, of course, they were asked to sit in, and George said: "Well, I don't know any of these songs." I said: "There's a song we do called Comin' Home, and I play a little slide guitar part. Let me show you this little slide part goes".
And he came on stage and played that with us. Many years later George related this story to a writer and he credited me, saying: "Mason showed me this part and that's what got me into starting to play slide guitar." Wow! And you can certainly hear George come into his own on slide guitar on All Things Must Pass. I'm quite proud and honoured to have sparked George's interest to play slide guitar.
On May 28, 1970, at Abbey Road studios in St. John's Wood, London, the All Things Must Pass sessions with a full band officially began.
Ken Scott (engineer): We started the All Things Must Pass sessions at Abbey Road. George was so comfortable at Abbey Road. Much as they might bitch about the place, they always came back to Abbey Road. Paul [McCartney] had his home studio built as an exact replica of Studio Two. There was obviously something about that studio that they all liked.
When it came time for All Things Must Pass, George recorded all the basic tracks there with a great engineer called Phil McDonald. Phil had been a second engineer for me for some time and then he moved up the ladder. We were swapping a lot of stuff around at that time. I'd record it and he'd mix it, I'd mix it and he'd record it. At Abbey Road there were still only eight-track machines.
Whitlock: George wouldn't give you direction. He would just say: "Here's the chords" and let you do your thing. Are you really going to tell people of the calibre of Ringo Starr, Eric [Clapton], Jim Gordon and myself what to play? No. We hear it. I know my part as soon as I hear something. He didn't tell anybody what to play. But what he did do was come out with his acoustic guitar and he'd run through the song for the electric band and answer any questions. Then he would go down to where Badfinger were playing acoustic guitars and do the same thing.
Joey Molland (Badfinger, guitar): It was incredible to see all those rock stars in the studio and they're all there ready to play. These were giants. Here was Eric Clapton working on his lead guitar bits, Klaus [Voormann] was really friendly. Billy Preston was super-friendly. It was very exciting but it was also very nervy. But we relaxed after George started talking and playing with us.
We had to learn the songs right away. He would only show it to us once or twice and then we'd run through it with the whole band. George gave us specific instructions and said: "Don't play any fiddly bits," keep it straight. He knew exactly what he wanted. We'd record two or three songs a day. On Beware Of Darkness and My Sweet Lord we played all the rhythm guitars. Phil [Spector] really wasn't in charge, George was in charge. It was joyous time for all of us.
Alan White (drums): I played drums on about at least half of that album. It was a great experience. I was very young at the time and had just been through making Imagine with John [Lennon], which put me into a kind of Beatles circle. George kept coming down to sessions, and then he wanted me to be at all of the All Things Must Pass sessions. So for three weeks a whole bunch of us turned up at EMI Studios, and each day we'd start off and record a new song.
Harrison (interview, 1970): Wah-Wah was written during the Let It Be sessions. We had been away from each other after having a very difficult time recording the White Album, which went on for so long. I remember Paul and I were trying to have an argument and the crew carried on filming and recording. I couldn't stand it. I decided: "This is it! I'm leaving!" Wah-Wah was a headache as well as a foot pedal. It was written during the time in the film [Let It Be] where John and Yoko were freaking out and screaming. I wrote this tune at home.
Whitlock: On Wah-Wah there was Ringo and Jim Gordon on drums, Carl Radle and Klaus Voormann on bass, Eric and George on guitars, me and Billy Preston on keyboards. It was a wise decision from George to have Billy and I play on that track because we both came from the same soul, R&B, gospel background.
Billy would play [Hammond] B-3 on Behind That Locked Door and I'd play the B-3 on the rest of the songs that needed it. We cut all the songs live with the band and then there would be some overdubs added later. I'd overdub hanging bells, tubular bells on songs like Hear Me Lord and The Art Of Dying.
We also recorded two Derek & The Dominos songs – Roll It Over and Tell The Truth – during the sessions. George and Eric were the guitar players on it, and that was part of the deal of us playing on George's album that we could record some Dominos stuff during the sessions.
John Barham (orchestrator): Although George wanted to make sure that everything met his exacting high standards, he wasn't dogmatic about how those standards were reached. If a musician was not comfortable with a particular approach, George would give him the freedom and encourage him to find another approach which worked for him. He didn't want to control or dominate the musicians that he worked with, rather he wanted to help them express themselves.
Mason (guitar): We [Traffic] used to go down to the Sgt. Pepper sessions, and that's when I first met George. While in The Beatles, George was living under the shadow of Lennon and McCartney for a long time, which is understandable. But All Things Must Pass was the album where George truly blossomed.
Peter Frampton (guitar): I have great memories of that record because playing with all those people, let alone working for a Beatle – or a couple of them, actually, because Ringo was always there. [Eric] Clapton would walk in and out. Gary Brooker, Gary Wright, Klaus Voormann. It was an incredible experience. I played on songs like If Not For You and Behind That Locked Door, all the ones that Pete Drake played on; he was a pedal steel player who came over from Nashville.
So I played on five or six of the basic tracks and then George called me and asked me to come back. [Imitates Harrison's voice] "Phil wants more acoustics." And I said: "You're kidding me?" [laughs] So I went back to Abbey Road – I lived around the corner in St. John's Wood. We did it in the big Sgt. Pepper studio. There I am sitting next to George with my acoustic. We're both sitting on two stools with two mics that I'm sure The Beatles had all sung on. There's Phil Spector in the booth. They're just playing every track, one track after the other, and we're just adding more acoustics.
I don't know how many tracks I played on, but the majority [laughs]. It was quite amazing being on those sessions and hearing the acoustic sound that we got, which was incredible. I played on the record, and why I didn't get credited at the time I have no idea. I never could ask George: "Mr. Beatle, you left me off" [laughs]. It was a big thing at the time, but it's one of those things.
Harrison (Billboard, 2000): I think [Behind That Locked Door] was very much influenced by Bob [Dylan]'s Nashville Skyline [1969] period. I actually wrote that the night before the Isle of Wight Festival in [August] 1970.
Gary Wright (keyboards): I was very, very happy to play on that whole record. Klaus Voormann called me and said: "Hey, I'm in the studio with George and he's doing his first solo album and Phil Spector's producing and they want to have another piano player. Are you free?" And I said: "Absolutely."
So I jumped into the car, and I'd never been to Abbey Road before so I think I got a little lost on the way there [laughs]. So I showed up and they'd already started. They had been rehearsing and just about ready to start recording. So I came in and was quickly and frantically trying to learn the song, which was Isn't It A Pity. All of a sudden the control room microphone blasted out into the studio: "Who the heck is that on the piano making all those mistakes?!"
And that was Phil Spector. So George came up, and said: "Don't worry, we have plenty of time. We have all the time in the world so take your time…" I thought what a nice guy he is. He was not really pushing me, and I could take my time to learn the song properly. I played Wurlitzer piano on that one.
Phil Spector's trademark 'Wall of Sound', popularised on hit records by The Ronettes, the Righteous Brothers, The Crystals and Ike & Tina Turner, among others, coloured the sonic palette of All Things Must Pass, with songs like Isn't It A Pity, Wah-Wah and the title track slathered in mountains of reverb.
Frampton: Spector was the co-producer with George. His philosophy was 'more of everything'.
Molland: We were working on either Isn't It A Pity or Wah-Wah, and went into the control room to have a listen to the track, and Spector was drunk and literally laying on the floor under the console. I'm not exaggerating, and I'm not saying this because it was a bad thing. Everybody thought it was perfectly normal [laughs].
Whitlock: The atmosphere of the All Things Must Pass sessions was peaceful and calm. It was joy and happiness. It was not a sombre occasion. It was a celebratory event but not in a party sense of the word. We were happy to be there and everyone was joyful and excited. Every time we recorded something, it was like: "Oh yeah, man, that's great!"
Wright: While we were recording All Things Must Pass, in the studio George was burning incense and had these pictures strategically located of these Indian yogis and saints and I thought that was really cool. I'd never been in that kind of a vibe before. He saw that I was interested in it and kind of took me under his wing and started to tell me about Eastern philosophy and how we was into it. At that time he was into the Hari Krishna movement. He was chanting the Krishna mantra and I was just fascinated by it.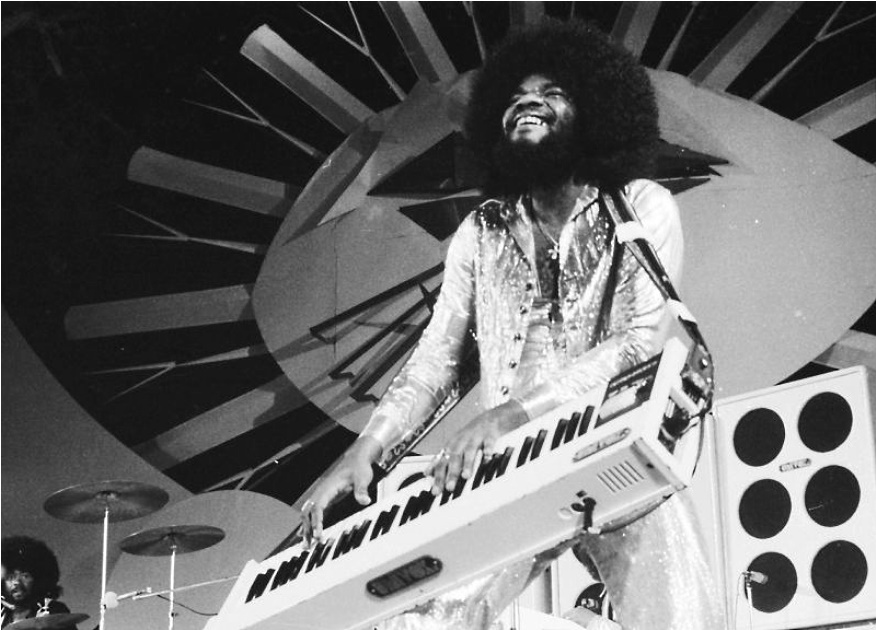 Photo of Billy Preston
Harrison (interview, 1970): What Is Life was written for Billy Preston in 1969. I wrote it very quickly, fifteen or thirty minutes, on the way to Olympic Studio in London when I was producing one of his albums. I recorded What Is Life one way and didn't like it. Then we worked on it a second time and I came up with a bass line, and then I got the feel to it and we re-recorded it and it came out much better.
Whitlock: I liked the guitar intro of What Is Life. I like the whole thing because it was so different. Eric played Leslie guitar on that one. Everything he did on the album was exactly right. Every note is exactly right. With the two LPs showcasing 17 original songs and one outside composition (Bob Dylan's If Not For You), a third LP, dubbed Apple Jams, found the gang letting their hair down with five lengthy spontaneous jams.
Whitlock: The jams on the album were in a sense all of us saying hello to each other. I didn't know anybody there, except for Eric, Dave Mason, George and Billy Preston, of course. Billy had played with us before with Delaney & Bonnie And Friends.
Scott: A vivid memory I have working on All Things Must Pass centres upon the volume we used to monitor the album. A particular neighbour got very upset one night, and tried to stop us by throwing a beer bottle through the glass windows in the mix room [laughs]. It just so happened that Phil Spector was closest to the window and he completely freaked out. We had to spend the next god-knows how long to calm him down. That was quite funny.
With songs like My Sweet Lord, Awaiting On You All, What Is Life and Hear Me Lord, there's a thread of deep spirituality at the core of the record.
Scott: The album is very spiritual. There were some people who become exceedingly religious and try and force it down you, but George was never like that. He would discuss his thoughts on his religion and spirituality but he never foisted it on you, which was great.
Whitlock: George was definitely a perfectionist in the studio. I remember singing the second background part on My Sweet Lord; Eric didn't show up. Then George added that whole big chorus of voices. 'Hallelujah', 'Hari Krishna', all these different connotations of the word 'god'. I remember after he was done how wore out he was. He could hardly speak from singing parts over and over, stacking vocals in the chorus. It was pretty amazing.
Scott: A lot of the overdubs on the album were just him. For example all of the backing vocals. It would have been very easy to bring in six, eight singers and just have them do it, but George wanted to do it himself. It took an awful long time. Most people don't realise it's just George. I think it's listed on the album as the George O'Hara Smith singers. People actually think that's a group, but it was all George.
Whitlock: What makes it such a classic album fifty years later is the calibre of musicianship and the songs I believe is what bears the weight of it, and that invisible something, you know, whatever that is, and made that thing happen. You can't see it, hear it, taste it, touch it or smell it, but you can feel it and it's there. And suddenly fifty years later All Things Must Pass is still way up on the pedestal.
Scott: I think George was pleased at the freedom he had working on his own away from The Beatles. I think they all were by that time. It had been such a chaotic period. I know that George was always very unhappy that whenever his name was in the press it was always 'ex-Beatle'. His whole thing was: "This had been only six years of my life, why am I always an ex-Beatle? I've had my successes on my own."
Mason: What makes All Things Must Pass such a powerful statement is it's a three-LP set with all this material. George was a super-generous in making this album including so many different people. I think part of it for him was still: 'I'm emerging as the guy behind Lennon and McCartney for all this time, so some great backup wouldn't hurt.' But there was just so much material for a great solo album. It's pure George all the way. They were great songs.
The 50th anniversary edition of All Things Must Pass is out now.



May 4, 2022
Seattle sisters saw the Beatles in 1964, return to the same venue tonight to see Paul McCartney

by Rachel Belle for 97.3 FM KIRO News Radio
On August 21, 1964, The Beatles played their first concert in Seattle. More than 14,000 screaming fans
packed into the Seattle Center Coliseum, including these sisters from Ballard.
"I was 14 when I saw The Beatles, and I'm 72 now," said Barbara Horn.
"I was 21 when I saw The Beatles, and I will be turning 80 in July," said Irene Crawford.
Typically, the little sister learns about the cool new bands from their older sibling, but not in this case.
"I didn't even know who these Beatles were," said Irene. "But I worked downtown and she'd want me to pick up these magazines for her that had The Beatles on it, at Woolworths. So then I started looking at them and listening and I thought, oh, they're good."
Horn was in 7th grade when she caught Beatles fever.
"Do you remember the 45 records? They'd be in a little sleeve?" asked Horn. "My friend and I got to class and she said, 'Barbara, I want to show you something.' She pulls it out of her pocket. We'd never really seen them before! It was, 'Oh wow. They're really cute!'"
Horn still has a big, homemade Beatles scrapbook she made as a teenager full of newspaper clippings and her ticket to the 1964 show.
"You may touch it," Horn laughs. "Look! Tickets were $3, $4, and $5. Think what they are now."
She also has the photos she took at the concert. After finding their seats, Horn ditched her sister and tried to get a better view of the stage; she has a photo of The Beatles walking off the stage.
"They're running by me," said Horn. "Here comes Paul and for some reason, I just reached out with my right hand and [touched him] right down his upper arm."
"She came back to us," laughed Crawford. "And said, 'I touched Paul McCartney!"
But the thing the sisters remember most:
"The screaming!" said Horn, who is very proud that she didn't scream at the show. "I'd never heard screaming like that."
"The Beatles set was only 29 minutes long, and you just can't hear it," said KIRO Newsradio's resident historian, Feliks Banel. "There are bootleg recordings of almost every show The Beatles did and there's one for Seattle. I think it's generally regarded by experts as the worst bootleg recording of any of the shows because you can't hear what's going on. You just hear screaming. You associate so much human screaming and yelling with negative things. This was like ecstasy!"
The Beatles mostly played covers that night. They opened the show with Twist and Shout by the Isley Brothers and closed with Long Tall Sally by Little Richard.
"This notion of African American music, four guys from Liverpool buying these records from import record shops," mused Banel. "The combination of American rhythm and blues, Liverpool accents and the skilled musicians they were in this boy band, this quintessential pop bubblegum boy band, and all these girls screaming and yelling… But the music still stands up 60 years later. We'll never see anything like it ever again in the history of mankind."
The Beatles only played Seattle twice, once again in 1966, but 1964 is the show everyone talks about.
"Seattle in 1964 was still experiencing the afterglow of the 1962 World's Fair," said Banel. "You can't overstate how much impact that event, and building everything that's now Seattle Center, what that had on the city. In 1964 The Beatles organized their first North American tour and Seattle can host The Beatles because we have the coliseum, what's now called Climate Pledge Arena. It's converted after the fair into this incredible concert venue at the height of The Beatles' initial wave of popularity."
Paul McCartney played that very same arena last night and he'll play another show this evening. And Horn had a big surprise for her big sister. She handed her a card and Crawford read aloud.
"'Sis, I want to keep the memories going. It's only been 58 years this August since we saw The Beatles. I have tickets for us to see Paul McCartney!'" Crawford squeals. "Oh my god! 'Be there or be square!'"
Horn started getting emotional.
"When I listen to that music, it brings me back to that happy time. That was a very happy time," said Horn. "It's an emotional feeling. You can hear it in my voice. The fun of the evening, the anticipation. This is my memory and I only have shared it with myself and my sister."



May 3, 2022
"The Beatles And India" Documentary To Arrive On Blu-Ray And DVD In June

by Brave Words
The Beatles And India will be available on Blu-ray and DVD on June 21 via MVD Entertainment Group.
"When I first heard Indian music, I just couldn't really believe that it was so great, and the more I heard of it, the more I liked it. It just got bigger and bigger, like a snowball". - George Harrison
In 1968 the world's most popular rock and roll band, The Beatles, had achieved mass fame and fortune yet were searching for deeper meaning in their lives. Under the spiritual guidance of Indian guru Maharishi Mahesh Yogi, The Beatles took a trip to Rishikesh, India to study Transcendental Meditation® and set out on a path of deep enlightenment that would change the world.
The award-winning feature documentary, The Beatles And India (Silva Screen Productions, Renoir Pictures), examines how Indian music and culture shaped the music of John, Paul, George and Ringo and in turn, explores how The Beatles served as ambassadors of this pioneering World music sound and cultural movement.
Drawing together an expansive archive of footage including contemporaneous locale shooting in India, recordings, photographs, and compelling first-hand interviews, The Beatles And India exhaustively documents this East-meets-West touchstone in pop culture history. Inspired by Ajoy Bose's book Across The Universe - The Beatles In India, the documentary was produced by British Indian music entrepreneur Reynold D'Silvaand directed by Bose (his directorial debut) and cultural researcher Pete Compton. The Beatles And India has been awarded Best Film Audience Choice and Best Music at the 2021 UK Asian Film Festival "Tongues On Fire." The Beatles And India has also been nominated for Best Documentary at the 2022 New York Indian Film Festival, and will be the closing film for the festival.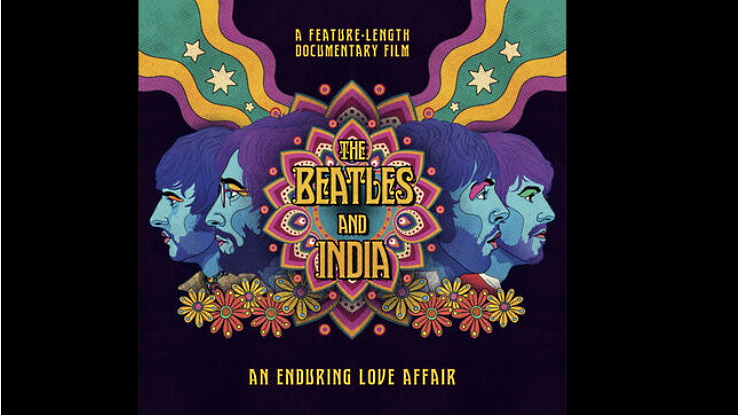 The Beatles were first introduced to Indian music while filming their 1965 film, Help!, which featured the Indian musicians in a restaurant scene. George Harrison would become a lifelong impassioned devotee of Indian music. He would soon buy his first sitar, befriend and study under sitar master Ravi Shankar and employ the instrument to revolutionary effect linking the worlds of pop music with Indian music on the Beatles song, "Norwegian Wood," which appears on their Rubber Soul album. That song marked the group, and particularly Harrison's full on immersion into Indian music, a raga rock sound heard in The Beatles songs, "Tomorrow Never Knows" and "Love You To" (Revolver) "Within You Without You" (Sgt. Pepper) and "The Inner Light (B-side to the "Lady Madonna" single)"
In early July 1966, while returning from shows in the Philippines, The Beatles made a quick stopover in New Delhi, India, marking their first trip to the country. Less than two years later, in February 1968, the group would return for an extended sojourn at Maharishi Mahesh Yogi's ashram in Rishikesh, India where they would take a training course in Transcendental Meditation®. Their search for spiritual enlightenment would both shape their thinking and values and indelibly color the sounds of their expanding musical palette.
The Beatles And India is an unforgettable audio-visual experience that spotlights the legacy of that historic visit, chronicling The Beatles' crucial role as avatars of a musical movement inspiring newfound societal and cultural awareness, weaving the fabric of pop and Indian music into a unified force of positivity and spiritual exploration.



May 2, 2022
Twist & Shout - The Beatles' Greatest EP & Unique Canadian Album

by Parlogram Auctions
Twist & Shout was not only the lead-off track of the best-selling EP is UK chart history, it was also the title
of their unique 2nd album in Canada issued in February 1964. In this video we look at the stories behind the
song and its recording, but also go into detail about the iconic cover photo and the Canadian album. Do you
think this is The Beatles' greatest cover version?
Heart's Ann Wilson on the Beatles and gender, her new song "Greed" and covering George Harrison

Heart's lead vocalist and songwriter digs deep into her Beatles influences for this "Everything Fab Four"
interview
by Nicole Michael for Salon
Acclaimed rock vocalist Ann Wilson, who says "there's nothing I like more than discussing the Beatles," joined
host Kenneth Womack to do just that on the season 3 finale of "
Everything Fab Four
," a podcast
co-produced by me and Womack (a music scholar who also writes about pop music for Salon) and distributed
by Salon.
Wilson and her younger sister Nancy make up the legendary,
Rock and Roll Hall of Fame-inducted band Heart
— the first hard rock group fronted solely by women — who were behind such hit songs as "Magic Man,"
"Crazy On You" and "Barracuda." As Ann tells Ken, their mother "always played music in the house" but it
wasn't until she was 12 and her older sister Lynn brought home the "Meet the Beatles" album that everything
changed. "I don't think she realized what it would do to me," she says. "It was all over."
Being struck by their "Englishness," Ann was soon speaking with a Liverpool accent, wearing turtlenecks and
smoking fake cigarettes. As she explains, it wasn't about being a boy or girl: "In my heart, I felt androgynous
… you could be one of the Beatles without a gender role. They opened up a whole world of intelligence and
imagination. They gave you another periscope to see your gender from."
She and Nancy went from watching the Beatles on "The Ed Sullivan Show" to seeing them live at the Seattle
Coliseum in 1966 ("How do you come down from something like that? I don't think you do."), to playing music
themselves. And in following the band's artistic trajectory, Ann says they "always took lessons from the
Beatles about things we could add to our lives."
Calling each album from "Rubber Soul" to "Revolver" to "The White Album" full of "songs to die for," the Wilson
sisters incorporated what they learned into their own music, from Heart's "Dreamboat Annie" in 1975 to Ann's
new solo album, "
Fierce Bliss
," out now. It includes the song "Greed," which she thinks John Lennon would
have a lot to say about in terms of its commentary on the current state of the world.
A highlight of her career was performing George Harrison's "Beware of Darkness" at the George Fest tribute
concert in 2014, which she says Harrison's widow Olivia and son Dhani were thrilled with. And with both John
and George sadly being gone now, Ann says she named her new album with the thought that you
can't take anything in life for granted. "Happiness or bliss … I feel it all the way down to the ground."
Listen to the entire conversation with Ann Wilson on "Everything Fab Four
" and subscribe via
Spotify
,
Apple
Podcasts
,
Google
, or wherever you're listening.

Archived News
July 2000 - June 2003
July 2003 - December 2003
January 2004 - October 2004
October 2004 - May 2005
May 2005 - June 2005
July 2005 - November 2005
December 2005 - March 2006
April 2006 - June 2006
June 2006 - July 2006
August 2006 - September 2006
October 2006
November 2006 - December 2006
January 2007 - June 2007
June 2007 - March 2008
March 2008 - July 2008
August 2008 - September 2008
October 2008 - July 2009
August 2009 - November 2009
December 2009 - August 2010
September 2010 - December 2010
Jannuary 2011 - December 2013
January 2014 - June 2019
June 5, 2019 - November 2019
December 2019 - October 2020