April 12, 2021
Remembering the greatness of John, Paul, George and Ringo: "No reverb, no autotune, no BS. Two guitars, one bass, three voices, and a simple drum set. If this were released in 2020 it would be a hit," MD poster wrote.

April 10, 2021
On this day in 1972, Ringo Starr's "Back Off Boogaloo" enters at 21st spot on Ottawa's CFRA Hit Parade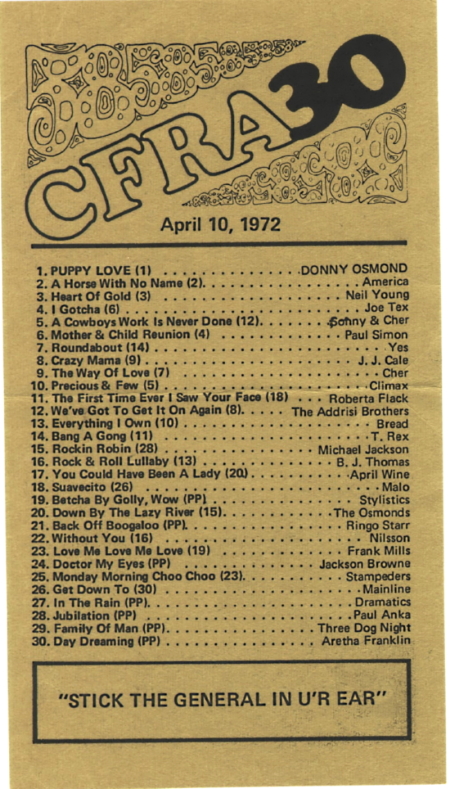 The CFRA Hit Parade is provided by David Sampson with our sincere thanks.
On Friday, April 6, 1956, Capitol Records premieres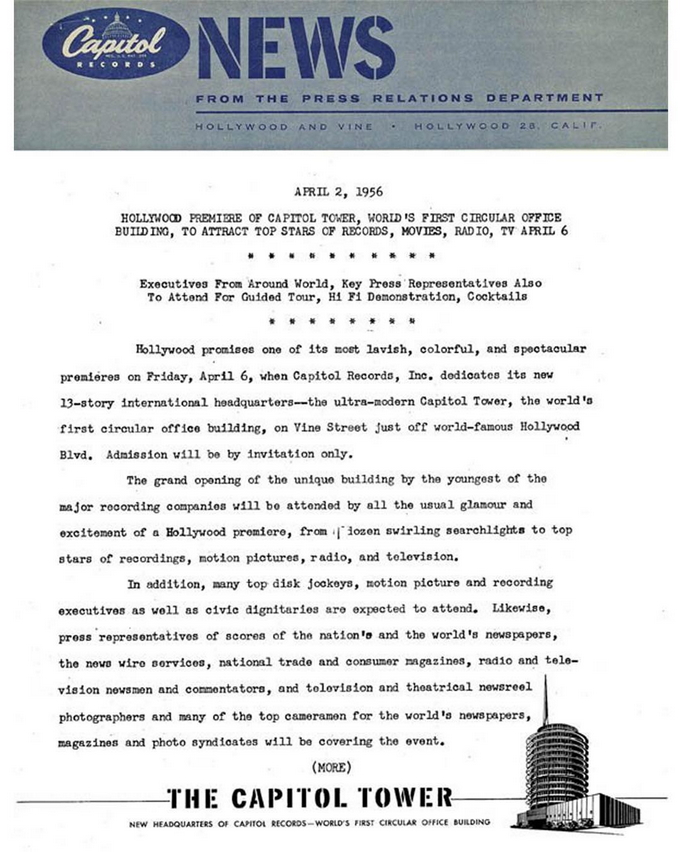 April 6, 2021
Love Me Do? 'Quite good', wrote John in revealing cache of Beatles letters
by Richard Brooks for the Guardian
Memorabilia from the band's Hamburg years, sent to photographer Astrid Kirchherr, will be auctioned in May
It was the city that made the Beatles. Not Liverpool, but Hamburg, the north German seaport where, between August 1960
and October 1962, the group played more than they ever did at the Cavern in their home city.
Sixty years on, previously unseen letters, work permits and photos have been unearthed about the band's time in Germany and their relationship with Astrid Kirchherr, the photographer best known for her stark black-and-white portraits of the Beatles taken in Hamburg before they were famous.
Letters to Kirchherr – who is credited with influencing the group's style and signature "mop-top" haircuts – include one from George Harrison inviting her to London "to make him tea and give him cornflakes" and one from John Lennon, who mentions their just-released first single, Love Me Do, writing modestly: "It's quite good but not good enough."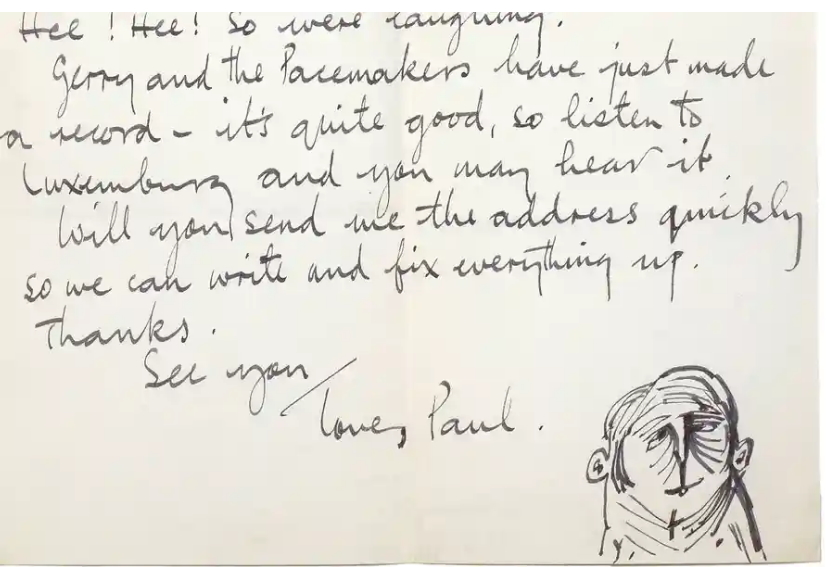 Kirchherr had been engaged to Stuart Sutcliffe, one of the group's original members, who died, aged 21, in April 1962 from a brain haemorrhage, a year after leaving the Beatles to study art in Hamburg. The story of the Beatles in Hamburg and her relationship with Sutcliffe was told in the 1994 movie, Backbeat.
"All the Beatles were in love with her – partly, a sort of mother or elder sister love, and partly sexual," says Stefanie Hempel, a close friend of Kirchherr for a quarter of a century until her death last year. "Astrid was so beautiful. But she also took care of them, looked after them in a spiritual and intellectual kind of way, as well as giving them a new awareness of themselves. It was much, much more than giving them their mop haircuts. In fact, she hated being known as the Beatles' hairdresser."
The unseen letters to Kirchherr have been owned for many years by an unidentified German man, who is now selling them at auction. Lennon's letter, written to her from his home in Liverpool in October 1962, six months after Sutcliffe's death, starts in his inimitable larky style. "Yes, it's me – John Winston." (Winston really was Lennon's middle name). But its tone then changes. "I'm really sorry you are so sad and uncertain about yourself. You must know that Cyn, I and the other Beatles will always feel the same about you. You will always be Stuart's Astrid to us."
"Stuart was really the one person to whom Lennon looked up," says Hempel, who for the past two decades has given tours and talks about the Beatles in Hamburg. "Both Astrid and John were grieving at the same time."
Lennon's letter adds that Cynthia is pregnant with "this little John inside her". The baby was to be Julian, who too became a singer-songwriter.
Harrison wrote that autumn to Kirchherr about how he had recently been back in Liverpool. "Three weeks ago some boy biffed me in the Cavern and gave me a black eye. I went to hospital and had a patch put over it. Then Johnny Kidd and I walked across the road, but into the path of a bus, which knocked me down." Kidd was the singer in Johnny Kidd and the Pirates who, ironically, wore eye-patches when performing.
Harrison then relates that he and Lennon had "just got new amplifiers and guitars – Gibson Jumbo Country and Western style", adding that "Paul [McCartney] has a new car – a Ford Classic, which is bigger than mine", before a comment about Ringo Starr, who had just replaced the sacked Pete Best. "He is already drumming very nice."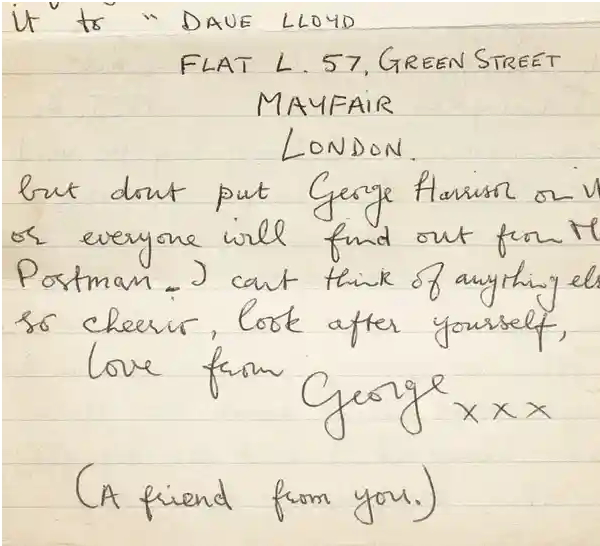 A 1964 missive from Harrison has him reminiscing about Hamburg. "I've found some old letters from Stu," he writes to Kirchherr. "It seems funny reading again about the Beatles in the Top Ten club." This was one of the city's raucous music venues, in which they performed 92 times in 1961 alone. He then asks Kirchherr to come to London to see him and the other Beatles. "You could stay in our new London flat," which he shared with Starr in Mayfair. Harrison suggests, "you could make us tea and give us cornflakes".
"That's just what Astrid and her mother did for the Beatles in Hamburg," says Hempel. "Also, some local restaurants put cornflakes on their menus for ... other British groups performing in Hamburg."
Harrison, however, warns Kirchherr not to use his name on the envelope in any reply. "Put on Dave Lloyd instead at our Green Street address. Don't put George Harrison or everyone will find out from the postman."
"George and Astrid remained very close until George's death in 2001," says Hempel. "Astrid would go to see George when he was living in Surrey."
Also included in the sale at Bonhams in London on 5 May is an early 1963 letter from McCartney about the release of their first LP, Please Please Me, plus drawings and poems she received from Lennon. At the same auction, though never owned by Kirchherr, are Lennon's German work permits plus previously unseen photos, taken by a fan, of the group leaving Hamburg airport in June 1962.
"The Beatles' time in Hamburg was absolutely crucial to them," says Katherine Schofield, Bonhams's head of entertainment memorabilia. "It's fair to say that they came to Germany as boys and left as men."

April 4, 2021
Special Feature: the Control Room where radio station CFRA would spin those Beatle tunes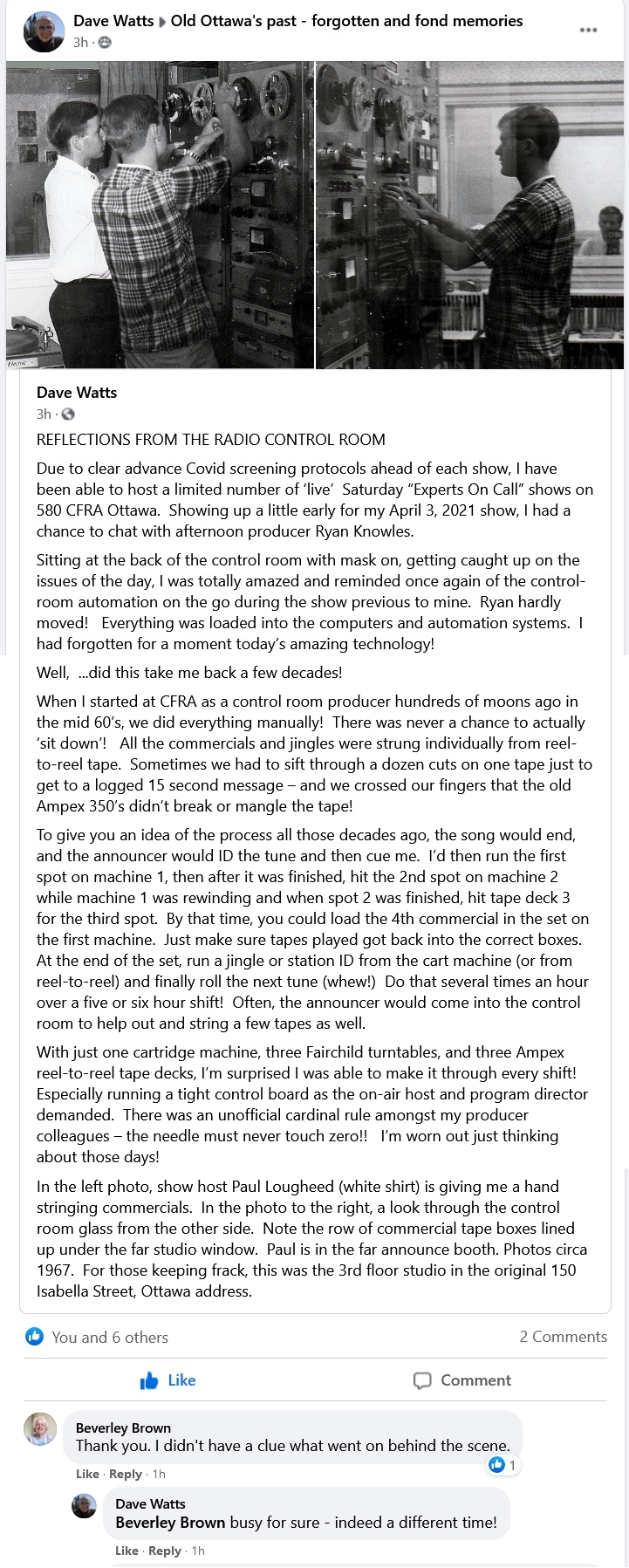 The above article appeared on Facebook's "Old Ottawa's past - forgotten and fond memories" on April 4, 2021.
Many thanks to Dave Watts recounting his fond recollections about Ottawa's #1 radio station: CFRA. Dave Watts is a former
writer, announcer, Music Director and Promotion Director for CFRA.

April 3, 2021
Student Dispatch: Paul McCartney Visits Princeton Songwriting Course
by Anna Allport for the Princeton Alumni Weekly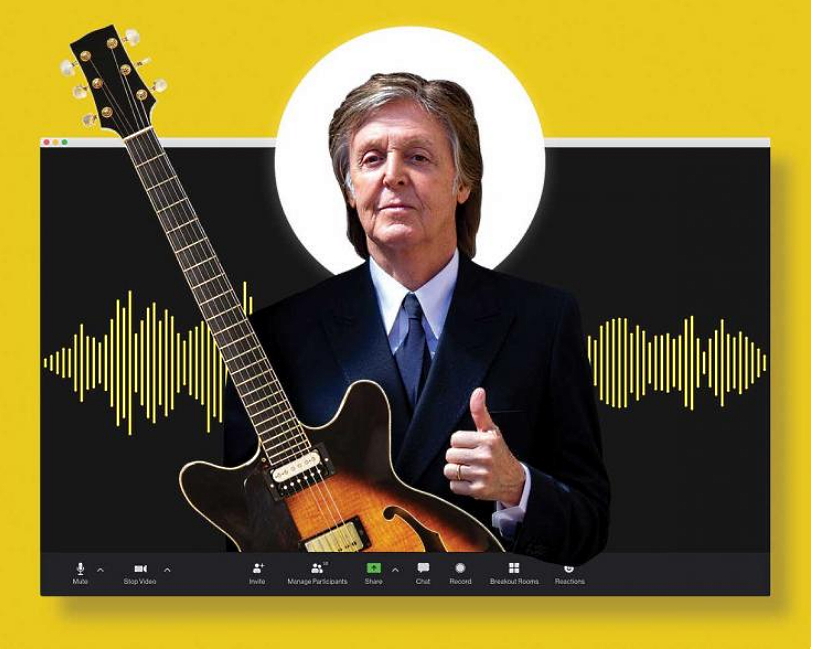 Photo credit: Edmon de Haro, Steve Parsons/AFP via Getty Images (detail of a 2018 photo of McCartney), iStock (guitar)
Students on the class Zoom call could barely believe their eyes. Some gasped. Others cheered. A few started crying tears of joy.
"IS THIS REAL?" asked Glenna Jane Galarion '21 in the Zoom chat, as Sir Paul McCartney logged onto the Princeton Atelier course "How to Write a Song." The students had the rare opportunity to have their work critiqued by the legendary Beatles musician and songwriter when McCartney, calling from New York, joined their virtual classroom in February.
"When we started listening to [my group's] song, Paul McCartney started bobbing his head," Galarion told PAW. "And I thought, 'No way is Paul McCartney, the greatest songwriter in music history, grooving to our song right now!'"
"How to Write a Song," taught by poet and Princeton creative writing professor Paul Muldoon, has been offered at Princeton in various forms since 2010. Bridget Kearney, a songwriter and bassist for the band Lake Street Dive and a former guest artist in the course, is co-teaching with Muldoon this year.
"We have an inordinate amount of fun in our class," Muldoon said. "Every last one of [the students] is talented in some way."
Every week, the 33 students in class are given a theme by Muldoon and Kearney, such as "protest" or "desire," and hear a musical lesson from Kearney on elements including harmony, meter, and orchestration. They work in groups of four or five, and each group's homework is to write and produce a full song. Class time is spent reviewing and discussing each song.
During the third week the theme was "loss," and a new Zoom participant mysteriously labeled "Test Student" popped onto the screen. Unbeknownst to the students, Muldoon had reached out to McCartney about visiting. The two have known each other for years; the Pulitzer Prize–winning poet is collaborating with McCartney on the musician's recently announced lyrical autobiography, due out in November.
When the students got over their initial awe, they settled in for a workshop full of incisive musical analysis and charmingly off-the-cuff stories.
McCartney listened as each group played its recording for him, and he gave specific advice to improve each song. He suggested that one group move an intriguing lyric to the top of its song, to grab listeners' attention. He advised another that words should be sung as naturally as they are spoken — the flow of language shouldn't be sacrificed for the sake of rhythm.
"He gave a lot of great advice on structure," said William Hunt '23. Anna McGee '22 cited the "empowering feeling" of having McCartney critique her work, and Rohit Oomman '24 appreciated learning to "let go of the idea of perfect."
Several of the students said McCartney has been influential in their songwriting. "Paul McCartney is a genius," said Oomman. "His influence is so far-reaching that it's not really a question of 'How has he influenced me?' It's like, 'How has he not?'"
Muldoon has hosted other notable artists in past semesters, including Paul Simon, Rosanne Cash, and Steve Martin, but the class is "not about having stars in the room," he said. "It's about giving the students the opportunity to have a response to their work by another artist in the field."
"How to Write a Song" is traditionally offered in person, featuring an end-of-semester concert of live student performances. Transitioning to Zoom, though, has allowed students to learn more about professional recording and production (key for future personal Spotify releases), and as Muldoon and Kearney noted, Zoom also facilitated McCartney's surprise visit.
McCartney seemed inspired by the class. He told the students, "I must say, I love to see the young talent. And the kind of hopefulness. And the joy. The positivity. You know, even if it's a sad song, just the fact that you wrote it is positive. And so, as far as I'm concerned, any message I can give you guys is: Hold onto that."

April 2, 2021
Kelly Clarkson Has Our Mind Set On Her George Harrison Cover
Kelly Clarkson has us zeroing in on her cover of George Harrison's rendition of "Got My Mind Set On You" for Tuesday's (March 30) Kellyoke segment.
And it doesn't take a whole lot of spending money nor a whole lot of precious time to relish in Clarkson doing the song right with her energetic performance.
The Beatles member released his cover of James Ray's originally titled song "I've Got My Mind Set on You" in 1987 as part of his 11th studio album, Cloud Nine. It became his third and last solo No. 1 hit on the Billboard Hot 100.
This isn't her first time covering a song performed by The Beatles (or any one of its members). She performed "Oh! Darling" from their 1969 album Abbey Road on a stop during her 2012 Stronger Tour.
Upon Clarkson's entry to superstardom following her American Idol victory, her 2002 debut single "A Moment Like This" made the biggest leap to the top of the Hot 100 when it skyrocketed 52-1, shattering The Beatles' 38-year-old record when "Can't Buy Me Love" flew 27-1 in 1964.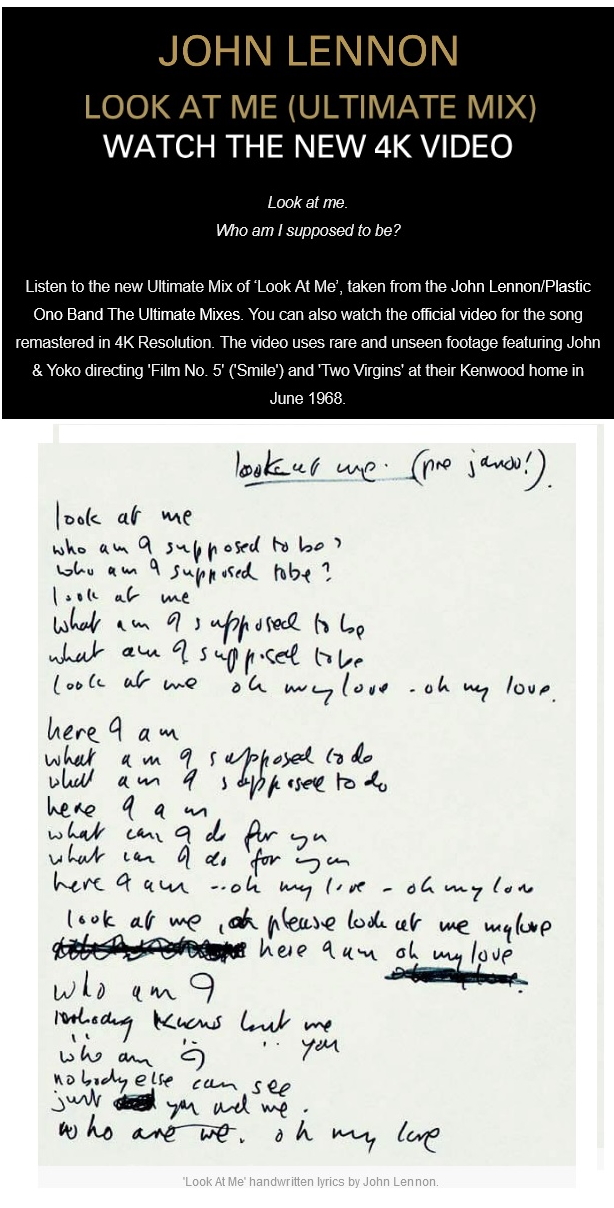 For further details, please click here.

April 1, 2021
Retrogroove Flashback: Ringo Starr's "Oh My My" starts climbing up the CFRA charts while Paul McCartney's "Jet" hits the #2 position during the first week of April, 1974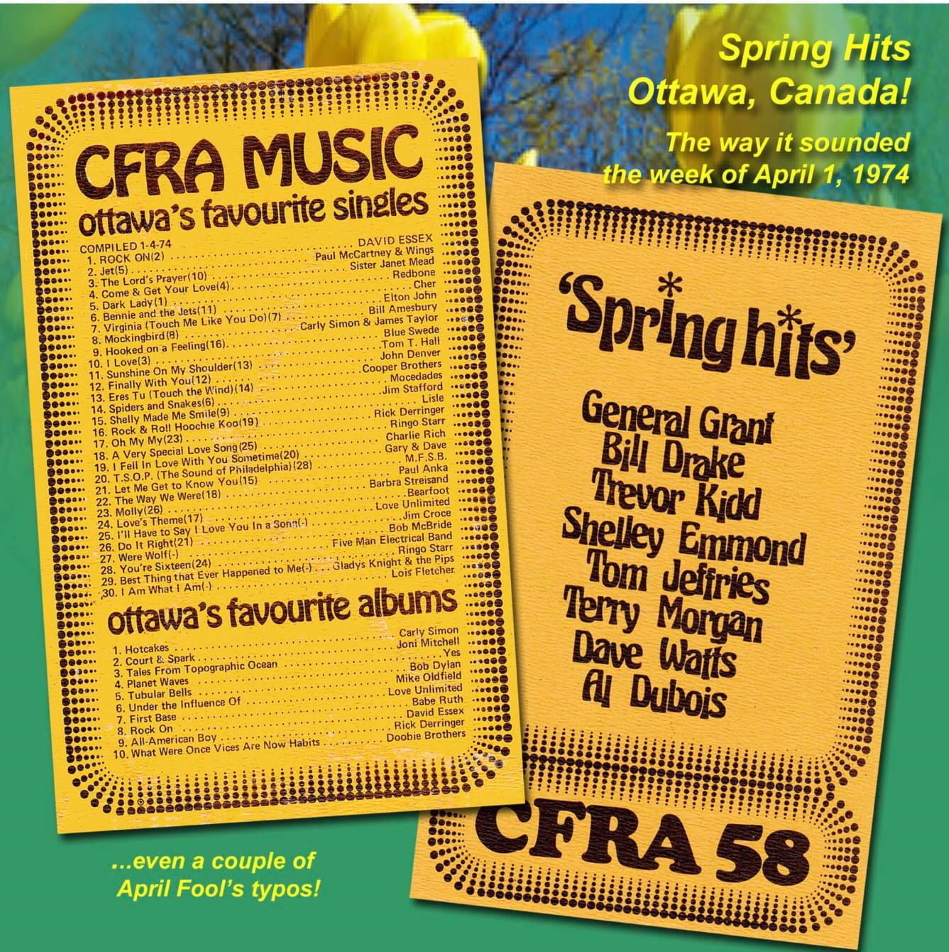 CFRA Hit Parade provided by Dave Watts with our sincere thanks.


March 30, 2021
From Japan's nippon.com news page...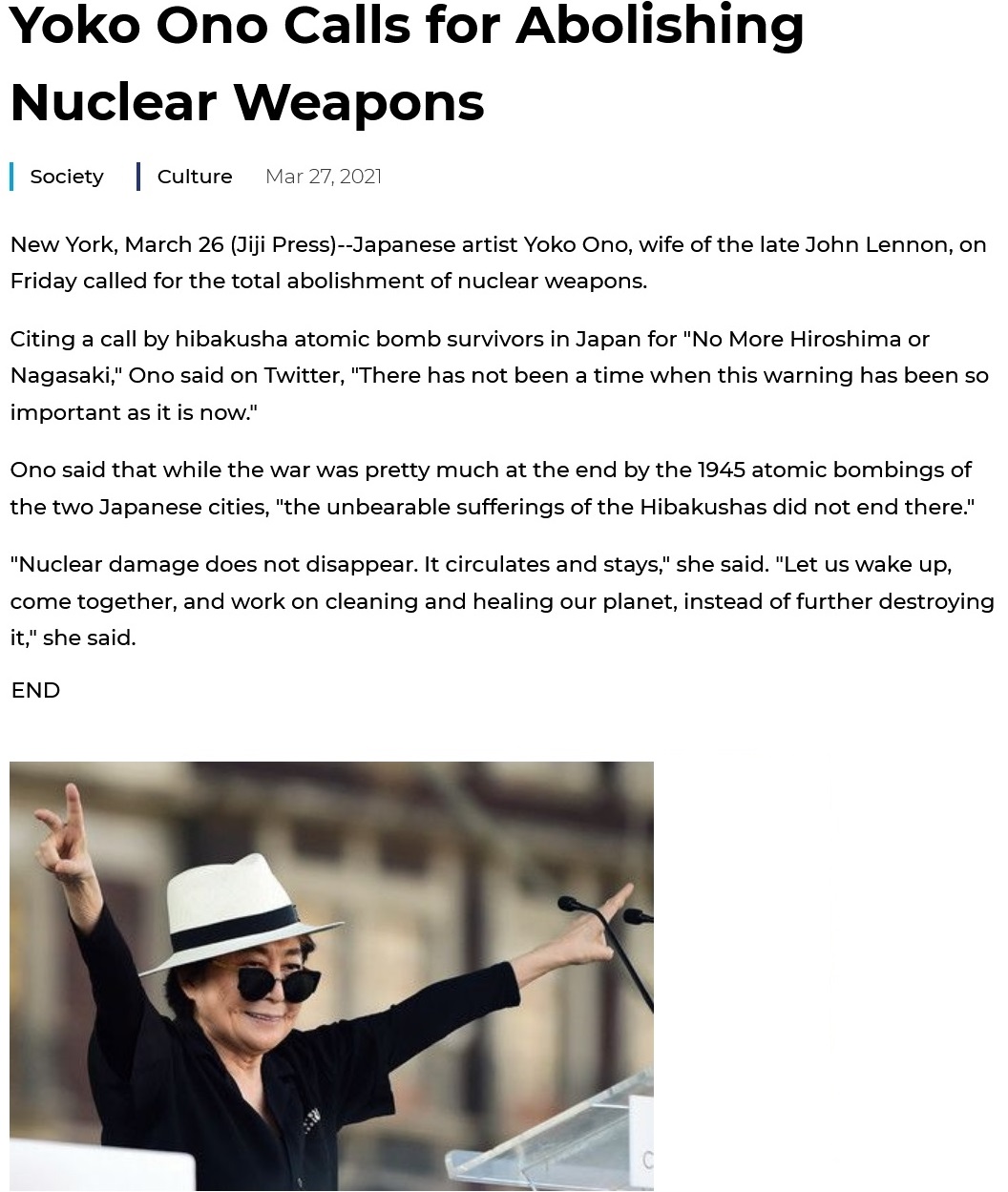 March 28, 2021
Please please me: Celebrating 58 years since The Beatles' debut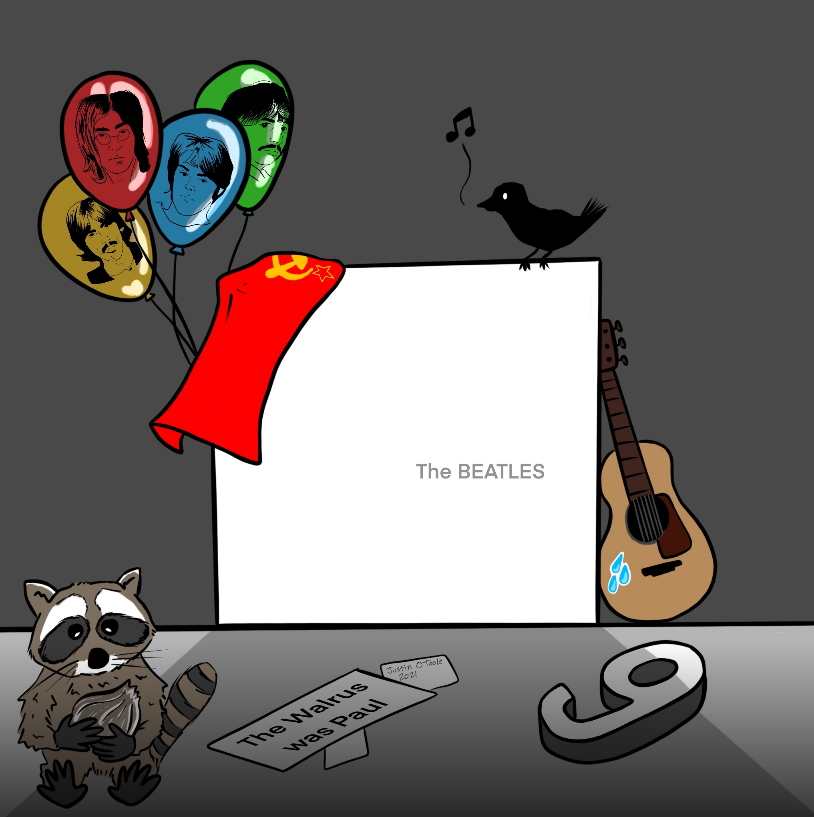 Justin O'Toole/THE REVIEW
Staff reporter Liz Hartshorne pays tribute to the band everyone's still in love with nearly six decades on.
By Liz Hartshorne for the Review
On March 22nd, 1963, The Beatles released their first album titled "Please Please Me". No one really knew how much music history this 32 minute album would kick off in the 1960s, but it definitely started a whirlwind of a life for John, Paul, George and Ringo. Voted 39th on Rolling Stone magazine's list of the "500 Greatest Albums of All Time," this is "Please Please Me."
I was able to get my hands on a "Please Please Me" original record a few years ago when I was given a turntable for my 16th birthday and started collecting vinyl records. Although it was the first full album that The Beatles released, it was not the first Beatles record that I could find at a record store.
I began listening to The Beatles at a very young age; I think I was about three or four years old. But I didn't listen to their earlier albums, like "Please Please Me" and "With The Beatles" until years later when I really began to appreciate the history of the band. Most people my age only know The Beatles for their most famous albums like "Magical Mystery Tour", "Sgt. Pepper's Lonely Hearts Club Band", "Let It Be" and, of course, "Abbey Road" that have cemented their place in music history. But listening to their earlier music in addition to their late 1960s hits shows how far the band has come and how well they changed with the times by their different sounding albums. Each one of The Beatles albums, with the exception of "Please Please Me", "With The Beatles" and "Help!", sounds completely different, and that is one of the many reasons why I've come to love The Beatles.
George Martin was the band's producer and was commonly known as "the fifth Beatle" because of his involvement in each and every one of The Beatles' original albums and the films that were produced starring The Beatles. He also had a lot of say in when singles would be released and which songs would be on the record. Martin originally thought about recording "Please Please Me" at the Cavern Club, the famous club in Liverpool, England where The Beatles were first discovered. There, they performed songs like "Please Mr. Postman," "Roll Over Beethoven," "Till There Was You," "Tutti Frutti" and "Twist and Shout."
In their Cavern Club days, The Beatles were not yet called "The Beatles," they were called "The Quarrymen." One of their first songs they performed at the club was the song titled "In Spite of All The Danger," a song that I've actually heard McCartney sing live at a couple of his concerts within the past few years that he's gone on tour. He normally plays around 40 songs at his concerts and always makes sure to add in this "Quarrymen" original song, which is always such a nice tribute to the start of the band that everyone in the audience knows and loves.
Having the album recorded at the Cavern Club would have been a good place to start for the band's first album, but Martin ended up landing them a recording with EMI Records in London, England. The Beatles took all day to record the album by doing their set of the album, song by song. They recorded their cover of the song "Twist and Shout" by The Isley Brothers last because Lennon had a nasty cold the day they recorded the album. They chose to do this because Martin was worried that Lennon's big solo section in the song would make him sound worse on the rest of the album. It is difficult to notice, but while listening to Lennon's singing parts on the record, you can kind of notice that his voice was a little bit raspy, and he sang at a lower pitch than he sings in later recordings of their music. While listening to the record on my turntable, I noticed Lennon's raspy voice the most in the songs "I Saw Her Standing There" and "Misery."
Just like music today, most artists chose to release a "single" song off of their album to kind of give it a head start in the media and the public. Of course, because in the 1960s the singles would be released on two-sided records, two songs needed to be picked. So, The Beatles decided to release "Love Me Do" / "P.S. I Love You" as their first single off their debut album a few months before the whole record was released. When they began recording the song, Martin had suggested that they use an instrument like a harmonica, an instrument that was used in multiple hit songs in the early 1960s. The Beatles are historically known for their very original sounding songs, and the use of the harmonica in "Love Me Do" was the beginning of their original trademark.
The Beatles' started out being credited as just "McCartney-Lennon" because John and Paul wrote most of the songs on the album. Out of the 14 songs on "Please Please Me", McCartney and Lennon wrote eight of them, including "Love Me Do." Many Beatles listeners know "Love Me Do" as their debut single. That is exactly what it was. The record peaked at number 17 on the U.K. top music charts. The song was also released in America but not until 1964. It wasn't long after it's debut in America that the song became a number one hit.
But what some Beatles listeners don't know is that McCartney wrote most of this song when he was only 16 years old. McCartney was always one to chase trouble, especially when he was younger. McCartney has gotten in trouble at school for skipping class and was suspended for a few days. So, why not write a hit song? The song was not yet finished though, which is where Lennon's contribution came in. Lennon and McCartney sitting down scribbling songs in their notebooks together, like they did while writing "Love Me Do" and hundreds of other songs, was the start of something big that they were not yet aware of.
The album cover ended up being quite memorable as well. After weighing many ideas that Martin had for the cover, they went with what seemed to be the simplest of all ideas: a friendly photograph of the group looking down from the stairwell of EMI Records, where the band had recorded the album. The photo was later remade for the cover of their blue compilation album, consisting of their songs from 1967-1970, including songs from "Magical Mystery Tour", "Sgt. Pepper's Lonely Hearts Club Band", "Abbey Road" and "Let It Be." The compilation album also included several singles that did not appear on any Beatles albums, such as "Lady Madonna," "Hey Jude" and "Revolution."
Every band has to start somewhere, but it is astonishing how much of an impact The Beatles had on music and society, starting with their debut album in 1963. "Please Please Me" remained on the top charts in the U.K. for 30 weeks that year and remains known as the record that started an earth-shaking decade in music history.

March 27, 2021
The latest video updates from Ringo and Paul

March 26, 2021
Turkuaz improvised cover ending on "Rain" will surprise Beatle fans!

March 25, 2021
The Confidant in the Shadows - Neil Aspinall
by the Beatles Story Liverpool, originally published on March 22, 2021
Debate amongst Beatles lovers across the world continues in regard to the identity of the true 'Fifth Beatle'. Yet when immersed in the life and times of The Beatles, one finds the task of identifying a sole person very difficult. You see, The Beatles were the Fab Four and quite rightly so, but their success is shared with many others who helped them along their journey.
In this series of special blog posts, we will explore the lives and roles of those who were very much integral to the growth and evolution of The Beatles over the years.
Road manager turned CEO of Apple Corps, Neil Aspinall was involved in every aspect of The Beatles and their rise to global stardom, this is his story…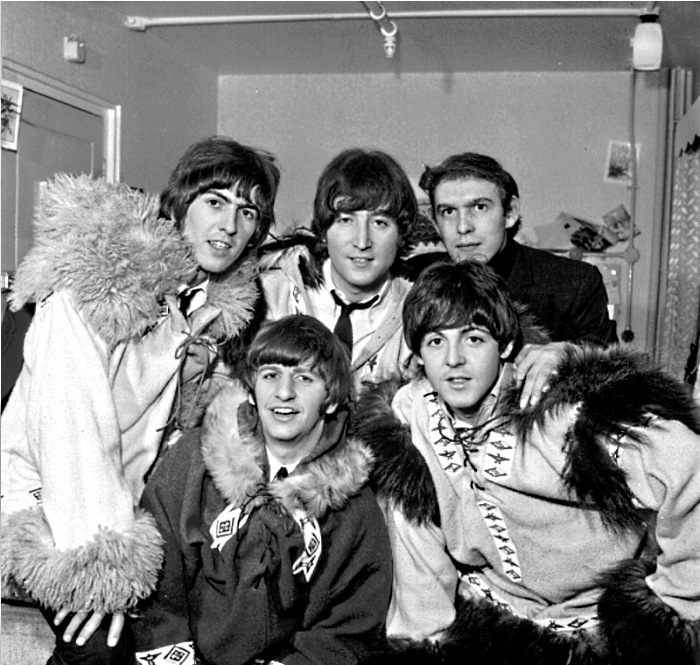 Photo credit: Getty Images
Born in Prestatyn in 1941, Neil met Paul and George at the Liverpool Institute, an all-boys grammar school in the city. Although George was the year above them both, Neil remembers the first time they met;
"My first encounter with George was behind the school's air-raid shelters. This great mass of shaggy hair loomed up and an out-of-breath voice requested a quick drag of my Woodbine. It was one of the first cigarettes either of us had smoked. We spluttered our way through it bravely but gleefully. After that the three of us did lots of ridiculous things together. By the time we were ready to take the GCE exams we'd added John Lennon to our 'Mad Lad' gang…"
After school, Neil went on to study accountancy and was a trainee accountant for 2 years. He enjoyed music and had a membership for the Casbah Coffee Club ran by Mona Best where The Beatles as we know them today first played as The Quarrymen and then as The Silver Beatles with Pete Best as their drummer. Neil became a close family friend of the Bests and eventually rented a room in their house. It was Pete Best who asked Neil in 1961 to be the band's part-time roadie and from there, his relationship with The Beatles grew stronger.
Eventually, Neil gave up his studies and became their full-time road manager. During this time, he also developed a romantic relationship with Mona Best and their child was born in 1962. When Pete Best was sacked as their drummer by Brian Epstein, Neil felt a massive loyalty for Pete and indicated that he would quit as a result. Due to Pete's encouragement and belief that The Beatles were going places, Neil continued to work for them whilst maintaining his friendship with Pete.
As The Beatles continued to grow and their entourage got bigger, Neil became more of a personal assistant to the band working closely with Brian Epstein. Always just out of the camera shot, he went everywhere with the band. He was a great friend, helping them remember lyrics to songs, offering relationship advice and even standing in during rehearsals if anyone was sick, as was the case during rehearsals for The Ed Sullivan Show when George caught tonsilitis. As Beatles biographer Hunter Davies states, he was one of the 'paid mates', who the fab four trusted unconditionally.
Neil's training in accountancy never did go to waste because come 1967, he was asked to head Apple Corps - a role which he officially held for over 30 years. Throughout the years, he played an integral role in managing the band's numerous commercial interests. This included overseeing various lawsuits and most notably producing The Beatles Anthology, where his friend Pete Best would finally receive royalties for the part he played during the early years of the band.
On this day, we remember the extraordinary life of Neil Aspinall who sadly passed away after a battle with lung cancer in 2008. He is survived by his wife Suzie Aspinall, 3 daughters and 2 sons. He is remembered as a fierce protector of the band's legacy who always had their best interests at heart. As an insider, he never did publish any memoirs but his story is remembered through The Beatles Story exhibition and will continue to be shared with visitors from across the world.

March 23, 2021
How the Beatles Ditched Psychedelia With Lady Madonna
by Nick Deriso for Ultimate Classic Rock
The Fats Domino-inspired "Lady Madonna" served notice that the Beatles' technicolor dream was over.

Released in March 1968, this account of an exhausted, probably single mother facing down daily problems is as lean and rootsy as 1967's Sgt. Pepper's Lonely Hearts Club Band was layered and kaleidoscopic. Named in a clear reference to his Catholic upbringing, "Lady Madonna" also served as a stopgap as the Beatles prepared for a trip to India where they'd study meditation with Maharishi Mahesh Yogi.

"'Lady Madonna' was me sitting down at the piano trying to write a bluesy boogie-woogie thing," Paul McCartney said in Barry Miles' Many Years From Now. "I got my left hand doing an arpeggio thing with the chord, an ascending boogie-woogie left hand, then a descending right hand. I always liked that, the juxtaposition of a line going down meeting a line going up. That was basically what it was. It reminded me of Fats Domino for some reason, so I started singing a Fats Domino impression."

McCartney's intro likewise tipped his hat to Humphrey Lyttelton's 1956 hit "Bad Penny Blues," which was also produced by George Martin. Lyttelton later revealed that he took this quote at the piano as a compliment.

"I've never had any sympathy with the notion of 'Here are some guys, they're worth a fortune. Let's try and get some of it,'" Lyttelton said. "Although none of the Beatles cared for traditional jazz, they all knew and liked 'Bad Penny Blues,' because it was a bluesy, skiffley thing rather than a trad exercise."

McCartney's dad sidelined as a jazz musician, but this latest tribute to steadfast women was mainly inspired by his mom – a midwife who served as the family's principal breadwinner before her too-early death. So, "Lady Madonna" was tougher than "Eleanor Rigby" or "Lovely Rita" – and far more worldly.

Every line is sharpened to a knife's edge, as she muscles her way through another difficult week. The Beatles' only look back from this gritty scene arrives with the line "see how they run," a double entendre about her worn-out stockings that echoes a John Lennon lyric from the previous year's "I Am the Walrus."

The spark for McCartney came courtesy of a photograph of a Malayo-Polynesian woman caring for three small children, taken for National Geographic in 1965 by Howard Sochurek.

"I saw that as a kind of Madonna thing, mother and child, and I just – you know, sometimes you see pictures of mothers and you go, 'She's a good mother,'" McCartney told National Geographic in 2017. "You could just tell there's a bond and it just affected me, that photo. And so I was inspired to write 'Lady Madonna,' my song, from that photo."


Still, it wasn't all so serious. Lennon and George Harrison joined McCartney for background vocals that imitated brass instruments during the instrumental break before bringing in four saxophonists – including the legendary Ronnie Scott – to complete the session. Unfortunately, Scott's solo was buried in the mix until the Anthology series salvaged it by combining elements of takes three, four and five.

"Lady Madonna" entered the U.K. charts at No. 5 in late March, then spent two weeks at the top. The single was halted at No. 4 in the U.S., but nevertheless made history of another sort.

The Beatles had originally considered releasing "Across the Universe," but Lennon withdrew the song because he wasn't happy with the arrangement. Harrison was the beneficiary, as they paired "The Inner Light" with "Lady Madonna" to fashion his first original B-side. In a cool twist, Fats Domino also covered "Lady Madonna," and it became his 77th – and final – U.S. charting song.

Only later did it occur to McCartney that the song had a timeline error. "I was writing the words out to learn it for an American TV show and I realized I missed out Saturday; I did every other day of the week, but I missed out Saturday," McCartney told Miles. "So, I figured it must have been a real night out."

March 22, 2021
The songwriting advice John Lennon gave to Joni Mitchell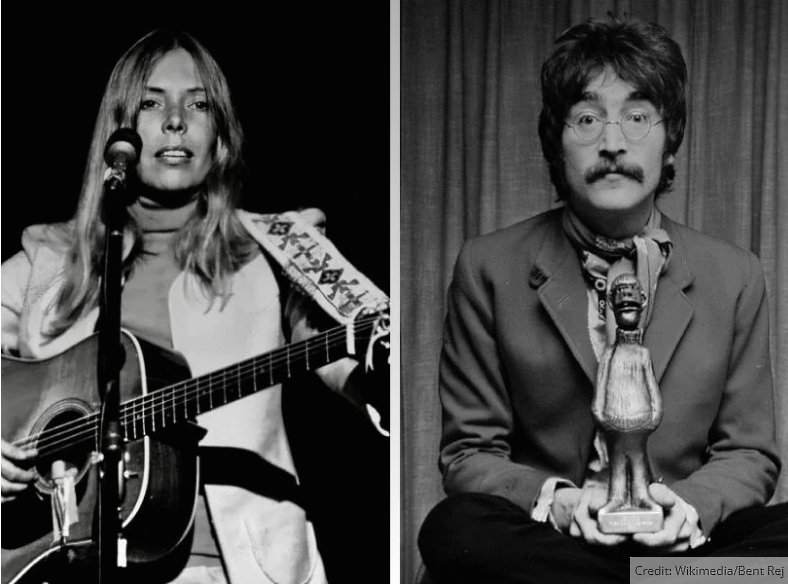 John Lennon and Joni Mitchell are undoubtedly two of the finest songwriters of all-time. Still, their approach to music came from opposite ends of the spectrum; that's if Mitchell's debut encounter with the bespectacled Beatle is anything to go by. It was during this first meeting when Lennon decided to give the folk singer some career advice.
The source of contention that led to Lennon handing out words of wisdom to Mitchell came from one of the standout singles from Mitchell's album Clouds — the track, 'Both Sides Now'. It remains, to this day, as one of Mitchell's most iconic compositions. Mitchell is said to have written 'Both Sides Now' in March of 1967, after being inspired by a passage in Saul Bellow's novel Henderson the Rain King.
However, the song is best known by Judy Collins' version and charted at eight in the States, a whole year before Mitchell would get round to sharing her own version of the track. Lennon found this staggering. The singer was perplexed by the idea that an artist wouldn't protect a track like 'Both Sides Now' at all costs and, what's more, allow their friend to have a hit with it.
Once commenting about the track, Mitchell noted: "I was reading Saul Bellow's Henderson the Rain King on a plane and early in the book 'Henderson the Rain King' is also up in a plane. He's on his way to Africa, and he looks down and sees these clouds. I put down the book, looked out the window and saw clouds too, and I immediately started writing the song. I had no idea that the song would become as popular as it did."
The most famous example of Lennon giving away a song came when The Beatles allowed The Rolling Stones to have their first hit with 'I Wanna Be Your Man'. Lennon later commented: "It was a throwaway. The only two versions of the song were Ringo and the Rolling Stones. That shows how much importance we put on it: We weren't going to give them anything great, right?"
During a television appearance in the '90s, Joni spoke of 'Both Sides now and joked about people not realising that the track written by her, not Judy Collins. Mitchell revealed that people come up to her on the street and ask," 'How did you get Judy to give you permission to sing her song?".
This unselfish approach to music epitomises Mitchell, but it's fair to say that most artists of her size would hoard their best work rather than letting their friends have it. During the same appearance, the singer recounted the words of warning that John Lennon gave her about this the first time they met each other.
"When I met John Lennon, it was during his lost year in LA y'know, and he came up to me to say, 'Oh it's all a product of overeducation, you want a hit, don't you?'," she says in her best Scouse impression, which if you're from the UK, sounds just like a typical American attempt at a standard British accent — the kind that sounds like absolutely nobody in reality. But it's the effort from Mitchell that counts.
"I was cutting Court and Spark; he was cutting across the hall, so I played him something from Court and Spark," Mitchell remembers before resurrecting her best Lennon impression once more. "He said, 'You want a hit don't you? Put some fiddles on it! Why do you always let other people have your hits for you y'know?'"," she adds before bursting into laughter.
Even if John Lennon would have you believe that all he cared about was expressing his artistry, his comments to Mitchell show that the former Beatle loved searching for a hit record, and few people managed to strike gold as often as Lennon. Whereas Mitchell's road to success was a route less travelled and hit records were never on the horizon of her desires. Instead, she chose a purer artistic road, something she would have done with or without Lennon's words ringing in her ears.

March 18, 2021
Paul McCartney to release new picture book 'Grandude's Green Submarine'
It's the sequel to 2019 best-seller 'Hey Grandude'
by Nick Reilly for New Music Express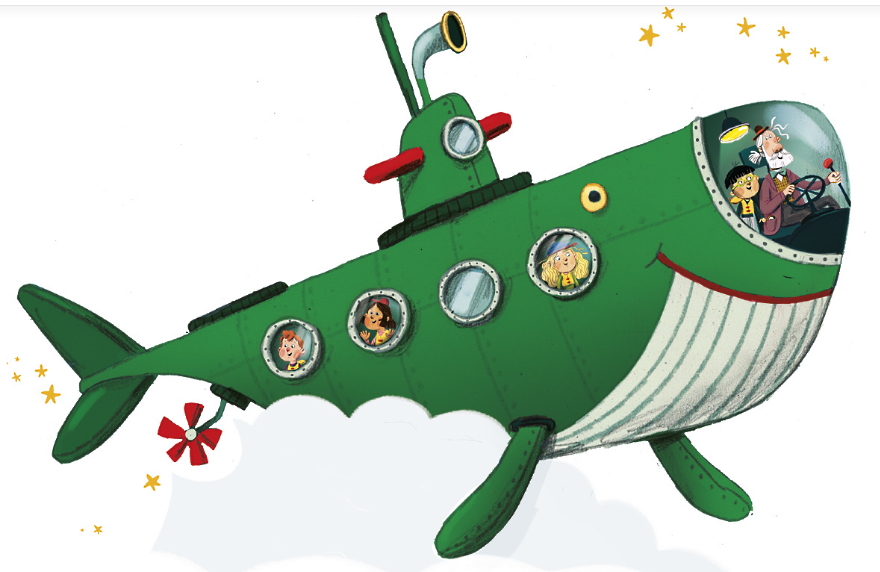 Paul McCartney has announced the release of 'Grandude's Green Submarine' – his second picture book.
A direct sequel to 2019's 'Hey Grandude', the book is set for release on September 2 and continues the adventure of the eponymous grandfather and his grandchildren as they set off on a quest to find their music-loving grandmother, Nandude.
McCartney previously explained that the lead character's name is taken directly from the nickname that his grandchildren are known to call him.
'I'm really happy with how Hey Grandude! was received as this was a very personal story for me, celebrating Grandudes everywhere and their relationships and adventures with their grandchildren," McCartney said.
"I love that it has become a book read to grandkids at bedtime all around the world. I always said if people liked the first book and there was an appetite for more I would write some further adventures for Grandude – so he's back and this time with his special invention, Grandude's green submarine!"
Illustrator Kathryn Durst said: 'I am so thrilled to be collaborating with Paul again on Grandude's Green Submarine. I think this is the adventure book we all need during this time, when everyone is stuck at home and longing to travel to exciting new places.
"I really enjoyed drawing the newest character in the book, Nandude, particularly because we both share a love of playing the accordion!"
Meanwhile, McCartney announced last week that he is to release a reimagined version of last year's 'McCartney III', featuring re-workings of the album from the likes of St Vincent, Beck, Damon Albarn, Phoebe Bridgers, Josh Homme and many more.

March 16, 2021
Ringo Starr, 80, looks incredibly youthful as he makes surprise appearance at Grammys to present Record of the Year
by Rachel McGrath for the Daily Mail
Ringo Starr made a surprise appearance at the Grammy Awards in LA on Sunday night.
The Beatle, 80, took to the stage during the live telecast to present the final trophy of the evening, the award for Record of
the Year.
'After a year when we've all been zooming in and zooming out, it's great to be here. In fact, it's great to be anywhere,' he
quipped.
Ringo, who lives in LA with his wife Barbara Bach, will release a new EP Zoom In on Friday as well as his new book, Ringo Rocks: 30 Years of the All Starrs 1989-2019.
He wore a black t-shirt with a rainbow-hued peace sign on the front and black drawstring pants with red stripes down the sides.
He completed his ensemble with a black leather jacket and sported dark glasses.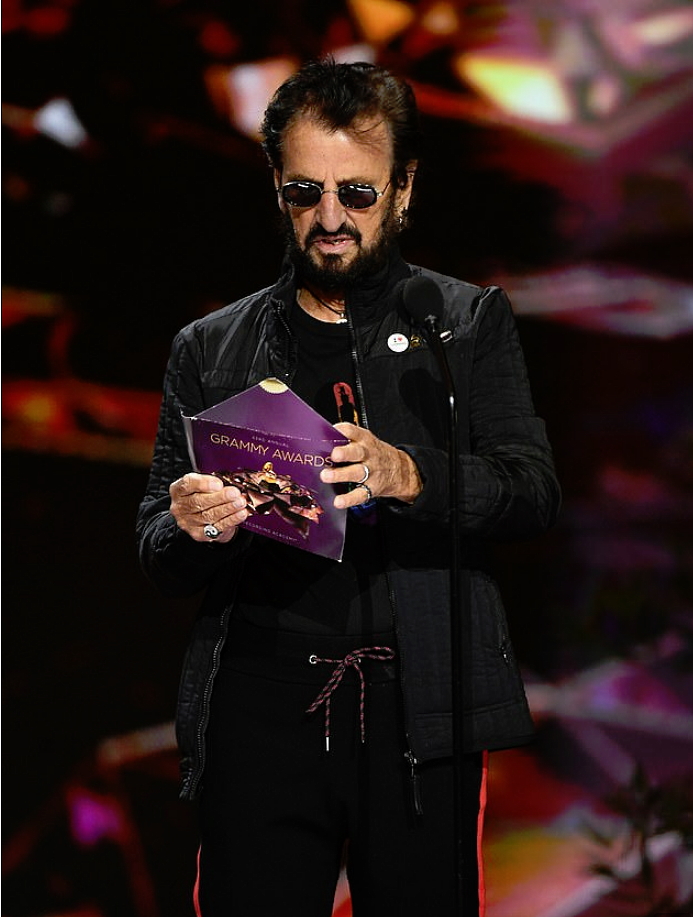 Flashing his signature peace sign, Ringo shared he was 'honored' to be a part of the Grammys, which this year were held in a socially-distanced ceremony at the Los Angeles Convention Center.
'I want to say this with peace and love to all of these gifted nominees: If you're making music in our world today, you've already won. And I thank you,' he said.
He then opened the purple envelope and announced the Record of the Year winner as Billie Eilish for Everything I Wanted.
Billie and brother Finneas appeared shocked when Ringo announced the winner and seemed a little overcome to be on stage with the legendary rock star.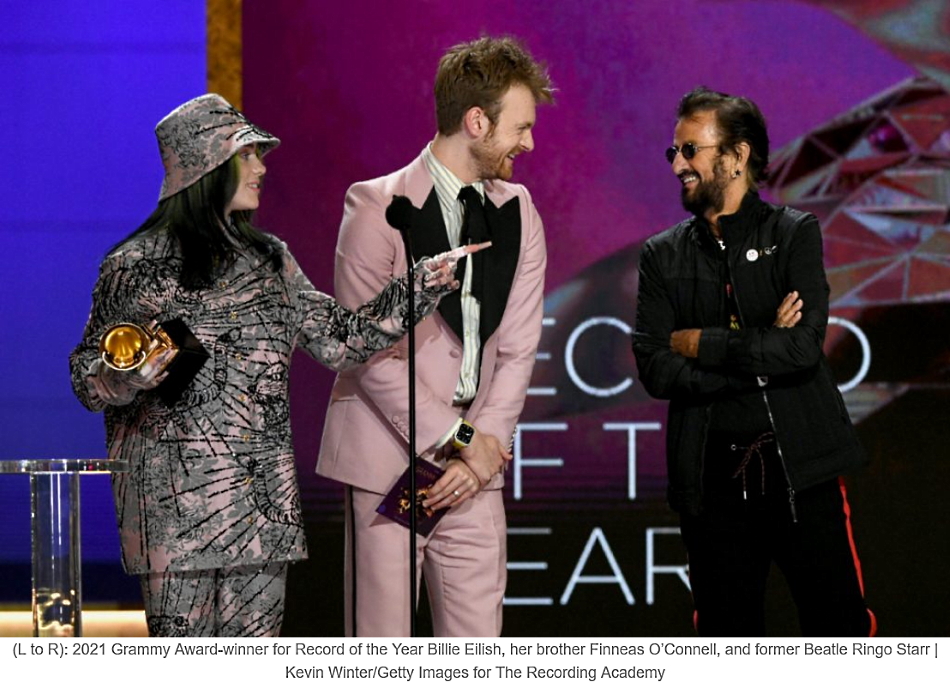 Billie, 19, also made out that she wished fellow nominee Megan Thee Stallion had won in her stead.
She began her acceptance speech with, 'This is really embarrassing for me.'
She went on: 'Megan, girl, I was going to write a speech about how you deserved this, but then there is like there is no way they will choose me, I was like it's hers. You deserve this. You had a year that I think is untoppable. You are a queen.'
The teen added: 'You are so beautiful, you are so talented. You deserve everything in the world. I think about you constantly. I root for you always. You deserve it, honestly.'
Billie then went on to thank the Recording Academy for her win, saying: 'I really do appreciate this.'
The Stephen Colbert Show - Ringo Starr: Peter Jackson's Documentary Captures The Fun Of Being In The Beatles

March 15, 2021
The Beatles "Nowhere Man" goes number #1 on Ottawa's Radio Station CFRA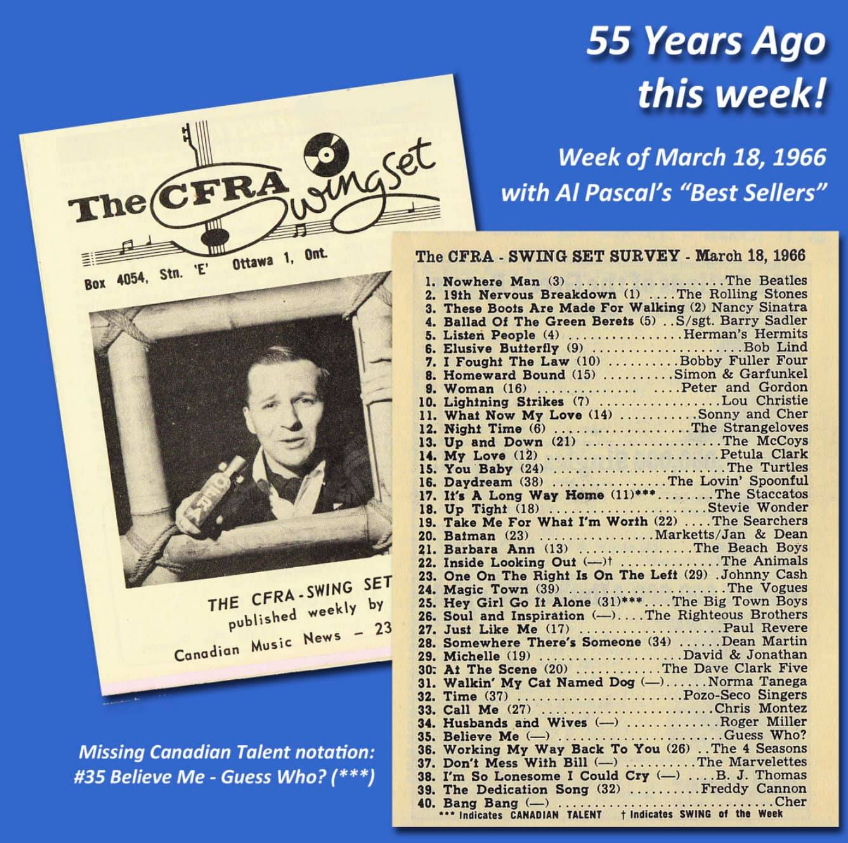 Dave Watts writes:
"AL PASCAL'S 'BEST SELLERS" ON 580 CFRA, Ottawa
"Pascal arrived at 580 CFRA Ottawa in September, 1965. Initially, his program "Best Sellers" ran from 7:00 to 7:30 PM, followed by Gord Atkinson's "Campus Club" from 7:30 to 8:00 with Al returning to 9:00PM. Within 18 months, petitions circulated through Ottawa area high schools calling for "Best Sellers" to be extended. By late 1968, "The Al Pascal Show" was on the air from 7:00 PM to 11:00PM. Al Pascal enjoyed tremendous ratings every evening on CFRA before moving into Production and Program Management in 1973."

Dave Watts is a former Writer, Announcer, Music and Promotion Director for CFRA.



March 14, 2021
George Martin Early Electronic Recordings to Be Reissued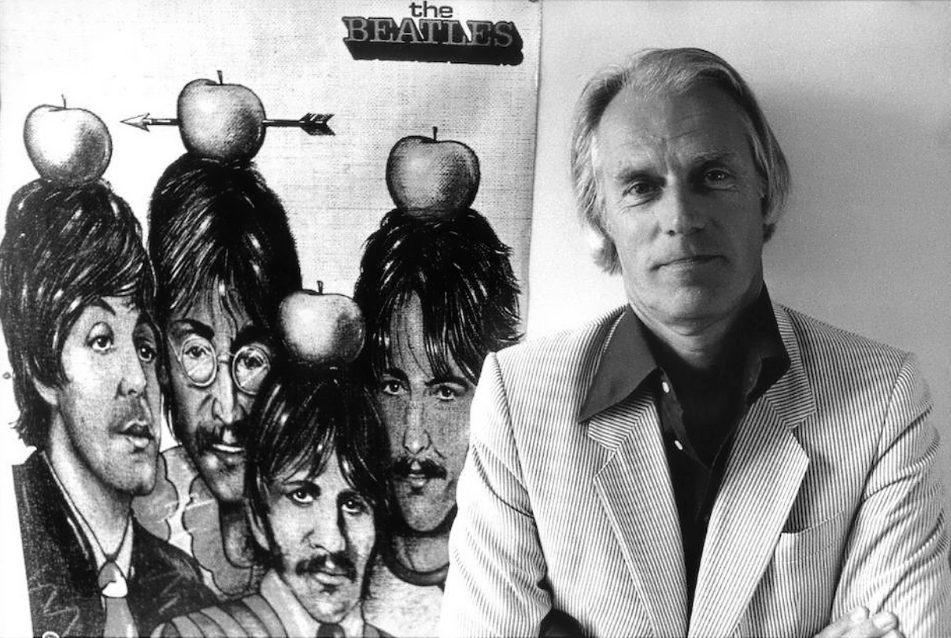 In early 1962, George Martin collaborated with BBC Radiophonic Workshop's Maddalena Fagandini to create and record two pioneering electronic instrumental tracks, "Time Beat" and "Waltz in Orbit." Under the artist pseudonym Ray Cathode, the tracks were released that April as a Parlophone single and B-side, just weeks before Martin met and recorded The Beatles for the first time. Bridging six decades of electronica, George Martin Music has partnered with dublab, a non-profit online radio station broadcasting out of Los Angeles, to release a very limited run of 100 numbered 12-inch vinyl EPs pairing the two songs, newly remastered by Craig Leon, with contemporary remix reinterpretations by SPARKLE DIVISION and Drum & Lace. The announcement of the release was made on March 9, 2021, one day after the fifth anniversary of Martin's passing.
Cut at Finyl Tweek and pressed at The Vinyl Factory, the collectible EP will be released on May 1, 2021, and sold exclusively by dublab, with all proceeds benefiting dublab's nonprofit community radio programming and mission.
The premium (#1-10) edition is available here.
The remaining batch (#11-100) are here.
During Martin's storied seven-decade career, the venerated producer, composer, and music executive actively nurtured his lifelong fascination with sound. From his first hit recordings, he would experiment in the studio, using the room and its equipment, playing with different tape speeds, acoustics, reverse echo, backward recording, music concrète, and other forward-looking techniques. Martin's working base since 1950, EMI's Abbey Road Studios, was light on electronics at the time, but only a short walk away from the innovative BBC Radiophonic Workshop. There he met fellow audio experimentalists who were making soundscapes for television shows from nascent electronic hardware they'd made or acquired long before the emergence of anything recognizable as similar. At the Workshop, every sound was made laboriously by hand.
The then-36-year-old Martin teamed up with the Workshop's Fagandini for a commercial experiment. Under the pseudonym Ray Cathode, the two audio pioneers created a brace of tracks: the first with Martin providing the manmade melody alongside Fagandini's electronically created rhythm, and a second for which they switched roles. Sounding like nothing else of the time, "Time Beat" and "Waltz in Orbit" drew a great deal of interest upon their release.
Listen to "Time Beat"
Also notable as the first commercially released recordings from the BBC Radiophonic Workshop, the Ray Cathode tracks heralded the dawn of electronica.
Listen to "Waltz in Orbit"
The Parlophone Records executive famously met with Beatles manager Brian Epstein in 1962 after all other British record labels had passed on the quartet. Martin signed them soon after. He always maintained that it was his early career experimentation, including Ray Cathode, that helped him in his work as The Beatles' producer to meet the band's constant need for new sounds and effects. Fagandini continued creating electronic music and sounds, including jingles and interval signals, at the BBC Radiophonic Workshop until 1966, when she moved into her successful career as a television producer and director.
Martin and Fagandini's pioneering use of synths on "Time Beat" is carried forward in the song's Drum & Lace remix, using some of today's innovative recording technology. For SPARKLE DIVISION's remix of "Waltz in Orbit," the 1962 recording is a launching point for their own creation of something different and individual, but firmly rooted in the techniques and spirit of the original.
SPARKLE DIVISION is the dynamic jazzy side project of ambient legend William Basinski and LA producer extraordinaire, Preston Wendel, aka Shaia Taint. Their debut album, To Feel Embraced, was released by Temporary Residence Ltd. in 2020
Drum & Lace, aka Sofia degli Alessandri-Hultquist, is an Italian composer and performer who creates music for film and media. Raised in Florence, Italy she relocated to Los Angeles after receiving her undergraduate degree from Berklee College of Music (Film Scoring & Composition) and a master's degree (Music Technology & Composition) from New York University. Her composition work includes writing for various mediums, amongst them film, TV, dance, theater, fashion, and advertising. Recent soundtrack works have been the upcoming film Cobwebs and the TV series, Good Girls and Dickinson.
Over the past 18 years dublab.com has been acclaimed as one of the world's premier Internet radio stations. Dublab is a community supported organization funded through contributions and underwriting from individual donors and groups from around the world, including the Department of Cultural Affairs, and the National Endowment for the Arts, among others.

March 13, 2021
50 Years Ago Today: Paul McCartney's first solo single "Another Day" enters at number #23 on Ottawa's CFRA Hit Parade (and he never looked back after that!! Well done, Paul!)

March 6, 2021
Life in The Beatles rhythm: LI man collects the band's music, memorabilia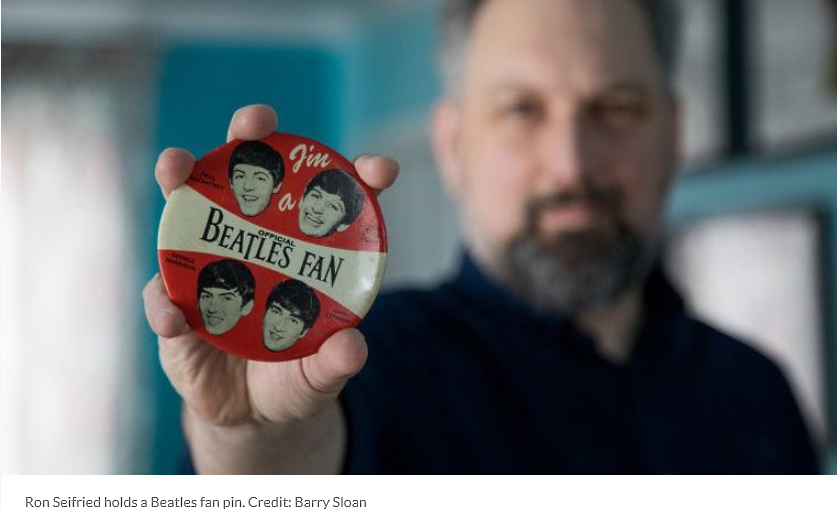 Back in the early 1990s, when he worked as an editor for an ABC television pilot, Ron Seifried struck a kind of gold. While he visited one of the producers, she showed him a framed gold record (John Lennon's 1975 "Shaved Fish") in her husband's recording studio in upstate New City. The record had been awarded to Wayne "Tex" Gabriel, the producer's husband, who played lead guitar with John Lennon in 1972. Gabriel showed Seifried around the studio and five years later made the gift of a lifetime as a thank you for Seifried's production work on various projects.
Gabriel gave Seifried 30 minutes of remastered, never released recordings on CD of John Lennon playing at Butterfly Studios in Manhattan in 1972, including an electric-guitar version of "Working Class Hero," a kind of gold in the world of Beatles collecting.
"John's voice is clear and confident. He was planning to tour with Wayne and the Elephant's Memory band," said Seifried, 52, of Huntington. "They rehearsed it for a possible live performance, but for some reason decided not to perform it in their many appearances in 1972."
It is now more than 50 years since Paul McCartney in 1970 announced the Beatles' breakup, but for fans like Seifried, it might as well be like the Beatles' song, "Yesterday." Siefried has been collecting Beatles discography and memorabilia most of his life, starting young and getting more serious, amassing small and big finds.
"When I met Ron, he was already a Beatles collector. It was one of the things we bonded over," said his wife, Anne Seifried, also 52. "There's always a Beatles song for any mood. It's become the background music for our life together."
The Fab Four — John Lennon, Paul McCartney, George Harrison and Ringo Starr — stayed together only eight years, although Lennon and McCartney had been together for 13. Yet interest in the band — and its music and memorabilia — continues as strong as ever.
"Ron is a true collector and an encyclopedia of knowledge about Beatles and post Beatles," said Stefan Adler, 73, who lives in upstate Cornwall and whose Beatles collection includes replicas of guitars used by the band. "I kid Ron that he should go on "Jeopardy!" and hope the category is the Beatles."
Seifried, a Web architect for a photography and electronics retailer for more than 20 years and author of "Long Island Freemasons" (Arcadia Publishing, 2020), studied broadcasting at LIU Post. Beatles' music and memorabilia became his passion, though he never heard them perform live.
"They transcend generations. You can play 'Yesterday' for a 2-year-old or an 85-year-old," he said. "They love the song. Very few musicians have that broad, multigenerational appeal."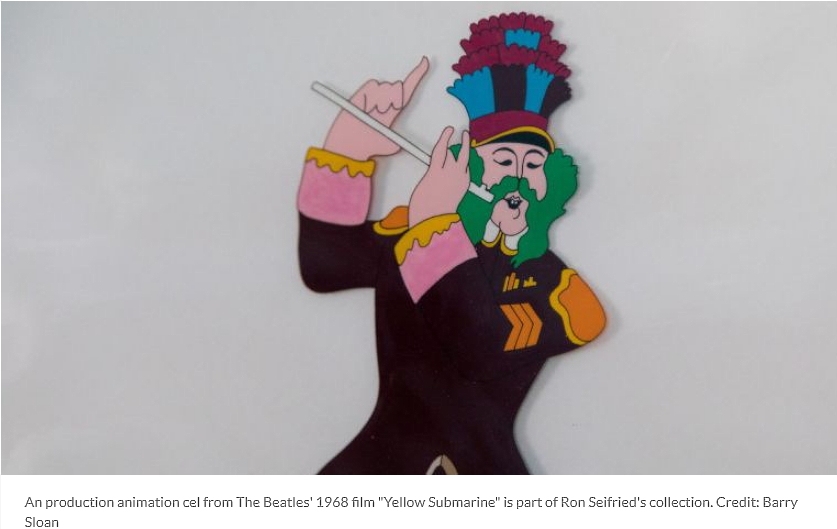 Music and more
Seifried has assembled some 500 CDs, 300 albums and 150 45-rpm Beatles records as well as production animation cells from the 1968 film "Yellow Submarine." He has contact sheets of The Beatles from their 1966 U.S. tour photographed by Danny Fields, the managing editor of the teen-fan magazine Datebook that helped popularize the band.
Seifried also has a so-called third-state copy of the Beatles' 1966 "Yesterday and Today" with the "butcher cover" image of the band in butcher coats with plastic doll parts and fake blood. The cover was recalled and reissued with a less controversial image after public reaction threatened sales. (First-state copies have the original image intact; second-state have the new image pasted atop the butcher cover; and third-state copies are those that had the second cover removed to reveal the original butcher image.) Seifried's items from the early Beatlemania era also include wigs, brushes and a board game. He's got lithographs by Mike McCartney (Paul's brother) from the late '80s and a photograph of The Beatles with Ed Sullivan taken and signed by Newsweek staff photographer Bernard Gotfryd, among other items.
Seifried wouldn't describe himself as a musician or particularly musical — he doesn't play any instrument — though he once was a roadie for New Wave band The Touch and worked on a Bela Fleck music video. But Seifried studied the Beatles as a group and in their post-Beatles days, collecting facts and finds along the way.
"Here's an easy one. What's Paul McCartney's middle name?" he'll say in what turns out to be a trick question. "You know the answer to that. It's Paul. His full name is James Paul McCartney."
Among the other tidbits he's collected: McCartney, he says, played drums on many songs including "Back in the USSR" and "Dear Prudence," while Harrison played violin for "All You Need is Love." Those are easy trivia questions, Seifried said.
"Who is the photobomber standing next to the police van on the cover of Abbey Road?" he asks, before listing tougher questions. "The answer is Paul Cole."
Seifried was born in October 1968, a month before the release of The Beatles' self-titled double album, also known as the White Album. His childhood home, though, was not suffused by music: His parents were deaf, he said. His mother was born deaf, and his father lost his hearing at age 2 due from illness and was legally hearing impaired.
"My father told me years later the only song he kind of knew was 'The Twist,' by Chubby Checker," Seifried explained. "He watched people dance to 'The Twist.' He couldn't feel it. He couldn't hear it. But he could at least visualize it."
Seifried's mother used to put her hand on his bedroom door to feel vibrations to see if he listened to loud music. "She would knock on my door to lower the music, not realizing it wasn't that loud," Seifried said. "My parents were familiar with who the Beatles were, but they couldn't hear any of the music."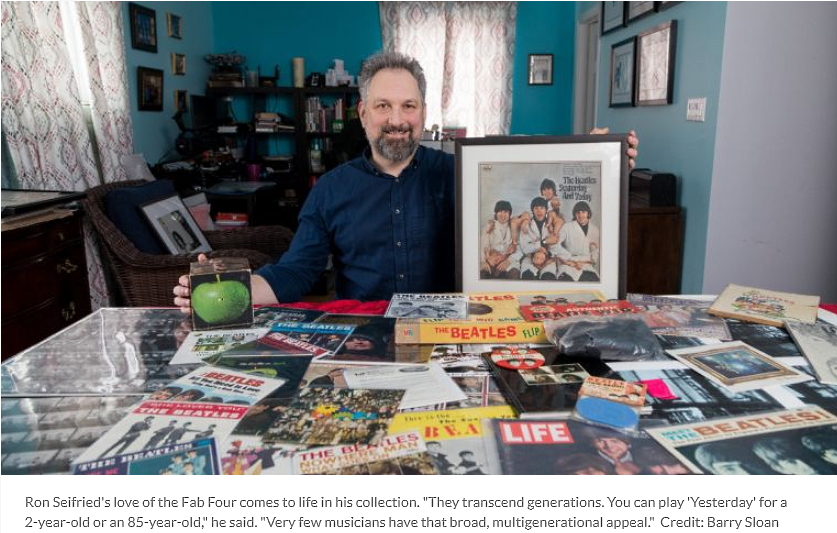 An early introduction
Eleven years older, Ron's brother Rob, a fan of Led Zeppelin, Black Sabbath and Alice Cooper, had a few Beatles albums. When Rob wasn't home, Ron, starting when he was 10, would sneak into Rob's room to play his records, including The Beatles' greatest-hit sets "1962-1966" and "1967-1970," known as the Red and Blue albums, respectively.
Those sessions introduced Seifried to The Beatles alongside reruns of "Help!" and "Yellow Submarine," which he saw on TV during Christmas break in 1978. Tragedy later drove him deeper into the band. Seifried was a 12-year-old seventh-grader at the former Memorial Junior High School in South Huntington the day in 1980 when John Lennon was shot.
"We had an assembly at the end of the day to remember and pay tribute to John Lennon," he said. "There was an outpouring of love and grief."
Seifried began learning more about Lennon and the band. "I noticed a ton of tribute magazines to John Lennon on the magazine racks," he explained. "I started buying them and reading about the Beatles." He bought "The Beatles Forever," the 1977 compendium by Nicholas Schaffner that became his Beatles bible. "I lived and breathed that book," Seifried said. "I constantly read sections over and over again. It was like a holy book."
He bought albums at the South Huntington TSS, the department store that was once a fixture on Long Island, and widened his search for used and bootleg records at Titus Oaks, a record store in South Huntington. "I begged my mom for money," he said. "I diverted my baseball card money for Beatles albums."
Thus began a 35-year hunt for recordings of unreleased tracks, demos, live performances, interviews and guest appearances. If any one of The Beatles performed on someone's else's album, Seifried would seek it out. "I was fascinated by how quickly they evolved," he said.
He saw how the Beatles influenced pop culture beyond music, impacting how people dressed and expressed themselves — and making their memorabilia even more appealing. "They influenced fashion, their haircuts, the way they thought and spoke," Seifried said. "And the music was mind-blowing."
As Seifried aged, so did the band's remaining former members. Before he went to work on a Friday in November 2001, Seifried learned George Harrison had died. "I took a day off from work and listened to only George Harrison music all day," he said.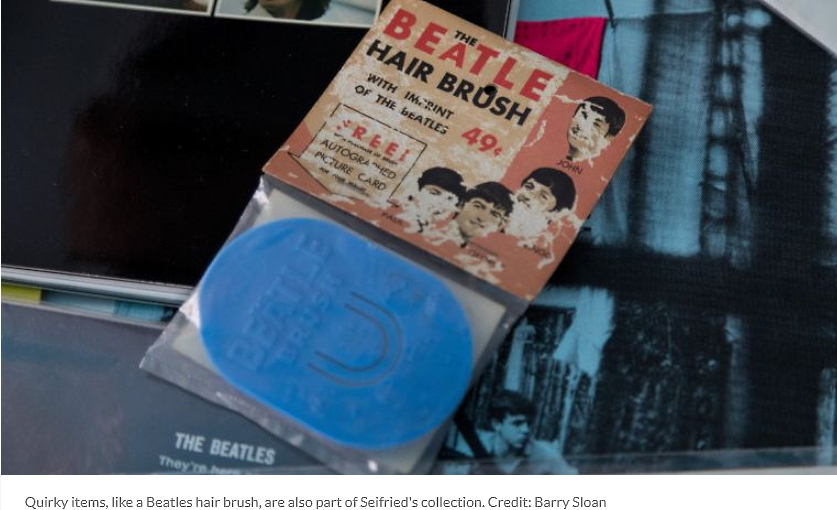 All in the family
He doesn't just love the hits, but obscure B-side or deep album cuts, like "Hey Bulldog." "I never get tired of that song from 'Yellow Submarine,' " he said.
In addition to the iconic Look and Life magazine Beatles covers, Seifried has a collection of more than 100 books. He bought a1965 Playboy magazine with a Beatles interview for $1 at a garage sale along with a rare album for a quarter.
He has heard Paul McCartney and Ringo Starr each perform half a dozen times and met Pete Best, The Beatles drummer for two years, at a signing at The Book Revue in Huntington. "He was a nice guy," Seifried said. "He was more of an outsider, only showing up for the gig and almost never spending down time with John, Paul or George."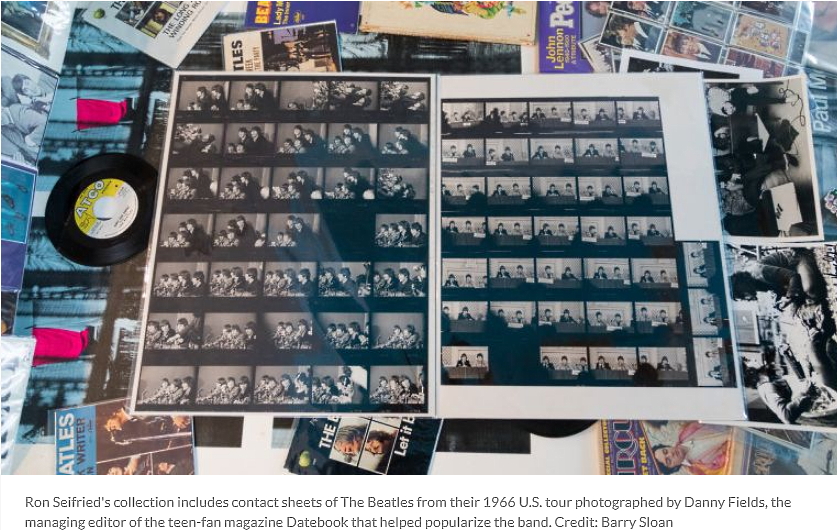 And there appears to be no end to Beatles-related merchandise, including upcoming multi-disc sets of Lennon's and Harrison's first albums and Peter Jackson's documentary "The Beatles: Get Back," slated for release later this year.
Seifried continues to acquire memorabilia, including the most recent of his five animation production cells from "Yellow Submarine." "I got one for Father's Day," he said of the gift from his family last June.
And his love of the Fab Four has left its mark on his family in other ways. He and his wife named their oldest daughter, Julia, after the eponymous Beatles song on The White Album, and both of their daughters — Julia, 15, and Sophia, 11 — like the band. Ron's parents never got to hear the Beatles, but the Beatles remain part of his and his family's life.
"I grew up with the Beatles as well," said his wife, Anne. "My dad had lots of albums in the house. That was part of the soundtrack I grew up with. On a Sunday afternoon, you put on a record. Listening to the Beatles isn't a bad thing to do. It's comforting, relaxing."

March 5, 2021
John Lennon/Plastic Ono Band new stereo mixes planned for release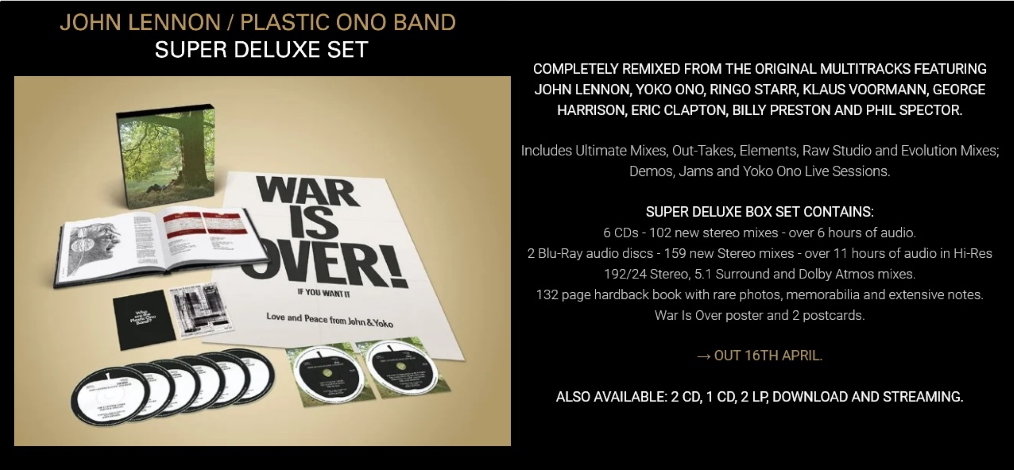 Click on the above image for track details.

March 3, 2021
Discography: Yoko Ono: A Story
by Jake Cole for Spectrum Culture
Few things are as shocking in the discographies of avant-garde artists as moments of genuine, restrained beauty. Yoko Ono recorded A Story in 1974, during her period of separation from John Lennon, yet curiously it remained unreleased until the artist cleaned out the vaults with her 1992 compilation set Onobox and was later given a standalone version in 1997. Had the material been released at the time, one wonders how it might have affected the trajectory of Ono's artistic perception. A sharp turn from the noise experimentations of her earlier work, A Story instead marks out territory for Ono as a pioneering artpop figure, one with as firm a grasp on delicate emotional flourishes and wry lyricism as shrieks of confrontational anti-mainstream music.
The opening title track alone is such a sterling example of deceptively simple beauty that it flips all preconceived notions of Ono's method. An outright piano ballad that is embellished, not undermined, by additions like field recordings of beach sounds and flutes both organic and synthetic. The lyrics are quaint, describing the budding young romance between a flighty young girl and a sardonic boy, but Ono captures the mild tension of their odd pairings even as she revels in the feelings of bliss it inspires. Then, she immediately swerves with the next track, "Loneliness," in which she multitracks her voice and employs her trademark atonal warbles to a more modulated expression of longing over brittle guitar riffs and minimalist solos that reflect a complete absence of the comfort of the opening track. The music is deliberately grating, but it is still melodic, sublimating the raw emotional power of Ono's earlier albums into a more accessible and intuitive expression of grief beyond pure pain.
Elsewhere, Ono and her band traverse a surprising range of musical styles. "Will You Touch Me" blends roots-rock barroom piano and Dixieland clarinet under lyrics as plaintive ("Will you touch me, will you touch me/ When my body's full of fear?") as they are suggestively ironic. "She Gets Down on Her Knees" only ups the ante of Ono's thinly veiled come-ons, and the music kicks into even jauntier gear to match her coy delivery, riding swelling prog organ that occasionally breaks down into jagged chords when blended with yelps of a fiddle. "Yes, I'm a Witch" is a jazz-funk lark that rides shuffling cymbals, organ trills and a bouncy horn section as Ono giddily sings, "Yes, i'm a witch/ I'm a bitch/ I don't care what you say" as if embracing everything the press and raging Beatles fans had thrown at her for half a decade by this point.
These recurring bits of lasciviousness and playful standoffishness mingle with moments of quiet reflection. "It Happened" foregrounds an acoustic guitar over faint electric accompaniment as Ono references an undefined life event that happened "When I least expected" that lilts with romance. On "Heartburn Stew," however, she sounds like the jilted lover she was at the time. "I threw my woman power in a pot of stew/ And waited for my love to com / But not a single word did I hear from him," she sings over showtune jazz as she delves ever deeper into caustic condemnation. John Lennon has been the subject of considerable revisionism regarding his treatment of his romantic partners, but it's refreshing to hear Ono actively working through her desire, sadness, nostalgia and fresh anger in the midst of an abandonment Lennon himself would later flippantly dismiss as his "lost weekend." It may also explain why this record never saw the light of day until much later, well after not only their reconciliation but, of course, the tragic end of their time together.
It's hard to say if A Story might have changed the public perception of Ono. There's no world in which she would have become a chart figure (Double Fantasy notwithstanding), but much like Lou Reed's own 1974 opus, Coney Island Baby, the record might have shown an avant-garde artist flexing her capabilities as a songwriter. As it stands, the album still sounds ahead of its time. In the odd embellishments of lush, baroque pop are sounds that Kate Bush would arrive at independently, while Ono's half-earnest, half-ironic lyrics, as smitten with lovers as they are ferociously critical of them, foresee the entire career of Fiona Apple. As fascinating a glimpse into Ono's powers as her own version of Plastic Ono Band and Season of Glass, A Story is a curio that deserves wider exposure, and it may well be the best starting point for exploring Ono's solo discography.

March 2, 2021
Editing Paul McCartney's autobiography a similar process to The Beatles' song-writing sessions, says NI poet Paul Muldoon
by Maureen Coleman for the Belfast Telegraph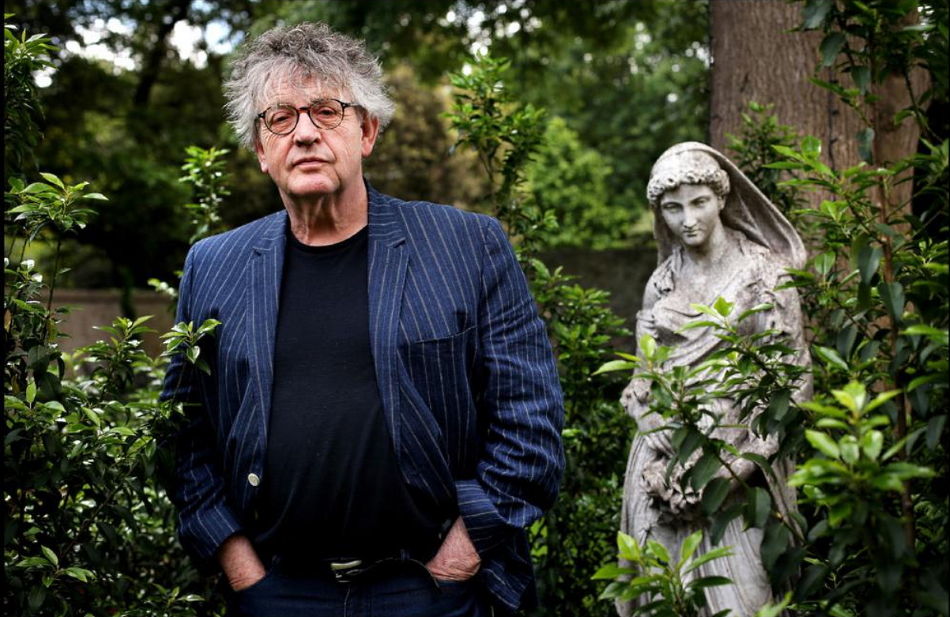 Photography credit: Steve Humphreys
Pulitzer prize-winning Northern Irish poet Paul Muldoon, who has edited Sir Paul McCartney's lyrical memoirs, has likened the book's creative process to The Beatles' legendary afternoon song-writing sessions.
The Co Armagh man and contemporary of the late Seamus Heaney, was enlisted by McCartney to work on his 900-page volume The Lyrics, a 'self-portrait in 154 songs', charting the 78-year-old's career from boyhood to The Beatles.
The book will cover the 'circumstances in which the songs were written, the people and places that inspired them and what (McCartney) thinks of them now'.
Muldoon, a former professor of poetry at Oxford and fan of Sixties pop, met up with the former Beatle many times to discuss the book's content and the writing process.
"Sir Paul and I met regularly over a period of five years for two or three hour sessions in which we talked in a very intensive way about the background to a half dozen songs," said Muldoon.
"In a strange way, our process mimicked the afternoon sessions he had with John Lennon when they wrote for the Beatles. We were determined never to leave the room without something interesting."
Muldoon described McCartney as 'a major literary figure' and a poet.
"He's one of the most buoyant, upbeat people I know, but his general demeanour shouldn't suggest that he's anything but a deep thinker," said Muldoon.
"He looks long and hard into every aspect of life and I believe readers, old and new, will be struck by a book that will show that side of him. He's going to come out of this book as a major literary figure.
"His insights into his artistic process confirm a notion at which we had but guessed: that Paul McCartney is a major literary figure who draws upon, and extends, the long tradition of poetry in English."
Muldoon also revealed that McCartney pranked him with a phone call, pretending to be then-US president Donald Trump.
During an interview on BBC Radio 4's Today show, the poet said that he had received a call from Trump in 2016, inviting him to be his 'poetry tzar' but that it turned out to be the Beatles legend impersonating the president.
"Paul McCartney is a very serious person but he's very far from being a solemn person. He's a great believer in fun," said Muldoon.
"This is absolutely clear from his catalogue, if we may describe it as such. He's more inclined to see the upside of things and to be joyous, rather than anything else."

March 1, 2021
Grammy Museum Announces Ringo Starr Virtual Exhibit
by Angie Martoccio for Rolling Stone magazine
Museum will also release new and archival interviews with the former Beatle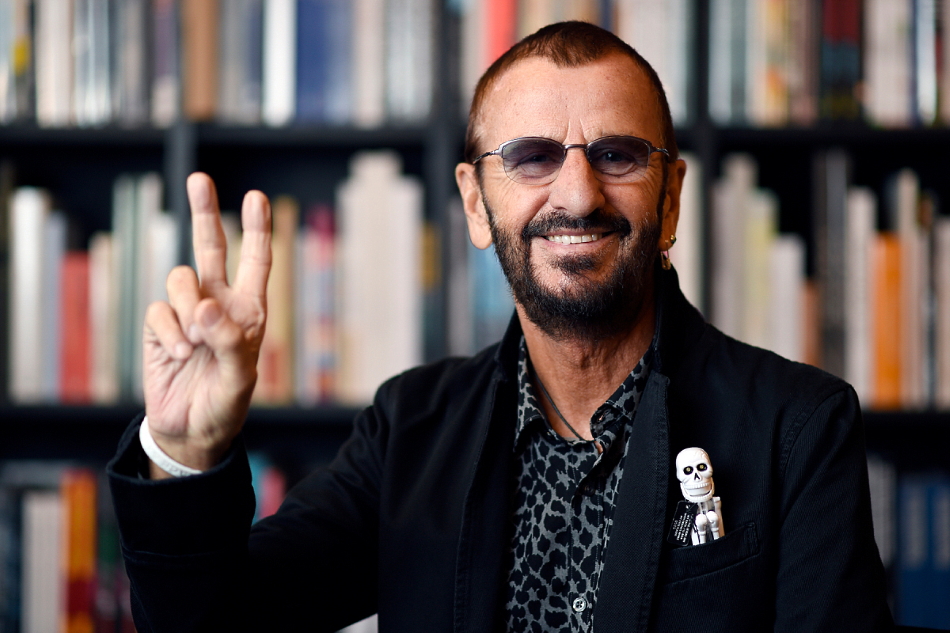 The Grammy Museum has announced a virtual Ringo Starr program in March featuring a virtual exhibit and interviews with the former Beatle.
On March 4th, the museum will release a 2010 interview with Starr from their Live From the Vault series, followed by a new interview with the museum's founding executive director Bob Santelli on March 18th. Starr will discuss his upcoming EP Zoom In and his new book Ringo Rocks: 30 Years of the All Starrs 1989-2019.
The museum will also feature the 2013 exhibit Peace & Love virtually; it covers his early life in Liverpool, his launch to superstardom with the Beatles, and his years with the All Starr Band. The museum's streaming service Collection: Live can be accessed here.
Zoom In includes the new track "Here's to the Nights," featuring Paul McCartney, Dave Grohl, Joe Walsh, and several other musicians. "Diane Warren wrote it: 'Here's to the nights we won't remember, with the friends we won't forget,'" Starr told Rolling Stone last December. "So it has a beautiful sentiment. It's about us all coming together, so it seems appropriate for today. Everybody I know, we've all had quite a few nights we don't remember. And we've all had them with friends we won't forget."
The long-awaited documentary
The Beatles
: Get Back
arrives on August 27th, 2021.

February 25, 2021
Paul McCartney to publish 900-page lyrical 'autobiography'
by Alison Flood for the Guardian
The Lyrics, a 'self-portrait in 154 songs', will look at the people, places and circumstances behind songs written in boyhood, with the Beatles and beyond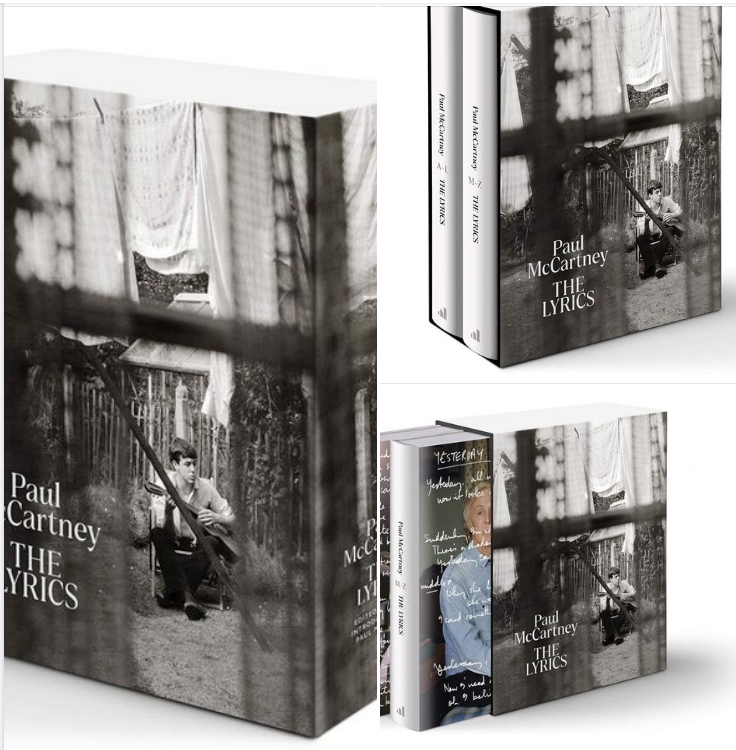 It will be "as close to an autobiography" as Paul McCartney "may ever come": the former Beatle is set to publish The Lyrics, a deep dive into his life, based on conversations he had with the prize-winning poet Paul Muldoon.
The Lyrics, a two-volume, 900-plus page "self-portrait in 154 songs", will be released on 2 November. It will be "a kaleidoscopic rather than chronological account" of McCartney's life, said publisher Allen Lane, and will cover the musician's earliest boyhood compositions – he wrote his first song at 14 – through the Beatles catalogue to Wings, solo albums and his present life. The book will cover "the circumstances in which they were written, the people and places that inspired them, and what [McCartney] thinks of them now".
McCartney said: "More often than I can count I've been asked if I would write an autobiography, but the time has never been right. The one thing I've always managed to do, whether at home or on the road, is to write new songs.
"Some people, when they get to a certain age, like to go to a diary to recall day-to-day events from the past, but I have no such notebooks. What I do have are my songs, hundreds of them, which I've learned serve much the same purpose. And these songs span my entire life."
Muldoon, the Pulitzer prize-winning Irish poet, edited the book, which is based on conversations he has had with McCartney. "Sir Paul and I met regularly over a period of five years for two or three hour sessions in which we talked in a very intensive way about the background to a half dozen songs," said Muldoon. "In a strange way, our process mimicked the afternoon sessions he had with John Lennon when they wrote for the Beatles. We were determined never to leave the room without something interesting."
Muldoon said that he was "struck again and again by what you might term Paul McCartney's 'scholarly' disposition" during the process.
"He's one of the most buoyant, upbeat people I know, but his general demeanor shouldn't suggest that he's anything but a deep thinker. He looks long and hard into every aspect of life and I believe readers, old and new, will be struck by a book that will show that side of him. He's going to come out of this book as a major literary figure," said Muldoon.
"His insights into his artistic process confirm a notion at which we had but guessed: that Paul McCartney is a major literary figure who draws upon, and extends, the long tradition of poetry in English."
The volumes will also include material from McCartney's personal archive, including never publicly seen drafts, letters and photographs. "We learn intimately about the man, the creative process, the working out of melodies, the moments of inspiration," said the publisher.
McCartney said he hoped what he had written would "show people something about my songs and my life which they haven't seen before". "I've tried to say something about how the music happens and what it means to me and I hope what it may mean to others too," he said.
McCartney's previous books include Blackbird Singing, a collection of lyrics and poems spanning 1965-99; High in the Clouds, a children's book written with Philip Ardagh; and the picture book Hey Grandude!, based on his relationship with his eight grandchildren and illustrated by Kathryn Durst.

February 24, 2021
University of Liverpool Launches World's First Master Programme in "The Beatles, Music Industry and Heritage"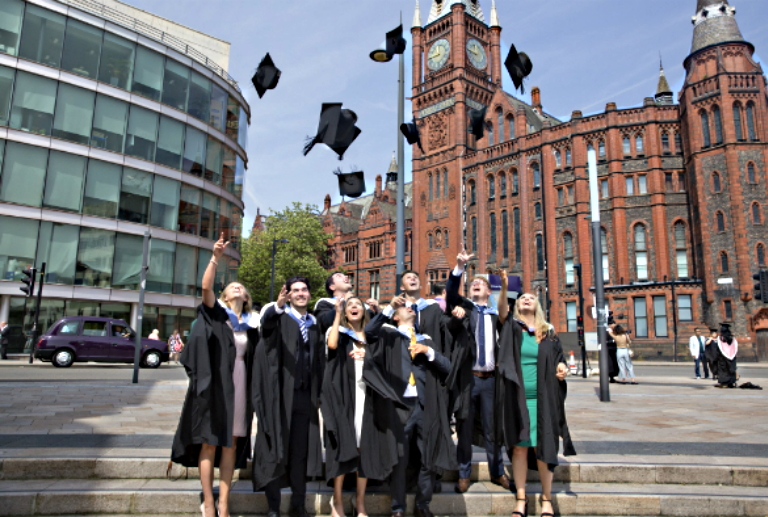 The University of Liverpool is offering to students from across the world a unique master programme in the Beatles' impact on Music Industry and Heritage.
The university has already begun accepting applications for the programme, while students from across the world will have the chance to study the major starting from September 2021, Erudera College News reports.
The postgraduate unique qualification Master in the Beatles: Music Industry and Heritage is listed alongside MA Music Industry Studies and MA Classical Music Industry.
The programme will apply to individuals who are currently working or aiming to build a career in the music and creative industries.
Following the launch of this type of MA degree, the Head of Music at the University of Liverpool Catherine Tackley said that the new programme is being introduced at the same time as the opening of the Tung Auditorium in the Yoko Ono Lennon Centre, which will extend the contribution of the university to the rich musical and cultural life of the city.
"We are excited to welcome the first students to study the MA in The Beatles in 2021," she said.
The Beatles expert, Holly Tessler, expressed delight over the possibility to formally study the Beatles at the University of Liverpool's Department of Music and Institute of Popular Music – the world's first specialist centre for the study of popular music.
"What makes this MA unique is its focus on The Beatles in a future-facing way, considering the legacy's influence on the music and creative industries, in popular culture, and within the heritage, culture and tourism in the 21st Century," Tessler said.
Whereas, a member of the Beatles Legacy Group, Mike Jones, said that Liverpool should not be acknowledged only as the birthplace of the Beatles but also as "their cradle", claiming that what Beatles took to the world was in part Liverpool's unique culture.
"The introduction of The Beatles MA, at last, gives the University of Liverpool a framework to explore this deep, significant and lasting relationship," Jones said.
The Master programme in the Beatles starts with contextualising the study of The Beatles within a music and creative industries framework, examining then the band's role in other scopes such as tourism and heritage before and more.
In addition, persons who are employed in museums and galleries, arts, tourism and leisure sectors could also see this programme as a good choice.

February 23, 2021
The Abbey Road Sign Made Famous By The Beatles Is Hitting The Auction Block
by Kaitlyn McInnis for the Tatler
The iconic piece of The Beatles history has already outperformed its estimated price—and still has a week left under the hammer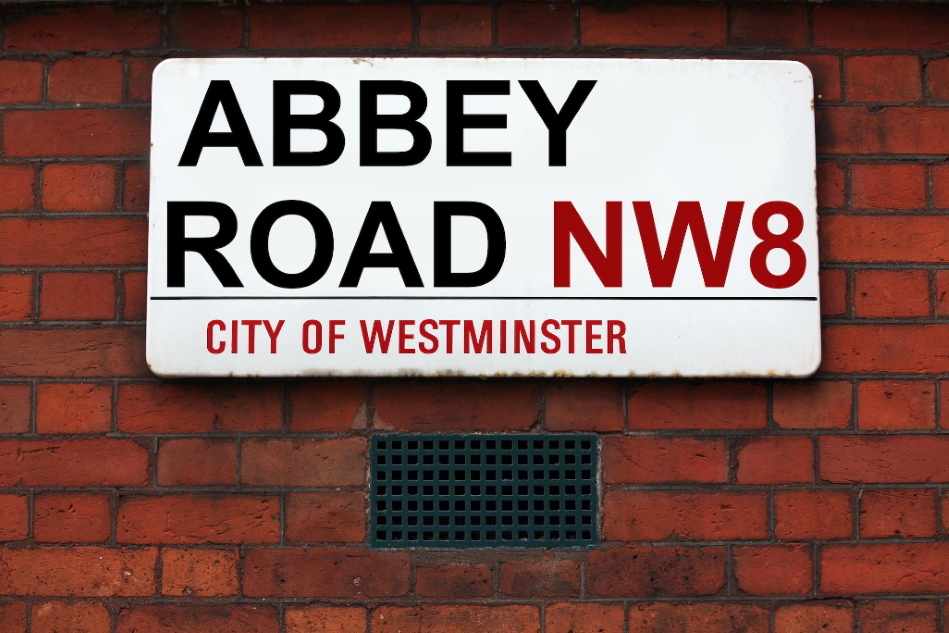 Music collectors and Beatles aficionados will finally have the chance to own one of the most coveted pieces of Beatles history: the iconic Abbey Road street sign—home of the Abbey Road Studios—is officially hitting the auction block.
The authentic Abbey Road street sign is currently listed with Catherine Southon Auctioneers, and, according to a recent Hypebeast report, the famous sign is just one of many authentic road signages that is currently being sold by the Westminster City Council, with funds collected expected to go toward civil services in the area.
"This collection offers a unique opportunity to own part of our city's history," deputy leader Melvyn Caplan said in a statement. "These are original signs which have been on the streets of London in recent years—through historic moments and cultural milestones."
Described by the auction house as an enamelled iron street sign for Abbey Road NW8, City of Westminster, with iconic black and red sans serif lettering first created by Sir Misha Black in 1967, the font is is unique to the Westminster signs and under copyright law, is actually forbidden to be copied anywhere else in the world. Collectors will also be happy to know that the sign will be sold together with a signed certificate of authenticity.
Bidders should also take note that the road sign has been hung outside and has been exposed to the elements, resulting in expected wear and tear—but overall remains in quite good condition given its time spent as, well, an actual road sign.
Interested in finding out more about the road sign auction or registering to bid for yourself? More details can be found at the official Catherine Southon Auctioneers website—but you'll want to act fast. The unique piece of Beatles history will close next week, March 3, 2021 and has already exceeded the £2,000 GBP estimated lot price by over £7,000.

February 19, 2021
Carnival 2021 - All Things Must Pass
"Check out this 'All Things Must Pass' inspired "house float" as part of the 2021 Mardi Gras. With no parades this year, residents in New Orleans are decorating the fronts of their houses to resemble floats, including this one, which pays homage to George's timeless #1 album." ─ culled from The Beatles Official Facebook pages.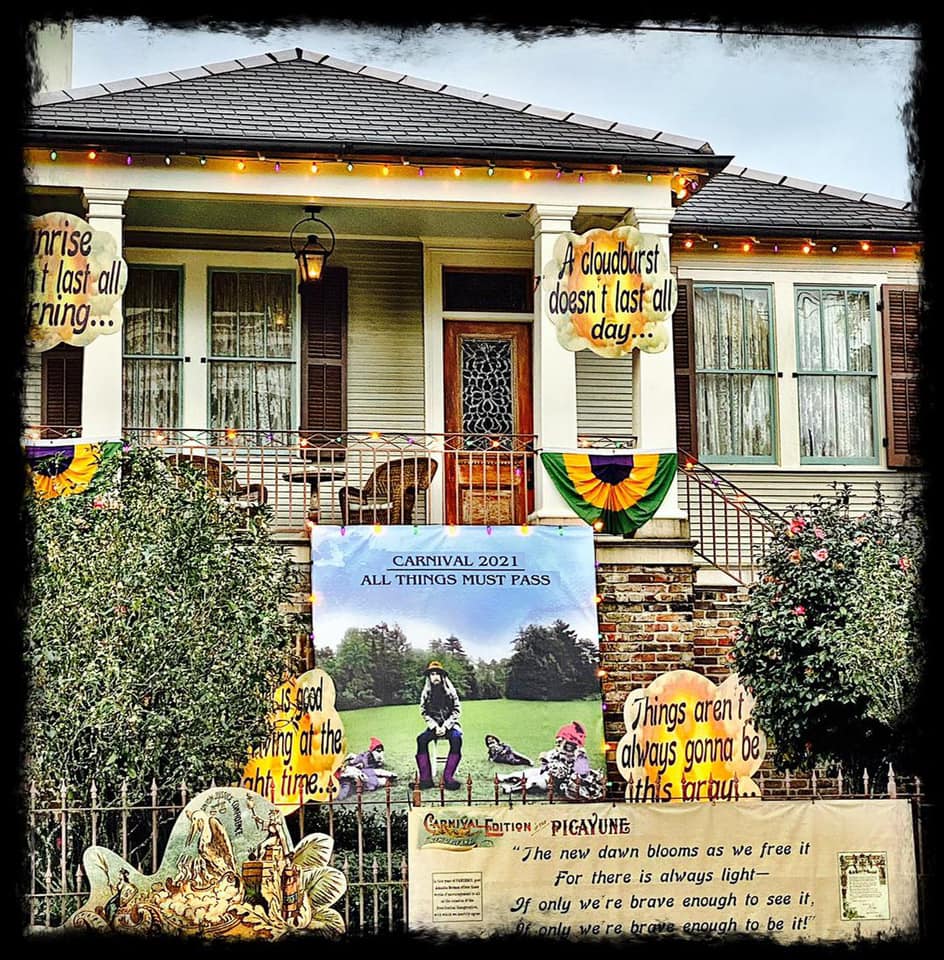 February 18, 2021
Guest book from the Grand Hotel with Beatles signatures sells for £6,700. ($8,100.99 United States)
The BBC reports that Birmingham's Grand Hotel 1965 guest book "signed by The Beatles, Rolling Stones and a then-future prime minister" Ted Heath has been sold by Fieldings Auctioneers.
Click here to read the full report.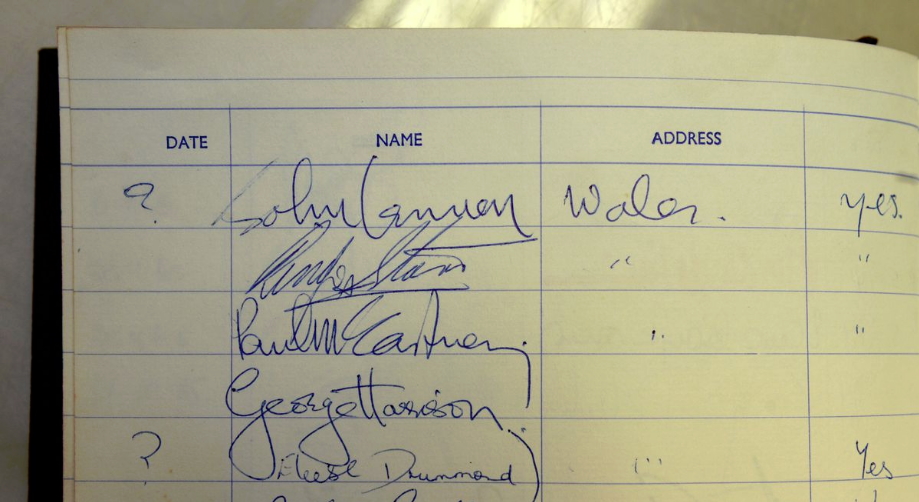 February 15, 2021
New John Lennon 'Love' Video Released Ahead of 'John Lennon/Plastic Ono Band' Reissue
A new John Lennon 'Love' video has been released on Valentine's Day ahead of the expanded reissue of the 'John Lennon/Plastic Ono Band' box set.
Details of the box set will be revealed on March 4, 2021. We know the expanded set will included 159 new mixes. The hardcover book focused on the album was released in 2020.
'John Lennon/Plastic Ono Band' was released on 11 December 1970. It was John's first contemporary solo album and came at the end of a productive year for The Beatles four members.
In a Beatles timeline we had:
17 March 1970 – Ringo Starr – 'Sentimental Journey'
17 April 1970 – Paul McCartney – 'McCartney'
8 May 1970 – The Beatles 'Let It Be'
25 September 1970 – Ringo Starr – 'Beaucoups of Blues'
27 November 1970 – George Harrison 'All Things Must Pass'
11 December 1970 – John Lennon 'John Lennon/Plastic Ono Band'
Lennon's next album 'Imagine' was released in September, 1971.
'John Lennon/Plastic Ono Band' came after John's three experimental albums 'Unfinished Music No 1: Two Virgins' (29 November 1968), 'Unfinished Music No 2: Life With The Lions' (9 May, 1969) and 'Wedding Album' (7 November, 1969).
'John Lennon/Plastic Ono Band' was produced by Phil Spector who also produced 'Imagine' for Lennon, John's singles 'Power To The People' and 'Happy Xmas', The Beatles 'Let It Be' and 'George Harrison's 'All Things Must Pass' and 'Concert for Bangla Desh'. The later returned to work with Lennon on 1975's 'Rock 'n' Roll'.
'John Lennon/Plastic Ono Band' will be released on 16 April 2021.
Related links: Click here to watch the new "Love" video and join the John Lennon/Plastic Ono Band mailing list.

February 14, 2021
Paul McCartney wishes his wife Nancy a Happy Valentine's Day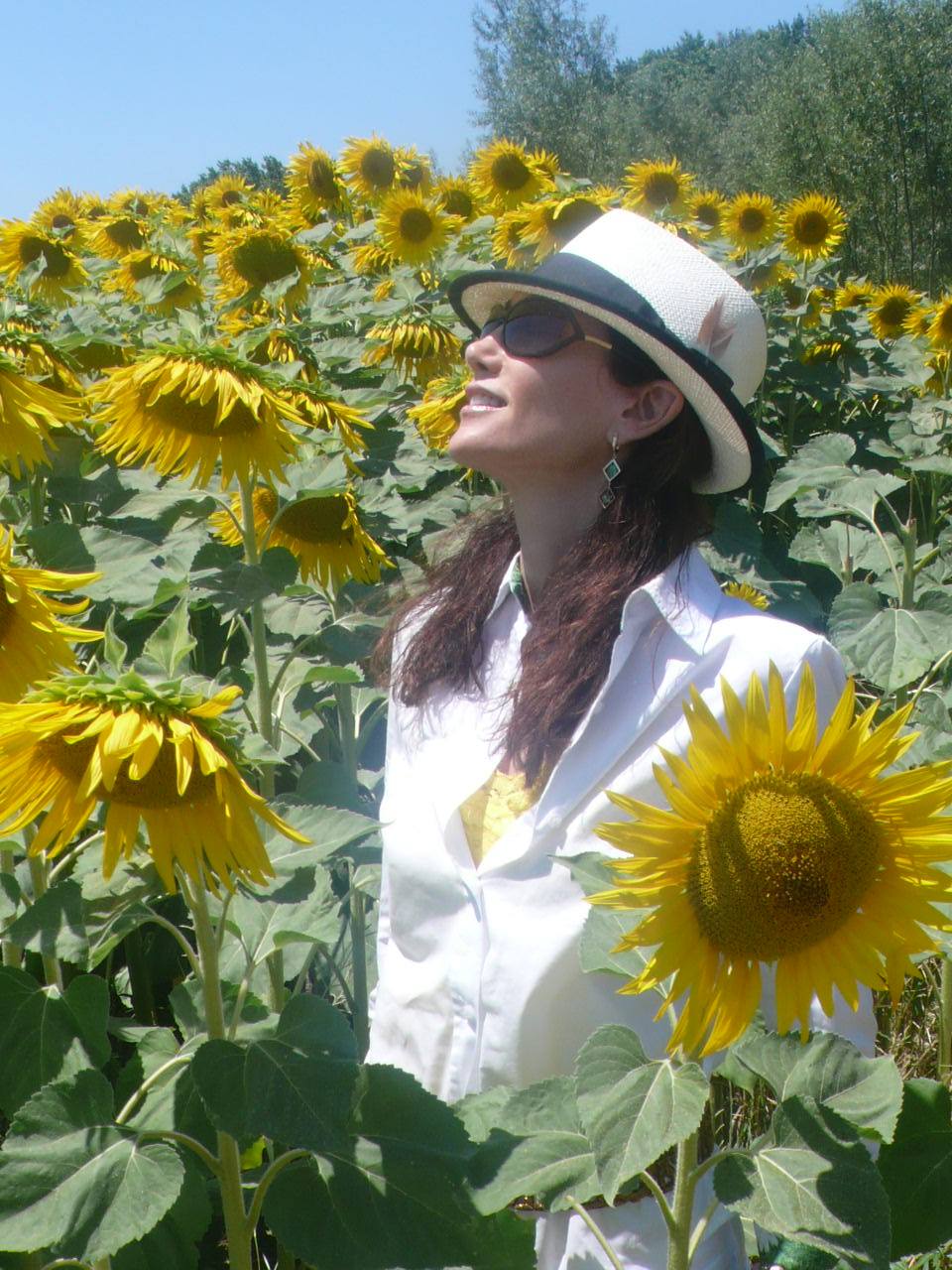 February 11, 2021
"One Flower" poem by Michael X is posted on the official John Lennon Facebook pages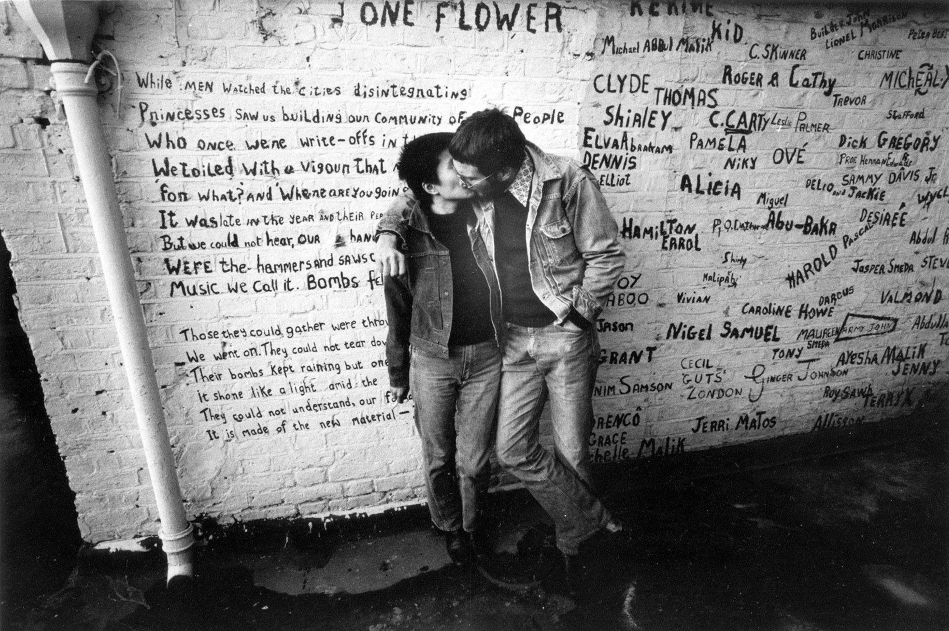 ONE FLOWER.

While men watched the cities disintegrating
Princesses saw me building our community of new people
Who once were write-offs in the old world.
We toiled with a vigour that made them ask
'For what?' and 'Where are you going?' even 'Why?'
It was late in the year, and their peace feelers were out
But we could not hear; our hands were full.
The only sounds were the hammers and saws
Of the carpenters. Music we call it. Bombs fall around us.

Those, they could gather, were thrown into their jails.
We went on. They could not tear down our town.
Their bombs kept raining but our building stood;
It shone like a light among the ruins.
They could not understand; our foundation was solid.
It is made of the new material: IDEA.

'One Flower' written by Michael Abdul Malik, aka Michael X

John & Yoko kissing in front of a white wall inscribed with Michael X's poem 'One Flower' at The Black House,
95–101 Holloway Road, London, 11 February 1970.
Photo: Richard DiLello.

February 8, 2021
Watch David Lynch and Paul McCartney discuss the world of 'Transcendental Meditation'
by Lee Thomas-Mason for Far Out magazine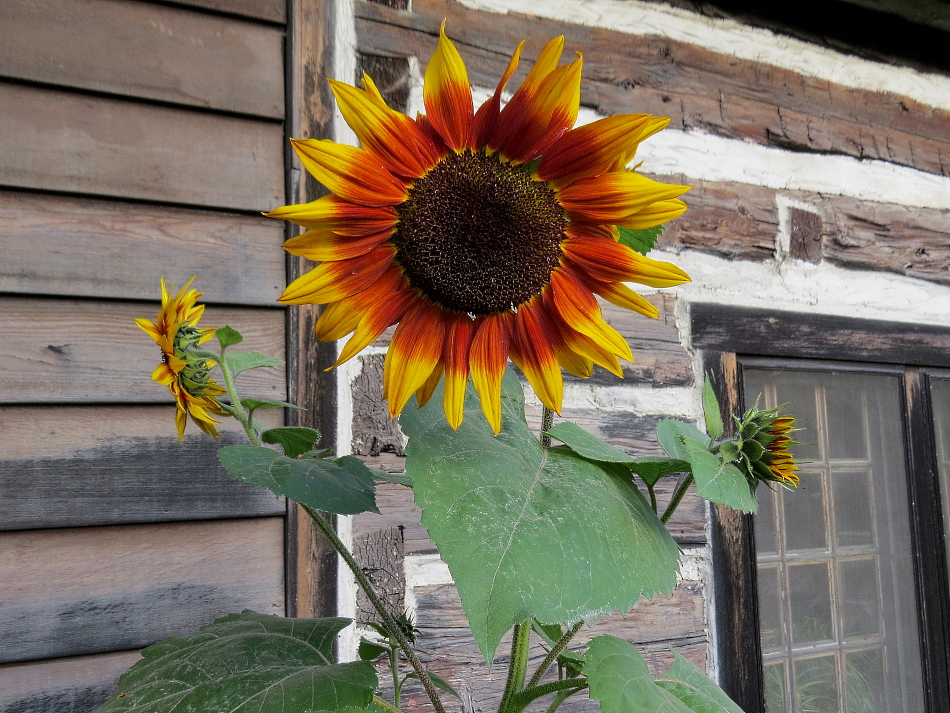 Photo credit: John Whelan, the Ottawa Beatles Site. Photo was taken in Chelsea, Quebec.
David Lynch, the iconic filmmaker for mindbending creations such as Eraserhead, Blue Velvet, Mulholland Drive and more, has been an avid practitioner of Transcendental Meditation for decades.
Lynch's commitment to meditation has only grown stronger over the years and, in 2005, he created the charitable organisation of 'The David Lynch Foundation for Consciousness-Based Education and World Peace', a foundation that looks to teach aspects of Transcendental Meditation in schools and other at-risk populations such as the homeless, veterans and refugees.
Like many creatives, Transcendental Meditation has grown into a way of life. Paul McCartney, a founding member of The Beatles and meditation advocate, has been an avid meditator for the better part of 50 years. "In moments of madness, meditation has helped me find moments of serenity — and I would like to think that it would help provide young people a quiet haven in a not-so-quiet world," McCartney says.
During the Beatles' famed spell in India, McCartney revealed that he had been first introduced to meditation by Indian sage Maharishi Mahesh Yogi back in 1968. "It was actually George Harrison's wife, Patti, who had heard Maharishi was coming to town," Paul McCartney said. "And she said we should all go… [I was] just overdoing it in the '60s. I was just not very centred and I was looking for something. I think we all were."
In a meeting of exceptional minds on both a creative and spiritual level, Lynch sat down to interview McCartney on all things meditation: "It was very interesting," he recalled about his first introduction to skill. "It was very calming and it seemed like something that was worth trying. [Maharishi] put it very well.
McCartney added: "He made it seem simple; he made it seem very attractive. It was a great gift that Maharishi has given us. It came during a period at the end of the '60s when we were looking for something that could bring us more stability, and it was a lifelong gift. It's something you can call on at any time."
When discussing Lynch's foundation, the former Beatle added: "The kids love it, kids in Brazil love it, kids in the West Bank love it… I think this is what people need, they don't need high minded talk, as much as results."
See the full interview, below.

February 7, 2021
How the Beatles recorded bass in 1967
The Pan Am Boeing Boeing 707 That Brought "Beatlemania" To The US
by Sumit Singh for Simple Flying
Beatlemania was running wild during the 1960s. Fans across the globe were obsessed with The Beatles during the British band's record-breaking rise in the music industry. 57 years ago today, the group disembarked a Boeing 707 operating Pan American World Airways Flight 101 to John F. Kennedy International Airport from London. This trip was the band's first-ever visit to the United States.
A grand tour
Between February 7th and February 22nd, 1964, The Beatles had an incredibly busy run of appearances. They performed at the Washington Coliseum and New York City's Carnegie Hall. Additionally, they appeared twice on The Ed Sullivan Show, garnering over 70 million viewers.
According to AeroTime Hub, John Lennon, Paul McCartney, George Harrison, and Ringo Starr arrived at New York JFK at 13:20 and were welcomed by 4,000 fans and 200 members of the press. The aircraft that made this landmark event possible was a Boeing 707-331 with registration number N704PA. In true Pan Am fashion, the plane was nicknamed Jet Clipper Defiance.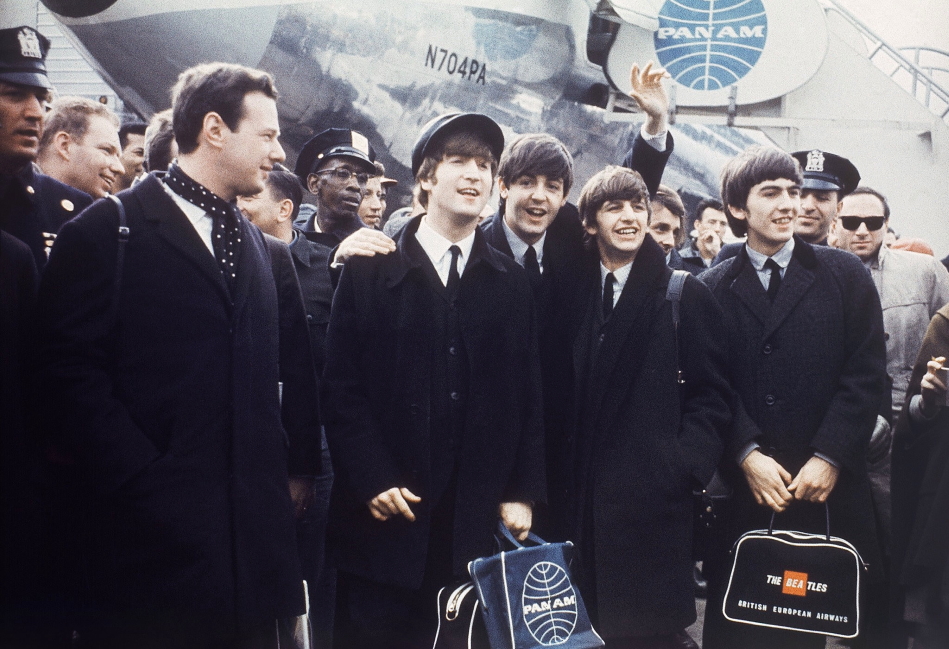 The Beatles with their manager Brian Epstein
The right transport
The four-engine jet aircraft had a flight crew of four members, including the pilot, co-pilot, navigator, and flight engineer. The 707-331's wing is notably different from the initial 707-120 series. It was longer and had different flaps and spoilers. The engines are mounted further outboard. Meanwhile, the vertical fin is taller while the horizontal tailplane has a greater span. It also has a ventral fin to improve "longitudinal stability."
The -331's Pratt & Whitney JT3D-3 turbofan engines helped it hit ranges of up to 4,298 mi (6,920 km) at speeds of up to 552 mph (889 km/h).
Altogether, the 707 would help transform the way people around the world traveled. Boeing initially intended for the plane to be focused on medium-haul routes. However, the type was soon heading on transcontinental and transatlantic missions. Overall, Boeing delivered 856 707s in all variants between 1957 and 1994.
Registration N704PA held serial number 17683 and performed its first flight on March 3rd, 1959. PlaneLogger reports that first arrived at Pan Am's holdings a year later. World Airways then operated the unit from March 1972 before returning it to Pan Am in December of that year. However, the legacy carrier would pass it to Vietnam Air in March 1973 before taking it back again in August 1975. The aircraft subsequently left the fleet and was scrapped after arriving at Aerotron AC's facilities at the end of that year.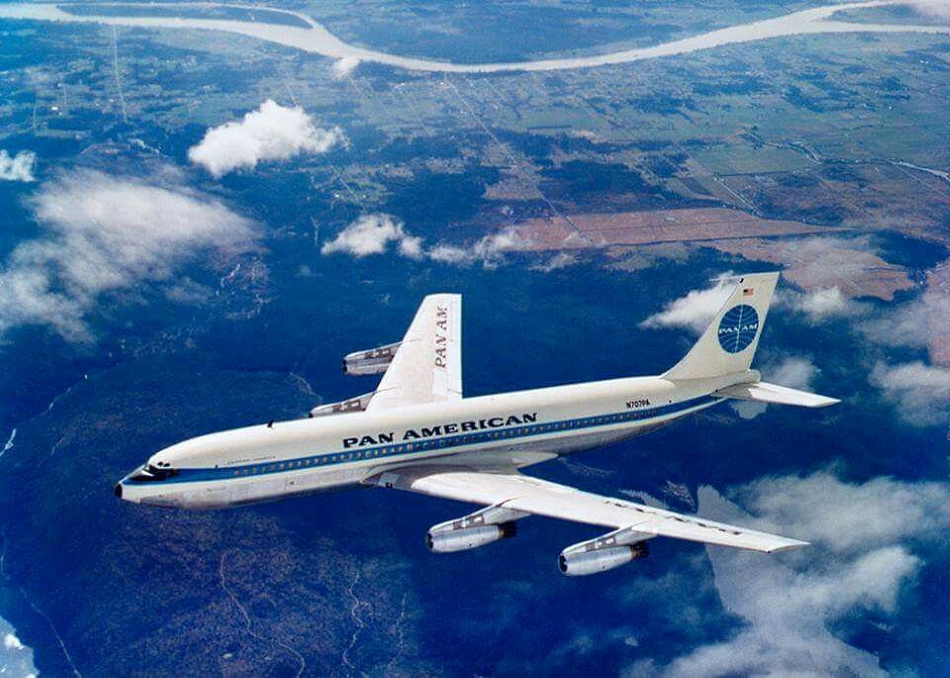 Time to head back
Following the end of The Beatles' tour, Jane Luna Euler was a Pan Am flight attendant that was invited to work on The Beatles' return trip to London on February 22nd. At the airport, she witnessed thousands of fans screaming from behind barricades.
"The noise was incredible. Medical staff had been assigned to stand in the aisle created by the barricades to accept those fans who fainted in the crush of people and who were over-excited at the opportunity of seeing the Beatles. Those who fainted, both girls and boys, were forwarded to the medical staff hand-over-hand to the barricade aisle," Euler said, as shared by The Pan Am Historical Foundation.
"On entering the aircraft another memorable sight awaited us. The entire First Class lounge was filled with hundreds/thousands of gifts of all sorts – large flowers arrangements, bouquets, drawings and paintings of a favorite Beatle, cakes, written tributes and poems, photos, and other tributes from their fans. There was an amazing assortment of these items."
Euler adds that the band members were very courteous and pleasant during the flight, and despite enjoying some downtime with a cocktail of Scotch and milk, they were willing to sign autographs for those that asked.
An unmatched legacy
Altogether, this trip across the pond would long leave a mark on the music industry. Moreover, pop culture as a whole was revolutionized.
"The Beatles' first American tour left a major imprint in the nation's cultural memory. With American youth poised to break away from the culturally rigid landscape of the 1950s, the Beatles, with their exuberant music and good-natured rebellion, were the perfect catalyst for the shift," HISTORY shares.
"Their singles and albums sold millions of records, and at one point in April 1964 all five best-selling U.S. singles were Beatles songs. By the time the Beatles first feature-film, A Hard Day's Night, was released in August, Beatlemania was epidemic the world over. Later that month, the four boys from Liverpool returned to the United States for their second tour and played to sold-out arenas across the country."
A unique time
Meet the Beatles! was the group's second album released in the US. It debuted at #92 on the album chart for the week ending February 1st, 1964. Two weeks later, it peaked at #1 and remained there for eleven consecutive weeks.
The Beatles may have already been popular before their physical arrival to the US. However, after flying in on Pan Am's Boeing 707 for their first visit to the country, their presence was undoubtedly cemented. This event was just one of the thousands of memories made thanks to the help of Pan Am in the middle of the 20th century.

February 3, 2021
Watch Prince deliver a mind-blowing guitar solo in tribute to George Harrison
by Lee Thomas-Mason for Far Out Magazine
"Music is music, ultimately. If it makes you feel good, cool."—Prince.
If there's one thing that can be said about the music of Prince and how he performed his art, it is that he made people feel good—and it was, of course, very cool indeed. One perfect performance of The Beatles classic 'While My Guitar Gently Weeps' in tribute to George Harrison proves that.
On March 15, 2004, taking to the stage alongside the great Tom Petty, Steve Winwood, Jeff Lynne, Dhani Harrison among many others, Prince was preparing something typically unique. The occasion was a celebration of former Beatles member George Harrison who was posthumously inducted into the Rock and Roll Hall of Fame—so it needed to be special.
The all-star band, performing 'While My Guitar Gently Weeps' which is quite possibly remembered as Harrison's most-beloved Beatles song, included members of the Heartbreakers and had pre-planned a moment for Prince to take the lead, a moment of majesty, a moment of sheer rock and roll brilliance. A moment only Prince could pull off.
Remembering the moment on reflection, the late Tom Petty once explained: "Olivia Harrison [George's widow] asked me if I would come along and induct George. I was told, 'Well, Prince is going to play too,' and I was like, 'Wow, that's fantastic'." If there was a chance of Petty feeling upstaged (and if you've watched the footage you'll know that's quite likely) he wasn't going to spoil the evening and show it.
Then the news broke that Prince, a massive Beatles fan, was also in discussions to make an appearance, Petty explained: "Look, we got Prince here willing to play lead guitar. Why should we give him an eight-bar solo? Over a solo that — the Beatles solo, everyone knows it by heart and would be disappointed if you didn't play that particular solo there."
Explaining how the makeshift band knew that The Purple One was destined to nail the solo, Petty continued: "Prince was a great fan of George's and the Beatles in general, but I think he particularly admired George." He added, somewhat modestly: "I think George would have liked it a lot."
Prince was determined to make the most of a moment to pay tribute to Harrison and he began to wield his axe with powerful uncompromising confidence, with a style that ultimately defines his nickname as 'His Royal Badness' and unleashed a relentless three-minute guitar solo that had his new bandmates smiling from ear-to-ear, gasping at its splendour and making sure George had a fitting tribute.
As if the moment wasn't magical enough, Prince had one more trick up his sleeve—albeit accidentally. Tossing his guitar up to the heavens, the instrument appears to vanish in thin air, never to be seen again, just the ringing of reverb in the venue left behind.
See the clip, below.
RetroGroove flashback: A fun interview with George Harrison in October, 1987
Ultimate Classic Rock is reporting that George Harrison played slide guitar on Dave Mason's "If You've Got Love" in 1973 under the pseudonym as "Son of Harry." Listen to George's brilliant slide guitar work below.

February 1, 2021
Blackbird - The Beatles
by Natalia Marín for Agencia Central de Noticias ACN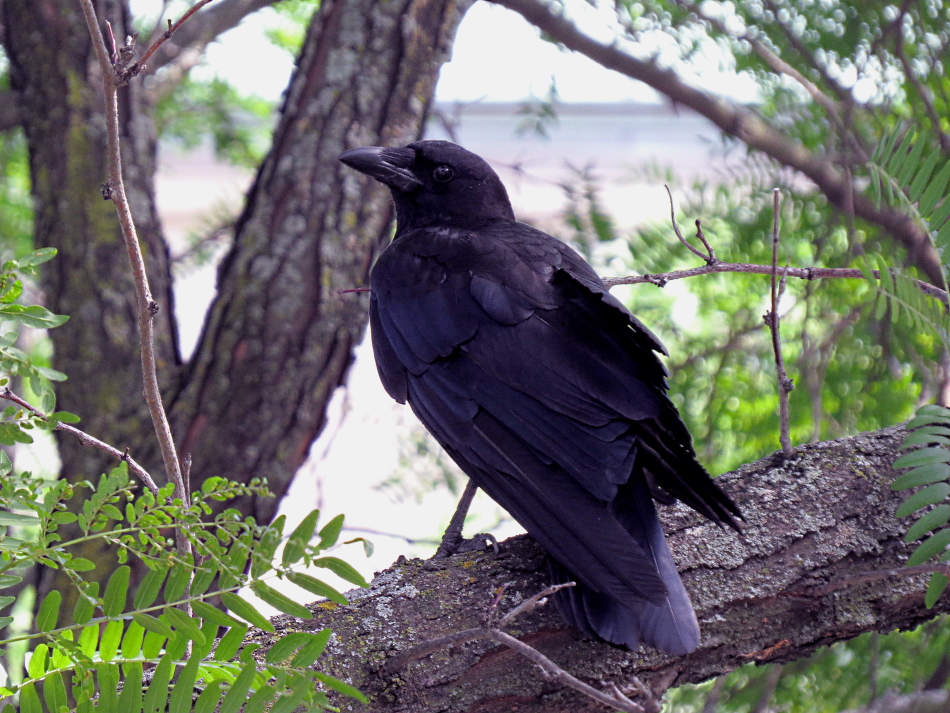 Photo credit: John Whelan, Ottawa Beatles Site
Blackbird is an emotional and controversial song from The White Album, by the English band The Beatles, which was recorded on June 11, 1968 in London, written and performed by Paul McCartney, produced by George Martin with Apple Records.

It is an acoustic piece, which in its composition has in the background the recording of the song of a blackbird, known as the poet of the darkness of the night in the world of birds, and the harmony of a guitar inspired by the musical notes of a Bach classic, entitled Bourrée in E minor. In addition, the beat of this melody is set by a rhythmic tapping against the floor of McCartney's foot, a special touch by the author.


"Blackbird singing in the dead of night, take these broken wings and learn to fly, all your life, you were only waiting for this moment to arise".

This fragment of the song refers to a metaphor about a woman of black complexion who longs for her freedom, in the midst of a society full of prejudice and inequality, and who regardless of the damage caused can continue to dream. It also alludes to the struggle of the black community against racism and the search for access to civil rights and equality before the law.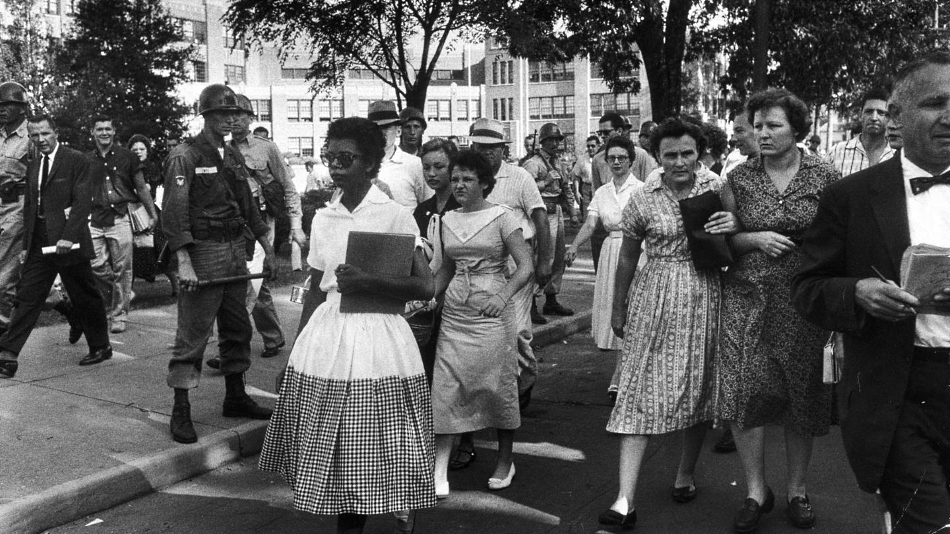 In this regard, it is worth mentioning that the reason why McCartney decided to write this song comes from the Little Rock crisis in Arkansas (United States), an event considered the most significant in the civil rights movement, because the south of this country managed a segregation in the educational field, in which blacks and whites were separated.

This became evident on September 4, 1957, when a group of nine African-American students attempted to enter Little Rock Central High School and the Arkansas National Guard prevented their entry with the excuse of protecting its citizens. A few days later the federal district judge, Ronald Davis, ordered the troops to be withdrawn and the students were allowed to enter, which was the trigger for McCartney to give a voice of freedom.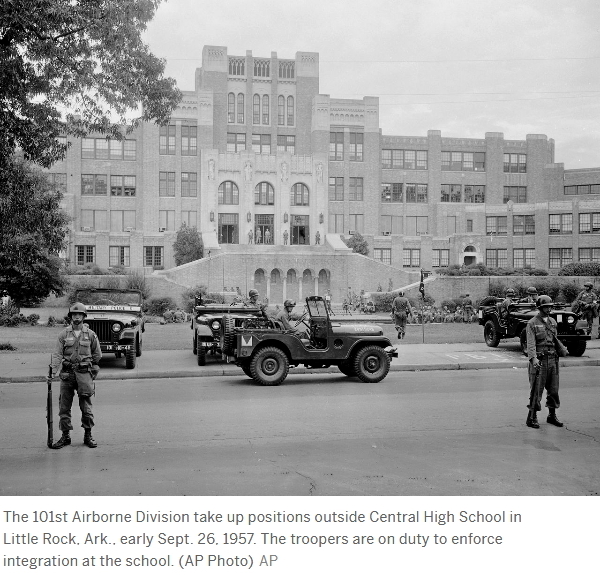 Well, it would seem from the above that the composer wanted to send a message of empathy and solidarity with all those people who were going through a time of difficulty and discrimination because of their skin color.

From this, I consider that the singer had the intention of transmitting faith, hope and support to the constant struggle for civil rights, which was being lived at that time, also it can be noted that he wanted to be the spokesman for part of the black population that could not be heard.

In addition to this, I think he makes a connotation to the union, which is expressed in the sound of his guitar, using as a reference the classic Bourrée in E minor, as I said before. This is a musical example of counterpoint, which is a relationship between two or more voices that seek harmonic balance, this used as a symbol of peace and equality between blacks and whites, which McCartney wanted to imply.

Finally, it is important to say that it is a song that, from the simplicity of its composition in terms of lyrics and melody, manages to have a transcendental meaning to this day, because after the ideal and example of life of Nelson Mandela, by fighting until the end to put the entire black race at the level of whites and to assert their rights, generated an impact and social awareness, about his dream of freedom, which can be seen embodied in Blackbird, saying that although your wings are broken or have suffered, you can still fly, dream and think of a better future.
End of article.
Ottawa Beatles Side editorial: Listen to the late great Billy Preston do his fantastic cover version of "Blackbird."
Ottawa Beatles Site RetroGroove with George Harrison's "Isn't It A Pity"


Make no mistake, if you haven't heard the "All Things Must Pass" album in its entirety, you are missing out on the monumental folk-rock album of the entire 1970's decade. Having listened to this album for many decades now, I can compare this bodied work as good as Paul Simon's material. With hits like the Beatles's "Something" and "Here Comes The Sun" from Abbey Road, both written by George along with the songs from "All Things Must Pass" placed George on the same level of greatness like Lennon and McCartney.
If ever there was a double A-sided single, then it was George Harrison's "My Sweet Lord" and "Isn't It A Pity." And to drive that point home, here in Canada the single had both "formatted A side Apple labels printed" on either side, meaning the sliced Apple for the B-side was not included.
Said George Harrison on the meaning behind the song: "'Isn't It A Pity' is about whenever a relationship hits a down pint – instead of whatever other people do (like breaking each other's jaws) I wrote a song. It was a chance to realise that if I felt somebody had let me down, then there's a good chance I was letting someone else down. We all tend to break each other's hearts, and not giving back – isn't it a pity." ─ from George Harrison's official book "I Me Mine."
George Harrison's "Isn't It A Pity" became a template for my creative juices back in 1975 when creating a lyrical response similar in style to George's composition. The lyrical poem that I wrote is called "Of Heavenly Blue" which is presented below this report.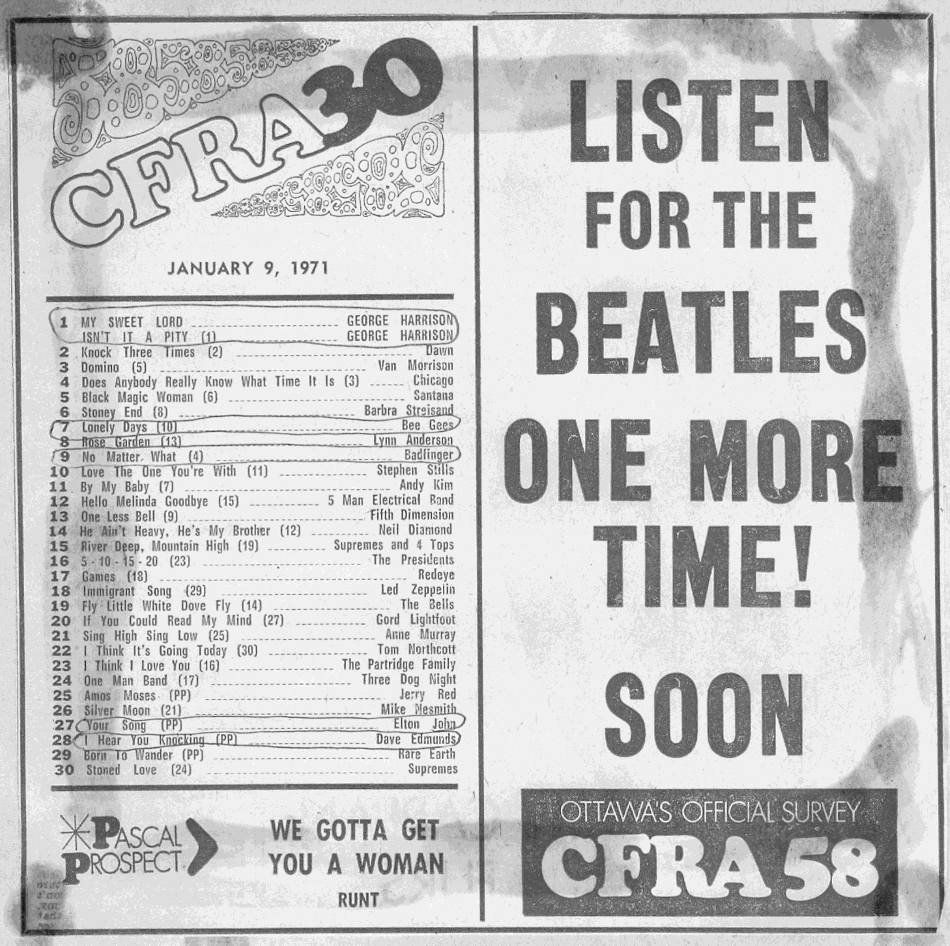 From my personal scrap book (with glue bleed-through after all these years), the Ottawa Citizen publishes the CFRA Hit Parade for January 9, 1971. George Harrison's double hit single "My Sweet Lord" and "Isn't It A Pity" is still in the coveted #1 slot. "I Hear You Knocking" by Dave Edmunds makes its debut which John Lennon referred to as a great rocker in "Lennon Remembers" by Jann Wenner
"Of Heavenly Blue"
by John Whelan (to the tune of "Isn't It A Pity")
How do I explain my undying love for you?
It is more trying love for me than for you.
Unfolded as I remain love,
I feel indifferently the same love.
All the love that you hold,
Is worth waiting for the new day.
All the love that you hold,
Is worth waiting for when given away.
Would you believe that I'm growing in love with you?
That I'm knowing all the love within you?
As I bathe my eyes in tears love,
Cleansed is the pain of lonely years love.
All the tears that I hold,
I hold in my hand for you.
All the tears that I hold,
Is a cloudburst of heavenly blue.
Of heavenly blue.
Of heavenly blue.
Of heavenly blue.
Lyrics are copyrighted by John Whelan, "Mirrors of a Rogue" poetry collection, 1975.

Archived news:
July 2000 - June 2003
July 2003 - December 2003
January 2004 - October 2004
October 2004 - May 2005
May 2005 - June 2005
July 2005 - November 2005
December 2005 - March 2006
April 2006 - June 2006
June 2006 - July 2006
August 2006 - September 2006
October 2006
November 2006 - December 2006
January 2007 - June 2007
June 2007 - March 2008
March 2008 - July 2008
August 2008 - September 2008
October 2008 - July 2009
August 2009 - November 2009
December 2009 - August 2010
September 2010 - December 2010
Jannuary 2011 - December 2013
January 2014 - June 2019
June 5, 2019 - November 2019
December 2019 - October 2020