Like Dylan, Robertson was a self-taught musicologist and storyteller influenced by everything American from the novels of William Faulkner to the scorching blues of Howlin' Wolf to the gospel harmonies of the Swan Silvertones. At times his songs sounded not just created, but unearthed. In "The Night They Drove Old Dixie Down," he imagined the Civil War through the eyes of a defeated Confederate. In "The Weight," with its lead vocals passed around among group members like a communal wine glass, he evoked a pilgrim's arrival to a town where nothing seems impossible:
"I pulled into Nazareth, was feelin' about half past dead / I just need some place where I can lay my head / Hey, mister, can you tell me where a man might find a bed? / He just grinned and shook my hand, 'No,' was all he said."
| | |
| --- | --- |
| | Above photo credit: 45 r.p.m. is from the personal vinyl collection of John Whelan, Ottawa Beatles Site. The flip-side was a Bob Dylan number: "I Shall Be Released." |
The Band played at the 1969 Woodstock festival, not far from where they lived, and became newsworthy enough to appear on the cover of Time magazine. But the spirit behind their best work was already dissolving. Albums such as "Stage Fright" and "Cahoots" were disappointing even for Robertson, who would acknowledge that he was struggling to find fresh ideas. While Manuel and Danko were both frequent contributors to songs during their "Basement Tapes" days, by the time "Cahoots" was released in 1971, Robertson was the dominant writer.
They toured frequently, recording the acclaimed live album "Rock of Ages" at Madison Square Garden and joining Dylan for 1974 shows that led to another highly praised concert release, "Before the Flood." But in 1976, after Manuel broke his neck in a boating accident, Robertson decided he needed a break from the road and organized rock's ultimate sendoff, an all-star gathering at San Francisco's Winterland Ballroom that included Dylan, Van Morrison, Neil Young, Muddy Waters and many others. The concert was filmed by Scorsese and the basis for his celebrated documentary "The Last Waltz," released in 1978.
Robertson had intended The Band to continue recording together but "The Last Waltz" helped permanently sever his friendship with Helm, whom he had once looked to as an older brother. In interviews and in his 1993 memoir "Wheel on Fire," Helm accused of Robertson of greed and outsized ego, noting that Robertson had ended up owning their musical catalog and calling "The Last Waltz" a vanity project designed to glorify Robertson. In response, Robertson contended that he had taken control of the group because the others — excepting Hudson — were too burdened by drug and alcohol problems to make decisions on their own.
"It hit me hard that in a band like ours, if we weren't operating on all cylinders, it threw the whole machine off course," Robertson wrote in his memoir "Testimony," published in 2016.
The Band regrouped without Robertson in the early 1980s, and Robertson went on to a long career as a solo artist and soundtrack composer. His self-titled 1987 album was certified gold and featured the hit single "Show Down at Big Sky" and the ballad "Fallen Angel," a tribute to Manuel, who was found dead in 1986 in what was ruled a suicide (Danko died of heart failure in 1999, and Helm of cancer in 2012).
Robertson, who moved to Los Angeles in the 1970s while the others stayed near Woodstock, remained close to Scorsese and helped oversee the soundtracks for "The Color of Money," "The King of Comedy," "The Departed" "The Irishman" and the upcoming "Killers of the Flower Moon." among others. He also produced the Neil Diamond album "Beautiful Noise" and explored his heritage through such albums as "Music for the Native Americans" and "Contact from the Underworld of Redboy."
The Band was inducted into the Rock and Roll Hall of Fame in 1994; Robertson attended, Helm did not. In 2020, Robertson looked back and mourned in the documentary "Once Were Brothers" and in the title ballad, on which Robertson sang "When the light goes out and you can't go on / You miss your brothers, but now they're gone."
Robertson married the Canadian journalist Dominique Bourgeois in 1967. They had three children before divorcing. His other survivors include his second wife, Janet Zuccarini, and five grandchildren.
Jaime Royal Robertson was born in Toronto and spent summers at the Six Nations of the Grand River reserve where his mother Rosemarie Dolly Chrysler grew up. He never met his father, Alexander David Klegerman, who died before he was born and whose existence Robertson only learned of years later. His mother had since married a factory worker, James Robertson, whom Robbie Robertson at first believed was his biological parent.
Music was an escape from what he remembered as a violent and abusive household; his parents separated when he was in his early teens. He would watch relatives play guitar and sing at the Six Nations reserve, and became "mesmerized" by how absorbed they were in their own performances. Robertson was soon practicing guitar himself and was playing in bands and writing songs in his teens.
He had a knack for impressing his elders. When he was 15, his group opened for Hawkins at a club in Toronto. After overhearing Hawkins say he was in need of new material, Robertson hurried home, worked up a couple of songs and brought them over to his hotel. Hawkins recorded both of them, "Someone Like You," and "Hey Boba Lu," and Robertson would soon find himself on a train to Hawkins' home base in Fayetteville, Arkansas.
Over the next few years, he toured with Hawkins in the U.S. and Canada as members left and the performers who eventually became The Band were brought in. By 1963, Robertson and the others had grown apart from Hawkins and were ready to work on their own, recording a handful of singles as the Canadian Squires and stepping into rock history when mutual acquaintances suggested they should tour behind Dylan, then rebelling against his image as folk troubadour and infuriating fans who thought he had sold out.
In 1965-66, they were Dylan's co-adventurers in some of rock's most momentous shows, with Dylan playing an acoustic opening set, then joined by the Hawks for an electric set that was booed so fiercely, Helm dropped out and was replaced on the road by Mickey Jones. As captured in audio recordings and in footage by filmmaker D.A. Pennebaker seen decades later in the Dylan documentary "No Direction Home," the music on stage for such Dylan songs as "Just Like Tom Thumb's Blues" and "Ballad of a Thin Man" more than equaled the fury of its detractors, culminating in a May 1966 show at Manchester, England, when one fan screamed out "Judas!"
"I don't belieeeeve you," Dylan snarled in response. "You're a liar!" Calling on the Hawks to "play f----ing loud," he led them through an all-out finale, "Like a Rolling Stone."
"A kind of madness was percolating," Robertson wrote in his memoir. "The whole atmosphere was heightened. I adjusted the strap on my Telecaster so I could release it with a quick thumb movement and use the guitar as a weapon. The concerts were starting to feel that unpredictable."
Later in 1966, Dylan was badly injured in a motorcycle accident and recuperated in the Woodstock area, where The Band also soon settled. Under no contractual obligations or any sort of deadlines, Dylan and his fellow musicians stepped out of time altogether. They jammed on old country and Appalachian songs and worked on such originals as "Tears of Rage" and "I Shall Be Released" that were originally intended as demo recordings for other artists. "The Basement Tapes," as they were eventually called, were among rock's first bootlegs before being released officially — in part in 1975, and in a full six-CD set in 2014.
Working and writing with Dylan encouraged The Band to try an album of its own. "Music from Big Pink" featured the Dylan-Danko collaboration "This Wheel's On Fire" and Dylan-Manuel's "Tears of Rage," along with such Band originals as Manuel's "In a Station" and Robertson's "Caledonia Mission."
In his memoir, Robertson remembered the first time their old boss listened to "Music from Big Pink."
"After each song, Bob looked at 'his' band with proud eyes. When 'The Weight' came on, he said, 'This is fantastic. Who wrote that song?'" he wrote. "'Me,' I answered. He shook his head, slapped me on the arm, and said, 'Damn! You wrote that song?'"
Ringo Starr Pays Tribute to Robbie Robertson
Joni Mitchell Pays Tribute to Robbie Robertson




August 9, 2023
John Lennon: "Somebody let off a firecracker onstage and every one of us looked at each other,
because each thought it was the other that had been shot. It was that bad."
– Why The Beatles retired from the stage
by Neil Crossley for Music Radar



How death threats, disillusionment and the very real threat of onstage electrocution all fuelled The Fab Four's decision to stop playing live…

At 9:27pm on 29 August 1966, the four members of The Beatles walked on stage at Candlestick Park in San Francisco to play their last ever show in front of a paying audience. It was a cold, windy evening and fog shrouded the stadium, which was home to the San Francisco Giants. The Beatles were running late and the backstage area was rammed.

"The dressing room was chaos," the show's compère, disc jockey 'Emperor' Gene Nelson of KYA 1260AM, said in Keith Badman's The Beatles Off The Record. "There were loads of people there. The press tried to get passes for their kids and the singer Joan Baez was in there. Any local celebrity, who was in town, was in the dressing room. They were having a party."

The show was the last of 18 concerts on a 13-date tour of North America, with the band playing two gigs on some dates. The Beatles recognised the significance of the Candlestick Park concert and took steps to capture the moment.

"Before one of the last numbers, we set up this camera on an amplifier," recalled George Harrison in The Beatles Off The Record, "Ringo came off the drums, and we stood with our backs to the audience and posed for a photograph, because we knew that was the last show."

The decision to stop playing live was the culmination of a year in which their fame had taken a deeply malevolent turn. Protests, violence and death threats now impinged on their lives.

The problems began on 29 July 1966, when an interview with John Lennon by UK journalist Maureen Cleave was republished in US teen magazine Datebook. "Christianity will go," declared Lennon. "It will vanish and shrink… We're more popular than Jesus now; I don't know which will go first – rock 'n' roll or Christianity."

The comments provoked outrage among far right religious groups. Over 30 radio stations banned The Beatles from the airwaves and some stations in the Deep South staged mass burnings of Beatles records. The controversy spread to Mexico, Spain and South Africa, and the Vatican denounced Lennon's comments.

Brian Epstein flew to New York and hastily arranged a press conference at the Astor Tower Hotel in Chicago. According to Steve Turner's book, Beatles '66: The Revolutionary Year, Lennon broke down in tears in front of Epstein and the band's press officer Tony Barrow, while preparing to meet the reporters.

"It had got dangerous," recalled Paul McCartney in Ron Howard's 2016 documentary Eight Days A Week – The Touring Years. "And we were threatened. We knew we weren't being blasphemous, we weren't anti-Jesus. In fact, we all had pretty religious upbringings, really, but you do see John as sort of a broken man, 'cause he realised, he had to apologise. It was gonna be the only thing that would stop this. He's longing to break out of it, and do a joke, but he knows he can't."

For The Beatles, it was the beginning of an increasingly volatile period. At the end of June, after shows in Munich, Essen and their old stomping ground Hamburg, The Beatles flew to Japan, where they played five nights at the Nippon Budokan in Tokyo, a venue normally reserved for martial arts. They received death threats from far right groups who felt the venue's spiritual status had been violated.


But the troubles really started when they played two shows in the Philippines on 4 July 1966. After one of two shows at the Rizal Memorial football stadium in Manila, they
unwittingly failed to attend a breakfast reception on 5 July hosted for them by the president's wife, Imelda Marcos.

"We put the TV on, and there was a horrific TV show of Madame Marcos screaming, 'They've let me down!'" recalled Ringo Starr in the 1995 documentary project The
Beatles Anthology. "There were all these shots with the cameraman focusing on empty plates and up into the little kids' faces, all crying because the Beatles hadn't
turned up."



When road manager Mal Evans went down to the hotel reception, he found that all security and support from staff had been withdrawn, as had the police escort to whisk them to the airport. Epstein was forced to phone ahead and plead with the pilot of their KLM flight to delay take-off.

A process of intimidation, instigated by Marcos officials, hampered them all the way. Taxi drivers suddenly seemed to forget how to get to the airport.

When they did get there, all the escalators were turned off and The Beatles and Evans were jostled, punched and kicked. Once on board the plane, Paul McCartney recalled that "we were all kissing the seats". After a stop-off in India, the Beatles returned to Heathrow on 8 July and spoke of their experience in an interview with ITN.

"We got pushed around from one corner of the lounge to another, you know," said McCartney. "And so they started knocking over our road managers and things, and everyone was falling all over the place."

Ringo later described their ordeal in Manila as "the most frightening thing that's ever happened to me".

The events in the Philippines prompted The Beatles to privately question Brian Epstein's management of their tours. When told that Epstein was booking a tour for 1967, Lennon and Harrison said that the 1966 one would be their last.

When asked by ITN what was next on the band's schedule, George Harrison quipped: "We're going to have a couple of weeks to recuperate before we go and get beaten up by the Americans."

The 1966 US tour began with two shows in Chicago on 12 August. Ticket sales were noticeably down on the previous year. Sales for their return to Shea Stadium were down to 45,000, which was 10,000 less than on their 1964 tour. At Candlestick Park, only 25,000 tickets were sold for the 42,500 capacity stadium, leaving whole sections of seating empty.

The drop in ticket sales was partially attributed to the fallout from Lennon's 'We're more popular than Jesus now' comment. This was fresh in people's minds when the band played two shows at the Mid-South Coliseum in Memphis on 19 August 1966.

The radio boycotts, record burning and protests were still taking place. Six members of the Klu Klux Klan picketed outside the venue, dressed in full robes. In the middle of playing If I Needed Someone, an incident occurred that would help galvanise their decision to stop touring.

"There had been threats to shoot us, the Klan were burning Beatle records outside and a lot of the crew-cut kids were joining in with them," recalled John Lennon in 1974. "Somebody let off a firecracker onstage and every one of us – I think it's on film – looked at each other, because each thought it was the other that had been shot. It was that bad."

The tour was riddled with other mishaps. At Busch Memorial Stadium in St Louis on 21 August, heavy rain resulted in the band playing beneath a makeshift corrugated iron shelter.

"It felt like the worst little gig we'd ever played at even before we'd started as a band," said Paul McCartney in the 1995 documentary series The Beatles Anthology. "We were having to worry about the rain getting in the amps and this took us right back to the Cavern days – it was worse than those early days…

"After the gig I remember us getting in a big, empty steel-lined wagon, like a removal van… We were sliding around trying to hold on to something, and at that moment everyone said, 'Oh, this bloody touring lark – I've had it up to here, man'."

Until that moment, McCartney had been the one band member urging the others to keep playing live. "I'd been trying to say, 'Ah, touring's good and it keeps us sharp. We need touring, and musicians need to play. Keep music live'. I had held on to that attitude when there were doubts, but finally I agreed with them."

There was another reason to stop touring. The PA systems at venues such as Candlestick Park were little more than speaker address systems for announcing scores to the crowds attending baseball games. They were shrill, trebly and woefully inadequate for bands.

Another factor was that The Beatles were increasingly unable to emulate the recordings they created in the studio. By the 1966 US tour, Paperback Writer was the only song from their latest album Revolver to make it into the set. Much of the set consisted of dated 12-bar covers such as Rock And Roll Music and Long Tall Sally, that they had been playing since the Cavern days.

As The Beatles walked on stage on 29 August 1966, only Ringo had lingering doubts about stopping touring. "There was a big talk at Candlestick Park that this had to end," he recalled. "John wanted to give up more than the others. He felt that he'd had enough. I never felt 100 per cent certain until we got back to London."

After the show, the Beatles were rushed to the airport in an armoured car. They flew from San Francisco to Los Angeles, arriving at 12:50 am. At one point during the flight, Harrison was heard to say: "That's it, then. I'm not a Beatle anymore."

Harrison had been the first to tire of Beatlemania. In a quote from Martin Scorsese's 2011 documentary George Harrison: Living In The Material World, George expanded on the group's decision.

"We'd been through every race riot, and every city we went to there was some kind of a jam going on, and police control, and people threatening to do this and that ... and [us] being confined to a little room or a plane or a car. We all had each other to dilute the stress, and the sense of humour was very important ... But there was a point where enough was enough."






August 8, 2023
The Beatles Are Remixing & Releasing The Red & Blue Albums! No Rubber Soul?
by Michael Noland for The Bottom Line

Hey everyone!

In tonight's video I not only discuss what to expect with the upcoming September remix and re-release of The Beatles Red & Bud albums, but I also discuss how this
really affects any upcoming remix of the Rubber Soul album by The Beatles as well!

Will this be connected to the new Beatles single due out in September as well? Will that mean that Real Love & Free as a Bird by The Beatles will be included? And what
else will be included on the remixes?

Well, all these and many more questions are addressed in tonight's video!

And as usual if you enjoy tonight's video, please consider giving it a Thumbs-Up as that helps the YouTube algorithm better identify the channel to a larger audience!

If you haven't subscribed to the channel as of yet, just hit that subscribe to 'The Tribe' button, and then tap that Top-Bell Icon, and you'll be notified of all my future
videos!

Enjoy!


The Forgotten Beatles Box Set & Why You Should Own It
by Andrew of Parlogram Auctions

The original Beatles CDs have never been popular with audiophiles but in 1992, before the curse of noise reduction took hold, EMI produced the best and most authentic
sounding set of Beatles music on CD to date - the CD EP Collection. In this video we look at why this set sounds so good and even present some clips for you to judge for
yourself. Let us know what you think in the comments.


Paul McCartney says 'magic' of using AI to perform live alongside John Lennon leaves him
'overcome' with emotion: 'It feels very real'
By Marta Jary for The Daily Mail Australia




Paul McCartney has shared how 'magic' technology allows him to perform alongside late Beatles bandmate John Lennon.

Developed by director Peter Jackson on the Get Back documentary, the AI (Artificial Intelligence) trick isolates Lennon's vocals from famous recordings so that they can be played back on stage.

'It's one of my favourite bits in the show now,' the 81-year-old told The Daily Telegraph on Saturday.

Paul added that the experience is 'very emotional' for him but he 'loves it'.

'It was hard to hold your emotions back actually. You could just get overcome,' the singer said.

'Because it was the magic – it was my buddy, who's been dead a long time, and here he was, back, and I'm working with him again. And even though it's sort of mechanical trickery, it feels very real.'

At the Glastonbury festival in 2022, McCartney performed I've Got A Feeling, a song originally recorded during the Beatles' famous 1969 rooftop concert in London.

He sang along with a track of John Lennon's voice that had been extracted from an old demo tape using artificial intelligence, matched to historic vision of the concert.

McCartney told BBC Radio 4's Today program that AI is 'something that we're all sort of tackling at the moment'.

'When Peter Jackson did the film (The Beatles) Get Back, where it was us making the Let It Be album, he was able to extricate John's voice from a ropey little bit of cassette and a piano,'' he said.

'He could separate them with AI, he'd tell the machine 'That's a voice, this is a guitar, lose the guitar'.

'We were able to take John's voice and get it pure through this AI, so then we could mix the record as you would do.'

Lennon was fatally shot on December 8, 1980, by gunman Mark Chapman as he and his wife Yoko Ono returned to their home in the Dakota Building overlooking New York's Central Park.

Paul is set to play his first concert Down Under in six years.

On Tuesday, the Beatles legend announced he will performing shows across Australia in the spring.

The tour will kick off in Adelaide on October 18, the city that saw 350,000 people line the streets when The Beatles first visited Australia in 1964.

He will then move on to Melbourne on October 21, before heading on to Newcastle on October 24 and Sydney on October 27.

The tour will wrap up with a show in Brisbane on November 1 before moving on to the Gold Coast on November 4.

McCartney said he has amazing memories of his previous visits.

'Our last trip was so much fun,' he said in a statement.

'We had such an incredible time. Each show was a party, so we know this is going to be incredibly special. Australia, we are going to rock! I can't wait to see you.'

McCartney's last tour in Australia in 2017 was a series of epic three-hour shows that saw him beat the likes of Ed Sheeran to win a Helpmann Award for Best International Contemporary Concert.

Tickets go on sale August 11, with pre-sale starting on August 9.
Paul McCartney Got Back Australian tour dates 2023
Adelaide Entertainment Centre, October 18
Melbourne, Marvel Stadium, October 21
Newcastle, McDonald Jones Stadium, October 24
Sydney, Allianz Stadium, October 27
Brisbane, Suncorp Stadium, November 1
Gold Coast, Heritage Bank Stadium, November 4

August 7, 2023
Tribute to Neil Aspinall: The Beatles' Guardian Angel

by Alan Chrisman for WordPress.com

August 6, 2023
Flashback: "Beatles museum with record-breaking 8,500 pieces of memorabilia opens… in Buenos Aires"

by the Daily Mail
Youtube write-up:

The pioneer and most popular English rock band, The Beatles, have their own museum in the City of Buenos Aires. It is the first Latin American museum of The Beatles and is located in The Cavern, in Paseo La Plaza. The Beatle Museum of Buenos Aires is the result of the efforts of Rodolfo Vázquez, the world's largest collector of Beatles memorabilia, recognized by the Guinness Book of Records in 2001 and 2011.

The Argentinean's personal collection exceeds 9,000 pieces and, according to him, the museum serves to satisfy his own need to have everything on display and take it out of its boxes and trunks so that the public can get to know the band a little better.

The entire collection is not exhibited, but only 20% of it, but it is rotated to show new objects to visitors. While we walk through it, some of their classics are playing in the background at all times.
There are many locations synonymous with The Beatles - Abbey Road, Strawberry Fields or even the USSR - but Argentina has never been one of them. Until now.
Despite the fact that the band never played in Argentina, an obsessive fan has put his country on the Beatlemania map.
Following the examples of museums in the band's native Liverpool and their early haunt Hamburg, a third major collection has opened to the public in Buenos Aires.
It includes a brick from The Cavern Club, a check for £11 signed by Ringo Starr and even a box of condoms branded with the names of John Lennon and Yoko Ono.
The eclectic collection is the work of self-confessed obsessive Rodolfo Vazquez, a 53-year-old accountant who became a fan at the age of 10 when he got their album Rubber Soul.
Since then he has collected everything he possibly can related to the Fab Four and has amassed more than 8,500 items.
In 2001 he was recognised by Guinness World Records as having the planet's largest collection, with a hoard of 5,612 items.But his haul has kept growing and his museum, which opened this month on Avenue Corrientes in a touristy area of Buenos Aires, is only able to hold a quarter of it.
'The idea is to show my collection permanently,' said Vazquez.
In a year I would like to rotate the items on display with others from my collection.
'Otherwise all of it would be closed into boxes and trunks without anyone being able to enjoy them.'
The museums in Liverpool and England may have more significant items on display, while private collections such as those of Julian Lennon - John's son - have more intimate pieces, but the Argentinean museum stands out for its sheer weight of numbers.
Vazquez claims he doesn't know the total value of his private collection, which includes record covers, autographs, toys, original pictures, concert programs, and cups and plates with Beatle images.
There are objects for all tastes: a Beatles wig that says it adjusts to any head size, and signed pictures of the four musicians.
His most prized object include 64 boxes of chewing gum in the form of miniature albums that allude to the 16 Beatles records and four music boxes with figures of John Lennon, Paul McCartney, George Harrison and Ringo Starr.
Vazquez even has certified copies of the quartet's birth certificates.
In one display case, there's a brick – one of about 5,000 pulled from the demolition in 1983 of the original Cavern Club.
There's also a hunk of the stage of Hamburg's Star Club, a strip club where the musicians worked as the house band, at that point with Pete Best as drummer.
Alongside that is a pair of drumsticks signed by Best, who was replaced by Ringo Star in 1962.
There's even a piece of the floor of Strawberry Fields, a Salvation Army orphanage near Lennon's boyhood home whose name inspired the 1967 psychedelic rock tune Strawberry Fields Forever.
And Vazquez continues to accumulating objects, either buying or trading for them with other collectors around the world.
'In Britain and Spain I found many fans,' he said.
'By mail I've received things from Japan, Britain and Brazil, and I'm still doing it.'
His Beatles obsession isn't limited to his museum either.
Each year, Vazquez organizes a Beatle Week, in which cover bands from around Latin America compete to be named the best imitators. The winners travel to a Liverpool music festival.
Many such bands play in Vazquez's bar named in honour of The Cavern Club, the Liverpool nightclub where the band got its start.
But nearly 2,000 people have visited since the museum opened on January 3 and Vazquez says he is aiming for some special items that would complete his life's work.
'What I am missing is to shake hands with Paul McCartney and Ringo Starr, hug them and chat with them a little bit,' he said.
'It is what would complete me and I would be the happiest collector on earth.'

August 5, 2023
Money can't buy me love: Beatles super fan to sell his massive memorabilia collection

by Craig Allen for ABC News Australia

Dallas Atkins has been collecting Beatles memorabilia since 1968, now he's decided it's time for his collection to find a new home.( )
If you want it, here it is, come and get it.
A Canberra Beatles collector is preparing to sell his massive assortment of memorabilia after talks with an Australian museum fell through.
Dallas Atkins was a young boy when he discovered The Beatles, and just in the nick of time too – within months of buying his first vinyl, the band had broken up.
But even 53 years after John, Paul, George, and Ringo parted ways, Beatle mania shows no sign of dying.
Over the past five decades, Mr Atkins has amassed one of Australia's largest collection of Fab Four memorabilia, from bizarre souvenirs right up to original autographs from band members.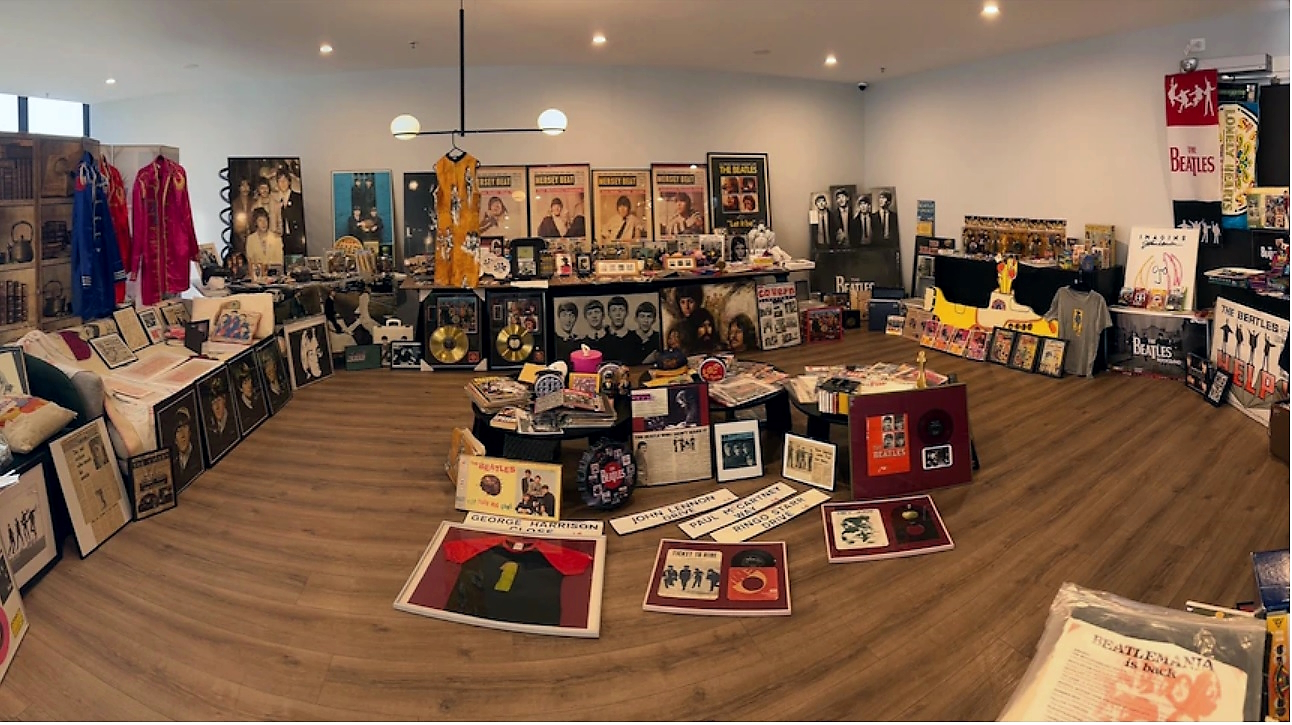 Dallas Atkins plans to sell all of the Beatles memorabilia in his extensive collection, which is one of the largest in Australia.
"As I was growing up at primary school The Beatles cartoons were on national TV – I just loved the music," Mr Atkins said.
"And eventually I found out they were a real band, and not just some TV made-up thing.
"That made me delve more into Beatles music, and I started collecting the EPs, then there were more albums to collect, and then there's lunch boxes, and dolls, and toys."
And as Mr Atkins discovered, there was a massive online fan community trading in everything from The Beatles' beginnings as The Quarrymen, right up to Get Back – and the solo careers that followed.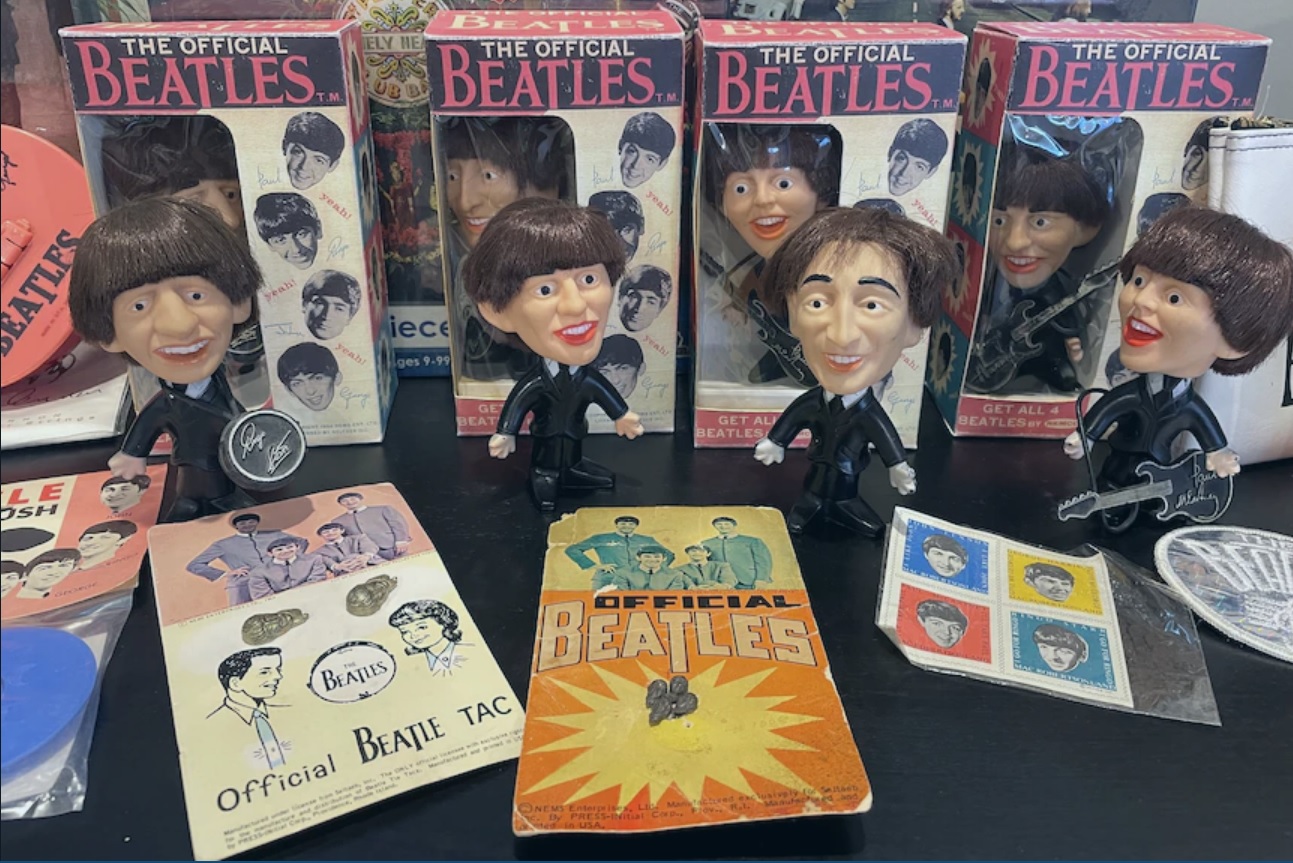 A lot of Beatles memorabilia was made before the band's brand was copyrighted, meaning any company could put the Beatles name or image on anything they wanted.
Many items came from an era before the brand was protected by copyright, so companies worldwide would do all they could to cash in on the lads from Liverpool.
"Really in the 60s, anything they could put The Beatles name on [they did put it on]," Mr Atkins said.
"A lot of companies made a lot of money out of The Beatles, except The Beatles."
Over the years he scoured op shops and online Beatles forums, buying up anything and everything that took his fancy.
Mr Atkins's prized possession is the autographs of Paul McCartney and George Harrison.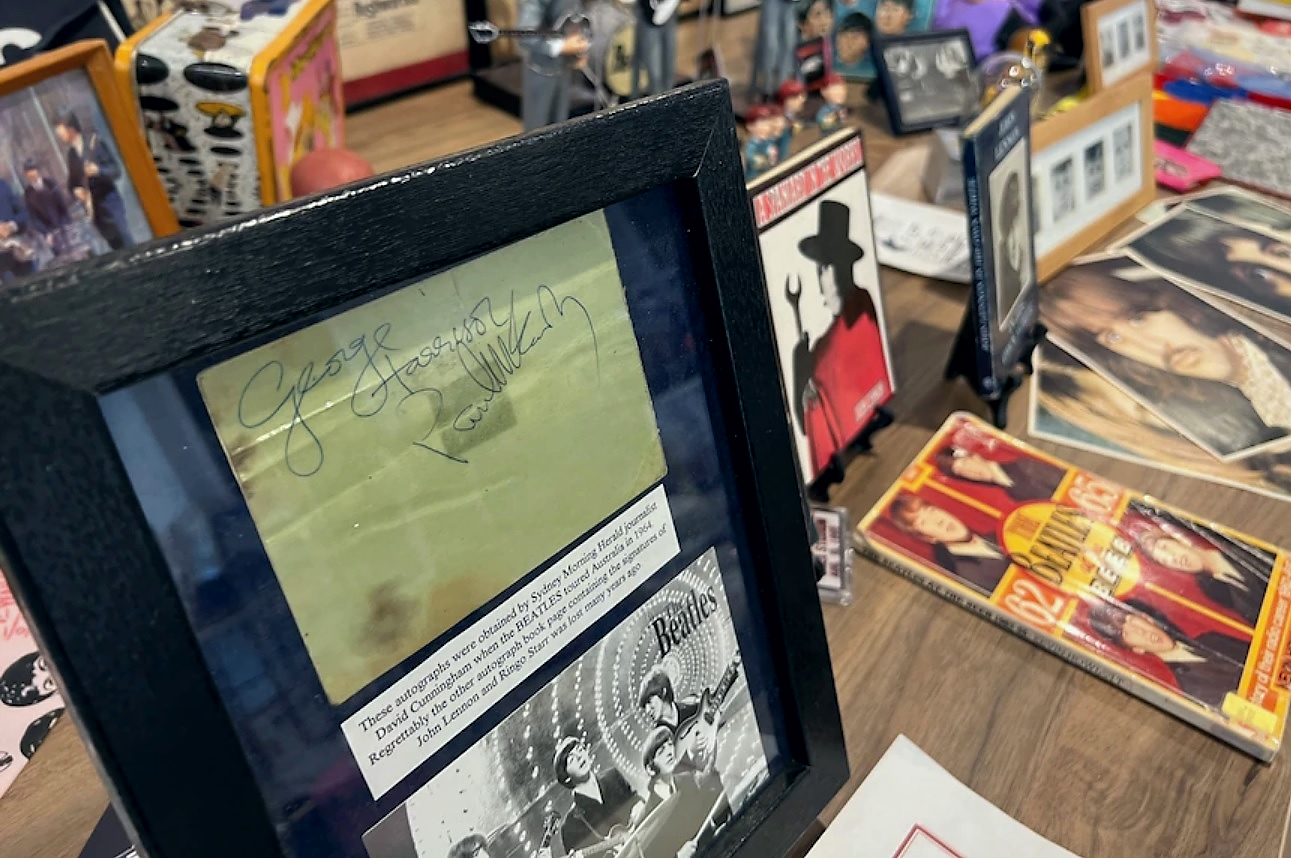 The prize of Dallas Atkins's collection, George Harrison and Paul McCartney's signatures.
They were originally signed for a reporter who interviewed the band in 1964 – and who lost the signatures of Ringo Starr and John Lennon in the intervening decades.
The collection also includes vinyl records, 8-track cartridges, toys and wigs still in their original 1960s packaging, and Beatles-branded bubble bath and talc powder.
He bought up complete sets of 1960s Beatles magazines, handmade fan-wear, lunch boxes, and blow-up caricature dolls.
Some of the memorabilia is in mint condition – like an unworn pair of Beatles stockings – while other items have degraded down the decades. After all, many were made for a quick buck, not as valuable collectibles.
When Mr Atkins moved to Canberra from country New South Wales several years ago, his collection was relegated to a mountain of packing boxes.
The 61-year-old musician says it's time to pass it on to other passionate fans.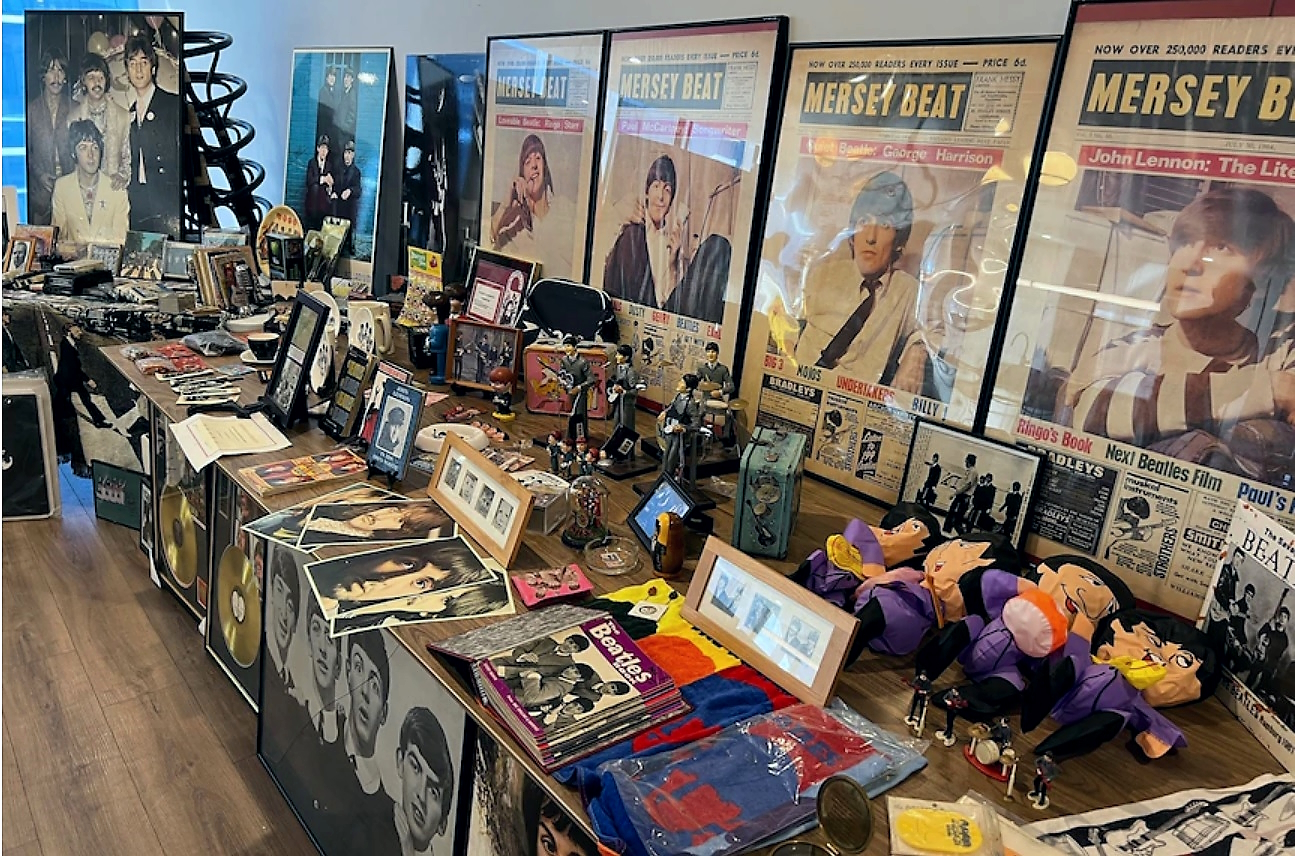 Dallas Atkins hopes the whole memorabilia collection can be kept together, either in a museum or with another super fan.
"The [Sydney] Powerhouse Museum showed interest – but I got a call saying that they're going a different direction, and then left me a bit high and dry about what to do with it," he said.
"I'm still hoping that some museum might say yes, or someone will come along and say 'I'd like to buy the whole lot', and we can negotiate a plan.
"Otherwise I have to start selling things off singly.
"The process is going to be sad – it's going to be hard packing things up and sending them off overseas or wherever."
As to how many individual items Mr Atkins actually holds? He says, pick a number.
"I gave up years ago to try and work that out.
"You just open a folder and there's probably 200 items in that one folder.
"Lots of thousands of items, rare items."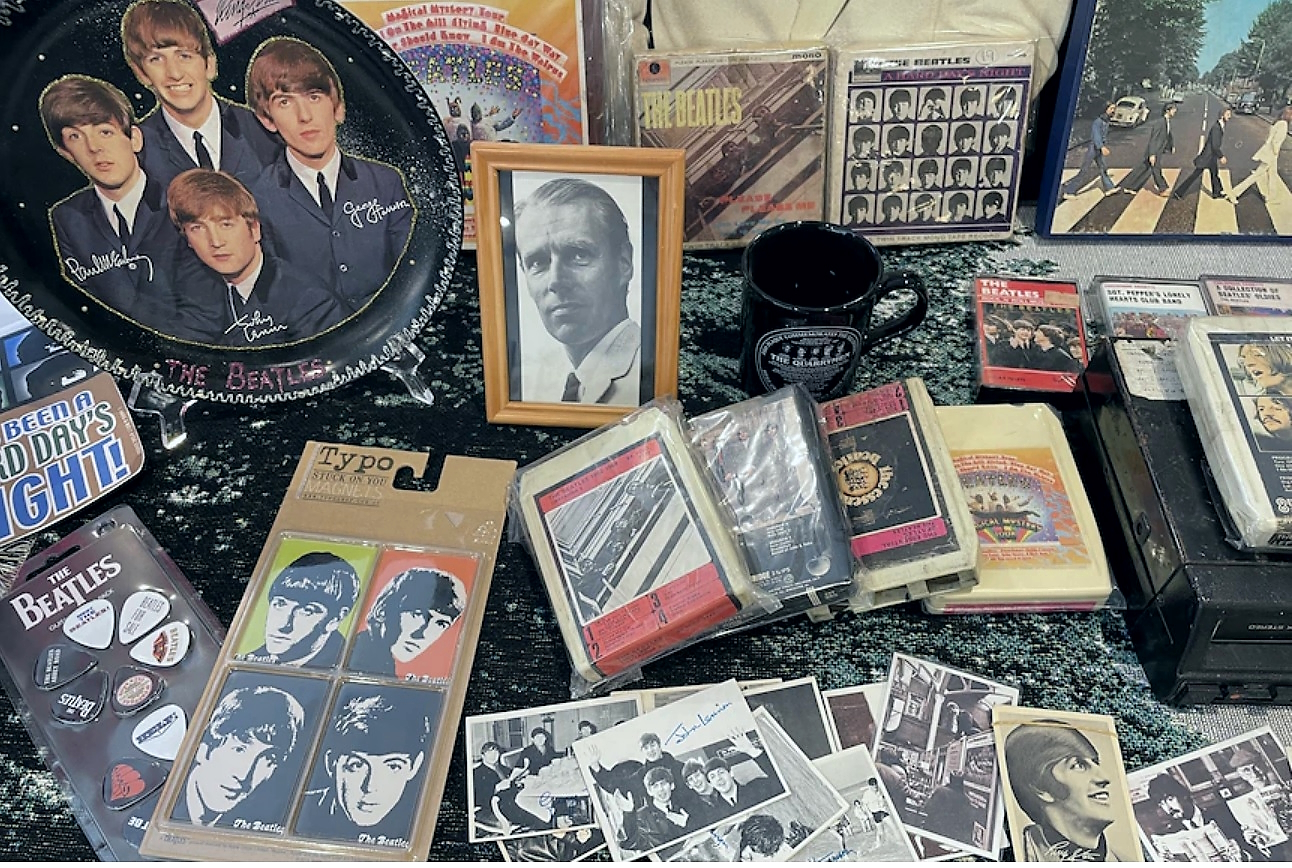 Dallas Atkins says he has long since stopped trying to count how many items of Beatles memorabilia he has.
The Guinness Book of Records names Argentina's Rodolfo Vazquez as the world's most obsessive Beatles collector – with 7,700 items of memorabilia.
But surely Mr Atkins is in that league – at least, for now.
Mr Atkins says he's been called "crazy" over the overwhelming extent of his collection – a collection so huge that he has no chance of being able to display more than a fraction of it in his Canberra apartment.
"I've been called crazy – and some people would say I'm crazy to sell it," Mr Atkins says.
"But there is a time where we all have to decide what to do with our collections – you could pass it on to the family, but if they haven't got the passion, it may be passed on to the tip."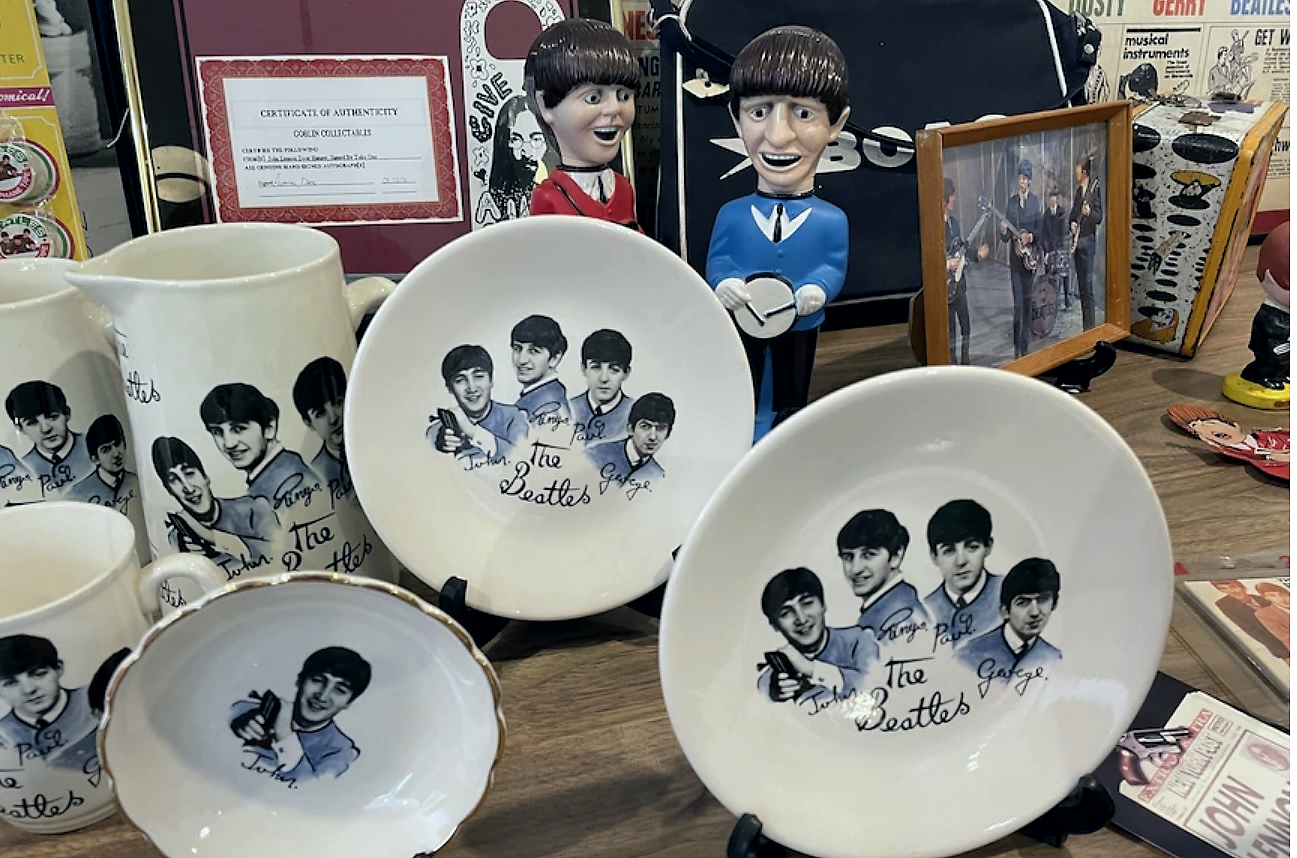 Dallas Atkins has decided not to attempt to give his collection to Paul McCartney.
With news that McCartney is touring Australia again later this year – at the age of 81 – Mr Atkins has ruled out trying to offload his collection to the recording superstar.
Even if an estimated value of $80,000 would mean nothing to the former Beatle.
"He could just pick up a stick or leaf or an old piece of paper off the ground, sign 'Paul McCartney' on it, and sell it for a million bucks."
And, chances are, McCartney has little interest in a tin of Beatles talcum powder, a dress made out of an old curtain, or a pair of Beatles stockings.
Mr Atkins says he'll be listing his items on social media but still hopes to keep his collection intact and negotiate with a single buyer.



August 4, 2023

Article culled from Noise11.com
The final song for The Beatles is definitely on the way. Penn Jillette of comedy duo Penn & Teller has heard the song and talked about it in his recent Podcast.
Penn Jillette releases a Podcast episode every Sunday about what he did in the previous week. This particular week he had visited London, went to Abbey Road Studios, and was treated to an advance hearing of the new Beatles song by producer Giles Martin himself, so the source if 100%.
Penn Jillette of Penn & Teller has confirmed he has heard what we suspect is called 'Now and Then'. At no stage in Penn's podcast does he refer to the song by name but it is assumed that the John Lennon song 'Now and Then', rejected for the mid 90s Anthology series is the song he is talking about.
Jillette has dropped even bigger info. He said Giles was working on remastering the Beatles compilation '1962-1966' (Red Album) and '1967-1970' (Blue Album). It is therefore assumed that the Red and Blue albums will be reissued in expanded form this September or October with what is also assumed 'Now and Then' added, and for the sake of the argument, lets also assume the two new song that made Anthology 'Free As A Bird' and 'Real Love' will be there too.
In his podcast, Penn says "There was a recording. The last recording that Paul McCartney did not make money off. There was John Lennon playing piano and singing while watching TV. The TV is loud and John is playing the piano and singing. Paul had this is the 80s when they were doing all Anthology stuff (ed. Anthology was actually the 90s) and Paul got every engineer in the world to try and take out the TV and they all tried and they all failed. Giles (Martin) said to the people on 'Get Back' "can you take out the TV on this?" and they said "yeah" and sent them John Lennon from three mics, voice and the TV all separate. So they now have a verse and chorus of John Lennon. In the 80s (ed. It was the 90s) Paul played the track to George and George played some guitar over it so they have that.
"'Now and Then' will also feature a chord from an outtake of 'Because'. "They took that chord, changed the key", Penn added.
An expanded 'Red' and 'Blue' would also potentially include the songs from Past Masters 1 and 2 not on the album and, if this is the next Beatles box set', lets also assume it will include the B-sides as well as the A-sides.
If this is where The Beatles next release is heading the 1962-1966 and 1967-1970 dates become obsolete. 1962-2023 maybe? But that leaves more inactive years in-between that active years. If the release happens in September, we should expect an announcement in coming weeks. The Beatles usually announce a project six weeks out from release.
The Beatles have traditionally only released one box set a year since the first box featuring 'Sgt Peppers Lonely Hearts Club Band' in 2017. A 'Red' and 'Blue' box will most likely mean that the 2023 Beatles event will be only that, which makes an expanded 'Rubber Soul' (the anticipated 2023 release) unlikely.
Solo reissues from Paul McCartney, John Lennon and George Harrison have also gone quiet this year. While McCartney, Lennon and Harrison catalogues have been actively worked on, the Ringo Starr back catalogue has gone untouched so far.
Paul McCartney spoke with Australia's ABC 7:30 program this week.



August 3, 2023
Sir Paul McCartney ramping up for his Australian "Got Back Tour"




"I've got so many amazing memories of my time in Australia over the years. Our last trip was so much fun. We had such an incredible time. Each show was a party, so we know this is going to be incredibly special. Australia we are going to rock! I can't wait to see you." - Paul


Wednesday 18 October - Adelaide - Entertainment Centre
Saturday 21 October - Melbourne - Marvel Stadium
⁠Tuesday 24 October - Newcastle - McDonald Jones Stadium
⁠Friday 27 October - Sydney - Allianz Stadium
⁠Wednesday 1 November - Brisbane - Suncorp Stadium
⁠Saturday 4 November - Gold Coast - Heritage Bank Stadium

After all these years, "And I Love Her" is still a Paul McCartney signature classic from the Beatles movie "A Hard Day's Night"






August 2, 2023
Article culled from Noise11.com


Beatles fans are on standby for the announcement of an expanded '1962-1966' (The Red Album) and '1967-1970' (The Blue Album).

The speculation for the reissues is that the initial 2LP/CD editions will each be expanded to triple album sets and contain for unreleased song 'Now and Then'.

'Now and Then' was abandoned during the construction of the 1995 Anthology series of albums. It was the third of three songs but not used because at the time, technology wasn't available to clean up the original John Lennon to a presentable stage like the other two songs 'Free As A Bird' and 'Real Love'.

'Free As A Bird' was released on Anthology 1 in November 1995. 'Real Love' followed on 'Anthology 2' in March 1996.

'Now and Then' was meant to be included on 'Anthology 3' but the three Beatles Paul McCartney, George Harrison and Ringo Starr were not confident what they had to work with at the time could be achieved with the raw demo. Now nearly 30 years later, new technology developed by Sir Peter Jackson and used for the 'Get Back' movie makes it possible to separate every sound into its own channel. The technology was used for the recent 'Revolver' reissue and well as The Beach Boys new 'Pet Sounds' remaster.

The release of the 'Red' and 'Blue' albums creates a diversion in the Beatles reissue road. I would imagine a slight change to take into consideration 1962 – 2023 might be appropriate.

In 2017 The Beatles released the first of the expanded albums box sets with 'Sgt Pepper's Lonely Hearts Club Band'. Next came 'The Beatles' (The White Album') in 2018, 'Abbey Road' in 2019, 'Let It Be' in 2021 (delayed to coincide with the release of the 'Get Back' movie because of the 2020 covid year) and then 'Revolver' in 2022.

When the releases went back to 1966's 'Revolver' after the 1967, 1968, 1969 and 1970 releases it was expected that The 2023 Beatles release would be with 'Rubber Soul' or a hybrid 'Yellow Submarine/Magical Mystery Tour'. However, producer Giles Martin has said that because of the frequency and thirst for Beatles releases during the early days of Beatlemania, nearly everything recorded has been released.

Paul McCartney has confirmed a 2023 release for 'Now and Then' and also insists it will be the final Beatles song.

A release for 'Red' and 'Blue' is expected in September 2023. An official announcement is expected in August.

The Beatles 1962-1966 (The Red Album) Track Listing:

LP1
1. Love Me Do
2. Please Please Me
3. From Me To You
4. She Loves You
5. I Want To Hold Your Hand
6. All My Loving
7. Can't Buy Me Love
8. A Hard Day's Night
9. And I Love Her
10. Eight Days A Week
11. I Feel Fine
12. Ticket To Ride
13. Yesterday

LP2
1. Help!
2. You've Got To Hide Your Love Away
3. We Can Work It Out
4. Day Tripper
5. Drive My Car
6. Norwegian Wood (This Bird Has Flown)
7. Nowhere Man
8. Michelle
9. In My Life
10. Girl
11. Paperback Writer
12. Eleanor Rigby
13. Yellow Submarine

LP1
1. Strawberry Fields Forever
2. Penny Lane
3. Sgt. Pepper's Lonely Hearts Club Band
4. With a Little Help From My Friends
5. Lucy In the Sky With Diamonds
6. A Day In the Life
7. All You Need Is Love
8. I Am the Walrus
9. Hello, Goodbye
10. The Fool On the Hill
11. Magical Mystery Tour
12. Lady Madonna
13. Hey Jude
14. Revolution

LP2
1. Back In the U.S.S.R.
2. While My Guitar Gently Weeps
3. Ob-La-Di, Ob-La-Da
4. Get Back
5. Don't Let Me Down
6. The Ballad of John & Yoko
7. Old Brown Shoe
8. Here Comes the Sun
9. Come Together
10. Something
11. Octopus's Garden
12. Let It Be
13. Across the Universe
14. The Long and Winding Road

The Beatles Best Compilation & Is A New One Coming?

by Andrew of Parlogram Auctions

Since 1966, there have been many compilation albums in The Beatles' discography. But there hasn't been a new one for 23 years! In this video, we look at all of their official compilations, one-by-one and also talk about the possibility of a brand new one. All that PLUS what Peter Jackson is really up to with the Hamburg recordings.



New Single Sessions
by Mal Evans and Neil Aspinall







August 1, 2023
After Steven Spielberg And Paul McCartney Were Spotted At Oppenheimer Screening,
I Learned They've Been Friends For Decades, And I'm So Here For It
by Sarah El-Mahmoud for Cinemablend

But did they see Barbie, too?



Now, I've heard before that our world is smaller than one would think, but I never cease to be amazed by the kinds of pairings the universe brings together. The latest being Steven Spielberg and Paul McCartney, who were spotted on Monday seeing Oppenheimer together in New York. That may sound odd on the surface though, as I've come to learn, the iconic filmmaker and songwriter actually go back decades! And I'm so here for this celebrity friendship!

It blows my mind to know that 76-year-old Jurassic Park helmer and 81-year-old Beatles frontman just casually hang out. Both are living legends who have absolutely altered pop culture and, thus, the world as we know it owes both a great deal of thanks for their bodies of work. The pair were photographed together (via People) in the Hamptons this week, where they were checking out Christopher Nolan's historical drama together. On that note, I later learned they have a pretty interesting history together.

Steven Spielberg and Paul McCartney have apparently known each other for some time, as their chummy interactions date all the way back to the '80s. It was during that specific decade that the "Coming Up" singer approached the Jaws director to ask for advice about making a movie revolving around his band's career. Can you imagine if Spielberg did (or does) helm a Beatles biopic? It does feel like the rock band deserves the Bohemian Rhapsody treatment.

Another fun tidbit from the pair's relationship surfaced in December 2022, when the Oscar-winning filmmaker appear on BBC Sounds while promoting his latest movie, The Fablemans. He spoke about how a song from The Beatles factored into a memorable moment from his life, saying this:
| | | |
| --- | --- | --- |
| | "I was a freshman in college and there was a girl I liked a lot and she would agree to let me take her out to dinner or to a jazz club or out to a movie but she would never ever ever let me kiss her. And, we were coming back from some place and we pulled into the big parking lot by the dorms on the college campus at Long Beach and "Michelle" came on. I think we heard it for the first time together on the radio. And, the melody is just heart-achingly beautiful and I look over at her and she's got tears in her eyes — just before the song was over she jumps over on my side of the car and starts kissing me. When I got to know Paul a number of years ago, when Paul and I met and became friends, that was one of the first stories I ever told him. I had a chance to tell Paul McCartney that story. | |
It's definitely intriguing when public figures -- especially ones that hail from different creative backgrounds -- meet up and ultimately become friends. While so many of us engage in parasocial relationships with the great artists of our time, Steven Spielberg was once able to tell Paul McCartney that "Michelle" starting playing while he was dating a college girlfriend. How sweet is his story about how a first kiss was initiated by one of the Beatles classic tunes? Now, I can't help but wonder what those two talk about on a regular basis.

And then there's the fact that they were two of the many moviegoers who saw one of the biggest 2023 new movie releases of the year. I do wonder if they also went for the ever popular "Barbenheimer" double feature, which is in its second week. Both Oppenheimer and Barbie boasted some wild stats after first seven days in theaters. Regardless of whether they took in both feature films, my heart feels a little bit fuller knowing these famous gents connect over cinema.


The MonaLisa Twins release their cover version of "She Loves You" on Youtube


Interview: Klaus Voormann Discusses His Lifelong Musical and Artistic Association with The Beatles
by Alan Di Perna for Guitar World

From a chance encounter with the Beatles in Hamburg, he forged a friendship and musical partnership with John Lennon that lasted two decades. In a rare and
extensive interview, Klaus Voormann provides an intimate look into Lennon's solo career and artistry.




Klaus Voormann holds a special and uniquely privileged place in the story of John Lennon and the Beatles. He befriended the Beatles several years before their rise to fame, when they were still a struggling bar band performing in Hamburg, Germany.

A German-born musician and visual artist, Voormann made significant contributions to the Beatles' image and look. After the band split up, he went on to play bass on numerous solo albums by John Lennon, George Harrison and Ringo Starr, essentially stepping into the instrumental role once filled by Paul McCartney.


"But I never looked at it that way," he says. "When I was first asked to play with John, I couldn't believe it. It was just mind blowing. But as soon as it came down to the
actual playing, this great happiness came into my heart. The whole thing was like a dream, like it wasn't really happening. From then on I never thought, Oh, how fantastic
I am, I played with these famous people. That was out of my mind. I never thought of it. They were my friends. They wanted me to play because they liked my playing.
I was lucky to be in that situation. That's all I can say about it."



Soft-spoken and gentle in manner, Voormann is the ideal sideman: unassuming, unfailingly upbeat and focused on his work with characteristically Teutonic seriousness and sincerity. These qualities have served him well in his contributions to not only ex-Beatle solo albums but also many other hit records and legendary recordings. He's on Lou Reed's Transformer, Carly Simon's "You're So Vain," Randy Newman's "Short People" and Manfred Mann's 1968 hit recording of Bob Dylan's "The Mighty Quinn" (on bass and flute). Not to mention discs by B.B. King, Harry Nilsson, Jerry Lee Lewis, Howlin' Wolf, Leon Russell, James Taylor, Peter Frampton and many others.

The fortunate trajectory of Voormann's life and career was set in motion one evening in Hamburg in 1960. Walking off an argument with his girlfriend at the time, Astrid Kirchherr, he ventured down a street in Hamburg's red-light district, the Reeperbahn, a precinct crowded with rowdy bars, strip joints and prostitutes in shop windows soliciting passersby. Voormann heard a sound that stopped him in his tracks outside a bar called the Kaiserkeller.

"Through a window I heard rock and roll music being played live," he recalls. "It was the very first time that I'd heard live rock and roll music, and it turned out it was the Beatles, although I didn't know that at that moment. The second band that was on that night was Rory Storm and the Hurricanes with Ringo Starr on drums. When I went into the club, that was the band I saw first. I thought they were great, especially Ringo. And after they played, the Beatles came up onstage. It was absolutely amazing. I'd never seen or heard anything like that in my life."

At the time, the Beatles lineup consisted of John Lennon, Paul McCartney and George Harrison all on guitars, with an art school friend of Lennon's named Stu Sutcliffe on bass and fellow Liverpudlian Pete Best on drums. The Beatles were a copy band in those days, recently arrived in Germany from Liverpool and cranking out a lively repertoire of Fifties rock and roll songs by artists like Little Richard, Elvis Presley, Jerry Lee Lewis, Chuck Berry, Fats Domino and others, mixed with a smattering of standards and sappy ballads.

Prompted by Kaiserkeller owner Bruno Koschmider, they'd developed an aggressive style of stage performance gauged to catch the attention of the bar's roughhouse clientele. And they'd learned to keep the music pounding even as drunken fistfights and all manner of grievous bodily harm broke out on the dance floor.

It was all a bit overwhelming, but profoundly appealing for Voormann, a quiet and sensitive young guy who'd already begun to make a way for himself as a commercial illustrator. On these visits to the Kaiserkeller, he started to bring along his artsy, bohemian circle of friends, including the aforementioned girlfriend Astrid Kirchherr, a stylish, blonde photographer and clothing designer, as well as another photographer, Jürgen Vollmer.

Collectively they were known as the "exis," a take-off on the French existentialists who, inspired by the work of writers like Albert Camus, Jean Paul Sartre and Simone de Beauvoir, had fashioned a kind of bleak chic from a philosophy regarding life as essentially meaningless and absurd. Voormann's crowd dressed mainly in black suede, velvet or leather, men and women alike wearing a kind of unisex hairstyle that Kirchherr had pioneered.

In contrast, the Beatles at the time were sporting a Fifties greaser, or Teddy Boy, look, with tight trousers, pointed "winklepicker" shoes, and hair slicked back on the sides and cascading forward in a pompadour that hung dramatically over the forehead. It was a more working-class aesthetic. Yet the Beatles and the "exis" shared one very important quality: they were outsiders, two distinct yet similarly alienated subcultures that just had to get together. And Voormann forged the first link.

"The first Beatle I talked to was John," he says. "One night at the club, my friends said, 'Come on Klaus, you can talk some English. Go and talk to the band. We have to make contact somehow.' So I took a record cover I had designed for a Ventures song called 'Walk Don't Run.' I went up to John and showed him that. And he said, 'Go show that to Stuart. He's the artistic one in the band.' So he pushed it off, like, 'I'm a rock and roller now. I'm not doing art anymore.' "

Sutcliffe and Voormann became fast friends, despite the fact that the Beatles' then-bassist became the new man in Kirchherr's life, handily ousting Voormann. As if in recompense, Sutcliffe bestowed what proved to be a very valuable gift on his German friend.

"One night I came into the Top 10 Club in Hamburg, where the Beatles were playing," Voormann recalls. "Suddenly Stu just handed me his bass. I had never had a bass guitar in my hands. He said, 'Come on, you play now.' And the rest of the band said, 'Yes, come up onstage.' I said, 'No I can't do that. I'm scared.' So I sat in front of the stage, took a chair, put it in front of the stage and started playing the bass. I'd tinkled around on a guitar a little, but really I had no idea. I knew fourths, what the strings were. And then the first song was counted in. It was a Fats Domino number, 'I'm in Love Again.' And that's the first time I ever had a bass guitar in my hands."

The episode would prove a harbinger of things to come. Shortly thereafter, Sutcliffe left the Beatles, remaining in Germany to live with Kirchherr and pursue his vocation as a painter. McCartney, of course, took on the job of playing bass with the Beatles, and Sutcliffe sold his Höfner model 333 bass to Voormann. "He wanted to buy paints," Voormann says. "He didn't want to play anymore. So he needed money."

The Höfner bass that Sutcliffe initially encouraged Voormann to play, and eventually sold to him, set Voormann on a road that would bring him onstage and into the recording studio with some of the most celebrated musical artists of the 20th century and beyond.

Voormann is also the first man to have sported the legendary Beatles haircut. The style had been originated by Kirchherr, again in emulation of French bohemians. She did her own hair that way, and then Voormann's—a daring subversion of fashion as a signifier of gender distinction. Today, it's impossible to convey how radical it was for a man to comb his hair forward in bangs and let it grow over his ears. Stu Sutcliffe was the first member of the Beatles to embrace the look, requesting that Kirchherr style his hair in the same way she had done Voormann's. One by one, the other Beatles—except for Pete Best—summoned the courage to follow suit. When Best was fired and Ringo Starr took his place, the new drummer likewise let Kirchherr cut his locks.

This German hairstyle—along with Italian boots and close-fitting suits with colorless jackets—was part of the look that Brian Epstein fashioned around the Beatles when he took on their management in 1962. Much to the chagrin of the Beatles, their hairstyle and clothing were almost as much a factor as the music in their phenomenal ascent to worldwide fame in late 1963 and 1964. This is something that would come to frustrate Lennon greatly.

The Beatles didn't forget their German friends once they achieved worldwide fame. Around 1964, Harrison and Starr invited Voormann to move to London. They even put him up in a London apartment they shared as Voormann got a start in Britain's capital, landing a job at an ad agency. He found that fame had not altered his friends to any great degree.

"They stayed very much the same," he says. "It's only the circumstances they were now in that made them live a different way. And of course John was married by then [to his first wife, the former Cynthia Powell]. John was always very nice. He was very subdued. When he was private, he wasn't so outgoing. But of course he was very funny and could express himself really well. By '64 they were starting to become aware that every word they said would be picked up by the media and judged by the public. And of course that eventually got John in trouble."

Beatlemania put serious constraints on all the Beatles, impinging on their private lives by seriously restricting their ability to travel and go out in public for fear of being mobbed. But, as Voormann observed, stardom seemed particularly taxing for Lennon. "Of all of them, I think John was the most unhappy, mainly because he constantly had to do stuff. He had concerts to perform and obligations to fulfill, and he didn't like that. George was also unhappy, but in a different way. He didn't like the public. That's what people don't really know. George didn't really enjoy being in front of the people."

Lennon particularly hated the performance turn in which he and McCartney or Harrison would stand face-to-face in front of a mic and wiggle their heads as they sang one of their trademark "ooooo" falsetto backing vocals. "When you see him doing it on the videos, you can see he's really making a joke of it," Voormann says. "John felt sad that there was a crowd out there that reacted to little stupid gestures in such a way. He didn't like the power that he got being a Beatle. It wasn't till he met Yoko that he learned how to use that power to try to do something good in the world."

Voormann soon had made his own foray into the pop group scene as one third of the trio Paddy, Klaus and Gibson, which was managed by the Beatles' own Brian Epstein. Beatles trivia buffs may recall that Paddy, Klaus and Gibson were the group that Lennon and Harrison went to hear on the very first evening they dropped acid, in 1965, although Voormann doesn't recall many details from that evening.

While Voormann's musical career was underway, he found time to accept an offer from Lennon to create the cover art for the Beatles' landmark Revolver album in 1966. "John called me and said, 'How about doing an album cover?' " Voormann recalls. "'Why don't you come to the studio, listen to the music, then go home and see if you have an idea. And if you have a good idea, you got the job. If not, you don't have the job.' So I went to the studio and everybody was there. I listened to the songs, and I was floored. It was so amazing. You simply can't imagine what it was like at that time in pop music to go so far out there and do a song like 'Tomorrow Never Knows' with all kinds of tape loops and wild sounds.

"But everybody was worried that this was not the right material to approach their fans with. And that was my problem in doing the cover art. I went home and racked my brains: What can I do that is somehow leading into the future but still is something that the normal fan goes for? I made some different sketches and showed them to the band. The one with the hair and the little figures was in there as a sketch. Everybody loved that one. I loved that one too, and I knew they would go for it. I was happy because I had the job and I could do the cover."

In his unofficial role as the Beatles' art advisor, it was Voormann who recommended Swedish director Peter Goldman to create the supremely trippy video for the Beatles' masterpiece "Strawberry Fields Forever." Voormann remembers the shoot, which took place at Knole Park, outside London, as one of several occasions on which Lennon confided to him his unhappiness in his marriage and career.

"John was not in good shape. He was very unhappy. He was living in Weybridge at the time [his house outside London] and he didn't like to be with Cynthia, his wife. The whole situation, the whole setup—he didn't enjoy it. I mean, he was always frustrated. Till Yoko came along, John was frustrated. He was very sarcastic, very funny, like a clown sometimes, but he was always frustrated."

As Voormann notes, deliverance for Lennon came in the form of Japanese avant-garde artist Yoko Ono. The couple first met in 1966 and were married in 1969, shortly after John's divorce from Cynthia was finalized. John and Yoko embarked on a series of high-visibility Bed-Ins for Peace and other public happenings that combined politics and avant-garde art.

Voormann was drawn into this exciting new world of Lennon's in September 1969 when he was asked to join the guitarist for a gig at the Rock and Roll Revival Concert in Toronto. On a whim, Lennon had decided to accept a last-minute offer to share a bill with the rock and roll heroes of his youth: Bo Diddley, Little Richard and Jerry Lee Lewis. Lennon hastily assembled a band 24 hours before the show, calling on Eric Clapton—with whom he'd recently performed on the Rolling Stones Rock and Roll Circus TV special—Voormann and drummer Alan White, who would later go on to be a member of Yes. The group would appear under the name Plastic Ono Band, a moniker Lennon and Ono had come up with for their projects and which had first appeared on the couple's 1969 single "Give Peace a Chance."

"John asked me if I would do it, and I paused because I couldn't believe what he was saying," Voormann recalls. "He would always get very uptight when you were not immediately like, 'Yeah, that's great! Sure I'll do it!' I paused a little and said, 'You'll have to explain this a little to me. I have no idea what the Plastic Ono Band is. Is that Yoko's band? Do we have to go naked onstage or what?' I had no idea in my mind. Suddenly it was not John Lennon; it was the Plastic Ono Band, so I knew it had something to do with Yoko. And he explained to me, 'I want to go in the studio and record together, and I want the band to play. Eric said yes already. How about you?' I said, 'Okay, I'll do it.'"

The hastily convened ensemble rehearsed acoustically on the plane from London to Toronto. This was to be the first live rock concert Lennon had performed in about three years, and his first without the Beatles. Backstage, bravado gave way to stage fright. "John was very, very nervous," Voormann says. "He had no idea what was coming. He'd never played with Alan White before. We hadn't really rehearsed. So as we were walking to the stage, he said, 'Hang on, boys, hang on!' And he went in the corner and vomited. Okay, it was partly the drugs he was taking, but partly it was stage fright."

Of Lennon's decision to perform the show, Voormann says, "In one way, he was saying, 'Oh fuck it, let's do it. It's fun.' But suddenly he realized, 'My God, I'm John Lennon. I was with the Beatles and now I'm going out there with a band—no rehearsal, no nothing. Just play some old rock numbers. Is that really the thing to do?' But he pulled it through, somehow."

It's interesting to compare the Toronto performance of Lennon's song "Cold Turkey" with the studio version, recorded less than two weeks later. In that short time, what had been little more than a sketch evolved into a chilling, stark arrangement that masterfully reflects Lennon's harrowing lyrical account of his recent, painful withdrawal from heroin addiction.

"I was very frustrated on the plane from London to Toronto because I knew we couldn't do justice to the song with no real rehearsal," Voormann says. "I thought, Shit, what a great song. We really have to rehearse this properly and make something of it. But when we went onstage, we just played the chords. It was silly. It was just spur of the moment."

But Lennon, Clapton, Voormann and White got their opportunity to hone the arrangement over the course of 26 takes of the studio version. "We tried several things," Voormann says. "And when I came up with that bass line that you hear on the record, and the guitar answered, that was it. Suddenly it was haunting. It somehow had this cold atmosphere. We actually doubled my bass part. When you put on headphones, you can really hear it. You hear these slight fluctuations, because I actually played the part twice; it wasn't automatically doubled. It makes the part a little disquieting. It doesn't really feel good. It was supposed to be like that."

Like much of Lennon's early solo work, "Cold Turkey" is remarkable for its sparse, dry, minimal feel. Only a small part of what was laid down on tape made it to the final mix. "John and Eric played so many guitar parts," Voormann recalls. "The whole 24-track tape was just filled with guitars all over the place. Till in the end they decided on the two guitar parts you hear in the final mix, and it was fine."

Voormann recalls that the chemistry between Lennon and Clapton was very positive. "I would say that Eric felt like a servant to John, because he loved John so much. Eric did not behave like a star or anything. He was just a good guitar player. That's the way he acted. So they got along really well."

The late Sixties had given rise to the "supergroup" phenomenon—all-star ensembles featuring top players from multiple legendary bands. Clapton himself had been part of two such super-groups, Cream and Blind Faith. The Lennon-Clapton combination seemed full of potential: one of the hottest guitarists of the day, together with one of the era's foremost songwriters and frontmen. But this was never to reach fruition. Lennon and Clapton went their separate ways soon after the "Cold Turkey" session. "Eric had his own thing," Voormann says. "I don't think he would have stayed on. The whole thing fell apart pretty soon. It wasn't like, 'We are the band. We stay together.' It wasn't organized, anyway. 'Nobody around us was saying, 'Oh, you're the band now.' And I never thought that that would happen either."

It was, by design, a very minimal ensemble that joined Lennon in the studio for his revolutionary first solo album, Plastic Ono Band, in 1970. The disc reflects the encounter Lennon had recently had with psychiatrist Arthur Janov's Primal Scream therapy, making it the treatment's aural equivalent. Listeners hear him stripping away all the defense mechanisms and coping strategies that get us all from one day to the next, confronting his deepest and most painful psychological issues head-on. And for the most part, it was recorded with just a small, intimate circle of players: Lennon on guitar and piano, Voormann on bass and Ringo Starr on drums. The history between the three men went all the way back to Hamburg, and the result was a deep, intuitive connection.

"John simply felt that those songs were very immediate and spontaneous, and we wanted the recording to be just as spontaneous," Voormann says. "We all know there are lots of mistakes on it. But Ringo and John together are amazing. I just played along with them, and it was great. We fitted together really well. I'd never played with Ringo before. And very little with John."


"Well Well Well" from John Lennon's first solo album: The Plastic Ono Band

Also present as coproducers were Yoko Ono and Phil Spector, the notoriously temperamental architect of classic mid-Sixties "wall of sound" hits by the Ronettes, Righteous Brothers, Ike & Tina Turner and others. Spector had stepped into a production role with the Beatles just as the group was disintegrating and remained in place as producer of Lennon's early solo work. Despite Spector's reputation as an eccentric and hothead, Voormann says the producer was exceptionally well behaved during the making of Plastic Ono Band and its 1971 successor, Imagine.

"Phil was very subdued and cooperative," he says. "He was helping a lot. He listened to what Yoko was saying. He never had a fight or disagreement with Yoko. They got on really well with one another. He was really listening and making a great sound. Look, I've seen Phil get crazy and all that. But during John's sessions maybe there was too much admiration on Phil's part. He was not going to do the wall of sound. He was not going to go crazy. He just did the job and did it well. He was really loving all the songs. Sitting at the piano, he knew all of John's songs. He learned them all."

The affable Voormann has always enjoyed a good relationship with Yoko Ono as well. "I always got on with Yoko," he says. "She's very sensitive. You wouldn't believe it. I remember once in Berlin I met her. I came over. I had other things to do and was maybe a bit preoccupied or disturbed or whatever. And years later, she was still saying, 'Klaus, you were not nice to me that time in Berlin.' She doesn't forget those things. And sometimes she can be very abrupt and very hard. Makes people feel bad. But in another way she's the loveliest person you could imagine. She's very inspiring, very excitable and enthusiastic about things."

For Lennon's landmark Imagine album, the scene of recording shifted to a studio the artist had put together at Tittenhurst Park, the idyllic home outside London that he and Ono shared. "It wasn't a huge house like George had, with 80 or 90 rooms," Voormann recalls. "It was just two floors, upstairs and downstairs, and not many rooms. The studio was really small. It was just a bedroom. It was John's bedroom made into a studio. I think he and Yoko slept upstairs. But it was a beautiful place. The guy who originally owned or built the house knew all about trees. He knew exactly where the water was coming and which type of tree would do well in each part of the property. So it was a really great park, beautiful. I don't know what it's like now. No idea."

Lennon worked with a larger group of players than he had on Plastic Ono Band. Voormann was once again on bass. But this time, the great rock session pianist Nicky Hopkins, who played with the Who and the Rolling Stones, was on hand to lend his inimitable touch to several tracks, including the ragtime-flavored "Crippled Inside," Lennon's scathing put-down of bigots, conformist and sundry other uncool types. George Harrison played guitar on Lennon's bitter, anti-McCartney diatribe, "How Do You Sleep?" and drummers Alan White, Jim Keltner and Jim Gordon (fresh from Derek & the Dominos) contributed to various tracks. A string section, the Flux Fiddlers, was overdubbed onto some songs. With characteristic self-deprecation, Lennon would later dismiss the album's production as "candy-coated." But Voormann, like many others, disagrees with this assessment.

"With some songs the big production really works," he says. " 'Jealous Guy' was a great song even before they put strings and other things on it. I love the way we all played on that. John's singing is great. But some of the songs on that album would not have come off as good if we had tried to do them just as a trio—'Crippled Inside,' for example. That's one where I played upright bass, only I had no idea how to do slap bass. So Alan White came up and said, 'Okay, I'm going to play the drumsticks on the bass string. You just hold the notes.' So we did that while Jim Keltner played the drums."

Voormann remembers Lennon as a disciplined and organized—yet generous and open-minded—session leader. "John had all the songs ready to go. He'd give us a lyric sheet with the text of the song written in big letters, about half an inch high. He'd go to the piano or take the guitar and play us the song. And he'd tell us, 'Here it goes to F#.' So we wrote the chords underneath the words. He played it once, we'd rehearse maybe two times, and then we recorded. John would never tell me what to play. I always played what I wanted, and he accepted it."

Voormann worked less with Lennon after he and Ono moved to New York in 1971. But he did witness some of Lennon's notorious mid-Seventies Lost Weekend, when the rock star separated from Ono and went on a protracted drunken binge in L.A. with fellow elbow-bending celebrity musicians Keith Moon, Harry Nilsson and Ringo Starr. "Everybody knows that Harry and John were totally gone," Voormann says. "Didn't have a clue where they were most of the time. But that was when my first son was on the way, and I was spending a lot of time with his mother. So I was really doing other things."

Which is perhaps why Voormann did not actually play on the disastrous first set of sessions for Lennon's Rock 'n' Roll album in Los Angeles. Lennon had agreed to record an album of classic Fifties rock and roll songs to settle a legal dispute with legal publisher Morris Levy. But the album sessions with Phil Spector fell apart amidst scenes of drunkenness and gunplay. Finally, Spector absconded with the master tapes.

"If it was a song that John wrote, he would know exactly what he wanted to do," Voormann says. "But in this case they said, 'Let's take an old rock and roll song, and you do it, John.' And I think he couldn't handle that for some reason. Maybe it was because he was flipping out or whatever it was. But for some reason he couldn't handle it. So they gave up."

Lennon returned to New York in 1974 and started to get his life back together. Voormann joined him for the making of the Walls and Bridges album released that same year. Not one of Lennon's greatest efforts, the album is mired in a production aesthetic that all too vividly evokes pastel polyester leisure suit Seventies jive. (Lennon produced the album himself.) The sound and style seem ill suited to Lennon's angst-laden lyrics born of his unhappiness at being separated from Ono. Still, the unlikely juxtaposition did produce Lennon's only number-one hit as a solo artist, the duet with Elton John, "Whatever Gets You Through the Night."

Voormann loyally declares Walls and Bridges "a really underrated LP. There are some great songs on there. You see, the atmosphere in the studio was very similar to the making of Imagine. John was sitting there playing the guitar. We would listen to the songs. But maybe that's just my perception. I'm always so focused on the feel, the guitar playing and what the drummer is doing that I might not notice anything else that might be going on in the studio. I just want to do a good job."

The bassist recalls helping come up with the idea for the slow orchestral interludes in "#9 Dream," one of the better Walls and Bridges tracks. "John played the song for me and said, 'I don't know, there's something missing. The song doesn't feel quite finished.' I sort of said, 'It's a very dreamy song. What if John stops and there's some kind of melodic part?' That's what he did, and the song's great."

Shortly thereafter, Voormann joined Lennon in finishing up the troubled Rock 'n' Roll project, which was released in 1975. "We went up to Morris Levy's house in upstate New York and rehearsed with Jim Keltner, Jesse Ed Davis and all these people who are on the album. It was a really good rehearsal, and we were able to get the album done."

Voormann's playing career with Lennon ended as it had begun—with the Fifties rock and roll classics that had shaped both men's destinies. Shortly after Rock 'n' Roll was released, Lennon reunited with Ono and went into a period of retirement, withdrawing from the music business to concentrate on raising his son Sean. The last time Voormann saw his old friend was at Lennon and Ono's home in the Dakota apartment building in Manhattan.

"I have photos of that visit," he says. "Sean was already five years old, maybe even older. I went to see them in the Dakota and we had a great time. I went in the kitchen and John was baking bread and cooking rice. He showed me how to cook rice. We were just hanging out in the kitchen. He was playing a little guitar and Yoko was doing some sushi. So it was really family-like. John said to me, 'Klaus, I'm so relieved. I don't have to do any more recording. I don't have any record deals.' He was happy he didn't have any of those obligations. Although he still picked up the guitar."

Of course Lennon did return to recording and public life in 1980 with the release of Double Fantasy. And the question that haunts every Lennon fan is whether John would still be alive today if he hadn't gone public once again, attracting the attention of a homicidal psychopath. In the time since Lennon's passing, Voormann has remained friendly with Ono, who helps Voormann and his wife, Christine, in their charity work to benefit the Native American Lakota people of South Dakota. He even joined Ono, Clapton, Keltner and others in a Plastic Ono Band reunion concert in January 2010 at the Brooklyn Academy of Music. Klaus Voormann treasures his memories of his longtime friend. And, like everyone else, he treasures the music.

"John's great strength was his ability to put into words feelings that so many people can relate to," Voormann says. "Not many people, if any, can write songs like that. Who can find words like that? John even invented his own words. And he had a message to put across. That makes beautiful songs."



Rain - The Beatles - Full Instrumental Recreation and Isolated bass is also featured
performed by Michael Sokil

Well this one wasn't easy! This is easily one of the most technically challenging and intricate tracks ever released by the Beatles. It features a lead guitar in an open tuning (thanks Ryan and Sam for the tip!), Ringo's insane kitchen-sink drumming, one of Paul's greatest basslines, a slowed-down backing track, backwards vocals. The boys put almost everything they could into this track. Hard to believe it was only a B-side! I put more effort into studying this than any other track. Ringo's drumming, Paul's bassline AND the lead guitar are recreated note-for-note. Studying this was made much easier thanks to the Revolver remix, which included a remarkably clear backing track (and led to several incredibly clear isolated tracks widely available on YouTube). As with most Beatles tunes, this is an incredible, incredible performance. No two verses are alike on ANY instrument (except maybe the rhythm guitar). Paul and Ringo are geniuses. Also, even the little quirks are great! Paul kinda flubs the introductory bassline, the entire band plays a weird extra half-measure or so in the second verse, the entine tune slows down...it's just madness everywhere. And it works! I'll add more here soon! Probably releasing more isolated tracks, too. Let me know what you think!


| | |
| --- | --- |
| Full Instrumental Recreation | Isolated Bass |
Canadian Beatles Albums and Paul White's "Sizzle Sheets"






Archived News

July 2000 - June 2003

July 2003 - December 2003
January 2004 - October 2004
October 2004 - May 2005
May 2005 - June 2005
July 2005 - November 2005
December 2005 - March 2006
April 2006 - June 2006
June 2006 - July 2006

August 2006 - September 2006
October 2006
November 2006 - December 2006
January 2007 - June 2007
June 2007 - March 2008
March 2008 - July 2008
August 2008 - September 2008
October 2008 - July 2009
August 2009 - November 2009
December 2009 - August 2010
September 2010 - December 2010
Jannuary 2011 - December 2013
January 2014 - June 2019

June 5, 2019 - November 2019

December 2019 - October 2020 September 2022 - October 2022
November 2022 - December 2022
January 2023
February 2023 - March 2023
April 2023
May 2023
June 2023- July 2023