February 25, 2022
Yoko Ono tells Dutch drinks company to drop 'John Lemon' brand name

by DutchNews.nl
The widow of John Lennon is suing two Dutch entrepreneurs for using the name John Lemon for a jenever-based cocktail
drink they have devised.
Sebastian Kolstee and Ruben Wolvekamp, the founders of Kever Jenerver, said they had received a summons to stop selling
the drink from law firm Hoyng Rokh Monegier, who represent Ono's Imagine Peace Revocable Trust.
All cans already sold to bars and restaurants have to be recalled, Kolstee said. 'We were told we will have to pay €500 a
day if we don't,' he told the Telegraaf.
It is not the first time Yoko Ono has successfully banned drinks producers from using the name. In 2017, a Polish producer
was forced to drop the name after Ono threatened legal action.
'But they used Lennon's glasses and we don't. We mean the name to refer to the John Collins cocktail, which has a similar
composition,' Kolstee claimed.
Lawyer Joris van Manen, who represented Ono in the Polish case, said the argument didn't cut much ice, but that Ono does
not want to get out all the legal guns against young entrepreneurs.
'Every time someone thinks John Lemon would be good name to sell a product we send a letter. Yoko simply doesn't want
John's name to be commercialised,' he said.
Kever has now launched a crowdfunding campaign to pay for the legal costs they have already incurred, as well as
the product recall and rebranding.

February 23, 2022
Paul McCartney Recalls The Beatles' 1964 U.S. TV Debut | Letterman


Paul McCartney returns to the Ed Sullivan Theater and shares stories about The Beatles. (Air Date 7/15/2009.)
Procol Harum's Gary Brooker, Singer and Co-Writer of 'A Whiter Shade of Pale,' Dies at 76

by Chris Willman for Variety
Gary Brooker, the frontman for
Procol Harum
, the long-running band most famous for 1967's "A Whiter Shade of Pale," died
Saturday at age 76. The cause of death was cancer.
The surviving members announced Brooker's death in an obituary on the group's official website, writing that the
"
brightly
shining, irreplaceable light in the music industry… had been receiving treatment for cancer, but died peacefully at home."
Brooker had been appointed as a Member of the Order of the British Empire by the Queen in 2003.
Prior to Procol Harum, Brooker had founded the Paramounts in 1962 with future British blues-rock legend Robin Trower. He and Keith Reid formed Procol Harum in 1966, with Trower and organist Matthew Fisher as mainstays in the early days before they dropped out and left Brooker as the key driving force of the band.
Procol Harum broke up in 1977, but after becoming a solo artist and session man, Brooker led reunion tours in later decades.
He appeared on George Harrison's recently reissued classic "All Things Must Pass" album, and continued to work with the former Beatle on "Gone Troppo" and "Somewhere in England." After Harrison's death, he appeared at the "Concert for George" and sang the honoree's "Old Brown Shoe."
In 1979, Brooker joined Eric Clapton's touring band and appeared on the album "Another Ticket," continuing to sit in with Clapton on special occasions through the years. Other credits include singing the lead vocal on a 1985 Alan Parsons project song, "Limelight," from the "Stereotomy" album, and playing on two Kate Bush albums, 1993's "The Red Shoes" and 2005's "Aerial."
Brooker also toured as a member of Ringo Starr's All-Starr Band in 1997-99, taking a turn in the spotlight to sing "Whiter Shade of Pale" each night.
He appeared on screen as an actor in Alan Parker's film adaptation of the stage musical "Evita," singing alongside Antonio Banderas and playing the role of Juan Atilo Bramuglia.
"He lit up any room he entered, and his kindness to a multilingual family of fans was legendary," the band wrote in its obituary. "He was notable for his individuality, integrity, and occasionally stubborn eccentricity. His mordant wit, and appetite for the ridiculous, made him a priceless raconteur (and his surreal inter-song banter made a fascinating contrast with the gravitas of Procol Harum's performances). But for all his other interests and skills — prize-winning angler, pub-owner, lyricist, painter, inventor — he was above all a devoted and loyal husband to Franky, whom he met in 1965 and married in 1968. Our thoughts must be with her, their families and friends at this extremely sad time."
Procol Harum was never nominated for the Rock and Roll Hall of Fame, to the consternation of many, but "A Whiter Shade of Pale" itself became part of the Hall as part of a Singles category in 2018. The song was originally credited to Brooker for music and Reid for lyrics, although Fisher brought a successful lawsuit in British court in 2009 that awarded him a portion of the royalties.
With a stately, slightly melancholy feel and a strong Bach influence, "Pale," the band's first single, went to No. 1 in the U.K. and reached No. 5 in the U.S. in July 1967. After the group's debut album arrived in the fall, a second single, "Homburg," went to No. 6 in Britain but only No. 34 in America. Nonetheless, their legend was cemented, with "Pale" continuing to be an oldies radio staple and synch favorite well into the 21st century.
"I had been listening to a lot of classical music, and I got particularly keen on what I call baroque music, that might have included Handel and Bach," Brooker told Songwriter Universe in a November 2020 interview. "I also liked the Swingle Sisters who were doing treatments of Bach. … Also about that time, the Jacques Louissier Trio… made an album called 'Play Bach.' They were a jazz trio, and they'd start off with a piece of Bach, and they would improvise around it. Louissier had done a fabulous version of what was called 'Air on a G String' which was also used in a set of good adverts in Britain. And all those things came together one morning… a bit of Bach and 'Air on a G String' going through my head."
The group released nine albums during its original 1968-1977 run, the most acclaimed of which was its third, "A Salty Dog," released in '69. The prog-rock-leaning title track employed strings, a direction that ultimately led to the 1973 album "Procul Harum Live: In Concert With the Edmonton Symphony Orchestra." "It was almost unheard of at the time, for a rock band to play with an orchestra," Brooker said.
The name of the band was a subject of some fascination over the years, though the answer was simple — it was lifted from a cat's breeding certificate.
After a 14-year layoff from the recording studio, Procol Harum returned in 1991 with a new album, "A Prodigal Stranger," which brought Brooker back together with Trower, Fisher and lyricist Reid after the death of drummer B.J. Wilson, to whom the album was dedicated. The album did not chart in the U.S. but the single made a minor showing on the rock airplay chart. Mostly, though, it served as a kickoff for this new incarnation of the group to hit the road for the first time since the '70s.
Three more albums followed, the last of which, 2017's "Novum," did not include any early members other than Brooker. His last tour under the group banner took place in the spring and summer of 2019.
He is survived by Franky; the couple had no children.
The announcement of Brooker's death on the band's website said a private funeral would be followed later by a more public memorial celebration later, and asked fans to "please respect the privacy of Franky Brooker." It asked for donations in Brooker's name to be made to Phyllis Tuckwell Hospice Care.
From the Beatles Official Facebook Pages...

February 22, 2022
Cameraman reveals what The Beatles were like behind the scenes | 60 Minutes Australia


Cameraman Les Parrott was one of the lucky film crew who spent three weeks with The Beatles during the making of their
final album, Let It Be. While the equipment he used is now a relic, what he captured is timeless - only coming out of the
band's vault now.

February 21, 2022
Ringo Starr is interviewed by Jimmy Kimmel
Paul McCartney's new tour dates


The FULL Story of The Beatles @ The Hollywood Bowl | 1964 - 2016
by Parlogram Auctions

February 17, 2022
Rare 'Beatles at the Hollywood Bowl' Vinyl Acetate Sells for Nearly $25,000 at Auction

by Jem Aswad for Variety
A rare acetate of the Beatles' 1964 concert at the Hollywood Bowl sold for $23,838 in an auction held by Boston-based firm RR Auction.
The disc, one of just three known to exist, features the full 12-song, 29-minute concert, along with stage comments from the group. According to the announcement, the acetate was cut directly from reel-to-reel tape three days after the concert. Acetates are most often used as test pressings to assess the quality of a recording and how it will sound on vinyl.
The recording — in which the group is practically drowned out by the famous audience screaming that accompanied their concerts of the era — was mixed by Capitol producer Voyle Gilmore and balance engineer Hugh Davies, but went unreleased at the time because the group and manager Brian Epstein were not satisfied with the results.
Some 13 years later, it was combined with a recording of the group's 1965 concert at the venue for the 1977 "Beatles at the Hollywood Bowl," album, which was reissued a few years back with bonus tracks. It came about when the group's label, Capitol Records, was unable to procure permission from the American Federation of Musicians to record a concert at Carnegie Hall, so they chose the Hollywood Bowl instead, according to auction officials.
However, John Lennon said the group had enjoyed the shows. "The Hollywood Bowl was marvelous. It was the one we all enjoyed most," he said in an undated quote included in the announcement. "We got on, and it was a big stage, and it was great. We could be heard in a place like the Hollywood Bowl, even though the crowds was wild: good acoustics."
There has been a booming market for rare Beatles memorabilia in recent years. Julien's Auctions has previously sold such Beatles items as one of John Lennon's acoustic guitars, which sold for a record $2.4 million, Ringo Starr's drum kit ($2.2 million), the drum head Ringo used on the "Ed Sullivan Show" in 1964 ($2.1 million), Paul McCartney's handwritten lyrics to "Hey Jude" ($910,000) and more.
Also sold at the RR auction, for a considerably higher price, was a document signed by legendary classical composer Johann Sebastian Bach — for $400,000.

February 14, 2022
Paul McCartney produces "My Valentine" with Michael Bublé




The following article is sourced from warm106.9



If you had a song on your upcoming album called "My Valentine," wouldn't you

release it before February 14? Of course you would — and of course, that's

just what Michael Bublé has done.

"My Valentine" was originally written and recorded by none other than Paul

McCartney, and the rock legend actually produced Michael's version of the

song for Michael's forthcoming album Higher. He's also given it his thumbs up

on social media.

Paul wrote on Twitter, "With Valentines Day approaching I'd like to turn you on

to a great version of 'My Valentine' by @MichaelBuble. I was lucky to be at

one of the recording sessions in New York when he sung [sic] it and I think he

did a really good job of it so make sure you check it out."

Meanwhile, Michael posted a photo of himself in the studio with Paul, and

wrote, "It was an honor and a dream come true to work with Sir

@paulmccartney on #MyValentine. Thank you so much for producing this

song."

Higher will be out March 18th.

Paul wrote "My Valentine" for his 2012 album Kisses on the Bottom, and sang

it at the Grammy Awards that year. It was inspired by something his wife

Nancy said to him when they were on vacation and stuck in their hotel room

on a rainy day.















February 13, 2022
George Harrison's remarks on The Band





February 12, 2022
When ex-Beatle Paul McCartney arrived in Newcastle out of the blue and looking for work
It's 50 years since Paul McCartney with his new band, Wings, and family in tow turned up unexpectedly at
Newcastle University asking to play a gig there

by David Morton, Nostalgia Editor for ChronicleLive

(Image: Newcastle Chronicle)
When an Avis van full of unknown musicians rolled up at Newcastle University asking if they could play a gig there this week 50 years ago, they were met with all-round shrugs of the shoulder.
That was until the identity of one of the long-haired ensemble was rumbled.
It was February 13, 1972 and, nearly two years after the acrimonious dissolution of the The Beatles, here was Paul McCartney - one of the most famous individuals on the planet - touting for work.
The 29-year-old superstar was going back to basics.
Having turned his back on the excesses of life with the Fab Four, McCartney had loaded his wife Linda, his eight-year-old step-daughter, assorted pets, and a group of musicians and their instruments into a van and hit the road looking to play music at whichever university venue would have them.
Their first port of call was Nottingham University, then York, then Hull, then Newcastle during a run of 11 impromptu UK college dates.
McCartney's new band was called Wings and their first single Give Ireland Back To The Irish would just about scrape into the UK top 20 later that month.
But these were early days and Wings would go on to become one of the world's most successful groups during the 1970s, with a string of huge albums on both sides of the Atlantic spawning hits singles such as Jet, Band On The Run, Listen To What The Man Said, Silly Love Songs and Mull of Kintyre.
Back in Newcastle 50 years ago, someone at the university tipped off our sister title The Journal about McCartney's presence and a photographer was hastily sent along to record the occasion.
(Image: Newcastle Chronicle)
Steve Dresser, chairman of Newcastle University's entertainment committee, told us: "I couldn't believe my luck. Paul asked if a spot could be found for his new band at the hall. They just turned up out of the blue in a big van full of equipment. We were only too happy to oblige."
In the event, this was only the fourth proper gig McCartney had played since The Beatles' last ever show at San Francisco's Candlestick Park back in August 1966.
If 25,000 fans had seen that momentous outdoor concert, this was a more modest affair.
The 400 in the audience at Hancock Hall - a university hall of residence - sitting in readiness for their regular Sunday night folk gig did a collective double take when McCartney and his band ambled on to the small stage.
Admission to the 9pm show was 50p with proceeds being split equally among band members who included Denny Laine on guitar and Denny Seiwell on drums.
With Linda on keyboards and kicking off with a version of Little Richard's Lucille, the set was a mix of cover versions and new self-penned numbers. The show was noticeable for its total absence of Beatles' songs.
The Journal reported: "The audience sat on the floor, applauding generously at the end of every number, but above all they were just plain curious.
"McCartney himself was boyishly inscrutable, restricting himself to the odd 'thank you', but at least he seemed to be enjoying it."
Clearly Paul and the band felt at home on Tyneside. The night before the gig, McCartney and his entourage were seen in the Queen Victoria pub on Gosforth High Street, and later enjoying a meal at a nearby Chinese restaurant.
After the Newcastle University show, Paul McCartney's new band was on the run once again, heading west in their van to Lancaster University on their very own 1972 magical mystery tour.

February 11, 2022
Posters from the 'birth of Beatlemania' go on display in Liverpool
The advertisements, one of which reads 'Fabulous Beatles Direct from Hamburg', were unveiled by the band's
original drummer Pete Best.

by Eleanor Barlow for the Belfast Telegraph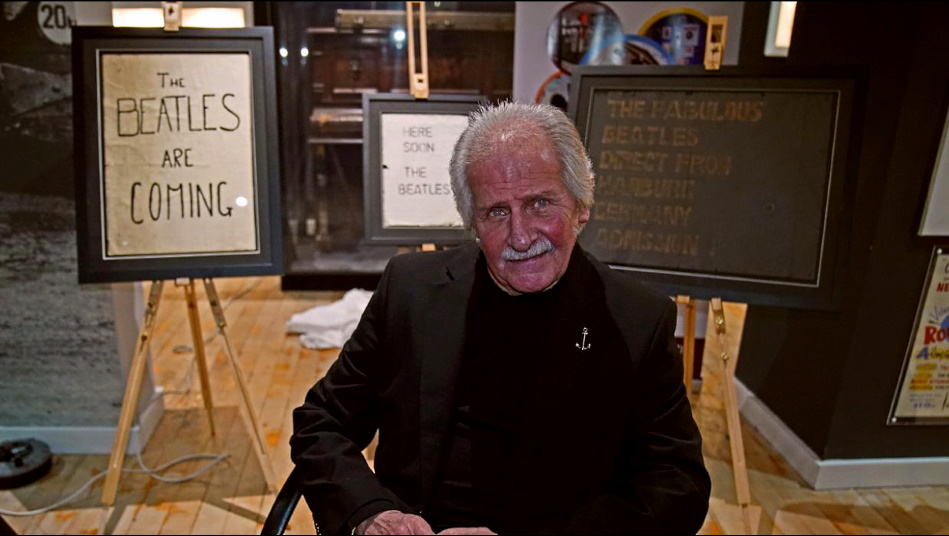 Former Beatles drummer Pete Best speaks at the Beatles Museum in Liverpool, in front of posters used to advertise the Beatles playing
live at the Casbah in Liverpool (Peter Byrne/PA)
Posters which marked the "birth of Beatlemania" have gone on display in a museum.
The three advertisements, one of which reads "Fabulous Beatles Direct from Hamburg", were unveiled by the band's original drummer Pete Best at the Liverpool Beatles Museum on Mathew Street on Tuesday.
The posters were prepared by the band's friend and road manager Neil Aspinall in November 1960 when the group returned from Germany.
They were put on display in the Casbah, owned by Best's mother Mona, ahead of the band's first performance there on December 19.
Best, 80, said the band, which then also included Stuart Sutcliffe, was unknown in Liverpool and many of the crowd expected them to be German.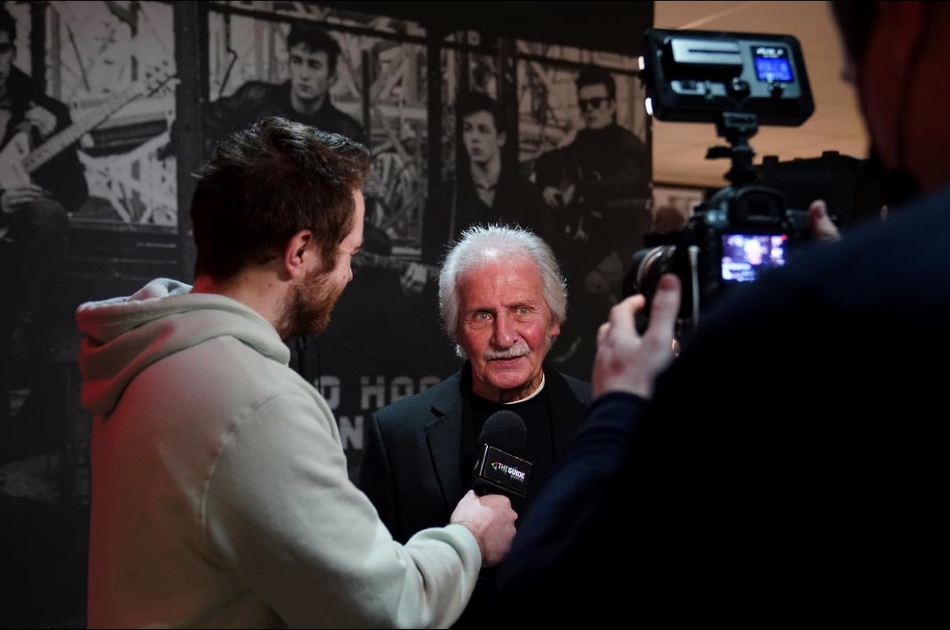 Former Beatles drummer Pete Best speaks at the Beatles Museum in Liverpool, in front of posters used to advertise the
Beatles playing live at the Casbah in Liverpool (Peter Byrne/PA)
He said: "When it turned out we were five Liverpool lads, we took the Casbah by storm.
It was a lot of fun. We didn't know what possible reception we were going to get back in Liverpool.
"We knew we'd basically become kings of Hamburg but coming back to Liverpool no one had really heard of us.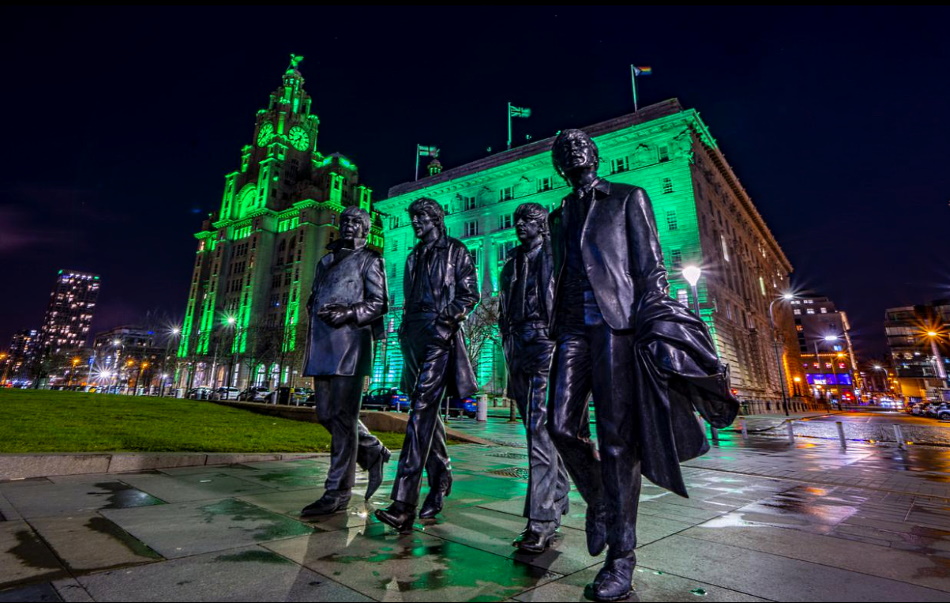 The Beatles statues in front of the Royal Liver building in Liverpool (Peter Byrne/PA)
"We had gone away a mediocre band and now we were coming back a powerhouse."
He said the successful gig at the Casbah was followed with a performance at Litherland Town Hall about a week later, which many credit as being the start of Beatlemania.
"Really Beatlemania started that night at the Casbah," Best said.
"The night we played at Litherland Town Hall my mother opened up the bar and there was no one there, they'd all gone to watch us.
"It started at the Casbah, it spread through Liverpool and then it spread through the world."
One of the posters, which have been stored in a vault by Best for years, uses the phrase "The Beatles Are Coming", which was used again when the band travelled to America.
Best, who was replaced in the band by Ringo Starr in 1962, said: "They bring back lots of memories of good times, the birth of the Beatles and the birth of Beatlemania."
The posters are the latest items to go on display in the museum, which opened in 2018 and is owned by Best's brother Roag.
"BOYS" - Released in 1965 and performed by The Pete Best Combo
Record label: Cameo Parkway C-391



February 9, 2022
I ran away from home to chase the Beatles – and triggered a trans-Atlantic manhunt

by Jane Ridley for the New York Post
At 16, Janice Mitchell left Cleveland and hopped on a flight to London to meet The Beatles.

NY Post photo composite.
On Sept. 15, 1964, Beatles superfans Janice Mitchell and Martha Schendel attended the band's concert in their hometown of
Cleveland, Ohio — then set in motion a plan that led to a trans-Atlantic manhunt, newspapers headlines on both sides of the
pond and the attempted intervention of Paul McCartney.
Over the previous six months, the 16-year-olds had formulated a secret scheme to leave Cleveland after the gig and hop a
flight to London. Their mission? Meeting the Fab Four.
Now, almost 60 years after the wild escapade, Mitchell (née Hawkins) has written a memoir,
"My Ticket to Ride: How I Ran
Away to England to Meet the Beatles and Got and Roll Banned in Cleveland"
(Gray & Company), out now.
Her obsession
with the Beatles
began in late December 1963 when she heard "I Want to Hold Your Hand" playing on her local
radio station and introduced Schendel, who lived across the street, to the group. They spent hours obsessing over the
bands' records and fanzines like "Teen Scene" that delivered a never-ending stream of information about John, Paul, George
and Ringo.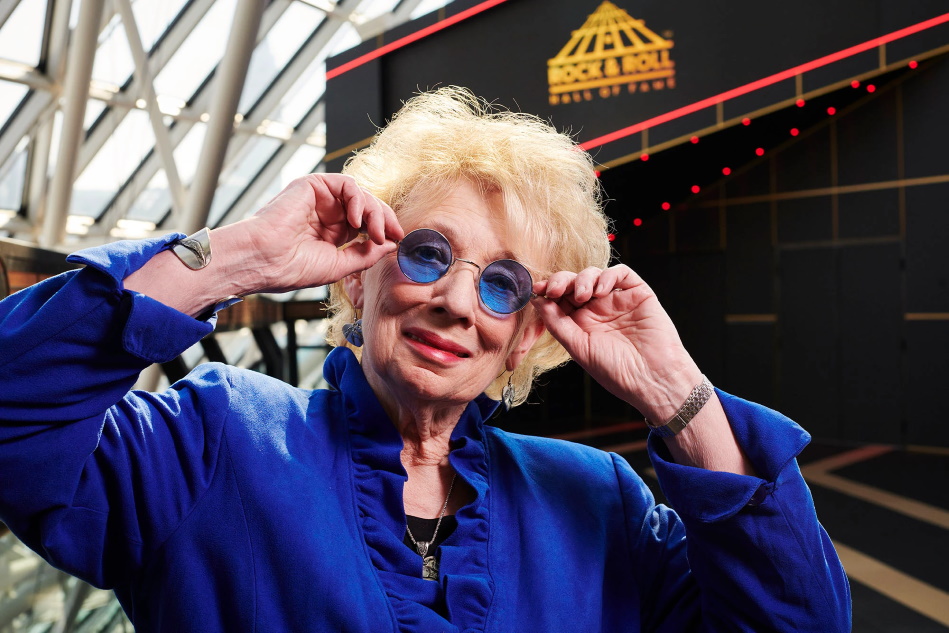 Janice Mitchell (née Hawkins) at The Rock 'n Roll Hall of Fame in Cleveland, Ohio, where she still lives.. Angelo Merendino Angelo Merendino
"We read that they hung out in Soho a lot," said Mitchell, now 73, referring to the neighborhood in London that was the
epicenter of the Swinging Sixties.
"I was the planner and it was my idea to go to England," she added, explaining how she persuaded Schendel to come along
for the ride. The duo truly believed they would meet the Fab Four on the trip. Mitchell even wrote to their manager, Brian
Epstein, to ask for a job in his office.
Part of the desire to escape was fueled by her "difficult start" in life: After her parents abandoned her at the age of seven,
she was taken in by her elderly great aunt Toots. "I had learned to be a survivor and a quick thinker," Mitchell recalled. "I
was always trying to figure out how to make things happen — and happier — for me."
In the mid-summer of 1964, she and Schendel secretly got passports. Then they went to the Schendel family's bank and
cashed in the girl's $2,500 college fund to buy two one-way plane tickets from Cleveland to London.
The day after the concert, the girls put their plan into action. Instead of going to class, they caught a cab to the airport and flew first to New York City and then on to London.
"It was the biggest day of our lives," Mitchell said.
In England, the search for their heroes began on the streets of Soho.
"We'd seen the movie 'A Hard Day's Night' which showed how clever they were [at avoiding mobs of fans]," Mitchell said.
"But I knew I'd recognize them — even if they were wearing disguises like they do in the film."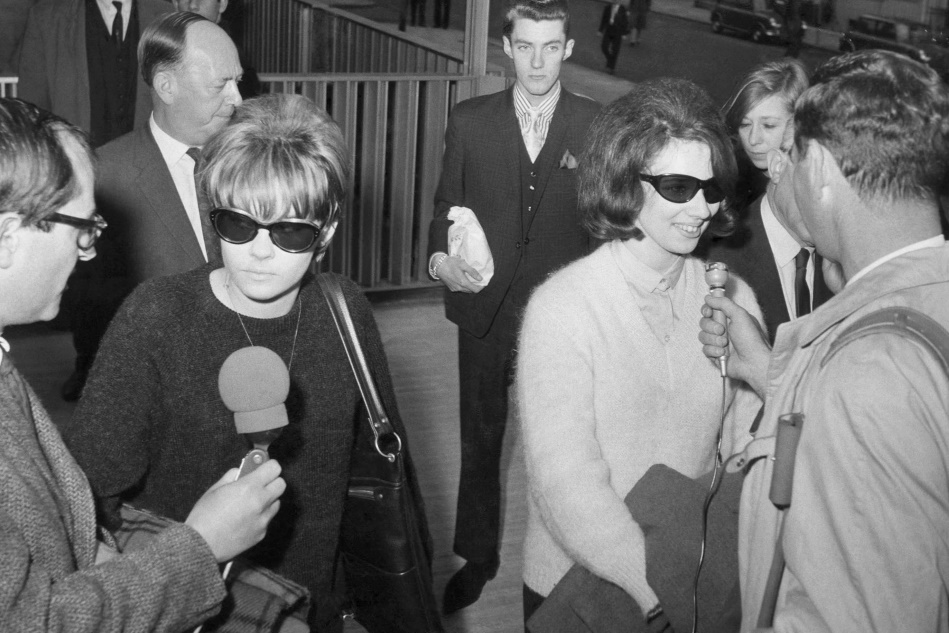 Best friends Martha Schendel, left, and Mitchell, both 16, spoke to newsmen outside the American Embassy in London, England on Oct. 9, 1964 —after they
vanished from their Ohio homes weeks before. AP
The runaways used their remaining money, including cash saved from Mitchell's babysitting duties, to rent a studio apartment in the Holland Park area of London. "It was just a short ride on the Tube [subway] to Soho," said Mitchell.
They spent two weeks frequenting the trendy clubs they'd read about in the fanzines. Every night, they thought they'd encounter at least one of The Beatles. "I wanted it to be Paul [McCartney]," Mitchell said. "I liked him the best."
Soon, however, the young Americans were befriended by a group of slightly older guys who told them a few home truths.
"They said The Beatles were much too big now to play at the clubs anymore," Mitchell remembered. "They said the only performances they gave were at huge venues like the London Palladium in front of the queen."
So the girls hitch-hiked to the group's native city of Liverpool. "We knew for a fact that the Beatles were back in the UK after touring America," Mitchell said. "We assumed they'd want to go home to see their families."
Meanwhile, unbeknownst to them, the pair had become celebrities in their own right, as their disappearance from Cleveland had triggered a manhunt.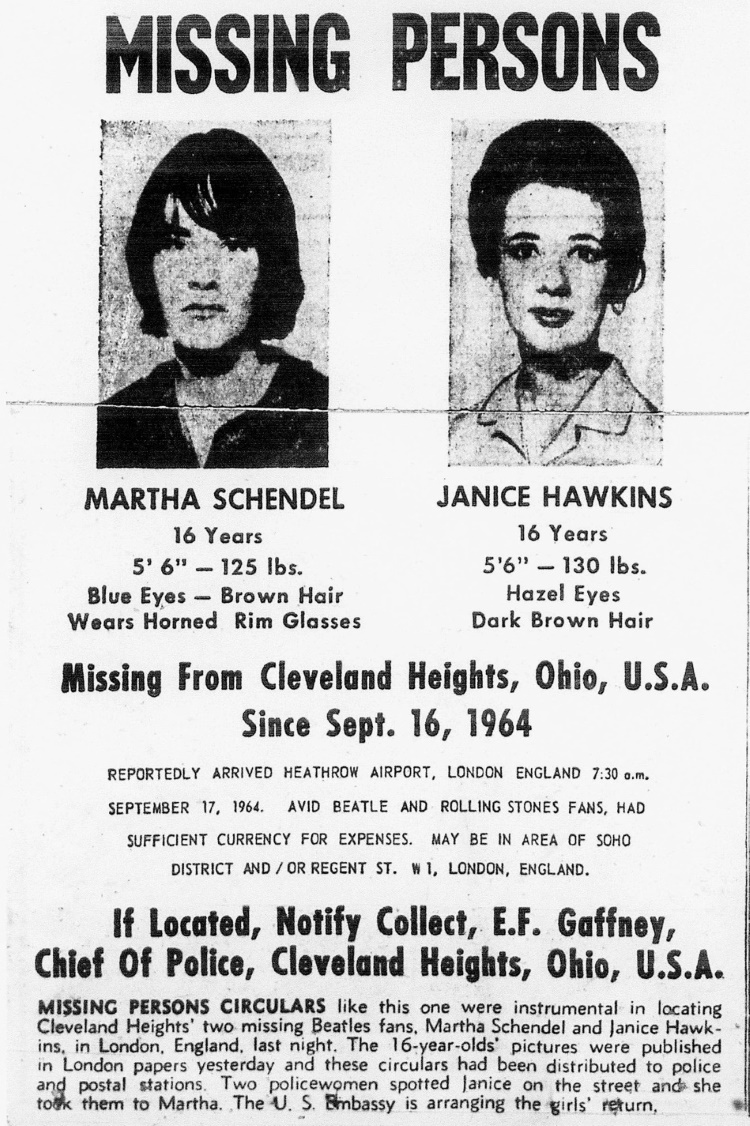 This poster was distributed by Cleveland Heights police to police stations and London.
American and British police were on high alert, after a torn-up copy of Mitchell's letter to Epstein was found in her bedroom trash can. The unfolding drama led to national headlines such as "Girls Lost on 'Beatle Hunt" and "Ohio Girls Elude Scotland Yard."
"Missing" posters showing the teenagers' faces were dispatched to police stations in London and Liverpool.
Which is how, on Oct. 8, 1964, the whole adventure came to a screeching halt. A cop recognized Mitchell as she walked along Oxford Street in London and asked if she was from Cleveland.
"There happens to be two girls from Cleveland, Ohio, on holiday here," he told her. "They haven't written home in a couple of weeks, and their parents are quite worried about them."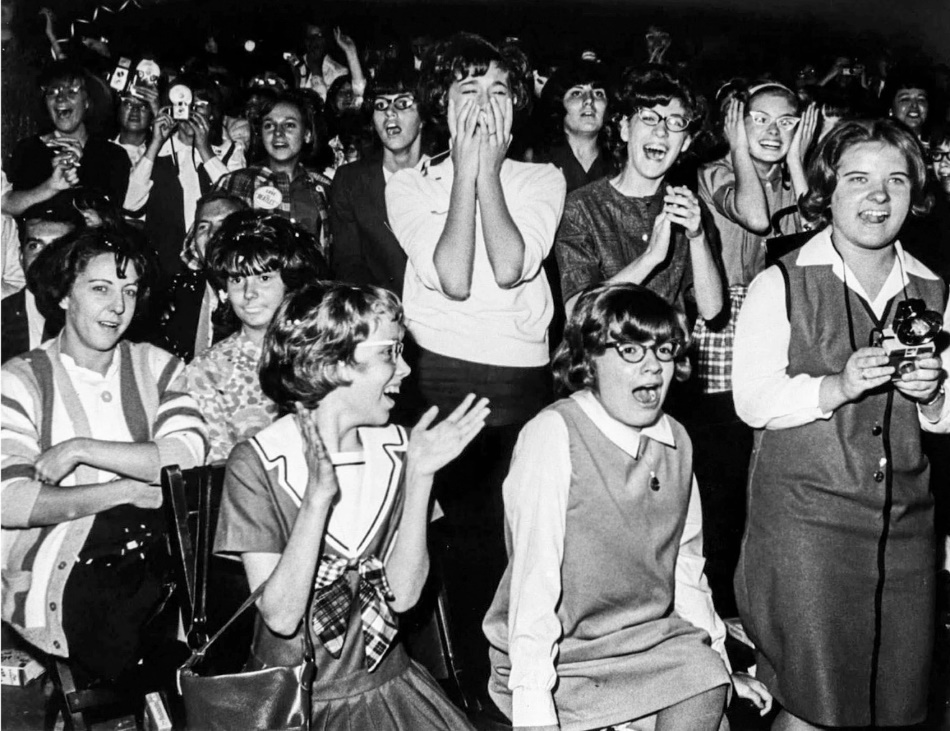 Schendel and Hawkins left Cleveland in search of the Beatles after this Sept. 15, 1964, concert.
"Why are you asking me?" Mitchell challenged the cop. "There must be hundreds of girls from Cleveland on holiday here."
In reality, she told The Post, "Neither of us had a clue that people were looking for us. There was no TV or radio in our little apartment and we didn't read newspapers."
But reality started to bite when she was taken to the police station and the officer pointed to the runaways' missing poster on the wall. "I was so mixed with emotions," Mitchell recalled. "I knew I was going to be sent to a place I never wanted to go back to. In my teenage mind, I thought my relatives were happy I'd left."
Schendel was picked up at the apartment soon afterwards and put in a holding cell with her partner in crime. "She was furious with me," Mitchell said. "It felt like I'd ruined everything."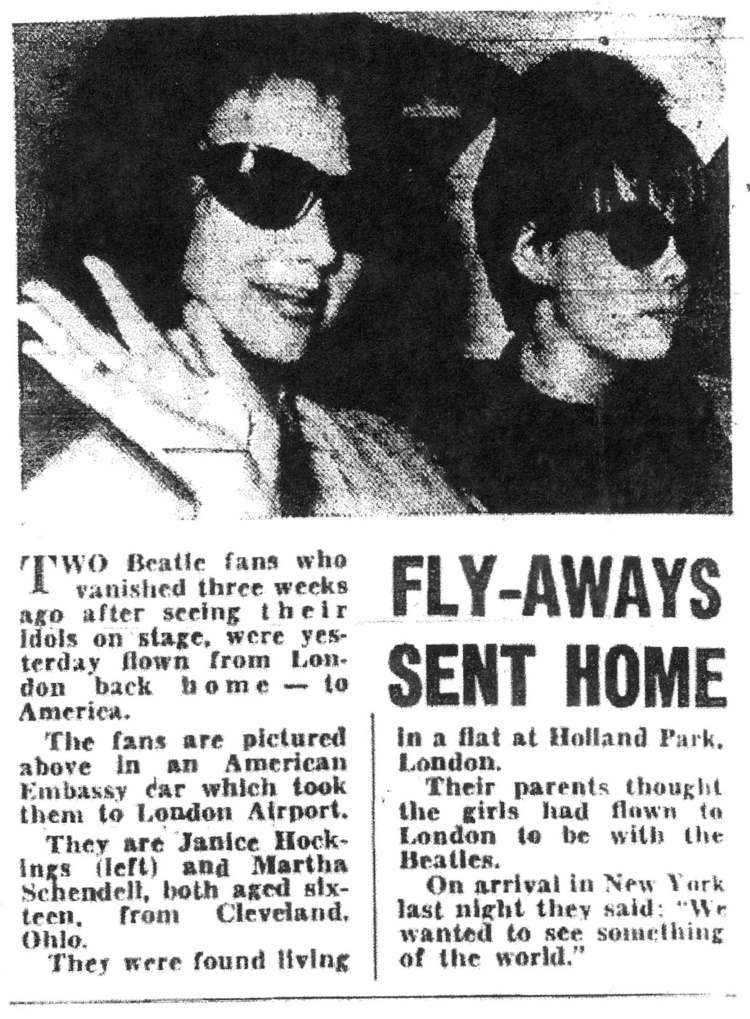 A newspaper story covering the girls' capture shows Mitchell waving at a photographer.
Newspaper editors had a field day coming up with jokey headlines like "Two Girls Fine; Yeah, Yeah, Yeah." The die-hard fans were taken to the American Embassy, where a stern diplomat warned that they could either agree to leave England or be deported and banned from the country for good.
Even then, Mitchell refused to give up her desperate hope of meeting The Fab Four. "I asked him [the embassy official] if we could get a phone call with The Beatles," she said. "But he said, 'That's not going to be possible.'"
The escapees were driven to Heathrow in a limousine with blankets over the windows in an effort to curb the attention from the press. Still, one photographer managed to snap a picture of Mitchell smiling and waving from the car.

Mitchell and Schendel were taken to the US Embassy in London.
Library of Congress
Back home in Cleveland, however, there was nothing to laugh about. The girls were taken to a juvenile detention center and charged with delinquency. They appeared before a judge who blasted them for their behavior and blamed it on their "exposure to this rock and roll music." Further, he warned parents that pop concerts were "narcotics for teens."
The mayor of Cleveland jumped on the bandwagon and decreed that bands like The Beatles and the Rolling Stones had no place in the city. Big acts were forbidden to play there for around two years, Mitchell writes: "What a huge mess. And it was all my fault."
Toots told Mitchell she had "dragged the family's name through the mud." Meanwhile, the school principal told the girls never to talk about the episode again.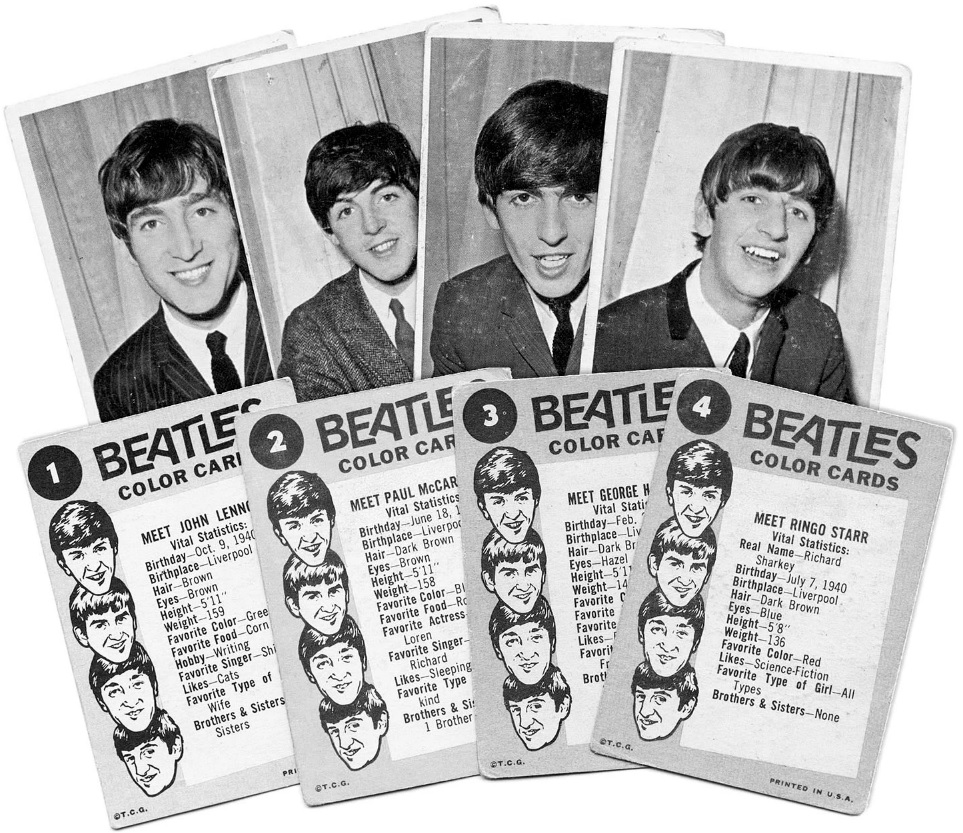 Before escaping to England to search for the Beatles, Mitchell and Schendal collected all the info they could about the band.
"We were silenced. The adults closed us down," said Mitchell, who is divorced and never had children.
She said she found her voice when she started writing her book. "I'd had to live with these unnecessary guilty feelings," she explained. "And I thought this would be a good way to be free of them."
Mitchell, a former journalist-turned-federal investigator, now works as a part-time private eye. She and Schendel lost touch after their caper and, at this point, Mitchell doesn't know where her old friend is. She once tracked down Schendel and called her but, Mitchell said, "It seemed like she just wanted to put it behind her and move on with her life."
Three years ago, while working on the memoir, Mitchell came across a newspaper cutting from October 1964. It had been sent by the British researcher she'd hired to sift through the media coverage of her adventure.
"I nearly fell off my chair," she said about reading the story that had been published in The Daily Mail.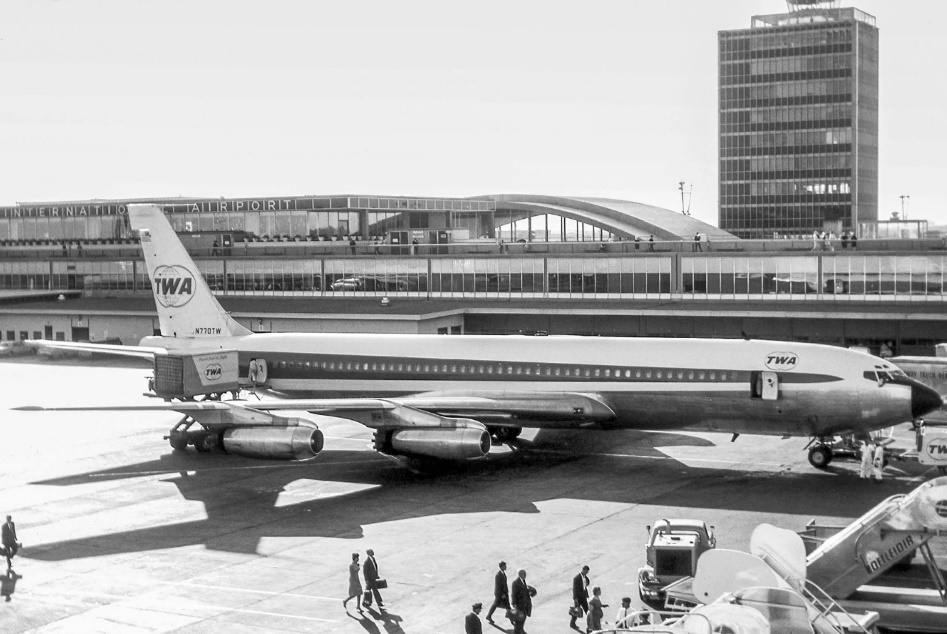 The teens drained one of their bank accounts to fly from the US to London on a Trans World Airlines jet like this.
Jon Proctor collection / GNU
Free Documentation License
The article reported: "As they [Mitchell and Schendel] took off for New York, a Beatles spokesman explained: 'We arranged to get Paul McCartney to see them off, but then the Embassy told us they did not want to encourage the girls.'"
She could have met a Beatle after all.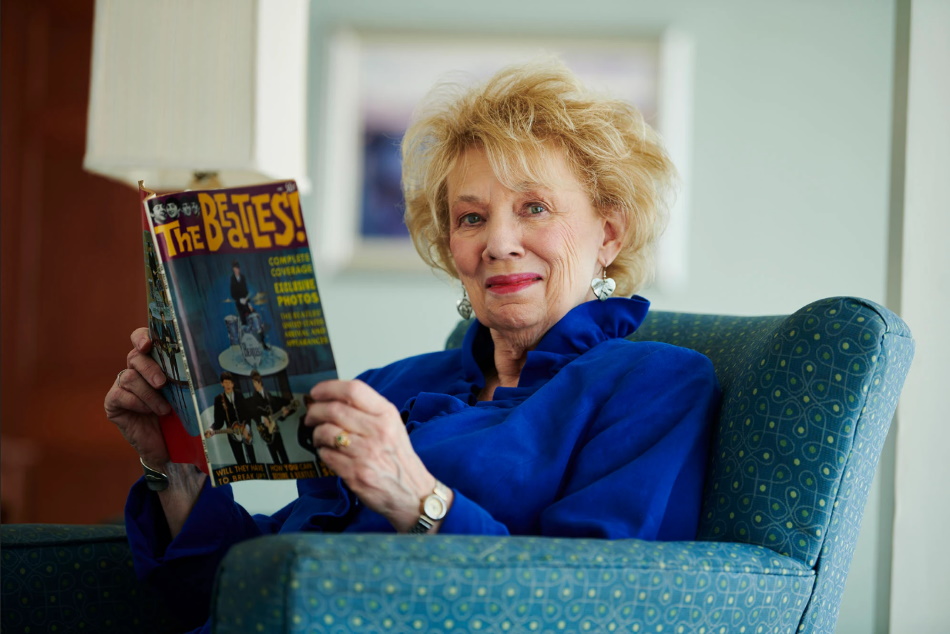 Mitchell later found out surprising news about Paul McCartney regarding her adventure.
Angelo Merendino
"It broke my heart and angered me just as if it had happened in 1964," Mitchell said.
She still yearns to meet McCartney and plans to send him a copy of her book. But, no matter what, she will always treasure her memories as a Beatlemaniac.
"Most people with a dream aren't able to fulfill it," she said. "But nothing was going to stop me until I did."

February 8, 2022
Ringo Starr and His All Starr Band Finally Set to Return to the Road This Spring
"I can't wait to get back out on the road and play," Starr said in a statement. "This is the longest I've been
off the road in years"

bby Jon Blistein for Rolling Stone
After two delays, Ringo Starr will finally launch his tour with his All Starr Band this spring.
The trek is set to launch with two nights at the Casino Rama in Rama, Ontario, May 27 and 28. From there, Starr will make his way around the East Coast — including three nights at the Beacon Theatre in New York City — then down south. The run wraps on June 26 at Ruth Eckerd Hall in Clearwater, Florida.
Tickets for all shows are on sale now. Complete information is available on Starr's website.
For the 2022 tour, the All Starr Band lineup will boast regulars Steve Lukather, Colin Hay, Warren Ham, Gregg Bissonette, and Hamish Stuart, while the group will also welcome back previous collaborator Edgar Winter. Starr and Co. were originally slated to tour in 2020 and 2021, although both runs were postponed because of the pandemic.
"I can't wait to get back out on the road and play," Starr said in a statement. "This is the longest I've been off the road in years — up until 2020 I was touring every year with the All Starrs — and I've really missed it. Making music in the studio has been great, and it certainly saved me during the pandemic, but nothing beats playing live with great musicians in front of an audience. I love my fans and they love me and it's going to be wonderful to be peace and loving and playing for them again."
Starr has kept busy during the pandemic, releasing two EPs last year, Zoom In and Change the World. He also taught his own MasterClass course, released a retrospective book, Ringo Rocks: 30 Years of the All Starrs 1989 – 2019, and has another book on the way, Lifted: Fab Images and Memories In My Life with the Beatles From Across The Universe.
Ringo Starr and the All Starr Band Tour Dates
May 27 – Rama, Ontario @ Casino Rama
May 28 – Rama, Ontario @ Casino Rama
May 30 – Canandaigua, NY – CMAC
June 2 – Boston, MA @ Wang Theater *With The Avett Brothers
June 3 – Worcester, MA @ Hanover Theater
June 4 – Gilford, NH @ Bank of NH Pavilion *With The Avett Brothers
June 6 – New York, NY @ Beacon Theatre
June 7 – New York, NY @ Beacon Theatre
June 8 – New York, NY @ Beacon Theatre
June 10 – Red Bank, NJ @ Count Basie Theater
June 11 – Easton, PA @ State Theater
June 12 – Providence, RI @ PPAC
June 14 – Baltimore, MD @ Modell Lyric
June 15 – Baltimore, MD @ Modell Lyric
June 17 – Lenox, MA @ Tanglewood
June 18 – Pittsburgh, PA @ PPG Arenabr
June 19 – Philadelphia, PA @ Metropolitan Theater
June 21 – Richmond, VA @ Virginia Credit Union Live
June 22 – Atlanta, GA @ Cobb Center
June 24 – St Augustine, FL @ The AMP
June 25 – Hollywood, FL @ Hard Rock
June 26 – Clearwater, FL @ Ruth Eckerd Hall

February 6, 2022
How Canada Beat The U.S. To Beatlemania - The Capitol 'The Canada Story Part 1
by Parlogram Auctions

February 3, 2022
'The Beatles: Get Back' Blu-ray, DVD postponed
From the Beatles Facebook pages...



February 2, 2022
Julian Lennon Offers Beatles Memories As NFTs Complete With Him Narrating Every Item

by Eric Fuller for Forbes
Sometimes a story comes along that just has to be told. This is that. Julian Lennon, the 58-year-old son of John is stepping
into the Metaverse. We spoke this week about the gifts he received from his father and "Uncle" Paul McCartney and how
they are being minted as unique NFTs and sold at auction.
In a space which to date has been overrun by Bored Apes, Pudgy Whales, Rubber Ducks and every other imaginable
expression of 10,000 computer generated images with slight variations, it is a relief to see items with real provenance sold
as a single unique expression in NFT form. It is also reassuring that a portion of the proceeds will go to Julian's
White
Feather Foundation
which is active globally on issues relating to education, good health, preservation of indigenous cultures,
environment and clean water.
The Lennon NFTs are being sold through YellowHeart, an early adapter to the NFT space. The pieces for sale are three of
John Lennon's Gibson Les Paul guitars, his Afghan jacket from Magical Mystery Tour, the hooded cape worn for the movie
Help and Paul McCartney's hand written notes on an arrangement for Hey Jude. Each NFT includes Julian discussing the
item, that vocal being incorporated as a part of the NFT.
Even today, more than 50 years after The Beatles began, there is a furor for anything theirs. I would expect demand to be
high among those who clamor to wear John Lennon's coat in the Metaverse, or to revisit
Hey Jude
which remains one of the
uniquely iconic songs of the rock and roll era.
YellowHeart's CEO Josh Katz is quite excited about Julian's NFTs. He said:
Having the opportunity to work with Jules to create 1 of 1 digital pairing for his dad's Beatles memorabilia has been an
honor. Jules fully understands that as we head further into a digital universe and the Metaverse evolves, there will be a
need for the representation of existing items. These items need to be authenticated by the original source, minted with
memorialization of ownership and then live forever with provable scarcity and authenticity. Jules is a trailblazer because he
understands this and he actually has executed. This application of physical digital pairings will become the standard for
memorabilia, collectibles and also for physical items such as watches and luxury goods.
Jules deeply cares about the environment and the environmental impact of minting NFTs. YellowHeart uses the Polygon
blockchain which is the most environmentally friendly way to mint NFTs. We can mint 13,000 NFTs on Polygon with the
same energy consumption as one NFT on minted on Ethereum.
My conversation with Julian was one of my favorites. He's fast, quick to laugh and interesting. There's also that timbre in his voice which calls back to how his father sounds. Julian is a great conversationalist. We spoke about his memories surrounding the items his Dad gave him, how he has spent the past several years, and his upcoming music and projects. The time flew by as it will for you if you listen. I encourage you to take the time to just absorb who is Julian Lennon. Below is my conversation with Julian in both video and audio podcast format.
The specifics about the items for sale and the mechanism of the sale are as follows:
"Hey Jude" Notes written by Paul McCartney 1:1 NFT
(starting at $30,000)
The 1968 Beatles' masterpiece is frequently included on music lists of the greatest songs of all time. The first song released
on the Beatles' own Apple Records label, "Hey Jude," originally titled "
Hey Jules
," was written for Julian Lennon by Paul
McCartney to comfort him during the time of his parents John and Cynthia Lennon's divorce. The classic was the Beatles'
biggest-selling single in the U.S., having sold five million copies in the first six months of its release and became the number
one song in 12 countries. Paul separated how he thought the song should be structured into four sections, with voices and
instruments. These are his original notes, which include his personal doodles and drawings.
Afghan Coat from Magical Mystery Tour 1:1 NFT (starting at $6,000)
Four-year-old Julian was present on the set of the film Magical Mystery Tour, where his father John Lennon often wore this
coat sometimes paired with pinstripe trousers and jewelry. Though very young at the time, he remembers the experience as
"a bit crazy." John also wore the coat at the launch party for the iconic album, Sgt. Pepper's Lonely Hearts Club Band.
Gibson Les Paul Guitar Copy Gifted by John Lennon to Julian Lennon 1:1 NFT (starting at $4,000)
A Christmas gift from his father, Julian has played this Gibson Les Paul copy guitar on many occasions, but never publicly because it is too precious to him. "I never used it on record, but I probably wrote a few tunes on it. In my eyes, it was, and still is, the most beautiful guitar," said Lennon.
Gibson Les Paul 25/50 Guitar Gifted by John Lennon to Julian Lennon 1:1 NFT (starting at $4,000)
This special-order rare 25/50 model was launched to commemorate the 25th anniversary of the Les Paul model guitar and the 50th anniversary of Les Paul's career in music. A gift to Julian from John, this guitar was one that John used to teach Julian chords on and help improve his playing techniques when he would visit.
Gibson 1959 Guitar Gifted by John Lennon to Julian Lennon 1:1 NFT (starting at $4,000)
Used in some of Julian's earliest performances at Kingsmead School in Hoylake, this was one of his favorite guitars because it
had a short neck and was easier to play. A gift from his father, it holds a special place in his collection.
Black Cape Worn by John Lennon from the movie Help! - 1:1 NFT (starting at $8,000)
Though Julian was too young to have memories of this time, his mother Cynthia recalled how she and John learned how to ski in Austria during the film shoot for Help! This black cape was worn by John in the movie's scenes filmed in the Alps.
The auction will open for bidding January 24th and commence in real time and in lot order for live bidding at 10:00 a.m. Pacific Time on February 7th, 2022.
Online Auction LIVE NOW:
"Lennon Connection: The NFT Collection"
Closing Monday, February 7th, 2022
LIVE Session I: 10:00 a.m. Pacific Time
For more information - info@juliensauctions.com or 310-836-1818.

February 1, 2022
From the Beatles Official Facebook Site: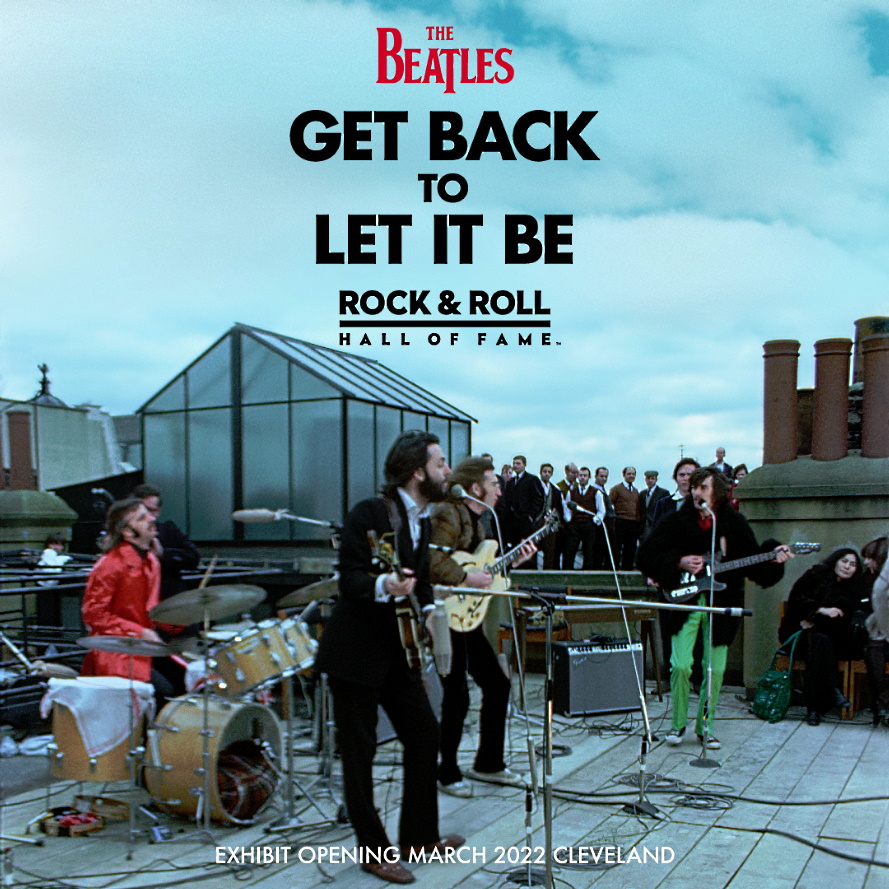 The Rock and Roll Hall of Fame has announced its first-ever featured Beatles exhibit - "The Beatles: Get Back to Let It Be" - set to open on March 18 and run through November 2022.
https://www.rockhall.com
An immersive, interactive complement to Peter Jackson's "Get Back" docuseries, the multimedia exhibit will welcome visitors to step into The Beatles' January 1969 rehearsals, sessions, and rooftop performance with original instruments, clothing, handwritten lyrics and other unique items.
Special events will be hosted by the Rock and Roll Hall of Fame during the exhibit's run. Screenings, panels and virtual Q&As will be announced throughout the year. The Rock and Roll Hall of Fame has announced its first-ever featured Beatles exhibit - "The Beatles: Get Back to Let It Be" - set to open on March 18 and run through November 2022.
An immersive, interactive complement to Peter Jackson's "Get Back" docuseries, the multimedia exhibit will welcome visitors to step into The Beatles' January 1969 rehearsals, sessions, and rooftop performance with original instruments, clothing, handwritten lyrics and other unique items.
Special events will be hosted by the Rock and Roll Hall of Fame during the exhibit's run. Screenings, panels and virtual Q&As will be announced throughout the year.
https://www.rockhall.com
#TheBeatlesGetBack

January 31, 2022
Wild Life – Half Speed Master Edition (Ships on February 4, 2022)

Following the eclectic charm and intimacy of 1970's solo
McCartney
and 1971's homespun lo-fi indie-pop progenitor
RAM

credited to Paul and Linda McCartney,
Wild Life
found Paul once again redefining his post-Beatles creative identity, this time
beginning his tenure as a founding member of Wings. A rollicking left turn from its predecessors,
Wild Life
was recorded in
barely more than a week, with more than half of the songs captured in a single take. The end result would be eight songs
running the gamut from joyous freewheeling jams to proto-chamber pop to spare introspective musings — all bristling with a
raw, jagged energy akin to the grungiest of garage bands—whether on the careening blues-rock rave-up of opener "Mumbo,"
a reggae-tinged reimagining of Mickey & Sylvia's "Love Is Strange," or the plaintive and heart wrenching ballad "Dear Friend."
Tracklist
Side A

1. Mumbo
2. Bip Bop
3. Love Is Strange
4. Wild Life
Side B

1. Some People Never Know
2. I Am Your Singer
3. Bip Bop (Link)
4. Tomorrow
5. Dear Friend
6. Mumbo (Link)
LIMITED TO 4 UNITS PER CUSTOMER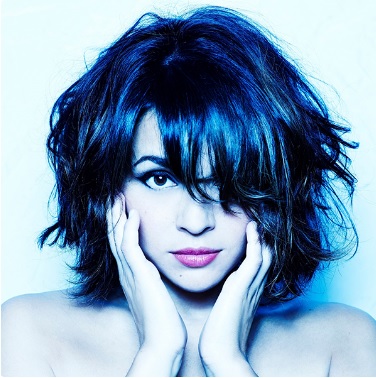 January 28, 2022
Watch Norah Jones Cover The Beatles At The Empire State Building
The singer-songwriter was accompanied by Brian Blade, Gus
Seyffert and Sasha Dobson for "I've Got A Feeling"
and "Let It Be."
By Scott Bernstein for JamBase

Norah Jones led her band through covers of The Beatles' "I've Got A
Feeling" and "Let It Be" last month on the Empire State Building's
rooftop observation deck. Video featuring the covers have been shared
today on Jones' YouTube channel two days before the 53rd anniversary
of The Beatles' historic final live performance on January 30, 1969 on
the rooftop of their Apple Corps headquarters in London.

The singer-songwriter was joined on "I've Got A Feeling" and "Let It Be"
by drummer Brian Blade and bassist Gus Seyffert as well as her Puss N
Boots bandmate, vocalist Sasha Dobson. Norah Jones previously shared
a set of songs from her holiday album, I Dream Of Christmas, performed
with the same musicians at the same location.

Both "I've Got A Feeling" and "Let It Be" were originally released by The
Beatles on their final studio album, 1970's Let It Be. The album's
sessions were documented for director Michael Lindsay-Hogg's 1970
documentary of the same name and were revisited for filmmaker Peter
Jackson's recent The Beatles: Get Back docu-series. "I've Got A Feeling" was played twice during the Fab Four's rooftop set
January 30, 1969.

Check out Norah Jones' "I've Got A Feeling" and "Let It Be" performances below:



January 27, 2022
The Beatles' Legendary Rooftop Concert to Be Released as a Live Album on Streaming Platforms
The Beatles' final live performance will be made available in its entirety for the very first time on Jan. 28 — almost
53 years to the day after it was recorded

by Jordan Runtagh for People
On the afternoon of Jan. 30, 1969, the Beatles climbed onto the roof of their Apple Records headquarters, where they
braved the winter chill and played an impromptu concert to a throng of (mostly) delighted Central London office workers
below. The 42-minute set — the culmination of the month-long session that would yield their last album,
Let It Be
— is
enshrined in Beatle lore as the final live performance the band would ever give. Regularly hailed as one of the most famous
musical moments ever, the event was showcased as the finale of Peter Jackson's 8-hour documentary epic
Get Back
. Now,
on Jan. 28, the complete audio from the rooftop concert will be made available across streaming platforms, allowing fans
to hear the iconic gig in its entirety for the very first time.
The Beatles: Get Back - The Rooftop Performance
is an answered prayer for many Beatles fans who were saddened by its
absence on the lavish
Let It Be
box set issued in the fall, which contained several discs worth of outtakes and previously
unreleased material. "There were a lot of discussions about whether we should put the rooftop concert on the box set,"
says Giles Martin, steward of the band's recorded legacy, who completed stereo and Dolby Atmos remixes of the live set
along with Sam Okell. "It was something we thought a lot about." He likens it to the same dilemma faced by his late father,
the Beatles' legendary producer Sir George Martin. "He didn't want to put the Beatles' singles on their albums, because
you're selling stuff more than once. We bear that in mind when we do these [collections]. Our thinking was, "Well, how many
different versions of songs are we going to be putting out there?" Paul [McCartney] even said to me, 'How many different
versions of 'Get Back' do you want?'"
The concert footage had already been earmarked for inclusion in the
Get Back
docuseries, sparking further debates about
whether the audio was compelling when stripped of the arresting visuals. But the overwhelmingly effusive response to the
film led those in the Beatle camp to reconsider their decision to hold it back. "The film adds a new level of appreciation to
the [audio]. It's contextualized," Martin explains. "You listen differently [having seen it], probably with more empathy, in a
way. Some of the performances are great, while some of the performances aren't the best performances ever. But it's
historical and it's got a vibe to it. People can tune in more with that vibe because they've seen what it was like up there.
There's something more intimate about listening to it."
In typical Beatle fashion, even the imperfections are charming. It's hard not to laugh as John Lennon, never the best at
remembering his own lyrics, stifles a giggle while substituting gibberish for a forgotten line on "Don't Let Me Down." And
McCartney's ad-libbed verse in "Get Back," done for the benefit of the policemen who've crashed the party, is guaranteed to
raise a smile. "The police are about to arrest them on the stage and Paul's singing, 'You've been playing on the roofs again
and that's no good, they're gonna have you arrested!'" Martin says with obvious admiration. "I mean, that's a proper sort of
punk attitude, really!"
Apart from just historical significance, the performances themselves are more than strong enough to stand on their own — a
minor miracle considering the bitter cold, the busy traffic a few stories down, and the intrusion of the London Metropolitan
Police. "If you think about it, they wouldn't have been able to hear themselves very well and they were on a rooftop in
January!" says Martin. "If I chose a band now, with all today's technology, I don't think I'd be able to make as good a
recording as they did then. I joke to Paul about it quite a lot. When we listen to stuff together, he goes, 'We were actually
a really good band.' And that's easy to forget with all the history going on. It sounds like a stupid thing to say, but they can
really play. And I think the rooftop proved that."
The final tracklist consists of three complete versions of "Get Back" (plus a brief aborted take), two takes of "Don't Let Me
Down," a run-through of "I've Got a Feeling," an improvised version of "God Save the Queen," and the versions of "One After
909," "Dig a Pony" and "I've Got a Feeling" that made the final
Let It Be
album. Completists will be thrilled to know that
there's plenty of between-song chatter and other audio-verite moments to make you feel like you're standing alongside the
Fabs. "People are getting to hear everything I have," says Martin. "There's a beginning bit where there's wind and stuff and
some camera people talking. And then it finishes about 30 seconds after John says 'I hope we passed the audition,' and you
hear him leaving." Martin even briefly toyed with releasing the concert as "one big long chunk" of audio, before logistical
concerns mooted the idea. In any event, he says, "I'm just letting the whole thing run."
As far as Martin's concerned, it's his duty to share the wealth. "I know I'm lucky — I'm George Martin's son. I get huge
privileges. And I think other people should experience the same luck I have. There are people who are massive fans and
they should get a chance to listen to the stuff I listen to. So this is one of those chances."
The Beatles: Get Back - The Rooftop Performance
is just one element of the celebration surrounding the concert's 53rd
anniversary. On Thursday, the Rock & Roll Hall of Fame announced an immersive new exhibit at their Cleveland headquarters
designed to complement the Get Back docuseries. Due to open on March 18th, the installation promises to transport fans
back to the January 1969 sessions with large-scale audio-visual displays and a treasure trove of memorabilia on loan from
the Beatles themselves. These artifacts will include the original instruments, handwritten lyrics, and articles of clothing —
ranging from Ringo Starr's (borrowed) red raincoat worn on the rooftop, to George Harrison's ultra-hip pink pinstripe suit, and
even John Lennon's trademark granny glasses.
Norah Jones is also paying her own special tribute to the rooftop concert with a pair of performance clips recently filmed on
top of the Empire State Building. The singer's version of two Beatles classics — "I've Got a Feeling" and "Let It Be" — will be
available to stream on her YouTube channel beginning at noon EST on Jan. 28. The following morning, at 9 a.m. EST, the
cast of the Beatles-themed Cirque du Soleil show LOVE will debut a rooftop performance tribute video of their own set to a
version of "Get Back," specially remixed for the production. There's a "Rooftop Concert Special" featuring commentary by
Beatles historian, author, and radio producer Kevin Howlett set to premiere on the SiriusXM Beatles Channel on Jan. 28 at 11
a.m. EST. This all leads up to a series of synchronized screenings of the rooftop concert at IMAX theaters across the US
and UK, including a virtual Q&A with Peter Jackson, kicking off at 3 p.m. EST on Jan. 30 — exactly 53 years after it was
filmed.
The festive spirit surrounding the anniversary is surprising considering many previously believed this to be an unhappy era for
the Beatles; the so-called winter of discontent that precipitated their public split in April 1970. But Jackson's documentary
and the box set of material culled from these sessions has led to a radical reappraisal of this period in the band's career.
Even the surviving Beatles were taken aback.
We had a premiere of the film in London, and I sat with Paul having dinner afterward and he said it was so great," Martin
recalls. "He said, 'It was so great to look back and realize that it was actually a really happy time. I was with my mates! It
was great to see me and John together.' It was a genuine moment for him of love and happiness."
The Track List (as supplied by Rob Sheffield for Rolling Stone)
1. "Get Back" (Take 1)
2. "Get Back" (Take 2)
3. "Don't Let Me Down" (Take 1)
4. "I've Got a Feeling" (Take 1)
5. "One After 909"
6. "Dig a Pony"
7. "Jam/God Save The Queen"
8. "I've Got a Feeling" (Take 2)
9. "Don't Let Me Down" (Take 2)
10. "Get Back" (Take 3)

January 26, 2022
Hear Ringo Starr drum on Colin Hay's new single
by Jen Austin for Ultimate Classic Rock



January 24, 2022
Bloody Sunday shocked Sir Paul McCartney into protest song… Beatle wrote Irish hit after watching
massacre unfold on TV

by David O'Dornan for the Belfast Telegraph
Paul McCartney & Wings - Give Ireland Back To The Irish (ICA Rehearsal 1972)
SIR PAUL McCartney has said that seeing news footage of Bloody Sunday shocked him so much he felt he had to
write a protest song.
He was in the US at the time patching things up with fellow Beatle John Lennon when on January 30, 1972, soldiers
opened fire at a civil rights march in Derry and left 14 people dead.
Macca and his late wife Linda were inspired to record Give Ireland Back To The Irish — which was banned by the
BBC but hit number one in the Republic.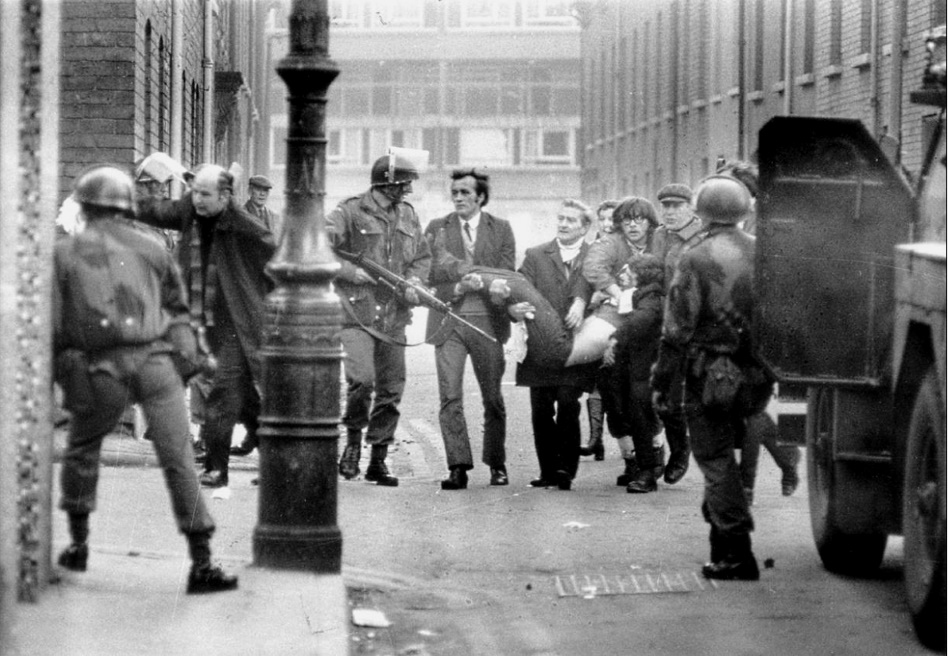 Father Edward Daly (left) escorts a group carrying a mortally wounded protester on Bloody Sunday
Sir Paul (79) explained: "I was in New York that day, having met with John the day before. It was a meeting at which we
more or less agreed to stop sniping at each other.
"It was deeply troubling to me to see footage of a perfectly peaceful demonstration that had gone wrong. It looked as if our
Army boys had acted indiscriminately and fired on innocent people.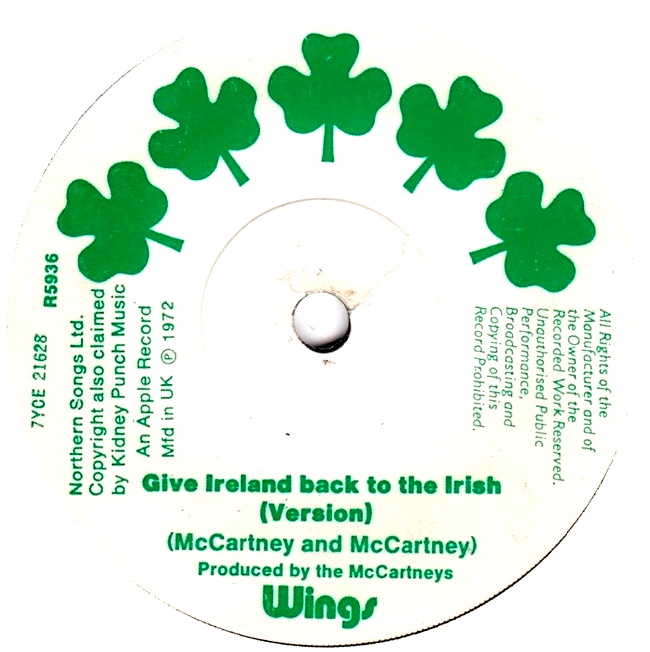 The Wings single Give Ireland Back to the Irish, written by Paul and Linda McCartney, was banned by the BBC
"There was immediately a cover-up, claiming that the protesters weren't innocent but had rifles. But it seemed to me a reasonable demonstration, the kind that had been happening in Black communities throughout recent history.
"So, I was shocked by the idea that our soldiers had perpetrated this horror because up till that point, I had thought our boys were all great.
"Then I imagined Irish soldiers on the streets of Liverpool when I was growing up, telling me I couldn't go here or I couldn't go there.
"The idea of armed soldiers stopping me from going down the street seemed so wrong to me that, even though I wasn't a writer of protest songs, I just felt I had to say something about this." The 50th anniversary of Bloody Sunday is set to be marked in Derry next week with a series of events, with local stars Adrian Dunbar, Bronagh Gallagher, The Undertones and Phil Coulter set to take part.
Both of McCartney's grandparents were born in Ireland, of mixed religion, and he said his household mirrored "the Irish political and religious divide".
But when he took his song to his record label EMI in 1972, the top boss Sir Joseph Lockwood told him he "couldn't put this record out, because of the delicacy of the Irish situation".
In his new book The Lyrics, compiled by Portadown poet Paul Muldoon, he revealed: "I told him this particular event had affected me very deeply, and I felt I must respond to it. He asked me to reconsider.
"So, I gave it a couple of days and rang back and said I had to put it out. He said the record would be banned by the BBC, and no good would come of it for me. I told him I didn't care.
"This was a big enough event in my history — in my country's history — for me to take some kind of a stand. So we put it out, and Sir Joe was right. It was banned. But it was also number one in Ireland and in Spain, though not in the US."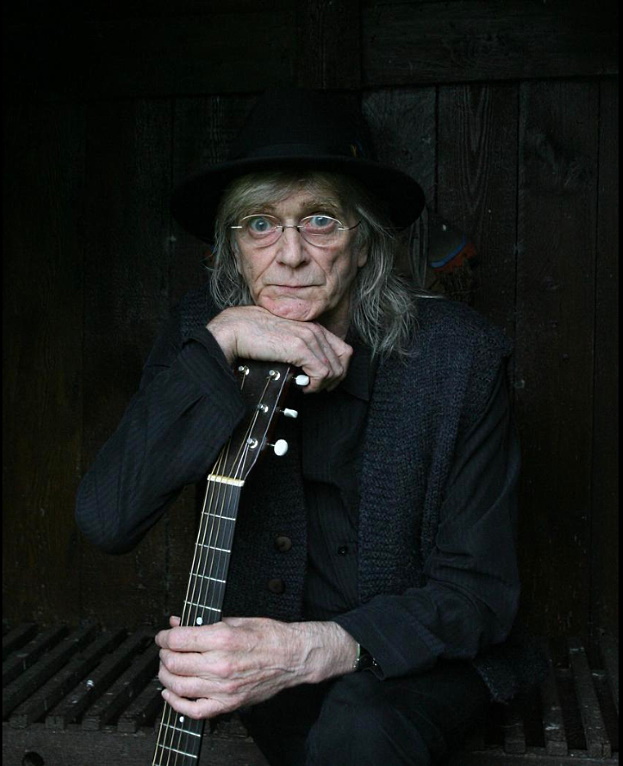 The late Henry McCullough, from Portstewart
And Macca revealed that his Wings band mate Henry McCullough (left) "got a bit of flak because he was a Northern Ireland boy".
Sir Paul added: "Henry was Protestant, so some people were a bit upset by his involvement in this song. It really was that bad at the time.
"Then there were others who perceived the song as a rallying cry for the IRA. It certainly wasn't written to be one.
"For better or worse, this was a moment where I had a sense that art could, and should, respond to a situation.
"Unfortunately, it's a situation that still hasn't quite been resolved — and perhaps never will."



January 19, 2022
Watch George Martin Tell His Young Granddaughter Why He Signed the Beatles
"I said, 'Well that's a silly name for a start," he says to his grandchild. "'Who would ever want a group
with the name 'beetles'?
by Andy Greene for Rolling Stone
George Martin
told the story of how he first encountered the
Beatles
in 1962 in countless interviews and lectures
throughout his long life, not to mention the pages of his 1979 memoir
All You Need Is Ears
. But in newly released
archival home movie footage by his son Giles Martin, he explains it in a very sweet, tender, and simple way to his
young granddaughter.
When The Beatles' producer George Martin – who is credited with supervising the band's most famous recordings –
was first introduced to the fab four his reaction was "Well that's a silly name for a start. Who'd ever want a group
with the name 'beetles'?"
"There were four of them," says Martin. "And I said, 'Who are they, what are they?' And [Beatles manager Brian Epstein]
said 'Well, they're a group. We call them the Beatles.' And I said, 'Well that's a silly name for a start. Who would ever
want a group with the name 'beetles'?' And he said, 'Well, it isn't the beetles you think of. It's 'Beatles' with an 'A' in it,
like 'Beat-les.' So I listened to what he said and I said, 'Well, I'll have to hear them first of all.'"
"So he sent them down from Liverpool, which is quite a long way, and I met them in London," he continued. "And when I
listened to what they did, it was OK, but it wasn't brilliant. It was OK. So I thought well, 'Why should I be interested in
this?'"
"But the magic but came when I started to get to know them because they were terribly good people to know," he concluded. "They were funny, they were very clever, they said all the lovely things. They were the kind of people that you like to be with. And so I thought, 'Well if I feel this way about them, other people will feel this way about them. So therefore they should be very popular.' And I made records with them."
To flesh out the story just a little, Martin met the Beatles on June 6, 1962, at Abbey Road Studios. He was unimpressed by drummer Pete Best and early songs like "Love Me Do" and "P.S. I Love You," but they came back in September with Ringo Starr and he began seeing their huge potential. He served as their producer all the way through their final LP Abbey Road. "George Martin made us what we were in the studio," John Lennon said in 1971. "He helped us develop a language to talk to other musicians."
Martin died in 2016 at the age of 90. It's unclear exactly when this conversation with his granddaughter was filmed. "I don't normally share anything personal but this my dad from a while back explaining to my daughter he signed the Beatles," Giles Martin wrote on Twitter. "Ordinary people do extraordinary things. Great decisions are made for the simplest reasons. 'I figured if I like them this much other people might too.'"

January 18, 2022

Demolish The Deauville? "You Can't Do That" say Preservationists!
Fans of The Beatles, historical preservation tell Miami Beach Board: 'You Can't Do That' in regards to demolishing
the historic Deauville Hotel.

by Margot Winick for Joe Johnson's Beatle Brunch
Can a Beatles landmark be saved? Miami Beach Historic Preservation Board Members think so, so they met Jan. 11 to talk about the owners of the historic designated Deauville Hotel, where the Beatles performed their second "Ed Sullivan Show" nationally televised on Feb 16, 1964. The current owners have, through their neglect, brought about a recent City of Miami Beach order to have the building demolished and historians say "no way"!
After a fire and being declared unsafe, the hotel went vacant in July 2017, while Miami as a destination has only gotten more popular. In its heyday, the Mid-century modern hotel, which opened in 1957, not only broadcast the "Ed Sullivan Show," where Mitzi Gaynor – not the Beatles – headlined, but it also hosted a 1961 speech by President John F. Kennedy, and attracted the likes of The Rat Pack in its glory days.
The Beatles' Sullivan broadcast from February 16th, 1964 was honored with a show by 1964 The Tribute held 50 years to the day, in the same room, playing the identical 6 songs live in the Napoleon Ballroom, which hadn't changed one bit since that historic night when the show was broadcast across North America on CBS television to Ed Sullivan's audience of 70 million viewers.
The current owners are the Meruelo family, who own the SLS Las Vegas (formerly the Sahara Hotel and Casino) have sought demolition by neglect: the practice of allowing a building to deteriorate to the point that restoration is not possible. The City of Miami Beach sued the owners for failure to maintain the historic building, and with liens on the property, many feel that the City demolition order merely benefits the owners' position and rewards them for abandoning this historic resort.
At the meeting, the Miami Beach Historic Preservation Board (HPB), talked of how the City could progress to try and salvage architectural elements on the property, which would need to be handled with the owners' involvement, since it's not public property. As you might guess, there is greater concern for decaying buildings in Miami Beach after 2021's collapse of the Champlain Towers beachfront condominium, just 20 blocks north, where 98 people died.
On the heels of the demolition order from the City, this was the first time that the Deauville has come up for discussion at the HPB. "This board has been muzzled by the city, and the laws, and everyone in this process," said board member Jack Finglass. "This is an absolute horror. My seat represents the people, and I got unbelievable calls from the public until midnight last night. It's unacceptable."
The demolition by neglect procedure is one that garnered lots of criticism at the meeting, when members of the public were invited to speech in person or on Zoom.
Daniel Ciraldo of the Miami Design Preservation League, which has been concerned about the deteriorating Deauville, criticized the demolition order and pleaded to the board in person to reconsider demolition. "This is not only a cultural crisis, it's now a potential environmental crisis. We still have to see if this building can be salvaged," he said.
On Zoom, Lori Bakkum said she had toured the Deauville one year prior to closure while serving as chair for the Art Deco Weekend annual event in Miami Beach, celebrating architecture of the period, and a former member of the MDPL said, "This building is a stunning representative of what Miami is, can be and always have been. Every bit of damage to this property was an intentional act by the owners. They have not kept it safe… it has hurt the entire North Beach community. They [owners] cannot be rewarded."
Tanya Bhatt expressed concern about the City's demolition order and haste to demolish. "I cannot find the words to express my rage, outrage and disgust at what is happening… The owners did absolutely nothing, and waited for nature to take its course… you must take action now before we destroy this building."
In addition to being disgusted by the lack of attention the owners gave the building, leading to this demolition order development, speakers lamented the architectural loss, the political and musical historical significance of the building that will make. Central Florida historian Gary McKechnie, who has been among a group of historians and authors watching what is happening at the Deauville and making fans aware of its plight on SavetheDeauville.com, said he has been "tracking the progress or distress of the Deauville over the last several years. The family has been playing the city, playing this preservation board, playing the community."
Another member of that group, author Bob Kealing, who has worked on preservation efforts for several cultural landmarks in Florida, including The Allman Brothers home and the Keourac House, asked the board via Zoom, "Could we not save the ballroom, the iconic entrance, and the most important Beatles landmark in America aside from The Ed Sullivan Theater [in New York City]? Kealing, who is writing a book on the Beatles' time in Florida, reminded the board that the Beatles spent 8 days at the Deauville Hotel and wrote 3 songs there.
Another attendee on Zoom, Tim Reid, recalled that John Lennon wrote "You Can't Do That" during their stay at the Deauville. "That ought to be the motto of this historical board!" he exclaimed.
The Miami Beach Historic Preservation Board voted to recommend that the City hire an independent structural engineer who has historic preservation experience to inspect the Deauville Hotel and see if a total demolition can be avoided. Meanwhile, Beatle fans savor its historic importance.
A Day at the Office With John, Paul, George, Ringo and Grandpa
Ed Sullivan's grandsons got to meet the Beatles when he took them to work in February 1964.
When you were a child, did your grandfather ever invite you to visit him at work?
Did you find it instructive? Boring? Were you itching to get out of there and rejoin your friends?
A man named Rob Precht has a slightly different perspective on such matters. His grandfather was Ed Sullivan.
"With Grandpa's job, it all felt very natural to us," Mr. Precht told me. "We were so young back then that we
never knew him when he wasn't famous."
Mr. Precht, whose 65th birthday is Friday, had shown me an old black-and-white photo, a family keepsake. It
was taken on an unforgettable day in 1964, when he was 9 and his brother Vincent was 6, and they had
accompanied their grandfather to the office.
"He basically saw himself as a newspaperman," Mr. Precht said. "That's what he was proudest of." Sullivan was
a man-about-town columnist for the New York Daily News, "and he loved taking us to the city room, and then
showing us the presses."
The family photo, however, was shot at Sullivan's other job: host of "The Ed Sullivan Show" every Sunday night
on CBS.
On Feb. 9, 1964, Sullivan's guests were the Beatles. It was the band's first live appearance on U.S. television.
More than 70 million people watched, the largest audience, to that point, in TV history. Among those 70 million
were Rob and Vincent Precht, sitting in front of the family TV set in suburban New York.
The next week Sullivan was scheduled to do his show from the Deauville hotel in Miami Beach, with the Beatles
again among the performers. He asked the grandchildren (their father was Sullivan's producer) if they'd like to
come along on the trip.
Thus, on Saturday, Feb. 15, the two boys and their grandfather went to the Deauville for an informal rehearsal. "My brother and I were standing around," Mr. Precht told me. "It was in a big ballroom—I don't think there was even a regular stage. There was no audience, only some technicians doing their jobs.
"And then they just kind of strolled in."
Paul McCartney was 21. John Lennon was 23. George Harrison was 20. Ringo Starr was 23. The Sullivan show the previous Sunday had the whole country talking about those four young men and the frenzy they had created. And here they were, in the quiet ballroom.
"They weren't in stage clothes," Mr. Precht said. "Three of them had these terry cloth shirtjacket things on, like you'd wear to the beach. Casual as can be. They walked up to their instruments and—no introduction—started to play."
The first song, he said, was "All My Loving." To hear it live was "the most beautiful sound. Their voices were so pure. Their musicianship was impeccable." The four young men ran through their songs, and then Ed Sullivan walked over to them and chatted softly. "I think that both Grandpa and the Beatles instinctively realized what had happened the week before," Mr. Precht said—"the alchemy that would forever connect them."
Sullivan gestured for the boys to come over. "My grandkids," he said to the Beatles. They stood and talked—"Ringo seemed the most approachable, but they were all quite friendly," Mr. Precht said—and then a photographer snapped the shot. The faces of the two boys: nervous, perhaps a bit embarrassed. The faces of the four Beatles: so young, all their troubles seeming so far away.
The next night, when the Sullivan show aired live, the boys were watching from their hotel room: "We didn't need to be there. We'd had the private concert the day before."
A day at work with Grandpa. "For us, and for him, it was always like it was the family store," Mr. Precht said. "This is how you stock the items; this is how you present them. Like a small-town storekeeper, letting us see how he made his living."
Mr. Greene's books include "Chevrolet Summers, Dairy Queen Nights."

January 17, 2022
Monkeemania verses Beatlemania as explained by The Monkees during a 1968 press conference
The Beatles SECRET Soviet Records - Beatlemania vs Communism

January 16, 2022
Elton John guitarist Davey Johnstone on how John Lennon's last public performance led to Yoko Ono
reconciliation: 'It was very special for them'

by
Multi-instrumentalist Davey Johnstone has been Elton John's guitarist for 50 years, which hasn't left him with much free time to focus on his solo career — his debut LP, Smiling Face, came out on Elton's Rocket Record Company label way back in 1973, and it's taken him this long to make a follow-up album. Johnstone found the time, obviously, during 2020, when the COVID-19 pandemic put a temporary halt to Elton's Farewell Yellow Brick Road tour — and the result is Deeper Than My Roots, a family affair featuring musical contributions from four of Johnstone's sons and artwork by his daughter Juliet. Fifteen-year-old Elliot, Johnstone's youngest child, sings lead on most of the tracks, including a cover of "Here, There and Everywhere," which Johnstone describes as "one of the great Beatles songs of all time."
As Johnstone speaks with Yahoo Entertainment/SiriusXM Volume about the record, which comes out Feb. 4, he also looks ahead to Elton's Farewell tour, which finally resumes Jan. 19, and he naturally looks back on his literally thousands of past concerts with Elton. The full-circle conversation eventually leads to a particularly memorable Thanksgiving Day 1974 show at New York's Madison Square Garden, when he and Elton actually shared a stage with a Beatle: John Lennon. "And that was to be, unfortunately, his last [public] performance," signs Johnstone.
The night was "legendary" in another way, as it was this concert that ultimately led to the reconciliation of Lennon and his second wife Yoko Ono after their separation. "At that time, he was with May Pang, who's also a good friend of mine from all those years ago," says Johnstone, referring to Lennon and Ono's personal assistant who, at Ono's behest, became Lennon's romantic companion during his 18-month "lost weekend" away from Ono. "But that night, Yoko came to the show, and John didn't know she was in the audience. I think he would've been really nervous if he'd known Yoko was in the crowd. But they got [back] together soon after that, and it was very special for them."
Johnstone believes that Elton "conspired" with Lennon's assistant Tony King, a "wonderful guy" who later worked as Elton's assistant, to get Yoko to the show. "They knew she was coming and all the rest of it. And Yoko actually sent some beautiful gardenias for John to say, 'Good luck with the show.' If you look at the footage — there's not very many pictures from that show; God knows why not, but there aren't — you'll see in John's button hole, this gardenia that he'd gotten from Yoko. But he didn't realize she was at the concert at the time."
Lennon was nervous even without the knowledge that his estranged wife was in the audience, because hadn't performed live at all since his own Madison Square Garden gig two years earlier. He also hadn't played with the Beatles since the January 1969 Apple Corps rooftop concert immortalized in Get Back, and he planned to sing two Beatles songs at the Elton show. While Johnstone recalls that the Elton band's "quick rehearsal" with Lennon the night before went well ("It wasn't really a rehearsal. … We chatted and laughed and had a few drinks"), Lennon was completely on edge by the time he actually showed up at MSG on Nov. 28, 1974.
"The night of the concert, I was tuning all the instruments backstage, and John came into the dressing room looking terrified," Johnstone recalls. "And I said, 'John, are you OK?' And he was like, 'Well, no. I think I wanna throw up. I feel so nervous!' — because he hadn't played forever. It was so long since John had done a live performance. … But I tuned his guitar up and I kind of gave him a hug and said, 'Look, I'll see you up there. It's gonna be great!'" But Johnstone, a "massive Beatles fan" who remembers "getting chills" when he first found out that Lennon was a fan of Elton's work, confesses that was secretly nervous as well. He almost couldn't process what was transpiring onstage.
"I'm walking on with Elton and [bassist] Dee Murray and [drummer] Nigel [Olsson] and [percussionist] Ray Cooper, and I'm thinking, 'John Lennon is gonna come onstage with us. This is insane!'" Johnstone laughs. "When Elton announced John in the middle of the show, it was a big surprise; none of the New Yorkers knew this. And because he'd become a New Yorker — and, well, because he was John Lennon — the place went completely nuts. When I think about it now, it was very surreal, the whole thing. … I could never forget such an amazing night."
And so, the night went down in rock 'n' roll history for being Lennon's last public performance (he did perform one last time, in 1975, on the television special Salute to Sir Lew – The Master Showman), and for marking the beginning of a new chapter of the Beatle's life with Ono (the couple officially reunited in February 1975, welcomed their son Sean in October that year, and stayed together until Lennon's death in December 1980). But the Lennon appearance almost didn't happen, because the whole thing was the result of a lost bet.
"When [Elton and his band] were coming out to tour in the States [in 1974], we decided to take a ship to America. We were all living in London at the time, and instead of flying and getting jet lag, we decided to take a voyage on the SS France," Johnstone recalls. "We had brought [John Lennon's son with first wife Cynthia] Julian Lennon on the ship with us, because he wanted to spend the summer with his dad in New York. So, we get to the New York docks and there's John waiting for us, and we come off board and we all say hi and hug and all the rest of it. I was totally star-struck! Then the next day we went to the studio with him and watched some of the recording of [Lennon's solo song] 'Whatever Gets You Thru the Night,' which I sang and played piano on. John ended up coming to [Colorado recording studio] Caribou Ranch to visit us and record 'Lucy in the Sky With Diamonds' with us and a couple of other songs, and it was agreed then that if 'Whatever Gets You Thru the Night' goes to No. 1, then John would come onstage with us. And he said, 'Yeah, of course' — because he never thought it would be a No. 1 record. It was a No. 1! So, he had to fulfill his obligation."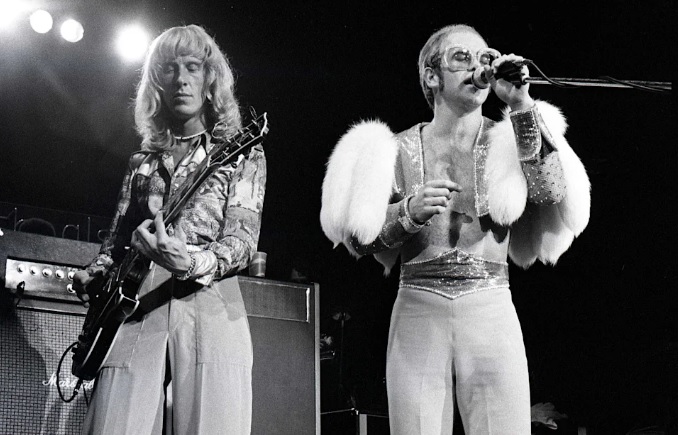 Davey Johnstone and Elton John on stage
At Madison Square Garden, Lennon ended up performing "Whatever Gets You Thru the Night," "Lucy," and a surprising Beatles oldie, "I Saw Her Standing There," while Johnstone "kept looking over; he was right next to me onstage, and I'm going, 'This is f***ing insane!'" And Johnstone was still star-struck the next day, when Lennon paid a surprise visit to his hotel room.
"Elton called me… and he was like, 'Wow, what a show that was! Listen, John would like to come over and hang out with you. Is that OK?' And I [joked], 'Nah, tell him to piss off. Um, of course tell him come over!'" Johnstone chuckles. "And so John arrived at my suite about 15 minutes later. It was in the snow and he had the typical [Lennon look]: granny glasses, a cape, roll-neck sweater, a scarf. I was looking out the little spy-hole [in the hotel door], and I'll never forget the vision of him walking towards me. It was just like, 'This is really one of the greatest things in my life.' … I tell you, I miss him obviously to this day, as so many people do. What a legend, what a guy, what a writer, what an artist."
While Johnstone never got a chance to perform onstage with Lennon again, he continued to play with Elton for decades, except for Elton's 1980 tour, during which Johnstone busied himself working with other rock legends like Alice Cooper and Stevie Nicks. "It is an amazing achievement, because I don't know anybody who's been with any other artist that long and played that many live shows," Johnstone says of his tenure with Elton, who estimates that they've performed about 3,300 concerts together. Now, as he gets ready to do one last trek with Elton, serving as the Farewell Yellow Brick Road tour's musical director, he's as appreciative of his dream job as he was in 1974 — although he admits he never imagined he'd be playing with Elton for a half-century.
"Back then, in the day, we never really thought about stuff like that. When you're in your early twenties, you're just doing it for the love of it. It's like, 'Wow, I've been allowed to do this. This is a gift I've been given.' … So, it's quite amazing that I've been able to do it [for so long]," Johnstone marvels. "I put that down to Elton's staying power and his tenacity, and just the way he handles the whole thing. He's a great, great singer. His voice has changed over the years, but I think he's used it to his advantage; he's got kind of a bigger, more soulful voice now. The guy's a monster. He's one of those guys who plays and sings brilliantly, every night. I've never heard him not do it great every night."

January 15, 2022
Beatles Cartoon Pop Art Show Featuring the Works of Ron Campbell is Coming to the Atlanta Area

by Chloe Rabinowitz for Broadway World Atlanta
The Beatles along with Scooby Doo, Smurfs, Rugrats, Jetsons, Flintstones, & much more are among the artwork on display
and all based on the 50-year career of the late Ron Campbell.
Ron Campbell literally animated our childhood. Beginning in 1958 in his native Australia with cartoons like Popeye, Beetle
Bailey and Krazy Kat, Campbell's career spanned the entire golden age of Saturday morning cartoons. Sadly, Campbell
passed away in January 2021 at the age of 81 but he left behind dozens of paintings that he created during his retirement.
These paintings were inspired by many of the beloved cartoons that he was involved with including the Saturday Morning
Beatles cartoon series, Yellow Submarine, Scooby Doo, Smurfs, Rugrats, Winnie the Pooh, George of the Jungle, Jetsons,
Flintstones and finishing his career with Ed, Edd n'Eddy. Ron Campbell's animation paintings will be on display and available
for purchase at a special pop-up art exhibit for three days only - Friday, January 28th through January 30th at Ann Jackson
Gallery, 791 Atlanta Street in Roswell.
In 1964, while still in Australia, Campbell was awakened by a phone call from King Features' producer Al Brodax. Brodax
informed Campbell that they had just sold a new show and he would like him to direct it. When Campbell asked the name of
the show, Brodax responded...The Beatles. Campbell remarked...."that's great but insects make terrible characters for kids
cartoons." Campbell soon learned a lot about the Fab Four, directing over half of the episodes which debuted on ABC-TV on
September 25, 1965. It continually fueled new music to the young kids of America as they followed the bouncing drumstick
to each Beatles tune. The Saturday Morning Beatles Cartoon series received monstrous ratings in its time slot....a 67 share!
Campbell also wrote the forward to the definitive book on the Beatles cartoon series "Beatletoons."
After moving to America, Campbell was once again approached by Brodax to help in the animating of the Beatles feature
length animated film Yellow Submarine. Campbell went on to animate many scenes including the Sea of Time sequence, and
much of the action between the Chief Blue Meanie and his sidekick Max as well as the Nowhere Man character.
Through his studio, Ron Campbell Films, Inc., Campbell was also involved with some of the most beloved cartoons spanning
three generations including, Scooby Doo, Winnie The Pooh, Krazy Kat, George of the Jungle, The Jetsons, The Flintstones,
the Smurfs, Goof Troop, Sesame Street, Captain Caveman, Rugrats, Ed, Edd n'Eddy, Yogi Bear and dozens more. His show
"The Big Blue Marble" won many awards including a Peabody for Excellence in Broadcasting and an Emmy for Best Children's
Show of the Year. After retiring from a 50-year career, Campbell began painting subjects always based on the animated
cartoons he helped bring to the screen. With emphasis on The Beatles, his Cartoon Pop Art has been featured in galleries
worldwide. More information on Ron Campbell can be found at
www.BeatlesCartoonArtShow.com
Who: The Cartoon Artwork of Ron Campbell, Director of the Beatles 1960's Saturday Morning Cartoon series and animator of
film Yellow Submarine. Also involved in Scooby Doo, Rugrats, Smurfs, Winnie the Pooh, Flintstones, Jetson's, George of the
Jungle, Yogi Bear and many others.
Event Details:
What: Ann Jackson Gallery will be offering for sale cartoon paintings of the Beatles both in their Saturday Morning Cartoon
and Yellow Submarine roles as well as various other works from Campbell's 50-year career in animation including Scooby Doo,
Smurfs, Rugrats and more.
Where: Ann Jackson Gallery, 791 Atlanta Street, Roswell, GA 30075 (770) 993-4783 www.AnnJacksonGallery.com (new
gallery location)
When: Friday, January 28 - 4:00 pm - 8:00 pm
Saturday, January 29 - 12 noon - 5:00 pm
Sunday, January 30 - 12 noon - 4:00 pm

January 14, 2022
The history of Paul McCartney and his iconic Hofner 500/1 bass guitar
by Nick Wass for Guitar World
How the violin bass became Macca's number one through the Beatles years and beyond
Was there ever been a musician as closely associated with an instrument as Paul McCartney and his Höfner bass? You see a picture of McCartney, and you aren't at all surprised to see him holding the Höfner... it's almost as if he was born with it.
All the Beatles have been put under the microscope again and again over the years. This scrutiny has included, on countless occasions, McCartney and his Höfner basses. From this has come numerous legends and myths, many of which are now copied and stated as facts simply because they have been around for years.
For this article, I thought we might try to look at what we know as actual facts, and add to those a little of what we might reasonably suppose to have occurred in the past. I will only include the four Höfner basses that I know McCartney has played in public. He owns several others, but they are in his private collection and as such, I believe it is his business to discuss them, not mine.
The four basses are: the original he purchased in Hamburg in 1961 – the '61 bass'; the bass he acquired in the autumn of 1963 – the '63 bass'; the 'Jubilee' bass given to him by Höfner to play at the Queen's Jubilee concert in 2012; and the 1967 bass he acquired and used for a private concert in 2016 – the '67 bass'
The '61 Bass
Never has there been so much mystery surrounding a guitar as McCartney's 1961 Höfner bass. In April 1961, the Beatles returned to Hamburg for a second time to take up a residency at the Top Ten Club from April 1 to July 1. The line-up was John Lennon and George Harrison on guitar, McCartney on piano and guitar, Stuart Sutcliffe on bass, and Pete Best on drums.
Sutcliffe soon announced his intention of leaving, as he wanted to study at the University of Fine Art in Hamburg. The band soon 'elected' McCartney to take over the bass. The problem now, for McCartney, was to get his own bass. It is also a problem for us because all the myths, legends, and ideas about what happened next now appear.
What do we know as facts? From interviews given by McCartney and from a statement from the sales assistant in the shop where he purchased his first Höfner, it would appear to be as follows.
McCartney took himself off to a large and prestigious music shop, spread over five floors, called Steinway Musikhaus, located at Collonaden 29 in Hamburg, not too far from the Reeperbahn area. Steinway were and still are a premier manufacturer of pianos and, in those days, also had shops. They were a top Höfner dealer, and so knew the product well.
McCartney must have gone up to the fourth floor, as this was where guitars and drums were located. In his own words, he says that he saw a bass guitar with a symmetrical body shape, and thought he might play it upside down and not look stupid. It was also at a price point he could afford.
In an interview for Guitarist magazine in September 1993, he is quoted as saying: "I got my violin bass at the Steinway
shop in the town center. I remember going along and there was this bass that was quite cheap..."
Of course, McCartney must have asked the shop assistant, Günter Höper, about buying the bass. During the discussion, Höper realized that McCartney was a left-hander, and so offered to order a left-handed bass. As we know, Steinway was a main dealer for Höfner and would easily have contacted the factory to arrange this.
I want to bury a couple of myths here that have been around for far too long. The idea that McCartney purchased a right-handed bass and converted it to a left-handed bass is false. This simply isn't possible without putting a whole new top onto the bass.
Another theory is that Steinway had a left-handed bass in stock and so sold him that one. There are no records or evidence that Höfner had ever built a 500/1 bass left-handed before the one for McCartney was ordered. Their catalogs and price list didn't include one. No photograph of one has ever surfaced, and nobody has ever claimed to have owned one.
How likely is it that Höfner suddenly and speculatively decided to build a left-handed 500/1, that Steinway just happened to take delivery of it, and then McCartney just happened to walk in?
McCartney would now use this bass until October 1963, playing hundreds of gigs and making numerous recordings. The Beatles' first two albums were recorded with this bass, as were all of their singles up to and including She Loves You. It certainly worked hard!
By the summer of 1963, it was starting to need some repairs, which is not surprising when you consider just how much it had been used, thrown into vans, and generally moved around. The neck pickup frame had broken, and was held together with black tape, a fix made, perhaps, by roadie Mal Evans to keep the bass playing. At some point in the summer of 1963, a replacement bass was ordered and delivered to McCartney in October. The '61 would then become his backup bass.
In the spring of 1964, the '61 bass was sent off to Sound City for an overhaul and repairs, although it is not known who decided to do this, nor precisely what they requested should be done.
Whatever, the bass was significantly altered. It was completely resprayed, possibly by Burns, in a three-part dark sunburst poly finish; the two pickups were mounted in a single large (presumably) wooden housing, and the original 'tea-cup' knobs
were replaced with what seem to be knobs from a radio. Why such drastic action was taken is not known, as all it really
required was a general overhaul, the broken pickup frame replaced and a thorough clean.
It would now be used as the backup bass and can be seen in several photographs, propped by the side of the stage, as the Beatles continued to tour. McCartney may have played it live once when a string broke on his '63 bass, but it is assumed not to have been used on any further recordings until 1968.
It was used by McCartney that year for the film of the song Revolution and is possibly the bass heard on the track on the White Album, though his Rickenbacker 4001 was probably used on the single version.
In January 1969, the Beatles began filming at Twickenham Studios for the Get Back/Let It Be sessions. The '61 and the '63 basses are evident in the film, with McCartney using both; however, it is doubtful that the '61 was used to record the songs that finished up on the Let It Be album. Filming was moved to the basement of Apple HQ in London on January 21st, but the '61 bass is not seen here.
At some time after the sessions, the '61 bass disappeared, presumably stolen. It has not been seen since. The problem here is that nobody has ever clearly established where the bass was stored after the sessions, let alone what actually happened to it. Numerous theories and false sightings have occurred over the years, but no-one has ever found the lost bass. I'll give just two possibilities as to what happened, but that is all they can be – possibilities.
For one, the bass may have been stored at Abbey Road Studios in the lockup that the Beatles used, and stolen. Or it was stored in the basement at Apple HQ following the Let It Be sessions, and subsequently stolen from there. I have had a lot of correspondence with someone who worked for Apple at the HQ during the early '70s. He wrote that there was definitely Beatles gear in the basement.
The situation at Apple was totally chaotic, with many people, some unknown, coming and going daily. He said it was like a continuous 24-hour party at times. He knew that one or more of Harrison's guitars went missing from the basement. Did the '61 bass also disappear from there?
I would lean towards the second version from above. Still, nobody has ever come up with definite and solid information. Hence, it is likely, and sadly, forever to remain a mystery as to what happened to the '61.

The '63 Bass

At some unknown date in 1963, though probably around June, someone ordered a new 500/1 bass for McCartney. Who did this and how they did it are unknown, and no records survive to tell us. It is likely that Selmer – the UK distributor for Höfner – was asked about it, and they ordered it from the Höfner factory. Selmer was well known then, and had a large shop on the Charing Cross Road in London.
Whatever the circumstances, Höfner produced a left-handed bass, only the second one ever made after the '61, and sent this over to England. Höfner had uprated the 500/1 model somewhat since McCartney purchased the '61, so his new bass reflected these changes. The bass now had an arched back, strip tuners, a two-piece neck, and a new headstock logo, and the middle pickup was moved down near to the bridge. It now used type 511 'Staple' humbucking pickups.
McCartney was first seen using his new bass on the British television programme Ready, Steady, Go on October 4 1963, likely the day he received it. For the rehearsal, he used the '61 bass. He would now use the '63 bass exclusively for all live, film, and television performances up until the Beatles stopped touring after their final concert at Candlestick Park, San Francisco on August 29, 1966. He would also use it on all records until he got his Rickenbacker 4001 in 1965, which he used for almost all most recordings thereafter.
The '63 bass was last used with the Beatles for a live performance at the famous rooftop concert on January 30 1969. It was sporting a BASSMAN sticker and had over-long Rotosound strings on it. Following this, it was put away for a long time, only making rare appearances until 1987 when McCartney was recording the Flowers In The Dirt album. Elvis Costello was very involved with the recording of this album, and it was he who suggested McCartney should get the Höfner out again.
McCartney said, '[It was] unusual because I had sort of parked it. I had thought I had outgrown it. I started playing it again and never really looked back. It's great that Elvis encouraged me to take it out.' After this, he never really used any other bass for live performances and for many recordings. It was, as Costello had remarked, the bass everyone expected to see McCartney with.
Today, McCartney continues to perform and record with the '63 Höfner, despite some believing it must be an exact copy that they see. I can assure you isn't, as I'm one of the few people who has done work on this bass. Now nearly 60 years old, it has endured well, with only some routine maintenance and minor repairs. The '63 bass is known as #1 by McCartney and his crew.
The Jubilee Bass

A concert was organized as part of the celebrations for Queen Elizabeth II's Diamond Jubilee on July 4, 2012. This was held on a stage at the end of the Mall in front of Buckingham Palace, with McCartney as the headline act.
As a speculative venture, Höfner had two 500/1 basses sprayed in the USA by Kevin Jennings with the Union Jack emblem on the top. The red and blue were sprayed on, but the Union Jack's white element was represented by the natural wood. The back, sides, and neck were left in the natural wood, and a top coat of clear gloss was applied overall.
The two basses were not built specially for this, but were simply stock basses of the v62 'Mersey' model. Standard parts were then used to finish the basses. All of this was done only a short time before the concert.
One bass was then sent directly to McCartney just days before the concert, as a surprise for him, since Höfner had not told him they were building it. The other bass was kept by Höfner, who still have it, though it has occasionally been loaned out for exhibitions. McCartney began the concert playing his trusty '63 bass, but for his last song, Ob-La-Di, Ob-La-Da, he switched to the new Jubilee bass. After the concert, he was photographed next to the Queen, holding the Jubilee bass.
The '67 Bass
On August 30, 2016, at Jimmy Buffett's house in Sagaponack, Sag Harbor, Hilary Clinton held a ticket-only event as part of her fundraising for the forthcoming Presidential election, for which she was a candidate. The event included performances from Jimmy Buffett, Jon Bon Jovi, and Paul McCartney. Macca's numbers included Can't Buy Me Love, Lady Madonna and concluded with Hey Jude.
The problem for McCartney was that he didn't have a bass guitar with him. Fortunately, his crew were able to locate a left-handed 1967 500/1 for the Clinton event. He liked the bass so much so that he purchased it as a backup bass when touring. It served in this role until 2018, when it was replaced by a unique handmade 500/1, built explicitly as the backup. McCartney retains the '67 bass in his collection. It has recently been away for an overhaul and a neck reset.
It's tough to write an article like this and not leave out many facts and figures, especially when writing about the most famous musician in the world. I haven't dwelled very much on each bass's technical details, simply because much of this information is already out there on the internet. The magic is simply McCartney and his little Höfner, not what plectrum he uses or the strings that are fitted. This guy could have any bass in the world – but he opts to play the 'cheap' one he has had since 1963.
● With thanks to Chris Dekker, Clement Cachot-Coulom, Keith Smith, and Klaus Voormann.

January 13, 2022
'Be My Baby' Singer Ronnie Spector Dies At 78

by John R. Kennedy for iHeartRadio
Ronnie Spector, who fronted The Ronettes and had hits like "Be My Baby, died Wednesday following a battle with cancer. She was 78.
"Ronnie lived her life with a twinkle in her eye, a spunky attitude, a wicked sense of humour and a smile on her face," read a statement from her family. "She was filled with love and gratitude."
Tributes are flooding social media. "I loved her voice so much and she was a very special person and a dear friend," tweeted Brian Wilson. "This just breaks my heart. Ronnie's music and spirit will live forever." Joan Jett shared: "She was the sweetest person you could ever know. And her mark on rock and roll is indelible."
Canadian singer-songwriter Andy Kim tweeted: "Your voice was the sound of my youth & my dreams. You saved me from
another life. Onto the light."
"Ronnie Spector was the true embodiment of rock and roll, a survivor, a pioneer and the original bad girl." - Margo Price
Born Veronica Bennett in New York City, she started performing with her sister Estelle and their cousin Nedra in clubs. "We didn't have a hit record to grab their attention, so we had to make an impression with our style," Ronnie recalled in her 1990 memoir, Be My Baby. "None of it was planned out; we just took the look we were born with and extended it."
The group was signed to a record deal by music producer Phil Spector in 1963 and sang backup for other acts until they recorded "Be My Baby" and "Baby I Love You." Their debut album was released in 1964.
The Ronnettes split up three years later.
Ronnie, who embarked on a solo career, married Spector in 1968. "Meeting him and falling in love was like a fairytale," she wrote on Facebook following Phil's death last year. "The magical music we were able to make together, was inspired by our love. I loved him madly, and gave my heart and soul to him.
"As I said many times while he was alive, he was a brilliant producer, but a lousy husband. Unfortunately Phil was not able
to live and function outside of the recording studio. Darkness set in, many lives were damaged."
Ronnie revealed in her memoir that Spector kept her imprisoned in their home and subjected her to psychological abuse. They were divorced in 1974.
The Ronettes were inducted into the Rock and Roll Hall of Fame in 2007.
Ronnie is survived her husband Jonathan Greenfield and two sons, Jason and Austin.

January 12, 2022
From Rolling Stone: Donovan On teaching guitar technique to The Beatles
John Lennon's Impassioned Letters on the Value of Meditation
"I suggest you try transcendental meditation through which all things are possible."
by Maria Popova for the Marginalian

In February of 1968, a year and a half before their final photo shoot, the Beatles traveled to India in order to meet and
study with the famous guru Maharishi Mahesh Yogi, who had pioneered Transcendental Meditation. They stayed in Rishikesh
— a small village in the foothills of the Himalayas, considered the capital of yoga. Immersed in this peaceful community and
nurtured by an intensive daily meditation practice, the Fab Four underwent a creative growth spurt — the weeks at
Rishikesh were among their most fertile songwriting and composing periods, producing many of the songs on The White
Album and Abbey Road.

This spiritual openness also manifested itself in how the Beatles communed with the world directly. John Lennon (October 9,
1940–December 8, 1980) penned some of his most impassioned letters while at Rishikesh, advocating for the creative and
spiritual benefits of meditation. A number of them are included in The John Lennon Letters (public library) — an altogether
scrumptious trove of the beloved Beatle's love letters, memos, and correspondence with friends, fans, and bandmates.

In March of 1968, Lennon received a letter from a fan named Beth, asking for clarification on how Transcendental
Meditation fits with the major religious traditions. He responded in a thoughtful and detailed two-page letter, which ends
with the words jai guru dev, translated as "I give thanks to the Guru Dev" — a phrase that appears as a refrain in the
Lennon classic "Across the Universe."


"Dear Beth:

"Thank you for your letter and your kind thoughts. When you read that we are in India searching for peace, etc, it is not

that we need faith in God or Jesus — we have full faith in them; it is only as if you went to stay with Billy Graham for a

short time — it just so happens that our guru (teacher) is Indian — and what is more natural for us to come to India — his

home. He also holds courses in Europe and America — and we will probably go to some of these as well — to learn — and

to be near him.

"Transcendental meditation is not opposed to any religion — it is based on the basic truths of all religions — the common

denominator. Jesus said: "The Kingdom of Heaven is within you" — and he meant just that — "The Kingdom of Heaven is at

hand" — not in some far distant time — or after death — but now.

"Meditation takes the mind down to that level of consciousness which is Absolute Bliss (Heaven) and through constant

contact with that state — "the peace that surpasses all understanding" — one gradually becomes established in that state

even when one is not meditating. All this gives one actual experience of God — not by detachment or renunciation — when

Jesus was fasting etc in the desert 40 days & nights he would have been doing some form of meditation — not just sitting

in the sand and praying — although me it will be a true Christian — which I try to be with all sincerity — it does not

prevent me from acknowledging Buddha — Mohammed — and all the great men of God. God bless you — jai guru dev.

"With love, John Lennon"

A month later, he received a letter from an Indian fan, who described himself as a poor clerk and asked Lennon to send him
money for a world trip so that he can discover the "huge treasure" necessary for achieving inner peace. (The history of
celebrity is strewn with such requests, ludicrous though they may seem — Mark Twain was one of their earliest targets and
fielded them with his characteristic wry wit.) Lennon politely refused the request and recommended that the man instead
try transcendental meditation as a gateway to inner peace: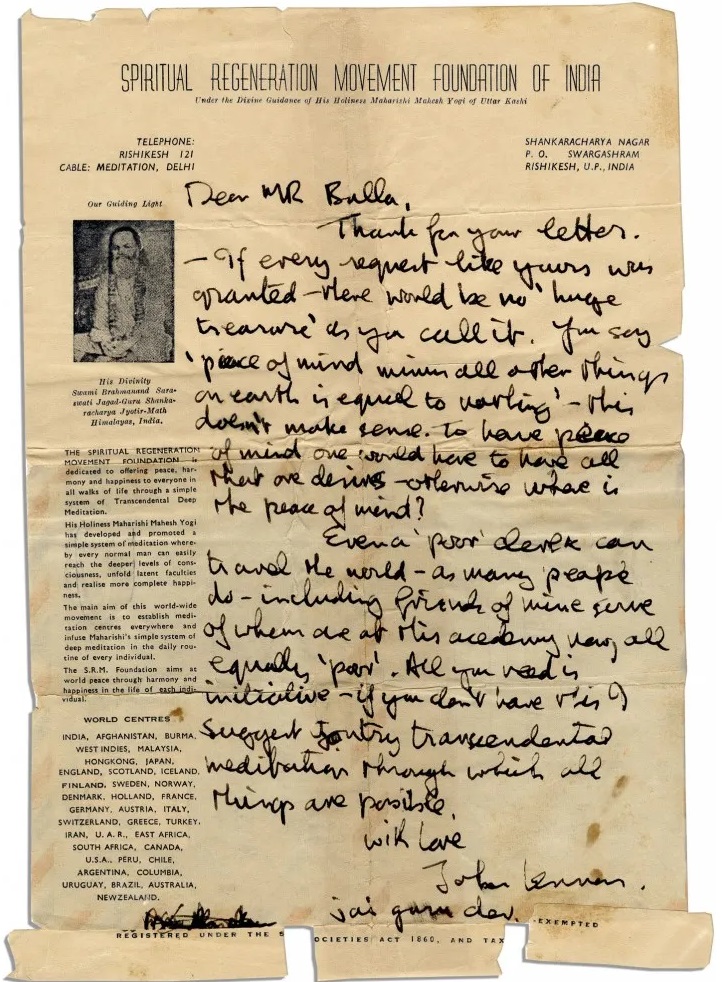 "Dear Mr. Bulla,

"Thanks for your letter. If every request like yours was granted — there would be no "huge treasure" as you call it. You

say "peace of mind minus all other things on earth is equal to nothing" — this doesn't make sense. To have peace of mind

one would have to have all that one desires — otherwise where is the peace of mind?

"Even a "poor" clerk can travel the world — as many people do — including friends of mine some of whom are at this

academy now, all equals "poor." All you need is initiative — If you don't have this I suggest you try transcendental

meditation through which all things are possible.

"With love,

John Lennon
Jai guru dev"

Complement The John Lennon Letters with Lennon's illustrated poetry and prose, his handwritten to-do list, his philosophy
on music and life, and his animated conversation with Yoko Ono about love, then revisit Jack Kerouac on how to meditate.
— End of article —

January 10, 2022
Silvia for Shortlisted Magazine interviews Mersey Beat publisher Bill Harry
Related link:
Bill Harry's Official Website
.
Link to the original article:
click here
.

January 9, 2022
An interview with Ray Dagg, the police officer who shut down The Beatles' famous rooftop concert in 1969

by Daniele Hamamdjian for CTV news Canada
Paul McCartney pays tribute to Janice Long on the Beatles official Facebook pages



January 8, 2022
Joni Mitchell's favourite album by The Beatles
by Sam Kemp for Far Out
Canadian singer-songwriter, Joni Mitchell, has managed to
achieve what others can only dream of – enduring relevance.
Drawing from jazz, folk, classical and rock, she made her name
writing, recording, and performing songs that tapped into
the societal and philosophical issues of the counterculture
movement. And yet, she managed to avoid fixing herself to
that generation that came of age in the late 1960s.

Instead, her exploration of themes such as heartbreak and
disillusionment has allowed her to take on universal appeal. Unlike
many of her contemporaries, Mitchell dared to grab the Bob Dylan-
era folk rulebook and write out her own story on its coffee-stained
pages. She took inspiration from everyone from Jaco Pistorius and
Herbie Hancock to the folk musicians of her own nation, such
as Gordon Lightfoot, and, in doing, so crafted something utterly
unique – a subtle form of protest music that captured the
imagination of music fans around the world.

At that time, another group was taking inspiration from the
American folk tradition of the late 1050s and early '60s – The
Beatles. In an interview, Mitchell described how her favourite album
by the pioneering four-piece developed as a result of their
fascination with artists of that era: "Rubber Soul was the Beatles
album I played over and over," Mitchell began. "I think they were
discovering Dylan, and the songs often had an acoustic feel."

As Mitchell correctly pointed out, at this time in The Beatles' career
(1965), John Lennon was growing weary of the group's status as a
pop music phenomenon. The stadium tours, teeny-bopper hits, and
relentless TV appearances were all starting to feel a little hollow, so
he looked for inspiration in the coffee house culture of New
York's Greenwich Village, where artists like Bob Dylan had made their
name. Compared to the rampant commercialism that had defined
Beatlemania, Dylan's fanbase seemed a more intellectual bunch. The
songwriter's music carried a philosophical weight that attracted
Lennon's attention immediately. With his minimal approach to
instrumentation, Dylan allowed the socially aware and politically
radical undertone of his lyrics to take centre stage.

The Beatles quickly went about writing songs that might capture
the same subtlety that Dylan had managed to achieve. Indeed,
they were so successful that Dylan famously accused Lennon of
plagiarism on the release of 'Norwegian Wood'. But, for Joni Mitchell,
the song was an important fixture of her early live set: "I used to
sing ['Norwegian Wood'] in my coffeehouse days in Detroit before I
started writing for myself," she said.

Adding: "The whole scenario has this whimsical, charmingly wry
quality with a bit of a dark undertone. I'd sing it to put some levity
in my set. I got a kick out of throwing it in there amongst all these
tragic English folk ballads. Besides, I have Norwegian blood!" she
concluded. Brevity is the right word. With Rubber Soul, The Beatles
managed to transform themselves from teen idols to exploratory
pioneers, foreshadowing the increasingly experimental albums that
would define the band's output in the next few years.


January 6, 2022
'The Beatles: Get Back' coming to Blu-ray and DVD in Feb.; rooftop concert coming to IMAX this month

by Andrea Dresdale for WCMY Radio
If the promise of watching Peter Jackson's acclaimed three-part documentary The Beatles: Get Back wasn't enough to make you sign up for Disney+, it's now coming to home video — and to a theater near you.
The complete docuseries will be released on Blu-ray and DVD on February 8, but to whet your appetite, the "rooftop concert" portion of the series, which runs 60 minutes, will debut at select IMAX theaters as part of a special screening on January 30. The screenings will feature a Q&A with Peter Jackson via satellite, as well as exclusive mini-posters for attendees.
"I'm thrilled that the rooftop concert from The Beatles: Get Back is going to be experienced in IMAX, on that huge screen," Jackson in a statement. "It's The Beatles' last concert, and it's the absolute perfect way to see and hear it."
The concert, which took place on the rooftop of the Beatles' Apple Corps headquarters on London's Savile Row on January 30, 1969, was the last time all four Beatles performed together live. The performance was seen in its entirety for the first time in The Beatles: Get Back.
Tickets for the IMAX Event Screening and Filmmaker Q&A are currently on sale at tickets.imax.com. A regular global theatrical showing of The Beatles: Get Back — The Rooftop Concert will then run from February 11 to February 13.
Disney is the parent company of ABC News.

Attention Ottawa area residents: The highly acclaimed "Ones" will do Beatles covers at the Shenkman Arts Centre this April.
Click on the image below for ticket details.




January 4, 2022
Denis O'Dell, The Beatles filmmaker, has died, aged 98

by Sam Kemp for Far Out
Denis O'Dell, who produced two Beatles movies as well as Robin and Marian, How I Won The War and Heaven's Gate, has
died at the age of 98.
O'Dell's son, Arran, confirmed his father's passing on January 1st, revealing that he had died of natural causes on December
30th, at his home in San José, Cabo de Gata.
Denis O'Dell began working in film in the 1940s. Over the next 20 years, he produced a number of hit films, including It's A
Wonderful World (1956), Tread Softly Stranger (1958) and The Playboy Of The Western World (1962). By 1964, he had
joined forces with The Beatles and began working as an associate producer on their legendary immortalisation of
Beatlemania, A Hard Days Night.
O'Dell's collaborative partnership with The Beatles continued throughout the 1960s, with John Lennon appearing as Gripweed
in the 1967 film How I Won The War, a dark-comedy that saw Lennon star in his only ever non-musical acting role. It was on
the set of this World War II comic drama that John Lennon wrote the bulk of Strawberry Fields Forever.
1967 also saw O'Dell and The Beatles collaborate on the band's TV film Magical Mystery Tour, for which O'Dell worked as a
producer. Following the film's release, O'Dell was asked by Apple Corps to act as one of the group's key creative leaders
outside of The Beatles themselves. However, leading the Films branch of Apple Corps proved to be immensely challenging.
According to O'Dell's 2003 memoir At The Apple's Core: The Beatles From The Inside, many of the films co-produced by the
Beatles – including Adaptations of The Lord Of The Rings and The Three Musketeers – never made it past the initial stages
of production.
Despite these challenges, O'Dell became an important friend to The Beatles and even contributed to some of their musical
offerings. Take a listen to the 1970 track 'You Know My Name (Look Up The Number)' and you'll hear John Lennon introduce
Paul McCartney as a singer named "Denis O'Bell", at which point Lennon sings the line: "Come on Ringo, let's hear it for
Denis." Unfortunately, for O'Dell, some of The Beatles' fans took the song title quite literally and ended up calling the
producer at all hours of the day and night.
As O'Dell later told author Steve Turner, there were so many calls coming in that "my wife started going out of her mind.
Neither of us knew why this was suddenly happening. Then I happened to be in one Sunday and picked up the phone
myself. It was someone on LSD calling from a candle-making factory in Philadelphia and they just kept saying, 'We know
your name and now we've got your number.'"

December 31, 2021
Tom Dunne: A grinchy kind of year, but we did get Abba and The Beatles

It was a tough year for many people, but at least we again get to say thank-you for the music
by Tom Dunne for the Irish Examiner
2021, a year that will need to hire a publicist. The sting in its tail undid all the good work it had done over summer. If it
doesn't want to be remembered as the Grinch that stole Christmas it will need more spin than a Tory Party press release.
And for a while it had looked so good.
It had delivered albums I will treasure long after the antigen tests have gone. Beautiful works from Aimee Mann, For Those I
Love, Public Service Broadcasting, Mick Flannery, The Coral and so many more. Somehow, amongst the chaos creativity
thrived. And as for the comebacks… well.
Up first was Abba. I'd heard the rumours, but didn't believe them. There will be a catch, a caveat or some sleight of hand. It
won't be real. But it was real. Benny and Bjorn had written new songs and Agnetha and Anni-Frid were singing them.
Nothing could quite prepare you for it. It felt like the '80s again. I approached nervously. What if it was rubbish? But it
wasn't. Those voices with those songs, still held the power of alchemy. It was magic.
It turned out to be just the opening act. There was a juggernaut to follow, a seismic cultural event that would actually re-
write our understanding of the Sixties: Peter Jackson's unearthing and restoration of the recording sessions for The Beatles'
Let it Be album. This was time travel and a return to a far more pleasant middle earth.
Jackson was exactly the right man for this. It needed someone who could deal with massive projects, painstakingly and in
no rush. Someone who had the resources to see four of his people expend 14 years making 16mm film look vibrant and alive.
He had previously made World War One come alive. That was wonderful but overarchingly sad. This was different. This was
wonderful but overarchingly joyous. The promo, released earlier in the year had teased that this would be a positive
experience. If anything it undersold its startling magnificence.
I watched it, as most people did, over the course of many nights. It was too much to take in all at once. I noted too the
reaction on social media, amazed by how differently we all seemed to see it. We all loved it, but often for widely different
reasons, our attention taken by wildly different aspects of the same tale.
Since then my standing in music and radio had made me a 'go-to' man for long, in-depth discussions of the show. People
point at me and say, "you, outside now." And there they regale me with their observations. These are varied and nuanced,
but a thread has emerged of things on which it seems we all now agree.
1. Yoko did not break up the Beatles. She is a benign, happy, smiling presence throughout. It is also just a few months since
she miscarried. Is it really so unusual, given the circumstances, that John was reluctant to leave her alone?
2. John was a top bloke. He was very funny, quite incredible on guitar, and a wonderful spirit in the studio.
3. Every time Paul sat at the piano something unbelievable happened.
4. Billy Preston really was the 5th Beatle.
5. It was the death of Brian Epstein that marked the true beginning of the end.
But Get Back's triumph was not without collateral damage. The size of its success, I suspect, surprised everyone, not least
one of the surviving Beatles. Paul I think was already planning something big for 2021, but it wasn't a TV show.
It was his magnum opus, The Lyrics: 1956 to the Present. Not an autobiography, but his life told through the prism of the
songs he has written, many of them the greatest songs of all time. It is a huge, 1084-page undertaking, somehow lost in
the slipstream of Jackson's success.
It's a great pity as the book has something most of us can relate to: Say a date to many of us and we will stare back
blankly. But name a song from a particular era and it all changes. "Oh yes," you will say, "that was number one the day
Ireland were playing France."
Macca's brain works that way too, except with him it's where he was and what was happening the day he wrote Yesterday,
or I Saw Her Standing There. So, dare I suggest, should you have the odd book token left after the festivities?

December 28, 2021
Ringo Starr gives Honourable mention to Sheila E

Jackson's eight-hour Beatles doc sees Fab Four get back to top of U.K. charts
Even with only two of the Fab Four still with us, the Beatles' musicianship and legendary story, as shown in Peter
Jackson's documentary "The Beatles: Get Back," has the power to drive sales of "Let it Be," Howard Green writes.

by Howard Green for the Toronto Star
The Beatles may have broken up in 1970 and two of them have since died but, in effect, they're still together and business
is brisk.
A glance at the credits for "The Beatles: Get Back," the Peter Jackson docuseries that chronicles the making of the album
"Let it Be," shows the names atop the list to be Paul McCartney, Ringo Starr, Yoko Ono and Olivia Harrison.
The nearly eight-hour documentary, which makes one wonder whether the Fab Four can still pull it off, is an initiative by the
Beatles to show a less ornery view of one of the band's last acts. It's a rosier picture than what was shown 50 years ago in
the original film made about these sessions. "Get Back," with its share of playfulness and bickering (including a scene where
George Harrison briefly quits the band), is a journey through the lads' creative process alongside their frolic and fractures.
Unsurprisingly, given who they are and the marketing prowess of the firm they started, Apple Corps, it's one of the video
events of the season. It's pushed the album in question, "Let it Be" to the top of the charts in the U.K., half a century after
the curtain came down.
They have, of course, made this kind of post-break-up splash before. Twenty-five years after the split, they released their
multimedia history of the band, "The Beatles Anthology," which included two "new" tunes fashioned from rudimentary
cassette recordings left behind by John Lennon, who was murdered in December 1980. His surviving bandmates added
instruments and vocals to his ghostly taped voice.
In November 2000, 30 years after they stopped working as a band, they released an album of their number one hits that
sold millions of copies worldwide. In 1994, a double album of recordings and interviews from BBC appearances drawn from the
early years was released. In 1977, "The Beatles at the Hollywood Bowl" appeared, a live recording from performances in
1964 and '65. It was re-released in 2016 in conjunction with Ron Howard's film "The Beatles: Eight Days a Week
.
"
Paul McCartney, who must be one of the most prodigious workers of all time, a trait that's on full display in Jackson's film,
continues to produce in his own right and speak about the band in interviews, as does Starr. McCartney has also just
released a book about his songs as well as a streaming series in which he breaks selections down with record producer Rick
Rubin who, in one scene, literally sits at the feet of the master.
McCartney continues to be the most powerful curator of the legend. The most successful songwriter in history, who will turn
80 next June, is now speaking for history. It's apparent from the film that, by 1969, two years after the tragic death of
Beatles manager Brian Epstein had left them feeling rudderless, McCartney had taken over leadership of the band from
Lennon, who had been the dominant figure in earlier years.
As brilliant as McCartney is, it's hard not to wonder what his departed bandmates, Lennon and Harrison, would be saying if
they were still alive. Known for their unvarnished, outspoken styles, it wouldn't be surprising if they had mellowed and had
sung along.
Although they were no longer a working band after 1970, the four boys from Liverpool are inextricably tied together, their
Twitter accounts still posting about the band and each other. It's hard to think of four people who have been more
photographed, more filmed, more talked about, more analyzed and more dissected. Despite the solo careers each pursued
afterward, in the public mind they are still John, Paul, George and Ringo, from mop tops through "Abbey Road."
The Beatles stopped touring in 1966, frustrated by the hysteria and confinement associated with their concerts, the inability
to hear what they were playing above the screaming crowds and wanting to expand their musical horizons in a studio
environment. Such absence only seemed to create more demand for what they did.
While there are plenty of memorable scenes in Jackson's eight-hour opus, the climax is the rooftop concert on Jan. 30,
1969, the weather so chilly Lennon is seen blowing on his hands to warm them up. Just over 40 minutes long, all the Sturm
und Drang of their rehearsals evaporates and a great band does what it does best. They are together again.
Hilariously, this last live performance by the group was cut short by a London cop. But the Beatles, in their own hypnotic
way, are still intact and still drawing us in.
Howard Green is a Toronto-based author and freelance contributor for the Star's Business section. He's also the host of the
new Toronto Star video and podcast interview series "Connexion." Follow him on Twitter:
@howardgreennews

December 25, 2021



December 24, 2021
The Beatles' Christmas Records: A Feat of Fan Appreciation and Devotion

The band recorded a season's greetings message yearly.
by Matt Hurwitz for Variety
For members of the Official Beatles Fan Club in the 1960s, Christmas was a very special time of year. That's because
season's greetings from the seminal band arrived in the mail, in the form of a square cardboard-backed envelope. Inside
was a recorded message on a flexible phonograph record (or "flexi-disc") from The Beatles themselves, wishing fans a merry
Christmas, in various fascinating and entertaining ways.
"No other piece of mail ever looked like that – I always knew exactly what it was," remembers renowned Beatles historian
Mark Lewisohn. Issued each year from 1963 to 1969, those discs have been repackaged as "The Christmas Records," due for
release by Apple Corps Ltd/Capitol/UMe on December 15. The box set includes 7-inch colored vinyl reproductions of the
records, with their associated original picture sleeve art, remastered at Abbey Road Studios by engineers Simon Gibson and
Sean Magee, as well as a booklet featuring historical notes from Beatles historian Kevin Howlett.
The discs were the idea of Tony Barrow, then press officer to Brian Epstein's NEMS Enterprises, which managed the Beatles,
as well as acts like Gerry and The Pacemakers and Cilla Black. "Tony was aware that these flexible records," common as
giveaway discs in magazines and do-it-yourself books, "could be used for recording spoken messages," states Lewisohn.
The discs were pressed by Lyntone Records in England, known for such products at the time.
Members of the Fan Club, which began in 1961 (as described in Lewisohn's "Tune In," a detailed historical account of the
group's career), would pay 5 Shillings each year and receive photos and a newsletter, as well as this bonus gift, says Freda
Kelly, who ran the club in The Beatles' home town of Liverpool, and eventually became its national secretary. "The Beatles
were very good to the fans," notes Kelly, herself the subject of a recent documentary about the club, "Good Ol' Freda."
"The Beatles Fan Club was one of the best, for what you got for your money." The cost of the records was absorbed by
NEMS Enterprises, out of whose office in London the Club was run. "Brian's intention was always that it should, at best,
break even, but he was prepared to make a loss on it, because of the sheer goodwill of it," Lewisohn says.
For most years, the group would record the messages at the tail end of a recording session at Abbey Road — the first after
an October 17, 1963 session which produced their breakout single, "I Want to Hold Your Hand," for example. John Lennon,
Paul McCartney, George Harrison and Ringo Starr would read a somewhat-corny script written by Barrow which was
supposed to be "by The Beatles," but which the band farcically made clear it was not, Lewisohn points out. "They sent it
up. Any notion that they're trying to pretend that these are their own words is completely subverted. And, in doing so,
they brought their own selves into it, which made it even better."
It was never considered, at that time, that the discs would continue, says Howlett. "When they made the first one, there
was no idea that this was going to be an annual event." But they continued, recording another Barrow script at the tail end
of their "Beatles For Sale" sessions in late October 1964, and continuing each year, through 1969, in other incarnations of
their own.
The American club also issued Christmas messages to its members (included with their $2.00 annual fee). The U.S. discs,
though, were provided on "soundcards" – the phonograph material adhered to a piece of cardboard (as one might find of a
children's record at the time, on the back of a cereal box), as one panel of a tri-folded cardboard mailer (with the disc side
curiously left exposed to damage on the outside of the fold). They were manufactured by Allied Creative Service in New
York. "They were a pain to play," recalls Walter Podrazik, an early Beatles discographer. "They would slip on the turntable
mat, when you put your record player's tone arm on them," requiring a quarter or some other light object to give them
enough weight to stay put.
By 1965, the Beatles were beginning to take control of the content of their Christmas messages, becoming more and more
elaborate as the years went on. Though the released version that year, recorded at Abbey Road in early November, while
completing "Rubber Soul," features simple adlibbing hijinks, the group actually had recorded a script of their own making the
month prior, at Marquee Studios, the only such time they worked there, according to Lewisohn. "Tony Barrow was there, as
was Mick Jagger, just as an observer. The tape surfaced about ten years ago," he adds.
The 1966 recording, made at the small studio of their music publisher, Dick James, began to show evidence of the creativity
the group was about to unleash with Sgt. Pepper the following year. Recorded on November 25 — the day after the first
take of "Strawberry Fields Forever" — the band offers a "pantomime," a special presentation with a seasonal bent to it,
Lewisohn says. "They all went to pantomime in theaters at Christmastime as children, something that's a strong tradition
here in England to this day."
That disc, plus the following year's equally elaborate one (which contained a true new Beatles song, "Christmastime Is Here
Again," recorded the day after the release of "Magical Mystery Tour") offer other reflections of British culture, both of their
day and of their childhoods. Parodies of staid BBC radio and television programming are offered, a faux children's book
("Podgy the Bear") , a laugh at BBC Light's "Housewives' Choice" and others.
The "new look" Beatles – who were being heard in December 1966, seven months away from the release of "Pepper "– didn't
necessarily appeal to all fans. "A lot of the girls in my club, when they got that, were unhappy," says Debbie Gendler, who
ran the New Jersey territory of the U.S. fan club. "They thought, 'They've changed. They're not the same Beatles we
always loved.' A lot of them didn't renew." Though, by December 1967, following the release of "Pepper" and "Magical
Mystery Tour," she noticed another shift. "It wasn't just screaming girls anymore – a lot of guys in my high school joined the
fan club, because they got really interested in The Beatles' music."
Discs in the following years included one assembled by radio personality Kenny Everett, whom The Beatles had befriended
following his interviews with them for the underground Pirate Radio. "They loved Kenny, and he obviously loved The Beatles'
music and had done various interviews with them," says Howlett. "He was an absolute wireless wizard, a genius practitioner
in the studio," who skillfully combined the bits and pieces the Beatles had submitted.
Everett performed similar duties in 1969, when the bandmembers submitted individual contributions for the second time(Paul
offering the only true song), though, as Lewisohn notes, "By the time Fan Club members received the record that December,
The Beatles had ceased to be – although we didn't necessarily know it yet."
By the end of 1970, The Beatles had officially reached their end as a group. The Fan Club would remain in existence until
March 1972, but there was no new Fan Club recording that year. "We were looking at a final gift to give to everybody, to
say 'thank you' and farewell, and Apple was looking at giving them an Apple keyring," recalls Freda Kelly. "I was at a
meeting, and I noted that people were always wanting the Fan Club records, so we decided, 'Well, why don't we just put
the lot on an LP, and give that as a final gift?'" The album was assembled from dubs of Kelly's own flexi-disc collection, the
original master tapes having long been discarded.
"That album was a godsend," compared to the flexis, notes Wally Podrazik. "For many of us, we could actually hear them
for the first time" – including the 1964 recording, which had arrived too late in America to be issued, the 1963 recording
having taken its place.
Ottawa Beatles Site footnote: The Beatles re-issue their Xmas messages in
this November 2, 2017 video promo

The new reissue is drawn from several types of sources, Apple offering some tape masters (perhaps safety copies), the
master from the 1970 LP compilation containing transfers of Kelly's flexis, and some flexis themselves. Selecting the best
source of each, Gibson and Magee utilized the tape masters for 1964, 1965 and 1967, the archival dubs of flexis for 1963,
1966 and 1969, and a new dub made from a flexi for 1968. Pops and cracks were removed (mostly from the flexi dubs), and
the recordings mastered, sounding remarkably good – certainly the best any fan will have ever heard them.
It is fascinating that, even after exploding onto the global stage, and moving away from the days of screaming girls, The
Beatles had continued making the records for their fans. "The Beatles evolved so quickly, and grew up so much from 1963
to 1969," says Howlett, "yet they were still committed to providing the fans with this traditional annual message."
"It was an opportunity to hear them doing something different, being entertaining in a different way," notes Mark Lewisohn.
"I just remember, as a child, listening to them with a smile on my face. They made me feel good. Like their music made you
feel good, so did these records."

December 22, 2021
Ringo Starr releasing new book about The Beatles called Lifted... featuring photos and never-been-told stories
from his time as one of the Fab Four

by Sarah Sotoodeh for the Daily Mail
Ringo Starr is releasing a new book called Lifted: Fab Images and Memories in My Life with the Beatles from Across the
Universe.
The Beatles legend's latest book will feature never before told tales as well as include a photographic journey back to the
fab four era.
The limited edition hardcover book will be released on Valentine's day, with pre-sales starting Tuesday, December 21.
All proceeds of the new book will benefit The Lotus Foundation, which supports and promotes charities that focus on
substance abuse, brain tumors, cancer, battered women and children, homelessness and animals in need.
Ringo worked with David Wild on the book project, who is a best-selling author and TV writer/producer.
While in lockdown for the COVID-19 pandemic, Ringo took time to 'lift' the images included in the book from his collection
from his personal collection as well as beloved images.
The book offers a modern yet intimate look at the legendary band from Ringo's perspective.
It includes hundreds of rare, unseen images as well as newly discovered ones, in addition to stories never been told.
'These fantastic images came back to me in recent years from across the universe and have somehow helped me get back
to seeing my life with The Fab Four through fresh eyes,' Ringo said of the book in a press release.
'A lot of the photos in this book I saw on my phone and on my computer and I lifted them because they brought back so
many fabulous memories.'
Adding: 'In recent years, I'd gather these Beatles photos that I didn't have and sometimes barely remembered. After a while,
I thought, how great it would be that we can lift these fantastic photos for charity, tell my true tales about what we four
went through and then make a great new book out of it. And the best thing is that it's all for a good cause because the
money is going to our Lotus Foundation.'
Ringo has previously released several other books including: Postcards from the Boys, Photograph, Another Day In The Life
and artwork featured in Painting Is My Madness, Painting is my Madness Too and a chronicle called Ringo Rocks: 30 Years of
the All Starrs.
Ringo became an icon as the drummer in the legendary group The Beatles, alongside Paul McCartney, John Lennon and
George Harrison.
The book Lifted: Fab Images and Memories in my Life with The Beatles from Across the Universe will be released on
Valentine's Day (February 14, 2022) with pre-sales beginning on December 21, 2021.
Lift is $59, exclusively available at juliensauctions.com.
An exclusive hardcover book is available with a special color cover signed by Ring for $495.
— End of Article —
Ringo Starr's Blast From His Past!
The Beatles' 1964 Christmas Show - The FULL Story + Backstage Interview

December 21, 2021
These close encounters reveal another side to The Beatles' 'disastrous' Manila visit in '66

In a new radio documentary for the BBC, David Guerrero revisits 'The Beatles snubs Imelda' story and finds there's more love
there than people would have us believe
by Jerome Gomez for ANCX
It remains one the most fascinating events from the early Marcos years, but no matter how many times it's been written
about, there's still much to be said about the 1966 visit of The Beatles in Manila. In a new radio documentary from the BBC
called "When the Beatles didn't meet Imelda," advertising powerhouse David Guerrero presents new voices, never-before-
heard recollections, and a few illuminating archival interview clips that give a clearer answer as to why the Fab Four's only
visit to the Philippines has come to be known as the worst experience they had on tour.
But first a brief backgrounder for those who have no inkling about what happened: in July 1966, the Beatles, at the height
of their popularity, arrived in Manila to perform two shows at the Rizal Memorial Stadium. But even before they could step
onstage to sing to a total 80,000 fans—believed to be the biggest crowd they've ever assembled in a single day—they've
already committed a blunder: they did not show up for a lunch invitation at the Malacañang Palace extended by First Lady
Imelda Marcos.
After disappointing Madame and her 300 guests, including the Manila Symphony Orchestra, their security was pulled out and
the boys and their entourage received some major bullying care of uniformed thugs at the airport the next day—a rough
sendoff George Harrison will recall in a now viral interview that quotes him as saying President Marcos tried to kill The
Beatles.
"To some extent we're trying to tell the Filipino point of view of what happened," Guerrero tells ANCX about the 50-minute
radio documentary. "We're just trying to build a more nuanced picture of the event, of history [because] there's this
simplistic narrative that has emerged over the years."
To help Guerrero achieve this, the advertising creative gathered a cross-section of personalities that include four Filipino
fans who were at the concert and fortunate enough to meet the Beatles during the group's brief stay at the Manila Hotel;
Peter Brown, the one surviving member of the Beatles management from the period, and who was in Manila when it all
happened; Raquel Romualdez, who was among those who dressed up and waited from lunch until 4 o clock for the Beatles in
Malacañang; veteran journalist Larry Henares who talks about Imelda brother Kokoy Romualdez's involvement in the airport
incident; and the very private Josine Elizalde, then newly crowned Miss Manila, who talks about hosting the Mopheads
aboard the MV Marima yacht.
Josine's recollections are among the more interesting parts of the documentary. Guerrero interviewed her at the very yacht
that was supposed to serve as alternative sleeping quarters for the band in '66—a hotel being a place that could ultimately
invite obsessed fans and myriad crashers.
"We were anticipating they'll be well guarded in the boat and taken care of by the military," says Elizalde who recalls mostly
hanging out at the back of the Marima while seated in between Harrison and Ringo Starr. She remembers the boys happy
and having a pleasant time, kicking back and listening to Ravi Shankar whose music was very popular at that time.
This was after a tense moment at the airport where the boys' hand carried bags were inspected by customs security. "This
alarmed the band because it was there that the drugs were and they were worried they would get busted," narrates
Guerrero in the docu. "Ironically, and unlike the rest of the world, marijuana was not in fact illegal in the Philippines until
1972."
Elizalde in the documentary talks about one of her guests having a couple of joints and enjoying himself, but the docu
leaves the person unidentified. "They were so at ease, otherwise they wouldn't be doing that, I mean if they felt uneasy, it
was a usual thing so people understood," adds the society figure. "It was just very, very comfortable. They were so
properly behaved."
Another invaluable part of "When The Beatles didn't meet Imelda" are the reminiscences of the Filipino fans. Guerrero first
met a group of them at the Jollibee in the corner of Taft Avenue and Vito Cruz—which was a stone's throw away from the
Rizal Memorial Stadium; and then Guerrero interviewed them again at the Manila Hotel where, 55 years ago, by sheer luck,
they would meet their idols, Paul McCartney and John Lennon, who will invite them to their their hotel room.
Now in their 70s, the ladies giddily talk about those two days in July 1966 like it was yesterday: how they screamed their
hearts out at the stadium, how they dared search for the boys' rooms in the off chance they would catch a closer look of
any of the four British pop superstars. A hotel bellboy pointed them to rooms 401, 402, 403 and 404–by this time, the boys'
security were already nowhere to be found—and just as they were about to approach one of the specified doors, out came
John who waved at them, and then appeared Paul who said these magic words: "Okay girls, if you promise to be quiet, I will
let you in two at a time."
This and Elizalde's recollections somehow give reason for this latest retelling of the Beatles snubs Imelda story: when the
world has been made to believe the band was nothing but distressed during their time in the Philippines, and that Pinoys are
nothing but Beatle-haters who terrorized the band until they were out of Philippine territory. What "When The Beatles didn't
meet Imelda" wants to say is that there's more to the story we've been fed. That there was already some infighting among
the Beatles tour management at that time, which might have caused invitations to not reach proper channels, and refusals
to attend lunches not made clear to those who needed to hear them.
And yes, that there were instances of quiet and pure connections, happy and pleasant moments. And there were those two
shows where 80,000 Filipinos displayed astounding adoration for this singing group they've been looking forward to meeting
since hearing "I Saw Her Standing There" on the transistor radio back in 1964.
The Beatles' time in Manila is not only the story of the band, Imelda, and a host of privileged, powerful people. It is the
story, too, of probinsyano fans who saved up money for bus tickets, of a lady student who lost the heel of her shoe trying
to get a glimpse of the band, the girls who skipped school to be at the airport, and Betty Ponce and her sister having that
brief magical moment with the boys in one of their rooms at the Manila Hotel.
Asked if there was an attempt to talk to the Marcoses for their side of the story, Guerrero says yes—but the reply that got
to him was that they were too busy campaigning. In any case, for the writer and presenter of "When The Beatles didn't
meet Imelda," this story is not about the Marcoses. For him, the point of the documentary is really about gaining greater
understanding of the country and its people thru the 1966 incident, rather than making it about the apparent protagonists.
"People will be charmed with the sincerity and the goodwill of the fans, their love for the band and their wanting to welcome
them now as they did then," says Guerrero. "The impression is given that the whole country rioted against The Beatles in
1966 but that's clearly not the case—there was no mass riot or whatever. [There was] affection, which hasn't gone away
[but] just got lost in the noise."

December 20, 2021
Rare signed Beatles pay receipt from early Hamburg shows sells for £50k
The band did a three-month residency at the Top Ten Club
by Daniel Smith for the Liverpool Echo
A rare signed Beatles pay receipt from their early days performing in Germany has sold for almost £50,000.
The band did a three-month residency at the Top Ten Club in Hamburg to develop their craft between April and July 1961.
They had a five-man line-up of John Lennon, Paul McCartney, George Harrison, Stuart Sutcliffe and Pete Best.
The 8.25ins by 11ins sheet of paper, which is signed by all five members, reveals the band earned a total of just 35
Deutschmark per night - the equivalent of £315 today.
This was evenly split six ways between the band members and their collaborator Tony Sheridan, so they pocketed about
£50 each.
But they were made to work extremely hard for the money, performing for seven hours each night, with hourly 15 minute
breaks.
The receipt, which covers their pay from June 3-9, 1961, sparked a bidding war when it went under the hammer with RR
Auction, of Boston, US.
It fetched £48,800 ($64,421) including fees.
In The Complete Beatles Chronicle, Beatles historian Mark Lewisohn said of this formative period: "A twice-extended
contract led to the Beatles staying 13 weeks at the Top Ten club, playing a staggering total of 503 hours on stage over 92
nights.
"It was little wonder then that ... their stamina and musical versatility improved dramatically as the visit wore on. When they
returned to Liverpool in July they were simply untouchable."
Upon their return to Britain, Sutcliffe, who was a bassist, left the band to pursue his passion for painting.
Best was replaced as drummer in 1962 by Ringo Starr who completed the Fab Four, with the band enjoying their chart
breakthrough in early 1963.
An RR Auction spokesperson said: "This massively important document effectively represents the birth of the Beatles - the
beginning of their journey. When they went to Hamburg, they were nothing.
"When they returned to Liverpool, they hit The Cavern Club and stood on the precipice of Beatlemania.
"It is a museum-worthy piece of enormous consequence in the history of popular music. Exceedingly rare, this is the first
item signed by this version of the Beatles - with Stuart Sutcliffe - that we have ever offered."
The document was consigned by a private collector. The Beatles formed in 1960 and released their first album, Please Please
Me, in March 1963, storming to the top of the UK charts.

December 17, 2021
A Close Read of the Beatles in "Get Back"
It's a revelation how gentle the four bandmates are with one another, in the pained, semi-articulate way of families.
by Adam Gopnik for The New Yorker
I suspect that no one—truly, no one—could have imagined the success of the new Beatles documentary, "Get Back," the
director Peter Jackson's recut of the footage shot in January of 1969 that produced the dim documentary "Let It Be." After
having taken on the task of reshaping our entire conception of the First World War in his previous "updated" documentary,
"They Shall Not Grow Old," Jackson has now taken on the harder task of reconstructing our view of Paul's quarrel with
George over the guitar riffs in "Two of Us." Even so: nearly eight hours of guys making desultory passes at old songs,
painfully constructing new ones through hours of repetition and the testing of tentative lyrics—"Is Tucson in Arizona?" John
checks with Paul as they write "Get Back"—all the while mildly bickering and talking past one another in a family broth of
warm memories and clouded quarrels? Really? Only the remaining coterie of grizzled Beatles fans, surely, would respond. But
the documentary works and, apparently, has been an astonishing success both in the numbers of people who have watched
it and the number of responses it has provoked.
The entire phenomenon, fifty years on, is an unexpected echo of the original Beatlemania in America, when their appearance
on "The Ed Sullivan Show" in February of 1964, just months after the tragedy of J.F.K.'s assassination, lifted a depressed
American mood.
This
return comes just as we begin to emerge from the similar-sized shock of the pandemic—the
assassination obviously much smaller in scale but significantly alike in its emotional panic, the sense of what couldn't happen
happening. The arrival of the Beatles was a deep breath and a restart, as Billy Joel once said. That year, Bruce Springsteen
wrote in his recent memoir, "there were no more magical words in the English language" than "the Beatles"—and his sidekick
Steve Van Zandt, in his book, compared their cultural impact to a "spaceship landing in Central Park"—the transformative
moment in countless musical lives.
Yet it's puzzling that what is supposedly revealed during the almost eight-hour bath of material in "Get Back" was already
well known to anyone who was paying attention. (Well, O.K., to adopt a revision suggested by an editor under thirty:
"already well known to pathetic Beatles obsessives who think of little else.") That the band was still happy together when
they played, and hardly in the unending misery that John—who always said whatever came into his mind—later claimed, had
been apparent even in the earlier "Let It Be," when the high spirits of the rooftop concert trumped the squabbles that
preceded it. (And those squabbles were edited in a way to make them seem more squallish than they really were.) That
Yoko was not the agent of the band's dissolution—that she did not "break up the Beatles"—has long been generally
accepted; she seems in "Get Back" a benign and, one episode of improvised collective wailing aside, a rather passive figure.
Paul's pensive remark recorded here about her presence—"It's going to be such an incredible sort of comical thing, like, in
fifty years' time, you know: 'They broke up 'cause Yoko sat on an amp' "—was true to his public tone throughout.
It was also known that the "Let It Be" sessions were not marred by fistfights or shouting matches but rather were a series
of smoldering hurt feelings and strangled misunderstandings. (One otherwise intelligent commentator insists that there
has
to
have been more to George's walking out than is shown, when the whole point is that there need not have been; being
ignored and quietly shushed was enough to force him into a gesture of independence.) Indeed, true obsessives will already
have read, if not heard, much of the "new" dialogue in the film, having encountered it fifty years ago in the long out-of-print
book of audio transcripts that accompanied the original "Let It Be" box set. These remarks include Paul and George's
memorable dig at the readiness of their record label, EMI, to get an eight-track recorder out for the Beach Boys but not the
Beatles ("We subsidize EMI," George says) and Paul's pained "We've been very negative since Mr. Epstein passed away"
(referring to the original Beatles manager and father figure, Brian Epstein).
Yet the Beatles moved us now, and then, as a metaphor for family. No:
as
a family, a willed one—and seeing the intensity of
their family relations, even when under stress, is what remains moving. Ringo, though chronologically the oldest, is the
perfect youngest sibling. The last to join the band, he is everybody's favorite: the peacemaker, playing piano with Paul,
"writing" a song with George. George is a classic neglected middle child, with the bossy older siblings absent-mindedly
nodding at him and never taking him entirely seriously; when asked, they're quick to say that he's talented and important,
but they're too self-involved to say it when it counts. The sequence in the film that ends with George quietly quitting the
band, his eyes clouding over with hurt after he tries to make genuinely sweet and helpful comments while John and Paul
ignore him and sing strictly at each other—in a song that is obviously
about
each other, "Two of Us"—is a study in the
damaged feelings of an open heart.
John is the clear oldest, dominating, though unaware even while being so, and Paul a classic second, just as he calls himself
("I've been sort of secondary boss"), domineering as well but accustomed to maneuvering rather than forcing his way
forward. Far from being actually bossy, he tries to
act
bossy—and then apologizes for acting bossy. Paul is excellent, too,
at an older sibling's evil skill: feigning distraction in place of what is in fact disinterest. There is a touching bit where George,
with younger-brother enthusiasm, generously praises and plays an old Paul song, "Every Little Thing," and Paul benignly
accepts it as no more than his due—with George then adding, sincerely, that he hopes this album can be like the previous
one ("the only album, so far, I tried to get involved in"), only to get a minimal response from Paul. (Paul then immediately
does an old John song from that previous album, "I'm So Tired.")
Meanwhile, the twinship between Paul and John, the core of the band, remains intact even when John seems disabled—in
part by drugs, surely—and Paul testy in his presence, jokingly asking him to pay attention in a way that makes it plain Paul
isn't joking. There is a lovely scene in the fictional film "Nowhere Boy" in which John, played by Aaron Taylor-Johnson, and
Paul—played by Thomas Brodie-Sangster, the drummer kid from "Love Actually"—meet. Though the encounter is doubtless a
touch cosmeticized, the two good actors capture the pair's essential chemistry. Paul is attracted to the older boy's
arrogance and charisma and self-confidence—his cool. John recognizes the younger boy's superior musicianship and good
looks, and decides to both befriend and dominate. One suspects that not a day went by when that was not the parsed
equation of their partnership. (At one startling point in the movie, John says to Paul, apropos some overlapping lyrics in a
couple of their songs, "It's like you and me are lovers," adding, instantly, "We'll have to camp it up for those two.")
Throughout the new documentary, Paul's compulsive musicianship is everywhere evident, taking over even the arrangement
of John's best song, "Don't Let Me Down." "It should be different beat and all onto light things and cymbals," Paul instructs
Ringo, and, of the bridge, coolly reminds John: "That's a weak bit of the song, that." Yet how gentle the Beatles are with
one another, in the pained, semi-articulate way of families! Nobody says a harsh or impatient word. John and Paul, secretly
recorded talking about George after he's quit, do not call him a prima donna but only regret that "it's a festering wound that
we've allowed. . . . And we didn't give him any bandages." Paul's talent as a musician does dominate the sessions—but he
dominates mostly by cajoling and including rather than by insisting. The now legendary sequence in which Paul, playing full
chords on his bass guitar—a difficult thing to do—composes "Get Back" in less than four minutes is still perhaps a bit
misunderstood. Paul does it, but he does it
for the group.
He starts with a keening minor-key wail, interesting in itself, then
finds the familiar chord pattern of the song. But Ringo and George are the necessary audience. "It's good. It's . . . you
know. Musically and that, it's great," a till-then bored-seeming George mutters—and, on his Telecaster, instantly answers
with a sharp, Steve Cropper-style upstroke riff, one that might well have found a home in the finished song. Ringo starts
clapping out the rhythm. Then John walks in, late, and, without saying a single word, immediately finds—as a rhythm
guitarist should—the right A dominant-seventh chord on his Epiphone electric and casually starts filling out his part. It's a
movie moment, of the kind that used to happen in forties musicals, when the big band on the sleeper car suddenly finds the
song. But here, it just happens.
That's
a band.
All the creativity is achieved with a modest amount of self-consciousness. The Beatles never praise one another's songs.
(George's approval of "Get Back" is muttered to himself.) A creative family, it seems, is one in which praise is made second
to the work, and one in which work retains all the dignity of praise. Paul obviously finds George's "All Things Must Pass" a bit
of a dirge, but he brightens enthusiastically with the excellent "Old Brown Shoe," and he shows it not by his words but by
picking up his bass. Paul's "The Long and Winding Road" is a genuinely great song—from a purely musical point of view,
perhaps the best Paul ever composed, with its constant, unresolved heartbreak wandering from E-flat to C-minor. But
nobody really notices when Paul brings it in, and he makes intelligent notes on the lyrics with the roadie Mal Evans—a
passive-aggressive practice of Paul's that infuriated John, though he doesn't openly protest here. "Let It Be," a song that
would become so famous it has the status of a common hymn, is greeted only by more workmanlike playing and, from John,
some gentle mockery of its pious opening words. The Beatles work first, praise modestly or not at all—"It sounds lovely,
that, now," George eventually says of the troubled number that prodded his walkout—and move on.
Curiously, the music does not always improve with work; it simply becomes more settled and certain, ready to be played in
public. The band tries out, and later suppresses, a lovely call-and-response backing vocal to "Don't Let Me Down"—Paul
accurately terms it an "Ave Maria" part—and the electric version of "Two of Us" has a rollicking energy that the acoustic
version only approximates. Like all real artists, the Beatles use a limited but helpful vocabulary to shape their work. The
shorthand words "clever" and "corny" come into play again and again as opposite magnetic poles to activate. ("Corny's all
right in this one because what he's doing is corny"; "I think the words should be corny because there's no clever words in
it.") Love thy brother—but improve his chord changes. This approach seems like a good engine for creativity but a bad one
for happiness. When nobody praises anybody, the someone who
does
praise you—as Yoko does John, Linda does Paul, and
other musicians, like Dylan, do George—becomes particularly precious, even as one recognizes that the seemingly indifferent
listeners are actually shrewder harvesters of your talent.
There is a vivid corporeal intensity to the series. Paul's bright yellow sweater is . . . yellow; the odd, feathery fur jackets of
the period are comically strutted about. Yet the physicality of the band has so altered over time! In early Beatles concerts,
it is the sheer testosterone, the Celtic-Liverpool substantiality of John that dominates the stage. He was their Athos at that
point: body forward, eyes hooded, legs billowing, slouching rather than standing when he tries to sit. Paul, by comparison,
seemed slight and nervously charming, while George looked sweetly toothy and young. A scant five years later, everything
has changed. John, drug-dieted down, looks like a different person: light and reactive, with thin lips, stringy hair, a whole
vibe that was once called "effeminate." (George, in turn, looks like Aramis, the delicate-mystical Musketeer.) Paul is
extraordinarily handsome, and commanding, more than he ever would be again—and with a very handsome artist's air of
slightly defiant apology for being handsome. He even sports that mountain-man beard which, perhaps on purpose, makes him
resemble Levon Helm of the Band. (He also scratches it all the time, suggesting why, despite its appeal, he gave it up.) The
Band, to be sure, are the secret sharers of these sessions, with George having just returned from meeting them in the U.S.
Their organ-based gospel-country rock infuses the music as much as San Francisco psychedelia infused "Sgt. Pepper's
Lonely Hearts Club Band."
Within a little more than a year, all the Beatles got what they wanted: George got autonomy to play his songs with his
musician friends; John to go to whatever extreme he chose; Paul to play what he thought was good—or have sidemen who
could be treated frankly as sidemen—and each of them ended up disappointed. George made one great post-Beatles album
that was really a Beatles album, "All Things Must Pass." Paul could play solos without having intense peace-talk negotiations
with George but didn't have songs as good to play them on. John made his fine, unadulterated first album. But then . . .
none of them quite managed to do it again. John sank deeper into self-imitation; George wrote some pleasing and ironically
Beatlesque pop songs; Paul made the most unedited work any good pop artist has ever made—great melodies with
interesting words, tedious melodies with dumb words, all rushing together. "Love your brother," it seems, is not so much a
moral commandment as a practical one—you will miss him when he is gone. Throughout the documentary, the four seem
scarcely aware that they are the Beatles; they appear uncomfortable being that famous, knowing that they have a bigger
role to play in the world than they can quite fulfill. They lift our spirits now, as all those years ago, with their playful energy
and their sly glances of mutual support that take the place of theatrical, ritualized show-biz emotion.
Reviewing Jackson's "adjusted" First World War epic, I wrote about how misleading, if inspiriting, the change from black-and-
white to modernized color was. It may have shown the war more accurately but betrayed the original generational
experience of the war. Here, too, so much of the mood change in the film depends on the clarity that present-day
technology has brought to the once murky sixteen-millimetre film. Springing into brightness, it brightens our moods, while our
eyes are, in a sense, dumber than our ears. Our ears hear the same music—made crisper and brighter, too, perhaps, but less
notably different—offering the same complicated feelings as it did fifty years ago, but our eyes adjust to a brighter light with
a newly happy mood. A brighter Beatles seems truthful to any time we see them in. The Beatles were born bright.
Adam Gopnik, a staff writer, has been contributing to The New Yorker since 1986. He is the author of, most recently,
"A Thousand Small Sanities: The Moral Adventure of Liberalism."

December 15, 2021
On this date the Estate for George Harrison releases the Official "My Sweet Lord" Video



December 10, 2021
The Beatles' 'Let It Be' Climbs To No.1 On Billboard's Top Rock Albums
The classic album and songs from it are performing well on numerous charts.
by Paul Sexton for Udiscover Music
The Beatles'
Let It Be
album is supercharged by the Thanksgiving Weekend premiere of the docuseries
The Beatles: Get
Back
on Disney+ to climb from No.10 to the top of
Billboard's
Top Rock Albums chart for the first time.
It's the fifth time a Beatles album has topped that chart, following
Love
in 2007,
On Air: Live at the BBC Volume 2
in 2009,
and two titles that rose to the summit after their 50th anniversary expanded reissues,
Sgt. Pepper's Lonely Hearts Club Band
in 2017 and
Abbey Road
in 2019.
Let It Be
also climbs 80-19 on the Billboard 200, 21-6 on Top Album Sales chart following its October 15 reissue in deluxe
editions. That took it onto the Billboard 200, before the docuseries rollout, at No.5, the UK chart at No.2, and the Top 3
everywhere from Australia to Ireland and Spain to Switzerland. The arrival of the hotly-anticipated series directed by Peter
Jackson also helps the album climb back on the UK's Official Albums Chart 63-22.
Billboard
reports that two of the best-loved songs from
Let It Be
are also performing well on Hot Rock & Alternative Songs:
"Let It Be" stands at No.16 and "Get Back" at No.23. They're also on Rock Digital Song Sales at Nos.13 and 11 respectively.
The latter chart also shows two more favorite tracks, "Two of Us" at No.20 and "Don't Let Me Down" at No.22.
Other later-period Beatles releases showing well on Top Rock Albums are
Abbey Road
, which is up 9-3, the 1 compilation at
No.26, and
The Beatles
(aka 'The White Album') at No.45. In the UK,
1
is up 57-37,
Abbey Road
re-enters at No.69, and the
durable
1967-1970
collection (first released along with
1962-1966
in 1973) reappears at No.100. Meanwhile on the UK's vinyl
albums chart,
Abbey Road
climbs 37-23 and
Let It Be
re-enters at No.24.

December 9, 2021
An interview with Michael Lindsay-Hogg

From a 2015 interview, Michael Lindsay Hogg talks about his time with The Beatles during the recording of their legendary
Let It Be project, which has recently been reworked as Get Back.
GUEST BIO: Born and raised in New York City and rumored progeny of Orson Welles, Mr. Lindsay-Hogg was a pioneer of the
music video, directing the 1960s British television rock series "Ready, Steady, Go!" and The Beatles final public performance
and film, Let It Be. He is also a painter and published author of LUCK AND CIRCUMSTANCE.
James Corden Plays the Emotional Fifth Member of The Beatles in Parody: 'Spitting Diamonds Here!'
"You know what, Paul? A for effort, but let it be, let it shmee," Corden's character Gary Thump says in the clip
by Daniela Avila for People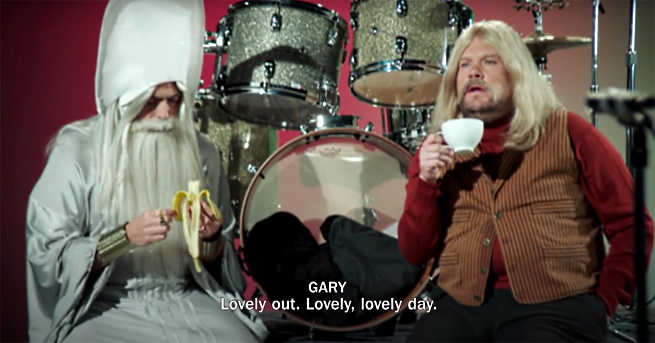 Photo credit: James Corden "The Late Late Show"
Meet Gary Thump — the fifth member of The Beatles we didn't know we needed.
On Tuesday's episode of
The Late Late Show
, James Corden pulled out the mop-top wig and turtleneck for a parody of The
Beatles' docuseries,
The Beatles: Get Back
. In the silly parody, the comedian and late night host digitally inserts himself into
the footage to play the band's fifth member.
The parody is titled "The Gary Sessions" and Corden, 43, plays Thump, a guitarist and pianist that can't seem to hit the right
notes — and often criticizes his bandmates.
"You know what, Paul? A for effort, but let it be, let it shmee. If you're looking for a banging tune, this isn't it," he tells Paul
McCartney at one point, as he mocks "Let It Be." He instead suggests they play "Jerry the Jolly Yogini" and "Opmnipotent
Jelicopter."
He then sings "(Three Little) Silly Sheep" and says "I'm spitting diamonds here, John." The camera then pans to John Lennon
who looks annoyed at his bandmate. He continues, "Get out your net."
Thump also proved to be the most emotional as he quits when they don't appreciate his new music, "You know what, no
one's going to give a s— about this band in 50 years time anyway." He comes back 20 minutes later.
Unfortunately, Thump wasn't cutting it and he was out of the band by the end of the sessions.
Get Back
, which chronicles the making of the band's final album Let It Be, released on Nov. 25.
The footage, shot over 21 days in January 1969, features never-before-seen footage of McCartney, Lennon, George
Harrison and Ringo Starr tinkering in the studio as they prepare for a rooftop concert atop the Apple Corps headquarters and
write and record a new album in less than three weeks.
"In January 1969, a film crew was given unprecedented access to document The Beatles at work. This resulted in over 57
hours of the most intimate footage ever shot of the band," the trailer said. "The footage has been locked in a vault for over
half a century. Unseen… until now."
Last month, following the release of the docuseries, McCartney and Starr paid tribute to Harrison, on the 20th anniversary
of his death. He died of lung cancer at 58 years old.
"Hard to believe that we lost George 20 years ago," McCartney wrote. "I miss my friend so much. Love Paul."
The 79-year-old musician also shared a black-and-white photo of him and Harrison that was taken by his late wife, Linda
McCartney.
Starr, meanwhile, shared an image that featured him and Harrison smiling with cigars hanging out of their mouths.
"
Peace and love to you George I miss you man. Peace and love Ringo. 😎✌️🌟❤️🎶🌈☮️," Starr wrote.

December 8, 2021

The story of the Beatles rooftop concert at the heart of 'Get Back'
by Marisa Iati for the Washington Post
Like any good story, the documentary about the making of the Beatles' latest album — neither of which existed yet —
needed a climax.
It was Jan. 30, 1969, and the world-renowned rock band decided to stage a performance on the roof of its Apple Corps
building in London for family, friends and film cameras. The 42-minute show became the grand finale of the band's
documentary, "Let It Be."
It was also the last public performance that the most commercially successful band in history would ever give. As police
shut down the show for causing a ruckus, John Lennon declared: "I'd like to say thank you on behalf of the group and
ourselves, and I hope we passed the audition."
"It wasn't an audition," said Beatles historian Mark Lewisohn. "But they always had the perfect lines."
The rooftop show and the associated "Let It Be" album are at the heart of Peter Jackson's three-part documentary series
"Get Back,"
which has earned a strong critical reception and catapulted the album into the
UK Top 40
, more than a half
century after its release.
But the band's rooftop performance didn't capture much attention at the time. That evening's BBC News bulletin didn't
mention it, Lewisohn said, and the next day's newspapers ran stories about it on the inside. People who gathered on the
street during the show couldn't see the band and weren't even sure it was the Beatles.
But to those who watched from atop the office on Savile Row and from nearby rooftops, the lunchtime performance was a
chance to see a band that was just as sharp and strong as ever. The Beatles were candid with the cameras because they
knew the film's editing was within their control, Lewisohn said. The album and documentary project, initially called "Get
Back," were meant to showcase the band's music without studio artifice.
Before they decided to play on the roof, the Beatles argued over where to perform, according to Philip Norman's book,
"
Shout!: The Beatles in Their Generation
." Los Angeles? A Tunisian amphitheater? On an ocean liner? In the midst of the
argument, Lennon muttered, "I'm warming to the idea of having it in an asylum."
The asylum proved unnecessary. Keyboardist Billy Preston, who performed with the Beatles on the rooftop, said the location
was Lennon's idea. They announced it the night before the performance and worked into the night to prepare.
"They were worrying about where they could play and how to fit everyone into a concert hall," Preston said in Andy Babiuk's
book "Beatles Gear: All the Fab Four's Instruments from Stage to Studio." "They didn't want to tour, they wanted to do one
concert where everyone could come."
"Everyone" turned out to be about 30 people: Lennon's wife, Yoko Ono; Ringo Starr's wife, Maureen Starkey Tigrett; an
American executive from Capitol Records; people who worked in the Apple Corps building; people visiting the building; still
photographers and the film crew. Lennon and Starr, both 28, wore their wives' coats during the performance to protect
against the cold. George Harrison, 25, donned green trousers.
Engineer Alan Parsons told Guitar Player that another engineer recording the concert sent him to buy pantyhose to put over
the microphones to minimize noise from the wind.
"I walked into this department store and said, 'I need three pair of pantyhose. It doesn't matter what size,'" Parsons told
the website. "They thought I was either a bank robber or a cross dresser."
The show's setup was meant to create the feel of a live performance but with the sound quality of a studio recording.
Cables running from the roof to the basement studio captured the music, and speakers were tilted downward toward
pedestrians on the street. The band played "Get Back," "Don't Let Me Down," "I've Got A Feeling," "The One After 909" and
"Dig A Pony" — some of the tracks multiple times.
Although the Beatles had not performed live in more than two years, Lewisohn said the show went off without a hitch.
"Their timing is perfect, and their harmonies are perfect, and the musicianship was perfect, and everything worked," he said.
Behind the scenes, the band's unity was being held together by a thread. They disagreed about their management. Harrison
walked out of a rehearsal, declaring in a temporary moment of anger that he was quitting the band. The members frequently
discussed breaking up.
By then, the Beatles had sold hundreds of millions of records, dominating the charts in the 1960s.
After they recorded their album "Abbey Road," the Beatles went their separate ways in August 1969. Shortly after they
publicized the split the next April, they released the album "Let It Be," with songs they had sung on the rooftop and on
other days that month. A documentary by the same name featured film from the rooftop concert and chronicled the album's
creation.
The release of both projects was forever clouded by coinciding with the announcement that the Beatles would not play
together again, Lewisohn said. But on the day of the rooftop concert, no one would have been able to tell that the band's
days were numbered. Like many of their shows before it, the performance was brilliant, Lewisohn said.
"Everything was right with the Beatles," he said. "Always."
A version of this story was originally published on Jan. 30, 2019.
NO Words...

December 7, 2021
Watch new surfing-themed video for remix of Paul McCartney song "Slidin'" by Radiohead's Ed O'Brien

by Matt Friedlander for WCMY radio
A
new surfing-themed music video
for the recent remix of Paul McCartney's 2020 song "Slidin'" by Radiohead's Ed O'Brien has
debuted at McCartney's official
YouTube channel
.
The clip was directed by filmmaker Jack McCoy and is dedicated to the ocean charity
Surfrider Foundation Australia
and the
organization's work spreading awareness about the importance of protecting the coastlines from pollution and other
environmental disruptions.
The video features thrilling slow-motion footage of acclaimed free surfer Craig Anderson and other surfers riding giant
waves.
McCartney, who previously has collaborated with McCoy on other videos with ocean-conservation themes, contacted Jack
about making a clip for "Slidin'," a song from his 2020 solo album
McCartney III
that he felt lent itself to be accompanied by
surfing and ocean scenes.
"As soon as I heard the song I said to myself 'Craig Anderson'," McCoy explained. "I called on some of Craig's friends to
provide me with some amazing footage and made what became the official video for the track."
He added, "With Paul's blessing, Craig and I chose to dedicate the video to Surfrider Foundation to help beat the drum with
their ongoing fight for our coastline, in particular the current
fight to STOP PEP11
, a proposal to drill for oil and gas off
[Australia's New South Wales] coastline."
McCoy ended up making another "Slidin'" video using O'Brien's remix for the song, which Ed created for the recent
McCartney III Imagined
compilation.
O'Brien noted that creating the McCartney remix "was a lot of fun," recalling, "The winter was dark and a second lockdown
was imminent, but working on this track with [producer] Paul Epworth was a moment of light."
McCoy also is working on a new video project with McCartney in support of Surfrider Foundation Australia that features nine
world-class free surfers.
Denis O'Brien, former manager of George Harrison, dead at 80
by the Associated Press
NEW YORK (AP) — Denis O'Brien, who served as George Harrison's manager
for much of the former Beatle's solo career and co-founded with Harrison
the production company that backed such hits as the classic "Monty
Python's Life of Brian," has died at age 80.

O'Brien's daughter, Kristen O'Brien, told The Associated Press that Denis
O'Brien died Dec. 3 in Britain at the Great Western Hospital in Swindon after
being admitted for severe abdominal pains. She said the exact cause of
death had not been determined.

O'Brien was a St. Louis native who moved to Europe after receiving a law
degree from Washington University in St. Louis, and had a long record of
successes, along with setbacks and legal battles. Through the actor Peter
Sellers, whose career he had helped revive, he met Harrison in 1973 and
quickly formed a personal and professional bond. Harrison hired him as his
manager after parting with Allen Klein, who became the Beatles' manager in
1969 but eventually fell out with the group, which broke up a year after
signing with Klein.

In 1978, Harrison and O'Brien co-founded HandMade Films, a top
independent company over the next decade. Their initial project was "Life
of Brian," Monty Python's controversial religious parody which they financed
after EMI Films dropped out at the last minute. "Life of Brian" is widely
regarded as one of the greatest film comedies and Handmade went on to
produce "Mona Lisa," "Withnail and I" and "Nuns on the Run" among others.
One notable flop: the 1986 release "Shanghai Surprise," which starred
Madonna and then-husband Sean Penn in a production marked by
tenacious paparazzi, violent outbursts from Penn and an atmosphere so
unhappy that Harrison flew in to keep the crew from quitting.

Handmade went out of business in 1991 and the partnership between
Harrison and O'Brien ended in court: O'Brien was ordered by a California
judge in 1996 to pay Harrison damages of $11 million for alleged
mismanagement of the company's finances. In August 2001, three months
before Harrison's death, a judge rejected the musician's effort to stop
O'Brien from declaring bankruptcy.

Harrison's close friend Eric Idle would later allege that O'Brien tried to get
him fired from Monty Python because he feared that Idle was turning
Harrison against him.

O'Brien also had troubles in his family's business. In 1997, he succeeded his father, Albert O'Brien, as president and CEO of the Union
Financial Group Ltd. Two years later, the company's board forced him out over what one executive called "a difference of opinion on the
business strategy."

According to Kristen O'Brien, he was essentially retired over the past 20 years, "enjoying life with his wife, Phyllida O'Brien." He was married
four times, most recently to Phyllida, who died in 2019. His survivors include a brother, Douglas, and daughters Kristen and Laura.

December 6, 2021
Get back, Jo Jo: New documentary captures moment Tucson landed in Beatles hit song

by Henry Brean for the Arizona Daily Star
We already knew that Jo Jo left his home in Tucson, Arizona, for some California grass.
Now we know precisely when.
A new three-part documentary series on the making of the Beatles' album "Let It Be" captures the exact moment when
Tucson was written into the band's chart-topping hit "Get Back."
The date is Jan. 13, 1969. Paul McCartney, John Lennon and Ringo Starr are sitting in a loose circle at Twickenham Studios
in London, noodling with the lyrics for what would become the last song on the last album they would ever record together.
A disgruntled George Harrison has left the session unexpectedly, and no one is sure if he is coming back.
Undeterred, the Fab Three-Fourths get back to work on "Get Back."
It's McCartney who tries "Tucson, Arizona" in the Jo Jo verse for the first time, and it's obvious he likes it right away.
"Is Tucson in Arizona?" asks Lennon, with a wad of chewing gum in his mouth and Yoko Ono by his side.
"Yeah, it is. Yeah," McCartney says. "It's where they make 'High Chaparral.'"
The exchange shows up at about the 18-minute mark in Part 2 of "The Beatles: Get Back," now streaming on Disney+.
Academy Award-winning Hobbit wrangler Peter Jackson assembled the series using footage shot by director Michael Lindsay-
Hogg for a 1970 feature film about the "Let It Be" sessions, which culminated with the Beatles' famous concert on the
rooftop of Apple Studios in London.
McCartney later told a reporter that he knew about Tucson — and put it in the song — because his wife, Linda, was a fine-
arts major at the University of Arizona before she met him.
According to Sir Paul, Jo Jo was just a made-up name.
The Beatles never performed in Tucson, but Paul and Linda spent a lot of time here after they got married and the band
broke up.
Paul McCartney and Wings played the Tucson Convention Center in 1976, and in 1979, the McCartneys bought a ranch they
visited often at the eastern edge of town, near Redington Pass. That's where they were in 1998 when Linda died of breast
cancer.
As for the rest of the Beatles, George Harrison performed two sold-out shows at the TCC on Nov. 14, 1974, with Billy
Preston and Ravi Shankar.
He reportedly returned to Tucson in March of 1979 to attend the wedding of his ex-wife Pattie Boyd and some guitarist
named Eric Clapton.
According to news accounts, the small, private ceremony at Apostolic Bethel Temple near Valencia Road and 12th Avenue
was followed by a limousine parade to the reception at what was then the Sheraton Pueblo Inn near Cushing Street and
Interstate 10.
Clapton performed at the TCC the following day.
Ringo came to Tucson in 1988 to get clean.
The Beatles drummer and his wife, Barbara Bach, went through six weeks of detox and rehab for alcoholism at Sierra
Tucson.
Four years later, a grateful Starr returned to lead a star-studded benefit concert for the Sierra Tucson Foundation.

December 5, 2021
Wilmington area woman recalls seeing Beatles' famous rooftop concert while living in London

by John Staton Wilmington StarNews
People around the world have been watching The Beatles' final days as a group in "Get Back," Peter Jackson's sprawling,
nearly-eight-hour documentary, which debuted Nov. 25 on the Disney Plus streaming service.
At least one local woman, however, witnessed the documentary's climactic scene first-hand.
In 1969, Jennifer "Jenny" Spruill, a native of England who has lived in Hampstead, north of Wilmington, for more than 20
years with her husband, Jack, a North Carolina native, was working at an office in central London.
During "a pretty dark and dreary" day on Jan. 30 of that year, Spruill said, a man she worked with asked, "'Why don't you
go out on the fire escape? Something's happening.'
Her office was on the fifth floor, so Spruill and two co-workers climbed to the sixth-story fire escape and stepped outside.
"And there were The Beatles," Spruill said — John Lennon, Paul McCartney, George Harrison and Ringo Starr, along with the
organist Billy Preston — playing what would prove to be their final live "show" as a band.
The funny part, she said, is that she wasn't exactly a Beatles fan.
"You probably couldn't have paid me to go to a Beatles concert," Spruill said, although these days she's changed her tune.
"Of course, I am (a fan) now. I think they're amazing."
And while she stayed watching the band play for longer than some she worked with, Spruill said, eventually she began
thinking, "Gosh, this is noisy," and went back inside before police put an end to the impromptu concert, which lasted for less
than an hour.
It's a wonderful story, and one Spruill has told to family and friends many times over the years. But if you're skeptical, well,
the proof is right there on the screen.
Jack and Jenny Spruill's daughter Fiona Spruill, a North Carolina native (and former New York Times editor) currently living in
Amsterdam, said she's always treasured her mother's story of the day she saw The Beatles.
And while she's always believed her mom's account, "We had never been able to find her in any footage," Fiona Spruill wrote
on her Twitter page Dec. 1. "Until tonight."
Watching for her mother in the documentary, Fiona Spruill finally spotted her between 1:42 and 1:44 of the third episode of
"Get Back," "Standing on the roof of a white building about three stories up behind Ringo's head."
"They worked really hard to find me" in the documentary, Jenny Spruill said with a laugh.
Fiona Spruill's tweet — "'Get Back' is a wonderful documentary but did you find your mom in it? BECAUSE I DID" — had nearly
6,000 likes as of Friday.
Having a place in pop music history as one of the only people to witness the final Beatles performance isn't Jenny Spruill's only claim to fame.

As Jennifer M. "Jenny" Trewby, she grew up playing tennis and competed in London's famous Wimbledon tournament between 1958 and 1964, amassing a
-6 record in singles, 0-1 in mixed doubles and 2-5 in
women's doubles, reaching the tournament quarterfinals in 1963.

In fact, her tennis connections led to her working in central London's fashion district, where The Beatles' Apple Corps headquarters, the site of their rooftop show, was located at 3 Savile Row. Spruill was working in the promotions department of Fred Perry sportswear, named for and started by the British Wimbledon champion. (Interestingly, Fred Perry has a Wilmington connection, having played an exhibition match here circa 1960 against Nathaniel Jackson, a Black tennis champion.)

Jenny Spruill said she and her husband just got back to Hampstead this week after spending four months in London. She hasn't watched the "Get Back" documentary yet, she said, but she plans to.

Contact John Staton at 910-343-2343 or John.Staton@StarNewsOnline.com.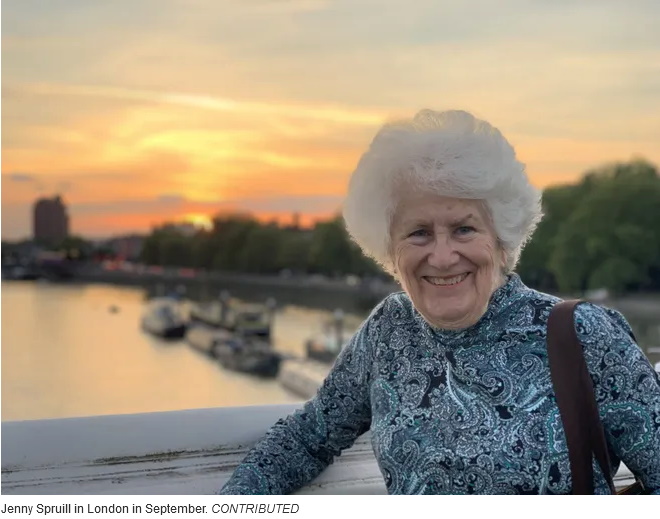 December 4, 2021
Ringo Starr covers "See You Later Alligator"


All proceeds will benefit Music Health Alliance, who offers support to the music community nationwide, including critical
mental health and COVID-19 resources in addition to access to healthcare, medicines, diagnostic tests, health-related debt
relief and more. Every $1 raised equals $30 in Healthcare Resources to #HealTheMusic!

December 3, 2021
Coveted Archives of Beatles Road Manager Mal Evans Will Finally See Light of Day
Biography will be published in 2023, followed by his diaries and manuscripts — the Holy Grail for Beatles fans

by Angie Martoccio, associate editor at Rolling Stone
While you and the rest of the world have been watching Get Back, you've probably noticed the tall, bespectacled gentleman
dressed in impeccable turtlenecks. This is
Mal Evans
, the Beatles' road manager and longtime confidant who died just seven
years after the footage was captured. Decades later, he's finally getting his due, with a biography set for 2023.
Evans' family teamed up with Beatles scholar and author Kenneth Womack for the biography, which will be published by
HarperCollins' Dey Street Books imprint. The following year, they'll release the "Holy Grail" for Beatles fans: his archives,
which fans have been speculating about for years. The collection contains diaries, manuscripts, and more.
The Beatles hired Evans as their roadie in 1963 and continued working with them when they stopped touring three years
later. He was working on publishing the manuscripts himself — with permission from the band — before he died in January
1976 at the age of 40.
"My dad meant the world to me," Evans' son Gary said in a statement. "He was my hero. Before Ken joined the project, I
thought I knew the story of my dad. But what I knew was in monochrome; 15 months later it is like
The Wizard of Oz
(dad's
favorite film) because Ken has added so much color, so much light to his story. Ken has shown me that dad was the Beatles'
greatest friend. He was lucky to meet them, but they had more good fortune with dad walking down the Cavern steps for
the first time."

Ask Alexa: "Play REDISCOVER The Beatles"
[RE] DISCOVER THE BEATLES PROMO - LOCATION: VUE CINEMA LONDON - 3 CRANBOURN STREET, WEST END
(LEICESTER SQUARE)


Photo credit: Official Beatles Facebook pages.

December 2, 2021
Ask Alexa: "Play REDISCOVER The Beatles"
[RE] DISCOVER THE BEATLES PROMO - LOCATION: YONGE-DUNDAS SQUARE, TORONTO
Photo credit: Official Beatles Facebook pages

December 1, 2021

You Gave Me The Answer - Life on the Farm in Scotland

by Paul McCartney.com
Along with the rest of the world, we've learnt a lot about Paul's life and the inspiration behind his songs in the last month, thanks to the publication of his new book The Lyrics! From growing up in Liverpool to The Beatles' early touring days, the formation of Wings to working on his latest studio album in lockdown (or 'Rockdown'), the two-volume book is packed with stories that have never been told before.
To celebrate the fantastic news that The Lyrics is Barnes & Noble's Book of the Year (hooray!), Paul sat down with CEO James Daunt for an in-depth chat about the book. Writers from around the globe got in touch to send in their questions, and there was one from award-winning Scottish author Ali Smith which caught our eye here at PaulMcCartney.com. Unfortunately, the question came in a little too late for James Daunt to ask it, but we liked it so much we wanted to know the answer too!
In the year that Paul celebrated the 50th anniversary of RAM, we're keen to know even more about Paul's time in Scotland in the late 60s and early 70s as it seems to us – and fans who have read the book – to have been quite a formative period. And with today being St Andrew's Day, we couldn't think of a better moment to ask Paul all about it! So, take it away Ali, hen…
Ali Smith: I understand you have a farm in Scotland where the sheep only die when they've reached the natural end of their lives – a farm with no slaughtering involved. It seems to me such a beautiful, sensible, and right thing. How did that come about?
Paul: It came about when we went vegetarian: the lambs were the reason for it. We'd seen them gambolling happily in the first month of their lives, in the fields, and realised that we were eating leg of lamb and made the connection. That's really how that whole philosophy started. We thought, 'If we're giving them a life, then we might as well give the whole herd their lives'. It reminds me of that song in Hamilton, 'My Shot': it's their shot at life.
PaulMcCartney.com: Did the change happen overnight with the farm? Did it go from one day being a sheep farm to the next letting them all live their lives?
Paul: Yeah, that was what it was. We sheared them, so that became something the farm could do. There are people who think it's cruel to shear sheep, but I don't, because if you get a hot summer the sheep really suffer. You just look at them and they're panting, as if they're saying, 'Please shear me!' Then we would do stuff with the wool – either sell it or use it to make rugs.
PM.com: Scotland is quite far away from Liverpool and London, where your life had mostly been based up until that point. How did you come across the farm? And what was the inspiration going there?
Paul: I was always drawn to the romantic notion of the Highlands. And John was too, he had visited relatives who had a croft in the Highlands, and he spoke romantically of it, so I had that thought in my head. But I never really intended to do much with that thought. Then when we started to earn a little bit of money, there was an accountant who said, 'You should use the money for something - you should buy something with it'. Whereas we'd always thought you just stick it the bank. He said, 'No, you've got to invest it, you got to do something'. So, I said OK, and he came up with this property that was for sale in Argyle near Campbeltown. He said it would be a great investment. I wasn't sure I wanted to go up – I'd just got down to London from Liverpool, I wasn't sure I want to go off to Scotland! Anyway, I was persuaded, and I went up there and thought it was okay, but I never thought of it as romantic until I met Linda. She said, 'Could we go up there?' And then with Linda, and with raising the family there, I saw things I'd never seen before in the countryside and scenery. It became really special.
PM.com: You mention in The Lyrics that the farm gave you the opportunity to be a 'man', a grown up; someone who fixes things, paints the roof, builds a table, helps run the farm. Did that time in Scotland in the late 1960s and early 1970s – where there was no one else around to help except the shepherd – give you an opportunity to grow as a person?
Paul: That's a very good question and I don't know. It was nice because it afforded us an escape from the London business scene, and what we were going through which was getting ugly. And the nice thing was that while I'd liked the idea of being 'a man', I was never any good at anything - so I had to learn. I would make a table, a little stool or something, and use old wood and just cobble it all together until one of my cousins, who was a builder, said, 'You should get some new wood'. Wow - a lightbulb moment! So, I started getting better at it and eventually I did make a table - a proper kitchen table - and got better at all these little skills, like chopping wood, driving a tractor and so on.
Later on, when I started living on a farm down south, I would make trails in the woods for us to horse ride - taking an axe or a chainsaw out and making a path, and then in the next week it'd be completed, and we could ride through it on our horses. Those kinds of things were satisfying in a completely different way to anything I'd been used to. I'd been a city boy!
PM.com: Do you think it allowed you to develop as a person in a different way than may have happened if The Beatles had stayed together?
Paul: Yeah absolutely - very much. I would never have had time make a table! In the beginning when I was just a kid in Liverpool I could spend a bit of time in the nearby countryside - just in school holidays and on weekends. Then once The Beatles took off there was no time for anything but The Beatles.
Nowadays, I have periods where I do get a bit of time off, at least at the weekends, so I can do that kind of thing, but the minute I go on tour I can't. Nancy and I make up for it, because if we go somewhere like Australia then we will get bikes and ride around, see the parakeets in the trees in the morning before the show or find a park or riverside. You get to identify with the place you're in a little bit more. I think that's a very good balance, which is certainly needed on tour. Otherwise it's just tour, tour, tour! It's nice to take a deep breath and go, 'Hey - we're in Sydney!'
PM.com: It's the 50th anniversary of the Wings debut album Wild Life next month. With the band coming together while you were in Scotland, do you think that location had any kind of formative influence on the band and how you sounded?
Paul: I think Wild Life was just songs we wanted to do, although in some respects there's the connection to animals, which actually came after a visit to a Kenyan safari park where there was a big sign that said, 'The animals have the right of way', and that really impressed me! I suppose I've always had that love of nature in me, but in Scotland it became more obvious.
So, Wild Life wasn't specifically influenced by Scotland but RAM was. RAM was very much influenced by our experiences on the farm – animal experiences and nature experiences. I remember bringing in a baby lamb that had been out in the field in winter and was going to freeze to death and we helped it out. And I'd never seen a curlew landing before - a curlew is a bird with a long beak, and as it comes in it lands and it's got this lovely sound. To see those kinds of things in the wild is nice, for someone like me, and that country atmosphere lent itself to writing songs.
PM.com: You mention in The Lyrics that when you were growing up you would go walking with your copy of The Observer's Book of Birds into the countryside for 'a little bit of solitude' and to bird watch. Was part of the attraction of living on the farm that you were able to rekindle your love of bird watching and being in nature?
Paul: Birdwatching started in Liverpool - my mum had the midwife's house on the edge of Liverpool, where we lived. It was where Liverpool just stopped and then became deep countryside, so that was when I had the opportunity to do quite a bit of birdwatching. And now because I live part time on a farm, I'm able to see a lot of birds and I don't need the book quite so much as I did. There's loads I don't know, but I can identify a buzzard, which I saw over the weekend!
Well, you heard it here first: the countryside is cool! And fairly rock'n'roll too, as the inspiration for some of our favourite songs. Thanks for the question, Ali!
Beatles' Movie Director Risked Deportation for Film's Ending

by Martin Kielty for Ultimate Classic Rock
The police officer who ended the Beatles' 1969 rooftop concert said there would have "been a problem" if he'd known the
immigration status of the director who was filming the moment.
American-born Michael Lindsay-Hogg, whose movie
Let It Be
was released in 1970, expected cops to break up the show on
the roof of the Apple Corps building in Savile Row, London, on Jan. 30 the previous year. He'd prepared for their arrival by
installing a two-way mirror in the foyer in order to follow proceedings, and he instructed some of the camera operators on
the roof to focus on the officers. But as he admitted last year, he had personal concerns at the time: "As an American who
didn't really have a work permit, I was afraid of being deported."
In a new interview marking the release of Peter Jackson's
Get Back
, a three-part documentary utilizing Lindsay-Hogg's
original footage, retired police officer Ray Shayler said he didn't know about the filmmaker's legal issue. "That would actually
have been a problem, as we were quite hot on that sort of thing in those days," Shayler told the Daily Mail. "I had a
diplomat who ended up being sent back to his home in Bulgaria, so Mr. Lindsay-Hogg, working without the proper permit,
would have been sent straight back on the first plane to his own country. He had a lucky escape."
Shayler also recalled being seen on the classic U.K. TV show
Top of the Pops
after the Beatles released "Get Back" as a
single. "Because the Beatles weren't performing it live in the studio, they had to show video of the concert, so there were
me and my colleagues on Top of the Pops for weeks," he said, adding that he'd later been told by an Apple Corps insider
that his arrival had been planned for. "Certain cameramen were detailed to film us. I suppose we were unpaid extras."
— End of article —

Archived news:
July 2000 - June 2003
July 2003 - December 2003
January 2004 - October 2004
October 2004 - May 2005
May 2005 - June 2005
July 2005 - November 2005
December 2005 - March 2006
April 2006 - June 2006
June 2006 - July 2006
August 2006 - September 2006
October 2006
November 2006 - December 2006
January 2007 - June 2007
June 2007 - March 2008
March 2008 - July 2008
August 2008 - September 2008
October 2008 - July 2009
August 2009 - November 2009
December 2009 - August 2010
September 2010 - December 2010
Jannuary 2011 - December 2013
January 2014 - June 2019
June 5, 2019 - November 2019
December 2019 - October 2020