June 3
We get the tentative schedule for the Toronto Beatles Celebration

The Convention Stage Program

Hour
Saturday Sept. 16
Hour
Sunday Sept. 17
10
Recorded Beatles
10
Recorded Beatles
11
Singalong Pit
11
Singalong Pit
12
Official Opening
Fab Four Performs
12
Official Opening
Fab Four Performs
1
May Pang Interview
1
Denny Doherty Interview
2
Hal Bruce Performs
Meet May Pang
2
Hal Bruce Performs
Meet Denny Doherty
3
Bruce Spizer Interview,
The Butcher Cover
3
May Pang Interview
4
Mod Fashion Show
Meet Bruce Spizer
4
Singalong Pit
Meet May Pang
5
Fab Four Performs
5
Fab Four Performs
6
Singalong Pit
6
Singalong Pit
7
Pete Best Interview
7
Terry Sylvester Interview
8.15
Pete Bennett Interview
Meet Pete Best
8
Pete Bennett Interview
Meet Terry Sylvester
9
Fab Four Performs
Meet Pete Bennett
9
Fab Four Performs
Meet Pete Bennett
10
Close
10
Close

The Audio Visual Stage Program

Hour
Saturday Sept. 16
Hour
Sunday Sept. 17
10
------------------------------
10
-------------------------------
11
Tom Halley and Mitch Axelrod Beatles Animation and Cartoons
11
Russ lease Memorabilia Presentation
12
------------------------------
12
-------------------------------
1
Jerry Levitan Toronto Beatles Encounter
1
Paul Saltzman His Life and Times
2
Russ Lease Memorabilia Presentation
2
Pete Best His Life and Times
3
Ask The Experts
3
-------------------------------
4
Shaun Weiss Unpublished Beatles Photographs
4
Bruce Spizer
The Beatles In America
5
------------------------------
5
-------------------------------
6
------------------------------
6
-------------------------------
7
Fred Seaman
The Last Years of Lennon
7
Shaun Weiss Unpublished Beatles Photographs
8
Paul Saltzman
The Beatles in India
8
Fred Seaman
The Last Years of Lennon
9
------------------------------
9
-------------------------------
10
Close
10
Close

For more information about The Beatles Celebration in Toronto, please visit: www.torontobeatlescelebration.com
And some quick Beatles news picks:
Bill Harry tells the true story of how Brian met the Beatles - by Dave Haber, Beatles Today; Here Comes the Soleil -- behind the scenes at the Beatles' Cirque du Soleil spectacular from RollingStone.
------------------------
May 29
"Don't Pass Me By" fiddler passes away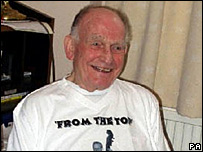 Canadian-born bassist and violin player, Jack Fallen, passed away last Monday at the age of 90 after a long illness. He resided in Palmers Green, north London, England.
A native of London, Ontario, Fallen moved to England in 1946 with the Canadian Air Force band. In 1952, he established the Cana Variety Agency with the purpose of booking acts. One of those acts he arranged were the Beatles who performed a gig in London, March 1961.
Later, Fallen was invited by the Beatles to perform fiddle on Don't Pass Me By for the "White Album" in 1968. It was Ringo Starr's first original composition that he did on his own for the band. Pop historian Nicholas Schaffner noted in his book, "The Beatles Forever" that the "country-flavored Don't Pass Me By made it to Number One in Scandinavia, where it was released as a single."
Fallen had performed with some other legendary greats such as Duke Ellington, Ella Fitzgerald, Dizzy Gillespie, Lena Horne, Bob Hope and Marlene Dietrich.
The funeral is planned for June 7th at New Southgate Crematorium in north London. He is survived by his two children, Mark and Jane.
------------------------
May 28
1964 The Tribute; Stockwood and other hot rock concert performers!
Pop writer Mark and Loida Drobnick, takes readers on a 60's nostalgic trip by way of two excellent concert reviews that showcased the following rock acts: "1964 The Tribute"; "Stockwood"; "Peter Noone and Herman's Hermits"; "The Buckinghams," and "The Grass Roots."
You can read their reviews at the following links:
1. 1964 The Tribute + Stockwood at the Genesee Theatre
2. Peter Noone "Salute to the 60s" with Herman's Hermits, Buckinghams and Grass Roots
Ottawa Beatles Site special thanks to Mark and Loida for the reviews.
May 25
Cirque's Beatles show is 'a rock 'n' roll poem' - by the CBC Arts

The Cirque du Soleil offered media a sneak peek into its new Beatles-themed show Love in Las Vegas Wednesday.

Described by Dominic Champagne, one of its creators, as "a rock 'n' roll poem," the show contains more than 100 songs or song segments by the iconic band.

However, even dedicated Beatles fans may have difficulty identifying individual tunes, said George Martin, the band's original producer, since many of the musical treatments are remixes.

For more of the CBC Arts article, please click here.


Cirque and Beatles Make Love -
by Richard Abowitz, LA Times

"Love," the new Cirque du Soleil show built upon the Beatles' music previewed a few select scenes yesterday (no pun intended) for the press. What I saw seemed very preliminary.

While talking to Cirque founder Guy Laliberté afterward, it was clear that he considers this show a real break from Cirque's circus tradition into uncharted waters. In truth, nothing I saw would surprise Cirque fans. This is going to be a Cirque show to a Beatles soundtrack instead of the mix of New Age and world music the troupe favors. It isn't necessarily a bad thing, as the aesthetics of Cirque and the Beatles are closer than most would imagine. Particularly, the band's more psychedelic music seems a natural fit for the acrobats landing in Cirque's surrealistic pillow. Also, Cirque and the Beatles both celebrate creativity and humanity in equal measure.

- For more of the article, please click here.

- And for a brief snippet of the soundtrack of "Love" courtesy of Dave Haber, please click here.

New George Harrison interview from April, 1995

In 1995 Mo Foster scooped an interview with the Beatles' George Harrison, George's first at Abbey Rd in 25 years.

To read the interview, please click here.

------------------------
May 22
Starr Appearance - No Headaches for Ringo at 4head Garden
Article from LONDON, May 22 /PRNewswire/ --
Beatle Ringo Starr braved the rain yesterday (MON) to visit the Chelsea Flower Show and joked "The problem we've got is that we're sinking up to our necks." Ringo, together with wife Barbara Bach, was officially opening the 4head garden - one of the main exhibits at the show which featured the sculpture of a giant naked woman covered in grass reclining by a pool.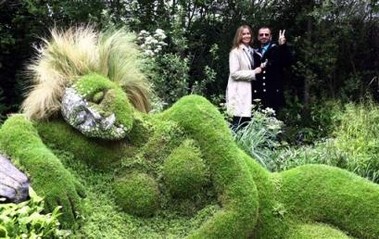 Ringo said: "I wonder if the green lady has got a good soaking?" He added: "Gardens are part of our heritage. We love the smells and the colours - I have a garden myself and I love the garden but I don't actually do the gardening. We're vegetarians and we grow a lot of fruit and veg ourselves. We actually get about 80 per cent of our food from the garden.
"I've got many acres. I'm not telling you how much, but it's more than Chelsea. We've got a head gardener and several under gardeners." When asked whether he was saving water in light of the hosepipe bans in place in parts of the country he joked: "I've all my hosepipes going."
The 4head garden, which includes woodland and more than 7,000 plants and healing herbs, is sponsored by 4head, the natural treatment for headaches - in recent clinical trials the treatment was shown to start working within two minutes. Ringo was supporting the POD charity which organises children's entertainers for youngsters in hospitals and hospices throughout the UK.
Carefully walking around the garden so as not to slip, Ringo said: "This garden is great. It's a full of herbs. I love the woman and I love the flowers and the grass. We're here to promote POD. It does a great job in entertaining kids in hospital." This is the third year Ringo has supported the 4head garden at the show - and he often takes back a memento of his visit from the garden. This year it's thought he might choose the huge 10ft high driftwood sculpture in the garden, which took two weeks to create.
Ringo said: "We always say we're not going to get another bench but we always do - we bought back a bench last year, so who knows this year?"
George Harrison's "Hand Made Holdings" sold to the Equator Group
Excerpt from Citywire's deputy online editor, John Givens...
Film rights company Equator Group is buying Hand Made Holdings, the company formed in 1978 by former Beatle George Harrison, for close to £15 million.

Hand Made Holdings is the parent company of the HandMade Group, whose core business is rights ownership, film production, merchandising and licensing of the HandMade assets.

It owns the worldwide copyrights to the entire HandMade Library, as well as the exclusive worldwide exploitation rights to Eloise, one of the best-known children's characters in the US.

The £14.75 million deal will involve a placing at 32p a share to raise £10 million before expenses and the company will be re-admitted to AIM and its name changed to HandMade plc, with a market capitalisation of around £36 million.
For the full report, please read: Film Producer is Hand Made for Equator
------------------------
May 21
Ringo Starr to Open 4head Garden of Dreams at Chelsea 2006
Excerpts From PRNnewswire services...
Rock star legend, Ringo Starr and Barbara Bach will officially open THE 4HEAD GARDEN OF DREAMS. Featuring over 7,000 plants, healing herbs and trees, the 4head Garden of Dreams is one of the largest exhibits on Main Avenue at this year's show.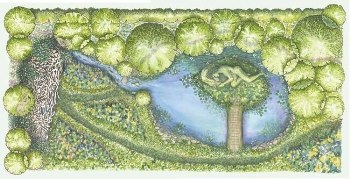 Sponsored by 4head, a natural treatment for headache, without pills, the Garden of Dreams is designed jointly by Gold medallist Marney Hall and Heather Yarrow, who will be making her debut at Chelsea. The 4head Garden provides a haven for wild life, and also features numerous medicinal plants. It is designed to appeal to the human senses - reflecting the subtle power, possessed by plants, to affect our daily lives, health and wellbeing.
Ringo Starr and his wife, together with garden designers, Marney Hall and Heather Yarrow, will be available for photos and comment from the 4head Garden, situated at MA17 FROM 11am on the 22nd May.
Links: Chelsea Flower Show 2006
Full text of the PRNnewswire announcement, click here.
------------------------
May 19
Fab 42 Spectacular is Fabulous!!!!
Pop reporter Maureen Shames brings Beatles fans the latest up-to-date concert news with iconic performances from Ian Mitchell of The Bay City Rollers, Joey Molland of Badfinger, Joe Orlando of The Cryers and Denny Laine of Wings and The Moody Blues.
Her excellent report includes a lovely colour photograph taken from the concert. You can read all about it by clicking: "Fab 42 Spectacular is Fabulous!!!"
------------------------
May 17
Snow Patrol covers "Isolation" for new Amnesty project
New Musical Express reports that Snow Patrol has recorded John Lennon's "Isolation" for a new Amnesty International video "which aims to bring war criminals to justice for the mass rape of thousands of women in the Darfur region." The video and song, which is available on-line, contains interviews from Darfur with comments from Hollywood star Don Cheadle.
"After watching the video online, people can click to send an e-card to Sudan's Minister for Justice," writes the New Musical Express.
For the full NME report, click here. And for the new Amnesty video with the Snow Patrol cover version of "Isolation", click here.
------------------------
May 13
Obituary:
Iain Macmillan, 'Abbey Road' photographer, born Carnoustie, Angus 20 October 1938; died Dundee 8 May 2006
It had been purported unofficially on the web over the past few days that Iain Macmillan, photographer for the Beatles "Abbey Road" album cover, had passed away (from lung cancer.) We now have a confirmed report from BBC music journalist Spencer Leigh which is published by the Independent Online and can be read here.
Retro piece: In his own words, Iain Macmillan recounts the famous Beatles photo shoot to Tom McNichol of the Guardian in an 1989 article called: "Eyewitness: the long and winding road to an icon."
------------------------
------------------------
May 8
Beatles lose Apple court battle
from the BBC on-line news services...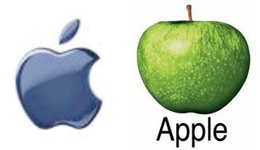 The Beatles have lost their court challenge against Apple Computer over its iTunes download service.
Sir Paul McCartney, Ringo Starr and the families of John Lennon and George Harrison took Apple Computer to court.

Their record label Apple Corps said the US company went back on a trademark deal not to enter the music business.

But Mr Justice Edward Mann ruled that the computer firm used the apple logo in association with its store, not the music, and so was not a breach.
To read the full BBC report, please click here.
Significant News Quotes concerning the case:
"I find no breach of the trademark agreement has been demonstrated," Justice Mann said in his judgment. "The action therefore fails."
"In 1991, Apple paid Apple Corps $26.5 million to settle a prior dispute. Under that pact, the Macintosh line of computers was to remain capable of editing and playing music, but not creating it. In 2003, as Apple Computer began to enjoy a boom in online music downloads via iTunes, Apple Corps filed suit.
"Some analysts believe the case could have ramifications that reach throughout the media industry. Part of that belief is due to how the landscape for downloading music and video content has changed since Apple launched iTunes."
From PC Advisor
"Apple Corps 'will appeal' High Court judgement"
"With great respect to the trial judge, we consider he has reached the wrong conclusion. We felt that during the course of the trial we clearly demonstrated just how extensively Apple Computer had broken the agreement. We will accordingly be filing an appeal." -- Neil Aspinall, CEO for Apple Records.
------------------------
May 6
Canadian Ben Sures wins Lennon prize
TORONTO (CP) -- Folk artist Ben Sures has won a John Lennon Songwriting Award for Any Precious Girl from his 2003 album Goodbye Pretty Girl.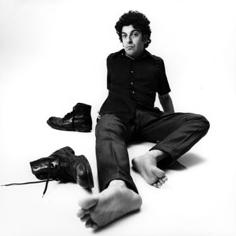 The singer, who is now based in Toronto and originally hails from Regina, will receive a $5,000 US advance from EMI Music Publishing, as well as free manufacturing for the first 1,000 units of his next CD.

The win also qualifies him for the Maxell Song of the Year contest, which features a $20,000 cash prize and is judged by performers including John Legend, Elton John, Carlos Santana, Enrique Iglesias, Tim McGraw and the Black Eyed Peas.

The John Lennon Songwriting Contest, started in 1997 under an agreement with Yoko Ono, chooses winners in various categories through online voting as well as input from a panel of celebrity judges.

Link: Ben Sures official website

Other Beatle stories on the web: Beatles engineer tells inside story with new book by Matt Hurwitz; Stone Still Rolling 40 Years On by the BBC; P.E.I. Fishermen Open To Offer From U.S. Businesswoman To Stop Hunting Seals by the Canadian Press.

------------------------

May 4
Quick Beatle News Picks

From icLiverpool: Sir George Martin: The Real Fifth Beatle; from Beatles Today: The Capitol Albums - Duophonic Delights & Mono Mishaps by Bruce Spizer; from Seattlepi.com: Rolling Stone Magazine Celebrates 1,000 issues by David Bauder

------------------------

May 3
Observations on Capitol's mono re-issue of "Beatles VI" and "Rubber Soul"

Dan Van Vugt of "The Beatles: From Abbey Road to Cyberspace" writes:

Hi John:

Yesterday, Sams, in downtown Halifax, received their shipment of CAv.2 and called to notify me.

When I picked up my copy, they had several copies on the rack all with the "SK1" extension on the yellow sticker.

This morning, I played the corrected CDs for the 1st time and the news is all good. I was wondering if the variations would justify a repurchase and I'm pleased to say that it very much did. After playing the 1st pressing pretty much non stop for the past three weeks, the differences of the mono mixes on "Rubber Soul" and "Beatles VI" just jumped out at me. The new discs are an interesting contrast to what I experienced with the 1st edition. I'm glad to have both version as it's unique to have two different perspectives on the same release. As I didn't grow up with the US mono mixes, comparing the two variations is a fascinating experience, even without nostalgia factors.

I won't give away too much detail as I wouldn't want to spoil the '1st take' experience for you that I enjoyed earlier today. However, if you do encounter the corrected edition in your area, you can certainly pick it up with confidence.

All the best,
Dan
http://www.cyber-beatles.com

------------------------

May 2
Old Rock Stars Are The Richest Rock Stars

Britain's "dinosaur rockers" still roll in the dough.

Former Beatle Paul McCartney, 63; Rolling Stone Mick Jagger, 62; Elton John, 59; and Tom Jones, 65, all place in the musicians' Top 10 in the annual Sunday Times Rich List, with estimated wealth of $1.47 billion for McCartney, $365 million for Jagger and John, and $329 million for Jones.

Among the younger generation, Chris Martin, 29, and other members of Coldplay, who had last year's best-selling global album, each have estimated wealth of $44 million in 2006, the newspaper said in a statement about its 18th annual Rich List of Britain's 1,000 richest people and families, to be published Sunday.

Rolling Stones guitarist Keith Richards, 62, is estimated to be worth $320 million in the Rich List; drummer Charlie Watts, 65, worth $151 million; and guitarist Ronnie Wood, 58, worth $124 million. Others in the Top 40 for musicians include Sting, 54, at $329 million; Eric Clapton, 61, and Phil Collins, 55, at $240 million; Ringo Starr, 65, at $222 million; David Bowie, 59, at $213 million; and Rod Stewart, 61, at $178 million.

- This article was written by Patricia Seremet for the Hartford Courant.com, April 24/06.

Bag One Arts and Signatures Network to Bring John Lennon's Visual Art Series to Retail With the Children's 'I Am A Dreamer' and 'This Is My Story' Product Lines

NEW YORK, PRNewswire -- Yoko Ono, through her art publishing company, Bag One Arts, and Signatures Network will be launching a licensing program based on drawings by John Lennon. Drawn by one of the most important cultural figures of our time, his artwork celebrates human love and communication.

As the exclusive worldwide merchandise and licensing agent for Bag One Arts, Signatures Network will represent two separate brands -- "I Am A Dreamer" for children and "This Is My Story" for adults. Both programs will offer potential licensees the opportunity to incorporate Lennon's sketches on product categories.

The "I Am A Dreamer" infant/toddler and children's collection will consist of exceptional quality apparel, bedding, toys, textiles, furniture, lighting and accessories. "I Am A Dreamer" features never before seen artwork, based on an animal menagerie of characters, drawn by John Lennon for his son Sean.

"This Is My Story" is a lifestyle collection that explores a beautifully designed world of high quality textiles, furniture, bedding, lighting, tableware and apparel.

All the elements featured in the brand are rarely viewed, archival sketches by John Lennon, which have never been licensed before. These charming, poetic, hilarious drawings encompass the years 1964 through 1980 and evoke a sense of harmony and warmth. Several designs include Lennon's writings as well.

To read the full press release, click here.

------------------------

April 28
Capitol Records of Canada responds back regarding "The Beatles at the Hollywood Bowl" concerts

On April 26, a registered letter arrived from Deane Cameron, President of Capitol Records of Canada, in response to the letter and petition that was sent to him about our suggestions to release "The Beatles at the Hollywood Bowl" on CD format.

To read his reply, please click on the following link: "Re: The Beatles at the Hollywood Bowl".

Fans should continue to add their names to the petition requesting Capitol/Apple make it a priority to release these historic concerts. Remember, "The Beatles at the Hollywood Bowl" is the only official original Beatles material not yet released on CD. We feel the time has come for record executives to begin serious discussions over the next several months and plan for its release, hopefully in "The Beatles - The Capitol Albums Vol. 3" series.

Petition: http://www.petitiononline.com/cap1977/petition.html

-------------------------

April 24
"The Beatles at the Hollywood Bowl" on official CD format -- Petition Update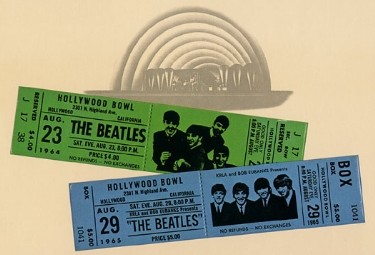 Last week the Ottawa Beatles Site sent out a letter and petition to record executives at Capitol and Apple records requesting for an official CD release of the historic "Beatles at the Hollywood Bowl" concerts. Executives who are receiving the letter are: Andrew Slater, President and CEO for Capitol records, USA; Deane Cameron, President of Capitol records, Canada; and Neil Aspinall, CEO for Apple records in England.
With nothing yet etched in stone about a CD release, the word out on the street is that if the record companies do decide to issue the performances, it will likely be the LP version. We ask fans to continue signing the petition for its official CD release and for those wishing for an "expanded version" of the August 23, 1964 and August 30, 1965 concerts, they should continue to make their voices known by adding their name to the petition as well.
If we get a satisfactory answer to our letter from the record executives, we'll certainly post them here at the Ottawa Beatles Site.
The following letter to Capitol's Andrew Slater was sent by registered mail:
John Whelan
1106 – 2651 Regina Street
Ottawa, Ontario
Canada
K2B 8B5

April 18, 2006

Mr. Andrew Slater, President and CEO
Capitol Records
1750 North Vine Street
Hollywood, California 90028
USA

Dear Mr. Slater:

Subject: Petition for "The Beatles at the Hollywood Bowl" on official CD format

Attached herewith, is a petition of names from Beatle fans who are requesting that Capitol/EMI and Apple records release "The Beatles at the Hollywood Bowl" on official CD format. The petition was started shortly after the highly successful release of "The Beatles – The Capitol Albums Vol. 1". While the attachment here is but a sampling of 2047 signatures, the full list of signatures supporting such a release can be viewed at: http://www.petitiononline.com/cap1977/petition.html

The historical importance of "The Beatles at the Hollywood Bowl" cannot be overstated:

1. It is likely the best-ever concert performances done by the Beatles that truly captures the apex of "Beatlemania" in America during 1964 and 1965 – and the fan reaction to the band on the LP alone proves it.

2. When the LP was issued in the U.K., it made it to the No. 1 spot for a week (June 18, 1977) and charted for an amazing 17 weeks on the hit parade.

3. The LP became the only "authorized" release of a "live" Beatles concert, approved by John Lennon, Paul McCartney, George Harrison and Ringo Starr (why, even Sir George Martin did the mixdown and sequencing for the LP and even wrote the album's liner notes for it.)

Given the fact that every other Beatles LP has since been released in official CD format except for this one, and also given the fact that most aging baby-boomers (along with 2nd generation Beatles fans) are now using CD players as their prime choice of playback entertainment systems (as opposed to turntables), may I suggest to you that "The Beatles at the Hollywood Bowl" be seriously considered for inclusion on the future boxed-set of "The Beatles – The Capitol Albums Vol. 3."

Furthermore, since there never was a "mono" version of this LP, it would be a shame for Capitol to now mix the stereo recording and reduce it down to "mono" in order to duplicate the previous format mixes as presented in "The Beatles – The Capitol Albums" series, i.e. "stereo" and "mono" track listings. Instead, what I strongly suggest is a break with tradition here and expand "The Beatles at the Hollywood Bowl" CD which could include stereo bonus tracks from the August 23, 1964 concert: "You Can't Do That;" "If I Fell" and "I Want To Hold Your Hand"; and from August 30, 1965 concert: "I Wanna Be Your Man"; "I Feel Fine"; "Everybody's Trying To Be My Baby;" and "I'm Down." These bonus tracks would be an added attraction to fans which in turn would help Capitol to sell more boxed sets.

Presenting you with this petition is well-timed, in my opinion, as the Beatles seem to be as popular as they were in the '60s. But as it stands for the moment, Capitol/EMI and Apple are losing tons of money because of the demand for CD bootlegs of the concerts, so why not present fans with the real thing on CD and make some money off of those historic recordings!

In closing, I would appreciate a written response back as to whether Capitol/EMI and Apple are now making firm commitments in getting "The Beatles at the Hollywood Bowl" out in CD format and when we can expect that to happen. Please note that your written response will be posted at the Ottawa Beatles Site as an update for fans who have signed the petition.

Sincerely,



John Whelan
Chief Researcher
for the Ottawa Beatles Site
http://beatles.ncf.ca/
------------------------
April 22
"The Beatles - The Capitol Albums Vol. 2" boxed set debuts in the top 100
Nielsen SoundScan of Canada reports that "The Beatles - The Capitol Albums Vol. 2" made its debut at #83 for the week ending April 20/06.
Meanwhile, Billboard in the United States reports that the new Beatles boxed set is doing much better: "The Beatles - Capitol Albums Vol. 2" made its debut at #46.
------------------------
April 19
"Love" by Cirque du Soleil -- Preview Performances begin June 2 at The Mirage in Las Vegas

Gala Premiere on June 30, 2006

MONTREAL, April 19 /CNW Telbec/ - Preview performances begin June 2 for The Beatles LOVE, the latest Cirque du Soleil production which celebrates the musical legacy of The Beatles. The Gala Premiere will be held Friday, June 30, 2006. LOVE will be presented exclusively at The Mirage in Las Vegas. This joint artistic venture marks the first time that The Beatles company, Apple Corps Ltd., has agreed to a major theatrical partnership. The project was born out of a personal friendship and mutual admiration between the late George Harrison and Cirque du Soleil founder Guy Laliberté.

LOVE will bring the magic of Cirque du Soleil together with the spirit and passion behind the most beloved rock group of all time to create a vivid, intimate and powerful entertainment experience.

Sir George Martin, The Beatles original producer, and his son Giles Martin have been working with the entire archive of Beatles recordings to create the musical component for LOVE. The result is an unprecedented approach to the music for a stage production. "After spending more than 40 years of my life working with The Beatles and their wonderful music, I am thrilled to be working with it once again, on this exciting project with Cirque du Soleil," said Sir George Martin, "The show will be a unique and magical experience."

Using the master tapes at Abbey Road Studios, Sir George and Giles have created a unique soundscape for LOVE. "I think we will achieve a real sense of drama with the music, the audience will feel as though they are actually in the theatre with the band. People are going to be knocked out by what they are hearing!" said Giles Martin.

Dominic Champagne directed and wrote the original concept for the show which captures the essence of love that John, Paul, George and Ringo inspired during their astonishing adventure together. LOVE evokes the exuberant and irreverent spirit of The Beatles. "When we embarked on this extraordinary adventure in 2002," said Gilles Ste-Croix, Show Concept Creator and Director of Creation, "we set out to create a timeless, three-dimensional evocation of The Beatles music. Drawn from the poetry of the lyrics, we developed a preliminary concept that explored the content of the songs in a series of scenes inhabited by real and imaginary people." The international cast of 60 channels a raw, youthful energy underscored by aerial performance, extreme sports and urban, freestyle dance.

LOVE will be presented in a custom-built theatre at The Mirage featuring 360 degrees seating and advanced high definition video projections with 100- foot digital, moving images. The panoramic surround sound system will envelop the audience who will experience The Beatles music like never before...Apple Corps Ltd. is planning to release the album through EMI Music later this year.

Cirque du Soleil Creative Team:

Guy Laliberté - Guide, Show Concept Creator
Dominic Champagne - Director, Show Concept Writer
Gilles Ste-Croix - Director of Creation, Show Concept Creator
Chantal Tremblay - Associate Director of Creation
Jean Rabasse - Theatre and Set Designer
Philippe Guillotel - Costume Designer
Jonathan Deans - Sound Designer
Yves Aucoin - Lighting Designer
Francis Laporte - Video Projection Designer
Hansel Cereza and Dave St-Pierre - Choreographers
Guy St-Amour - Acrobatic & Rigging Designer
Daniel Cola - Acrobatic Performance Designer
Nathalie Gagné - Make-up Designer
Patricia Ruel - Props Designer
Michael Curry - Puppet Designer

Guest Creators:

André Simard - Aerial Acrobatic Designer
Alexis Martin - Dramaturge Consultant
François Pérusse - Comic Audio-clips Designer

For Apple Corps Ltd.:

Sir George Martin - Music Director
Giles Martin - Music Director
Neil Aspinall - Executive Producer

Tickets to LOVE will be on sale at 9:00am April 19.

TICKET PRICES:
--------------

(*)$150, $125, $99, $69
All preview performances(*) will be discounted 25 percent.

(*)Preview performances for LOVE begin June 2 and run through June 29.
During these performances, the creative team is in the very final stages of production. The audience's reaction and participation is an important step in this process. The artistic direction of LOVE reserves the right to interrupt the performance to make adjustments as necessary.

SHOW SCHEDULE:
--------------

Preview performances will be presented nightly at 7:00pm. In addition,
there will 10:30pm performances on limited dates. Please consult the most current show schedule at www.cirquedusoleil.com . Schedule is subject to change without notice.

Following the preview period, LOVE will be performed Thursday through
Monday with no shows on Tuesdays or Wednesdays. Beginning July 1, there will be two shows nightly at 7:30pm & 10:30pm.

TO RESERVE TICKETS:
-------------------

By phone: 702 792 7777 or 800 963 9634
Online: www.cirquedusoleil.com , www.thebeatles.com or www.mirage.com.
In person: At the LOVE box office at The Mirage or any of the MGM MIRAGE box offices in Las Vegas.

PLEASE NOTE:

- A press conference will be held in the LOVE Theatre at The Mirage in
Las Vegas, tentatively on May 24. Details about this event are
forthcoming.
- For Creative Team biographies, images and additional information, visit
the Cirque du Soleil Press Room at
http://www.cirquedusoleil.com/CirqueDuSoleil/en/pressroom/default.htm
(Registration is required to access images and media information)

For further information: Cirque du Soleil, Renée-Claude Ménard,
(514) 723-7646, ext. 7366, rcm@cirquedusoleil.com; Chantal Côté,
(514) 723-7646, ext. 7326, chantal.cote@cirquedusoleil.com
------------------------
April 15
Ringo Starr and Jerry Lee Lewis - The Legends of Rock Recorded Together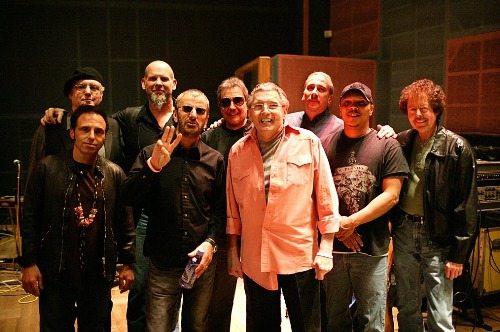 Ringo Starr with Jerry Lee Lewis, circa March, 29, 2005, at the Record Plant in L.A.
At 70 years of age, Jerry Lee Lewis is still pounding out the ivory keyboards and making great music. In fact, Jerry Lee Lewis will be performing tonight at the B.B. King Blues Club and Grill in Manhattan, New York, and it won't come cheap either, at $85.00 a ticket!
But "he was rock & roll's first great wild man and also rock & roll's first great eclectic," writes the B.B. King Blues Club and Grill website. "His television appearances and stage shows were legendary for their manic energy, and his competitive nature to outdo anyone else on the bill led to the story about how he once set his piano on fire at set's end to make it impossible for Chuck Berry to follow his act. Nobody messed with the Killer."
This concert performance is being well-timed as Jerry Lee Lewis hopes to finally launch his new CD this coming autumn, as its release has been pushed back a few times already. Originally, the CD was to be called "Pilgrim" but, as Lewis explains, "I think the new name that's being discussed is "Redemption." The album has come together beautifully. There are so many great songs on this album that I have a hard time choosing one, but I think my personal favorite is "Twilight" with Robbie Robertson. And the word is that the album will be released in September," he said yesterday to NorthJersey.com reporter, Ian Spelling.
The main front men for this new Jerry Lee Lewis recording are Jim Keltner on drums, Hutch Hutchinson on bass with Jimmy Rip and Kenny Lovelace on guitar. The CD will feature a plethora of guest rock performers on it. Said Producer Jimmy Rip: "It was 21 of the easiest calls I ever had to make. Everyone wanted to play with the Killer."
One of the talented musicians that turned up for the recording sessions was none other than legendary drummer, Ringo Starr. He recorded two tracks with the Killer at the Record Plant in L.A.: "Roll Over Beethoven" and "Sweet Little Sixteen". The latter which will appear on the CD, features Ringo on drums with Ivan Neville on organ. There is even one Lennon-McCartney number featured on the set list: "I Saw Her Standing There" where Jerry Lee and Little Richard do a duet together.
With the wide variety of artists and songs being utilized for this album, it seems as though Jerry Lee is following in similar footsteps of fellow Sun artist, the late Carl Perkins, who took the same approach several years ago with his highly acclaimed "Go Cat Go!" CD release.
Here is Jerry Lee "The Killer" Lewis's impressive 20-track recordings...
| | |
| --- | --- |
| Old Glory | Duet with Toby Keith. Jerry wrote this song and plays piano and organ in it. |
| I Saw Her Standing There | Duet with Little Richard. |
| Pink Cadillac | Duet with Bruce Springsteen |
| Travelin' Band | Duet with John Fogerty |
| A Couple More Years | Duet with Willie Nelson |
| The Pilgrim | Duet with Kris Kristofferson. Kris wrote this song. |
| Rock And Roll | Led Zeppelin song. With Jimmy Page on guitar. |
| Evening Gown | Duet with Mick Jagger. Ron Wood plays slide-guitar. |
| That's What Makes An Irish Heart Sing | Duet with Don Henley with Kenny Lovelace on fiddle |
| Before The Night Is Over | With B.B. King on guitar. Piano and organ by Jerry. An earlier version appeared on the record Keeps Rockin' (1978). |
| Trouble In Mind | With Eric Clapton on guitar. An earlier version appeared on the record The Session (1973). |
| What's Made Milwaukee Famous (Has Made A Loser Out Of Me) | Duet with Rod Stewart. Only piano and vocals. An earlier version appeared on the record Another Place, Another Time (1968). |
| Hadacol Boogie | With Buddy Guy on guitar. Bill Nettles song |
| Lost Highway | Duet with Delaney Bramlett. Only piano and vocals. |
| Honky Tonk Women | Duet with Kid Rock, with Keith Richards on guitar |
| Twilight | Duet with Robbie Robertson |
| That Kind Of Fool | Duet with Keith Richards. A new take of the song that also appeared on the record Odd Man In (1975) |
| Sweet Little Sixteen | A new take of the well-known Chuck Berry song that Jerry recorded several times during his career. With Ringo Starr on drums and Ivan Neville on organ. |
| Don't Be Ashamed Of Your Age | Duet with George Jones |
| Just A Bummin' Around | Duet with Merle Haggard |
| You Don't Have To Go | Duet with Neil Young |
Two engineers were involved with the project: James Saez at the Record Plant, West Coast, and Steve Gamberoni at the Sam Philips Recording Studio in Memphis.
In Time magazine, dated 3/14/1983, Jerry Lee described himself this way: "I'm a rompin', stompin', piano playing son of a bitch. A mean son of a bitch. But a great son of a bitch." As a performer celebrating 50 years in the recording business, today he recalls great fondness for his own legacy: "I am proud that God has given me this talent and allowed me to continue to perform for so many years, but I'm particularly proud that I've been able to inspire several generations of musicians, that my older fans remain loyal and that I keep picking up younger ones," he told Spelling.
And, just as I began finishing this write-up, I did a quick "news search" through "Google" on Jerry Lee Lewis. In a report filed today by Carl Hartman of the Associated Press revealed Jerry Lee Lewis's 1957 recording of "Whole Lotta Shakin' Goin' On'" are but one of "50 records that the Library of Congress has deemed worthy of preservation this year." Other interesting choices for the Congress's "National Recording Registry" are: Fats Domino's 1956 recording of "Blueberry Hill"; Buddy Holly's 1957 recording of "That'll Be the Day"; and Jimi Hendrix Experience's 1967 recording "Are you Experienced?"
After tonight's performance at the B.B. King Blues Club and Grill, Jerry Lee will be "touching down in Tennessee and Missouri, then heading to Europe for shows in Germany, France and England," writes Spelling.
With all the recent publicity and concert touring, maybe with a little luck we'll soon see his new CD in the music stores. The track listing certainly looks promising!
Links: From Delaware Online: "First radio inaugural address to be preserved"
From NorthJersey.com: "Jerry Lee still shakin'" by Ian Spelling
-- Report filed by John Whelan
------------------------
April 14
John & Yoko: Give Peace A Song to be released on DVD

Paul McGrath's documentary on the making of "Give Peace A Chance" will be released on DVD.
Originally broadcast on Canada's CBC, John & Yoko: Give Peace A Song documents the day celebrities gathered in Montreal to record "Give Peace A Chance" and features previously-unseen footage from the bed-in as well as a look at the evolution of the peace anthem over the years.
A clip of George Harrison's cameo appearance on The Smothers Brothers Comedy Hour, which was removed from the original TV broadcast due to copyright conflicts, will be included in the DVD version.
© by Archer of "99.5 The Mountain", all rights reserved. Used with permission with our sincere thanks!
------------------------
Capitol and Apple industry insider dis(c)patches...
Purportedly a New Traveling Wilbury CD/DVD in the works
In a post at Amazon.com from Jeff B who was in conversation with Capitol's V.P. regarding the return policy on "The Beatles - Capitol Albums Vol. 2", revealed some interesting information about a future George Harrison project:
"He also told me that within the next year they plan on releasing 'The Traveling Wilburys' albums - FINALLY! V.3 of The Wilburys also is supposed to have a DVD with it too. And within the next year they also plan on reissuing the complete Beatles catalog in newly re-mastered discs with 5.1 stereo. He also says that new pics and other info for many of the albums has been discovered and will be included with the new reissues, especially since next year is the 40th anniversary of 'Sgt Peppers'. So it looks like there will be a LOT to look forward to from Capitol."
You Say You Want A Revolution? CEO Neil Aspinall says Beatles catalogue is being remastered!
"We're re-mastering the whole Beatles catalogue, just to make it sound brighter and better and getting proper booklets to go with each of the packages," said Apple CEO, Neil Aspinall. His comments were made in a witness statement in a London's High Court, "Apple Records verses Apple Computers."
While there has been no indication that the tracks will be re-mixed, Apple Records is exploring the idea of making the bands music available on downloadable services but not before the entire Beatles catalogue has been digitally transferred.
"I think it would be wrong to offer downloads of the old masters when I am making new masters," Aspinall wrote. "It would be better to wait and try to do them both simultaneously so that you then get publicity of the new masters and the downloading, rather than just doing it ad hoc."
"This is not imminent," cautioned Elizabeth Freund, Apple Records spokeswoman. "The only thing we're prepared to say is that we are indeed working on the masters. Where they'll end up, or when, I don't have that information."
The trial at London's High Court concluded on April 6th with a decision expected after Easter as to whether Apple Computer violated their "1991 agreement by using the Apple name and logo to sell music downloads through its market-leading iTunes Music Store," writes Reuters.
------------------------
And some quick Beatle news picks:
From the BBC: Michael Jackson strikes deal over loans.
Here is an article from the Times Spicayune on Bruce Spizer who wrote the excellent booklet for the "The Beatles - Capitol Albums Vol. 2" boxed-set: He loves them, yeah, yeah, yeah.
OBS comment: Hint to Apple Records...Please keep Bruce Spizer on as principal writer/researcher for the remaining "The Beatles - Capitol Albums Volume" series for a truly "American perspective" on the Beatles.
------------------------
April 13
How to identify a correct Capitol Albums Vol. 2 boxed set

A review on amazon.com indicates how to tell the difference between a 'fold-down' edition and the correct mono mixes: Amazon.com: Reviews for The Capitol Albums Vol. 2 (Longbox): Music: Beatles. Look for the review entitled "If you want to exchange your wrong copy, or find the right (boxed set) in the stores, read below!". The reviewer spoke to the Vice President of Sales for Capitol Records. The VP stated that correct versions of the box set has 3 digitals added to the code on the bottom of the "New...Volume 2" yellow sticker on the front of the box. If the sticker contains the digits "SK1" following the catalog #, then this box has the correct mixes. This was confirmed on Steve Hoffman's web forum by a buyer in Austin, Texas who was fortunate enough to purchase a correct set.

All the best,
Dan
http://www.cyber-beatles.com

OBS comment: Thanks again, to Dan Van Vugt, for e-mailing us and keeping Beatle fans up-to-date about the corrections made in this new release.

------------------------

April 12
"The Capitol Albums Vol. 2" Disc Replacement Procedure

I just posted the following message on my web site. The number works for both US and Canadian customers:

The following is a customer service number for EMI. Calling this number will enable anyone who purchased "The Capitol Albums Vol. 2" set to leave their name, address and phone number and will hopefully initiate the process of receiving replacement discs. The phone number is 1-800-468-2362. The voice mail message specifically addresses the box set issue. People who seek replacement discs are encouraged to call and leave a polite message.

All the best,
Dan Van Vugt
http://www.cyber-beatles.com

OBS comment: Thank you, Dan Van Vugt, for e-mailing us this afternoon with the "heads-up" on how Beatle fans can go about replacing their incorrect discs that was found on the original run from Capitol. Fans will be expected to mail in their two incorrect discs including proof of purchase (make sure you make a photocopy for your own records), offer valid within 60 days of today's announcement. Capitol will send out to you a pre-paid envelope to ship them in. Be prepared to provide some details over the phone as to where you bought the discs.

------------------------

Lennon 'bed-in' inspires two Canadian Halifax art students

Maggie Boyd and Jody Zinner who are two art students that "are staying in bed all week, in the name of peace and John Lennon", writes the CBC. For full details, please click here.

------------------------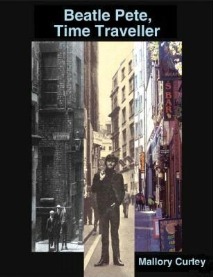 Beatle Pete, Time Traveller
Description: An offbeat book about original Beatles drummer Pete Best, early Beatles history, and Pete's life after the Beatles, including the intriguing story of the Pete Best Combo's 1965 North American tour, as well as a Best family history, detailing the lives of Pete's famous father and grandfather, Johnny Best, Jr. and Sr., and the boxing, wrestling, and concert arena that they founded and ran, Liverpool Stadium, plus much more. A strange and wonderful mix of plot and scholarship, with voluminous footnotes. 472 p., profusely illustrated with photographs, many never before published.
Mallory Curley's book is available through Abebooks.com.
------------------------
April 11
New Beatles album to mark opening of Las Vegas extravaganza
The Cirque du Soleil theatrical extravaganza conceived by George Harrison will open in Las Vegas - no firm date yet. The 90-minute show, at the Mirage on the Las Vegas Strip, will be a homecoming of sorts. The band was paid £15,000 for their last visit, during their 1964 US tour. They performed twice at the Las Vegas convention centre, on a bill with The Righteous Brothers and Jackie De Shannon.
An album by the Beatles featuring "completely new music" is in production and will be released to coincide with the first authorised theatrical show of the group's work.

Article Filed by the News.Teleraph
OBS editorial: More than likely, we suspect "cut" and "paste" of incidental music from the Beatles archives as opposed to new Beatles songs. Beatle fans are advised to take a "wait" and "see" approach until the final product is released -- in other words: don't hold your breath about the hype on "completely new music."
------------------------
April 10
Rolling Stone Magazine gives 5-star rating for The Beatles Capitol Albums Vol. 2
Tomorrow will see the release of "The Beatles Capitol Albums Vol. 2".
As most of you Beatles fans already know, Capitol records accidentally made a mixing error regarding "Beatles VI" and "Rubber Soul" and a press release was issued from the record company explaining what happened...
"Some of the mono tracks from the initial manufacturing run of "The Beatles: The Capitol Albums Vol. 2" were not the original mono masters that were intended to be included on this historic re-release. The third party mastering facility incorrectly sent step down masters instead of the mono masters ordered by the label to the manufacturing plant. As soon as Capitol Records became aware of this, the correct masters were sent and the adjustment was made in another manufacturing run. Although there is no discernible difference in the sound quality in the initial run, Capitol made the adjustment for historical accuracy. Information for any consumers who wish to obtain a replacement copy (with proof of purchase) will be issued shortly."
For those wishing to know whether they have the correct boxed set or not, one sure way to tell is if your "mono" version of "I'm Looking Through" on Rubber Soul has the false guitar intro like the stereo LP version -- if so, then you've got the wrong set. The original mono master tapes never had the false guitar intro on the 1965 mono LP.
That said, Rolling Stone Magazine sent Capitol records a scan of their review of "The Beatles: The Capitol Albums Vol. 2" boxed set and gave it an impressive 5-star rating: http://209.132.218.55/beatles/beatles.jpg
-- Report filed by John Whelan
------------------------
April 9
Featured here are several Beatles news articles with a focus on Canadian angles...
Today's Sunday edition of The Ottawa Sun: "Fab 4 Ever"
In an 8-page special pull-out edition with several stories reported in The Ottawa Sun, Earl McRae writes a very zany, off-beat report on his attempts to procure a story from the Beatles for the Toronto Star in 1966. His topic for the band: "cricket".
Ottawa Sun reporter Allan Wigney wrote several eloquent pieces for the spread under the following headings: "PM gave peace a chance"; "Story of the Beatles isn't over yet" and "You may say he was a dreamer..." with contributions from Keith Samarillo, a Toronto author who is currently near-completion on his book about John and Yoko's various visits to Canada; Yury Pelyushonok, author of "Strings for a Beatle Bass"; and Timothy Porteous, Trudeau's executive assistant in 1969.
The Ottawa Sun even included an interesting Beatles timeline covering the bands history from 1926-1970. It was written and researched by Susan Batsford.
At the moment, it appears there is no on-line web edition of today's print publication, therefore Beatle fans in Ottawa should pick up a copy of The Ottawa Sun as a souvenir before they're gone.
------------------------
Mayor David Miller supports the "Toronto Beatles Celebration - September 16 and 17, 2006" Download Poster
Toronto will be having its first-ever Beatles convention this year. Slated for September 16, and 17, at the Queen Elizabeth Building and Theatre and at Exhibition Place, the convention will have some notable presenters. Beatle fans can expect to see Pete Best, May Pang, Bruce Spizer, Peter Bennett, Terry Sylvester, Jerry Levitan, Mitchell Axelrod, Fred Seaman, Paul Saltzman to name but a few. Featured performers during this two-day celebration include 1964 The Tribute; The FabFour; Hal Bruce and David Wildsmith.
Event organizers, Peter Miniaci and David Goyette, have received full support in a message from Toronto's Mayor David Miller: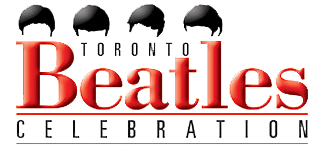 "In Toronto, we celebrate the arts and are fortunate to live in a city where we can experience such an incredible wealth of great entertainment," wrote Mayor David Miller. "This 2-day convention of exhibits, vendors and performances recognizes the 40th anniversary of the last visit by The Beatles to Toronto in 1966 and is the first such gathering of its kind in downtown Toronto."
"Toronto residents and visitors from across Canada, the United States and the U.K. will enjoy the opportunity to celebrate the remarkable musical legacy of The Beatles and the lasting impact it has had on popular culture around the world," said Mayor Miller.
The last time the Beatles performed at Toronto was on August 17, 1966, with two shows at the Maple Leaf Gardens.
For more information on what really looks like to be a very promising Beatles convention, please visit the organizer's official website: "Toronto Beatles Celebration"
Ottawa fans planning to attend the conference may like to travel and spend time together. Let's see how many of us plan to attend, and then we might discuss renting a bus, sharing hotel rooms etc. Send Tony a message if you plan to go.
------------------------
The Hendersons Will Dance And Sing
Three 50-somethings make their long awaited pilgrimage to Liverpool, and experience memorable Beatle moments here, there and everywhere. Read the report filed by former Vancouverite journalist, Alan Millen, which contains some interesting comments made by Klaus Voormann along with exclusive photographs.
To read this excellent write-up, click here.
------------------------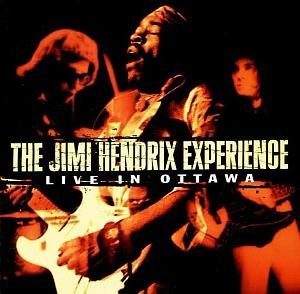 Jimi Hendrix Rocked Ottawa with Famous Beatles Number!
Rock guitar virtuoso Jimi Hendrix and the Experience came and rocked Ottawa at the Capitol Theatre on March 19, 1968.
Sponsored by Ottawa's "The Treble Clef" music stores, two performances occurred at the Capitol Theatre: one at 6:00 p.m. and the other at 8:30 p.m., each with varied set lists.
And if it weren't for an Ottawa Citizen report, what you read in the next paragraph below might seem more mythical than true, but the fact of the matter is Jimi Hendrix rocked Ottawa with a Beatles number: "Sgt. Pepper's Lonely Heart's Club Band" during the first matinee.
"Opening with the Beatles hit Sgt. Pepper's Lonely Hearts Club Band," wrote Bill Fox of the Ottawa Citizen, "the Experience did many of their hit records such as Let Me Stand Next To Your Fire, Foxy Lady, Red House and I Don't Live Today."
Unfortunately both "Sgt. Pepper" and "I Don't Live Today" were not revived for the second matinee of the evening. And what a pity too, because someone decided to record the second concert (but not the first one) and the sound quality is nothing short of "spectacular." It works because of the closed-in structure of the theatre and the location of the recording equipment used. The concert was distributed by the MCA label in 2001 and this isn't like listening to substandard bootleg material, no, not at all. By the way, the songs in the second show that replaced "Sgt. Pepper" and "I Don't Live Today," were: "Spanish Castle Magic", "Killing Floor" and the lengthy instrumental "Tax Free."
So who recorded the Jimi Hendrix the concert?
The CD's liner notes by John McDermott feebly puts out two hypothesis as to how the recording came about: "How and why the concert was recorded is somewhat a mystery. The performance was not professionally recorded...Jimi was obviously well aware of a tape recorder capturing the proceedings. During his set, he made mention of it onstage...." McDermott writes in his next paragraph with: "Is it possible that Jimi himself recorded this performance on his own Sony reel to reel tape machine. He frequently made recordings of various jam sessions and club performances for his own enjoyment. It is more likely however, that a member of the Capitol Theatre stage crew documented their performance for posterity."
As you can see, McDermott speculates with no end conclusion as to who really did record the concert. No further information was revealed in the MCA liner notes nor in their list of credits which appear at the end of the booklet. The only "technical credits" listed are Eddie Kramer for the "tape transfer" and George Marino who "mastered" it at Sterling Sound in New York. Included in that same list are "production credits" as it relates only to packaging, photography and sleeve designs for the CD. So in the end, the reader is no further ahead with MCA's "credit list", never mind the aimless speculations made in John McDermott's short essay as to who possibly recorded the concert.
The truth is, Ottawa resident Doug McKeen is responsible for the Hendrix recording. Back in 1968, Doug ran an independent electronic company here in Ottawa called "McKeen Sound Systems." With absolutely no affiliation to the Capitol Theatre stage crew, he decided to record the Jimi Hendrix concert using his "UHER" portable tape recorder. Doug had placed himself in the front-row, slightly left of centre stage, where the speakers were blasting out nearby that enabled him to capture a truly great performance from Hendrix.
When the concert ended, what happen next to Doug McKeen caught him completely off-guard: Some unidentified person immediately came over to him and snapped up the recording tape from his possession! The tape was never seen nor heard of again until one day it showed up on cassette tapes (bootlegs) that went into circulation in the 70's and beyond. Finally, in 2001, MCA records decided to put out an official release.
Bob Cabana, owner of "FabGear 64" memorabilia shop on Richmond Road here in Ottawa, remembers attending the second Jimi Hendrix concert. In fact, Bob told this writer that he took twelve photographs with his "Brownie" camera of Hendrix jamming on stage with his guitar, of which only six good shots actually turned out (Brownie cameras being what they were back then, were not always ideal for indoor picture taking.) In the summer of 2000, Bob Cabana gave those photographs to Bob Hendrix which became part of the Jimi Hendrix archival collection for the estate.
As for Doug McKeen, he made a personal decision never to record any more "live" pop performances. The deciding factor was actually the Hendrix gig. It seems as though his good set of ears and his UHER taper recorder were really put to the test that night. Hendrix's progressive guitar playing fluctuated wildly on the decibel meter, frustrating McKeen to no end. But he worked hard at it and was on top of his game that night and what resulted is a very high quality, "balanced recording." This should delight Hendrix fans.
And to underscore just how important this recording was, not only did MCA release it on CD format in 2001, promoters also marketed and sold the CD during the Jimi Hendrix Travelling Exhibit.
So here's long overdue kudos to Doug McKeen and his great UHER tape recorder for a job well done!
-- Report filed by John Whelan
Link: The Treble Cleft advertisement for the Hendrix concert published in the Ottawa Citizen.