March 29, 2023
Sir Paul McCartney's 'debt' after Snowdonia holiday with another Beatle revealed in letter
McCartney and his bandmate George Harrison went on a hitchhiking trip to Harlech in the 1950s
and they received a typically warm Welsh welcome before they were famous
by Kim Pilling and Owen Evans for the Daily Post

A letter sent as Paul McCartney repaid a "debt" years after a North Wales holiday is going up for auction.

In 1958, McCartney and fellow Beatles star George Harrison went on a hitchhiking holiday and visited the seaside resort
of Harlech, in Gwynedd.

They knocked on the door of a farmhouse belonging to the Brierley family and were allowed to pitch their tent in the field
at the rear of their bungalow.

After a downpour on their first night, the pair sought refuge in the farmhouse and ended up staying the week.

McCartney and Harrison became friendly with the young John Brierley, a musician himself, and later sat in with his
local skiffle group The Vikings during a performance at the Queen's Hotel pub in the town.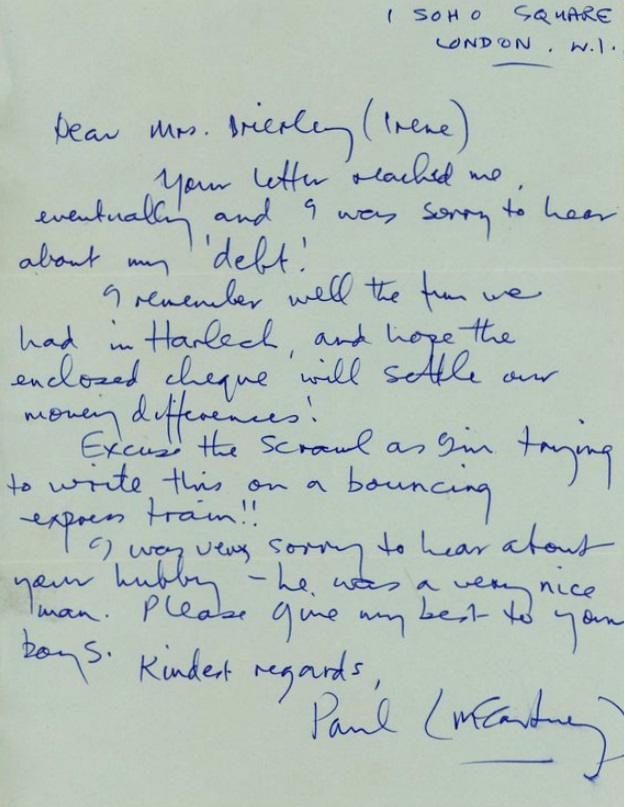 (Image: Tracks Ltd/PA Wire)


Mr Brierley also recalled several days of playing snooker and playing Elvis Presley's first LP, Rock 'N' Roll, as well as
McCartney banging away on the family piano trying to work out the solo in the middle of the Buddy Holly song
Think It Over.

The pair enjoyed themselves so much they returned to the Brierleys' home the following year and later left with one
of the family's blankets.





March 27, 2023
Rolling Stone magazine ranked George Harrison 11th out of 100 greatest rock guitarists of all time






March 25, 2023
The Beatles on Charcoal
by Rick Young from Facebook





March 24, 2023
Paul McCartney Recalls That Embarking On A Post-Beatles Solo Career Felt 'Really Risky'
by Brent Furdyk for ET Canada

Paul McCartney has long since stepped out of the shadow of The Beatles, but he's now looking back at a moment when the idea of embarking on a solo career after the Fab Four's breakup was seen as a huge risk.

On his website, Sir Paul responded to a question from a Twitter user who asked what the "biggest professional risk" had been in his career.

"The main question I had was whether to keep going after The Beatles, because it was a hard act — some might say, an impossible act — to follow. The ingredients in the Beatles were so unique. You had John right there, who could have made any group brilliant. Then you had George's talent, and Ringo's, and then me," McCartney explained.

"Once that band had finished, I didn't know what to do with myself, and trying something new was really risky. Then, of course, having Linda in Wings, when she was not a 'musician', was a risk too. When the reviews started to come in a lot of them focused on her, asking, 'What's she doing in the band?' And that was hurtful. But I rationalized it by thinking about when we started The Beatles and none of us knew our chords — over time we got better and picked things up," he continued.

"In the early days of Wings, we decided to go right back to square one, taking a van up the motorway and playing little spontaneous gigs at universities for students, rather than jumping straight in with big live shows," McCartney recalled. "I'd doubled back to almost being nothing — just some guy in the band ± and now I was earning my fame again. By the time the mid-'70s came around when we were doing a big American tour, that was the vindication of it. We were so tight and had come up together, as it were. The risk paid off."

Despite taking such a big risk, McCartney admitted that risk-taking isn't really in his nature.

"I'm quite careful normally," he said. "There's a couple of times in life when you are forced into taking a risk. After The Beatles, this was my situation: 'Do I keep going with music, or not?' Well, I want to keep going. So, 'How am I going to do it? Am I going to have a band, or am I just going to busk outside train stations? How's it going to work?'"

John Lennon, on the other hand, was McCartney's "polar opposite" when it came to taking risks.

"If there was a cliff to be jumped off, John would jump! He would just dive into things, and I would sometimes have to rescue him and say, 'Hey man, you shouldn't be doing that!' Or, he sometimes wouldn't pay his taxes, for example, and so I said, 'You're going to have to, or you're going to jail!' But then it was very exciting to be around someone with such a different personality. That was part of the fun and attraction," McCartney shared.



March 23, 2023
"Live and Let Die" - B.J. Arnau's version that appeared in the film of the same name
Promo published in Billboard on June 30, 1973





March 22, 2023
Michael Sokil brilliantly covers the final medley segment from Abbey Road


George Harrison's widow wins permission to build yoga studio in the grounds of huge mansion she
shared with her Beatles legend husband
by John James for Mailonline


George Harrison's widow has been granted permission to build a yoga studio in the grounds of the legendary Beatle's
huge mansion.

Olivia Harrison, 74, will now press ahead with plans to site the super-modern structure in the grounds of historic Friar Park.

George, who died in 2001 aged 58, treated his garden like a temple, buying the Grade II-listed home in 1970 as a quiet
escape from London and a place to set up a new recording studio.

Olivia wanted an outdoor gym and a space where she can practice yoga and applied to South Oxfordshire District Council
late last year for the mainly glass outbuilding. The building is planned to mirror the pavilion across the garden, which runs to
62 acres.

Henley-on-Thames Town Council also recommended approval and there were no objections from neighbours.

Shaun Tanner Architecture and Planning, which designed the new yoga studio, said in planning documents: 'The choice of
materials and elements have been carefully selected to ensure a minimalist and contemporary building is delivered on site,
which also relates to the existing pavilion opposite.

'The proposal seeks to deliver an open plan single storey outbuilding, with a flexible layout to meet the proposed use of
gymnasium and yoga room, with service equipment concealed inside the walls and a section of the platform being external
and creating a small terrace in the front, where the occupant can use for external yoga and exercises as well.'

The building is set to be constructed on a suspended concrete platform finished with porcelain tiles complemented by full
glazing walls, iroko wood cladding and a lead roof with painted detailed timber eaves to replicate the eaves detail of the
facing pavilion.



Sir Paul McCartney is chuffed over the McCartney Tribute Concert




March 21, 2023

Remembering John Lennon's legal battle for his residency in the U.S.A.



March 20, 2023
The "Please Please Me" Album 60th Anniversary Celebration
by Parlogram Auctions





| | |
| --- | --- |
| | "Candy" filming report from Italy by Mal Evans in 1968d> |



March 19, 2023
Vinyl records making a huge comeback
by Dustin Lattimer for fourstates homepage
As interest in digital downloads wanes, vinyl record sales continue to grow for the 16th straight year
| | |
| --- | --- |
| | Above: "Hold Me Tight" lyrics culled from The Beatles Monthly Book |

JOPLIN, Mo. — Sales of vinyl records have been on the rise for years, but according to the Recording Industry Association of America's (RIAA)
2022 year-end revenue report for the music industry, record sales hit a new high for last year.

Vinyl record sales have consistently increased over the last 16 years according to the RIAA report. Now, they account for 71% of all physical
music format revenue. While physical formats as a whole increased by 4%, earning $1.7 billion between 2021 and 2022, vinyl sales alone
accounted for $1.2 billion, experiencing a 17% increase in sales compared to the previous year. CD sales on the other hand, plummeted by
18% in 2022.

Lynn Brennfoerder, owner of Dig It Record Barn, said vinyl sales at his Joplin business continue to climb.

"I would say over the last three years, I've seen pretty significant growth and I anticipate those sales will continue to grow for at least another
decade," said Brennfoerder.

There are several factors driving the vinyl revival. Although the opinion is subjective, Brennfoerder claims the format provides a warmer, more
authentic sound compared to digital.

Nostalgia also plays a part for those who lived through the golden age of vinyl, but younger generations are driving sales too. Artists for the
Gen-Z and millennial demographic made up a significant number of record sales in 2022. Taylor Swift was the highest-selling artist last year,
selling almost 1.7 million vinyl records alone — more than Harry Styles (719,000 sales) and The Beatles (553,000 sales) combined, according
to Luminate's year-end sales report.

"The generation that's coming around now into vinyl has realized the value of an LP, and by that I mean the album artwork, the notes from the
album — just owning something that's tangible. I also think nostalgia is a part of it. It's more of an authentic listening experience. You feel a
little closer to the musician, and the sound is warmer than anything digital," said Brennfoerder.

While vinyl has made an impressive comeback, streaming still reigns supreme. The RIAA report found that music streaming services like Spotify
and Apple Music accounted for a whopping 84% of total music revenue in 2022, having grown by 7% compared to the previous year to a record
high of $13.3 billion.

Digital download sales, however, continue to decline. The format plummeted by 20% this year to just $495 million, having already fallen by 12%
in 2021.

As for the CD or compact disc, Brennfoerder said this music format will never see a resurgence.

"CDs are — well — they're dead. And I don't look for them to be resurrected."





March 18, 2023
"For No One" - The Beatles
The audio is brought forth in stunning clarity with the help of cutting edge de-mixing technology developed by
the award-winning sound team led by Emile de la Rey at Peter Jackson's WingNut Films Productions Ltd.

| | | |
| --- | --- | --- |
| Cartoon from The Beatles Monthly, January 1968 | | |



March 16, 2023
In 1968 Mal Evans reports to The Beatles Monthly Book on how the Beatles recorded their new single









March 15, 2023
Cat Stevens to return this summer with a new album on Dark Horse Records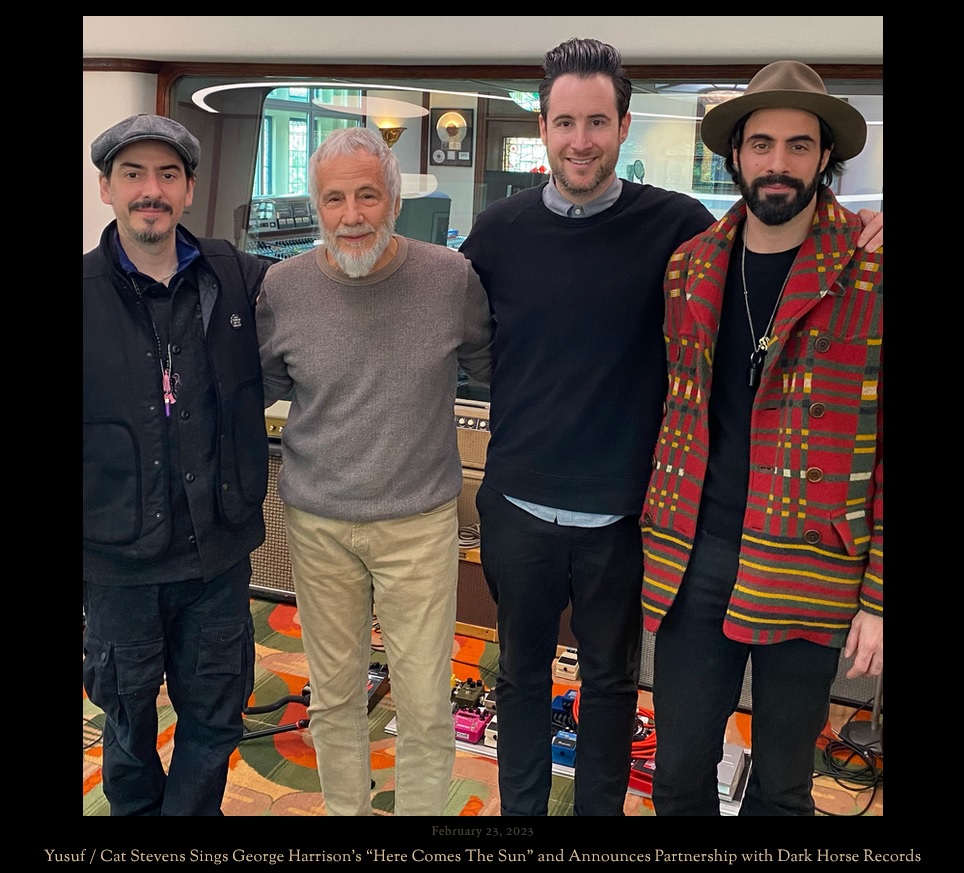 L-R: Dhani Harrison, Yusuf / Cat Stevens, David Zonshine (Dark Horse Records), Yoriyos Adamos (Catch-Bull) at F.P.S.H.O.T.



From Dark Horse Records:
Yusuf / Cat Stevens Sings George Harrison's "Here Comes The Sun" and Announces Partnership with Dark Horse Records


Yusuf / Cat Stevens has shared an endearing cover of "Here Comes The Sun" in tribute to George Harrison, with gorgeous cover art designed by
Yusuf's eight year old granddaughter. The release marks the anniversary of what would have been George Harrison's 80th birthday this week, and
comes in tandem with the announcement of an exciting new partnership with Dark Horse Records.

Speaking about George Harrison's profound influence on his own musical and spiritual journey, Yusuf says:

"George Harrison was beginning to explore Eastern mysticism around the time I was hospitalised with TB, in 1968. Lying in bed, I had a lot of time
on my hands and ended up reading a Buddhist book called The Secret Path. That was the beginning of my own search for the light.

"While most of my generation were just into the music, I was a bit like George, where music became the key to something much higher. Following
the rages of the 60's, his consciousness was awakened, and George transcended to levels not many people ever get to experience. You can hear
it in his lyrics, and see it in the way he lived and dealt with the material world - looking for a way out.

"George was one of the first to put on a charity concert for the poor, at the time millions of Bangladeshis were fleeing from conflict and becoming
refugees. It was a brave thing to do, and against all establishment rules.

"I'm happy to sing one of his songs, especially as it represents the returning of light and hope to a seriously dark and broken world."


In welcoming Yusuf/Cat Stevens to the Dark Horse Record label, Dhani Harrison said:

"I'm thrilled to welcome Yusuf/Cat Stevens to the Dark Horse Records family. Not only is Yusuf a great musical legend but his songs could not fit the Dark Horse mythos any better. From his back catalogue, through to the new music we can't wait for you to hear. Yusuf is without question one of the most influential singer-songwriters of all time, it is a great honour to be able to give his music a home on our humble yet historic label."

Yusuf has already teased that a brand new Yusuf / Cat Stevens album is coming, which he says will transport listeners into the positive, imaginative world of hope and peace that defined his work in the early '70s. Dark Horse Records will be re-releasing seven legacy albums from the Yusuf / Cat Stevens catalog, owned by Yusuf's own Cat-O-Log Records company. DH Merchandise will also operate the Yusuf / Cat Stevens official store, building upon a line of innovative existing products, many of which were designed by Yusuf's own daughters to capture the spirit and style of their father's musical legacy.

"Here Comes The Sun" is the latest in a new lineage of cover versions and closely follows Tea For The Tillerman, which saw the classic album re-imagined for a new age. Released in 2020 to a wave of critical acclaim and debuting at Number 4 in the Official UK Albums Chart, the album marked Yusuf / Cat Stevens' ninth UK Top 10 LP, and his highest charting studio album release in over 40 years.

Above all, Yusuf's music reflects a quest for spiritual enlightenment, inner development and a passion for the natural world that continues to resonate with fans globally. Alongside his music career, Yusuf / Cat Stevens dedicates his energy to philanthropy and education. His charity work has seen him receive numerous prestigious international accolades including the World Award for "Humanitarian Relief Work Helping Children And Victims Of War" and the Man of Peace Award, voted for by The Nobel Peace Laureates. His continuing efforts to support those in need are currently channeled through his international Peace Train initiative, with its ongoing mission to feed the hungry.

Looking ahead to the prospect of brand new music coming soon, Yusuf / Cat Stevens continues to use his unique gift for songwriting to build cross-cultural bridges and spread his message of peace.


Legendary British singer-songwriter Cat Stevens will release a new album of original songs this summer
by Mark Kennedy for AP Entertainment



NEW YORK -- Legendary British singer-songwriter Cat Stevens will release a new album of original songs this summer that took the "Peace Train" maker over a decade to make and revisits familiar themes of togetherness.

The 12-song collection is called "King of a Land" and comes out in June on George Harrison-founded Dark Horse Records. The album cover illustration shows a boy playing guitar on top of the Earth, as a cat stretches and a train puffs along a track.

The first single is the cheerful, family friendly "Take the World Apart," with the lyrics "I'll take the world apart/to find a place for a peaceful heart."

"The source of musical inspiration for this song came from the 50s. The smoochy harmonies and chords have an enchanting effect on the ear. Life was simpler then: lonely hearts yearning for love," he said in a statement to The Associated Press.

The album reunites Stevens with producer Paul Samwell-Smith, who produced three Stevens albums between 1970-72 — "Tea for the Tillerman," "Teaser and the Firecat" and "Catch Bull at Four."

Rock & Roll Hall of Fame member Stevens, who also goes by Yusuf, the name he took when he converted to Islam, has been a respected writer since releasing his debut in 1967. He's had a string of Top 40 hits, from "Peace Train" and "Wild World" to "Morning Has Broken." He was just named to Glastonbury's coveted Legends slot this summer.


King of a Land
The following is from the official Yusuf/Cat Stevens website:

Yusuf / Cat Stevens has announced King of a Land, his seventeenth studio album, set for release via BMG / Dark Horse Records
on 16th June 2023. Pre-order here.

King of a Land is an epic body of work. More than a decade in the making, its 12 new songs are full of extraordinary surprises.
Unique and transportive, Yusuf's new music, words and melodies paint a vivid picture of a world which embraces the lost lands
of truisms and stainless youth, and brings it into touching distance. His poetical storytelling invites the listener on a journey
towards the gates of an alternative universe to that which we presently inhabit – where happy endings can possibly happen.

Opening a delightful entrance to the powerfully childlike theme of the album is the closing track, 'Take The World Apart'.
Released today alongside an accompanying animated lyric video created by Peter Reynolds, it matches the joy and optimism
Yusuf's music naturally evokes, and is destined to charm.

King of a Land is available for pre-order in a gatefold format with a 36 page booklet featuring illustrations by Peter Reynolds. The
CD also features a booklet illustrated by Peter Reynolds – pre-order here. An exclusive white vinyl edition of the album and
exclusive merch is available from the official Yusuf / Cat Stevens online store – visit the official store here.




"Looking at the jagged journey of my music, beginning as I did in the 60's, I would say this new record is a mosaic. A very

clearly defined description of where I've been and who I am."
– Yusuf / Cat Stevens






March 14, 2023
How The Beatles Recorded The Please Please Me Album + Mixing Secrets
by Parlogram Auctions








March 12, 2023
Norwich's Tony Sheridan was "the Teacher" to The Beatles
It was 10 years ago when a Norwich-born musician named Anthony Esmond Sheridan McGinnity died in Germany… the man
The Beatles called The Teacher.
by Derek James for Norwich Evening News


He went by the name of Tony Sheridan.

Here are just some of the words spoken by those who shared a stage with him or loved listening to this rock 'n' roll rebel rouser.

Paul McCartney: "Tony was a good guy who we knew and worked with in the early days in Hamburg. We regularly watched his late-night
performances and admired his style."

George Harrison: "The people of Liverpool always credited us with the Mersey Beat sound but it should have been Tony Sheridan."

Ringo Starr, Tony's drummer for a while in Germany before he joined The Beatles: "I had a great time playing with him."

Jimmy Page (Led Zeppelin), said in the 1960s: "The only guitarist worth watching in England is Tony Sheridan."

Gerry Marsden of Gerry & The Pacemakers: "He was a genius, a great guitar player. I used to watch Tony every night and he influenced
me a great deal."

Joe Brown: "What a fantastic guitar player."

Chas Hodges, of Chas & Dave: ""He was some guitar player. I never knew he came from Norwich."


Well, he was born in the city during 1940 and went to Bignold Infants School (Crooks Place) and then the City of Norwich School where he
and Alan Mann were good mates and became lifelong friends – mind you it didn't stop Tony trying to edit/stop a book about him by Alan.

In fact mystery still surrounds much of his "private" life around the world.

So when did Tony start to get an interest in music?

"It was a clarinet in the music room at school which caught my eye. As far as I could see nobody ever seemed to play it so one day I
decided to take it. I took it to a pawn shop in Norwich where I got my first battered guitar," he said.

"The next day I was hauled into the headmaster's study after the police had been on touch with the school and I had a LOT of explaining
to do," he added.

Tony lived in Thorpe St Andrew when he got together with Andy Kinley, John Taylor, Kenny Packwood and singer Mireille Gray to form
The Saints. They won £15 for winning a skiffle show at the Industrial Club, later The Talk.

"Skiffle had turned me on so I got rid of my pimples, got my guitar and headed off down the All to the bright lights," he said.

Tony became the first British artist to play an electric guitar on TV, toured with Gene Vincent and Eddie Cochran in 1960 – the tour during
which Eddie was killed in a car crash - and then headed for Germany.

"Mercurial character though he was, and he could be a real pain, he is never far from my thoughts and most of the memories I retain are
good ones. He never forgot his roots," said Alan.

For a copy of The Teacher: The Tony Sheridan Story by Alan Mann contact Alan at alanjmann@outlook.com or look online.



March 11, 2023
February 1964: "I Want To Hold Your Hand" and "She Loves You" singles hit the Variety music charts as did the Beatles first
American LP "Meet the Beatles"



March 10, 2023
The 30 greatest John Lennon quotes of all time
Wise words from the legendary Beatle
by shortlist.com staff


Aside from creating an extraordinary amount of iconic songs, John Lennon was also capable of inspiring and entertaining millions with a single spoken
sentence.

He was sometimes profound, sometimes silly; sometimes eloquent, sometimes monosyllabic – when asked what impressed him most about America,
the man responsible for some of the most beautiful lyrics ever written stated, "Bread."

In case you don't quite believe us, then we've assembled 30 of his greatest quotes to improve your day and get your mind working...



"Life is what happens while you are busy making other plans."

"I don't know which will go first - rock 'n' roll or Christianity."

"Time you enjoy wasting, was not wasted."

"Everybody loves you when you're six foot in the ground."

"If there's such a thing as genius — I am one. And if there isn't, I don't care."

"As usual, there is a great woman behind every idiot."

"You don't need anybody to tell you who you are or what you are. You are what you are!"

"Before Elvis there was nothing."

"Everything is clearer when you're in love."

"A dream you dream alone is only a dream. A dream you dream together is reality."

"Everything is as important as everything else."

"If everyone demanded peace instead of another television set, then there'd be peace."

"You either get tired fighting for peace, or you die."

"I don't believe in killing whatever the reason!"

"We all have Hitler in us, but we also have love and peace. So why not give peace a chance for once?"

"Happiness is just how you feel when you don't feel miserable."

"Music is everybody's possession. It's only publishers who think that people own it."

"You have to be a bastard to make it, and that's a fact."

"When you're drowning, you don't say 'I would be incredibly pleased if someone would have the foresight to notice me drowning and come and help me,' you just scream."

"The more I see the less I know for sure."

"God is a concept by which we measure our pain."

"We've got this gift of love, but love is like a precious plant…. You've got to keep watering it. You've got to really look after it and nurture it."

"I don't believe in yesterday, by the way."

"What we've got to do is keep hope alive. Because without it we'll sink."

"Reality leaves a lot to the imagination."

"It's better to fade away like an old soldier than to burn out."

"Art is only a way of expressing pain."

"If someone thinks that love and peace is a cliche that must have been left behind in the Sixties, that's his problem. Love and peace are eternal."

" I can't wake you up. You can wake you up. I can't cure you. You can cure you."

"I believe in everything until it's disproved."






March 7, 2023
Paul McCartney's 1972 Wings tour bus restored

by the BBC (originally published with a video on November 16, 2022)
The open-top bus Sir Paul McCartney and his band Wings used to take them on tour across Europe 50 years ago has been restored.
He converted the double-decker for his post-Beatles band and their families, with the seats on the upper deck replaced by mattresses and bean bags.p>
It was discovered in Spain and brought back to the UK where a project began to restore it at a workshop in Thorpe le Soken, Essex.
Brad Earl, who worked on it, said he was "very pleased" with the restoration.
The bus originally served local routes in Essex and Norfolk in the 1950s and 60s before being bought by McCartney, who said he did not want a normal bus during the summer tour in 1972.
After the tour, it eventually ended up outside a cafe in Tenerife before being moved to the cafe owner's garden.
The bus, known as WNO 481, was then brought back to the UK and subsequently bought by Tom Creaven-Jennings, who wanted to restore it for the 50th anniversary of the the tour.
Mr Earl, who works at a lorry repair and body shop, said: "I came into work one morning and the owner [of the bus] had sent me an email asking me if I would be interested in restoring this bus.
"I said yes straight away, my mum was a huge Paul McCartney fan and I couldn't give up the opportunity."
He said it took 16 months to restore.
"It was completely rotten from top to bottom," he said.
The bus features bunkbeds, as it did for the 1972 tour, and an original trunk donated by Wings drummer Denny Seiwell.
But there are some changes, as the upper deck, which featured blankets, beanbags, mattresses and a playpen for the children - now folds down to become a mobile stage.
It is hoped the bus will be used at motor shows, concerts and festivals in the future.



March 6, 2023
Flashback to 1969: "John and Yoko's Toronto Concert"
Mal Evans talks to Beatles Monthly Book editor Johnny Dean in the November 1969 edition







March 5, 2023
The True Story of The Beatles Please Please Me Album Cover - Creation to Destruction
by Parlogram Auctions






March 3, 2023
Alan Livingston, Capitol's Former President When The Beatles Came Calling, Recalls The British Invasion
By Alan W. Livingston as told to Ron Tepper for Billboard magazine, May 4, 1974


| | |
| --- | --- |
| Promo found in a Cash Box edition | |



March 1, 2023
Flashback: Paul McCartney supports "Rock Against Cancer" February 28, 2014





February 26, 2023
Hare Krishna followers join Beatles fans to mark George Harrison's 80th birthday

by itvX news
George Harrison's birthday has been marked by Hare Krishna followers at a Beatles museum where a pendant belonging to the musician went on display.
Members of the Hare Krishna movement joined more than 100 fans at the Liverpool Beatles Museum on Saturday, on what would have been the guitarist and songwriter's 80th birthday.
Harrison, who died in 2001 at age 58, donated Bhaktivedanta Manor in Watford to the International Society for Krishna Consciousness (Iskcon), known as the Hare Krishnas, in the 1970s.
Followers, who practise a specific form of yoga, still use the building as a spiritual sanctuary, temple and monastery.
Museum owner Roag Best said he had been contacted by the Hare Krishnas ahead of the star's birthday.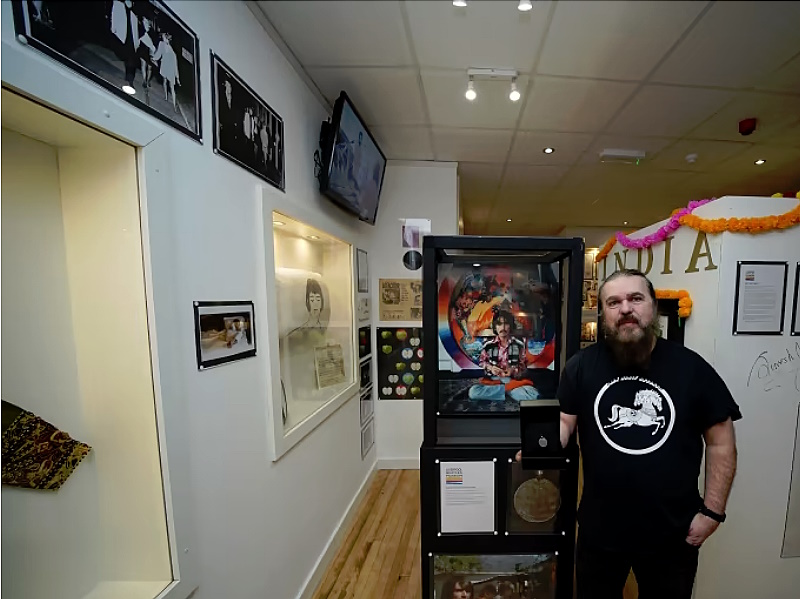 Museum owner Roag Best with a pendant belonging to George Harrison on display at Liverpool Beatles Museum
Credit: Press Association
He said: "George was massively important to the Hare Krishnas and they approached us and said they wanted to do something in Liverpool to celebrate his birthday.
"We planned this afternoon where they're in the museum chanting, singing and putting paint on people's heads before we have an audience with Gurudas, who was one of the first Hare Krishnas George met and who he stayed friends with throughout his life."
To mark the occasion, the museum is putting a pendant with the sacred symbol Om, which belonged to Harrison, on display.
Mr Best said the pendant was passed on to him by his father Neil Aspinall, the road manager for the Beatles.
He said: "George had the pendant in the early 1960s to the mid-1970s.
"My dad was very into the Krishna movement as well. I remember once going to his house and finding him in the back room in semi-darkness, lava lamps going and Indian music on, wearing a kaftan, his long hair down his back and a sitar across his lap as he sat on the floor!
"He and George were at my dad's house one day talking about religion and about Krishnas when my dad said he didn't have an Om pendant.
"My dad's gone 'I must get a pendant' and George goes 'you can have this one', takes it off and gives it to him.
"That was in the mid-1970s and in the mid-1990s my dad passed it on to me.
"It's just been in storage, and with George's 80th birthday approaching I thought it was a good time to add it to the museum collection."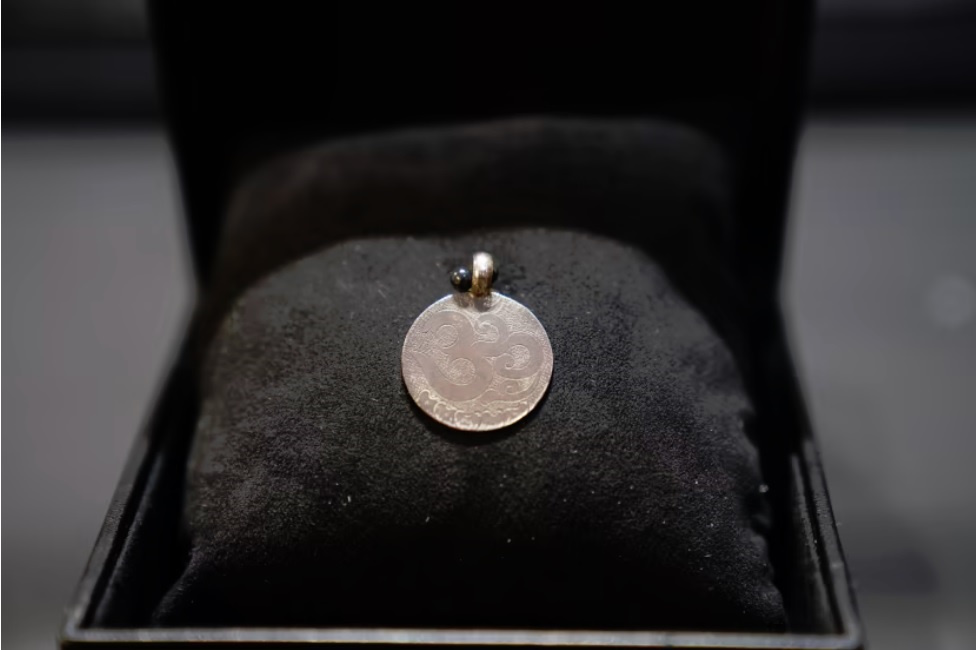 A pendant belonging to George Harrison on display at Liverpool Beatles Museum Credit: Press Association
The item joins a host of other memorabilia on display at the Mathew Street museum owned by Mr Best, who is the brother of the Beatles' original drummer Pete.
Harrison wrote Beatles hits including While My Guitar Gently Weeps, Here Comes the Sun and Something, as well as solo releases My Sweet Lord and Got My Mind Set On You.
On this day in 1997 the Beatles win 3 Grammy Awards



February 24, 2023
Interesting Facts About the Beatles and the Monkees

by Eddie Deezen for TodayIFoundOut.com


Above photo: The Monkees ─ Going clockwise from the left: Peter Tork,
Mickey Dolenz, Mike Nesmith

, Davy Jones,



Left photo insert: Promo advertisement found in the December 3,
1966 Billboard edition.
The Beatles vs. "The Monkees"… Well, that's really no contest, is it? Isn't that rather like comparing Marilyn Monroe to J. Lo? Jim Carrey to Pauly Shore?
As we all well know and readily concede- fame-wise, talent-wise, popularity-wise, music-wise, and immortality-wise, it's no contest. But did you know The Monkees' records outsold both the Beatles and the Rolling Stones combined in the years 1966 to 1967?
With that, let's take a quick look at these two very popular "musical groups" of the 1960s, the parallels, the similarities, and the differences.
Beatles-Monkees- both cleverly punned, albeit misspelled, names of living non-human creatures. The Monkees were a synthetic "rock group" formed by four young men (two actors and two actual musicians) in 1966 to create a television show about four young carefree musicians, in direct homage to the Beatles' first film "A Hard Day's Night."
The series made no attempt to hide or shy away from their all-too-obvious Beatles influence. In the very first episode of The Monkees TV show, we see Mike Nesmith throwing a dart at a Beatles poster (hitting Ringo). In another Monkees episode, we see the four boys lying on the ground, mumbling, all four heads pushed together, in a shot directly taken from "A Hard Day's Night." In yet another episode, Davy's British grandfather comes to the states to pay him a visit (Paul's grandfather was the main center of "A Hard Day's Night"). Even in the very last Monkees episode, we see the boys waking up to their alarm clock / record player, which blares out "Good Morning, Good Morning," the John Lennon song.
Almost every "Monkees" episode, in fact, featured a rollicking romp of the fours boys running around Helter-Skelter, in the exact same manner as the Beatles did in the famous "running in the field" scene from "A Hard Day's Night."
The exact character comparisons were fairly obvious too. John Lennon and Mike Nesmith were the "leaders" of their respective groups- the smartest ones, cracking sly jokes and asides, each with their droll sense of humor. Both somehow seemed "older" than the other three (Nesmith was, but Ringo Starr was actually the oldest Beatle).
Paul McCartney and Davy Jones were the "heart-throbs" of the teams- the two romantic leads, the best looking of the eight and the girls' favorites. Paul's trademark ballad song was "Yesterday," (originally titled: Scrambled Eggs) while Davy warbled "I wanna be free."
Ringo and Peter Tork each took on the "cute and dumb one" title, the "Harpo Marx" of their respective teams.
Micky Dolenz, definitely the most gifted singer of the Monkees, and George Harrison "The Quiet Beatle," were a little harder to pigeonhole. Micky and Ringo were both drummers. And George and Peter were each group's respective most dedicated musicians.
By a strange bit of irony, when the Beatles made their legendary first appearance on "The Ed Sullivan Show" in Feb. Of 1964 before a record-breaking TV audience of 73 million viewers, a young Davy Jones appeared in the cast of "Oliver!" on the same broadcast.
Feeling his oats by 1967, Davy Jones was to state publicly that the Monkees had shown more growth and advancement from their first to third albums than the Beatles had from their first to fifth albums. But for their part, the Beatles showed no resentment over their imitators huge success in 1966-67. John Lennon said the Monkees were "the funniest comedy team since the Marx brothers," adding that he "never missed an episode" of their TV show.
George Harrison, another Monkees admirer, said "When they get it all sorted out, they might turn out to be the best."
When the Monkees came to England in 1967, the Beatles even threw them a big party at the "Speakeasy" club. Mike Nesmith had dinner at John Lennon's home and the two, and their two respective wives, became friends. Mike also attended the Beatles recording sessions for the song "A Day in the Life."
Paul McCartney became acquainted with Micky Dolenz and is seen at the "Sgt. Pepper's" recording sessions grinning happily with a mustachioed McCartney. In 1967, the Monkees album "Headquarters" hit the #1 spot on the charts. Of course, its success lasted only one week, before being replaced by the Beatles and "Sgt. Pepper's Lonely Hearts Club Band."
Want more? How about these connections:
● On February 13, 1967, Paul and Ringo attended a Jimi Hendrix concert. In early June of '67, Paul saw Hendrix again live, and was flattered to hear the genius guitarist strumming the strings to the opening notes of "Sgt. Pepper." In less than a week, Hendrix was the opening act for the Monkees on their 1967 world tour. (In possibly the most ridiculous, eye-rolling, irony in the history of rock music, Jimi was booed off the stage at each of his appearances by angry, impatient Monkees fans, and left the tour in disgrace after a few days. Yep…)
● The very first self-written song by Micky Dolenz was called "Randy Scouse Git" and mentions "Four Kings of EMI" (Gee, I wonder who he was referring to?)
● In the Beatles album "Rubber Soul," they have a song called "Girl," while Davy Jones sings a completely different song called "Girl" in his guest appearance on "The Brady Bunch" in 1971.
● Peter Tork was actually a guest guitar player on George Harrison's first solo album "Wonderwall."
● In 1968, John Lennon was famous for bringing his girlfriend, Yoko Ono, into the sacred "no chicks allowed" Beatles recording sessions. But in 1967, Micky Dolenz often invited his sister, Coco, to sit in at the Monkees recording dates.
● In 1977, Micky and Ringo appeared together in a Levi's commercial. And when Micky Dolenz hosted a radio show for WCBS-FM in New York, he interviewed Ringo. Micky also made a brief guest appearance in Paul McCartney's 1976 documentary film "Wings Across America."
● In 1995, Ringo appeared with Davy, Micky and Peter in a "Pizza Hut" commercial.
● In 2002, Paul can be heard singing "Hey, Hey We're the Monkees" in his 2002 concert film "Back in the Us."
So the Beatles vs. The Monkess? Well, let's look at it this way- yes, there is "Seinfeld" and there is "Gilligan's Island." The Beatles were, obviously, four immensely talented singers and musicians, with their cornerstone being the greatest songwriting team of the past half-century (Lennon-McCartney). In their famous press conferences and their all-too-brief film career, the Beatles also proved themselves to be very gifted, funny comedians.
The Monkees were very gifted comedic actors. They were renowned for not even playing their own instruments, but they did compose a handful of very good songs between them.
Jim Backus, perhaps, said it best when he was once asked about the low-grade, childish humor of his show "Gilligan's Island." The questioner made the point that Gilligan's Island "wasn't Shakespeare." Backus, not insulted, agreed with the interviewer's premise and readily acknowledged that his popular series, indeed, was not Shakespeare. "I know, but there's room for us all. There's room for everybody."


Screenshot taken from the August 20, 1966 edition of Billboard





February 22, 2023
The Rolling Stones Recording Music with The Beatles' Paul McCartney and Ringo Starr
The Beatles' two surviving members are featured on The Rolling Stones still unannounced
upcoming album, Variety reports
by Tracey Harrington McCoy for People magazine




Paul McCartney and Ringo Starr — the last living members of The Beatles — will reportedly "come together" again to record new music with friendly rivals The Rolling Stones.

According to Variety, both McCartney, 80, and Starr, 82, are slated to appear on The Stones' upcoming album, which they say is being helmed by 2021 Grammy producer of the year Andrew Watt. McCartney has already recorded some bass parts during recent sessions in Los Angeles, while Starr is reportedly lined up to play drums.

It's unclear whether the two will be on the same song, whether they're working on multiple tunes or even if their tracks will make the final cut. The album has yet to be officially announced, though both The Stones' lead singer Mick Jagger and guit1arist Keith Richards have teased new music is on the way in recent months.

This won't be the first time The Beatles and The Rolling Stones have collaborated, though the British rockers have rarely worked together in the past six decades since they each found fame.

The late John Lennon sang backup on The Stones' "We Love You" in 1967 alongside McCartney. That same year, The Stones' Brian Jones guests on The Beatles' "You Know My Name (Look Up the Number)," on saxophone.





If or when The Stones' new album comes, it'll be the first new record of original musical from the rockers since 2005's A Bigger Bang. They just wrapped a tour celebrating 60 years in August 2022, and released a cover album — Blue & Lonesome — in 2016.

The potential new album will also be the first without longtime drummer Watts, who died in August 2021 at age 80.

Watts will be featured on the album, Jagger, 79, and Richards, 79, telling the Los Angeles Times in October 2021 that they had recorded new music with him on drums before his death. "Let me put it this way," Richards said, "you haven't heard the last of Charlie Watts."

The surviving Stones have spoken openly about the pain of losing Watts. Jagger raised a drink to the drummer on stage in September 2021 as they played their first show without him.

"The thing he brought was this beautiful sense of swing and swerve that most bands wish they could have," the singer told Rolling Stone that month. "We had some really nice conversations in the last couple of years about how all this happened with the band. It's a huge loss to us all. It's very, very hard."

Meanwhile, McCartney and Starr — who rose to fame in the Fab Four alongside Lennon and George Harrison — have maintained a friendship in the years since the Beatles went their separate ways, and both were recently featured in the Abbey Road documentary If These Walls Could Sing, directed by Paul's daughter Mary McCartney.

Earlier this month, the two old friends reunited at a Los Angeles event for Paul's other daughter Stella McCartney, showing off some groovy dance moves in a video shared by Starr to social media.

"Man, this beautiful day is getting better and better we were at the Stella McCartney rollerskating party," Starr captioned the clip, which showed him dancing with Paul and clapping along to the 1976 disco hit "Young Hearts Run Free" by Candi Staton. "What a time we had go get them, Paul, peace, and love."






February 21, 2023
George Harrison's Solo Catalog Moves to Dark Horse-BMG

by Jem Aswad for Variety
| | |
| --- | --- |
| Photo credit: Claire Stanton | |
The solo catalog of George Harrison has moved to Dark Horse Records via BMG, the company announced on Tuesday. Harrison's family retains the rights to the catalog.
The 12-album catalog includes Harrison's debut "Wonderwall Music" (the soundtrack to the film "Wonderwall"), his classic 1970 album "All Things Must Pass," the 1973 follow-up "Living in the Material World," his 1987 comeback album "Cloud Nine: and his final studio album, "Brainwashed," which was released in 2002, the year after his death from cancer. It also includes the live double album "Live in Japan," featuring Eric Clapton and the compilations "Let It Roll – Songs by George Harrison," "Early Takes Vol 1, The Apple Years 1968-1975," and "The Dark Horse Years 1976-1992." In celebration of Harrison's 80th birthday on Feb. 25, Dark Horse/BMG have released his entire catalogue in Dolby Atmos surround sound exclusively on Apple Music.
Beginning in 1968, Harrison's solo discography was released first on the Beatles' label, Apple Records, and later Harrison's own Dark Horse Records through Warner Bros. or EMI Records. In 2021 Universal Music's catalog division released a deluxe anniversary edition of "All Things Must Pass."
Previously in 2022, BMG announced it had entered into a global publishing agreement with the George Harrison Estate to administer the Harrisongs catalog comprising more than 200 songs written with the Beatles, the Traveling Wilburys and Harrison's solo career. The partnership expands on a 2020 deal with Harrison's Dark Horse Records as a boutique music company with BMG serving as its global partner and infrastructure across recorded music, music publishing, and merchandise, while developing further areas of business.
Further terms of the deal were not disclosed, although it appears distribution contracts, including the one with Universal — which acquired EMI's recorded-music assets in a nearly $2 billion deal initiated in 2011 — had concluded.
Harrisongs Limited, the music publishing entity created by Harrison, contains his nearly two dozen songs written with the Beatles including the band's most popular song on streaming services, "Here Comes The Sun," as well as "I Me Mine," "While My Guitar Gently Weeps," and the US No. 1 single "Something," his songs from the two albums recorded by the Traveling Wilburys (a 1980s supergroup featuring Harrison, Bob Dylan, Tom Petty, Roy Orbison and Jeff Lynne) featuring "End of the Line," "Handle with Care," "She's My Baby," and "Inside Out," as well as the 12 studio albums of solo works.
Harrison's son, Dhani, said, "22 years since his passing, for what would have been his 80th birthday, I am overjoyed to announce that we are bringing my father's music catalogue back home to Dark Horse Records, the company he started back in 1974. We look forward to releasing only the finest of packages and hope the fans join us on the deepest of dives into our archives as we continue to grow his legacy through our partnership with BMG, starting with the release of his entire back catalog in Spatial Audio, for the first time, on Apple Music. We also will be using this opportunity to make all the custom limited vinyl that we can get away with. Happy 80th Dad!!! We love you always."
BMG CEO Hartwig Masuch said, "This is a banner day for BMG, bringing together for the first time the song and recorded rights of one of the greatest musicians in popular music history under one roof. Only BMG can do this. We look forward to working with the George Harrison Estate and Dark Horse Records to promote George's peerless music to generations old and new."
In 2020, BMG announced it had entered into a multi-faceted global partnership with Dark Horse Records, which was founded by George Harrison in 1974 as a place for his solo work and a home for supporting other artists, and now led by Dhani Harrison and David Zonshine.
The agreement initially brought catalogue releases from the acclaimed record label and Harrison's Indian label imprint HariSongs, as well as Joe Strummer's solo works, including The Mescaleros. Recent Dark Horse Records releases include the newest recordings from Billy Idol, Cage, The Roadside and Happy Holidays with upcoming releases including Benmont Tench's new studio album, 16 albums from Leon Russell's recorded catalogue spanning 1984-2013, Deep Purple's Jon Lord, and a global publishing administration deal for Joe Strummer's solo publishing catalog.

60 Years Ago: Black-owned Vee-Jay Introduces the Beatles to America

by Nick DeRiso for Ultimate Classic Rock
A popular nighttime DJ in Chicago first played the Beatles in February 1963, spinning a single version of "Please Please Me" that wasn't released through EMI, Parlophone or Capitol Records.
Instead, it was tiny Vee-Jay Records, a Black-owned label from Chicago's South Side founded by Vivian Carter and Jimmy Bracken. The Beatles were already surging in popularity back in their native England. Without Vee-Jay, however, they might never have broken in America. Capitol Records, EMI's American subsidiary, had initially turned them down.
Carter was also a radio personality and hosted a well-regarded gospel program in her Indiana hometown. She married Bracken, an entrepreneurial dreamer, four years before John Lennon and Paul McCartney first met in 1957. They started Vee-Jay, named after the first letters of their first names, with a $500 loan from a local pawnbroker. The first signed act was a doo-wop group, the Spaniels. Their debut single, "Baby It's You," shot to No. 10 on the Billboard R&B chart, then the follow-up "Goodnite, Sweetheart, Goodnite" rose to No. 5. Vee-Jay was on its way.
They hired Ewart Abner as general manager. He'd later serve as label president at Vee-Jay before rising to the same position at Motown, Vee-Jay's successor as the most successful Black-operated record company. Previous experience at Chicago's Chance label had given Abner a wealth of insight into getting records made – and played.
He personally delivered "Please Please Me" to that Chicago DJ. "[Abner] came up, and he was bringing his latest releases," Dick Biondi later told NPR. "And he handed me one, and he said, 'Dick, listen to this. This is a group from England. You might like it.' I listened and I played it that night, and it was on."
Vivian Carter's younger sibling Calvin became Vee-Jay's fourth core team member, serving as producer. Together, they signed, produced and marketed soul pioneer Jerry Butler, gospel crossover legends the Staple Singers, and blues stars John Lee Hooker and Jimmy Reed. Gene Chandler's Vee-Jay single "Duke of Earl" soared to No. 1.
They get less credit for taking a chance on the Beatles.
Vee-Jay had slowly been signing white artists, and they already comprised some 30% of its roster in 1961. The Four Seasons scored a pair of chart-toppers for the label a year later. "If we want to stay in business," Abner told Ebony magazine back then, "we've got to stop thinking of ourselves as just a Negro company."
Then Abner got a call from Vee-Jay attorney Paul Marshall, whose other clients included Transglobal, EMI's licensing representative in the U.S. Abner recalled that Marshall "said, 'Ab, this group, they're going to be bigger than bubblegum.' Says, 'They're already happening in Liverpool and in England. Capitol's got a right to them because Capitol is owned by EMI. Capitol doesn't want to exercise their right. We can get 'em.' I said, 'Let's get 'em!'"
The original contract granted Vee-Jay Records the right of first refusal on the distribution of Beatles records in the U.S. for the next five years – meaning Sgt. Pepper's Lonely Hearts Club Band may have been issued with Vee-Jay's familiar rainbow-ringed label.
They were already huge in England, but "Please Please Me" failed to break the Beatles in the U.S. – despite Biondi's best efforts. (He was also an early fan of Vee-Jay's next Beatles single, "From Me to You.") But Capitol Records began to have second thoughts anyway, especially when Vee-Jay dragged its heels on releasing the Beatles' debut album.
The masters had been dutifully handed over since Vee-Jay had exclusive rights to release this material under the licensing agreement with Transglobal. But weeks turned into months, and the album never arrived. Vee-Jay ended up releasing the very first Beatles album in America, a multimillion-seller called Introducing ... the Beatles – but not until Jan. 10, 1964, just 10 days before Capitol Records issued Meet the Beatles.
Introducing … the Beatles boasted a track listing that mirrored their U.K. debut, minus "Please Please Me" and "Ask Me Why." It's easy to see why Vee-Jay believed in their crossover appeal since half of the remaining songs were covers of songs made popular by Black acts – including "Twist and Shout," which had recently hit for the Isley Brothers. Vee-Jay released the Beatles version, pairing it with Lennon's Motown-influenced "There's a Place" and scored a No. 2 hit.
Both albums sold well, though Capitol's kept Vee-Jay out of the top spot. Meet the Beatles was No. 1 for 11 weeks while Introducing ... the Beatles cooled its heels at No. 2 for nine. Unfortunately, Vee-Jay was having trouble keeping up. Cash flow problems had caused delays in pressing the album, while worries about being undercapitalized and rumors of money mismanagement led to Abner's departure.
Watch a News Report on Vee-Jay's Rise and Fall
Transglobal ended up terminating Vee-Jay's contract over failure to pay royalties. Capitol then sued Vee-Jay, asserting prior distribution rights. Injunctions came and went, as Vee-Jay sporadically produced Beatles records. At one point, employees were reportedly staying home from the office in order to avoid being served legal papers from Capitol.
The two sides ultimately reached a settlement agreement in early 1964, and Vee-Jay was given the right to sell its previously released records until that October, when all the songs would revert to Capitol. Carter and Bracken were also given clearance to issue "Love Me Do" and "P.S. I Love You," and the single promptly soared to the top of the charts.
Vee-Jay then got busy repackaging the material they had before time ran out. Songs, Pictures and Stories of the Fabulous Beatles arrived in July 1964, followed by The Beatles vs. the Four Seasons in August. By May 1966, however, Vee-Jay was out of business. Just three years had elapsed since the Beatles' passed-over masters arrived at their doorstep.
Despite everything, they were groundbreaking until the end: One of Vee-Jay's last singles found Little Richard singing "I Don't Know What You've Got, but It's Got Me" with a then-unknown guitarist named Jimi Hendrix. Millions of counterfeit versions of Introducing ... the Beatles were later sold in drug and department stores, reportedly produced in part by an unscrupulous former Vee-Jay employee. As a result, the Beatles' original Vee-Jay recordings became a holy grail of sorts for fans.
"Those are collector's items now – they are," Vee-Jay's former international director Barbara Proctor told Chicago's WLS-TV in 1995. "And we're just as proud as punch, because it really made all the difference in the world, to have that impetus and a start right here in America on our own little Chicago label."
Some intriguing anomalies also make these records collectible. Their first single identifies the band as the "Beattles." U.S. buyers got the early version of "Love Me Do" with sessions player Andy White on drums, since Vee-Jay used masters from Please Please Me. (Ringo Starr replaced him on the stand-alone U.K. single.)
The cover image from Introducing ... the Beatles, taken on the same day as the photo for Please Please Me, was reversed – meaning everyone's hair is parted in the wrong direction. (Anniversary reissues of "Love Me Do" subsequently flipped the image back to its correct position.) McCartney's memorable album-opening count-in is also clumsily edited, so he simply says, "Faaah!"
New iterations of Vee-Jay Records came and perhaps inevitably went before their catalog – minus the Beatles songs – was purchased by Concord in 2014.



February 20, 2023
Beatles In India
by Mal Evans, the Beatles Monthly Book, May 1968













February 18, 2023
Yoko Ono launches 'Wish Tree' website to mark 90th birthday
Yoko turns 90 on February 18
By Elizabeth Aubrey for New Music Express



Yoko Ono has launched a 'wish tree' website to mark her 90th birthday.

Yoko turns 90 on February 18 and to celebrate, her son, Sean Ono Lennon has made a virtual 'Wish Tree' where people all over the world can post their wishes online and (in association with One Tree Planted) plant real trees in Yoko's honour.

Yoko first came up with the idea of 'Wish Trees' in 1996 and since its inception, Yoko has collected nearly two million wishes from more than 200 physical installations of the Wish Tree in over 35 countries.

The new website, which you can view here, now allows virtual wishes to be posted online on an interactive Wish Tree.

In her original instruction for the Wish Tree Yoko wrote:

Make a wish
Write it down on a piece of paper
Fold it and tie it around a branch of a Wish Tree.
Ask your friend to do the same.
Keep Wishing
Until the branches are covered with wishes

Meanwhile, a new documentary is set to revisit the one week in 1972 when John Lennon and Yoko Ono co-hosted The Mike Douglas Show.

Titled Daytime Revolution, the documentary was authorised by Ono's son Sean, and will include archival footage from each of the five episodes co-hosted by the famous couple in 1972.

Daytime Revolution was directed by Erik Nelson, and will feature interviews with surviving guests who were interviewed by Lennon and Ono on The Mike Douglas Show, as well as behind-the-scenes stories of the pair's week-long stint.

Across their five-episode run on The Mike Douglas Show, Lennon and Ono discussed then-controversial topics like environmental conservation and police brutality, and interviewed activists like Black Panther chairman Bobby Seale, and lecturer and attorney Ralph Nader.

A release date for Daytime Revolution has not yet been announced. It will follow a string of Lennon-focussed documentaries to be released in recent years, including Lennon's Last Weekend in 2020 and the re-release of 24 Hours: The World Of John And Yoko in 2021.

Lennon was also the subject – alongside his Beatles bandmates – of the 2021 documentary The Beatles: Get Back, which his son Julian Lennon said "made me love my father again".


The Beatles AUSTRALIAN Vinyl Albums - History & Sound Quality
by Parlogram Auctions



In this video, we take a detailed look at The Beatles' original 1960's Australian vinyl albums. Including the story behind their unique covers,

compilations and their sound quality.






February 17, 2023
Raquel Welch dead at 82 ─ Ringo Starr pays tribute on his official Facebook pages


The Rolling Stones' 'Paint It Black' Delayed the Release of The Beatles' 'Paperback Writer'

by Matthew Trzcinski for Showbiz Cheat Sheet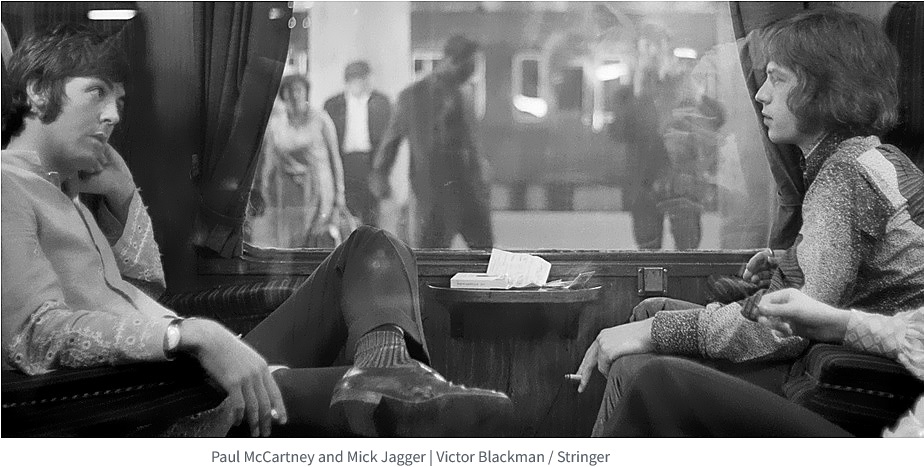 The Beatles' "Paperback Writer" came out days after The Rolling Stones' "Paint It Black." Subsequently, Keith Richards said this was intentional.
Notably, one of these tracks was ever so slightly more popular in the United States.



The Beatles' 'Paperback Writer' came out the year the band started smoking pot instead of drinking

According to the 2015 book Conversations with McCartney, Paul was asked what made 1966 a special year for The Beatles, The Byrds, The Beach Boys, and Bob Dylan. "The main thing is, people were getting high," he said.

"It was the shift from drink to pot," he said. "It wasn't much more serious than that. There'd always been pills on the fringe of it all. So it became more of a beatnik scene, like jazz. But Dylan really was the big influence on that." Notably, "Paperback Writer" came out in 1966.

Keith Richards explained the releases of The Rolling Stones' 'Paint It Black' and The Beatles' 'Paperback Writer'



According to the 2013 book 50 Licks: Myths and Stories from Half a Century of The Rolling Stones, Keith Richards discussed "Paperback Writer" and "Paint It Black." "Everybody was talking about The Beatles versus the Stones and all that crap, and yet between us, it would be, 'You come out first and we'll wait two weeks,'" he recalled. "We would try never to clash; there was plenty of room for both of us.

"There was a time when "Paperback Writer' came out, and one of ours — 'Paint It Black' or something like that — came out before or after; we had stitched it up with them," he added. "There would be surreptitious phone calls. It was, 'OK, ours is ready, yours ain't.' 'All right, you go first.'" For context, "Paint It Black" came out on May 7, 1966, in the United States and May 13, 1966, in the United Kingdom. Subsequently, The Beatles released "Paperback Writer" worldwide on May 30, 1966.

The Rolling Stones' 'Paint It Black' reigned supreme over the Fab Four's song



"Paint It Black" reached No. 1 on the Billboard Hot 100 for a pair of weeks, staying on the chart for 11 weeks in total. The tune appeared on the American edition of the album Aftermath, which peaked at No. 2 on the Billboard 200 and stayed on the chart for 50 weeks.

"Paperback Writer" was slightly less successful in the United States. There, "Paperback Writer" peaked at No. 1 for two of its 10 weeks on the Billboard Hot 100. The tune appeared on the compilation album 1. That album was No. 1 on the Billboard 200 for eight weeks, remaining on the chart for a total of 530 weeks.

The Rolling Stones and The Beatles worried about meddling with each others' success but "Paint It Black" and "Paperback Writer" both became hits.

George Harrison Said He Inspired The Rolling Stones' 'Paint It Black'
by Matthew Trzcinski for Showbiz Cheat Sheet

Keith Richards said Brian Jones did a fantastic job playing the sitar on The Rolling Stones' "Paint It Black." George Harrison said he helped inspire

Jones' work on the song. In addition, he revealed what he thought about Jones as a person.


Keith Richards discussed what he thought of Brian Jones playing sitar on The Rolling Stones' 'Paint It Black'

The book Keith Richards on Keith Richards: Interviews and Encounters features an interview from 1988. In it, Richards discussed Jones' talent.


"Some of the things he did with marimbas in 'Under My Thumb' and sitar in 'Paint It Black' were fantastic, amazing touches [that] gave the band a
whole different area of color," he said. "When he started to play around with the bells and marimbas, it was great but I couldn't get him back into
the guitar."


George Harrison discussed The Rolling Stones' Brian Jones as a friend and as a musician

According to the 2013 book 50 Licks: Myths and Stories from Half a Century of The Rolling Stones, George discussed why Jones played the sitar
on "Paint It Black." "I always used to see Brian in the clubs and hang out with him," he said.

"In the mid-'60s, he used to come out to my house — particularly when he'd got 'the fear,' when he'd mixed too many weird things together," he
added. "I'd hear his voice shouting to me from out in the garden: 'George, George,'" he said. "I'd let him in — he was a good mate.

"He would always come round to my house in the sitar period," he added. "We talked about 'Paint It Black' and he picked up my sitar and tried to
play it — and the next thing was he did that track." The song became a pop culture staple, appearing in films like Full Metal Jacket, The Devil's
Advocate, and Stir of Echoes, as well as the Vietnam War television show Tour of Duty.

How 'Paint It Black' performed on the pop charts in the United States and the United Kingdom

"Paint It Black" reached No. 1 on the Billboard Hot 100 for two weeks, staying on the chart for 11 weeks. The tune appeared on the American
version of the album Aftermath. Aftermath reached No. 2 on the Billboard 200 and stayed on the chart for 50 weeks.

According to The Official Charts Company, "Paint It Black" reached No. 1 in the United Kingdom for a single week, remaining on the chart for 10
weeks in total. The tune appeared on the U.K. edition of the compilation album Big Hits (High Tide and Green Grass). The compilation reached
No. 4 in the U.K. and lasted on the chart for 45 weeks.

"Paint It Black" was a huge hit and it wouldn't be the same without George.

Cartoon caricature of John Lennon in Beatles Monthly Book October 1967






February 16, 2023
Fifty-Six years ago today Astrid Kirchherr marries Gibson Kemp






February 14, 2023
Micky Dolenz recalls his time as a member of The Hollywood Vampires
by Lucille Barilla for Showbiz Cheat Sheet, published on February 6, 2023

The Rainbow Bar & Grill, 9015 W Sunset Blvd., W. Hollywood, CA.

The Rainbow Bar & Grill, 9015 W Sunset Blvd., W. Hollywood, CA.

The Rainbow Bar & Grill, 9015 W Sunset Blvd., W. Hollywood, CA.




After The Monkees ended as both a band and a television series, Micky Dolenz spent several years exploring other aspects of the entertainment business. However, he remained a staple of the Hollywood nighttime scene due to a longtime friendship with Alice Cooper. Their recreational softball team turned drinking club became the legendary Hollywood Vampires. This eclectic band of musicians held court at Hollywood Rainbow Bar and Grill, raising what Dolenz called "holy hell" with a group that included John Lennon and Keith Moon.


Who were The Hollywood Vampires?

The Hollywood Vampires members included some of the greatest musicians of the 1960s and 70s. These musicians included
Alice Cooper, Harry Nilsson, Micky, Ringo Starr, Keith Moon, and John Lennon. Alice was the President. Bob Brown, Alice's publicist,
was the Treasurer.

The group met in an attic space in the Rainbow Bar and Grill on Sunset Strip in Hollywood. The idea was to drink excessively,
and the night's winner was the last one standing. A sign still exists in the area reads, "The lair of The Hollywood Vampires."

Micky once said the group raised "holy hell" in the early morning hours of 1973 and '74 until "ungodly hours." However,
he insists the group was a softball team that helped the community before their late-night debauchery at a Hollywood hotspot.

Micky Dolenz recalls his time as a member of The Hollywood Vampires

In an interview with Goldmine, as reprinted by the blog Nights with Alice Cooper, Micky explained the group's origins. The Hollywood
Vampires were a softball team that played on weekends for charity. He and his next-door neighbor in California's Laurel Canyon, Alice,
came up with the idea.

"I started the Hollywood Vampires with Alice Cooper. (Harry) Nilsson and (John) Lennon joined shortly after that," Micky explained.
"Alice had this idea of starting a softball team to play on weekends for charity. We played some serious softball locally against the
fire department, the police department, boys' clubs, and record labels."

He continued, "It turned into an informal league that raised a little money, got good press, and everybody loved it. We had a great
Hollywood Vampires softball shirt and cap with a big V on it. We played hard. It was Alice and myself, with [Monkees member] Peter
Tork as our pitcher. He was very good."

However, the Hollywood Vampires eventually morphed into a legendary group for reasons unrelated to sports. "We would hold court
at the Rainbow until ungodly hours, true. There was a private area where we congregated, drank an ocean of booze, and raised holy
hell. It was after the softball games."

The group included a who's who of entertainment industry members for many years

Membership in the club was simple; you just had to outdrink all the other members, reported the Hollywood Bar and Grill's official
Facebook page. In the documentary Alice Cooper: Prime Cuts, he spoke of how The Speakeasy and Tramps were the places to be
in London. However, in Hollywood, the in-spot was a bit different.

"There was a little loft at the Rainbow Bar and Grill in LA (W. Hollywood); they only had that for the club. It included myself, Keith
Moon, Ringo, Micky Dolenz, and Harry Nilsson. It was that crowd, every night, those same people. Every once in a while, John Lennon
would come into town or Keith Emerson, and they would be honorable members of the night. They still have a plaque there at the
Rainbow, where it says 'The Lair of the Hollywood Vampires.'"

The Rainbow Bar & Grill, 9015 W Sunset Blvd., W. Hollywood, CA. Photograph by Mike Dillon, May 10, 2006, Wikimedia Commons.


Additional members were Keith Allison (Paul Revere and the Raiders), Saturday Night Live star John Belushi, T-Rex's Marc Bolan,
Jack Cruz, Keith Emerson (Emerson, Lake & Palmer), Beatles roadie Mal Evans, songwriter Bernie Taupin, The Eagles' Joe Walsh, and
artist Klaus Voormann.





February 13, 2023
Michael Dorf presents "The Music of Paul McCartney" at Carnegie Hall on March 15, 2023
From Denny Laine's Official Facebook pages


Michael Sokil's excellent cover version of "You Can't Do That"


Capitol Records promo of "The Beatles Second Album" in Cash Box, April 11, 1964






February 12, 2023
Meet The Beatles - Capitol Records' Masterstroke Album
by Parlogram Auctions, published February 12, 2023


The Beatles Capitol albums generally get a bad rap from those who didn't grow up with them and while this
is possible justified for some, 'Meet The Beatles' is an exception. On the 59th anniversary of it topping the
U.S. album chart, we look in detail at the history behind this album, not only how it was conceived and
promoted but also how it sounds and what we think is the best way to experience it. Join us on a journey
to discover what made this album so important in both Beatles and pop culture history.





February 11, 2023
Flashback: "Ringo, Seriously"
by Stephen Rodrick for Rolling Stone Magazine, April 9, 2015





February 10, 2023
How The Beatles Reviewed Songs Topping the Charts During the 1960s: Hear Their
Takes on the Beach Boys, Ray Charles, the Byrds, Joan Baez & More

by Colin Marshall for Open Culture, published on February 9, 2023
In the year 1966, "it seemed to Western youth that The Beatles knew — that they had the key to current events and were somehow orchestrating them through their records." So writes Ian McDonald in the critical study Revolution in the Head: The Beatles' Records and the Sixties. But some had been looking to John Lennon, Paul McCartney, George Harrison, and Ringo Starr as pop-culture oracles since they put out their first album in 1963. Unlike the youth-oriented stars who came before, they fully inhabited the roles of both performers and creators. If anyone knew how to read the zeitgeist of that decade, surely it was the Beatles.
Hence the appearance of each Beatle in Melody Maker magazine's "Blind Date" feature, which captured its subjects' spontaneous reactions to the singles on the charts at the moment. When Lennon sat for a Blind Date in January of 1964, he gave his verdict on songs from Manfred Mann, Gerry and the Pacemakers, Ray Charles, and Ricky Nelson — as well as the now-less-well-known Marty Wilde, Millicent Martin, and The Bruisers.
You can see the article turned into a full audiovisual production, complete with clips of the music, at the Youtube channel Yesterday's Papers. There you can also compare its playlist to that of McCartney's session just three years later, but on a transformed musical landscape populated by the likes of The Small Faces, Donovan, the Lovin' Spoonful, and the Byrds.
For that last California band McCartney expresses appreciation, if also reservations about what then seemed to him their stylistic stagnation: the late David Crosby, he notes, "knows where they should be going musically." Other than calling the then-passé Gene Pitney's "In the Cold Light of Day" a song he's heard "hundreds of times before, although I haven't actually heard this record," he keeps his assessment characteristically positive. More surprising are Starr's harsh verdicts on the pop music of December 1964, not just the songs themselves (though the Shangri-Las' "Leader of the Pack" notably fails to impress him), but also the judgment of the audiences they target. "Being good," he says of the Daylighters' "Oh Mom," "it won't sell."
Of Sandra Barry's "We Were Lovers (When The Party Began)," Starr comments that it "sounds like an Englishman trying to be American, which never works properly." Having grown up worshiping American rock-and-roll and started their own careers anxious about being received as foreign interlopers, the Fab Four show a natural sensitivity to this transatlantic dynamic in pop music. "It's good if it's English, mediocre if it's American," says Harrison of a song before finding out that the singer is his countryman Glyn Geoffrey Ellis, better known as Wayne Fontana. "Those breaks are so British," Lennon says of a Unit 4 + 2 single of December 1965, and he doesn't seem to mean it as a good thing. But when McCartney calls a Kiki Dee number "British to the core" the following year, it's hard not to hear a note of admiration.
On Yesterday's Papers' Blind Date playlist, you can see and hear more nineteen-sixties and seventies music reviews from Mick Jagger, Jimmy Page, Jimi Hendrix, Dusty Springfield, Frank Zappa, Brian Jones, Roger Daltrey, Eric Clapton, Roger Waters, Syd Barrett, and many other icons of twentieth-century popular music besides.



February 9, 2023
Paul McCartney picks his favourite chord
by Thomas Leatham for Far Out magazine, published February 3, 2023


Paul McCartney has written so many songs that he must have played just about every chord under the sun. But like
many songwriters, Macca often reverts to the keys and chords with which he feels most comfortable. Thankfully, to
gain a better understanding of how McCartney works, he once named his favourite chord.

"A favourite chord. That's a hard question!" he once said. "But I would say E is a pretty big favourite. It's one of the
early chords you learn." Indeed the E is often the first chord that young guitarists learn, and it features prominently
in some of the easiest songs to play.


The E major regularly features in a number of Beatles classics, including prominent deployment on 'Please, Please Me'.
In fact, as many as 39 songs by the 'Fab Four' were played in the key of E. Additionally, it should be noted that the
E major chord also features in several of their other songs in different keys.

McCartney also says that an early influence underpins this ubiquity. "In the early days, we used to play the Buddy Holly
songs that we listened to a lot," he said. "He used E and A a lot, so we used E and A lot too," which perhaps explains
Macca's kinship with the chord.

Explaining his love of the E major chord, McCartney continued, "It's a very pure basic chord and on the guitar. It rings out beautifully because the bottom string is open. So it has a resonance that some other chords don't have."

McCartney noted that he loves the possibilities of any chord, but when hard-pressed to name a favourite, he claims that he always comes back to the trusty E major. "They're all good," he said, "I love them all basically; it's hard to pick a favourite! But if I have to pick, I'll go for E."

Once toying around with a chord, Macca noted where he goes from there. "Then I just fiddle around with that and try and follow the trail," he said. "Sometimes, it leads me down a blind alley, so I have to retrace my steps and start again down another road. I'm of the school of the instinctive."

McCartney then explained that Allen Ginsberg taught him how to use that intuition. "Allen always used to say, 'First thought, best thought.' And then he would edit everything," he said. "But I think the theory is good. 'First thought, best thought.' It doesn't always work, but as a general idea, I will try and do that, and sometimes I come out with a puzzling set of words that I have no idea what I mean, and yet I've got to kind of make sense of it and follow the trail."






February 8, 2023
Flashback: "End To Beatles' Legal Hassle Due Soon"
Capitol Records, USA, special EP: "4-By The Beatles"
Promo for Billy Preston's new single "Struttin" from Billboard magazine, December 21, 1974
| | |
| --- | --- |
| | |










Sir Paul McCartney set to perform at King Charles' coronation celebrations
by Bang Showbiz, published February 5, 2023

Sir Paul McCartney is wanted to perform at King Charles' coronation.

The Beatles legend is said to be at the top of the organisers' wishlist to feature as part of the three days of celebrations that will take place in May due to his "extensive back catalogue" and "global appeal".

An insider told The Sun on Sunday newspaper's Bizarre column: "Royal organisers are super keen on landing Paul for this historical once-in-a-lifetime performance.

"The general thought is that having a Beatle singing on King Charles' big day would seal the deal and other acts can slot in around him.

"Paul is the perfect signing, thanks to his extensive back catalogue and huge global appeal.

"The invites are currently being carefully curated but time is of the essence."

The music icon has met the royal family on a number of occasions and paid a heartfelt tribute to Queen Elizabeth after her passing last year.

In a statement on social media, the 80-year-old star wrote: "I feel privileged to have been alive during the whole of Queen Elizabeth II's reign.

"Looking back I am honoured and amazed to see that I met Her Majesty eight or nine times and each time she impressed me with her great sense of humour combined with great dignity."

Meanwhile, it has also been reported that The Spice Girls are set to reunite as a five-piece for the coronation.

The iconic girl group - which consists of Geri Horner, Mel B, Victoria Beckham, Melanie C, and Emma Bunton - have not performed as a five-piece since the closing ceremony of the London Olympics in 2012 but organisers are desperate for all the members to be involved in the coronation .

A source said: "Royal organisers are super keen to secure Britain's biggest girl band and the Spice Girls are seriously pondering a return to the stage as a five-piece for such a historical event. Certainly, the reality is that the Coronation is as special as The Olympics - a one-off celebration and unique performance."



February 7, 2023
'Man On The Run' Documentary Announced On Paul McCartney In The 1970s
The film will document how Paul's relationship with Linda became his bedrock in the post-Beatles era, leading to the formation of Wings.
Published on February 5, 2023
By Paul Sexton for Udiscover Music



A feature documentary has been announced by MPL and Polygram Entertainment – the film and television division of Universal Music Group – that will tell the definitive story of Paul McCartney's extraordinary post-Beatles life and career.

With the working title Man On The Run, it will document how his relationship with Linda McCartney became his bedrock in the post-Beatles era, leading to the formation of Wings and an incredible new catalog of musical achievements. The film, fully financed by MPL & Polygram Entertainment and presented and produced by MPL, Polygram Entertainment and Tremolo Productions, will draw on unprecedented access to a never-before-seen archive of Paul and Linda's home videos and photos, as well as new interviews.

It will be directed by Morgan Neville, known for such films as 20 Feet from Stardom, Roadrunner: A Film About Anthony Bourdain, and Won't You Be
My Neighbor), with producers Michele Anthony, David Blackman, Neville, Caitrin Rogers and Scott Rodger and Ben Chappell from MPL.



The feature will open with McCartney considering his next direction in the wake of The Beatles' split and overcoming many hurdles as he set about creating a whole new songbook that would make Wings one of the biggest bands of the 1970s. It will depict the creative process that embraced the one-man-band lo-fi approach of his self-titled solo debut, on to the pastoral bliss of Ram and the formation of a new band, leading to classic Wings albums such as Band On The Run, Venus And Mars, At The Speed Of Sound, Wings Over America, and London Town.

This intimate and personal account also addresses the way in which McCartney returned to live work, after The Beatles famously stopped playing concerts in 1966, to make Wings one of the top arena rock attractions of the '70s. It's described as "a unique and in-depth look into a crucial period in the singular life of one of history's most important recording artists, songwriters and performers."

Says Michele Anthony: "At its heart, this is a story of Linda and Paul's enduring love and an artist finding his own voice after being in the most historic music group ever. Our film traces one of the most incredibly creative periods of Paul's life which spawned a vital and legendary body of work that continues to impact people and culture in every corner of the globe. We are honored to present this story with unprecedented access to a treasure trove of material from Paul and Linda's personal archive."

Adds Morgan Neville: "As a lifelong obsessive of all things McCartney, I've always felt that the 1970s were the great under-examined part of his story. I'm thrilled to have the chance to explore and reappraise this crucial moment in a great artist's life and work."


The above promo is culled by The Ottawa Beatles Site directly from Cash Box, their May 31, 1975 magazine edition.





February 5, 2023
The Top 10 Best Sounding Beatles White Albums In The World
by Parlogram Auctions

Single hit song "Fancy Lady" from Billy Preston's album "It's My Pleasure"


| | | |
| --- | --- | --- |
| Promo from Cash Box, September 13, 1975 | | |
"People think we know the answers. We don't." - George Harrison to New Music Express







February 4, 2023
Paul McCartney reveals previously unheard Jeff Beck collaboration
Jeff Beck, 1994 – 'Why are they cutting down the rainforest?'

by Will Groves for Music Radar
OK, don't get too excited, but Paul McCartney has taken to Instagram on #meatfreemonday to reveal a previously unheard piece of music created for a campaign message that features the recently-departed Jeff Beck on typically silky guitar duty.