The News Today
from the Ottawa Beatle Site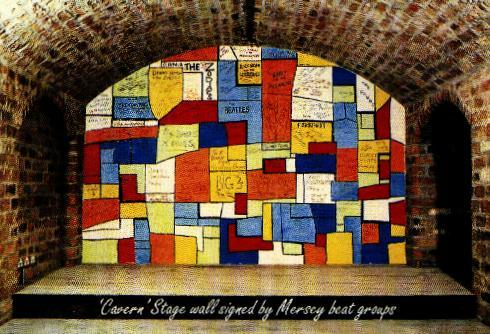 Postcard kindly supplied by Alan Chrisman. Acknowledgements to Cavern City Tours
who hold an annual International Beatles Convention in Liverpool. Phone 0151-236-9091


June 18, 2022
Happy 80th Birthday Paul!!



Paul McCartney performing "Ob-La-Di, Ob-La-Da" with the fabulous Hot City Horns
Video by Michael Sokil






June 17, 2022
It's a day early, but what the heck...HAPPY BIRTHDAY PAUL!!
video by Michael Sokil


Every George Pérez Original Art Page For Marvel Beatles Comic For Sale
by Rich Johnston for Bleeding Cool

Oh this is insane! Beatlemania! As part of a massive auction of premium comic books and original artwork at
Heritage Auctions, they are selling a lot of work by the late great George Pérez, including this classic
Batman splash currently getting bids of up to $55,000 so far. But one lot is absolutely incredible and I heard
his inker Klaus Janson talking about this at Lake Comic Con Art festival last month. The Complete Beatles
Story written by David Anthony Kraft that they created together for Marvel in the seventies. All thirty-nine
pages in one lot, currently receiving bids totalling $9,900 which is a bargain for anyone's money. I don't know
if George Pérez fans or Beatles fans will get this but someone will… also that means we get to read the whole
thing in its original uncoloured artwork. Here is the listing.

George Pérez and Klaus Janson Marvel Comics Super Special #4 The Beatles Story Complete 39-Page Story
Original Art, Production Materials, and Ephemera Memorabilia Box Lot (Marvel, 1978). The Beatlemania heyday
may have been the '60s, but the group's legend only seemed to grow during the '70s and beyond. When
Marvel featured the Fab Four in a complete issue of its new hit magazine, Marvel Comics Super Special in
1978, legions of fans responded. There had been other authorized comic book appearances by the world's
most popular band, but nothing before or since this masterpiece rivaled it for size and content. Rendered by
the artistic duo of George Perez and Klaus Janson, it featured 39 pages of four-color majesty, a visual history
of the Fab Four, all the more glorious in its magazine-sized format. Conte crayon and Zipatone over graphite
on Bristol board with image areas of approximately 10.5" x 15". There are stat paste-up text corrections, and
whiteout art/text corrections. The pages average Very Good condition. As a huge bonus, this lot comes with
a "B-Side" too – piles of various production materials and photographs! One photo features Stan "The Man"
Lee and writer David Anthony Kraft (aka DAK) posing with the original cover art (which is not included).
There is a copy of Kraft's typed script for the issue, photocopies of the Pérez raw pencils, the printer's
reference color guides, an unbound/untrimmed set of printer's proof pages of the entire issue (text articles
and all), the production logo used (part hand-lettered, part stat), multiple sets of prints of the color
separations for the cover, two full-color prints of the final cover design, and more! It's a treasure trove of
fantastic original art and memorabilia. Yeah, Yeah, Yeah! Items are on average in Very Good condition.

Click here to view the entire comic book art work that is in this collection.





June 15, 2022
'The Beatles? I was more a fan of the Beach Boys': Peter Blake at 90 on pop art and clubbing with the
Fab Four

by Jonathan Jones for The Guardian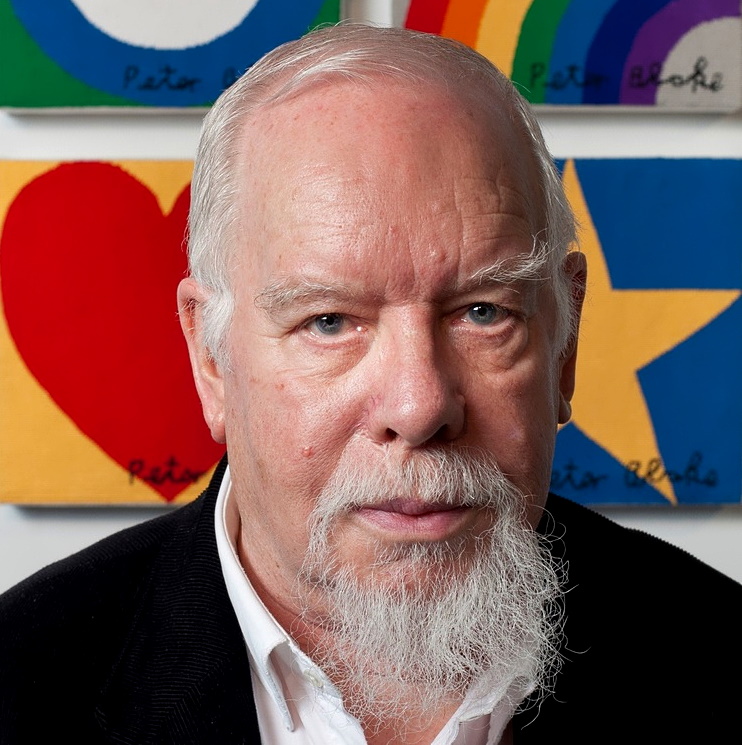 The groundbreaking artist documented the birth of youth culture and created the most famous
album cover in history. Now with a new exhibition, he talks about what inspires him – from corn
dollies to music halls


Peter Blake's wife, Chrissy, is lovingly protective of her husband, who will turn 90 on 25 June. I don't know
where she has been listening, but when she hears the word "Beatles" she pops into the upstairs lounge
where he is ensconced in an armchair.

"Let this be the only article in the last 55 years that doesn't mention the Beatles," she pleads.

Some hope. Blake, with his first wife, the artist Jann Haworth, designed perhaps the most famous album
cover in history for the Fab Four's conceptual 1967 spectacular Sgt Pepper's Lonely Hearts Club Band: ever
since, his fame as an artist has been inextricable from this one crazy image of John, Paul, George and Ringo
posing in lurid neo-Edwardian garb among a crowd of famous and less famous heroes.

Chrissy is, of course, right – it's not as if this was the be-all and end-all of Blake's vision. To celebrate his
birthday, he has an exhibition at the Waddington Custot gallery in London, of a passion to which he has
dedicated four decades: visualising Dylan Thomas's "play for voices", Under Milk Wood. Blake has recreated
the characters' funny, filthy dreams in tender watercolours and portrays all the people of the imaginary
village Llareggub with photographic clarity, as if it were a documentary instead of a dream play. He brings the
same innocence and sincerity to Under Milk Wood as he has done to all his crazes.

In fact, we weren't discussing Sgt Pepper when Chrissy got worried. We were talking about Blake's love of
doo-wop, the harmonious genre of male singing invented in the 1940s US that fed into modern pop music.


"I loved people like the Four Freshmen, the Hi-Lo's and Kirby Stone Four. Doo-wop groups. Out of that came the Beach Boys and the Lettermen," says Blake. These were his personal music passions, as well as bebop and R&B – "Bo Diddley I was an enormous fan of."

And the Beatles? He pauses reflectively.

"I was interested in them. I've never been an enormous fan of the Beatles like I am of the Beach Boys. It's a dangerous thing to say, I hope that won't be your headline: 'Peter Blake doesn't like the Beatles.'"

But this is not a criticism of the Beatles so much as a reflection on what it is to be a "fan", which Blake is: and it is at the very heart of his work. He is a fan who has got to know his idols, which led him from making a fan's image of the Beach Boys in 1964 to collaborating with Brian Wilson. He has also had a friendly working relationship with the Who since he first met them in the early 60s: he has designed two of their album covers.

"Their manager [Kit Lambert] said that they needed a change of direction and he was going to call them The Pop Art Group. He researched pop art and made a look with the union jack jacket. I think Roger [Daltrey] had a belt with black and white stripes which I had originally appropriated from Jasper [Johns]. And then the badges. They designed that Who look on the work I was doing."

Blake's version of pop art is warm, affectionate and respectful. He has never been a lofty artist standing above mass culture. His idiosyncratic tastes in comics, fairgrounds, tattoos, wrestling, toy shops, badges and the union jack played a crucial part in the blend of modernity and nostalgia that shaped a new culture in 1960s Britain.

Blake started using pop imagery in the mid-50s as a student at the Royal College of Art. Born in Dartford, Kent, in 1932, he studied graphic design at Gravesend Technical College, then did his national service before starting on the Royal College painting course, where senior students were encouraged to paint what they liked.

"I suppose at that point my life appeared: I started to paint autobiographically, and it's pictures of my little brother and cousin with badges on, and my sister and me reading comics. My life at that point was popular culture. In the evenings I would go to professional wrestling … I went to Bexleyheath Drill Hall, that was the local venue. It was packed every week. The first fight I saw was Mick McManus who went on for years as one of the stars. Pop art and popular culture are quite separate entities. I could be a pop artist and not be interested in popular culture, but as it happens I am."

In 1961, Blake painted a self-portrait that is one of the great works of pop art. He stands in a suburban garden, staring forwards, like the clown Gilles who was painted by the French Rococo artist Jean-Antoine Watteau. Except, instead of a clown outfit, Blake is wearing denim and trainers. He is holding an Elvis magazine and sports badges on his jacket.

"It was a very early embryonic collection of badges. It's been said that they emblazoned my interests and my likes but it wasn't particularly that – they were the only ones I had. I didn't know who Adlai Stevenson (the 1960 Democratic presidential candidate) was. It was just what I had. Since then I have collected hundreds. In 1961, a man wouldn't have worn badges. But a child would have done, a little boy would have done. So it is a boy-like figure, but a man. Also wearing denim in 61 was quite early, and to be wearing trainers was ahead of its time."

This is a remarkably sensitive reading of his own Self-Portrait With Badges. It is a portrait of the birth of youth culture itself. As he puts it, a "man" in 1961 was not supposed to wear badges or denim or trainers. A man was meant to be suited and serious.

I ask about the shirt, which looks like a Fred Perry. "I was pretty much a mod at that point. So it's a mod shirt, yeah."

"You've still got that red shirt," says Chrissy.

Yet Blake's definition of popular culture was not confined to the young and fashionable. "I was very interested in music halls. I called my Royal College thesis Don't Point, It's Nude, and it was about the nude shows that were being introduced into music halls by Paul Raymond. I was going every week to the halls to see Max Wall, Max Miller and all the greats. The music hall was dying. You would go and see a comedian in the first house and there would be 30 people. Raymond thought nudity would revive the music hall – in fact it killed it a little bit quicker. I was writing it in 1956: there were some great shows that year where they could make the six become sex and say: "It's a happy nineteen fifty sex." I loved all that. So, yes, I've always been interested in the halls, and things like corn dollies and the actual popular arts."

The folk art Blake loves has always fuelled him. His early works include two buxom fairground women, painted naively on wood and decorated with collage and glass beads. One is Loelia, World's Most Tattooed Lady, the other Siriol, She-Devil of Naked Madness. Blake's fascination with the quirky side of popular culture, from the music halls to these sideshow hoardings, is mirrored perfectly in the pop songs of the 60s. The Beatles' Being for the Benefit of Mr Kite! takes its title from an 1843 circus poster that John Lennon found in an antique shop.

"I've been a friend of them, certainly. I met them in 1963. And … no, I am a fan, I am a fan." Blake is warming to the Beatles.

His friendship with the band began when they came to London to appear on a TV show and Blake was invited to sit in, through an art director friend from Liverpool who had been telling him about this great new group.

"Billy Fury was top of the bill and two boys who had just left the Shadows; there was a female singer called Billie Davis. The Beatles did the opening song Please Please Me, I think. I sat in the audience – just me, nobody else, and that's when we first met and our friendship started."

The Beatles were still innocents when he next met them at a gig – or at least John, George and Ringo were. "We went back to the hotel with George and John and Ringo, but no Paul. We sat in the foyer and a man came up and said: 'Would you sign this for my daughter?' But people weren't bothered otherwise and we had tea. Then John said: 'Do you know any nightclubs? We don't really know London and we've never been clubbing here.' The week before I had been taken to a place called The Crazy Elephant, and I said: 'I'm not a member, but we could try it.' Joe Tilson (a fellow pioneer pop artist) was with us, too, and Joe had a second world war Jeep so we all piled into it and went to The Crazy Elephant. But the doorman said: 'No, sorry mate, you're not a member.' They were playing a Beatles song and John said: 'Well that's our song, I'm a Beatle.' He didn't believe him. But a voice from around the corner said: 'Can you let them in? They're friends of mine.' We went in, and it was Paul. He was already there with Jane Asher."

It was an older and more artful group who went into the studio later in the decade to record Sgt Pepper.

"Normally at this point I clam up, but I'll tell you as best I can," Blake says. "They had already got a design group called The Fool to do a cover, but the art dealer Robert Fraser talked to Paul and said: "Look, this isn't a very good cover – it's psychedelic but there are a lot of other psychedelic things going on – that swirly pink and orange and green stuff – why don't we use one of the artists in my gallery and make a fine art cover?"

So Blake was commissioned to create a cover that was truly a work of art, yet would be owned in homes all over the world: pop art as popular art.

"The album name was already decided. They were having the uniforms made. They had a vague idea of it being like a brass band, Black Dyke Mills Band or something like that."

As the Beatles worked on the songs, Blake developed the idea for the cover.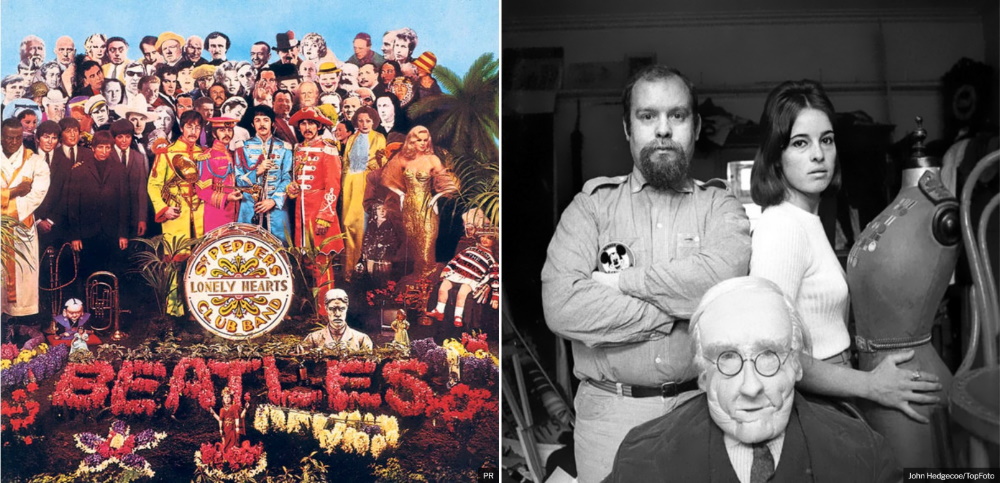 Peter Blake and Jann Haworth only got paid £200 for the album cover
"I did it with my first wife, Jann, and one of us proposed that we could use the idea of a flower clock: in Edinburgh there's a beautiful one. It slowly evolved into the idea that they had just done a gig, they were in a park and a group of their fans were getting behind them for a photograph. Various ideas came from the Beatles, and others from us. We employed a fairground painter to do the drum."
To construct the image, they blew up collaged figures to lifesize and posed the band in front, with a real flower arrangement.
"Looking at it from the side it's a wall, with things fixed to the wall, and then out comes a little platform that they're standing on, then sloping forwards from the platform is the flowerbed. All the cut outs are made of plywood, then the photographs are stuck to them and hand coloured. I had recently done work for Madame Tussauds, so they lent us their waxworks of the Beatles and Sonny Liston, who I was a great fan of, and Diana Dors. So it's a mixture of flat cut outs, waxworks and then this platform and the drum."
On the morning they were to shoot the photograph, everything was perfect. "Clifton Nurseries came in, did the flowerbed, and then the Beatles called and said we can't do it today – they were finishing off Lovely Rita. So all the flowers went back." A new day was arranged. "On that day they arrived, put their uniforms on, and Michael Cooper came and took the photograph. Now I would do it on the computer!"
The people in the crowd were partly chosen by the Beatles, but others reflect Blake's and Haworth's enthusiasms. Next to the instantly recognisable Bob Dylan is the less familiar face of Simon Rodia, an Italian "outsider artist" who built the wondrous Watts Towers in Los Angeles from wire, shards of glass and other found stuff.
Blake's admiration for Rodia, ever since he made a pilgrimage to Watts in 1963, is another example of his unaffected, unironic love of popular art. We compare notes of our trips to see the Towers – he went a couple of years before the Watts riots, I went many decades later – but Rodia's glittering vision is still a joy on the troubled skyline.
The furniture in this room, he says, is a homage to Rodia, with glittering shards of glass embedded into chests and tabletops. This belief in outsider art makes Blake a uniquely generous figure who defies boundaries of taste and cultural value. The kids in his pioneering 1954 pop canvas Children Reading Comics are sincerely enjoying them. This is a million miles from fellow pop artists such as Richard Hamilton or Roy Lichtenstein who looked at the consumer and media age with cool irony, perhaps even contempt.
The New York pop painter Roy Lichtenstein turned comic strips into abstract paintings. But, says Blake: "My theory about Lichtenstein is that he didn't actually like comic books.
"They were good I think, but they weren't kind: they weren't kind to comic books. I think that's the difference between Lichtenstein and myself – he was making a product and I was a fan."
Peter Blake: Under Milk Wood is at Waddington Custot, London, until 23 July.



June 14, 2022
The New Yorker's fascinating write-up on Yoko Ono

by Louis Menand
On March 9, 1945, an armada of more than three hundred B-29s flew fifteen hundred miles across the Pacific to attack Tokyo from the air. The planes carried incendiary bombs to be dropped at low altitudes. Beginning shortly after midnight, sixteen hundred and sixty-five tons of bombs fell on the city.
Most of the buildings in Tokyo were constructed of wood, paper, and bamboo, and parts of the city were incinerated in a matter of hours. The planes targeted workers' homes in the downtown area, with the goal of crippling Japan's arms industry. It is estimated that a million people were left homeless and that as many as a hundred thousand were killed—more than had died in the notorious firebombing of Dresden, a month earlier, and more than would die in Nagasaki, five months later. Crewmen in the last planes in the formation said that they could smell burning flesh as they flew over Tokyo at five thousand feet.
That night, Yoko Ono was in bed with a fever. While her mother and her little brother, Keisuke, spent the night in a bomb shelter under the garden of their house, she stayed in her room. She could see the city burning from her window. She had just turned twelve and had led a protected and privileged life. She was too innocent to be frightened.
The Ono family was wealthy. They had some thirty servants, and they lived in the Azabu district, near the Imperial Palace, away from the bombing. The fires did not reach them. But Ono's mother, worried that there would be more attacks (there were), decided to evacuate to a farming village well outside the city.
In the countryside, the family found itself in a situation faced by many Japanese: they were desperate for food. The children traded their possessions to get something to eat, and sometimes they went hungry. Ono later said that she and Keisuke would lie on their backs looking at the sky through an opening in the roof of the house where they lived. She would ask him what kind of dinner he wanted, and then tell him to imagine it in his mind. This seemed to make him happier. She later called it "maybe my first piece of art."
Like any artist, Ono wanted recognition, but she was never driven by a desire for wealth and fame. Whether she sought them or not, though, she has both. Her art is exhibited around the world: last year at the Serpentine, in London ("Yoko Ono: I Love You Earth"); this year at the Vancouver Art Gallery ("Growing Freedom") and the Kunsthaus in Zurich ("Yoko Ono: This Room Moves at the Same Speed as the Clouds"). She began managing the family finances after she and her husband John Lennon moved to New York, in 1971, and she is said to be worth hundreds of millions of dollars today.
There is no question that museums and galleries mount these shows and people go to see them because Ono was once married to a Beatle. On a weekday not long ago, I saw the Vancouver show, which occupied the whole ground floor of the museum, and there was a steady stream of visitors. None of the artists and composers Ono was associated with in the years before she married Lennon enjoys that kind of exposure today.
Ono may have leveraged her celebrity—but so what? She never compromised her art. The public perception of her as a woman devoted to the memory of her dead husband has made her an icon among the kind of people who once regarded her as a Beatles-busting succubus. Yet the much smaller group of people who know about her as an artist, a musician, and an activist appreciate her integrity. No matter what you think of the strength of the art, you can admire the strength of the person who made it.
The most recent Ono biography is "Yoko Ono: An Artful Life," by Donald Brackett, a Canadian art and music critic. He didn't talk to Ono, and there's not much in the way of new reporting in his book. The result feels somewhat under-researched. He dates the great Tokyo air raid to 1944, for example, and he gives the impression that Ono spent the night in the bunker with her family. Still, he is an enthusiastic writer, sympathetic to his subject (not so much to Lennon), and alive to the attractions of an unusual person and an unusual life.
Ono has talked about her parents as being emotionally distant. Her mother was a Yasuda, a member of the family that founded the Yasuda Bank, later Fuji Bank, and that owned one of the four largest financial conglomerates in Japan. Ono's father worked at the Yokohama Specie Bank, which became the Bank of Tokyo after the war, and was frequently posted to foreign branches. He was in San Francisco when Yoko was born; she did not lay eyes on him until she was three. When Tokyo was firebombed in 1945, he was in Hanoi.
Ono received an exceptional education. Beginning when she was very young, she was tutored in Christianity (her father was a Christian; there were not many in Japan), Buddhism, and piano. She attended a school known for its music instruction; she was once asked to render everyday sounds and noises, such as birdsongs, in musical notation. After the war, she attended an exclusive prep school; two of the emperor's sons were her schoolmates. And when she graduated she was admitted to Gakushuin University as its first female student in philosophy.
She left after two semesters. She said the university made her feel "like a domesticated animal being fed information." This proved to be a lifelong allergy to anything organized or institutional. "I don't believe in collectivism in art nor in having one direction in anything," she later wrote. A classmate offered a different perspective: "She never felt happy unless she was treated like a queen."
Ono may also have dropped out because her parents had moved to Scarsdale when her father's bank posted him to the New York City branch. Ono soon joined them, and, in 1953, entered Sarah Lawrence, in Bronxville, less than half an hour away. Sarah Lawrence was an all-women's college at that time and highly progressive, with no requirements and no grades. Ono took classes in music and the arts, but she seems not to have fitted in. A teacher remembered her as "tightly put together and intent on doing well. The other students were more relaxed. She wasn't relaxed, ever."
As non-prescriptive as it was, Sarah Lawrence triggered her allergy. It was "like an establishment I had to argue with and I couldn't cope with it," she complained. She now decided that she needed to get away from her family. "The pressure of becoming a Yasuda / Ono was so tremendous," she said later. "Unless I rebelled against it, I wouldn't have survived." Somewhere (stories differ) she met Toshi Ichiyanagi, a student at Juilliard, and in 1956 she dropped out of college, got married (her parents weren't thrilled), and moved to Manhattan. She began supporting herself with odd jobs. She lived in the city for most of the next ten years.
Not long before leaving Sarah Lawrence, Ono published in a campus newspaper a short story called "Of a Grapefruit in the World of Park." It's about some young people trying to decide what to do with a grapefruit left over from a picnic. The allegory is a little mysterious, but it's clear what the grapefruit represents. The grapefruit is a hybrid, and so is Yoko Ono.
It's easy to feel that there is an amateurish, "anyone can do this" quality to her art and her music. The critic Lester Bangs once complained that Ono "couldn't carry a tune in a briefcase." But the look is deliberate. It's not that she wasn't well trained. She learned composition and harmony when she was little, and she could write and read music, which none of the Beatles could do. At Sarah Lawrence, she spent time in the music library listening to twelve-tone composers like Arnold Schoenberg.
She grew up bilingual and was trained in two cultural traditions. She went to secondary school and college in Japan in a period of what has been called "horizontal Westernization," when artistic and intellectual life was rapidly liberalized as the nation tried to exorcise its militarist and ultranationalist past. Ono and her friends read German, French, and Russian literature in Japanese translation, and the young philosophers they knew were obsessed with existentialism. She also knew Japanese culture. One of the ways she supported herself in New York was by teaching Japanese folk songs and calligraphy. She knew waka and Kabuki. She was therefore ideally prepared to enter the New York avant-garde of the nineteen-fifties, because that world was already hybrid. Its inspirations were a French artist, Marcel Duchamp, and an Eastern religion, Zen Buddhism.
The personification of those enthusiasms was the composer John Cage—a student of Schoenberg, a devotee of Eastern thought, and an idolater of Duchamp. Ono got to know Cage through her husband, who took an evening class that Cage taught at the New School. Although Ono didn't take the class, artists who would be part of her circle did, the best known of whom was Allan Kaprow, the creator of the Happening.
Cage didn't expect his students to imitate his own work. He said that one of the most important things he learned from teaching the class was something Ichiyanagi had said to him in response to a suggestion: "I am not you." But he encouraged experimentation.
And the students duly experimented. A representative piece for the class is "Candle-Piece for Radios," by George Brecht. Radios are placed around a room in the ratio of one and a half radios per performer. At each radio is a stack of cards with instructions printed on them, such as "volume up," "volume down," and "R" or "L," denoting the direction the radio dial is to be turned. Each performer is given a lit birthday candle, and, on a signal, begins going through the decks, card by card, using any available radio. The piece ends when the last candle goes out.
This is how Happenings work. They are not "anything goes" performances; most Happenings (there are some exceptions) have a script, called an "event score." Each participant follows specific instructions about what actions to perform and when.
In 1960, Ono found a loft at 112 Chambers Street and rented it for fifty dollars and fifty cents a month. It was a fourth-floor walkup, without heat or electricity, and the windows were so coated with grime that little light got in, though there was a skylight. The furnishings consisted mostly of orange crates and a piano. Ono turned this into a combination living and performance space. Together with La Monte Young, a composer and musician (he was a developer of the drone sound used by the Velvet Underground on some of their songs), she organized a series of concerts and performances. From December, 1960, to June, 1961, eleven artists and musicians performed in the loft, usually for two nights each. Ono said that these concerts were sometimes attended by two hundred people. Cage came, and so did Duchamp. Suddenly, she was at the center of the downtown arts scene.
At some sessions, Ono herself "performed" art works. One consisted of mounting a piece of paper on the wall, opening the refrigerator and taking out food, such as Jell-O, and throwing it against the paper. At the end, she set the paper on fire. (Cage had advised her to treat the paper with fire retardant first so that the building would not burn down.) The art work consumes itself.
The New York art world of 1960, even in its most radical downtown incarnation, was male-dominated. Of the eleven artists who headlined events in the Chambers Street series, only one was a woman. To Ono's annoyance, Young was credited as the organizer and director of the series. She was identified as the woman whose loft it was.
She was even more annoyed when she learned that a man who had attended some of the concerts was planning to mount a copycat series in his uptown art gallery. The gallery, on Madison Avenue, was called the AG Gallery, and the man was George Maciunas.
Maciunas came to the United States from Lithuania in 1948, when he was a teen-ager, and spent eleven years studying art history. Then, around 1960, he set out to reinvent art by taking it off its pedestal. Duchamp and Cage were his great influences. (Maciunas is the subject of a compelling and entertaining documentary that resurrects the New York art underground of the nineteen-sixties, called "George: The Story of George Maciunas and Fluxus," directed by Jeffrey Perkins.)
Ono was mollified when Maciunas offered her a show. He never had money. This did not prevent him from renting property, having a telephone, or anything else. He just didn't pay his bills. By the time Ono's show was mounted, in July, 1961, the gallery could be visited only in daylight hours, because the electricity had been turned off. Her show "Paintings and Drawings by Yoko Ono" was the gallery's last.
Ono was present to guide visitors through the show, explaining how the pieces were supposed to work, because some of the art required the viewer's participation—for example, "Painting to Be Stepped On," a piece of canvas on the floor. That work, like a lot of Duchamp's, might seem gimmicky. But, like Duchamp's, there is something there to be unpacked. "Painting to Be Stepped On" resonates in two traditions. It alludes to the widely known photographs, published in the late nineteen-forties in Life and elsewhere, of Jackson Pollock making his drip paintings by moving around on a canvas spread on the floor. Those photographs, representing painting as performance, inspired artists (including Kaprow) for decades.
The second context, identified by the art historian Alexandra Munroe, is Japanese. In seventeenth-century Japan, Christians were persecuted, and one way to identify them was to ask them to step on images of Jesus and Mary. The procedure was called fumi-e—"stepping on." People who refused could be tortured and sometimes executed. "Painting to Be Stepped On" is a grapefruit.
In the fall of 1961, Ono gave a concert in Carnegie Recital Hall, a venue that was adjacent to the main hall and that seated about three hundred. Maciunas, now a friend, helped design the show. According to the Times, the place was "packed." But accounts are so various that it's hard to tell, exactly, what happened.
Onstage, twenty artists and musicians performed different acts—eating, breaking dishes, throwing bits of newspaper. At designated intervals, a toilet was flushed offstage. A man was positioned at the back of the hall to give the audience a sense of foreboding. A huddle of men with tin cans tied to their legs attempted to cross the stage without making noise. The dancers Yvonne Rainer and Trisha Brown sat down and stood up repeatedly. According to the Village Voice, the performance finished with Ono's amplified "sighs, breathing, gasping, retching, screaming—many tones of pain and pleasure mixed with a jibberish of foreign-sounding language that was no language at all."
This was the kind of art that Maciunas had in mind. It used everyday materials. It had humor (the flushing toilet), meaning that it did not take itself too seriously. And it was anti-élitist. Anyone could do it. Around the time of Ono's concert, Maciunas came up with a name for this kind of art: Fluxus. When he told Ono, she said it was a mistake to give the art a group name. That is how the Japanese art world worked; every artist was identified with a group. She didn't want to belong to a group.
But Maciunas was an inveterate organizer—a problem, since he happened to be working with avant-garde artists, the kind of people who don't like to be organized. For years, he tried to herd those cats. He opened FluxShop, where Fluxus art—mostly cheap plastic boxes filled with odds and ends—could be purchased. (Walk-in business was not brisk.) At one point, he made plans to buy an island and build a self-sufficient Fluxus community on it.
The island venture did not pan out, but Maciunas would finally realize his idea by buying and renovating abandoned buildings—more than twenty of them—in downtown Manhattan for artists to live and work in. The enterprise ruined him. He was sued by the tenants because the renovations were not up to code and the lofts could not pass inspection, and he was badly beaten by goons hired by one of his creditors. In the mid-seventies, he fled the city for a farm in Massachusetts, where he died, of cancer, in 1978. But he had given birth to SoHo. It would become, in the nineteen-eighties, the world capital of contemporary art.
Maciunas's slogan for Fluxus was "Purge the world of 'Europanism'!," and at the Fluxus début, in West Germany in 1962, a grand piano was smashed to bits. Ono, who was invited but declined to attend, was not into breaking pianos. "I am not somebody who wants to burn 'The Mona Lisa,' " she once said. "That's the difference between some revolutionaries and me." But she does share something with Maciunas. She is a utopian. She would be happy if the whole world could be a Fluxus island.
In 1962, Ono returned to Japan. She discovered that the Japanese avant-garde was even more radical than the New York avant-garde. There were many new schools. The most famous today is Gutai, which originated in Osaka in 1954. Like Fluxus, Gutai was a performative, low-tech, everyday-materials kind of art. One of the earliest Gutai works was "Challenging Mud," in which the artist throws himself into an outdoor pit filled with wet clay and thrashes around for half an hour. When he emerges, the shape of the clay is presented as a work of art.
Ichiyanagi had returned earlier—the marriage was breaking up—and he arranged for Ono to present a concert at the Sogetsu Art Center, in Tokyo. Outside the hall, she mounted what she called "Instructions for Paintings," twenty-two pieces of paper attached to the wall, each with a set of instructions in Japanese. The instructions resembled some of the art created by young artists in Cage's circle in New York—for example, Emmett Williams's "Voice Piece for La Monte Young" (1961), which reads, in its entirety, "Ask if La Monte Young is in the audience, then exit," and Brecht's "Word Event," the complete score for which is the word "Exit."
Inside the hall, with thirty artists, Ono performed several pieces, including some she had done at Carnegie Recital Hall. It's unclear what the audience reaction was—Brackett says it was enthusiastic—but the show received a nasty review in a Japanese art magazine by an American expatriate, Donald Richie, who made fun of Ono for being "old-fashioned." "All her ideas are borrowed from people in New York, particularly John Cage," he wrote. This was not an attack from an uncomprehending traditionalist. This was an attack from the cultural left. Ono was traumatized. She checked into a sanitarium.
But when she came out, she picked up where she had left off. She got remarried, to Tony Cox, an American art promoter and countercultural type, and, in 1964, she published her first book, "Grapefruit," a collection of event scores and instruction pieces:
| | | |
| --- | --- | --- |
| | Sun Piece | |
| | Watch the sun until it becomes square. | |
| | Fly Piece | |
| | Fly. | |
| | Collecting Piece II | |
| | Break a contemporary museum into pieces with the means who have chosen. Collect the pieces and put them together again with glue. | |
These are like Brecht's "Word Event," but with a big difference. "Word Event" was intended to be performed, and artists found various ingenious ways to enact the instruction "Exit." Ono's pieces cannot be performed. They are instructions for imaginary acts.
In an essay in a Japanese art journal, she invoked the concept of "fabricated truth," meaning that the stuff we make up in our heads (what we wish we could have for dinner) is as much our reality as the chair we are sitting in. "I think it is possible to see the chair as it is," she explained. "But when you burn the chair, you suddenly realize that the chair in your mind did not burn or disappear."
What Ono was doing was conceptual art. When conceptual artists hit the big time, at the end of the nineteen-sixties, her name was virtually never mentioned. She does not appear in the art critics Lucy Lippard and John Chandler's landmark essay, "The Dematerialization of Art," published in 1968. But she was one of the first artists to make it.
In 1965, she came back to New York, and, in March, had another show at Carnegie Recital Hall, "New Works of Yoko Ono." This was the New York première of her best work, a truly great work of art, "Cut Piece."
The performer (in this case, Ono) enters fully clothed and kneels in the center of the stage. Next to her is a large pair of scissors—fabric shears. The audience is invited to come onstage one at a time and cut off a piece of the artist's clothing, which they may keep. According to instructions Ono later wrote, "Performer remains motionless throughout the piece. Piece ends at the performer's option." She said she wore her best clothes when she performed the work, even when she had little money and could not afford to have them ruined.
Ono had performed "Cut Piece" in Tokyo and in Kyoto, and there are photographs of those performances. The New York performance was filmed by the documentarians David and Albert Maysles. (Brackett, strangely, says that the Maysleses' film, rather than a live performance, is what people saw at Carnegie Recital Hall.)
In most Happenings and event art, the performers are artists, or friends of the person who wrote the score. In "Cut Piece," the performers are unknown to the artist. They can interpret the instructions in unpredictable ways. It's like handing out loaded guns to a roomful of strangers. Ono is small (five-two); the shears are large and sharp. When audience members start slicing away the fabric around her breasts or near her crotch, there is a real sense of danger and violation. In Japan, one of the cutters stood behind her and held the shears above her head, as though he were going to impale her.
The score required Ono to remain expressionless, but in the film you can see apprehension in her eyes as audience members keep mounting the stage and standing over her wielding the scissors, looking for another place to cut. When her bra is cut, she covers her breasts with her hands—almost her only movement in the entire piece.
Most immediately, "Cut Piece" is a concrete enactment of the striptease that men are said to perform in their heads when they see an attractive woman. It weaponizes the male gaze. Women participate in the cutting, but that's because it's not just men who are part of the society that objectifies women. The piece is therefore classified as a work of feminist art (created at a time when almost no one was making feminist art), and it plainly is.
But what "Cut Piece" means depends in large part on the audience it is being performed for, and Ono originally had something else in mind. When she did the piece in Japan, a Buddhist interpretation was possible. It belonged to "the Zen tradition of doing the thing which is the most embarrassing for you to do and seeing what you come up with and how you deal with it," she said.
The piece also derived, Ono said elsewhere, from a story about the Buddha giving away everything that people ask him for until he ultimately allows himself to be eaten by a tiger. Ono was offering everything she had to strangers—that's why she always wore her best clothes. "Instead of giving the audience what the artist chooses to give," as she put it, "the artist gives what the audience chooses to take."
In 1966, Ono went to London to participate in the Destruction in Art Symposium, where she performed "Cut Piece" twice. It was not read as a Buddhist text at those events. Word of mouth after the first performance led to the second one being mobbed, with men eagerly cutting off all her clothing, even her underwear. This was Swinging London; everyone assumed that the piece was about sex. After London, Ono did not perform it again until 2003, when she did it in Paris, seated in a chair. This time, she explained that the work was about world peace, and a response to 9/11.
No matter where it is performed or what reading it suggests, the piece is an experiment in group psychology. People are being invited to do something publicly that is normally forbidden—violently remove the clothing of a woman they do not know. The ones who participate can rationalize their actions by telling themselves that stripping a passive woman is not "really" what they're doing, because it's a work of art. But, of course, it really is what they're doing.
And people in the audience who don't go onstage because they find the spectacle repellent or violative can tell themselves that at least they are not participating. In the film of the New York show, the last person recorded cutting is a young man with a bit of a swagger who lustily shears off all that was left of Ono's top so that she has to cover her breasts. He is heckled. But no one stops him. For the hecklers are part of the show. And, of course, the more people who cut, the easier it is to become a cutter. It must be O.K. Everybody's doing it.
The first time I saw the Maysles film was at the Vancouver show (although it is online), and that was when I understood what the New York performance was about. A beautifully dressed Japanese woman kneels, offering no resistance, while a series of armed white people methodically destroy all her possessions. What is being represented here? Hiroshima. Nagasaki. The firebombing of Tokyo.
Ono had planned to spend only a few weeks in London, but she found the city's art world receptive to her work. Interest spilled over into the non-art world when she and Cox released a film entitled "Film No. 4," commonly known as "Bottoms." Which is all you see: closeups of naked people's bottoms as they walk.
Ono and Cox had filmed a six-minute version of the movie in New York, using a high-speed camera loaned to them by Maciunas (who had it on loan from someone else). In London, many art-world celebrities eagerly agreed to perform in it, and the final cut is eighty minutes long, at approximately twenty seconds of screen time per bottom.
But no one knows you're a celebrity from the rear. So the film is not just a joke. There's an edge to it. It mocks self-importance. Ono described it as "like an aimless petition signed by people with their anuses." The movie was promptly banned by the British Board of Film Censors—about the best publicity a filmmaker could hope for in sixties London. It got Ono into the tabloids. By then, though, she had met John Lennon.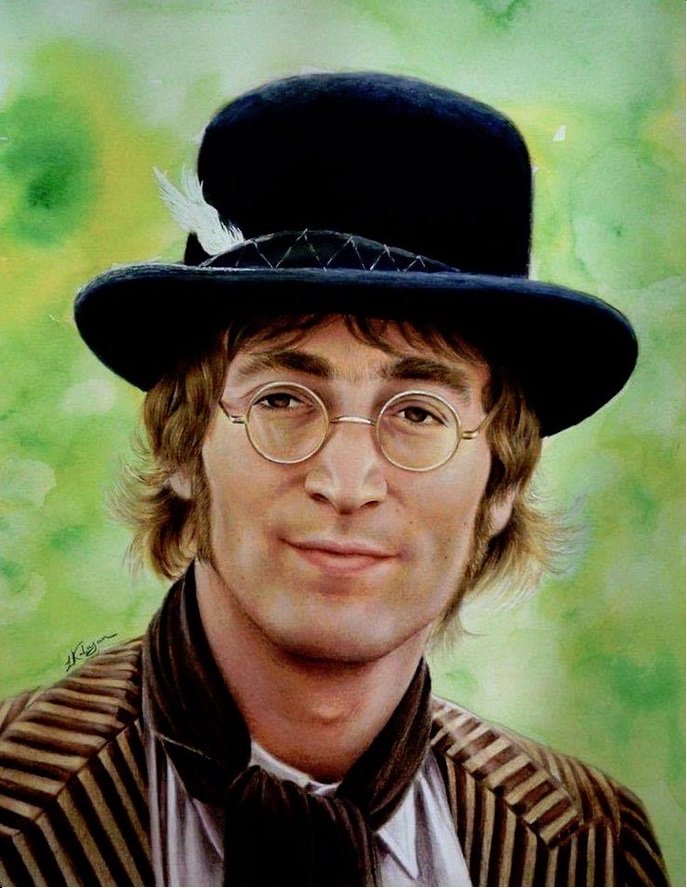 Their story—and it could all be true, who knows?—is that on November 9, 1966, the day before a show of Ono's work was scheduled to open at Indica Books and Gallery, Lennon dropped in. The Indica was a short-lived countercultural art gallery (indica is a species of cannabis) whose patrons included Paul McCartney. Ono accompanied Lennon while he browsed the art on display. (She has claimed not to have known who he was, which is not very believable. It is believable that she did not care who he was.) One work consisted of an apple on a pedestal. Lennon asked her what it cost. She said, Two hundred pounds. He picked up the apple and took a bite out of it. She thought that was gross.
Another piece was a ladder. When you climb up, there is a magnifying glass, which you use to look at a piece of paper on the ceiling, where you read a tiny word: "Yes." This was totally up Lennon's alley. "It's a great relief when you get up the ladder and you look through the spyglass and it doesn't say 'No' or 'Fuck you,' " he explained later.
But they made their fateful connection with a piece called "Painting to Hammer a Nail In (No. 9)." Visitors are invited to hammer a nail into a board mounted on the wall. Lennon asked Ono if he could hammer a nail. Yes, she said, if he paid her five shillings. "Well, I'll give you an imaginary five shillings," he said, "and hammer an imaginary nail in." "That's when we locked eyes," he said, "and she got it and I got it and, as they say in all the interviews we do, the rest is history."
For a while, they were "just friends." It helps to remember that this was still very early in the Beatles' career, less than three years after the band played "The Ed Sullivan Show" for the first time. They had not yet recorded "Sgt. Pepper." Lennon had just turned twenty-six. Ono, on the other hand, was thirty-three. Her work had fully matured. She gave Lennon a copy of "Grapefruit," which he read with attention. The affair did not begin until May, 1968. They went public in June, and for the next twelve years, until Lennon was killed, they lived under the constant scrutiny of the world press (another context for "Cut Piece"). Brackett says that Lennon was the clingy one, not Ono. Lennon made her sit next to him when the Beatles were recording, because he was afraid that if she was out of his sight she would leave him.
The Times music critic Robert Palmer thought that "having John Lennon fall in love with her was the worst thing that could have happened to Yoko Ono's career as an artist." Ono herself admitted that "together we hurt each other's career and position just by being with each other and just by being us." How true is that?
The Vancouver show covered Ono's career from 1954 to the present, and the visitor feels an abrupt shift after 1968. Starting with the Bed-ins for peace, where she and Lennon sat in hotel-room beds in their pajamas and discussed politics with journalists and various counterculture celebrities, such as Timothy Leary, a lot of her work has been about world peace. It has also become explicitly feminist. Maciunas had a politics, but most Fluxus art—and Cage's and Duchamp's art—is apolitical. It is art about art. After 1968, Ono's art is about politics. But that is true of virtually every artist. With the war in Vietnam, art got politicized, and it remains politicized today.
Ono's conception of the audience for her work changed, too. When Ono and Lennon married, she was a coterie artist and he was a popular entertainer—maybe the most famous in the world. She performed for hundreds; he performed for hundreds of millions. She decided that condescension to popular entertainment is a highbrow prejudice. As she put it, "I came to believe that avant-garde purity was just as stifling as just doing a rock beat over and over." So she became a pop star. Including the records she made with Lennon, she has released twenty-two albums. She expanded her audience.
Her music hasn't sold the way Beatles music has, of course. But she and Lennon did produce one spectacularly successful collaboration.
"Imagine" was the biggest hit of Lennon's post-Beatles career. The song was recorded in 1971, and, over the years, it has become a kind of world anthem, covered by countless artists, and played in the opening ceremonies at the Olympics and in Times Square on New Year's Eve. Pretty much everybody can hum the tune.
It's easy to enjoy the song and embrace the sentiments but to think of it as expressing a kind of harmless flower-power utopianism. That's a misapprehension. "Imagine" is utopian, but it is also a work of conceptual art. It's an instruction piece. "Imagine it in your mind," as she told her little brother, had—improbably, but that's the way culture works—ricocheted across time and space to end up, twenty-six years later, in the words of a song heard by millions.
When the record was released, one of Ono's instruction pieces from "Grapefruit" was printed on the back cover: "Imagine the clouds dripping. Dig a hole in your garden to put them in." Later, Lennon said that it was sexist of him not to have listed Ono as a co-writer, given that the idea and much of the lyrics were hers. Somehow, though, he never did anything about it. But the world does go round, and in 2017 the National Music Publishers' Association announced that, henceforth, Yoko Ono would be credited as a co-writer on "Imagine." ♦

June 13, 2022
Covid 19 sidelines Ringo Starr and His All Star Band Tour




June 12, 2022
Archival session notes on the creation of "All Things Must Pass"

The estate for George Harrison has put together session notes for "All Things Must Pass." "The session
information is based on the original All Things Must Pass production notes, photographs and reel-to-reel
session tapes in the George Harrison Archive," writes the estate for Harrison. The notes were researched
by Don Fleming and Richard Radford. Below is part of the information provided, but the comprehensive
report of the sessions is featured by clicking on this link: "ALL THINGS MUST PASS".




On Tuesday 26 May 1970, George Harrison entered Studio Three at EMI Studios, Abbey Road in St John's Wood, London. To the public the studio was called Abbey Road, but for the engineers working there it was still EMI, until the name was officially changed in 1976. It had been George's musical home since The Beatles first arrived there for an audition in June 1962. The Beatles are more associated with Studio Two, but had plenty of experience working in Studio Three. They had recorded songs for the Abbey Road album in Studio Three in 1969, including 'Something'. George knew the room, and the engineers, very well.
George spent the first of two days recording thirty demos of songs that were being considered for his new, as yet untitled, album. There were recent compositions plus numerous songs that had been written during the past several years, but had not found their way onto albums or singles by The Beatles. There were also two co-writes with Bob Dylan, and two unreleased compositions by Dylan that George had learned directly from him.
George recorded fifteen demos on the first day with two of his oldest friends, Ringo Starr and Klaus Voormann. They were part of the studio team that George had assembled over the past two years for the albums on Apple Records that he had produced for Jackie Lomax, The Radha Krsna Temple, Doris Troy and Billy Preston.
On the second day, George recorded fifteen additional demos for his co-producer Phil Spector.
George had recently experienced Spector's production style first-hand while playing on John Lennon's 'Instant Karma' in January and then attending Spector's mixing of The Beatles' Let It Be in March and April. That album had just been released earlier in the month on 8 May.
The tracking sessions with the full band started on 28 May. Spector's legendary 'Wall of Sound' required a large group of musicians to create an orchestra of rock instrumentation – multiple guitars, keyboards, basses, drums and percussion. George had a team of exceptional musicians to draw upon, his counterpart to Spector's 'Wrecking Crew' in LA.
The mystery of who played on each track will will never be completely solved. The tape boxes from the sessions only indicate the instruments on each track, rarely naming the players. Some songs were recorded on more than one occasion, weeks apart with different sets of musicians, leading to contradictory accounts of the musicians on each song.
'See, although the album was done on an eight- track tape, and there were some overdubs, most of those tracks had a lot of musicians in the studio and it was done as Phil Spector probably did his stuff back in the early 60s. That is to say it was routine that everybody knew when they came in – with the piano, the guitar solo, the tambourines – you just had to learn it and do it as a take. So most of those songs were done as a performance, really. And then with the vocal, you had to do it again, or we'd add the horns or strings, or whatever.'
George
Engineer Philip McDonald used the studio's 3M M23 eight-track tape recorders and the TG12345 Mk I mixing desk throughout the session. McDonald had worked on sessions with The Beatles and had risen to become a top engineer at EMI Studios. This session would lead to Phil engineering and co-producing many of George's solo albums.
'I suppose I was a whizz kid at that time. I was an in-house engineer at EMI. I was supposed to do anything that came through the doors. I think George must have asked for me, but I can't remember him asking me personally.'
Phil McDonald
The session got under way with a big line-up: Eric Clapton and his new American pals from Delaney & Bonnie's band: Carl Radle, Bobby Whitlock and Jim Gordon, along with George's A-team: Ringo Starr, Klaus Voormann and Billy Preston, plus Pete Ham, Tom Evans, Joey Molland, and Mike Gibbons from Apple Records' band Badfinger playing acoustics and percussion. But Spector wanted more: multiple pianos, more acoustic guitars, more drums.
'It was just Spector saying, "I think we need another piano," so we'd call in a pianist, or "I need another guitarist" or "I need a percussion player". But usually once they'd started learning a song then they'd do that one with the same people.'
Phil McDonald
Gary Wright from Spooky Tooth, Tony Ashton from The Remo Four, Peter Frampton and Jerry Shirley from Humble Pie, Alan White, who had played with The Plastic Ono Band at the Toronto Rock and Roll Revival festival and on 'Instant Karma' and would later join Yes, Dave Mason of Traffic, Gary Brooker from Procol Harum, and Delaney & Bonnie / Joe Cocker / Rolling Stones' horn section Bobby Keys and Jim Price were all called in the tracking sessions. Maurice Gibb of the Bee Gees and a teenage Phil Collins spent at least one evening at Abbey Road playing on songs, though not on versions that were used on the album.
The arrangements for string and horns were written by one of George's frequent collaborators, John Barham, and recorded at Abbey Road while George was doing overdubs in August, after the main tracking was completed. Abbey Road had been slow to install sixteen-track machines and George moved the sessions to Trident Studios in September to transfer some of the songs from eight-track to sixteen-track tape in order to create more open tracks for additional overdubs. The eight-track tapes were mixed at Abbey Road in early October and then the sixteen-track tapes were mixed at Trident, with the final mix completed on Saturday 17 October.

June 11, 2022
Watch The Rolling Stones Honor the Beatles in Liverpool With 'I Wanna Be Your Man'
It marked their first performance of the 1963 classic in a decade, and their first time ever playing it
in the Beatles' hometown

by Andy Greene for RollingStone
The Rolling Stones 60th anniversary tour touched down at Liverpool, England's Anfield stadium Thursday night, and five songs into the set they honored hometown heroes the Beatles by covering "I Wanna Be Your Man."
"We had decided to rehearse a special version of 'You'll Never Walk Alone,'" Mick Jagger told the crowd before playing it. "But we decided instead to do a cover song written by other local lads, so we'll do this especially for you."
He was referencing the Gerry and the Pacemakers song "You'll Never Walk Alone," which is played before kickoff at every Liverpool soccer match at the stadium. The Beatles and Gerry and the Pacemakers were briefly rivals on the Liverpool Merseybeat scene in the early Sixties.
The Beatles and the Stones were also seen as rivals by many in the press, but they were actually quite friendly with one another. In 1963, the Beatles gave the Stones "I Wanna Be Your Man" shortly after writing it. It became their second single and peaked at Number 12 on the British charts. The Beatles released their own version of the song just weeks later on Meet The Beatles.
The Stones dropped it from their live repertoire in early 1965, but they brought it back in 2012 for their three stops on their 50th anniversary tour. This performance in Liverpool was their first time playing it in a decade, and their first known time ever playing it in Liverpool. Paul McCartney played it during three VIP soundcheck shows on his ongoing Got Back American tour in April and May, and Ringo Starr breaks it out every single night of his current tour with the All Starr Band.
The Stones continue their tour Monday night in Amsterdam at the Johan Cruyff Arena. They wrap July 31 in Stockholm, Sweden at the Friends Arena. Early shows have featured an unusual number of Sixties songs, including "Out of Time," "Get Off Of My Cloud," and "19th Nervous Breakdown." They're rehearsed the 1966 deep cut "Mother's Little Helper, but they've yet to play it publicly.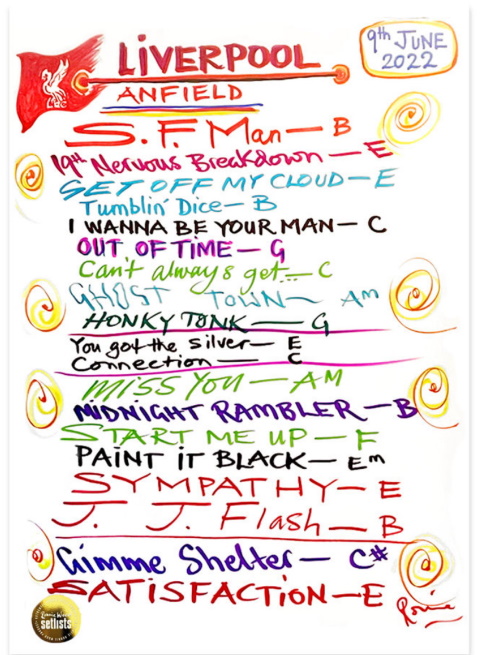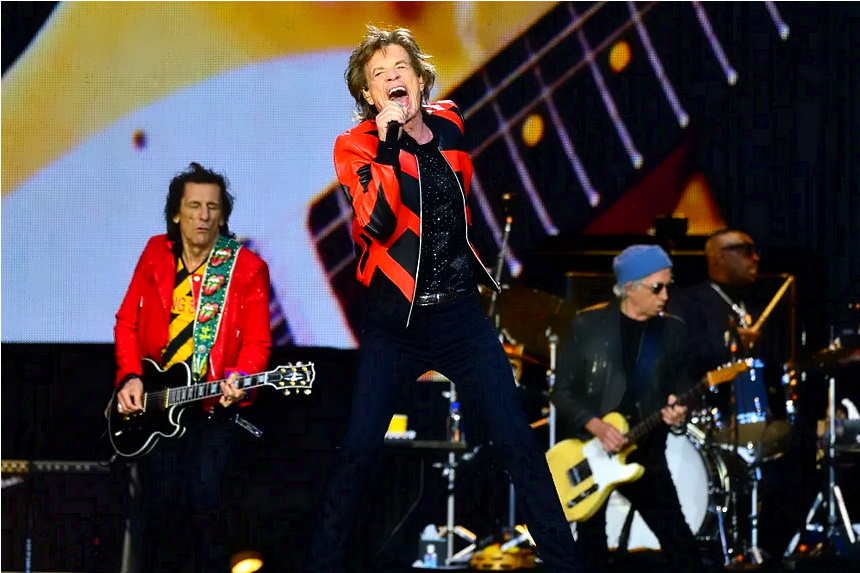 Photo credit: Jim Dyson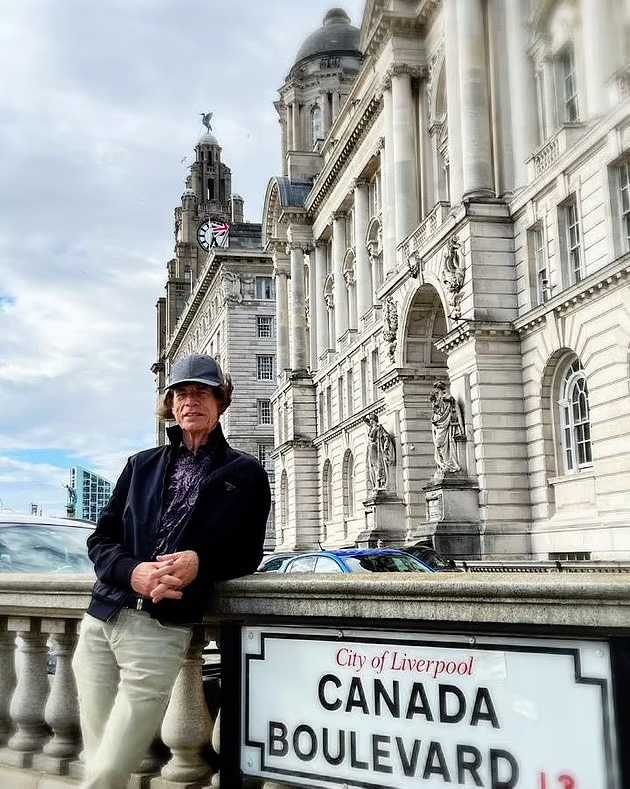 (Above) The Daily Mail writes: "Stones on tour: Mick took in the sites of Liverpool and couldn't resist sharing his snaps of the day - standing by the Pier Head on Canada Boulevard." (Right) Ronnie Wood standing beside the Rolling Stones setlist.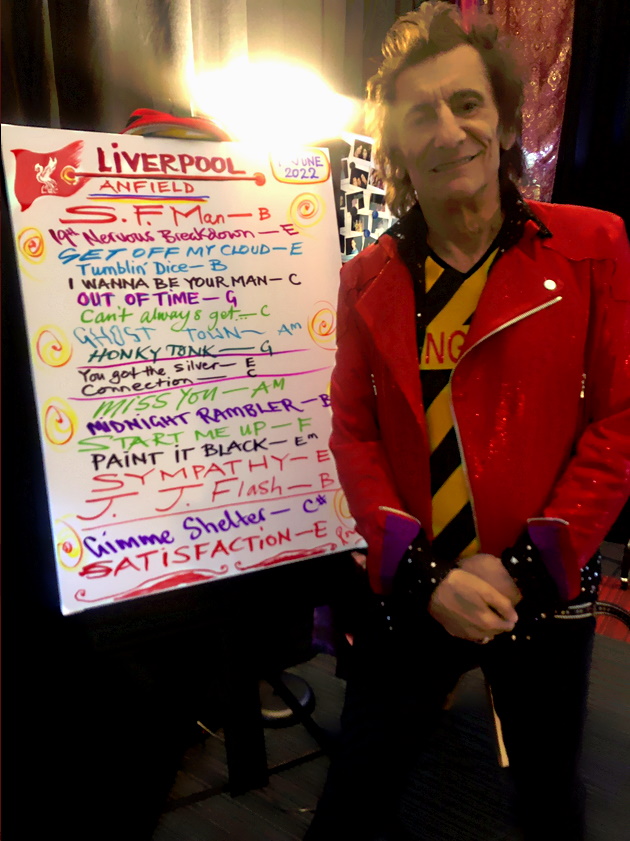 Added historical feature from the New Musical Express...



June 10, 2022
Just shy of 80, Paul McCartney goes back — all the way back
The Beatle's first of a two-show stint at Fenway traced his career from his earliest days, but with no hint
of slowing down.


by Christopher Gavin for Boston.com (published on June 8, 2022.)

Paul McCartney may be feeling nostalgic, if not sentimental.

For one of rock's remaining forebears though, this can be hard to gauge.

McCartney, who turns 80 on June 18, has been performing for well over three-quarters of his life in front of
audiences in sweaty — and sometimes outright makeshift — venues in his native Liverpool and stadiums and
arenas the world over.

And despite his revered musical acumen that helped raise and push the second wave of rock 'n' roll to
become a lasting and liberated art form, rather than a culture-shock blip fueled by teenage fantasy, too
often overlooked in today's rearview is McCartney's sheer prowess for performance.

Simply put, the guy knew — and still knows — what the fans want. Whether it's what the man himself wants
to play is altogether a different matter.

Yet, there could be something a bit more personal, a bit more tender than just playing the hits behind
Macca's latest run — aptly named the "Got Back" tour, which pulled into Fenway Park on Tuesday and
returns Wednesday night.

Beatle buzz is common anytime McCartney or Ringo Starr hit the road. But this latest slate of shows — yes,
they're both currently on tour (Ringo just played the Boch Center last week) — comes on the heels of "Get
Back," the Peter Jackson-directed film released on Disney+ late last year, offering fans a fuller-picture of the
band's previously notorious sessions that would culminate in Let It Be.

At Fenway on Tuesday night, McCartney rolled through a 36-song, career-spanning set, book-ended with
Beatle classics "Can't Buy Me Love" and the encore-closing "The End," which capped off the medley fading
out 1969's Abbey Road.

In between was a musical mosaic reminding us why McCartney remains one of the genre's most colorful
pioneers, laced with plenty of his distorted treble shouts and punctuated with his tactful "Yeahs" —
outbursts forever reminiscent of an idol, Little Richard.

When the band cracked open "Let Me Roll It," from his Wings-backed 1973 release "Band on the Run,"
McCartney strapped on a Les Paul to play the cutting guitar riff as if to prove he's no octogenarian. And
bolstered by his longtime and formidable backing band, McCartney can still hit those Everly Brothers-
seasoned harmonies ever-present in his cataolog.

When a sign by a fan wishing him an early happy 80th birthday caught his eye, he quipped, "Who's that?"

Indeed McCartney's current setlist, stacked with a handful of more recent works — including "Fuh You," off
of 2018's Egypt Station — shows he has no interest in being penned into the 1960s and '70s. (Still globe
trotting, McCartney is no Elvis in Vegas).

And he's well aware of what his audience thinks about that. "We can tell what songs you like," he told the
crowd late into his set, which ran just over two-and-a-half hours long. When Beatles hits fired through the
speakers, out came a sea of phones from the audience, McCartney explained. He likened the view to a
"galaxy of stars."

When the newer songs came out, though, there was a "black hole," he said.

"But we don't care," he continued. "We'll do them anyway."


But it's hard to shake a feeling that McCartney, now late in his life, is more acutely aware of his career's
glorious arc, or maybe just accentuating it a tad more.

An undeniable living legend, McCartney has likely had to reckon with his public perception as an untouchable
artist the likes of a modern Beethoven, rather than a boy who struck gold in a dreary, working-class city on
England's outer shores.

"In that little port, there were these four guys who got together, formed a band, and ended up doing quite
well for themselves," McCartney told the crowd Tuesday.

Next month marks the 65th anniversary of when a 15-year-old McCartney met John Lennon, joining the
latter's folksy, thorny, and completely homespun musical group, The Quarry Men.

The following year, as McCartney explained, the five-member group that would someday shrink and evolve
into the Beatles scraped together £5 to cut their first record, a lone 78 rpm disc the boys passed around by
the week. (John "Duff" Lowe kept the pressing for some 20-odd years before McCartney bought it off of him,
with Lowe making "quite a considerable profit," McCartney quipped.)

With a Martin acoustic guitar, McCartney brought back his boyhood as he played that track. Written with
George Harrison, "In Spite of All the Danger" is an Elvis-heavy, adolescent plea to take on life's toughest
challenges — "anything you want me to" — for the sake of a relationship.

McCartney's mighty back-up band joined him downstage for the toned-down performance. Behind them stood
a backdrop of a tin-roofed shack plucked out of 1950s southern America, suggesting a juke joint or front-
porch affair that birthed the music that would roll into one large lump the Brits called "skiffle," and hand the
Beatles the match to set the world on fire with rock 'n' roll.

At other times, McCartney, standing in Beatle boots, vest, and drainpipe pants, told stories about landing the
group's first recording contract and putting "Love Me Do" to tape, admitting he can still hear the nerves in
his voice on the song's solo refrain to this day.

His late bandmates got nods with a ukulele-led cover of Harrison's "Something" and a rendition of "Here
Today," the letter-in-song McCartney wrote to Lennon after the latter was killed in 1980.

Offering some advice, McCartney told the audience to never pass up a moment to tell someone you love
them.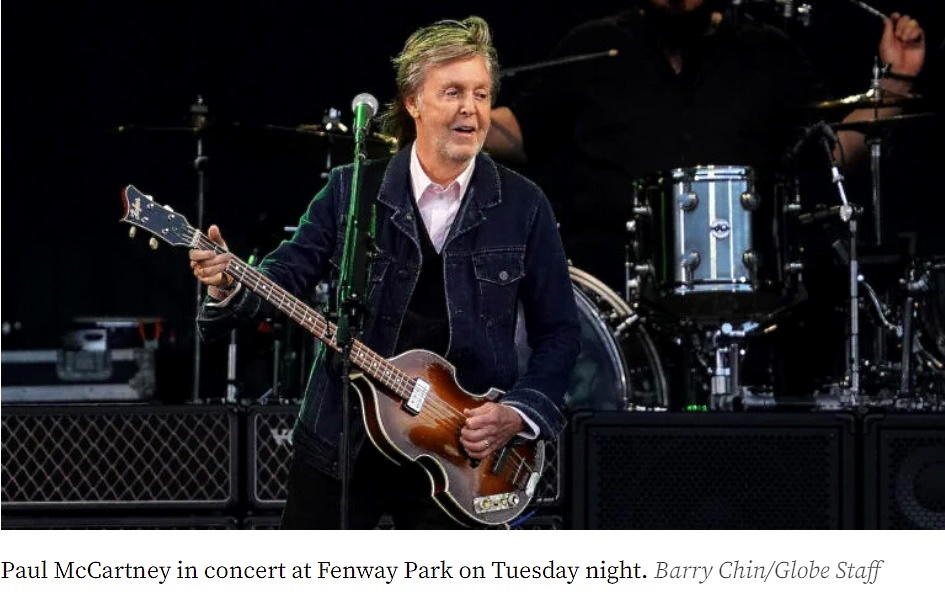 When he wrapped "Maybe I'm Amazed" from McCartney, his first solo venture in 1970, McCartney pointed out
an image of him and his then-infant daughter, Mary, that flashed above him on a giant monitor, taken from
the album's back cover.

Mary, he said, now has four kids of her own.

"How time flies," he said with an air of disbelief not lost on the legions of grandparents that packed the
house. "Maybe I'm amazed!"

Living a lifetime in showbiz, McCartney is beginning to — finally — look a bit more his age, after all.

His eyes are a bit more tired, though in year three of the COVID-19 pandemic, he's certainly not alone. He's
embraced his grays more in recent years. He wears them well and they're still a bit moppy. In the breeze at
Fenway, it's hard to not conjure a squint-and-you-may-see-it vision of the much-younger man who stood in
the January chilly air on a London rooftop all those winters ago.

Of course, with the Jackson film this past year, songs like "Get Back" have a renewed flair and remain
dumbfoundedly accessible across the generations assembled in McCartney's audience. And a late-set run of
Beatles hits, from "You Never Give Me Your Money" to "Let It Be," cranked up an electric jolt needed for the
rather sleepy mid-week crowd that welcomed McCartney back to Boston on Tuesday. (Notably, however,
signs spelling out "We love you Paul" wrapped the grandstand earlier in the night, causing the rocker to stop
to "drink it all in for myself.")

Abundantly clear is that the beating heart of McCartney's career will forever be that storied collaboration
with Lennon — two friends whose ambitions and humor carried them into the stratosphere of stardom and
have now shaped more than half a century of popular culture.

Like the quintessential core of the "Get Back" sessions — intended to capture the band in a rootsy-er, less
glammed-out version — it's clear McCartney is not interested in myth making, but rather something more
pure, more innocent, as the Beatles at their best will always be.

His encore opener plays it straight. Using isolated vocals and video from the rooftop concert produced by
Jackson, McCartney duets, virtually at least, with Lennon for the first time in decades on Let It Be's "I've Got
A Feeling," with Lennon's line "Everybody had a hard year" ringing a bit more true during this pandemic.

"That's beautiful for me," McCartney said, summing it up afterwards. "Together again."

Perhaps even more fitting is McCartney's full-throated bridge:

All these years, I've been wanderin' around
Wonderin' how come nobody told me
All that I been lookin' for was somebody who looked like you

For a few minutes, together, the two boys from Liverpool sang across the ages, one on a screen high above
and immortalized in long-haired youth, uncertain where that wild ride would take them all next.

Below him stood McCartney, wearing all the life Lennon never got to embrace, but still left pondering about
£5 recording sessions, a high school band, and the music he made with his friend.

All these years, indeed.

Setlist:

1. Can't Buy Me Love
2. Junior's Farm
3. Letting Go
4. Got to Get You into My Life
5. Come on to Me
6. Let Me Roll It (with Jimi Hendrix, Foxy Lady tribute)
7. Getting Better
8. Let 'Em In
9. My Valentine
10. Nineteen Hundred and Eighty-Five
11. Maybe I'm Amazed
12. I've Just Seen a Face
13. In Spite of All the Danger
14. Love Me Do
15. Dance Tonight
16. Blackbird
17. Here Today
18. New
19. Lady Madonna
20. Fuh You
21. Being for the Benefit of Mr. Kite
22. Something
23. Ob-La-Di, Ob-La-Da
24. You Never Give Me Your Money
25. She Came in Through the Bathroom Window
26. Get Back
27. Band on the Run
28. Let It Be
29. Live and Let Die
30. Hey Jude

Encore

1. I've Got a Feeling (virtual duet with John Lennon)
2. Birthday
3. Helter Skelter
4. Golden Slumbers
5. Carry That Weight
6. The End

Paul McCartney plays his second night at Fenway Park on Wednesday, June 8.





June 9, 2022
1962 Was The Final Year We Didn't Know The Beatles. What Kind Of World Did They Land In?
The Beatles broke out regionally in 1963 and nationally in 1964, which makes 1962 the last year they weren't
widely known. And given that we'll probably never forget them, that makes it a special year indeed. What
was going on then?
by Morgan Ends for the Grammy Awards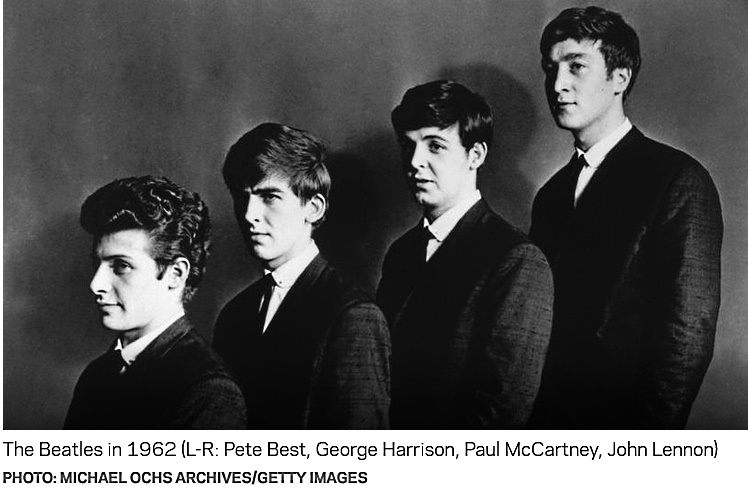 During the mid-to-late 1950s, the titans of rock 'n' roll dominated the earth; by 1962, many of them had seemingly gone extinct.
Buddy Holly went down, young. Little Richard found Jesus. Jerry Lee Lewis married his 13-year-old cousin and was crucified in the press. Chuck Berry spent three years in jail. Elvis, fresh out of the army, was making films often derided as beneath him. So when the Beatles broke out — regionally in 1963, and nationally the following year — they arrived in a barren, joyless world, right?
This is usually the line: In the wake of the Kennedy assassination, in a wasteland of schmaltzy, insipid crooners, the Fabs made the desert rejoice and blossom as the rose. As a gang of impudent, talented youths — a feast for the ears and eyes — with reams to give the world, they taught an unmoored and grieving America to have fun again.
Of course, that certainly applies to some Americans in those days. But if you ask Mike Pachelli, he might give you a different story. Because he was there.
Indeed, it's tempting to frame the Beatles as messianic — reams of ink have made their debut performance on "The Ed Sullivan Show" to reinforce that narrative. Everybody remembers "All My Loving," "She Loves You" and the rest; few remember that they were followed by a desperate-looking magician doing salt-shaker tricks. (As Rob Sheffield put it in Dreaming the Beatles: "Acrobats, jugglers, puppets — this is what people did for fun before the Beatles came along?")
Through that lens, the Beatles can look like the product of divine intervention, meant to restore brilliant hues to a monochrome culture, Wizard of Oz-style. Why not ask Tune In author Mark Lewisohn about it? He's almost universally regarded as the foremost global authority on the Fab Four. And to that point, he lists some names.
"Otis Redding, James Brown, Little Stevie Wonder, Aretha Franklin, Paul Simon, Freda Payne, Randy Newman, Ike and Tina Turner, the Supremes, Wilson Pickett, Gladys Knight, P.J. Proby, Barbara Streisand, Glen Campbell, Patti LaBelle, and Dionne Warwick" were all waiting in the wings or as established stars in 1962, he tells GRAMMY.com.
"They're all making records before the Beatles," Lewisohn continues. "So, anyone who says the Beatles fashioned the entire scene doesn't know what they're talking about." Rather, the Beatles entered an already-fecund landscape 60 years ago — and reshaped it forever.
Humming a song from 1962
In the grand pop-cultural timeline, 1962 tends to represent innocence, youth and the "good old days." In his 1976 hit "Night Moves," Bob Seger awakens "to the sound of thunder," with a song from that year on his lips. (It was the Ronettes' "Be My Baby," which was actually from '63; apparently, Seger felt strongly enough about what 1962 meant to him to tweak history a tad.)
Plus, George Lucas didn't set his classic coming-of-age flick American Graffiti in 1962 for nothing.
"These kids are driving all night and they're hearing the '50s rock 'n' roll on the radio," Sheffield, who is also a Rolling Stone contributing editor, tells GRAMMY.com of the 1973 film. "They're listening to Wolfman Jack and it's kind of the last gasp of that old school rock 'n' roll era."
Sheffield cites the scene where a brooding John Milner (played by Paul Le Mat) tells the gangly, 12-year-old Carol Morrison (played by Mackenzie Phillips) to turn off "that surfing s***" on the dashboard radio — the Beach Boys' "Surfin' Safari." "Rock 'n' roll's been going downhill ever since Buddy Holly died," Milner reports, his face fallen.
American Graffiti's soundtrack is packed with hits that paint a picture of young love in Modesto, California, in 1962. Aside from '50s jukebox mainstays like Bill Haley and the Comets' "Rock Around the Clock," you've got obscurer cuts by acts like Lee Dorsey, the Cleftones, and Joey Dee and the Starlighters — all from the previous year.
If you want to understand the prevailing vibe of the year in question, American Graffiti is the first looking-glass you should peer through. For another, look no further than the Beatles' infamous audition for Decca Records — on the very first day of 1962.
"Searchin' Every Which A-Way"
The Beatles had a massive, unlikely shot on January 1, 1962, when they auditioned for Decca Records. But by most accounts, they blew it: the label ended up telling them "guitar groups are on their way out." (They ultimately went with Brian Poole and the Tremeloes.)
The Decca audition, which floats around the internet today, is famously regarded as terrible — John Lennon called it "terrible" himself a decade later. But if you listen today with fresh ears, it's really not — despite some rough moments and pre-Ringo drummer Pete Best's shaky grasp of rhythm.
It's important to note that the Beatles weren't experimenters come 1965 with Rubber Soul, or with 1966's Revolver — they were a deeply experimental band from jump. The Beatles were unique for their ability to emulate and synthesize disparate threads of 1962's musical landscape; just take a look at their Decca setlist:
Immediately notable are Lennon-McCartney originals like "Like Dreamers Do," "Hello Little Girl" and "Love of the Loved," which was unheard of — rock 'n' roll groups simply didn't write their own songs back then.
On top of that, you've got a Phil Spector ("To Know Her is to Love Her"), a showtune via Peggy Lee ("'Til There Was You"), a jolt of Detroit R&B ("Money (That's What I Want)"), comedic numbers (three Coasters songs, including "Searchin'"), a jazz standard (Dinah Washington's take on "September in the Rain") — on and on and on. All of that, plus country and western, music hall, and so many other forms, were swimming around their skulls.
"What they'd been doing in Hamburg and then brought back to Liverpool was 'We just have to do everything, because we're playing for 10 hours a night,'" Alan Light, a music journalist, author and SiriusXM host, tells GRAMMY.com. "Anything that they knew, or anything that they might know, was fair game for material, because they just had to keep going."
But the Beatles' omnivorousness in this regard, both in their choice of cover material and raw inspirations for songs, wasn't just to run the clock — it spoke to their essences as artists and human beings. "They were so receptive to anything that was good, and it didn't matter what genre it was, as it didn't matter what genre they were," Lewisohn says.
So, how do you know that music in 1962 was, in many ways, outstanding? Because without it, there'd be no raw material for the Beatles to work with.
Aside from the Beatles' purview, other fascinating musical forces were at play. According to Kenneth Womack, a leading Beatles author, what the music industry hawked in 1962 wasn't necessarily what the public asked for — hence John Milner's reaction in American Graffiti.
"What happens is you go from that pretty intense rock era to the crooners and doo-woppers coming back with
a vengeance," Womack tells GRAMMY.com. "That was really not music that people wanted. It was music that
was marketed to us."
Still, many tunes from 1962 and thereabouts endure — including all the tremendous, often Black, talent
Lewisohn mentions above, as well as a smattering of bubblegum songs that have baked themselves into 21st-century life.
That year, Shelley Fabares released her confectionary cover of "Johnny Angel," and Chubby Checker's "Let's Twist Again" won a GRAMMY for Best Rock 'n' Roll Recording. The Tokens' "The Lion Sleeps Tonight" became a No. 1 hit; so did Gene Chandler's "Duke of Earl." ("There's still a pulse around the old-world stuff," Light notes about the latter tune. "It's not gone.")
Plus, recent years had given us "Itsie Bitsie Teeny Weeny Yellow Polkadot Bikini" and "The Purple People Eater" — further proof of novelty songs' enduring presence.
"It's funny that the song from 1962 we hear the most nowadays might be 'Monster Mash,' which has just turned into such a seasonal banger," Sheffield says. "If you went back to a music fan in 1962 and said, 'Sixty years in the future, the most famous song from this era is going to be 'Monster Mash,' people would laugh in your face."
"You've got a lot of the trivial pop throwaways that the people laugh about, but a lot of those were fantastic songs," he continues, citing rock 'n' roll singer Freddy Cannon's "Palisades Park" as a "fan-f***ing-tastic song": "The drummer on that song is absolutely insane. That's the year that Stax starts to make its mark nationwide."
On top of that, you've got Spector, Motown, Chicago soul, Memphis instrumental R&B (hello, Booker T. and the MGs' "Green Onions"), the still-green Beach Boys and Bob Dylan… the list goes on. To say nothing of Ray Charles, whose Modern Sounds in Country and Western Music — released in 1962 — remains a monumental fusion of Black and white cultures.
1962 was also a major year in American culture: John Glenn became the first man to orbit the Earth, the Cuban Missile Crisis erupted, and it was the only full year John F. Kennedy was president. The Space Needle and the first Wal-Mart were opened. Marilyn Monroe sang "Happy Birthday" to JFK and died three months later.
In British media at the very least, there was a shift toward irreverence that left an opening for the flippant and cheeky Fabs. "The Beatles came up at the very same time when you could be less respectful to the sacred cows of society," Lewisohn says, noting a rising acceptance of unfettered working-classness, like in the pre-"Sanford and Son" show in the UK, "Steptoe and Son."
Sheffield stresses the impact of the draft on the world the Beatles entered: "I think they presented to American youth a vision of adult male life that wasn't military-based or violence-based," he says. And across the pond, the abolition of conscription in the UK in 1959 had fundamentally shaped the Beatles' path.
"They were clearly not boys who had been in the war," Lewisohn says. "The Beatles escaped it in the very nick of time."
What If The Beatles Never Broke Through?
As most parties agree, one of the weirdest things about the Beatles is that they happened at all — which is easy to overlook due to their sheer omnipresence.
"For me, the weirdest things about the Beatles are the most obvious things about the Beatles. Just the four of them being born in this town and finding each other and making music together," Sheffield says. "It's so shocking and bizarre that that synchronicity happened and that they were as good as they were, and they were able to keep inspiring and challenging and goading and competing with each other, and that they were able to scale those heights."
"I mean, there's nothing in world culture that's anything like a precedent for this," he continues. "And they were able to do it for 10 years, which is about 30 times longer than anybody would have predicted in 1962. That in itself is so completely bizarre."
Not that anyone could be a prognosticator — but if the Beatles had never been born, or broke up when they began, what would the '60s be like? Obviously, the Vietnam War and subsequent youth revolt would happen. Humanity would land on the moon.
But the music world, including all their peers, would be radically different. Without them, the Stones would probably never have written songs, or had their manager. The Beach Boys wouldn't have been spurred to make Pet Sounds or "Good Vibrations." The Byrds wouldn't use a 12-string Rickenbacker (Roger McGuinn got it from A Hard Day's Night), nor spell their name with a y. Bob Dylan may have never broken out of the folk scene.
Without the Beatles, the template of a self-contained band — a democratic gang with a unified message, lobbing working-class Britishness into the world, raining down heartening music and blistering humor, and reinventing themselves seven or eight times before drawing the blueprint for band breakups — would be gone.
"I feel like rock 'n' roll would've come back," Colin Fleming, who writes articles and books about the Beatles, tells GRAMMY.com. "It's almost like someone's on the injured list on the baseball team."
But everything played out how it did — and what unending pleasure and edification. Still, history screams that the decade would have remained semi-recognizable without the Beatles.
The '60s would still be action-packed, just in a different way; it contained all the nascent threads and forces to be so. In 1962, you had the debuts of James Bond, Spider-Man and "The Tonight Show Starring Johnny Carson." Anthony Burgess's A Clockwork Orange was published. Lawrence of Arabia opened in cinemas. America's presence in Vietnam dramatically escalated.
"The more I thought about it, October of '62 is interesting," Jordan Runtagh, an executive producer and host at iHeartMedia, tells GRAMMY.com. "That's the month that 'Love Me Do' came out. On the same day, Dr. No came out. It's the same month that Edward Albee's Who's Afraid of Virginia Woolf? came out, which completely revolutionized the theater."
It's easy to consider the '60s without the Beatles as unthinkable. But even as a diehard fan, the thought is actually strangely beautiful.

Flashback: Derek Taylor writes on the passing of Beatles Manager Brian Samuel Epstein




June 8, 2022
Today it was a hat trick on Special Magazine Editions

At Shoppers Drug Mart I purchased three collectable magazine editions: Two of them on Paul McCartney
from Time and Life. And the third one from Mad magazine with various spoofs on Star Wars, Star Trek,
The Matrix, Planet of the Apes, etc. ─ John Whelan, Ottawa Beatles Site







June 7, 2022
Paul McCartney's Brother Recalls the Beatles' Early Years
The photographer reflects on 1962, a watershed year for his brother's band
by Jeff Slate for InsideHook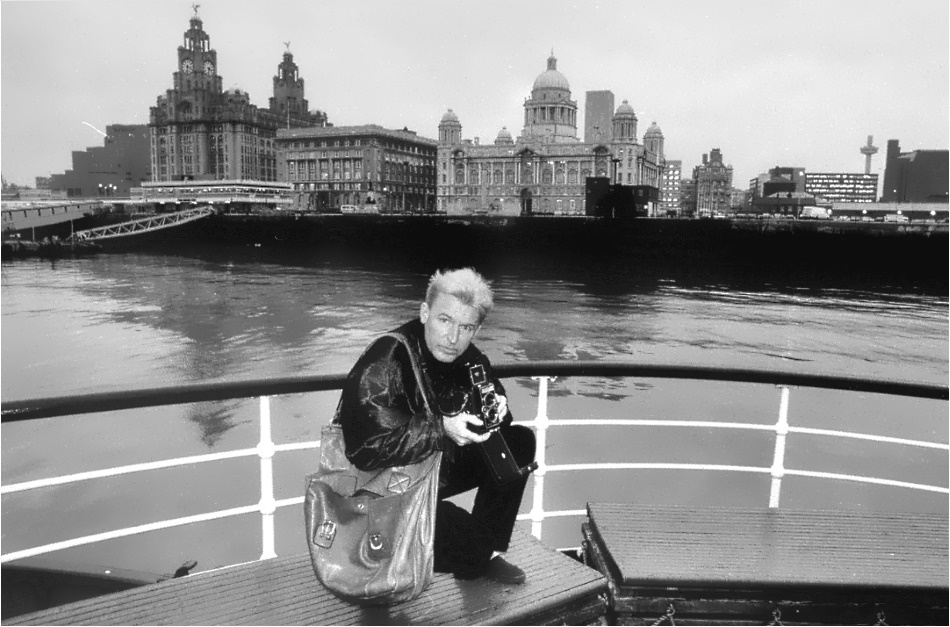 Mike McCartney, brother of Paul McCartney, on ferry on the Mersey shooting pictures with Rollei camera Paul
bought him in 1962.
On June 6, 1962, 60 years ago this week, the very nervous, almost-Fab foursome of John, Paul, George and Pete entered EMI's studios on Abbey Road in the St. John's neighborhood of London for their first recording session under the recording contract that the already legendary producer George Martin had offered their rather green manager, Brian Epstein, on the label he was then managing, Parlophone, when the pair had met the previous February. But the group — who were tearing up the pub and club circuit in the north of England after a long, grueling stint in Hamburg, Germany, where they'd played eight hours a day, six days a week, honing their craft and becoming one of the tightest and rawest bands in the country — nearly didn't make the cut during that first session.
Paul McCartney's bass amp was found to be so inadequate that a replacement was cobbled together from speakers pilfered from the famed studio's echo chamber, and John Lennon's tiny Vox amplifier had to be held together with string to keep it from rattling, as the engineer Norman Smith recalled to me during an interview in 2007. Finally, Smith, who went on to produce the legendary recordings by the early, Syd Barrett-fronted Pink Floyd, was able to get a suitable sound on tape.
Still, amplifiers were the least of the Beatles' problems that day. As they ran through "Besame Mucho," the 1940s hit written by Mexican songwriter Consuelo Velázquez, plus their originals "Love Me Do," "PS I Love You" and "Ask Me Why," it became clear to all in attendance that, while it was far from a sure thing that guitar groups would be the next big thing, this group surely wouldn't make the cut with their current drummer supplying the backbeat.
"There Pete Best was coasting along, a good-looking lad in a great group, and that could've been it forever," recalls Mike McCartney, the photographer, recording artist and, of course, Paul McCartney's brother. "But for the decisions that were made, which were necessary, of course."
A couple of the tracks from the day were included on Volume 1 of the Beatles' Anthology compilation, released in 1995, and the evidence is plain: Handsome fan-favorite or not, Best couldn't keep a beat to save his life.
"I always felt sad for Pete, until the Anthology," McCartney says. "Then, for the first time, he saw some real money, which was important to me, because he was never looked after. And to lose that crew, and to lose out on fame too, that was awful."
It's all recounted in rich reminiscences and stark, candid photographs by the brother of one of the world's most famous men in Mike McCartney's Early Liverpool, recently released by Genesis Publications in a gorgeous, limited-edition deluxe book. But McCartney recalls the time of Best's firing, in the summer of 1962, particularly vividly.
"Brian Epstein came along and thought, 'Okay, I love you in your leathers, but this is a business, and if you want to make a million, then you've got to change your look,'" he says. "I remember John Lennon, particularly, but certainly heard, 'if you want to make a million.' They went to the tailor Dougie Millings and bought those first suits, and I remember my brother coming home with a box, and I opened the tissue paper and there was a mohair suit. I said, 'What are you doing? We said we'd never go along that route.' And he'd already worked it what to tell people. He said, 'Look, ours have velvet collars.' Oh, dear God. And so, there's a photo in the book at the Tower Ballroom, and there's Pete in his suit. And then, in the next photograph is Ringo, in the same suit the next week. Poor Pete had been let go. And he had to pay for the suit!"
Of course, Martin heard something on those tapes, and he recalled to me during a conversation in the early '90s that, while there was no sign of the songwriting prowess Lennon and McCartney possessed, he was, more than anything, enamored with the band's quick wit and camaraderie. And so, just 90 days later, they were given a second chance. With a new drummer in tow and a fresh batch of songs — picked by Lennon and McCartney, rather than Epstein — with which to impress Martin, the rest, as they say, is history.
As obvious as the band's trajectory all seems now, in hindsight, Mike McCartney remembers 1962 as a fraught rollercoaster of a year, one that saw the Beatles nearly splinter apart more than once, if not for an enormous amount of tenacity and a large helping of Liverpudlian luck.
"Fate could have been different," he says. "They might've gone down to London, done the record with George Martin, and then what if nothing happened and it didn't sell? Ringo would have gone back with [his pre-Beatles band] Rory Storm and the Hurricanes, and the rest of the Beatles would have had to get jobs and maybe gone on doing music in their spare time or whatever."
As McCartney sees it, whatever came before, 1962 was the true beginning of the Beatles, at least as popular culture now knows them. As he was learning his craft of photography in his spare time, his brother was making leaps and bounds as a musician and songwriter — the result, as he sees it, of doing nothing but learning to be a Beatle. It was a year that the band kept up a grueling live schedule, made the first of several hundred BBC radio appearances, signed that all-important record deal with George Martin (who would go on to become a crucial collaborator for the band) and ditched Best for the man who put the beat in the Beatles, Ringo Starr. But they also lost the man who McCartney recalls as the soul of the early Fabs.
"Stu Sutcliffe was John's mate," he remembers. "I knew him because I wanted to go to art college, too, where he and John were studying. He had a style to him. And a real presence about him. He looked cool, and when they started the group, he was trying to play but he just couldn't. My brother was trying to trying to teach him. But that's hard, trying to learn an instrument like that. But John wanted him in, and so he had to learn. Then, when they went over to Hamburg he met Astrid [Kirchherr, the photographer] and fell in love. He told them, 'Well, you get on with it. Paul can go on the bass. I'm staying here doing me art.' But he was really important to the group up to that point."
Later, not long before he died in April 1962, Sutcliffe visited his former group in Liverpool, with Kirchherr on his arm.
"He was looking thin and pale, and he must've been taking medication, because, like the letter from him reproduced in the book, which is very James Joyce-y and surreal, he was sometimes just floating, and then all of a sudden, he wasn't," McCartney recalls. "There's a picture in the book of Astrid, with her very short, Mia Farrow-type hair, John and Stu outside the Cavern. Not long after that, we were all down there, in the Cavern, and I remember Stu and Astrid walking in, and Stu had this ordinary jacket, but without the collar. We all pissed ourselves laughing. He was not happy, because we didn't get it, the style. But then, when he died, those famous Beatles collarless jackets, they're in homage. They weren't Beatles jackets. They were Stu's jacket."
The Beatles took his death hard, says McCartney, most especially John Lennon, who he recalls had a unique bond with his former art school classmate.
"He was a nice bloke, and very quiet," he says. "Even onstage, he just stood there, in these very dark, beautiful shades. He couldn't have seen a bloody thing. But he looked so good. And I always remember how cool he was to be around."
It's all there in Early Liverpool, from family photos and Teddy Boy poses from his teenage brother Paul, to run-ins with the actress Jane Asher when his brother brought her to Liverpool for the weekend in 1965, and much more — both mundane and astonishing, but all of it chronicling a time and place that now seems so magical because of its inhabitants.
"All they were was my brother and me mates," McCartney says with a laugh, as he flips through the photos he took all those years ago now reproduced in a massive book. "That's all they were. It was just me learning photography, and my brother doing the same thing in music. Really, that's all it was."



June 6, 2022
The Beatles @ The Star Club - The TRUTH Behind The Legendary Tape
by Parlogram Auctions


This year sees the 60th anniversary of the The Beatles' infamous Hamburg 'Star Club' recordings. These low-
fi recordings have been released multiple times between 1977 and 1991 but are no longer officially available.
This video not only tells the story of how the tape was recorded but also the personalities involved with its
chequered history. We also cover events leading up to its initial release on Lingasong to the final court battle
in which George Harrison himself testified. Will Apple ever allow it to be re-released and should they give
Peter Jackson the opportunity to restore it? Whatever the outcome, it's a really fascinating and entertaining
story. Someone should make a proper movie of it one day.


You Won't See Me - The Beatles - Full Instrumental Recreation
by Michael Sokil



Nipper and the Liverpool connection!
by Justin Beckner for Ultimate Guitar






June 5, 2022
How Bob Dylan's masterpiece changed The Beatles' songwriting forever
by Tom Taylor for Far Out
It's 1965, John Lennon is the king of the world as The Beatles continue their unwavering dominance of the pop culture explosion. He is fresh from recording Help!. It is the 'Fab Fours' best work to date and further fame, fortune and frenzied adulation surely await. However, that isn't on his mind as he sits at home in Weybridge with a record endlessly spinning on repeat. He rings Paul McCartney and says something along the lines of, 'You have to come around here and listen to this new Bob Dylan single.'
When Paul McCartney arrives, he is greeted with the wail of the greatest counterculture anthem ever written: 'Like a Rolling Stone'. "It seemed to go on and on forever," McCartney recalls. "It was just beautiful." A year earlier, they had met the man behind this furiously unfurling song and it had proved just as impactful.
As 'Macca' said of their famed meeting at the Delmonico Hotel in 1964, "I could feel myself climbing a spiral walkway as I was talking to Dylan. I felt like I was figuring it all out, the meaning of life… I was going 'I've got it!' and wrote down the key to it all on this piece of paper. I told [Beatles roadie Mal Evans] 'You keep this piece of paper, make sure you don't lose it because the meaning of life is on there. Mal gave me the piece of paper the next day, and on it was written 'There are seven levels.' Well, there you go, the meaning of life…"
That piece of reverential-sounding nonsense might remain a mystery, but the penny would soon drop when it came to Dylan's music by the time 'Like a Rolling Stone' came around. "Dylan is a fantastic composer," McCartney told Flip Magazine in 1966. "At first, I didn't understand. I used to lose his songs in the middle but then I realized it didn't matter. You can get hung up on just two words of a Dylan lyric. 'Jealous Monk' or 'Magic Swirling Ship' are examples of the fantastic word combinations he uses. I could never write like that and I envy him. He is a poet."
With 'Like a Rolling Stone' Dylan revolutionised the way that people look at songwriting, the mighty Beatles included. With the glowering track "he showed all of us that it was possible to go a little further," McCartney told Clinton Heylin. The collision of rock 'n' roll with lyrical poetry, and societal sagacity was a portent force that sent heads wobbling. Now songs didn't have to be structured with a one-track mind. Only a few years earlier if your song was longer than three minutes it wouldn't be played on the radio, then suddenly Dylan had a hit that went "on and on" for over six minutes.
The song was such a pandora's box moment that the radiowaves had no choice but to make room for it. The swirling welter of everything it contained was a revelation for artists still thinking on conventional terms. The Beatles were now set to pair introspect and profundity with pop. "I think it was Dylan who helped me realize that," Lennon declared with love. "I had a sort of professional songwriter's attitude to writing pop songs, but to express myself I would write 'Spaniard In The Works' or 'In His Own Write' —the personal stories which were expressive of my personal emotions."
Continuing: "I'd have a separate 'songwriting' John Lennon who wrote songs for the sort of meat market, and I didn't consider them, the lyrics or anything, to have any depth at all. Then I started being me about the songs… not writing them objectively, but subjectively."
Rubber Soul, The Beatles' next album following 'Like A Rolling Stone' would feature tracks like 'Norweigian Wood' a track that even had Dylan stating, "What is this? It's me, Bob. (John's) doing me!" And Lennon himself would even say of songs in this period, "That's me in my Dylan period again. I am like a chameleon… influenced by whatever is going on. If Elvis can do it, I can do it. If the Everly Brothers can do it, me and Paul can. Same with Dylan."
The band might have assimilated his influence a bit less obvious in future, but they were now looking to stretch their songs to new limits—everyone was. After all, the song crucified the crux of counterculture's exposed Achilles heel—and it did it with such rafter ratling disdain that the clouds of the commercial ceiling were shifted and people could see past the boundaries towards what a rock song could be.
The world would simply never truly be the same when Dylan's cutting intellect, stirring poetry and the brilliance of the soaring melody all mingled into one pop culture opus that still delivers a cognisant dose of adrenaline to this day.



June 4, 2022
Tell Me Something Good: Bob Eubanks and the Beatles

by Tim Fox for LocalSyr.com



June 3, 2022
Beatles legend Ringo Starr honored in Boston with honorary doctorate from
Berklee College of Music
by Brennan Kauffman for WCVB5 ABC Boston (includes a video)



BOSTON — Former Beatles drummer Ringo Starr received an Honorary Doctorate degree from the Berklee College of Music in a special ceremony held Thursday in Boston.

Starr was unable to attend the initial ceremony earlier in May, though he addressed the graduating class in a recorded statement.

He spoke again at Thursday's in-person ceremony, sharing a story about how he decided to become a drummer.

"It was my big dream. You know, it's still unfolding. I get to play with great guys," he said. "It's just a great life I lead."

The ceremony also featured a tribute concert celebrating Starr's success in the music industry and remarks from Drummer Gregg Bissonette, who is a close friend of Starr and the drummer for Ringo Starr & His All-Starr Band


The Beatles' George Harrison Was Behind Some of the Best British Movies Ever Made
We mightn't have had Life of Brian or The Long Good Friday without a particular Beatle.
by Andrew Taylor for Collider



The question of what to do after you've been in the biggest band of all time was approached in many ways by The Beatles, but George Harrison provided one of the most fascinating answers: start your own film production company, and make films you like, even when they court controversy. Although it had its fair share of flops (such as Shanghai Surprise and Water), Harrison's Handmade Films was a genuine British success story in the 80s. This was a decade when financial support had fallen through due to the collapse of local studios and the rise of the Thatcher government, which did not see arts funding as a priority. Fewer films were produced locally and dominated by "prestige" releases, such as Gandhi and A Passage to India, that were increasingly bankrolled by Hollywood.

In this environment, Handmade's best films stand out for their contemporary themes and ability to punch above their weight. Harrison's company nurtured a generation of actors and provided rising directors the space to do some of their best work. So, let's look at George Harrison's contribution to British cinema through five key films and what makes them so great.
Monty Python's Life of Brian (1979)
Born out of the friendship between Harrison and Eric Idle (who had made The Beatles parody, The Rutles), Handmade was formed specifically to fund Monty Python's Life of Brian. Support from EMI Films had fallen through at the pre-production stage after the board members read the script and objected to the religious content. Idle went to his famous (and very rich) friend for help. Counter-culture icon Harrison had no issues with the satirical take on Judaism and Christianity and he created Handmade to finance the film.
Helmed by Terry Jones (with his Holy Grail co-director, Terry Gilliam, concentrating on the visuals), Life of Brian is a typically anarchic comedy from the Monty Python team. The story follows the efforts of Brian (Graham Chapman) against the Romans, drawing parallels with the life of Jesus along the way. It contains many of the team's most enduring skits (What have the Romans ever done for us?), lines ("He's not the Messiah, he's a very naughty boy!"), and absurdities (the pure Gilliam moment when Brian falls from a tower and is carried by aliens into the midst of a space battle).
The risk that Harrison took with Life of Brian (re-mortgaging his house to help raise the $4 million budget) paid off. The film was a hit, taking in over $40 million and paving the way for Handmade to be more than just a one-shot deal. Given the extreme reactions to come in the 80s to other religious-themed works, such as Martin Scorsese's Last Temptation of Christ and Salman Rushdie's book The Satanic Verses, perhaps it was the last time that such a satire could be made. The dark humor of the film's final scene, where the crucified Judeans sing the jaunty "Always Look On The Bright Side Of Life," is an effective cover for the bleak suggestion that religion is indeed the opium of the masses.
The Long Good Friday (1980)
Cinemagoers would have missed the full power of The Long Good Friday were it not for Harrison's company being ready to take another risk. The completed movie was languishing at Black Lion Films, which had got cold feet over its graphic violence and politically touchy depiction of the IRA. The studio was calling for drastic cuts, including the complete re-dubbing of the lead actor Bob Hoskins because it thought his cockney accent was too strong for the US market. Handmade acquired the rights and released the film uncut.
The film tells the story of a London gangster, Harold Shand (Hoskins), whose ambitions to go legit with a Docklands development deal are thwarted by an inexplicable wave of violence. Hoskins became an unlikely star with his bullish performance (New Yorker critic Pauline Kael affectionately described him as "a testicle on legs"). Whether barking at rivals strung upside down in a meat locker or dressing down a Mafia delegate ("Shut up, you long streak of paralyzed piss," is one choice insult), Hoskins is a force of nature. As Shand's girlfriend, Helen Mirren is equally great in one of her meatiest roles up to that point. She's Lady Macbeth to his tyrant in crisis, in one scene (following the brutal glassing of a traitorous lieutenant) urging on a blood-drenched Shand to more acts of mayhem.
The Long Good Friday's depiction of London at the turn of the 80s and its aspirational protagonist captures a key point in recent British history, prefiguring the rise of Thatcherism and the yuppie creed of "greed is good." Shand sees no irony in courting the US mafia to become a genuine businessman, because money equals legitimacy, whatever the source. He's undone by a failure to understand the forces of religious and political dogmatism attacking his empire, made real in the film's devastating final scene. It's hard to contemplate a censored version of the film, lacking both the politics and Hoskins' verbal brilliance, that would have resulted without Handmade's intervention.
Time Bandits (1981)
Having contributed to Life of Brian, this was Gilliam's second chance (after 1977's Jabberwocky) to let loose as solo director on a feature. It's a uniquely British phantasmagoria, drawing inspiration from 1970s Doctor Who, The Hitch-Hiker's Guide to the Galaxy, and Arthurian legend. Trapped in a stultifying suburban household, eleven-year-old Kevin (Craig Warnock) encounters the Time Bandits, who are on the run from the Supreme Being, and joins them on an adventure through history. While Gilliam uses a host of Python regulars and some big names (most notably Sean Connery as Agamemnon), the real stars of the film are the Time Bandits.
These are a cast of actors with dwarfism who were familiar faces of the time, particularly David Rappaport (a staple of UK children's TV) and Kenny Baker (Star Wars' R2-D2), although they were more often seen in incidental or heavily disguised roles. Or, more perniciously, in mainstream sketch show comedy of the 70s, where any person of difference was the butt of a joke. In Gilliam's fantasy, they're as ragtag as the adventure itself, referencing characters from mythology (magical in their "otherness") but steadfastly modern by taking center stage. They defy their place in the Supreme Being's order of things.
With Harrison listed as an executive producer and providing the closing credits song, Time Bandits was another big hit for Handmade, grossing almost ten times its budget. This was due to Gilliam's skill as a director, creating the look and feel of a more expensive movie through some clever scenes (the knight on horseback running through Kevin's room is a standout) and the ambition to tell a grand story. The theme of imagination as an escape from the mundane cruelty of the real world is one that he would return to again and again. However, Gilliam provides one of his sweetest moments at the end of Time Bandits, when Kevin's lost surrogate father from the adventure (Connery) appears briefly as a fireman outside the burning suburban house, suggesting that adventure can exist outside those dreams.
Mona Lisa (1986)
Mona Lisa's striking opening shot, tracking close on Bob Hoskins as he strides across Waterloo Bridge, recalls the ending of The Long Good Friday and its long take of Harold Shand. It's like he's walking out of one movie and into the next, although he's a very different character here. George (Hoskins) is a small-time gangster, disconnected from the world after seven years in prison. He takes a job from his former boss, Denny Mortwell (Michael Caine), as a bodyguard and driver for a high-priced sex worker, Simone (Cathy Tyson). He falls in love with her, causing a dangerous conflict of loyalty.
Neil Jordan, who had previously directed Angel and The Company of Wolves, made his best film with Mona Lisa. It digs beneath the veneer of 80s London to a seamy underworld where an idealized and fetishized version of women is up for sale to the most unsavory characters. George's odyssey through the sex industry takes him from the nightclubs of the West End to mansions in the country, where the worst crimes are secretly perpetrated and filmed. The subject matter recalls Caine's earlier Get Carter, except here, he's a truly loathsome facilitator of abuse.
The film's title references Nat King Cole's song and its lyrics of male yearning for an ideal played out in George's schlock romantic description of the situation to his friend, Thomas (Robbie Coltrane). In his telling, it's a "tart with a heart" story where he's the savior. George is one of Jordan's archetypical heroes (like Stephen Rea in both Angel and The Crying Game) who is blinded by false perception, even putting on a pair of cheap, star-shaped sunglasses at one point and insisting that Simone loves him. Rose-tinted spectacles indeed. Mona Lisa was Handmade's last major commercial and critical hit of the 80s, cementing Hoskins' reputation as a performer. He won Best Actor at Cannes but lost out on the Oscar to Paul Newman (for The Color of Money, so no shame there).
Withnail and I (1987)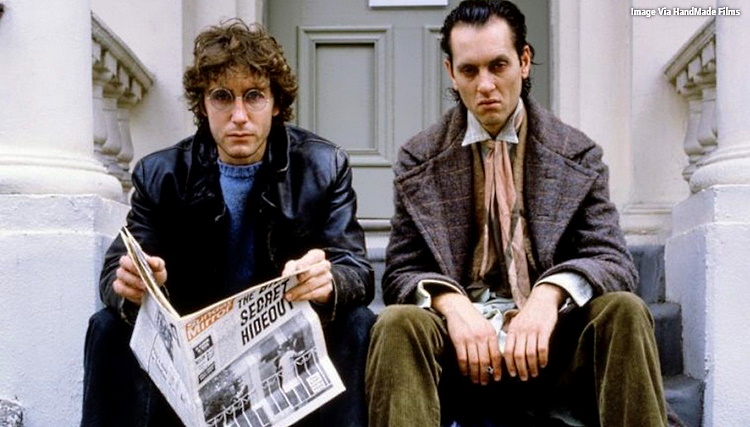 A fine example of a film having to wait to find its audience, Withnail and I was both a commercial flop and critically dismissed on release. By the time its cult (generated by word of mouth and "midnight movie" status at the art house) crossed into the mainstream in the mid-90s, Harrison had sold Handmade. This was following a string of commercial disappointments and the discovery that his co-owner, Denis O'Brien, had been mismanaging funds. It's a bittersweet footnote for the company that one of its films rose again, becoming one of the most beloved British comedies of its generation. Withnail (Richard E. Grant) and I (Paul McGann) are struggling actors living in the squalor of 1969 London. Escaping to the country house of Withnail's rich uncle, Monty (Richard Griffiths), the pair engage in a booze-and-drug-fueled weekend that becomes more farcical when Uncle Monty pays an "unexpected" visit.
It's no big surprise why Withnail and I didn't find an audience during the 80s. At first sight, the film is formless, more a collection of skits (Withnail getting threatened in a pub, the pair drunkenly crashing a tearoom) than a cohesive whole. The tone is all over the place too, veering from Hendrix-scored drug binges to the kind of farcical sex comedy last seen in the dated Carry On… movies. However, the power of the film lies in its performances and its ability to grow richer upon repeat viewing. Grant is brilliant as Withnail, whether smearing Deep Heat over his naked torso to beat the cold or trying to weasel out of a beating. McGann's cooler 60s slacker is his perfect foil. The script, by director Bruce Robinson, has more quotable lines than a dozen films, perfectly capturing the dramatic pretensions of the characters. "So, you're a thespian too!" Uncle Monty exclaims upon meeting I for the first time, making no effort to disguise his sexual interest.
To end the Handmade story with Withnail and I seems doubly fitting because of the elements of Shakespearean tragedy that underpin its broad comedy. Uncle Monty is a modern Falstaff, isolated in the 60s because of his homosexuality but putting a jovial face on things. I is Prince Hal, slumming it for the experience until he is called on for greatness (significantly, he lands a film role on their return to London, requiring him to cut his hair and head off like Henry V to redeem himself in battle). And Withnail is Hamlet, brilliantly delivering a rain-sodden soliloquy from that play to an audience of zoo animals at the end of the film. He's too outré to ever be part of the mainstream, but Withnail and I only gets better with every viewing. It's the jewel in Handmade's crown and ensures Harrison's enduring legacy in film.



June 2, 2022
On this date: Sir Paul McCartney Salutes The Queen's Platinum Jubilee on the Beatles Official
Facebook page

John Lennon's lawyer turns paperback writer to recount little-known case

by Randy Maniloff for ABA Journal
In March 1975, Jay Bergen stepped off an elevator on the seventh floor of the Dakota, New York City's famed luxury co-op on the Upper West Side. He was met by a young man who escorted him into an apartment. Bergen was in John Lennon and Yoko Ono's living room. A white Steinway grand piano sat across the space. The view of Central Park was spectacular.

A few minutes later, Ono entered, and the two introduced themselves. For the next hour, Bergen tells me, he was "politely grilled" by the former Beatle's wife.

Bergen's partner at Marshall, Bratter, Greene, Allison & Tucker was Lennon's counsel in the dissolution of the Beatles. Bergen recently had been tapped to represent the musician in unrelated breach of contract litigation.

It was an "audition," Bergen recalls of his meeting with Ono. She wanted to be sure he was the right lawyer to handle the case. "If she didn't like me," he explains, "I would have been out."

Bergen passed the test, and for the next two years had a ticket to ride as Lennon's lawyer in the matter. The representation included a lengthy bench trial in the Southern District of New York and culminated with a published opinion from the New York City-based 2nd U.S. Circuit Court of Appeals.

Lennon and Bergen parted ways after that, and Bergen went on to a long career as a litigator for various Manhattan firms. He retired in 2008. While his representation of Lennon always made for a good story, last month the Long Island native shared the case on a grander scale. He published Lennon, the Mobster & the Lawyer—The Untold Story, which recounts his representation of Lennon in this little-known case.

In a phone interview from his home in Saluda, which is in southwestern North Carolina, Bergen, 84, discussed his five-year effort as a paperback writer to share Lennon's story.

Copyright kerfuffle

Lennon's troubles began in 1973, after his settlement of a case alleging that his song "Come Together" had infringed the copyright in four words of Chuck Berry's "You Can't Catch Me." The rights to the song were the property of Big Seven Music Corp., a publishing company owned by Morris Levy, a music industry executive with alleged Mafia ties. For Levy, the situation wasn't so Johnny be good, and he sued Lennon.

In resolving the copyright claim, Lennon agreed to include a trio of Big Seven-owned songs in a compilation album that he was making in which he performed rock 'n' roll hits from the 1950s. Levy was to receive certain royalties. Lennon shared a work-in-progress copy of the record with Levy. Despite it being a demo—a so-called rough mix—that was not yet record-release quality, Levy proceeded to sell it through television ads with mail-order fulfillment.
With the bootleg now out on the street, Lennon was forced to quickly finish and release the LP that he called
Rock 'N' Roll. Lennon's record company sent stern warnings to television stations that they were advertising
an unauthorized album. Levy stopped selling Roots: John Lennon Sings the Rock 'n' Roll Hits and sued Lennon
for breach of contract. At the heart of the litigation was who had the right to distribute the compilation
album.



Bergen's work is a mix of litigation play-by-play—including excerpts from the 5,000-page trial transcript—and anecdotes of his many encounters with Lennon that led to a close personal relationship between the two.

Bergen describes himself as a "big Beatles fan," including seeing the Fab Four when they appeared at Forest Hills Stadium in Queens in 1964. Lennon was also one of the most famous people in America at the time. Surely there were challenges to having a client of this sort.

"Once I got over the shock of John Lennon walking into the conference room and sitting there and talking to me," Bergen says, recalling their initial meeting, "it evolved that he was a client. And I treated him just like every other client that I'd ever had."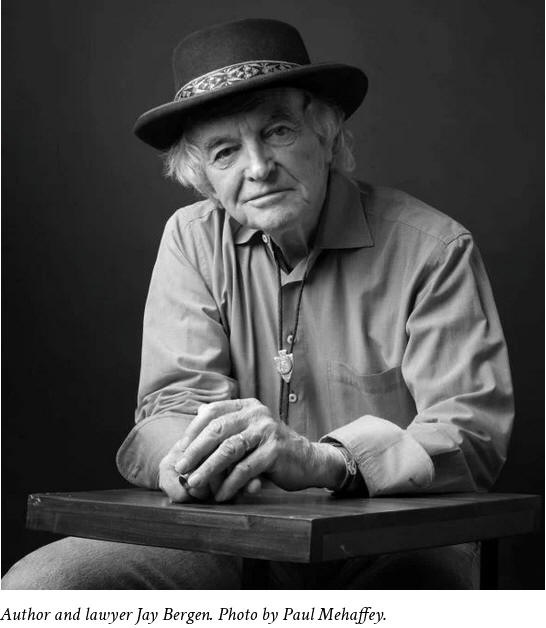 A cool client
Bergen has much to say about the devotion that Lennon gave to the case. "John was really determined not to let Morris bully him," Bergen tells me, explaining the reason behind his client's intense interest in the matter. "I think he realized that he had made a mistake when he settled the 'Come Together' case. He'd now gotten into Morris's clutches, and I think he decided 'I'm not going to settle this case. We're really going to be involved.'"
"John and Yoko were [in the courtroom] every day," Bergen says of the weeks-long trial before Judge Thomas Griesa.
Bergen also calls Lennon "the best witness I ever represented or put on the stand in my 45-year career." He describes Lennon as "very comfortable on the witness stand," adding "I don't think he was even slightly nervous."
"I can't think of one mistake he made," Bergen recounts. "Witnesses get nervous. They start volunteering. We went over that. John did not volunteer. If he was asked a question, either on direct or cross examination, he answered the question. And that was it."
Judging with an ear for music
Bergen gives credit for part of his success in the case—no contract found to exist between Lennon and Levy (affirmed on appeal); Lennon awarded contract damages on his counterclaim (reduced on appeal)—to Judge Griesa being a musician who played the piano and harpsichord in a classical music group.
Lennon also sought damages from Levy for injury to his reputation caused by the release of the shoddy Roots album. As a musician, according to Bergen, the judge had a trained ear and appreciation for Lennon's creative process—which he testified to in detail.
After an open court playing of Fats Domino's "Ain't That a Shame"—both the Roots and Rock 'N' Roll versions—the judge drew the following conclusion:
"I don't think there is any comparison. The Rock 'N' Roll is so much clearer; the voice was very poor and indistinct on Roots, it was almost hidden there. I could not tell it was John Lennon singing or anybody singing; it was a voice. The elements, whatever they are, were all fuzzed up in Roots, and I don't know whether you call it surface noise or what kind of noise, but it was fuzzy, and I would not get anything much out of it. Now, the Rock 'N' Roll, it seems to me, the voice was clear and distinct, and every other element was distinct."
In later awarding Lennon $35,000 for damage to his reputation (affirmed on appeal), the court observed that "Lennon has attempted a variety of ventures both in popular music and avant-garde music. Lennon's product tends to be somewhat more intellectual than the product of other artists. What this means in my view is that Lennon's reputation and his standing are a delicate matter and that any unlawful interference with Lennon in the way that Levy and the Roots album accomplished must be taken seriously."
On Dec. 8, 1980, Lennon was killed by a gunman outside the Dakota. Early the next morning, Bergen headed to the scene of the tragedy. "I passed places where John and I had walked together," Bergen says. "I didn't linger to reminisce. I felt an urgency to be where John had last spoken, breathed, laughed, where he had most recently been alive."
Bergen's work comes nearly a half-century since he put Lennon's creative process on display in a lower Manhattan courtroom. The numerous bankers' boxes of the file could have stayed buried in the lawyer's garage. But Bergen just couldn't let it be.

Exclusive: Hosts David C. Gross and Tom Semioli interview John Lennon's lawyer Jay Bergen



June 1, 2022
This Is Where The Beatles Stayed In Uttarakhand, And Now It's In Ruins: The Decaying Story Of '84
Kutia'
Within the Rajaji tiger reserve in Rishikesh are the ruins of the Maharishi Mahesh Yogi Ashram where the
Beatles spent over a month in meditation
by Ashwani Sharma for Outlook




They arrived at India's 'spiritual capital', Rishikesh, 54 years ago. The Beatles went on to explore India's rich spiritual heritage, passionately practising meditation in a perfect Himalayan setting—a deep forest on a small hillock on the eastern banks of the Ganges.

They played their guitars, wrote 48 iconic songs and sent countless postcards to their overseas friends. Their presence put India on the top of the world tourism map.

At least one of them—John Lennon—gave the finishing touches to his romance, with the Japanese multimedia artist Yoko Ono.

They wore Indian clothes, while the women accompanying them, including Cynthia Lennon, John's first wife, donned saris and bindis all through their stay at the sprawling 14-acre ashram of Maharishi Mahesh Yogi—known worldwide for his movement called Transcendental Meditation. They ate vegetarian food and sat for long meditation sessions. Yogi is said to have invited the band to change the West's attitude toward Indian spirituality and his Transcendental Meditation.

The event caught global media attention as Lennon, McCartney, Harrison and Starr arrived in February 1968 at the Maharishi's ashram. Many recall that Rishikesh was little more than a village then, with a population of 20,000 or 30,000, which has now bloated up into an overgrown township.

'Chaurasi Kutiya' (84 caves)—the bungalow where the Beatles stayed inside the erstwhile ashram, now part of Rajaji National Tiger Reserve—is in ruins, decayed by time. Most of the landmark buildings, living spaces, and meditation caves—igloo-shaped enclosures, built using sand and stones lugged from the Ganga's banks—have crumbled. Shrubs, bushes and uprooted/fallen trees have overrun the complex—a sign of neglect and poor upkeep.

Recently, when award-winning British photographer Michael Donald exhibited his photographs during a trip to Rishikesh, in which he captured the Beatles bungalow in its utter neglect, the legacy of the Beatles returned to haunt the town. Donald was on his first visit to Rishikesh when he came to know of the Beatles bungalow.

The splendour of the buildings, which were once a hub of activity, music and spiritual teachings, is now bereft of doors, windows and fittings. Few have signages on the large awnings, declaring them to be unsafe.

Admits Dehradun-based journalist Raju Gusain, "Neither the UP government nor its heir, the Uttarakhand government, ever made any attempt to save this heritage. It's in complete neglect. Right now, it's looked after by the forest department but it has no plans for its conservation."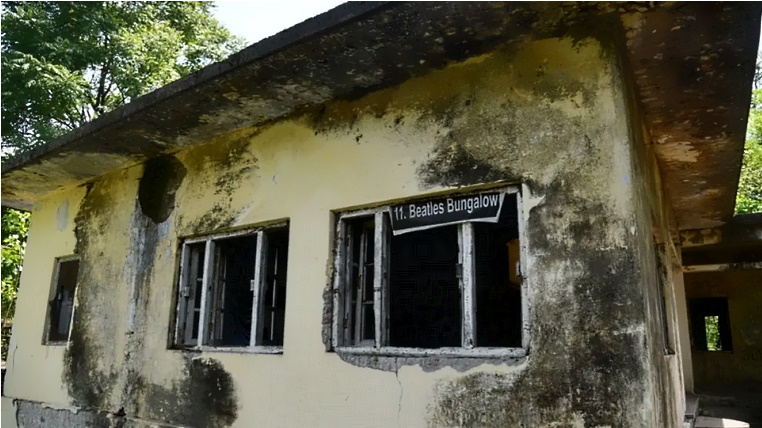 Dilapidated Beatles house at Rishikesh. Virender Singh Negi.


Gusain, whose curiosity about the Beatles' stay at Rishikesh took him all the way to England, has a treasure trove of trivia. It has led many top filmmakers, like two-time Emmy Award-winning Canadian Paul Saltzman, to him and the Beatles' stay at the ashram.
"Many people may not be aware that Cynthia Lennon's arrival and her stay with John Lennon at the bungalow were aimed at saving her marriage. Evidently, she failed. After initially sharing a room with John, she shifted to a separate room," Gusain claims.
Meanwhile, John's love story with Yoko Ono blossomed. He used to write letters to her, mainly postcards, almost regularly. He also kept receiving her responses.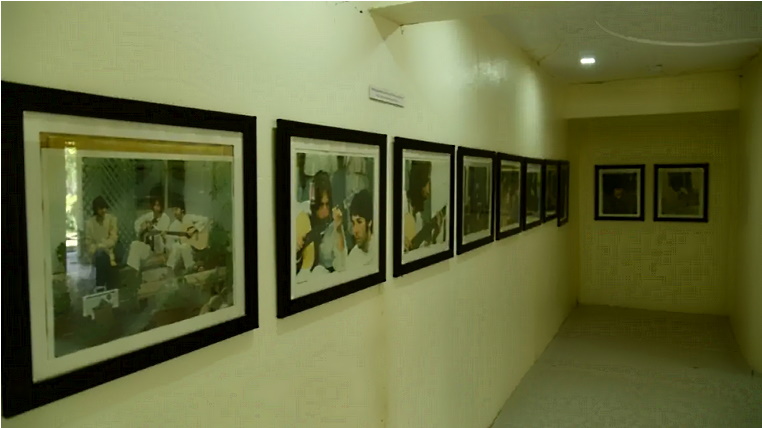 Some of the rare and valuable coloured photographs of the Band are displayed here. Virender Singh Negi.
The post office, another landmark building at the ashram, is witness to their story.
Being allergic to most of the food served at the ashram, Ringo Starr left early, while other members stayed over for 5-8 weeks.
There is an interesting twist to their stay at the bungalow, especially when Prudence Farrow, actress Mia Farrow's sister, arrived. She used to do long meditation sessions that lasted for hours, in complete seclusion. The famous Beatles song, Dear Prudence, was dedicated to her. It was written by John Lennon to coax her out of her seclusion.
Some other songs written at the meditation centre include Let it go, as well as much of the albums White Album and Yellow Submarine.
It was due to the effort of Gusain, along with Paul Saltzman, Tony Ellis, Raja Richard Ross, Anand Shrivastava and Laxman Shrivastava, that a photo gallery based on the Beatles' stay was set up in 2018, during the 50th year of their arrival at the ashram.
"There are 22 photographs, all of the rare value, on display at the galley. The building where the galley is located was restored to its original form to give a decent look and is now visited by tourists, mostly foreigners, every day," Gusain says. But many other iconic buildings are on the verge of collapse.
The Beatles, during one of their trips to Dehradun, also visited the music store Pratap Music House, and befriend its owner (late), Ajit Singh, a fine Vichitra Veena player, whom they invited to their home for a musical retreat, recalls his sister Brijpal Aneja, who now looks after the store.
The most fascinating places in the entire complex are 84 Kutiya and an adjacent hall. Half of the latter is underground and contains private mediation caves made of small stones and concrete.
The bungalow with seven rooms where the Fab Four stayed used to have running water, electricity and proper ventilation, though they reportedly used to take daily dips in the Ganga.
At the Artist's Studio, one can see paint peeling off, broken cement patches and fading life-size graffiti of the band members with the Maharishi, amidst broken windows, doors and a cracked roof. Brightly coloured murals on the walls are partially disfigured. The printing press, where Maharishi used to get all his publications printed, has disappeared. A bathroom at the Beatles' bungalow with a ceramic bathtub, is abandoned. Maharishi's own bungalow and the Dnyanpeeth are also in ruins.
Rajender Nautiyal, the forest officer who was instrumental in getting the 84 Kutia opened to the public in December 2015, says, "A great deal of effort had been put in to save the world heritage site."
The ashram's lease expired in 1981. In 2003, the complex came under the jurisdiction of Rajaji National Park. "After the lease expired and it got notified within the tiger reserve, the forest department shut down its gates, refused entry to visitors but took no steps to preserve the land, buildings artefacts and assets. Anyone could sneak into the place from nearby villages and take away whatever they found. From doors and windows, even valuable furniture and rare photographs and books were stolen," he recalls. No one bothered to stop the loot and destruction.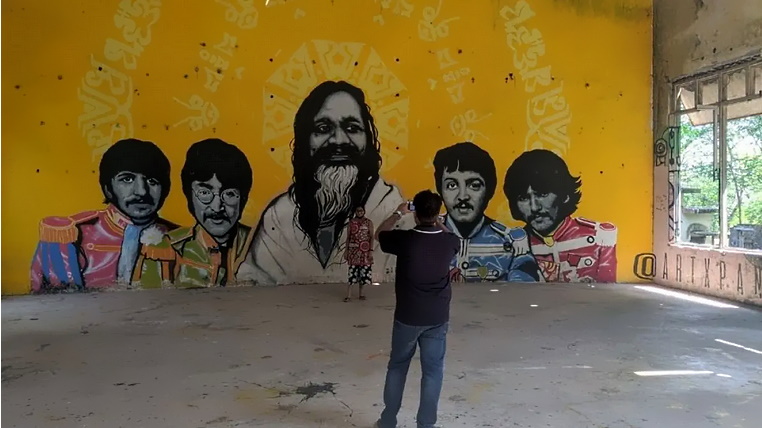 Murals at the wall of Artist hall, Beatles Bungalow, Rishikesh. Virender Singh Negi




"Serving as a Forest Range Officer, it was painful to see the relics disappearing," says Nautiyal. Most international celebrities, filmmakers, foreign dignitaries and people associated with the band used to come searching for the place, but returned disappointed, he adds.

"I somehow motivated them to write emails to the government, asking it to intervene and save the legacy. Finally, the Uttarakhand government decided in 2015 to open the bungalow to the public. I involved several foreign writers and filmmakers to write and erect proper signages for each building, for the benefit of visitors," he recalls.

Nautiyal, having already been posted out to Tehri, wonders if any further effort has been made to take things forward from where he had left.

The opening of the bungalow became a huge event, attracting media attention the world over.

During the Beatles' stay over, a tiger was shot within the ashram, an act the band members totally disapproved of. The incident inspired their song "Continuing story of bungalow bill", Nautiyal claims.

Uttarakhand tourism minister Satpal Maharaj tells Outlook that he has written a letter to PM Modi, seeking his attention for promoting '84 Kutia' as a world heritage site. "Within the government, I've discussed the issue with forest minister Subodh Uniyal, for working out a plan to develop it as a tourist destination, apart from undertaking necessary preservation works," he says.

Forest officials claim the department earns around Rs 1 crore a year from the entry fee. Foreigners are required to pay a higher Rs 600 per person compared to Rs 150 for Indians.


Walking In The Footsteps Of The Beatles In Rishikesh
The process of obtaining information about the visit of The Beatles from Liverpool in the Indian Himalayas and
other facts about Chaurasi Kutiya still continues. In fact, it has turned into an obsession.
by Raju Gusain for Outlook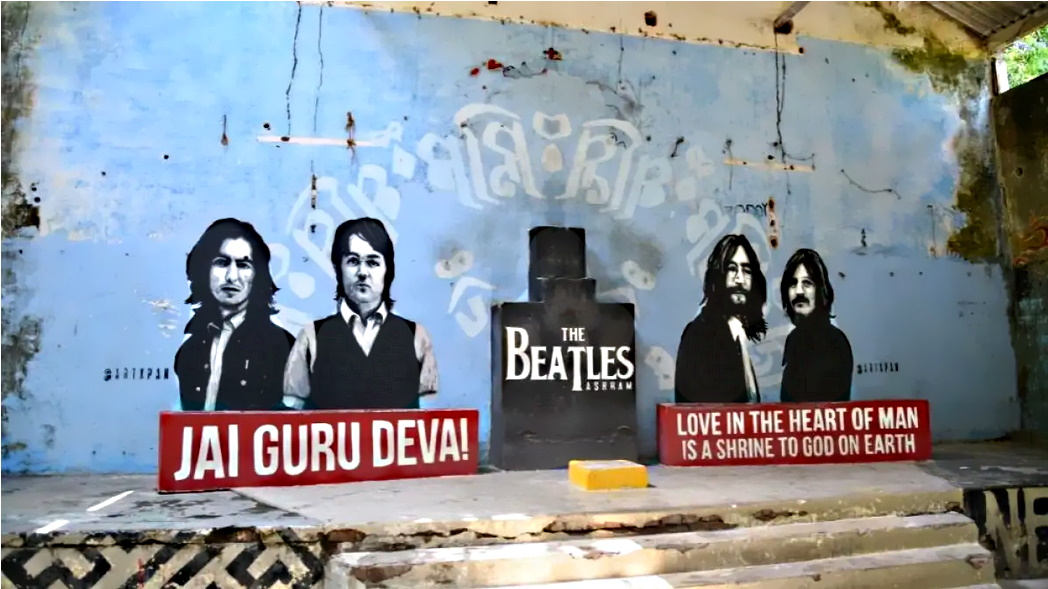 Murals at the wall of Artist hall, Beatles Bungalow, Rishikesh. Virender Singh Negi
I made my first visit to Chaurasi Kutiya, now popularly known as the Beatles Ashram, in Rishikesh way back in 2003. The simple idea of my trip was to write a piece for the Hindustan Times, where I was working as a reporter. The visit took me to the erstwhile Ashram of spiritual Guru Maharishi Mahesh Yogi and I was stunned by the landscape of the area, architect of the buildings and could feel the vibration.
To make my report interesting and insightful, I began searching for local persons who would provide me with details about the 1968 tour of the musical group and the Ashram history. But, I failed to locate any such person in the pilgrimage town. I extended my search through the internet and established contact with two time Emmy award-winning Canadian filmmaker Paul Saltzman, photographer Ram Panjabi and other persons who had stayed at Maharishi Ashram or visited there during the Fab Four stay.
The process of obtaining information about the visit of the boys from Liverpool in the Indian Himalayas and other facts about Chaurasi Kutiya still continues. In fact, it has turned into an obsession.
After visiting all the old photo studios of Rishikesh and failing to trace old photographs of the Maharishi Ashram and the Beatles, I fixed my search outside Rishikesh. Adventure tour expert Avinash Kohli, considered a pioneer in river rafting in Rishikesh, was the only local tour operator who had some photographs of the Beatles and Maharishi at his camp near Shivpuri. Searching for veteran photographer Ram Panjabi in Bangalore and motivating him to track 1968 negatives and make some prints took almost seven years. In a similar fashion, I collected news clippings and documents from 1968 from different places.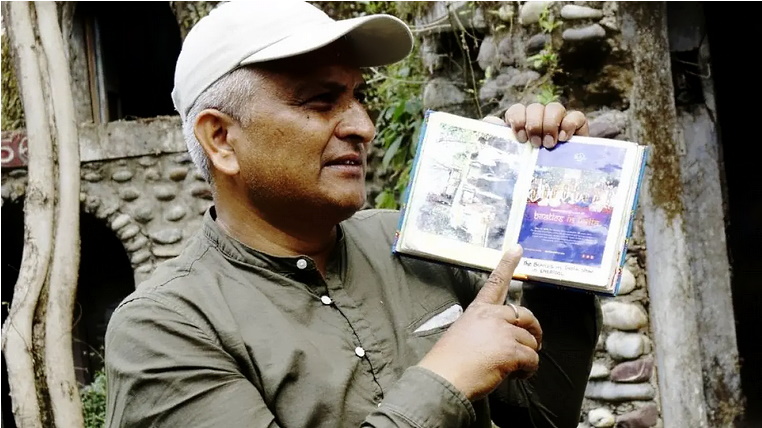 Raju Gusain
These days I enjoy a new role of conducting tours of the Ashram. Call it a heritage guide or tourist guide. After hosting tours of friends, journalists and dignities, in 2017 I got the opportunity to host a tour of a team of the Beatles Story, a Beatles themed museum based in Liverpool (England). Walking with Diane Glover and Clare Ireland and narrating my stories was thrilling as I interacted with a team who conserves artefacts, and memories, and promotes the Beatles' legacy. With time I developed friendships with Maharishi followers- including Tony Ellis, Raja Richard, Tim Jones, etc- and family members and it has provided a booster dose to my search. Maharishi's nephew Anand Shrivastava and his son Laxman Shrivastava were very cooperative and helpful. The duo extended help in reviving the Maharishi Ashram.
With time people are expressing interest in doing something for the revival of the Maharishi Mahesh Yogi Ashram. This is a good sign! And we expect the old glory of the Ashram to return soon.
(The author is a journalist based in Dehradun. He is also serving as a brand ambassador of the Beatles Story, Liverpool)



May 31, 2022
Ringo Starr gets by with a little help from his friends at Rama tour launch
by Jane Stevenson for the Toronto Sun


Ringo Starr and his All-Starr Band
Casino Rama
Friday night
RATING (*** out of four)

RAMA, Ont., — Ringo Starr and his All-Starr Band finally got back on the road.

After 2 1/2 years of delays due to COVID-19, the 81-year-old Beatles drummer — joined by singer-guitarist
Steve Lukather (Toto), multi-instrumentalists-singers Edgar Winter (The Edgar Winter Group) and Warren
Ham, singer-guitarist Colin Hay (Men At Work), singer-bassist Hamish Stuart (Average White Band), and
drummer Gregg Bissonette — launched the North American start of his latest trek at Casino Rama on Friday
night.

After kicking off with Carl Perkins' Matchbox, Starr segued into his solo classic, It Don't Come Easy, and The
Beatles' song What Goes On (which he pointed out he co-wrote with Paul McCartney and John Lennon.)

But Starr really hit his stride behind his Ludwig drum kit on Boys before coming back out to the front to lead
the crowd in The Beatles' classic Yellow Submarine.

Winter was the first All-Starr up with the rocker Free Ride and while he was the MVP in terms of number of instruments played like during crowd fave, Frankenstein (during which Starr left the stage for a 15-minute break), it was Hay who proved to be the strongest vocalist on such Men At Work hits as Down Under, Overkill and Who Can It Be Now.

Stuart, meanwhile, brought the funk with Average White Band's Pick Up The Pieces and Cut The Cake, and The Isley Brothers' Work To Do.

Starr excelled again during I Wanna Be Your Man, Octopus' Garden, Photograph and the two-hour show ending With A Little Help From My Friends/Give Peace a Chance, which included him doing a set of jumping jacks.

It was the fifth time the Fab Four timekeeper had launched a tour at the casino after a week of rehearsals,
and he explained why at a Thursday press conference at Casino Rama.




"It's loose," said Starr of the atmosphere. "For a week we live here, and we just go to the same stage. It's good being in the same vicinity as where we're rehearsing."

During the COVID-19 downtime, of course, Peter Jackson released Get Back: The Beatles, which was a reworking of the 1970 Let It Be documentary that showed a much happier Fab Four working together than the original film.

Starr was asked at the press conference if the new documentary meant new fans for his shows, which will
hit eight more Canadian cities in the fall, including a just-announced Toronto stop at Massey Hall on
Sept. 28.



"I'm sure it'll show some interest, but we all have our core fans, they'll be coming," said Starr, who rotates the All-Starr lineup.

"What I've noticed with Ringo and the All-Starrs, when we first started (32 years ago), a lot of the audience was sort of my age and over the years it's sort of gotten younger. The kids are coming in."

Starr was also asked about The Beatles breakup and if he wanted a few more years with his Liverpool pals.

"We were lads when we started and as it went on we had wives and children, and we stopped touring and made great records," he said. "And we all played well together, and we got on with each other and that's just how it was. It came to a point eight years later — that blows me away, we did all that in eight years — it was time to leave."

And despite his advancing age, he said he'll never retire.

"I only ever wanted to be a drummer from 13. And it's still there. I love to play. I'm a musician, I don't have to retire. As long as I can pick up those sticks, I've got a gig."

FRIDAY NIGHT SET LIST:
Matchbox
It Don't Come Easy
What Goes On
Free Ride
Rosanna
Pick Up the Pieces
Down Under
Boys
I'm The Greatest
Yellow Submarine
Cut the Cake
Overkill
Africa
Work to Do
I Wanna Be Your Man
Johnny B. Goode
Who Can It Be Now
Hold the Line
Photograph
Act Naturally
With a Little Help From My Friends/Give Peace A Chance

Paul McCartney - 'GOT BACK' Tour begins in Spokane, Washington


From Facebook

My Beatles EMI Master Tape | Where Did It Come From & How Does It Sound?
by Polygram Auctions






May 30, 2022
Beatles roadie Mal Evans was born to play the befuddled Channel Swimmer in "Help!"
He made a splash with his cameo in the Beatles movie — and endured some harrowing challenges in the
water
by Kenneth Womack for Salon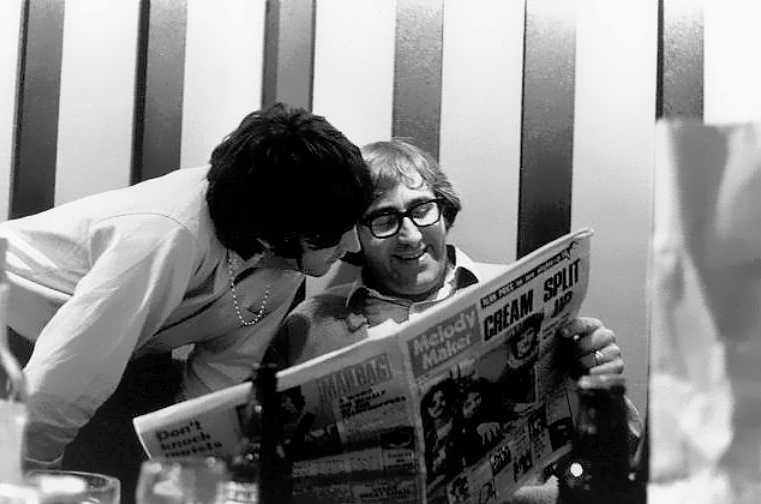 Paul McCartney and Mal Evans
Had he lived into old age, Beatles roadie Mal Evans would have been 87 now. In August 1963, the 28-year-old giant of a man began the adventure of a lifetime when he joined the British band's cozy entourage, which included manager Brian Epstein and fellow roadie Neil Aspinall. With the release of their "She Loves You" single, the Beatles were poised to shift from a regional to a national sensation. And Mal would be right alongside them as they conquered the world, a jack of all trades who was willing to take on any duty — no matter how big or how small — in their service.
In February 1965, as the Beatles and director Richard Lester alighted in the Bahamas, Mal took on his famous role as the befuddled Channel Swimmer in "Help!," the group's second feature film. It was a bit part, to be sure, but a cameo appearance that never fails to warm the hearts of Beatles fans across the globe.
It was a role, in many ways, that Mal had been born to play. In his teen years, he had toned his large frame through a dedicated regime of swimming and cycling. He had been known to bike for hours — full days, even — on the rural outskirts of Liverpool. And when it came to swimming, there was scarcely a body of water that he didn't — simply couldn't — pass up. From the frigid Irish Sea to a serene country lake to the modest dimensions of a chlorinated motel pool, Mal lived to swim. And no mere soak would do. For Mal, thrashing about and playing in the shallows was for amateurs. He preferred the vigorous exertions of a breaststroke to the comparatively pedestrian aquatic ministrations of ordinary folk.

When it came to "Help!," Lester and his production team couldn't have dreamt up a better role for him to play. Humble to a fault, Mal couldn't wait to take his place on the set. When Lester called for action, Mal was treading water just off the beach at Nassau. As the wayward Channel Swimmer, he was clad in a bathing cap while searching in vain for the White Cliffs of Dover. As it turned out, Mal's first day on the set would be anything but amiable.
"As the scene is finalizing on the beach," he later wrote in his memoirs. "I had to swim out to sea for one-half mile and tread water until the scene is ready to be shot. The film crew are situated higher up on the beach and suddenly, Dick Lester is shouting at me saying, 'Come in Mal. Come back Mal!' And so, just thinking they weren't ready for the scene, I swam leisurely to shore, not knowing at the time there was a huge stingray chasing me!"
Safely standing with the crew back on the beach, Mal spotted the giant fish, which in his estimation was more than 15 feet long. But his hair-raising experience didn't end there. In mid-March, Lester's production shifted a continent away to Austria, where Mal reprised his role.
As with the Bahamas, what should have been a simple cameo appearance turned into something much more harrowing. Beatles press officer Tony Barrow would never forget the sight of Mal, clad only in his bathing suit against the bitter cold. "Poor Mal must have been absolutely frozen," Barrow wrote in a column for "The Beatles Book." "All he was wearing was an old fashioned swimming costume with cap and goggles and a very thick layer of grease to protect him from the cold. Everyone was a bit concerned that he would freeze to death before the scene was over."
Working amidst the snow-covered mountains, the scene called for the Beatles to be engaged in a good-natured curling match, when one of the film's villains substitutes a bomb for a curling stone, which blows a hole in the ice and allows the Channel Swimmer to surface. "This scene had to be shot three times," Mal recalled, because "I was so cold, I just couldn't speak! Going down again and coming up, I spoke my lines, but on submerging again, could not stay down and kept popping to the surface."
At this point, "somebody had the bright idea of putting a large weight in the bottom of the hole for me to hang onto, with the instructions from director Dick Lester, 'Stay down as long as you can Mal so we can finish the shot.' Being a real trooper, after I said my lines I submerged, took hold of the weight and stayed down holding my breath."
And that's where he stayed, holding out as long as he possibly could. Unbeknownst to Mal, the director had been shouting — with increasing desperation — "You can come up now. Mal, come up now!" Meanwhile, the roadie was nestled below the surface, pushing himself to the limit in order to land the scene.
"Finally, self-preservation brought me up for air," Mal wrote. "Wrapped in a towel, I walked in my bare feet about 400 yards to the local police station, while the whole crew stood up and cheered. I spent two hours in the hottest bath with a bottle of rum, thawing out. It was pins and needles from head to toe, but the cheers and the clapping made it all worthwhile."
Mal's bravura turn as the Channel Swimmer was a highlight, to be certain, in the roadie's storied career with the Beatles. But coming fewer than two years into his tenure with the band, it was still early days yet. By the mid-1960s, he had proven his mettle among the entourage for his ability to lug gigantic amplifiers onto some far-flung stage. And he prided himself on being able to assemble Ringo Starr's drum kit in a matter of seconds.
But the quality that would see him through, that would ensure his place among their tightly knit circle, was far less tangible than his capacity for hoisting heavy objects with minimal complaint. By the time that Help! enjoyed its gala premiere at the London Pavilion that July, as he and his wife Lily mingled with the Beatles and their friends and relations, he knew that he had made it.
About Kenneth Womack:


Kenneth Womack is the author of a two-volume biography of the life and work of Beatles producer George Martin and the host of "Everything Fab Four," a podcast about the Beatles distributed by Salon. He is also the author of "Solid State: The Story of Abbey Road and the End of the Beatles," published in 2019 in celebration of the album's 50th anniversary, and "John Lennon, 1980: The Last Days in the Life." His newest project is the authorized biography and archive of Beatles road manager Mal Evans, due out in 2023.
Beatles Roadie Mal Evans Diary: Read by his son Gary
Beatles Autograph Update: Mal Evans Handwritten Partial Song Lyrics



May 29, 2022
Ronnie Hawkins, musician who called Canada home and mentored the Band, dead at 87

by Chris Iorfida for CBC news
Ronnie Hawkins, the big, boisterous Southern rockabilly singer who called Canada home and helped mentor the first band from this country inducted into the Rock and Roll Hall of Fame, has died.
His wife, Wanda, confirmed to The Canadian Press that Hawkins died Sunday morning after a long illness at age 87. "He went peacefully and he looked as handsome as ever," she said in a phone interview with CP.
The musician known as The Hawk didn't make his reputation in the studio. His highest charting single in the U.S. reached No. 26, and, not a natural songwriter, most of his recorded work consisted of covers. But his stage shows were raucous affairs, characterized by his booming voice, humorous stage patter and acrobatic moves like his "camel walk."
Hawkins, born and raised in Arkansas, got wind of steady work available on the Canadian bar circuit from Conway Twitty, among others. He began touring in Ontario in 1958, and by the time he was featured in a CBC Telescope documentary nine years later, he was ensconced in Canada.
"You know, I don't know anything about Canadian politics, the price of wheat or Niagara Falls," he said in the documentary. "But I sure do know one thing: I sure dig it up here."
Hawkins's band over the years included musicians and performers who went on to have their own success, including Roy Buchanan, Beverly D'Angelo, David Foster, Lawrence Gowan and Pat Travers.
But it was a specific five who would cement Hawkins's reputation in music lore as an elder statesman. Rick Danko, Levon Helm, Garth Hudson, Richard Manuel and Robbie Robertson eventually left Hawkins en masse for the United States. They backed Bob Dylan and then made their own mark as the Band, with critically hailed albums and hits such as The Night They Drove Old Dixie Down, Up on Cripple Creek and The Weight.
"We should thank Ronnie Hawkins in being so instrumental in us coming together and for teaching us the 'code of the road,' so to speak," guitarist Robertson said when the Band was inducted into the Rock and Roll Hall of Fame in 1994.
For reasons that have been debated — his love of Canada undoubtedly playing a part — Hawkins couldn't fully grasp the brass ring or allow U.S. music industry heavyweights to mould his career. The larger-than-life character seemed content carving out a reputation north of the border.
"I brought the first blues here. Nobody had ever heard of Bo Diddley, Muddy Waters, B.B. [King] or anyone in Canada," he once boasted, perhaps dubiously, to music journalist Larry LeBlanc.
Hawkins, often called Rompin' Ronnie, won a Juno Award for country male vocalist of the year in 1982 and received lifetime achievement awards from both the Junos in 1996 and the Society of Composers, Authors and Music Publishers of Canada (SOCAN) in 2007. Always retaining U.S. citizenship, in 2014 he accepted an honorary appointment as officer of the Order of Canada.
As described in Helm's autobiography This Wheel's On Fire, Hawkins often had to charm a young musician's parents to fill out his band. His recruitment pitch to prospective band members was less G-rated and usually included the promise they'd get more sex "than Sinatra," though in less euphemistic terms.
Hawkins may not have sold millions, but he did well enough to reside at a sprawling multimillion-dollar property in Stoney Lake in Ontario's Kawarthas region. As recently as 2016, he was hosting longtime friends Gordon Lightfoot and Kris Kristofferson for a session at his home studio there.
His was a life filled with colourful experiences. He recorded with everyone from the great Duane Allman to The Happy Hooker author Xaviera Hollander, portrayed Bob Dylan in Dylan's widely panned film Renaldo and Clara — while also acting in another notable box office flop, Heaven's Gate — and was among the Canadian contributors to the famine benefit song Tears Are Not Enough in 1985.
John Lennon and Yoko Ono guesting at his farm during an extended Toronto stay in 1969 was a particular favourite Hawkins story. He would tell more than one CBC host over the years of a pot-smoking session that included both Lennon and Prime Minister Pierre Trudeau.
True or tall tale? One often didn't know with Hawkins, but he definitely performed at inauguration parties in Washington, D.C., in 1993 for the first U.S. president from Arkansas.
"If the world had more people like Ronnie Hawkins, we'd do less stupid things to each other, we'd hurt fewer people, we'd have a lot more laughs," Bill Clinton said in the 2004 documentary Hawkins: Still Alive and Kickin'. "I've never met another one like him."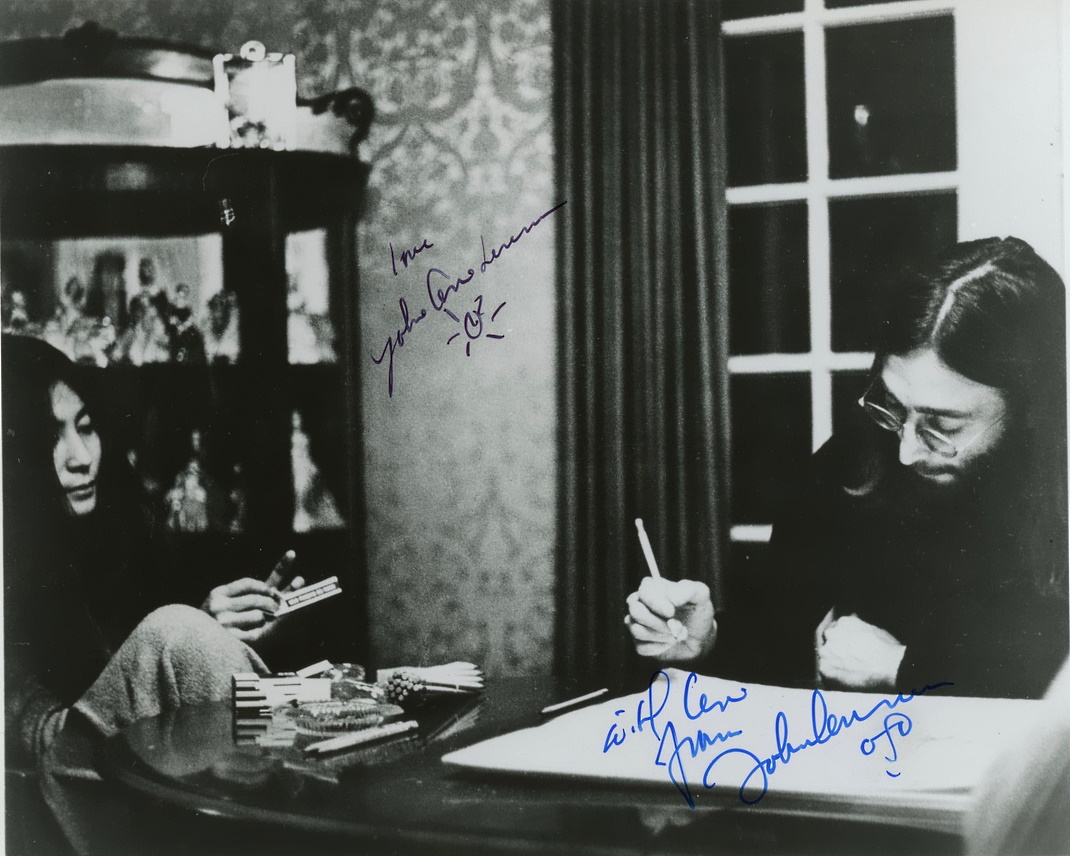 John and Yoko at Ronnie Hawkins farm during 1969
Hawkins was born on Jan. 10, 1935, in Huntsville, Ark., his family moving to Fayetteville when he was a child. He made it to university and enlisted in the National Guard and the army, but for the most part his main interests were cars, girls and, as early as age 12, music.
Hawkins began playing in local bars in 1953, with young Arkansan Levon Helm joining the fold about five years later. In 1959, Hawkins scored a deal with Roulette Records, leading that year to minor hits Forty Days and Mary Lou and an appearance on American Bandstand.
Robbie Robertson, a 16-year-old from Toronto, joined weeks after that TV appearance. The rest of the members of what became the Band were found in southwestern Ontario in 1961-62: Rick Danko from Simcoe, Richard Manuel from Stratford and the classically trained Garth Hudson from London.
Hawkins, Helm wrote in his autobiography, "molded us into the wildest, fiercest speed-driven bar band in America."
Hawkins favoured fast, blues-based material but tried to adjust as music trends changed, recording folk and country albums, though they didn't translate into mass success.
By mid-decade, his band was chafing at Hawkins's control and the skint life of backing musicians. Hawkins also had a family life now, after meeting wife Wanda at Toronto's Concord Tavern.
"We wanted to explore a deeper musicality," Robertson told CBC in 2011. "Loved him, but we needed to go and find out what was around the corner."
Hawkins travelled to San Francisco for the live swan song of the Band's original lineup, a 1976 concert captured on screen in Martin Scorsese's iconic rock documentary The Last Waltz. Performing Who Do You Love?, Hawkins was on the bill with the likes of Dylan, Van Morrison and Canadians Neil Young and Joni Mitchell.
Hawkins enjoyed that bit of revelry and recognition, as the early 1970s hadn't always been kind. For his ever-touring band, it had been a period of much turnover. He was an avid drinker then, and those years also included a failed club venture and a marijuana possession rap.
Hawkins would eventually be feted himself at benefit shows. For his 60th birthday at Toronto's Massey Hall, performers included Danko, Helm and Hudson, as well as Sylvia Tyson and Jeff Healey. After quadruple bypass surgery in 2002, the same year he was honoured on Canada's Walk of Fame, a tribute concert featured the Tragically Hip and Tom Cochrane, among others.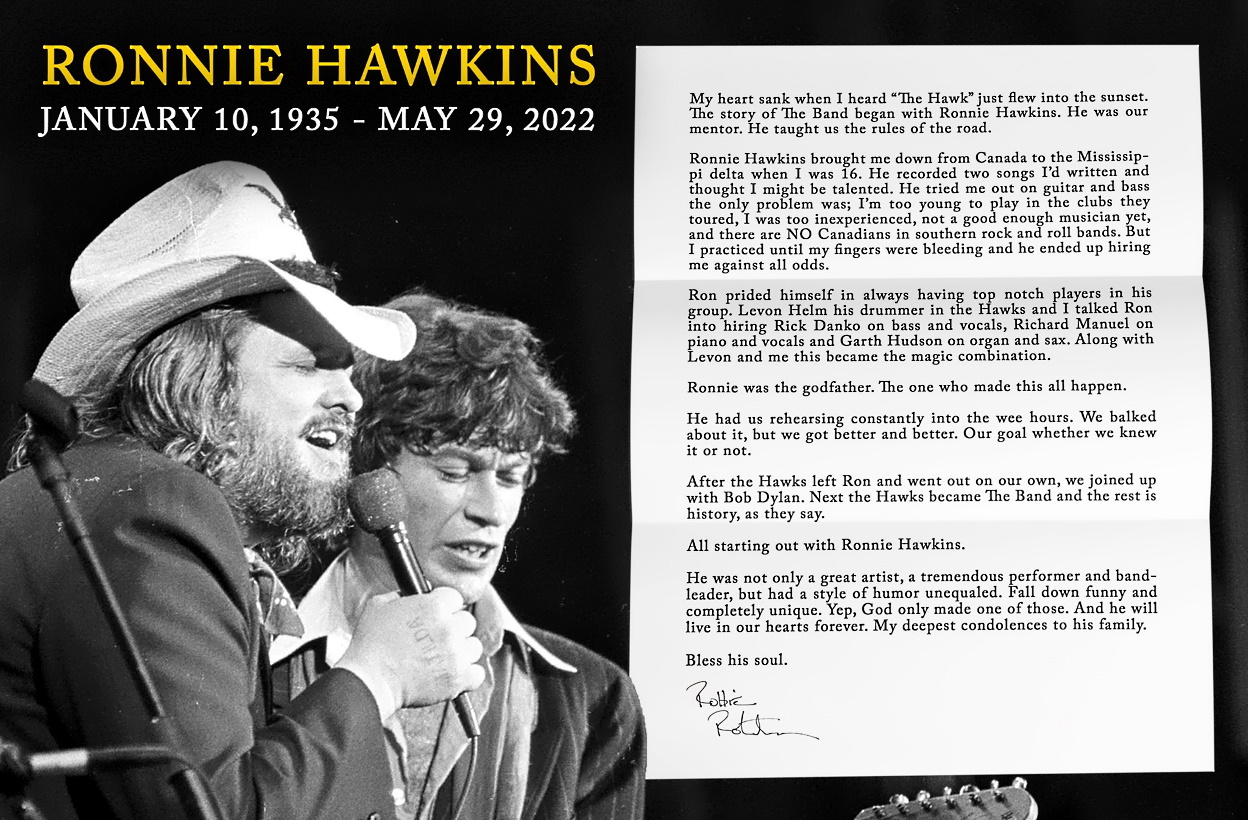 Glastonbury and Stella McCartney team up to release upcycled vest for charity

The original vest created by McCartney became a rare collector's item.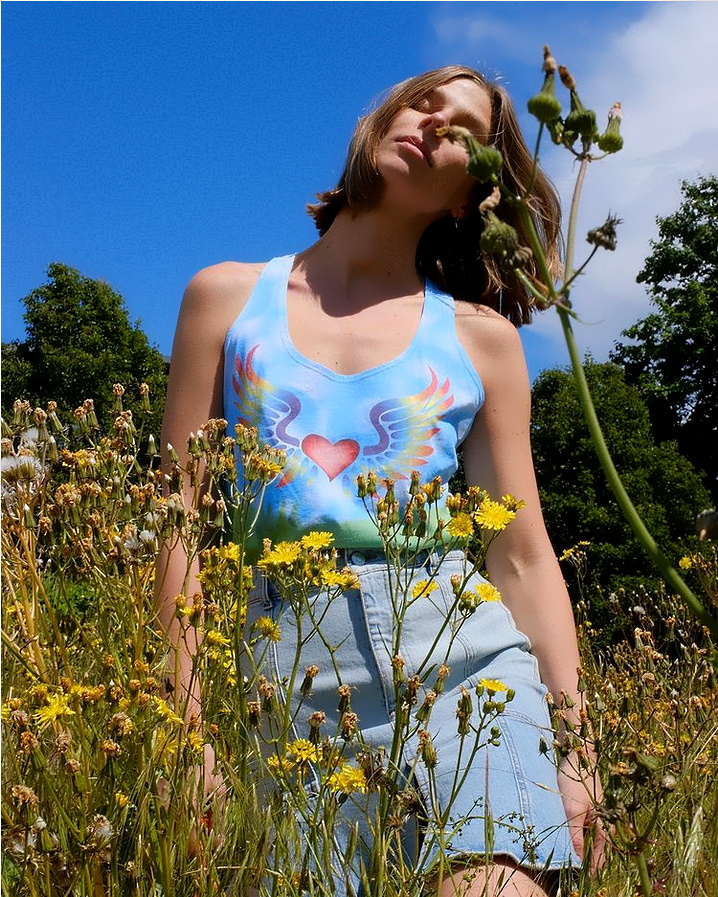 The limited edition T-shirt (Glastonbury Festival/PA)
By Naomi Clarke, PA Entertainment Reporter
Glastonbury Festival and fashion designer Stella McCartney have teamed up to release an upcycled vest in support of War Child's Emergency Fund.
The funds raised from the sale of the limited edition T-shirt, which features a blue sky, green field and psychedelic rainbow, will help children caught in Ukraine and other conflicts.
The vest is a repurposed version of a design McCartney created for the festival in 2007, which was inspired by the 1970s airbrushed T-shirts her parents Linda and Sir Paul McCartney used to get made.
The item became a rare collector's piece, but a recent warehouse audit has unveiled several boxes of vests which had not been sold.
As part of McCartney's drive to reduce our impact on the planet, the original vests have now been upcycled with a new mushroom artwork to celebrate "fungi as the future of fashion and our planet".
The limited edition vests are on sale via Glastonbury's official online shop, with all proceeds going to War Child's Emergency Fund.
The highly anticipated festival returns in June after being cancelled for the past two years due to the coronavirus pandemic.
It boasts a star-studded line-up which sees Sir Paul, Kendrick Lamar and Billie Eilish headlining across the weekend.
Eilish, 20, will headline on Friday, becoming the festival's youngest ever solo headliner, and former Beatle Sir Paul will front Saturday night – the second time he has headlined the Pyramid Stage after a performance in 2004.
American rapper Lamar will make his debut at the festival while closing proceedings on the Sunday, while Diana Ross will play the legends slot.
Glastonbury 2022 is scheduled to take place from June 22 to June 26 and tickets are sold out, organisers have said.



May 28, 2022
Michael Sokil's excellent cover of "A Day In The Life"


Notes:

"Ottawa, Ont.: Beatles in the snow"


American comedian Dick van Dyke visits the film set for "A Hard Day's Night"






May 27, 2022
Ringo Starr kicks off North American tour at Casino Rama
'I'm a musician. I don't have to retire. As long as I can pick up those sticks, I've got a gig,' says former
Beatle who still has a love for music and performing
by Greg McGrath-Goudie for Bradford Today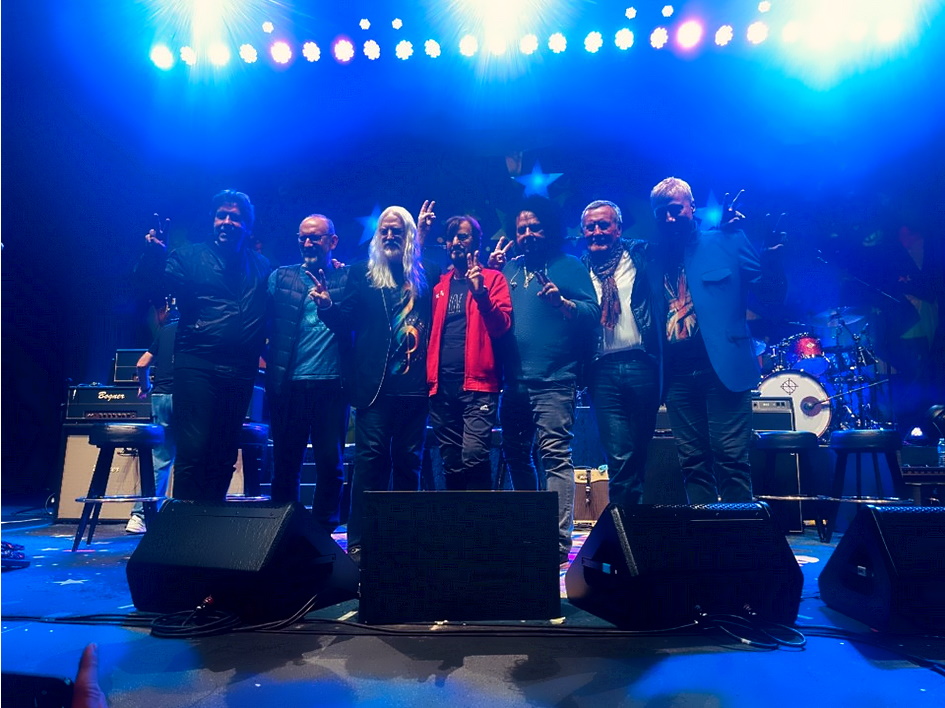 Ringo Starr and his All-Starr Band answered questions from the media ahead of their weekend performances
at Casino Rama. The shows will kick off Starr's first North American tour since 2019.




Following a two-year hiatus due to the global pandemic, Ringo Starr and his All-Starr Band are touring North America for the first time since 2019.

The tour begins with two shows at Casino Rama on Friday and Saturday. This weekend's performances mark the fifth time Starr has kicked off a tour at Casino Rama.

Starr and his bandmates held a news conference this afternoon to discuss their return to live performances, as well as their recent projects.

"In 2019 we played a tour, and in February of 2020 I was getting ready for the tour in May, and then by early March, it's all gone," Starr said. "That's what it's all about, is playing and having an audience … A long time ago, we'd play anywhere just so we could play."

Starr released his most recent album, What's My Name, in October 2019 and his most recent EP, Change the World, was released in September 2021.

Aside from his own work, Starr continues to collaborate on other musicians' projects. He also spent considerable time painting during the pandemic. He released a book on his artwork, Painting Is My Madness Too, in 2020, as a follow-up on a 2008 book about his art.

"In the pandemic, I had to do something, and one of them was going to the gym nearly every day, and then I started painting," Starr said. "It just unfolded that some people said, 'You can have your own art gallery on its own. How crazy is that?'"

In 2021, a Peter Jackson-directed documentary, The Beatles: Get Back, was released, featuring unseen material on the making of the 1970 album Let It Be.

"Jackson did a great job," Starr said. "I mean, I was stunned at first because we thought it'd be a two-hour show. It's six hours, but easy to watch, you know, even if you weren't in the band."

Starr said he has noticed new waves of fans being drawn to his work through his music and projects such as Jackson's documentary.

"When I first started, a lot of the audience was sort of my age. Over the years, it's got younger," he said. "The kids are coming in, and the documentary, I thought, was so great."

When asked what keeps him going forward after such an illustrious career, Starr, 81, simply cited an undying love for music and performing.

"People are saying, 'Well, you know, what about retirement?' I'm a musician. I don't have to retire. As long as I can pick up those sticks, I've got a gig," he told OrilliaMatters.

"I was inspired at 13, and that has never left me — the dream and the joy," he said. "It's still there; I love to play. My mother had this great line … she said, 'You know what, son? I always feel like you're happiest when you're playing,' and deep inside I am."

The current members of Starr's All-Starr Band include Steve Lukather, Edgar Winter, Colin Hay, Hamish Stuart, Warren Ham and Gregg Bissonette.


Alan White, longtime drummer for prog rock's Yes, dead at 72

SEATTLE (AP) — Alan White, the longtime drummer for progressive rock pioneers Yes who also played on
projects with John Lennon and George Harrison, has died. He was 72. White's death was announced on his
Facebook page by his family.

by Chris Grygiel, The Associated Press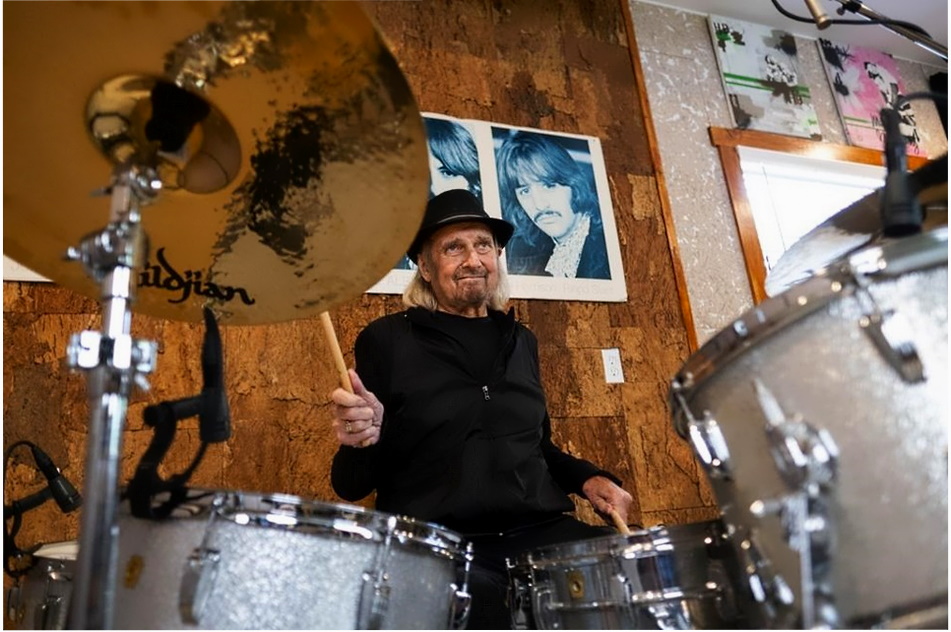 Drummer Alan White plays his drums in this undated photo. White, the longtime drummer for progressive rock
pioneers Yes who also played on projects with John Lennon and George Harrison, has died. He was 72.
(Dean Rutz/The Seattle Times via AP)
SEATTLE (AP) — Alan White, the longtime drummer for progressive rock pioneers Yes who also played on projects with John Lennon and George Harrison, has died. He was 72.
White's death was announced on his Facebook page by his family. The post said he died at his Seattle-area home Thursday after a brief illness. Just days earlier Yes had announced that due to health issues White would not take part in the band's upcoming tour of the United Kingdom to celebrate the 50th anniversary of the iconic album "Close to the Edge."
White joined Yes in 1972, replacing original drummer Bill Bruford. In a band noted for frequent lineup changes, White was a constant and was inducted into the Rock and Roll Hall of Fame as a member of Yes in 2017.
Though he didn't play on "Close to the Edge," he performed on every subsequent Yes studio album over nearly five decades, including the band's latest release, "The Quest," which came out last year.
White stayed with the band through its many iterations. A trailblaizing act in the progressive rock scene in England that grew in popularity in the early 1970s alongside bands like Genesis, Pink Floyd and Jethro Tull, Yes was especially known for its intricate arrangements and the musical skill of its individual members.
When progressive rock fell out of fashion in the late 1970s many of the bands associated with the genre struggled.
Following another lineup change, Yes, with White still behind the drum kit, reinvented itself in the 1980s as a harder edged band that appealed to younger listeners more attuned to heavy metal and the visual cues of music videos. In 1983 Yes released the smash hit album "90125."
A longtime Seattle-area resident, White was born in Pelton, County Durham, England, in 1949. His family said he began piano lessons at age 6 and playing the drums when he was 12.
White played with bands in England throughout the 1960s. In 1969, he was asked by John Lennon to join his Plastic Ono Band. In an interview with The Seattle Times in 2021, White said he thought the call from the famous Beatle was a prank.
"A voice announced, 'Hello, this is John Lennon,'" White said. "I thought it was a mate pulling my leg, put the receiver down, and went back to the kitchen."
White played a 1969 concert in Toronto with Lennon's band, which also included guitarist Eric Clapton. White also played with another Beatle, contributing drums to George Harrison's 1970 solo album "All Things Must Pass."
In the statement announcing his death, his family wrote: "Alan was many things to many people: a certified rock star to fans around the world; band mate to a select few, and gentleman and friend to all who met him."
Chris Grygiel, The Associated Press



May 26, 2022
The Beatles: Paul McCartney used ancient poem to write Abbey Road song
THE BEATLES star Paul McCartney found inspiration for his music in many different ways, but one of the most
profound instances came when he felt compelled to write a sombre composition that would round off the
band's penultimate album Abbey Road.
by Callum Crumish for Express
The Beatles star Paul McCartney has been very open about
how he has written songs for the band throughout his
career. From composing Yesterday in his sleep to writing
Hey Jude for John Lennon's son, Julian, McCartney has done
it all.

But one of the most surprising came when he was struck by the words of a touching poem.

McCartney based the composition of a song on the poem "Cradle Song", which originated from Thomas Dekker's play, Patient Grissel. The Liverpudlian star reportedly saw the play when he was a child with his father.

The play, and poem, were originally published in 1603, hundreds of years before McCartney was even born.

As revealed in the 1997 book, Paul McCartney: Many Years From Now, the star confessed: "I liked the words so much."

But there was one problem.

McCartney could not play the song as it was written, because he lacked the skills necessary.

He said: "I thought it was very restful, a very beautiful lullaby - but I couldn't read the melody, not being able to read music." So, he did the next best thing. "I just took the words and wrote my own music. I didn't know at the time it was four hundred years old.

With the poem's words ringing in his ears, McCartney penned
the Abbey Road song Golden Slumbers.

McCartney revealed the slow and thoughtful track was derived from the epic 17th-century poem.

He said: "I remember trying to get a very strong vocal on it, because it was such a gentle theme, so I worked on the strength of the vocal on it, and ended up quite pleased with it."

McCartney wasn't the only person in the Fab Four who enjoyed the track. George Harrison also praised the song, calling the album as a whole "pretty good".

The Quiet Beatle said in the book George Harrison: Interviews and Encounters that "Because" was his favourite track. He added: "Just because I like three-part harmony. We've never done something like that for years, I think, since a B-side, 'If you wear red tonight', and 'what I said tonight.'"

He went on: "So I like that. I like, I dunno - I like lots of them. I like 'You Never Give Me Your Money' and 'Golden Slumbers' and things."

Golden Slumbers was never released as a single, but it has gained a lot of popularity as the years have gone on.

May 21, 2022
Looking back at Blondie's cover of The Beatles song 'Please, Please Me'
by Sam Kemp for Far Out Magazine
In recent decades, punk has come to represent a totalitarian attitude to music that I doubt ever really existed. Sure, groups like The Ramones and The Sex Pistols hated on prog bands and rarely diverged from their three-minute, four-chord mentality, but the bulk of the groups we associate with the punk era were far less absolute. Blondie is the perfect example. While associated with a movement that supposedly reviled pop music, their output was always pretty radio-friendly. It's little wonder, then, that Debbie Harry and Company, were unashamed fans of The Beatles, a group who reinvented pop music with nearly every album they released.
Chris Stein once opened up about how The Beatles influenced one of Blondie's most beloved hits: "Even 'Heart Of Glass' was a subversive thing for a so-called punk band," he told The Sun. "But, at the same time, our role models were Bowie and The Beatles," he said, before adding: "You never really knew what to expect from them. The Ramones had their sound and identity and they stuck to it. That's not what we set out to do. We have a broader musical palette… but the punk attitude prevails!"
As a tribute to The Beatles, Blondie took on a cover of one of the group's earliest recordings, 'Please Please Me'. Dripping with the pearlescent guitar lines that made Blondie so famous, the rendition appeared on 2011's Panic of Girls, the group's first album of new material in eight years. Recorded between October and December 2009, in Hoboken, New Jersey, it was one of only two albums Blondie recorded outside of Manhattan, the first being 1980's Autoamerican, which was recorded in Los Angeles. It was also the first Blondie LP not to feature original keyboardist Jimmy Destri, who decided not to take part in the project.
'Please Please Me' was originally written by Lennon and McCartney in the style of Roy Orbison on September 11th, 1962, and was recorded shortly afterwards. Initially, it was a sultry ballad, but George Martin suggested that it would sound better at a higher tempo. Speaking to The Observer Muisc Monthly in 2006, Martin said: "The songs the Beatles first gave me were crap. This was 1962 and they played a dreadful version of 'Please Please Me' as a Roy Orbison-style ballad. But I signed them because they made me feel good to be with them, and if they could convey that on a stage then everyone in the audience would feel good, too. So I took 'Love Me Do' and added some harmonica, but it wasn't financially rewarding even though Brian Epstein bought about 2,000 copies. Then we worked for ages on their new version of 'Please Please Me,' and I said: 'Gentlemen, you're going to have your first number one.'"
Stream Blondie's effort, below.



May 20, 2022
Fab Four performs "She Loves You" at the Mountain Winery in Saratoga, California




And now here they are, The Beatles performing "You Can't Do That" at the Festival Hall,
Melbourne, Australia






May 19, 2022
'The Beatles: Get Back' Documentary Blu-Ray/DVD Release Date

by Michelle Beck for Disney Informer
Acclaimed director Peter Jackson's stunning docuseries The Beatles: Get Back will now be available to own on a Blu-ray Collector's Set and DVD. The series offers unprecedented access to the world's most iconic band as they prepare to record the Let It Be album.
Fans and critics everywhere have celebrated the "mesmerizing" (Kenneth Womack, Salon.com), "epic" (Tim Glanfield, RadioTimes.com) and "extraordinarily intimate" series (Sheila O'Malley, RogerEbert.com).
A winner at both the Producers Guild of America and American Cinema Editors Awards, The Beatles: Get Back is also Certified-Fresh on Rotten Tomatoes™. Travel back in time and witness the creative process of the Fab Four by adding The Beatles: Get Back to your collection on Blu-ray and DVD July 12.
Directed by Peter Jackson, The Beatles: Get Back is a three-part documentary series that takes audiences back in time to the band's intimate recording sessions. The documentary showcases the warmth, camaraderie and creative genius that defined the legacy of the iconic foursome, and is compiled from 60 hours of unseen footage shot in January 1969 (under the supervision of Michael Lindsay-Hogg and his director of photography Tony Richmond) and more than 150 hours of unheard audio, all of which has been brilliantly restored. Also featured – for the first time in its entirety – is The Beatles' last live performance as a group: the unforgettable rooftop concert on London's Savile Row, as well as other songs and classic compositions featured on the band's final two albums, Abbey Road and Let It Be.
Cast includes John Lennon, Paul McCartney, George Harrison, and Ringo Starr.
Directed by
Peter Jackson
Produced by
Jonathan Clyde
Clare Olssen
Peter Jackson
Producers
Paul McCartney
Ringo Starr
Yoko Ono Lennon
Olivia Harrison
Executive Produced by
Jeff Jones
Ken Kamins
Drive My Car - The Beatles - Full Instrumental Recreation (4K) - Featuring Sam Popkin



May 18, 2022
Here is Paul McCartney recently performing "Love Me Do" at the Oakland Arena

Paul tells the audience how the "Love Me Do" recording session unfolded with Beatles producer George Martin
in the studio.


The Beatles: Sir Paul McCartney's old home inspires artists
Musicians are drawing inspiration from the house where The Beatles first came together as a band to
pen a song.
by the BBC News Services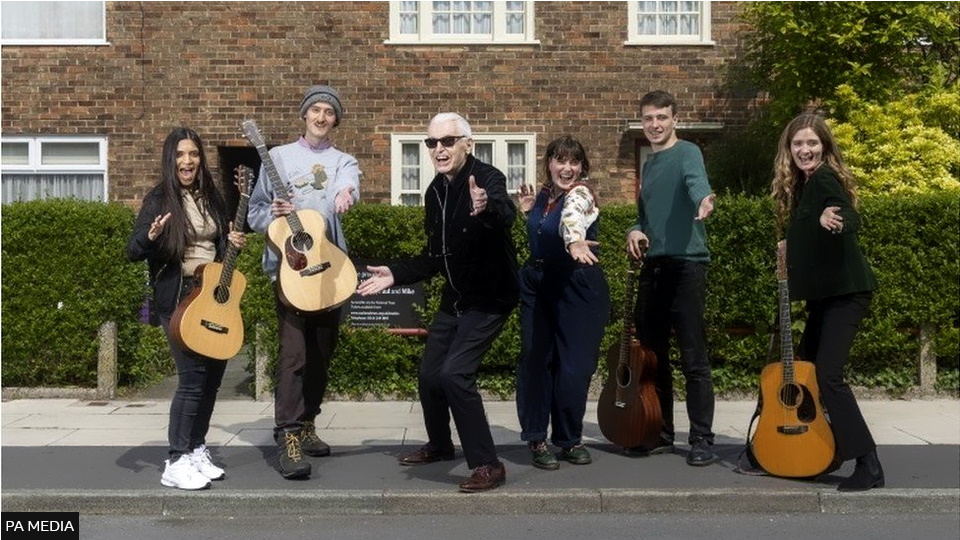 The four finalists with Mike McCartney outside 20 Forthlin Road


Sir Paul McCartney's former family home, 20 Forthlin Road, Liverpool, is where the band wrote several hits.

The four winners of the National Trust competition have visited the house to draw inspiration for their own
music.

Those four, from Wrexham, London and Bath, Somerset, will perform their songs live in the living room of the
house on 17 June.

Dylan John Elis, from Wrexham, said: "It's quite stunning and surreal. I'm not quite registering it all but it's
fantastic to be here.

"Today myself and other musicians have been invited by the National Trust to write a song about this house
and so we are going to be spending the day here, soaking it in and drawing inspiration from it."

The National Trust, which owns Sir Paul's old home, is running the competition this year as 2022 marks
several anniversaries, including Sir Paul's 80th birthday, 60 years since their first hit Love Me Do was
released, and 65 years since Sir Paul met a young John Lennon.

The winners of the competition are:

● Serena Ittoo from Enfield, London
● Emily Theodora from Richmond, London
● Dylan John Elis from Wrexham
● HUMM a folk duo from Bath, Somerset

Simon Osborn from the National Trust said: "We had hundreds of superb applicants, it's never been done
before by the National Trust."

He added that 20 rthlin Road was "a very popular house, it's a very ordinary house in a very ordinary
street, but what happened her was extraordinary".

The winners' performances of their original songs will be livestreamed and judged by Sir Paul's brother and
fellow musician, Mike, Beatles expert Pete Paphides and representatives from the National Trust.

The four finalists will also be mentored by the Liverpool Institute for Performing Arts, which was co-founded
by Sir Paul, before the performance and for six months afterwards.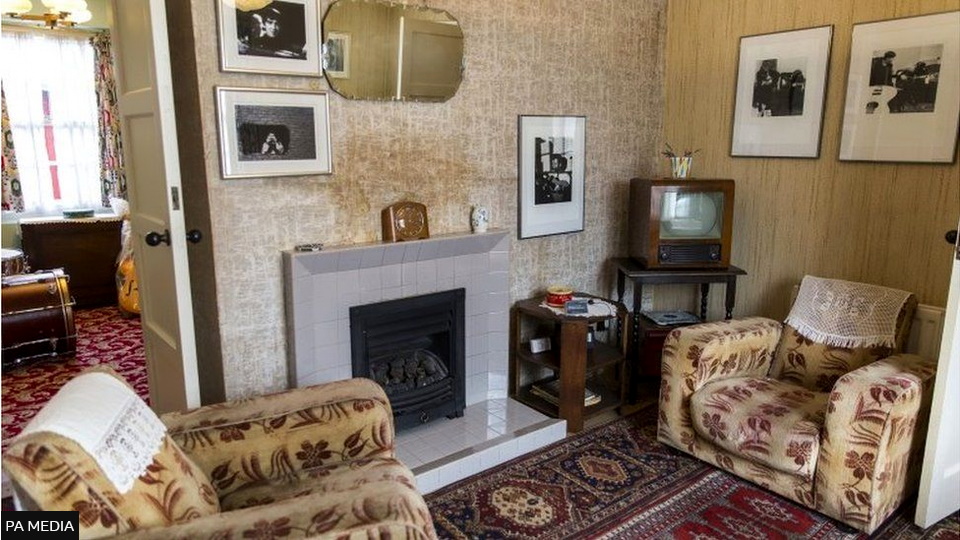 The four finalists will be performing live in the front room on 17 June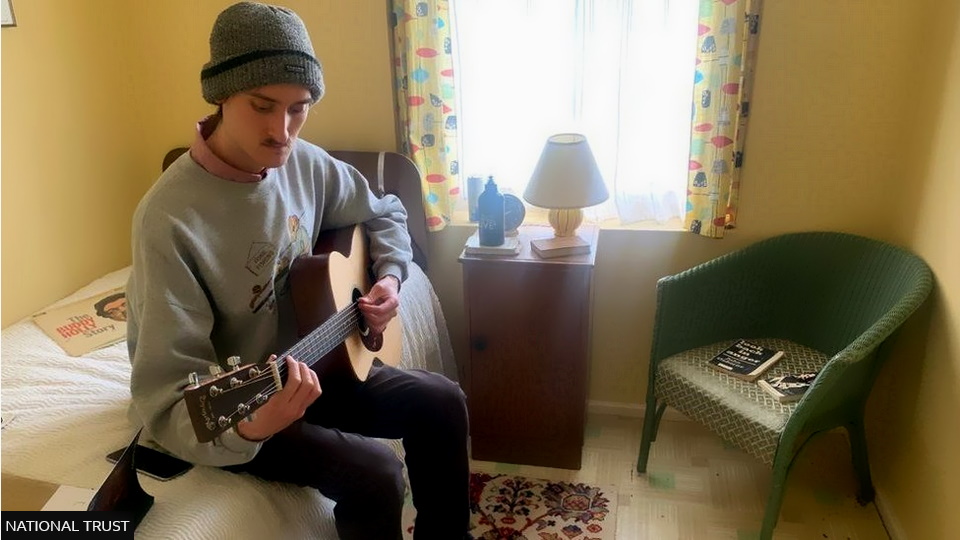 Dullan in Sir Paul's childhood bedroom in Forthlin Road



May 17, 2022
How Ottawa Reported On The Beatles Split

The following article is from the Ottawa Citizen and it is from my personal scrapbook on music. I have
cleaned up the image from glue bleeding through the newsprint the best I can. When I pasted it into my
scrapbook, I did not include the publication date. Suffice to say, it was probably published shortly after
April 10, 1970, the generally acknowledged date when Paul McCartney officially announced the break-up
of The Beatles to the media.

John Whelan,
Ottawa Beatles Site


On this day in 1967, The Beatles begin recording sessions for
"You Know My Name (Look Up The Number)"


Culled from Facebook





May 16, 2022
Is The Beatles '1' Their GREATEST Greatest Hits Album?
by Parlogram Auctions

In this video, we look at the evolution of The Beatles UK compilation albums from 'Oldies' in 1966 to '1' in
2000 and find out which one is the best.


George Harrison Said It Would Be Very Selfish if The Beatles Didn't Record Together Again After
They Split
by Hannah Wigandt for Showbiz Cheat Sheet


George Harrison had some surprising thoughts after The Beatles split in 1970. Out of the group, George was
the least suited for fame. By 1969, George was getting frustrated with John Lennon and Paul McCartney for
putting him on the back burner. He was sick of being a glorified session man and briefly quit during the Let It
Be Sessions.

So, when The Beatles split, George should've been the most relieved. However, he wasn't, not entirely.
George hoped for a day when The Beatles made music together again. He assumed that he and his
bandmates only needed some time apart to get recording solo out of their systems.

George said it was good that The Beatles split up because then they didn't have to compromise on
anything

The Beatles had deep-rooted problems when they broke up. It all collectively reached boiling point.

George was free. Suddenly, he could release his stockpile of songs he'd kept locked away, waiting. He could
be a solo artist if he wanted and didn't have to compromise on anything. So, for George, leaving The Beatles
wasn't all bad.

"Paul and John and myself have got just so many songs, I think this is a good way, you know, if we do our
own albums," George told WABC-FM New York's Howard Smith (per Beatles Interviews). "That way we don't
have to compromise. I mean, we lose whatever we get from each other — we sacrifice that in order to do a
total sort of thing.

"Because in a way, Paul wants to do his songs his way. He doesn't want to do his songs my way. And I don't
wanna do my songs their way, really."

Despite it being a tense time, George looked at the positives of The Beatles' split and hoped for the best. He
wanted out of the band before the rest. However, he assumed that all The Beatles needed was some time
apart to explore solo careers.

"I'm sure that after we've all completed an album or even two albums each, then that novelty will have worn
off," George said.


George hoped The Beatles recorded together again because it would've been selfish if they didn't

After The Beatles went their separate ways, it's unclear what George thought would've happened. Would
The Beatles reunite after the novelty wore off? George didn't know; he only knew that he was open to future
collaborations. Interestingly, he also said it would be selfish of The Beatles if they didn't record together.

"I'll certainly try my best to do something with them again," he said. "I mean, it's only a matter of accepting
that the situation is a compromise. In a way it's a compromise, and it's a sacrifice, you know, because we all
have to sacrifice a little in order to gain something really big.

"And there is a big gain by recording together — I think musically, and financially, and also spiritually. And for
the rest of the world, I think that Beatle music is such a big sort of scene — that I think it's the least we
could do is to sacrifice three months of the year at least, you know, just to do an album or two. I think it's
very selfish if the Beatles don't record together.

"You know, it's no more gloomy than it's been for the last ten years. It really isn't any worse. It's just that
now over the last year — what with John, and lately with Paul– everything that they've thought or said has
come out, you know, to the public. It's been printed.

"But the main thing is, like in anybody's life, they have slight problems. And it's just that our problems are
always blown up, shown to everybody. But it's not really… it's not a problem. It's only a problem if you think
about it."

George had high hopes after The Beatles disbanded. Unfortunately, it didn't go as he wanted.

Nine years later, he had no desire to join the band again

Somewhere along the way, something changed. George's sentiments on The Beatles' split altered, and his
hope that they'd record again once they churned out some solo albums went out the window.

In 1979, George told Rolling Stone that he would never become a Beatle again. "Not in this life or any other
life," he said. "I mean, a lot of the time it was fantastic, but when it really got into the mania it was a
question of either stop or end up dead. We almost got killed in a number of situations – planes catching on
fire, people trying to shoot the plane down and riots everywhere we went. It was aging me.

"But we had a great time. I think fondly of it all, especially as we've been through all the aftermath of Apple.
Everybody's sued each other to their hearts' content, and now we're all good friends."

Eventually, The Beatles reunited in the 1990s to record "Free As A Bird" and "Real Love," although John didn't
get to be there. George wrestled with his Beatle days long after they split. There were positives and
negatives in the aftermath. Being a Beatle didn't harm his solo career, but it also put him in a box where the
world could constantly look at him under a microscope.





May 15, 2022
The Beatles "You Know My Name (Look Up The Number) Slaggers inspired Tote Bag"

If you thought that Yellow Submarine merchandise was pretty nifty, well then take a look at this! It's called
the "You Know My Name (Look Up The Number) Slaggers inspired Tote Bag" which is available on Etsy.

Particulars: "These bags are printed front and back with the same design and have a sturdy handle -
perfect for carrying all of your bits and bobs! This bag is 15" x 15" and the maximum weight is 44lbs
(20kg)."


And since I am highlighting the Slaggers Tote Bag, let me also plug the Beatles cabaret song "You Know My
Name (Look Up The Number)." It was the b-side to the "Let It Be" single.


Ms Nobody: The rehabilitation of Yoko Ono
Wife, muse, villain, visionary: Yoko Ono is finally getting her due.
by Ruth Jones for the Toronto Star



Once, in the early days of her relationship with John Lennon, someone told Yoko Ono how to be happy. She should stick to the background, and not talk too much. Maybe give up her work — the art career she had, by that point, spent almost a decade building. In the background she might have been a more perfect muse. "The artist absorbs an element from their muse that has nothing to do with words," Pattie Boyd, who was married to George Harrison when Ono met Lennon, told Taylor Swift in 2018, "just the purity of their essence." Boyd would know — ranker.com puts her first in its list of "The All Time Greatest Muses in the Music World." Ono only manages eleventh.

Ono tells the story of how she was supposed to be happy in a spoken intro to a live version of "Coffin Car," a song on her 1973 album "Feeling the Space." She describes the feeling of those first years with Lennon, when a whole society called her ugly (she'd always thought of herself as an attractive woman), hurled racist insults at her and told her that they wanted her to die. She developed a stutter. "She likes to ride a coffin car," Ono sings on the track. "People throwing kisses for the first time / Showering flowers, ringing bells / Telling each other, how nice she is." Under her voice, the piano bounces along. Maybe this is what they meant by background. Everyone loves you after you're dead.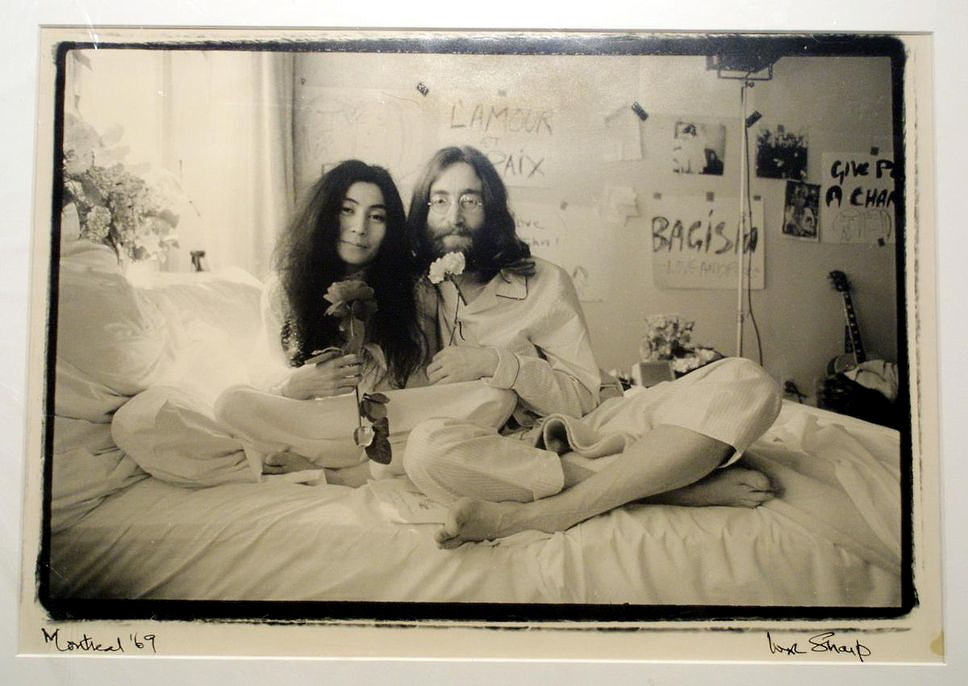 "Who is Yoko Ono?" the critic and journalist Donald Brackett asks. For a long time, the answer seemed clear: She was the girlfriend who broke up the Beatles, the celebrity-by-marriage who dabbled in art and music. Brackett's biography of the conceptual artist, songwriter and activist, "Yoko Ono: An Artful Life," tries to weave together a more comprehensive answer from narrative threads that form a dense knot of life. Is she a neglected society child, shuttled between Japan and San Francisco, seeing her father only by appointment? A rebellious art student teaching calligraphy to pay the rent and setting fire to her paintings in a downtown loft? An avant-garde outsider, a mother, a lover, earnest or ironic, one half of the most famous couple in the world? "Why is it such a perennial youthful rite of passage to misunderstand, to underestimate, even to hate her?" Lindsay Zoladz wanted to know in a 2015 essay for Vulture.
Brackett's book is part of a rehabilitation of Yoko Ono's public image that has been taking place in recent years. There is Zoladz's piece, which came out the same year Ono was the subject of an exhibition at New York's Museum of Modern Art of 125 works from her early career. There is the MoMA catalogue and many more like it, from smaller galleries (her first North American retrospective toured to the AGO in 2002). There are interviews and profiles from the same magazines that had at one time viciously mocked her and accused her, over and over, of ruining John Lennon and breaking up the Beatles (Yoko Ono did neither of these things). There is a book, "Reaching Out with No Hands: Reconsidering Yoko Ono" by the post-punk musical and performance artist Lisa Crystal Carver, and writings by Ono herself, including numerous reprints and translations of her 1964 book of instructions, "Grapefruit."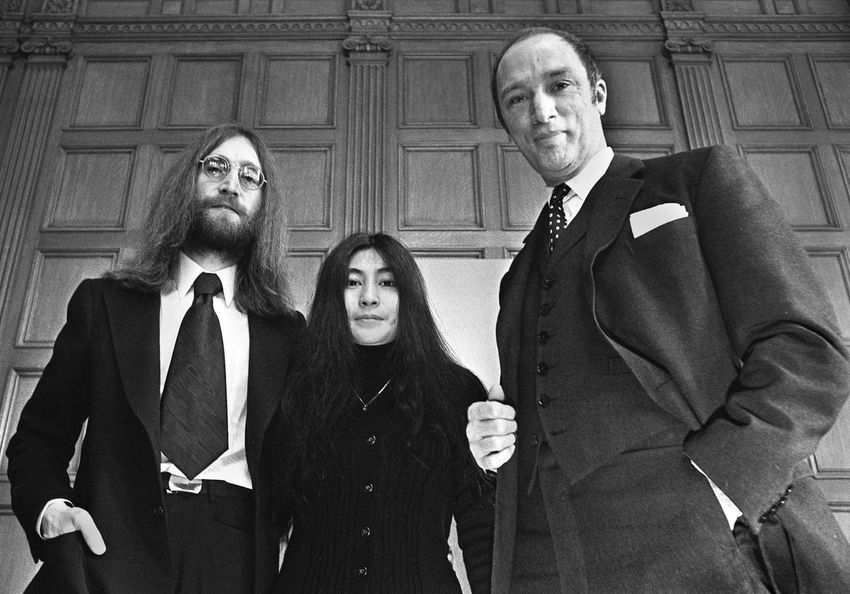 The American artist David Horvitz recently produced a T-shirt edition that proclaims, in finely lined caps, JOHN LENNON BROKE UP FLUXUS. Ono and Lennon show up regularly on fashion and bridal blog posts with headings such as "Great Outfits in Fashion History." A 2014 Huffington post piece about Ono having a well-documented good time listening to Daft Punk perform "Get Lucky" ran with the headline "Sorry Taylor, Yoko Ono's the Grammys Real Dancing Queen." Ono had already written the perfect song to go with it — 2013's "Bad Dancer." "Place your bet, watch your step," she tells us. "I'm a bad dancer with no regrets."
We live in a cultural moment that is interested in wives and muses, in the women not heard from, the people cropped out of the picture. We marvel at the enigma and ingenuity of Véra Nabokov and admire Lee Miller for her experiments with Man Ray and her own groundbreaking photography. Yet Ono challenges us. Even when we adore her we struggle to see her.
Yoko Ono is, Brackett argues in his prologue, as much a brand as a person — "an esthetic phenomenon — admired, vilified, and profoundly misunderstood in each role." She emerges and retreats behind a public persona not fully within her control. Is she a witch, as her album title proclaims? Her early life has elements of a fairy tale. Child Yoko was a princess in a gilded cage, surrounded by servants and starved for attention. She watched the city in which she was born bombed to near oblivion. She bartered for food on a country road, conjuring ice cream dinners from summer clouds. She is, Brackett says, "a global apostle of wonderment." When she met Lennon, lost and disillusioned in his life as a Beatle, she became not simply his lover or even his collaborator but the agent of his re-enchantment.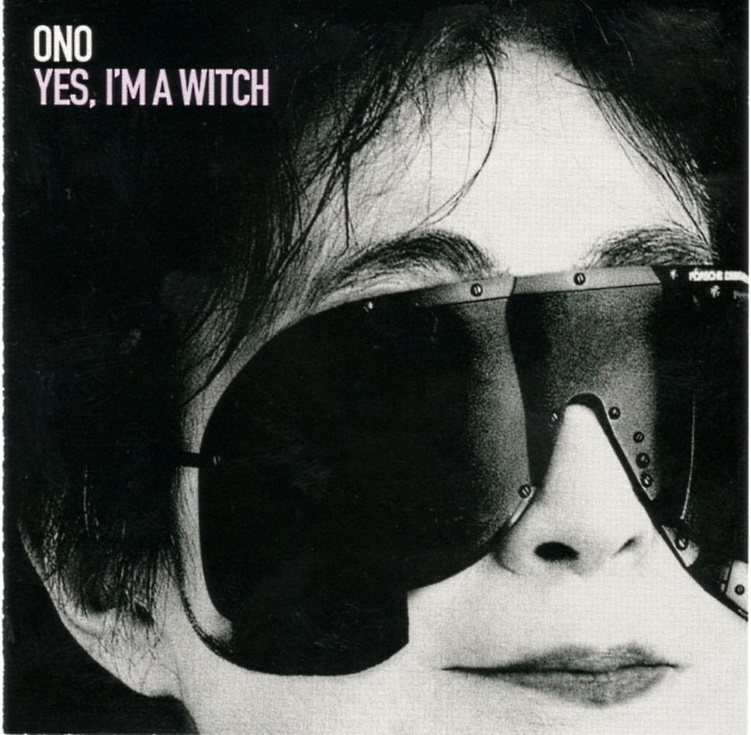 The central argument of Brackett's book is that Ono is not a malevolent force, or a muse with an art career on the side. Instead she is a profound source of influence: for Lennon as a songwriter and human being, for a generation of shrieking, wailing, punk singers, and for the Fluxus scene that grew around her early loft parties.
To see her influence, we need to understand what she's influencing, the raw material she finds. We need to witness the warring egos of the Beatles' last days, Lennon's destructive streak, and the alchemical potential of his need meeting hers. To those who still insist on seeing in Yoko the death of the Beatles and all that was good, Brackett offers a portrait of Ono as "mentor and inspiration," Lennon's "actual reason for living, or at least surviving."
The narrative oscillates between foreground and background, Yoko and everyone around her. The longest of its three sections is the one in the middle, which charts Ono's relationship with Lennon from their first encounter in a London gallery to his murder in 1980. But the consequence of this focus on Lennon, necessary as it may be to make Brackett's point, is that Ono's story recedes into the background as she becomes the reflection of her husband's world.
It's hard at times not to think of one of Ono's instructions from her 1964 book "Grapefruit": Don't watch Rock Hudson. Only watch Doris Day. When the two briefly separate in 1971, just before their move to New York, Brackett quotes a moment of ambivalence from Ono about the relationship that defined her life. "Suddenly my brain, which had always tried to make myself so small in this relationship, opened up."
Why is it so hard to see the full force of Ono's influence? It was there from the beginning, in her relationship with Lennon most of all. Even when she was making herself small, even when she was stuttering. "Imagine," Lennon's biggest solo hit, is all her. In the music video it says "This is not here" over the door to the couple's house. That's Ono. The all-white living room is Ono, too, and the cover art, and the quote on the back of the album ("Cloud Piece," from "Grapefruit"). "Imagine was inspired by Yoko's 'Grapefruit,'" Lennon later recounted. "But I was selfish and unaware enough to take her contribution without acknowledging it."
As her notoriety grows, Brackett gives us Ono as an artist exerting her influence, stretching the limits of her voice on the albums she records, with John and without him. "I was dying to scream," Ono tells us. "I wanted to throw blood." Brackett connects her vocal experiments and signature scream to the techniques she learned studying kabuki and opera as a high school student in Tokyo after the war. He argues — successfully, and with no shortage of examples — for her importance as a precursor to punk and as an enduring favourite of DJs, remixes of her songs hitting No. 1 on the dance charts in the 21st century. He reminds us that the New York Times said in 2016 that she sounded like the future and that Lennon told an interviewer, unequivocally and with an expletive to make it clear, "She's taught me everything I f--ing know."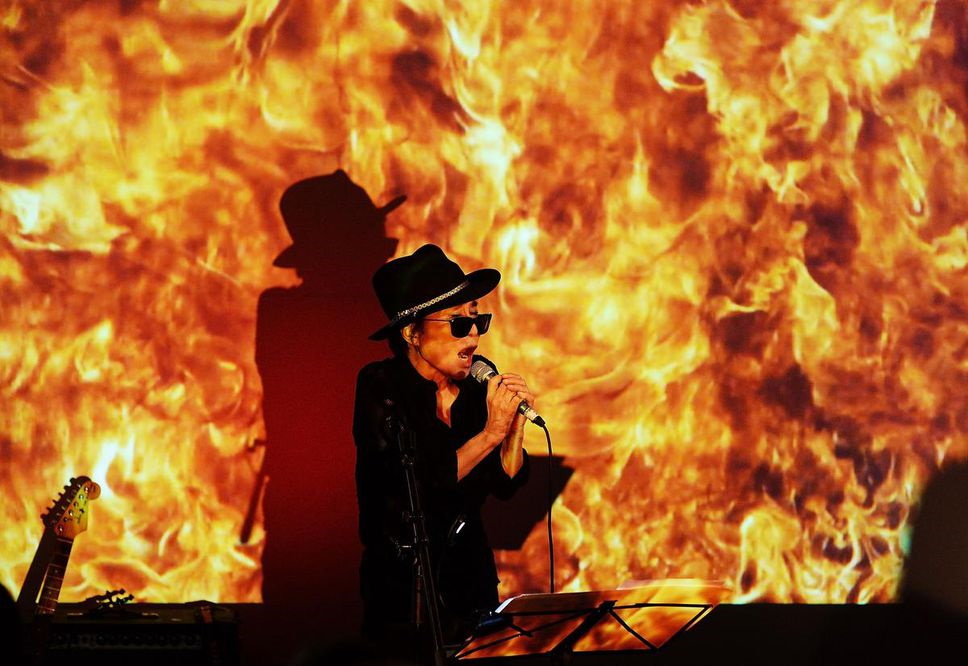 Did we come around to Yoko only after John died? Was his the coffin car that set her free? She hasn't escaped criticism as a widow, even from those who love her. "How could she sell John Lennon socks and ties with Kmart," Carver wants to know. How can she be both profoundly open-hearted (to the world at large) and plain mean to people in it (Lennon's ex, Cynthia, and his son Julian after John died?) She surely has her reasons, but she hasn't given them to us. She is, she told the Guardian in 2016, still careful about what she says. "Oh Yoko Ono," writes Carver, "you trouble me so."
"Is Ono's art any less subversive when we're living in a world that loves her?" Zoladz wants to know. Is the prospect of a dozen celebrities earnestly singing "Imagine" more cringy or less when it's a Yoko Ono song (she received an official writing credit in 2017)? On YouTube, the video for her performance of "Voice Piece for Soprano" at her MoMA show has 1.7 million views and 4.3K likes, but the comments are turned off. What might people have said that was so awful?
Ono, for her part, has always followed a different impulse. Visitors coming to the piece at MoMA encountered only the microphone and speakers that Ono uses in her video clip, and three simple instructions: "Scream 1. against the wind 2. against the wall 3. against the sky." Ono, in her version, screams like the virtuoso she is. You can try your version anywhere you'd like. Go ahead, take a breath. Scream into the wind, the wall, the sky. Yoko Ono would love to hear you.

May 14, 2022




The Beatles Discovering the Moog on Abbey Road
by The Music Aficionado

August 8, 1969 was a productive day for the Beatles. In the morning they posed for the front cover
photograph of their forthcoming album Abbey Road. That photograph became one of the most recognizable
album covers in music history (read more about it here). In the afternoon they convened at the recording
studio for one of the last touches on that album, the three glorious minutes that conclude the first side of
the LP and feature a musical instrument brand new to the famed studio. This is the story of how the Beatles
used the Moog synthesizer on Abbey Road.


George Harrison first set eyes on a Moog while he was in Los Angeles in November 1968 to produce the album
Is This What You Want? for the Apple label artist Jackie Lomax. He was at the famed Sound Recorders
studio, working on tracks with members of the legendary Wrecking Crew musicians including Hal Blaine, Larry
Knechtel and Joe Osborne. On the last day of recording a mammoth electronic instrument was brought in by
Bernie Krause, who acted as sales representative for R.A. Moog, Inc. This was the modular Moog 3.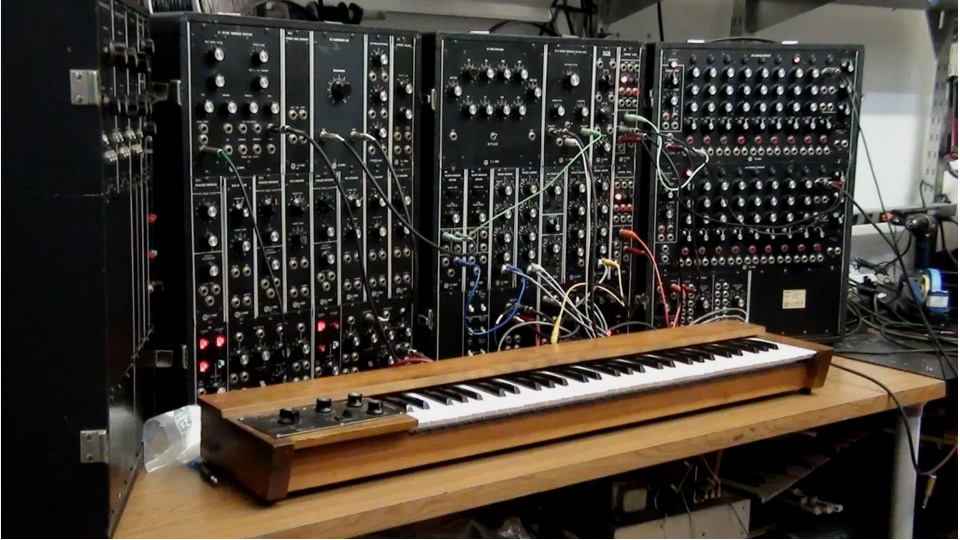 Moog Modular


Bernie Krause was one half of the partnership Beaver & Krause, who started selling and renting Moog
synthesizers in 1967. Their efforts yielded dismal results to boot, but saw a substantial boost when they
setup a demonstration booth at the Monterey Pop Festival. Showcasing a $15,000 worth of equipment (over
$100,000 today) to pop and rock royalty, they were able to sell a number of synths to musicians including
Roger McGuinn and Micky Dolenz.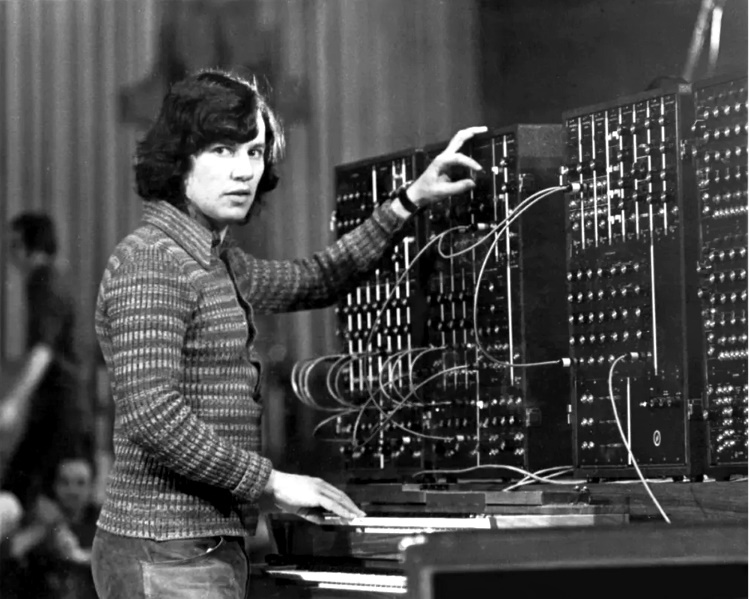 Bernie Krause, 1971

During the Jackie Lomax session Bernie Krause was overdubbing strange sounds while fussing with his electronic machinery. Harrison, ever on the lookout for new sounds, was mesmerized. He asked Krause to stay after the session and play the instrument for him. He also instructed the sound engineer to keep the tape rolling, Krause unaware of that detail. Pieces from that recording found their way into the track No Time or Space from Harrison's early 1969 album Electronic Sounds on the Zapple label, an offshoot of Apple geared towards Avant-garde and experimental music. If 25 minutes of what amounts to a synth sound effects demo is your thing, here it is:

A more interesting musical outcome of the meeting between Harrison and Krause was an actual purchase of a
Moog by Harrison. The model he ordered included two five-octave keyboards with portamento control, a
ribbon controller, ten oscillators, a white noise generator, three ADSR envelope generators, voltage-
controlled filters and amplifiers, a spring reverberation unit and a four-channel mixer. It was shipped overseas
to his house in Esher outside London, where he completed the Electronic Sounds album and then moved the
electronic beast to Abbey Road in August 1969 during the final stages of recordings for the album bearing the
studio name. Landing in Room 43, it was ceremoniously installed with the help of Mike Vickers of the band
Manfred Mann.


The first song to benefit from the Moog in a Beatles recording session was John Lennon's Beethoven-inspired
Because, overdubbed on August 5th with George Harrison playing a quick bridge at 1:30 and again with a
different sound at 2:12 to the end of the song. Other instruments on the track include an electric
harpsichord by George Martin, Electric guitar by John Lennon and electric bass by Paul McCartney. And of
course, those wonderful harmonies.


The next day McCartney took the helm playing the Moog with overdubs for his song Maxwell's Silver Hammer.
The song was written almost a year earlier during the recording of the White Album but was left unrecorded.
It was rehearsed again early in 1969 during the filming of the recordings at Twickenham Film Studios of what
would become the Let It Be album, but still remained unrecorded, although rehearsals for the song did make it
into the movie. Finally in July of that year the Beatles did it justice, but not without much acrimony within
the band. Lennon dismissed is as "more of Paul's granny music", and Harrison was frustrated with
McCartney's perfectionism in the studio: "We had to play it over and over again until Paul liked it. It was a
real drag." This attention to detail went into such length as renting a real blacksmith's anvil for the hammer
sound effect. But we are here to discuss the Moog, so listen to the bridge between the verses and the
Theremin-like sound in the second verse, and some more weird sounds sprinkled throughout, five different
parts in all.


Alan Parsons, who was assistant engineer on some of the Abbey Road recordings, remembers the Moog:
"Everybody was fascinated by it. We were all crowding around to have a look. Paul used the Moog for the
solo in Maxwell's Silver Hammer but the notes were not from the keyboard. He did that with a continuous
ribbon-slide thing, just moving his finger up and down on an endless ribbon. It's very difficult to find the right
notes, rather like a violin, but Paul picked it up straight away. He can pick up anything musical in a couple of
days."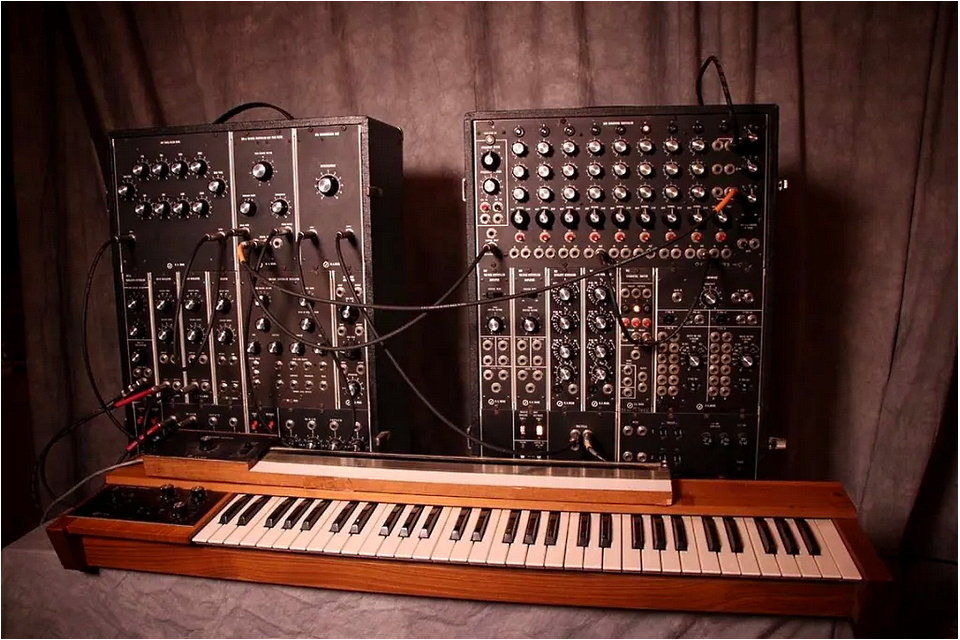 Moog Modular with Ribbon Controller


Another fine appearance of the Moog is on George Harrison's Here Comes the Sun, a song he wrote at Eric
Clapton's house when taking a break from the tiresome business meetings surrounding Apple Records, a
company in shambles at that point: "Here Comes The Sun was written at the time when Apple was getting
like school, where we had to go and be businessmen: 'Sign this' and 'Sign that'. Anyway, it seems as if winter
in England goes on forever; by the time spring comes you really deserve it. So one day I decided I was going
to sag off Apple and I went over to Eric Clapton's house. The relief of not having to go and see all those
dopey accountants was wonderful, and I walked around the garden with one of Eric's acoustic guitars and
wrote Here Comes the Sun."


One of the finest songs on the album, Here Comes the Sun includes a number of parts played on a Moog,
most of them subtle to the point where many folks do not realize the instrument is played on this song.
Listen carefully – if it is not guitar/bass/drums or a string orchestra, it's a Moog. Actually I take it back – the
hand claps are also real.


Contrary to Harrison who blended the Moog in a somewhat muted manner, Lennon took it to the other
extreme on the heaviest song on the album, I Want You (She's So Heavy). Closing the first side of the LP, it
is the longest track in The Beatles' recorded history, if we ignore the sound collage Revolution 9 from the
White Album. It is also one of my favorite songs the Beatles ever made, featuring an interesting structure,
great guitar work, Billy Preston's Hammond organ, a wrenching vocal, 14 different words and a sound effect
from hell, courtesy of the Moog. The song was a primal love song to Yoko Ono, which John described: "When
you're drowning you don't say 'I would be incredibly pleased if someone would have the foresight to notice
me drowning and come and help me,' you just scream."




On the afternoon of that August day that started with the cross walk photo shoot, Lennon used only one component from the array of modules that comprised the Moog Modular 3. It was the white noise generator, starting at 5:15 into 'I Want You' and building up, with George Harrison controlling the knobs, for two and a half minutes to the end of the song and then, poof. Nothing. End of side 1.

That poof materialized almost two weeks later on August 20, a date that holds significance in Beatles history: it marks the last time all four were in the studio at the same time. Lennon remembered how that abrupt ending to the song came about in his less-than-scientific description: "It's pretty heavy at the ending, you know, because we used the Moog synthesizer on it, and the range of the sound is from minus whatever to way over…Well, you can't hear it. That instrument, the Moog synthesizer, can do all the sounds, you know, all ranges of sounds, and we did that on the end. If you're a dog, you can hear a lot more."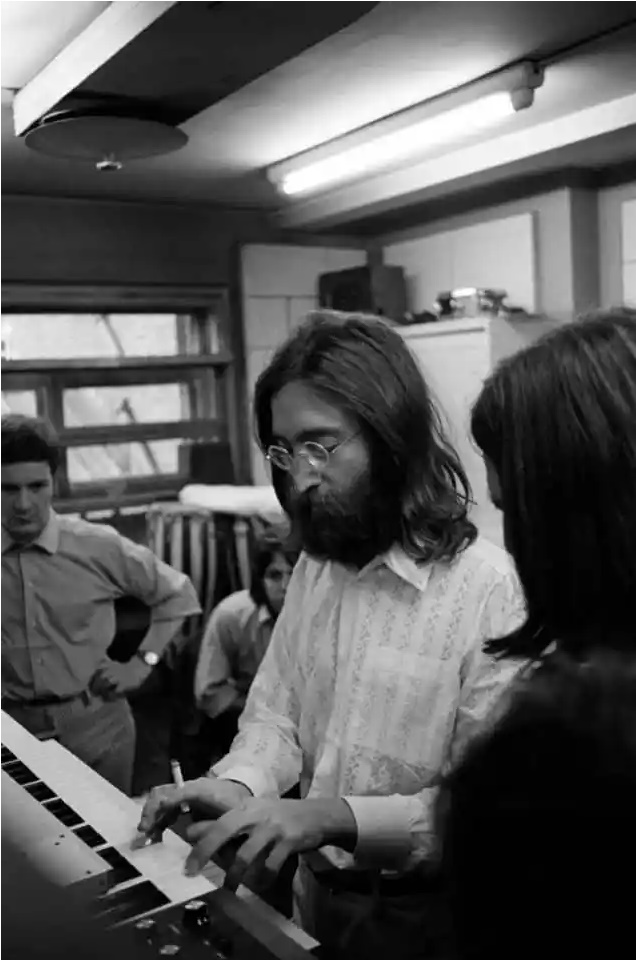 As usual, the most accurate account is by sound engineer extraordinaire Geoff Emerick: "And then there was the matter of how the song would end. When they recorded the backing track, The Beatles had just played on and on, with no definitive conclusion, so I assumed I would be doing a fade-out. John had other ideas, though. He let the tape play until just twenty seconds or so before the take broke down, and then all of a sudden he barked out an order: 'Cut the tape here.'"
"'Cut the tape?' I asked, astonished. We had never ended a song that way, and an abrupt ending like that didn't make any sense unless the track was going to run directly into another one. But that wasn't the case here, because it had already been decided that 'I Want You' would close side one of the album. My protestations had no impact on John: his decision was absolute. 'You heard what I said, Geoff; cut the tape.' I glanced over at George Martin, who simply shrugged his shoulders, so I got out the scissors and sliced the tape at precisely the point John indicated…and that's the way side one of 'Abbey Road' ends. At the time, I thought he was out of his mind, but due to the shock factor it ended up being incredibly effective, a Lennon concept that really worked."
Here is the song in all its white noise glory:



May 13, 2022
"Isn't It A Pity" Video Becomes A Two-Time CLIO Awards Winner
From George Harrison's Official Facebook Pages





May 12, 2022
'Electronic Sound': George Harrison's Epic Musical Exploration


'
Electronic Sound' is a musical marker, one that George Harrison laid down during a period of intense inventiveness
in a world where anything was possible.
by Richard Havers for Udiscover Music
In his introduction to the George Harrison: The Apple Years 1968-1975 box set, Tom Rowlands of The Chemical Brothers says that Electronic Sound "hangs on the wall of my studio, just next to my own Moog modular, beaming inspiration straight to my brain." Rowlands had bought a second-hand copy of the LP from a Japanese record shop in the mid-90s and was amazed by what he heard.
Released on May 9, 1969, George Harrison's Electronic Sound was the second – and final record released on The Beatles' Apple Records subsidiary, Zapple Records, and was yet more proof that George was ahead of his time and, in many respects, the most musically inquisitive of the four Beatles.
Avant Garde exploration
Electronic Sound is made up of two long pieces of music, originally one on each side of the LP, that are performed on the Moog Synthesizer IIIP, purchased by George from its inventor, Robert Moog. The record was made against a background of musical exploration that characterized London and Los Angeles in 1968. Avant-garde ideas were everywhere.
Side Two of the album, titled "No Time Or Space," was the first to be recorded and was done in Los Angeles in November 1968. George had finished work on The Beatles (aka "The White Album") and had flown to America's West Coast to produce Jackie Lomax's Apple album, Is This What You Want?, at Sound Recorders Studio in Hollywood.
Lomax's album featured a Moog that had been brought to the studio by Bernie Krause, who, along with musical partner Paul Beaver, had recorded The Nonesuch Guide To Electronic Music earlier in 1968, and was acting as something of a salesman for Robert Moog's invention. It was following work on the Lomax album that George, with Krause's help, recorded the 25-minute piece.
Side One of the LP, "Under The Mersey Wall," is an 18-minute piece that references the river on which Liverpool is built, and it was recorded at Kinfauns, George's home in Esher, Surrey, in February 1969. The title also refers to a weekly column in The Liverpool Echo, written by another George Harrison (no relation), entitled "Over The Mersey Wall." In 1970, white noise from this track was used on "I Remember Jeep," one of the jams included on Harrison's monumental solo album All Things Must Pass.
The cover art's origins
The album's cover was a painting by George. Many years later, his son Dhani asked his father if he could have the painting, which had been left leaning against a wall, somewhat neglected, at home in Henley, to hang in his bedroom. A few years later, George explained to Dhani what the painting was all about: "That's Derek [Taylor] holding on to all of Apple's aggravation and problems that are looming over everyone.
That's Neil [Aspinall] frowning and Mal [Evans] smiling with him in the chair. That's Eric [Clapton] on the right there and the green guy on the front is Bernie [Krause], with his bow tie and pocket square, patching everything through the board. That's me making the tea [small blue face smiling] and that's the cat, Jostick, the small green demon-like figure on the front cover."
The album, and George's Moog itself, play an important part in The Beatles' story, as it was taken to Abbey Road studios in the summer of 1969 and used in the recording of The Beatles' Abbey Road album. As George later recalled, "The Moog synthesizer was enormous, with hundreds of jack plugs and two keyboards. But it was one thing having one, it was another thing making it work. When you listen to the sounds on songs like "Here Comes The Sun," it does some good things, but they're all very kind of infant sounds."
Electronic Sound is a musical marker, one that George Harrison laid down during a period of intense inventiveness in a world where everything and anything were possible.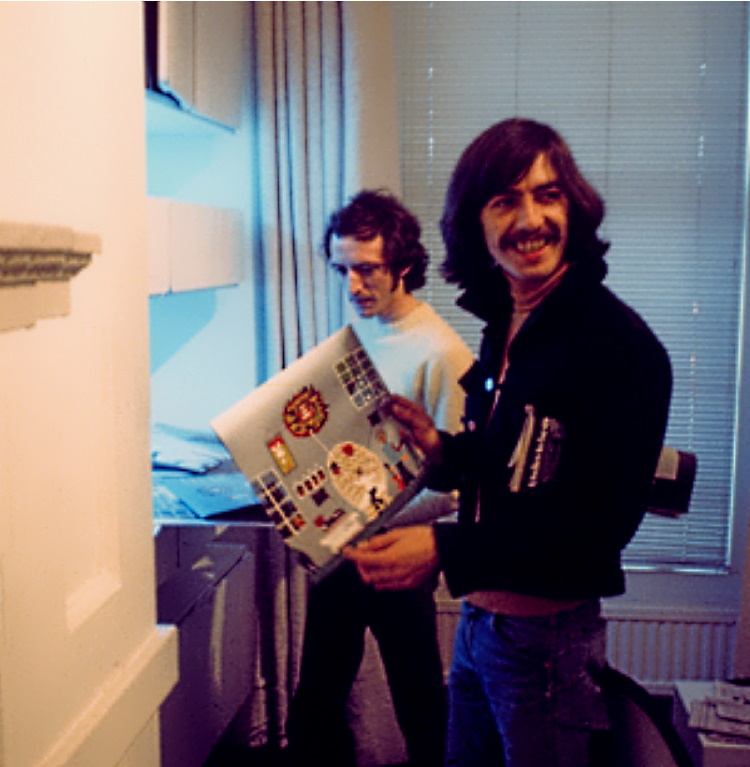 George's painting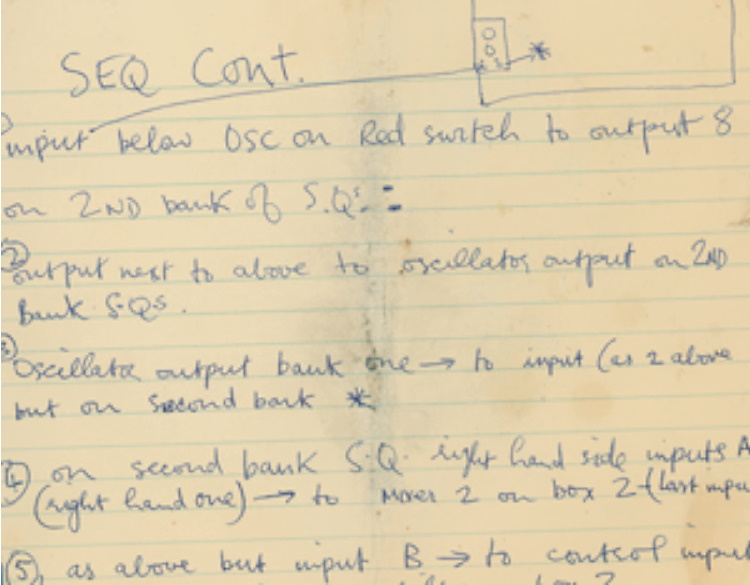 Electronic Sound notes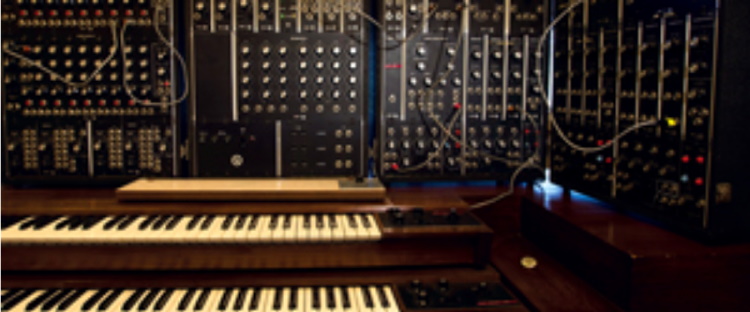 The Moog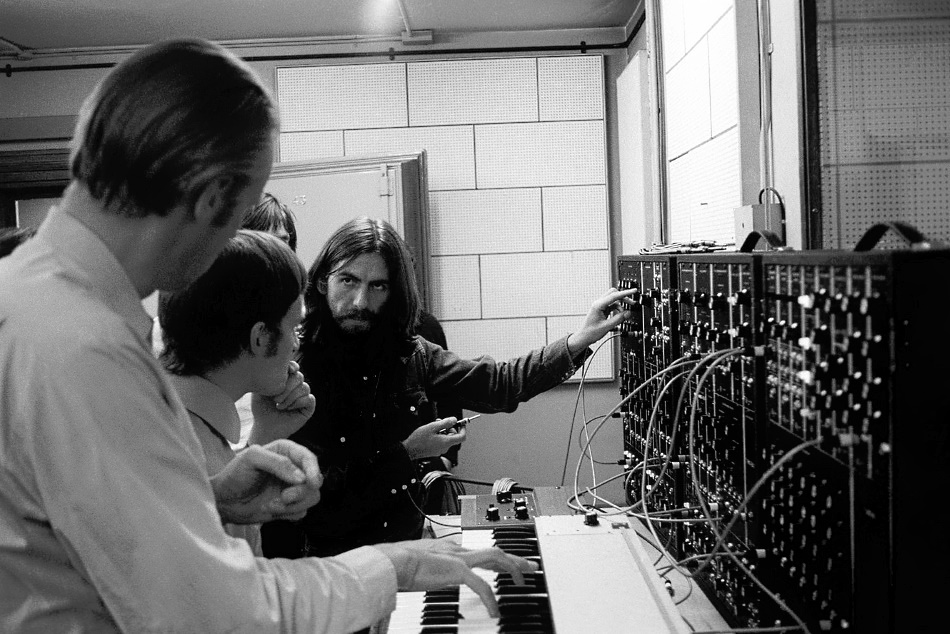 OBS footnote: Photo culled from the Official George Harrison Facebook pages



May 11, 2022
Marmalade - Ob La Di, Ob La Da (1968)
write-up by Beat Club


Marmalade are a Scottish pop rock band originating from the east end of Glasgow, originally formed in 1961
as The Gaylords, and then later billed as Dean Ford and The Gaylords, recording four singles for Columbia
(EMI). In 1966 they changed the band's name to The Marmalade, and were credited as such on all of their
subsequent recorded releases with CBS Records and Decca Records until 1972. Their greatest chart success
was between 1968 and 1972, placing ten songs on the UK Singles Chart, and many overseas territories,
including international hits "Reflections of My Life", which reached #10 on the US Billboard Hot 100 Chart and
#3 on the UK Chart in January 1970, and "Ob-La-Di, Ob-La-Da", which topped the UK chart in January 1969,
the group becoming the first ever Scottish group to top that chart.

The original members began to drift away in the early 1970s, resulting in the band departing Decca in 1972.
In 1973 the first evolved line up of the band rejoined EMI Records and with their first record release became
known simply as Marmalade. All subsequent record releases are credited similarly.

Graham Knight (an ongoing member from the pre-Marmalade "Dean Ford and The Gaylords" lineup) remained
until September 2010. The band still exists, with many additional further evolved lineups including vocalist
Sandy Newman, a member since 1975, touring the nostalgia circuit.

Here is a very rare Canadian misprint of a Beatles single



Paul McCartney brought an old Beatles bandmate back to life at Oakland concert
by Silas Valentino,



The title of his latest tour may be "Got Back" but Paul McCartney was in a mood to give back at Oakland Arena on Sunday night.

The former Beatle paid tribute to two of his former bandmates (sorry Ringo, no mentioning of the drummer) as well as to Jimi Hendrix, civil rights, George Martin, his wife Nancy Shevell and the citizens of Ukraine, as well as people who "have birthdays this year."

And since it was Mother's Day after all, McCartney dedicated the song "Women and Wives" from his 2020 album "McCartney III" to "all the mothers in the world."

At the age of 79, McCartney was spry in a pair of blue jeans and an iridescent clouds-in-the-sky collared shirt tucked behind a posh black vest. Between numbers, he'd shimmy a bit, charmingly gesture towards the crowd with whimsical pantomimes. McCartney appeared just as excited to see us as we were to see him.

Shuffling into the Oakland Arena before the show, folks of various ages exchanged glee in their Beatles hats or Wings shirts. The pre-show soundtrack that played over the public address system featured a swath of Beatles or solo songs which suggested McCartney is perhaps the only artist who can play his own recorded music before the show and — just like his mullet haircut — successfully pull it off.

The two-hour-forty-five minute set kicked off with a bombastic rendition of "Can't Buy Me Love" before McCartney addressed the crowd and said to expect "old songs, new songs and between songs."

He also noted that his backing band had their official debut 20 years ago nearly to the month when they played Oakland Arena in April 2002. Flanking McCartney on each side were Rusty Anderson (guitar), Abe Laboriel Jr., (drums) Brian Ray (bass) and Wix Wickens (keyboards and musical director).

The second date in Oakland, following a Friday performance, featured a set list that did not veer far from other dates on this tour but McCartney has a knack for refreshing old tunes or stories into genuine performances. He'll drop amazing anecdotes about songs or other musical legends with a kind of sly wink, as though he's revealing this story for the first time.

After ripping into the iconic guitar riff for "Let Me Roll It" with his left-handed Gibson Les Paul, McCartney and his band morphed into an fiery instrumental cover of "Fox Lady." McCartney told the crowd how Jimi Hendrix was a "humble guy" who impressed McCartney by learning to play "Sgt. Pepper's Lonely Hearts Club Band" just days after the song was released.

"We released 'Sgt. Pepper' on a Friday and he learned it by Sunday," McCartney said. "Everyone was buzzing about the album — Jimi was too."

Later, when he swapped his Hofner bass for a petite ukulele, McCartney commemorated George Harrison by beginning "Something" with sparse strums, then the band joined in for a dazzling finish. McCartney spoke to how George was a great player of the ukulele and it seemed like he was divulging unheard details; however, he apparently said the exact same comment 20 years ago.

McCartney conveyed vulnerability elsewhere by admitting how he was so nervous to sing on the early Beatles track "Love Me Do" that he can still hear his voice quivering in the recording. And he concluded the piano ballad "My Valentine" by making a heart-shaped sign with his hands directed to his wife Nancy Shevell who was somewhere in the sea of faces.

In one of the more unique stage moments of the show, McCartney stood alone towards the front of the stage and took a cue from his one-time collaborator Kanye West. The stage gradually elevated some 15 feet into the air and he presided over the crowd. Acoustic guitar in hand, he played "Blackbird" with precision atop digital projections of birds soaring into the galaxy.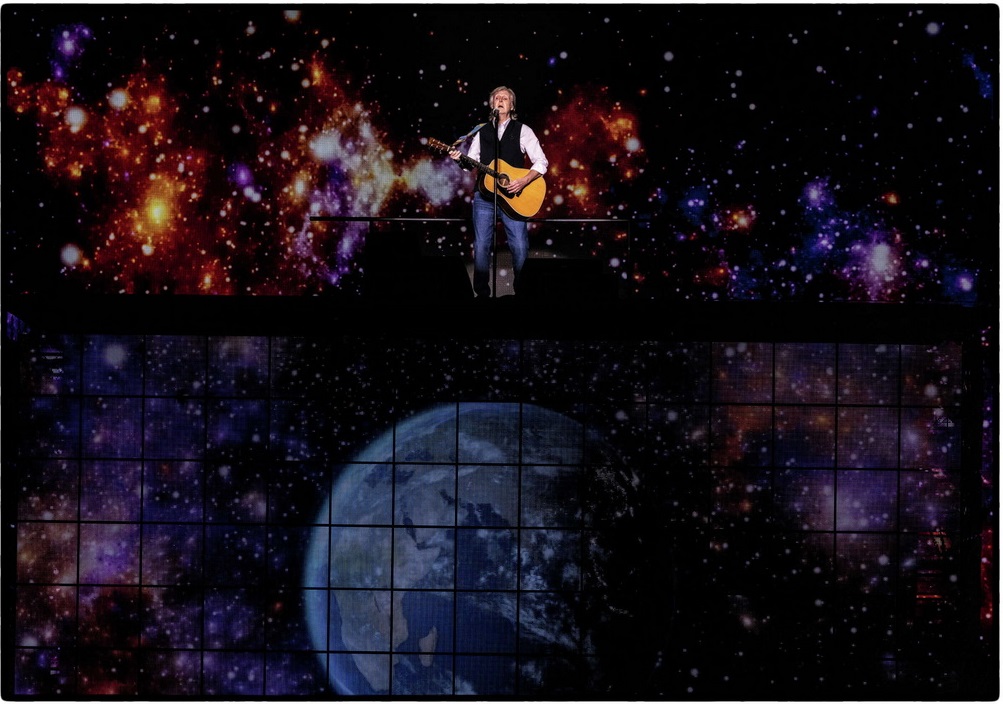 He spoke to how he wrote the timeless tune after seeing footage of civil rights demonstrations in Arkansas and Alabama during the mid-1960s. "To us, America was the land of the free," McCartney said. "And here was this stuff. I wanted to give them hope."
Even though later-career cuts like "Queenie Eye" and "Dance Tonight" stand tall among his global hits, McCartney couldn't help teasing his fans for how they react during his shows. He said when he plays a Beatles song, phones immediately appear to create "a galaxy of stars" but when he plays the newer tunes, it has him feeling as though he's peering into "a black hole."
His crowd work was dialed in with the mastery of someone who's been performing for over five decades. He paused between songs at one point to give the fans who brought in signs a chance to shine in the limelight (the person whose sign said they were 1,000 days sober received two cool thumbs up from McCartney) and he took a moment to have the women in the arena scream as though it was 1966 at Candlestick Park.
During the cathartic "na na na" section of "Hey Jude" when the entire arena sang along, McCartney asked to split the vocals between men and women, and gave a somewhat sordid expression for how he likes it best when he hears the feminine delivery.
A brief break led into an encore where McCartney and his band reappeared by waving flags, including the British, rainbow and Ukrainian banners, which McCartney personally swung.
The encore began with a new trick that's been deployed across the tour. McCartney said that the director Peter Jackson digitally separated John Lennon's vocals during "I've Got a Feeling" while producing the "Get Back" documentary, and offered the recording to McCartney.

During the song's bridge, a crystal clear clip of Lennon singing the lyrics "everybody had a hard year, everybody had a good time" appeared on screen and McCartney continued to duet with his long-deceased copartner.
It was an impressive feat of musical technology, but oddly surreal at the same time. Akin to Tupac's infamous hologram appearance at Coachella ten years ago, playing with a person's legacy is a devilish delight that no mortal has true authority to do.
But to others, this was a moment of honor, between musician and musician, played out in a song, the best way McCartney knows how to express himself.
We'll never know what Lennon thinks of this musical grave robbing, but perhaps an answer lies in "Here Today," McCartney's 1982 elegiac song for his lost bandmate: "You'd probably laugh, and say that we were worlds apart."



May 10, 2022
Legendary artist and producer Peter Asher on The Beatles, James Taylor, Linda Ronstadt and more
Asher bringing multimedia show to City Winery Boston May 11 and United Theatre in Westerly May 12
by Ken Abrams for What's Up News




A real-life music legend who witnessed the birth of the British Invasion is coming to town.

Artist/Producer/Music Executive Peter Asher has one of the greatest resumes in rock and roll. He's bringing his songs and stories to Boston's City Winery Wednesday, May 11, and the United Theatre in Westerly, RI Thursday, May 12.

Asher first hit the music scene as a chart-topping artist in 1964 with the #1 song "World Without Love," (a song written by Paul McCartney), as one-half of the duo Peter & Gordon. He went on to work for The Beatles and later produce over 100 albums, from the likes of James Taylor, Linda Ronstadt, Neil Diamond, 10,000 Maniacs, and Cher.

I recently spoke to the two-time Grammy winner about his show, "Peter Asher: A Musical Memoir of the 60s and Beyond" which brings a multimedia experience to the stage. Asher shared memories of the Beatles, especially those around McCartney, who spent time living in Asher's parent's home in the early 1960s. McCartney even dated Asher's sister for several years.

One of the greatest stories in rock and roll history centers around how McCartney informally auditioned an early Beatles song in front of Asher in 1964. The Fab Four's first #1 hit, "I Want to Hand Your Hand" was tested out in Asher's basement.

"We were sharing the top floor of the house at the time," explained Asher. "There was a small room in the basement… my mother used to teach piano lessons there and told Paul he could use the piano, a very small upright piano which is now in the Rock and Roll Hall of Fame."

"One day John Lennon came over and the two of them were down there for a couple of hours. As I recall, I was alone in the house, everyone else was out, and Paul called up the stairs to me after a couple of hours and asked if I wanted to come down and hear the song they had just finished," he continued.

"So I went downstairs to the basement and sat in this little room on a small two-person sofa. They sat side by side on the piano bench, no guitars. They hammered out this version of a brand new song they had just finished called "I Want to Hold Your Hand" and asked me what I thought… I told them I thought it was very good. I was in the right place at the right time."

Asher later joined The Beatles as an executive when their label Apple Records was founded. He recalls how well the band worked together.

"In my role as Head of A&R at Apple, we used to have weekly meetings, and as many of them as were around would come and take part. What was noticeable and what shows up in the documentary, Get Back, was that their collaboration far exceeded whatever arguments ensued. Whereas previously we had a somewhat reversed picture of that," he explained.

"They would let each other have their own projects, follow through on their own wishes and intentions. They collaborated very well but they also let each other have the freedom to pursue other projects. In terms of Apple, Paul was the general leader as it appeared in the documentary, but they were generous toward each other – whether John wanted to do a Yoko project or whatever it was. You get the impression that the Apple years were more argument than anything else, but they were generally a very collaborative and generous group to each other," said Asher.

You'll hear stories like this one at the show. Asher tours with a band and plays his originals and some covers. "It's a combination, a multimedia thing with some songs some stories, some video clips, and photos, all kinds of stuff," he said.

As The Beatles were breaking up, Asher "discovered" a rising singer-songwriter. I asked him what he found so compelling about James Taylor.

"Well, actually everything." he responded. "His voice itself is impressive enough, warm almost like Bing Crosby, a beautiful, comfortable kind of folky voice. But the phrasing he was using wasn't folky at all, it was more Ray Charles, Sam Cooke. Clearly, he had learned his phrasing from the masters of soul."

"His guitar playing, which included elements of classical guitar, was amazing in and of itself, and then, of course, his songwriting," he continued. "What was so extraordinary was that in each of those separate areas, I clearly thought he was quite exceptional, I thought it was some of the best stuff I had ever heard and it was on that basis when Apple was folding, we decided, James and I, that I would bet my career on his, and moved to America."

The rest is history. Asher produced several of Taylor's groundbreaking albums in the 1970's including Sweet Baby James, One Man Dog and JT, for which he won a Grammy Award for "Producer of the Year."

"I'm not saying I knew at the time how big he'd become, cover of Time magazine, and presidential awards and everything that's happened over the years. I certainly thought he's so good there's no way people will be able to ignore him."

Another major star whose career accelerated under Asher was Linda Ronstadt. She had some modest success before Asher arrived to manage her. "I was in New York and someone said you should go hear this girl who is singing at The Bitter End. She's got an amazing voice, she sings barefoot in these short shorts, amazing looking … so I went. And it was all true, she had a voice like I had never heard before, with incredibly accurate pitch, and great singing. And she was beautiful and charming at the same time."

"When I got to know her, I discovered she was one of the smartest women I had ever met, incredibly well-read, thoughtful, and articulate," he explained. "She's the best straightforward singer I've ever been able to work with."

Asher won Grammy Awards for Producer of the Year for Ronstadt's Simple Dreams, and Cry Like a Rainstorm, Howl Like the Wind. He later went on to produce top-selling albums from artists as diverse as Cher, Steve Martin, Dianna Ross, and Morrissey.

Asher is still making music almost 60 years since "A World Without Love" was released.

"I'm finishing an album with Susanna Hoffs who I've always been a big fan of, since the Bangles days," he shared. "She's in the process of finishing up an album which will be out in late summer. We've done a bunch of tracks it's great, she sounds amazing."

Asher swings through the region later this week. "City Winery in Boston is great, we're certainly looking forward to it … and we'll see you in Rhode Island too!






May 9, 2022
From The Beatles Official Facebook Pages: "Ringo Starr Receives Honorary Doctorate from
Berklee College of Music"

"My soul is that of a drummer…. I didn't do it to become rich and famous. I did it because it was the
love of my life." ~ Ringo Starr

What's it like to cross the famous Beatles Zebra Crossing at Abbey Road Studios?
A video filmed by Gimbal Walk TV






May 8, 2022
The Story of The Beatles White Album Cover Serial Numbers
by Parlogram Auctions

In this video, we look at how EMI took Richard Hamilton's groundbreaking concept of a mass limited edition
and made it into a reality. We find out exactly how many numbered copies there were and which numbers
were allocated to which format. We also track down the earliest numbers and give you their values and
uncover a duplicate of one of the first four copies.


In My Life: George Martin, Beatles Mentor and Producer, In 20 Quotes
A tribute to the producer of almost the entire recorded catalog of The Beatles and a hugely accomplished
writer, arranger and musician with countless other achievements to his name
by Paul Sexton for Udiscovermusic



Sir George Martin, producer of almost the entire awe-inspiring recorded catalogue of The Beatles and a hugely accomplished writer, arranger and musician with countless other achievements to his name, was born in Highbury, north London, on January 3, 1926.

What follows is a selection of comments from the unabridged version of an extensive interview by this writer with Sir George, who passed away in March 2016, two months after his 90th birthday. An edited account of the meeting, which took place at AIR Studios in London in 1998, appeared in Billboard magazine at the time, when Martin was releasing his final album project, the all-star In My Life album.

This came the year after he had produced Elton John's "Candle In The Wind 1997," now recognised as the best-selling single worldwide in recording history and Martin's 30th UK No.1 single. We hope these quotes give an entertaining insight into one of the most remarkable careers in pop music.

"My parents weren't musical, but they were very creative. My sister was three and a half years older than me, and she had piano lessons. I used to copy what she did when I was about four or five, and I wanted to have piano lessons too. But we couldn't afford that, so I just made up my own music as I went along."

"I just went on my own sweet way and found I could make music on the piano, and by the time I was 15 I was running a dance band. I went into the services because the war was still on, still keeping up my music. I met quite a few interesting characters, good musical people, who advised me to take up music."

"I had a fairy godfather in the shape of Sidney Harrison, a wonderful man who was a very good pianist and educationalist. He urged me very strongly to take up music, and he helped me because he arranged for me to have an audition with the Principal of the Guildhall School of Music."

"When you're young, you're not only confident, but damned arrogant. I was full of myself and thought I was terrific. I didn't realise how inadequate I was."

"There were about a dozen record producers in the country. But then they weren't called record producers, they were called 'Artist and Repertoire Managers.' They didn't really shape events in the studio; their job, rather like the A&R men of today, was to recruit talent, put them in the studio and give them an opportunity to be recorded, rather like a broadcast."

"As I was running a label [Parlophone] by 1955 and I was responsible for the work on that label, I had to choose not only the artists but what they were doing, and make sure they were going to make a record that was going to sell."

"In the 50s, stereo was reserved for classical recordings. You didn't do any overdubbing or editing. When I first went into Abbey Road Studios in 1950, we didn't use tape, we went directly to wax, because it was so much better quality."

"I've written 15 films. The first experience was a nightmare, because I didn't know anything the techniques of film writing and I just muddled my way through it. But I learned fast, and became fairly accomplished at doing what was necessary."

"I had a hit with Ron Goodwin called 'Skiffling Strings' in the era of hit instrumentals. In America it was issued as 'Swinging Sweethearts', and it entered the charts. So Ron had to go and promote it, and I went with him. I went to many studios including Capitol of course, and to a Frank Sinatra session. I was enormously impressed. They were so much better than we were."

"I was 36 when I first met The Beatles, and I was an old man to them. But perceptions have changed. They were on an average 16 years younger than me, so I was a kind of big brother rather than a father."

"When The Beatles came along, there wasn't much rock'n'roll music in [the UK]. Tommy Steele was about the most extreme one we had, and Cliff Richard. So there was no yardstick to judge it from. Having made all these comedy records, there was an advantage there, because The Beatles were great Goon fans, and they loved the Peter Sellers recordings and they knew that I'd made them."

"I didn't know them from Adam, they didn't mean anything to me. So it was a bit one-sided when we first met, but they had that idiotic sense of humor that I love too, and that made me want to be with them. If you haven't got a good sense of humor, life's not worth living."

"Because there wasn't a rock'n'roll precedent, The Beatles when they came turned everything upside down and made a revolution, which I didn't foresee."

"When I was recording them in the early days, I was looking for a hit song, and I knew they didn't have it. But when 'Please Please Me' came along in the form that it did, it was a different matter."

"Eventually the flood gates opened in America in 1964 with 'I Want To Hold Your Hand,' and from that point on it was mayhem. But you see, I didn't spend all that much time with them because they were on tour all the time. Recording time was issued out to me very sparingly."

"They did flower, they blossomed, and they astonished me with their ideas. Each song they brought to me was a gem, and I said to myself, 'It can't last.' I'd say to them, 'That's great, now give me a better one.' And they did. I was so thrilled with what they gave me."

"I've got quite a few favorite Beatles albums. I like Revolver very much and I like Rubber Soul very much, but I'm very fond of Abbey Road. Probably because it's the last album we made, and we kind of knew that."

"I was privileged that Elton asked me to work with him on ['Candle In The Wind 1997']. It became my last No. 1, and probably my last single. It's not a bad one to go out on."

"The funny thing about getting old is you don't basically feel any different. Every time I get up in the morning and look in the mirror, I look at my dad. I say, 'Morning, dad,' and I go on to shave."

"I've had a bloody good innings. I can't imagine anyone who's been luckier than I have with the kind of artists I've been able to record."







May 7, 2022
Pattie Boyd thinks young people are 'over-sensitive'
by Celebretainment




Pattie Boyd has warned "freedom has been taken away" because young people are so "over-sensitive".

The 78-year-old former model - who was previously married to late Beatles legend George Harrrison and Eric Clapton and is now wed to Rod Weston - misses the carefree days of the 1960s because she thinks modern society has become very restricted in a bid to not cause offence to anyone.

She is quoted by the Daily Mail newspaper's Eden Confidential column as saying: "Everybody's so different, particularly young people now. You know, they're woke and over-sensitive about everything. And I thought, 'How odd'.

"I feel that there's been a huge cycle, because in the 1960s we broke away. We wanted freedom, we fought for it, and we wore outrageous clothes and short dresses. Artists painted outrageous things, filmmakers started being totally free. Here was a freedom suddenly.

"I feel that cycle is now coming to an end. The freedom has been taken away. It's the opposite of the 1960s, when we were brave and we could say and do anything."

The photographer recently admitted she found it "draining" to write her 2007 autobiography, 'Wonderful Today', but she's "glad" she did it.

She said: "I found it quite draining. Venturing back to areas of your life that are not very comfortable was difficult to talk about as well. I know people say it's cathartic, but I hate that word because I don't quite know what it means.

"But it's good. It's quite good, because you are made to go back and reassess and see how you feel about it now, which of course can be quite different. It was a good thing to do, I'm glad I did it.

Pattie went on to reveal that she is now working on a new book which is to be a compilation of her photography work embellished with "lots of little anecdotes."

She said: "I'm working now on a new book, which is just going to be photographs. Photographs of me and by me, and I'm just writing lots of little anecdotes. Some to go with photos and some because I've just remembered something hilarious or something dramatic."






May 6, 2022
"It Was Really My First Voyage Into Feedback": Paul McCartney on His "Taxman" Beatles Guitar Solo
by Rod Brakes, Tom Mulhern for Guitar Player

Macca reveals his inspiration behind the Beatles' riotous 'Revolver' opener.




There are many great guitar moments within the Beatles catalog. We all have our favorites. But as far as Paul McCartney is concerned, one of those highlights happens to be the song "Taxman."

And for good reason.

In addition to laying down his unforgettable Motown-style bass hooks on the track McCartney contributed a wild electric guitar solo that would make anyone proud.

Penned by George Harrison and appearing as the opener on the Beatles' 1966 studio album Revolver, "Taxman" was significant in further establishing Harrison as a songwriter and was the Beatles' first overt political statement (British politicians Harold Wilson and Edward Heath are both named.)

It also showcased McCartney's prowess as a bold, imaginative lead guitarist.

"I liked 'Taxman' just because of what it was... It was really my first voyage into feedback," he told Guitar Player during a 1990 interview, having been asked about favorite Beatles guitar parts that he played.

"I got the guitar and was playing around in the studio with the feedback and stuff, and I said to George, 'Maybe you could play it like this.' I can't quite remember how it happened that I played it, but it was probably one of those times when somebody says, 'Well, why don't you do it then?'"

In the same interview, McCartney reveals a source of inspiration for his guitar playing on "Taxman."

As has often been pointed out, Eric Clapton's edgy blues-rock style was pivotal in the evolution of electric guitar technique and tone during the mid-'60s, as evidenced on 1966's Blues Breakers with Eric Clapton album.

Indeed, it appears Paul McCartney and the Beatles were no exception.

"I had this friend in London, John Mayall of the Bluesbreakers, who used to play me a lot of records late at night," recalled McCartney. "He was a kind of DJ-type guy. You'd go back to his place, and he'd sit you down, give you a drink, and say, 'Just check this out.'

"He'd go over to his deck, and for hours he'd blast you with B.B. King, Eric Clapton – he was sort of showing me where all of Eric's stuff was from, you know. He gave me a little evening's education in that.

"I was turned on after that and I went and bought an Epiphone. So then I could wind up with the Vox amp and get some nice feedback. It was just before George was into that. In fact, I don't think George did get too heavily into that kind of thing.

"George was generally a little more restrained in his guitar playing. He wasn't into heavy feedback… When people say, "Great solo on 'Taxman'," I don't think he's too pleased to have to say, "Well, that was Paul, actually."






May 5, 2022
How George Harrison made the album that banished The Beatles
by Ken Sharp for Louder Classic Rock

In 1970, George Harrison brought together a Who's Who of rock to record his masterpiece, All Things Must
Pass. This is the story, told by those who were there.




"So go away away, leave me alone, don't bother me…"

Those words, from Don't Bother Me, a glum kiss-off to an lover, which appeared on The Beatles' 1963 album With The Beatles, mark George Harrison's first recorded entry as a songwriter. It wasn't of any significant artistic weight that would rattle the axis of the golden Lennon/ McCartney team, nor would it hint at the glory and sophistication that would be his masterpiece solo record.

Flash forward more than half a century later, and Harrison's landmark All Things Must Pass album is not only considered perhaps the greatest solo record by a Beatle, but is also routinely selected in the music press as among the most important rock albums of all time.

Relegated to second fiddle status with The Beatles, initially content with his role of laying down inventive guitar lines and vocal harmonies and contributing the occasional song, as the years rolled by Harrison's confidence grew and his craft sharpened; songs like I Need You, Taxman, I Want To Tell You, Within You, Without You and It's All Too Much displayed a unique artistic flair and singular musical personality.

From there his continued growth as a songwriter bore rich fruit; witness White Album jewels While My Guitar Gently Weeps, Savoy Truffle and Piggies, B-sides The Inner Light and Old Brown Shoe, and his stellar contributions to Abbey Road: Something and Here Comes The Sun, arguably the best songs on The Beatles' swansong album.

In the shadow of the Beatles' breakup, Harrison's songwriting was blossoming. Having been limited to one or two songs per album, he began stockpiling them during the latter years of The Beatles' career, with a few auditioned during the Let It Be sessions (namely All Things Must Pass, Let It Down, Isn't It A Pity and Wah-Wah).

"I was probably trying to get them recorded in amongst all the usual John [Lennon] and Paul [McCartney] stuff," Harrison recalled in a 2000 interview with Billboard. "For me, that was the great thing about splitting up: to be able to go off and make my own record and record all these songs that I'd been stockpiling. And also to be able to record with all these new people, which was like a breath of fresh air, really.

"Imagine if the Beatles had gone on and on. Well, the songs on All Things Must Pass, maybe some of them I would probably only just got around to do now, you know, with my quota that I was allowed [laughs]. Isn't It A Pity would just have been a Beatles song, wouldn't it? And now that could be said for each one of us. Imagine would have been a Beatles song, but it was with John's songs. It just happened that The Beatles finished."

Released in late November 1970, All Things Must Pass was co-produced by Harrison and Phil Spector. "Phil Spector was probably the greatest producer from the sixties, and it was good to work with him because I needed some assistance in the control box," Harrison explain in a 2001 interview with Yahoo.

The album featured a Who's Who of the music world – guitarists Eric Clapton, Peter Frampton, Dave Mason and members of Badfinger, keyboard players Gary Wright, Billy Preston and Bobby Whitlock, bassists Klaus Voormann and Carl Radle, drummers Ringo Starr, Jim Gordon, Alan White and Ginger Baker, and a host of others.
George Harrison (interview with Howard Smith, 1970): I'd much rather play with other people because… united we stand, divided we fall. I think musically it can sound much more together if you have a bass player, a drummer and, you know, a few friends. A little help from your friends. I really want to use as much instrumentation as I think the songs need.
Bobby Whitlock (keyboards): I was fortunate to hear a lot of George's songs earmarked for the album before we recorded it, things like My Sweet Lord, Awaiting On You All and Run Of The Mill. Jim Gordon, Carl Radle, Eric Clapton and myself, we had played together before [as Derek & The Dominos], so we were already dialled in with each other as musicians.
So when it came to us being the core band on All Things Must Pass, you couldn't have asked for better support, because we were already linked up together in a special musical way. We didn't have to think about our role or our place in whatever we were playing, because that came real naturally, right down to Eric and me singing some background parts.
Grandiose and ambitious, spiritual and heartfelt, All Things Must Pass was a tour de force. The album's lyrical themes of spirituality, death, redemption and angst resonated strongly, while its sound was huge and expansive.
Harrison (interview with DJ Chris Carter, 2001): In those days it was like the reverb was kind of used a bit more than what I would do now. But at the time I did the record with Phil Spector, and we did it like Phil Spector would do it. It's hard to go back to anything thirty years later and expect it to be how you would want it now. That's the only thing about the production, it was done in cinemascope and it had a lot of reverb on it, but that's how it was and at that time I really liked it.
Whitlock: Some of that heavy reverb went down on the tape while we were cutting, so it was difficult for George to take it off. But for me it gives it that signature 'Wall of Sound'. I don't have any problem with it; I love it the way the original sounds.
I mean, when you have all those musicians playing at once it creates a 'wall of sound', and all Spector had to do was add some hall echo and reverb. That gave it Spector's signature sound. I don't think George regretted it until everybody got to talking about it, and by then it made him think there might have been too much reverb, but it's too late.
Opening with the gentle I'd Have You Anytime, a co-write with Bob Dylan, the record spins through a dazzling array of styles: rock (Wah Wah), gospel (Awaiting On You All, Hear Me Lord), R&B (What Is Life), country (Behind That Locked Door) and pastoral folk.
The album's first single, My Sweet Lord, was a No.1 smash around the world, setting the stage for Harrison's arrival as a solo artist, both critically and commercially.
"I was at our kitchen table when George wrote My Sweet Lord, recalled his then wife Patti Boyd. "I remember it very, very clearly. It's a beautiful song and he was so proud of it. It was absolutely stunning. I know he wrote it; he didn't copy it from The Chiffons. It was deeply upsetting and really hurtful when he was called into court in America for supposedly plagiarising one of The Chiffons' songs.
"That song became a bit tainted when we were told he'd have to go to court and defend himself with his guitar. George stopped listening to the radio after that so he wouldn't be influenced by any music. There was no possibility of anything else influencing him when he wrote songs."
Harrison (interview, 1971): As far as I'm concerned, My Sweet Lord was a hit because of the sound and its simplicity. The sound of that record, it sounds like one huge guitar. The way Phil Spector and I put that down was we had two drummers, a bass player, two pianos and about five acoustic guitars, a tambourine player, and we sequenced it in order.
Everybody plays live in the studio. I spend a lot of time with the other rhythm guitar players to get them all to play exactly the same rhythm so it just sounded perfectly in sync. I overdubbed the voices, which I sang all the backup parts as well, and overdub the slide guitar, but everything else on it was live.
There's Ringo and a drummer called Jim Gordon. Harrison's slide playing lights up My Sweet Lord, but it was Dave Mason who unwittingly helped open the doors to slide guitar, a technique Harrison would master and which would become a trademark of his solo career.
Dave Mason (guitar): Delaney & Bonnie went to Europe to tour. We did a show at Fairfield Hall in Croydon and Eric [Clapton] and George came to the show. We were all backstage and, of course, they were asked to sit in, and George said: "Well, I don't know any of these songs." I said: "There's a song we do called Comin' Home, and I play a little slide guitar part. Let me show you this little slide part goes".
And he came on stage and played that with us. Many years later George related this story to a writer and he credited me, saying: "Mason showed me this part and that's what got me into starting to play slide guitar." Wow! And you can certainly hear George come into his own on slide guitar on All Things Must Pass. I'm quite proud and honoured to have sparked George's interest to play slide guitar.
On May 28, 1970, at Abbey Road studios in St. John's Wood, London, the All Things Must Pass sessions with a full band officially began.
Ken Scott (engineer): We started the All Things Must Pass sessions at Abbey Road. George was so comfortable at Abbey Road. Much as they might bitch about the place, they always came back to Abbey Road. Paul [McCartney] had his home studio built as an exact replica of Studio Two. There was obviously something about that studio that they all liked.
When it came time for All Things Must Pass, George recorded all the basic tracks there with a great engineer called Phil McDonald. Phil had been a second engineer for me for some time and then he moved up the ladder. We were swapping a lot of stuff around at that time. I'd record it and he'd mix it, I'd mix it and he'd record it. At Abbey Road there were still only eight-track machines.
Whitlock: George wouldn't give you direction. He would just say: "Here's the chords" and let you do your thing. Are you really going to tell people of the calibre of Ringo Starr, Eric [Clapton], Jim Gordon and myself what to play? No. We hear it. I know my part as soon as I hear something. He didn't tell anybody what to play. But what he did do was come out with his acoustic guitar and he'd run through the song for the electric band and answer any questions. Then he would go down to where Badfinger were playing acoustic guitars and do the same thing.
Joey Molland (Badfinger, guitar): It was incredible to see all those rock stars in the studio and they're all there ready to play. These were giants. Here was Eric Clapton working on his lead guitar bits, Klaus [Voormann] was really friendly. Billy Preston was super-friendly. It was very exciting but it was also very nervy. But we relaxed after George started talking and playing with us.
We had to learn the songs right away. He would only show it to us once or twice and then we'd run through it with the whole band. George gave us specific instructions and said: "Don't play any fiddly bits," keep it straight. He knew exactly what he wanted. We'd record two or three songs a day. On Beware Of Darkness and My Sweet Lord we played all the rhythm guitars. Phil [Spector] really wasn't in charge, George was in charge. It was joyous time for all of us.
Alan White (drums): I played drums on about at least half of that album. It was a great experience. I was very young at the time and had just been through making Imagine with John [Lennon], which put me into a kind of Beatles circle. George kept coming down to sessions, and then he wanted me to be at all of the All Things Must Pass sessions. So for three weeks a whole bunch of us turned up at EMI Studios, and each day we'd start off and record a new song.
Harrison (interview, 1970): Wah-Wah was written during the Let It Be sessions. We had been away from each other after having a very difficult time recording the White Album, which went on for so long. I remember Paul and I were trying to have an argument and the crew carried on filming and recording. I couldn't stand it. I decided: "This is it! I'm leaving!" Wah-Wah was a headache as well as a foot pedal. It was written during the time in the film [Let It Be] where John and Yoko were freaking out and screaming. I wrote this tune at home.
Whitlock: On Wah-Wah there was Ringo and Jim Gordon on drums, Carl Radle and Klaus Voormann on bass, Eric and George on guitars, me and Billy Preston on keyboards. It was a wise decision from George to have Billy and I play on that track because we both came from the same soul, R&B, gospel background.
Billy would play [Hammond] B-3 on Behind That Locked Door and I'd play the B-3 on the rest of the songs that needed it. We cut all the songs live with the band and then there would be some overdubs added later. I'd overdub hanging bells, tubular bells on songs like Hear Me Lord and The Art Of Dying.
We also recorded two Derek & The Dominos songs – Roll It Over and Tell The Truth – during the sessions. George and Eric were the guitar players on it, and that was part of the deal of us playing on George's album that we could record some Dominos stuff during the sessions.
John Barham (orchestrator): Although George wanted to make sure that everything met his exacting high standards, he wasn't dogmatic about how those standards were reached. If a musician was not comfortable with a particular approach, George would give him the freedom and encourage him to find another approach which worked for him. He didn't want to control or dominate the musicians that he worked with, rather he wanted to help them express themselves.
Mason (guitar): We [Traffic] used to go down to the Sgt. Pepper sessions, and that's when I first met George. While in The Beatles, George was living under the shadow of Lennon and McCartney for a long time, which is understandable. But All Things Must Pass was the album where George truly blossomed.
Peter Frampton (guitar): I have great memories of that record because playing with all those people, let alone working for a Beatle – or a couple of them, actually, because Ringo was always there. [Eric] Clapton would walk in and out. Gary Brooker, Gary Wright, Klaus Voormann. It was an incredible experience. I played on songs like If Not For You and Behind That Locked Door, all the ones that Pete Drake played on; he was a pedal steel player who came over from Nashville.
So I played on five or six of the basic tracks and then George called me and asked me to come back. [Imitates Harrison's voice] "Phil wants more acoustics." And I said: "You're kidding me?" [laughs] So I went back to Abbey Road – I lived around the corner in St. John's Wood. We did it in the big Sgt. Pepper studio. There I am sitting next to George with my acoustic. We're both sitting on two stools with two mics that I'm sure The Beatles had all sung on. There's Phil Spector in the booth. They're just playing every track, one track after the other, and we're just adding more acoustics.
I don't know how many tracks I played on, but the majority [laughs]. It was quite amazing being on those sessions and hearing the acoustic sound that we got, which was incredible. I played on the record, and why I didn't get credited at the time I have no idea. I never could ask George: "Mr. Beatle, you left me off" [laughs]. It was a big thing at the time, but it's one of those things.
Harrison (Billboard, 2000): I think [Behind That Locked Door] was very much influenced by Bob [Dylan]'s Nashville Skyline [1969] period. I actually wrote that the night before the Isle of Wight Festival in [August] 1970.
Gary Wright (keyboards): I was very, very happy to play on that whole record. Klaus Voormann called me and said: "Hey, I'm in the studio with George and he's doing his first solo album and Phil Spector's producing and they want to have another piano player. Are you free?" And I said: "Absolutely."
So I jumped into the car, and I'd never been to Abbey Road before so I think I got a little lost on the way there [laughs]. So I showed up and they'd already started. They had been rehearsing and just about ready to start recording. So I came in and was quickly and frantically trying to learn the song, which was Isn't It A Pity. All of a sudden the control room microphone blasted out into the studio: "Who the heck is that on the piano making all those mistakes?!"
And that was Phil Spector. So George came up, and said: "Don't worry, we have plenty of time. We have all the time in the world so take your time…" I thought what a nice guy he is. He was not really pushing me, and I could take my time to learn the song properly. I played Wurlitzer piano on that one.
Phil Spector's trademark 'Wall of Sound', popularised on hit records by The Ronettes, the Righteous Brothers, The Crystals and Ike & Tina Turner, among others, coloured the sonic palette of All Things Must Pass, with songs like Isn't It A Pity, Wah-Wah and the title track slathered in mountains of reverb.
Frampton: Spector was the co-producer with George. His philosophy was 'more of everything'.
Molland: We were working on either Isn't It A Pity or Wah-Wah, and went into the control room to have a listen to the track, and Spector was drunk and literally laying on the floor under the console. I'm not exaggerating, and I'm not saying this because it was a bad thing. Everybody thought it was perfectly normal [laughs].
Whitlock: The atmosphere of the All Things Must Pass sessions was peaceful and calm. It was joy and happiness. It was not a sombre occasion. It was a celebratory event but not in a party sense of the word. We were happy to be there and everyone was joyful and excited. Every time we recorded something, it was like: "Oh yeah, man, that's great!"
Wright: While we were recording All Things Must Pass, in the studio George was burning incense and had these pictures strategically located of these Indian yogis and saints and I thought that was really cool. I'd never been in that kind of a vibe before. He saw that I was interested in it and kind of took me under his wing and started to tell me about Eastern philosophy and how we was into it. At that time he was into the Hari Krishna movement. He was chanting the Krishna mantra and I was just fascinated by it.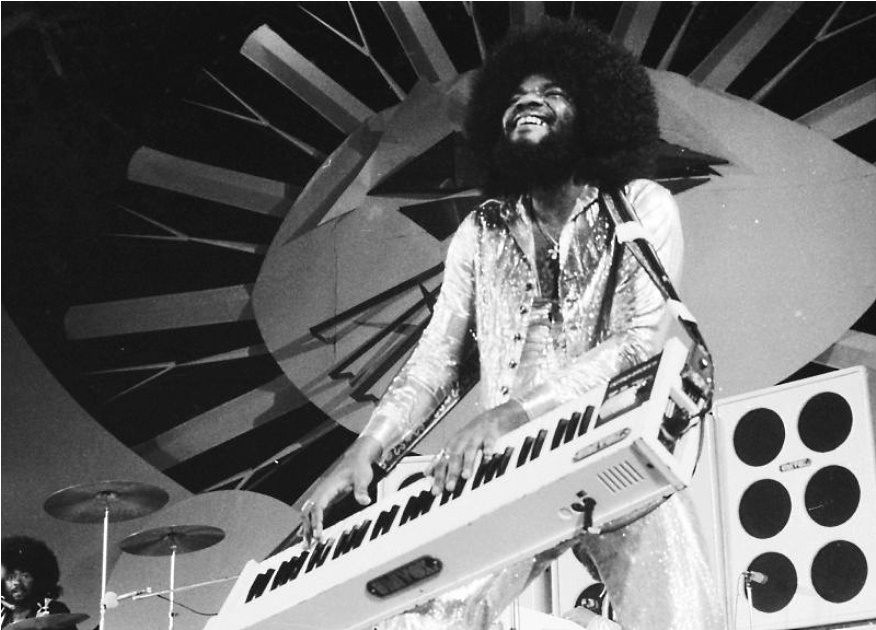 Photo of Billy Preston
Harrison (interview, 1970): What Is Life was written for Billy Preston in 1969. I wrote it very quickly, fifteen or thirty minutes, on the way to Olympic Studio in London when I was producing one of his albums. I recorded What Is Life one way and didn't like it. Then we worked on it a second time and I came up with a bass line, and then I got the feel to it and we re-recorded it and it came out much better.
Whitlock: I liked the guitar intro of What Is Life. I like the whole thing because it was so different. Eric played Leslie guitar on that one. Everything he did on the album was exactly right. Every note is exactly right. With the two LPs showcasing 17 original songs and one outside composition (Bob Dylan's If Not For You), a third LP, dubbed Apple Jams, found the gang letting their hair down with five lengthy spontaneous jams.
Whitlock: The jams on the album were in a sense all of us saying hello to each other. I didn't know anybody there, except for Eric, Dave Mason, George and Billy Preston, of course. Billy had played with us before with Delaney & Bonnie And Friends.
Scott: A vivid memory I have working on All Things Must Pass centres upon the volume we used to monitor the album. A particular neighbour got very upset one night, and tried to stop us by throwing a beer bottle through the glass windows in the mix room [laughs]. It just so happened that Phil Spector was closest to the window and he completely freaked out. We had to spend the next god-knows how long to calm him down. That was quite funny.
With songs like My Sweet Lord, Awaiting On You All, What Is Life and Hear Me Lord, there's a thread of deep spirituality at the core of the record.
Scott: The album is very spiritual. There were some people who become exceedingly religious and try and force it down you, but George was never like that. He would discuss his thoughts on his religion and spirituality but he never foisted it on you, which was great.
Whitlock: George was definitely a perfectionist in the studio. I remember singing the second background part on My Sweet Lord; Eric didn't show up. Then George added that whole big chorus of voices. 'Hallelujah', 'Hari Krishna', all these different connotations of the word 'god'. I remember after he was done how wore out he was. He could hardly speak from singing parts over and over, stacking vocals in the chorus. It was pretty amazing.
Scott: A lot of the overdubs on the album were just him. For example all of the backing vocals. It would have been very easy to bring in six, eight singers and just have them do it, but George wanted to do it himself. It took an awful long time. Most people don't realise it's just George. I think it's listed on the album as the George O'Hara Smith singers. People actually think that's a group, but it was all George.
Whitlock: What makes it such a classic album fifty years later is the calibre of musicianship and the songs I believe is what bears the weight of it, and that invisible something, you know, whatever that is, and made that thing happen. You can't see it, hear it, taste it, touch it or smell it, but you can feel it and it's there. And suddenly fifty years later All Things Must Pass is still way up on the pedestal.
Scott: I think George was pleased at the freedom he had working on his own away from The Beatles. I think they all were by that time. It had been such a chaotic period. I know that George was always very unhappy that whenever his name was in the press it was always 'ex-Beatle'. His whole thing was: "This had been only six years of my life, why am I always an ex-Beatle? I've had my successes on my own."
Mason: What makes All Things Must Pass such a powerful statement is it's a three-LP set with all this material. George was a super-generous in making this album including so many different people. I think part of it for him was still: 'I'm emerging as the guy behind Lennon and McCartney for all this time, so some great backup wouldn't hurt.' But there was just so much material for a great solo album. It's pure George all the way. They were great songs.
The 50th anniversary edition of All Things Must Pass is out now.



May 4, 2022
Seattle sisters saw the Beatles in 1964, return to the same venue tonight to see Paul McCartney
by Rachel Belle for 97.3 FM KIRO News Radio

On August 21, 1964, The Beatles played their first concert in Seattle. More than 14,000 screaming fans
packed into the Seattle Center Coliseum, including these sisters from Ballard.





"I was 14 when I saw The Beatles, and I'm 72 now," said Barbara Horn.

"I was 21 when I saw The Beatles, and I will be turning 80 in July," said Irene Crawford.

Typically, the little sister learns about the cool new bands from their older sibling, but not in this case.

"I didn't even know who these Beatles were," said Irene. "But I worked downtown and she'd want me to pick up these magazines for her that had The Beatles on it, at Woolworths. So then I started looking at them and listening and I thought, oh, they're good."

Horn was in 7th grade when she caught Beatles fever.

"Do you remember the 45 records? They'd be in a little sleeve?" asked Horn. "My friend and I got to class and she said, 'Barbara, I want to show you something.' She pulls it out of her pocket. We'd never really seen them before! It was, 'Oh wow. They're really cute!'"

Horn still has a big, homemade Beatles scrapbook she made as a teenager full of newspaper clippings and her ticket to the 1964 show.

"You may touch it," Horn laughs. "Look! Tickets were $3, $4, and $5. Think what they are now."

She also has the photos she took at the concert. After finding their seats, Horn ditched her sister and tried to get a better view of the stage; she has a photo of The Beatles walking off the stage.

"They're running by me," said Horn. "Here comes Paul and for some reason, I just reached out with my right hand and [touched him] right down his upper arm."

"She came back to us," laughed Crawford. "And said, 'I touched Paul McCartney!"

But the thing the sisters remember most:

"The screaming!" said Horn, who is very proud that she didn't scream at the show. "I'd never heard screaming like that."

"The Beatles set was only 29 minutes long, and you just can't hear it," said KIRO Newsradio's resident historian, Feliks Banel. "There are bootleg recordings of almost every show The Beatles did and there's one for Seattle. I think it's generally regarded by experts as the worst bootleg recording of any of the shows because you can't hear what's going on. You just hear screaming. You associate so much human screaming and yelling with negative things. This was like ecstasy!"

The Beatles mostly played covers that night. They opened the show with Twist and Shout by the Isley Brothers and closed with Long Tall Sally by Little Richard.

"This notion of African American music, four guys from Liverpool buying these records from import record shops," mused Banel. "The combination of American rhythm and blues, Liverpool accents and the skilled musicians they were in this boy band, this quintessential pop bubblegum boy band, and all these girls screaming and yelling… But the music still stands up 60 years later. We'll never see anything like it ever again in the history of mankind."

The Beatles only played Seattle twice, once again in 1966, but 1964 is the show everyone talks about.

"Seattle in 1964 was still experiencing the afterglow of the 1962 World's Fair," said Banel. "You can't overstate how much impact that event, and building everything that's now Seattle Center, what that had on the city. In 1964 The Beatles organized their first North American tour and Seattle can host The Beatles because we have the coliseum, what's now called Climate Pledge Arena. It's converted after the fair into this incredible concert venue at the height of The Beatles' initial wave of popularity."

Paul McCartney played that very same arena last night and he'll play another show this evening. And Horn had a big surprise for her big sister. She handed her a card and Crawford read aloud.

"'Sis, I want to keep the memories going. It's only been 58 years this August since we saw The Beatles. I have tickets for us to see Paul McCartney!'" Crawford squeals. "Oh my god! 'Be there or be square!'"

Horn started getting emotional.

"When I listen to that music, it brings me back to that happy time. That was a very happy time," said Horn. "It's an emotional feeling. You can hear it in my voice. The fun of the evening, the anticipation. This is my memory and I only have shared it with myself and my sister."








May 3, 2022
"The Beatles And India" Documentary To Arrive On Blu-Ray And DVD In June

by Brave Words
The Beatles And India will be available on Blu-ray and DVD on June 21 via MVD Entertainment Group.
"When I first heard Indian music, I just couldn't really believe that it was so great, and the more I heard of it, the more I liked it. It just got bigger and bigger, like a snowball". - George Harrison
In 1968 the world's most popular rock and roll band, The Beatles, had achieved mass fame and fortune yet were searching for deeper meaning in their lives. Under the spiritual guidance of Indian guru Maharishi Mahesh Yogi, The Beatles took a trip to Rishikesh, India to study Transcendental Meditation® and set out on a path of deep enlightenment that would change the world.
The award-winning feature documentary, The Beatles And India (Silva Screen Productions, Renoir Pictures), examines how Indian music and culture shaped the music of John, Paul, George and Ringo and in turn, explores how The Beatles served as ambassadors of this pioneering World music sound and cultural movement.
Drawing together an expansive archive of footage including contemporaneous locale shooting in India, recordings, photographs, and compelling first-hand interviews, The Beatles And India exhaustively documents this East-meets-West touchstone in pop culture history. Inspired by Ajoy Bose's book Across The Universe - The Beatles In India, the documentary was produced by British Indian music entrepreneur Reynold D'Silvaand directed by Bose (his directorial debut) and cultural researcher Pete Compton. The Beatles And India has been awarded Best Film Audience Choice and Best Music at the 2021 UK Asian Film Festival "Tongues On Fire." The Beatles And India has also been nominated for Best Documentary at the 2022 New York Indian Film Festival, and will be the closing film for the festival.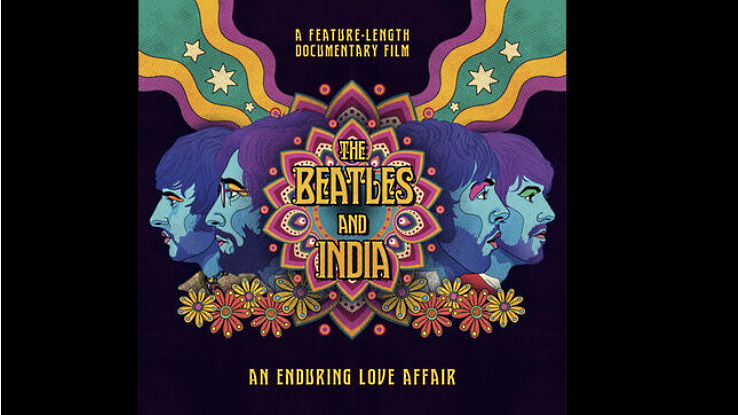 The Beatles were first introduced to Indian music while filming their 1965 film, Help!, which featured the Indian musicians in a restaurant scene. George Harrison would become a lifelong impassioned devotee of Indian music. He would soon buy his first sitar, befriend and study under sitar master Ravi Shankar and employ the instrument to revolutionary effect linking the worlds of pop music with Indian music on the Beatles song, "Norwegian Wood," which appears on their Rubber Soul album. That song marked the group, and particularly Harrison's full on immersion into Indian music, a raga rock sound heard in The Beatles songs, "Tomorrow Never Knows" and "Love You To" (Revolver) "Within You Without You" (Sgt. Pepper) and "The Inner Light (B-side to the "Lady Madonna" single)"
In early July 1966, while returning from shows in the Philippines, The Beatles made a quick stopover in New Delhi, India, marking their first trip to the country. Less than two years later, in February 1968, the group would return for an extended sojourn at Maharishi Mahesh Yogi's ashram in Rishikesh, India where they would take a training course in Transcendental Meditation®. Their search for spiritual enlightenment would both shape their thinking and values and indelibly color the sounds of their expanding musical palette.
The Beatles And India is an unforgettable audio-visual experience that spotlights the legacy of that historic visit, chronicling The Beatles' crucial role as avatars of a musical movement inspiring newfound societal and cultural awareness, weaving the fabric of pop and Indian music into a unified force of positivity and spiritual exploration.



May 2, 2022
Twist & Shout - The Beatles' Greatest EP & Unique Canadian Album
by Parlogram Auctions

Twist & Shout was not only the lead-off track of the best-selling EP is UK chart history, it was also the title
of their unique 2nd album in Canada issued in February 1964. In this video we look at the stories behind the
song and its recording, but also go into detail about the iconic cover photo and the Canadian album. Do you
think this is The Beatles' greatest cover version?


Heart's Ann Wilson on the Beatles and gender, her new song "Greed" and covering George Harrison
Heart's lead vocalist and songwriter digs deep into her Beatles influences for this "Everything Fab Four"
interview
by Nicole Michael for Salon


Acclaimed rock vocalist Ann Wilson, who says "there's nothing I like more than discussing the Beatles," joined
host Kenneth Womack to do just that on the season 3 finale of "Everything Fab Four," a podcast
co-produced by me and Womack (a music scholar who also writes about pop music for Salon) and distributed
by Salon.

Wilson and her younger sister Nancy make up the legendary, Rock and Roll Hall of Fame-inducted band Heart
— the first hard rock group fronted solely by women — who were behind such hit songs as "Magic Man,"
"Crazy On You" and "Barracuda." As Ann tells Ken, their mother "always played music in the house" but it
wasn't until she was 12 and her older sister Lynn brought home the "Meet the Beatles" album that everything
changed. "I don't think she realized what it would do to me," she says. "It was all over."

Being struck by their "Englishness," Ann was soon speaking with a Liverpool accent, wearing turtlenecks and
smoking fake cigarettes. As she explains, it wasn't about being a boy or girl: "In my heart, I felt androgynous
… you could be one of the Beatles without a gender role. They opened up a whole world of intelligence and
imagination. They gave you another periscope to see your gender from."

She and Nancy went from watching the Beatles on "The Ed Sullivan Show" to seeing them live at the Seattle
Coliseum in 1966 ("How do you come down from something like that? I don't think you do."), to playing music
themselves. And in following the band's artistic trajectory, Ann says they "always took lessons from the
Beatles about things we could add to our lives."

Calling each album from "Rubber Soul" to "Revolver" to "The White Album" full of "songs to die for," the Wilson
sisters incorporated what they learned into their own music, from Heart's "Dreamboat Annie" in 1975 to Ann's
new solo album, "Fierce Bliss," out now. It includes the song "Greed," which she thinks John Lennon would
have a lot to say about in terms of its commentary on the current state of the world.

A highlight of her career was performing George Harrison's "Beware of Darkness" at the George Fest tribute
concert in 2014, which she says Harrison's widow Olivia and son Dhani were thrilled with. And with both John
and George sadly being gone now, Ann says she named her new album with the thought that you
can't take anything in life for granted. "Happiness or bliss … I feel it all the way down to the ground."

Listen to the entire conversation with Ann Wilson on "Everything Fab Four" and subscribe via Spotify, Apple
Podcasts, Google, or wherever you're listening.



Archived News
July 2000 - June 2003
July 2003 - December 2003
January 2004 - October 2004
October 2004 - May 2005
May 2005 - June 2005
July 2005 - November 2005
December 2005 - March 2006
April 2006 - June 2006
June 2006 - July 2006
August 2006 - September 2006
October 2006
November 2006 - December 2006
January 2007 - June 2007
June 2007 - March 2008
March 2008 - July 2008
August 2008 - September 2008
October 2008 - July 2009
August 2009 - November 2009
December 2009 - August 2010
September 2010 - December 2010
Jannuary 2011 - December 2013
January 2014 - June 2019
June 5, 2019 - November 2019
December 2019 - October 2020