April 29, 2022
'They said get back, we got back. It feels cool': Sir Paul McCartney duets with John Lennon during
historic Spokane show
The Beatles star and solo artist kicked off a North American tour in Spokane, Washington.
by Andrew Buncombe for the Independent

Sir Paul McCartney made history with his first ever gig in the city of Spokane last night (Thursday 28 April). It was a concert that included "a duet" with John Lennon – courtesy of electronic wizardry – and huge cheers when the Beatles legend waved a Ukrainian flag.
It was McCartney's first concert since the summer of 2019. When he first walked out on to the stage, the 79-year-old had to pause for a moment, apparently struck by the emotion of being back on the road – amid a pandemic that has destroyed and upended so much, not least live music.
"They said 'get back", and we got back. And it feels cool," he said. "You'll have to give me a moment to myself, just to let me take this in."
It was one of several moments during the opening concert of his "Got Back" Tour, comprised from 16 stops before his headline show at Glastonbury Festival on June 25 (which happens to be his birthday).
"How are you Spokane?" McCartney asked. "I think we're going to have a good night."
McCartney has never reached for the onstage swagger of someone such as Mick Jagger, but his performance was in many ways remarkable. The set included his first ever live performance of "Carry That Weight", a song that comes towards the end of Side Two of Abbey Road, The Beatles' final recording together.
While people were struck by the reach of McCartney's voice, the septuagenarian was at his most moving when that voice did not quite reach the notes it once did.
"Lots of people trying to learn this song 'Blackbird'," he said good-naturedly, before he started to play. "And you all get it wrong."
[S]eptuagenarian came when McCartney and his band returned to the stage for an encore, the former Beatle earning loud cheers by waving a huge Ukraine flag. "We've got something pretty special for you," he said.
And so they did, a performance of "I've Got A Feeling", with John Lennon singing along courtesy of the work of Get Back director Peter Jackson. One of the highlights of the documentary film is the concert they played on 30 January 1969, on the rooftop of their Apple Corps London headquarters at 3 Savile Row. The once grainy footage is now embellished with deep colour and tones.
"Peter Jackson said 'I can pull John's voice out if you'd like me to," McCartney told the audience.
And so they played along, McCartney – his grey hair worn long – and Lennon, who was shot dead in New York City on 8 December 1980, for a moment seeming to have avoided that fatal encounter with obsessive fan Mark David Chapman. He was back with his band one more time, on the happy but bitter-sweet January afternoon, representing as it did, the Beatles' final live performance.
The city of Spokane, with its population of 220,000, sits about 300 miles east of Seattle and 90 miles from the border with Canada. While it is the second largest city in Washington state, it has something of the feel of a country town – one that is markedly more conservative that liberal Seattle. Were people surprised he was playing here, packing out the 8,000 seater Spokane Arena?
"I'm not surprised. We've had Elton John here and Rod Stewart," said Mary Mitchell, 58, originally from Montana, who was at the gig with her London-born husband, Stephen. "It's awesome," she said.
Another couple in the audience, Debby and Jim Bangs, 70, said they had previously seen McCartney in Missoula, Montana, when he performed at an outdoor festival in 2014.
"He likes to try out these smaller venues," Debby, who hoped McCartney would play her favourite song, "Birthday", observed.
Jim was wanted McCartney to perform "Till There Was You", a song originally written and performed by Meredith Wilson, which The Beatles covered and included on their 1963 album, With The Beatles. Jim said he used to sing it to their son when he was a baby. This time, McCartney didn't include it in his set, but he did play "Get Back", another favourite.
Officials said tickets for the show sold out in minutes.
"People are very excited," Brian Coddington, a spokesperson for the city said ahead of the concert.
He added: "It's a great opportunity to help Paul McCartney to kick off his tour and also showcase our community to the world."
McCartney and his band played for more than two-and-a-[half] hours, and worked their way through a setlist containing 36 songs.
"Thank you," said McCartney. "Thank you."
'
Gifted': Mayor declares April 28 as Paul McCartney Day
by Mariah Valles for KHQ Q6
SPOKANE, Wash. - Music icon Paul McCartney is opening his "Got Back" tour in Spokane on Thursday. To celebrate, Mayor Nadine Woodward has declared April 28, of this year, as "Paul McCartney Day."
"Paul McCartney, although most widely known for having sold millions of records, recording dozens of number one hits, and profoundly influencing musicians in every genre, has used his success to help raise billions of dollars for charities through personal donations and performances at historic benefit concerts," the proclamation says.



April 27, 2022
Julian Lennon On New Album, Singing 'Imagine' To Support Ukraine And Coming To Terms With The
Beatles

by Pam Windsor for Forbes
It has been a busy couple of weeks for Julian Lennon. He just released two singles from his new album set for release later this year, and he made international news earlier this month when he performed his father, John Lennon's, iconic song "Imagine" in public for the first time ever. He sang it during the Global Citizen Stand up for Ukraine! Social Media Rally.
Julian is a singer, songwriter, and musician in his own right who burst onto the music scene in 1984 with the song "Too Late for Goodbyes." He has purposely steered clear of performing either his dad's music or that of the Beatles for nearly four decades - until now.
"There have been a lot of people saying, 'Oh, he broke his vow of saying he'd never do it," Julian says. "And I've said, since I've been doing interviews reflecting on that, I never said I would never sing 'Imagine,' I just said it had to be the right time."
Given the situation in Ukraine, a war he calls an "unimaginable tragedy," he says now the right time.
"I just felt the world is up in arms, so to speak, and the situation with the refugees and the families is horrendous and unimaginable. It's a horror story affecting the world and I'm just happy to be standing up and supporting Ukraine."
Julian is a longtime philanthropist and humanitarian, years ago he founded the White Feather Foundation
which raises money to support environmental and humanitarian challenges around the world, so he's always
had a strong empathy for things going on globally.
Interestingly, while his new album has been in the works for some time, some of the songs are eerily suitable to today. His two new singles are "Every Little Moment" and "Freedom." "Every Little Moment" a song written years ago, talks about not only the wars within, but the ongoing battles we have on the outside."
"The was written over 30 years ago in the house I used to live in when I was back in LA. And I found the track in a box of old cassette tapes (he stops to laugh) and any number of formatted tapes about five years ago. I found a company that could digitize the stuff and save it. So, it's quite bizarre, but I couldn't have written a better song today to deal with the situation?"
His new album, which Julian has titled Jude, and performing his dad's song for the first time, offer some full circle moments for Julian. He had a difficult relationship with his father, who left Julian's mother, Cynthia, when Julian was five years old. Lennon would go on to marry Yoko Ono. To console the young Julian at the time, Paul McCartney wrote "Hey Jude." It was originally called "Hey Jules," but McCartney changed it because he felt it sounded better in the song.
Julian says it's time to let some things go.
"Well, you know for many years I ran away from any connection to my dad, or the Beatles really. I mean there were the obvious ones, but in order to forge one's own path, I had to do that. And it was a love/hate relationship, I shunned it all. But you could never run away from that. So, it's about coming to terms and balancing all of that in one's life."
His decision to use Jude for the album's title says a lot about where he is in his own life today.
"I came up with the title a few years go because I felt it was kind of a coming of age. It was finally becoming Jude. I mean, Paul said a lot in his lyrics, and as well as really coming to terms, it was really letting go more than anything. And this is partly to do with "Imagine," as well. It's letting go of all that fear I had. You know, all that separation and actually opening up my arms and welcoming my lineage and the Beatles and Dad and all they represented and stood for, you know?"
Life now, is very good for Julian Lennon. He recently signed a global recording deal with BMG and is excited about his new album. He has a number of other creative gifts, he's a filmmaker, photographer, artist, and has even written a children's book.
"I'm a creative person and I like to be occupied," he explains. "I'm not one of those people that can relax or sit on a beach for more than 10, 20, okay maybe 30 minutes, if push comes to shove. But I like doing things, I like discovering things, going places, creating things, so for me that's all part and parcel."
And he's not done yet. He lives in Monaco which he loves because he's close to France, Italy, and Spain. And that feed (no pun intended), an entirely other creative endeavor.
"I'm a big foodie, so between the French, the Spanish, and the Italians, I'm in heaven in that regard."
He also cooks.
"This is true," he says with a laugh, "and no doubt at some stage, there will be a book of some sort on how I deliver the mad food I love to eat."
For now, though, he's focusing on his music, and continuing to look for ways to make a difference in the world, as with his support of Ukraine.
"My fingers are crossed that people will keep pushing and supporting and spreading the word in awareness and even helping financially where we can."
He remains guided by trying to do what he believes is right.
"I have to be honest for me, to be true to myself and real about my life and what goes on and what I'm part of. And that comes more from my mother than anything else and my love and respect for her."
(Julian lost his mother in 2015)
Look for his 7th studio album Jude later this year.



April 26, 2022
Paul McCartney with Mary Hopkin and the girls' choir that recorded on "Those Were The Days", 1968






April 25, 2022
Alice Cooper isn't the only one who wants to see and hear 'With A Little Luck' performed live by Paul McCartney (see info below)

Julian Lennon Reveals Why He Was 'Fearful' Of Covering 'Imagine'

by Katrina Nattress for iHeart
Julian Lennon has been outspoken about not wanting to be compared to his father; however, earlier this month he made an exception when he covered John Lennon's iconic anthem "Imagine" during Global Citizen's 'Stand Up For Ukraine' fundraising event.
During a recent interview with Consequence, Julian made it clear that the cover was a one time thing. "I don't have a hankering for anything else. I really don't," he said bluntly. "I have a hankering to get on with my own life and my own work."
"I've had a few requests to sing ['Imagine'] live, and I'm going, 'No, I've done my bit. That's it. Onward with my work and my life now," he added.
Julian also admitted he was "fearful" of covering the song but thought the benefit was the right place to do it.
"I was fearful of doing 'Imagine'… very fearful," he divulged. "I felt the day was going to come, but I had great anxiety about it. It had to be the right occasion, something that was beyond meaningful. Once I said yes, I thought, 'OK, now I've said yes. How am I gonna do it in a way that makes it honest and truthful and raw and meaningful and not a copy, but my own version. And immediately I just thought, 'acoustic guitar, raw, no production, honest, simple, heartfelt and as emotional as can be. No distraction, just the lyric and the song, in your face.'"
"The only thing I can say about it was it was the easiest thing to do, and it was the hardest thing to do," Julian continued. "I didn't know how it was going to be received, but I'm actually overwhelmed at the response."

And on 'Earth Day' the following was posted on the John Lennon Twitter page entitled 'Acorns For
Peace'





April 24, 2022
Dr. Who's connection to the Beatles!

by John Whelan for the Ottawa Beatles Site
Being a very big fan of Dr. Who, yesterday on the Twitter universe "SafeSpaceWho" tweeted: "I love Doctor
Who's recreation of The Beatles 'Abb[e]y Road' album cover." I was never aware that this publicity stunt was
published in a video on September 25, 2015. One of the strangest oddities in the Dr. Who photo is that there
is a white Volkswagen beetle parked on the left side of the road similar to the Beatles "Abbey Road" album
cover. Is it mere coincidence? (see below.) In responding to the photo, "Ron88Keys" said: "I liked the making
of video of this photo shoot, Jenna and Peter are just rocking back and forth on their feet when cued by the
photographer. It took them a minute and 18 seconds!"



April 23, 2022
An original 10-inch 78RPM acetate recording of 'Till There Was You' and 'Hello Little Girl', the demo
vinyl record that persuaded music producer George Martin to sign up The Beatles

by the Irish Times



April 22, 2022
Mayor Jim Watson among 61 more Canadians targeted for Russian sanctions

by Megan Gillis for Canada.com
Ottawa Mayor Jim Watson is among 61 Canadian officials, journalists and military experts targeted with
Russian sanctions for supporting what Russia's foreign ministry called a "Russophobic" stance on the war in
Ukraine.
The people on the list — which also includes Special Operations Forces Commander Major-General Steve Boivin, Central Bank Governor Tiff Macklem, Premier Doug Ford and Toronto Mayor John Tory — are barred from entering Russia indefinitely.
"I don't take it seriously — I have no intention of going back to Russia, I don't want to reward their bad behaviour on the world scene," Watson said.
"On the one hand, it's a bit of a joke," Watson said. "I think they just go through and see anyone in the media who's spoken out against their illegal invasion and throw their name on the list.
"The bigger issue is this Russian government is acting like a terrorist organization, invading a peace-loving country and killing what we believe to be thousands of civilians and soldiers."
The mayor asked City of Ottawa staff to install street signs reading "Free Ukraine" outside of the Russian embassy in Sandy Hill and wrote to other G7 mayors asking them to stand in solidarity with Ukrainians by flying the country's blue and yellow flag.
He also wrote to Canada's minister of immigration indicating Ottawa's willingness to host Ukrainians escaping war as it did fleeing Syrians and Vietnamese boat people.
"The Russians are losing the public relations war and this is one way to try to vilify people who speak out against their regime," Watson said.
He went to Russia in 1994 at the behest of the Parliamentary Centre, which promotes inclusive and accountable democratic institutions, to speak to legislators.
-with files from Reuters

Ringo Starr wishes everyone a 'Happy Earth Day'






April 21, 2022
Olivia Harrison is set to release a book of poetry dedicated for George on June 21st

For details, please visit "Came the Lightening TWENTY POEMS FOR GEORGE"



'War is Over' card sent from John Lennon to Harold Wilson goes on display at Liverpool Beatles
Museum
by The Guide Liverpool
Liverpool Beatles Museums is based on Mathew Street and houses one of the largest collections of Beatles memorabilia in the world.
The card, which is signed by John Lennon 'with love to the Wilsons from the Lennons', was sent in December 1969.
A Christmas card sent from John Lennon and Yoko Ono to Harold Wilson, which the then-Prime Minister marked "no", has gone on display in Liverpool Beatles Museum
The card, which reads "War is Over! If you want it" and is signed "with love to the Wilsons from the Lennons", was sent in December 1969 when the Beatle and his wife launched a poster campaign as part of their peace campaign.
It was rescued from the "nutty filing" cabinet in Downing Street by secretary and Beatles fan Ruth Ferenczy, who kept the card at home until her daughter Alex Rowe decided to loan it to The Liverpool Beatles Museum.
Mrs Rowe, 51, told the PA news agency: "There was a thing called the 'nutty filing', so any strange post that came to No 10 was put in the 'nutty filing'.
"My mum was filing one day and came across this card so she said to her boss: 'Look at this, the Prime Minister doesn't want it, can I keep it?' and the boss said yes she could.
"Apparently Harold Wilson would write in green pen and if he was going to respond to mail he would write yes or no.
"There's a little green 'no' on this card which means he didn't want to respond."
Mrs Ferenczy, now 81 and living in Spain, took the card home where it was displayed on a shelf, her daughter said.
Mrs Rowe added: "It's just been sitting on a shelf all my life, nobody else has seen it as far as I know.
"It's literally gone from No 10 into our possession and it's gone through lots and lots of countries, it's been round the world because we lived abroad.
"One day we were looking at it, at home in Manchester, and just said why have we not shared this, somebody else needs to see it."
The card was unveiled at the museum on Thursday, when friend of the Beatles Tony Bramwell spoke to fans who had gathered to see the display.
Mr Bramwell, who ran the group's label Apple Records for a time, said as part of the War is Over! campaign he was tasked with organising for huge billboards bearing the slogan to be displayed at locations across the world, as well as sending out cards with the message on.
He said: "There were thousands of those Christmas cards, we sent them to everybody in the address book.
"John and Yoko would send them specifically to people they wanted to wind up, well who John wanted to wind up and Yoko thought would bring world peace.
"Anything aimed at Harold Wilson was a dig.
"John had just sent back his MBE in protest."
Mr Bramwell said Wilson, who was MP for Huyton in Merseyside, had previously met The Beatles and posed with them for pictures.
But, he said he was not surprised the politician had chosen not to respond to the card.
He said: "He would probably say no even if he was offered a box of Beatles records."
The card is the latest item of memorabilia to go on display in the museum on Mathew Street, which is owned by Roag Best, the brother of the band's original drummer Pete.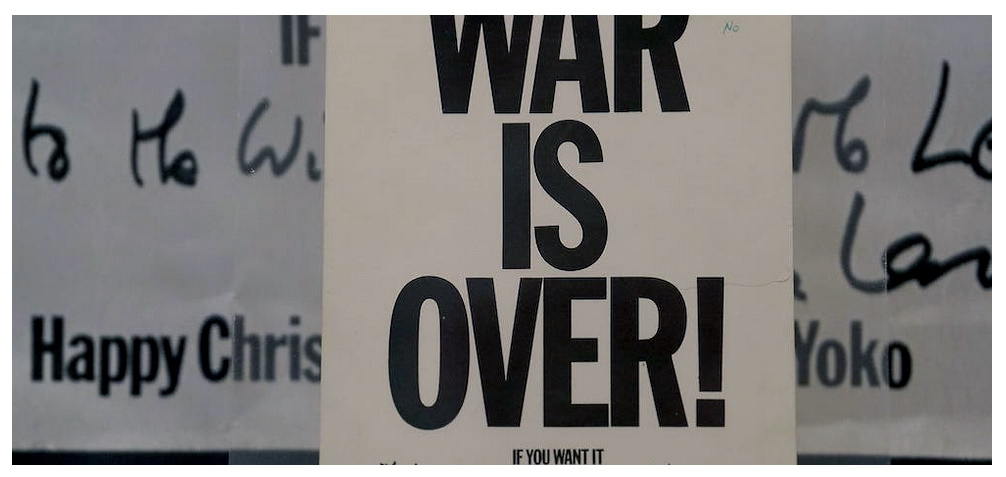 April 19, 2022
John Lennon's intro makes Beatles disc worth £1,000 at auction

by Geoff Baker for the Gazette & Herald
Beatles fans and rare records collectors are expected to be bidding for "an absolutely magical" find in a sale at Wiltshire's Wessex Auction Rooms later this week.
For among the 748 lots in the sale of vinyl records, CDs and memorabilia on Friday, April 22 is an unreleased 1964 demo of 'A Hard Day's Night' which has four words on it that distinguishes it from the millions of copies of the single that were sold.
For decades, The Beatles hit, which was the band's third number one, has been instantly recognisable for George Harrison's distinctive opening chord.
But the demo, which is expected to reach up to £1,000 at the auction at Draycot Cerne, near Chippenham, begins with John Lennon counting the group in with a "1,2,3,4".
And that makes the disc, which is on the label of The Beatles music publisher Dick James instead of on that of their record company, Parlophone, a keenly-sought collectors' item.
"This is a big one, it's just amazing," said Martin Hughes, vinyl record specialist at Wessex Auction Rooms.
Martin, who has become famed as one of the UK's leading experts in rare records, added: "We have been very fortunate to uncover some real gems from this publishing archive over the last few years, but this one really surprised us.
"When you are flicking through a collection of tens of thousands of previously-unheard demos and you want a globally appealing, culturally significant, big news item in your vinyl records auction, then there's one name you really want to see on the label of one of those records - The Beatles!"
He explained: "This isn't your typical 'demo' of A Hard Days Night that was sent to record stations to play. What is so fantastic about this particular record is that it is a publishing demo recorded in the studio for the band and producer to listen back to and make changes - then it was placed in the publishing archive and this version was never heard again - until now!"
"Hearing the '1,2,3,4' count at the start is absolutely magical. I'm sure a mega Beatles fan will be delighted
to get their hands on this piece of music history."
To hear the historic count-in, go to: https://youtu.be/CPAXqNTYXWs



April 18, 2022
How Good is The Beatles JAPANESE Vinyl? Is It Worth Collecting?

by Parlogram Auctions
Japanese pressings are regarded by many as the best sounding vinyl in the world, but what does it do for
The Beatles. Over the decades Japan has issued countless issues of The Beatles albums and there are so
many to choose from to collect, but are they worth it? In this video we take a look at how The Beatles'
original albums were released in the 1960's and find out which of the subsequent reissued are worth buying
and which are not. Join us on this fascinating trip and do let us know your thoughts about these amazing
records.


Here is a rare photo of the Beatles



April 17, 2022
Paul McCartney just wished all users on Youtube a 'Happy Easter'






April 16, 2022
The Beatles: Beatlemania hit Edinburgh when the Fab Four visited in 1964, but were you there and
are you in these photos?


They may have been known to some as the mop-tops due to their combed over hair and side swept fringes but there's no brushing aside the global impact of John, Paul, George and Ringo in the 1960s and beyond.
by Liam Rudden for the Scotsman
It's now just two years shy of The Beatles' first visit to Edinburgh in 1964, April 29 to be exact, when the only place to be for Capital Beatlemaniacs keen to indulge in a bit of Beatlemania was the ABC Cinema on Lothian Road or, failing that, outside the picture house as they waited to mob their heart-throbs on their arrival.
On that night, midway through the band's 1964 Spring tour, the Fab Four played two concerts in the city before heading to Glasgow the following evening.
The first was at 6.30pm, the second at the later time of 8.50pm and in return for a fee reported to be £850, they played a 10 song set list featuring Twist And Shout, Money (That's What I Want), Can't Buy Me Love, Things We Said Today, I'm Happy Just To Dance With You, I Should Have Known Better, If I Fell, I Wanna Be Your Man, A Hard Day's Night and Long Tall Sally at each gig.
Heading to Edinburgh off the back of a season of Christmas shows in London that were followed by concerts in Paris, New York, Washington and Miami, where they recorded their now famous appearance on The Ed Sullivan Show at the Deauville Hotel, The Beatles were, at the time, the hottest of properties on the music scene, selling millions of records across the globe.
There phenomenal rise to fame had begun in 1960 when they formed in Liverpool as the Quarrymen, with Edinburgh's Stuart Sutcliffe on bass and a succession of drummers before Ringo Starr joined them in 1962. Under manager Brian Epstein, their first hit, Love Me Do came in 1962.
Following their debut album A Hard Day's Night (1964), Rubber Soul (1965), Revolver (1966) and Sgt. Pepper's Lonely Hearts Club Band (1967), 'The White Album (1968) and Abbey Road (1969) followed.
Back in Edinburgh in 1964, as the start time of the first gig approached, so did the screaming. Staff at the 2,769 seat ABC Cinema had never experienced anything like it, although a decade later the Odeon on Nicolson Street would be similarly mobbed by adolescent girls when the Bay City Rollers appeared there.On that night, however, the locals were were but a fledgling band although Alan Longmuir and John Lennon would later become good friends - the young Lennon often visited his auntie who lived in Ormidale Terrace, not far from where the home of the Longmuirs and the pair shared a loved of movie-going.
Newspaper reports from the time reveal that The Beatles' first visit to the Scottish Capital almost never happened. Having eschewed the city on previous tours of Scotland it was thanks to the efforts of a pair of 17-year old Beatles fans from the Sighthill, Eileen Oliver and Patricia Conner, that Lennon, McCartney, Harrison and Starr came to the ABC. Oliver and Conner collected 8,000 signatures on a petition in hope that they might persuade the band to head to town.
Consequently, the 5,400 tickets that went on sale for the two concerts were quickly snapped up, fans taking part in the age-old pre-internet ritual of queuing overnight, sleeping bags, blankets and thermos flasks on hand to keep them warm as they waited through the dark hours for the box office to open on the first day of sale. So many were desperated to secure briefs for the gig that the queue snaked around the cinema, along Morrison Street and into Semple Street.
As Beatlemania descended on Lothian Road on the big day, the band, resplendent in slick suits, held a press conference in the foyer of the cinema to a soundtrack of hysterical scream screams from outside.Throughout the concerts, St John's Ambulance nurses were kept busy ferrying a never ending of youngsters overcome by seeing their pop idols in the flesh to the relative safety of the cinema foyer where they could calm down.The Beatles had finally played the birthplace of original band member Sutcliffe who, word has it, was the one who suggested the name change from The Quarrymen to The Beatles.
Were you there that night? Are you in one of the photos? Or maybe you know someone who is. Let us know.

April 15, 2022
George Harrison Estate and Dark Horse Records Expand Partnership with BMG

Originally published by Music Connection on April 7, 2022
BBMG has announced it has entered into a global publishing agreement with the George Harrison Estate to administer the Harrisongs catalog comprising more than 200 songs written with the Beatles, the Traveling Wilburys and for George Harrison's acclaimed solo career.
The deal expands on the relationship with Harrison's legendary boutique music company Dark Horse Records, with BMG serving as its global partner across recorded music, music publishing, and merchandise, while also developing further areas of business.
Harrisongs Limited, the music publishing entity created by Harrison, contains his nearly two dozen songs written with the Beatles including the band's single most popular song on streaming services, 'Here Comes The Sun', as well as 'I Me Mine', 'While My Guitar Gently Weeps', and the US Number One single 'Something'.
The catalog also features Harrison's 12 studio albums of solo works including songs from the acclaimed triple album i>All Things Must Pass (featuring 'My Sweet Lord', 'What Is Life', 'Isn't It A Pity', 'All Things Must Pass') and Living In The Material World (featuring 'Give Me Love (Give Me Peace On Earth)'), as well as his songs from the two albums recorded by supergroup The Traveling Wilburys featuring 'End of the Line', 'Handle with Care', 'She's My Baby', and 'Inside Out', among many others.

BMG CEO Hartwig Masuch said, "George Harrison stands at the pinnacle of what it means to be an influential and successful artist and humanitarian. It is telling that of the 188 original songs released by the Beatles during their career, it's George's 'Here Comes The Sun' which is by far the most played on Spotify. It is an honor for all of us here at BMG now to be representing the Harrisongs catalogue. The Harrison Estate is rightly fiercely protective of George's legacy and we will do our best to reward their faith in us."
Thomas Scherer, BMG President, Repertoire & Marketing, New York and Los Angeles, said, "The music of George Harrison and Dark Horse Records is an inspiration for so many generations of musicians and songwriters. Nurturing the inner light, they are simply timeless! We are grateful to continue strengthening and expanding our relationship with the Harrisons, Olivia and Dhani, to ensure that one of music's most cherished song catalogs will continue to reach new audiences around the world and play on for many years to come."
In 2020, BMG announced it had entered into a multi-faceted global partnership with Dark Horse Records, which was founded by George Harrison in 1974 as a place for his solo work and a home for supporting other artists, and which is now led by Dhani Harrison and David Zonshine.
The agreement initially brought catalog releases from the acclaimed record label and Harrison's Indian label imprint HariSongs, as well as Joe Strummer's solo works, including The Mescaleros. Recent Dark Horse Records releases include the newest recordings from Billy Idol, The Roadside and Happy Holidays, with upcoming releases including Idol's forthcoming new EP, and Benmont Tench's much-anticipated new studio album.
More recently, in 2022, Dark Horse Records reached a new global recordings agreement for 16 albums from Leon Russell's recorded catalog spanning 1984 – 2013, and a global publishing administration deal for Joe Strummer's solo publishing catalog featuring hundreds of songs including all three Mescaleros albums, his scoring contributions, as well as the sixth and final Clash album Cut The Crap.
Furthermore, the partnership with BMG has expanded to include DH Merchandise, a one stop-shop offering creative design through to fulfillment, including the launch of new merchandise stores for George Harrison, Joe Strummer, Johnny Ramone, and additional partnerships with Traveling Wilburys and Buddy Holly; as well as the introduction of the Dark Horse Sounds wellness music series.
BMG also serves as the music publishing and recorded home of Harrison's son Dhani and released his most recent and acclaimed studio album IN///PARALLEL. Additionally, BMG's long association with Harrison's work includes the 2016 release of George Fest: A Night to Celebrate the Music of George Harrison, the live concert tribute album featuring an all-star lineup performing the career spanning music of Harrison.
From an earlier time: George Harrison signs deal with A&M Records to distribute the Dark Horse
label. Photo is culled from the Official George Harrison Facebook Pages...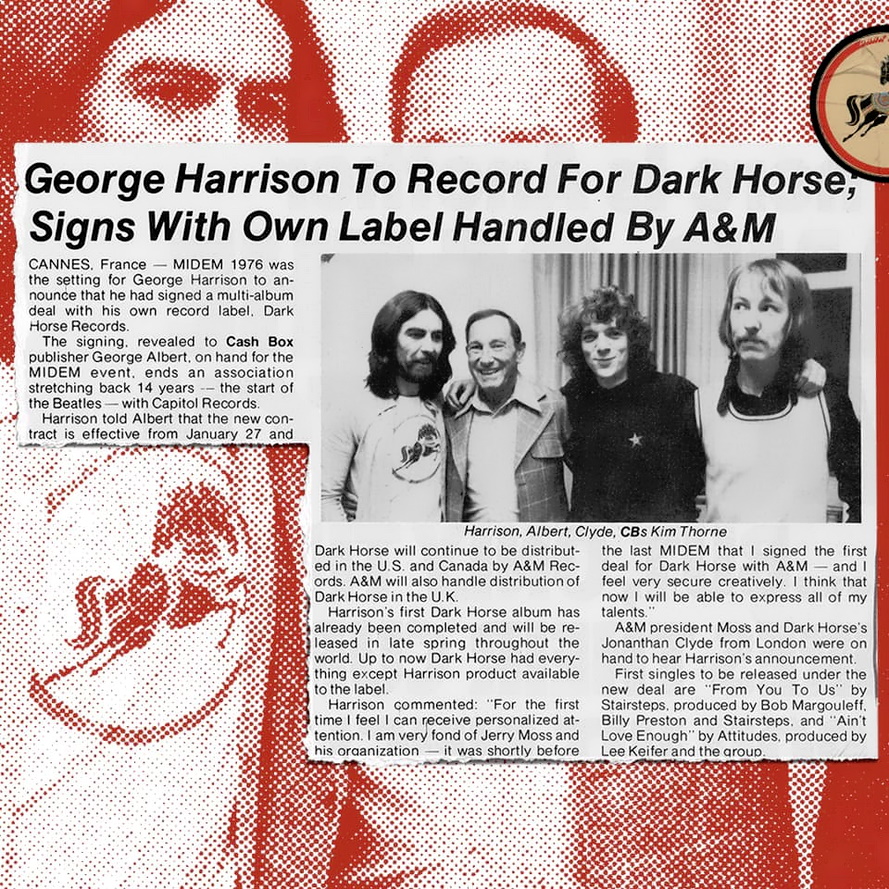 January 27, 1976, George signed to Dark Horse Records. The Beatles' contract with EMI had expired on the 26th January so George
signed with his own label the very next day. George revealed his move to Cash Box, the music industry trade publication, whilst he
was in Cannes at the MIDEM festival.



April 14, 2022
Ringo Starr & His All Starr Band Announce Second Leg of Tour Dates

by Michael Major for Broadway World Music
Today Ringo Starr and His All Starr Band - Steve Lukather, Colin Hay, Warren Ham, Gregg Bissonette, Hamish
Stuart and Edgar Winter - announce additional shows for 2022.
This is the second leg of tour dates initially planned for 2020. As previously announced Starr will commence
the first leg of shows this Spring on May 27 in Canada at Casino Rama concluding on June 26 in Clearwater
Florida. The tour will resume in the Fall on September 23 in Bridgeport, Connecticut and end on October 20 in
Mexico City.
Ringo affirmed "It is so great to finally announce all these shows we had planned for 2020, and I am really
looking forward to playing them!" He continued, "How great to start at Casino Rama, where we've begun 5 All
Starr tours, and then to go back to the Beacon, and to the Greek, which was the last show we played in
2019 on our 30th Anniversary tour. I can't wait to see all our fans and until then I'm sending everyone peace
and love and see you soon!"
During these two years Starr has kept very busy and released two EPs, Zoom In and Change The World, as
well as two books including the limited-edition retrospective hardcover book titled "RINGO ROCKS: 30 YEARS
OF THE ALL STARRS 1989-2019," and the newly announced limited-edition retrospective "LIFTED: FAB
IMAGES AND MEMORIES OF MY LIFE WITH THE BEATLES FROM ACROSS THE UNIVERSE," both are published
by Julien's Auctions, the world record-breaking auction house to the stars.
While the Spring tour has the All Starrs primarily on the Eastern seaboard, the Fall will see them head West
including shows in British Columbia, Seattle, Portland, San Jose, Paso Robles and Los Angeles.
Here are the tour dates for both the Spring and Fall legs, with more shows to be announced soon, so check
Ringo's website for updates:
Tour Dates
May 27, 2022 Rama, Ontario - Casino Rama
May 28, Rama, Ontario - Casino Rama
May 30 Canandaigua, NY - CMAC
June 2 Boston, MA - Wang Theater *With The Avett Brothers
June 3 Worcester, MA - Hanover Theater
June 4 Gilford, NH - Bank of NH Pavilion *With The Avett Brothers
June 6 New York, NY - Beacon Theatre
June 7 New York, NY - Beacon Theatre
June 8 New York, NY - Beacon Theatre
June 10 Red Bank, NJ - Count Basie Theater
June 11 Easton, PA - State Theater
June 12 Providence, RI - PPAC
June 14 Baltimore, MD - Modell Lyric
June 15 Baltimore, MD - Modell Lyric
June 17 Lenox, MA - Tanglewood
June 18 Pittsburgh, PA - PPG Arena
June 19 Philadelphia, PA - Metropolitan Theater
June 21 Richmond, VA - Virginia Credit Union Live
June 22 Atlanta, GA - Cobb Center
June 24 St Augustine, FL - The AMP
June 25 Hollywood, FL - Hard Rock
June 26 Clearwater, FL - Ruth Eckerd Hall
September 23 Bridgeport, CT - Hartford Healthcare Amp
September 24 Atlantic City, NJ - Hard Rock Etess Arena
September 26 Montreal, Quebec - Place Bell
September 27 Kingston, Ontario - Leon's Centre
September 30 Mt Pleasant, MI - Soaring Eagle Casino
October 1 New Buffalo, Mi - Four Winds Casino
October 2 Prior Lake, MN - Mystic Lake Casino
October 4 Winnipeg, Manitoba - Canada Life Centre
October 5 Saskatoon, Saskatchewan - Sasktel Centre
October 6 Lethbridge, Alberta - Enmax Centre
October 8 Abbotsford, BC - Abbotsford Centre
October 9 Penticton, BC - South Okanagon Events Centre
October 11 Seattle, WA - Benaroya Hall
October 12 Portland, OR - Arlene Schnitzer Hall
October 14 San Jose, CA - San Jose Civic Center
October 15 Paso Robles, CA - Vina Robles Amp
October 16 Los Angeles, CA - Greek Theater
October 19 Mexico City, MX - Auditorio Nacional
October 20 Mexico City, MX - Auditorio Nacional



April 13, 2022
The bassist that Paul McCartney said it was his biggest influence

by for Rock and Roll Garage
The Beatles bassist and singer Paul McCartney is often listed as an influence to a lot of famous bass players
from different music genres. In an session of
Questions & Answers
with his fans at his website back in 2013,
the Beatle named the bassist that was his biggest influence. He also explained in interviews over the decades
the reason the musician was so important for his own development as a bass player.
Paul McCartney said about the bassist that was his biggest influence

The biggest influence on my bass playing was James Jamerson, who played on many of my favourite Motown
releases," McCartney said in the Q&A session on his website. In an interview with
Music Radar
back in 2017,
he talked more about Jamerson when the interviewer said that McCartney probably made the bass an
acceptable instrument: "Yeah, it became a bit more skilful. I wouldn't personally credit myself, but thanks for
that. But I think James Jamerson, him and me, I'd share the credit there. I was nicking a lot off him."
"That was the thing, though. It did become a lot more of a funky instrument. It was becoming almost like a
drum, the rhythmic possibilities. And it was very exciting, that, and it also gave me something to keep me
interested."
"The danger with bass is that everybody else has got the interesting jobs and you're just the last guy to get
a part. And literally you get the root notes, two in a bar. But actually… now, I quite like that. I like the
simplicity. Sort of country and western bass playing," Paul McCartney said.
In a conversation with Rolling Stones guitarist Ronnie Wood back in 2013, McCartney also praised Jamerson,
saying (Transcribed by Rock and Roll Garage): James Jamerson was my big influence on bass. If I had to pick
a bass player ever, it's him."
It was were he picked up his style
McCartney told
Bass Player
magazine back in 2005 that James Jamerson was from who he picked up his style
and transformed into something else in the songs: "He was a major influence all around. He was certainly
where I picked up a lot of my style. I simply loved all of his bass lines."
McCartney continued singing The Four Tops hit "I Can't Help Myself (Sugar Pie, Honey Bunch) and says:
"Each one was a gem in itself. I'd have to listen to my old tracks to point out the direct influences. I'm not a
great retainer or analyst of what I do. Really, I just tried to take his ideas to my own place. He was very
inspirational in that way."
Born in South Carolina, United States back in 1936, James Jamerson is recalled for his work as a session
bassist on most of the Motown record hits in the 60s and 70s, although he wasn't credited on the albums.
He played on 23 Billboard Hot 100 number 1 hits during his career. Some of those songs are: The Supremes
"You Can't Hurry Love", The Temptations "My Girl" and Martha & The Vandellas "Dancing In The Street".
He was inducted into the
Rock and Roll Hall of Fame
in 2000 by Mike Stoller, famous American songwriter.
Long troubled by alcoholism, Jamerson died at the age of 47 of complications from cirrhosis of the liver, heart
failure and pneumonia on August 2, 1983, in Los Angeles.

38 years after death, iconic Motown bass player James Jamerson gets a proper headstone

by Brian McCollum for the Detroit Free Press
When James Jamerson was laid to rest in Detroit in 1983, his gravesite was marked by a simple faceplate — as dictated by rules governing that section of Woodlawn Cemetery at the time.
Nearly four decades later, the trailblazing Motown bass player at last has a monument becoming of his momentous legacy.
Family members and friends gathered at Woodlawn on Friday to unveil a new headstone at Jamerson's resting place: a handsome black-marble block with photos of the musician and the inscription "Funk Brother," topped by a bronze sculpture of his famous Fender Precision bass.
"It's something I had wanted for years," said his widow, Annie Jamerson. "I'm just happy it's finally happened."
Friday was the culmination of a three-year fundraising effort launched by Anthony McKnight, a cousin of the late bass player. He launched the campaign when a Michigan friend and Motown fan questioned the humble state of Jamerson's gravesite.
"I felt James deserved more because he's considered the father of modern-day bass," said McKnight, a resident of Charleston, South Carolina, near Jamerson's childhood town of Edisto Island.
While the pandemic temporarily slowed the campaign, donations for the $8,700 headstone steadily rolled in, including a deal-sealing $5,500 contribution from Jason Miccolo Johnson, a Savannah State University professor and Jamerson aficionado.
McKnight enlisted Los Angeles sculptor Nigel Binns to create the bronze bass.
The headstone design was conceived by former Woodlawn employee Claire Monroe, who said Friday that Jamerson's gravesite is one of the cemetery's most frequently visited spots. It's often among the destinations for the busloads of tourists who descend onto Woodlawn to see the resting places of other important Detroit cultural figures, including Rosa Parks, Aretha Franklin, the Temptations' David Ruffin and the Four Tops' Levi Stubbs.
Friday's speakers included Rochelle Riley, director of arts and culture for the city of Detroit. She read aloud a proclamation from Charleston Mayor John Tecklenburg, declaring "James Lee Jamerson Day" in that South Carolina city. Jamerson was "a musical genius and pioneer" who "revolutionized the artistry of the bass," the proclamation read.
Jamerson is a Rock and Roll Hall of Fame inductee who was ranked No. 1 last year in Rolling Stone's 50 Greatest Bassists of All Time list. His warm, innovative bass lines were an essential feature of Motown's music in the '60s and early '70s, appearing on hit after hit, including nearly two dozen No. 1s.
Like his fellow musicians in Motown's Funk Brothers house band, he worked for many years in obscurity — literally uncredited on records until the early '70s. But even when he was unknown, his work was immensely influential, scrutinized and mimicked by young players around the world seeking to capture his style and feel.
Jamerson and his fellow Funk Brothers grew in stature through the decades, eventually celebrated in film ("Standing in the Shadows of Motown") and a star on the Hollywood Walk of Fame. Jamerson was honored by the Grammys with a Lifetime Achievement Award in 2004.
Annie Jamerson, addressing the crowd of several dozen people Friday, recounted her late husband's life journey — his teenage move to Detroit, their time together at Northwestern High School, his love of jazz and woodshedding in the city's clubs. It was there, she said, that established jazz players gave young Jamerson their vote of confidence: "They always told him he was ahead of his time," she said.
In the early days of his association with Motown, Jamerson was dispatched to tour with groups such as the Miracles.
Eventually, Annie Jamerson said, Berry Gordy "asked him to come off the road because none of the producers wanted to record without him."
McKnight and Johnson said Friday's headstone unveiling is one of several Jamerson-related tributes they've embarked on: They're working to honor the bassist at the Smithsonian Institution and to get him into the South Carolina Hall of Fame, based in Myrtle Beach.
Jamerson's family is launching an online store in September featuring commemorative merchandise.
"This is the beginning," Johnson said.

April 12, 2022
Olivia Harrison attends the production of the Beatles 'Love'
The following was posted today on the Beatles Official Facebook Pages...



April 11, 2022
Parlogram Auctions Examines: Is There Any Love for 'Love' ?







April 10, 2022
Julian Lennon sings John's 'Imagine' for first time ever in Ukraine fundraiser
by Mary Kay Linge for the New York Post
Julian Lennon broke his longstanding vow never to perform his father's most iconic solo song, "Imagine,"
during a benefit for Ukrainian refugees Saturday.
"Today, for the first time ever, I publicly performed my Dad's song, 'Imagine'," Lennon, 59, wrote on
YouTube. "The song reflects the light at the end of the tunnel, that we are all hoping for."
The singer-songwriter son of Beatle John Lennon presented the cover version of his father's ode to peace as
part of the Stand Up For Ukraine campaign, a global fund-raising effort broadcast from Warsaw, Poland.
"I had always said, that the only time I would ever consider singing 'Imagine' would be if it was the 'End of
the World'," Lennon wrote.
But "the War on Ukraine is an unimaginable tragedy," he explained. "As a human, and as an artist, I felt
compelled to respond in the most significant way I could."
The solemn video clip showed Lennon singing — in cadences uncannily like his father's — surrounded by
candles, accompanied by acoustic guitarist Nuno Bettencourt.
The performance closed out a televised European Union pledge drive that raised $10.1 billion in public,
private, and corporate cash earmarked for refugee assistance.
Lennon is not the first artist to make headlines by doing music in support of Ukraine.
At midnight Friday, Pink Floyd – minus Roger Waters – released "Hey Hey Rise Up," its first original music in 28
years, for the UN's Ukraine Humanitarian Fund.
Guitarist and singer David Gilmour told the Guardian he was inspired by Ukrainian musician Andriy Khlyvnyuk,
who left his band BoomBox's US tour to fight in Ukraine.
Gilmour saw an Instagram video of the musician in military gear singing a protest song in Kyiv's Sofiyskaya
Square and then felt inspired to do something about it.
"I thought: that is pretty magical and maybe I can do something with this," Gilmour saaid. "I've got a big
platform that [Pink Floyd] have worked on for all these years. It's a really difficult and frustrating thing to see
this extraordinarily crazy, unjust attack by a major power on an independent, peaceful, democratic nation.



April 9, 2022
The 35 Best Yoko Ono Quotes

by Jacob Uitti for American Songwriter
For years, Yoko Ono was known as the one who split up the Beatles.
But for anyone who's seen the 2021 documentary, The Beatles: Get Back, that rumor has far been
overblown. Ono was John Lennon's partner, lover, and muse, in many ways, but split up the band? No.
As a result, Ono has been enjoying (we hope) a bit of a renaissance. Artists have been covering her songs
and many in the press have been speaking highly of her.
But because of the bad opinions of Ono for the past 50-plus years, many don't know her thoughts on the
world at large, on life and love and creativity. So, we thought, let's explore what the musician and visual
artist had to say about those subjects here.
So, without further ado, let's dive into the best 35 Yoko Ono quotes.
1. "A dream you dream alone is only a dream. A dream you dream together is reality."
2. "Smile in the mirror. Do that every morning and you'll start to see a big difference in your life."
3. "You change the world by being yourself."
4. "Nobody's life is a bed of roses. We all have crosses to bear, and we all just do our best. I would never
claim to have the worst situation. There are many widows, and many people dying of AIDS, many people
killed in Lebanon, people starving all over the planet. So we have to count our lucky stars."
5. "There's a long life ahead of you and it's going to be beautiful, as long as you keep loving and hugging
each other."
6. "Every drop in the ocean counts."
7. "Healing yourself is connected with healing others."
8. "I realized that if my thoughts immediately affect my body, I should be careful about what I think. Now if I
get angry, I ask myself why I feel that way. If I can find the source of my anger, I can turn that negative
energy into something positive."
9, "The regret of my life is that I have not said I love you often enough."
10. "The computer is my favorite invention. I feel lucky to be part of the global village. I don't mean to brag,
but I'm so fast with technology. People think it all seems too much, but we'll get used to it. I'm sure it all
seemed too much when we were learning to walk."
11. "Experiencing sadness and anger can make you feel more creative, and by being creative, you can get
beyond your pain or negativity."
12. "The sky is always there for me, while my life has been going through many, many changes. When I look
up the sky, it gives me a nice feeling, like looking at an old friend."
13. "Distance doesn't exist, in fact, and neither does time. Vibrations from love or music can be felt
everywhere, at all times."
14. "Nothing is written in stone. So don't prepare yourself for a long and lucrative career. You might die
tomorrow. Your gold holdings might become dust. Just make the music you want to make now and enjoy it."
15. "When you are suffering, you become more understanding about yourself, but also about other people's
sufferings too. That's the first step to understand somebody is to understand their sufferings. So then love follows."
16. "I did not break up the Beatles. You can't have it both ways. If you're going to blame me for breaking the
Beatles up, you should be thankful that I made them into myth rather than a crumbling group."
17. "At least I had that, one guy understood me."
18. "If you have too many quotes from other people in your head, you can't create. You have to keep your
head empty. That's why I am constantly enjoying the sky, the park, the walk."
19. "I saw that nothing was permanent. You don't want to possess anything that is dear to you because you
might lose it."
20. "I trust myself. You need that to survive."
21. "I admire all people who are trying to be a good power in this chaotic world."
22. "A lot of things have been thrown at me in life, and I've got through it all without a rule book, taking it
one day at a time."
23. "When you are totally depressed, you should try giggling. Just make yourself laugh. Force yourself to laugh."
24. "True artists are prophets. I don't want to be that prophetic in that sense because it's so lonely."
25. "I think if you give in and accept society's stereotypes, then you start thinking, 'I cannot dance till late
at night because I'm 70.'"
26. "The thing that would most improve my life is 27 hours in a day. I could meet all my deadlines."
27. "Please know that being 80 is not a scary thing. When you're 80, your life is much freer."
28. "When I speak out against the guns or against the big corporations, some of my friends say, 'Oh Yoko, be
careful. These people have all the power.' But, you know, most people don't speak out because they are
frightened."
29. "Women are put in a position of feeling embarrassed about their bodies. It's so ridiculous, but also
astounding—we have to always be apologetic about having created the human race."
30. "This society is driven by neurotic speed and force accelerated by greed and frustration of not being able
to live up to the image of men and woman we have created for ourselves; the image has nothing to do with
the reality of people."
31. "My career? I never think of it as a 'career.' Art and music and all those things that I'm creating are just
part of me."
32. "When I'm putting some communication out on Twitter or Facebook or Instagram, I think that it's helping
me, my brain, you know, because it's always somehow stimulated by people who are sending things to me.
And it works both ways. It's great. My brain is very happy about it."
33. "Society tells you that when you're old you have to retire. You have to defy that."
34. "I think of John every day. I do try to block it, but December 8th is not the only day I think of him."
35. "I don't think you should always stay calm in a tense situation, because you might not ever confront the
problem. Maybe it's better to actually let yourself be tense—and find a solution."



April 7, 2022
Tampa lawyer makes film about 'the almost Beatle'
Colin Hanton was drummer for The Quarrymen. He quit that band before they changed their name to
The Beatles

by Paul Guzzo for the Tampa Bay Times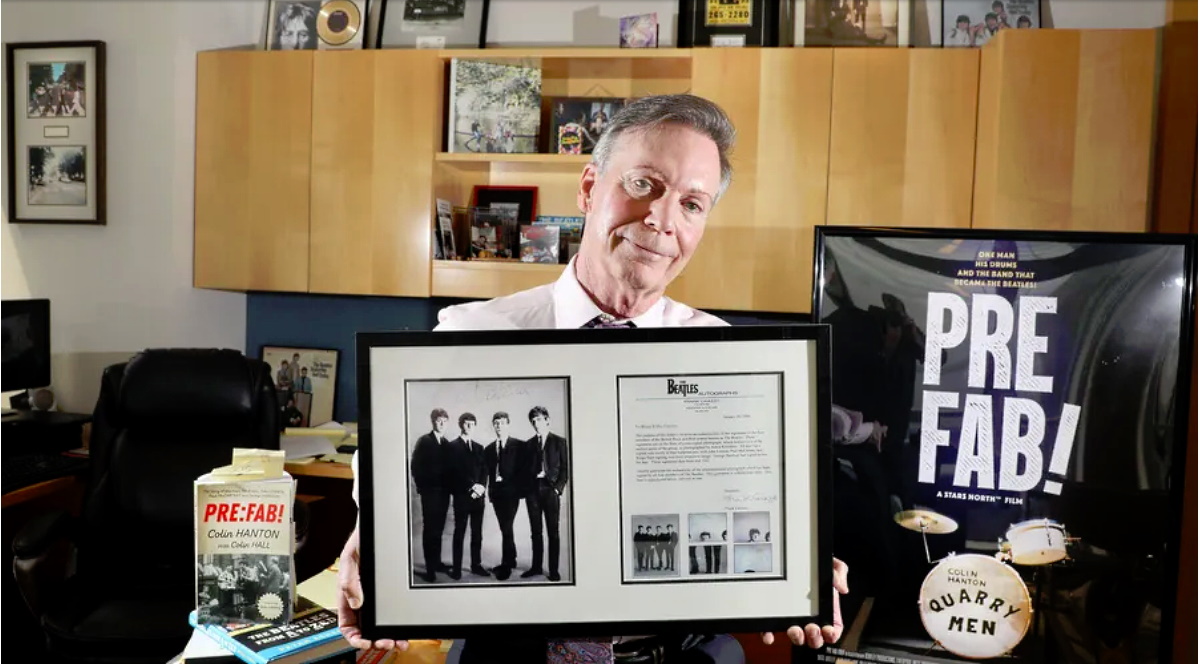 Tampa land use attorney Mark Bentley, 60, holds an autographed 1963 portrait of the Beatles made by German
photographer Astrid Kirchherr at his law office with Johnson Pope Bokor Ruppel and Burns in Tampa. Bentley has
turned a lifelong love of The Beatles into a full-length documentary that fills in one of the last pieces of the iconic
band's history, the period before they officially became the band known as The Beatles.
[ DOUGLAS R. CLIFFORD | Times ]
TAMPA — A lifelong Beatles fan, Mark Bentley thought he knew everything about the legendary rock pioneers.
But then he learned the full story of the little-known Colin Hanton, whom he now refers to as "the almost Beatle."
Hanton was drummer for The Quarrymen. He quit that band before they changed their name to The Beatles.
"He was there when it all came together," said Bentley, a Tampa land use attorney with the law firm of Johnson Pope Bokor Ruppel and Burns. "And then he walked away from it. Everyone should know this story."
Bentley brought his attorney skills to the world of documentary filmmaking to make a movie about Hanton.
Titled Pre Fab!, it premieres at 7 p.m. Friday at Enzian Theater in Maitland as the opening night movie for the Florida Film Festival.
"Our selection committee just fell in love with this feel-good and enlightening film, catching Beatles fever much like the British youth in the 1950s," said Matthew Curtis, programming director for the festival.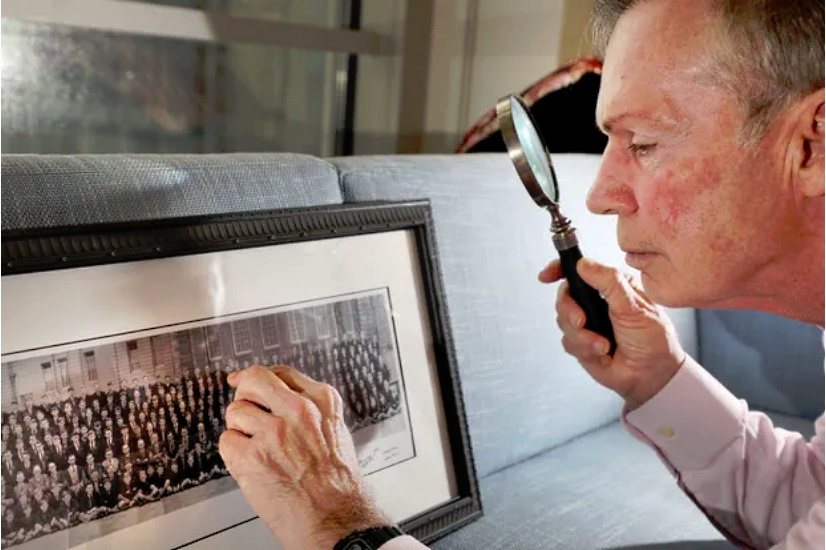 Tampa land use attorney Mark Bentley, 60, uses a magnifying glass to locate George Harrison in a picture he
owns of a class of students with the Liverpool Institute High School for Boys in 1956. The picture also shows
both Paul McCartney and George Harrison. [ DOUGLAS R. CLIFFORD | Times ]
Bentley is executive producer, but he did more than cut a check.
He conducted 90 percent of the interviews with Hanton, historians and the drummer's friends and family.
He also tracked down and purchased rare photographs and memorabilia, negotiated the rights to music and archival footage and gained access to the childhood homes of Paul McCartney, George Harrison and John Lennon plus Abbey Road Studios.
Bentley even persuaded McCartney to be interviewed.
"The only other film crew to ever shoot inside McCartney's home is Carpool Karaoke," Bentley, 60, said. "I'm a Beatles fan, but that's not why I did this. I wanted to preserve a little piece of history."
The Quarrymen were formed in Liverpool by Lennon in 1956 and consisted primarily of his school friends. A longtime basic narrative is that Hanton was only asked to join because he had a drum kit.
"But there had to be something special about him besides that," Bentley said. "Other than John Lennon, no one was with The Quarrymen longer than Colin. He was with them for three years."
Other members were replaced with McCartney and Harrison.
"They had plenty of opportunities to replace Colin," Bentley said. "They never did. It was John, Paul, George and Colin."
But Hanton did not see a future for the band.
So, in 1959, after an argument over a gig that turned disastrous when the band got drunk between sets, Hanton quit to focus on his career as an upholsterer.
In 1960, The Quarrymen became The Beatles with Pete Best on drums.
Two years later, Best was replaced by Ringo Starr.
"I think everyone has heard of Pete Best and Ringo Starr, but almost no one has heard of Colin Hanton," Bentley said. "What's fascinating is that Colin has no regrets. He has a beautiful family and did really well in the upholstery business. He says it turned out really well for everybody."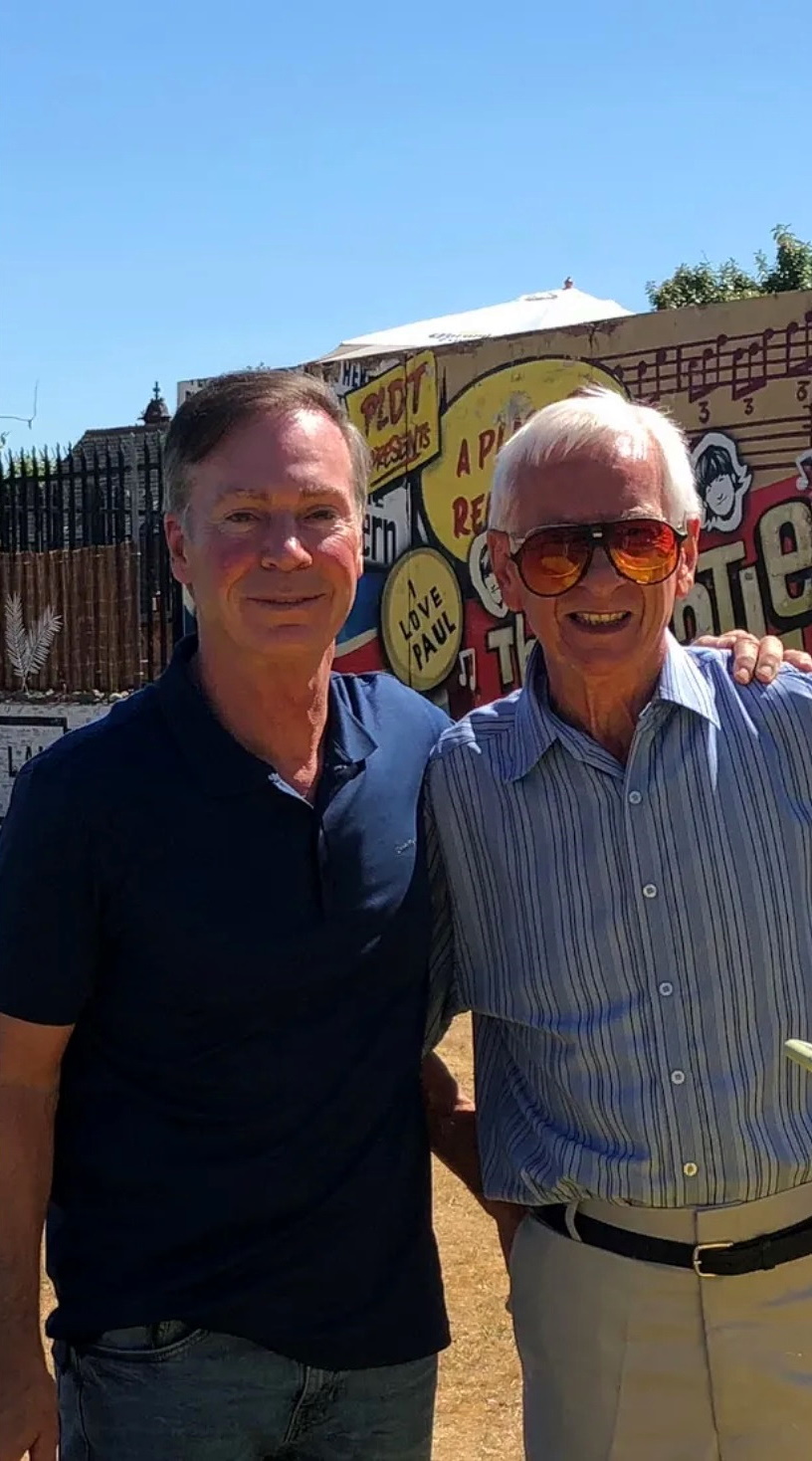 Mark Bentley and Colin Hanton are pictured outside the Penny Lane Community Centre in England. Bentley
produced the documentary "Pre Fab!" about Hanton, who quit the band that would later become The Beatles.
[ Courtesy of Mark Bentley ]
In 1997, original members of The Quarrymen, minus Lennon, reunited
Hanton released his memoir, also titled Pre Fab!, in May 2018.
Bentley read it the following month, just as his son, Adam, was touring England as guitarist for the Nashville-based band Arch Echo.
"I figured I'd go see my kid and then talk to Colin," Bentley said.
Hanton agreed to meet at the Penny Lane Community Centre. He thought Bentley was either a fan seeking an autograph or a journalist writing an article.
"I told him I just wanted to hear his story," Bentley said. "But when I got back to the U.S. I realized what a unique story this was about a man who is totally content with who he is."
Hanton also had a firsthand look at history.
"He remembers everything," Bentley said. "Where they played, when they played, what they played. I thought this would make a great documentary."
Except, Bentley had no idea how to make one.
So, he brought on his son to score the documentary, daughter Erin Bentley, a marketing executive at Warner Bros., as co-producer and Todd Thompson of Orlando-based Stars North as director.
"All I had in mind was I was going to start this thing with that famous G chord out of A Hard Day's Night and I'm going to end it that way," Bentley said. "And I did it that way."
This was not his last foray into filmmaking.
Bentley is currently producing a documentary on musician Del Shannon, best known for his 1961 No. 1 Billboard hit Runaway.
"I've already done 20 interviews on Del Shannon," Bentley said.
As for Pre Fab!, there are no more screenings planned, but Bentley hopes to land a distribution deal soon.
"If I make some money off of it, that's great, but that wasn't my motivation," he said. "Colin's story is an important part of rock 'n' roll history. I just wanted to share it."



April 6, 2022
Beatles: Musicians get chance to play in Sir Paul McCartney's former home

by the BBC
Sir Paul McCartney's 80th birthday is to be marked in his former home with a performance by new musicians,
the National Trust has announced.
Sir Paul forged his partnership with John Lennon at his home on Forthlin Road, Liverpool, and they wrote
several of the band's early hits at the house.
The charity, which owns the site, said it was inviting new acts to write and perform there to "spark
creativity".
Sir Paul's brother, Mike, said he hoped "some of the magic rubs off on them".
The performer, who will help choose the artists who will mark Sir Paul's birthday in June, said 20 Forthlin Road
was a "special house", where their father had given him a drum kit and banjo and his brother a guitar,
because he saw music as a way out of poverty.
He said it showed that "from nothing, you can create something special".
"If that can be shared with anybody, particularly young people, particularly if they have got nothing and they
come there and see they can do something from nothing like we did, then I will be even prouder," he said.
He said though he had fond memories of the property, it had not always been the easiest place to live, as
there was paint "flaking down" from the ceiling when he had a bath and an uncomfortable armchair which had
springs that "stuck out and ripped our clothes to shreds".
"I was 12 when my mum died and my dad had to bring up two boys, so the house was in a sorry state," he said.
He recalled paint "flaking down" from the ceiling when he had a bath and "armchair springs which stuck out
and ripped our clothes to shreds".
'Dreams and new ideas'
Sir Paul has previously spoken about his parents being the "original inspiration" for his music and he and
Lennon wrote a number of early Beatles songs, including I Saw Her Standing There and Love Me Do, in the
house's living room.
McCartney's picture of the pair hard at work writing now hangs on the wall of the room and he told
BBC
Breakfast
Sir Paul had spoken to him about how he felt when he looked at the image. "Our kid once said to
me, 'that is an important photograph, because it was two lads, two good friends, getting down to the nitty-
gritty of writing songs'," he said. "You could hear them crafting the songs.
"I would be in another room and would hear them composing.
"Our kid would play music all round the house, including in the bathroom."
A National Trust spokesman said the Forthlin Sessions would allow artists to add their sound "to the house
that made the Beatles".
He said those chosen to perform would be given "the opportunity to create a new song to perform at 20
Forthlin Road on 17 June", the day before Sir Paul's birthday.
He added that the sound the Beatles began in the house "went on to shape a generation, creating a legacy
of creativity and freedom of expression that still endures today".
National Trust director general Hilary McGrady said it was important to remember that the charity's sites
"don't have to be stuck in time".
"They're here to keep sparking creativity, dreams, and new ideas," she added. Unsigned, UK-based music
artists aged 18 and over can apply on the National Trust's site.

April 5, 2022
Paul McCartney Lyric Sheet for Beatles' 'Maxwell's Silver Hammer' Up for Sale
by TMZ
There's a quizzical piece of Beatles memorabilia hitting the market ... and these handwritten lyrics from Paul McCartney are worth way more than silver.
The working lyric sheet for the Beatles' 1969 hit, "Maxwell's Silver Hammer," is going up for sale ... and the folks at Moments in Time are putting the price tag at a whopping $450,000.
Paul wrote the first page of lyrics on a sheet of paper with letterhead for Apple Corps Limited, the multimedia corporation Beatles members founded way back in 1968 in London.
There are three pages total, and the other two were written by Mal Evans ... the band's former road manager and personal assistant.
The "Maxwell's Silver Hammer" lyrics are a hell of a treasure ... they were last put on the open market back in 2006, selling for $192,000. Now, a private collector is looking to unload them for more than double the price.
The track is Paul's first song on the Beatles' famous "Abbey Road" album ... Paul wrote the lyrics after the band's trip to India in 1968, and he initially wanted to record it for the 'White Album.'
Fun fact ... John Lennon once referred to the song as "Paul's granny music."



April 4, 2022
The late George Harrison wins a Grammy for "Best Boxed or Special Limited Edition Package"



From the Beatles Official Facebook Pages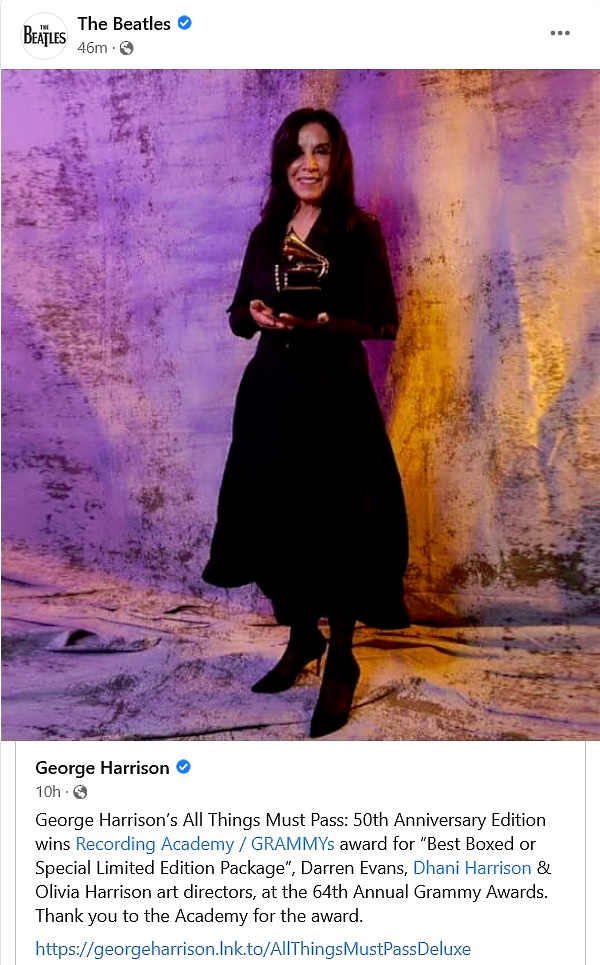 April 3, 2022
The story behind Beatles' George Harrison's McLaren F1 inspired by Hinduism
by Paarth Khatri for CarToq - India's #1 auto content site
Beatles is one of the most famous bands in the world. Some of their songs are still considered to be a hit.
Their lead guitarist, George Harrison used to own a McLaren F1 which is a legendary car in the automobile
industry. His McLaren F1 was finished in a nice shade of Dark Purple which gave the supercar a stealthy look.
Here, we have some pictures of the George's McLaren F1. The pictures were originally shared by
AutomobiliArdent
on Facebook.
What is special about this McLaren F1 is that it takes some inspiration from the Hindu religion. On all four
wheel hubs, an 'Om' symbol is present. Even the steering wheel has the same symbol. Unfortunately, we do
not have pictures of the interior and the steering wheel.
There are some other special touches made to this F1 too. Harrison made Gordon Murray, creator of McLaren
F1, insert idols of Lord Ganesh in various parts of the car and even between layers of carbon fibre. Moreover,
the chassis of this F1 has Gayatri Mantra written on it. Only Gordon Murray knows where Gayatri Mantra is
written. Moreover, the F1 comes with lit-up housing for a Ganesha idol between the seats.
The current owner of this McLaren F1 is Simon Kidston, a British car collector. He also owns six other
McLaren F1s. All these seven F1s will be showcased at the Retromobile Paris Exhibition. Speaking of Harrison
himself, he spent a substantial amount of time in India. He believed in the Hindu religion and believes so much
that he decided to convert his religion.
Gordon Murray was working on the one plus two seating concept since 1969. One plus two seating is very
rare in the automobile industry. Some other well-known cars with the same seating configurations are
McLaren Speedtail, Ferrari 365 P Berlinetta Speciale and Gordon Murray T50.
The engine was taken from BMW, it was designed by Paul Rosche. It was a naturally aspirated, 6.1-litre, V12
petrol engine capable of producing a massive 627 Ps of max power and 650 Nm of peak torque. It was mated
to a 6-speed manual gearbox that drove the rear wheels only. That was a massive power output considering
that the F1 was launched in 1992 and weighed just 1.1 tonnes.
The F1 was one of the first cars to use a monocoque chassis made up of carbon fibre. There were other
expensive materials used too. For instance, there was titanium, gold, kevlar and magnesium. The engine
compartment used gold foil as a heat shield.
McLaren F1 hit a top speed of 386 kmph. It could hit a ton in just 3.2 seconds. Till now, the McLaren F1
holds the world record for the highest top speed for a car with a naturally aspirated petrol engine.



April 2, 2022
New Rock Hall Exhibition Traces History of Beatles 'Get Back' Period

by Matt Wardlaw for Ultimate Classic Rock
The Get Back documentary offered an intimate fly-on-the-wall perspective of the sessions that led to the Beatles' Let It Be album.
Now, music fans can get an even closer look thanks to Get Back to Let It Be, a new exhibit continuing through March 2023 at the Rock & Roll Hall of Fame.
Original instruments, clothing and handwritten lyrics seen in the film were procured by the Hall for the exhibit. The items help to create an immersive experience that carries the listener from the early rehearsals to recording and eventually, to their swan-song concert on the roof of Apple Corps.
Curator Craig Inciardi walked us through the exhibit, which you can see photos of below, while also sharing thoughts on how the concept came together after first being discussed nearly 10 years ago.
I know this exhibit has been a long time coming. How did it finally become a reality?

Joel Peresman is the head of the Rock & Roll Hall of Fame Foundation and he is also based in New York. He and I have been wanting to do an exhibit with the Beatles as a unit for a decade. Since the museum opened, we've had Beatles exhibits, but this is the first time that we have done an exhibit with all four principals working together with their record company, Apple. We had discussed various ideas over the last 10 years. This idea gained traction and we got a buy-in from all of the principals and Apple. We started working on this exhibit before the docuseries was finished. The concept was that we would create an immersive experience for fans and music historians that would be sort of a complement to [Peter] Jackson's project. Our goal was to get as many of the musical instruments that they used in the recording sessions and on the rooftop, as possible, [as well as] documents and clothing, to help tell the story.
Discuss how this is laid out since it appears to have been staged pretty specifically.

The goal is to place you there as best as possible from a museum standpoint. The original Let It Be film was shot in three separate locations. There's Twickenham Studios, which was a big soundstage on the outskirts of London. There's Apple Studios, which was in the basement of their headquarters at 3 Savile Row and then, of course, there's the rooftop of that same building. We created three discreet theater spaces, so you can experience separate pieces of the footage, isolated. Each room has been outfitted with acoustic foam that you'd see in a recording studio, to prevent sound bleed from one space to the other. We were lucky enough to get John Lennon's [1965] Epiphone Casino guitar that he's playing [on the rooftop]. We have Ringo [Starr]'s [1967] Hollywood Ludwig maple drum kit and George [Harrison]'s painted Strat. We also have manuscripts to songs that were literally written in those recording sessions. We have fantastic iconic clothing from all four Beatles. You know, you see the clothing they were wearing in 1969. It was just five years earlier that they were wearing the matching suits. It might as well have been 50 years later, so much had changed in the '60s.
Seeing the stuff from Glyn Johns that's part of this exhibit is great.

We have two of his diaries, which detail his work. Not only was he working at that point with the Beatles, but he was working with the [Rolling] Stones the week before and Steve Miller the week after. We also have one of his acetates that was documenting what they were doing on a daily basis, so he could distribute them to the band members and George Martin, so people could hear what they were doing and what his mix [sounded like]. He was coming up with a mix, his sort of concept was a fly-on-the-wall perspective. What does it really sound like? You know, people that have already seen the docuseries on Disney Plus can come here and get a different look. I think it will maybe give them a deeper understanding with all of these artifacts that are inches away from them that they can see.
What was the biggest revelation for you personally as you were putting this together?

I think the revelation was, so about three and a half years ago, I got to see some really early rushes of the film – early edits. It drove me to tears. [Inciardi pauses, getting visibly emotional.]
I wasn't prepared for it.
Yeah, you can't be.
I think you have an expectation of what you're going to see, based on having the original film. It just goes so far beyond that.

Yeah, you know what it is? I think that for people who grew up with the Beatles, especially when they were still together as a band, it's an ultimate time capsule. The majority of the footage, no one had ever seen. There's very little footage from Michael Lindsay-Hogg's original film that's here. There's a tiny, tiny bit. You know, that myth that the Let It Be sessions were depressing and there was fighting and bickering and it was fraught, clearly that wasn't the case. I mean, it was a joyous, certainly intense period, but you know, the creative output was like a fire hose. I mean, they were coming up with lyrics so fast that they had their roadie, Mal Evans, just jotting them down by dictation. That's captured in the footage too, which is such a revelation. But it shows the Beatles' humor, their humanity and their sarcasm. They actually sort of had their own language, even non-verbal language. You know, they got it, because they were so close to each other. A lot of what they would say to each other, as an aside, no one else knew what it meant in the most exact way. It's captured in that footage.
The Rock Hall has had a good relationship with the Beatles and their extended family. Is there anything that was secured for this exhibit that surprised them?

I think they were excited when Glyn Johns came on board. He provided a slightly different angle – because he's not a band member, but he contributed so much. He hadn't worked with the Beatles [prior to these sessions]. In late December of '68, one night, his phone rang and a guy with a Liverpudlian accent introduced himself as Paul McCartney. Glyn got angry and said, "Mick, cut it out" – meaning Mick Jagger. After they spoke for a few minutes, Glyn realized in fact that it was actually Paul McCartney, and Paul was asking him to work on what would become Let It Be. To get his perspective was fantastic.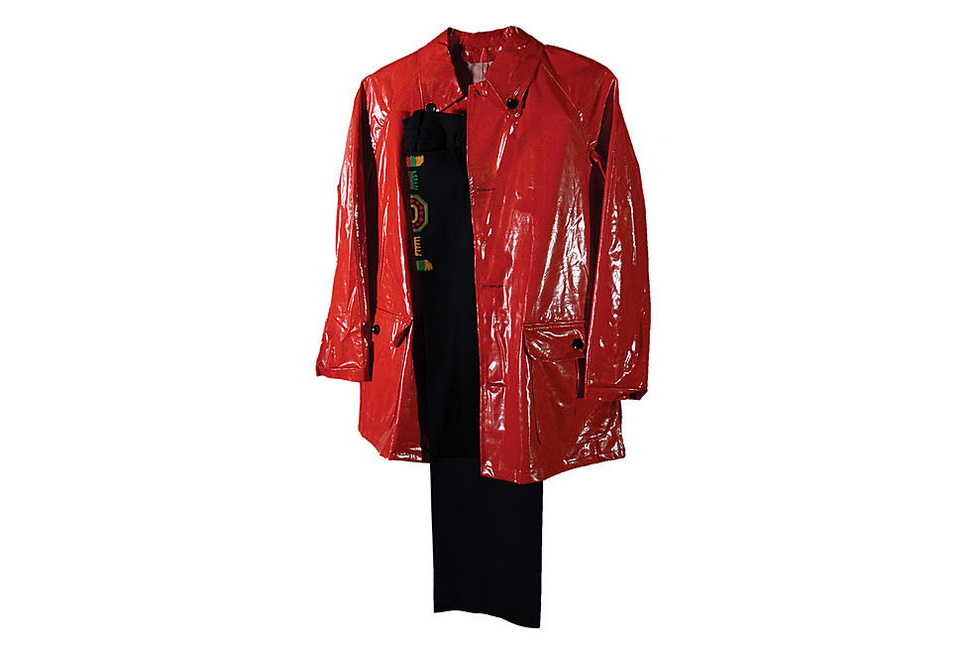 Ringo Starr's Jacket and Trousers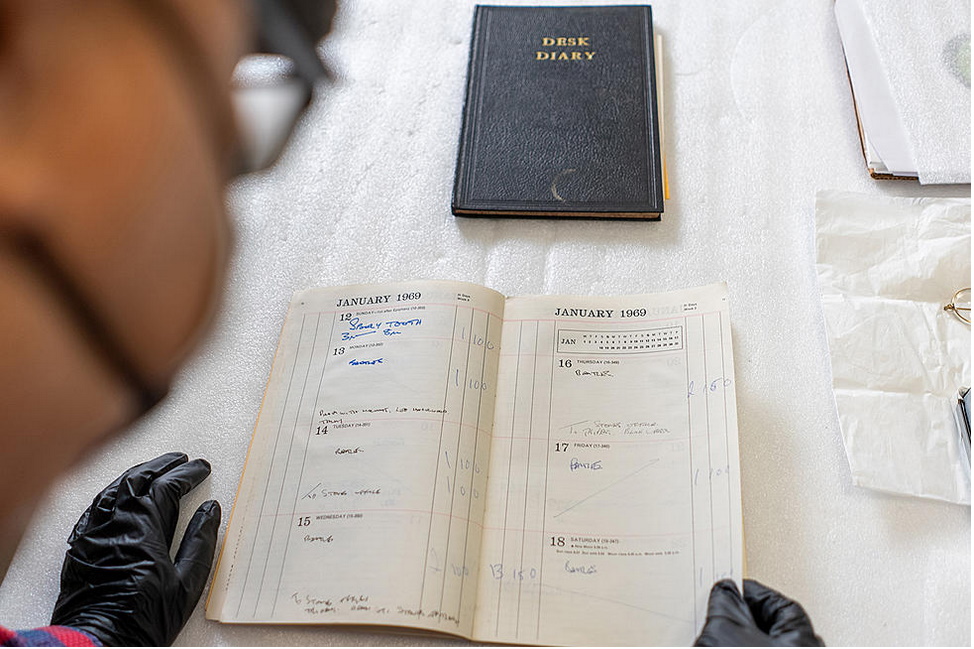 Glyn John's Diaries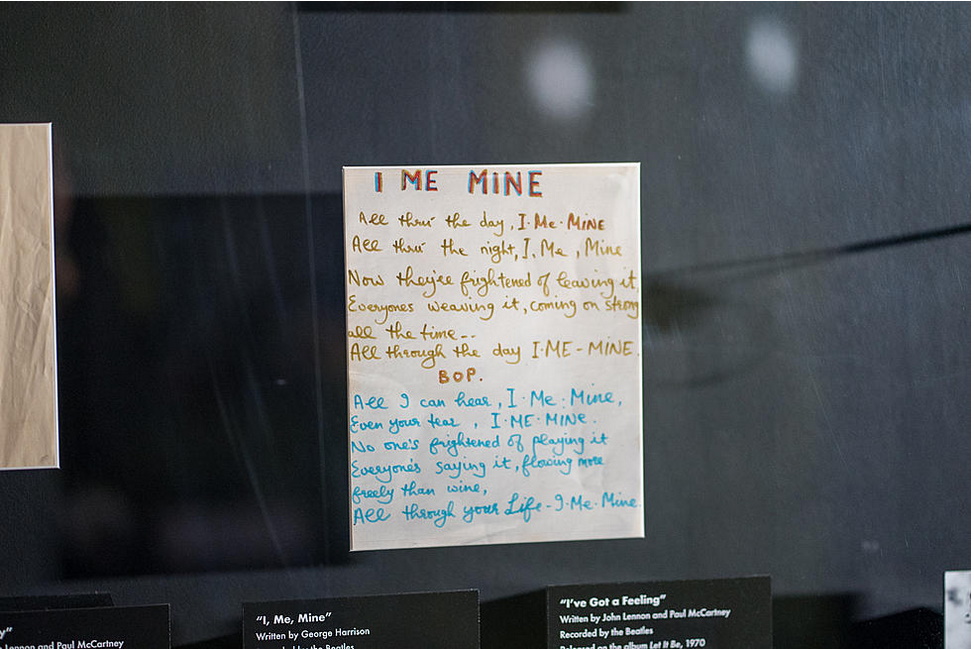 George Harrison's 'I Me Mine' Handwritten Lyrics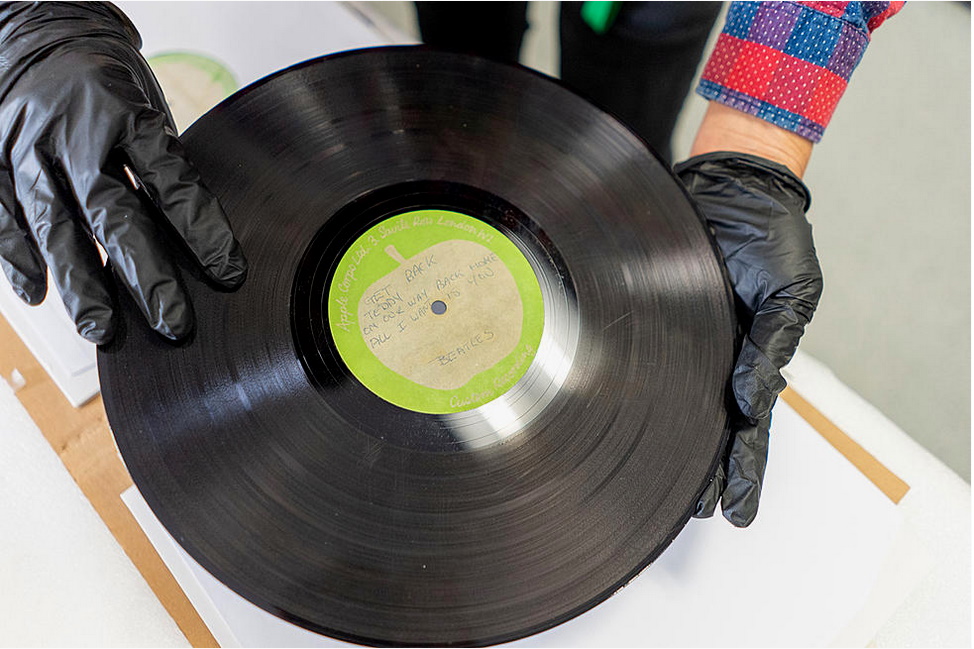 Let It Be 'Acetate'



April 1, 2022
Sir Paul McCartney's personal take on 'Glastonbury'





PaulMcCartney.com: What your best Glastonbury memory?

Paul: My best memory was that moment we walked out on stage, when we performed there in 2004. The sheer size of the crowd, and the banners and the flags that they all hold up which reminded me of the battle of Agincourt! The crowds at Glastonbury have always reminded me of a medieval battle scene - it looks very heraldic, and to see this iconic scene and particular Glastonbury 'look' was very exciting.

PM.com: Some people come up with really creative banners, don't they?

Paul:

Yeah, and they do look like something out of a scene from Henry V! Medieval is a good way to describe it.

PM.com: What would be in your festival survival kit?

Paul: A hotel room, first of all! No, if I wasn't in a hotel – if I was camping - I would have to have a toothbrush and toothpaste, and we'd have to have a lighter for the fire, a guitar for singing around the campfire, a decent supply of food and water, and finally wellies.

PM.com: Do you have any surprises planned for this year's performance? Or is that all going to be top secret?

Paul: Yeah, to tell you the truth we don't know exactly what we're going to do yet, but we are definitely planning on having a few tricks up our sleeve…

PM.com: We'll have to watch this space.
Are you heading to Glastonbury this year? Don't forget your toothbrush! Or were you lucky enough to catch Paul's last headline performance there in 2004? Join the conversation on social media using the hashtag #Glastonbury2022, and tagging @paulmccartney.



March 30, 2022
Why do some bands rocket when others sputter out?
Don't discount influence of serendipity in success of Beatles, other artists, Cass Sunstein says

by Christina Pazzanese for The Harvard Gazette
Why do some bands catch fire while others don't? Is it a matter of talent? Or are there other factors? Take
the Beatles: If they suddenly appeared for the first time on TikTok now, would their exceptional talent be as
apparent and embraced as it was in the early 1960s? Would they have evolved creatively to become a
revolutionary musical force if they had not first found enormous pop chart fame? Maybe, said Cass R.
Sunstein '75, J.D. '78, the Robert Walmsley University Professor at Harvard, and longtime Beatles fan. Writing
for
The Journal of Beatles Studies
, a new academic publication from the University of Liverpool that will debut
in September, he argues that as great as they were, the early Beatles needed some "serendipity" to break
through. The Gazette spoke with
Sunstein
, founder and director of the Program on Behavioral Economics and
Public Policy at Harvard Law School, about the recipe for superstardom. Interview was edited for clarity and
length.
Q&A
Cass R. Sunstein
GAZETTE: Tell me about your interest in the Beatles.
SUNSTEIN:
I've liked the Beatles for a long time — very much. As much as I've always liked and loved them, I'd say my amazement at the Beatles has grown over the last 10 years. The amazingness of their songs — John Lennon and Paul McCartney are both out-of-this-world extraordinary and so different. Ringo is as terrific a rock drummer as there could be for that group. George is extraordinary, too. That these four guys from Liverpool could be who they were is magical, and that Lennon and McCartney met each other in their teens and turned out to be genuinely geniuses — that's magical.
GAZETTE: You examine the "Fab Four" era of the Beatles to explore the mystery of why some artists become hugely popular while others don't. Quality is often a reason, but not always. What are some determinative factors, and why is it so hard to predict?
SUNSTEIN:
Whether we're talking about musicians or poets or novelists or actors, the people who really make it might not be better than the people who don't. What gets the people who make it to make it is often captured by the word "serendipity," which is a placeholder for such things as who is enthusiastic about what song or what poem at what point in time; whether seven people or 80 people or 8,000 people get excited when that excitement turns out to launch the person; whether the person gets access to economic backing, perhaps because someone happens to read a poem or read a novel or hear a song who thinks "that one's extraordinary" rather than another one that was also extraordinary that they didn't read or hear. That role of early enthusiasm, influential enthusiasm, a single sponsor, a group of fans, or just a night when everything goes really well, that is what's neglected.
Now, let's think of the Beatles: After they were turned down by a bunch of studios, they almost gave up; the very person who was famously their great producer, George Martin, didn't think much of them and had to be persuaded to release singles by them. "Love Me Do," which was their first hit, the studio had no big hope for. It turned out that it did well for reasons that were not related fully to its quality. These and other things probably lost to history could have gone the other way, and who knows?
If it seems a little provocative to suggest that the Beatles could have failed, well, John Keats died thinking he was pretty much a loser and a failure. "Harry Potter" was turned down by multiple publishers. Jane Austen was not thought to be the best of the novelists of her time. William Blake was essentially unknown. Just like the fact that Taylor Swift becomes who she is and (I'm going to make up a name) Mary Johnson gave up at the age of 19. That might not be because Taylor Swift is better than Mary Johnson. I'm a huge fan of Taylor Swift, I should say. I think she's phenomenal, so this is not a knock on her, and I'd be amazed if there's a Mary Johnson who's as good who gave up. But I probably shouldn't be amazed. There probably is a Mary Johnson who's maybe as good or good in a different way who gave up. This is about success and failure generally.
GAZETTE: Does the enduring popularity of the Beatles demonstrate that their extraordinary talent was perhaps more influential to their success than the early serendipitous factors?
SUNSTEIN:
That's a counterargument to the thesis I explore, which is that the Beatles could have disappeared. According to that thesis, they were both amazing and fortunate, and it was social influences and serendipity that helped them become the Beatles. The counterargument would be to look at their constant rise to popularity, where lightning didn't just strike once, it struck many times over the years, with new generations discovering them. You could say that's testimony to their extraordinariness, which could support the implicit thesis of the movie "Yesterday" — that if people heard the Beatles now, they'd go crazy with enthusiasm. Maybe. If my thesis is that, in their era, they could have fallen apart if they hadn't gotten fortunate at a key time, then that's consistent with the view they were excellent then and became even more amazing over the years they were together. But you could still say they needed that stroke of serendipity at the time when they were extremely vulnerable.
It was probably multiple things. They needed manager Brian Epstein to go crazy for them. They needed him to be who he was; they needed George Martin to be convinced by people at the record label; they needed George Martin himself to give the nod; they needed Liverpool to have a kind of cascade of support. So, they needed a lot of stuff.
What I don't know is whether the fact that they get rediscovered is really independent rediscovery. You're not just discovering some obscure group. You're rediscovering the Beatles. And the Beatles are iconic. So, the fact that people discover them and love them isn't independent. It's tainted in the sense that it's not uninfluenced by the fact that they are the Beatles.
GAZETTE: For those who are not exceptionally good or terrible, research shows that a band's popularity can be directly influenced by social factors mostly unrelated to its musical quality. What are some of those influences?
SUNSTEIN:
Bob Dylan, who I confess is one of my very favorites, he was part of a folk music scene, a group of singers in Greenwich Village who basically didn't do albums. A guy named Robert Shelton wrote a story in The New York Times on Sept. 29, 1961, that said,
"20-Year-Old Singer Is Bright New Face at Gerde's Club."
That rave review vaulted Dylan to a different league and helped him get a record deal, which was extremely unusual among his crowd.
What would have happened to Bob Dylan without Robert Shelton? Not at all clear. So that's one kind of social influence. It might be an appearance — it could be some television program; it could be the Grammys. It could be that someone gives them an opportunity. Let's say there's a band or person who's super popular and great and says, "Here's the next big person" and they open for them. That could turn into something great. Taylor Swift, I know because I was at a concert of hers, the people who opened for her then were Haim. She also helped Vance Joy, a guy from Australia who is amazing. Ed Sheeran was another. You open for Taylor Swift, and something great can come for you. That's another example.
GAZETTE: After considering other possibilities, you conclude "with trepidation" that the Beatles likely would have succeeded even without Beatlemania because of their extraordinary talent, but you said we can never be certain. Why not?
SUNSTEIN:
Basically, the answer to your question is that history is run only once, so we don't know. This is extremely intriguing and not knowable. The Beatles, at the time they first became the famous Beatles, were very, very good. Were they really Beatles-level good? No, they weren't. Think of their early songs. "I Wanna Hold Your Hand" is very good. "She Loves You" was really good, and "Love Me Do" is really good.
Are they a lot better than the other groups at that time? If you listen to Dave Clark Five — the insufficiently beloved Dave Clark Five — I like them. Listen to "Glad All Over" or "Catch Me If You Can." They had about seven really good songs, in my view. Were they significantly less good than the Beatles at that time? I think so, but I'm not sure.
The Beatles became the Beatles only after they were sensationally popular. Lennon and McCartney were freed to go in a lot of amazing directions. My favorite Beatles album — I think it's their best— is "Revolver." They were able to be more inventive. Are there other people who — if they had a couple of years to be inventive — could have done a "Revolver" or "Rubber Soul"? Every bone in my body cries out, "No!" But my brain whispers, "Maybe."


Christina Pazzanese is a staff writer at The Harvard Gazette,
covering national and world affairs. Her work has also
appeared in The Washington Post, Boston Globe, and the late
Boston Phoenix.

March 29, 2022

Sie Liebt Dich by The Beatles
by Ray McGinnis for the Vancouver Pop Music Signature Sounds
Peak Month: July 1964
5 weeks on Vancouver's CFUN chart
Peak Position #8
Peak Position on Billboard Hot 100 ~ #97
In his book, The Beatles Encyclopedia: Revised and Updated, Bill Harry writes about the background to the song "She Loves You." In June 1963, The Beatles were on a tour of the UK with Gerry and the Pacemakers and Roy Orbison. While they were on the tour bus, Paul McCartney and John Lennon got the idea for "She Loves You". It was in their hotel room after their June 26th concert at the Majestic Ballroom in Newcastle upon Tyne they made expanded on the lyrics and the melody for "She Loves You". According to Kenneth Womack in his book, Long And Winding Roads: The Evolving Artistry of The Beatles, "She Loves You" was finished the following day at Paul McCartney's Forthlin Road home in Liverpool.
Paul McCartney was interviewed by Laura Davies about the songs origins of "She Loves You". She published her article in the Liverpool Daily Post in on February 23, 2003. McCartney told Davies the initial idea for the song began while on their tour bus while hearing songs on the transistor radio in June 1963. On May 29, 1963, American teen idol, Bobby Rydell, released a single in the UK called "Forget Him". (McCartney's story of the Bobby Rydell "Forget Him" influence on the creation of "She Loves You" is also repeated in Kenneth Womack's Long And Winding Roads… book). As "Forget Him" was climbing the UK charts, McCartney and Lennon were intrigued by the songs' call and response pattern. McCartney told reporter, Laura Davies "as often happens, you think of one song when you write another … I'd planned an 'answering song' where a couple of us would sing 'she loves you' and the other ones would answer 'yeah yeah.' We decided that was a crummy idea but at least we then had the idea of a song called 'She Loves You.' So we sat in the hotel bedroom for a few hours and wrote it—John and I, sitting on twin beds with guitars." Once the song was complete, they played it for Paul's father, "Jim" McCartney. When Jim McCartney heard "She Loves You" performed in the family living room he encouraged John Lennon and Paul McCartney change the lyrics from "She loves you, yeah, yeah, yeah" to "She loves you, yes, yes, yes." Fortunately, John and Paul didn't go with Paul's father's suggestion.
Part of Lennon and McCartney's interest in finishing a song quickly, was that the Beatles had booked a recording studio for July 1st. "She Loves You" was composed, according to Jude Southerland Kessler, in just three days.
The title for "She Loves You" was framed around the use of personal pronouns. This was typical of Beatles song titles at the time that included "From Me To You", "Please Please Me", "Thank You Girl" and "Do You Want To Know A Secret". Most of these songs are sung from the perspective of someone who loves someone else. But, in the case of "She Loves You", it is a third party who is supportive of the relationship who tries to help mend an estrangement due to a misunderstanding:
You think you lost your love/well, I saw her yesterday.
It's you she's thinking of/and she told me what to say.
She says she loves you …
In The Beatles Anthology (2000), a 1980 interview is cited where John Lennon gives Paul McCartney the credit for the inspiration to not title the song "I Love You." "It was Paul's idea: instead of singing 'I love you' again, we'd have a third party. That kind of little detail is still in his work. He will write a story about someone. I'm more inclined to write about myself."
The first time John Lennon ever heard a song use the words "yeah yeah" was on "All Shook Up" by Elvis Presley. According to Ian MacDonald in his book Revolution in the Head: The Beatles' Records and the Sixties, John Lennon recalled "I don't know where the 'yeah yeah yeah' came from [but] I remember when Elvis did 'All Shook Up' it was the first time in my life that I had heard 'uh huh', 'oh yeah', and 'yeah yeah' all sung in the same song." "She Loves You" also included a number of "wooooo's" that Lennon credited the Isley Brothers' recording of "Twist And Shout" as the source of their inspiration, a song the Beatles would later record.
On August 23, 1963, "She Loves You" was released in the UK. It quickly climbed to the top of the UK singles charts on September 12th, remaining at #1 for four consecutive weeks. Then Brian Poole and The Tremeloes took the #1 spot on October 10th, with "Do You Love Me". After three weeks at #1, Gerry and The Pacemakers bumped the Tremeloes from the top spot when "You'll Never Walk Alone" took the Pacemakers to the top spot on October 31st. Amazingly, seven weeks after peaking at #1 on October 3rd, "She Loves You" re-entered the #1 spot on November 28th for two more weeks. In Vancouver the song debuted on the December 7th CFUN-TASTIC FIFTY chart and topped the chart on December 21, 1962. It would spend four weeks at #1. South of the border, "She Loves You" debuted on the 25 January Billboard Hot 100 chart in 1964, eventually peaking at #2 while The Beatles "I Want to Hold Your Hand" took the #1 spot.
According to the Official UK Singles chart, "She Loves You" is the biggest selling single for The Beatles in the UK. The Guardian reported November, 2012, about the sixty year old anniversary of the UK singles chart that began in 1952. "She Loves You" was the ninth biggest selling single in the UK between 1952 and 2012, with 1.9 million sales. "I Want To Hold Your Hand" was the fifteenth biggest all time seller in the UK at 1.77 million sales. At position #25, "Can't Buy Me Love" sold 1.53 million records in the United Kingdom. At #35 on the biggest hits list in the UK, "I Feel Fine" sold 1.43 million copies. Having sold 1.39 million copies, the #40 on the Official UK singles million-selling singles list was held by "We Can Work It Out"/"Day Tripper". And in position #95 on the all-time best selling singles in the UK between 1952 and 2012, was "Hey Jude", with a sales total of 1.06 million records.
In the UK it was Parlophone Records that recorded "She Loves You". Parlophone Records was owned by EMI. The German division of EMI believed the only way to sell Beatles records in Germany was to offer German translations of their songs. So the Beatles were pressed to re-record their songs German. The band was in France for a 19-day series of concerts at the Olympia Theatre. The recording session was scheduled for 27 January, but the Beatles were reluctant to attend it.
"Komm, gib mir deine Hand" ("I Want To Hold Your Hand") was the first song to be recorded. It took eleven takes, but the Beatles German vocals were mixed with the original instrumental track. In the case of "She Loves You" the instrumental recording was destroyed by EMI after it had been mixed for mono. As a result the Beatles had to re-record "Sie Liebt Dich" from the beginning. It took thirteen takes to record the instrumental and then the German vocals for "Sie Liebt Dich".
The song charted to #97 on the Billboard Hot 100. It went to #1 in San Bernardino, California, and Akron, Ohio. But outside these two record markets the song was mostly given a pass. It peaked at #6 in Regina and at #8 on CFUN in Vancouver.
Paul McCartney and John Lennon wrote "She Loves You" in English. As the pair weren't in a position to make a perfect translation of the song into German, several German speaking individuals were approached at the last minute to make the translations to German for both "I Want To Hold Your Hand" and "She Loves You". In the article, "Komm Gib Mir Deine Hand:" The in-depth Story Behind the Songs of the Beatles, some background is provided. On record label, the credits for "Sie Liebt Dich" are given to Lennon-McCartney-Nicholas-Montague. Of Nicholas, the article explains that EMI in Germany had a subsidiary called Odeon. George Martin remembers, "Odeon sent over a translator from Cologne to coach the boys, although they did know a little German from having played there." One of the persons assigned to the task was more than a translator. Camillo Felgen was a pop star, lyricist and television/radio presenter in Germany and France. In addition to being a translator for allied troops in World War II, Felgen mong was a contestant in two Eurovision Song Contests. His first appearance in 1960 was not successful, as he finished last. But in 1962, Camillo Felgen finished third with "Petit Bonhomme," which he sang in French. This resulted in a hit record in continental Europe.
According to Dave Rybaczewski, writing for The Beatles Bible on April 5, 2012, in 1964 Camillo Felgen was in the employ Radio Luxembourg in the capacity of program director. On January 28, 1964, Felgen got a phone call from the German producer of EMI, Otto Demmlar. He asked Camillo Felgen to translate from English to German both "I Want To Hold Your Hand" and "She Loves You." Demmlar told Felgen he would need to fly to Paris, to meet the Fab Four and coach them on proper pronunciation of the German syllables ahead of their recording session. Otto Demmlar stressed the urgency, as Camillo Felgen had only 24 hours to get the translations completed. Felgen flew at once to Paris and worked with George Martin, The Beatles and another translator credited as Lawrence Montague. Camillo chose to use an alias for his songwriting credit: J. Nicolas. Felgen's two middle names were Jean Nicolas. The Montague in the songwriting credits was Lawrence Montague. According to Diiscogs.com, Montague's real name was Lawrence M. Yaskiel. Born in London in 1936, Lawrence was a British specialist in English to German translation. He joined Deutshce Vogue Schallplatten, a German subsidiary of Vogue Paris, in 1962.
If George Martin had doubted a foreign language song could sell in another record market, he could have considered the success of several other charted songs from the late '50s and early '60s. In 1960, a German language song, "Seemann (Deine Heimat ist das Meer)" climbed up the charts internationally including in Australia, the United States and Canada under the English title "Sailor (Your Home is the Sea)". The song, written by Werner Scharfenberger and lyricist Fini Busch, was recorded by Austrian singer Edith `Ditta' Einzinger under the name "Lolita". It became an international hit over 1960-61, peaking at #1 on CFUN the last week of October 1960.
In 1963, Kyu Sakamoto had an international hit with his #1 hit in Japan, from 1961, called "Sukiyaki". The song was recorded in English by the pop group A Taste of Honey who had a Top Ten hit in North America in 1981. Also in 1963, the Singing Nun had a French language song called "Dominique" that was an international #1 hit.
December 6, 2016
References:
Laura Davies, She Loves You Where? Where? Where?, Liverpool Daily Post, Liverpool, UK, February 26, 2003.
"C-FUNTASTIC FIFTY," CFUN 1410 AM, Vancouver, BC, July 11, 1964.
Harry, Bill. The Beatles Encyclopedia: Revised and Updated. Virgin Publishing, London, 2000.
The Beatles Anthology. Chronicle Books, San Francisco, 2000, p. 96.
Womack, Kenneth. Long And Winding Roads: The Evolving Artistry of The Beatles. Continuum International, New York and London, 2007, p. 67
Jude Southerland Kessler, The Composition of She Loves You: A New Look at Beatles History, Beatles Again.com, August 1, 2011.
Ian MacDonald, Revolution in the Head: The Beatles' Records and the Sixties, (Chicago Review Press, 2007).
Ami Sedghi, "UK's Million-selling Singles: the Full List," Guardian, November 4, 2012
Dave Rybaczewski, "KOMM, GIB MIR DEINE HAND", The Beatles Bible April 5, 2012
Lawrence Montague bio and credits, Discogs.com
C-FUN-Tastic 50, October 29, 1960 ("Sailor" at #1 on CFUN chart)
C-FUNTASTIC FIFTY, May 11, 1963 ("Sukiyaki" at #1 on CFUn chart)



March 27, 2022
The Beatle Who Got Away
Revisiting Stuart Sutcliffe's role in the band's breakthrough.

by Ted Widmer for the New Yorker
On August 17, 1960, five young Britons were approaching the stage of a small night club in Hamburg, about
to play music in that city for the first time. To reach the stage, they had come an almost unimaginable
distance. From their home, in Liverpool, they had driven in a cream-and-green minibus to the port of Harwich.
The bus, teetering under the weight of amplifiers and instruments, had been lifted onto a ferry by a crane. At
first, the stevedores had refused to handle such a precarious load; a photograph captured the moment just
after they changed their minds, with the sixties hanging in the balance.
The musicians slept on benches as the ferry churned across the North Sea toward the Hook of Holland. From
there, they drove to the West German border, where they told officials that they were students, bringing
their guitars for "sing-songs" with friends. They were young enough to encourage the ruse—during the long
ride, their manager had recited "The Wind in the Willows" to entertain them. Four of the five were teen-
agers: John Lennon, nineteen; Paul McCartney and Pete Best, eighteen; George Harrison, seventeen. The
fifth, Stuart Sutcliffe, was twenty, barely.
But they were growing up fast, and the road offered its own form of instruction. Entering a roundabout, they turned in the wrong direction, and found a gigantic truck bearing down on them. When the bus's tires became caught in streetcar tracks, its passengers avoided colliding with a tram, but only at the last second. Finally, as they pulled into Hamburg, they rammed into a car.
Eventually, the minibus found its way to the Reeperbahn, the main avenue of Hamburg's sin district, then turned into Grosse Freiheit, a small street named after the "great freedom" offered by a local count, around 1610, when he established a set of economic and religious reforms. The band set up their gear in a tiny club, at No. 64, that offered a "daily international program" with lingerie shows. Its marquee included a name, Indra, that came from a Hindu deity, a friend to weary travellers and poets. That seemed appropriate. John Lennon took out a pen and crossed out the word "Silver" from the band's name. From now on, they were simply Beatles.
On their first night in Hamburg, the band members posed for a photograph, as if to prove that they had survived the crossing. In light blazers, dark pants, and tan cowboy boots, they had not yet settled on their look, and were staring in different directions. But, on the right, the bassist was locked in, radiating an attitude of pure rock and roll. Stuart Sutcliffe's pose might have amused the others; he had been playing bass for only seven months, and was distinctly less virtuosic than the three guitarists. Yet he had done a great deal to propel this journey across the North Sea, into the slipstream of history.
Sutcliffe remains a spectral presence in Beatles lore, obscured by our knowledge that the band was destined to become a quartet. He joined early in 1960, and his departure, in 1961, forced Paul McCartney to pick up the bass, the instrument that God clearly wanted him to play. No band needs three guitarists.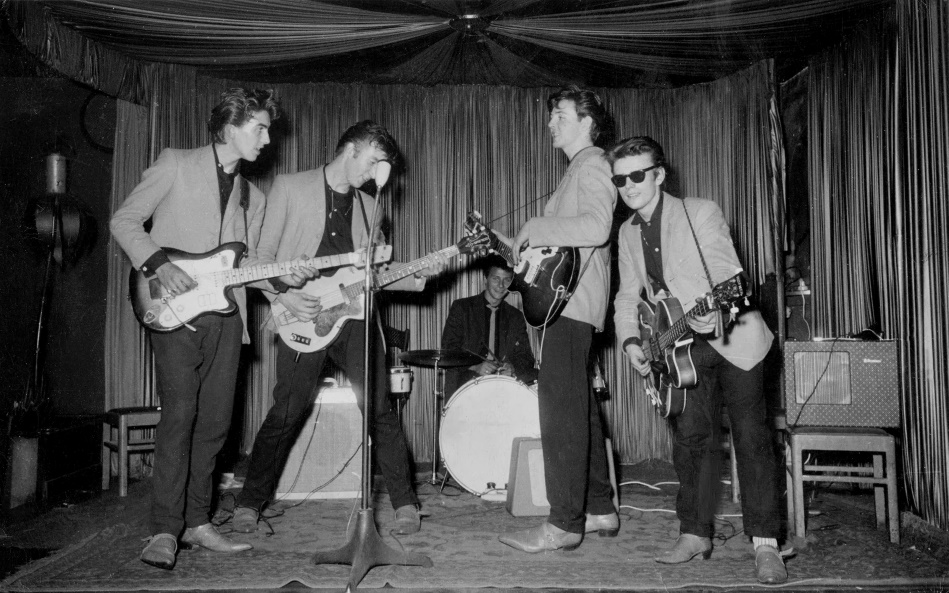 Yet Sutcliffe has come out of the shadows in recent years, thanks especially to the British writer Mark Lewisohn, who has been laboring for decades, like a medieval scribe, on what is sure to be the most detailed history of the Beatles ever written. "Tune In," the first volume of an expected trilogy, appeared in 2013, and devoted nine hundred and forty-four pages to their beginnings, through 1962. Among other breakthroughs, Lewisohn has shown how pivotal Sutcliffe was during the Wunderjahr of 1960. At the end of 1959, the band was an iffy proposition, changing its name every few months. Like Spinal Tap, they suffered from a chronic shortage of drummers, and they collectively owned a single amp. So dim were the group's prospects that George Harrison joined a band with steadier gigs.
But Sutcliffe's arrival was galvanic. Lennon, energized by his friendship with a brilliant painter, began to hear his own muse. Together, they came up with the perfect band name, and Sutcliffe's charisma kept opening doors. His search for his voice guided theirs, and even after he left—and even after he died, in 1962, of a mysterious brain injury—he continued to speak to them.
I encountered that voice three years ago, on an arctic day, in a basement on Long Island. A friend had alerted me to a cache of art, letters, journals, and photographs by Sutcliffe, which were held in the house of his sister Pauline near a street named Blue Jay Way. The Beatles' creation story is deeply entrenched, and teleological: it is simply inevitable that Lennon will meet McCartney, that their genius will conquer the world. But Pauline's archive suggests that, without Sutcliffe's arrival, they might never have found their way to the ferry. To elevate his role in the story doesn't detract from his bandmates' achievement. On the contrary, it forces new amazement that they made it out of Liverpool at all.
Born in 1940, the eldest child of his family, Sutcliffe grew up with a father at sea, and filled the void with reading, writing, and drawing in his sketchbooks. "We young artists are like young sailors," he wrote in a notebook. "Unless we encounter rough seas and are buffeted by the winds, we'll not become real sailors." It was as if the North Sea were already beckoning.
The story has been told of Liverpool's openness to American music, but it was also a city teeming with literary ideas—in the coffee bars near the Liverpool College of Art, where beatniks gathered to shout poems at one another, and in the garrets where they chattered late into the night. Sutcliffe entered the college in 1956, and quickly established himself as a star painter, splashing his canvases with a riot of color, like the artists he loved: Serge Poliakoff, Nicolas de Staël. When he met another student, John Lennon, a spark was kindled.
Cynthia Powell, a fellow-student and the woman who would become Lennon's first wife, wrote about these years in her memoirs, and dwelled at length on the friendship between the two nearsighted artists, who tried so hard to see what the world had to offer. Patiently, Sutcliffe taught Lennon how to think through the act of composition, planning a painting so that it would create a rich universe of its own. Less patiently, Lennon expanded Sutcliffe's sense of sound, raving about the latest singles from across the Atlantic.
They shared a love of words, too. In his youth, Lennon had created a mock newspaper, the Daily Howl, which he wrote out at home, by hand. Sutcliffe read everything he could get his hands on, from Kant and Spinoza to Kerouac, Dostoyevsky, and Søren Kierkegaard, the nineteenth-century Danish philosopher who counselled his readers to set aside intellectual concerns and "leap."
The first leap came soon enough. At the end of 1959, Sutcliffe was selected for a prestigious art exhibition, and sold a painting. Suddenly, he had ninety pounds burning a hole in his pocket. Lennon, who had been playing skiffly rock and roll with McCartney, Harrison, and an assortment of drummers, pressed Sutcliffe to convert his capital gain into a new bass. On January 21, 1960, Sutcliffe bought a Hofner 333, and soon joined the combo.
From that moment, the story accelerates. Sutcliffe was not a natural musician, but he practiced until his fingers bled, and helped in other ways to fill out the picture. (Harrison would remember him as the band's "Art Director" in those years.) He helped scare up a second amplifier from the college, and the band's sound grew richer. They needed connections, too, and when a new café and venue, the Jacaranda, opened nearby, Sutcliffe was ready. The café's owner—a plumber named Allan Williams—wanted someone to paint over graffiti in the women's bathroom. Sutcliffe delivered a series of murals of, as Williams later put it in his memoir, "Rock n' Roll Scenes." Williams was delighted.
Sutcliffe had begun living in an artist's loft, across the street from the Anglican cathedral that towered over Liverpool. Lennon immediately moved in, and Harrison and McCartney were a constant presence, eager to escape parental supervision. McCartney later remembered it as a magical place ("Very studenty!"), where they could stay up all night, playing the latest records from America, until the sun shone on the cathedral.
But, even as they cohered, the band lacked a name. (They had outgrown options like the Quarrymen, and
Johnny and the Moondogs.) Sutcliffe kept long vocabulary lists—gregarious, ascetic, sublimate—and one
night, in April, he and Lennon concocted a pun that nodded at once to the Beat Generation and to one of
their favorite acts, the Crickets, the band led by Buddy Holly. McCartney later remembered the exact
moment when his friends, walking along the cathedral, announced, "Hey, we want to call the band the
Beatles." Harrison gave the credit to "Sutcliffe/Lennon."


In the weeks that followed, the Beatles rehearsed in Sutcliffe's rooms. Williams, enchanted by their style, and by Sutcliffe's artistic disposition, began to take an interest. In late May, he booked the group on a tour of a windswept stretch of the Scottish coast, backing a teen-idol type, Johnny Gentle. When the group returned, they were granted a regular spot playing gigs at the Jacaranda. But the big break came in August, when Williams got a call from a German club owner who needed five English musicians to perform in Hamburg.
Here was a second leap of faith, especially for Sutcliffe, who would need to pause his promising art career, and had more to lose than the others. But he finally agreed. The decision was made easier when a newspaper article about beatniks identified his building as a foul nest of this invasive species. On August 15th, he and Lennon were evicted. The next day, the band made it onto the ferry.
In eight months, they had come a long way, thanks in no small part to the bookish young man who kept painting new doorways for them to walk through. Sutcliffe still wrestled with his instrument, but he had earned his place in the Beatles, finding them a name, a place to grow, and a chance to soar. In a notepad, he wrote a list of aphorisms. "History is my father and tomorrow is my son," one reads. Another: "Now I am young I have strong wings I can fly high. I will."
From the moment the Beatles arrived in Hamburg, their immersion was total. Between August 17th and October 3rd, they played forty-eight sets at the Indra, each roughly six or eight hours long—far more than they had ever played in England. After an elderly lodger complained about the noise, they moved to the Kaiserkeller, a nearby sailor bar. On their first night at the new venue, at a tense moment in the Cold War, the U.S.S. Antares and the U.S.S. Fiske sailed into Hamburg. Suddenly, hundreds of Navy men needed entertaining.
The Beatles played fifty-eight more sets between October 4th and November 30th. Under pressure to mach schau, or "make show"—the phrase that had been yelled at them by the Indra's manager—they became more extroverted, stomping and screaming to get attention. In mid-October, Sutcliffe wrote home to Pauline, "We have improved a thousandfold since our arrival." His confidence was burgeoning during this trial by fire. At the Kaiserkeller and the Indra, women swooned over the intense young man, as did the gay clientele, especially when Sutcliffe came forward to sing the Elvis ballad "Love Me Tender." In a letter home to his sister, Sutcliffe wrote, "I've become very popular both with girls and homosexuals, who tell me I'm the sweetest, most beautiful boy."
As in Liverpool, Sutcliffe soon connected with a group of like-minded art students. One night in late October, a young graphic designer, Klaus Voormann, came into the Kaiserkeller after a quarrel with his girlfriend. It was his first time in a night club. When I spoke to Voormann, who lives near Munich, he recalled the moment as if it were yesterday. He had just seen a boisterous band finish its set. (It turned out to be Rory Storm and the Hurricanes, featuring Ringo Starr on drums.) When the next act came out, the first Beatle to take the stage was a slender young man with a passing resemblance to James Dean. The group launched into a blistering set, and Voormann remembers a woman in the audience who seemed to experience an orgasm "just looking at the way Stuart was standing."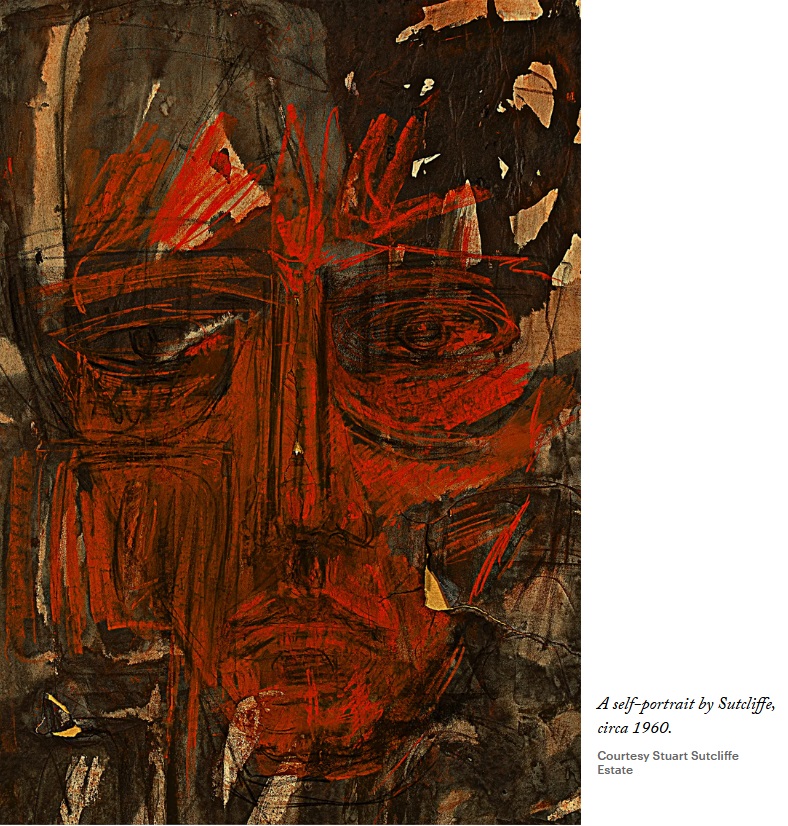 The next night, Voormann came back with his girlfriend, Astrid Kirchherr, and another friend, Jürgen Vollmer. They became regulars, and Voormann shyly introduced himself to Lennon, who told him to find Sutcliffe, "the arty one." "We started talking, and it was like the world was on fire," Voormann said.
Soon Kirchherr began taking photographs of the Beatles, who instinctively understood how to mach schau for her camera. One day, she brought the band to a local fairground—the Heiligengeistfeld, or Field of the Holy Spirit—where she captured them among the abandoned trucks and carnival rides of the off-season. Twice, she framed Sutcliffe in the distance, looking past Lennon and McCartney, through sunglasses, toward her.
Kirchherr spoke hardly a word of English; Sutcliffe spoke almost no German. But they fell in love, and their relationship sparked a series of formative ideas, especially regarding how a band could look. Sutcliffe was small enough to wear Kirchherr's clothes, and he often did, without hesitation. For rockers on both sides of the Atlantic, hair grease was a crucial mortar; but Voormann and Vollmer were beginning to let their bangs tumble forward, with no grease at all. The look, which they called a pilzenkopf, or mushroom head, was daringly new, but it was also old, and Voormann traced it back to Classical statuary. Sutcliffe was the first Beatle to go Greco-Roman; the others soon came around. Later, Sutcliffe showed up in a collarless Pierre Cardin jacket, the garment that would eventually come to define the band.
The intimacy between Sutcliffe and Kirchherr also caused tension. According to Pauline, McCartney later confessed that it "peeved the rest of us like mad, that she hadn't fallen in love with any of us," and he seemed to feel that the plonk of Sutcliffe's bass playing was holding the band back. Voormann, for his part, maintains that "the Beatles were best when Stuart was still in the band," and that Sutcliffe had "great feeling." Pete Best, who had a front-row seat, agreed that Sutcliffe got the hang of his instrument.
By early December, most of the group was ordered back to England after disputes with the Kaiserkeller's owner and the local police. Lennon, McCartney, Harrison, and Best limped back to Liverpool, but Sutcliffe lingered in Hamburg, hesitant to return to a city that he likened in his letters to a "brass coffin." When he finally returned for a set of gigs in late January, he received a savage beating after being cornered by a group of Teddy Boys. Lennon and Best broke up the fight, but not before Sutcliffe was kicked in the head. Two weeks later, the Beatles began playing at the Cavern Club. (A grainy photograph shows Lennon playing guitar with a splint on his finger. Behind him, Sutcliffe's bass can be seen, but not his face, as though he were easing out of the picture.)
The Beatles journeyed back to Hamburg, and played ninety-two shows between April 1st and July 1st. In photographs, Sutcliffe appears fully engaged, but he was spending more and more time with Kirchherr, and was increasingly drawn to his passion for art. (As Cynthia Lennon wrote, "He was not the type of person to fool himself.") In late June, the Beatles recorded their first professional tracks; Sutcliffe, though there to cheer on his friends, didn't play. The band backed another singer, Tony Sheridan, for five songs, then worked out two on their own. One was an instrumental titled "Cry for a Shadow." The only song credited to John Lennon and George Harrison, it seemed to describe the Beatle who was both present and not.
A week later, the break was complete. The Beatles returned to Liverpool for the next phase of their launch, and Sutcliffe began painting with a fury, selling his Hofner to Voormann and using the cash for paints and canvases. He had also found the perfect instructor: Eduardo Paolozzi, a fellow-Brit, who happened to be teaching at a Hamburg art school. Like Sutcliffe, Paolozzi was entranced by American pop culture. In 1947, he created a collage titled "I Was a Rich Man's Plaything," which featured an airplane, a bottle of Coca-Cola, and a gun with the word "pop" near the barrel. Many believe that Pop Art was born in that moment.
With a sculptor's eye, Paolozzi roamed the scrap lots and ship-salvage yards of Hamburg, looking for bits of metal. Sutcliffe followed him, eager to experiment with new media. Paolozzi began work on a thirteen-minute movie; Sutcliffe, according to his letters, started making short films. The art was flowing out of him: life studies, collages, canvases as tall as he was. "If he'd lived, he could easily have been the Beatle," Paolozzi later said. "He was imaginative, ultra-intelligent, and he was open to everything." In at least one edition of "Tune In," Lewisohn includes a photograph from February 3, 1962, full of that sense of possibility. Voormann wears a Baroque ruff, as if impersonating a Rembrandt portrait; Kirchherr and Sutcliffe wear matching leather pants.
To judge from the swagger, Sutcliffe was the picture of good health. In fact, he had been suffering from a range of medical complaints. The issues began early in 1961, when he was still with the band, and when he started experiencing mysterious pains. In July, he wrote his mother that he had "a shadow" on his lungs, gastritis, and an appendix that needed removal. Near the end of January, he suffered a convulsive fit, and couldn't attend classes. Still, he kept painting at a frantic pace.
When Sutcliffe returned to Liverpool, in the third week of February, he began to worry friends. He confessed to Lennon that he sometimes thought about jumping out of a window, and his mother later described his pain as "a bomb going off in his head." In March, the Beatles played on the radio for the first time, and Sutcliffe soon returned to Hamburg, where the headaches got worse. They stopped on April 10, 1962, when he slipped into a coma and died in Kirchherr's arms, on the way to the hospital.
The Beatles learned the news not long after, from Kirchherr, at the Hamburg airport, where they had landed to begin a new residency. "John went into hysterics," she later recalled. "We couldn't make out . . . whether he was laughing or crying because he did everything at once. I remember him sitting on a bench, huddled over, and he was shaking, rocking backward and forward." Losing his best friend was an inexpressible loss, but there was little time to grieve. Once again, the Beatles needed to mach schau.
Three days later, on April 13th, the Beatles played an extraordinary show at the Star Club, a huge theatre with a mural of the New York skyline. Voormann witnessed a tragicomic scene as John, dressed as a cleaning woman and knocking over mike stands, worked through his grief. "It gave me shivers to watch it, but this is what clowns do, bring humor to tragedy," he told Lewisohn decades later. "It was hilarious."
At first, the official cause of Sutcliffe's death was "cerebral paralysis due to bleeding into the right ventricle of the brain." One doctor told Kirchherr that Sutcliffe's brain had been pressing against his cranium as it grew. Later, pathologists discovered a tumor caused by a small depression in Sutcliffe's skull, suggesting that his suffering stemmed from an act of violence.
Whatever the reason, Lennon was plunged into grief. He began picking fights and drinking too much, and for a time even lost his voice. He told Kirchherr that he wished he could have died in Sutcliffe's place. One day, he showed Kirchherr the room where he was staying, and she described it, in her rudimentary English, in a letter to Sutcliffe's mother: "Every piece of paper from Stuart he have stick on the wall and big photographs by his bed." At times, Lennon swallowed his anguish and expressed a hard-bitten perspective. Trying to comfort Kirchherr, he told her, "Make up your mind, you either live or you die."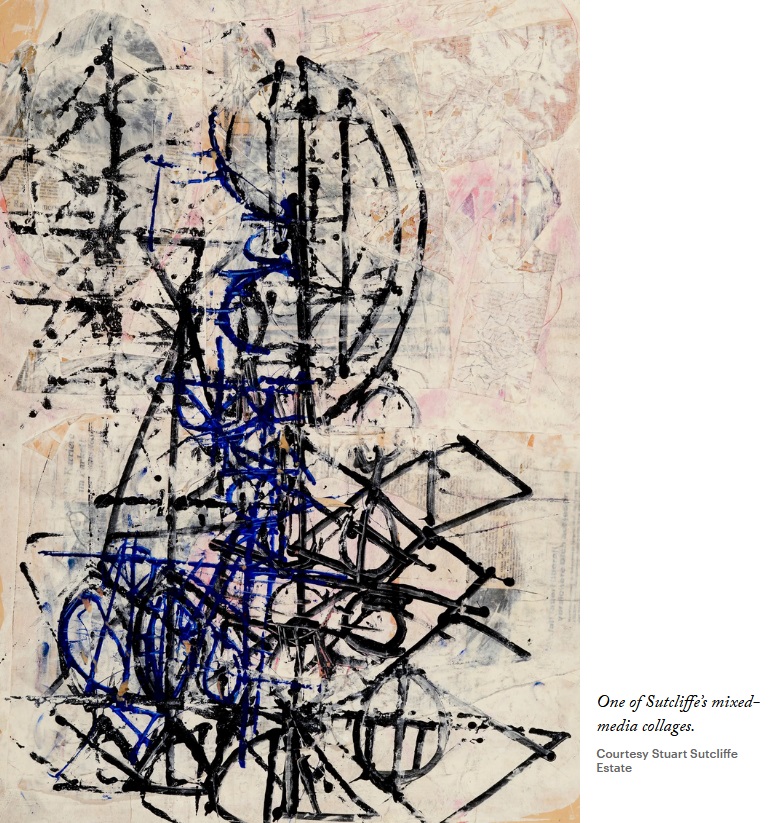 The Beatles continued their ascent, but Sutcliffe cast a long shadow. He would appear, ghostlike, on their album covers: on "Sgt. Pepper's Lonely Hearts Club Band," Sutcliffe is among the scores of pictured faces, and, when Lennon released "Rock 'n' Roll," in 1975, he used an old photograph from Hamburg, in which his friend appears as a blur from the spirit world. Yoko Ono later told the journalist Larry Kane that "there was not a period in our lives" during which Lennon didn't mention Sutcliffe, and that he considered them to be "soul mates."
Even the other Beatles felt Sutcliffe's presence. McCartney remembered that the band had a pact. "If one of us were to die, he'd come back and let the others know if there was another side," he said. "So as Stuart was the first one to go, we did half expect him to show up. Any pans that rattled in the night could be him."
If pans did rattle, it would go some distance toward explaining just how good the Beatles became. Their songs embraced life, but they also dared to contemplate death, and what lies beyond. "It is not dying," Lennon insists in "Tomorrow Never Knows." In just a few years, Sutcliffe had given a great deal to his friends—but in death he reminded them of life's transience, and of the urgency of being true to oneself. "He would walk down the street, anywhere, and see something beautiful—the sky, a bird, anything," Voormann said. "He was the most inspiring person I have met in all my life."
Sutcliffe's aura was palpable on the day that I met his sister on Long Island. The sunshine was streaming through generous skylights, and Pauline sat in a room that brimmed with her brother's art. There seemed to be hundreds of pieces: some large, stretching from floor to ceiling, while others were small collages, with bits of Hamburg newspapers pasted throughout. In a corner, one canvas commanded special attention. At the bottom, there was a single word, "Stuart," and below it two shapes resembling question marks. Pauline told me they were added at the last minute, as the paint was drying, by John Lennon.
Pauline invited me to visit several times, and encouraged me to go through the archive of writings in her basement. (Some of them have been reproduced by biographers, including Pauline herself, in her 2001 book "The Beatles' Shadow.") It was impossible not to feel Sutcliffe's life force; it was radiating from the canvases, and the letters, and from Pauline's face, which lit up every time she said his name. In the fall of 2019, she died, and my visits stopped. Still, she had given a great gift, by granting a backstage pass into the story. Throughout the desolation of the pandemic, it helped to play the Beatles, especially with a deeper understanding of just how close we came to never hearing them at all. If Harrison had immigrated to Australia, as he wished; if McCartney had kept his job as a coil-winder, as he nearly did; or, if Lennon and Sutcliffe had not recognized something profound in one another, this would have been a different story.
Fortunately, history unfolded as it did, thanks in part to a young artist who took a leap of faith and never
looked back. "There is no mercy for us," Sutcliffe wrote in his journal. "Everyone has to go through a period
of worry and struggle if he wants to go into deep water." By crossing the North Sea, the Beatles found a
water so deep that we can swim in it forever.


—
End of essay.


For a year Tommy James was bigger than The Beatles. Then the mafia ruined everything

by Max Bell for Classic Rock
With hits like Mony Mony and Crimson And Clover, Tommy James should have had the time of his life. Instead,
he found himself robbed and threatened by the Mafia.
On Saturday July 15, 1972 American rock legend Tommy James played a gig at the Paramount Theatre in
Brooklyn. After the show, James and his friends from the group Grass Roots were driving to a party in their
stretch limousine.
At exactly the same time, six blocks away, Thomas 'Tommy Ryan' Eboli, the acting boss of the Genovese
crime family, was leaving his girlfriend's apartment when an assassin pumped six bullets into his head and
chest from point-blank range. That would be the last time he ever screwed up on a heroin deal.
The afternoon before, James and Eboli had been slapping shoulders in the off-Broadway offices of Roulette
Records, James's label. Roulette boss Morris 'Moshe' Levy looked on and smiled. High on drugs and dollar bills,
everyone seemed hunky dory, unless you knew that Levy was 'the Godfather of the Music Business', a man
so feared it was said there were six major crime families in New York City: Gambino, Genovese, Colombo,
Lucchese, Bonanno and Moshe's Roulette.
Levy was the nastiest person in show business. He had a radioactive personality inside a Teflon overcoat.
Moshe made latter-day managers like Peter Grant and Don Arden look like wusses. If a major label had a
problem with a distributor, they'd call up Mo. Radio stations playing hardball? Call Morris. For an appropriate
fee, Levy and his accomplice, record exec Nate McCalla, would gather baseball bats and, whack!
Don't mess with Morris. He was the architect behind the payola scandal that sank American DJ Alan Freed,
the man who'd invented the term 'rock'n'roll'. Back in the day, Morris's brother Irving had been shot dead in a
gambling dispute at the notorious Birdland jazz club, which they ran. Levy bided his time, then visited his
brother's killer and disembowelled him with a butcher's knife.
Tommy James was a 19-year-old from Dayton, Ohio with a No.1 regional hit in Pittsburgh called
Hanky Panky

when he entered Levy's orbit in 1966. Over the next six years James and his band The Shondells would give
Roulette 23 gold singles and nine platinum albums. In 1968 James's sales outstripped The Beatles in US. But
as his book
Me, The Mob And The Music
makes plain, his relationship with Levy – the model for record mogul
Hesh Rabkin in
The Sopranos
– was toxic from the very beginning.
"When I signed, I'd taken
Hanky Panky
to everyone in New York and got a yes. Roulette was the last place.
Next day I got calls from all the companies – Columbia, Epic, RCA, Atlantic and Kama Sutra – and they said:
'We gotta pass.' Morris had phoned all the label bosses and told 'em: 'It's my fucking record. Leave it alone.'
And they did. It went downhill from there."
The James-Levy handshake had 'love-hate' tattooed on its knuckles. "If I'd gone to a corporate I'd have
been a one-hit wonder," James insists. "Roulette needed me because they hadn't had a hit for three years,
so they allowed us freedom. We did everything from writing the songs to designing the covers. It was a total
education. Getting paid was different – that was like taking a bone from a Rottweiler."
Morris Levy simply refused to accept the concept of royalties. If James needed money, his mentor gave him
bundles of dollar bills in a brown paper bag. "Here's $10,000, kid! Knock yerself out." But royalties? Nah.
Shortly after James arrived in the city, Morris had an altercation with another of his artists, a crossover country pop star called Jimmie Rodgers, who had demanded payment for unpaid monies stretching back nine years. On December 20, 1967 Rodgers was found nearly dead beside the San Diego freeway, having been beaten to a pulp and left with a fractured skull. Rodgers testified that off-duty cops from the LAPD or the SDPD had assaulted him. But everyone knew the assailants were on Levy's payroll. Rodgers was left with spastic dysphonia and no career.
"You took your life into hands when you asked Morris for royalties," says James. Levy's Roulette director friends were Eboli, Dominick 'Quiet Dom' Cirillo, Anthony 'Fat Tony' Salerno (on whom The Sopranos' lead character is based) and Vincent 'Vinny The Chin' Gigante. His most terrifying ally was Gaetano 'Corky' Vastola.
Regarded as a stool pigeon, Vastola survived an assassination attempt by fun lovin' criminal John Gotti, which resulted in the latter man's incarceration. Years later Corky would be convicted, alongside Levy, of the assault of Philadelphia record retailer John LaMonte and sentenced to 20 years in jail. Morris died of cancer in 1990, before he'd served even a day in prison.
James led a charmed life. "I didn't get any beatings, but plenty of threats and intimidation. You didn't talk about what you knew," he says. "Roulette was a social club for the Mob; they used it to organise illegal bank accounts and drug deals. Trailers were parked up all day unloading who knew what. I'm trying to have a pop career with this terribly dark and sinister story going on which could never be discussed."
James's talent kept him on Morris's sweet side, as long as the hits were coming. Lucky, I Think We're Alone Now, Mirage, Mony Mony, Crimson And Clover, Tighter And Tighter, Sweet Cherry Wine and the epic psychedelic switcheroo Crystal Blue Persuasion were massive. They made Levy millions. "Morris was a likeable guy. Like my father figure. But he was an abusive father. It was great to have him as my protector – 'Don't mess with me or I'll get Morris' – but he was also extremely fuckin' scary."
Once trafficking in hard drugs like heroin and cocaine took dirty money laundering to its peak, Levy's psychotic nature ran out of control. "In 1971 a really horrible gang warfare broke out in NYC," Tommy recalls. "The Gambino family was taking over the five families. It was right out of The Godfather. In six months over 300 wise guys got killed. Morris and Nate were implicated and took off for Spain – except they never left New York.
"When my album Draggin' The Line came out I was left holding the Roulette bag. My lawyer told me flatly: 'You must leave town. If they can't get Morris they'll go after who is making him money – and that's you.' I'm on the lam, so I went to Nashville and made a country record, My Head, My Bed & My Red Guitar, with Elvis Presley's band."
While Levy was indulging his evil appetites by taking the psychosis-inducing drug crystal meth, Tommy was, by his own admission, "a flaming asshole. I became a dark character. I got pretty nasty. I was very depressed at my situation. It was a dilemma. Either get out of my contract, which I could have done. Or stick it out, because I had so much success. I had plenty of money in my pockets from touring, TV and commercials; mechanical royalties… nothing."
Sucked in and bled dry, Tommy enjoyed perks. The Roulette man bought him a farm near to his own spread in the Berkshires in upstate New York. The way he tells it, James sounds uncannily like Henry Hill, Ray Liotta's protagonist in Goodfellas. "Morris was the most fascinating person I ever met. Without him, no Tommy James. He bet the farm on me, but it was a pact with the devil. He owned 3,000 acres of dairy in Gent, which meant he owned all the water. I'd go up on a Friday night and we'd get high. The wives would come Saturday.
"Everyone was blasted on brandy and grass. Once I asked him: 'Why do you hang out with these people [the Mob]? They scare everyone at the company. Artists won't bring you their master tapes because they're so afraid.' He laughs: 'Tell you the truth, Tommy. These are the guys I came up with off the street. I known 'em all my life. It's all I know.'"
If Levy had any sense of shame or guilt, he rarely showed it. "He told me how he killed the guy who gunned his brother down at Birdland. 'I fucking took a knife and stuck it in his fucking stomach until his guts fell out.' It was disgusting. And it was true."
John Lennon was another visitor to Levy's farm. In 1973 Levy and Lennon had become friends, but that didn't stop the Roulette owner from serving the former Beatle with a plagiarism writ. Lennon's 1969 song Come Together, on The Beatles' Abbey Road album, began with the line 'Here come old flat top, he come grooving up slowly,' which had been appropriated from Chuck Berry's 1956 single You Can't Catch Me.
Levy owned the publishing on the original. He sued Lennon and won. As part of an ad-hoc settlement, Lennon gave Morris rough mixes of a rock'n'roll album he'd worked up with Phil Spector during his 'lost weekend' phase. The tapes were crap, but Levy put them out anyway, with Lennon's permission, as a shoddy mail order LP called Roots, on subsidiary label Adam V111, named after his son.
Lennon was secretly delighted at the arrangement. He thought he'd make some easy money. Capitol didn't see it that way and counter-sued Levy. The case dragged on for two years while Lennon, who was still getting off his heroin addiction by taking vast amounts of novocaine, slumped into his habitual depression.
During a particularly nasty stage in the trial, Levy invited Lennon to his farm, ostensibly to enjoy some quality rehearsal time for the unstable musician's Walls And Bridges album. When Lennon arrived with May Pang (Yoko Ono's replacement at that time), Levy threatened his life in no uncertain terms.
According to James: "May Pang told me what happened. It was very bad. Capitol had a shit fit but that didn't bother Levy. He didn't care for reputation or person. He had such balls. Lennon could easily have ended up in the East River. Capitol won, which annoyed Morris – they counter-sued because sales of Roots affected their own Rock'n'Roll release. That was a rare defeat for Morris, because he worked publishing. He was smart. He ripped everyone off. He'd put his name on songs he hadn't written, then use them as album cuts."
Even though he'd lost, Levy still won: he held publishing on two songs on Rock'n'Roll, and also had Lennon include Ya Ya on Walls And Bridges. "At one point people thought Morris had something to do with John Lennon's murder outside the Dakota Building in 1980," says James. "He didn't."
As the 70s began, James's hit-run stalled. His dark character was becoming too prominent. "Taking drugs, I never stuck a needle in my arm. But that wasn't because I was virtuous, I just liked the stuff I was taking better. Unfortunately the amphetamines made me psychotic." James was in a state of extreme paranoia.
Convinced he was going to be assassinated, he acquired an illegal arsenal of guns. "I bought a .22 pistol, a .25 automatic pistol, a Browning .22 Magnum machine gun, a Marlin .22 with an octagon barrel, and a .32-calibre police pistol with an eight-inch barrel. I stockpiled ammunition. I started carrying a gun every time I went to the studio. I was also seeing a psychiatrist."
Levy decided his cash cow was going nuts so he hired a Sicilian heavy called Dom to babysit him. James tried to extricate himself from Roulette but couldn't. By day he hung out with the songwriters at Kama Sutra and at the Brill Building on Broadway, by night Morris dictated his social life.
"I didn't hang with the guys in Little Italy so much, but I did go to the parties at Morris's club, The Round Table. These parties would last four days. That's when you knew he was connected. It was incredible. All the Mob guys were there; plus everyone from the Mayor's Office, the Police Commissioner and the City Councillors. Funny thing was, despite the crazy shit they did, the Mob guys were pretty conservative. There weren't a lot of broads coming out of cakes; just a lot of palms being greased and a lot of shoulders rubbed."
James and his accountant, Aaron Schecter, made a final attempt to collect on mechanical royalties. "We visited the NY pressing plant that printed the record labels – there was only one – and had them count the numbers in front of us. I was owed between 30 and 40 million dollars. That ruse had never been done before, so Morris couldn't argue. But he flat-out threatened us: 'Fuck you. If you ever try and use that against me you will find yourself in the fucking river.' He meant it."
Before he died, Levy sold his empire. All his masters and publishing under the Big Seven name went to EMI, while Warners bought Roulette, assigning the vintage material to their re-release outlet Rhino Records. Audits had to be done, and James finally clawed back royalties on some back catalogue. "Vast sums were still owing which I didn't see. But although it ate me up, I'm glad I didn't get the money. I might have destroyed myself. $40 million in the 80s?"
James took control of his life when he confronted his demons in the early 70s. "I played two significant concerts. One was in the Persian Room at the Plaza Hotel in 1971 when I snuck into New York to collect some gold records. Then there was the Paramount concert on the night Tommy Eboli was gunned down. That was when I decided to quit. I had a final meeting with Morris that turned into a humungous blow up.
"For once I stood my ground. I didn't know whether I was going to leave his office alive, but I was so high on uppers I didn't really care. We flung each other against the wall and I told Morris – go fuck yourself, for the last time." Gradually James recovered his self-esteem. "I left Roulette in 1975. I was still in contact with Morris but I wasn't giving him hits. Eleven years later he offered me my own record company. 'Whaddya want, kid? I'll give it to you.' I admit, I was tempted. That's the hold he had."
Levy's old ways were going out of fashion. As corporate labels took over, independents like Roulette became marginalised. Meanwhile the FBI had Morris's number. "Roulette were serial tax evaders. The Feds and the IRS were on his tail. They were keeping at least seven sets of books. They picked whichever one suited them best. Eventually the Feds busted him. Morris had a needlepoint sign in his office, which said: O Lord. Give Me A Bastard With Talent. In the 'O' of Lord the Feds had planted a camera and a microphone. They were recording everything he said and did."
Just like the Mob's, Tommy James's career has long arms. His songs have been covered to effect by contemporary acts (see box) and there's been talk about his autobiography becoming a Broadway musical and a movie. "I want Chazz Palminteri to play Morris."
Martin Scorsese's former wife Barbara De Fina (Casino, Goodfellas, Hugo) is set to produce. The directorial choice is obvious. James wants Val Kilmer to portray him, though Jared Leto would be better as the younger man. Tommy James won't be forgotten. He invented the modulating rhythm guitar sound on Crimson And Clover, and he had a style, responsible for the arch Kasenetz & Katz bubblegum factory, which spawned glam and punk.
"I view pop as art versus business," says James. "Initially you're trying to sell records to 12-year-olds, so don't get too profound. Morris taught me – you're not just writing songs you're making records. It's a three-minute formula. I'm a pop junkie. I like those rules. I love music that moves people en masse and gets 'em on the floor. My Greatest Hits – The Best Of…. album sold ten million units in 1969.
"For one year I was bigger than The Beatles. A lot of that was down to Morris. Sure, he was as cheap as they come, and yeah, our album covers were cheesy, but the man knew how to sell records. It was the best and worst of times. But you know what? I wouldn't change them."

March 26, 2022
40 Years Ago: 'Beatles Movie Medley' Cashes In On Two Crazes

by Nick DeRiso for Ultimate Classic Rock
Capitol Records took advantage of a pair of very time-specific trends with "The Beatles Movie Medley": A surge in home-video viewing and the brief chart interest in compilation singles.
The Let It Be film had just been released on VHS, LaserDisc and Betamax, while A Hard Day's Night was returning to theaters. Bootlegs of Help! were becoming widespread. (Rights to the movie had recently reverted from United Artists to producer Walter Shenson, and it went out of print.) Home-video release of Yellow Submarine would be held up for years over music-rights disagreements, but the most persistent fans could still find old 1978 VHS and Betamax copies of Magical Mystery Tour in cutout bins.
Meanwhile, the "Stars on 45 Medley" rose to the top of the charts in the summer of 1981 with a Dutch John Lennon soundalike singing snippets of several Beatles songs. Medleys focusing on music from the Beach Boys, the Rolling Stones, Phil Spector, ABBA, the Hollies, the Royal Philharmonic Orchestra and others quickly followed, then perhaps inevitable parodies like "Stars Over 45" by Chas & Dave and "Polka on 45" by "Weird Al" Yankovic.
On one level, Capitol's cash grab worked: "The Beatles Movie Medley" soared to No. 12 on the Billboard Hot 100, after arriving on March 22, 1982, with excerpts from the songs "Magical Mystery Tour," "All You Need Is Love," "You've Got to Hide Your Love Away," "I Should Have Known Better," "A Hard Day's Night," "Ticket to Ride" and "Get Back." But the label's British counterpart, Parlophone Records, initially refused to release the single – reportedly deeming it "tacky." Import copies began flooding the market, however, and they relented. "The Beatles Movie Medley" reached the Top 10 in the U.K., as well.
The Beatles themselves didn't appear to have any direct involvement in the single, which was stitched together by John Palladino. It wasn't the first time that the sound engineer, dubbed "Mr. Snips," did that kind of thing on Capitol's behalf. Palladino also cut down Wings' song "Band on the Run" for radio play without ever discussing it with Paul McCartney.
"The Beatles Movie Medley" arrived in conjunction with Reel Music, and the song's picture sleeve mimicked the admittedly cool album cover art. But the LP was ultimately just another completist-only Capitol compilation and went gold largely because it was the first to arrive after Lennon's murder, and also included a few rare mixes of very familiar songs.
Early promotional copies of the single included A Hard Day's Night-era interview with the Beatles, but that was quickly replaced with "I'm Happy Just to Dance With You." (The George Harrison-sung track appeared in the movie and album versions of A Hard Day's Night but not on Reel Music.)
"The Beatles Movie Medley" was the first of two '80s-era U.S. chart successes for the group, both related to films: "Twist and Shout" reached No. 23 in 1986 after its inclusion in Ferris Bueller's Day Off. But the medley was deleted two years later and never reappeared on compact disc, vinyl, download or streaming platforms.
The Beatles Movie Medley - Why? How? & Where Is It Now?

by Parlogram Auctions
We find out how the medley craze of 1981 inspired this forgotten worldwide hit which today remains the only
Beatles single never to have been reissued on any format anywhere.

March 24, 2022
Yoko Ono invites the world to IMAGINE PEACE
THE CAMPAIGN CAN BE SEEN THROUGHOUT THE WORLD'S MOST PROMINENT DIGITAL SCREENS

by Designboom.com
yoko ono is inviting the world to
IMAGINE PEACE
by staging a new global intervention throughout the world's
most prominent digital screens. the public art installation is presented by CIRCA in collaboration with
serpentine and is being screened across the CIRCA network in london, los angeles, milan, melbourne, new
york, and seoul every evening throughout march 2022.
in aid of humanitarian crises, yoko ono has also donated a time-limited edition print, with 100% of the
proceeds raised donated to the united nation's emergency fund (UNCERF).
THE IMAGINE PEACE CONCEPT DATES BACK TO YOKO ONO'S BED-IN NONVIOLENT PROTESTS WITH
JOHN LENNON


the
IMAGINE PEACE
concept was born from yoko ono and john lennon's work as peace activists back in 1969
when they staged the nonviolent protests against war titled
bed-in.
the performance saw a two-week-long
protest from their honeymoon suit, where they communicated their commitment to social justice.
'we knew whatever we did was going to be in the papers. we decided to utilize the space we would occupy
anyway, by getting married, with a commercial for peace,'
lennon said on the beatles anthology book.
'we
would sell our product, which we call 'peace.' and to sell a product you need a gimmick, and the gimmick we
thought was 'bed.' and we thought 'bed' because bed was the easiest way of doing it, because we're lazy.'
yoko ono has continued with her peace declarations, and this new project marks her return to london's
piccadilly circus, twenty years after she installed a poster reading
imagine all the people living life in peace
.
her
IMAGINE PEACE
project has been expressed since the early 2000s around billboards, advertisements,
posters and tweets.
'imagining is something we can all do, even when we have different opinions about how to get there,'
said
yoko ono.

March 23, 2022
Peter Jackson wins Producer Guild Award for "The Beatles: Get Back" documentary


Flashback: Mum got selfie with Sir George Martin
by Andrew Ffrench for the Oxford Mail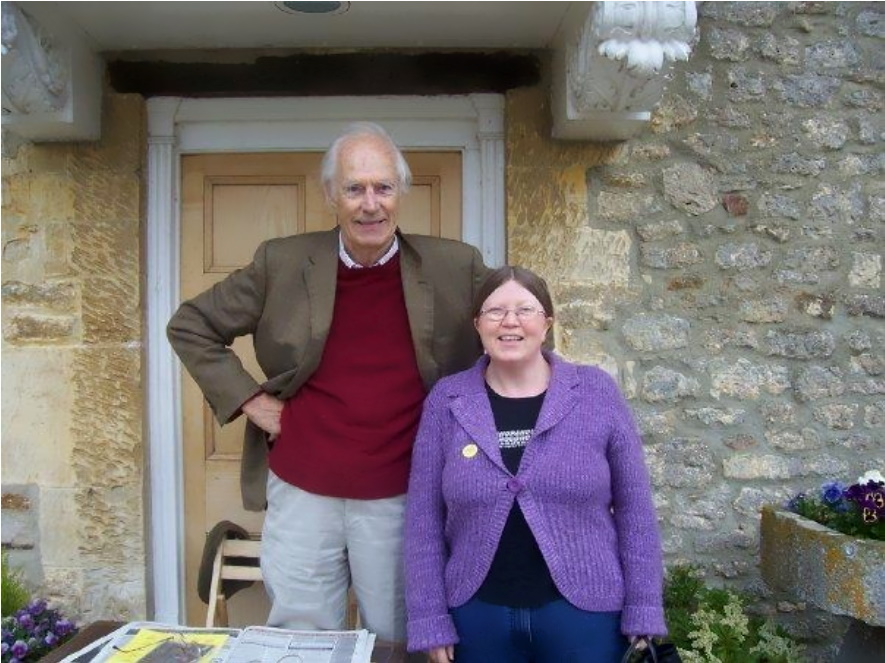 Shirley Buckle with Sir George Martin
Museum assistant Shirley Buckle was stunned when 'fifth Beatle' Sir George Martin agreed to have his picture
taken with her.
The mum-of-two was visiting his home in Coleshill near Faringdon 2009 as part of a National Garden Scheme
open day.
She spotted the record producer as she and her husband were about to a tour of the garden and he was
happy to have his picture taken.
Mrs Buckle, 61, from Abingdon, said: "I have always been a big fan of the Beatles and George Martin and
after I saw him I asked if I could take his photo.
"He said he would be happy to be in the photo too."
Mrs Buckle said she has always been a big fan of the Beatles as her mother comes from Merseyside.
She added: "I started collecting autographs and in the early 1990s he sent his autograph - a signed picture.
"I knew he lived at the house in Coleshill which is which we visited but I didn't expect to see him there on
the day."
She added: "There was an Open Garden scheme happening and Sir George and Lady Martin kindly offered to
show their garden to members of the public as part of the scheme.
"I have been a fan for many years and have always admired him and his work so decided to visit his garden.
"Little did I know that he would be there to greet visitors - waiting at the entrance to his house welcoming
people into the garden (for a fee of £2.00).
"I was so shocked and surprised when I saw him but managed to speak to him and he was a perfect
gentleman - so kind and friendly - and when I asked if I could have a photo of him he suggested that I join
him in the photo!
"I then visited his magnificent garden and had tea and homemade cake too which was served by his wife.
"It was such a surreal afternoon and I could not believe I had met him! Best £2 I have ever spent!"
Mrs Buckle said she grew up in Oxfordshire but he family comes from the Anfield area of Liverpool.
She added: "My cousin used to go to the Cavern club and her bedroom was covered with pictures and
posters of the Beatles.
"We genuinely went to see the garden itself and I couldn't believe it when I saw George Martin there himself.
"There were a few Japanese tourists there armed with cameras so he was probably used to being bombarded
with requests for pictures."
Sir George died aged 90 in 2016. He signed The Beatles and produced more than 700 records. He also worked
with artists including Gerry and the Pacemakers and Cilla Black.

March 22, 2022
George Harrison's final visit to ex-wife Pattie Boyd months before death
GEORGE HARRISON took some time out during his final months of living to visit his ex-wife, Pattie Boyd. The
Beatles star had not yet revealed to her that he was suffering from cancer, and Boyd said she felt as if he
was visiting to "say goodbye".
by Callum Crumlish for the Express
George Harrison died on November 29, 2001. The legendary member of The Beatles had suffered from lung
cancer in recent years, and in his final years, it was also revealed he was getting treatment for a brain
tumour at a clinic in Switzerland. A short while before his death he visited his ex-wife, Pattie, for what may
have been the final time.
George and Pattie first met in 1964 and started a passionate relationship. Just two years later, in 1966, they
were married. The pair enjoyed a loving marriage until 1977 when they split up.
Their relationship had become tense as George became more involved with his Indiana spirituality movement
of Hare Krishna. They had also reportedly fallen out over disagreements regarding adopting children. George
was reportedly unfaithful, and Pattie called his infidelities with Ringo Starr's wife, Maureen Starkey, "the final
straw", splitting them up.
Two years later, in 1979, Pattie married George's close friend and prominent musician Eric Clapton. But their
relationships were all quite healthy. George even played guitar at Pattie and Eric's wedding.
But in 2001 George gave his final goodbye to Pattie.
Pattie recalled: "About three months before he died, he was in my area. He was going to see Ringo, and he
popped in."
The proud member of The Beatles was adamant that he was going to keep a brave face, however, and gave
nothing away to Pattie. She said: "He brought me a few little gifts and some music to listen to, it was really
sweet." But the star's former wife knew something was amiss with the My Sweet Lord singer.
Pattie explained: "I knew he wasn't well, I realised that he knew he wasn't well." She figured out that George
was hiding just how unwell he truly was. And, upon reflection, she realised that he was coming to visit her
for the last time. She said: "In a way, I think he was coming to say goodbye. I could see he was very drawn,
and he was using energy more than he needed to, to appear up and happy. You could sense he wasn't well."
Just a few months later, George died. He was surrounded by his loved ones: his wife, Olivia Harrison, his son
Dhani Harrison, and his friend Ravi Shankar.
Pattie was devastated when she learned of George's death.
George was a large part of Pattie's 2007 memoir, Wonderful Today. When writing about the star's death, she
remembered: "I burst into tears when I heard he had died; I felt completely bereft. I couldn't bear the
thought of a world without George." She added: "When I left him for Eric, he had said that if things didn't
work out, I could always come to him. It was such a selfless, loving thing to say. Now that sense of security
had gone. At the end I hadn't grasped how ill he was as I hadn't seen him for a few months."
The former model continued: "I think I'll miss George for the rest of my life. I would have incredibly vivid
dreams that he was alive. Then I would wake up and the reality would wash over me."
But even in George's final days, he was still light-hearted and joking with his friends, including Ringo.
Ringo once spoke candidly about the final time he saw George. He explained: "The last weeks of George's life,
he was in Switzerland, and I went to see him, and he was very ill. You know, he could only lay down. And
while he was being ill and I'd come to see him, I was going to Boston, 'cause my daughter had a brain
tumour. And I said: 'Well, you know, I've got to go, I've got to go to Boston.'" An emotional Ringo realised:
"It's the last words I heard him say ... He said: 'Do you want me to come with you?'"

March 21, 2022
Why Hey Jude is The Beatles' Strangest Compilation Album

by Parlogram Auctions
The 'Hey Jude' album was greeted as the 'new' Beatles album in 1970 but in reality it was just an Alan Klein
conceived cash grab compilation of tracks not issued on previous Capitol albums. Although beloved by most
countries, it went unreleased in the UK until 1979 where it had already been superseded by the red and blue
albums in 1973. In this video, we look at the history of the album, look at some international release,
compare the sound quality between U.S., German and UK copies and find out why one track was banned in
Spain.
"Year One A.P. (After Peace)" coined by John Lennon

The following article is from
Ultimate Guitar Com

March 20, 2022
How Chuck Berry Reacted to The Beatles' Cover of 'Roll Over Beethoven'
by Matthew Trzcinski for Showbiz Cheat Sheet
(OBS footnote: the following article has been edited down for
brevity sake)
Chuck Berry | Michael Ochs Archives/Getty Images
The Beatles covered many songs by rock 'n' rock artists, including Chuck Berry's "Roll Over Beethoven."
Subsequently, Berry revealed his opinion on the cover. Berry also discussed what the Fab Four did when they
"copied other artists."
How John Lennon thought Little Richard compared to Chuck Berry
According to a 1970 interview transcribed in the book Lennon Remembers, John Lennon was a huge fan of
Berry. "Chuck Berry is one of the all-time great poets," John said. "A rock poet you could call him. He was
well advanced of his time lyric-wise. We all owe a lot to him, including [Bob] Dylan."
John compared Berry to other performers. "I've loved everything he's done, ever," the former Beatle revealed.
"He was in a different class from the other performers, he was in the tradition of the great blues artists but
he really wrote his own stuff." John noted Little Richard also wrote his own music, but John felt Berry was
the superior lyricist. Despite this, John said he often had difficulty understanding what Berry was singing.
Chuck Berry enjoyed what The Beatles did when they 'copied other artists'


According to the book
A Walk Down Abbey Road
, Berry said The Beatles were "geniuses." "One thing that The
Beatles did when they copied other artists, they laid with not only the feeling but the music which was great
because you can recognize it right off that it's the original artist's number," he said. "It's like The Beatles
playing from the written scroll which is great because everybody recognizes it."
Berry revealed he enjoyed The Beatles' version of "Rock and Roll Music" because of how similar it was to his
version. Immediately after, Berry was asked what he thought of The Beatles' "Roll Over Beethoven." "Same
difference," he said. "They followed the progression. They followed the melody and even most of the licks.
You know John was playing the guitar."
The way listeners in the United States reacted to the original 'Roll Over Beethoven' and The Beatles'
cover
The original "Roll Over Beethoven" became a hit. It reached No. 7 on Billboard's R&B chart. Subsequently,
Berry released the song on the compilation album Chuck Berry's Greatest Hits. Chuck Berry's Greatest Hits hit
No. 34 on the Billboard 200, staying on the chart for 21 weeks.
The Beatles never released their recording of "Roll Over Beethoven" as a single, so it didn't chart on the
Billboard Hot 100. The cover appeared on the Fab Four's British album
With the Beatles
.
With the Beatles

barely made an impact in the United States, hitting No. 179 on the Billboard 200 for one week.
The Beatles' "Roll Over Beethoven" wasn't a hit but it remains an interesting connection between Berry and
the Fab Four.
What Chuck Berry Thought of The Beatles' Cover of 'Rock and Roll Music'


During their early career, The Beatles covered Chuck Berry's "Rock and Roll Music." Berry revealed what he
thought of The Beatles as artists. He also explained what he thought about the cover.
According to the book
A Walk Down Abbey Road
, Berry ... praised The Beatles' rendition of "Rock and Roll
Music." "I thought it was wonderful," he said.
The way listeners in the United States reacted to the original 'Rock and Roll Music' and The Beatles'
cover
The original "Rock and Roll Music" hit No. 6 on Billboard's R&B chart. Berry released the track on the album

Chuck Berry's Greatest Hits
.
Chuck Berry's Greatest Hits
reached No. 34 on the Billboard 200, staying on the
chart for 21 weeks.
The Beatles never released their version of "Rock and Roll Music" as a single off the album
Beatles for Sale
,
so it did not chart on the Billboard Hot 100. The cover appeared on the similarly-titled album
Rock 'n' Roll
Music
. That album peaked at No. 2 on the Billboard 200, staying on the chart for 30 weeks.
The Beatles' "Rock and Roll Music" appeared on a popular album and Berry himself enjoyed it.
Paul McCartney revealed how The Beatles reacted to Chuck Berry's songs

Paul McCartney posted an article on his website describing Berry's impact on The Beatles' songs. "From the
first minute we heard the great guitar intro to 'Sweet Little Sixteen' we became fans of the great Chuck
Berry," he revealed. "His stories were more like poems than lyrics — the likes of 'Johnny B. Goode' or
'Maybellene.'"
The Beatles saw Berry as almost supernatural. "To us he was a magician making music that was exotic yet
normal at the same time," Paul recalled. "We learnt so many things from him which led us into a dream world
of rock 'n' roll music. Chuck was and is forevermore one of rock 'n' roll's greatest legends all over the world."
Paul said he couldn't put into words how much the "Johnny B. Goode" singer meant to the Fab Four.

March 19, 2022
The late Roy Young performs Strawberry Fields Forever
by John Whelan for the Ottawa Beatles Site
In 2003, Roy Young released and forward a copy of his new album to Tony Copple of the Ottawa Beatles Site
entitled "Still Young." Roy Young's official website states that it was: "Recorded in Nashville with Grand Ole
Oprey Musicians." Having listened to the CD, some of the tracks certainly has a bit of a country feeling to it.
As most of you already know, Roy Young actually performed with the Beatles during the band's early days
while in Germany. It may very well be that Roy Young felt a certain closeness to John Lennon, and so it
should come as no surprise to listeners that he would do a cover of John's classic "Strawberry Fields
Forever."
It's a straight-forward presentation where Roy Young shares a vocal duet with Dennis Morgan, a song writer
who started his career as a session musician in Nashville. Dennis Morgan has written most of the songs that
appear on the CD.
In this video, two additional recordings from the "Still Young" CD are included. They are "Can't Get Enough of
You" and "Oh How My Heart Beats Slow."
For more information on Roy Young and how to purchase this CD, please visit his official website:
Roy Young
.

March 18, 2022
The Beatles and India by Various Artists (Silva Screen Records)

by David Luhrssen for Shepherd Express
The Beatles and India
, streaming on BritBox, is a documentary about the band's 1968 sojourn on the
subcontinent. Seeking direction after their unprecedented, culture-changing success—and on the heels of
their ambitious
Sgt. Pepper
album—The Beatles camped out at Maharishi Mahesh Yogi's ashram. Much of
their next LP, dubbed "The White Album," was written during or about their stay in India.
The documentary film's companion album features performances of 19 Beatles (or post-Beatles) songs by
two dozen contemporary Indian pop-rock-whatever musicians. Inevitably, when casting a wide net of
contributors for a tribute album, it's a mixed catch with pleasant surprises as well as why bother moments.
Several tracks are simply given a light Indian coating, kind of like sprinkling curry powder on a familiar dish,
Karsh Kale & Benny Dayal's "Mother Nature's Son" swings back and forth between a faithful reading of the
original and an Indipop arrangement. However, on "Tomorrow Never Knows," Kiss Nuka quickly chucks the
raga drone for a chill-room dance club interpretation.
The variety is bracing. Rohan Rajadhyaksha & Warren Mendonsa's "Everybody's Got Something to Hide
(Except for Me and My Monkey)" is a dynamic rocker that sounds road-tested (unlike the studio-crafted
original). Perhaps the truest fusion of India and '60s rock occurs on Anupam Roy's "Child of Nature" (rewritten
by John Lennon as "Jealous Guy"), a subtle marriage of Indian and western instruments in an acoustic
setting. Maybe it's no surprise that the daughter of George Harrison's sitar teacher, Anoushka Shankar,
transports Harrison's "The Inner Light" back to its raga roots.
The Beatles and India Doc Captures More Than One Spiritual Journey
by Tony Sokol for Den of Geek
In 1968, The Beatles, the biggest band in the material world, went searching for lesser-known alternatives in the spiritual one. Directed by Ajoy Bose and co-directed by Pete Compton, The Beatles and India is more than just a travelog of the band's famous trip to Rishikesh, India to study transcendental meditation under Maharishi Mahesh Yogi. The documentary shows how Indian music helped refine the group's sound and how the country embraced the band as cultural ambassadors with deep roots which continue to this day.
The Beatles impacted India almost as much as the country influenced them. The group was first introduced to Indian music while filming Help!, a comedy which spoofed a Kali cult as a comic book villain. The 1965 film featured Indian musicians in a restaurant scene, and the band noticed the instruments. George Harrison first used sitar on John Lennon's "Norwegian Wood (This Bird Has Flown)" from the Rubber Soul album. Upon hearing it at the time, Ravi Shankar, one of India's most venerated classical musicians, told a reporter "If George Harrison wants to play the sitar, why does he not learn it properly?" The documentary includes the story of how the guitarist took him up on it.
Harrison met Shankar at a dinner party for the North London Asian Music Circle in 1966. The elder sitar master taught melodic structure and technique, but also noted the importance of the instrument's part in spiritual discipline. The next time George brought semitones into the studio, it was for the full throttle raga-rock song "Love You To," from the 1966 album Revolver. The Beatles' meditational trip up the Ganges is most associated with the song "Sexy Sadie," Lennon's beautifully acerbic response to a guru's folly, but the band didn't stop practicing the underlying spirituality. This is evidenced in the book Search for Liberation: Featuring a Conversation between John Lennon and Swami Bhaktivedanta.
Silva Screen Records also released a 19-song companion album, The Beatles and India: Songs Inspired by The Film, which features such Indian artists as Shankar's daughter Anoushka Shankar, Vishal Dadlani, Kissnuka, Benny Dayal, Dhruv Ghanekar, Karsh Kale, and Soulmate. The Beatles and India expands on Bose's 2018 book Across the Universe: The Beatles in India, which features an extensive interview with Harrison's wife Pattie Boyd, the initial spark to the journey to India. With her interview as running commentary, the film expands on the research to retrace the steps to the ashram and beyond.
Co-director and cultural researcher Pete Compton spoke with Den of Geek about the mystical and musical connections between The Beatles, Hinduism and India.
Den of Geek: This is an extension of the book by your co-director, Ajoy Bose, what roles did each of you fill on this?
Peter Compton: Ajoy did the research when he put his book together. Then we hooked up at a talk on The Beatles White Album at a convention at Monmouth University in New Jersey. We got on well together and decided to put the film together. His groundwork is pretty incredible for this film because he tracked all of these people down, over a dozen people in the film, that were in the Ashram in 1968, which is pretty remarkable really considering that was over 50 years ago.
Have you always had the same interest in The Beatles and with India or was this a learning experience for you?
Always The Beatles for me. The origins of the film came with Reynold D'Silva, the producer. He was born in Brennen, India, and grew up in Mumbai, then Bombay, in the late '60s. He became a part of that music scene. He came to live in Britain and launched a record label and hooked up with George Harrison's company, HandMade Films, in the '80s and released a few soundtracks. Every time he returned to India he was always asked about doing a film about The Beatles and of all these people he had met with George Harrison.
He just got stirred to put things together, and my meeting Ajoy Bose was the clincher, really. That started something that was markedly different from the usual Beatles' documentary. It's the wider issues. You've got The Beatles and the Maharishi, which is a great story, and their effect in India. I don't think people realize the massive influence The Beatles have there.
I had never heard the story of George's mother listening to Indian music while she was pregnant until now, what was the source for that?
Yeah, sure. That's a bona fide special one. That is from the book [Here Comes the Sun: The Spiritual and Musical Journey of George Harrison by Joshua M. Greene]. He spoke to the sister of George's mother, so George's Auntie. She's the one that came up with that anecdote, and I have no reason to doubt her. The BBC had a program on Sunday mornings, which I've tracked down, at 10:30 in the morning during WWII. It was a program for Indian servicemen stationed in Britain during WWII, and they would play a half an hour of contemporary Indian music, and that is what she would listen to. We were hoping to put some of that music in the film, but it's pretty ancient. It just wouldn't stand up in the film at all.
Was Indian music more known at the time in England than in America?
I don't think so. I think the whole Indian thing is entirely spurred by the Ravi Shankar/George Harrison connection, which expanded everything. Before that it was all classical recitals. Shankar had come to Britain and did recitals that you could put off as a middle-class clique type of thing.
I was amazed. With The Beatles, you would find out something like that every week. In this new Ravi Shankar biography [Indian Sun], we find out that he recorded at Abbey Road studio five years before The Beatles, which I never knew. There was that kind of undercurrent. It was good for us to find the one person who is still alive who was at the meeting with Ravi and George. It would have been great had he taken photos or something like that, but of course, there's no, absolutely no photographic evidence of that meeting.
I also didn't know Paul McCartney was at that first meeting until I watched your film.
Yes, exactly. He didn't want to be left out. I think that things moved fast. Within a few months, George is being guided on a tour of India by Ravi Shankar. George and Patty, as we highlight in the film, go to every major site in India. He's completely immersed in it almost immediately. [The Beatles 1966] stopover in Delhi was quite limited, but all four Beatles did get out of the suburbs of Delhi to the villages. Everyone thinks it was like a 24-hour turnaround, but they were there for two or three days. Unfortunately, most of the photos were all by George, so we couldn't use them.
Do you happen to know if George Martin was on the session on Abbey Road, as an engineer or anything, when Ravi Shankar recorded there?
It's difficult to say. The other twist to that story is, Bhaskar Menon, who became the president of Capitol Records, started work on that day as an apprentice at Abbey Road. The connections to The Beatles, the serendipity is phenomenal, it really is. And of course, he's the man who traveled by train to Calcutta to Mumbai to transport the four-track recorder when George was recording there in January '68. They only had like two-track machines Then they load up the equipment and head west to help.
Unlike a lot of musicians, The Beatles were never accused of musical colonialism in India, is there any easy answer as to why?
I think it's just their kindness and generosity. The footage in the film with George recording Wonderwall, everyone is having a fantastic time. He has his arms around the musicians, and they're laughing and joking etc. And it shows through in Get Back as well. Everyone in the studio is an equal in Get Back. The tea lady gets a welcome. There's that great scene with the clapper boy, when Paul was telling him how he writes songs.
When Mataji Nirmala Devi first brought Hindu spiritual practices to England she was rudely dismissed. How was Maharishi seen in England prior to The Beatles association?
He appears in the British consciousness, obviously, because of The Beatles. There's a British newsreel in the film, which is very comedic, about the Maharishi. He is seen as this sort of funny guy that's entranced The Beatles. The story was big, really, all around the world at the time. There's very little new information that came out about that time. This is the sort of thing that is being uncovered now. The main people that got in are the RAI, the Italian TV company. They got extensive black and white film in there when they all went down on the beach, singing on the beach. They kind of got lucky, they got an invite into the Ashram, which was closely guarded.
I was thinking about the poster you show of Maharishi promising levitation on command.
I think that's a story to note, because that's Maharishi appearing at a Howard Johnson in the American Midwest somewhere in '61. A lot of Beatles locations in America and the U.K. have disappeared very fast. Liverpool has completely changed. The bizarre thing is that the Ashram, those Gerry-built buildings still stand today, and it's just an incredible place. These guys saw a real magic about it, completely. Maharishi's plush bungalow, and the Beatles' bungalow, have been gutted when it fell into disrepair, everything was nicked and all the video stolen, all of the art there, that's all gone. But you can walk around. It's pretty much as it was.
You really capture the bond between Harrison and Ravi Shankar. Was it your intent to show that his study of music was as serious as his study of spiritualism?
I think so. We don't really highlight it in the film, but he kind of deserted his guitar-playing for a long period after meeting Shankar, and put the effort into his sitar. But it is a life's work, and he didn't have that dedication, so he went back to rock guitar. I think that's one of the great mysteries in The Beatles' story. You have someone who was just going to become an electrician, and then five years later, he's imbued with, I suppose you could call it Indian influences. His spirituality just shines through. It affected a lot of people.
I kept replaying the three sitar-based songs The Beatles did while I was writing these questions. The two songs George Martin produced were Hindustani, northern Indian music, but "Within You Without You" are southern Indian modes.
Ajoy would be the one to ask about that. "Within You, Without You" is slightly different because they used Indian session players. Whereas before, it was in-house playing. As far as I know, that was actually the first time they brought Indian musicians in to create that amazing sound.
We hear this with Ajit Singh, [the owner of Pratap Music Shop in Dehradun, who brought a bunch of instruments and musicians to play Pattie Harrison's birthday party]. I love the fact that he played "Within You Without," and George gives him a big smile. That's the humility there again. He got so much respect, and he was a very accomplished Indian musician as well. We have some archive footage of him playing which we couldn't put in the film. He was highly respected in the Indian musical community.
A lot of these people in the industry have died. The helicopter pilot died last year, and Ajit Singh died last year, so it's great that we got to them and got their stories or they would have just faded away.
The helicopter pilot told a really funny story.
It's just amazing. His story is kind of fantastic, everyone thinks John was going to ask the big question about "what's the meaning of life." He told me off camera, that with the plexiglass and noise, you just couldn't have a conversation, it just couldn't happen, because it's just like thunderous engine noise.
That was also the trip where Maharishi said the villagers were praying for his death. I interviewed Susan Shumsky a few years ago, she opened my eyes about the Four-Star Film production. Can you expand on the competing media promises Maharishi was giving?
In the film, George and Paul go to Sweden in October 67 to tell Maharishi to cool it off. So, he's already got something going on there.He's already filming. We got this footage, high-quality color footage, of the Ashram and Maharishi with his followers. That's from a documentary. That film was never seen. We got that on our trip in 2019. The Indian government took exception, they didn't want so much Western influence, which is what happened in the end, with the Hippie Trail, etc. But that [documentary] was a clincher on the departure.
The Beatles never paid the Maharishi a percentage out of their salary. Of course, the Maharishi went on that Beach Boys' tour shortly after, which was a complete disaster. You got Maharishi doing the first set, and then the Beach Boys, and then they didn't give him any dates, and it kind of collapsed. In the end, it did all right, the Ashram, you've got a massive hotel, which is still standing today. They certainly changed it around. Rishikesh is the center of meditation and yoga now in India. It's a completely mad place. It's everywhere.
I'd heard about CIA accusations, but how did you get that interview with the KGB agent?
Someone put us on to that. [Yuri Bezmenov] had done that interview, a right-wing commentary. It's very difficult to get access to footage. It was Ajoy that had found the questions that were asked in the Indian Parliament. Unfortunately, Bezmenov died about ten years ago, so there is no way of getting in contact with him. This was very serious, though, with the Indian Government, who invited the Russian Prime Minister to come and visit India at that time, the West definitely felt threatened by the communist influence in India.
Could you just tell me a little bit about the demoralization of American society?
I suppose it still goes on today. The government is pulling the strings every day now. I think it's the same thing with Bezmenov. He talked about Mia Farrow and American actors and actresses coming to the Ashram and being put under the spell of the Maharishi. But he seems to have gotten on quite well with him, there's quite a few photos with him with the Maharishi.
Were you part of the process of compiling the musicians for the accompanying CD?
No, that was done by the producer, Reynold D'Silva. He always wanted to do that, and he kind of gave them all free range. They chose the tracks in there and then they just got on with it. And a lot of them appear in the film in that final section, talking about how The Beatles influenced them. When the film premiered in Spain, in October, we got three of them to come over and do a short set before the screenings. It turned out really well.
The Beatles and India: Songs Inspired by The Film is available from Silva Screen Records. The Beatles and India is available to stream exclusively on BritBox.