An interview with Martial Martinay and his new CD effort: "Electric Sound Orchestra meets the Beatles"
Martial, before we get into some questions concerning your new CD release entitled "Electric Sound Orchestra meets the Beatles", let me just say how impressed I am in how you faithfully recorded these great Beatle classics into instrumental cover versions. Your musical craftsmanship is simply outstanding on this CD!
Question: Your friend, Laurent Giacomelli, tells me that you have been in the music business since 1969. Could you tell us how you entered the music business and at what age you got started?
I was born in 1951, so I was 18 at my first job.
I started playing guitar and drums since I was...7.
As I was doing "Conservatoire" (Conservatory) studies in France, I passed an audition and won a "Prix du Conservatoire Classique de flûte traversière" (a classical flute Conservatory prize) in 1971 at 20.
Question: You've just released a new CD called "Electric Sound Orchestra meets the Beatles." On these recordings you've especially used a 12-string Rickenbacker. In fact the liner notes make no secret of this when you said "the album was interpreted with a Rickenbacker guitar, Hofner violin bass, the voices of John, Paul and George being replaced by the 12-string Rickenbacker." Now of all the songs that you recorded, were there any that were a little more difficult for you to interpret when you used the Rickenbacker? And what are your personal favourites from the CD?
Martial: Yes, one of those 24 tracks was very difficult to do, it was "And Your Bird Can Sing." The guitar playing on the original track recorded by The Beatles is already very complex and difficult to play with a 6-string guitar, so you can easily imagine how hard for me it was to record it with a 12-string one (more difficult to play with!) I spent a lot of time on it and I got it hard, but in the end I'm quite happy and proud with the result.
"A Hard Day's Night" chorus was hard (!) and difficult too (PS: just remember listening to the alternate takes of The Beatles themselves on that track, you'll guess what I'm saying.)
My personal favourites are: "Yesterday", "Day Tripper", "And Your Bird Can Sing" and "Penny Lane."
Question: Not all of the songs are Lennon-McCartney or Harrison compositions. You chose to include the Buddy Holly song "Words of Love" that the Beatles themselves had covered. Could you tell us why you chose that one as opposed to maybe doing something like "A Taste of Honey"?
Martial: "Word Of Love", yes. I love so much the version The Beatles made. I love the playing guitars of John and George on that one!
The 2-voice duet on it is also nice and wonderful. I always had a special feeling and heart-feel with that one, and please don't forget that song is related to The Beatles legacy (or family): Buddy Holly songs catalog rights belong to Paul McCartney! However, I love "A Taste Of Honey" too! So why not putting it on a future Volume 2??
Question: "Yesterday", "You've Got to Hide Your Love Away", "Eleanor Rigby" and "Blackbird" are all brilliantly executed by yourself -- and this is just the tip of the iceberg from a collection of 24 songs! Do you care to comment on these?
Martial: In fact, my fancy Beatles songs are mostly chosen on the "melody" level. That was the case with that album. Honestly, I don' t prefer better the ones you mentioned above than other Beatles songs. Against that, in the context of this album, maybe those songs sound much better than the others.
Question: You did a terrific version of Penny Lane. Great guitar work! But interestingly enough at the very end of Penny Lane, you somehow managed to do the feedback that is identical to the Beatles original hit recording. Was that part difficult for you to record?
Martial: Thank for the compliment! Yes it was a difficult one...There is a slight amplifier larsen at that end part. It's a 'la' overtone (harmonique 'la') played on a 6-string guitar, that guitar being placed close to the Vox AC-30 amplifier (larsen effect). I recorded that sound about 50 times, always with The Beatles original sound in mind, and I kept the one which was the closest to the original. I overdubbed that part in the mix on the final version added with a reverb effect. Sadly, I didn't succeed to re-produce the exactly same bell sound! I didn't have that one with me!! The Bb treble trumpet solo parts were made with my synthesizer (Bb treble = si bémol aigu.) For that, it was more difficult than on "And Your Bird Can Sing".
Question: Like the Beatles, they probably had their own personal favourite guitar they enjoyed the most. Is the 12-string Rickenbacker your most favourite instrument or is there another guitar in your personal collection that you enjoy better?
Martial: I like Rickenbacker guitars a lot. The 12-string one is so famous and great to play with but the 6-string Rickenbacker is a great one too!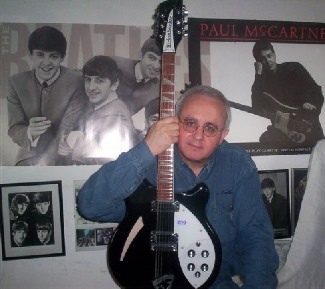 Martial Martinay with his 12-string Rickenbacker

I love them both.

I don't have a favourite instrument or a better guitar I like to play with: what is sure, I'm not keen playing with Fender's.

I quite like playing with a Telecaster rather than a Stratocaster.

Question: When did this project begin and end? How many studio hours do you think you had put in for the new CD? Who else was involved with "Electric Sound Orchestra" project that you would like to credit?

Martial: This project began in December 2003 and ended in January 2005 with the final mix and mastering I made myself.

"You've Got To Hide Your Love Away" was the first track I've finished, "Let It Be" being the last one. I can't tell you how many studio hours I spent but it's certainly a load amount of hours (and a lot of those taken on my sleeping hours...).

I must admit to you now I've been a big Beatles fan for years (I bought my first Beatles 7" in late 1963 and I've never stopped loving and collecting them since that time - like a lot of us.) It's the reason why I was so involved and I spent so much time doing it, the best I could, again and again and again. I was aware of doing a Beatles tribute album and it was for me a challenge...'in my life.' Really nobody else but me was involved with: As it's said in the sleeves notes, it was a completely home project: who could have played with me in a 4-meter square studio on top of that with all my instruments!?....you can also imagine why I said before it was a lot of hours, I was all alone.

I'm really the only one credit man from beginning to end.

Question: In 2002, you released a CD called "Acoustic Sound Orchestra" that contained pop standards such as "Blown in the Wind" and "Blackbird." The CD also contained a few of your own compositions. How do you personally rate this new album, "Electric Sound Orchestra" to that of "Acoustic Sound Orchestra?" Was one project more satisfying for you than the other? If so, why?

Martial: I'm more satisfied with the "Electric Sound Orchestra" CD than the "Acoustic Sound Orchestra" one (released in 2002.) "Acoustic..." was my own project too, alone again, except on one track called "Thème d'Emilie Poulain" recorded with 3 other friends.

The "Acoustic..." album was recorded in less than a month with my own home studio (the same) I've just have received and I was not at ease with (a first experience on that one!) For instance, the "Blackbird" version on "Electric S. O." is the same as on "Acoustic S. O." (same take) but the new mastering is different and the result is much better! Without a doubt, I put more love and passion with the "Electric Sound Orchestra" project. I now can hear the difference between them two.

As I said before, it's been a long-time project but I'm really proud of it today!

Question: How did Magic Records come into being and could you tell us the variety of artists that you carry on the label? (How long has the label been around?)

Martial: I founded Magic Records just 10 years ago, in April 1995.

Last month, Magic Records released a 10-year anniversary sampler CD to celebrate that date, collecting highlights of its whole catalog during that period.

Before 1995, I spent 20 years working at Universal, BMG and Sony Music. Then I decided to develop the specialized catalog parts that the majors didn't exploited. That's what Magic Records is still doing up that day.

Question: Could you tell us what we can expect next in the future from Martial Martinay?

Martial: I expect that Magic Records carry on to reissue groups and artists that the majors don't exploit, always released in collector products: including bonus tracks,24-bit digital mastering, digipaks. For me, or I would say, "Electric Sound Orchestra," I will love to record eventually a "Volume 2" always dedicated to the Fab 4, if the sales of the first one are acceptable.

Up now, I'm working ("E.S.O.") on a new series of which the concept is the 4-track CD EP (remember the 60's!) showing all the major English bands including one dedicated to The Beatles again: "Day Tripper" would be the lead track on it with 2 or 3 completely new tracks - unknown and unreleased today!)

'And in the end'.. John, I would like, personally, to thank you very much for your commentaries that touched me a lot and the pleasure you had to listen to my album.

Take care.

Yours sincerely,

Martial

- Thank you very much for the interview, Martial. - J.W.