March 31
'Fifth Beatle': Court Battle Today
by Roger Friedman, Fox News
Billy Preston was always considered the real 'fifth Beatle.' He was drafted to play keyboards on the Beatles' later sessions and is prominently featured on their 1969 hit, "Get Back."

In the early 1970s, Billy had two huge No. 1 hits of his own, "Nothing from Nothing" and "Will It Go 'Round in Circles." He played on The Concert for Bangladesh, wrote the Joe Cocker hit "You Are So Beautiful" and had one more hit, "With You I'm Born Again."

Like a lot of musicians, though, Billy could not rise above drug addiction. It wreaked havoc on his health, prompting a kidney transplant. But his body rejected the kidney, forcing Preston into a life on dialysis.

Three years ago, he decided to leave Los Angeles — where his demons were plentiful — for Scottsdale, Ariz. His business manager, Joyce Moore, lived there with her husband, Billy's old friend, "Soul Man" Sam Moore. Plus, Preston would get four-star medical care at the Mayo Clinic.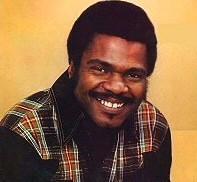 Billy was so happy with his life in Arizona, his renewed health and his still-active career that he gave Joyce Moore his durable medical power of attorney in case something happened to him. He was quite clear about not wanting any members of his extended family or half-siblings to be in charge of his life. I know this because we spoke about it often. It was a little like "Million Dollar Baby": He did not want one of those bedside hospital scenes.

This morning, a judge in Maricopa County, Ariz., is going to have to deal with the future of Billy Preston. The great musician fell into a semi-coma on Nov. 21 after being unable to resist taking drugs while receiving dialysis. Moore responded by doing what Preston instructed: getting him the best health care, with no family.

Joyce Moore made sure the people who did mean something to Billy knew about his condition. I will tell you something no one knows: Eric Clapton flew at Christmastime from his home in the United Kingdom to Arizona and spent two days at Preston's side. Music is played constantly in his room. Special therapy was developed for his fingers in case he awoke from his drifting sleep.

But now, like the family in "Million Dollar Baby," the relatives have descended. They want conservatorship of Preston, access to his finances and the right to move him from his top-notch health care facility back to Los Angeles. They do not seem to care about their half-brother's wishes. Two weeks ago, in Los Angeles Superior Court, they failed to tell a judge that a durable medical power of attorney existed. By omitting certain facts, Preston's sisters — represented by one of their sons — managed to achieve temporary custodianship.

Earlier this week, an email went out over the Internet from Preston's half-sister Lettie, accusing Moore of hijacking her brother. I can't quote from it because of potential libel issues. Consequently, this column received a number of phone calls from people in the music world, wanting to know what was going on. This is my answer.

Twice last year, I had the privilege of watching Billy Preston perform. I wrote about it here. One time was at the Mohegan Sun Casino in Connecticut. The other time was at the Atlantis Hotel in the Bahamas. On each occasion he was in his element, smiling, happy and alive. He credited his renaissance to his manager, who'd driven him three times a week at 6 a.m. to dialysis treatments. Not only that: Billy had reconnected with Sam, an old friend, and that had been a significant change for the better in his life. He was surrounded by good people, and flourished because of it.

The judge in Maricopa County will have to weigh the desires of an estranged family, perhaps feeling a lot of guilt or embarrassment, with those of a patient who can no longer speak. But Billy Preston was highly communicative until the day he became ill, and was incredibly specific about leaving instructions. I can only hope his positions are honored today. Otherwise, nothing from nothing will leave nothing.
© 2006 by Roger Friedman and Fox News
------------------------
March 30
The Capitol Promotional Video Trailer for "The Beatles - Capitol Albums Volume 2"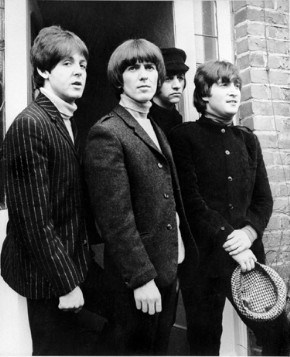 Experience audio samples of the forthcoming release of "The Beatles - Capitol Albums Volume 2" on the following formats:
RealPlayer:
(mono)
http://boss.streamos.com/real/capi001/beatles/vol2/vol2_epk_pre_v100.ram
(stereo)
http://boss.streamos.com/real/capi001/beatles/vol2/vol2_epk_pre_v300.ram
Windows Media:
(mono)
http://boss.streamos.com/wmedia/capi001/beatles/vol2/vol2_epk_pre_v100.asx
(stereo)
http://boss.streamos.com/wmedia/capi001/beatles/vol2/vol2_epk_pre_v300.asx
QuickTime:
(mono)
http://boss.streamos.com/qtime/capi001/beatles/vol2/vol2_epk_pre_v100.mov
(stereo)
http://boss.streamos.com/qtime/capi001/beatles/vol2/vol2_epk_pre_v300.mov
March 25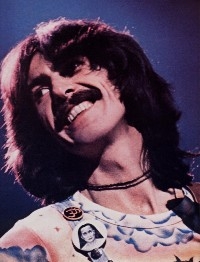 A new George Harrison vocal to "This Guitar (Can't Keep From Crying)"
Dave Stewart of Eurythmics fame will be releasing a "Platinum Weird" CD this summer called "Avalanche." As part of the promotional build up for the new release, Stewart has mixed a brand new George Harrison vocal and acoustic guitar treatment of "This Guitar (Can't Keep From Crying)" which is layered with plenty of guitar licks, organ, backup harmony, and drums. This version is now available for downloading on the internet.
George's vocals are much stronger here than the original "Extra Texture" album release from 1975. When you listen to this new track, George's vocals for the recording probably dates sometime during the 1990's.
For the complete version in MP3 format, click here. Platinum Weird's official website, click here.
Sir Paul McCartney makes last-ditch plea to end Canadian Seal Hunt
In a video message from London yesterday, Sir Paul McCartney once again urged the Canadian government to put an end to the annual Maritime seal hunt.
"This is a win-win solution," Sir McCartney said in the video message. "Fishermen would be compensated for any lost revenue when the hunt is closed and Canada would have a graceful way to put an end to a cruel and needless practice."
The video was presented by the Humane Society of the United States to a group of reporters in Charlottetown, P.E.I. The video presentation comes right on the heels of movie legend Brigitte Bardot's visit to Ottawa this past Wednesday. The 71-year-old actress called upon the Harper government to end the seal hunt. "I want to see this massacre stop," she said. Bardot had hoped to meet with Prime Minister Harper in person but the idea was rejected by Harper himself.
"I respect Madame Bardot and many other famous people that have celebrity causes, but it's not in my nature to take photos with famous people," said the Canadian Prime Minister.
In today's editorial comment made by the Ottawa Citizen, the paper applauded Harper's decision -- that posing with Bardot (in this particular instance) would be a "cheap photo-op" for the PM. Yet the Ottawa Citizen did not hesitate from splashing a large photograph of Bardot's face on their Thursday front page edition including an extensive story coverage found on page A3. The evening before, the CBC's "The National" aired an in-depth feature report with differing viewpoints about the seal hunt as a result of Bardot's visit to Ottawa.
"This (the seal hunt) is an important economic activity for communities that are highly reliant on this," said Harper yesterday during a visit to Moncton, New Brunswick. "We don't harvest pups."
The National Geographic Society, in a report filed yesterday, noted that "about a million harp seals have been killed over the past three years, mostly animals between 25 days and 13 months of age." Their report added: "Although the youngest pups are protected, harp seals are weaned and lose their white coats when only two weeks old, making them fair game for hunters."
As the seal hunt gets underway today, issues from both sides continue to mount. Because of "global warming," this year sealers will have to hunt from their boats for seals making it a somewhat difficult proposition for them to meet their quota. Protesters of the seal hunt will be there which has caused a flap amongst the sealers who are "asking Atlantic businesses such as helicopters and airplane charters, restaurants and hotels to close their doors to hunt protesters," wrote today's Ottawa Citizen.
Meanwhile, the Human Society of the United States has called for a boycott of Canadian seafood and Sir Paul McCartney has suggested "a license buy-back program for hunters" to end the annual seal hunt.
Links: National Geographic: "Seal Hunt In Canada Opens on Thin Ice"
Canada.com: "Controversial East Coast seal hunt opens on unusually thin ice"
Guardian Unlimited: "Bardot cries for end of seal hunt"
Humane Society of the United States website features Sir Paul McCartney and Heather's recent video plea from London
Report filed by John Whelan
------------------------
FOR IMMEDIATE RELEASE (FROM CAPITOL RECORDS)
MARCH 20, 2006

APRIL 11, 2006 -- CAPITOL RECORDS TO RELEASE VOLUME 2
OF BEATLES U.S. RECORDINGS IN A BOX SET

FEATURING THE EARLY BEATLES, BEATLES VI, HELP! AND RUBBER SOUL
FIRST TIME EVER ON CD

On April 11, 2006, Capitol Records will release The Beatles Capitol Albums Volume 2, a collection of the four Capitol albums by The Beatles from 1965. The box set marks the CD debut of The Early Beatles, Beatles VI, the Help! soundtrack and the American version of Rubber Soul.

This is the much anticipated companion set to the Capitol Albums Volume 1 which brought together for the first time on CD the albums that began it all - Meet The Beatles, The Beatles Second Album, Something New and Beatles '65.

"It has been an ambition of mine to see the release of these CDs in the form we grew up with in the U.S.," says Andrew Slater, President and CEO, Capitol Records. "The remastering should ensure that the sound quality lives up to the expectations of our memories."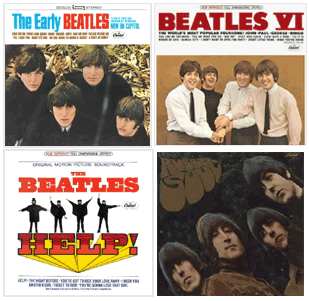 The Early Beatles marks the stereo debut on CD of nine early Beatles classics, including Please, Please Me and Twist And Shout.

Beatles VI marks the stereo debut on CD of five Beatles recordings, including cover versions of Kansas City and Words Of Love, as well as Lennon and McCartney's What You're Doing and Every Little Thing. The album also marks the CD debut of four Beatles songs in their original 1965 George Martin mono mixes.

The Help! soundtrack album contains five instrumental tracks from the film making their CD debut, including From Me To You Fantasy and Another Hard Day's Night. When the British Help! LP was issued on CD in 1987, it contained George Martin stereo remixes of the songs. The Capitol soundtrack album marks the CD debut of five songs in their original 1965 George Martin stereo mixes.

The Capitol version of Rubber Soul contains, for the first time on CD, the original 1965 George Martin stereo mixes. When these songs appeared on CD in 1987, they were stereo remixes of the songs prepared by George Martin.

The Capitol Albums Volumes 1 & 2 have been carefully mastered from the original master tapes, taken from the vaults of Capitol Records, to ensure that they sound as they did when first released in 1964 and 1965. Each disc in the box sets presents each album in stereo and then in mono.

In the Sixties, American record labels often chose to reformat British records to suit the needs of the U.S. market. In America, singles were generally included on current albums, where as in the UK, albums and singles were most often separate releases.

Higher music publishing costs in the U.S. also made it impractical to include as many songs on American albums. In addition, in the case of The Beatles, some of the recordings on the American albums were given more echo than the British versions, to 'Americanize' their sound.

In Volume 2, all but four of the tracks on the stereo albums are actual stereo mixes, with two being unique Capitol duophonic mixes. Capitol's engineers created duophonic mixes from mono masters by emphasizing the treble in one channel, boosting the bass in the other, and running the two channels slightly out-of-sync to simulate a stereo sound. In addition, five of the mono tracks are unique Capitol stereo-to-mono mixdowns with added echo and reverb.

Because the 46 songs included in Volume 2 are presented in both stereo and mono mixes, there are 92 tracks in the box set. Out of this number, 82 tracks appear in versions not previously available on CD.

When The Beatles catalog appeared on CD for the first time in 1987, releases were standardized on a worldwide basis. A short time later, the U.S. albums, which had last appeared on vinyl and cassette, were deleted from the Capitol catalog.

Since that time there has been increasing demand for these original U.S. albums to make their CD debut, which they now do as part of this specially priced and uniquely packaged 4 CD boxed set.

The Capitol Albums Volume 2 includes all 4 of the group's 1965 Capitol album releases. Each of the discs is housed in a miniature replica of the original album cover. The box set contains a colorful 60-page booklet featuring a scrap book effect of rare photos and clippings from that amazing year.

Track Listings: (Stereo Recordings / Original Mono Recordings)

THE EARLY BEATLES (Released March 22, 1965)

Love Me Do $
Twist And Shout *‡
Anna *‡
Chains *‡
Boys *‡
Ask Me Why *‡
Please Please Me *‡
P.S. I Love You $
Baby It's You *‡
A Taste Of Honey *‡
Do You Want To Know A Secret *‡

* Stereo debut on CD (9)
$ First CD appearance of 1963 simulated stereo mix from first U.K. LP (2)
‡ First CD appearance of unique Capitol stereo-to-mono mixdown (9)

BEATLES VI (Released June 14, 1965)

Kansas City *@
Eight Days A Week
You Like Me Too Much †
Bad Boy †
I Don't Want To Spoil The Party *@
Words Of Love *@
What You're Doing *@
Yes It Is ¤
Dizzy Miss Lizzie †
Tell Me What You See †
Every Little Thing *@

* Stereo debut on CD (5)
† Mono debut on CD (4)
¤ First CD appearance of unique Capitol duophonic mix (1)
@ First CD appearance of unique Capitol remixes with echo and reverb (5)

HELP! (Released August 13, 1965)

Help! •‡
The Night Before †‡%
From Me To You Fantasy (Instrumental)•‡
You've Got To Hide Your Love Away †‡%
I Need You †‡%
In The Tyrol (Instrumental)•‡
Another Girl †‡%
Another Hard Day's Night (Instrumental)•‡
Ticket To Ride ¤
The Bitter End/You Can't Do That (Instrumental)•‡
You're Gonna Lose That Girl †‡%
The Chase (Instrumental)•‡

• First CD appearance in any version (6)
† Mono debut on CD (5)
% First CD appearance of original 1965 George Martin stereo mix (5)
¤ First CD appearance of unique Capitol duophonic mix (1)
‡ First CD appearance of unique Capitol stereo-to-mono mixdown (11)

RUBBER SOUL (Released December 6, 1965)

I've Just Seen A Face %†
Norwegian Wood %†
You Won't See Me %†
Think For Yourself %†
The Word %†
Michelle %†
It's Only Love %†
Girl %†
I'm Looking Through You %†
In My Life %†
Wait %†
Run For Your Life %†

% First CD appearance of original 1965 George Martin stereo mix (12)
† Mono debut on CD (12)

APRIL 4, 1964 – BEATLES HOLD TOP 5 SLOTS
ON BILLBOARDS HOT 100

APRIL 11, 1964 -- BEATLES HAVE 14 SONGS
IN THE BILLBOARD HOT 100

APRIL 11, 2006 -- CAPITOL RECORDS TO RELEASE VOLUME 2
OF BEATLES U.S. RECORDINGS IN A BOX SET

FEATURING THE EARLY BEATLES, BEATLES VI, HELP! AND RUBBER SOUL
FIRST TIME EVER ON CD

The Beatles Capitol Albums Volume 2 release is being timed to celebrate the unprecedented and unmatched April1964 Billboard chart domination by the Beatles, a time most remembered for The Beatles holding down the top five slots in The Hot 100. Four of those recordings are featured in these two collections.

No other recording artist has ever held down the top five, four or even three spots on the Billboard Hot 100. Only four acts besides the Beatles have ever had simultaneous number one and two hits. During early 1964, the Beatles had at least two songs at the top of the charts for twelve straight weeks. On April 4, 1964, in addition to the Top Five slots, The Beatles had seven more songs in the Hot 100, for a total of 12, including two singles imported from Canada. And if that wasn't enough, the group held down the top two spots on the album chart with their first two American albums.

On April 11, 1964, The Beatles broke their own record by placing 14 songs in the Billboard Hot 100.

The Beatles chart domination was made possible by their talent, and the excitement generated by their three "Ed Sullivan Show" appearances. These two box sets celebrate this music by faithfully reproducing how the Beatles recordings were presented to Americans in 1964 and 1965.

Billboard Hot 100 chart dated April 4, 1964

1. Can't Buy Me Love (Capitol)
2. Twist And Shout (Tollie)
3. She Loves You (Swan)
4. I Want To Hold Your Hand (Capitol)
5. Please Please Me (Vee-Jay)
31. I Saw Her Standing There(Capitol)
41. From Me To You (Vee-Jay)
46. Do You Want To Know A Secret (Vee-Jay)
58. All My Loving (Capitol of Canada)
65. You Can't Do That (Capitol)
68. Roll Over Beethoven (Capitol of Canada)
79. Thank You Girl (Vee-Jay).

Billboard Top LPs chart dated April 4, 1964

1. Meet The Beatles! (Capitol)
2. Introducing The Beatles (Vee-Jay)
Billboard Hot 100 chart dated April 11, 1964

1. Can't Buy Me Love (Capitol)
2. Twist And Shout (Tollie)
4. She Loves You (Swan)
7. I Want To Hold Your Hand (Capitol)
9. Please Please Me (Vee-Jay)
14. Do You Want To Know A Secret (Vee-Jay)
38. I Saw Her Standing There (Capitol)
48. You Can't Do That (Capitol)
50. All My Loving (Capitol of Canada)
52. From Me To You (Vee-Jay)
61. Thank You Girl (Vee-Jay)
74. There's A Place (Tollie)
78. Roll Over Beethoven (Capitol of Canada)
81. Love Me Do (Capitol of Canada)

Billboard Top LPs chart dated April 11, 1964

1. Meet The Beatles! (Capitol)
2. Introducing The Beatles (Vee-Jay)
------------------------
March 19
Condoleezza Rice on Magical Mystery Tour to Blackburn Lancashire
Times Online report
------------------------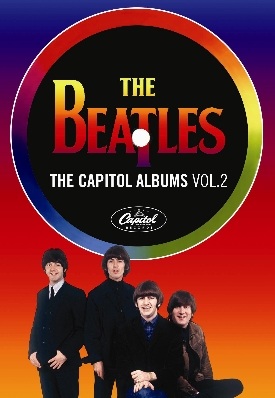 March 17
New "The Beatles - Capitol Albums Volume 2"

On April 11, Capitol Records will release Capitol Albums Vol. 2 featuring: For the first time ever on CD...The Early Beatles, Beatles VI, Help! Original Motion Picture Soundtrack & the American version of Rubber Soul Digitally Remastered & presented in both Stereo and Mono. Special packaging includes original album cover artwork and 60-page collector's booklet with rare photos.
Buzztone's Nick Lezin states that an official announcement concerning "The Beatles - Capitol Albums Volume 2" will be made public on Monday by Capitol Records.
Links: http://www.buzztone.com/beatles.jpg
http://www.buzztone.com/beatles_cover.jpg
Photo insert: © Apple Records, 2006.
--------------------------
March 12
John Lennon's "A Day In The Life" lyric sheet fails to sell
On March 9, Bonhams auction house in San Francisco announced that submitted seal bids pertaining to the original handwritten lyrical sheet for "A Day In The Life," have failed to meet the reserve price of £1.5 million. The auction was held in New York.
The 39-year-old lyrics once belonged to the Estate of Mal Evans, the Beatles road manager but in 1992, a private collector bought it at an auction for £56,600.
"A Day In The Life," considered to be one of the best masterpieces composed in rock music, was inspired by an article that John Lennon had read in the Daily Mail about the death of his friend, Guinness heir Tara Browne. The song appeared as the last track on the highly acclaimed "Sgt. Pepper's Lonely Hearts Club Band" LP and was released during the "Summer of Love" in 1967.
It is unknown what will happen next to the lyrical manuscript.
--------------------------
March 11
Give Seals a Chance: An Interview with Paul McCartney
"In the halls of their hotel, walking from the taping of an interview on the Canadian seal hunt for the Larry King Live show to the taping of their next interview, Heather and Paul McCartney broke into song. "All we are saying is give seals a chance," they sang to the reporters intent on capturing their every move during a recent visit to Prince Edward Island." - By Tanya Mulford, HSUS. Click here for the interview with Paul McCartney.
The Toronto Sun's Peter Worthington supports McCartneys eco-tourism suggestion to replace seal industry
"Personally, I dislike the slaughter of baby seals, and feel the $15 to $20 million it annually brings to Newfie "hunters" cannot match the loss to Canada in reputation and money through boycotts and international ill-will." - Peter Worthington, Toronto Sun.
Peter Worthington, who is a well renown Canadian journalist, provided readers with his own viewpoints on the seal hunt controversy. His article, "Humane 'hunt' still just killing - Clubbing death of seal pup in front its mother is brutal -- and wrong" was published on March 7, 2006, in the Toronto Sun and echoes some of the same sentiments here at the Ottawa Beatles Site (see March 5 entry).
"In his celebrated TV debate with the McCartneys on Larry King Live, Newfoundland Premier Danny Williams argued that without the annual seal slaughter (300,000 babies killed last year - a million over three years) the seals would further deplete our already depleted fishing resources," writes Worthington.

"This is provably wrong. When there was no culling of seals, there was no shortage of fish. It is human beings who've over-fished and destroyed the cod industry, not seals.

"And Williams is right that European fishermen plunder this resource.

"Paul McCartney suggests that there'd be more money for Newfoundland if instead of two weeks of killing baby seals, there was a tourist industry to visit and see the seal nurseries, rather like the whale-watching industry.

"This is worth investigating, otherwise there seems no end to a degrading practice that is out of tune with Canada as a compassionate country."
You can read Peter Worthington's full report here.
--------------------------
March 10
Ringo Starr to launch another summer tour from Canada
It was Jane Stevenson of the Toronto Sun who only a few weeks ago first reported that Ringo Starr is doing another summer tour this year. "When Casino Rama announces its June shows on March 14 , it's expected that Fab Four drummer Ringo Starr will be a part of the lineup." Her report went on to say that Ringo will "will rehearse for his latest All-Starr trek at Casino Rama near Orillia, effectively launching the first show of his tour there."
Yesterday, the AbbeyRd Beatles site posted a press release revealing the all-star line-up that will sure to rock and delight fans. The musicians this time around are: Rod Argent, Mark Hudson, Richard Marx, Edgar Winter, Sheila E and Mark Rivera.
It is expected that the complete tour schedule will be announced shortly.
--------------------------
March 8
Quick News Picks:
Comedy veteran John Junkin dies at the age of 76 (the actor who played "Shake" on A Hard Day's Night) and Cult poet Ivor Culter dies at 83 (the actor who played "Mr. Blood Vessel" on Magical Mystery Tour). Both reports are from the BBC.
Brigitte Bardot praises McCartney over seal stance by Contact Music.
Sir Paul McCartney Asks Arizona Governor To Say 'NO' To Covance's Animal-Testing Lab In Chandler
-------------------------
March 5
The real reason why Premier Danny Williams went on Larry King talk show
Does Newfoundland Premier Danny Williams feel that the McCartneys visit poses a real threat to the livelihood of seal hunting industry?
You bet he does!
In a recent development from February 13 of this year, Adolfo d'Urso, the Italian vice-minister for Trade and Industrial Affairs announced that his government has "temporarily suspended imports of seal skins and seal derived products." The announcement appeared in Spero news.
"Today's announcement from Rome assured that no import licenses would be granted for seal products in the coming months. In addition to the temporary ban, a legislative proposal to permanently prohibit all commerce in seal skins and seal derived products also was introduced into the Italian parliament," reported the Spero.
The legislation, which will be very prohibitive in nature, will end the practice of imported and then re-exporting seal products to other countries.
Italy's announcement had the backing of Lesley O'Donnell, director of International Fund for Animal Welfare (European Office) who states that these policies "will contribute towards putting an end to the cruel and unjustifiable massacre of seals."
And according the Associated Press, "The United States banned Canadian seal products in 1972, and a ban on importing the white pelts of seal pups was implemented by the European Community in 1983." Other countries since have tabled legislation are Mexico, Belgium, and the Netherlands.
With market share shrinking for seal products, is it any wonder why the Newfoundland Premier got so upset over seal rights activist's Sir Paul and Heather McCartney recent visit that was arranged by the Humane Society of America?
What Premier Danny Williams did not tell the Larry King viewing audience
In spite of quotas set by the Department of Fisheries and Oceans (DFO), what Premier Danny Williams didn't reveal on the program is the fact that the number of Canadian Harp seals killed each year "is underreported by an estimated 38-89%" said Marinebio.org. Therefore seal hunters can sometimes exceed the "Total Acquired Catch" that was set by the government. When that happens, the government will sometimes increase the quota. If seal hunters do not meet the quota, chances are the seal hunters were impacted by the "low demand for pelts, high fuel and ammunition prices, and increased insurance rates," writes Marinebio.org. Sealers can also be impacted by an early Spring thaw. All these factors described, for example, happened in 2000.
Dispelling the myth: Seals are not over-eating cod stocks
On November 17, 2005, the Grey Seal Conservation Society filed a report to the DFO. The report examined the very question: are seals depleting the cod stocks? Here is what Debbie MacKenzie of the Grey Seal Conservation Society reported to the DFO:
(The) "DFO has not done enough to dispel the myth that natural predators are "damaging" fish stocks. While scientists have stated this is not their conclusion, they have done a poor job of convincing the fishing industry on this point, or of reducing the fishermen's mistrust of seals. In fact, DFO scientists still seem to act to perpetuate the myth of the "danger" presented by seals as they have intensified their efforts to quantify the consumption of fish by seals. The underlying assumption of DFO's seal research program seems to be a belief that the consumption of fish by seals is inherently harmful to fish stocks."
"Even if the Department was to contemplate a cull to reduce seal predation, the number of seals that would have to be taken to have a significant effect on fish populations would be enormous and would undermine the current seal harvest. For example, under one Eminent Panel scenario based on their bio-economic analysis, there would have to be an additional harvest of either 750,000 seals in a single year, 150,000 additional young seals per year for five years, or a cull of 150,000 adult females to provide about 1,500t of commercially usable fish (not just cod)." (2005 Seal Forum Workbook)
"The assumption that removing seals will work to the benefit of their prey fish cannot be justified today in the face of recent evidence that significant predator removal can cause broad-scale ecosystem damage. DFO needs to communicate this fact to the fishermen. Senior DFO scientist, Jake Rice, has cautioned against planning predator culls as "ecosystem objectives."
So much for the seal population supposedly impacting negatively on cod stocks.
The truth of the matter as to why there has been a big depletion in cod stocks is that foreign fishing trawlers, in particular Spanish ones, catch cod just outside Canada's 200 mile limit (i.e. the tail of the Grand Banks.) Foreign fishing becomes problematic for Canadian fishermen who need to catch their own cod for income. The fierce competition between the two over several years have caused a rapid decline in cod stocks.
Next on the radar screen is the crab fishery. The Fisheries Resource Conservation Council has issued a warning that the depletion of crabs is next on the list.
With current problems of seal and fishing industry, Sir Paul and Heather McCartney's arrival is well-timed. When you consider that more countries are placing a ban on seal imports and exports, the serious challenge now for Federal and Provincial governments is to try and build a new economy that is less dependent on the fishing and seal industry. Sir Paul suggested "eco-tourism" could be a component in building such an economy instead of seal hunting. Other ideas such as venture capital for start-up business initiatives must be seriously considered to help those Atlantic regions - more of it, not less, must be done.
If a coastal nation like Britain can build a great economy that is not solely dependent on its fishing alone for its economy, so too can the Maritime provinces of Canada.
Links: Grey Seal Conservation Society report to the DFO
Harp seals and Cod, Questions and Answers from the International Marine Mammal Association
Pagophilus groenlandicus Harp Seal, Comments on Canadian Hunt by Marinebio.org
Example of Maritime sealers actually clubbing seals: a photographic essay.
Report submitted by John Whelan, Ottawa Beatles Site
--------------------------
March 2
Sir Paul McCartney slams Ottawa over annual seal hunt
Dressed in red and orange one-piece survival suits, Sir Paul McCartney and Heather travelled today by plane from Charlottetown, Prince Edward Island to the Îles de la Madeleine which is located in the middle of the Gulf of St. Lawrence. From there the couple boarded a helicopter and landed on a barren ice pan some 20 kilometres (12.4 miles) northwest of Îles de la Madeleine.
Photo credit: © The Humane Society of the United States/Rolf Hicker. Used with permission for the Ottawa Beatles Site with our sincere thanks.
The 63-year-old music legend and his wife bellied up on the pristine ice floe posing with a snow-white seal pup while three dozen media journalists and photographers recorded the event.
Sir Paul McCartney denounced the annual seal hunt and called upon Canada's Prime Minister Stephen Harper to buy back hunters' licenses and to promote eco-tourism in that region.
"We don't want to see the local people suffer. But, from what we hear, it is quite a small amount of their annual revenue and this could be easily sorted out by the Canadian government, if they care to do it," said McCartney.

"We're calling upon Stephen Harper and the government to consider looking at this problem...in the light of the international objections."

Sir Paul McCartney went on to say that "Canada is known as a great nation...But this is something that leaves a stain on the character of the Canadian people and we don't think that's right. I don't think the vast amount of Canadians think that's right."
While seal hunting has been a centuries-old commercial slaughter in Canada's Atlantic, this year fishermen will make $70 each per pelt and blubber. The seal hunt, depending on global warming factors, could possibly start in a few weeks just as the fluffy white seal pups shed their fur. The industry is expected to pull in between $15 million and $20 million while employing 10,000 people, many of them from the province of Newfoundland. Over the past 3 years, the Canadian government has allowed 900,000 seals to be killed, most of them were under three months old.
Sir Paul, upon hearing about the long-standing economic benefits from seal hunting for the region, stated outright that slaughter of seal pups and the economic rational "doesn't make it justifiable. Plenty of things have been going on for a long time, like slavery. Just because it's been going on for a long time doesn't make it right."
"This is one of the greatest wildlife spectacles on Earth," he said. "It's very rare that you can come to a beautiful, wild place like this. In our view, it would make more sense to look at ecotourism."
Heather McCartney also expressed her dismay about the hunt: "They sell the baby seal skins for fashions and fur – that's what's so horrific about it."
Mark Glover, director of the British charitable organization Respect for Animals, today said: "I observed the seal hunt at close range last year, it was the most brutal sight I have ever seen, with conscious seals dragged across the ice with boathooks, wounded seals left to choke on their own blood, and seals being skinned alive. The commercial seal hunt is inherently cruel – it is a national disgrace." His organization, along with the International Fund for Animal Welfare "are also calling on the UK Government to ban the import of all seal products into the UK and campaigning for a total ban on hunting in Canada," wrote GMTV.
Meanwhile, Sir Paul McCartney will be interviewed this Friday (March 3) on CNN by Larry King at 9:00 pm (ET.) King will also interview Newfoundland's Premier Danny Williams who will make the provinces case for seal hunting.
Report submitted by John Whelan, Ottawa Beatles Site
--------------------------
February 28
Sir Paul McCartney and Heather to arrive in Canada's Maritimes this week to observe seal pups before hunt
Both Sir Paul McCartney and his wife Heather will be making good on a promise later this week in the Canadian Maritimes to help raise the profile of the senseless slaughter of Canadian seals. In a letter that was sent November of last year to then Prime Minister Paul Martin, both Paul and Heather wrote: "We simply can't understand why you would allow these beautiful animals to be bludgeoned, clubbed and shot to death simply for their fur. Clearly, there is no scientific basis for this slaughter, as most scientists, including those at the Canadian Department of Fisheries and Oceans, have refuted the claim that killing seals will help the cod stocks to recover." The letter concluded by saying that "We wanted to put you on notice that if Canada moves forward with another hunt next year, we will do all we can to focus attention on this unjustified, outdated, and truly horrific practice, including, potentially, visiting the seals on the ice."
Paul and Heather will be in the Maritimes this Thursday and Friday to observe the seals. The Humane Society's official press release indicates the couples visit will help to "highlight the work of two animal protection groups to stop the Canadian seal hunt."
Seal hunts "generally run from mid-March through to mid-April, but the timing of this year's hunt is still uncertain," writes CTV news. But in a 2002-2003 Humane Society of United States (HSUS) reported a seal hunt that went much longer that had some very dire consequences: "Canadian government figures show that in 2002–2003 96.6% of the reported 286,238 seals killed between November 15 and May 15 were 12 days to 12 weeks old. Under the government's latest plan, hunters will be allowed to kill 975,000 harp seals on their home ice east of Newfoundland and Labrador during a three-year period. We don't know how many more seals were killed than were reported, but we do know that in the 2001-2002 hunt, sealers killed at least 30,000 more seals than allowed by law. And how did the Canadian government punish the sealers? By upping the quota."
With the Canadian government's steadfast viewpoint that seal hunting is a cultural right for many Maritimers, Rebecca Aldridge, HSUS's Director of Canadian Wildlife is hoping that Paul and Heather's visit "will shine a global media spotlight on this cruel and needless slaughter" in an effort to create a paradigm shift to change public opinion. About 40% of the seal pups were alive when they were skinned. If anyone are interested in signing the pledge to protect the seals, they can do so at: http://www.protectseals.org/.
Related Links: "About the Canadian Seal Hunt" by The Humane Society of the United States.
From CTV News: Paul McCartney to observe seal pups before hunt.
Report submitted by John Whelan, Ottawa Beatles Site.
--------------------------
February 23
An "upright piano" was used to record John Lennon's "Imagine"
A recent interview from Klaus Voormann on Classic 21 radio makes claim that the piano used to record "Imagine" was an upright piano, not the white piano that we've all seen in the promo video of John and Yoko.
You can listen to Klaus give his explanation at the following link: http://www.belgian-beatles-society.com/main.php?pageId=f1 and click on audio track number 7.
The Belgian Beatles Society states that Klaus Voormann was interviewed on December 18, 2005 by Johan Ral and Marc Ysaye of Classic Rock.
--------------------------
February 20
Paul McCartney: Chaos and Creation Live at Abbey Road to air on PBS television
Official Press Release...
In this unique concert, the legendary Paul McCartney returns to Studio 2 at London's Abbey Road Studios, where most of the Beatles' recordings were made, for a fascinating journey through his songwriting career, from his very first Beatles song to the work for his new album, Chaos and Creation In The Backyard. Using a selection of vintage instruments from his own collection -- including the bass played by Bill Black on Elvis Presley's original recording of "Heartbreak Hotel" and the Mellotron and mixing console used by the Beatles -- McCartney revisits his back catalogue in new and revealing ways before an intimate studio audience. McCartney reinterprets old songs and new songs, performs some terrific cover versions, and enlists the audience's help in a demonstration of "in the moment" songwriting and arranging. Among the songs performed are "Blackbird," "Band on the Run," "Lady Madonna," and many others.
The program premieres on February 27, 2006 (check local listings); watch for the launch of the Web companion on February 20.
--------------------------
February 19
Yoko Ono dedicates avant-garde show to the victims of Hiroshima and Nagasaki nuclear bombs of World War II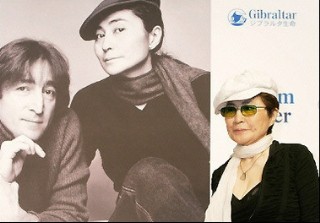 PARIS (AFP) - Performance artist Yoko Ono, best known as the widow of Beatle legend John Lennon, threw herself a 73rd birthday show in Paris with a sold-out avant-garde act staged with the couple's only son Sean.
Ono's tribute to world peace and love, which she dedicated to the victims of the Hiroshima and Nagasaki nuclear bombs of World War II, included live music, collective art action, video projections and atonal noises from the artist meant to evoke the horrors of violence.
The show on Saturday, dubbed "a meeting with the broadest public", drew 2,000 people into the reputed Chatelet Theater with tickets that went for just five euros (six dollars) apiece.
Sean Lennon accompanied his mother on the drums and guitar, while film director and musician Vincent Gallo took up guitar and keyboard in the 70-minute performance.
The threesome last year staged a similar event with Gallo at the Tonic Nightclub in New York, a haven of experimental music faced with closure.
In Paris, Ono concluded the show by asking the audience to use mini-flashlights distributed beforehand to beam out messages meaning "I love you". "Don't stop sending this message to the whole world and the universe", she said in a text accompanying the show.
After the finale, Lennon knelt before his mother and handed her a spray of white lilies before leading the crowd in a standing-ovation round of "Happy Birthday".
The event was staged as part of the Chatelet Theater's "Full Days" program in which an artist can take over the building for free for a single evening performance.
--------------------------
February 18
Quick News Picks:
Horst Fascher, founder of the Star Club, has written a new book entitled "Let the Good Times Roll". Horst is interviewed by David Crossland in an article called: "Hamburg's Heady Days of Rock & Roll". There is also another interesting article by the same reporter. This one entitlted: "REEPERBAHN IN DECLINE Beatles Memories to Revive Hamburg's Sin City" which states that there are architectural plans to design a "Beatles Square on the Reeperbahn consisting of a black circle symbolizing a record, and life-size statues of the Beatles in glass."
Meanwhile back in England, Howard Cohen, owner of the London Beatles store is planning to open a Beatles museum this coming April. For details, please read: "A magical history tour for the Beatles."
Apple recording star Mary Hopkin will be collaborating with country singer Dolly Parton on a new version of "Those Were The Days." "The new version is the title track of the American country star's latest album, a collection of covers from the Sixties and Seventies," writes the BBC in their "Reclusive star's duet with Parton" article.
--------------------------
February 9
Beatle DJ Archer of 99.5 FM The Mountain throws the spotlight on Adopt-A-Minefield's "Night of a Thousand Dinners"

As of 2006, Adopt-A-Minefield's "Night of a Thousand Dinners" will move to the spring. Individuals are encouraged to host dinners between March 1st, 2006, in commemoration of the signing of the Ottawa Convention, and April 4th, 2006, in support of International Mine Awareness Day.
"Night of a Thousand Dinners," dubbed "N1KD" by Heather Mills McCartney, began as an opportunity for people all over the world to come together on a single night, enjoy a meal and help solve the global landmine crisis. N1KD has now evolved to include any kind of gathering – a cocktail party, barbeque, wine-tasting, tea party, luncheon, for example.
Since its launch in 2001, N1KD has reached tens of thousands of people and raised nearly four million dollars for mine removal and assistance for mine victims. N1KD 2005 saw a show of support from across the U.S. and around world, with individuals in 39 countries signing up to host dinners.
"As a host, you organize the meal and invite the guests. Create your own favorite dishes, choose from the recipes available at 1000dinners.com, or just keep it simple and order pizza," says Heather. "Instead of bringing wine, flowers, or dessert, each of your guests is asked to make a donation to help the landmine cause."
Registered hosts receive a video about the landmine issue to show their guests.
© 2006 by Archer and 99.5 FM The Mountain in Colorado, all rights reserved. Used with permission with our sincere thanks.
--------------------------
February 8
Sir George Martin's AIR Studios in London, England, Sold by Chrysalis Group and Pioneer to Strongroom Recording Studios Owner Richard Boote
LONDON, February 8 /PRNewswire/ -- Richard Boote, owner and managing director of Strongroom recording studios today announces the purchase of AIR Studios, the world class recording facilities established and chaired by legendary Beatles producer Sir George Martin, from Chrysalis Group PLC and Pioneer GB Limited.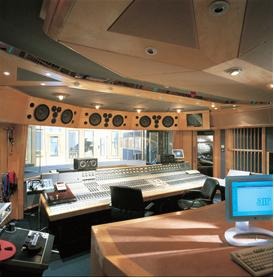 The multi-million pound purchase of the AIR Studios premises, a converted Victorian church in Hampstead, London, England, is backed by Lloyds TSB Corporate.
Sir George Martin CBE, founder and chairman of AIR Studios, says: "AIR Studios has been in existence for nearly forty years, during which time we've recorded some of the finest artists in the world and most of the memorable film scores. What I love about AIR is that as well as being a great studio it has a well deserved reputation for friendliness and efficiency. People who record here always want to come back. I am very happy that we are now associated with Strongroom, a company that shares our ideals and our dedication to recording high quality music. I am confident that Richard will continue to promote and develop AIR as a world-class recording facility."
Richard Boote, owner and managing director of Strongroom, says: "I believe that bringing Strongroom and Air together will not only ensure the survival of two of the greatest recording facilities in Europe, but also enhance the offerings of both studios. Clients will benefit from an expanded and more varied pool of technological knowledge and experience, a wider choice of studios and access to a much broader range of state of the art audio and video post-production facilities."
Richard plans to keep both businesses running as they exist today, maintaining their structures, identities and areas of specialisation. In the longer term clients of both studios - in industries ranging from music, film, broadcast and advertising to games and new media - will benefit from an even richer offering of music and post-production services at a broader range of price points. For example, AIR's post clients will have access to packages including Strongroom's Off-Line and On-Line HD video post facilities (enabling the group to offer a complete service of video post, audio post and sound track production) whilst Strongroom's clients will be able to use AIR's matchless Lyndhurst Hall studio for orchestral and large scale acoustic recordings.
Recent film scores recorded at AIR studios include: Batman Begins, Harry Potter and the Goblet of Fire and Pride and Prejudice (for which Mario Marianelli's score has just been nominated for an Oscar). Forthcoming films include The Da Vinci Code and the next Dreamworks animation Over The Hedge.
Artists who have recently recorded in AIR's music studios include Coldplay, U2, Robbie Williams, Blackeyed Peas, George Michael and Sir Paul McCartney.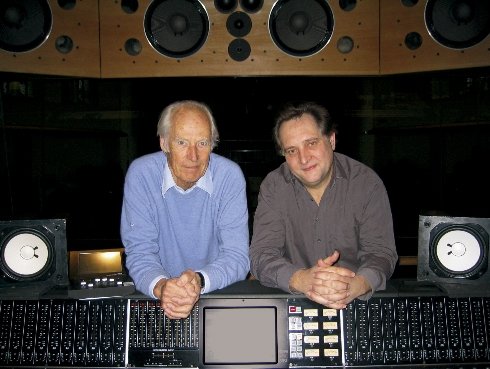 Sir George Martin established AIR Studios in Central London in 1969, relocating to Lyndhurst Hall in 1991. He is perhaps most famous for signing The Beatles to EMI and producing every record they made until they disbanded in 1970.
Richard Boote set up Strongroom, a complex of recording studios and post production facilities in Shoreditch, East London, in 1984. Artists such as Feeder, The Prodigy, Sugababes, Goldfrapp, The Kaiser Chiefs, Kasabian, The Thrills and Razorlight have recently recorded and mixed at Strongroom.
For photographs, please click here.
--------------------------
February 7
Replay to perform at the Capitol Centre in North Bay, February 28, 8:00 p.m.
Capitol Centre
150 Main Street East, North Bay ON P1B 1A8
Phone: (705) 474-4747 Fax: (705) 474-8431
Box Office Hours
Monday - Friday
9 a.m. to 5 p.m.
Saturday
11 a.m. to 4 p.m.
Related links: Capitol Centre calendar of events featuring Replay + The Official Replay web site.
-------------------------
February 5
New movie planned on Brian Epstein

A new film on Brian Epstein is expected to be released in 2008, the designated year in which Liverpool will be celebrating as Europe's "Capital of Culture." Entitled, "The Fifth Beatle", has its screenplay written by Tony-award winner, Vivek Tiwary.
The official Fifth Beatle website describes the film's synopsis this way: "Brian Epstein was the flamboyant, brilliant, but troubled entertainment industry visionary best-known for discovering and managing The Beatles. The Fifth Beatle is a non-documentary feature film that will cover the last 6 years of his life. His story will unfold via a mixture of history, fantasy, allegory, dream sequences, and hallucinations. New and original music will propel certain sequences forward like in Pink Floyd's film The Wall."
In preparing the screenplay, Tiwary interviewed Epstein's former business partner Nat Weiss and his former assistant Joanne Peterson. The draft of the screenplay was completed in January 2006 and the film project has been given the blessing of the Epstein estate.
Related link: Beatles Manager Subject of Film by Rolling Stone.
-------------------------
February 2
Paul McCartney to perform at the Grammy Awards
Billboard is reporting that Paul McCartney will be performing at the 48th annual Grammy Awards which will "mark the former Beatle's first Grammy performance."
McCartney, who previously has been credited with 13 Grammy Awards, sees his pop album "Chaos and Creation in the Backyard" nominated this year in four categories: Best Pop Vocal Album; Best Male Pop Vocal Performance for the album track "Fine Line"; and Album of the Year. The fourth nomination falls into the Producer of the Year (non-classical) category. "Chaos and Creation in the Backyard" was produced by Nigel Godrich with engineer/mixer Darrell Thorp and Alan Yoshida, mastering engineer.
The 48th annual Grammy Awards ceremony will air live on CBS on February 8 at the Staples Center in Los Angeles.
Best of luck, Paul, at the Grammy Awards! - The Ottawa Beatles Site.
-------------------------
January 29
While My Guitar Only Plays - A new CD from Les Fradkin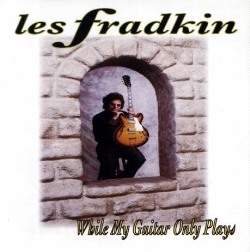 Guitar virtuoso extraordinaire, Les Fradkin, performs a refreshingly breathtaking instrumental album of Beatle pop tunes on his new CD entitled "While My Guitar Only Plays." Born and raised in New York city, Les played the role of George Harrison in the original Broadway cast of Beatlemania. On this new album, almost half the tracks are Harrison compositions which is Les's own way of paying homage to the late great Beatle. The remaining album tracks has him giving the nod to the other two composers, John Lennon and Paul McCartney by including some of their great songs that have become well-known to Beatle fans.
Les, who mastered six or seven different instruments by the age of 17, uses a mellotron on "Strawberry Fields Forever," one of the tracks he chose to record for this new album. For the introduction and throughout this song, he plays the mellotron flawlessly and easily replicates the Beatles classic hit of 1967 while adding the usual guitar licks you would expect to hear in the song. It should be noted here that Les skillful artistry with mellotron dates back to 1969 when he was recording for Apple records with a band called Trash. On a Trash single called "Golden Slumbers/Carry That Weight", Les is featured on the track using a mellotron. This writer can tell you that after listening to that single from my own private music collection, it's pretty obvious that Les was very talented even back then with the instrument. Those skills were utilized once again on the famous Flying Machine hit song "Smile A Little Smile" with British producer Tony Macauley.
Les's cover versions of "I Feel Fine", "I Saw Her Standing There" and "Paperback Writer" are filled with high energy performances with lots of interesting guitar improvisations. Any listener who plays these catchy instrumental tunes will easily come to appreciate and understand the reason why Les had been chosen for the part of Beatle George in the production of "Beatlemania."
Rather than a rocker, Les chose to turn "While My Guitar Gently Weeps" into a light, graceful acoustic ballad almost like a quiet inner reflection of oneself. If this was Les's intention for the listener, then he definitely succeeded.
Featured on "While My Guitar Only Plays" album is special guest Nokie Ewards of The Ventures. Between the two guitarist, they perform a very heart-warming version of "Here Comes The Sun" -- a recording that, if George were alive today, would surely put a smile on the face of the former Beatle (and sure to delight the ears of Beatle fans.)
The medley that closes the album, "Golden Slumbers/Carry That Weight/The End" has Les and the band pulling out all the stops: THEY ROCK!!! Aided by drummer Joe Rotondo and bass guitarist Dave Stalheim, Les puts in some gutsy guitar licks. If I may use a phrase here from John Lennon, Les can easily "make a guitar speak" and then some, especially his lead guitar improvisations that trade off of each other on "The End" are simply brilliant.
Les brings to this album a list of musical credentials whom definitely has been around in the pop music business. He holds the dubious distinction in the "Guinness Book of World Records for most singles charted simultaneously under different group names containing the same artists," writes the Mars Talent Agency. The bands and their hit songs that the quote refers to occurred between January and May, 1970, are the White Plains and their hit single "My Baby Loves Loves Lovin" (#13 in the US and #9 in the UK); The Brotherhood of Man single "United We Stand" (#13 in the US and #1 in the UK). Also issued under the moniker of Edison Lighthouse in February 1970, "Love Grows (Where My Rosemary Goes)" which hit #1 all over the world and sold 8 million copies. "It was the #2 selling pop record in the U.K.," states the Mars Talent Agency.
Not long after, Paul McCartney would help Les out at a recording session on a track called "God Bless California." Les explains: "The original sessions were demos at Apple. Later I re-did the tunes for MGM-Sunflower. Paul McCartney played bass while he and Linda sang background. The sessions took place in January 1971 at A&R Recording and Sound Exchange Studios in NYC." The recording was issued in July 1974 on an album entitled "Pass On This Side" and has since been re-issued on a CD called "Godz - Godz Bless California."
Track listing for "While My Guitar Only Plays"
1.) Here Comes the Sun; 2) And Your Bird Can Sing; 3) If I Needed Someone; 4) I Feel Fine; 5) I Saw Her Standing There; 6) I Need You; 7) Taxman; 8) Paperback Writer; 9) I Want To Tell You; 10) Strawberry Fields Forever; 11) While My Guitar Gently Weeps; 12) Golden Slumbers; 13) Carry That Weight; 14) The End.
Rating for "While My Guitar Only Plays" ****/5.
The album has been issued on The Reality Rock Organization (RRO) label as well as his two new vocal/instrumental albums entitled: "Love You 2 - George Harrison/Beatle Tribute" and "Goin' Back." You can order a copy of any these albums at: RRO Entertainment, P.O. Box 4263, Parker, CO 80134 USA.
Official Website: Les Fradkin and posted at "99.5 The Mountain" by Beatle DJ Archer, an interview with Les Fradkin
Album reviewed by John Whelan, Ottawa Beatles Site.
-------------------------
January 27
For Immediate Release

SID RETURNS From Liverpool to Liverpool

From Liverpool to Liverpool……and everywhere else in between. That is the theme of this unique Showcase Performance of five exciting new artists presented by legendary Promoter, SID BERNSTEIN, commemorating the 42nd Anniversary of his initial presentation of The Beatles first live appearance here in America at Carnegie Hall on February 12, 1964! Come and hear them all Live at " The Cutting Room," 19 West 24th Street, New York on February 12, 2006 at 6.00 Pm. (www.thecuttingroomnyc.com)

On that historic date in February of 1964, SID BERNSTEIN brought us a new sound – direct from Liverpool, England – by what are unquestionably the most prominent musical artists the world has yet seen. And now again, 42 years later on this same date, he is proud to present – among the other acts on this bill – a new and exciting Beatles Tribute performance with an even newer twist.

Headlining the show is Larry Russell's "BeatleStock Sing Along." This new group captures the sound and the feeling of Beatle classics from those early years of the 60's through the last recorded moments of their prolific careers together a decade later. But this act adds a unique flavor in its ability for intimate sized audiences to Sing Along and to be a part of the energy and the life of that wonderful music.

Accompanied by three fine guitarists, a smooth clarinet duet, a rich keyboard background and steady percussion beat, accomplished bassist, Larry Russell, has assembled a warm and skilled group of musicians who do justice to the legacy and the true essence of The Beatles repertoire. (www.beatleStock.com)

Following on the bill is "The Guitar Man", David Ippolito, a seasoned guitarist, vocalist and songwriter who has honed his skills for years in the shadow of The Dakota Apartments in Central Park where he regularly delights audiences with his Folk/Rock wit and musical abilities. David is unique and talented and has incredible original material to offer to all. (www.thatguitarman.com)

In the Blues arena, Ten Year Old Myles Mancuso stands out as a natural talent – a genuine Prodigy who will captivate and thrill the audience with his innate ability to play the Blues and to improvise live in a style way beyond his young age. Myles' creative abilities revealed themselves at a very early age. At 3 years old it was evident he had performing in his nature as he would dress up and meticulously emulate the performances of some of his early favorites – Frank Sinatra, Elvis, Ray Charles and James Brown. He particularly enjoyed playing to Elvis and The Beatles. Myles appreciates many styles of music and likes to learn his songs using his advanced abilities – by ear! He loves to perform and never fails to amaze. (www.mylesmancuso.com)

Where Pop reigns and audiences light up, this next artist promises to be a sure sensation and a fresh new change in direction. Deirdre Broderick, sings, writes, plays the keyboards and the guitar with an ease and proficiency seldom seen in contemporary new artists. Talented, confident and musically disciplined, Deirdre will offer original material not heard to date, as well as a Tribute to the Beatles, including her rendition of "In My Life", by John Lennon. (www.deirdrebroderick.com)

And in completion of it all, audiences will generously share in the charm and the charisma of an Englishman in New York, direct from Liverpool, England, once again, Mr. Bernstein's boomerang back in time, rising Jazz and Swing Star of the UK, Neville Skelly. In the last several years, Neville has taken the UK by storm with his fourteen piece Big Band sound and has proven to be a new and dynamic force in the Jazz and Swing genre. Now he, too, is here from Liverpool for his first live performance in the States, 42 years after this historic date. Performing two new and compelling cuts which will leave you wide eyed and smiling, as well as covers of "Witchcraft" and other famous crooners, Neville's performance will surely be one to remember and appreciate for a long time to come. (www.nevilleskelly.com)

Rock, Pop, Blues, Swing and Jazz - and all on One Memorable Day.

Sunday February 12, 2006
6.00 pm
(Doors Open at 5.00 pm)

The Cutting Room
19 West 24th Street
New York, New York
212.691.1900
www.thecuttingroomnyc.com

General Admission…$15.00 At The Door

Tickets also Available in Advance at www.Smarttix.com

A Splendid Time Is Guaranteed For All !
-------------------------
January 26
Roll Up, Roll Up for the Magical Mystery Tour...
Ottawa resident Roy Morrison takes Beatle fans on a photographic journey (circa 2005) with a short written critique of the historical places of the Fab Four in London and in Liverpool. You can view his excellent report and photographic essay by clicking here.
-------------------------
January 18
A Day in the Life original lyric on sale
From London Free Press
John Lennon's original draft of the lyrics to the Beatles' classic A Day in the Life went on sale yesterday, the 39th anniversary of the date Lennon was inspired to compose the song after reading his morning newspaper. The manuscript will be sold in a sealed-bid auction ending March 7, the Bonhams auction house said. The song, which begins "I read the news today, oh boy," was inspired by the Daily Mail of Jan. 17, 1967, which included a story about the death of Tara Browne, the heir to the Guinness fortune and a friend of the Beatles. It was recorded for the band's album Sgt. Pepper's Lonely Hearts Club Band later that year, and is considered one of Lennon's and Paul McCartney's groundbreaking works of pop music.
-------------------------
January 17
SID BERNSTEIN ON THE RADIO INTERNET Immediate Release
Sid Bernstein's upcoming interview at one of Cleveland, Ohio's largest radio stations can be heard just about "here, there and everywhere" on Wednesday, January 18 at 12:30 p.m.
Even those outside the 90.3 WPCN listening area will be able to get the audio by clicking on the following link at show time: www.wcpn.org.
Dee Perry, a DJ at 90.3 WPCN located in Cleveland plans to interview Bernstein, the legendary icon most famous for bringing The Beatles to America. The Beatles were named the most important entertainers of the past 100 years in a poll by entertainment magazine Variety in October.
While WPCN has a strong presence reaching more than 180,000 listeners, organizers wanted the interview to cover even more territory so fans from all over the country would have an opportunity to receive the historical interview.
Following the radio broadcast, Bernstein is set to be the first to speak at a special lecture series at the The Rock and Roll Hall of Fame, entitled, "From Soundmen to Songwriters, The People Behind the Hits."
Bernstein, 87, has been a major force in shaping the entertainment industry. He had the vision to stage the first concert at a stadium, and it was the highly successful sold out performance given by The Beatles at Shea Stadium. He also was the first to book The Fab Four at Carnegie Hall. His achievements go on and on.
In addition, Bernstein was instrumental in the prolific careers of such artists as Tony Bennett, Judy Garland, Tito Puente, James Brown, The Rascals, etc.
FOR MORE INFORMATION CONTACT: 917.817.1568
-------------------------

January 13, 2006

A little bit of research

We are enjoying Tony Barrow's new book: "John, Paul, George, Ringo & Me". We noticed an interesting quote on page 104 from this very site.

Click here for this piece of detective work.
-------------------------
January 12
Keyboardist Billy Preston battles serious infection
The Associated Press reports that Billy Preston is "recovering from a recent bout with a serious infection of sac encasing in his heart." News of Preston's condition was made public today through his manager, Joyce Moore.
Preston, who is 59, is currently unable to talk due to a tracheotomy and has remained bedridden at "a facility where he can receive physical therapy and other medical treatment," said the report.
A statement to the press by manager Joyce Moore became necessary as rumors began to spread that Billy Preston was somehow "brain dead" but Moore told the Associated Press that "Billy had a very catastrophic incident happen to him, but he is doing considerably better."
The Ottawa Beatles Site wishes Billy Preston a speedy recovery and that we hope to see him behind the keyboards once again real soon!

Cavern club founder dies in retirement in France
(written by the Liverpool Echo)
THE man who opened Liverpool's Cavern club has died in France.
Alan Sytner started the Mathew Street nightspot after being inspired by clubs in Paris.
The Cavern opened on January 16, 1957, in a warehouse basement which had been used as an air raid shelter.
Opening acts included The Merseysippi Jazz Band. The Beatles performed nearly 300 times at the club between 1961 and 1963.
Mr Sytner went on to launch one of Britain's biggest BMW dealerships.
Solicitor Rex Makin said: "After selling the Cavern he lived in Nottingham before retiring to Cannes."
-------------------------
January 6, 2006
FOR IMMEDIATE RELEASE...

SID SPEAKS
The Rock & Roll Hall Of Fame & Museum special lecture series, "From Soundmen to Songwriters: The People Behind the Hits" presents famed Concert Promoter and Manager, MR. SID BERNSTEIN, on Wednesday, January 18, 2006 at 7.00 PM in Cleveland, Ohio.
Mr. Bernstein will be the first of the 2006 Season to speak at the Music Museum Auditorium. These lectures are taped before a live audience and are being preserved in the Archives of the Hall of Fame. This appearance is part of an educational series at the Music Museum designed to enlighten the public regarding the historical aspects of the cultural phenomenon in America we call "Rock & Roll," by giving an insider's view of the Music Business.
Sid Bernstein is, of course, an icon in this genre as he was not only the first to book The Beatles in America at Carnegie Hall on February 12, 1964, but was also the first concert promoter of his time with the vision and the courage to stage a stadium sized concert at Shea Stadium in New York on August 15, 1965 and again on August 23, 1966, each time presenting none other than The Beatles to sell out crowds.
Also, early in the course of his amazing career he discovered, signed and managed Hall of Fame Inductees, "The Young Rascals," who went on to record Three Number One Hits and Eleven Top Twenty Hits during their explosive reign in the 1960's, including One Platinum and Nine Gold Albums, Six of which were Top Twenty!
Mr. Bernstein is also the subject of an extraordinary documentary by Boerum Hill Productions entitled "Sid Bernstein Presents…". Among his many other unique and legendary achievements, this film explores how instrumental he was so early on in the prolific careers of such as artists as Tony Bennett, Judy Garland, Tito Puente, James Brown, The Beatles, The Rascals, etc. It also reveals his visionary role as Talent Coordinator of the Hit Series, "Hullabaloo," as the first prominent Rock Concert Promoter at Madison Square Garden and as the first white Promoter at The Apollo Theatre in New York, as well as numerous other groundbreaking shows.
For Further Information contact 917.817.1568 or
Email: sidbernsteinpresents@earthlink.net
See also: Rock and Roll Hall of Fame Calendar for additional details.
-------------------------
December 23
The Beatles: The Biography
The true story of Liverpool's greatest cultural export, by Bob Spitz
Review
-------------------------
December 21
Amnesty International USA Uses Yoko Ono's Gift of John Lennon's Music to Further His Vision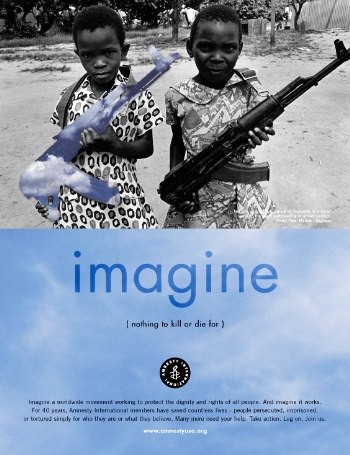 Two refugee girls at risk of joining the hundreds of thousands of child soldiers worldwide (Peter Marlow/Magnum)
WASHINGTON, Dec. 2 /U.S. Newswire/ -- As fans worldwide mark with sorrow the 25th anniversary of John Lennon's death, Amnesty International USA (AIUSA) continues to use his music to champion his message. The world's largest grassroots human rights organization recently concluded its two-year-long Imagine campaign and prepares to launch a new global venture involving top artists performing Lennon's songs.

"John Lennon's message of hope lives on in his art, which continues to resonate today, two and a half decades after his tragic death," said AIUSA Executive Director Dr. William F. Schulz. "AIUSA is honored to help continue his legacy by using his music to advance the vision he articulated so eloquently."

Launched in 2002 after Yoko Ono's generous gift of the rights to her late husband's unparalleled anthem, Imagine, AIUSA's Imagine campaign involved print, film, television and the Internet. San Francisco-based Collaborate agency produced print ads, with the internationally renowned Magnum Photos the exclusive photographic sponsor. The print campaign launched with a four-page ad insert in The New Yorker and ran in dozens of magazines.

A music video and television PSAs, filmed by director Paul Dektor, featured children in Africa, Asia, Europe and the United States singing Academy Award-winning composer Hans Zimmer's and Stewart Levine's new version of Imagine. The video premiered at the prestigious Tribeca Film Festival in New York City and was subsequently seen in more than 50 countries around the world, in cities from Dublin to Moscow, Lima to Tehran.

Enthusiasm for the Imagine campaign was infectious. Actress and singer Mandy Moore created a special Imagine t-shirt with an original hand-drawn design. The French

Canadian section of Amnesty International assembled 80 Canadian pop stars to record a new version of Give Peace a Chance in the same Montreal hotel suite where it had first been recorded 35 years before. For more on the campaign, please see http://www.amnestyusa.org/imagine/.

The Imagine campaign originated in the aftermath of September 11th, when actor Gabriel Byrne saw a children's choir sing a moving version of Imagine at his niece's graduation ceremony. Inspired, Byrne -- a longtime Amnesty International supporter -- proposed to AIUSA Marketing Director Helen Garrett that the organization make the song the centerpiece of a new campaign to educate and inspire young people worldwide about human rights. Yoko Ono was equally enthusiastic, and she generously agreed to grant the song's license. The shared vision: to engage and inspire a new wave of human rights activism.

Ono told Billboard Magazine that her decision to give Amnesty International the use of the song was based on the organization's 40-year career of fighting for human rights throughout the world -- "work that embodies the spirit of Imagine."

And AIUSA was thrilled when Ono, recognizing the continued urgency of human rights activism in today's world, generously gifted Amnesty International the recording rights to John Lennon's entire solo songbook, paving the way for a new campaign using Lennon's music.

On December 10, 2005, to coincide with Human Rights Day, and just after the 25th anniversary of John Lennon's death on December 8, Amnesty International will unveil a new global venture involving Lennon's music performed by an international roster of renowned artists. The campaign launches with a bundle of exclusive downloadable singles, followed in early 2006 by the release of an array of new versions of iconic John Lennon tracks from top musicians.

The artists involved are supporters of human rights as well as favorites of young people worldwide. Forward-looking and celebratory, the venture aims to attract one million new young human rights activists around the globe. For more information, and to request a media pack, please visit http://www.amnesty.org/noise or contact AIUSA.

"The world needs John Lennon's spirit now more than ever," said Garrett. "AIUSA is grateful to Yoko Ono for the opportunity to continue her late husband's legacy. We hope to use the unique power of his music to inspire a new generation to stand up for human rights."
Contact: Jason Opena Disterhoft of Amnesty International USA, 202-544-0200 ext. 312
-------------------------
December 8
25th Anniversary of the death of John Lennon
Ottawa classic rock radio station CHEZ 106 celebrated the life of John Lennon with a day devoted to John Lennon/Beatles music Thursday Dec.8th. One of the contributors was Tony Copple, of the Ottawa Beatles Site. Listen to the interview with Tony:

. Meanwhile on CFRA 580 AM, Michael Harris devoted his afternoon show to Lennon, taking a remarkable call from 'Pam'

who met John and Yoko at the bed-in in Montreal, and speaking live to Timothy Porteous

, who attended the Lennons' meeting with Pierre Trudeau, Dec 23, 1969.
Tony Copple interview with CHEZ 106
Pam on CFRA 580 AM with Michael Harris
Timothy Porteous, Executive Assistant to the late Prime Minister Trudeau, talks with Michael Harris on CFRA 580 AM
-------------------------
November 27
Memories of John Lennon - New book of Lennon tributes marks the 25th anniversary of his death December 8 1980, with special forword by Yoko Ono.
'At night my heart shakes and will not stop' - Yoko on losing John
------------------------