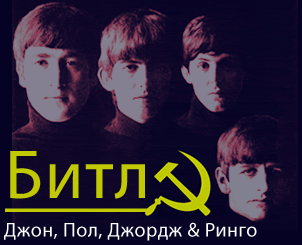 Film production update: "How The Beatles Rocked the Kremlin"
Emmy nominated film producer Leslie Woodhead continues his efforts to bring Beatle fans the true story behind the Beatles influence in the USSR that lead to the eventual downfall of Communism. The film producer recently did major shoots in Moscow and in St. Petersburg.
"In Moscow, I interviewed the Russian Deputy Premier, (Putin's number two) Sergei Ivanov who told me how he learned English from Beatles lyrics and remains a huge fan," said Leslie Woodhead in an e-mail correspondence to the Ottawa Beatles Site. "I also filmed with Russia's most iconic Rock Stars - Boris Gribenshikov and Andrei Makarevich - who talked about how the Beatles changed their lives. At a theatre in Gorky Park I filmed a musical about how the Beatles helped to destroy Communism."
Woodhead also filmed highlights in what he described as "a day-long birthday party for John Lennon, organised by St Petersburg Beatles Superfan Kolya Vasin. Eleven bands played Beatles songs, fans from 12 to 70 sang along," said Woodhead. "I also filmed in Kolya's extraordinary 'John Lennon Temple of Peace and Love', crammed with every kind of Beatles memorabilia. Kolya told me he plans a huge Beatles monument on an island outside the city, looking out towards Liverpool...I also filmed a band who do punk versions of Lennon songs, whose lead singer Igor Salnikov plans to change his name to 'John Lennon.'" Igor Salnikov that Woodhead refers to is a member of The Oz from St Petersburg. The band recently released an exciting new CD called "The Oz - Punk Opera Che Lennon." They do terrific cover versions of John Lennon's solo material and hopefully Western viewers will get a chance to hear for themselves how great this band really is.
"Following my shoot in Kiev back in June this year when Paul McCartney played a huge free concert, and of course the great stuff I filmed with Yury Pelyushonok in Ottawa, I now have a real harvest of material about the extraordinary impact of the Beatles in the former Soviet Union. I plan more shooting early in 2009, and the film will be completed for screening later in the year," said Woodhead.
According to Woodhead's website, the film's completion would celebrate the "20th anniversary of the fall of the Berlin Wall in November 2009."
Update by John Whelan, November 11, 2008.