November 25
WHATEVER IT TAKES / MINEFIELD WRISTBANDS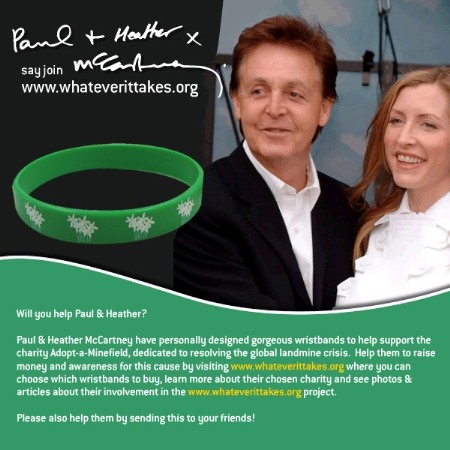 Related link: Click here for the Paul and Heather www.whateverittakes.org e-card.

-------------------------

November 22, 23, Ottawa
Rain perform in Ottawa again

Yes, Rain was back! For more, click here. See our pictures and review of their previous Ottawa concert February 20 and 21, 2005.

-------------------------

November 13
Paul McCartney's Anheim Concert Successfully Beamed into Space: To boldly go where no rock star has gone before!
Photos courtesy of Reuters news


At precisely 12:55 a.m. EST, Sunday, November 13 ( 9:55 p.m. PST, November 12) Paul McCartney linked up with the International Space Station crew some 220 miles above the planet earth.

A wake-up call from Paul McCartney to NASA Astronaut Bill McArthur and Russian Cosmonaut Valery Tokarev comprised of two songs he performed live at a concert in Anaheim, California. The songs the International Space Station crew heard were: "Good Day Sunshine" and "English Tea" which marked the first time in history that a live concert was heard in space via a linkup courtesy of NASA.

"I can't believe that we're actually transmitting to space!" McCartney said during the show. "This is sensational. I love it."

Paul McCartney, who has written some of the greatest escapism albums from Sgt. Pepper's Lonely Heart's Club Band to Venus and Mars was praised by Astronaut Bill McArthur: "We are just very honoured again that you have joined us. We consider you an explorer just as we are. Your venues of exploration have ranged everywhere from music to fashion and I guess even now you have become an author," he said referring to Paul's recent children's book release "High in the Clouds."

"We are all targeted toward the same thing, and that is ensuring a bright future for the young people on our planet," added McArthur.

No doubt this first-ever live concert broadcast into space will likely be a new entry for the Guinness Book of World Records. And why not? Paul McCartney and the Beatles have just about captured every other entertainment record since the exploded on the pop scene in 1963/64. Good one for you, Paul!

- John Whelan, Ottawa Beatles Site

-------------------------
November 12
Paul McCartney to become first-ever to Broadcast Live Music into Space!

Live Performance from 'US' Tour Concert in Anaheim set to wake up crew with a spot of "English Tea" and wishes for a "Good Day Sunshine"

The international space station crew, 220 miles above Earth, will take a special live musical wakeup call from Paul McCartney November 12th in a first-ever concert linkup. The broadcast is slated to include "English Tea," from his latest critically hailed album Chaos And Creation In The Backyard, as well as the Beatles classic "Good Day Sunshine."

The call will emanate from McCartney's "US" Tour performance from Anaheim, California's Arrowhead Pond. Aboard the house-sized orbiting station, NASA Astronaut Bill McArthur and Russian Cosmonaut Valery Tokarev are in the midst of a six-month flight. McCartney is nearing the end of his 11-week "US" concert tour done in support of his latest critically acclaimed album, "Chaos And Creation In The Backyard."

During his tour, McCartney has paid tribute to the crew of the Space Shuttle Discovery, a mission that took place earlier this year. On Aug. 9, the crew of Discovery received a good weather forecast for a second landing attempt, during which the Beatles' classic "Good Day Sunshine" was played as a wakeup call by Mission Control.

"I was extremely proud to find out that one of my songs was played for the crew of Discovery this summer," McCartney said. "In our concert we hope to repay the favor."

The call to the station will mark the first time a live concert has been linked to a U.S. spacecraft.

The call will take place at 12:55 a.m. EST Nov. 13 (9:55 p.m. PST Nov. 12), as the concert is nearing its end and McArthur and Tokarev are awakening for their 44th day in space. The call will be broadcast live on NASA Television, with audio from both the concert and the station and video expected of McArthur and Tokarev.

McArthur and Tokarev are the 12th crew of the station, which has had a continuous human presence aboard for more than five years. The station has an internal volume larger than an average three-bedroom house and includes the most sophisticated space laboratory ever flown.

For information about NASA and agency programs on the Web, visit: www.nasa.gov

NASA TV's Public, Education and Media channels are available on an MPEG-2 digital C-band signal accessed via satellite AMC-6, at 72 degrees west longitude, transponder 17C, 4040 MHz, vertical polarization. In Alaska and Hawaii, they're on AMC-7 at 137 degrees west longitude, transponder 18C, at 4060 MHz, horizontal polarization. A Digital Video Broadcast compliant Integrated Receiver Decoder is required for reception. For digital downlink information for each NASA TV channel and access to NASA TV's Public Channel on the Web, visit: www.nasa.gov/ntv

OBS footnote: The above text is taken from a promotional e-mail blitz from Paul McCartney.

-------------------------

November 5
Chuck Berry keeps on rockin!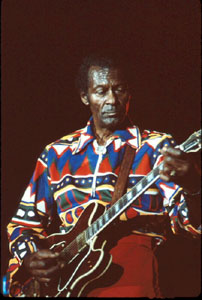 It's hard to believe, but on October 18 of this year, Chuck Berry, the father of rock 'n' roll just recently celebrated his 79th birthday! What is even more amazing is that he is still performing live concerts at least once a month at the Blueberry Hill in St. Louis, Missouri.
"Of all the early breakthrough rock 'n' roll artists, none is more important to the development of the music than Chuck Berry," writes Celebrity Websites.com. "He is its greatest songwriter, the main shaper of its instrumental voice, one of its greatest guitarists and one of its greatest performers. Quite simply, without him, there would be no Beatles, Rolling Stones, Beach Boys, Bob Dylan, nor a myriad others."
In the early days of the Beatles recording career for Parlophone, they covered two Chuck Berry numbers: "Roll Over Beethoven" and "Rock and Roll Music." Later in 1977, "I'm Talking About You;" "Little Queenie;" and "Sweet Little Sixteen" appeared on "The Beatles Live! at the Star-Club in Hamburg, Germany; 1962" on Lingasong records. In 1994, more cover versions turned up on "The Beatles - Live at the BBC" which included "Memphis Tennessee" and "Johnny B. Goode."
But perhaps the ultimate form of flattery from the Beatles themselves regarding the impact that Chuck Berry had on them as artists, came through John Lennon's "Come Together" for the Abbey Road album. Paul McCartney recently recounted how they went about recording the song: "But when we came into the studio, it was great. John could bring in a song like "Come Together", and I could tell him, "That sounds like a Chuck Berry tune" - it was fast when he brought it in, and it sounded like a Berry tune called "You Can't Catch Me". And I said that, not like, "Oh, you're ripping off Chuck Berry." I just mentioned it and said, "What if we slow it down to bum bum ba ba bum..." And he said, "Yeah!"
No matter how hard the Beatles attempted to make the song into not sounding like a rip-off of Chuck Berry's "You Can't Catch Me", Berry's music publisher, Morris Levy, "had threatened to sue John for alleged plagiarism," writes Ray Coleman in his book John Lennon. "Levy claimed that 'Come Together' from Abbey Road ripped off Berry's 1956 'You Can't Catch Me'. (Both songs do include the line: 'Here comes old flat top'.) In an out of court settlement, Lennon agreed to record a number of Chuck Berry songs for a forthcoming album, which laid the seeds for Rock 'n' Roll."
In 1985, Chuck Berry was inducted into the Rock and Roll Hall of Fame and during that same year, he received the "Lifetime Achievement Award" at the 27th Annual Grammy Award. His number #1 singles were "Sweet Little Sixteen" and "My Ding-a-Ling."
With Chuck Berry still rock'n at 79 at different venues, one wonders if Paul McCartney might follow suite? At the moment, with Paul's past and current touring schedule, it certainly looks that way.
Related Link: Chuck Berry's Official Web Site
-------------------------
November 2
Quick news pick: The Beatles Started A Cultural Revolution by John W. Whitehead
-------------------------
November 1
After 34 years, The Concert For Bangladesh Just Keeps on Giving
"For those old enough to remember, it was the mother of all concerts - - a gem of a musical event that bore witness to the agonizing birth-pangs of Bangladesh. The historic event marked the first time that music became an ideal vehicle for bringing people together and rallying support in tough times," writes Francis C. Assisi.
You read Assisi's excellent article by clicking here.
-------------------------
October 25
Beat Brother Roy Young slowly recovering from injury!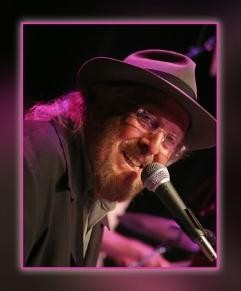 When the Ottawa Beatle Site asked how Roy Young did this past summer at the Thunder Bay Blues Festival, his wife Carol wrote back by e-mail recently with this reply:
"Roy did the concerts in July, but with eight broken ribs!! In May, Roy tripped on his shoelaces and would you believe broke eight ribs. He's still healing, and fortunately, it didn't take anything away from his voice and bowled the audiences over.

"He's also been busy putting the final touches to four tracks in the studio with The Star Combo (www.thestarcombo.com). We flew everyone in to Toronto to record. The four tracks are now going to the record labels and we're already getting a lot of interest.

"Cheers for now John. Look forward to hearing from you soon.

-- Carol
The Ottawa Beatle Site sincerely hopes that Roy is now well on his way to a complete recovery. And we're all looking forward to hearing Star Club's first official album release. Fans wishing to send get well wishes or words of encouragement for Roy Young's latest recording project can e-mail Roy and Carol at: roy@royyoung.com
Give Peace A Chance lyrics up for action
John Lennon's original hand-written lyrics to Give Peace A Chance, which were written on an envelope, will be put on the auction block by Bonhams on November 16 in London, England. Bonhams estimates the value of the lyrics to be between $300,000 to $350,000 US.
Related link: Queen E. Hotel hosts bed-in...again
-------------------------
October 22

George Harrison's Concert for Bangladesh

Official promotional release...

Experience the Concert as if you were there - in full 5.1 Surround Sound.

The Concert for Bangladesh is now available for sale at the official website
www.theconcertforbangladesh.com

To view and send the Bangladesh e-card
click here

Includes:

- Full length Theatrical Film of 'The Concert For Bangladesh'
- Documentary: 'The Concert For Bangladesh Revisited'
- Previously unseen footage from rehearsals and sound check
- 32 page booklet
- Photo gallery
- Mini Features
- DTS & 5.1 Surround Sound

Deluxe Limited Edition also includes:

- Reproductions of concert poster and original handwritten lyrics
- 60 Page booklet
- Postcards and Sticker

Also available as digitally remixed 2-CD set, including the previously unreleased Bob Dylan performance of 'Love Minus Zero/No Limit.'

IN AID OF UNICEF
Out on October 25th in the USA and October 24th for the rest of the world.


Related link: Interview with George Harrison's widow -- Olivia Harrison describes finishing The Concert For Bangladesh as 'bitter and sweet' by Bill Harris, Toronto Sun

Upcoming Montréal Beatles Convention To Rock with Replay
There are two locales that will make for a full day of activities for the upcoming Beatles convention to be held this November in Montréal

BEATLES Convention (Presented by the Québecois Network for Friends of the Beatles)
Saturday
Nov. 12, 2005
10:00 a.m. to 5:00 p.m.
Society for Arts and Technology
1195, boul. St-Laurent (between Ste-Catherine and René-Lévesque)
General Admission: $6.00
Children under 12 years, FREE
Information: Yves Boivin (514) 366-0360

Followed up with...

A performance by REPLAY The Beatles
Saturday
Nov. 12, 2005
9:00 p.m.
HARD ROCK CAFÉ Montréal
1458 rue Crescent
General Admission: $10.00
Tickets available at Hard Rock Café
Information: John (514) 331-6999

The Beatles in India - a new book from Paul Saltzman

In 1968, the Beatles wrote forty-eight songs in fewer than eight weeks in India. Now, on the 25th anniversary of John Lennon's death, and the 40th anniversary of George Harrison's ground-breaking introduction of the sitar on Norwegian Wood -- an event that would change the face of rock 'n' roll music forever - The Beatles in India Super Deluxe and Special Limited Edition books are being released to commemorate the single most creative period in the history of the most important rock band the world has known.

These two elegantly designed, large format, collector's box sets celebrate the unparalleled majesty of the Beatles' music and creativity, as well as the intimacy of Paul Saltzman's unique photographs and candid text.

Photograph © Paul Saltzman. Used with permission.

In December 1967, 23 year-old Paul Saltzman traveled to India in search of himself. To his great surprise, he found the Beatles in India. Paul spent a magical week at the Maharishi Mahesh Yogi's ashram. He learned meditation and hung out with John, Paul, George and Ringo. Thirty years later, he found the photos he'd shot and put away in a cardboard box: The Beatles in India.

"...like a footprint left in the sand, and I'm reminded of the path that's been washed away and the Greek proverb, 'You can never enter the same river twice.' As the ashram I knew is gone, so too are the Beatles. And yet, we can evoke their magic through their music, their words, and their photographs." - Paul Saltzman

The Beatles in India is written by Paul Saltzman with a preface by Tim B. Wride and a foreword by Donovan Leitch.

Super Deluxe Limited Edition:

Numbered Limited Edition - 350 copies
105 pages, 69 pages of color illustrations
12 copper & 5 velum pages, 28 mendhi designs
Full leather, hand bound book 14½ x 11"
18½ x 14" Japanese Asahi silk clamshell box
Limited Edition 11 x 14" photographic C-print
Special Edition DVD & Special Edition CD

Special Limited Edition:

Numbered Limited Edition - 1968 copies
105 pages, 69 pages of color illustrations
12 copper & 5 velum pages, 28 mendhi designs
Japanese Saifu, hand bound book 14½ x 11"
18½ x 14" Japanese Asahi silk clamshell box
Special Edition DVD & Special Edition CD

To order a copy of the book, please visit The Beatles in India.com

The Best of the Beatles -- Pete Best: mean, moody and magnificent

This excellent DVD on Pete Best is rich in detail and history concerning his association with the Beatles during their early years. The DVD is loaded with interviews from Klauss Voorman; Quarryman Ken Brown; Merseybeat editor Bill Harry; Mike Smith, A&R for Decca records; Tony Sheridan; Astrid Kirchherr; Brian Poole of the Tremeloes; Andy White, the drummer who played on Love Me Do; Johnny Gustafson of The Big Three; Horst Fasher, manager of the Star-Club; Howie-Casey of Derry and the Seniors; Neil Aspinall, CEO for Apple records; Ray Ennis of the Swinging Blue Jeans; Chase Newby of the Blackjacks; Don Andrew of the Remo Four; Faron Ruffley of Faron's Flamingos; Ray McFall, owner of the Cavern Club; Cynthia Lennon; Bernie Grindley, Casbah member; Tony Crane of the Mersey Beats; Julia Baird; Pauline Sutcliff; Norman Smith, Balance Engineer for EMI; Ken Townsend, Tech Engineer for EMI; Ron Richards, producer for EMI.

"Best of the Beatles" is an intelligent, well-produced documentary which easily makes for a very worthy companion piece to be placed next to your Beatles Anthology DVDs. Everything is covered here from venues at the Casbah Coffee Club to the Cavern Club. Even the Beatles exploits in Hamburg are covered to fan reaction of Pete Best's dismissal from the Beatles before they returned to EMI to record Love Me Do with Andy White. The DVD runs 3hrs 10 minutes and also brings us up to date with Pete Best's new CD recording project that he is currently working on.

Rating for "The Best of the Beatles" - *****/5
-------------------------
October 16
Beatles named top entertainers of the century!

Commemorating their 100 years in publication, Variety has published a special edition which lists the top "Icons of the Century." A partial list was announced on October 14 that places the Beatles at the No. 1 coveted slot. Others making it into the top ten are: Louis Armstrong, Lucille Ball, Humphrey Bogart, Marlon Brando, Charlie Chaplin, James Dean, Marilyn Monroe, Mickey Mouse and Elvis Presley.
"Variety's top editors, reporters and critics selected the 100 from all areas of the entertainment industry -- film, television, music, theater and radio. The Variety team spent nine months compiling the list with input from members of the global entertainment community," wrote the Media Tribune Services. Public polling was also done on-line at variety.com which were calculated into the final results. "The criteria for selection were a performer's commercial, creative, political and social impact and even whether their image was presented - like James Dean's - on a t-shirt," wrote National Nine News.
"On October 17 in the Weekly Variety Centennial issue and at Variety100.com, Variety will unveil the 100 ICONS OF THE CENTURY, leading up to the ICON OF THE CENTURY," announced Variety at their official website.
Quick News Picks: Harrison benefit moved the heart of rock 'n' roll + The John Lennon I Knew + Interview with Pete Best
-------------------------
October 13
Paul McCartney Rocks Toronto!
Former Beatle Paul McCartney performed at the Air Canada Centre this past Monday to a crowd of 15,000. The rock star, who at age 63, shows no signs of slowing down, performed some new numbers not normally included in his repertoire. They are: "I'll Get You", "I Will", "In Spite of All the Danger" and "Please, Please Me." Paul also performed "Mull of Kintyre" with the Peel Regional Police Pipe Band which is only done once while on his North American tour.
The CBC reports that Paul gave a short set at Toronto's Roy Thomson Hall the following evening to for a group of Lexus dealers. The CBC writes that "the former Beatle has developed a cooperative relationship with the company, which is sponsoring his current U.S. tour." Apparently Paul gave Lexus the rights to use his new single "Fine Line" for their commercials to promote their new hybrid car. "In turn, the company designed a one-of-a-kind, McCartney-inspired edition of the car to be sold to raise funds for Adopt-A-Minefield, one of the musician's favoured charities," said the CBC.
With the enormous success of the Toronto concert, we would like to see Paul include some additional Canadian venues into his tour list should he decide to go out on the road again next year. Cities for consideration are: Vancouver; Edmonton; Winnipeg; Ottawa (hey, the Rolling Stones recently drew 43,000 crowd at the Ottawa Civic Centre!), Montréal; Québec City; and Moncton, New Brunswick where on September 8th of this year, drew over 80,000 fans for the Rolling Stones.
What do you say, Paul? Should we add some new venues into the mix for next time?
Related links: CBC Arts - "McCartney Plays Exclusive Toronto Gig" + Canoe Jam - "Live Review: Paul McCartney in T.O."
-------------------------
October 9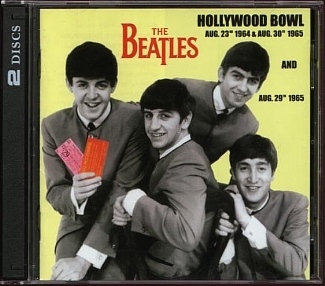 This high-quality bootleg was issued by Midnight Beat and distributed in Czechoslovakia by Azir records in 2002.
The Beatles Hollywood Bowl concerts 1964/1965
There is ample proof on this high quality double bootleg CD that the Beatles Hollywood Bowl concert performances, in particular the August 23,1964 and August 30, 1965 dates are ripe for a full two-concert CD release on Capitol/EMI records. Whereas the August 29, 1965, owing to technical difficulties where Paul McCartney's microphone was not properly working for the first four numbers, would likely be excluded from such a future release, save the rest of that concert which is actually good and has a few tracks could be used as bonus tracks.
The bootleg was originally released on Midnight Beat in 1997 and presents all three concerts. And as can be expected, there are some really good gems from these concert dates that did not appear on the original 1977 LP release of "The Beatles At The Hollywood Bowl." For example, "You Can't Do That" is a rocker that stands out from the August 23, 1964 concert as does the bands tender treatment of "If I Fell" followed next with their romping number one smash hit "I Wanna Hold Your Hand." The remainder of the August 23 tracks are solid, enthusiastic performances from The Beatles.
The August 30, 1965 concert reveals more gems left off the original Hollywood Bowl LP. This includes George Harrison's off-beat introduction to their most recent cover version of a Carl Perkins song. Instead of introducing the Perkins song straight from the Beatles '65 album, George Harrison casually scoffs to the crowd: "I like to carry on with a track off the Beatles '93 album. And this one is called Everybody's Trying To Be My Baby Now." More off-beat humor follows from George before the band finally breaks in and performs the country-rock flavored number. The eloquent "Baby's In Black" duet featuring John Lennon and Paul McCartney is a standout on this concert followed next with Ringo Starr's treatment of "I Wanna Be Your Man." Another highlight from this concert date is Paul McCartney's vocal punch in "I'm Down." Here the band really cooks in their grand finale, accompanied by John and George on vocals with John on Hammond organ whose instrument comes in nice and clear on the recording.
There are a few minor technical recording problems that occur on the August 30 concert, but nothing that could not be overcome by the use of modern technology. For example, the playback of "I Feel Fine" slows down for a brief few seconds in the middle of the song. Whether this has something to do with the portable recording equipment Capitol was using back then or whether this is a problem that occurred from Midnight Beat, I'm not sure. But if the problem did originate from Capitol's portable equipment and if they were patient and diligent enough to fix it, then this song would easily stand up being another worthy inclusion for a future CD release of the Hollywood Bowl concerts.
As mentioned in the opening paragraph, the August 29, 1965 performance ran into major technical difficulties with the first four songs. Still, there is at least one immediate standout from the recording when things do work out right and this occurs on "I'm Down" -- the last song from the concert set. For some unknown reason, John Lennon decided not to sing back-up harmony on this number and the only Beatle providing Paul background support is George Harrison. When you listen to this number, George's voice comes in loud and clear along with Paul's while Lennon in the background just concentrating on his Hammond organ. It ends up being a fascinating alternate version when compared to their August 30, 1965 concert performance on this rocker. Several other tracks are salvageable from the August 29 concert and they are: "Can't Buy Me Love"; "Baby's In Black"; "I Wanna Be Your Man," "A Hard Day's Night," "Ticket to Ride" and "Dizzy Miss Lizzy." Any of these can be used as bonus tracks for a future CD release.
Given what I've heard and the wealth of concert material available, there is absolutely no reason why Capitol/EMI should not release the entire August 23, 1964 and August 30, 1965 Hollywood Bowl concerts. There is an on-line petition that has been started up by the Ottawa Beatles Site which will be submitted to Capitol/EMI and Apple records once it reaches the 2,000 signature mark urging them to release these historic concerts on an official CD format.
To sign the petition, please click here: http://www.petitiononline.com/cap1977/petition.html
| | | | |
| --- | --- | --- | --- |
| | August 23, 1964 Hollywood Bowl performance: | | August 29/30, 1965 Hollywood Bowl performances: |
| | | | |
| 1. | Twist and Shout | 1. | Twist and Shout |
| 2. | You Can't Do That | 2. | She's A Woman |
| 3. | All My Loving | 3. | I Feel Fine |
| 4. | She Loves You | 4. | Dizzy Miss Lizzy |
| 5. | Things We Said Today | 5. | Ticket To Ride |
| 6. | Roll Over Beethoven | 6. | Everybody's Trying To Be My Baby |
| 7. | Can't Buy Me Love | 7. | Can't Buy Me Love |
| 8. | If I Fell | 8. | Baby's In Black |
| 9. | I Wanna Hold Your Hand | 9. | I Wanna Be Your Man |
| 10. | Boys | 10. | A Hard Day's Night |
| 11. | A Hard Day's Night | 11. | Help! |
| 12. | Long Tall Sally | 12. | I'm Down |
-- reviewed by John Whelan
"WORKING CLASS HERO – THE DEFINITIVE LENNON"
OUT NOW

Track Listing
CD1

(Just Like) Starting Over
Imagine
Watching the Wheels
Jealous Guy
Instant Karma! (We All Shine On)
Stand By Me
Working Class Hero
Power to the People
Oh My Love
Oh Yoko!
Nobody Loves You (When You're Down and Out)
Nobody Told Me
Bless You
Come Together (live)
New York City
I'm Stepping Out
You Are Here
Borrowed Time
Happy Xmas (War Is Over)

CD2

Woman
Mind Games
Out the Blue
Whatever Gets You Thru The Night
Love
Mother
Beautiful Boy (Darling Boy)
Woman Is The Nigger Of The World
God
Scared
#9 Dream
I'm Losing You
Isolation
Cold Turkey
Intuition
Gimme Some Truth
Give Peace A Chance
Real Love
Grow Old With Me

In the year that would have been John Lennon's 65th birthday, a special online birthday card has been created. Visit DefinitiveLennon.com and sign the card for John's birthday on 9th Oct.
GEORGE HARRISON: A Beatle in Benton, Illinois -- a DVD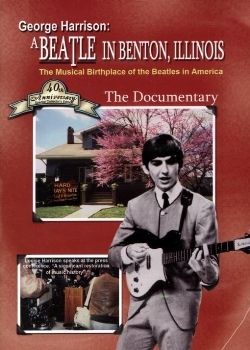 George Harrison: A Beatle in Benton, Illinois DVD was officially released on March 29, 2005.
A charming, low-budget documentary will fascinate Harrison fans wishing to learn more about the lead guitarists' first visit in the United States where he stayed in Benton Illinois with his sister, Louise Harrison-Caldwell in September, 1963 and where he also played briefly with a local band called The Four Vests.
This 102-minute DVD contains several interviews, but the best ones found on it are the ones with Marcia Rauback, Kenny Welsh, and Louise Harrison.
Marcia Rauback's big claim to fame, as viewers quickly become aware, is the fact that she is more than likely first American DJ to spin a Beatles record over USA radio. Marcia, whose father owned WFRX 1300 in West Frankfort, Illinois, hosted a weekly 1-hour rock and roll radio program called "Saturday Session" who had interviewed George Harrison and aired "She Loves You" -- the band's new single that George had brought over from England. According to the documentary, Marcia had been broadcasting several weeks before her meeting with George, the Beatles "From Me To You" which was given to her from Louise Harrison.
Interviewee Kenny Walsh of the Four Vests proved to be an interesting figure in this documentary. Kenny explained how fascinated George Harrison became as he demonstrated his guitar abilities to George. Along the way George himself plays a few licks to Kenny -- and if the we are to believe the story -- apparently George plays a few guitar riffs which later turned out to be "Day Tripper!"
Louise Harrison, as ever her usual enchanting self, provides us with many personal tales about her brother George Harrison and his visit to Benton Illinois. She also goes into great detail about how surprised she was to learn that her former home in Benton was about to be demolished by the state of Illinois. The historical landmark is saved through the intervention of Bob Bartel, an avid Beatles fan and collector. The home is then later turned into a "Hard Day's Night Bed and Breakfast Hotel."
We also learn from this DVD that the City of Benton and Mayor Patricia Bower made an official proclamation in 2001 honoring George's musical talents and gentle spirit by decreeing December 8th in their town as "George Harrison Day" to be celebrated every year.
Rating for A Beatle in Benton, Illinois DVD **/5 stars
-- reviewed by John Whelan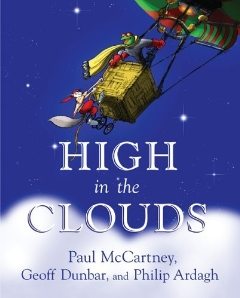 High in the Clouds is published by Dutton Books.
High In The Clouds - Paul's first children's book
Last Monday, Paul McCartney launched his first children's book at New York's Barnes & Noble in the Rockefeller Center. A description of the book was released from the publisher which reads as follows:
Forced to leave his woodland home, destroyed by the expansion plans of the evil Gretsch, Wirral the squirrel vows to find the fabled land of Animalia, where all the animals are said to live in freedom and without fear. Aided and abetted by Froggo the hot-air-ballooning frog, Wilhamina the plucky red squirrel, and Ratsy the streetwise rodent, Wirral's personal quest turns into a full-blown plan to save enslaved animals Everywhere -- a plan that is fraught with danger.
Exciting, poignant, and funny, this lavishly illustrated epic tale will delight children of all ages.

Paul McCartney's lifelong interest in children's storytelling grew out of his love of classic Disney. He has created a number of award-winning animated films in collaboration with Geoff Dunbar, including Tuesday, based on the book by David Wiesner, and Tropic Island Hum, which features characters from this book.

Geoff Dunbar, the artist who created the illustrations for High in the Clouds, is one of the world's finest animation directors. Among the many awards for film and television he has received are two British Academy of Film and Television Arts awards (BAFTAs), a BAFTA nomination, and a Palme d'Or at Cannes.

Philip Ardagh is a bestselling children's author whose books have received widespread critical acclaim throughout the world. His work is now translated into twenty-seven languages.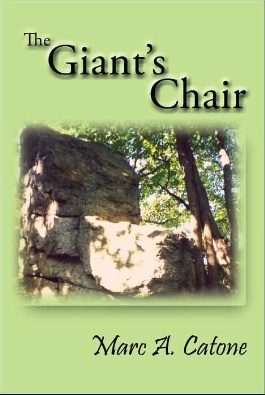 The book is available through Authorhouse.
The Giant's Chair -- available for the first time in paperback!
John,

You may remember my book from the 1980s, "As I Write This Letter: An American Generation Remembers The Beatles", which was a collection of letters, essays, and artwork, all done by Beatles fans, on the importance and influence the Fab Four had on our lives and society.

In the mid-1990s I wrote a book called "The Giant's Chair." It's the tale of Adam Chance, a boy coming of age in the Sixties, and a man facing the ups and downs of middle age in the 90s.

Since 1999, "The Giant's Chair" has been available online only as an e-book. Well, I'm very happy to tell you that "The Giant's Chair" is now available as a paperback. That's right, it's now a soft cover edition that you can hold in your hands, lie back in an easy chair, and read.

Just to give you some background on the title. The Giant's Chair is real. It's a rock formation located in the hills across the street from where I grew up in Connecticut. On and off, during my teen years, I visited the Giant's Chair many times. It was a very peaceful place to just be, and think about whatever problems or circumstances were concerning me then. However, as time went on, I visited the Giant's Chair less frequently, but I never forgot it. I went to college, got a job and got married, and moved away from my hometown.

Fast forward almost 20 years later to 1992 as I walked along a forest trail covered with Autumn leaves. Something about the surroundings reminded me of the path near the Giant's Chair. I wrote the Giant's Chair into my evolving fiction manuscript. Ultimately, its name became the title of the book.


To see the cover, a synopsis of the book, a sample from Chapter One, and how to order, visit the following link:

http://www.authorhouse.com/bookstore/ItemDetail.aspx?bookid=1817
It will also be available through Amazon and Barnes & Noble in time for Christmas 2005.
My first book, "As I Write This Letter: An American Generation Remembers The Beatles" is now out-of-print, but copies can be found online through used book dealers, eBay, and Amazon. For reviews, see:

http://www.amazon.com/exec/obidos/ASIN/0876501374

Peace,

Marc Catone

-------------------------
October 5
Badfinger loses another band member

Badfinger drummer, Mike Gibbins, has passed away in his sleep yesterday. He was 56 years of age. The announcement was posted at Mike Gibbins official website. He died of natural causes.
Our sincere condolences go out to the Gibbins family.
-------------------------
October 3
The Dick Cavett Show: John & Yoko Collection
A review by Preston Jones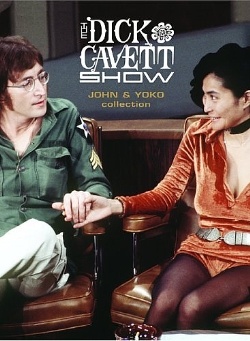 The DVD will hit the stores on Nov. 1/05.

Time offers perspective – that's perhaps the most resonant theme of the two-disc set The Dick Cavett Show: John & Yoko Collection. With the demise of the Beatles still fresh and his controversial marriage to avant-garde artist Yoko Ono still incurring the wrath of Beatles fans everywhere, John Lennon consented to his first American television interview, post-Fab Four, with Cavett, who at least in the early going, appears to quite nervous about wrangling this occasionally eccentric pair.

Lennon & Ono would only appear twice on Cavett's show – a third appearance was cobbled together from their initial visit – but the interviews stand out as relaxed and genial; Cavett develops a genuine rapport with the couple, indulging them in Ono's truly nerve-grating short films (if I never have to see an excerpt from "Fly" again, I'll die a happy man) and even getting a couple live performances out of them.

Of course, Beatles fanatics will treasure the brief, unromanticized amount of time Lennon spends discussing his former day job ("I don't want to be singing 'She Loves You' at the age of 50, you know ...") but Lennon's more interested in plugging the couple's current activities and interests, which he does to an almost exhausting degree. Cavett displays honest, real chemistry with the Lennons, who delight in non sequiturs and wry puns, adding a touch of poignancy when considering that in less than a decade, Lennon would be murdered by a psychotic fan. While time has helped to heal the loss of Lennon, these interviews are glowing reminders of his superstar quality and continued relevancy nearly three decades later.

Packaged in a fold-out keepcase, the first two episodes are contained on disc one, while the final episode and bonus material are found on the second disc.

The episode breakdowns are as follows:

Episode One: Sept. 11, 1971
There are no songs performed but the experimental films "Fly" and "Erection" are shown, along with promo clips for "Imagine" and "Mrs. Lennon." This first episode can be viewed one of two ways: since the couple's first interview with Cavett produced much more material than could fit in one show, it was originally broadcast as a full 90 minute show and three addition segments that were included in another show (broadcast two weeks later on Sept. 24). This first episode is viewable either as originally broadcast or with the entire interview, which incorporates the extra segments – although with the Sept. 24 episode available on this set, this seems like a slightly redundant feature.

Episode Two: September 24, 1971
Again, there are no songs performed but Cavett highlights three excerpts from his previous John & Yoko interview.

Episode Three: May 12, 1972
Songs performed: Lennon's "Woman is the Nigger of the World" and Ono's "We're All Water."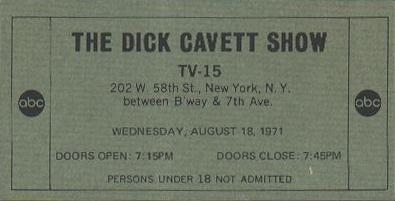 Courtesy of Greg Eckleman © the specialopsmedia.com, used with permission.
The DVD
The Video:

The Dick Cavett Show: John & Yoko Collection presents the episodes as originally broadcast in 1.33:1 fullscreen – unfortunately, the image looks aged and slightly smeary; it has a distinctly dubbed appearance which only makes Cavett's vintage set look all the more horrible. A fairly disappointing image.
The Audio:
Dolby 2.0 stereo is the only option available and is solid, if unremarkable – there's no distortion or drop-out and for the most part, the Lennons and Cavett sound terrific. The conversations aren't muffled and every witty aside is heard loud and clear.

The Extras:
Cavett has recorded brief, casual introductions for each of the episodes and also sat down for the featurette "Cavett and The Lennons," which runs 19 minutes, nine seconds. It's a warm, heartfelt look back that reveals the genuine affection this trio shared; a great inclusion to this admittedly thin set.

Final Thoughts:
Fans of the Lennons and Dick Cavett alike will find much to revel in here – it's a set that's light on extras but heavy on charm; the genuinely warm rapport the Lennons share with Cavett will bring a smile to the face of most every music fan. Recommended.
The Ottawa Beatle wishes to express our sincere thanks to Preston Jones for allowing us to reprint the above article which first appeared on October 1, 2005 at DVDTalk.com. Copyright by Preston Jones and DVDTalk.com, all rights reserved, 2005.
October 2
Rain to perform in Ottawa!
They told us they would likely be coming back to Ottawa and they are! Beatles tribute band "RAIN" will be performing at the Ottawa Civic Centre Theatre on November 22nd and 23rd at 8:00 p.m.

"...uncanny ability to render near perfect copies of the original material." - Montréal Gazette

"...the musical facsimiles are flawless. The fans want to believe. Rain makes it easy." - Edmonton Sun

Tickets are available at: (613) 755-1111 and ticketmaster.ca

Link to Rain's official website: http://www.raintribute.com/
-------------------------
October 1
Apple Records and Chronicle books (et al) are being sued over Montréal bed-in photographs
Roy Kerwood, who was at John and Yoko's Montréal bed-in in 1969, "has launched legal action against Vancouver Based book distributor RAINCOAST Book Distribution, The Beatles through Apple Corps Ltd. Chronicle Books Ltd and Indigo Books and Music," stated an official press release. The lawsuit claims that "the defendants violated the copyright act of Canada by using photographs taken by Mr. Kerwood at the 'Bed In For Peace In Montréal In 1969, in the publication 'The Beatles Anthology by The Beatles' without his permission."
Mr. Kerwood is seeking $1 million in damages after 1-1/2 years of stonewalling from Apple Records in failing to agree to acknowledge Mr. Kerwood as the intellectual proprietor of the said photographs that appear in the Beatles Anthology book.
Recently Mr. Kerwood's still photographs of the famous bed-in appeared on the CBC television special, "John and Yoko: Give Peace Song" where he was properly acknowledged along with other still photographer Gerry Deiter.
Details of the lawsuit can be read at: http://www.johnlennonbedin.com/pressrelease1905.htm
Link to Roy Kerwood's official website with John and Yoko bed-in photographs: http://www.johnlennonbedin.com/
-------------------------
September 29
Benefit Concert -- Hurricane Katrina

Featuring: REPLAY The Beatles (90 minute show)

Where: HARD ROCK CAFE, Montréal
1458 Rue Crescent

When: Saturday, Oct. 1, 2005 @ 9:30 PM

Tickets: $7 at the door (100% of proceeds go to charity)

For more info: 514-987-1420

Link to Replay website: www.replaytheBeaTles.com
-------------------------
September 26
TV Alert: Additional broadcast dates for John & Yoko: Give Peace A Song
The CBC will be airing "John and Yoko: Give Peace A Song" three times on CBC Newsworld on September 28 (this Wednesday) at 8:00 p.m.; 11:00 p.m. and 2:00 a.m. The 1-hour show premieres on the main CBC network on September 27 (this Tuesday) at 8:00 p.m.
-------------------------
September 23
Statement from Julian Lennon on the 25th anniversary of John Lennon's death
As the anniversary of Dad's death approaches, I have, inevitably, started receiving many requests for interviews. I am not going to give any interviews on the subject; I genuinely feel that I have talked about Dad enough. But I do appreciate the enormous interest people have in my father and his legacy and so, in lieu of interviews, I am going to say just this:

"Dad was a great talent whose music and ideals are an inspiration to millions. Yet I have always had very mixed feelings about Dad. He was the father I loved who let me down in so many ways. Who knows how our relationship might have developed if he had not been murdered…it's painful to think that his early death robbed me of the chance for us to know each other better. What can never be taken away are his words and music, that's his legacy for me. It's in my blood for a start. Like Dad I became a musician too, and as with many other artistes in this world his words and music continue to influence me today and probably forever more."

Also, I can direct you to two projects to which I have made a contribution. First, Mum's book. As you probably know by now, Mum has written a biography about Dad and her time with him and I have provided the Foreword. I am immensely proud of her achievement – it's an honest and truthful account of the ten years they shared together – half his adult life! I recommend this book to anyone who wants to know the truth, the real truth about Dad and his life with Mum. The book is called 'John' and is published on 26 September 2005 .
And the second is a TV profile of Dad which will transmit on BBC Television in October. I very, very rarely take part in shows like this but I was impressed with the integrity of the company who are making it for the BBC and their commitment to making it a balanced and thoughtful programme.
I expect there will be lots of other programmes and profiles commemorating and celebrating Dad on and around 8 December … for Mum and me that day will be one of private remembrance.
- Julian
Related link: The Liverpool Lennons

-------------------------
September 22
"Chaos and Creation in the Back Yard" at #6th position on Billboard charts
"Paul McCartney's Chaos and Creation in the Back Yard was No. 6, giving the veteran rocker his 45th Top 10 Billboard 200 album," wrote WebIndia.com. The information was released yesterday by Billboard but the ranking will not appear until next weeks publication. "Chaos and Creation in the Back Yard sold 92,000 albums at No. 6, a much stronger showing than his previous solo album, "Driving Rain," which sold 66,000 copies in its first week in 2001," wrote the Los Angeles Times calendarlive.com.
Meanwhile in Southern California, Neilson/SoundScans Inc reveals a similar trend for "Chaos and Creation in the Back Yard" where it is currently listed at No. 8 on their charts for that region.

-------------------------
September 17
'Lennon' - the Broadway musical closes
After only lasting 6 weeks with 49 performances and only playing to less than 40% capacity audiences, Lennon, the Broadway musical will close. Lennon, which had Yoko Ono's creative input and tacit approval, was rewritten on two occasions until it officially premiered on August 14 with a 7-million dollar budget.
But the Broadway musical was given the poison-pen treatment. The New York Post described Lennon as a play "so shaky it can scarcely stagger from one side of the stage to the other" and went on to say that it was "more hagiography than biography." Interestingly, the New York Times reaction was brutal: "A fierce primal scream is surely the healthiest response to the agony of Lennon...This drippy version of his life suggests he was just a little lost boy looking for love in all the wrong places until he found Ms Ono and discovered his inner adult."
Don Scardino who wrote and directed the play, apparently omits salient points of Lennon's life. The critics were quick off the mark and took notice of it: "Imagine there's no Beatles, imagine no iconic movies, no White Album, no poetry books, no drawings. Then imagine there's no son before Sean, no mistress named May Pang, no deep depression, nothing really serious with drugs," wrote Newsday.
With these omissions from the play, it certainly was not a true representation of the "Working Class Hero" that Lennon fans have come to know and deeply respect. Why Yoko would even consider this "revisionist" approach to the play that eventually ended up in Nutopia defies logic, especially at $100 per ticket.
-------------------------
September 12
Read John Whelan's rave review about "Magical Mystery Tours" - a new book from Tony Bramwell who was there every step of the way with the Fab Four.

The review beings here:

http://beatles.ncf.ca/tony_bramwell_p1.html
-------------------------
September 3
Paul McCartney and his new album "Chaos and Creation in the Backyard"
"Chaos and Creation is adventurous, melodic and emotionally complicated—the first album in his post-Fab Four catalog that really matters. If it is not as dark or as brilliant as TIME Out of Mind, Bob Dylan's "Hey, I can still do this!" album, it belongs on a shelf nearby." -- Josh Tyrangiel, Time Magazine
On September 13, Capitol records in North America will be releasing Paul McCartney's 20th solo recording, Chaos and Creation in the Backyard, which promises to be a "back-to-the-basics" approach similar to his first solo release "McCartney" -- for you see, Paul plays all the instruments himself on this new album. The album was recorded over a two-year period in Los Angeles and London and has been produced by Nigel Godrich.
In an interview with Paul Sexton of Billboard magazine, Paul reveals the reason for choosing Nigel Godrich: "Our ideas were surprisingly similar. I said, "I'm going to make a great record." I thought instead of saying, "I would like to make a good record," I'm going to put some pressure on myself and motivate myself. And he said, "If I do it with you, it's got to be you." I suggested a couple of possible things I was listening to that we might draw off. And he said, "No, we've got enough to draw off. That's what people want: an album that sounds like you."
At a listening room at the Capitol tower out in California, Jody Denberg, Program Director for KGSR had a chance to listen to the new album. She pined in a report filed to the AbbeyRd Beatles pages that Chaos and Creation in the Backyard "is one of those albums that will take many listens to figure out where it stands in Macca's catalogue. Jenny Wren and English Tea were the most accessible - and the album as a whole was VERY listenable. Can't wait to listen another hundred times to get a handle on it."
Paul's Jenny Wren will be somewhat reminiscent of the Beatles' 1968 classic Blackbird. "In Blackbird, it's a particular style, it's almost like a folky style - but I can't actually do the proper fingerpicking style that real fingerpickers will do, so I've invented my own fudge of it," McCartney told the BBC. In the same report, he revealed that Jenny Wren was inspired by the performance of a flutist at a Ravi Shankar concert at the Royal Albert Hall. "I saw this guy on this low, mournful Indian flute. I traced him down through Ravi, because he had a sound that I wanted for the album, and found he was actually a Venezuelan guy called Pedro Eustace and that the flute itself was an Armenian instrument."
Chaos and Creation in the Backyard comprises of 13 tracks. The first single from the the album, Fine Line, was enthusiastically received last month by Billboard's Jordan Weissman. "As Paul McCartney preps for his latest solo album, Chaos and Creation in the Backyard, first single Fine Line implies he might have a pleasant surprise in store," wrote Weissman. "Nigel Godrich's Rubenesque sonic touches are well-suited for this slice of piano-fueled classic rock: Chords reverberate, cellos glow, and crisp violins are deployed for a jolt of energy. There are a couple of fortune cookie-worthy lyrical turns, but there is also definite vitality here, and the last minute strikes a satisfying tension between minor chord changes and McCartney's falsetto. Fine Line is above par for McCartney's solo work, and will be fine entertainment for nostalgic baby boomers," he said.
The release of Chaos and Creation in the Backyard coincides with Paul McCartney's upcoming North American tour which begins on September 16th. Also, on a program note here, Paul will be appearing on MTV, VH1 and CMT special on September 10 from 8:00p.m. to 11:00 p.m. (ET/PT) entitled: "ReAct Now: Music & Relief" for the victims affected by hurricane disaster in the Gulf Coast. "The special will seek to raise much needed funds for The American Red Cross, The Salvation Army, America's Second Harvest and similar organizations as they continue their relief efforts in the devastating wake of Hurricane Katrina," said an official MTV press release.
Chaos and Creation in the Backyard track listing:

1. Fine Line
2. How Kind Of You
3. Jenny Wren
4. At The Mercy
5. Friends To Go
6. English Tea
7. Too Much Rain
8. A Certain Softness
9. Riding To Vanity Fair
10. Follow Me
11. Promise To You Girl
12. This Never Happened Before
13. Anyway
Hear also a BBC exclusive audio interview with Paul on "Chaos and Creation in the Backyard"

-------------------------

September 2
Found: interview from the bed-in

A long-lost interview from the 1969 "Bed-In" in Montréal offers a candid glimpse of rock's most famous couple.

Please read: The John and Yoko you never heard by Randy Boswell of the Ottawa Citizen.

----------------------------

August 27
TV Alert: The CBC production of "John & Yoko: Give Peace A Song" airs on September 27, 8:00 p.m.!!

What promises to be one of the best made-for-television documentaries on the recording of "Give Peace A Chance", the programs producer Paul McGrath of the CBC in an e-mail correspondence to John Whelan reveals some details as to what Beatle fans can expect from the CBC television broadcast:

"Yes broadcast date is Sept 27 at 8 p.m. The documentary is called John and Yoko: Give Peace A Song. It is a record of the day Give Peace A Chance was born and of the song's further evolution into 2005. It is chock full of rare and first-time pictures. We have John [and] Yoko's out-takes of the day's events, the footage not used in the Bed-In movie, donated by Yoko.

"We have more new stuff from the CBC vaults, an appearance by the only moving picture record of Pete Seeger singing the song to c. 400,000 people at the Vietnam Mobilation in Nov 1969. That many people waving their arms and singing one song is goose-bump material. (That Seeger performance is what gave the song its status in the peace movement and is to a large degree why it is still sung today.)

"We have a killer George Harrison cameo appearance on the Smothers Brothers show from Nov 15\68 which I believe has not been seen since it was broadcast. (Actually, you might be able to tell me whether that little snippet is out there on the web. I've seen many references to its existence but no indication that anybody has ever seen it since 1968. If not, fire up the recorders on Sept 27.)"*

Paul McGrath, who previously produced the highly acclaimed "John and Yoko's Year of Peace" for the CBC which aired in 2002, makes note of the important appearance that Yoko Ono made in the program. Said McGrath: "She gave us such an eloquent interview that for minutes at a time the doc is in her hands. I believe she gave us the longest interview on camera, simply because she kept talking (as handed any media in more than a decade.) We were promised 20 minutes and went one hour and 20 minutes."

According to McGrath, we'll also see "Interviews as well with Tom Smothers, Andre Perry and tons of people you've never heard before, each of them with a killer story about how they happened to be seated around the bed that day for the recording."

Broadcast time: "John & Yoko: Give Peace A Song", September 27, 8:00 p.m., Eastern Standard Time. Viewers in different time zones should consult their local listings. Depending on location, American viewers living close to the Canada/USA border might be able to pick up the broadcast.

September 28 update: On this date, the Ottawa Beatle Site e-mailed Paul McGrath to find out what happened to the Harrison segment that was omitted from the program which he had originally mentioned in an e-mail correspondence dated May 23rd. McGrath gave us his response: "I was surprised to have seen the Harrison piece gone from the doc. The original problem was possible rights attached to our use of a few seconds of the theme song from the Smother's Brothers show. I assumed only that had been chopped out. But I guess CBC decided to save a little money - it was a pricey bit of footage - and chopped it all. They didn't tell me, but they own it, and they didn't have to tell me."

© The Ottawa Beatles Site. Websites may reprint this information provided they credit the Ottawa Beatles Site.

-------------------------

August 25
Paul McCartney continues to mourn the loss of fellow band mates

"We can't last forever and one of us has got to go first, and another one's got to go second. Now it's very sad, just me and Ringo left," said Paul McCartney in a report filed by contactmusic.com.

"It particularly hits me when I'm asked to sign a picture, and it's always the four of us.

"Suddenly there's a little jolt, 'cos I just see two of the guys there: John and George. Oh. F**k. It's just sad. Like any bereavement."

--------------------------

August 24
Make Poverty History! Live 8 update...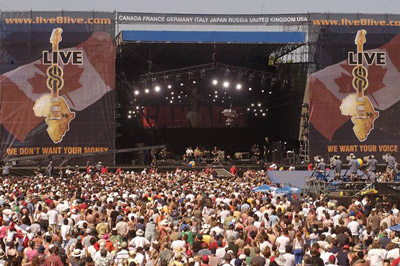 Photo credit: World Vision
Dear Supporter,

Thank you for making your voice heard in July 2005.

In August, help us help Prime Minister Martin do his job! Send a message to the Prime Minister, and your MP, today!

Last month, on Canada Day / Global White Band Day, Canadians across the country, from Vancouver BC to Signal Hill, Newfoundland, joined millions in 72 countries around the globe to send a message to the G8 global leaders to Make Poverty History. See snapshots here.

During the Live 8 concert in Barrie on July 2, Canadians added their voices to performers and millions worldwide calling for immediate action on More and Better Aid, Canceling the Debt, Trade Justice, and Ending Child Poverty in Canada.

To date, more than 200,000 Canadians have joined Make Poverty History. Thank you for writing Prime Minister Martin and your Member of Parliament to remind them that you are watching.

A Make Poverty History Canada delegation traveled to the G8 meeting in Gleneagles, Scotland. They report that while the G8 leaders should have done much more in Scotland, the steps they did take were taken because of you, because we raised our voices!

We won important things at the meeting:
aid to Africa will be doubled by 2010,

debt for some of the poorest countries in Africa will be paid down until they are cancelled and

world leaders have said that they intend to resolve the problem of rich nation export subsidies that allow products to be dumped in poor country markets (below cost) making it impossible for developing country producers to compete.
While these are important steps, we are concerned that:
Much of the aid to Africa is funds which were already promised, not new funding; the timeline - 2010 is too far away; and improving the quality of aid was ignored. Prime Minister Martin refused to increase Canada's aid to 0.7% of GNI, and only restated his desire to reach 0.33% of GNI by 2010, not even halfway to the target and with no firm commitment to increases after that date.

The G8 debt cancellation deal only covers 18 countries immediately and in order to qualify, countries must adopt harmful policies that work against poverty eradication and erode democratic processes. In addition, at least 44 more countries need immediate and unconditional debt cancellation.

No date was set for the elimination of export subsidies
SO, what next?

Prime Minister Martin's response to Bono during an end of summit press conference gives us direction:
"The fact is we (Bono and I) each have a job to do. My job is to make sure we achieve 0.7, and I'm going to do that, and his job is to push me to do it as quickly as we possibly can…"
We Canadians are certainly going to help Mr. Martin do his job! Canada still has the chance to do the right thing!
This August, talk to your family, friends, and contact your MP - raise your voice while they are at home in ridings - and tell them to help make sure Mr. Martin does his job NOW. Go to community BBQs, breakfasts, or set up a meeting. Make sure they, and their party, do more to Make Poverty History in 2005.

Urge your City Council or Mayor to pass a resolution endorsing or proclaiming 2005 the year to Make Poverty History. Halifax, Barrie and Charlottetown did, what about your town?

Write Prime Minister Martin and your MP and urge them to do their jobs NOW

Prepare for Global White Band Day 2 on September 10. Citizens around the world will again raise our voices to ensure that governments deliver on their promises at the United Nations Special Summit on the Millennium Development Goals in New York in September.

Plan for additional days of action: October 17, International Day for the Eradication of Poverty when we'll act to end child poverty in Canada, and December 10, Global White Band Day 3 when we will pressure world leaders to make trade work for poor people before the World Trade Organization Ministerial Conference.

Get resources here
Thank you for raising your voice to help Canada do the right thing, and Make Poverty History in 2005.
Liz Bernstein and the Make Poverty History Team
info@makepovertyhistory.ca
www.makepovertyhistory.ca
--------------------------
August 23
"I Don't Want To Lose You" - a 3rd unfinished Beatle track
The Washington Post is reporting that a 3rd unfinished Beatle track from the Beatles Anthology project still remains in the Apple vaults. The track was recorded in 1994 and also in 1995. Said Producer Jeff Lynne: "It was one day -- one afternoon, really -- messing with it. The song had a chorus but is almost totally lacking in verses. We did the backing track...a rough go that we didn't really finish."

"It was sort of a bluesy sort of ballad, I suppose, in A minor. It was a very sweet song; I liked it a lot, and I wish we could have finished it."
The track which was to be included in Volume 3 of the Anthology package, was recorded at McCartney's Mill Studio in Sussex. Paul expressed interest in the track during in an MSN internet chat in 2002: "When we did 'Free as a Bird' and 'Real Love,' there was another track under consideration for us to work on but we didn't get around to it, so I wonder if there will be a chance in the future. I wouldn't mind doing it." But it was George Harrison who became reluctant to complete the song as he felt it was heading in the wrong direction of a Beatles' recording.
While the Beatles have not yet released "I Don't Want To Lose You," the song found life in "Lennon" - the Broadway musical. Said Yoko Ono: "I thought, this was a song which would release people from their sorrow of losing John," she said. "By listening to the song, they will eventually be able to release their sorrow and arrive at an understanding that, actually, John is not lost to them. . . . Paul, George and Ringo lost a great friend as well. If they sung this song from their hearts it would have helped many people around the world who felt the same."
Imagine This...President Bush singing "Imagine"
That's right! Using sound bits of President Bush that have been edited together, The Australian "Smh.com.au" is reporting that the song "Imagine This" is currently in the top-five most requested songs on Triple J in Australia. The track has President Bush singing to two of Lennon's anti-war songs: "Imagine" and "Give Peace A Chance." The track which runs 4:32 was produced by Tom Comagnoni who took some artistic liberty by inserting some additional lyrics found on the "Imagine" sequence. On it one can hear President Bush singing: "Imagine there's no countries, it is not hard to do, nothing to kill or die for, and no religion too, and that's a good thing."
The audio mix is available for downloading for free at: http://www.waxaudio.com.au/download_the_mp3s. Look for "Imagine This" in the track listing after landing on the page and then click "Imagine This" to download.
An audio attachment of President Bush singing "Imagine" was forwarded to Yoko Ono by e-mail courtesy of Francie Schwartz, one-time girlfriend to Paul McCartney and personal close friend to Yoko Ono after the announcement was made at rec.music.beatles. Said Francie: "Thanks JW! I hope I can attach that file to my next email to YO... I think she might get a giggle out of it, plus it's way cool." Francie then confirmed in a second posting that appeared several hours later that she was successful in sending the audio file off to Yoko.

--------------------------

August 18
Replay The Beatles to rock at the Imperial Theatre in Québec city, Oct. 9th!
Dear Tony and John,

Just wanted to let you know that we are in the process of promoting an upcoming show on the same day as John Lennon's birthday at the IMPERIAL Theatre in Quebec city on Oct. 9, 2005. For details please see: www.replaythebeatles.com/promo.

Also brand new live videos and photos are now available on our website.

Thanks!

John Oriettas
514-331-6999
www.replaytheBeaTles.com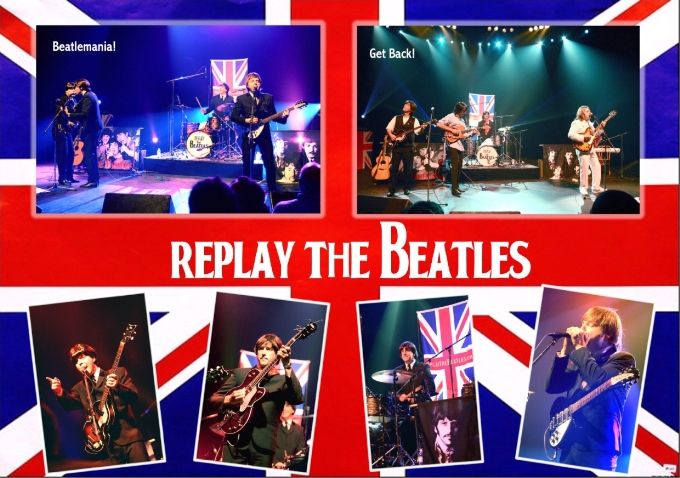 Also, here is the official Press Release from Warner Home Video regarding a revamped Imagine DVD...

The Artist. The Activist. The Peacemaker. ''Imagine: John Lennon Deluxe Edition''
Thursday August 18, 9:00 am ET
45 Minutes of Bonus Features Includes Never-Before-Seen Acoustic Performance of ''Imagine''

BURBANK, Calif.--(BUSINESS WIRE)--Aug. 18, 2005--On December 6, Warner Home Video (WHV) will celebrate the life of John Lennon, one of the most complex and fascinating visionaries of our time, with the long-awaited DVD debut of "Imagine: John Lennon Deluxe Edition." Narrated by Lennon himself, the release of this revealing and personal documentary is timed to coincide with the 25th anniversary of the performer's untimely death (December 8, 1980) and will be available for $19.97 SRP.

Although he was best known as a founding member of perhaps the 20th century's greatest entertainment phenomenon, John Lennon today still maintains a strong influence as a musician, artist, writer, philosopher, peacemaker and poet that transcends even the awesome celebrity he achieved as one of The Beatles.

"Imagine: John Lennon" was created with the cooperation of Lennon's widow Yoko Ono and produced by David L. Wolper and Andrew Solt (partners on "This is Elvis"). Backed by a monumental 36-tune soundtrack, the film draws from a treasure trove of material, including the musician's own collection of more than 240 hours of film, much of it never publicly seen. Ono approached Wolper, announcing it was time to open Lennon's personal archives of films, writings and photographs in order to make the definitive movie of his life. Wolper agreed but not before he requested full control over the project. Ono agreed and what resulted was an unprecedented look into the public and private life of the superstar.

With band mate Paul McCartney, Lennon wrote and recorded virtually all The Beatles' legendary song hits, including "I Wanna Hold Your Hand," "She Loves You," "Sgt. Pepper's Lonely Hearts Club Band" and countless others. After The Beatles disbanded in 1970, Lennon continued to make his mark in music history as a solo artist, producing some of his most enduring work, including 1971's album "Imagine." Considered one of the most popular of his solo works, the title track reached #3 on Billboard Magazine's Pop Singles chart in 1971. "Imagine" became an anthem for anti-war movements and has come to embody Lennon's legacy as a musician and activist.

Contact:
Warner Home Video
Ronnee Sass, 818-977-6439
or
Carl Samrock Public Relations
Karen Penhale, 818-260-0777
karenpenhale@cs-pr.com
Fax: 818-260-0707

--------------------------
August 17
PBS to telecast (CST (Chicago)) on August 25th, the Ringo Starr concert that was held at the Genesee Theatre
Mark Drobnick tells us that Ringo's recent June 24th concert performance at the Genesee Theatre in Chicago will air on PBS (CST, Chicago) on Thursday, August 25 at 9:00 p.m. An excellent review from Mark of the concert will provide viewers with look ahead as to what to expect from the forthcoming broadcast. You can read Mark's report by clicking here.
--------------------------
August 14
Let It Be DVD release delayed once again!
Archer of 99.5 FM "The Mountain" in Colorado has been told by Capitol Records that the Let It Be DVD that was scheduled for a September release as originally revealed by Bob Smeaton has now been pushed back "until the end of the year or early 2006."
--------------------------
August 13
Band on the Roof: a Tribute to Paul McCartney and the Beatles

Band on the Roof bases its success on the passion and love for one of the greatest musician in the world: Paul McCartney. The tribute to this great musician offers to the audience a good repertoire with his most famous songs written during the carrier with The Beatles.

Band on the Roof is made up of 5 people with a long experience in stage performances, recording studios and collaboration with different artist of the Italian music. The band reveals itself in all his concerts with a large store of enthusiasm and energy necessary to recall the same emotions conveyed by The Beatles years ago.
This real passion for Paul McCartney's songs and a carrier is without any doubt the trump card of the band. Their extreme professionalism and their technical competence are hearable from the first live performance, thanks to the great voice of the singer, very similar to Paul's voice and thanks to the technical skills of all
musicians who plays The Beatles' greatest successes with no differences from the original versions.

Listen to our mp3:

http://www.bandontheroof.com/download/allmyloving.zip

http://www.bandontheroof.com/download/Mylove.zip

http://www.bandontheroof.com/download/thingswesaidtoday.zip

http://www.bandontheroof.com/download/drivemycar.zip

Website:
--------------------------

August 12
Cynthia Lennon releases a new book called "John"

Announced yesterday at Rec.music.beatles...

Cynthia Lennon's book, "John", is now available through www.lennon.net. This is your ONLY chance to buy a copy, of what promises to be the biography of the season, personally signed by Cynthia. Cynthia's book is the definitive and most intimate portrait of John Lennon yet, complemented by dozens of never before seen family photographs and, uniquely, a Foreword to the book written by Julian Lennon. With only 500 signed books available pre-order now to avoid disappointment. "John" is published on 25 September 2005 and orders will be dispatched on and from that day.

Order here: http://www.lennon.net/Lennon/autobiography.htm

Mark
York
PA

--------------------------
August 10
Quick News picks
Paul McCartney debut new album; Yoko: John shines on in musical 'Lennon'; Why Did The Beatles Take America By Storm 40 Years Ago
--------------------------
August 4
John Lennon and Yoko Ono began writing an autobiographical musical
"John and I, in 1978 and '79, thought: 'Why don't we do something to make in a musical?' And we did think about that and we had a name for it and everything."
- Yoko Ono in a report filed by Elena Park of WNYC, August 2, 2005.
A new article on "Lennon" the Broadway musical has surfaced from reporter Allan Kozinn of the New York Times. Apparently the idea of a musical play germinated during Lennon's house-husband years away from the limelight of the pop industry. "Ono said that in the late 1970s, she and Lennon were writing an autobiographical musical, to be called "The Ballad of John and Yoko," writes Allan Kozinn. "They never finished a script, but Lennon wrote several songs for it, most of which exist only on rough private recordings that have not been released. Ono gave Scardino two of them, "India, India" (which now accompanies a scene about the Beatles' flirtation with Transcendental Meditation) and "I Don't Want to Lose You," affixed to the section about Lennon's 18-month separation from Ono starting in 1973."
"Lennon" which has been written and directed by Don Scardino, will make its Broadway appearance later this month costing 7-million to produce.
--------------------------
August 3
Apple officially announces the DVD release of the Concert for Bangladesh...
LANDMARK BENEFIT CONCERT FEATURING PERFORMANCES BY GEORGE HARRISON, RAVI SHANKAR, BOB DYLAN, ERIC CLAPTON & RINGO STARR

Apple Corps is proud to announce the autumn 2005 release of "The Concert For Bangladesh - George Harrison & friends" on DVD and CD.
The Concert for Bangladesh was the first benefit concert of its kind in that it brought together an extraordinary assemblage of major artists collaborating for a common humanitarian cause - setting the precedent that music could be used to serve a higher cause. The concert sold out Madison Square Garden and along with the Grammy® Award-winning triple-album boxset, and the feature film, has generated millions of dollars for UNICEF and raised awareness for the organization around the world, as well as among other musicians and their fans. It is therefore acknowledged as the inspiration and forerunner to the major global fundraising events of recent years. To quote the United Nations Secretary-General Kofi Annan, "George and his friends were pioneers."
Besides George himself the concert features some of his friends, including: Ravi Shankar, Bob Dylan, Eric Clapton, Ringo Starr, Leon Russell and Billy Preston. Performances include 'Here Comes The Sun', 'Something', 'While My Guitar Gently Weeps', 'My Sweet Lord', 'Just Like A Woman', 'Blowin' In The Wind' and 'A Hard Rain's A-Gonna Fall'.
During the struggle for independence from Pakistan millions of refugees fled to neighboring India to escape hunger, disease and bloodshed. The crisis was deepened when massive floods hit the region. Alerted to the scale of the suffering by his friend Ravi Shankar, George Harrison organized The Concert For Bangladesh at Madison Square Garden on August 1st, 1971 with the proceeds going to UNICEF.
The DVD will be released by WMG (Warner Music Group) in the US on October 25th, 2005, and October 24th in the rest of the world, as a 2-disc package, including the original 99-minute film restored and remixed in 5.1, as well as 72-minutes of extras. The extras feature a 45-minute documentary "The Concert For Bangladesh Revisited with George Harrison & friends", about the background to the two shows with exclusive interviews and contributions from UN Secretary-General Kofi Annan and Sir Bob Geldof. There is also previously unseen footage: "If Not For You", featuring George and Bob Dylan from rehearsals, "Come On In My Kitchen" featuring George, Eric Clapton and Leon Russell at the sound check and a Bob Dylan performance from the afternoon show of "Love Minus Zero/No Limit", not included in the original film.
Apple Corps/WMG will also simultaneously release a special deluxe version (limited to 50,000 copies worldwide) that will feature a 64-page book and other collectibles.
The album of the concert has been remixed and repackaged as a 2-disc set, and is released in the US on October 25th, 2005 by Capitol Records and on October 24th in the rest of the world, by Sony BMG Entertainment. This will contain an additional track - the Bob Dylan performance of "Love Minus Zero/No Limit".
All artists' royalties from the sales of the DVD and the CD will continue to go to UNICEF.


Thank you,
www.georgeharrison.com
--------------------------
July 30
George Harrison's Concert for Bangladesh DVD release to have 72 minutes of extra footage!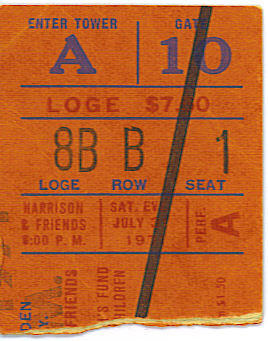 An original Bangladesh concert ticket provided by Marc Catone with our sincere thanks!
Said Marc: "The original name of the concert was "Harrison & Friends". The original date of the concert was to be July 31st, with one show on that date (a Saturday) and the second concert the next day, Sunday, August 1st. I don't recall why, but the time and day of the concerts were changed for both to occur on Sunday, August 1st. The July 31st show became the Sunday afternoon concert. That's why my ticket has a black line going through the date, as the one I bought was after the date had been changed.

"Here's a laugher...I paid scalper's prices for that ticket, and still it was only $18.00 Many of my friends thought I was crazy to pay that much, but I've never had any regrets."
Without question, George Harrison fans will be in for a real treat with the DVD release of the Concert for Bangladesh. The original concert (which is 95 minutes long) has been formatted into high-definition DVD and will feature 72 minutes of extra footage.
Said Olivia Harrison in a report to the Telegraph in the U.K.: "It's really stunning. It's been blown up from the original 16 mm to 70 mm. George wanted to get a full soundtrack. Now, you'll be watching a really beautiful film."
The producer for the DVD is Jonathan Clyde who has restored and remixed the concert but work on the project actually began in the summer of 2001 while George Harrison was alive. George apparently became "fascinated again by the concert" writes the Telegraph. Unfortunately, in November of that year, George passed away as work on the project continued on.
Appearing for the first time in the release will be Bob Dylan* performing "Love Minus Zero/No Limit" (from the afternoon performance) and a sound check with George Harrison, Eric Clapton and Leon Russell jamming to "Come On In My Kitchen."
George Harrison staged two benefit concerts on August 1, 1971, and raised $255,971 for UNICEF even before record royalties are assessed. Between the two concerts, it is reported more than 40,000 people had been in attendance.
"We had very little rehearsal," said Harrison in his book, I, Me, Mine. "In fact there was never actually one rehearsal with everyone present. We did two shows, putting in the second because the first one sold out and as luck would have it, everything went off pretty well; it sounded really good in Madison Square Garden."
On December 20, 1971, Apple records released the concert as a triple-LP and the following year the National Academy of Recording Arts and Sciences bestowed Harrison and Friends a Grammy each for "Album of the Year."
* Historical Footnote: Interestingly enough, Variety's book on "The Grammys" states that Bob Dylan "in his first U.S. appearance in three years...was greeted by a screaming 10-minute ovation" at the Concert for Bangladesh.
--------------------------
July 29
Beatles at the Hollywood Bowl on Los Angeles TV tonight
The following is culled directly from Dave Haber's "What Goes On" Beatles news pages...
Tonight on Fox TV in Los Angeles - KTTV - Channel 11
Friday July 29th 10.30pm - 11.00pm
Repeated: 1.30am - 2.00am
The Fab Four's legendary appearances at the Hollywood Bowl in 1964 and 1965 will be celebrated on the 40th anniversary of their 1964 concerts with a brand-new 30-minute TV special tonight on Fox Channel 11 in Los Angeles.
The show will focus not just on the concerts - but also on the impact of the Beatles' visits on Hollywood itself, and how the biggest stars in Los Angeles jumped through hoops to secure concert tickets - and invitations to the A-List Hollywood parties thrown in their honor.
The program will include rare newsreel footage and interviews with participants, witnesses and fans, including Beatles scholar Martin Lewis, who has written and broadcast extensively on the subject of the Beatles and was also a prominent consultant on recent Beatles projects such as Anthology and Live At The BBC.
--------------------------
July 28
All You Need Is Love lyrics fetches a cool $1.4 million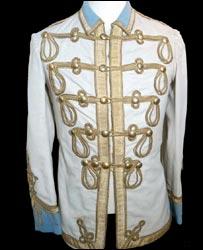 John Lennon's military tunic
On this date, John Lennon's hand-written lyrics of "All You Need Is Love" fetches 600,000 pounds ($1.4 million) at the Hippodrome rock-music venue in London. The hand-written lyrics were used as a prompt for Lennon as he and the Beatles (along with 13 session musicians) performed the song live by satellite in 1967 for the "Our World" program reaching 40,000,000 people in 24 countries.
The sale of the this and other Lennon memorabilia comes from an American who comprehensively collected his treasures over the past 25 years, decided to put them up for bidding. According to Auctioneer Cooper Owen, it is "the most definitive collection of John Lennon memorabilia ever assembled."
Some of the items sold were a military tunic that Lennon had worn for Life magazine for a photo shoot, similar in style to the one he dawned for the Sgt. Pepper album cover. The military tunic sold for 100,000 pounds. Also sold were "a piano from John Lennon's New York apartment fetched £140,000 and watercolours painted by the musician aged 11 were bought for £70,000 - twice their estimated price," wrote the BBC. But some memorabilia that went up for grabs were less successful: "A 1958 chipped and scraped oil painting of a figure by Lennon, done when he was studying at the Liverpool College of Art, was valued at as much as 60,000 pounds. It went for 25,000 pounds," writes Bloomberg.com in an article that appeared the following day on their website. The report also noted that a "red velvet chair used in a 1963 Beatles photo shoot started at 3,000 pounds; it failed to sell."
Jackie Lomax albums released on CD
Warner music are releasing the long awaited CD versions of Jackie Lomax's 1971/2 albums "Home is in my head" and "Three" in the UK on Aug 1, and in the US on Aug 2. Both albums may be pre-ordered on line via http://www.jackielomax.com/releases.html and other sites. Jackie's 1968 album "Is this what you want?" was the first disc released by Apple, produced by George Harrison, and is also available on CD. The Ottawa Beatles Site received advance copies of both "Home is in my head" and "Three" courtesy of Alistair Hepburn at JackieLomax.com. If you are a Lomax fan, you will definitely want to own these CDs. The engineering quality is excellent, particularly on "Three". If you are not yet a fan, they are a terrific way to become one. Lomax is an underrated talent, and his R & B delivery and the writing sound as fresh today as when I first heard him. He is still performing and touring.
- Tony Copple
--------------------------
July 24
Rusty Anderson + Dino Jag + Artists including Sir Paul McCartney support the "HURT MYSELF" project to help fight AIDS

My name is Damien Reilly and I am the founder of Blue Pie Productions, an indie record company based in Sydney, Australia.

First of all, on behalf Rusty Anderson + Dino Jag + Artists including Sir Paul McCartney we would like to thank you very much for taking the time to read this email.

Blue Pie Productions has put together the "Hurt Myself " project to help support the great work that the Nelson Mandela 46664 foundation does every day. "Hurt Myself" is an initiative from Blue Pie Productions, Crush Management, Rusty Anderson, Dino Jag and the artists that performed on this great song including Abe Laboriel Jr, David Kahne, Probin Gregory, Brian Ray, Paul Wickens and Sir Paul McCartney. It is all about helping those affected with AIDS and the families of the affected, living with aids. As you know, Sir Paul McCartney is a huge supporter of the 46664 Foundation and we all truly believe in its cause.

We would like to invite you to be part of this great project, by means of cutting a link of "Hurt Myself" into your website for fans, the general public and supporters to purchase the song as a digital download. Every time someone purchases the song 15% of the song proceeds that we receive goes to the Nelson Mandela foundation. This includes the ringtones, video clip sales, all digital downloads and all compilation CD's that the song is licensed to and any advertising revenue we generate.

We will have a counter up on the site very soon so that everyone can see how much we have donated on a monthly basis. This project is all about giving you the fans and supporters some great music and at the same time helping those in AFRICA devastated by AIDS. We have included some general information on the plight of the people in AFRICA living with AIDS. Please have a read by going to the Hurt Myself site.

You can help by simply downloading this song: http://www.bluepie.com.au/hurtmyself/

To purchase the CD, please include this link: http://music.msn.com/album/?album=41197648

Thank you from all the crew at Blue Pie, Rusty Anderson, Crush, Dino Jag and the many artists that have gathered to support the 46664 foundation.

Official Links:
www.rustyanderson.com
www.dinojag.com
www.paulmccartney.com
www.bluepie.com.au
www.hurtmyself.com

Kind Regards,

Damien Reilly, CEO
Blue Pie Productions ™ Pty Ltd
Australia
--------------------------
July 20
Sgt. Pepper's is fastest selling download
Another milestone for Sir Paul McCartney: "Sgt. Pepper's Lonely Hearts Club Band" which was recently sung by the rock star along with U2 at the Live 8 concert, becomes the fastest selling download ever. The song topped Apple's iTunes on July 2 entering the chart at No. 6 position. "I received the audio from a runner. This guy literally ran from the gig to St. James's square with a CD," said Ben Drury. "We uploaded it and the programmers did their magic." It went on sale one hour after it was performed on stage at London's Hyde Park. The digital download of the song has been overseen by the Universal Music Group with sales going directly back to charity. There are no plans to release this version as a CD or vinyl single.
To download a copy, click: Live 8
--------------------------
July 18
New forthcoming book: "Marx & Lennon - The Parallel Sayings"
My name is Joey Green, and I am the author of more than 30 books here in the United States. This fall I will be coming out with a new book called "Marx & Lennon: The Parallel Sayings." Each page of the book features a pair of matching quotes——one from Groucho Marx, the other from John Lennon. Revolutionaries in their own rights, Groucho Marx and John Lennon may not have shared much in common with their Communist namesakes, but they do overlap through their very humorous and irreverent takes on life. In the book, I bring together a collection of more than 400 Groucho Marx and John Lennon sayings, juxtaposed to emphasize their hysterical and unexpected similarities.
John Lennon's widow, Yoko Ono, wrote the foreword to the book and gave the project her blessing. "As you turn the pages, this book will make you laugh and have fun," writes Ono. "At the same time, it will plant a seed of revolution in your mind."
Groucho Marx's son, Arthur Marx, wrote the introduction to the book and says, "Groucho would be flattered to know that so many years after the Marx Brothers first became legends the Beatles were being compared to them, and that he and Lennon would be doing a book together."
In the book, I point out the similarities between Groucho Marx and John Lennon, nothing that both men were born in the month of October (exactly fifty years apart), stirred controversy, appeared naked in public, and were secretly investigated by the FBI as potential threats to the United States government.
I'm sure this is a book that will greatly interest visitors to your website, and you can find out more about the book at:
http://www.amazon.com/exec/obidos/ISBN=1401308090/joeygreenswackyuA/
If you'd like to know more about the book, just let me know.
Best,
Joey Green
(OBS footnote: "Marx & Lennon - The Parallel Sayings" will be released on November 1, 2005 by Hyperion and is 272 pages long.)
--------------------------
July 16
Def Leppard covers Badfinger's "No Matter What"
Ultimate Guitar.com is reporting that Def Leppard will release "No Matter What" as their lead single from their forthcoming album "Yeah!" due out on September 20. The album will comprise mostly of 70's retro music ranging with material from The Kinks, T. Rex, Mott Hoople, Roxy Music and Thin Lizzy.
"No Matter What," written by Badfinger's Pete Ham, became a world-wide Top-Ten hit contender with a style and sound that identified itself as being the most Beatlesque recording from their Apple repertoire.
"In 2001, The Gap wanted to use this in a commercial," writes Song Facts.com. But "Apple Records, which owns the rights to it, asked for an enormous sum of money and were turned down."
--------------------------
July 9
"Chaos and Creation in the Back Yard" - Paul McCartney's future album title
Look for "Chaos and Creation in the Back Yard" as the new Paul McCartney album slated for release on September 13. The 13-track album is being co-produced by Paul McCartney and Nigel Godrich. Jonathan Cohen of Billboard.com states that the music "runs the gamut from piano-led tracks like Promise To You Girl and Fine Line, to a self-described daughter of [the Beatles'] Blackbird dubbed Jenny Wren to the contemplative Riding to Vanity Fair and At the Mercy." To help promote his new album, Paul McCartney will be on tour in the USA and Canada which starts in Miami on September 16th.
Track listing for Paul's new album: Fine Line; How Kind of You; Jenny Wren; At the Mercy; Friends To Go; English Tea; Too Much Rain; A Certain Softness; Riding to Vanity Fair; Follow Me; Promise To You Girl; This Never Happened Before;
Anyway.
--------------------------
July 8
Ringo Starr, 65, not ready to retire
Our legendary drummer, Ringo Starr, turned 65 yesterday. Ringo comments about aging, his new album and future plans in an exclusive interview with Jane Stevenson of the Toronto Sun. To read the interview, please click: Ringo Starr, 65, not ready to retire.
--------------------------
July 6
Engineer Geoff Emerick Solidifies Book Deal On His Work With The Beatles

New York, NY- William Shinker, Senior Vice President and Publisher of Gotham Books, an imprint of Penguin Group (USA), announced today Gotham Books has acquired the World English rights to Here, There, and Everywhere: A Legacy of Sound, Music, and The Beatles by legendary sound engineer Geoff Emerick and well respected music journalist Howard Massey.
Amazon.com is reporting that the tentative release date concerning Geoff Emerick's book is March 16, 2006.
Link to the announcement at Kayos Productions Inc.
--------------------------
July 5
Imagine Montréal Living Life In Peace -- Art for Amnesty
Hello John and Tony,

The worldwide "Art for Amnesty" website has created a page about our "Imagine Montréal Living Life in Peace" project...note link to view photos: http://www.artforamnesty.org/view_event.php?id=29

The photographer Michel Cloutier and I are being interviewed on Montréal CBC Radio One 88.5 today between 4 and 5 p.m. about this project. The photos are at Montréal City Hall until July 11th.

Robert Harrison
"Imagine 2005" Committee
AMNESTY INTERNATIONAL - French-speaking Canada
Montréal
Quick News picks
Here are some interesting articles that have been recently been published on the web: "Yoko Ono discusses art exhibit on war and peace"; "McCartney's reveals new album title"; "Rocking the moral boat" (Live 8); "Concert review: Ringo and the Roundheads"; "May Pang talks about her life with John Lennon"
--------------------------
July 3
Live 8 concerts drives the point home to G8 politicians that 850 million people go to bed hungry every day and that 30,000 children die daily as a result of extreme poverty!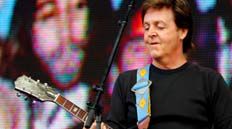 Sir Paul McCartney performing at Live 8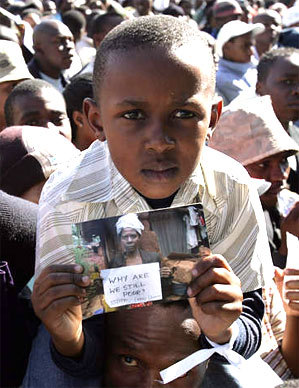 A South African child asks:
"Why Are We Still Poor?"
"More than five million people logged onto the web to watch the concerts, with 175,000 simultaneous streams at any one time, making it 'by far the biggest internet event in history', said AOL vice-president Ruth Sarfaty" in a report filed by tvnz.co.nz about yesterday's event, Live 8. It is believed that the Live 8 concert was available to "5.5 billion people, via the internet and 182 TV and 2,000 radio networks and stations around the world. Not to mention video-equipped mobile phones," wrote tvnz.co.nz.
But in Africa, one of the poorest continents on the earth where the event was broadcasted live throughout the area, most of the Africans there will not have seen Live 8 or its message the event organizers are signaling to G8 leaders because they are so poor.
Former South African President Nelson Mandela, during the Live 8 concert in Johannesburg, South Africa, proclaimed to a crowd of 8,000 people: "History and the generations to come will judge our leaders by the decisions they make in the coming weeks. I say to all those leaders: Do not look the other way, do not hesitate...It is within your power to prevent a genocide."
Mandela went on to say that "Overcoming poverty is not a gesture of charity, it is an act of justice. Not to do this would be a crime against humanity against which I ask all humanity now to rise up."
According Jon Cook of Canoe Jam! Music, astutely hits the mark in his report regarding the world and its financial surpluses:
"We can understand Geldof's incredibly simple point, that in a world of surplus, none should go hungry. Prime Minister Paul Martin and all leaders of heavily industrialized economies, like Canada, must do their part to honour the minimum targets of the Millennium Development Goals.
"The main one emploring the richest countries to finish what former Canuck PM Lester Pearson started: spend 0.7 per cent of their Gross Domestic Product or national income on foreign aid," wrote Cook. "In Canada's case it would mean raising our aid spending by 15 per cent each year for the next decade."
Last year opposition critics charged the Paul Martin government for "wilding underestimating how much money would be left over after its latest fiscal year - and to ask for a piece of the 9.1-billion pie," wrote the CBC. It turned out, according to the governments own Statistics Canada report (filed June 16, 2005 at their website) that "Canada's federal, provincial, territorial, and local governments (as well as the two major pension plans) recorded a combined surplus of $12.1 billion." That's 3-billion more than what was originally predicted. Previous federal year-end surpluses have been coming in much higher than originally forecasted by the Department of Finance. The cost to end poverty from Canada's government would "mean more than tripling the $3-billion a year it now spends" reports the Canadian Press. That means for Canada to being doing its part over the next decade, Canada's minimum contribution should be no less than $120 billion in order to make a difference in the lives of the less advantaged.
Prime Minister Paul Martin recently defended the gay marriage legislation as a "right is a right" in spite of the minority of people who would be affected by the new legislation. Certainly the same can be said that the poorest of the poor on this planet have a 'right' not to go to bed hungry at night, or the fact that 32,000 children should not die every day as result of that hunger. The Canadian government must now actively defend that 'right' by properly addressing the plight of world hunger and by financing the deal that Sir Bob Geldof and Bono have requested. Let face it, the G8 countries (big business and governments) have more money and live in excess than they really know what to do with. In terms of ending poverty, what it really all comes down to is the "political will" to get it on and start doing the right thing.
There are no more excuses for governments to make. People are expecting, if not demanding results -- over 26.4 million people from around the world added their voice to the Live 8 petition yesterday.
Chancellor Gordon Brown said Live Aid in 1985 was all about "raising money for charity" but "today its about a campaign for justice and empowerment for millions of people around the world..." he told the BBC. And Peter Mandelson, the European Union's Trade Commission said that the G8 members who will be meeting soon on July 6 in Scotland "can't ignore it. We need to see...that energy channeled into continuing pressure and interest and attention not just to the issues of humanitarian aid and debt relief, but trade."
Said Sir Bob Geldof to the BBC news: "There's one plan. It's debt, trade and aide and governance. Prime, pump an economy, create good government and we'll get people out of poverty. That's what this is all about. We'll jump in you jump and we're all jumping on behalf of those who can't even crawl."
Sir Paul McCartney, who put on a stellar performance at Live 8, has two of his songs at the Live 8 website that you can download with all proceeds going to charity ( "The Long and Winding Road" and "Sgt. Pepper Lonely Hearts Club Band".)
The former Beatle who opened the show in London's Hyde Park, said of the event: "Everybody who's come along has come for the right reason. We hope that the people, the heads of G8, are listening hard. They can't avoid this, then cannot have missed it and all you young people who've come along for this message - we love you."
All of the concerts from around the world were spectacular as many talented musicians sincerely put their hearts on their sleeve to help raise the profile of world hunger.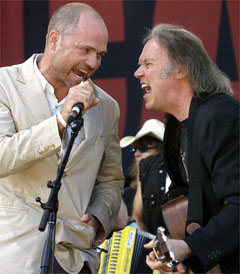 Gord Downie of the Tragically Hip (left) and Neil Young perform during the finale of the Canadian Live 8 concert in Barrie, Ont. Saturday. (CP/Aaron Harris)
There were so many great acts but I think the ones that stood out the most for this writer was watching the reunion of Pink Floyd for the first time in 20 years. It seems that the band never missed a beat after all this time as they played "Breath," "Money," "Wish You Were Here" and "Comfortably Numb" which excited a crowd of 200,000 in Hyde Park.
Also noteworthy were The Who with a dazzling performance of "Who Are You" and "Won't Get Fooled Again."
In Canada, Neil Young officially closed off Live 8 with "Rockin' the Free World." He was assisted by other legendary artists from Canada: the Barenaked Ladies, Gordon Lightfoot and Bruce Cockburn.
After the song was over, the musicians started up a patriotic chorus of "O Canada." The crowd of 38,000 at Barrie, Ontario, stood up joyfully singing along which almost brought a tear my eye (as it almost did with one CTV host, Seamus O'Regan.) Now, if that kind of patriotic spontaneity doesn't move Prime Minister Paul Martin to financially rise to the occasion with a full comprehensive aid relief plan, then what will??
Justice delayed, is justice denied.
- Report filed by John Whelan
Link: Live 8