The News Today
from the Ottawa Beatle Site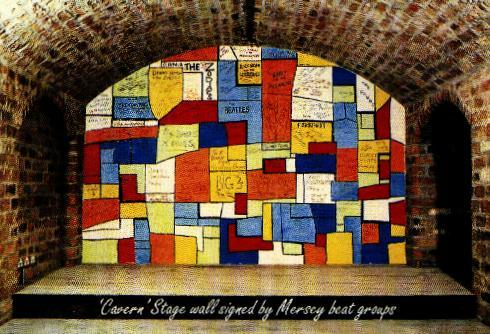 Postcard kindly supplied by Alan Chrisman. Acknowledgements to Cavern City Tours
who hold an annual International Beatles Convention in Liverpool. Phone 0151-236-9091
September 28, 2008
Magical Mystery Tour Memories - A DVD Review!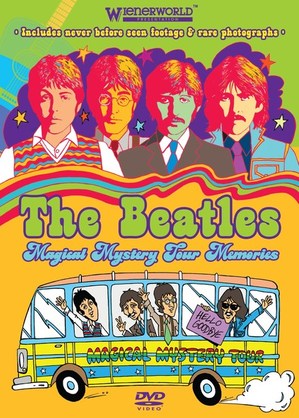 Our Ottawa Beatles Site researcher, John Whelan, reviews the new
"Magical Mystery Tour Memories" DVD
Click here to read the review.

September 27, 2008
My magical mystery tour: Sir Paul McCartney's return to Israel

Last week Sir Paul McCartney returned to Israel, four decades after The Beatles were banned. Here, with comments by Sir Paul, is the pick of his portfolio. And, left, Donald Macintyre reflects on a diplomatic triumph

by Donald Macintyre

It started with an act of contrition in January when Ron Prosor, Israel's ambassador to Britain, apologised for Israel's "missed opportunity" when it banned The Beatles from the country in 1965. It ended in Hayarkon Park on Thursday night with an excited Tel Aviv audience feeling self-evidently better about themselves, thanks to a Paul McCartney trip 43 years late.

Sir Paul had prepared for the visit with an attention to detail few other superstars would have matched. It was not just the Hebrew patter he painstakingly learnt; it was also a canny ability to steer his way through the hypersensitivities of a visit that might have gone badly wrong.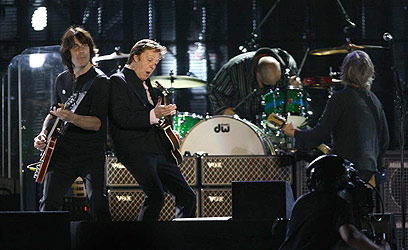 McCartney: "When I was told there was a concert in Tel Aviv I was looking forward to it. I've never been to Israel and the Beatles were banned originally, but I was conscious of the Jewish-Palestinian conflict."

He had the nous – faced with Maccamania in the Israeli press as well as official boasts of a PR coup, and denunciations by Palestinians in favour of a cultural boycott – to visit the West Bank. And he was flexible enough to take last-minute advice from the British consulate to avoid a potential demonstration clouding his planned visit to Ramallah by travelling instead to Bethlehem to visit children at a music academy named after the late, great Palestinian nationalist and intellectual Edward Said.

According to the British official who was with him when he met the children, he couldn't have handled it better. Happening on a little girl clutching a violin and close to tears from the shock of a VIP invasion, he took the instrument from her, made a horrible noise with it and told her she could obviously play it much better than he could; emboldened she began to play her piece. Unaffectedly he refused an offer of tea and cakes out of respect for the Muslim Ramadan fast.

It turns out too that the lapel badge he sported at Thursday night's concert was that of One Voice, a joint Israeli-Palestinian organisation committed to a two-state solution, and whose Israeli representatives he took the trouble to meet on Thursday afternoon.

So when on Thursday night he led a vast crowd – for Israel – in John Lennon's song "Give Peace A Chance", he had actually thought about the meaning of a message to which an audience in the most liberal city in Israel was well attuned.

When, having used the old Hebrew greeting Shana Tova to wish his Israeli audience well for the Jewish New Year next week, he added in Arabic the also venerable "Ramadan Karim", the cheers were almost as loud. Sir Paul will know well enough by now that it is not this Israel, the one on display in Hayarkon Park, that needs to be convinced by his message of peace. But it seemed mighty glad to hear it all the same.

Paul McCartney in Bethlehem, West Bank

"When I was told there was a concert in Tel Aviv I was looking forward to it. I've never been to Israel and the Beatles were banned originally, but I was conscious of the Jewish-Palestinian conflict. So I said I would like to try to come to Palestine while I had a few days ... Rather than staying in England and saying 'oh yeah, too bad about that lot'. I've been here now and I'm getting a better understanding."

Inside the Church of the Nativity, Bethlehem

"I enjoyed going into Palestine. Israel's a beautiful country, driving down to Jerusalem was a great drive. Being in Jerusalem was very special just because of the history. Then going through the wall was kind of quite special, but in an edgy way. You don't like to see things like that exist in the world – it reminded me of the Berlin Wall."

Speaking to the press in Tel Aviv ahead of the concert

"My little bit is to try to bring people together through music ... It seems to me that most of the people are quite moderate and would like a solution. They would like peace like most people in the world ... They want the governments to decide quite quickly on two states, on two nations rather than this conflict. They want it to work so they can both be separate and peaceful."

With pupils at the Edward Said National Conservatory of Music, a school in Bethlehem

"We were due to go to a music school in Ramallah but a lot of people found out and there was a demonstration so the security people banned me from going there. We were very lucky to come here to Bethlehem to visit this music school ... It's great to see the effort here. The whole policy is to bring people together through music. That's what I hoped to see when I came here. I'm really glad we didn't just turn back and stay in Israel. We came through the checkpoint and got a little idea of what's going on."

Entertaining pupils at the Edward Said National Conservatory of Music

"Kids are the same the world over so it was great to be with them and have a little bit of fun with them, just basically tell them I'm in the same boat, I was in music and we all want to live together peacefully."

At the Church of the Nativity, at Bethlehem in the West Bank

"I went to the church at the site of Jesus Christ's birth. That was great. It was very special to light a candle and just be there. It's a very special place."

Performing on stage during the "Friendship First" concert at Ganey Yehoshua Park in Tel Aviv

"I am always looking forward to gigs, particularly here, because it's been such a long time coming ... music is great for people. It's good for your soul. It is a great international voice for getting people together. I can go to Russia, I can go to Israel, I can go to Palestine – everyone understands music. We all love music, so it is important to me."

Copyright 2008 by the Independent. All Rights Reserved. Photo credit: Ynet music

Quick news pick: Sir Paul McCartney visits children's music school in Bethlehem -- from Paul's own MPL website there is a lovely write-up with photographs.

September 26, 2008
Macca hits number one in Tel Aviv
By Ron Prosor

Sir Paul McCartney made history last night when he performed in Israel for the first time. In a country that blends ancient history, spiritual symbolism and a dynamic, modern society, Macca was always guaranteed a magical mystery tour.

More than 100,000 crammed into Hayarkon Park for the occasion. That's 30,000 more than turned out for last week's Kadima Party leadership elections. It just goes to show that it's not only politics that makes Israelis tick.

As we celebrate the 60th anniversary of our state, Sir Paul's visit was the icing on the cake. In Tel Aviv, even the city's world famous nightclubs shut up shop for the night. They're usually open eight days a week, but last night the entire city was focused on the arrival of a living legend. We had waited 43 years.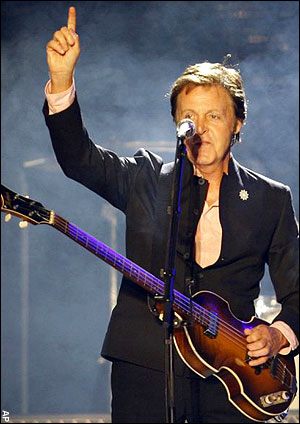 In 1965 Israel missed an opportunity to host the Beatles. The government thought the Fab Four might have a damaging impact on the nation's youth. That attitude seems bizarre now, but at the time politicians could hardly have imagined the cultural impact that rock music would have in Israel and throughout the world. Back then, a yellow submarine sounded like a security threat and strawberry fields were found on a kibbutz.

Earlier this year, I decided to do what I could to put right this historic wrong. On a visit to Liverpool, I sent Paul and Ringo a belated invitation. When news came through that Sir Paul was going to take up the offer, it felt like the past and present had come together and we could finally let it be.

Macca's music has had a colossal impact in Israel. He was met last night by a passionate, savvy crowd. It included grandparents denied the chance to see their hero four decades earlier, and the children and grandchildren they brought up on a diet of hummus, falafel and rock 'n' roll.

Our government might have once closed their doors to the Beatles, but the Beatles threw Israel open to new sounds, new trends and new ideas. Since then, the Israeli public has embraced British music with relish.

Israel's receptiveness to western culture has inspired our own musicians too. Israeli music is a cocktail of East and West, taking influences from every corner of the globe. It includes Jewish musical styles from Eastern Europe, Ethiopia, North Africa and the Middle East, blended with a pop sensibility. Israel's Arab population adds its lyrical and melodic tradition to the mix. Our large Russian community brings its passion for the more classical.

Israel has more symphony orchestras than countries ten times our size. At the other end of the scale, we've won Eurovision three times. Not bad for a country of 7 million people.

Today, the 1960s generation are the elder statesmen, while the country's youth absorb and create new trends. Israeli nightlife is world renowned, playing host to some of the world's best DJs. In a classic mix of styles, we even boast the world's foremost hip-hop violinist.

We've come a long way since the days when the Fab Four were considered a threat to public order. Israel is an open, diverse and creative society with a culture based on freedom of expression.

Sir Paul will have seen with his own eyes a society that's ready for the 21st century. Israel is on the cutting edge. Our scientists are among the world's finest, developing and inspiring technology to meet the needs of the future.

Of course we continue to face challenges. The quest for peace in the Middle East is a long and winding road. The journey will be smoother if people from around the world engage with the societies in the region to celebrate the shared passions that unite us all.

Sir Paul McCartney has done exactly that. I hope his long awaited performance will have sent a message to Israel and our neighbours that we can work it out.

Ron Prosor is Israel's ambassador to the UK

Copyright 2008 by The Telegraph. All Rights Reserved.

September 25, 2008
McCartney wows fans with historic Israel concert
By Allyn Fisher-Ilan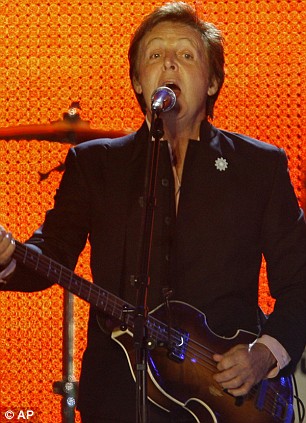 TEL AVIV (Reuters) - Paul McCartney gave his first concert in Israel on Thursday before tens of thousands of cheering fans, 43 years after the Beatles were barred from singing there because of fears they could corrupt youngsters.

Security was tight at Yarkon Park in Tel Aviv and media reports in Britain said an Islamist militant had threatened the ex-Beatle, while some Palestinians urged him to cancel his trip over Israel's occupation of the West Bank since 1967.

The 66-year-old ignored the demands, but delighted Palestinian fans during his visit to the region when he went to the West Bank city of Bethlehem, lit candles at the Church of the Nativity there and wished for peace for Palestinians.

McCartney opened the Tel Aviv gig with Beatles song "Hello Goodbye," and addressed the 40,000 fans in Hebrew and Arabic as well as English throughout the evening.

"Shalom Tel Aviv!" he said, using the Hebrew word for "peace" and "hello." The ex-Beatle also wished the crowd a happy new year in Hebrew ahead of Jewish celebrations next week and wished Muslims a good Ramadan, the month of fasting, in Arabic.

McCartney, who wore a dark suit over a pink shirt, dedicated Wings track "My Love" to Linda, his wife who died of cancer in 1998, and also paid tribute to late Beatles John Lennon and George Harrison.

Teenaged girls were reduced to tears and the crowd waved its arms in the air as the star performed some of his biggest hits during two hours of almost non-stop music.

Among the favorites were "Give Peace a Chance" and "Sgt. Pepper's Lonely Hearts Club Band," the closing number.
McCartney's visit to Israel prompted a fresh wave of Beatlemania, with radio stations playing the band's tunes almost non-stop in the past few days.

"Even just a quarter of the Beatles is awesome to see," said 16-year-old Gaya Yona before the concert.

Ilan Yacobovich, 55, added that the gig made up for the Beatles ban of 1965.

"That was a screw-up when I was a kid. I'm here to rectify that -- this is our compensation," he said.

Israel's brusque rejection of a request by the Beatles to perform while at the height of their career was long attributed to Golda Meir, the grandmotherly prime minister who was said to have denounced them as a "corruptive influence."

But Israeli culture historian Alon Gal said documents show it was a defunct culture panel, not Meir, that made the decision after youthful crowds were unruly at an appearance in the early '60s by British rock star Cliff Richard.

Israel's ambassador to Britain apologized in January for the cold-shoulder to the Beatles. He invited McCartney and the other surviving Beatle, Ringo Starr, to perform in Israel.

During his visit, McCartney was mobbed by reporters as he visited some of the region's holiest sites.

"All we need is peace in the region and a two-state solution," McCartney told reporters and tourists outside the Bethlehem shrine revered as the site of Jesus's birth.

"I am bringing a message of peace and I think that's what the region needs. It's my own small way I can bring my message."

Copyright 2008 by Reuters. All Rights Reserved.

From the BBC: Video of Paul performing "Give Peace A Chance" in Israel.

Fab McCartney wows Israel
By DAVID BRINN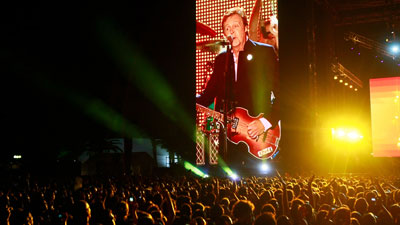 Forty-three years after The Beatles were first denied the chance to perform in Israel, Paul McCartney rocked a near-full capacity crowd of 50,000 Thursday night at Yarkon Park in Tel Aviv.

Slideshow: Sir Paul in Israel Whatever reasons were behind The Beatles' aborted 1965 arrival here, they were immediately forgotten as soon as McCartney, playing his trademark Höfner bass guitar, burst into his first song, "Hello, Goodbye."

The fans who filled the park, both standing in front of the stage and in the more expensive bleacher seats, stood throughout the show as McCartney and his four-piece band played a generous selection of Beatles songs, including "Drive My Car" and "All My Loving," as well as solo hits like "Jet" and "My Love," which he dedicated - in Hebrew - to his late wife, Linda.

The show, which lasted nearly two-and-a-half hours, included two encores which featured songs like "Yesterday," and "The End," from Abbey Road.

After the second song, McCartney spoke to the audience and said, "Shalom, Tel Aviv, Shana Tova, Ahlan!"

"I will also speak some English tonight," he added.

There was a carnival atmosphere around the park, with vendors, picnickers and even a Habad tefillin station greeting arrivals. Early arrivals were treated to an informal McCartney sound check as they waited outside the gates.

McCartney performed renditions of "I'll Follow the Sun," "The Midnight Special," and "Something," by former bandmate George Harrison, which he played on a ukelele.

The crowd was a heterogenous mix of older, middle-aged and young fans, both secular and observant.

Moshe, 30, from Ma'aleh Adumim, said he only decided at the beginning of the week to attend the show. "I've been a Beatles fan for as long I can remember. I hesitated at first, but ultimately it was something I could not pass up," he said.

Coren Feldman, 15, from Beit Shemesh, said he had been visiting family in the US when he heard that tickets went on sale. He immediately called his father back in Israel and begged him to buy his ticket. "My dad used to play Beatles music all the time, it's what I've grown up with," he said.

He said he hoped McCartney would play his favorite Beatles song, "Back in the USSR."

Feldman's friend, Yaniv Kopelewitz, 12, from Jerusalem, said he got hooked on The Beatles last year when he began taking guitar lessons. "My teacher gave me a CD of theirs and I can't stop listening and learning songs. I think Paul had a better voice but John had better lyrics."

McCartney gave strollers a treat in Yarkon Park earlier on Thursday when he performed a short sound check and rehearsal.

While the concert site was closed off, passersby could hear the former Beatle, armed with his acoustic guitar, run through a number of songs including "Get Back," "Let it Be" and "Here, There and Everywhere."

Contrary to Hebrew press reports, McCartney did not tour Jerusalem's Old City on Wednesday. But it was revealed on Thursday that before travelling to Bethlehem, he visited the Edward Said National Conservatory of Music in Beit Sahur, to the east of Bethlehem. Together with his American girlfriend, Nancy Sewell, McCartney brought T-shirts as a gift for the students, aged five to 12.

"His team felt that even though there was no sign of a security risk in Ramallah, it wouldn't be the best atmosphere to meet children in," said a British diplomat who accompanied McCartney and Sewell.

"The visit to the school was wonderful," the diplomat said. "I've dealt with all sorts of VIPs and I've never met someone who was so effortlessly gracious and relaxed.

"When we got to the school, there were 20 children in a music theory class, and he went right in and sang 'do, re, me' with them. Then, next door, there was a girl about 12 years old having a violin lesson. She started off okay and then you could see she was getting nervous and close to crying. Paul took the violin and made some scratching noises with it, and told her, 'See, I'm much worse than you.'"

According to his spokesman Stuart Bell, McCartney's visit to the school lasted an hour and he sat in on music lessons, jammed with the students, and talked to the teachers about the importance of using music as a gateway to tolerance.

In the garden of the school, he entertained the students with a song on the harmonica.

The visit, arranged by the British Consulate in Jerusalem, was originally intended for the school's branch in Ramallah. But evidently Palestinians who were angry at McCartney for performing in Israel got wind of the visit and began staging a protest outside the school. At the last minute, consulate officials decided to transfer the visit to the Beit Sahur branch of the conservatory.

McCartney also met with representatives of OneVoice, a grassroots group working for a peaceful resolution of the Israel-Palestinian conflict. At the meeting, McCartney said he would perform with a OneVoice pin on his lapel and added: "I'm not a politician, I just want to bring a message of peace."

Copyright 2008 by the Jerusalem Post. All Rights Reserved.

Tight security for Sir Paul

London - Sir Paul McCartney will be surrounded by 5 000 security guards when he performs in Israel on Thursday.

The £1.5m ($2.6m) security cordon - consisting of police, agents from Britain's MI6 and members of Israel's Mossad intelligence organisation - will protect the former Beatle during his concert in Tel Aviv after Muslim extremists issued death threats against him.

"No one is taking anything for granted. The level of security is more than we've ever seen. Everything is being done to ensure that this passes without incident," said a source.

The 66-year-old musician is staying in the city's plush Dan Hotel with girlfriend Nancy Shevell - and 21 suites surrounding his room have also been booked at a cost of £70 000 ($123 000) to ensure no one can get close to him.

"Only security and a handful of Paul's entourage will be near him. Everything is tailored to ensure he is 100% safe," the source added to Britain's Daily Mirror newspaper.

High security on arrival

Paul and Nancy arrived in Israel on Wednesday and were surrounded by security from the moment they left their plane.

The couple later visited a music school, where Paul chatted with children and staff before performing a few songs for them.

They then headed to Bethlehem's Church of Nativity, but a planned trip to the city of Ramallah was cancelled because it was considered too much of a security risk.

Paul was warned by Islamic extremist Omar Bakri "if he values his life" he should stay away from Israel's 60th birthday celebrations, but he refused to give into the threats.

"Any high-profile event brings some worries but I have a very good team of people. I think most people understand that my message is a global and peaceful one," he said.

"My mission, if I have one, is humanitarian, and concerns all people, not just a few."

His concert comes more than 40 years after the country banned The Beatles fearing they would corrupt its young people.

The band was scheduled to appear in 1965, but after claiming their music might have a negative influence on the morality of the nation, the government refused to grant them permits.

Copyright 2008 by Showbiz.com. All Rights Reserved.

Macca meets with two-state solution group

TEL AVIV, Israel (UPI) -- Young Israeli leaders from the OneVoice Movement met Thursday with British rock 'n' roll icon Paul McCartney in Tel Aviv, the group said.

In support of the movement's mission to empower ordinary Israelis and Palestinians to push for peace and a two-state solution, the group said McCartney promised he would wear a OneVoice pin on his lapel during his first concert in the country Thursday night.

Although McCartney was asked by some groups to cancel the concert in protest of Israel's occupation of the West Bank, he declined to do so, stating his visit was meant to spread a message of peace and explaining he wanted to see what was going on in the region for himself.

At Thursday's meeting with executive staff from OneVoice Israel and 10 youth leaders, McCartney said: "My father told me that regular people don't like wars and don't want conflict. I'm not a politician -- I just want to bring a message of peace. In every place I perform I see that people want the same thing."

McCartney made a trip to the Palestinian city of Bethlehem Wednesday, bringing his message of peace to Palestine, as well, OneVoice said.

Copyright 2008 by United Press International. All Rights Reserved.

September 24, 2008
McCartney in Bethlehem: I'm carrying peace message
By BERNAT ARMANGUE

BETHLEHEM, West Bank (AP) — Paul McCartney said Wednesday he's carrying a message of peace for Israel and the Palestinians, rejecting criticism of his planned concert in Tel Aviv. McCartney toured the West Bank town of Bethlehem, visiting the Church of the Nativity, built over the traditional birthplace of Jesus.

The 66-year-old former Beatle ducked into the fourth-century church through its low, narrow entrance, taking pictures with a small camera. He lit two long, tapered white candles in different parts of the church, saying each time that they were "for peace."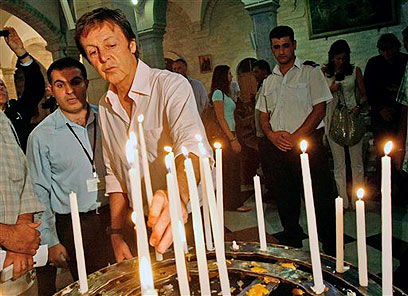 After posing for pictures with fans outside the fortress-like church, McCartney was asked to respond to criticism from some Palestinians that his visit to Israel supports its occupation of the West Bank.

He said his visit Wednesday to the West Bank showed he was not playing favorites.

"I'm here to highlight the situation and to say that what we need is peace in this region, a two-state solution," he said, referring to Israel and a Palestinian state.

"I get criticized everywhere I go, but I don't listen to them," McCartney said. "I'm bringing a message of peace, and I think that's what the region needs."

McCartney arrived Tuesday night ahead of his concert Thursday in Tel Aviv's largest park.

Four decades ago the Israeli government banned a planned concert by the Beatles, ruling that the rock group's performance could corrupt the morals of Israel's youth.

Copyright © 2008 The Associated Press. All rights reserved.

Beatlemania grips Israel, four decades late

In 1964, Israeli officials shunned the Beatles, embarrassing the nation. When Sir Paul McCartney takes a Tel Aviv stage Thursday, he'll relieve Israel of 44 years of cultural baggage.
By Joshua Mitnick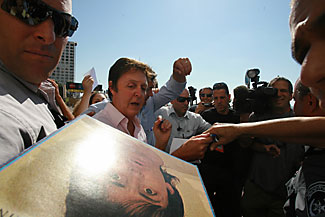 Clutching a Paul McCartney album outside the Dan Hotel, Daniel Ayaloff peers through a giant window to glimpse visiting rock royalty.

"I was hoping to get a signature, but it would be enough to see him close up," he says, after lifting up a sleeve to reveal a Beatles tattoo. "This is a dream."

As if operating on a four-decade delay, Israel has been seized with Beatlemania, which will culminate Thursday when Sir Paul plays Tel Aviv's Ha Yarkon Park.

The city's other music clubs will close so as not to compete, traffic jams are expected, and websites have reported every detail of Sir Paul's hotel accommodations, down to where his hummus was bought. The Israeli foreign ministry has hailed the concert a diplomatic coup d'état for a nation that has faced cultural boycotts for its conflict with the Palestinians.

"This is a really big deal. I can't think of a comparable cultural event in Israel," says David Horovitz, the editor of the Jerusalem Post, who says Sir Paul culminates a gradual lifting of cultural isolation for Israelis.

During the years of the recent Palestinian uprising, no major musician came to Israel citing security concerns. The gradual return of top acts such as Sting and Roger Waters reassures Israelis they are a part of the global community.

What's more, the show will relieve the Jewish state of four decades of cultural baggage. In 1964, the breakout band from Liverpool was scheduled by their Jewish manager, Brian Epstein, to play a date in the new Middle Eastern state.

But Prime Minister David Ben Gurion, wary of the band's effect on Israeli youth, nixed the gig. (Historians have claimed the rejection was more a result of a turf war between rival promoters.)

The rejection of one of the 20th century's most influential pop acts has embarrassed Israelis since. This year, Israel's ambassador to Britain sent an apology to Sir Paul and implored him to play Tel Aviv for Israel's 60th birthday.

"The decision of McCartney to visit Israel goes beyond the realm of music," wrote Ambassador Ron Prosor in the Maariv newspaper. "It will give us a rare chance to show the world a different face: cultural, serene, and civilian, which isn't linked to politics and conflict."

When the original gig was canceled, Israel was a socialist and parochial place, still trying to fashion a common culture among refugees. "We would do everything in Hebrew," says Tom Segev, an Israeli historian. "This is why the Beatles looked so outrageous and dangerous."

Israeli culture today is post-ideological, where celebrities overshadow politics. That explains the local obsession with everything Sir Paul – from the price of the tickets (about $130) and the broadcast rights to a debate on the Internet about whether this Beatle isn't just another aging rocker who has long since lost his mojo.

"Some people regard this as closing a circle," says Mr. Segev. "It is as if we have grown up. We can enjoy the Beatles now."

Copyright © the Christian Science Monitor (from the September 25, 2008 edition.) All rights reserved.

Israel's in love with Paul, and it feels fine
By Jeff Abramowitz

Tel Aviv - It's taken over 40 years but Beatlemania has finally hit Israel.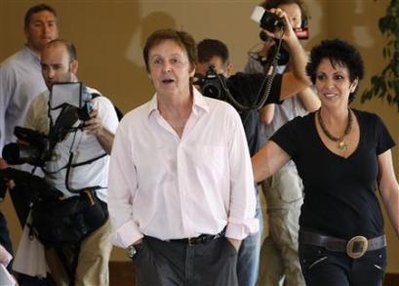 Paul McCartney is to give a concert in Tel Aviv Thursday, but what is only a day in the life of a rock icon is regarded in Israel as one of the biggest cultural events in the country's history.

In advance of the concert, McCartney has been given unprecedented coverage in the media for a musician, with interviews appearing in newspapers and on television, and radio stations playing his songs almost non-stop.

Even Israel Radio's daily 'Golden Oldies' hour, with oldies at best usually only gold-plated, has gotten in on the act, playing only Beatles and McCartney songs.

Less in tribute than because they know the futility of trying to attract an audience when McCartney is playing just down the road, most of Tel Aviv's clubs will be closed on Thursday night, or not hosting live shows.

The concert has sparked fears of one of Israel's biggest-ever traffic jams, prompting police to urge people to arrive at the concert by public transportation, and the Jerusalem Post to inform its readers: 'Baby, you can't drive your car.'

News that McCartney intended playing in Tel Aviv did not pass without controversy, with pro-Palestinian groups calling for him to boycott Israel. Radical Islamic preacher Omar Bakri was even quoted as saying that 'if he values his life, Mr McCartney will not come to Israel.'

But McCartney brushed off the threats, telling the Jerusalem Post laconically, 'You have to realise that any high profile event brings with it some worries.'

'My mission,' he said, 'is humanitarian, and concerns all people, not just a few.'

'I'm always interested in visiting places I've never been to before, just as a tourist,' McCartney told the Israeli daily. 'The offer of a gig (in Israel) came up ... I'd like to go there and see what's what.'

McCartney could have done so 43 years ago, but the Israeli government refused him and the other three members of the band the opportunity.

A proposed Beatles concert in the Jewish state in 1965 never took place, in part due to a dispute between the concert promoters, and in part because the Israeli government of the day would not allow them in.

In an example of poor judgement which ranks with Decca Records refusing to offer the Beatles a recording contract because 'groups with guitars are on their way out,' the Israeli government ruled that the four musicians who would become the world's most famous and most influential rock group 'had no artistic merit.'

The government also justified its decision by noting that their performances 'caused hysteria and mass disorder among young people.'

'We thought it was quite amusing really, being banned', McCartney said. 'We took it as fun, it didn't really worry us, we just went off and played somewhere else. Our manager, Brian Epstein, who was Jewish, was, I think, more insulted than we were.'

In January this year, Israel finally admitted 'I should have known better' and ambassador to Britain Ron Prosser delivered formal apology for the cancellation of the 1960s concert.

The company selling tickets for the event refused to tell Deutsche Presse-Agentur dpa how many have been sold. Media reports however said the concert in Tel Aviv's Yarkon Park will be attended by over 35,000 people - more than the number who voted in last week's elections to choose a new head of the ruling Kadima party, but fewer than hoped for.

Tickets range from around 140 dollars each, to 440 dollars for special seats, to 1,400 dollars for the VIP enclosure.

Most Beatles fans were not deterred by the price, while others, for whom the Beatles are merely another ex-rock group, are not as enthusiastic.

'I'm not paying all that money to see an aging ex-Beatle,' one Tel Aviv resident, not yet 40, sniffed disdainfully.

Jerusalem Post correspondent David Brinn estimated that the concert will be attended by people over 45 years of age, for whom the group provided the soundtrack to their lives, and by people under 25, whose parents exposed them to Beatles music at an early age and 'either these kids got it, or they became Metallica fans.'

Sometimes, however the forced exposure worked only too well.

'I'm not attending the concert,' the 24-year-old daughter of an avowed Beatles fan told dpa, 'unless he brings the other three with him.'

Copyright © 2008 Deutsche Presse-Agentur. All rights reserved.

Tel Aviv is gearing up for a landmark concert by Paul McCartney on Thursday night

Tel Aviv is gearing up for a landmark concert by Paul McCartney on Thursday night.

Most Tel Aviv music clubs are either planning to close or will not be hosting live acts on Thursday night in preparation for the former Beatle's first gig in Israel, expected to draw some 50,000 fans.

Police have urged people to travel by public transport amid massive security laid on for the singer, accompanied by a 100-strong entourage, including a private chef.

He will be staying in the Presidential suite of the Dan Hotel.

Copyright © 2008 the Jewish Community On-line. All rights reserved.

Irish University honours Beatles producer

Beatles producer Sir George Martin will be recognised by an Irish university for his lifetime contribution to the world of music as a producer and arranger.

Sir George will be given the James Joyce Award by University College Dublin's Literary and Historical Society on Friday. He joins other celebrities honoured including Hollywood star Will Ferrell, author JK Rowling, and actor Ralph Fiennes.

The award is named after one of the society's most notable alumni and is presented to individuals who have achieved considerable success in the course of their lives and careers. Every Taoiseach and President has addressed the society since it began.

Copyright © 2008 the Press Association. All rights reserved.

September 23, 2008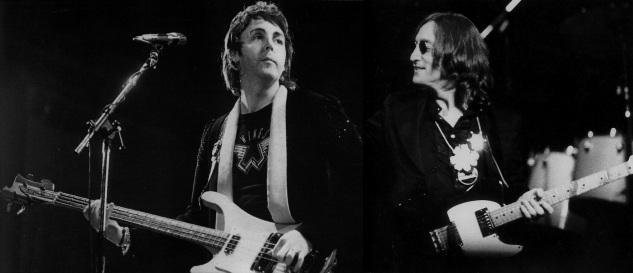 Paul follows John's footsteps as an "ambassador for peace" in his upcoming concert in Israel: "The world knows about the conflicts that have been in that region and I like to think that if I go to a place it becomes evident that my message is a peaceful one and I hope that the idea will spread." -- Paul McCartney, September 19, 2008.

Give Paul a chance

The Beatle's concert will remind Israelis how much their country has changed

Israel refused the Beatles permission to perform in 1965 because it feared that Beatlemania might corrupt the nation's youth. Now it has relented.

So when Sir Paul McCartney performs in Tel Aviv tomorrow it could be seen as just another pop concert, if a very belated one. But the event also helps us to gauge just how much Israel, and the world about it, has changed.

Today we may swoon to recall a time, barely four decades ago, when the biggest perceived threat to our children might be a surfeit of pop music and long hair. Sir Paul's concert is a measure of how far Israel has relaxed, modernised and embraced Western cultural freedoms.

And when the Israeli Ambassador to Britain, Ron Prosor, apologised this year for snubbing the Beatles and explained that Israel now wished to "rectify a historic missed opportunity", he reminded us that it is never too late to say sorry.

Sir Paul's determination to proceed with the concert in the face of a reported threat by the radical Muslim cleric Omar Bakri Mohammed that he risks being attacked by suicide bombers is a reminder of the sheikh's barbarism. It is also a show of courage by a singer who says he is not political, but believes in music's power to heal.

Meanwhile, threatened protests at the venue by Israeli right-wingers provide a reminder that Israel is not yet free of its own extremist rump.

Tomorrow's performance is also a moment for Sir Paul to make a loyal nod to many Jews who have shaped his life, from his late wife Linda, and his lawyer and the Beatles' manager Brian Epstein, to the band's song publisher. It is also, of course, a tribute to the joy that Beatles music still brings.

Or you could just see it as another pop concert.

Copyright © 2008 The Times Online. All rights reserved.

Analyze This: How McCartney could rock Ahmadinejad's world
By CALEV BEN-DAVID

It's probably safe to say that Paul McCartney, performing here this week in defiance of radical Islamist threats, won't be following up any time soon with a similar appearance in Iran.

But McCartney and The Beatles have apparently left their mark on that country.

"I first heard of the Beatles sometime around 1964, when I was a sixth-grader in Teheran," wrote Iranian-American émigré Mehrdad Mehdizadeh in 1996; "I remember all the sensation about The Beatles, or 'Beatelha,' as we called them. Then when I went to high school, the whole Beatles thing became even more intense. We lived through most of those years with talk of The Beatles, and exchange of their 45s and LPs and sheet music. Very soon Beatles-imitation bands formed in Teheran."

"At some time in that amazing era, probably in 1966, Paul McCartney himself made a short, live appearance on Iranian national TV. Apparently his plane had a stop-over in Teheran and he agreed to come to the TV station and give a short interview."

Such a thing is of course impossible in today's Iran; no Western pop star has been permitted to perform there since the Islamic Revolution of 1979.

The spirit of rock, though, apparently hasn't been entirely doused in the land of the mullahs. Just last June, Time magazine, in an articled titled "Rock me, Ahmadinejad," profiled the underground rock scene stirring in Iran despite the heavy hand of official censorship, reporting: "Radio runs government-approved pop music, but independent rockers and rappers have thus far failed to receive permits for concerts or album releases."

Iranian President Mahmoud Ahmadinejad and the radical Islamists keeping an iron grip on their country have good reason to fear the rebellious spirit of rock 'n' roll. The liberating messages contained in the rhythms and lyrics of the best pop music have posed a threat to repressive social structures and strictures for more than a half-century now, even getting credit on occasion for contributing to the downfall of repressive governments such as the former Soviet Union and its satellite regimes in Eastern Europe.

As McCartney touched down in Israel to bring his musical message of peace and love to a part of the globe where those qualities are too often in short supply, Ahmadinejad was making his own appearance at the opening of the UN General Assembly, singing his usual tune of violence and hate - especially directed to the Jewish state.

In deciding to perform here in the face of protests by those who think like Ahmadinejad, McCartney told The Jerusalem Post last week: "I think that most people understand that I'm quite apolitical and that my message is a global one and that it is a peaceful one."

Not everyone. That McCartney's belated appearance here spurred threats against the former Beatle by those who call for Israel to be singled out for exceptional condemnation, is merely a less serious, but no less troubling, sign of a time in which an Ahmadinejad is feted at the UN and given use of the General Assembly podium as stage for his anti-Semitic Holocaust denials and threats against the very existence of the Jewish state.

In some fairly dark times during the height of the Cold War, McCartney and the Beatles spoke to and for their generation in declaring "All You Need is Love."

Decades on, the charming naiveté of that message has lost none of its optimistic appeal - even though the generation that first sang along with that tune has since learned all too well that neither love alone, nor any words or music on their own, are sufficient to turn back intolerance and hate, especially when they are elevated to national policy.

It will certainly take more than such noble sentiments to blunt the threat that an Ahmadinejad poses not only to this country, but to other states in this region, the free world as a whole, and most of all to his own oppressed people, especially if he gets his hands on nuclear weapons.

Still, Paul McCartney's long-awaited arrival here is far more than a show-biz story, and helps provide this nation's people with a sense of normalcy that Ahmadinejad will do his best to upset this week in New York.

But the temporary relief McCartney will provide us from some of the other, more distressing, headlines of the week, will only become permanent if and when he is finally permitted to make a return trip to Teheran - and this time with the chance to sing at least a few of his silly love songs.

Copyright © 2008, the Jerusalem Post. All rights reserved.

Quick Beatles News Picks: Rare Beatles Tape Surfaces in Hamilton -- by Daniel Nolan for the Hamilton Spectator; Yoko Ono to shed light on her art at London fair -- by Louise Jury for the Evening Standard; Is it McCartney or is it an imposter? (Yarden Uriel comments on the Paul is dead hoax) -- by David Brinn for the Jerusalem Post; Ex-Beatle McCartney to hold press conference ahead of TA concert -- by the Jerusalem Post.

September 22, 2008
Truth after 42 years: Beatles banned for fear of influence on youth

· Cliff Richard's concert had shocked Israel authorities
· State launched global investigation into group

by Toni O'Loughlin in Jerusalem The Guardian

Forty-two years after Israel banned John Lennon, Paul McCartney, George Harrison and Ringo Starr from playing to the nation, the truth about its Beatlephobia has finally been revealed.

Still reeling from the sight of Israeli teenagers swooning to the tunes of Cliff Richard in 1963, Israel's publicly appointed guardians of good taste and morality, the interdepartmental committee for authorising the importation of foreign artists, refused their entry.

Determined to prevent another outbreak of mass hysteria, the 13 member committee of politicians and civil servants whose job it was to assess the artistic merit of foreign acts resolved to be "vigilant".

As a result, the 1964 request to bring to Israel, the Rhythm Beatles - as they were called in Hebrew - was roundly rejected in the committee's resolution 691, which reads: "Resolved: Not to allow the request for fear that the performances by the Beatles are liable to have a negative influence on the [country's] youth."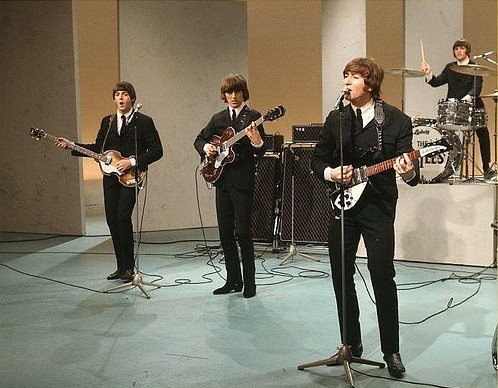 The promoters appealed against the decision, so the committee launched a global investigation of the awesome foursome.

After soliciting information from Israeli embassies and the foreign ministry's cultural relations department, it discovered that the world was afflicted with Beatlemania.

Israel's media lambasted the group, urging the committee to protect the nation's youth as Cliff Richard had already given them "a bad name". One paper reported that committee members had been listening to the "yeah-yeah-yeah howls which are capable of striking dead a real beetle".

Another reported the head of the education ministry as saying: "There is no musical or artistic experience here but a sensual display that arouses feelings of aggression replete with sexual stimuli."

At the conclusion of its inquiry, the committee wrote, in resolution 709, that it would refuse entry because "the band has no artistic merit" and its performances "cause hysteria and mass disorder among young people".

Several versions of the story, blaming the then prime minister, Golda Meir, a former education minister who had never heard of the Beatles, a jealous promoter who regretted turning down the Beatles for Richard, and even the finance ministry for allegedly refusing to allot the foreign currency required to underwrite the performance, have lingered.

But when the Israeli ambassador to Britain, Ron Prosor, gave an official letter of apology to John Lennon's half-sister this year, Alon Gan, a history professor at Tel Aviv University, was inspired to investigate.

Gan, who revealed the story in the daily newspaper Haaretz, one week before McCartney is due to perform for the first time in the country, said the true story was that "Israel in the early 60s was afraid that from the west would come a bad wind of sex, alcohol and rock'n'roll".

Copyright © 2008 The Guardian. All rights reserved.

Orillia's Beatles Celebration is music to ears of vendors, visitors
Posted By NATHAN TAYLOR, THE PACKET AND TIMES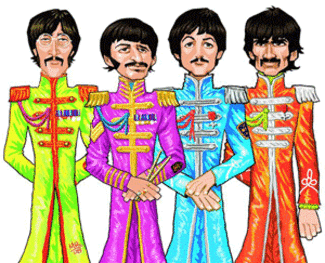 There's a place for Beatles fans and, apparently, it's Orillia.

Organizers estimated between 17,000 and 19,000 people attended the second annual Orillia Beatles Celebration on the weekend.

"This makes us, again, the biggest Beatles festival in Canada, by far," said artistic director David Goyette. "This positions us as an annual festival in Orillia."

After the inaugural event last year, attendees offered some friendly advice to organizers. One of the concerns was regarding vendors and displays being too far from the downtown core.

This year, it was pretty much all on Mississaga Street.

Being outside -- especially in such ideal weather -- worked out for the best for vendors, many of whom were reluctant at first.

"Every single one of them had increased revenue this year, and they all had big smiles on their faces," Goyette said.

Trevor Hosier once again brought his extensive collection of Beatles memorabilia from Lindsay. This year, his display was in the Opera House instead of at city hall.

"The numbers this year have far exceeded last year," he said. "It's been a real pleasure to take part again."

Hosier, who runs the Youngtown Rock and Roll Museum, started out collecting autographs and now has hundreds of artifacts from musicians from the 1950s to 1970s -- "the first three decades of rock 'n' roll."

Seeing such diversity among the crowd -- especially young fans -- was refreshing, he said. "There's a whole new generation of fans emerging with a real appreciation for the music."

While local festivals usually draw Orillians more than anyone else, that didn't seem to be the case with the Beatles Celebration. Event co-chair Ralph Cipolla said about 60 per cent of those in attendance were from out of town.

Organizers didn't focus the advertising on Toronto as much this year as they did last, which might have helped, said Goyette, who noted many people came from Northern Ontario and even outside of Canada.

Special guests at this year's event were May Pang, who once dated John Lennon, and Nancy Lee Andrews, a former model and ex-partner of drummer Ringo Starr.

Pang and Andrews both spoke to capacity crowds at the Opera House.

"We didn't expect such big crowds at the Opera House," said Cipolla. "We had to turn people away."

Celebrity guests will continue to be regular features, Goyette assured.

"It's what distinguishes our show."

Another plus, he said, is the fact all the performers are Canadian and "every one of them said, 'Can I come back?'"

Some downtown businesses reported record sales, which was great news, especially considering this time of year is the "off-season" in Orillia, said co-chair Pete Bowen.

"If we can bring in 17,000 people on a weekend in the offseason and each of them spend money here, the community is a huge benefactor," he said. "This has been a tremendous boon to Orillia."

Also benefiting from the festival were Habitat for Humanity and the campaign to establish a cancer care centre at Royal Victoria Hospital in Barrie.

Habitat for Humanity was the charity of choice this year, and they had a booth set up on the main street.

The cancer centre campaign will get the proceeds of a draw that was held Sunday at the Opera House. Three people -- from Dundas, Bobcaygeon and Oro Station -- won trips to Liverpool, England: home of the Beatles.

Copyright © 2008 The Orillia Packet and Times. All rights reserved.

September 21, 2008
Frieda Kelly: A fan's fab memories of Beatles' yesterdays

An excellent article on Frieda Kelly who was President of the Official Beatles Fan Club in Britain. To view the article with video trailer presented by the Liverpool Daily Post, please click here.

September 20, 2008
Why Sir Paul McCartney is willing to risk it all in Israel
By Geoff Baker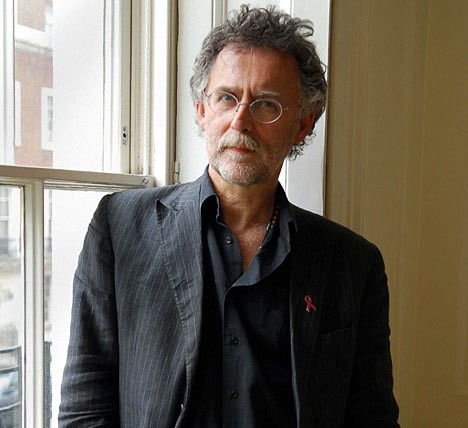 Geoff Baker states that Paul's aides "are finalising a protection strategy with the Israeli intelligence service."

Paul McCartney performs in Israel on Thursday for the first time. The concert in Tel Aviv will be a security nightmare and rival groups are playing tug-of-war with Paul's personal politics.

Because he is seen almost universally as 'one of the good guys', everyone wants to recruit him to their side.

Israel, which famously banned the 'decadent' Beatles in 1965, is billing the concert as part of its 60th anniversary celebrations.

Some Palestinian groups insist the event should not go ahead - and no one discounts the possibility of an extremist attempting a 'spectacular' to make a political point.

'I was approached by different groups and political bodies who asked me not to go to Israel,' Paul told the Israeli media. 'But I refused. I do what I think.'

Paul is no Zionist and nor has he ever spoken up for the PLO, but he is a pacifist and hopes the two sides take a hint from the title of the gig - The Friendship First Concert.

There is also a private reason for Macca's visit - it represents a nod of thanks to those of Jewish birth who were instrumental in helping to forge the Beatles phenomenon.

As a Beatle, Paul's manager, lawyer, song publisher and promoter were all Jewish.

Manager Brian Epstein's contacts were particularly useful for the band.

One such man was Dick James, who became The Beatles' song publisher, and who suggested the formation of Northern Songs, the company that made millions for Paul and John Lennon.

Another key player was Sid Bernstein, who helped cement Beatlemania in the United States thanks to the band's concerts at Shea Stadium in 1965.

And then there was Murray Kaufman, the DJ who championed songs such as I Want To Hold Your Hand.

The other Jewish friends in Paul's rise were the Eastmans, the family of entertainment lawyers headed by Lee Eastman, the father of Paul's late wife Linda.

Lee and his son John represented Paul from 1969 and it was through them that Paul bolstered his massive wealth by acquiring publishing rights to hundreds of other songs including the Buddy Holly catalogue. Paul is still represented by the firm.

And then, of course, there is Linda. Paul, will arrive in Israel on September 24, the date on which she would have been 67.

It would be astonishing if the couple's children - Heather, Mary, Stella and James - do not accompany their father.

Of course, this adds to the security risk, and Paul's aides are finalising a protection strategy with the Israeli intelligence service.

As Paul's former spokesman, I know that at all McCartney concerts, the TV news crews are fed one song which they can broadcast for free. But which song will Paul choose?

On the banks of the Mersey in 1990, Paul performed a tribute to Lennon in front of 70,000 fans.

Playing a medley that included Strawberry Fields Forever, Help! and Give Peace A Chance remains one of Paul's career highlights.

One newspaper said of that magical moment: 'We will probably not see its like again.' But on Thursday we just might.

Copyright © 2008 The Daily Mail. All rights reserved.




Drummer Pete Best no longer concerns himself over why he was let go from the Beatles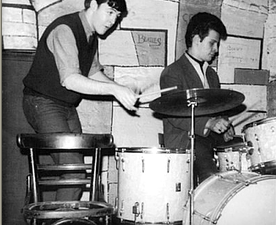 Paul McCartney and Pete Best at the Cavern in 1962


"I couldn't give two monkeys," Best said in an interview with Dave Richards of the Erie Times News when talking about his dismissal from the Beatles. "That's the last thing on my mind. I've lived my life without finding why. It doesn't really bother me. If I leave the planet without knowing why, I'll leave it to the historians to fight about when I'm long gone."

There are some more interesting comments on this historical look back on the Beatles from Pete Best that is really worth reading. To view the article, please click: Beatles' first drummer is beyond the 'what ifs' written by Dave Richards.

September 19, 2008
McCartney in peace hope for Israel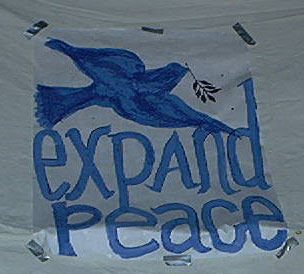 Sir Paul McCartney believes his controversial concert in Israel could spread peace in the region.

The Beatles were famously banned from performing in the country 43 years ago.

Sir Paul, 66, is giving his first concert in Israel on Thursday, despite reports that his children are "racked with worry" over apparent death threats made against their father.

The singer said on his website that he hoped his Tel Aviv concert would "reawaken" the idea of peace. He said: "The world knows about the conflicts that have been in that region and I like to think that if I go to a place it becomes evident that my message is a peaceful one and I hope that the idea will spread.

"It often does happen you know - you'll go to a place and it can affect the audience. It reawakens the idea - so that is definitely my message and when I am talking to people, that will be my message and I am sure it is a message shared by a lot of the audience too."

He added: "People ask this question through the years. 'Do you think music can change things?' I think it can. I think it's good for people's souls. I think without music it would be a seriously bad world, we would have more problems.

"Music can help people to just calm them down. I also think it can be very interesting for change. I always cite a John (Lennon) song Give Peace A Chance. If you watch the footage from back then, about a million people outside the White House chanting that song to Nixon inside the White House, I think that had an effect.

"On that occasion, obviously for them to have that song to portray how they were feeling I think was very important. So yes, I think it can change things.

"Songs like We Shall Overcome have been very important for the civil rights movement so yeah, I think music is great and it can make changes."

Israel banned the world's most famous band from performing in Israel in 1965, fearing it might corrupt their youth.

Copyright © 2008 Press Association. All rights reserved

Related link: Peace Symbol Turns 50.

September 17, 2008
APPLE CORPS LTD., CIRQUE DU SOLEIL PARTNERSHIP WITH THE BIGGER PICTURE WILL BRING 'ALL TOGETHER NOW' TO SCREENS ACROSS THE U.S. ON OCTOBER 20TH HOLLYWOOD, Calif.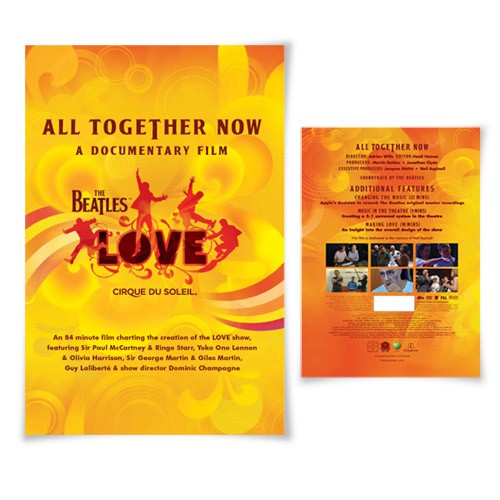 HOLLYWOOD, Calif., Sept. 17 /PRNewswire/ -- EMI Music has confirmed an October 21 DVD release of the feature-length documentary 'All Together Now.' The DVD will be available in US stores exclusively at Best Buy and at The LOVE Boutique at the Mirage in Las Vegas. In addition, Apple Corps Ltd./Cirque du Soleil will partner with The Bigger Picture, to bring the feature-length documentary 'All Together Now' to digital cinema audiences across the U.S. beginning on October 20th. The DVD and theatrical release follows acclaimed film festival screenings, including a sold out opening night U.S. premiere at the Silverdocs Festival in Washington, DC where the Washington Post observed that 'All Together Now' "cuts into the heart of [LOVE]." Albert Maysles calls the film "A perfect combination of the best of two worlds -- the Beatles and Cirque du Soleil."

View a trailer for 'All Together Now' here: http://www.beatles.com/core/love/documentary/clips/

'All Together Now' has screened at a number of festivals in the U.S. and across Canada in 2008, and accolades have followed. The film's U.S. debut opened the American Film Institute's Silverdocs festival in Washington, DC in June where Rolling Stone praised the film's sweeping visual style and "many insightful interviews." Screenings were as enthusiastically received at the CineVegas festival in Las Vegas, where it was called "remarkable" by Las Vegas Magazine, and the Hotdocs festival in Toronto, where Variety noted that 'All
Together Now' "wowed audiences."

The documentary details the story behind the unique partnership between The Beatles and Cirque du Soleil that resulted in the creation and 2006 launch of LOVE, the stage production still playing to packed houses at The Mirage in Las Vegas, and the experimental Beatles soundscape album of the same name which garnered two Grammy Awards for producers Sir George and Giles Martin. The film is dedicated to the memory of Neil Aspinall, former CEO of Apple Corps and an Executive Producer of the DVD.

'All Together Now' faithfully recounts how the LOVE project came into being, borne from the personal friendship between George Harrison and Cirque du Soleil founder Guy Laliberte. George saw how the twin talents of The Beatles' music and the artistry of Cirque du Soleil's artistry and could be fused into something new and totally original.

The director, Adrian Wills, traveled between London, Montreal, and Las Vegas recording early meetings between the Cirque du Soleil & Apple Corps Ltd. creative teams, as well as filming contributions from Sir Paul McCartney and Ringo Starr, along with Yoko Ono Lennon and Olivia Harrison discussing how The Beatles' music can be used in a different way. Noting the uniqueness of these interactions Wills explains, "What surprised me the most was how human the whole process was."

These early stages of the project were all filmed, as were the first rehearsals at the Mirage Hotel theatre in Las Vegas, which was completely rebuilt with a one-of-a-kind sound system and complex round staging to house the LOVE show. Sir George and Giles Martin, the show's Musical Directors, were involved every step of the way with the remarkable Cirque du Soleil creative team, performers and backroom staff.

It wasn't all "plain-sailing" and there has been no attempt to disguise some of the disagreements that took place along the way regarding how some of the songs would be portrayed visually. These creative differences, a necessary part of the overall process of bringing LOVE to its most vibrant life, illustrate the participants' love and respect for the music and vision of The Beatles.

In addition to their roles within the main film, Sir George and Giles, along with engineer Paul Hicks, also feature in a bonus feature titled "Changing The Music" which reveals in fascinating depth how the music was created and the challenges they faced. They explain how they sourced some of the individual instruments and effects and how they were encouraged to experiment.

DVD contents

'All Together Now' documentary (84:00)

Bonus Features:

-- "Changing The Music" (22:00): An in-depth look at the decision to
rework and remix the Beatles music for the show

"Music In The Theatre" (09:00): A look at the process of creating the LOVE
show's unique audio design in the theater

-- "Making 'LOVE'" (10:00): A backstage pass to explore the design of
LOVE, including the art direction, costumes, props, screen imagery and the use
of The Beatles' voices in the stage production and soundtrack.

DVD technical details
1 x DVD-9
PAL and NTSC
All regions

http://www.thebeatles.com

http://www.cirquedusoleil.com

SOURCE EMI Music



September 16, 2008
Paul McCartney to be guarded by Mossad on Israel tour

Seal of the Institute for Intelligence and Special Operations.

Mossad agents will guard Beatles singer Paul McCartney as he tours Israel later this month.

Thesun.co.uk reports that politicians have ordered a one million pound (nearly $2 million) Mossad operation to avert an attack by suicide bombers. There are reports that McCartney has angered Muslim fanatics by agreeing to the four-million-pound Friendship First concert to celebrate Israel's 60th anniversary.

A radical cleric Omar Bakri who is in exile declared McCartney as the "enemy of Muslims".

Copyright © 2008 Sifty Technologies. All rights reserved.

Ottawa Beatle Site footnote: Mossad (Institute for Intelligence and Special Operations) is the national intelligence agency of Israel which was formed on December 13, 1949 (under a previous name of the Central Institute for Coordination) and has a staff of 1,200 people.

September 15, 2008
Suicide bombers threaten McCartney
by Press Trust of India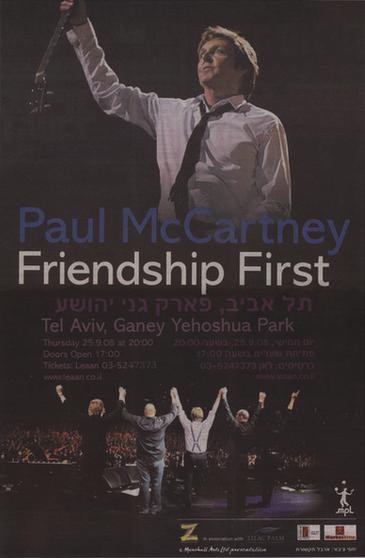 Islamic extremists have threatened to target Sir Paul McCartney with suicide squad for agreeing to play his first concert in Israel, a media report said today.

Omar Bakri, a Syrian-born cleric, said McCartney's decision to take part in the Jewish states 60th anniversary celebrations had made him an "enemy" of all Muslims.

Bakri, who made his weekly internet broadcast to fellow extremists from his home in Lebanon, where he has lived in exile since being banned from returning to Britain, said the former Beatle was "making more enemies than friends".

"Our enemys friend is our enemy," Bakri was quoted as saying by the Sunday Express tabloid today.

"Thus Paul McCartney is the enemy of every Muslim. We have what we call sacrifice operatives who will not stand by while he joins in a celebration of their oppression," he warned.

"If he values his life Mr McCartney must not come to Israel. He will not be safe there. The sacrifice operatives will be waiting for him," Bakri was quoted as saying by the British tabloid.

Lawyer Anjem Choudary, who last week chaired a meeting in London at which extremists claimed the next 9/11-style atrocity would be in Britain, said Sir Paul had allowed himself to become a propaganda tool for Israel.

According to sources, McCartney was shocked but refused to be intimidated. A spokesman for the former Beatle star said "Paul's Friendship First concert is about his music. Paul's is a message of peace."

"I was approached by different groups and political bodies who asked me not to come here. I refused. I do what I think and I have many friends who support Israel," McCartney told an Israeli media yesterday.

Copyright © 2008 Press Trust of India. All rights reserved.

September 14, 2008
Beatles Story unveils George Harrison's gold plated banjolele!
by the Beatles Story.com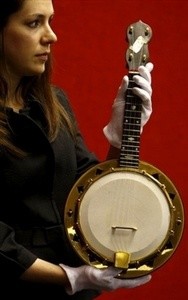 The banjolele (which has the body of a banjo with the neck of a ukulele) was sold at auction in June 2008 and has kindly been donated to the Beatles Story by a collector who wished this historic item to be on show and give pleasure to Harrison fans.

However, this magnificent instrument is shrouded in mystery, as staff at the Beatles Story, who found themselves investigating it's murky past, were soon to find out...

According to Bonham's catalogue the banjolele was the famous gold-plated banjolele used by '30s music legend George Formby. When Formby's estate was auctioned it was bought be Formby's brother. Eventually it was bought and played by George Harrison, a huge George Formby fan. When Harrison met Formby's nephew he felt the significant banjolele belonged with the Formby family and sold it back to him. But how significant was it?

According to the George Formby Society all is not as it seems. They believe that some skullduggery was in play. That the banjolele had been deliberately passed off as a Formby banjolele, long before it came into the hands of George Harrison, and that in fact the banjolele had never been owned by George Formby at all!

What is clear is that this wonderful instrument was not only owned but treasured and regularly played by George Harrison, in the belief that it had been Formby's. Of course, if anyone has any further information, the Beatles Story would love to hear from them!

Formby was a favourite of both John Lennon and George Harrison, who admired his expertise on the ukulele. A tribute to the so called 'Emperor Of Lancashire' is contained at the end of the promo video for Free As A Bird.

George Formby was born George Booth Jr in Wigan, Lancashire in 1904. In the 1930s and early 1940s he became the No.2 box office star in Britain after Gracie Fields. He starred in more than twenty films and had numerous best-selling records. Famous songs of Formby include Leaning On A Lampost and When I'm Cleaning Windows.

George Harrison was such a fan of Formby that he became an honorary president of the George Formby Appreciation Society, attending a number of their annual conventions held at the Winter Gardens, Blackpool.

This very special instrument will be unveiled at 12pm on September 18th 2008.

Copyright © 2008 The Beatles Story. All rights reserved.

September 11, 2008
Retro flashback: Revolver performs Beatles tribute at the Vogue Theatre in Vancouver, 1994

Mick Dalla-Vee, bass guitarist and backing vocalist on Randy Bachman's "Every Song Tells A Story" DVD/CD release, sent us this great 18-minute Beatles video tribute...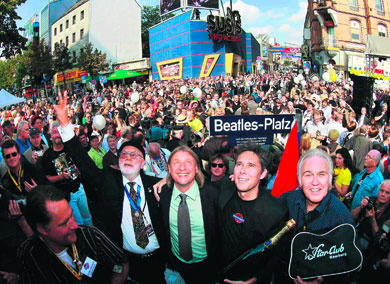 Arm in arm for the Beatles-Platz (from left): Joe Flannery (with full beard), former booking manager of the Beatles, the media entrepreneur Frank Otto. Oldie-95 boss Stephen Heller and musician Lee Curtis (Star Club bag).

Hamburg gets its official Beatles memorial at last

Hamburg - "All you need is..." patience and money. 28 years after the then completely unknown Beatles played their first gig in Hamburg, and seven years after the idea was born of honouring the band with a memorial square, the legendary mop tops are back in the city. The Beatles laid the foundation stone of their career in the early 1960s in the Hamburg neighbourhood of St Pauli. It is there where five stainless steel sculptures now depict the musicians, doing what they did best.

There are five statues - not the more famous Paul, John, George and Ringo - because the installation also features Stuart Sutcliffe, and a hybrid of Ringo Starr (who was not in Hamburg with the band) and his predecessor Pete Best (who was).

The square, located in the middle of Hamburg's red light strip, is shaped like a giant vinyl record with a diameter of 29 metres.

It stirs up memories of a time when hardly anyone knew the boys from Britain, and when the local music clubs were bustling with young musicians and beat bands on every stage.

From London and English port city Liverpool came bands that played for hours, day by day and night by night.

This is why the "Hamburg Sound" is credited for playing a vital role in the development of beat music.

August 1960: the Beatles from Liverpool play their first gig in Hamburg's Indra club. For 30 Deutschmarks a day each, they would play for four-and-a-half hours on weekdays and six hours on Saturdays, as Beatles expert Ulf Krueger writes in his books.

At first, they had no success and moved on to the "Kaiserkeller" beat basement.

Astrid Kirchherr is an old flame of Stuart Sutcliffe - and a one- time band photographer. She recalls her first meeting with the boys in the seedy Kaiserkeller in Krueger's book Beatles Guide Hamburg.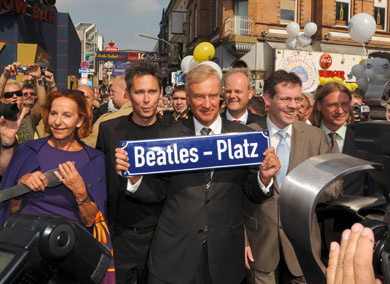 To the inauguration by the Mayor Ole von Beust not to miss many guests came to the new Beatles place in St. Pauli

"I was thunderstruck. One of the rockers on stage looked better than the rest and the music was simply mind-blowing."

For two years, the Beatles played in clubs along Hamburg's Reeperbahn and Grosse Freiheit. After Indra and Kaiserkeller followed the Top Ten Club and Star-Club.

"Slowly, the Beatles turned into local heroes. It didn't take long until the record industry took notice of the band and the already well-known Tony Sheridan," writes Krueger.

Sheridan - now aged 68 - is an English rock and roll singer and songwriter who was a well-known figure in Hamburg's 1960s music scene. Together with Sheridan, the band recorded an album under the name of Beat Brothers in 1961.

Anecdotes from these days are fondly remembered in Hamburg: Like the story that it was Kirchherr who gave her boyfriend "Stu" his first mop-top-haircut. Later, Harry's Salon on Hamburg's Davidstrasse was responsible for the band members' famous hairstyles.

There is also the story of the outstanding bar tab that McCartney finally paid for during his visit in 1989 - interest included.

And almost as notorious as the Davidwache police station itself is the night that McCartney and Best are said to have spent there. Because of bad pay and treatment, the story goes, they set a condom on fire in their promoter's cinema as vengeance.

According to Krueger, the musicians also took "at least one trip" to Herbertstrasse, an infamous men-only Hamburg road lined by brothels and prostitutes on display.

When Harrison was deported in November 1960 because, as a 17 year- old, he was an unaccompanied minor, the Beatles performed as a quartet for the first time.

But after their visit to Davidwache police station, McCartney and Best, who had no residence or work allowances, also had to leave the country. While Lennon followed them, Sutcliffe stayed in Hamburg.

Shortly before the Beatles' breakthrough with "Love me Do", Starr replaced Best as the band's drummer.

To commemorate both of them, the designers of the memorial placed the drums not at the left or right, but in front of the statue.

Construction costs for the square amounted to 550,000 euros (776,000 dollars), of which 350,000 were donated by the city. The remaining 200,000 euros were raised from sponsors and donors.

Local radio station Oldie 95 came up with the idea to erect a memorial in honour of Lennon (1940-1980), McCartney (born 1942), Harrison (1943-2001), Starr (born 1940), Best (1941) and Sutcliffe (1940-1962), in 2001.

"It is about time that Hamburg commemorated this great band," said Mayor Ole von Beust during Thursday's inauguration. Directed at critics who complained about the length of time it took to happen, he said: "Better now than never."

The square that, when illuminated, looks like a spinning turntable, should symbolize the duty to open more opportunities for young musicians, said von Beust. "We have to do more for Hamburg's club scene," he added.

September 10, 2008
Major Beatle concert at the National Arts Centre in Ottawa on October 8, 2008

Let it be: The Beatles songs of Lennon and McCartney features a slew of top level Canadian talent laying it down in celebration of their music. Produced by Phil Bathols and Andrew McKinnon, Let it Be was an unprecedented hit in their native Australia.
Tickets: $82, $92
Web: NAC promo

Canadian singer lined up for Lennon concert
Published: 10 September, 2008

DURNESS is to stage a follow-up to last year's successful inaugural festival commemorating the village's links with John Lennon.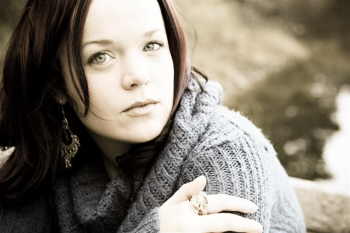 Leading Canadian singer Allison Crowe is to headline the concert on October 11 – two days after what would have been the ex-Beatle's 68th birthday.

Proceeds from the event are to go towards the upkeep of the garden planted in his memory at the front of the village hall.

Allison Crowe was one of the stars of last year's award-winning John Lennon Northern Lights Festival, which was promoted by Prince Charles's North Highland Tourism.

Lennon holidayed every summer between the ages of nine and 15 in Durness on his cousin's croft. He also returned with Yoko Ono, and their respective children Julian and Kyoko, in 1969 before suffering a car accident which hospitalised them at Golspie.

The area had a significant place in young Lennon's life with his hit song "In My Life" said to be partly inspired by his visits there.

Before last year's festival, it emerged the singer had tried to buy Durness Estate shortly before his death in 1980. Earlier this year, Yoko Ono praised villagers for their respect to Lennon's memory.

Twenty-seven-year-old Allison Crowe is breaking off from her European tour and flying from Prague to perform at next month's concert. She said yesterday: "John Lennon was an amazing, artistic, peaceful, spirit. He made a huge impact on society. Durness made a huge impact on him and on me too and I am glad to return."

She said she had a ball at last year's event, which attracted over 1000 revellers from throughout the UK and abroad.

"There were performers everywhere and there was such a sense of community throughout the festival. It was an experience that can't be matched. I am honoured to be able to help raise monies to upkeep the garden. It's an important part of the community, to be kept alive and growing along with the memory of John Lennon and the times he had in Durness."

Mary Mackay, chairwoman of Durness Community Council, said she is delighted that Lennon's links with Durness were again be celebrated.

She said: "I could not think of anybody more fitting to celebrate John's links with Durness than Allison. She was a knockout last year. We are hoping it will be a great day – and it keeps John's flame alive in a place that he loved very much."

Allison Crowe has toured widely in north America and has had two one-hour television specials broadcast across Canada.

"Whether I'm Wrong", an original song of social conscience penned in early 2003, has been featured by the UNESCO-endorsed New Songs for Peace initiative. She is being supported by fellow Canadian vocalist and classical guitarist Billie Woods.

Other support events in the pipeline include a photographic exhibition of the area by Shona McMillan. Tickets are available from Loch Croispol Bookshop on 01971511777 and from Mary Mackay on 01971511255.

Copyright © 2008 John O'Groat Journal. All rights reserved.

September 9, 2008
TIFF note: CTV hosts John Lennon tour bus
by Jonathan Paul

With many Hollywood success stories in town for the Toronto International Film Festival, CTV is doing its part to help young, aspiring filmmakers from the city's urban neighbourhoods pursue their own Tinsel town dreams by hosting the John Lennon Educational Tour Bus.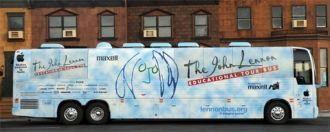 Students participating in two Toronto youth programs have had the opportunity to craft short movies about their experiences at TIFF using the mobile audio and HD video recording and production facility.

"We're giving the students an all-access pass to our coverage of TIFF," says Susanne Boyce, president, creative content and channels, CTV. "Working with some of Canada's most notable artists, they'll have the experience of a lifetime and hopefully learn something along the way."


Canadian notables like Jason Reitman (director, Juno), Linda Schuyler (creator, Degrassi), Farley Flex (judge, Canadian Idol) and hip-hop artist k-os have worked with the students from "Shoot with This," a film mentorship project for kids from Toronto's Jane/Finch area, and "The Remix Project," a youth-led urban arts project in the Greater Toronto Area.

"This is precisely the kind of project John Lennon would have loved," Yoko Ono Lennon said in a news release.

Sol Guy, who created and hosts CTV and MTV's 4REAL, is responsible for initiating the bus' visit, and has worked with the students since it arrived. "They'll be working on a project that's all about using art and culture to effect social change," he says.

Guy provided a tour of the John Lennon Educational Tour Bus to viewers of CTV's eTalk on Sept. 4, and CTV conducted media relations in order to spread the word that the bus would be stopping by.

The Maxell-sponsored, high-tech, non-profit tour bus has been at CTV's Queen Street HQ since last Thursday, and wraps up its visit today. The bus has provided practical programs to hundreds of organizations across North America since 1998, logging 60,000 miles a year. Other sponsors of the tour bus include Godin Guitars, international music organization NAMM and Sony.

Copyright © 2008 Brunico Communications, Ltd. All rights reserved.

September 5, 2008
Beatles photographer Robert Whitaker releases new book
Just released is this lavish book of photographs of the Beatles. "Eight Days a Week: Inside The Beatles Final World Tour" comprises of photographs by esteemed photographer Robert Whitaker and text by Marcus Hearn. Whitaker was the photographer behind the most controversial Beatles artwork, the "Butcher Sleeve" used briefly on the US release of "Yesterday and Today" and he also accompanied the band on several tours, gaining unrestricted access to their lives on the road.

The book is available to buy online at Amazon. -- source: Retro To Go
The Beatles' first contract sells for $426,478

Auction house The Fame Bureau has sold a four-page contract for $426,478 in which Beatle band members John Lennon, Paul McCartney, George Harrison and Richard Starkey (Ringo Starr) had signed on January 24, 1962. The formal contract meant that the band would be managed by Brian Epstein, but he did not sign the contract until October 1, 1962. Epstein's rational at the time for not signing it right away was to give the boys the option of finding a new manager had he not been successful in procuring a record deal.

However, Epstein and the Beatles would eventually find a record company and they signed on with EMI. Their first single, Love Me Do, was issued on October 5, 1962. According to Bill Harry's Mersey Beat, in his January 17-31, 1963 edition, Love Me Do was "still in the charts after 15 weeks and has re-entered the Top 20 for the third time." Please, Please Me would be the band's follow-up single.

September 3, 2008
Beatles' LOVE documentary to open film festival in Montreal

A film about the making of Cirque du Soleil's Beatles LOVE show and the late Ryan Larkin's last animated short open the Focus section of the 37th Festival du nouveau cinéma (FNC), Oct. 8 to 19.

Adrian Wills' All Together Now melds archival footage and interviews with the remaining Beatles, their wives, George and Gilles Martin to trace the evolution of the landmark Las Vegas production. -- Source: the Montreal Gazette.

Indian maestro Ravi Shankar on European farewell tour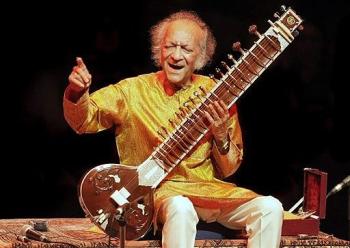 PARIS (AFP) — Indian sitar maestro Ravi Shankar geared up for his last European performance in France Tuesday, despite saying he hoped it would not be his swansong.

The 88-year-old is giving a masterclass at the Salle Pleyel in Paris Tuesday evening, a day after he performed a farewell concert there.

As he entered on stage to a standing ovation Monday night, he said: "My dear friends in Paris. It is supposed to be my last concert here. I hope this is not the case!"

Both performances were delayed by a few months because of Shankar's poor health.

Despite needing help to get on stage and not being able to sit cross-legged on the rug positioned on the floor, Shankar had lost none of his musical artistry, performing for 90 minutes over three different parts.

George Harrison's widow Olivia was in the audience, and made a presentation to Shankar afterwards. So was Nicolas Godin, from the French electric-pop band Air. -- Source: AFP news

September 2, 2008
Pete Best to perform for "Breath of Hope Campaign" in Saint Catharines, Ontario, on September 12th!

The following is culled from Newstalk 610 CKTB...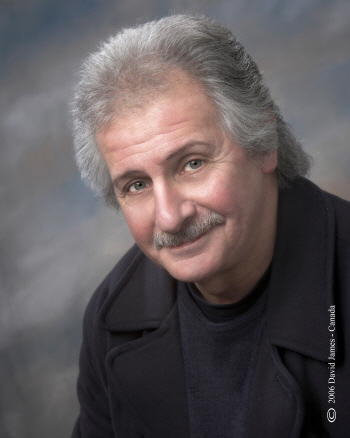 Breath of Hope Campaign

610 CKTB is proud to sponsor the Breath of Hope Campaign in support of the Canadian Foundation for the Study of Infant Deaths.

SIDS is the unexpected death of an apparently healthy baby whose death will remain a mystery after a complete investigation and autopsy.

The CFSID assists families who have lost a child to SIDS.

The Niagara Council of CFSID presents a fun, special event to raise funds and awareness for SIDS.

On September 12th, Pete Best the original drummer for the Beatles, will perform at Hernder Estate Winery in St Catharines.

Doors open at 7, the evening will be filled with music, games, raffles, a silent auction and more and tickets are only 15 dollars.

Tickets are available at Hernder Estate Winery and by calling 289-213-4347

The Breath of Hope Campaign - bringing hope and life to Canadian Families is proudly supported by 610 CKTB.

Pete Best photo credit: © 2006, David James, Canada.

August 31, 2008
Quick Beatle news picks:

Film to tell tale of John Lennon's origin ("Nowhere Boy") -- from the Liverpool Echo; 50-year anniversary of Harrison's career with the Beatles -- by Ed Masley of the Arizona Republic; Yoko Ono's Peace Dance -- by Doug Rule for Metro Weekly; The Beatles Sgt. Pepper tracks isolated -- by Joe Bosso for MusicRadar.com

Pete Best makes cameo appearance in "Rocker" movie

"Pete Best, who was kicked out of the Beatles just before they hit it big, has a cameo in "The Rocker," a bittersweet comedy about a middle-aged former drummer who ditches his office job to make a comeback with a teen band," writes movie critic Rick Warner for Bloomberg.com. He went on to say that "The casting is more inspired than the movie." Warner gave the film a 2/5 star rating, with 2 being an "average" film.

August 28, 2008
Pete Best to perform in Ottawa, Thursday, September 11th!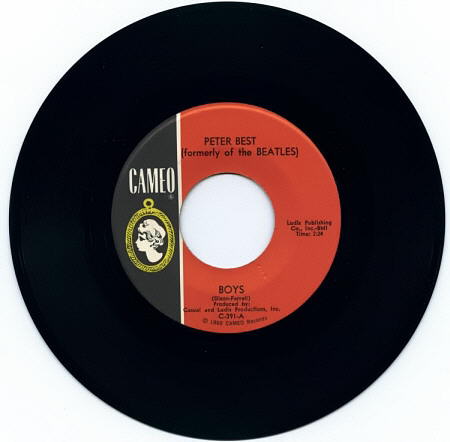 Details:

HOOLEY'S PUB
292 Elgin Street
Ottawa
Ontario

www.hooleyspub.com

Tel 613 231 3888

The Pete Best Official website:

August 27, 2008
McCartney to perform in Israel for first time
By Alex Dobuzinskis

LOS ANGELES (Reuters) - Paul McCartney will perform for the first time ever in Israel next month -- more than 40 years after the Beatles were blocked from giving a concert in the country, the singer announced on Wednesday.

The former Beatle, who along with John Lennon wrote most of the Fab Four's songs in the 1960s, will perform on September 25 in Tel Aviv, the singer said on his Web site.

McCartney and the Beatles, one of the most popular bands in rock history, had planned to perform in Israel in the mid-1960s, but the concert was scrapped, a non-event that has since taken on almost legendary significance.

For years, it was said that the government blocked the show out of fear that it would corrupt the nation's youth, a version of the story that was highlighted on McCartney's website.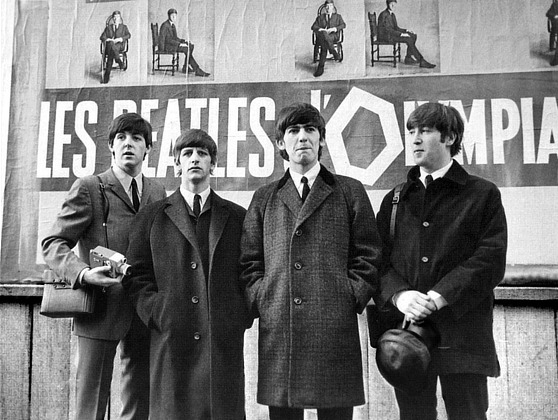 The Beatles were banned by the Israel government as being corruptive on their youth.

"43 years after being banned by the Israeli government, Paul McCartney today announces his 'Friendship First' concert in Israel. Following months of feverish speculation the wait is finally over as music's most revered star announces that he will be playing in Tel Aviv, Israel, on Thursday 25th September 2008." -- source: Paul McCartney's official website

But a more recent account given this month in the Israeli newspaper Haaretz blames the show's cancellation on a rift between two concert promoters.

Earlier this year, Israel's ambassador to Britain, Ron Prosor, apologized for the cancellation in a letter to the two surviving Beatles, McCartney and Ringo Starr.

"There is no doubt that it was a great missed opportunity to prevent people like you, who shaped the minds of the generation, to come to Israel and perform," Prosor wrote.

But McCartney said he looks forward to this second chance to perform in Israel.

"I've heard so many great things about Tel Aviv and Israel, but hearing is one thing and experiencing it for yourself is another," he said in a statement on his Web site.

The show is billed as a "Friendship First" concert, part of a series of shows that have taken McCartney to cities he never visited before.

Last month, McCartney performed in Quebec City, Canada, for the first time and drew 300,000 fans. The show happened on the year of Quebec' 400th anniversary.

This year is the 60th anniversary of Israel's founding.

© by Reuters, August 27, 2008



August 26, 2008
Magical Mystery Tour Memories (a new DVD)

British release: 25 August 2008

Plays only on PAL, region 2 DVD players in Britain and those computers that have DVD player with PAL configuration.

British distributor: Wienerworld

North American release: 30 September 2008

Plays only NTSC, region 1 (Canadian and USA market) DVD players and those computers that have DVD player with NTSC configuration.

North American distributor: MVD Visual

Aug 18, 2008
Sir Paul McCartney duets with Cats Stevens

A recent recording session has taken place in London which involved a duet between Sir Paul McCartney and Cat Stevens (who now calls himself Yusuf Islam because of his shift to practice the Muslim faith.)

The song is called "Boots and Sand" and has Sir Paul McCartney singing on the track. According to Cat Stevens official website, the song is a response to the "No-Fly List" saga when he and his daughter in 2004 were refused entry into the United States.

Stevens explains his return to music: "The language of song is simply the best way to communicate the powerful winds of change which brought me to where I am today, and the love for peace still passing through my heart. I feel gifted to have that ability still within me. I never wanted to get involved in politics because that essentially separates people; whereas music has the power to unify, and is so much easier for me than to give a lecture."

"You can argue with a philosopher, but you can't argue with a good song. And I think I've got a few good songs," said the pop icon.

According to his website, the new recording draws on "Nashville and Liverpool-rock sounds."

For more information, please click on the following link: Yusulf Islam

Aug 14, 2008
Rare collection of art by John Lennon on display in Milwaukee

"...for the first time the public will get to see 27 pencil and pen drawings along with five lithographs and serigraphs - all authenticated - at the Waukesha County Historical Society Museum in suburban Milwaukee," states the report that was picked up by the Canadian Press.

"Coming Together Through the Art of John Lennon" runs Saturday through Sept. 1.

"A retired man in his 50s - who wants to remain anonymous - loaned the art and other memorabilia, like the microphone Lennon used to record "Imagine," to the museum."

For the full report, please see: Rare collection of art by John Lennon on display in Milwaukee from the Canadian Press website.

Aug 12, 2008
Patti Boyd brings Harrison and Clapton photo exhibition to Dublin
Written by the Hot Desk

Patti Boyd, former wife of George Harrison and (subsequently) Eric Clapton, is to stage an exhibition of her photography at Gallery Number One in Dublin.

Entitled Through The Eyes Of A Muse, the collection documents her life with each guitarist, and she will attend the invitation-only launch on August 28.

Boyd, a model, author and photographer in her own right, was married to Harrison from 1966-1977, and to Clapton from 1979-1988. She reportedly inspired Harrison's 'Something' and Clapton's 'Layla' and 'Wonderful Tonight'.

The exhibition will run from August 21-September 5 at Gallery Number One, Castle St, Dublin 2.

The following is a very interesting opinion piece written by Dan Turner that appeared on the Los Angeles Times crime blog...

Protecting Lennon's killer from the rest of us

Mark David Chapman, the deeply disturbed, possibly schizophrenic killer who gunned down John Lennon in 1980, was denied parole today for the fifth time. It was the right decision, even if at this point it's unclear whether society needs to be protected from Chapman or Chapman needs to be protected from society.

There was never any trial for Chapman, who was sentenced to 20 years to life after he pleaded guilty to second-degree murder. To many Lennon fans, that seems like an injustice given that by Chapman's own admission the 1980 killing was premeditated: Chapman staked out Lennon's Central Park apartment building, the Dakota, for days before the opportunity arose to pump four hollow-point bullets into the former Beatle's back. That should have guaranteed life without parole if not the death penalty for Chapman, except that the killer was so unhinged that had the case gone to trial there's a strong chance he would have gotten off on an insanity defense.

Today, Chapman is housed apart from the general population at Attica prison because of his notoriety. But if he's in danger from Lennon fans among his fellow prisoners, it's not hard to imagine (no pun intended) somebody pulling a Jack Ruby on him if he ever gets out. I'm all for being sympathetic to the mentally ill, but Chapman should stay in prison until he dies.

© Los Angeles Times, August 12, 2008

Aug 7, 2008
Quick Beatle news pick:

Portrait of George Harrison completes epic work which recognises 100 Liverpool greats from the Liverpool Daily Post.

August 3, 2008
Don't Hold Your Breath Anytime Soon for the Release of the Let It Be DVD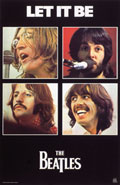 The media's "rumour mill" has been at it once again. Reported in the tabloid Daily Express that the Let It Be film would not be released because "Neither Paul nor Ringo would be comfortable publicizing a film showing The Beatles getting on each other's nerves," said an industry mole. Then, to counter that remark, the Abbeyrd's Beatles Page is recently quoting an unidentified source from Apple which contacted the the proprietor for that web site who said "We do have plans to release it some time in the future."

What the news media fails to understand regarding future Beatles projects is that these decisions are made by four Board Members of Apple. The Board Members comprise of Yoko Ono, Olivia Harrison, Paul McCartney and Ringo Starr. Each board member around the October/November timeframe reviews and discusses what new Beatle projects should be earmarked for next years release. These include anything from book releases, to CDs and movies, etc. When Neil Aspinall was alive, the Board Members would normally include him during their discussions for his guidance and opinions regarding the projects that were being looked at. That said, any one of the four Board Members can vote against a Beatle project and thereby scuttling any potential Beatle project to be released in the new year. The project would presumably come back on the radar screen during next years review of potential Beatle releases. And on it goes in the Apple board room.

Something Is Owed to the Fans!

Over the years, much misinformation has been floating around regarding the production delays of the Let It Be DVD. There are several reasons given which most Beatle fans have come to know and hear (all over again) and then only to speculate amongst themselves even further about the reasons why the DVD movie has yet to be released.

But the truth of the matter is, the whole gambit that is being played out by Apple is really a very bad business exercise in Public Relations from their record company.

Where are the folks at Apple's Public Relations Department (and do they even exist?)

As it currently stands, the lack of a formal public announcement (even by the way of an update) from Apple is both unfair to the media and to the loyal Beatle fans at large.

Something Is Owed to the Fans. And what is now owed to those fans are some straight answers from Apple Records about the current status of the Let It Be DVD project.

What is even more owed to the fans is to have the DVD released sooner, rather than later. The fans have waited long enough for this movie (hint to Apple: I have, since all this speculation began several years ago about its pending release, have added a few more grey hairs and a receding hairline!)

John Whelan
Ottawa Beatles Site

For more information on the Let It Be DVD, listen to a 2005 interview with Bob Smeaton who was hired by Apple records to do the color restoration for the movie. The interview was conducted by radio host Archer who posted the interview at his new website: BeatlesBasement. Please click here for the interview in MP3 audio format.

Special announcement for Ottawa area residents -- LEGEND RECORDS has moved!

LEGEND RECORDS, famous for hard-to-find vinyl, CDS, Tapes, Videos and DVD's, on August 2, 2008, has closed it's operations at the Lincoln Fields Mall location. The 30-year-old business will re-open on August 20, 2008, at their new location at 1315 Wellington Street between Grange Avenue and Smirle Avenue (beside Hillary's Cleaners.)

For more information, please call: (613) 596-5766.

August 2
Paul McCartney hails Quebec City birthday concert on his website
Written by Nelson Wyatt, THE CANADIAN PRESS

MONTREAL - Paul McCartney says he didn't know what to expect when he came to Quebec after some sovereigntists protested his appearance at Quebec City's 400th birthday bash.

"With these big shows you never quite know what to expect," McCartney says in a chat posted on his website. "I know there were some people who were not too happy about an English-language artist being part of the celebrations but you know music is an international language that helps bring people together."

Several Quebec sovereigntists had questioned McCartney's participation in the anniversary celebration because of his British roots. They claimed his presence evoked painful memories of Britain's conquest of New France in 1760.

The Plains of Abraham, where McCartney played, was the site of a pivotal 1759 battle between British Gen. James Wolfe and France's Marquis Louis-Joseph de Montcalm.

The British won the battle.

McCartney brushed off the nationalists' concerns before the concert, suggesting "it's time to smoke the pipes of peace."

More than 250,000 people turned out for the concert and Quebec City was seized by McCartneymania when the former Beatle arrived.

"It was really cool to see all the fans and it was great that they had made an effort to come out an give me such an amazing welcome," McCartney said in the website post. "People couldn't have been nicer. It really set such a great vibe for the weekend."

McCartney played 36 songs during his appearance, in which he spoke some French and waved a Quebec flag to cheers.

"Man, we had such a great night," McCartney said on the web page at www.paulmccartney.com.

"No one ever wants a great night to come to an end. It was great looking out into the audience and seeing them enjoying themselves as much as we were.

"Then there were all the special banners they made. I always try to have a read of those. There was a sea of Union Jacks and the audience had also made their own flashing lights with them, which looked incredible when the sun had gone down. I had a really great time with 'toute la gang'."

McCartney's website also includes exclusive video of his time in Quebec City.

McCartney also waxed in the posting about his joy at appearing with Billy Joel two days before at Shea Stadium in New York, where the Beatles played in 1965.

"This was the mother of all weekends," McCartney said. "I had such a great time.

"Shea brought back some magical memories of the guys and when we were starting out. Quebec was just really special and unforgettable.

"It also gave me a chance to brush up on my French."

July 2000 - June 2003
July 2003 - December 2003
January 2004 - October 2004
October 2004 - May 2005
May 2005 - June 2005
July 2005 - November 2005
December 2005 - March 2006
April 2006 - June 2006
June 2006 - July 2006
August 2006 - September 2006
October 2006
November 2006 - December 2006
January 2007 - June 2007
June 2007 - March 2008
March 2008 - July 2008