Archived Beatles news, page 4 (October 2004 - May 2005)
May 15
"Imagine Montréal Living Life in Peace"
(and a broadcast date for the upcoming CBC television special: "John and Yoko: Give Peace A Song")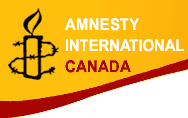 Dear John & Tony,

As promised, here is an update on Amnesty International's latest project in Montréal with Yoko Ono:

Yoko has given permission to the French-Canadian section of Amnesty to do a photo exhibition under the name "Imagine Montréal Living Life in Peace". Photographer Michel Cloutier is doing artistic portraits of 20 Québec celebrities, each of whom is providing a few personal quotations about peace and human rights. The photos and quotes will be displayed in the main entrance of Montréal's City Hall throughout the summer, and on a website to be launched shortly. Some of the celebrities taking part sang at the "Give Peace a Chance" anniversary last year, including Nanette Workman, Jonas, Ima, Andrée Watters and Boom Desjardins. (As you subscribers will already know, Nanette Workman sang with John Lennon, George Harrison and Ringo Starr in the 1970's.) Others are prominent Montréalers such as Oscar-winning director Denys Arcand, music promoter Donald K Tarlton (who also worked with the Beatles), actor Marc Labrèche, journalist Mutsumi Takahashi, talk-show host Sonia Benezra, AIDS doctor Réjean Thomas, and actress Annie Galipeau.

Yoko Ono was officially invited by Amnesty to open the Montréal exhibition on June 14th. Unfortunately, though, she won't be able to come in person...I gather she will be in Japan. Last year she sent us a very kind video message from Berlin, so perhaps this year she will do something similar. In December our youth committee sent her a home-made video featuring 700 teenagers shouting "Thank you Yoko" in French and Japanese, which was very well received!

Incidentally, I have just received word from film-maker Paul McGrath that his documentary on the 1969 bed-in, "John and Yoko: Give Peace A Song", airs as a CBC Special on Tuesday Sept 27 at 8 p.m. Amnesty's 2004 bed-in anniversary
will be featured, alongside interviews with Justin Trudeau, Donald Tarlton and Yoko Ono.

Best regards,

Robert Harrison
"Imagine 2005" Committee
AMNESTY INTERNATIONAL - French-speaking Canada
Montréal
(514) 482-9781
Related link: Amnesty International French-Speaking Canada (in French text.)
---------------------------
May 14
A new pop CD: "Electric Sound Orchestra meets the Beatles"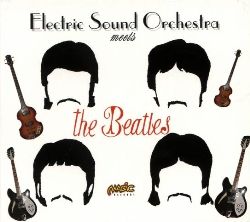 A refreshingly new instrumental pop album by Martial Martinay has been released on Magic Records. Mastered in high definition 24-bit, "Electric Sound Orchestra meets the Beatles" album tracks are realized by a series of instruments that Martial Martinay has performed on, whether it be the 12-string Rickenbacker solo and rhythm guitars, or the bass and acoustic guitars, drums, percussion, keyboards, piano, strings, bass and pipes.
"To select songs of the Beatles was not an easy task," said Martinay about this new CD compilation. "I think that if the Beatles had wanted to record an instrumental version of their songs, they would have done it in the spirit of this album. One can eternally pay homage to them because they go through decades without any of their songs ever taking a single wrinkle."
Giacomelli Laurent, whose is a very close friend to Martial, claims that "he worked at it very hard and seriously during the whole year, putting a lot of love to it. I think it was worth the wait."
Indeed it was worth the wait! The Ottawa Beatle Site has had the privilege of listening to "Electric Sound Orchestra meets the Beatles" CD and thereby highly endorsing this new musical work from Martial Martinay. We also conducted an interview with Martial and have provided the track listing in that report. For the interview, please click here.
---------------------------
May 13
Paul McCartney in Red Square -- set for release June 14th
The upcoming DVD release of Paul McCartney in Red Square is slated for June 14. A press release has been issued describing all the additional features and film footage that will be presented in the DVD. For details, please click here.
---------------------------
May 5
The Beatles Earn Landmark Sales Record
From Chartattack.com...
John, Paul, George and Ringo continue to dominate the industry — they have become the first act to earn six of the Recording Industry Of America (RIAA)'s diamond awards for records that have sold 10 million copies. In April, 1, the band's compilation of #1 hit songs, became The Beatles' sixth diamond LP.
The RIAA stipulates that an album is certified gold in the U.S. with the sale of 500,000 units. An album becomes certified platinum when it has sold one million units.
The Fab Four have also received diamond status for their albums The Beatles (certified in 2001 for U.S. shipments of 19 million copies), The Beatles 1967-1970 (16 million), The Beatles 1962-1966 (15 million), Abbey Road (12 million) and Sgt. Pepper's Lonely Hearts Club Band (11 million).
Led Zeppelin, with five diamond-level titles, are currently the only act close to matching The Beatles' title.
Also in the news today...
Yoko Ono urges to take heed of nuclear proliferation
From the Japan Today news...
NEW YORK — Yoko Ono, an avant-garde artist and widow of the late Beatle John Lennon, spoke out against the proliferation of nuclear weapons Wednesday at the United Nations during the review conference of the Non-Nuclear Proliferation Treaty. "As a child of Asia, as a citizen of the global village and as a woman of the species I am concerned for the welfare of our planet," Ono said in an address in the General Assembly hall.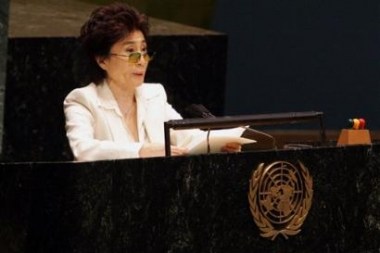 She spoke of her own hardships during World War II when she escaped to shelters during bombing raids of Tokyo and suffered from the lack of food as a child. As a 12-year-old she learned of the devastation experienced by those who were living in Hiroshima and Nagasaki when the United States dropped atomic bombs on Hiroshima and Nagasaki in 1945.
"It is clean-up time as John Lennon said. It is not too late, it cannot be," she said. "We must give this planet one more chance. Let us wake up, come together and work on cleaning and healing our planet instead of further destroying it."
Ottawa Beatle Site Footnote: The Toronto Star writes on this day that "in short, the world is awash with 30,000 nuclear weapons, spreading technology and fissile materials. There is serious concern that "unsecured" weapons may fall into the hands of rogue states, or rogue actors." Also, when "the Americans dropped on Hiroshima in 1945...people were vaporized by its 7,700 degree Celsius fireball, as were steel and glass. Some feared the sun had plunged to earth. Others were crushed by hurricane-force winds, died in convulsions from radiation exposure or burns. In all, 170,000 perished."
For Toronto Star's complete report, please read "Hypocrisy won't defuse bomb."
---------------------------
April 29
Beatles 'split letter' to be sold
"A letter that marked a key stage in the break-up of The Beatles is to go under the hammer in London on Thursday," writes the BBC. And the web page has a photograph of the actual letter that was signed by John Lennon, Ringo Starr and George Harrison that was sent to Lee Eastman. For details and photo, click here.
---------------------------
April 27
KOCH Records to Release New Album by Ringo Starr
"CHOOSE LOVE" Hits Stores June 7th
NEW YORK, NY -- (MARKET WIRE) -- 04/27/2005 -- "'The Long And Winding Road' is more than a song," Ringo Starr sings on the title track of his latest album "Choose Love." And one of the most remarkable things about "Choose Love" is that this far down that long and winding road, Ringo Starr has never sounded more excited and engaged by the music he's making and the message of love that it spreads.
"Choose Love" is full of inspired songs of innocence and experience -- the heartfelt and heartening work of someone who's lived a little and learned a lot. This is rousing, rough and ready rock & roll that lovingly embraces the past, but has its eye very much on our shared future. And it's an album first and foremost about the best choice any of us have -- Love.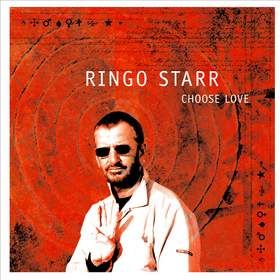 "What other choice is there?" Starr asks as he sits at home with Mark Hudson. Hudson is one of his key fellow travelers in the journey of the Roundheads, the loose but tight combo of collaborators -- Hudson, Steve Dudas, Gary Burr and auxiliary Roundhead Jim Cox -- who have worked with Ringo on his recent run of winning albums. For Starr, love is a theme of profound and enduring importance. "From the beginning, the Beatles were saying 'I Wanna Hold Your Hand' and 'Love Me Do.' It was all about love and that's still the most powerful message. If you look at the overall picture, the Beatles were about love and what better subject is there really?"
Having lost his way somewhere in the first half of the Seventies, Ringo Starr eventually found love with his wife Barbara and found his way back to his love of music at the start of the Nineties. And now with the Roundheads, he has rediscovered his rightful place in the world. "I am a band member," he declares. "That's who I am. That's who I want to be. It takes a band -- even more than it takes a village -- to make music like this. By now, we feel like we know each other's minds, we know where we're going. It takes time -- time takes time. The good news is that we've been making records together a while now, and I'm proud if this album shows growth and progress in terms of playing like a band."
"That's what we are -- a well-to-do garage band," says Starr with a grin.
"Speak for yourself," Hudson says with a laugh.
Though the new album features a few guests, notably Chrissie Hynde on "Don't Hang Up," roots guitarist Robert Randolph on "Fading In, Fading Out" and "Oh My Lord," and Billy Preston on "Oh My Lord," Ringo and the Roundheads are once again at the beating heart of "Choose Love."
"Every time before we start a new album we sit down and think, okay what do we do now? On the last album, 'RingoRama,' we decided to feature the drums -- the drumming on that album is unbelievable. Ringo was literally the driving force on that album. This time Ringo wanted to go the other way. He said, 'I want it to sound like a band, a little more down and dirty and guitar-driven.' And as soon as we got on that page, we started writing that way as well."
"This has been a joy in my life working with the guys," Starr says. "You can have fun and you can even have that bad day with each other and it's not held against you. So you have the freedom to be who you are and still be together. It's been a remarkable run already, but ten years from now it will be all blues because that will be the only speed I'll be able to play."
Until then, Starr is proud to spread his own good word. "You have to get a lot of experience to get to the point where you can say 'Choose Love' in an honest way," he says. "Life is filled with ups and downs, but in the end it's best filled with love -- that's my conclusion. That it's the best choice any of us have."
---------------------------
April 26
Hotline: ''Lennon The Musical'' canceled in Boston
By Terry Byrne for the Boston Herald
Tuesday, April 26, 2005 - Updated: 07:20 AM EST

"Lennon The Musical'' has cancelled its pre-Broadway run at the Colonial Theatre, scheduled for May 31-June 25.

The new musical, which focuses on John Lennon's life after the Beatles, will be retooled before beginning previews on Broadway June 28.

In a statement, producer Allan McKeown said that after recent tryouts in San Francisco, "We made the decision today to forego our Boston engagement and will instead return to the rehearsal room in New York to make the changes that will be beneficial to our show.''

An early peek at a New York rehearsal revealed a show struggling to connect abstract ideas (several actors portray different sides of Lennon) with a broad selection of the songwriter's music. Reviews in San Francsico were mixed to positive, with most decrying the prominent role of Yoko Ono (Ono gave permission to use the music), but praising the multimedia presentation.
---------------------------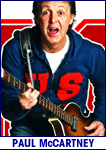 April 18
Paul McCartney - USA and Canada tour 2005:
This tour from Paul McCartney will include first-time visits to Des Moines, Iowa, and Omaha, Nebraska.
"We are looking forward to playing again in America," McCartney said in a statement. "We're ready to rock."
"[North Americans] know how to have a good time and we're there to give it to them. It'll be fun to visit some new places, to see some old faces and to do things a bit differently this time," he said.
| | | |
| --- | --- | --- |
| DATE | CITY | VENUE |
| | | |
| Friday, September 16th | Miami | American Airlines Arena |
| Saturday, September 17th | Tampa St. Pete | Times Forum |
| Tuesday, September 20th | Atlanta | Philips Arena |
| Thursday, September 22nd | Philadelphia | Wachovia Center |
| Monday, September 26th | Boston | FleetCenter |
| Tuesday, October 4th | New York | Madison Square Garden |
| Wednesday, October 5th | New York | Madison Square Garden |
| Saturday, October 8th | Washington DC | MCI Center |
| Monday, October 10th | Toronto | Air Canada Centre |
| Friday, October 14th | Detroit | The Palace |
| Tuesday, October 18th | Chicago | United Center |
| Saturday, October 22nd | Columbus | Value City Arena |
| Sunday, October 23rd | Milwaukee | Bradley Center |
| Wednesday, October 26th | St. Paul | Xcel Energy Center |
| Thursday, October 27th | Des Moines | Wells Fargo Arena |
| Sunday, October 30th | Omaha | Qwest Center |
| Tuesday, November 1st | Denver | The Pepsi Center |
| Thursday, November 3rd | Seattle | KeyArena |
| Friday, November 4th | Portland | Rose Garden |
| Monday, November 7th | San Jose | HP Pavilion at San Jose |
| Friday, November 11th | Anaheim | Arrowhead Pond of Anaheim |
| Wednesday, November 16th | Sacramento | ARCO Arena |
| Saturday, November 19th | Houston | Toyota Center |
| Sunday, November 20th | Dallas | American Airlines Center |
| Wednesday, November 23rd | Phoenix | Glendale Arena |
| Friday, November 25th | Las Vegas | MGM Grand Garden Arena |
| Saturday, November 26th | Las Vegas | MGM Grand Garden Arena |
| Tuesday, November 29th | Los Angeles | STAPLES Center |
---------------------------
April 16
Quick Beatle News Briefs...
The Heritage Foundation in London is planning to erect a memorial plaque for the late George Harrison which will appear "alongside Lennon's plaque, unveiled two years, at the site of the The Beatles' lengendary 1960's Apple boutique," wrote Contactmusic.com. Said Heritage Foundation chairman David Graham: "We're very keen. The Beatles did more for this country than just about anyone in the 1960s."
Meanwhile, in an effort to raise the profile of Oxfam's music month, "Beatle posters signed by Paul McCartney are being sold at St Albans charity shop" writes the Hertz Advertiser. "Only 3,000 of the posters are available in the whole Oxfam network and 20 of them are on sale at the organization's shop in Catharine Street. The posters are selling at £2.99 for A4-size and £3.99 for an A3."
"Lennon," the theatrical musical, has officially been approved by Yoko Ono. "It was nerve wracking," said producer Allan McKeown in a report filed by Paul Liberatore of the Marin Independent Journal. "It was very tough to do in front of her for the first time," he said. "We did three run throughs and then Yoko came in. The first three performances, we looked at the actors, but on the fourth, it was very hard not to look at Yoko, especially as the show comes to its obvious conclusion."
What was her reaction?
"She loved it," McKeown recalled, relief still in his voice. "It was tearful, very emotional. When we finished the presentation, Yoko went and hugged each of the actors. They were very emotional, too."
"Lennon" opens at the Orpheum Theatre, April 19 in San Francisco.
---------------------------
April 15
Update on former Apple recording star Jackie Lomax
Dear All
News added to LATEST NEWS - http://www.jackielomax.com/news.html - as follows....
WARNER BROTHERS ALBUMS TO BE RE-ISSUED ON CD IN MAY/JUNE 2005 IN UK
As you know, for the past two years, Warners UK have been putting "HOME IS IN MY HEAD" and "THREE" together for release on CD. Timescales went out the window with the selling of Warners to the Edgar Bronfman / Haim Saban consortium and it was looking less and less likely that they would appear. In spite of having completed the digital remastering of the original tapes, and finished the artwork, they were unable to go forward until ISRC catalogue numbers were assigned. The good news now is that Warners A&R have been in touch with www.JackieLomax.com to confirm that catalogue numbers and barcodes have now been issued for both albums. We're now in the final stages of the process and should get CDRs of the albums for approval by 22 April. Those CDRs should also include some unidentified tracks (which Jackie doubts are outtakes - possibly just a mistake on WB's part) and interviews with Jackie from the time of the original releases. A&R in the UK are now confident that the albums will appear on CD on 30 May, possibly 6 June 2005. Jackie Lomax and www.JackieLomax.com have put together the lyrics and sleevenotes and are helping with memorabilia and other aspects of the CD booklets. Full details of the release date, catalogue numbers and samples of the artwork should be available by the end of April.
WARNER BROTHERS ALBUMS TO BE RE-ISSUED ON CD IN AUTUMN 2005 IN US
Warner Brothers in the US have decided to license "HOME IS IN MY HEAD" and "THREE" to Water Records who are working towards an autumn US release for both CDs. The remastered albums will be the same as the WB UK releases but will not have any of the possible bonus material that should appear on the British releases. Water Records have been in touch with www.JackieLomax.com and we'll be helping them with information for their versions of the sleeve notes and booklets but they won't be the same as the WB versions. Water Records are a part of Runt Distribution which specializes in re-releasing classic albums on CD and high-quality vinyl. Jackie's albums will be on CD only.
Hopefully much much more very very soon.
Alistair Hepburn
www.JackieLomax.com
---------------------------
April 13
Update on Klaatu's Sun Set: 1973-1981
The following is from Jamie Vernon:
Hey, folks...
Thought I'd bring everyone up to speed on the Klaatu Kollection as there's been plenty of off-list chatter about the release(s) coming up.
I have spent nearly 30 hours working with Terry Draper and Ted Jones on the completion of the packaging for the Klaatu boxed set over the last two weeks. We put the sucker to bed after a 12 hour brainstorm last night.
With some creative mastering by Joe Lambert at Trutone Mastering in New York City, we've been able to squeeze the archives from 5 studio albums worth of outtakes onto 2 CDs....initially it was going to be 3 discs but that was only when we had thought that the 'Hope' orchestral mixes were going to require their own separate CD. As it turns out 1973 through 1977 will occupy Disc 1; 1978 through 1981 will occupy Disc 2. Only two of the songs that I had listed in previous emails were bumped ("Perpetual Motion Machine" and "Silly Boys" alternate mixes).
Now before everyone freaks out about this (because we DID initially say 3 CDs), the audio portion still offers approximately 150 minutes worth of music. What justifies our use of the terminology of "boxed set", as opposed to just calling this an 'anthology', will be the packaging.
The CDs will be housed in a standard slimline double CD case (NOT the double thick like the Beatles are wont to do). Inside the jewel case will be a standard tray-card listing the songs and a standard length booklet of Klaatu's story seen through the eyes of Frank Davies...the band's manager/guru for the better part of 25 years. Frank's unique, and lengthy perspective will be approximately 8 pages. The remainder of this mini-book is for the credits, thank you's and all the legal criteria that needs to accompany any Klaatu CD release.
Housing the jewel case will be a cardboard slipcase (or 'O-Card' as we call it here in CD Land) augmented with Ted Jones's elaborate new 'pyramid' painting and a quick list outlining the running order of the songs for the casual purchaser who finds this in retail outlets. Sandwiched between the cardboard sleeve and the jewel case will be a 40 page FULL COLOUR spectacular history of Klaatu booklet. The booklet is broken down into 8 chapters:
1) The Journey Begins
2) 3:47 EST: Let The Music Speak For Itself
3) It's Us, It's Us, It's The Beatles
4) HOPE: The Orchestral Mixes
5) SIR ARMY SUIT: Those Silly Boys
6) ENDANGERED SPECIES: Peddle Yourself?
7) MAGENTALANE: Maybe I'll Move To Buttonville
8) True Live Heroes
Included with each chapter is anecdotes from the three members of Klaatu plus Steve Smith and Christopher Bond (some of which have been previously published, but edited and specific to this package for better clarity in context). Be warned that the band has removed the juicier anecdotes and anything with a name-dropping aspect to them in favour of focusing, as always, on the music itself. There are some revelations about the tunes and other parts of Klaatu's struggle that may or may not be familiar to fans. There is also a good amount of previously unseen photos from the band's personal collection and some customized page designs featuring tonnes of images collaged, scrapbook-style, in and amongst the text.
Meanwhile, there has been some logistical stumbling blocks with the vinyl....from battling with what logo to use, to mastering the material properly for a format that's no longer an industry standard (vinyl mastering seems to be a dead art form in this city at least)...and the delivery time from the manufacturer of 4-6 weeks has made this impossible to meet the Konvention deadline. I realize some folks will be disappointed, but we've been focusing ALL our attention on the boxed set itself which must take precedence. However, I will still be taking pre-orders starting next week as the vinyl will follow quickly on the heels of the Konvention....so the LP will only be a few weeks later than anticipated.
And finally, because the boxed set was weeded down to two discs...there is left-over material. Most of this WILL be on the vinyl....but there is plans to release CD singles from the boxed set and these will feature previously unreleased outtakes as bonus tracks. At this point the first single will be as follows:
"HOPE: The Orchestral Mix" featuring
1) Hope (The Orchestral Mix) - from 'Sun Set: 1973-1981' CD
2) We're Off You Know (7" single mix) - from 'Raarities' LP
3) Older (alternate studio mix) - previously unreleased
4) Little Neutrino (FULL-LENGTH alternate studio mix) - previously unreleased
It will feature a thematically appropriate new piece of cover art designed by Ted Jones in a mini-sleeve (which looks like an old album cover -- only 5" x 5" instead of 12" x 12").
We'll probably have this available at the Konvention in lieu of the vinyl....and to the general populace after the fact. Price'll be real cheap as they're not very expensive to produce.
A second single is planned...its contents and in what context it will be made available will be revealed at the Konvention to all those in attendance (everyone else not attending will find out a bit later :-)
The singles will be sent to Classic Rock and Gold radio to re-introduce the band to the world at large and help promote the boxed set. If all goes well we maybe able to get a third single out -- which we would like to be Dee's previously unreleased "Something Happened" from the box....but as a new remix (the original 4-track tapes were salvaged many years ago by our very own David Bradley).
Stay Klaatuned...
Jaimie Vernon,
President, Bullseye Records
http://www.bullseyecanada.com
Author, Canadian Pop Music Encyclopedia
http://jam.canoe.ca/Music/Pop_Encyclopedia/
Also from the CBC news: Klaatu is getting back together - a new article on the history of the band and Klaatu's upcoming convention to be held in Toronto, May 6 to 8.
---------------------------
April 12
Born To Boogie - a movie directed by Ringo Starr to be released on DVD
The following from antiMUSIC.com...
Born To Boogie, the definitive concert documentary on British rock phenomenon T. Rex, will be released in a special 2-disc DVD package from Sanctuary Records on June 7th. Directed by Ringo Starr, the concert DVD will include several hours of bonus footage and extremely rare material and marks the first time the film has been available on DVD. A separate double CD set will be released on the same day as a companion piece to the film.
Although it was filmed in 1972, Born To Boogie wasn't released in VHS format until 1992 ­ a full 20 years after it debuted in movie theatres around the world.
At 5 hours and 25 minutes, Born To Boogie shows T. Rex at the height of their success, bringing Ringo's visionary film back to its true colour and vibrancy, and revealing hours of material never used in the final cut. The DVD also includes further rare, never before seen footage throughout the 2 discs and DVD menus. All told, the extras stretch to over 90 minutes and are presented by Marc's only son, Rolan Bolan. They feature newly recorded interviews with the sole surviving member from the '72 T. Rex line-up ­ drummer, Bill Legend. Also interviewed are Tim Van Rellim (Producer of Born to Boogie and now a Hollywood film executive, responsible for films including A Knights Tale), Tony Visconti, Geoffrey Bayldon (famous for playing Catweazle), radio institution Bob Harris, photographer Keith Morris, former roadie Mick Gray and fans of T. Rex. Also included is unique footage recorded by Marc himself, plus equally unique footage of Marc and Ringo backstage between performances at the Wembley gigs.
For the complete report, click here. For photographs from the movie, click here.
---------------------------
April 8
Indian Sitarist Ravi Shankar Turns 85
Journalist Anjana Pasricha, New Delhi, reports that "legendary musician Ravi Shankar, known for his pioneering work in taking Indian classical music to the West, turned 85 on April 7." For details, please click here.
---------------------------
April 6
NBD TV in UK picks up broadcast rights for Paul McCartney's 3000th career performance
The following from 4RFV (Regional Film and Video)...
NBD TV, one of the UK's leading independent television distributors, will offer a brand new concert 'Paul McCartney Live in St Petersburg' for the first time at MIP-TV.

In this unique 1 x 52' television event, Sir Paul performs live against the stunning backdrop of St. Petersburg's Palace Square during his 2004 world tour.

More than 50,000 people braved the elements to hear him put on an enthusiastic and nostalgic set of songs from The Beatles, Wings and his solo back catalogue. Penny Lane, Sgt Pepper's Lonely Hearts Club Band, and Get Back brought the Beatles most devoted admirers to the height of excitement.

The concert marked Paul's 3000th performance of his career and his second time in Russia. According to reports, one of the most popular songs was the Beatles classic 'Back In The USSR'. While the Beatles were banned from the old Soviet Union, Paul McCartney was welcomed by the current government with President Vladimir Putin a big fan attending the concert.

Nicky Davies Williams, Chief Executive Officer, said: "Paul McCartney continues to be one of the world's most admired writers and performers and this matchless venue highlights the longevity of his music. The enthusiastic audience in St Petersburg gives the concert a warmth and exuberance that makes this a must-have show for broadcasters around the world."
---------------------------
April 5
Catching up with Mark Lewisohn -- a new interview with the famed Beatle historian
Hello Tony,
I hope that you are well. At Mark Lewisohn's request, I am offering you a free Mark Lewisohn interview for posting on your web-site.
Regards,
Brad Howard
The World Beatles Forum fanzine
To read this excellent article, please click: Catching Up With Mark Lewisohn
---------------------------
April 4
Tony Bramwell to do book signing in Toronto, April 11
Hi there,
Just thought your readers might be interested to know that Tony Bramwell, long time friend, confidant, and employee of the Beatles, will be in Toronto on April 11 talking about his new book Magical Mystery Tours: My Life With the Beatles. He has a book signing at Chapters – Festival Hall location (John & Richmond Streets) that evening at 7 pm.
Let me know if you have any questions!
kari
Kari Atwell
Senior Publicist
H.B. Fenn and Company Ltd.
34 Nixon Rd.
Bolton, ON
Canada; L7E 1W2
[Editorial: Chapters address is "142 John Street" and their phone number is: (416) 595-7349.]

"Beep-Beep! and Beep-Beep Yeah!"
This 1965 Mini Cooper "S" modified by Harold Radford's Workshop once belonged to Beatle Paul McCartney. McCartney's Mini was outfitted with full Connelly leather upholstery, a sunroof, dash and door walnut trim and plush carpeting.

The car is currently being displayed at the Sarasota Classic Car Museum in Florida.
---------------------------
April 3
Upcoming Beatle Festival in Secaucus, New Jersey
Mark Lapidos, who organized the world's first Beatles fan convention in New York in 1974, will be presenting his 100th Beatles convention at the Crowne Plaza in Secaucus, New Jersey, from April 8 to 10. It is anticipated that between 6,000 - 8,000 fans across the United States and other countries will show up for the event.
Now a 31-year tradition, Lapidos conventions have appeared in ten American cities and college campuses. He recalls how he approached the idea to John Lennon during an interview: "It was April 28, 1974," said Lapidos to Hudson Reporter, Al Sullivan. "While I met with him before, on this occasion I asked him about my setting up the festival. He said, 'Go for it. I'm a Beatles fan, too.'"
While his first festival was to be a one-time only event, it became the cover story for Rolling Stone Magazine but more festivals followed. By 1978, he started up a small mail-order catalogue where fans could order Beatle tee-shirts and so successful was it that he decided to expand the catalogue with over 1000 available licensed Beatle items. Lapidos mail-order business has already grossed $10 million dollars making it the most successful mail order business for Beatle memorabilia.
"In the mid-1990s, the festival became the spot for the world premier of the second volume of the Beatles Anthology," wrote Sullivan, that helped younger people to get acquainted with Beatles music.
This year's convention will have appearances from Billy Preston, Mark Hudson, Mark Rivera, Larry Kane, Tony Bramwell and Mark Lewisohn. Neil Innes, who parodied the Beatles musical work for the Rutles movies and albums, will also appear at the festival.
For more information, please click: The Fest for Beatle Fans 2005.
---------------------------
March 29
Olivia Harrison to appear in New York
RollingStone.com reports that Olivia Harrison will be in New York on April 9th at Barnes and Noble signing copies of the book "The Concert for George: A Celebration of the Life of George Harrison."
---------------------------
March 27
New article on Karlheinze Stockhausen
"Whenever The Beatles discovered Stockhausen, there's no doubting the influence his music had on them. Paul McCartney has talked about his admiration for the 1955 piece Gesang Der Jünglinge and John Lennon openly admitted that 1967's Hymnen (Anthems) was the inspiration for Revolution No 9, from The Beatles' White Album," writes Barry Didcock in a report on Karlheinze Stockhausen entitled: The man who fell to earth.
Long and winding road to Rishikesh
The Beatles went to Maharishi Mahesh Yogi's ashram to find peace. Paul Saltzman went to piece together a broken heart. The results of their chance encounter for a magical week in 1968 will come together in a new book by the now-established filmmaker.
"There is now a pretty solid body of evidence that for The Beatles, India was their most creative period," writes journalist Amit Roy for India's Telegraph. "When they were in Rishikesh for several weeks in February, March and April of 1968, they wrote between 23 and 48 songs, 17 of which were included in their White Album, one of their best known."
"We know this from the account given by Paul Saltzman, now a distinguished Canadian filmmaker, who went up to Rishikesh in February, 1968, and was included for a week by The Beatles as part of their inner circle."
For the complete report, please click here.
---------------------------
March 20
An Exclusive from the Sunday Times Magazine: The Mal Evans Diaries are finally revealed!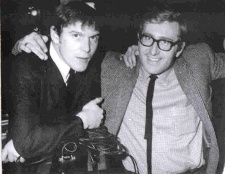 Neil Aspinall with Mal Evans were part of the Beatles inner-circle.
"For many years, an ever-growing number of Beatles historians have regarded the Mal Evans archive as the holy grail," writes Mark Edmonds for the Sunday Times. "Last year, rumours surfaced that it had turned up in a suitcase in a Sydney street market (not true) and that it contained outtakes of unreleased Beatles songs (ditto). The reality is rather more prosaic: 10 years after Mal's death, Yoko Ono was told about a trunk full of his effects that had been found by a temp clearing out files in the basement of a New York publisher; she arranged for them to be shipped back to his family in London. Among those effects were the diaries, which his widow, Lily, kept for years in an attic at her home."
There are several reports from the Sunday Times Magazine regarding this story along with quotes from the personal diary of Mal Evans.
1. McCartney wrote Sgt. Pepper 'with a little help from his roadie friend'
Beat Brother Roy Young to perform at the Thunder Bay Blues Festival
Journalist Leith Dunick of the Thunder Bay Source writes that Roy Young will make his second appearance at this years Thunder Bay Blues Festival. He described Roy as "the surprise hit from last year's festival" and that "the would-be Beatle filled in admirably for an ailing Eric Burdon on opening night a year ago, and that [blues organizer] Streib said he couldn't really see the festival going ahead without him in 2005."
"We had to have him back because of what he did for us when Eric Burdon had taken ill. I felt almost obligated to have Roy Young coming back," said Streib.
Headlining the festival this year will be famed blues artist John Mayall who has performed with Eric Clapton; John McVie and Mick Fleetwood of Fleetwood Mac fame; Andy Fraser (founder of Free) and Mick Taylor. Other headliners include: Colin James; Dr. John; Ricky Skaggs; Commander Cody; Detroit Women of Blues; Lucky Peterson; Big Walter Smith and his Groove Merchants; Katrina Chester; Manitoba Hal and Billie Joyce. Included are local acts from Thunder Bay: The Rocker Brothers; Mark Potvin and the Westfort Horns and the Tender Mercy's Band.
Leith Dunick writes that "tickets for the show cost $48 for a weekend pass and $25 for a daily pass. They go on sale at the Community Auditorium on April 1. Portions of the proceeds will be donated to local charities. A total of $63,000 has been raised in the first three years of the festival."
The Thunder Bay Blues Festival will run from July 8-10 at Marina Park. For details, click here.
---------------------------
March 19
The Birth of Rock Charity: legendary "Concert for Bangladesh" to be re-released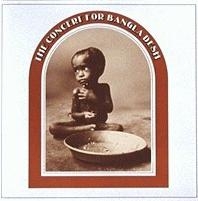 On November 13, 1970, a 120-mph tropical cyclone named Bhola hits a densely populated Ganges Delta region of East Pakistan and killed an estimated 500,000 people marking it the worst natural disaster of the 20th century. And if that tragic event wasn't enough, in 1970 general elections in East Pakistan saw a victory for breakaway fraction "Awami Leagu" which gave birth to the rising tension with West Pakistan. By 1971, East Pakistan attempted to secede which led to a civil war with West Pakistan. However, the civil war is not without brutal bloodshed: The West Pakistan army had torched the slums of Dacca, the largest city in East Pakistan while machine-gunning innocent civilians. India would eventually intervene in favor of East Paskistan that finally led to their liberation which became Bangladesh.
But the tragic consequences and human misery were too much to take for Indian sitarist Ravi Shankar. "I was very much concerned," Shankar said at his hotel the day after the Concert for Bangladesh. "I was asked by many different societies to give some benefit performances to raise funds....So I thought of getting a big performer, a big show and getting a minimum of fifty thousand dollars, and I just asked George. He was very moved, he felt very deeply, and he said, 'Yes, I think I'll be able to do something.'"
In his book, I Me Mine,George Harrison said the concert drew "attention to the events over there because while we were setting up the concert the Americans were shipping arms to Pakistan. Thousands were dying every day but in the newspapers, coming after Biafra, it was just a few lines saying "oh yeah it's still going on."
"So our thing was, we attracted a lot of publicity, turned it around and even now I still meet waiters in Bengali restaurants who say: 'Oh, you Mr. Harrison. When we were in the jungle fighting it was great to know somebody out there was thinking of us.'"
"It did have a good effect; it was a necessary morale booster for the Bengalis and it shone a light on some of the Pakistani Hitlers."
In 1972, Jon Landau in Rolling Stone magazine reported the following about the Concert for Bangladesh: "George Harrison emerges as a man with a sense of his own worth, his own role in the place of things, and as a man prepared to face reality openly and with a judgment and maturity with few parallels among his peers. The spirit he creates through his own demeanor is inspirational. Concert for Bangladesh was George's moment. He put it together and he pulled it off, and for that he deserves the admiration of all us."
Indeed he does deserve the admiration from all of us. The good news is that on March 15, Los Angeles Times journalist Randy Lewis who interviewed Olivia Harrison reports that "There's the re-release later this year of the 1971 live album (and now DVD) from the Concert for Bangladesh. She's also determined to continue the philanthropic work of the Material World Foundation, which George set up in 1973."
---------------------------
March 16
Beatles lyric to appear at airport
Paul Kehoe, managing director of Luton Airport, has announced that John Lennon's lyrical phrase "All You Need Is Love" will be inscribed on walls of the arrivals walkway at London's Luton airport. An internet poll conducted by Luton First saw thousands of people vote from a list of famous maxims to choose from. Here are the final pole results:
All you need is love -- The Beatles
'Unto thine own self be true'
'All journeys begin with a first step'
'Never in the field of human conflict..' -- Winston Churchill
'Man does not live by bread alone' -- The Bible
Tony Edwards, PR for Luton First, said: "It was interesting to see that the title of a 1960s' song should be in the forefront of public imagination more than 40 years on,quot; while Paul Kehoe said that " the winning quotation is a great choice as the words will send out an immediate, positive and life affirming message to all visitors arriving in the UK at London Luton Airport."
---------------------------
March 12
Mansion once owned by the Maharishi Mahesh Yogi is being turned into luxury hotel
Sexy Sadie, what have you done? You made a fool of everyone! - John Lennon from the Beatles' White Album

Photo of Mentmore Towers: ©Robert Stainforth, used for non-commercial purposes only.

Maharishi owned this mansion from 1977 - 1997
"When people say, 'Wasn't he stashing it away in a Swiss bank? I always say that I only ever saw him in one piece of cheesecloth," said Paul McCartney of the Maharishi Mahesh Yogi in the Beatles Anthology book. "I never saw him in a decent suit in his life. You would have thought if he was doing it for the money you would catch him bombing off to a New Delhi nightclub in a Rolls. But he always appeared to be in his hut meditating, in a piece of cheesecloth, and I thought: 'You can't knock him for that.'"
The Maharishi Mahesh Yogi taught meditation to all four Beatles in Rishikesh in 1968. But much later on the Maharishi quickly learnt how to become "businessman" for in 1977 he purchased the Mentmore Towers mansion located in Buckinghamshire, England. It was sold to him under the foundation he created: "The World Government of the Age of Enlightenment." With the estate under his control, he turned it into several projects: One project saw the University of Natural Law occupy the mansion and later it became headquarters to the British Natural Law Party right up until 1997. In between that period, the Maharishi Yogi even built a golf course on the grounds of the estate.
Former Mersey Beat editor Bill Harry wasn't surprised at how well later on the Maharishi Yogi had done for himself: "Despite the fact that the Beatles' association with him had been brief, the Maharishi's cause had blossomed with the international publicity. The money poured in as the converts grew and the Maharishi immediately began to buy property," said Bill Harry from his book, The Ultimate Beatles Encyclopedia. "In England alone he bought Mentmore Towers in Buckinghamshire, Roydon Hall in Maidstone, Swythamley Park in the Peak District and a Georgian rectory in Suffolk. He set up his headquarters in Switzerland and at one time he was reported to have an income of six million pounds (twelve million U.S. dollars) per month, with two million followers worldwide."
But in 1997, Maharishi Mahesh Yogi decided to give up the mansion and sold it to developers Mentmore Towers Ltd. From that point forward, a restoration of the mansion went into planning stages with the hopes of turning it into a 'six star plus' luxury hotel.
However, the idea did not come without opposition. Jonathan Davey, of Cheddington Lodge, Mentmore, Buckinghamshire, threw in a bid to block the hotel plan "arguing that the plans ran contrary to established planning policies and would cause traffic problems. He said helicopters flying in and out of the property would cause a noise nuisance," wrote journalist John Aston, PA news.
His bid was quashed on March 11 by Mr. Justice Forbes citing the developers plan as "unimpeachable" and legally sound. When completed, the Mentmore Towers mansion will be "a luxury hotel with more than 100 bedrooms targeted at wealthy tourists and high spenders," wrote Aston.
Incidentally, the Mentmore Towers was used as the "Wayne Mansion" estate for the latest Batman movie.
---------------------------
March 11
Potential cast for Broadway production of Lennon
A tryout cast seen in this publicity photograph with Yoko Ono, will appear at San Francisco and Boston. The theatric musical will be previewed at the Broadhurst on July 7 while opening night is scheduled on July 21. Lennon was written by Don Scardino with approval from Yoko Ono.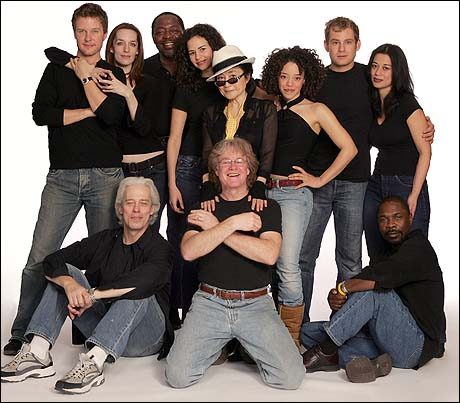 Publicity photo by Joan Marcus, from Playbill
Top Row: Will Chase (left), Julia Murney, Chuck Cooper, Mandy Gonzalez, Yoko Ono, Marcy Harriell, Chad Kimball, Julie Danao; Bottom Row: Terrence Mann (left), Don Scardino and Michael Potts
Log on to the official Lennon the Broadway musical website for weekly features, downloads, news and events!
---------------------------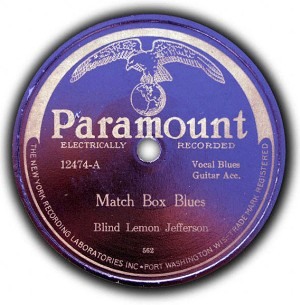 ---------------------------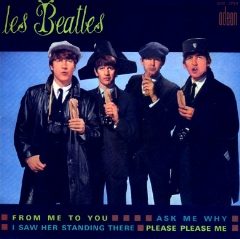 March 7
The story of "Matchbox"
"I said I'm sitting here watching matchbox hole in my clothes." – Opening verse of Beatles' "Matchbox"

"In 1964 the Beatles took America by storm on the basis of some catchy original songs and a scattering of '50s rock 'n roll retreads like "Matchbox." In quick succession they were followed by bands like the Rolling Stones, the Who, the Animals, Them, the Yardbirds, Led Zeppelin, Pink Floyd. What would become known as the "British Invasion" changed the face of American – and world – pop music forever.

"What got lost between the lines was that the white British Invasion was fueled by black American blues," writes Don Santina in his article entitled: Reparations for the Blues.
March 3
New publication: "France and the Beatles" Volume One : The original discography (1962-1970)"
by Jean-Claude Hocquet and Eric Krasker
An unprecedented wealth of information. During the sixties, France was among the very few countries to establish odd but also privileged relations with the Beatles. And, until today, no comprehensive work had ever tried to study such a mixed relation, made of mutual admiration and paradoxes, which, nevertheless, remains unrivalled between the Liverpool boys and Molière's fatherland. So, the present book, entirely dealing with this original subject, definitely fills this gap while offering, both the casual fan and the hardcore collector, a highly detailed research work based on first-class and unpublished documentation.
This first volume (from a series of two) concentrates exclusively on the original french discographical output between 1962 and 1970. Because of the beauty of the various and colourful covers, not mentioning the historical value of some pressings, this discography really constitutes a unique collection theme. France was, for instance, the only country in the world to produce so many EPs: some of them, such as the Mister Twist EP, the Eiffel Tower cover or the famous "sandwiches cover" are among the most sought after collector items. But what were the reasons which led the french record companies to manufacture more EPs than their foreign counterparts? How many variations from each pressing can we find? And what do we know about those mysterious export records "made in France"?
This book, written by Jean-Claude Hocquet and Eric Krasker, not only intends to answer such questions, but it also presents the french records (LPs, EPs, singles and juke-box singles) in a real profusion of details. All covers are reproduced, front and back, in colour, as well as most A and B sides of the records themselves. The book also brings to the public the different known variations for each reference number, true dates of issue and a lot of new historical and technical information. But most of all, and thanks to Polydor, Odeon and Pathé-Marconi archives, you will be able to discover, for the very first time, exclusive documents : genuine ads, official news sent to record retailers and, last but not least, those precious production sheets offering invaluable information about the manufacturing process of several records.
Preceding a second historical volume, the first part of this ambitious study devoted to France and the Beatles has been expected for a long time by all Fab Four fans. We are sure it will undoubtedly show why so many beatlemaniacs around the world do envy us this extraordinary original french discography.
286 pages, more than 1000 illustrations mostly in colour, softback. The book, written in French, will be published in April by Séguier Atlantica. An English version of this new book is expected sometime in 2006.
Eric Krasker writes:
Jean-Claude and I will be present at the Utrecht Fair in Holland on 26 March 2005 to introduce the book.
Those who can read french language will find more information (and everybody will find some pictures!) on the Yellow-sub.net website: http://yellow-sub.net/rubrique.php3?id_rubrique=973
More news to come at the beginning of March.
Warmest Regards,
Eric Krasker
---------------------------
February 28
Sir George Martin donates "Sgt. Pepper" jacket for Tsunami Disaster
The following from Lady Sara Apsley:
We are running an international online Celebrity Charity Auction in aid of Rebuilding Sri-Lanka - and we have a Beatles item on offer that is so unique and special, I am telling as many people as I can!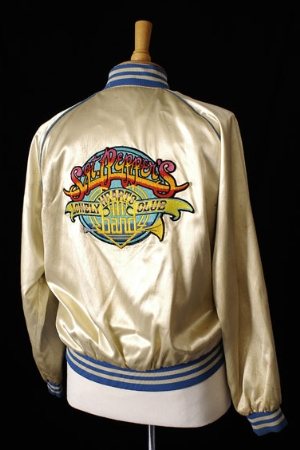 Sir George Martin has personally donated a jacket that was made for him and then presented to him when he finished his work on the Sgt Pepper movie.
It has belonged to him for nearly 40 years and he has given it to us for our auction.
The auction itself is taking place at the following link and you can find all the details there of the jacket:
http://www.clothesagency.com/celebrity/default.asp
ALL the proceeds are going to an amazing charity - helping the people of Sri-Lanka rebuild their lives after the Tsunami Disaster.
It is an opportunity to own an extraordinary piece of rock and music history and it comes with a signed letter and photograph of authentication from Sir George, (who is also a dear personal friend of mine.)
With warm and sincere wishes,
Sara Apsley
---------------------------
February 27
Across the Universe enters Billboard's Top 100
A cover version of the Beatle song Across the Universe that was sung by a variety of pop at this years Grammy Awards has entered at No. 22 position in Billboard's Top 100. The song has been made available as digital download in an effort to raise money for the tsunami victims. It is the first time the song has charted in the Top 100 as a hit contender.
"With Universe on the Hot 100," writes Billboard pop writer Fred Bronson, "the chart span of Lennon and McCartney as songwriters expands to 41 years, eight months and one week, counting back to the debut of Del Shannon's cover of From Me to You the week of June 29, 1963."
---------------------------
February 24
The Beatles Future Threatened by Stardust
The would have remained a struggling Liverpool, England, band if producer George Martin had taken pop veteran Alvin Stardusts's advice that the Fab Four were not worth signing.
Martin played Stardust a demo of Love Me Do in 1962 and expressed his urge to sign the now-legendary band to record label Parlophone, but the singer was unimpressed with what he heard - and urged him to look elsewhere for next big thing.
But much to the relief of Stardust, Martin dismissed the singer's cutting remarks - and offered the hit-makers the deal that launched them to international superstardom.
Stardust says, "The Beatles and I worked the same clubs in the early days, and I was signed by George Martin and Ron Richards at Parlophone, just before they signed The Beatles.
"I was in Ron's office when George brought in a demo of Love Me Do and said he was thinking of signing the band. I told him, 'There's a better band than them - The Big Three.' Luckily, George ignored my advice."
(the above article was written on this date by Contactmusic.com)
---------------------------
February 23
Live Peace In Toronto 1969
The Ottawa Beatles Site proudly presents "Live Peace In Toronto 1969," an oral history. The article is about the concert that John and Yoko did culled from a variety of books, magazines and newspaper publications quoting from the artists themselves and their associates. To view the article with special color photographs from the event, please click here.
---------------------------
February 22
Yoko: Ageism - worse than racism or sexism
Yoko Ono, who turned 72 last week, claims ageism is one of society's biggest curses.
John Lennon`s widow recently appeared in New York magazine wearing a mini-skirt under the headline Surprisingly Sexy Septuagenarian and has no intention of slowing down.
"Honestly, I think age-ism is much worse in this culture than either sexism or racism," she told the New York Post.
"The power of older people in this world means quite a lot, and it is being totally ignored at a time when there are so many of us. I want to stop this negative attitude toward people over 40."
The artist is currently helping with a new musical, Lennon, based on the former Beatle`s songs.
It features 10 actors portraying Lennon at various stages in his life, backed by a 10-piece band.
(this article published on this date by utvlive.com)
---------------------------
February 20-21, 8 pm
Rain playing Ottawa
Billed as the World's Best Beatles Tribute Act, Rain appeared at the National Arts Centre here in Ottawa on these nights.
The Ottawa Beatle Site and friends were there, met with the band backstage, and reviewed it.
- Tony Copple
Beatles first manger, Allan Williams, turns 75!
Happy birthday to Allan Williams who has celebrated his 75th birthday on this day. Allan, may you have many more of them to celebrate in the future! The Liverpool Echo has covered a story about his 75th birthday entitled: He's Got A Ticket...To Celebrate In Style.
---------------------------
February 18
Interview with Bill Harry
Founding editor and publisher of Mersey Beat, Bill Harry, provides Beatle Folks web site with an exclusive interview about the Beatles early years prior to Beatlemania. For the excellent interview, please click here.
---------------------------
Feb 17 - April 21
Beatlemania course at Algonquin College in Ottawa
On Feb. 9, 1964, the Beatles officially introduced themselves to America, and America was never the same again. With their different sound, matching suits and distinctive haircuts, they revolutionized popular culture. This course will focus on the impact the Beatles have had on music & culture up to the present time.
Course: MSC0064 (Section 541) *Beatlemania* Course leader: Darrell O'Dea.
Feb 17 - Apr 21 (7 - 10 PM) $250 WOODROFFE Campus
Music-related courses coming up at Algonquin
---------------------------
February 14
Concert For George video wins a Grammy Award
The "Concert For George" won a Grammy Award yesterday in the category of "Best Long Form Music Video." The recipients of the award are: David Leland, video director; Ray Cooper, Olivia Harrison and John Kamen, video producers.
"The Concert For George was all I hoped it would be. I don't think I've ever heard a band play with so much emotion and respect," said Olivia Harrison in a press release today through Market Wire.com.
The performance of "Something" from that concert by Paul McCartney and Eric Clapton were nominated for "Best Pop Collaboration with Vocals" but unfortunately did not win in that category.
Olivia Harrison was present for the ceremony along with producer Jon Kamen who accepted the award.
---------------------------
February 12
University of Ottawa's "A Platform for Peace" - John and Yoko
Available is an on-line version of the Tabaret magazine's November report on John and Yoko's 1969 visit to the University of Ottawa entitled: "A Platform for Peace." The article was written by Shari Graydon. To view the article, please click here.
Expect a new Ringo Starr album this coming June
At Ringo Starr's official web site, his February 9 on-line video update has revealed that he plans to release a new album this June entitled "Choose Love." Please visit http://www.ringostarr.com/ for this and other past on-line videos.
---------------------------
February 11
Hot Chocolate: 'John Lennon helped us hit the big time'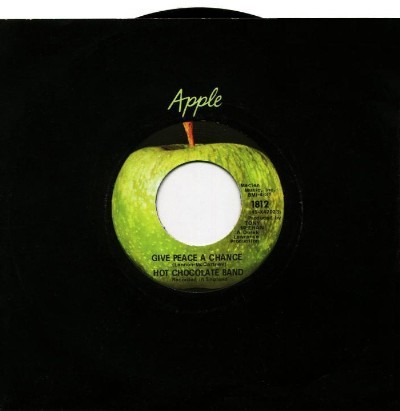 Photo credit: From the private record collection of John Whelan
"Many people have helped us break the barriers but John was instrumental," said former Apple recording artist Errol Brown whose band went under the name Hot Chocolate. "His support was fabulous. We recorded our version of his song Give Peace a Chance - not thinking he would ever get to hear it."
There have been many cover versions of "Give Peace A Chance" -- Mitch Miller & The Gang released it on Atlantic records on December, 1970. Yoko Ono did an excellent re-recording of the version in 2002 marking the first anniversary of the 9/11 tragedy. Then in 2004, to help raise their profile, Amnesty International recorded what might possibly be the best cover version yet of the song. But the first group to ever do a cover version of the Plastic Ono Band peace anthem, were Apple recording stars "Hot Chocolate." They did a nifty reggae recording of the song which was released on November, 1969, only 6 months after the Plastic Ono Band turned it into a hit song from the Queen Elizabeth Hotel in Montréal.
Errol Brown recalls his association with John Lennon and Yoko Ono and brings us up-to-date with what he's been doing lately in the field of pop music. For the excellent report written by Peter Grant of the Liverpool Echo, please click here.
---------------------------
February 10
Sgt. Pepper's artwork goes on show
The BBC reports that Sir Peter Blake, "the artist who designed the album cover for Sgt. Pepper's Lonely Hearts Club Band by The Beatles has given the only copy signed by him to Leeds University. The print signed by Sir Peter Blake appears in a new permanent exhibition at the university's school of music."
For the complete report, please click here.
---------------------------
February 8
Residents vote in favor to demolish Ringo's childhood home
According to the Daily Post, a consultation exercise has revealed that "72% of residents now approve the Deputy Prime Minister's pathfinder scheme to bulldoze thousands of Victorian terraced houses across the Merseyside." The approval came from the majority of residents living in Dingle where Ringo Starr's childhood home is located on Madryn Street. The Daily Post cites it is a "wide scale demolition" plan backed up with a "15-year regeneration plan."
For the full report, please click here.
---------------------------
February 7
Rocker McCartney "Wows" fans at the Super Bowl!
"I want to hear everybody in the world sing!" - Paul McCartney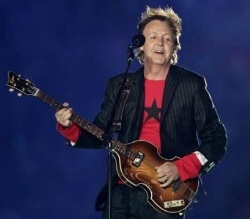 Reuters photograph by Shaun Best
Leave it to Sir Paul McCartney to open the half-time Super Bowl show with two rousing Beatle numbers, "Drive My Car" and "Get Back." The first one, "Drive My Car" sounded very much like the original Beatle version while "Get Back" featured the guitar solo and keyboard playing that his band nailed down just like the original hit recording.
The 62-year-old McCartney followed up next with a backdrop of fireworks and performed the classic "Live and Let Die" title theme song he wrote for the James Bond movie. As usual, McCartney demonstrates his vocals are still in fine form for this number.
In his last number, "Hey Jude," Paul announced: "I want to hear everybody in the world sing!" How does this guy do it after all these years? This song is now over 30-years old and he's still able to hit all the right notes to this song and still gets all the fans up on their feet to join in the "na-na-na, na-na-na na, hey jude" chorus! In fact, when you come to think of it, all of his songs that he performed at the Super Bowl are now over 30-years old and that says something about the timelessness of Paul's music that he made with the Beatles.
Certainly Paul's performances last night restored the integrity of the NFL's Super Bowl from last year's "wardrobe malfunction" exposing Janet Jackson's breast and nipple which was viewed by 120 million people, including children. Let's be clear about this: Janet Jackson's antics from last year had no place in people's homes nor what she did help the rock industry any or her personal image. In fact, more than 500,000 people called up to complain about the incident. In the end, the television station which transmitted that broadcast was fined $550,000 (American) for Janet's shameful stupidity.
About Paul McCartney's wardrobe at the event: "We expect he'll keep his clothes on," said Charles Coplin before the show who happens to be the NFL's vice-president of programming. He needed had worried -- about the only thing Paul took off that night was his jacket so as to sit down at his piano. Again, Paul proved to the Super Bowl fans and North American television viewing audiences that great music and fun is basically where it's at!
---------------------------
February 6
Billy Preston to be featured in the 47th Annual Grammy Awards
The worlds wildest, hottest, organ player who played on the Beatles "Let It Be" sessions and who appeared in Robert Stigwood's film production of "Sgt. Pepper's Lonely Hearts Club Band", is slated to be featured in a performance segment honoring the late great Ray Charles. Billy's appearance was announced by the Recording Academy on January 27 along with pop star Bonnie Raitt who will also pay tribute to Charles.
Ray Charles final album, "Genius Loves Company," has been nominated album of the year and has been posthumously nominated in six other categories. Charles passed away at the age of 73 from acute liver disease on June 10 at his Beverly Hills home in California.
The 47th Annual Grammy Awards will air on CBS on February 13.
Canadian Beatles Tribute Band: REPLAY
Many band wear the suits and play the chords...REPLAY is not really that kind of tribute, but rather more of a "reproduction." Not only stunningly real Beatle look-a-likes and sound-a-likes, REPLAY has the mannerisms and gestures of the Fab Four on stage, capturing their spirit and persona. Many people had said REPLAY "is" The Beatles. They felt they were watching, John, Paul, George and Ringo.
All this, plus custom-designed costumes, a multi-media DVD show, and orchestral backing tracks for the authentic album sound, REPLAY is a one-of-a-kind experience right out of the sixties. For photographs of the group, click here.
---------------------------
February 4
Hit Factory Closing Shop in New York
By LARRY McSHANE, of the Associated Press
NEW YORK (AP) - Few places were more aptly named than The Hit Factory, the legendary Manhattan recording studio where scores of gold records and Grammy winners were created. And even fewer were so intricately involved in the musical history of the last 30 years.
But the last notes are echoing through the temple of sound on West 54th Street, with its doors set to close permanently within the next month, its owners said Friday. Word of its imminent demise only reinforced The Hit Factory's matchless, magical legacy.
Stevie Wonder strolled through its front doors in 1975, and walked out with the brilliant "Songs in the Key of Life."
John Lennon spent his last night alive there in 1980, mixing wife Yoko Ono's single "Walking on Thin Ice."
Whitney Houston recorded the soundtrack for "The Bodyguard" inside one of its studios in 1983, and watched it sell more than 17 million copies.
A short list of Hit Factory clients sounds like a recitation of Grammy winners: Bruce Springsteen, Donald Fagen, Michael Jackson, Tony Bennett, Toni Braxton, Madonna, U2, Paul Simon, Billy Joel, Jay-Z, Beyonce. In 1994, music recorded, mastered or mixed inside the pre-eminent facility captured a staggering 41 Grammy nominations.
"The Hit Factory paved the way for how recording studios approached the artistic process of making music," said Janice Germano, the studio's owner. "In doing so, it forever changed the way artists thought about making records and raised the art form to a new level of innovation.''
The Hit Factory opened in 1968 on West 48th Street, with the Germano family buying the place in 1975 and lifting it to new heights. The new version, six blocks north, opened in June 1993.
The studio always catered to its artists. Once, when a country musician was in the studio, bales of hay were set up around the instruments. Another studio was filled with palm trees for an artist seeking a tropical feel.
The Hit Factory also featured a gym, a steam room and two-bedroom apartments for artists seeking solitude or sleep.
But the times changed, and so did the technology. The six-story Hit Factory, with its seven recording studios and five mastering suites, was once considered the most desirable location in the industry. The advent of home studios and technological advances cut into its business.
The Hit Factory, which will continue to operate its recording facility in Miami, acknowledged in a statement announcing its decision that there was "a burgeoning shift in the music industry away from large-scale recording facilities."
"People can easily have a studio in their home if they want," said Carolyn Johnson, a studio employee. "This is an expensive building to run."
"And," said Johnson, "the times are changing."
---------------------------
February 3
Harrison, Clapton and their muse
A CNN report by Todd Leopold on Pattie Boyd's life and images put classic rock era in focus. For the report, click here.
---------------------------
February 2
The Red Square Television Special to be released on DVD this spring!
NEW YORK, Feb. 2 /PRNewswire/ -- Paul McCartney and A&E Television Networks VP of Video Sales and Marketing, Kate Winn, today announced an arrangement that will bring home audiences the landmark DVD releases PAUL MCCARTNEY IN RED SQUARE. Due out this spring, the historic Emmy-Award(R)- winning live concert, which premiered on the A&E Network, will be combined with NEW never-before-seen concert footage "Live In St. Petersburg" and rare behind the scenes footage, for a DVD that A&E and McCartney are calling fully loaded.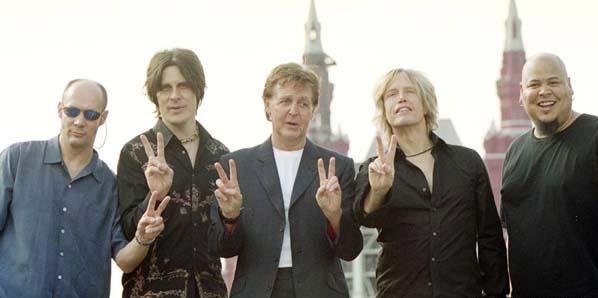 "We are thrilled to be releasing PAUL McCARTNEY IN RED SQUARE on DVD," said Winn. "This program not only features an absolutely electric concert, it's also an emotional document of a truly historic time in Russia and the hope that Paul McCartney and the Beatles brought to the people who lived under the communist regime in the Soviet Union."
McCartney, who began preparations this week for his much-publicized SuperBowl XXXIX Ameriquest Halftime performance, received five 2004 Emmy Award nominations for PAUL MCCARTNEY IN RED SQUARE. The DVD, sure to become an essential part of any music lover's home entertainment collection, is scheduled for release this Spring.
As a member of The Beatles, McCartney helped to launch the British Invasion and bring rock and roll onto the global stage, changing the world with a pulsing new sound, and a way of life not even the Iron Curtain could keep out. On May 24, 2003, the rock icon ended decades of anticipation with his first-ever concert in Russia. Join a crowd of over 100,000, as PAUL McCARTNEY IN RED SQUARE captures the historic sights and sounds of this nearly two-hour show. Behind-the-scenes footage of the star's whirlwind visit to Russia, including a private meeting with President Vladimir Putin, and interviews with important members of Russia's cultural community reveal the importance the Beatles and McCartney played in the development of Russia's future. Join Mikhail Gorbachev and Putin in this rock and roll milestone as McCartney performs rousing renditions of "Can't Buy Me Love," "Band on the Run," "Saw Her Standing There," "Live and Let Die," "Hey Jude," "Let It Be," "Yesterday," and many more, including "Back in the USSR."
A&E(R) Home Video, part of the Consumer Products Division of A&E Television Networks (AETN) is a video distributor of non-theatrical programming, featuring collectible VHS and DVD editions of the high quality programming from A&E(R) Network and The History Channel(R), as well as acquired classic programming. A&E(R) Home Video brings the best of critically acclaimed entertainment presented in award-winning packaging to the special interest category.
---------------------------
February 1
Obituary: Eric Griffiths
Quarrymen band member Eric Griffiths, 64, passed away in his home in Edinburgh last month from pancreatic cancer. In December, he became ill after Quarrymen concert in Trondheim, Norway. Eric was an original member of the band who played from 1956 to 1958 and played guitar along side with Lennon and McCartney. After he left the Quarrymen, he joined the Merchant Navy as a cadet navigation officer but never lost interest in music. Colin Hanton, 66, claims that much is owed to Eric Griffiths for keeping the Quarrymen active: "Eric had a lot to do with the band carrying on in 1997. We performed a charity gig at St Peter's Church Hall (in Woolton) and Eric was responsible for the rebirth and success of The Quarrymen." The band appeared for the Cavern 40th Anniversary in 1997 and finally released their latest album this past January entitled: "Songs We Remember."
Eric is survived by his wife, Relda, and three sons.
For more details, please read: Eric Griffiths: He played rock and roll with Lennon and McCartney; Lennon musician dies of cancer; and Former bandmate of Lennon and McCartney dies
---------------------------
January 31
Mother of musician Billy Preston dead at 87
LOS ANGELES (AP) - Robbie Lee Williams, the mother of musician Billy Preston and, according to Preston, the inspiration for his song "You Are So Beautiful to Me," has died at age 87.
Williams died Wednesday at her Los Angeles home, surrounded by her son and other family members, Preston's publicist, Eric Raymond, said Monday. The family gave the cause of death as natural causes.
Like her son, Williams was a keyboard player and performed frequently at her church. Preston has said he started playing piano on his mother's lap at age 3.
Other survivors include her husband, Alexander, two daughters and a brother.
Her son, although perhaps best known for playing keyboards with the Beatles on the group's "Let it Be" album, has performed and recorded with a range of artists over the years, including Eric Clapton, the Rolling Stones, Mahalia Jackson, Ray Charles and Aretha Franklin.
"You Are So Beautiful to Me" was a hit for Joe Cocker, and Preston's own hits include "Nothing From Nothing Leaves Nothing," "Will It Go Round in Circles" and "That's The Way God Planned It."
---------------------------
January 29
Yoko Ono To Exhibit At Void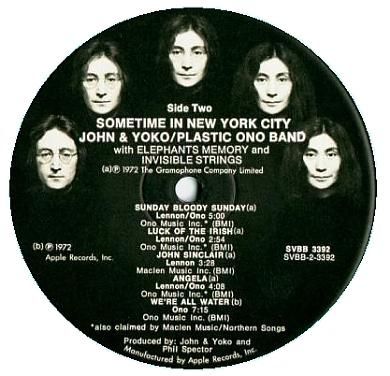 A YOKO Ono exhibition is to be staged in Londonderry.
The Japanese artist's work will be put on view at the new Void Art Gallery, which has opened in the former City shirt factory.
Her contribution will be a video piece and it will be shown at the official opening of the gallery in March.
The wife of former Beatle John Lennon first became interested in Londonderry in 1972, after the deaths of 13 civilians in the Bogside. Lennon and Yoko jointly wrote the song Sunday Bloody Sunday which appeared on their album Some Time In New York.
The song described the dead of Bloody Sunday as "13 martyrs" and included the controversial line "You Anglo pigs and Scotties sent to colonise the north".
The Void has two galleries, artists' studios, education and conference rooms and a cafe.
---------------------------
January 26
Pete Best filmed for BBC documentary
The Liverpool Echo is reporting that former Beatle drummer Pete Best will appear in a special BBC documentary discussing his early career with the Beatles. The documentary was filmed at the Cavern yesterday (January 25) and Pete Best had this to say about the BBC special: "You could say it's about my side of the story. There will be certain things that will put a different slant on what people have been told. It should put a few myths straight." For the complete report, please read: Best seller and Best's cellar.
---------------------------
January 25
Quick Ringo news update!
Ringo Starr will voice his own character in a cartoon series. His character will apparently be "a musical superhero -- what I like to think of as a reluctant superhero," said Ringo. "I'll zoom in to save the world, or a damsel in distress, or a small village. Who knows where he'll go?" The cartoon project is a joint business venture with Stan Lee's POW! Entertainment and Ringo's own entertainment company, Rocca Bella and will likely be launched as a 60 or 90-minute DVD with possibilities of expanding it into TV and feature film venues. For the complete report which was filed by Reuters, click here.
A Hard Day's Fight for Beatles' Hotel
Janet Tansley of the Liverpool Echo is reporting that the Hard Day's Night Hotel will be opened to "guests by Christmas next year." But the 120-room hotel located on the corner of Mathew Street had seen it's share of financial setbacks causing delays in the renovation of the building. When completed, "each floor will be dedicated to a Beatles album and each room decorated with murals by Hollywood airbrush artist Shannon," writes Tansley. For those unfamiliar with the work of Shannon, here at the Ottawa Beatle Site, we actually have some examples of her very talented work located in our solo discography section on each Beatle which will give you an idea of what the guests at the Hard Day's Night Hotel are likely to see. Because of the problems in completing the themed hotel on time, BBC2 will "capture the highs and lows" of this business venture on their "Trouble at the Top" series. To read the full report, please click here.
---------------------------
January 24
Olivia Harrison: I Will Miss Him Until My Dying Day
George Harrison's widow, Olivia, is still in mourning for her husband, three years after his death. She tells Jan Moir of the Telegraph how she remembers him. To read the article, click here.
---------------------------
January 23
Petition for Badfinger to be inducted into the Rock and Roll Hall of Fame!
"Badfinger helped pave the way for power pop and rock and roll during the early 1970's. They were the first group signed to the Beatles' Apple Label, coming straight from England," writes Alan LeFever, member of the Badfinger Web Ring. "Their song repertoire included the hits "Come and Get It", "No Matter What", "Day After Day", and "Baby Blue". Day After Day went #1 in America and was also a certified gold record....Ham and Evans penned the song "Without You", which Harry Nilsson took to number one in the 1970's and even more recently, Mariah Carry took it to number one also. Badfinger ended up winning a Grammy for writing the song. How can a great band like this be passed up for induction?"
We agree here at the Ottawa Beatles Site that Badfinger deserves a place of honor in the Rock and Roll Hall Fame. Please give your support by signing the on-line petition:
http://www.petitiononline.com/bfp1/
Petition to keep Strawberry Fields open!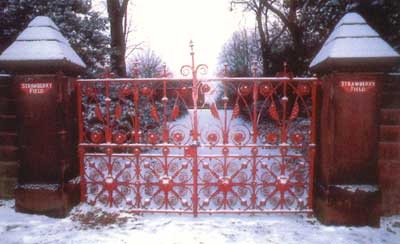 A petition has been started by the British Beatles Fan Club which will be sent to the Liverpool City Council imploring them to save Strawberry Field Children's Home in Liverpool, and to support the staff and children of the home.
We endorse the objectives of the British Beatles Fan Club and sincerely hope that you as a Beatle fan, will add your signature as well:
http://www.petitiononline.com/strawbs/petition.html
Ringo Starr Feels Unloved in Britain
A report filed by Georgina Ford in the Sunday Express S:2 states that Ringo Starr feels unloved by the British public. Said Ringo: "You know I have this thing about England, they don't really love me enough. That's just how I feel. It's not a fact – it's just a feeling."
For the complete report, please click here.
---------------------------
January 20
The Lennon letter that put damper on reunion
"John Lennon's feelings on a possible Beatles reunion have been revealed in a rare and never-before-seen letter," writes Ian Leonard, Daily Post correspondent. "It was sent to the president of Capitol Records, Bhaskar Manon, and suggests Lennon had been upset by rumours of a possible reunion...." For the complete report, click here.
---------------------------
January 18
"Beatles in France" - a new book in the works!
Published author Eric Krasker is currently in the process of writing a new and important Beatles book. Here are the details that he sent by e-mail yesterday to the Ottawa Beatles Site:
"In 2005, I'm going to publish (along with my friend Jean-Claude Hocquet) a book dedicated to the Beatles and France. It will include an important chapter (more than 280 pages in full colour) dealing with the french discography with a lot of new information (we were lucky enough to put our hands on the Polydor, Odéon, Odéon-EMI and Apple archives, so the book will include lots of previously unpublished and first-hand documents, i.e. release sheets, record companies advertisements and flyers, etc.). Already the Polydor section is a bit of a sensation by itself! I think collectors will be simply delighted!"
Eric Krasker is author of The Beatles : Investigation of a Myth (1960-1962) which is now being translated from French into English. He hopes to have the English version published by next fall.
---------------------------
January 14
Lennon 'almost gave up on guitar'
The BBC writes that "John Lennon almost gave up playing guitar after just two lessons." The claim is being made by one of his early bandmates. For the BBC report, click here.
Billy Preston to perform at 3 Rivers Music Festival
Keyboardist Billy Preston who once recorded with the Beatles, will be putting in a live performance on Saturday, April 23, at the 3 Rivers Music Festival in Columbia, South Carolina. The 3 Rivers Music Festival runs for three days starting on April 22 and will also feature jazz artist Boney James, blues guitarist Buddy Guy, funk rockers Mother's Finest and the R&B band the Spinners. The announcement of Billy Preston appearing at the festival was made by WISTV.COM.
---------------------------
January 12
Paul McCartney donates $1.9 million US to assist tsunami victims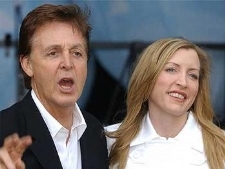 The Canadian Press is reporting that "Paul McCartney and his wife Heather are donating $1.9 million US to help victims of the tsunami, the ex-Beatle's publicists said Wednesday." The aid group receiving money happens to be the International Rescue Committee U.K. and were apparently "overwhelmed by this generous gesture."
Meanwhile, Canada's Prime Minister Paul Martin announced on Monday, January 10, that his government will donate $425 million dollars. Of that figure, "36 million are being provided by the Canadian International Development Agency (CIDA) to nine United Nations agencies" states an official government press release.
The Honourable Aileen Carroll, Minister of International Cooperation, reports that "During my visit to Banda Aceh, one of the areas most badly hit by the tsunami and earthquake, I saw the urgent and long-term needs of the survivors. In response to this unprecedented disaster, Canadians and the Government of Canada have responded quickly and generously. We must ensure that our aid is used as efficiently as possible and gets to the people who need it most. Coordination is key — a point I emphasized today in Geneva."
The Canadian government response ranks Canada the 5th largest world-wide donator overall to provide financial aid for the victims of tsunami disaster.
Strawberry Field home to close within weeks
"The Strawberry Field children's home made famous by the Beatles song of the same name is to close," writes the Liverpool Daily Post. "News of its closure is expected to upset thousands of Beatles fans who make the pilgrimage to the Woolton area to take photographs and scrawl messages on the perimeter walls there."
For complete details, click here for the report.
---------------------------
January 11
Death At Phil Spector's Mansion

Phil Spector, legendary record producer who worked on the Beatles Let It Be recording sessions and then later produced the early solo albums of George Harrison and John Lennon, was indicted in September for the murder of actress Lana Clarkson. Recent secret court proceedings before the Los Angeles County Grand Jury resulted in a 1,018-page transcript. The Los Angeles Times examines the transcript which became public and the events leading up to the murder. Please read: "Death At Phil Spector's Mansion."
---------------------------
January 7
Beatles Shrine Planned for Penny Lane
"Councillors will today agree to hand over part of Grove Mount playing fields to the Penny Lane Development Trust which has drawn up £3m [$6,925,861.00 Canadian] plans to create a Beatles visitor centre," writes the Liverpool Daily Post. "Plans include a recording studio, bar, restaurant, shop and meeting rooms for community groups."
It is estimated 50,000 Beatle fans each year make the pilgrimage to Penny Lane but currently do not have any tourist attractions for them. The proposed Beatles visitor centre has also been approved by local residents and Dovedale primary school.
See: Fan photographs of Penny Lane and area.
---------------------------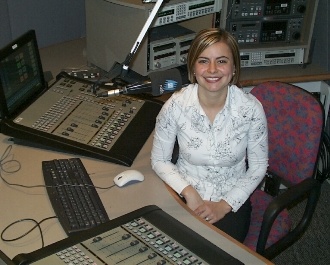 December 8, 2004
The Anniversay of John Lennon's Death was the title of a broadcast by SBS Radio - Australia as part of their program "World View", and it examined the influence of the Beatles on a generation of Soviet youth, even though at the time Beatles music was forbidden in USSR. Members of that generation are now running Russia. Interviewed on the program were music / rock historian Glen A Baker, actor Alex Menglet, and Yury Pelyushonok, author of Strings for a Beatle Bass (reprinted 2004), who lives in Ottawa. The interview was conducted by Natasha Cuculovski (picture right), journalist on "World View." The Ottawa Beatles Site believes this excellent piece of work by Natasha makes an important contribution to our understanding of the fall of the Iron Curtain. See Timeline: Sept 18, 2003
You can listen to the program either in RealPlayer media audio or in Windows media audio. (Running time: 10:16)
We gratefully acknowledge SBS Radio's permission to post this audio file.
---------------------------
November 29
Petition for The Beatles At the Hollywood Bowl on Official CD Format
Here is a petition that I've started today for you to sign requesting Capitol and Apple records to digitally transfer and release The Beatles At The Hollywood Bowl concerts onto CD format. Would you please pass the link along to another serious Beatle friend that you know. The more signatures we get, the more effective we'll be in making our case to their respective record executives:

http://www.petitiononline.com/cap1977/petition.html

Regards,

John Whelan
Ottawa Beatles Site
---------------------------
November 27
Rare photos of John and Yoko in Toronto and a new book in the works!
There are some pretty amazing photographs of John and Yoko from 1969 that you can view. The webpage is by Alan Lysaght entitled: "Lennon In Toronto - A pictorial tribute to John and Yoko's peace campaign."
Actually, I should tell you a little story about that link. The person who provided me with that tip happens to be a gentleman by the name of Keith Samarillo. He tells me he is actually in the Dec 17th photographs (top section), dressed in the white turtleneck holding the Lennons coats. Apparently he had helped set up the press conference at the Toronto Science
Centre for the Lennons. The photographs that you see are from the Toronto Star. Keith also had the opportunity to go over to London in 69 and actually dated Mary Hopkin for a couple of months. Said Keith: "My experience with the Beatles began on May 26th 1969 when I met a young singer form Wales by the name of Mary Hopkin (Those were the Days). Long story short we dated for a number of months and I was in London in August 1969 when a lot of the tension was going on at Apple over the impending breakup."
Keith is currently writing a book which is why he contacted me and is coming down to Ottawa to do some research at the National Archives of Canada and at the University of Ottawa to see if the campus will release some of those unseen photographs they have on file that I've mentioned at my site -- there are some really good ones there of John and Yoko's June 3rd visit to Ottawa. He is aiming for his book to be released (hopefully) in December of 2005 and is already connected with a publisher in New York. So, there you are...if all goes well, we might get a new book next year about John and Yoko's peace campaign and the breakup of the Beatles.
- J. Whelan

---------------------------
November 24
Concert for George Limited Edition Book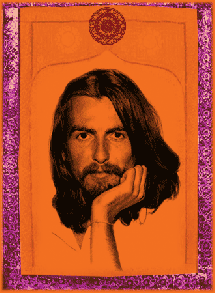 - This beautifully crafted edition is strictly limited to 2,500 numbered copies housed in a silk-screened box. Each copy is signed by Olivia Harrison.
The Concert for George is a book that follows the "story from the rehearsals, the soundchecks, to the stage and beyond. It's told in 34,000 words from the mouths of those who were there, and who knew George." There are "450 photographs (that) have never before been seen and include images of George throughout his life.
"Concert for George is more than the story of one concert however. Eric Clapton talks about George's contrariness while Eric Idle, Michael Palin and Ringo Starr reveal a quiet, social recluse who loved company and couldn't shut up. Sam Brown remembers his ruthless honesty and compassion, Klaus Voorman his desperate anger at the state of the planet and Ravi Shankar his dedication to meditation and the sitar. Tom Petty recalls the time he spent as a Traveling Wilbury, along with Jeff Lynne who is just one of many to comment on George's unusual songwriting. Tom Hanks and Andy Fairweather Low tell of high-speed rides in 'The Rocket' and Jim Capaldi and Terry Gilliam remember George's love of laughter. Most poignantly, Olivia and Dhani Harrison recall a husband and a father.
"Concert for George is an intimate blend of laughter and tears; a personal insight into one of the Twentieth century's best-loved songwriters.
"Text written by: Tanmoy Bose, Gary Brooker, Joe Brown, Sam Brown, Mike Campbell, Jim Capaldi, Eric Clapton, Ray Cooper, Lee Dickson, Claire Ferguson, Terry Gillman, Tom Hanks, Dhani Harrison, Olivia Harrison, Jools Holland, Eric Idle, Jon Kamen, Jim Keltner, Katie Kissoon, Albert Lee, David Leland, Andy Faireweather Low, Jeff Lynne, George Martin, Tessa Niles, Michael Palin, Tom Petty, Billy Preston, Emil Richards, Alan Rogan, Brian Roylance, Anoushka Shankar, Ravi Shankar, Ringo Starr, Paul Theroux, Klaus Voormann.
"All royalties from the sale of this book are donated to The Material World Charitable Foundation."
Source of quote: Eric Clapton News
Genesis Publications: Concert for George Limited Edition Book
---------------------------
November 23
Beatle suits sell for $110,000
Bonhams and Butterfields two-day sale of rock 'n' roll memorabilia saw original Beatle suits that were worn by the Beatles for their Please Please Me album cover that went for $110,000. According to Reuters press, the suits "have three buttons down the front, black velvet collar and cuffs, and red/crimson lining, each jacket inside pocket is inscribed with each Beatles full name and year." There is a lovely photograph of the Beatle suits that you can view by clicking here.
---------------------------
November 20
Bass performed by Paul McCartney on new Band Aid III single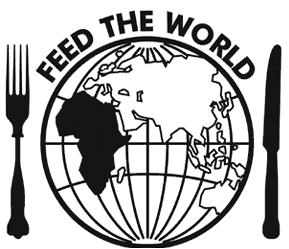 Former Beatle Paul McCartney is very pleased to have contributed bass on Do They Know It's Christmas - Band Aid III single. "I play bass on it," said Paul, "that's really all I was really asked to do and that's what I fancied doing." Paul doesn't sing on the new version. "It's kind of nice to do that...I've just done what my producer asked me to do, he's producing it."
Do They Know It's Christmas - Band Aid III is produced by Nigel Godrich, known for his work with Radiohead. In the original 1984 version which used the "feed the world" refrain, was composed by Midge Ure and Sir Bob Geldof. Back then Midge Ure was the producer. "It is great," said Ure of the new recording. "The whole thing is still buzzing. It was a different world back then. Last time round I was behind the mixing desk for 24 hours. This time I am just hanging out."
In 1984, the highly successful single went on and raised £10 million (or $18,597,904 American) to help reduce the famine crisis in Ethiopia. Twenty years later the song is being re-recorded again to assist those who are displaced from the war in Sudan's western Darfur. "This project is not just about raising money," said Ure, "it's about putting the focus back on Africa and the problem of famine, which has not gone away." Interestingly, the song was also previously recorded back in 1989 as Band Aid II featuring Kylie Minogue, Rick Astley, Luke Goss and Jason Donovan.
The new Band Aid III single is featuring the brightest rock stars in the music industry and the CD is expected to be in stores on November 29th. For those wishing to download the new version and video can do so now at Music.men.co. All proceeds will go directly into the Band Aid Trust fund.
End of an Era at Abbey Road Studios?
It seems the tradition of Beatles fans writing messages on the perimeter wall of Abbey Road Studios may be coming to an end. The wall was painted over recently by a professional anti-graffiti company and any time graffiti appears there since it is painted over straight away.
Westminster Council, the local authority for the area has a new policy to clear graffiti from the borough and has either its own anti-graffiti team or employs an outside contractor, to daily clean graffiti.
Beatles fans have been writing on the wall for years and with the support of Abbey Road Studios. The tradition was started by former Studio Manager Ken Townsend when he made a remark to a journalist that he didn't mind people writing on the wall. Neighbours of the Studios wrote to say what a nice idea it was.
There has even been 'official' graffiti in the past -- when 'Beatles 1' came out the '1' design on the CD's front cover on the gateposts. Also when Paul McCartney's CD 'Flaming Pie' came out his publicist Geoff Baker spray painted the album logo all over the wall.
It is a great shame if this tradition has come to an end. Fans from all over the world have been writing on the walls for year. I have been bringing fans to the studios for 15 years and always stop to read the messages on the wall.
Even though The Beatles broke up over 30 years ago, fans are seen outside Abbey Road Studios and on the famous Abbey Road crossing every hour of every day.
The BBC have written a piece about this (see "Cleanup for Beatles tribute wall") and the local 'Wood and Vale' Newspaper (see: "Writing on the wall for Beatles landmark").
I have started a petition to implore Westminster Council to reverse their policy and save a tradition. You can sign it at
http://www.petitiononline.com/abbeyrd/petition.html
Please take time to sign it and tell your friends.
All the best
Richard Porter
http://www.beatlesinlondon.com/
---------------------------
November 19
John Lennon voted No. 1 music icon of all time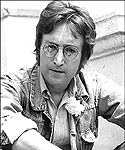 Based on a list of 100 pop music stars, the readers of the Q magazine have chosen John Lennon as the No. 1 music icon of all time. Placing second was American rock legend Elvis Presley while Lennon's musical partner, Paul McCartney, placed 12th overall. Said Yoko Ono about Lennon: "He was a driven man....He changed people's awareness in an incredible way, both with words and music. He was not afraid to tell the truth and thus give a clearer picture of what was really going on." Yoko's comments appear in a special tribute published by Q magazine.
Poll results for the top-ten music icons are: 1. John Lennon 2. Elvis Presley 3. David Bowie 4. Keith Richards 5. Kurt Cobain 6. Madonna 7. Bono 8. Bob Marley 9. Joe Strummer 10. Bob Dylan
Ringo Starr has surgery to play drums
A painful bone growth has resulted in Ringo Starr getting his third and final surgical operation of the year to correct the problem. The procedure took place last week on November 12 while his two previous operations were done sometime in January and August of this year. Said Ringo: "It isn't as good yet, but the doctors promise me it will be." We wish Ringo a speedy recovery!
---------------------------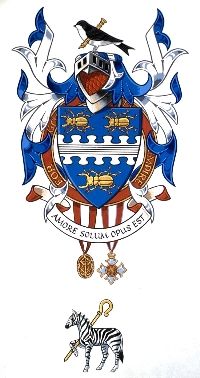 November 16
Sir George Martin's Coat of Arms Revealed!
Granted 15 March 2004
Arms: Azure on a Fess nebuly Argent between three Stag Beetles Or five Barrulets Sable.
Crest: On a wreath Argent and Azure A House Martin proper holding under the sinister wing a Recorder in bend sinister mouthpiece downwards Or.
Motto: AMORE SOLUM OPUS EST.
Badge: A Zebra statant proper supporting with the dexter foreleg over the shoulder an Abbot's Crozier Or.
Among many other achievements, Sir George Martin was producer to the Beatles. The shield, crest and badge make various more or less explicit references to the group as well as to music and the recording industry in general.
Source: College of Arms (for a larger picture)
The following was posted on rec.music.beatles by Nurktwn:
Looks like this could be among the all-time winners for tongue-in-cheek arms designs.
The bird, a Martin, has a recorder in bend sinister, the old sign of illegitimacy, which is to say that Martin seems to consider himself a recording bastard. Or that he recorded with a bunch of bastards, because the mouthpiece is at the bottom and it's coming through the martin.

The fess nebuly (the white thing in the middle) probably is intended to be less comedic: it likely indicates clouds, or heaven, between the three gold ("or") beetles. The barrulets, the five little dark lines on the fess, probably signify equality of five people. You make the call on that one.

The badge shows a zebra, walking with a gold abbot's crozier: a zebra crossing, as on Abbey Road.

And yes, the motto may literally be "love is only work" -- but it is indeed "All You Need is Love." Opus also is "need."
[OBS editorial: or "Love Is All You Need" as others have suggested since Latin has no real word order.]
---------------------------
November 12
New "Acoustic" Lennon CD off to a good start!
Brisk sales of Lennon's new Acoustic has been reported from Billboard: "Lennon's Acoustic (Capitol) opened at No. 31 with sales of almost 28,000 copies. It's his highest-debuting set since Double Fantasy bowed at No. 25 the week of Dec. 6, 1980 and his highest charting in more than 20 years, since Milk and Honey peaked at No. 11 the week of March 10, 1984.
"Acoustic is Lennon's first chart album in the 21st century. He last appeared on the album survey with John Lennon Anthology, which debuted and peaked at No. 99 the week of Nov. 21, 1998."
---------------------------
November 11
Ringo Starr to introduce Beatles film clip on the American Music Awards
The following from Rollingstone.com: "Starr will introduce rare performance clips on the American Music Awards, Sunday, November 14th, on ABC. The footage was originally aired on the network November 15th, 1964, as part of the Around the Beatles special." The tape which runs 2 1/2 minutes, features two Beatle performances. "We've got a wonderful old...tape that's been lost for 40 years that nobody's seen since it was first aired featuring the Beatles singing She Loves You and I Want To Hold Your Hand," said producer Dick Clark to the Associated Press. "It was an English show that aired here that for some reason or another went into a trunk somewhere." But a source from the AbbeyRd Beatles pages indicates that the clip is not so rare after all and that it has been circulated in the marketplace in a video called Beatles Live.
Paul McCartney ready to reactivate When I'm 64
A hint from Paul McCartney on America's National Public Radio that in a few years he might consider doing a live performance of When I'm 64: "It's getting dangerously close I must say. If I still have the urge and the energy and the desire to be on tour then, I think that might be the year that I reactivate that song," said the former Beatle.
To read the charming report with more comments from Paul about the song, click here.
---------------------------
November 4
Canadian Publisher's Celebrate "Give Peace A Chance...One More Time!"
By way of special tribute to John and Yoko's bed-in visit to Canada in 1969, Beatlology's Sept/Oct edition contains a featured report on Amnesty International's recent get-together and new recording of Give Peace A Chance at the Queen Elizabeth Hotel in Montreal. It also contains interviews from some of the participants.

Meanwhile, the University of Ottawa has now published their fall Tabaret edition with a feature article celebrating John and Yoko's June 3, 1969 visit to their campus. This report provides candid interviews from then student association leaders Allan Rock and Hugh Segal entitled: A Platform for Peace.
Linda Scales, editor for the Tabaret magazine revealed that "109,000 copies were printed and most of them are sent to the University's alumni, which number over 100,000. Others are sent to friends, leaders in the community, etc." John and Yoko photographs identified from the Ottawa Beatles Site were used in the publication. The black and white photo that you see on the cover of the Tabaret captures a moment when Beatlemania explodes at a Beatles' concert in Toronto, probably taken in 1964.
Quarry Men disc now worth $183,882.00
"When we got the record, the agreement was that we would have it for a week each," said Paul McCartney referring to the Quarry Men shellac which was made at Phillips Sound Recording Service, Liverpool, in 1958. "I had it for a week and passed it on to George, who had it for a week. Then Colin had it for a week and passed it on to Duff Lowe -- who kept it for twenty-three years. Later, when we were famous, he said, 'Hey, I've got that first record.' I ended up buying it back for a very inflated price." The record had two songs on it: In Spite of All the Danger (a McCartney/Harrison composition) along with a Buddy Holly cover version of That'll Be The Day which became the bands' first single. While John "Duff" Lowe has always maintained his silence with regards to the amount paid to him in a private sale through McCartney's lawyers, today the shellac is believed to be worth $183,882.00 (or £100,000). This is quite a handsome sum when you consider back then the Quarry Men only paid $1.38 (90 pence) for it.
According to a October 31, 2004 report filed by Anthony Barnes, arts and media correspondent for Independent news in England makes claim that "the 1958 10-inch acetate disc tops a list of the UK's 100 most valuable records compiled by the magazine Record Collector to mark its 25th anniversary, which confirms the Fab Four - in their many guises - as the most collectable name in rock and pop."
As matter of record here, the Quarry Men line-up for this first recording featured John Lennon, Paul McCartney, George Harrison, (all three on guitars), Colin Hanton (drums), and John "Duff" Lowe (on piano).
Each One Believing: On Stage Off Stage And Backstage
This is Paul McCartney's world tour book by Caroline Grimshaw and Bill Bernstein. It's a 208-page photographic journey covering Paul's Concert for New York, his North American tour dates, Japan, the Coliseum in Rome and Moscow's Red Square. The publication is released through Chronicle Books, November 1 in the USA and November 4 in the U.K.
Two on-line articles of interest worth reading about the world tour book are: Bill Bernstein -- an exclusive interview with Jorie B. Gracen + On the road with Sir Paul by the Liverpool Echo.
--------------------------
October 30
The Beatles: 10 Years That Shook The World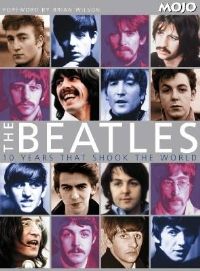 The Beatles: 10 Years That Shook The World is a new book that is put together by the good folks at Mojo magazine. This 456 page tomb of Beatle lore makes for an excellent bookend to the Beatles Anthology book with write-ups from some of the most renowned Beatle experts: Keith Badman, Johnny Black, Hunter Davies, Paul du Noyer, Spencer Leigh, Larry Kane, Ian MacDonald, Paul McGrath, Barry Miles, Bill Harry and Mark Lewisohn to name but a few.
The book contains many rare photographs of the band and some new historical tid-bits not known before. For example, one amazing revelation came through a report filed by Mark Lewisohn who tells us the real reason for releasing George Harrison's Something as the A-side to the Beatles single in 1969. Apparently Allen Klein, the Beatles former manager, wrote to Lewisohn in 1990 to dispel any idea that the single was released back then as a money maker. "It was done on purpose, not to make money," said Klein, "but to help the guy. Lennon wanted to help him. He knew that for all intents and purposes for a period of time they weren't going to be working together anymore. Something was a great song. But to make money? Not a chance. It was really to point out George as a writer, and give him courage to go in and do his own LP. Which he did."
This is just but one example. The book is just loaded with great information and interviews.
On a more personal note about this book, both Tony Copple and myself were very surprised to discover that some of the information and at least one image from this web site appears in this new book. An excerpt from our Beat Brother Roy Young interview appears in Johnny Black's write-up on page 26 while a cropped-up-image of the Dick James Demo Disc of Day Tripper appears with Mark Lewisohn's Going for a Song on pages 384 and 385. For us, this is nice to see as both Tony and myself have never made money off of our research and to receive this kind of back-handed compliment makes us realize our work is being appreciated out there. So, thank you Mojo!
A Hard Chord's Night
Recent media claims (October 13/04) touted that Professor Jason Brown of Dalhousie University in Halifax was the first to discover what instruments were used on the opening chord to A Hard Day's Night are bogus. For in 2001, Walter Everett, professor of music for Michigan University, published on page 236 from his book - The Beatles As Musicians: The Quarry Men through Rubber Soul - the following: "The striking ametrical opening chord, with Martin's piano doubling Harrison's twelve-string above McCartney's bass, is given as example 3.10a." Professor Everett then notated the guitar, piano, and bass parts in Example 3.10a on the next page of his book.
Professor Everett's research over the years has been directed primarily into the expressive relationships between pitch function and poetic texts in vocal music. I suspect Everett used this as his methodology in analyzing the opening chord and naturally figured it out. Brown, on the other hand, used mathematics as his methodology which led to his recent announcement in the media.
By way of an e-mail from this writer, Brown was informed of Everett's earlier research. Brown basically agreed with the professor's findings about guitar, piano and bass parts but added that Everett had "missed the extra guitar" that was used on the chord. That caveat was not mentioned in the initial report so I suppose one should at least give Brown a bonus point – but only for embellishing Everett's work.
Brown's announcement originated from CanWest News Service and was then splashed in The Ottawa Citizen, The Edmonton Journal, Scotland's Daily Record and on two different CBC radio programs, As It Happens and Information Halifax all of whom have since been notified concerning Everett's earlier findings.
- J. Whelan