June 30
Let It Be DVD movie release tentatively planned for September!

Archer, from 99.5 FM "The Mountain" in Denver, Colorado, is confidently reporting that the "restored version of the Beatles' 'Let It Be' film will be released on DVD in September 2005."

News of the date release comes from an interview that Archer recently had with Bob Smeaton who was hired by Apple records to clean and do color restoration for the "Let It Be" movie.

Restoration work on pop films is not unfamiliar to Bob Smeaton. He worked on the highly acclaimed "Festival Express" DVD whose concert performances featuring Janis Joplin, The Grateful Dead, The Band, Delaney & Bonnie & Friends and many more artists, were once thought to be lost but discovered at the National Archives of Canada and also from a lawyer who had 150 film canisters of the tour tucked in his garage. The discovery amounted to about 30 hours of rare pop history filmed sometime around June-July, 1970, as the musicians trekked on a train performing at three major Canadian cities: Toronto, Winnipeg and Calgary. The film footage (along with the new interviews) was then condensed into a lovely DVD containing 1 hour and 29 minutes of great pop entertainment!

As one can appreciate, "Festival Express" took many years to put together, i.e.: restoration and synchronization, so it should come as no surprise to Beatle fans that Bob Smeaton has put in same amount of care and effort for the Beatles "Let It Be" DVD project. Wrote Archer: "...the delay in restoring the [Let It Be] movie was related to the sheer volume of film that had been shot." Bob Smeaton told Archer that the Beatles movie "will feature some remarkable bonus material."

Smeaton also worked comprehensively on the Beatles Anthology project as well.
--------------------------
June 28
Peter and Gordon to reunite after 35 years!
| | |
| --- | --- |
| | Peter and Gordon will perform together for the first time in 35 years at New York's B.B. King Blues Club and Grill to what is being billed as: ENGLAND SWINGS: A TRIBUTE TO MIKE SMITH OF THE DAVE CLARK FIVE. The event happens on August 2 at 7:30 p.m. Peter and Gordon recorded several Lennon-McCartney songs such as "World Without Love," "Nobody I Know," "I Don't Want To See You Again" and Paul McCartney's "Woman." Also appearing on the bill that night are The Zombies; Denny Laine (former Paul McCartney and Wings band member); Billy J. Kramer and The Fab Faux. The event is being hosted by Canadian Paul Shaffer with proceeds going to Mike Smith (of the Dave Clark Five) who was partially paralyzed after an accidental fall. |
-----------------------------
June 26
Geldof's Hearts Club band to open Live 8
"SIR Paul McCartney and U2, dressed in Sgt Pepper costumes, are due to open next weekend's Live 8 concerts singing 'It was 20 years ago today' — a reference to the Live Aid concert of 1985," writes Chittenden and Follain of the Sunday Times Ireland. The finale number will see Paul with an ensemble closing off with the Beatles hit song "The Long and Winding Road."
"Paul McCartney will end it. He'll sing The Long and Winding Road, and for us it's the symbol of this road, the road which will lead us to the G8," said Bob Geldof to the Sunday Times Ireland. Live 8 concerts, which starts on July 2 in Hyde Park, will highlight the fact that every day 36,000 children die in extreme poverty. The event is the world's window of "opportunity to stop that shameful statistic," writes the official Live 8 website. "8 world leaders, gathered in Scotland for the G8 summit, will be presented with a workable plan to double aid, drop the debt and make the trade laws fair. If these 8 men agree, then we will become the generation that made poverty history."
With 140 different television networks broadcasting Live 8, it is expect that 85% of the world's population (or 5.5 billion people) will tune into the show through television, internet, or mobile phones.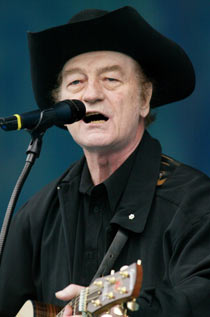 Legendary Canadian country music recording star Stompin' Tom Connors not likely to appear on Live 8.
While the long list of entertainers reads like rock royalty, there are some big name acts not making it for the Hyde Park concert: Status Quo, Ozzy Osbourne and Meat Loaf. Their exclusion from the performers list has created some animosity between band members and event organizer Bob Geldof. Meanwhile, here in Canada, Ottawa DJ Jeff Brown of CHEZ-106 (a leading progressive rock station) began an on-air protest to get Canadian country singer icon Stompin' Tom Connors onto the Live 8 concert line-up at Molson Park in Barrie on Saturday. "The all Stompin' Tom show went on for three hours on Tuesday afternoon. Brown said he would continue to play all Stompin' Tom until the people putting on Live 8 agreed to add the country singer to the July 2 concert," wrote the CBC.
"On Tuesday's show, Mr. Brown played Stompin' Tom's Big Joe Mufferaw continuously for about a half an hour," wrote the Ottawa Citizen. "Mr. Brown said reaction to his Stompin' Tom binge was immediate," the newspaper added.
"The moment we started playing Stompin' Tom, the phones went insane (like I have never seen in 15 years of radio) ... 99 per cent of people were in support that we needed to get Stompin' Tom on the Live 8 bill," Brown told Bruce Ward of the Ottawa Citizen.
But when Jeff Brown's three-hour shift concluded, CHEZ-106 management team pulled Brown indefinitely from his DJ duties (and probably at the very least until the Live 8 concerts are over). However, in an interesting turn of events, the management team at CHEZ-106 decided to support his cause by starting up an on-line petition to get Stompin' Tom Connors into the Live 8 line-up. In the short few days the petition has been on-line, there have been 7,335 signatures of support.
Organizers for Live 8 claim that most of the acts listed on the bill are a result of the artist themselves who have put in the request to appear in the concert and since Stompin' Tom Connors never asked event organizers, he wasn't considered. At the moment Stompin' Tom Connors is touring Northern Ontario. It remains to be seen if the Canadian country music icon could even fit a Live 8 concert into his busy tour schedule.
Links: The Stompin' Tom Connors Petition
June 24: Stompin' Tom never asked: Live 8
June 23: DJ suspended for bid to add Stompin' Tom to Live 8
June 23: Station stomps on DJ's tribute to Tom Connors: Angry that icon left out of Live 8 show (10-day link to story).
See Jeff Brown live on CTV NEWS NET with Mike Duffy here!
A complete listing of performers confirmed for Live 8 concert venues from around the world:
UK – Hyde Park, London
France – Palais de Versailles, Paris
Germany – Siegessäule, Berlin
Italy – Circus Maximus, Rome
USA – Museum of Art, Philadelphia
Canada – Park Place, Barrie
Japan – Makuhari Messe, Tokyo
South Africa – Mary Fitzgerald Square
--------------------------
June 23
Tony Copple's review of the Paul McCartney: In Red Square DVD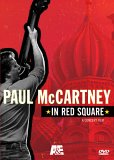 Ottawa Beatle Site proprietor Tony Copple gives his review on Paul McCartney's newest DVD: "Paul McCartney in the Red Square".
For additional history on rock music and the Beatles influence behind the iron curtain, please read the University of Massachusetts Amherst's "Changing Skins. Rock Music in the GDR and Eastern Bloc" by Norman Aechtler.
Dave Marsden and 94.9 The Rock expands into the USA marketplace!
Dave Marsden can now also be heard weekdays from an internet site out of New York. The show runs five times a week and is heard at different times each day to satisfy the global time zones. Dave Marsden, as some of you may already know, was the first DJ ever to rebroadcast the original Paul is Dead Hoax along with special guest John Small in October 1978.
With Dave and the 94.9 rock format, you'll be sure to hear all types of music including the ever popular Beatles!

The New York internet site is: http://www.pulverradio.com
----------------------
June 15
Ringo Starr to tape for CBS Early Morning, June 20th!
Be In The Audience As Ringo Starr Tapes A Performance For CBS Early Morning this Monday 6.20!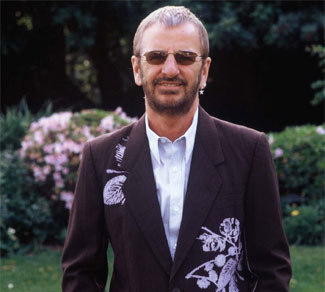 Get a chance to watch legendary drummer Ringo Starr perform live as he tapes an exclusive performance for CBS Early Morning in New York City this Monday, June 20, 2005 at 12 noon. To be in the studio audience for this special event, please e-mail cbsearlyshow@yahoo.com to claim a spot. Hurry, hurry as space is VERY limited!
From Good Morning America's Samantha Green:
Thank you sooooooooooooooooo much for listing the information on your website. I have already received an overwhelming response and all 50 VIP tickets have been taken. If you have any questions I can be reached at 212 456-7384. Please post the following update on the website: (before my email completely overloads...ha ha).
Thank you for your interest in the Ringo Starr Fan Club VIP tickets. All our VIP tickets have been given away to 50 dedicated fans.
(Please do not send anymore emails, we have more than enough). If you are still interested in coming to the concert please stand on the general audience line at Bryant Park (41st and 6th Avenue) by 6:00 a.m. on Friday June 17. Thanks again! See you at the park!
Dustin Goldfarb
Electric Artists - Associate Account Executive
230 W. 41st St. Suite 1100
NY, NY 10036
Lennon's Lucy in the Sky dies
The following article is from Contactmusc...
LUCY RICHARDSON, the inspiration behind THE BEATLES' hit LUCY IN THE SKY WITH DIAMONDS, died two weeks ago (01JUN05) following a two year cancer battle. She was 47.
Richardson, who became a successful art director on movies including CHOCOLAT (00) and THE LIFE AND DEATH OF PETER SELLERS (04), was the subject of the 1967 song, despite popular belief the track was a thinly veiled reference to the drug LSD.
However, JOHN LENNON always insisted the song was based on a childhood painting by his then four-year-old son Julian, who had befriended the girl at school.
John explained in a 1975 interview, "Julian came in one day with a picture he painted about a school friend of his named Lucy.
"He had sketched some stars in the sky and called it Lucy In The Sky With Diamonds."
Richardson's sister MARY FOSTER says, "Lucy remembered the times when she would sit with Julian as he drew pictures.
"She was rather chuffed to realise she had inspired the song title."
Her loved ones sprinkled crystals over her grave in a touching nod to the song which was dedicated to her.
For the article, please click here.
--------------------------
June 14
Paul McCartney in the Red Square DVD is released!
The following short review is by Larry Anklewicz which came out the following day from the Canada Free Press...
"Paul McCartney in Red Square
This Emmy winning, history making film marked the first time a former Beatle appeared in concert in Russia. The date was May 24, 2003 when Paul McCartney played before some 100,000 fans in Moscow's Red Square.
This DVD combines some spectacular concert footage with interviews and film clips about the music scene in the Soviet Union during the Beatles' era, as well as the behind the scenes story of McCartney's first trip to Russia.
The DVD also includes the full-length bonus concert, Live in St Petersburg and some 30 classic tunes, plus 20 minutes of never before aired footage.
This is a must have DVD for fans of the Beatles or Paul McCartney."
Two in-depth reviews of Paul McCartney's Red Square concert DVD are available at:
1. DVDTalk.com
Ringo Starr to appear on Good Morning America, June 17th!
Hello,
Koch Records and Good Morning America wanted me to email all the Beatles/Ringo Starr fan sites out there to see if you could make mention of Ringo's appearance on GMA this Friday and the VIP tickets only available to fans. Please send me a link if you can make mention of it on your site/newsletter.
From GMA:
Greetings!
My name is Samantha Green. I am the audience coordinator for Good Morning America. In preparation for Ringo Starr to perform on June 17, 2005 as part of our Summer Concert series we would like to invite fan club members to the show. I am writing to request that you post Ringo Starr's appearance on your official website and/or fan club website. The information that should be posted is below.
General Audience
Ringo Starr will perform live on Good Morning America in New York City on June 17,2005
Location: Bryant Park (41st and 6th Avenue) (Behind the New York Public Library)
Suggested Arrival Time: 6:00 a.m or earlier (How early is up to you)
Good Morning America airs from 7 - 9:00 a.m. The concert is over at 9:00 a.m.
Procedure: When you arrive at Bryant Park stand on the audience line that has formed at the back entrance of the park.
This is a free concert open to the public. You do not need tickets.
Special Invitation for Fan Club Members: 50 vip tickets
Note: The first 50 fan club members to send an email to samantha.l.green@abc.com will receive 2 free vip tickets for entrance into the park. Vip tickets will only allow early entrance into the park and does not include meeting the artist. Once all the 50 fan club vip tickets are given out an announcement will be posted on the website. Vip ticket winners will be given special instructions.
Thank you for helping out,
Dustin
Dustin Goldfarb
Electric Artists - Associate Account Executive
230 W. 41st St. Suite 1100
NY, NY 10036
p. 212-354-2650 x28
f. 212-354-2651
dustin@electricartists.com
www.electricartists.com / My Blog- http://eadustin.blogspot.com/
--------------------------
June 12
"When I'm Sixty Four: The Artwork of John Lennon"
Yoko Ono continues to ensure that the legacy of John Lennon's art work remains in circulation at various galleries around the world. Last year, his work was on display for 4 days (June 17-20th) at BCE Place in Toronto which featured 20 new pieces of work never shown before in Canada. In all, "120 serigraphs, song lyrics and original drawings by the legendary Beatle" were displayed according to a 1050 CHUM official press release.
This year, once again thanks to Yoko Ono, Lennon's art is making its way into the Haywood Park Hotel ballroom in Asheville, North Carolina and will comprise of 100 pieces of featured work by the late pop star.
"John's work was for the people; he was always talking about power to the people," said Ono to Asheville Citizen-Times reporter, Polly McDaniel. "He didn't believe in doing some highfalutin thing. He made art for the people."
She went on to say that "John's work is understandable immediately. You can see it. You don't need a critic to tell you what to look for. It touches your soul without anyone else telling you how to feel about it."
Admission fee is only $2.00 and runs from June 17-19th. People will have a chance to buy a limited edition print of one of the lyrics that Lennon wrote for $200 and an original Lennon drawing can be purchased for $25,000. "There will also be hand-signed albums available as well. "Imagine," "Mind Games," "Two Virgins," "Plastic Ono Band" and "Double Fantasy" have all been on display at one point in time," writes McDaniel.
For the Asheville Citizen-Times report, please click here.
--------------------------
June 10
The Hard Day's Night Bed and Breakfast listed for sale on e-Bay!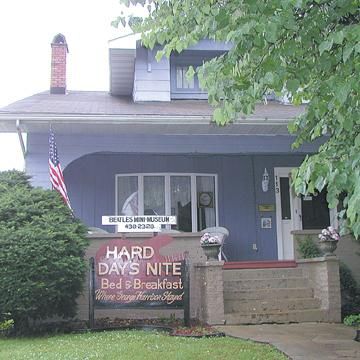 The Hard Day's Night Bed and Breakfast, located at 113 McCann St. in Benton, Illinois. George Harrison slept over here on vacation in 1963, several months before "Beatlemania" exploded on the American scene.

A Benton Illinois home once occupied Louise Harrison and vacationed there by her brother George in September 1963, is up for sale by McCollum Real Estate.
Located on 113 McCann Street, the current proprietors own and operate the home as a bed and breakfast and mini-Beatles museum for the past 10 years. They have now decided to retire from their business.
"The bed and breakfast, the museum and its contents, and the adjoining property went on eBay yesterday" said co-owner Dorothy Schultz to reporter Mona Sandefur of the Benton Evening News. "The site reaches an international market. People from all over the world know about the success of the Beatles, and many have visited here as a result."
Dorothy Shultz, along with her husband Corneilius and Daryl and Jim Shady are the principal owners. The acquisition of the real-estate came about when "a group of local residents became concerned that the history would be lost forever and, at the last moment, purchased the property," wrote Sandefur. "Restored to resemble the 1963 décor, the B and B opened for business in 1996."
The official Hard Day's Night Bed and Breakfast website describes the overnight accommodations as a "wonderful taste of nostalgia...with many items graciously donated by his sister Louise (with) luxurious sleeping accommodations, private baths, and continental breakfast in the morning."
The fate of the home and new owners remain to be seen, but "in 2013, the property will qualify to become part of the national history landmarks registry, adding to its appeal," wrote Sandefur.
----------------------
June 5
Strawberry Field Orphanage Closes
On May 31, the Salvation Army closes down the Strawberry Field orphanage which was frequently visited by John Lennon during his childhood years. For details, please click here.
--------------------------
June 2
"Strings for a Beatle Bass" CD Release signing, Sat June 4
Yury Pelyushonok, Ottawa-based author of Strings for a Beatle Bass hosted a CD Release event for his album of original rock'n'roll songs by the same title at Rideau Chapters, Ottawa on June 4. The first 20 copies were at the special price of $3.62, a figure that is familiar to all Russians from the 60s and 70s as the price in rubles of a bottle of vodka. Yury, his wife Olga Sansom who translated the book and song lyrics, and writer/singer Al Findlay were on hand to chat and sign copies of the CD. See http://beatles.ncf.ca/sfabb3.html for the cover and track listing.
Listen now for samples of the album:

Strings for a Beatle Bass and for enquiries about the CD, please e-mail ply2005@sympatico.ca .
Footnote: copies of the book "Strings for a Beatle Bass", which has been published only in two very limited editions are changing hands on E-Bay for hundreds of dollars.
--------------------------
June 1
Sir Paul McCartney Creates Children's Book Coming This October With a 1st US Print-run of 500,000
NEW YORK, /PRNewswire/ -- Sir Paul McCartney has signed with Penguin Young Readers Group to publish his children's picture book, High in the Clouds: An Urban Furry Tale, in the United States on October 4, 2005. The initial US print-run is planned at 500,000 copies.
This book will have two day publication of October 3 and 4 in 8 countries (and counting).
"Having worked on this story and the characters for many years, it's very exciting for me to see things come to fruition in what I think will be a remarkable book," said Paul McCartney.
For the project, McCartney teamed up with veteran children's book author, Philip Ardagh and animator, Geoff Dunbar. The story for High in the Clouds was inspired by an animated film called "Tropic Island Hum" on which Dunbar and McCartney had collaborated.
"This is going to be a major best-seller for us, and I know that a whole new generation of readers will become fans of Paul," says Doug Whiteman, the President of Penguin Young Readers Group who brokered the deal with the Editorial Director of Faber and Faber UK; Suzy Jenvey.
The book will be published under the Dutton Children's Book imprint of Penguin Young Readers Group, a division of Penguin Group (USA).
--------------------------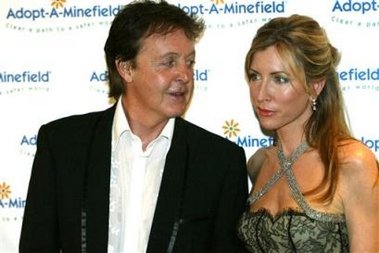 "We hope to be able to release the world from land mines. Evenings like today bring consciousness and money," said Paul McCartney who appeared with his lovely wife Heather at the Swissôtel Düsseldorf/Neuss, Rheinallee 1.
May 28
McCartney duets with Cat Stevens at Adopt-A-Minefield in Germany
Paul and Heather McCartney made an appearance for the Adopt-A-Minefield Benefit Gala held in the city of Neuss near Düesseldorf, Germany.
According to Evelyn Schwarz of Beatlemania Magazine in Germany states that "Paul and Heather came at approximately 5:35 p.m. (and) walked nearly 20 minutes over the 'red carpet', photos and small talk with the press (behind a 'fence'....) Main act Yusuf Islam a.k.a. Cat Stevens came after midnight, 1/2-hour set: 'Where Do The Children Play', 'The Little Ones', 'Peace Train' and at the end a new song 'Maybe There's A World' - with 'All You Need Is Love' Beatles cameo end, for Paul came on stage and sang with him. Grande finale: Cat (w/acoustic guitar) and Paul (at piano) play "Let It Be"...vocals live, the rest was half playback."
Evelyn told the Ottawa Beatles Site that the benefit gala had auctioned "several items including an Epiphone signed by Paul (see pic http://www.beatlemania.de/bm/bm127.htm)" and that the "auction gross 39.000 Euro, Paul's guitar 20.000 Euro alone. Total raised 650.000 Euro, the number was given to the press."
--------------------------
May 27
A new publication: Songs Of The Beatles' 'Please Please Me' Period by Ken Westover
Archer, from 99.5 FM "The Mountain" in Denver, Colorado, writes:
A Front Range man has published the first in a series of definitive reference works on the Beatles' recordings, titled Songs Of The Beatles' 'Please Please Me' Period.
Ken Westover's book — unobstructed by photos or illustrations — meticulously collects previously scattered information on 17 of the Beatles' songs from their earliest EMI recording sessions, including the 14 cuts on "Please Please Me," plus singles and unreleased recordings from the same era. It's published by Cliff Canyon of Boulder and available exclusively at Denver's Twist & Shout.
The ultimate research work for Beatleologists, the book includes studio production details, histories behind each recording, copious US/UK commercial release details and insight into the musical instruments and techniques applied to each song.
Easy-to-read tables and charts also track each song's performances on radio and TV and show chart positions. A "Where To Hear It" table for each song tracks dozens of subsequent releases, authorized or not, with keys to different variations of the song.
An "Origins" section for each song explains the reasons behind the Beatles chosing to record it, revealing such facts as why the Beatles covered show tunes like "A Taste Of Honey."
Westover tells 99.5 The Mountain that he is currently nearing completion of the second book in the series.
Copyright © by Archer 99.5 FM "The Mountain", used with permission.
--------------------------
May 22
Klaus Voormann at Peter Wierny's Art Trade and Gallery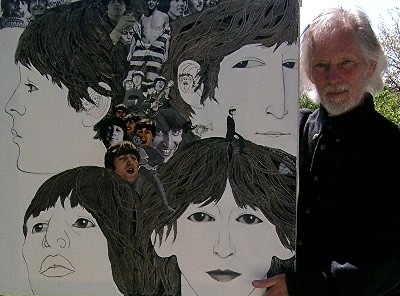 Klaus Voormann displaying a new and slightly different artistic version of the Revolver album.
A Klaus Voormann exhibition is currently being presented in Peter Wierny's Art Trade and Gallery in Bonn Germany from May 21 to June 11th.
Voormann, a German artist and musician, became a close friend to the Beatles after seeing them for the first time in Hamburg: "One day, after having a minor argument with my girlfriend Astrid Kirchherr, I was wandering through St.Pauli and was suddenly attracted by the sound of Rock 'n' Roll music," said Klaus. "It was Rory Storm and the Hurricanes at the Kaiserkeller. The next group to appear were The Beatles. I was speechless!"
Since that time, Klaus has done many personal artistic interpretations of his close association with the Beatles as well as being commissioned by the band for his artistic abilities. He did the album cover for Revolver which won him a Grammy Award for "Best Album Cover Design." Klaus also did the art work for all three Beatles Anthology double-albums. But Klaus notes there is a big difference between personal and commercial projects: "To work as a commercial artist is one thing, but doing illustrations and painting pictures is another," he said.
Voormann's latest art work on the Beatles was a real labour of love for both himself and for Peter Wienry. Peter recalls how the project came about: "I contacted Klaus 1-1/2 years ago after reading his new book," he told the Ottawa Beatles Site. "I found in this book little reproductions of his sketches - and I found them great and very, very worthy to show to the public. In the beginning of 2004 I convinced Klaus to work on my idea and after 18 months the output of our work is the show with the opening on last Friday."
The idea to display a new version of the Revolver album cover was Peter's. "Especially for this show I convinced Klaus to work on a new version of the 'Revolver' cover," said Peter. "He used again parts of an old 'Stern' magazine article of 1964 which was by then the central idea of the Revolver-Collage. The size is 80x80cm. You'll find it on my Homepage http://www.artbonn.de/. Klaus has on my Homepage his own section with etchings, sketches and paintings."
Last Friday's official launch for Klaus Voormann's work at the gallery turned out to be "a great evening and especially the really brand-new etchings - edition of only 20 pieces each - had a fantastic reception," said Peter. "This show will go through several galleries and museums in Germany and Switzerland. Klaus and I hope that we are sold out soon!"
The Peter Wierny Art Trade and Gallery also features small exhibitions of artists such as A.R. Penck, Elvira Bach, I. Knoebel, Markus Lüpertz, Arnulf Rainer, I. Knoebel, Markus J. Fautrier, Günther Förg, and Jörg Immendorff.
Links:
1. The Peter Wienry Art Trade and Gallery